The 10 Best Snacks to Buy at Costco for Weight Loss, Says Dietitian
The best weight loss-friendly buys from your favorite bulk store.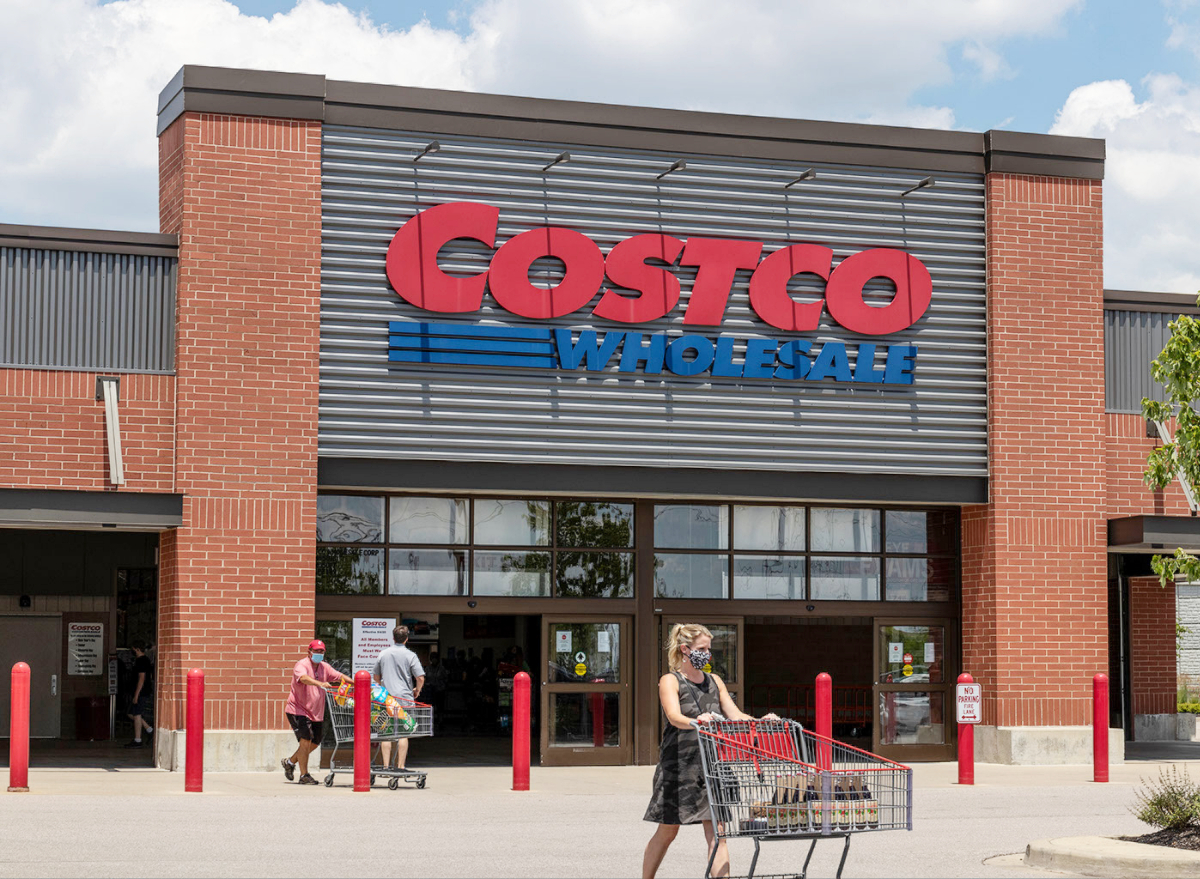 You may think of Costco as the warehouse you run into for a supersized jar of mayo or delicious muffins that are the size of your head. But while Costco does carry great bargains and delicious (and calorie-packed) baked goods, they also have some fantastic snacks that support any weight-loss journey on their shelves.
From pre-packaged granola bars to fresh fruit to even pre-cooked shrimp, this cult-favorite membership store can be a dream come true for people who are trying to manage a healthy weight but still love snacks! Read on, and for more on how to eat healthy, don't miss Eating Habits to Lose Abdominal Fat As You Age, Say Dietitians.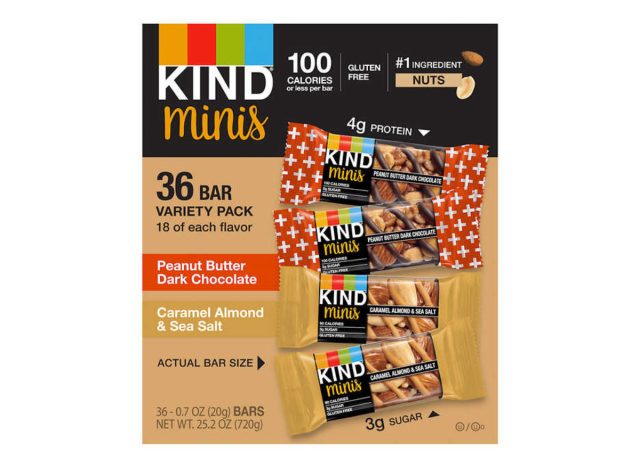 Eating while on a weight loss diet doesn't have to mean doing without sweet snacks (and thank goodness for that). KIND minis are a smaller-sized snack bar that is made with real nuts, cocoa, and other good-for-you ingredients. With only 100 calories per bar along with a boost of protein and healthy fats, these snacks will give you some serious staying power while satisfying a sweet tooth at the same time.
That's It Mini Fruit Bars
If you get that mid-afternoon candy craving, skip the gummy worms and reach for That's It. mini fruit bars instead. You will get the same satisfying sweet chewy nosh, but with no added sugars or anything artificial. These bars are made with only fruit and are just 60 calories per serving. Perfect for tossing in your desk drawer for mid-day sweet cravings.
Wonderful In-Shell Pistachios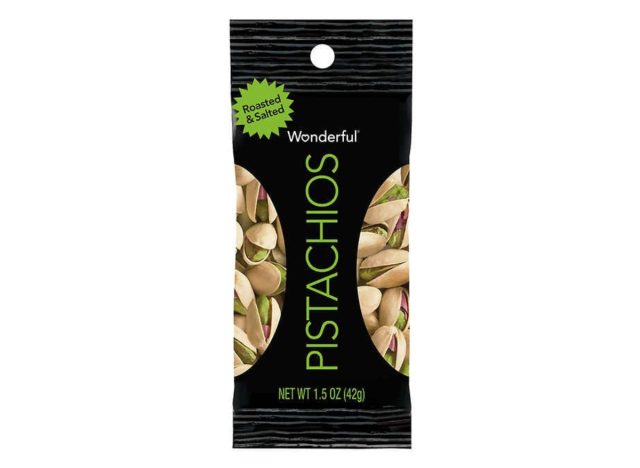 About 90% of the fats found in pistachios are unsaturated. Plus, they provide a good source of plant protein and fiber, for a trio of nutrients that may help keep you fuller longer. In-shell pistachios may help you fool yourself full because the leftover shells can be a visual cue for portions, potentially helping to curb intake (some call this the "Pistachio Principle").
UNREAL Dark Chocolate Coconut Minis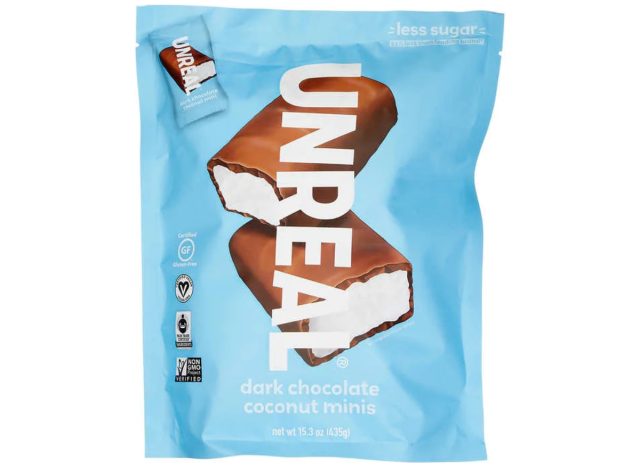 Trying to lose weight doesn't mean doing without your chocolate fix. Leaning on UNREAL Dark Chocolate Coconut Bars can satisfy your craving with 51% less sugar than the leading brand, all in a package that contains dairy, gluten, soy, or anything artificial. The classic taste of chocolate and coconut that can help support weight management? Who doesn't want that?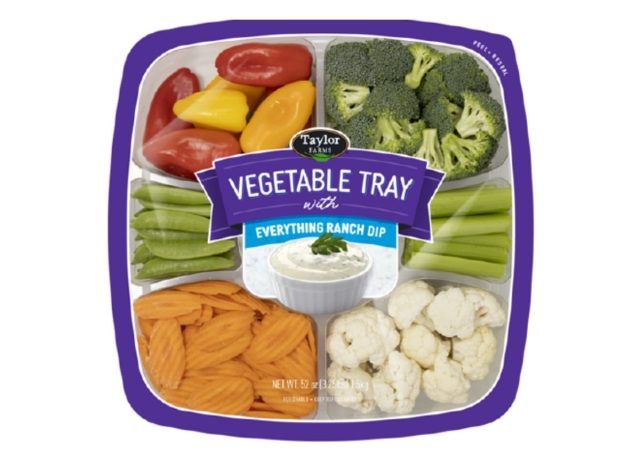 We all know that eating vegetables is one of the best things we can do to support weight loss, thanks to the fiber and micronutrients they provide, all in a low-calorie package. But, the peeling, chopping, and washing factor that comes into play when snacking on veggies can be a barrier for busy folks.6254a4d1642c605c54bf1cab17d50f1e
Taylor Farms Veggie Trays makes snacking on vegetables simple. The veggies are pre-washed, peeled, and sliced, so all you need to do is crack open the container and enjoy. While the tray comes with ranch dressing, you can opt for a lighter or more nutrient-dense dip like hummus or guacamole to support your weight loss journey.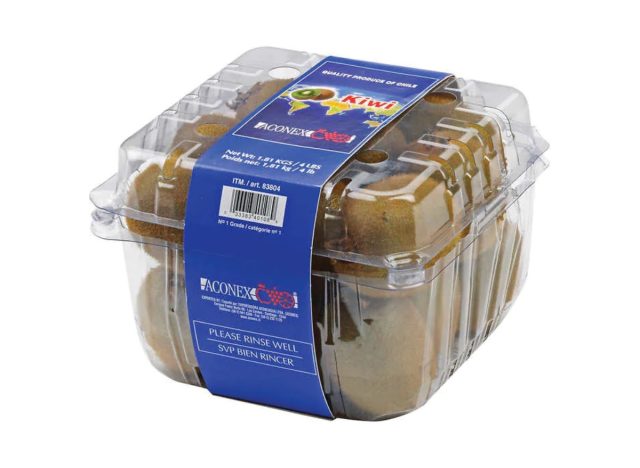 Fresh fruit is always a winner when it comes to weight loss-supporting snacks. With no added sugar, fiber, and tons of vitamins, any fruit you can get your hands on is a good idea. And since Costco has amazing prices on fresh fruit, adding some varieties to your cart can be a wise choice.
Kiwis are a favorite snack fruit because they are incredibly easy to eat—simply slice one in half and scoop out the flesh with a spoon. Kiwis are loaded with vitamin C, fiber, and antioxidants, and they have a unique taste that makes for a satisfying snack addition any day of the week.
Wholly Guacamole Classic Guacamole Mini Cups
Avocados are packed with healthy fats and minerals that support weight loss, making them a dream addition to a healthy diet. But as nutrient-dense as these fruits are, they can be quite caloric when compared with other produce.
Wholly Guacamole Classic Guacamole Mini Cups makes enjoying avocado-based guac super weight-loss friendly, thanks to their portion-controlled mini cups. Each serving provides only 120 calories along with a serious dose of healthy fats, making it a perfectly satisfying dip for fresh veggies, baked pita chips, or really any other nutrient-packed dip vessel.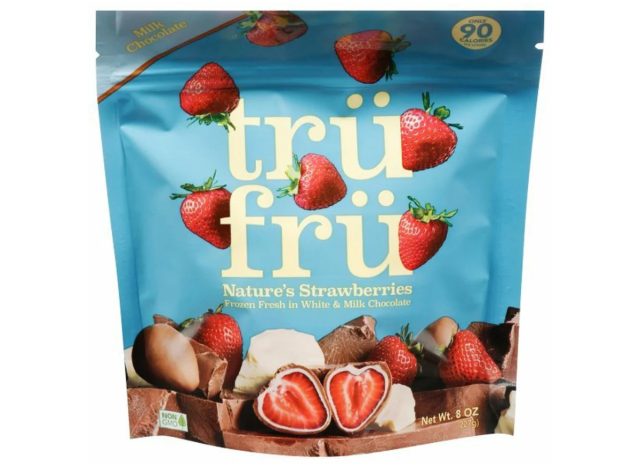 Frozen fruit can be just as nutritious as fresh varieties—and in some cases, they can be even more nutrient-dense! Tru fru strawberries are frozen real fruit covered with dark chocolate. These snacks can be a nice sub for classic frozen treats that are loaded with empty calories. And since they are frozen, you are forced to eat these slowly and perhaps be a little more mindful with your noshing—otherwise, you may get a brain freeze!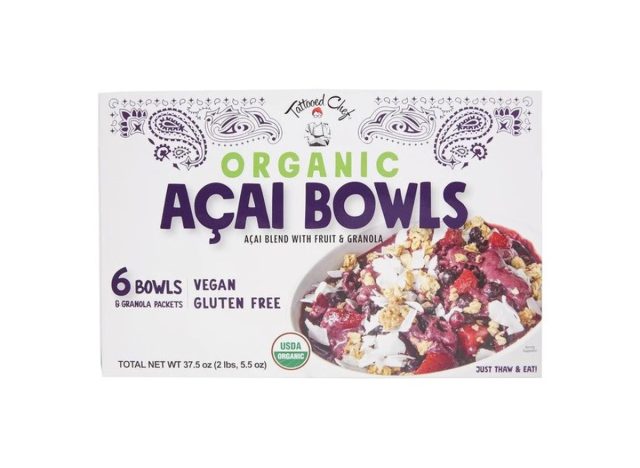 Acai bowls can be messy to make at home, and they can be super pricy to buy at a restaurant. Tattooed Chef takes away all of the barriers of eating an antioxidant-rich acai bowl by making a pre-made frozen option that is loaded with weight loss-friendly nutrients and a naturally sweet taste. Top with natural nut butter and cacao nibs for a balanced snack that can fit into any weight loss-supporting diet.
Whisps Asiago & Pepper Jack Cheese Crisps
When a person is focused on snacking for weight loss, protein is one macro that can't be ignored. In fact, several clinical trials have found that consuming more protein than the recommended dietary allowance not only reduces body weight but also decreases fat mass while preserving fat-free (muscle) mass.
Whisps Asiago & Pepper Jack Cheese Crisps provide 12 grams of protein per serving, which is more protein than what you would get by eating an egg, a string cheese stick, or a serving of beef jerky. Made of 100% real cheese, these crunchy cheese crisps offer a perfect combo of smokiness, spice, and creaminess to make for a satisfying low-carb, high protein snack.
And for more, don't miss these The Best Weight Loss Snacks in 2022.
Lauren Manaker MS, RDN, LD, CLEC
Lauren Manaker is an award-winning registered dietitian, book author, and recipe developer who has been in practice for almost 20 years.
Read more about Lauren