5 Healthy Brown Rice Recipes for Weight Loss
These delicious recipes feature the whole grain, fiber-containing brown rice to help with weight loss.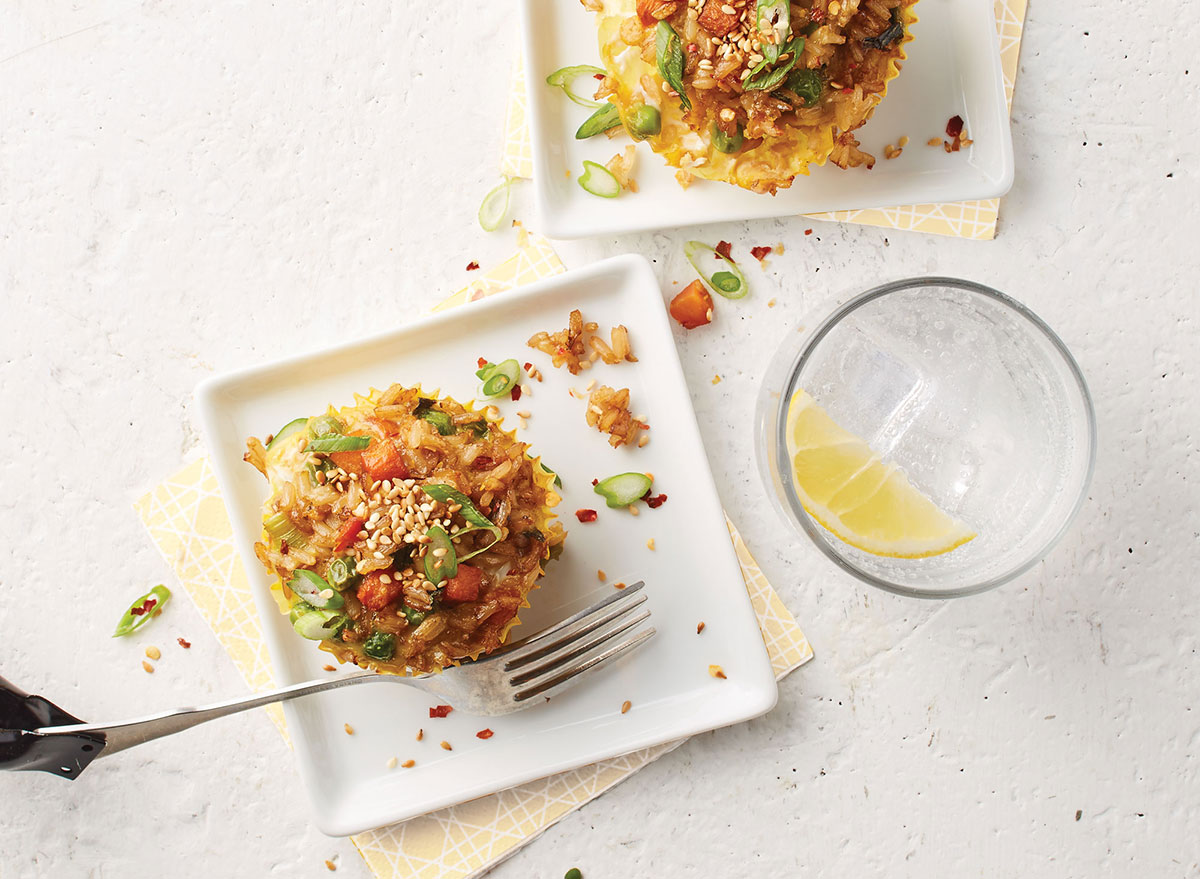 When it comes to the brown rice versus white rice debate, brown rice usually gets the win as the healthier grain. Brown rice is a grain full of helpful nutrients, vitamins, and minerals. Not only that, but this grain can also help aid in weight loss management by keeping you more full during meals thanks to its fiber. With benefits like this, it seems like it's a good choice to start incorporating brown rice into your diet.
Although brown rice has some great benefits, continuously eating it plain sounds like a boring and tiring way to do so. Although the grain may taste good on its own, you can still mix it up into delicious and healthy recipes. Now, you'll enjoy a satisfying meal in many different ways, with the benefit of helping to lose weight. If you're not a chef in the kitchen and don't know what to make, we've got you covered. We spoke with The Nutrition Twins, Lyssie Lakatos, RDN, CDN, CFT, and Tammy Lakatos Shames, RDN, CDN, CFT, authors of The Nutrition Twins' Veggie Cure, to give you some healthy and tasty brown rice recipes for weight loss to incorporate into your weekly meals.
Immune Boosting Faux Fried Rice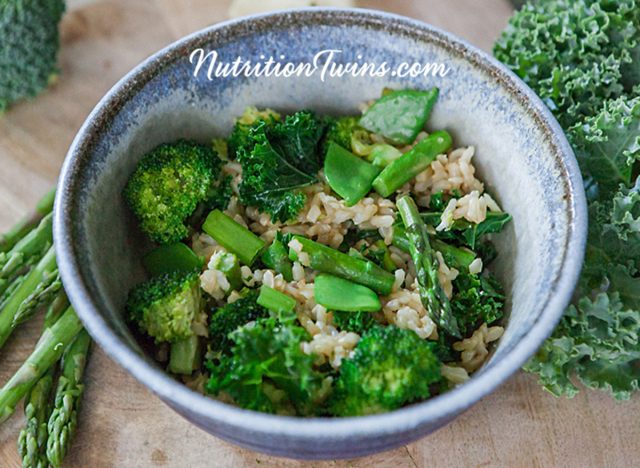 "If you feel like you can't lose weight eating carbs, this recipe is for you," says The Nutrition Twins.6254a4d1642c605c54bf1cab17d50f1e
This faux fried rice has less than half of the calories of many other fried rice dishes, coming in at only 126 calories per cup (versus the nearly 300-plus calories per cup in most fried rice dishes).
"This lightened-up carb is the perfect side to team up with your protein and veggies, or even to serve as a bed for them," says The Nutrition Twins. "It's packed with extra blood sugar-stabilizing fiber from the brown rice and veggies, (and even includes some protein). This will help prevent a quick rush of insulin that shuts down fat burning, and that makes many carb options the villain."
Furthermore, nutrient-loaded ingredients like ginger, kale, asparagus, and broccoli are packed into this recipe. Because of this, the Nutrition Twins suggest you'll get fewer calories per bite.
These ingredients "thin out" the calories and add potent antioxidants that boost immunity and fight inflammation, which, according to The Nutrition Twins,  is a big deal.
"Chronic inflammation is linked to weight gain as well as more difficulty losing weight," they say.
Get the recipe from The Nutrition Twins
A Spicy, Flavorful, Crock-Pot Jambalaya Recipe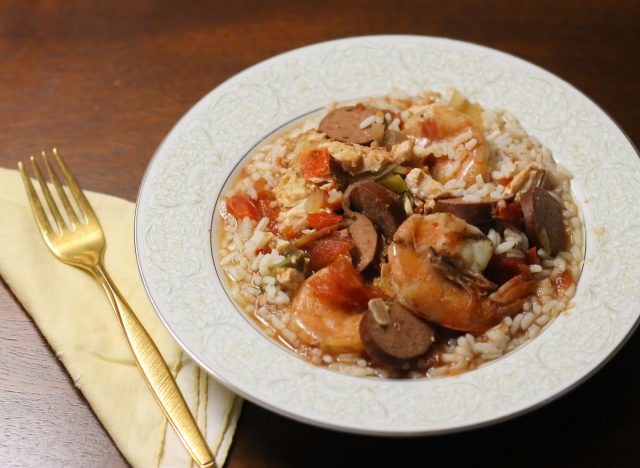 This southern dish is good for the soul…and for weight loss!
This jambalaya is packed with two lean sources of filling protein: chicken breast and shrimp. It's also stuffed with fiber-rich, low-calorie vegetables like celery, peppers, tomatoes, and onions. Then you've got the satisfying whole grain brown rice, making for a jam-packed, nutrient-dense meal.
"This protein and veggie-packed Jambalaya has all the makings for a healthy, satisfying weight loss meal," says The Nutrition Twins. "To really step it up a notch, only use half or a quarter of the sausage," The Nutrition Twins suggest.
And although this particular recipe calls for white rice, The Nutrition Twins say be sure to use brown rice instead, since it's a "wholesome whole grain" with nutrients and fiber that research shows have beneficial effects on both abdominal fat and metabolic factors like insulin resistance and cholesterol. Meanwhile, fiber and many nutrients have been stripped out of the white rice.
Get our recipe for A Spicy, Flavorful, Crock-Pot Jambalaya
Chinese Sesame Tofu and Broccoli Recipe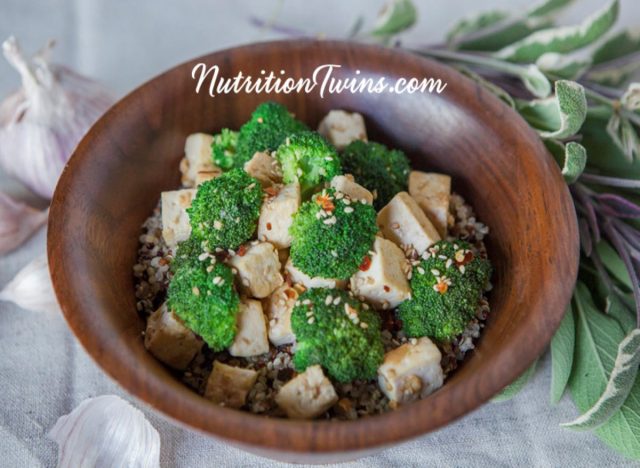 "This healthy and delicious Chinese take-out-inspired meal has all the flavor of a restaurant meal, but unlike most Chinese take-out, it takes it easy on the waistline," says The Nutrition Twins.
This dish slashes the calories by more than half. The calories for a serving are about 300 calories, while most take-out dishes had about 600 calories or more.
Furthermore, making this recipe is super easy, meaning it can become your go-to, busy weeknight dinner.
"With the satisfying combination of protein and fiber (17 grams and 6 grams, respectively), that stabilizes blood sugar, you'll skirt energy dips and the subsequent sugar cravings and overeating," says The Nutrition Twins. "Like all cruciferous vegetables, broccoli contains sulforaphane, which research shows can help lead to weight loss, decreased food intake, and improved blood sugar levels."
Also, according to The Nutrition Twins, garlic's organic compound, diallyl disulfide, helps to fight the chronic inflammation in the body that makes it harder to lose weight and easier to gain weight.
Get the recipe from The Nutrition Twins
Quick and Healthy Fried Rice Cups Recipe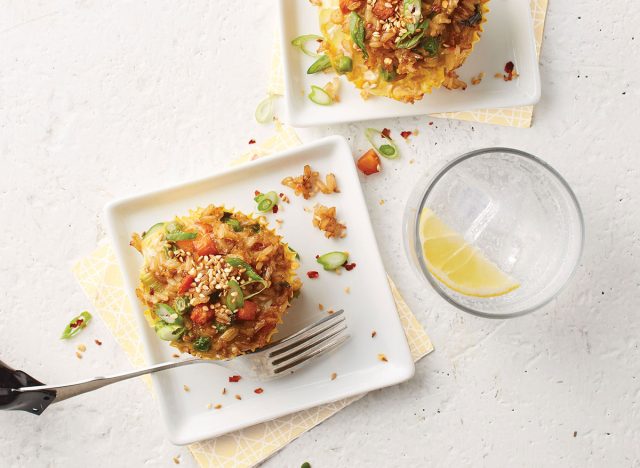 This other fried rice recipe is great for portion control. Muffin cups portion out the fried rice. Because of this, The Nutrition Twins suggest it will automatically keep the calories low.
Moreso, according to The Nutrition Twins, the eggs in the dish are a great source of choline.
"Researchers have found that choline shuts off the genes that are responsible for visceral fat gain," says The Nutrition Twins. "Research has also found that including eggs at meals is more satisfying than carbohydrate-based meals alone and can reduce subsequent meal intake."
If you don't feel like eating them for dinner, enjoy them any time of day. And yes, that means breakfast too!
Get our recipe for Quick and Healthy Fried Rice Cups
Easy Sheet Pan Salmon with Roasted Vegetables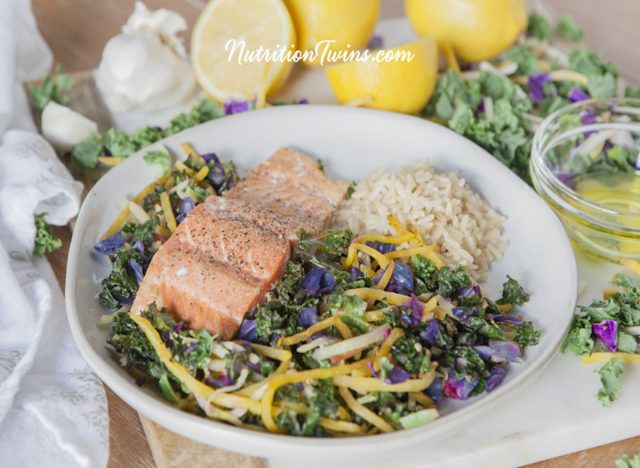 If you want a super-fast and easy weeknight dinner that's also packed with flavor, look no further.
"Even if you're tired, skip the calorie-laden take-out meal, since you can whip this up in the time it will take to deliver your meal," says The Nutrition Twins. "Simply toss everything in a sheet pan and in less than 15 minutes, a healthy, low-calorie, satisfying dinner is served!"
In research published in the Journal of Obesity & Metabolic Syndrome, protein-rich foods, such as salmon, have been shown to help increase satiety and reduce food intake.
"Salmon also provides omega-3 fats, which are known for helping to lower chronic inflammation that's associated with weight gain and obesity," say The Nutrition Twins.
Get the recipe from The Nutrition Twins
When it comes to using brown rice instead of white rice in these recipes, you'll be taking advantage of all the weight loss opportunities that brown rice may provide. And, thanks to the addition of this grain, these recipes are not only even more nutritious but are also delicious. They're even easy enough to turn into a quick mid-week dinner. If you have more time, they're recipes you can craft and perfect (we're looking at you, jambalaya!)
Kayla Garritano
Kayla Garritano graduated from Hofstra University, where she majored in Journalism and double minored in Marketing and Creative Writing.
Read more about Kayla