13 Easy Quesadilla Recipes to Make Right Now
You can prepare these right in your own kitchen today, National Quesadilla Day.
The quesadilla, which has roots dating back to 16th century northern Mexico is a versatile food that can be enjoyed in a bunch of different ways. Whether you love to have your quesadilla with chicken and cheese during lunch or prefer to make it with Nutella as a dessert, quesadillas always seem to hit the spot.
In honor of National Quesadilla Day, September 25, here's a list of 13 quesadilla recipes that you can prepare right in your own kitchen. From options that are packed with fresh produce to others that are made with seasonal ingredients, such as pumpkin, your next new favorite quesadilla recipe awaits.
Crispy Quesadillas with Guacamole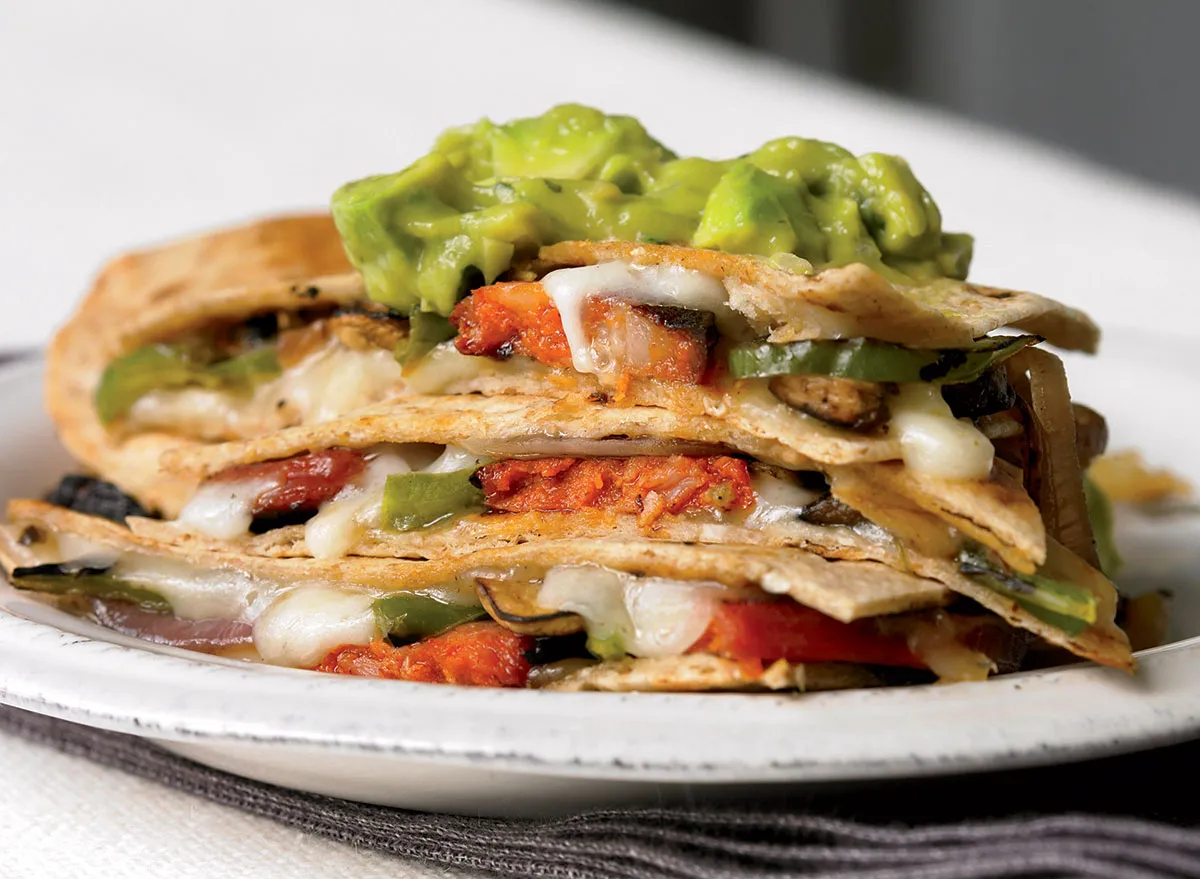 Equal parts flavor and texture, this crispy quesadilla gets its signature flavor from smoky chorizo, sauteed onions and mushrooms, and creamy Monterey Jack cheese. Be sure to top the quesadilla with a scoop of guacamole to add some refreshing notes to the mix and some healthy fiber. It just so happens we've got 20 amazing guacamole recipes you can try!
Get our recipe for Crispy Quesadillas with Guacamole. 
Healthy Chipotle Shrimp Quesadilla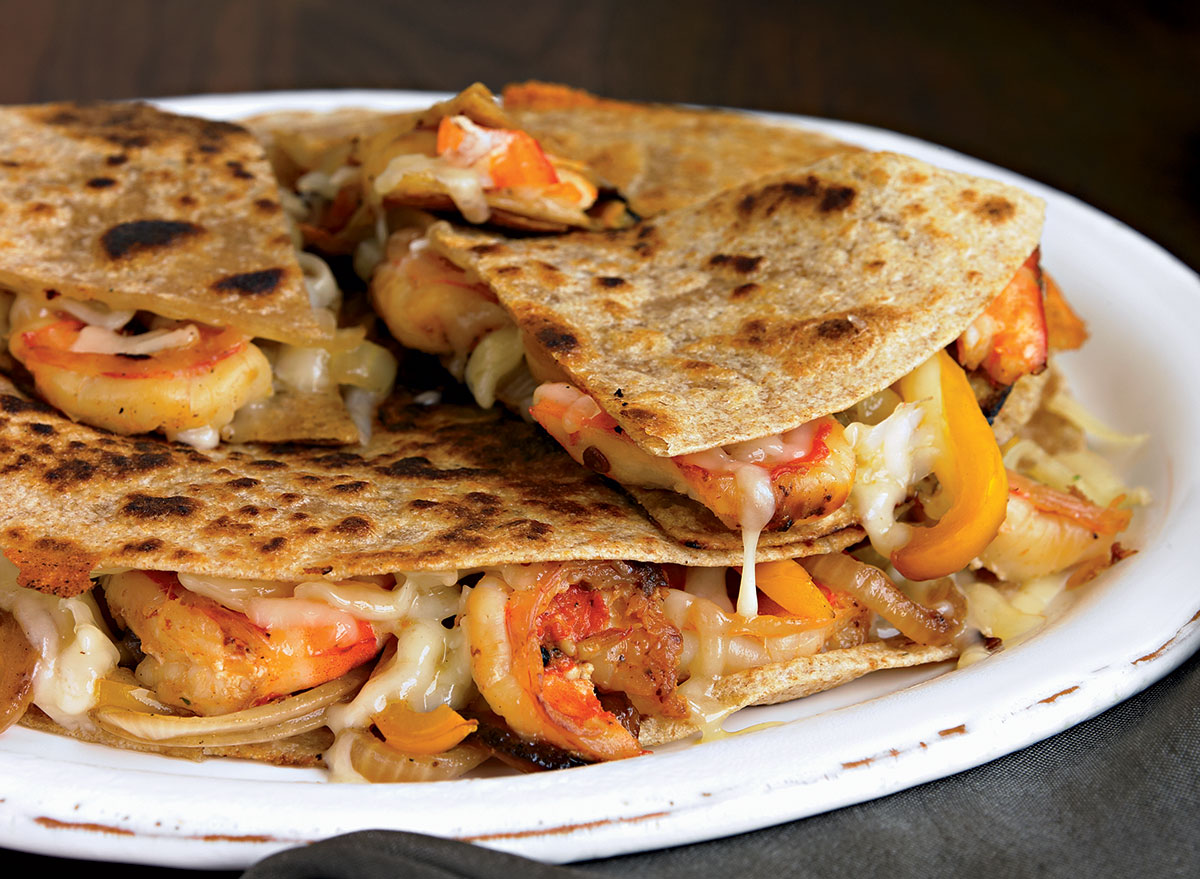 We love how this restaurant-worthy quesadilla is a healthier option without sacrificing flavor. For instance, instead of being drenched in just cheese and oil, this quesadilla features fresh ingredients, such as yellow bell pepper and onion, cooked right alongside juicy shrimp. Hint: Be sure to marinate the seafood in orange juice, chipotle pepper, and garlic for a truly unforgettable flavor. Bookmark our 25 healthy, protein-packed shrimp recipes for future dinner inspiration.
Get our recipe for Healthy Chipotle Shrimp Quesadilla.
Cinnamon Sugar Nutella Quesadilla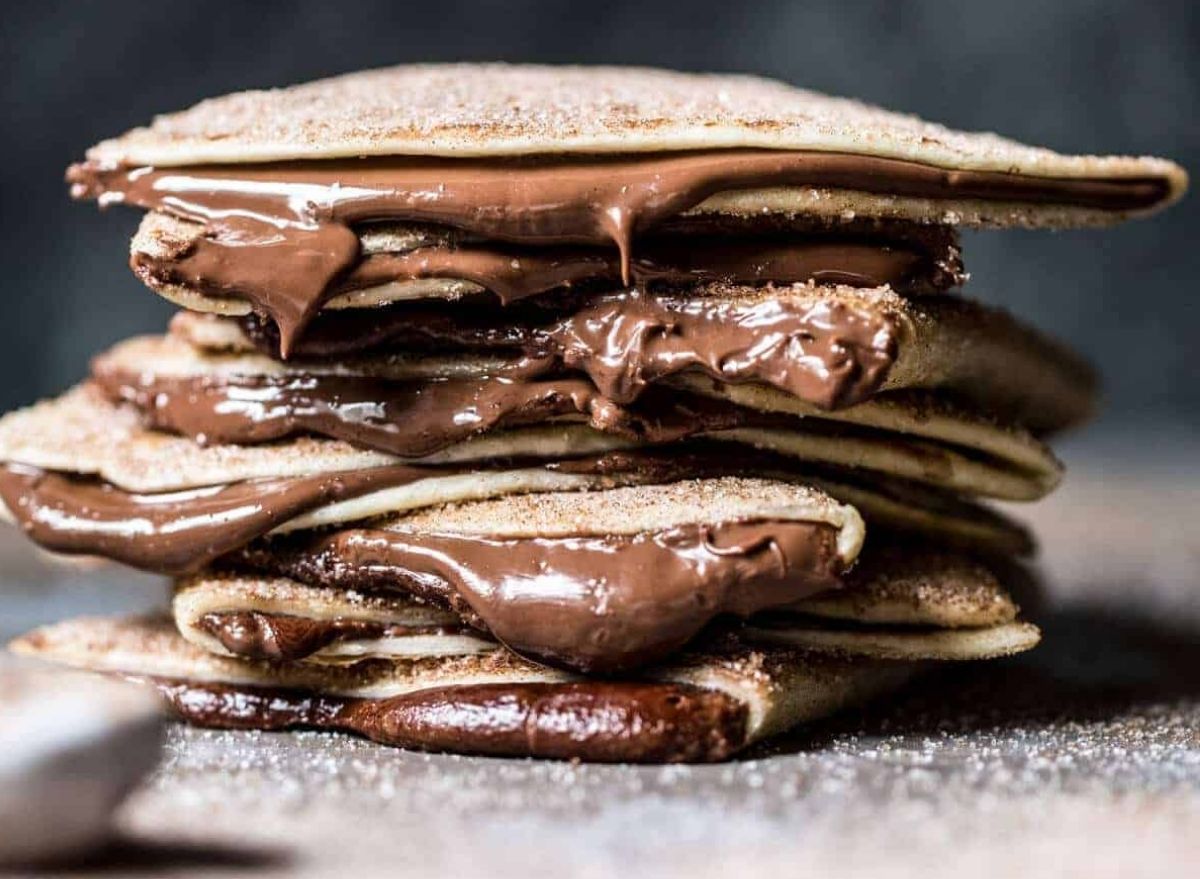 Quesadillas don't just need to be limited to lunch or dinner but can be served as a dessert, too. Made using flour tortillas, butter, sugar, and Nutella, this sweet treat takes just ten minutes to put together. Be sure to top with whipped cream and chocolate syrup. If you like Nutella you're going to want to know 13 secrets about the popular spread.6254a4d1642c605c54bf1cab17d50f1e
Get the recipe for Cinnamon Sugar Nutella Quesadilla from Half-Baked Harvest.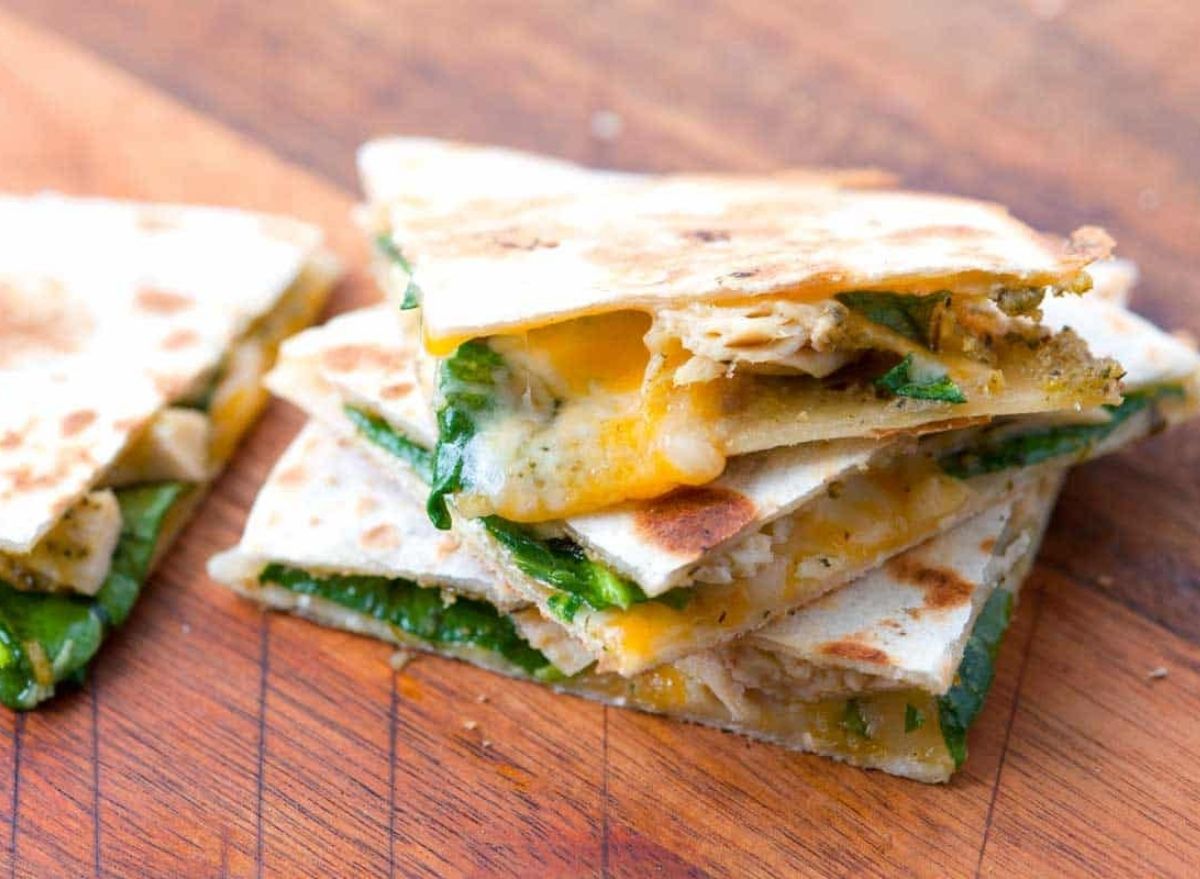 If your chicken quesadillas are in need of a makeover, then try out this Pesto Chicken Quesadilla that takes just ten minutes to make. This flavor-packed dish, which has rich basil pesto, shredded chicken, and creamy cheese, tastes great served alongside sides of rice and sauteed vegetables. For those who prefer a store-bought pesto, check out our list of the Best and Worst Pesto Sauces—Ranked!
Get the recipe for Pesto Chicken Quesadilla from Inspired Taste. 
Farmer's Market Veggie Quesadilla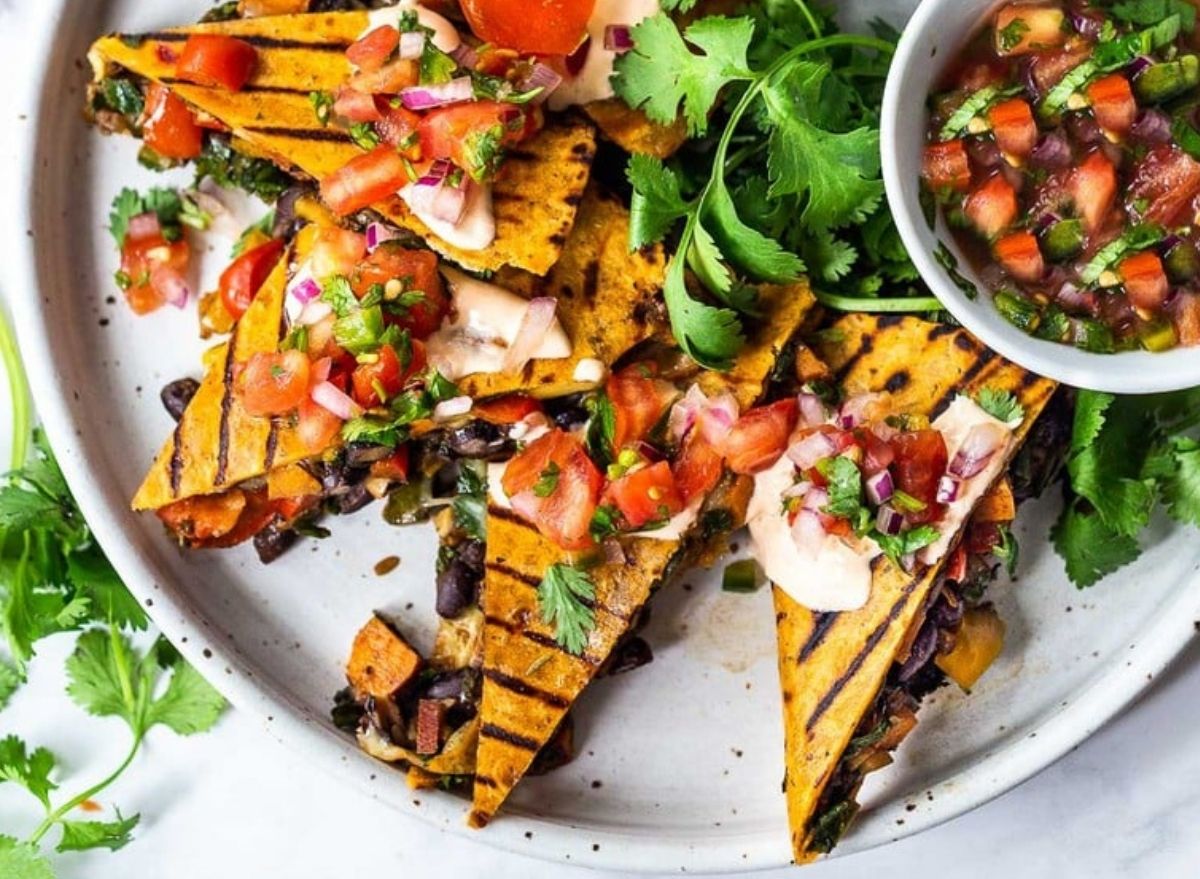 Ingredients for this healthy veggie-focused quesadilla can almost entirely be picked up on your next trip to your local farmer's market. Filled with fresh produce, such as bell pepper, zucchini, corn, mushroom, and sweet potato, and fiber-filled details, like black beans, this recipe makes for a hearty lunch or satisfying dinner. Here's how to know if you're not getting enough filling fiber in your diet.
Get the recipe for Farmer's Market Veggie Quesadilla from Feasting at Home. 
Tomato, Olive, and Chickpea Quesadilla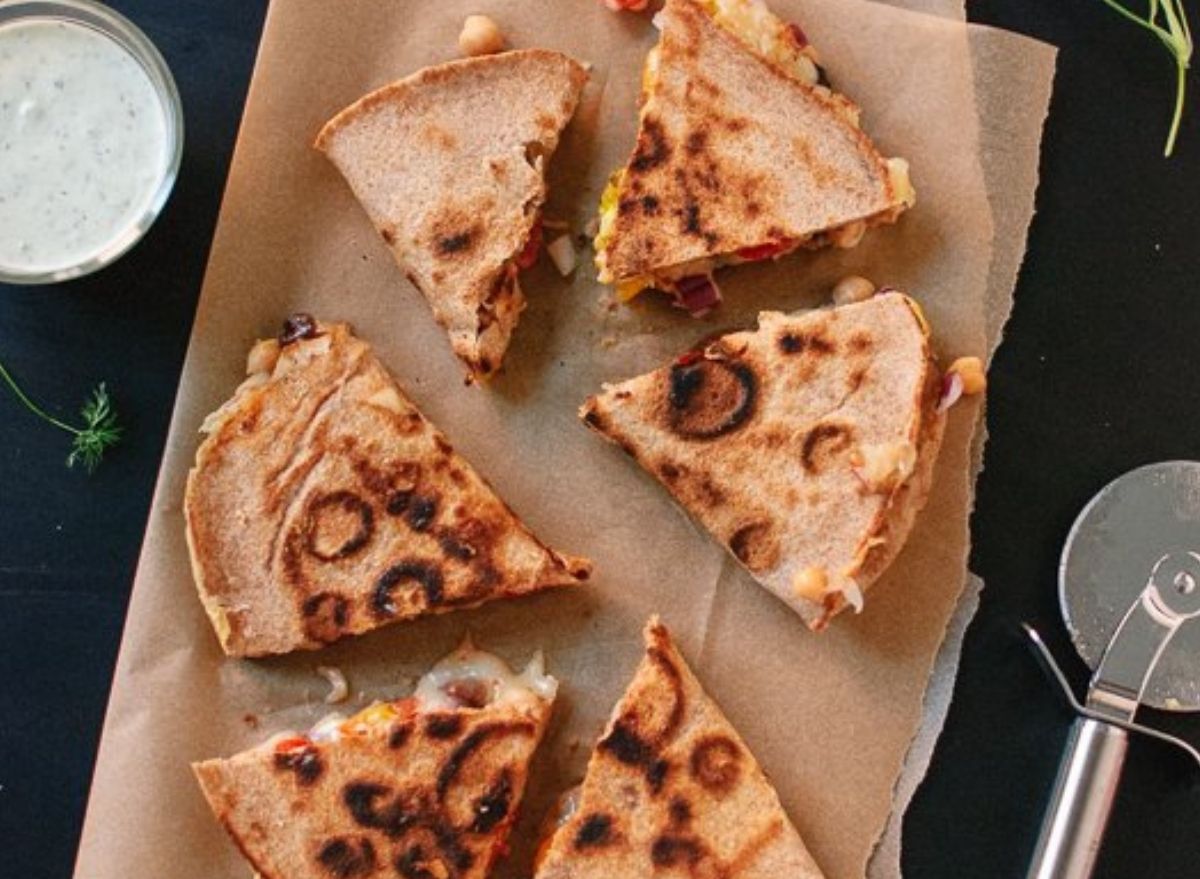 A traditional quesadilla recipe gets a unique spin when chickpeas, kalamata olives, and chopped red onion are entered into the equation. Make sure to also prepare its accompanying dill-mint yogurt dip, which provides a refreshing pop of cool flavor to this savory dish. We love the taste of chickpeas and they can even help you lose weight! 
Get the recipe for Tomato, Olive, and Chickpea Quesadilla from Cookie and Kate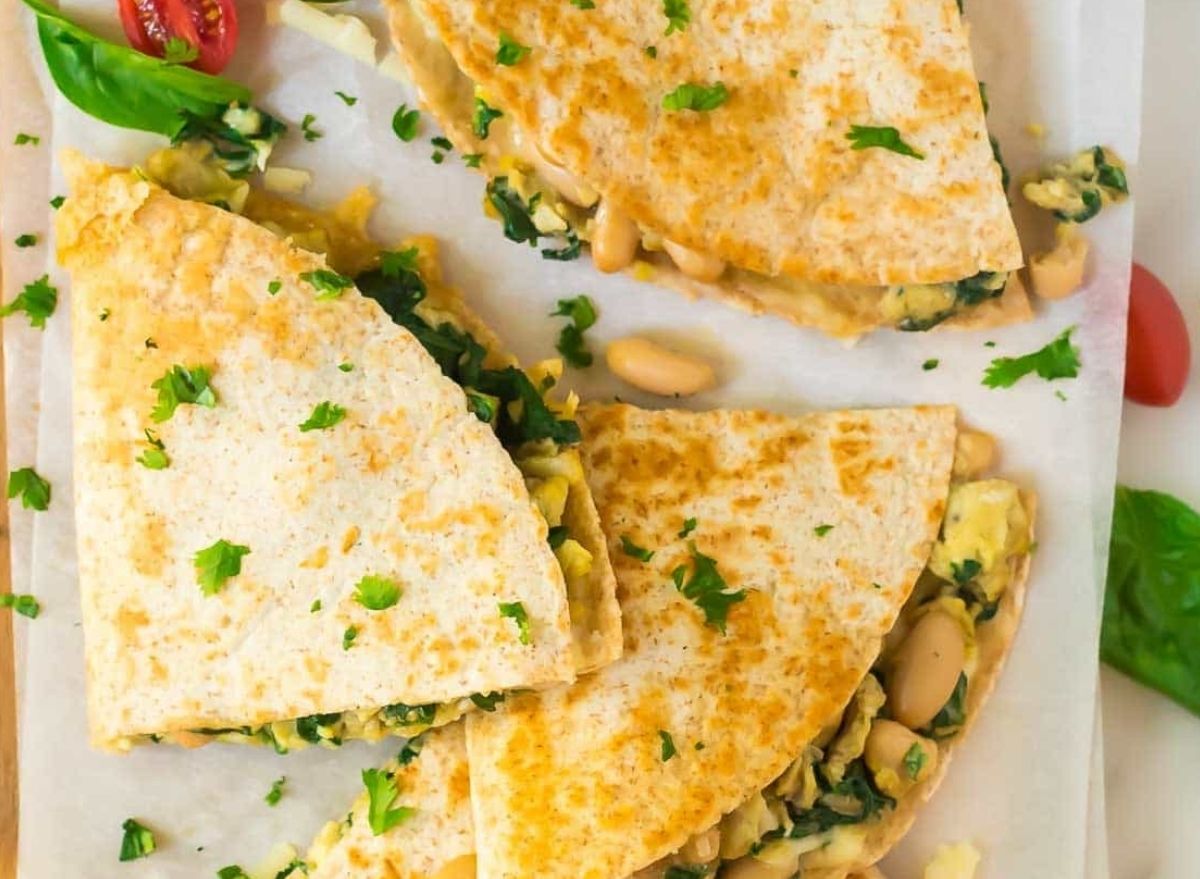 High in both protein and fiber, this vegetarian breakfast quesadilla recipe combines tasty ingredients such as low-sodium white beans, crisp spinach, and freshly grated cheese with perfectly seasoned scrambled eggs. This recipe can also be prepared, then frozen, for an easy future breakfast (or snack).  If you're a cooking newbie, here are our best hacks for making perfect scrambled eggs.
Get the recipe for Breakfast Quesadilla from Well Plated. 
This simple recipe combines two of our most favorite comfort foods — pizza and quesadillas. Made using five easy-to-find ingredients, this pizza quesadilla is especially wonderful for children as it is delicious, filling, and takes mere minutes to make. Be sure to experiment with add-ins, such as pepperoni, chopped pepper, and even sliced black olives, to help recreate some of your favorite pizza toppings.
Get the recipe for Pizza Quesadilla from The Girl Who Ate Everything.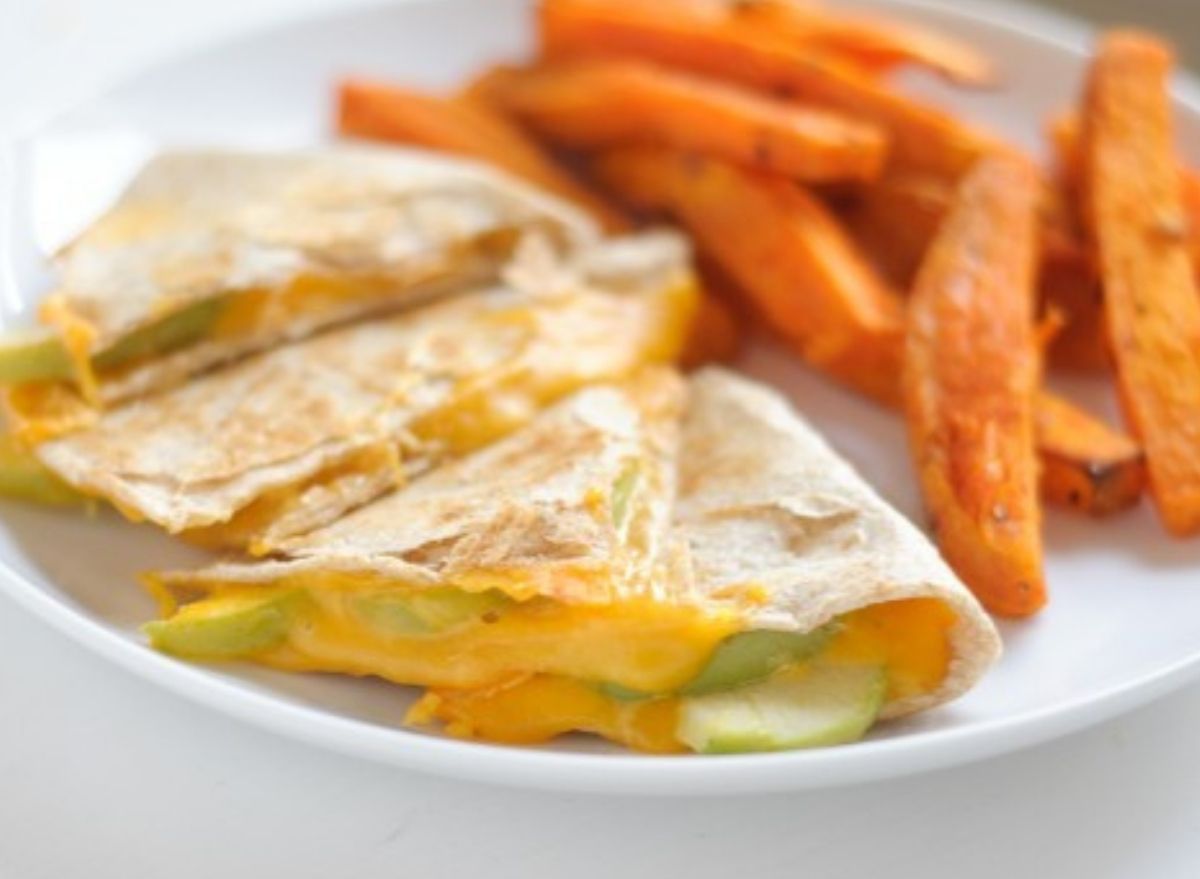 Crispy, creamy, and tart, these apple cheddar quesadillas really knock it out of the ballpark. We especially love how the flavors from the apple are amplified when thinly sliced shallots and a bit of dijon mustard is added in. This dish pairs well with a side of warm baked sweet potato fries or a bowl of hearty chicken noodle soup. When choosing a cheddar cheese, consult our list: 8 Best Cheddar Cheeses at the Supermarket, and 2 You Should Avoid
Get the recipe for Apple Cheddar Quesadilla from Cookie and Kate.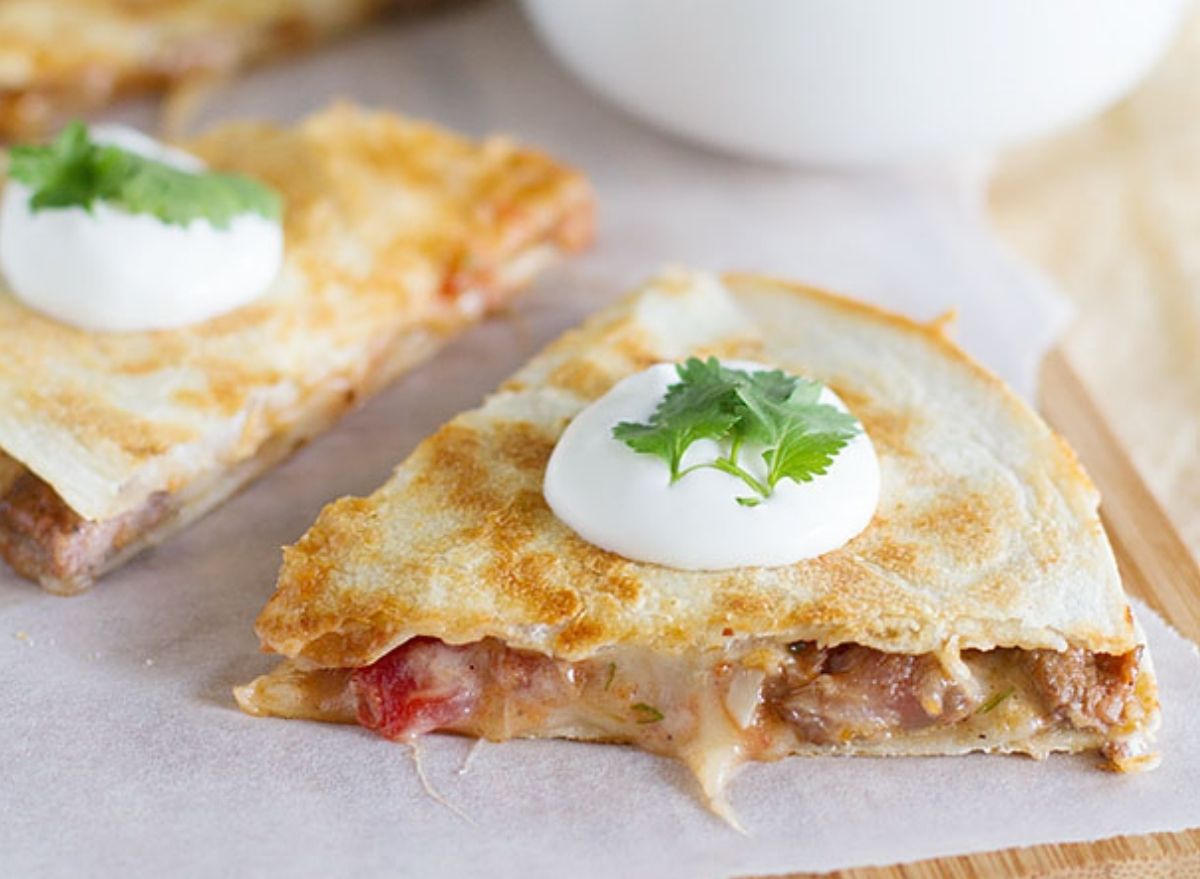 Smoky chipotle beef is married with melted Monterey Jack cheese to create a truly delectable dinner dish. This recipe pairs well with a side of cheesy potato soup or a Greek salad. Try one of our best slow cooker soup recipes.
Get the recipe for Chipotle Beef Quesadilla from Taste and Tell Blog.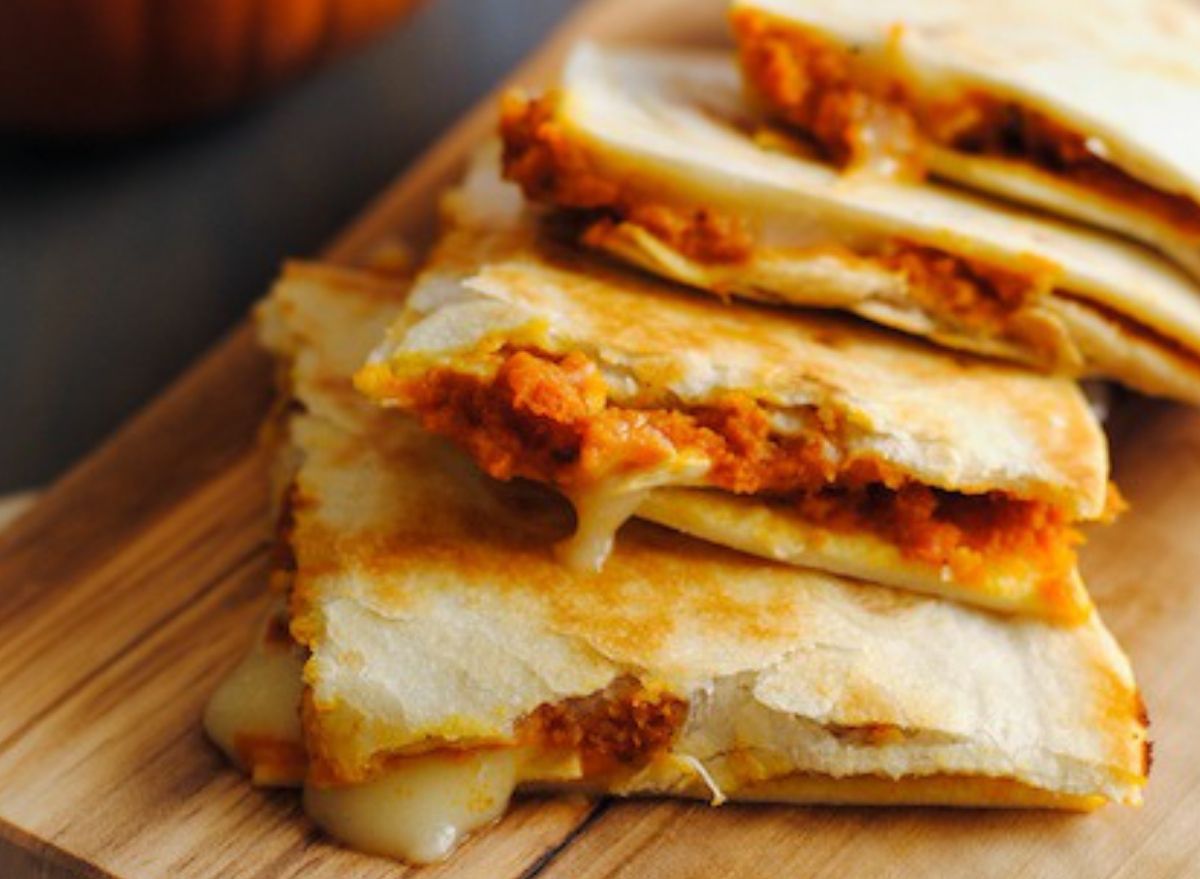 This recipe uses an unexpected ingredient, canned pureed pumpkin, to craft a quesadilla that may just be a culinary masterpiece. This dish, which is brought to life by smoky chili powder, minced fresh sage, and soft brie cheese, is teeming with both flavor and texture.  Speaking of sage, here are 20 herbs to try for your mind and body.
Get the recipe for Pumpkin Brie Quesadilla from Foxes Love Lemons. 
Surprise Ingredient Cheese Quesadilla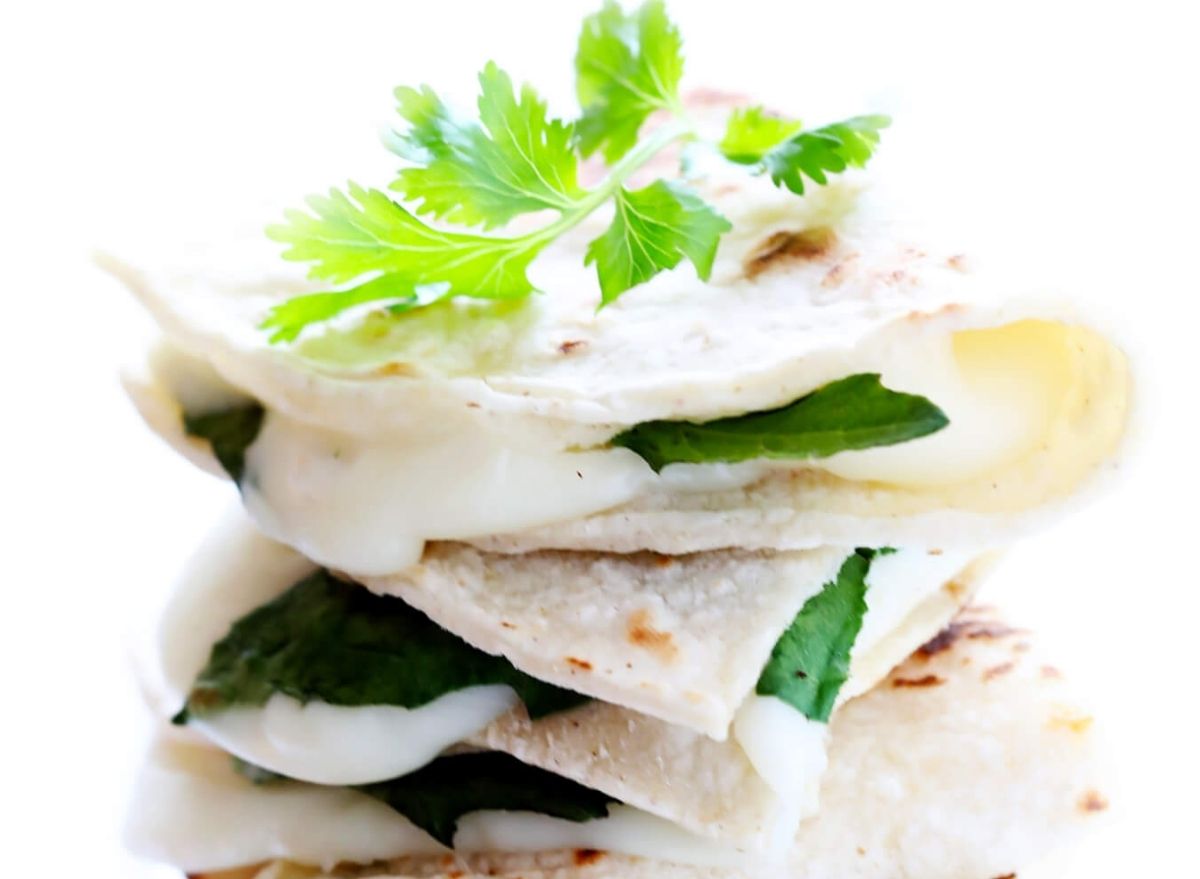 Oaxaca cheese paired with epazote leaves helps make this 3-minute quesadilla recipe a memorable one. Make sure to whip up some fresh salsa using bright ingredients, such as chopped tomato, onion, cilantro, and lime juice, to serve alongside it for some extra elevated flavor. Here's how to make restaurant-level salsa with just five ingredients.
Get the recipe for Surprise Ingredients Cheese Quesadilla from Gimme Some Oven. 
Crockpot BBQ Chicken and Pineapple Quesadilla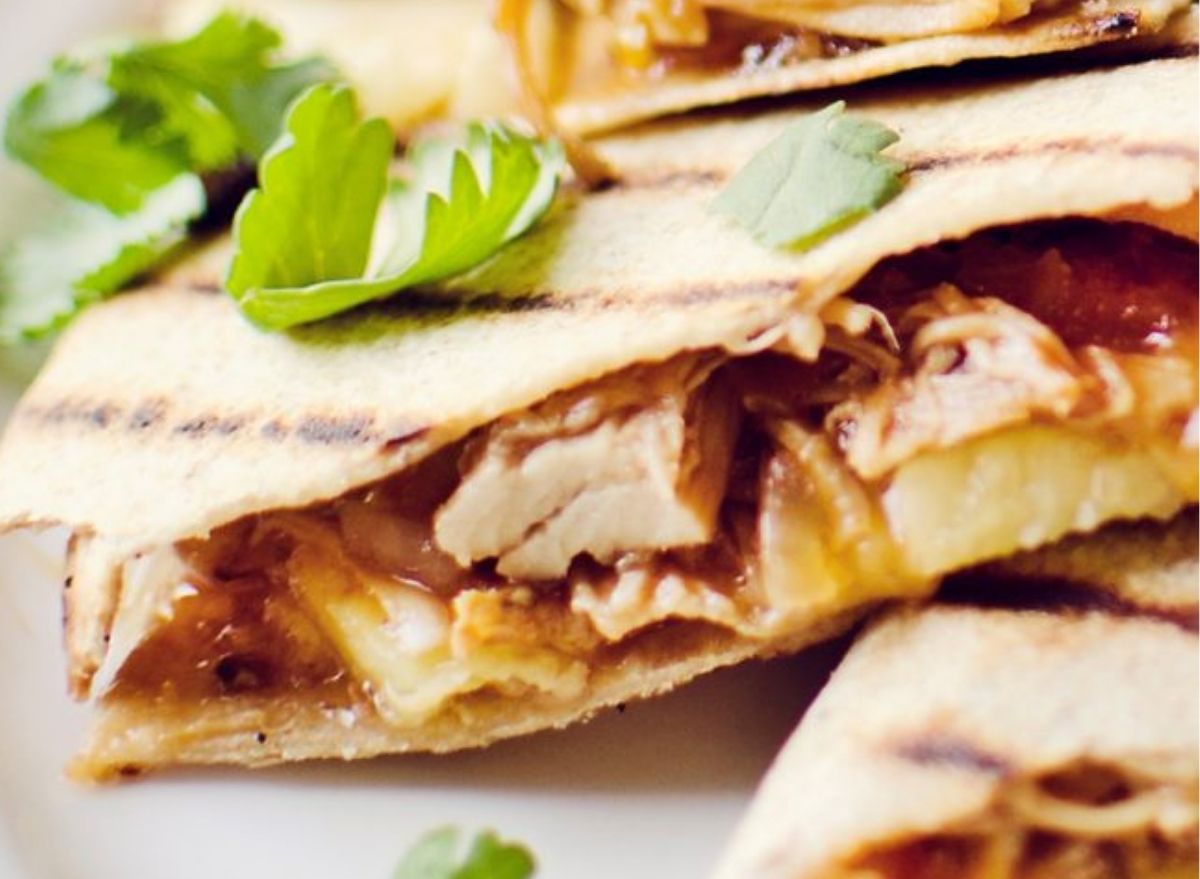 An unexpected kitchen tool, the crockpot, plays an important role in this mouthwatering quesadilla recipe that fuses together barbecue chicken, fresh pineapple, and shredded cheddar cheese. Garnished with cilantro and served with sour cream, this easy recipe may just become your weekday dinner go-to.
Get the recipe for Crockpot BBQ Chicken and Pineapple Quesadilla from The Creative Bite. 
For more delicious recipes and breaking food news sign up for our newsletter!
Read more:
50 Best Easy (and Fast) Dinner Recipes
10 Healthy Salad Dressing Recipes You Can Make in Minutes