I Tasted 8 Edible Raw Cookie Doughs & This Is The Best
The winner should really be no surprise.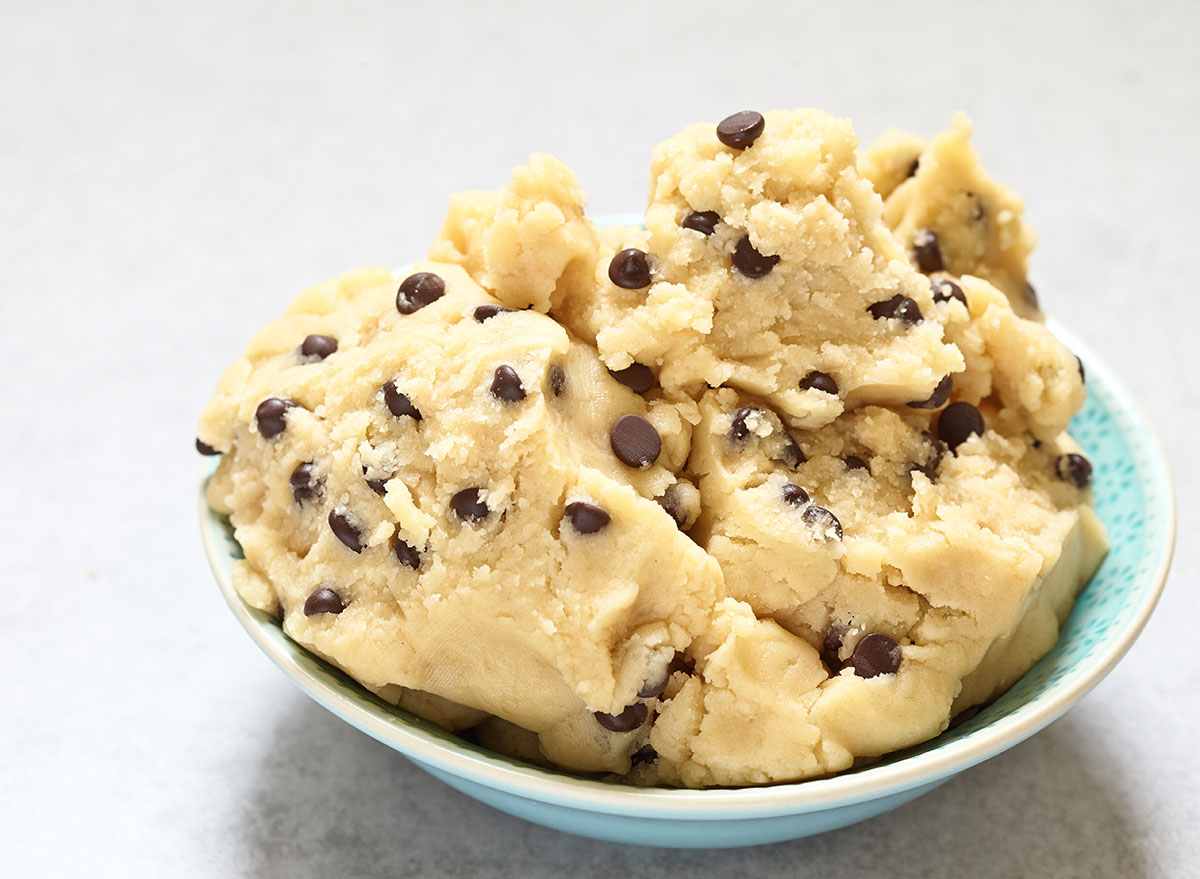 The only reason I wanted to bake cookies when I was a kid was so I could eat the raw cookie dough. "But you're not supposed to" is the phrase we've all heard and it's even written on cookie dough packaging. But has that stopped you? If you're reading this, then I'd say no. Many of us ate that raw cookie dough goodness and took the risk that we wouldn't get sick.
Back then it was thought that raw eggs were the danger when consuming raw cookie dough. We now know that flour in its raw form can be contaminated too. In 2016, 63 people across 24 states contracted E. coli from flour products, according to the CDC.
The cookie industry took notice and many brands have made their delectable cookie dough ready to eat before baking. Finally, we can eat cookie dough without worry—life-changing for sure. I've made it my mission to try all the edible raw cookie doughs I could get my hands on to find the raw cookie dough right for you. I tried 8 edible raw cookie dough brands to find the very best one. During my taste test, I looked for a raw cookie dough that was sweet, chewy, and reminiscent of its "unsafe to eat raw" counterparts.
Here's how the edible raw cookie doughs ranked in my taste test, listed from worst to best. Also, one word of caution, be sure the check the serving sizes of these treats, and measure carefully because each 2-tablespoon serving can quickly add up! (If you're looking for a baked cookie check out: We Tasted 6 Chocolate Chip Cookies, and This Is the Best One.) 
Eat Pastry Gluten-Free Chocolate Chip Cookie Dough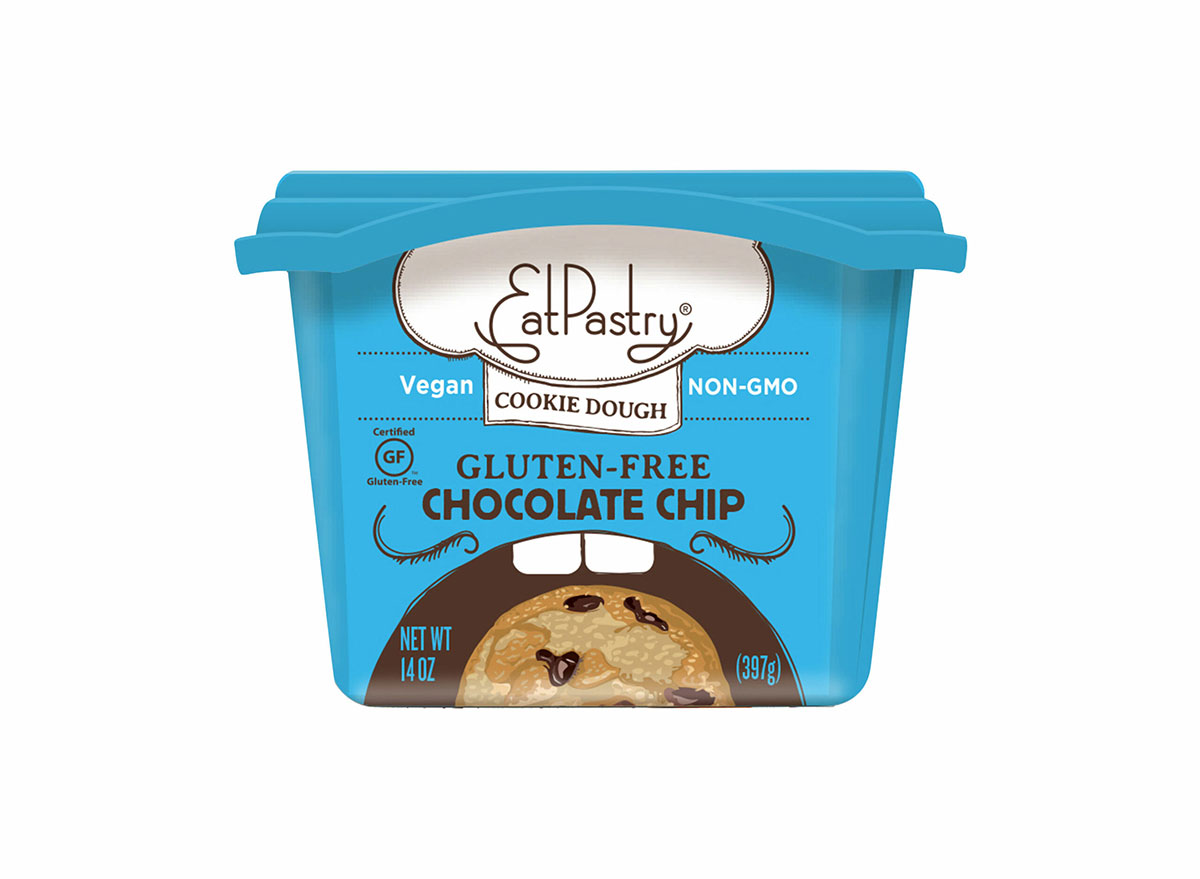 14 grams
: 60 calories, 2.5 g fat (1 g saturated fat), 35 mg sodium, 8 g carbs (0 g fiber, 5 g sugar), 0 g protein
Raw cookie dough in general is grainy from the sugar, but this vegan, non-GMO cookie dough tasted like sand. It had a "hummus-like" consistency and was more of a cookie dough paste than anything else. I'll say that the chocolate chips were high-quality, so I ended up just picking at those instead of the actual dough. The overall taste wasn't horrible, if you have dietary restrictions it probably tastes pretty good baked, but the poor consistency and structure were not what I was looking for in my raw cookie dough.
Cappello's Chocolate Chip Cookie Dough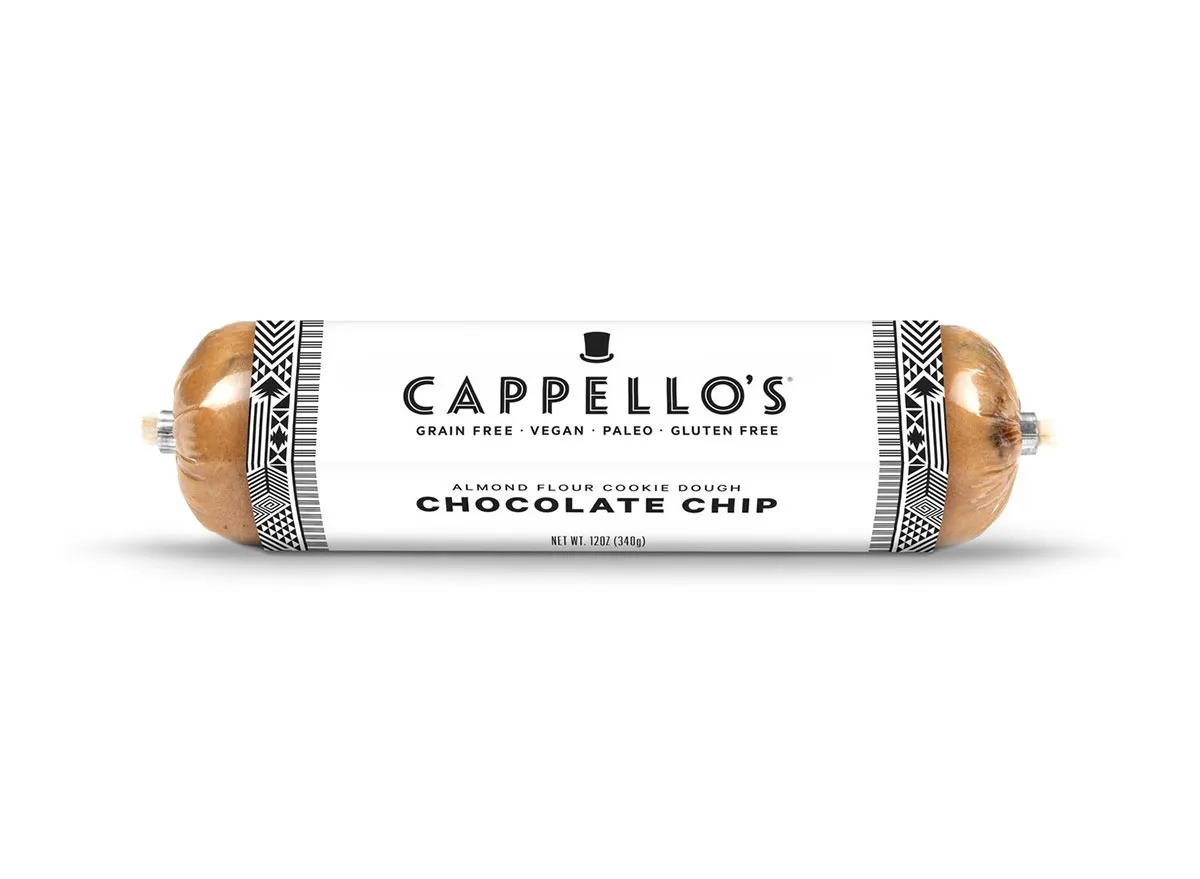 28 grams
: 140 calories, 10 g fat (4.5 g saturated fat), 120 mg sodium, 12 g carbs (2 g fiber, 2 g sugar), 2 g protein
When I think of raw cookie dough, the first word that comes to mind is sweet. That's exactly what Cappello's cookie dough is, but not in an overly sugary way. It's sweetened with organic maple syrup and has sea salt sprinkled throughout to enhance the flavor. It is a tad grainy, but not much more than your average cookie dough. If you have dietary restrictions, I'd definitely opt for Cappello's as it tastes most similar to "regular" cookie dough despite being vegan, gluten-free, dairy-free, paleo, etc.6254a4d1642c605c54bf1cab17d50f1e
Enlightened Chocolate Chip Dough Bites
30 grams
: 90 calories, 7 g fat (2.5 g saturated fat), 90 mg sodium, 13 g carbs (4 g fiber, 1 g sugar), 5 g protein
These gluten-free and keto-friendly dough bites are a staple in my freezer. I would hesitate to call it edible cookie dough, but it's very similar in consistency and taste. They are more along the lines of edible bits of your favorite sweet treats – brownies, cookies, cake, etc. They are super small but pack a strong flavor with each bite. I added mine on top of some ice cream and it was perfection. My only critique is that there's a slight aftertaste, but I seemed to look past it after the first few bites.
Better Bites Bakery Chocolate Chip Do Bites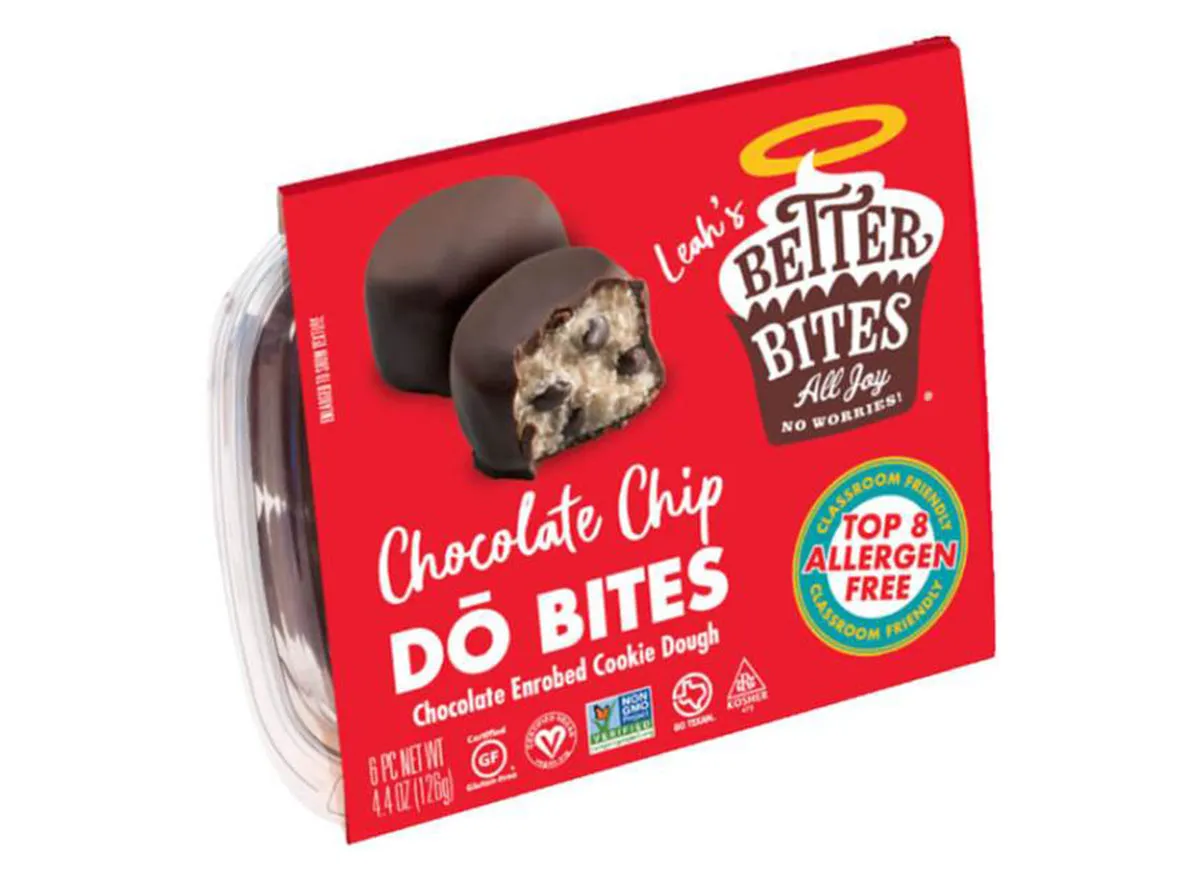 21 grams
: 100 calories, 4.5 g fat (2 g saturated fat), 30 mg sodium, 14 g carbs (0 g fiber, 8 g sugar), 1 g protein
I've never heard of Better Bites Bakery, but I'm glad I was introduced to the brand. Not only is the edible cookie dough creamy, rich, and flavorful, but the bites are covered in chocolate. Yes, you heard that right. It really takes raw edible cookie dough to the next level as it's more of a confection than just plain dough. For those with allergies, these are a safe option as they are free of soy, peanut, tree nut, fish, and shellfish.
Sweet Loren's Chocolate Chunk Cookie Dough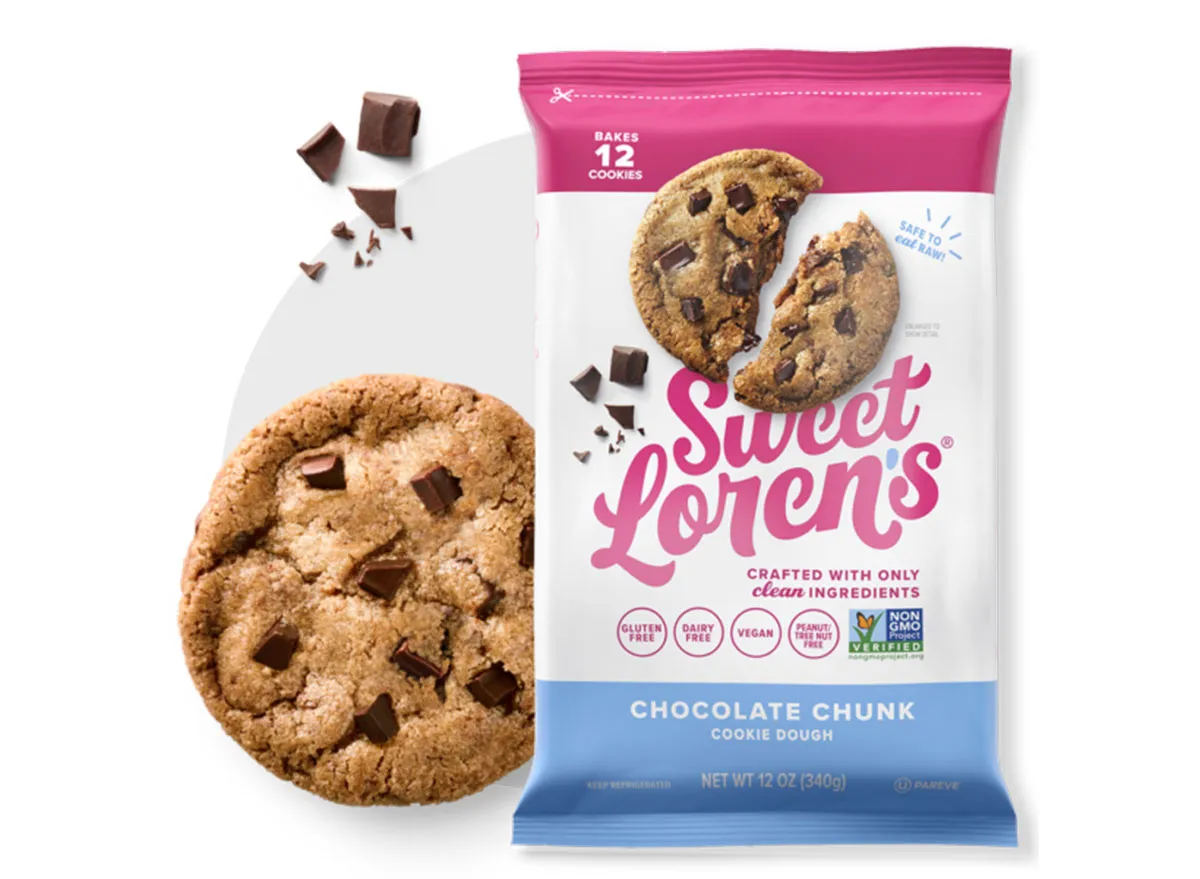 28 grams
: 120 calories, 5 g fat (2.5 g saturated fat), 65 mg sodium, 18 g carbs (1 g fiber, 10 g sugar), 2 g protein
I was pretty skeptical about trying this cookie dough because I had never heard of Sweet Loren's. However, the pink and blue packaging caught my eye and I saw that it was safe to eat raw, and the rest is history. This plant-based cookie dough has a subtle, but sweet flavor. It's not overpowering so you can eat a lot of it without getting a headache, or at least that was the case for me. The chocolate chips were huge and decadent, definitely a stand-out factor to this dough. Sweet Loren's is gluten-free, dairy-free, non-GMO, and vegan and still managed to taste (despite being a tad grainy) and look like cookie dough so it ranks high in my book.
Pillsbury Chocolate Chip Cookie Dough Poppins
28 grams
: 120 calories, 5 g fat (2 g saturated fat), 65 mg sodium, 18 g carbs (0 g fiber, 9 g sugar), 1 g protein
The Pillsbury Poppins are the ultimate raw cookie dough treat. They taste identical to the cookie dough from the package and are a decent size. Unlike other bites, they are actually substantial and could make a small cookie if baked—really. Plus, the resealable pouch makes it easy to store for next time so you can enjoy the cookie dough goodness whenever those cravings hit.
Nestle Toll House Chocolate Chip Edible Cookie Dough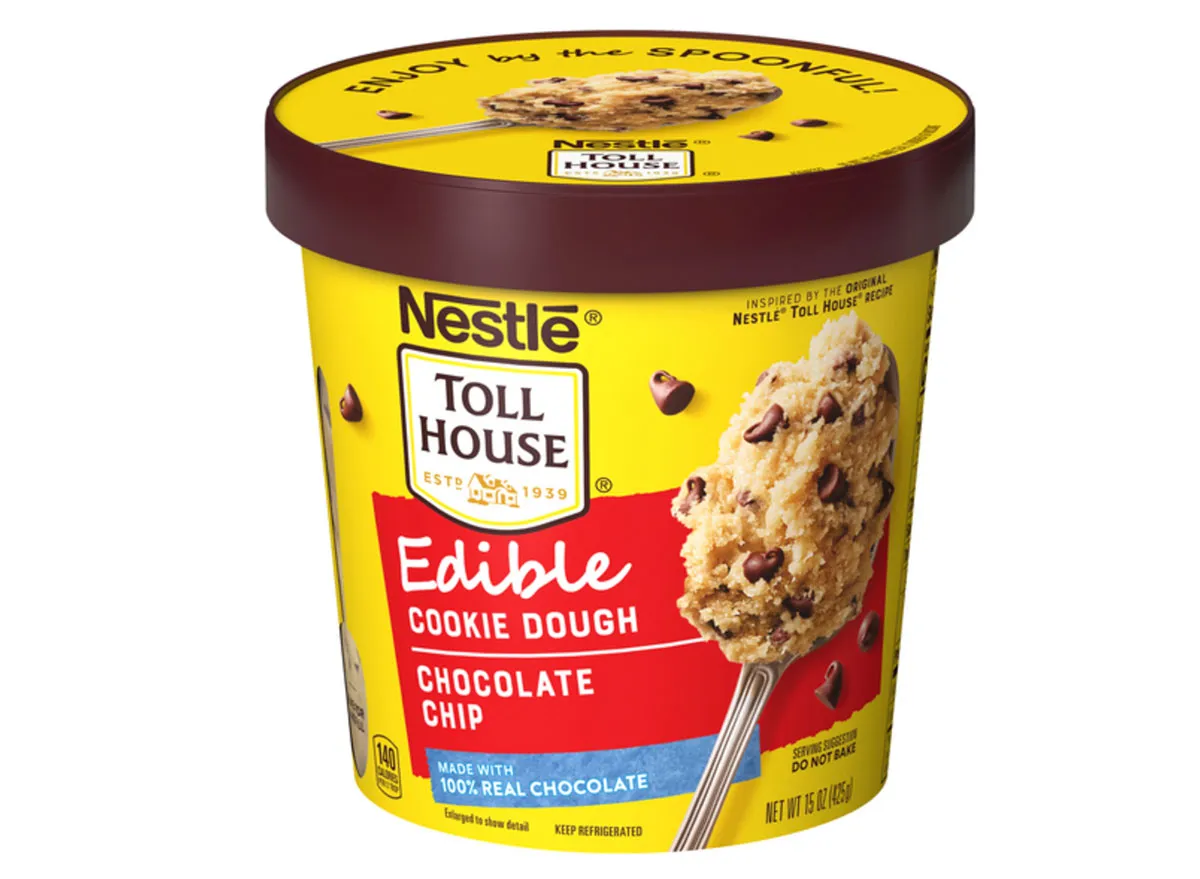 38 grams
: 140 calories, 4.5 g fat (2.5 g saturated fat), 65 mg sodium, 25 g carbs (0 g fiber, 15 g sugar), 1 g protein
This is the most decadent edible raw cookie dough out there. While the brand has bites, it also has tubs of cookie dough. Just grab a spoon and dig in to enjoy creamy, luscious chocolate intertwined with buttery dough. The best part is that it's not grainy, but soft and smooth just like how you remember as a kid. There are even flavor options to choose from such as Cookies & Creme.
Ben & Jerry's Cookie Dough Chunks
28 grams
: 110 calories, 5 g fat (2 g saturated fat), 45 mg sodium, 19 g carbs (0 g fiber, 11 g sugar), 1 g protein
My favorite part of Ben & Jerry's ice cream is the delicious, delectable chunks spread throughout. Now you can enjoy the goodness of its chocolate chip cookie dough goodness on its own. Made from all-natural ingredients like wheat flour, sugar, brown sugar, and butter, these tiny morsels melt in your mouth and taste scrumptious. This edible cookie dough is compact so it's less grainy and chewier. Ben & Jerry's has a wide variety of cookie dough flavors from chocolate chocolate chip to cinnamon bun, just to name a few. There's a flavor for everyone.
Check out more of our exclusive taste tests:
We Tasted 10 Popular Light Beers & This Is the Best
I Tasted All the New Halloween Candy for 2021 & This Is the Best
Casey Clark
Casey Clark is a current journalism student at Hofstra University with a passion for food, beauty, and entertainment.
Read more about Casey