23 Things Fast Food Restaurants Aren't Bringing Back
All the major changes that are here to stay.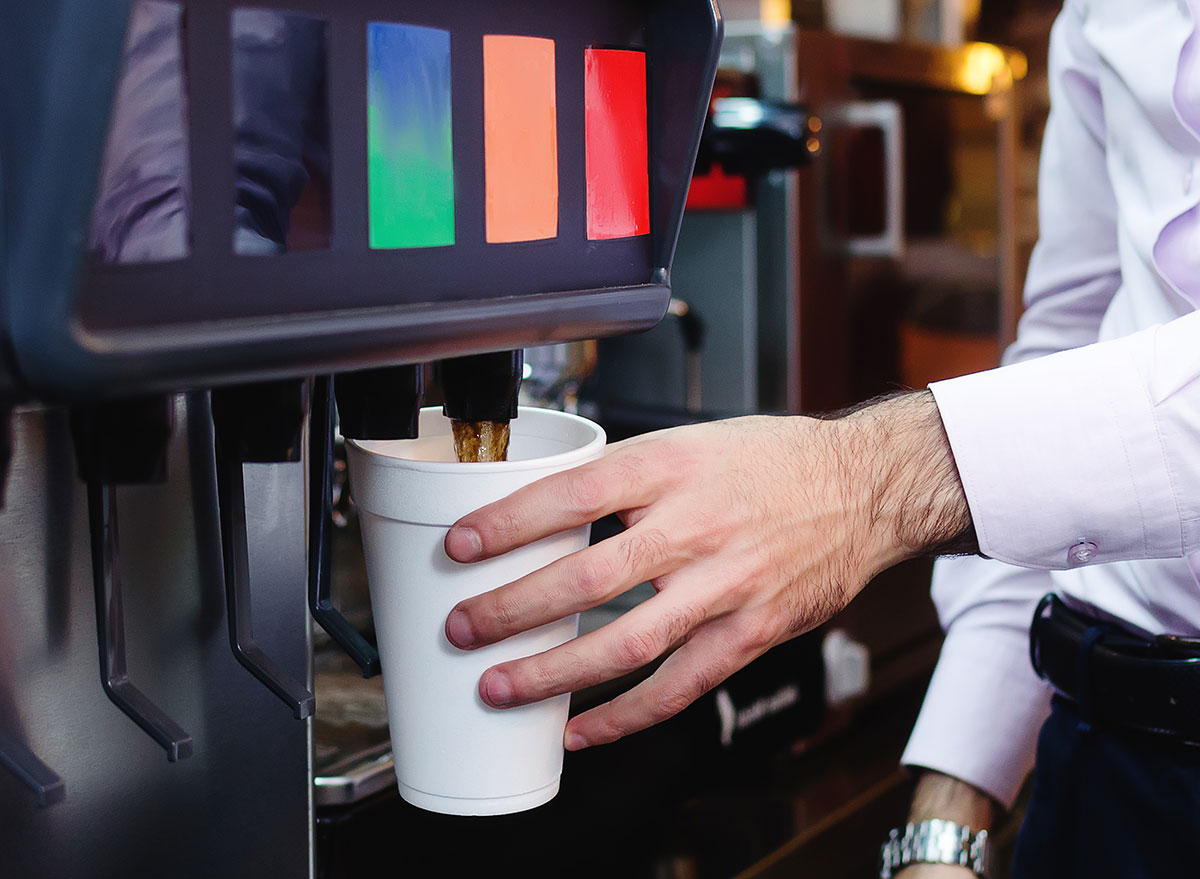 No other industry has seen as much volatility this year as the restaurant industry. Fast food chains, in particular, quickly pivoted to takeout and delivery services in order to survive, and have seen varying levels of success with their dine-in efforts.
From social distancing rules to smaller menus and simplified dining room interiors, here are some of the biggest changes to fast food restaurants we've seen this year. They're likely going to outlast the pandemic and become the new normal for fast casual dining. Don't forget to sign up for our newsletter to get the latest restaurant news delivered straight to your inbox.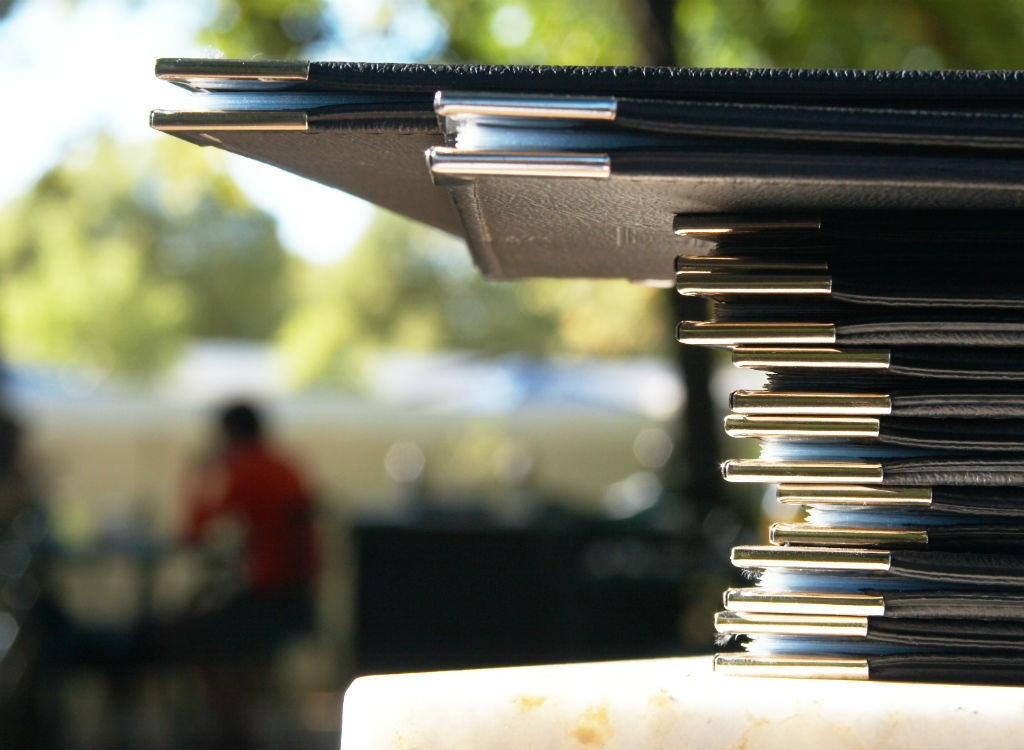 Simplifying and streamlining menus has been one of the main survival strategies for fast food restaurants during the pandemic. From temporary retirement to permanent cuts, major players like McDonald's, IHOP, and Red Robin, have significantly limited their offer during the pandemic. We're yet to see what exactly they're going to end up bringing back or adding to their menus in its stead.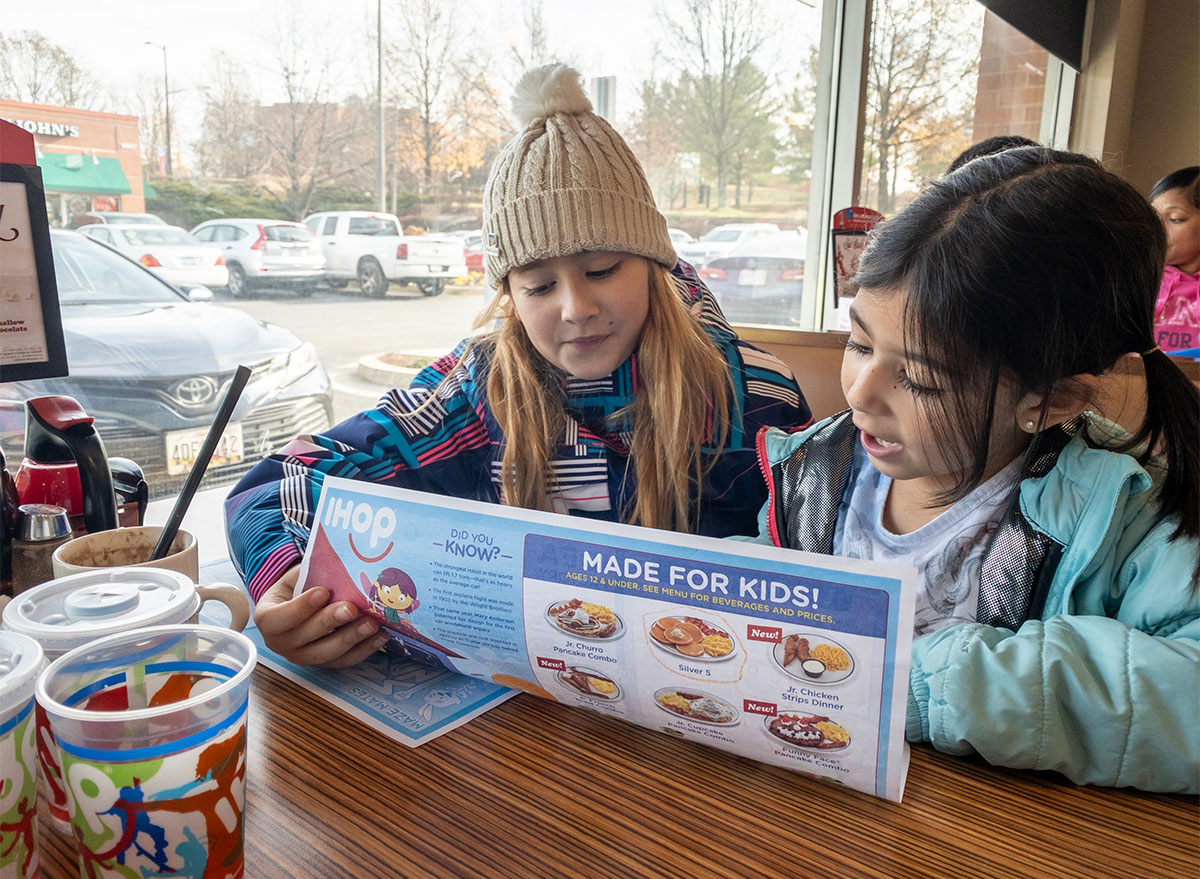 With so many menu changes, some beloved fan favorites were pushed into early retirement due to the pandemic. Most notably, customers will never be able to get KFC potato wedges, Subway's rotisserie chicken and roast beef subs, or McDonald's salads again.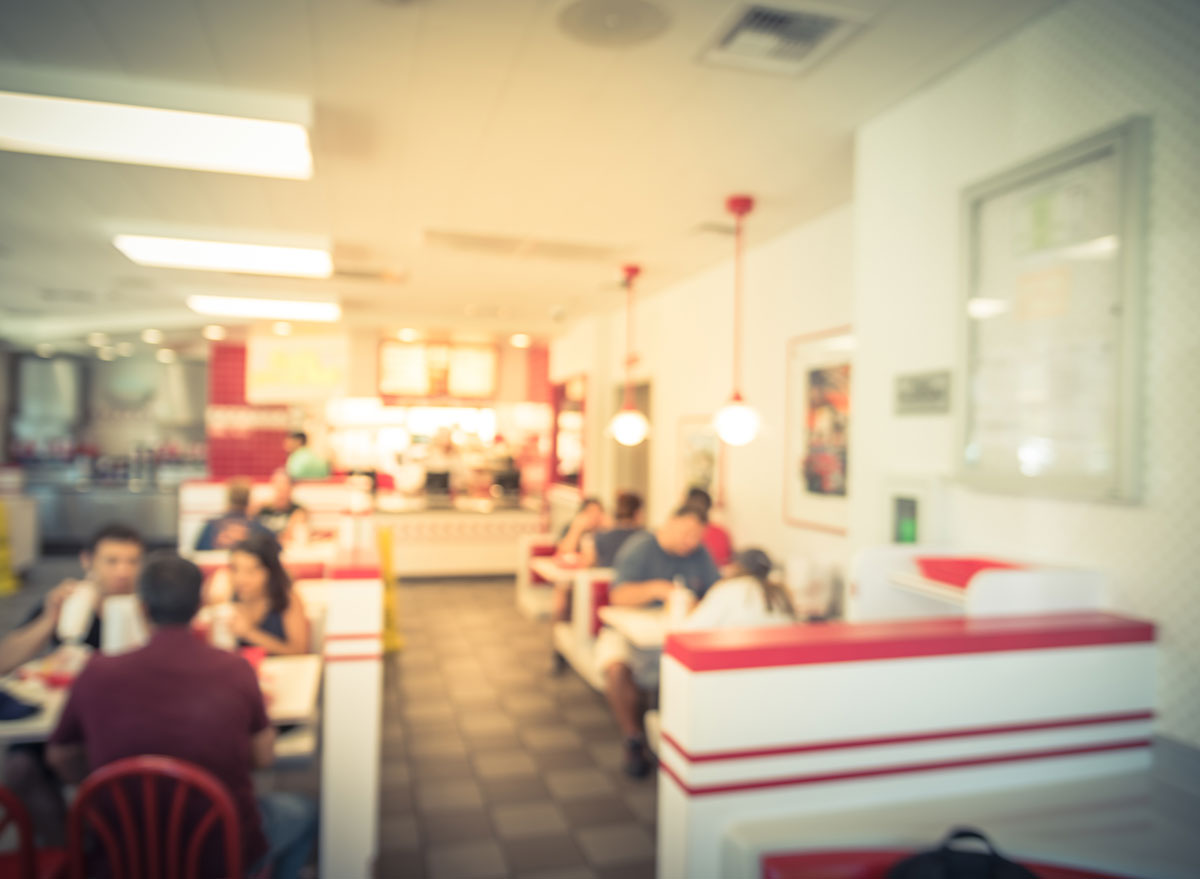 While we currently have a hard time imagining a world in which we freely walk into a restaurant and sit at a table at all, it's even harder to imagine a tightly packed dining room where every table is taken. Coronavirus cases are on the rise in some states, which is causing a new wave of restaurant closures and postponed reopenings—very much a reality that's here to stay. Even when restaurants reopen, they likely won't be operating at full capacity or welcoming crowds for a long while.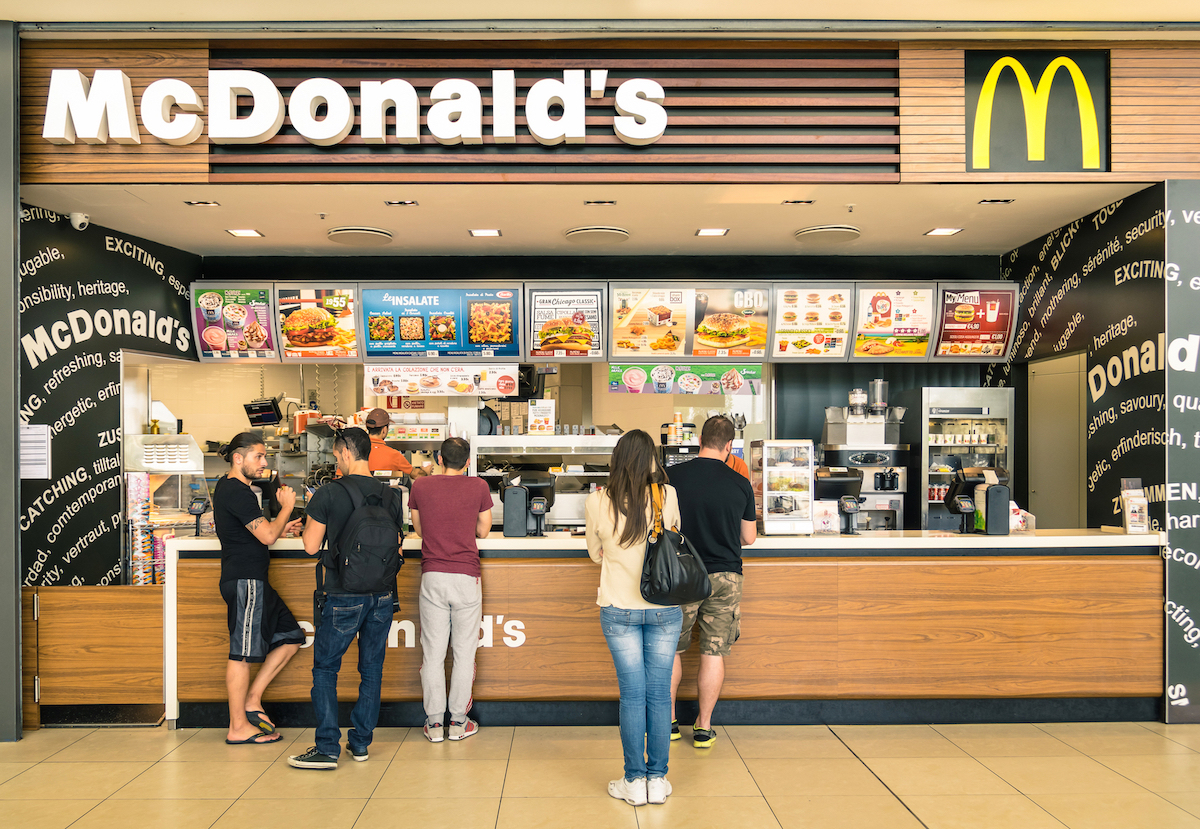 Waiting in a crowded pick-up area for your order number or name to be called is definitely a thing of the past. Most restaurants are eliminating crowds by utilizing pick-up windows and drive-thrus, so waiting inside the restaurant itself will likely be eliminated altogether.
Table arrangements at guests' discretion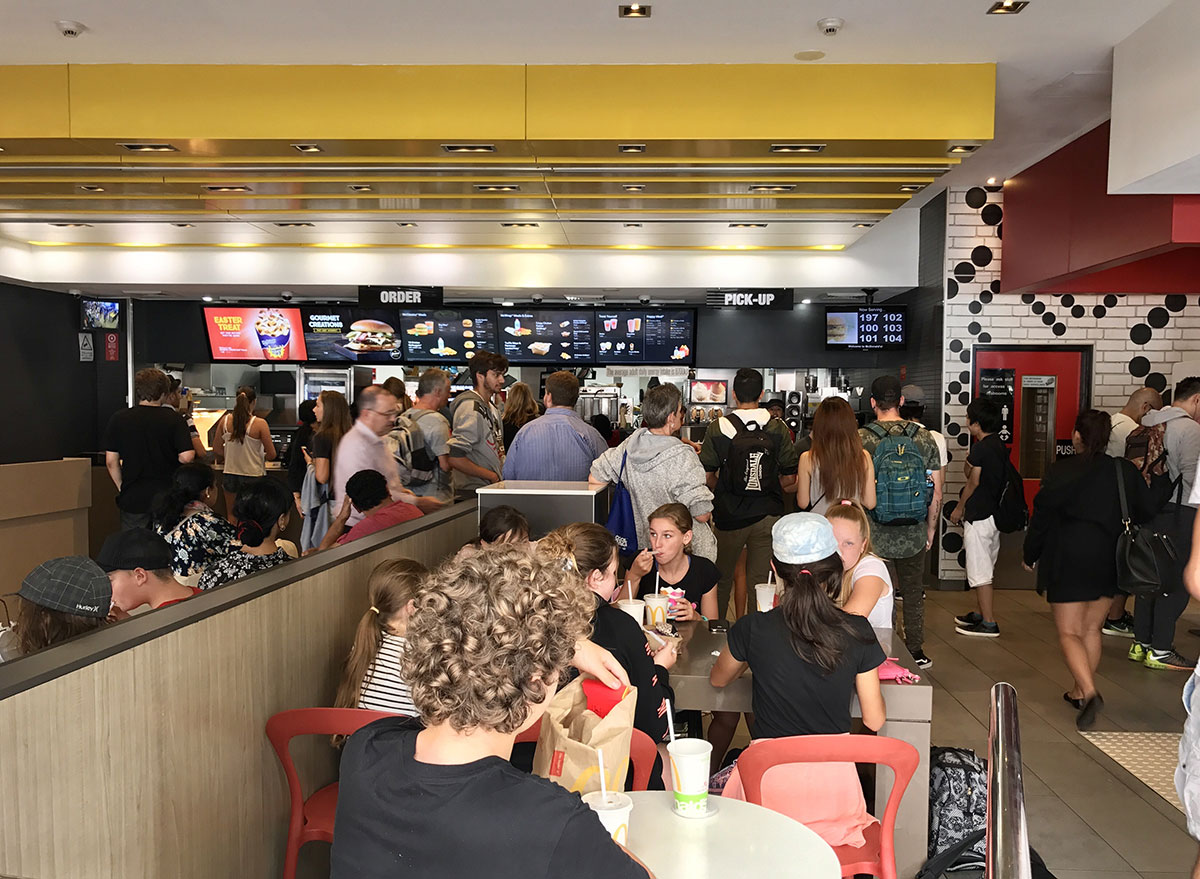 After dining rooms reopen, fast food restaurants are going to move toward a much more controlled dine-in environment. Guests will only be allowed to sit in designated seats at designated tables, and they likely won't have much choice in the matter. Breaking social distancing layouts by pushing multiple tables together and adding more chairs for large parties will be prohibited.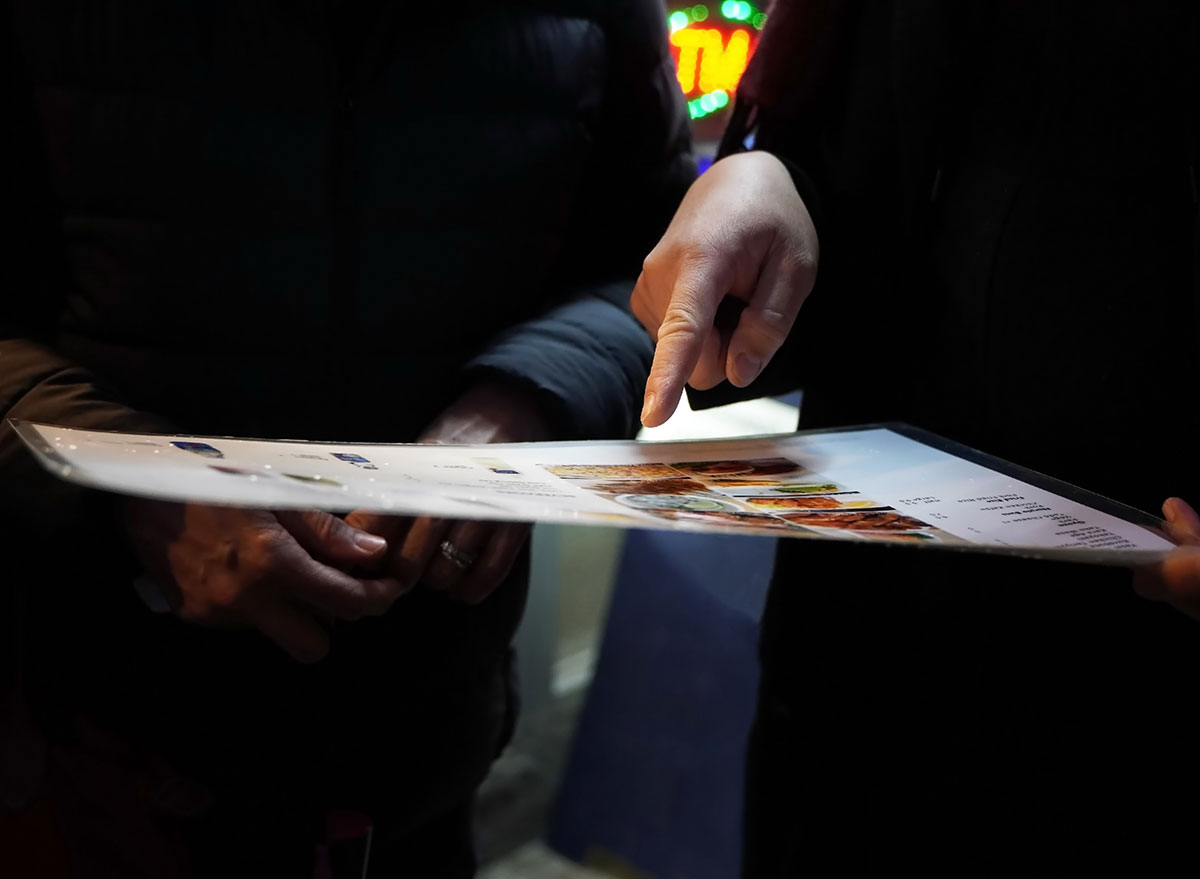 Another major area of innovation brought on by the pandemic is the actual physical menu. Fast food companies like IHOP are doing away with reusable menus and moving to single-use paper menus in an effort to limit high-touch surfaces in their restaurants. Others have used QR codes which can be scanned to pull up a digital menu on customers' phones. All in all, it's hard to imagine fast food restaurants will ever go back to giant, sticky, laminated menus again. Here are 5 Things Likely to Replace Traditional Restaurant Menus.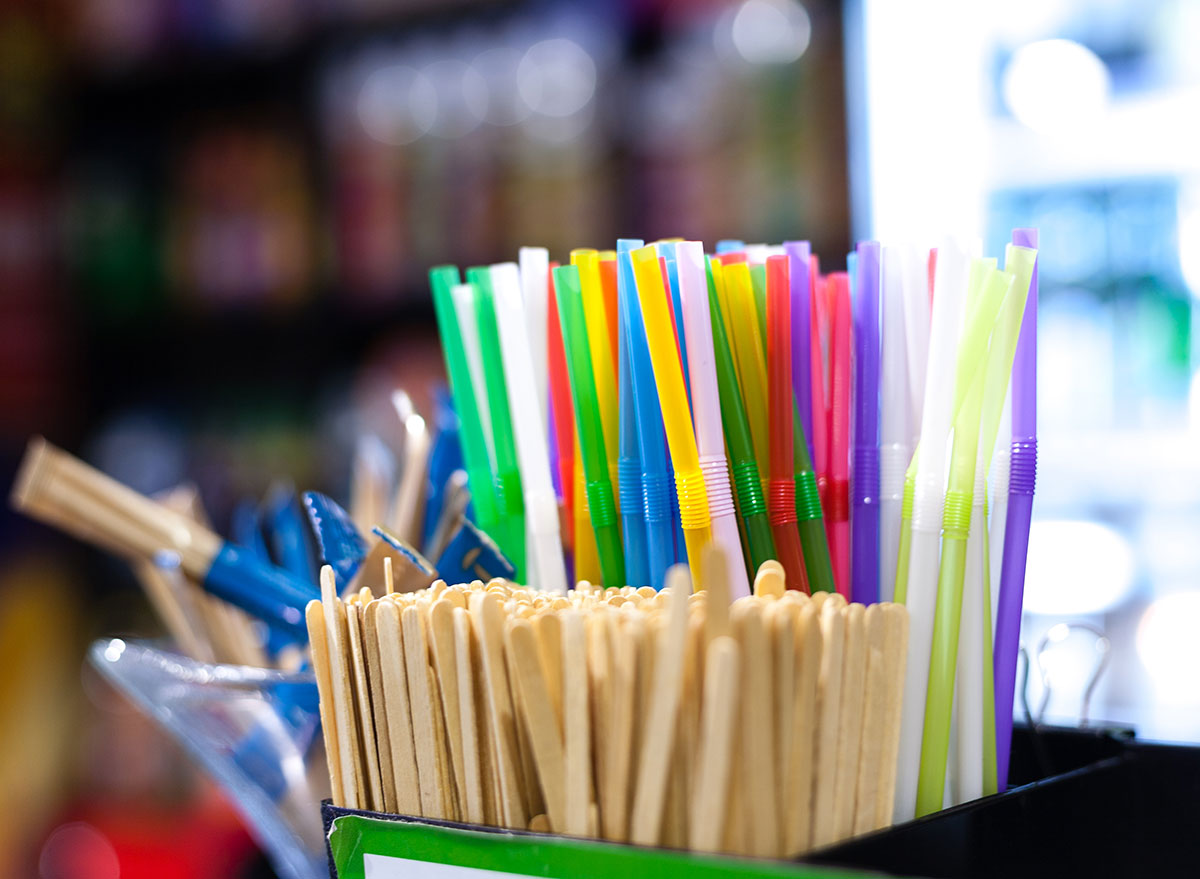 In a 10-page guide released by the National Restaurant Association (NRA), the agency advises against unwrapped straws placed at various self-service beverage stations in fast food restaurants and coffee shops.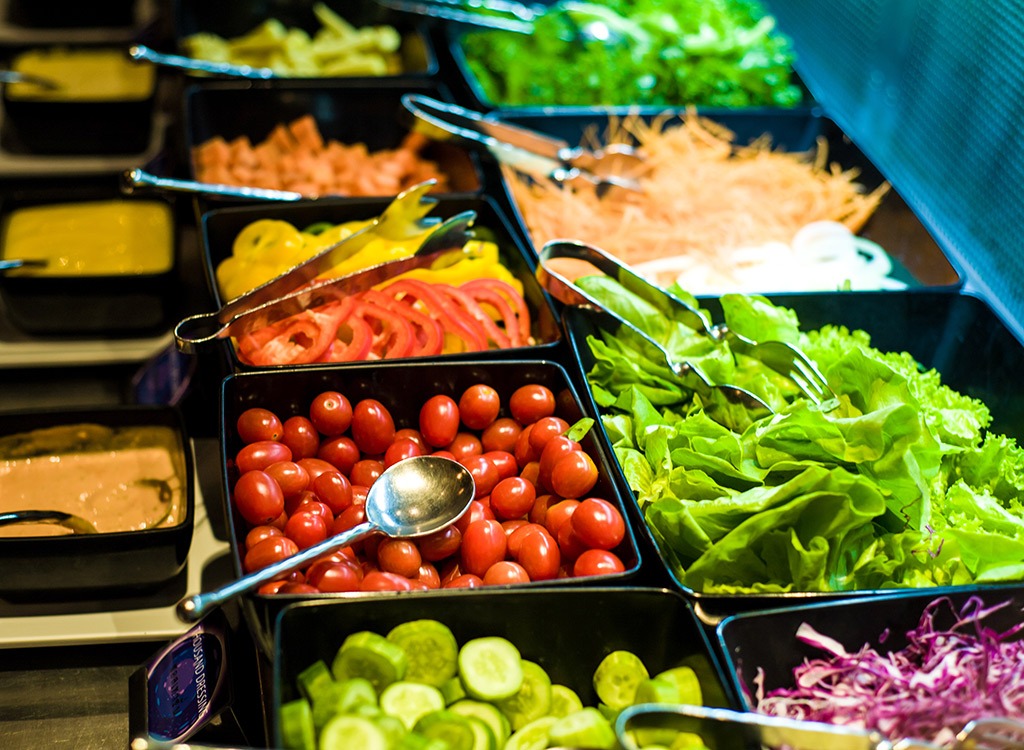 Salad bars and other buffet-style services have fallen out of favor with customers and restaurants during the pandemic. Chains that relied on this type of service have either gone out of business (RIP Souplantation), or have had to figure out a different way to continue their operations—"Still endless helpings, only now we serve you," said Golden Corral about their switch to a cafeteria-style food line. This is likely to become a permanent change for many since food that's been handled by numerous people now seems less appealing than ever.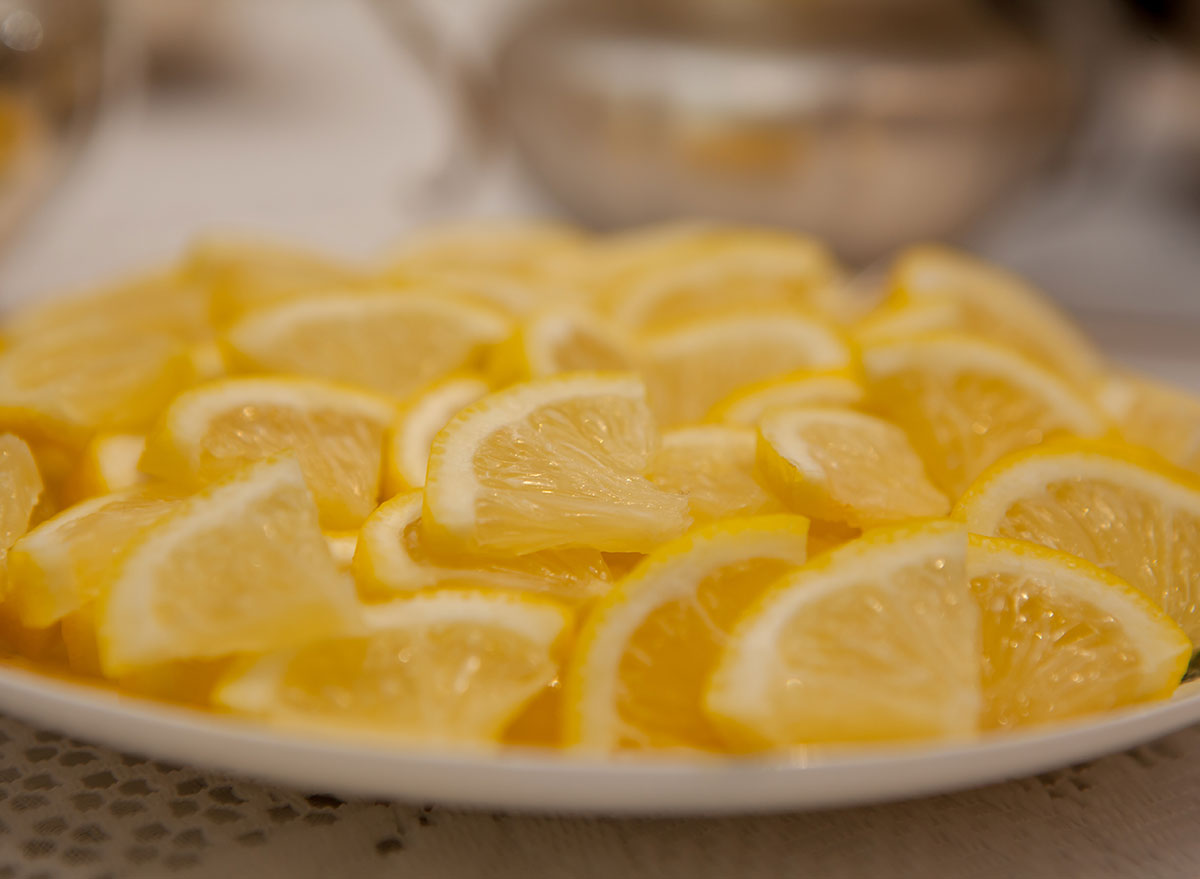 Just as with straws, fast food restaurants are doing away with tubs of pre-cut lime and lemon wedges you may have encountered next to soda machines or in other self-serve areas. And good riddance, we say, since rumor has it those wedges were a cesspool of germs, anyway. Read about that and other shocking secrets your restaurant servers won't tell you.
Self-serve soda fountains
You may have to kiss your free soda refills goodbye for good. According to new reports, more than 15,000 Burger King, Popeye's, and Tim Horton's locations across North America have removed self-serve soda fountains due to coronavirus precautions. With McDonald's following suit shortly thereafter, we can expect that this policy will expand to other chains soon.
Drink refills in the same glassware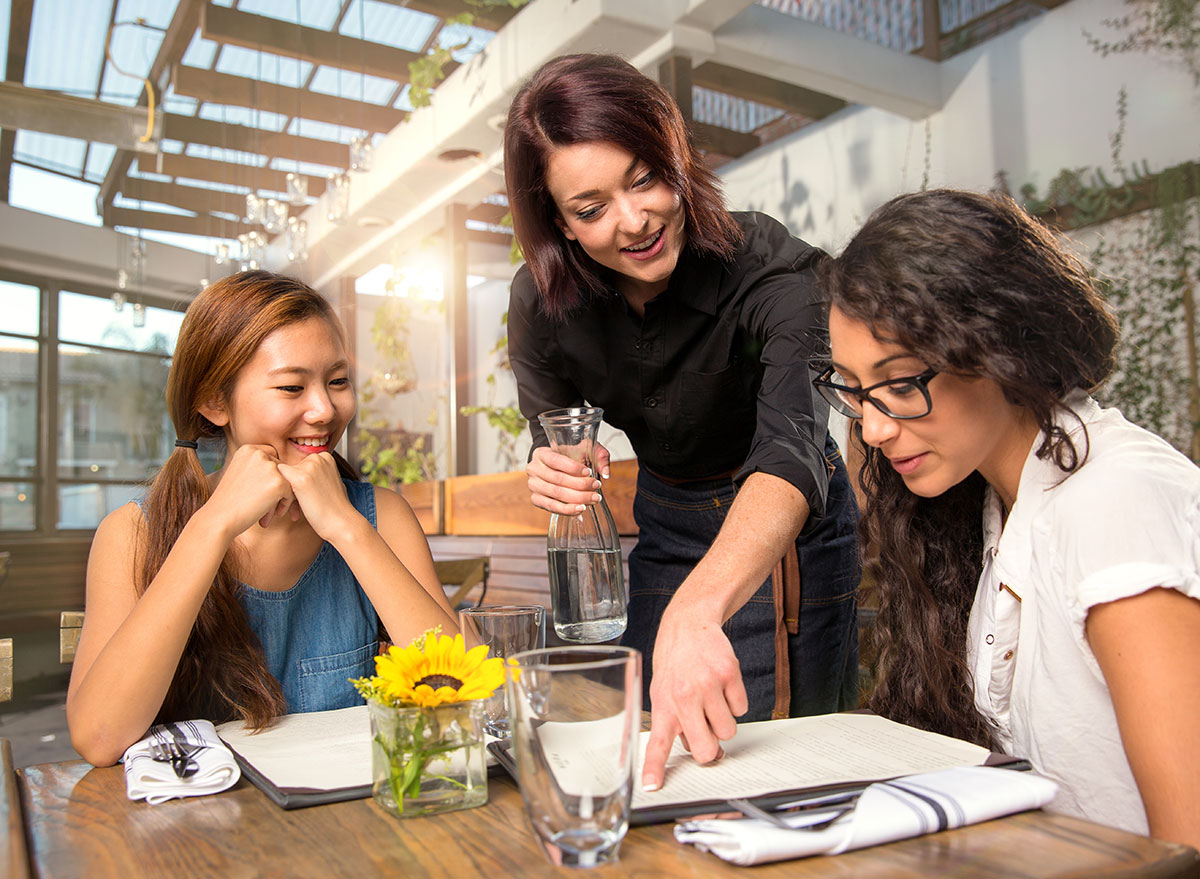 Early on in the pandemic, Starbucks eliminated their eco-friendly policy of serving refills to customers in their own reusable cups. Similarly, restaurants have followed suit, and servers are no longer allowed to refill your drink from a communal pitcher or using the same glassware. Be it water, wine, or coffee, you're getting a new glass or mug every time you get a refill.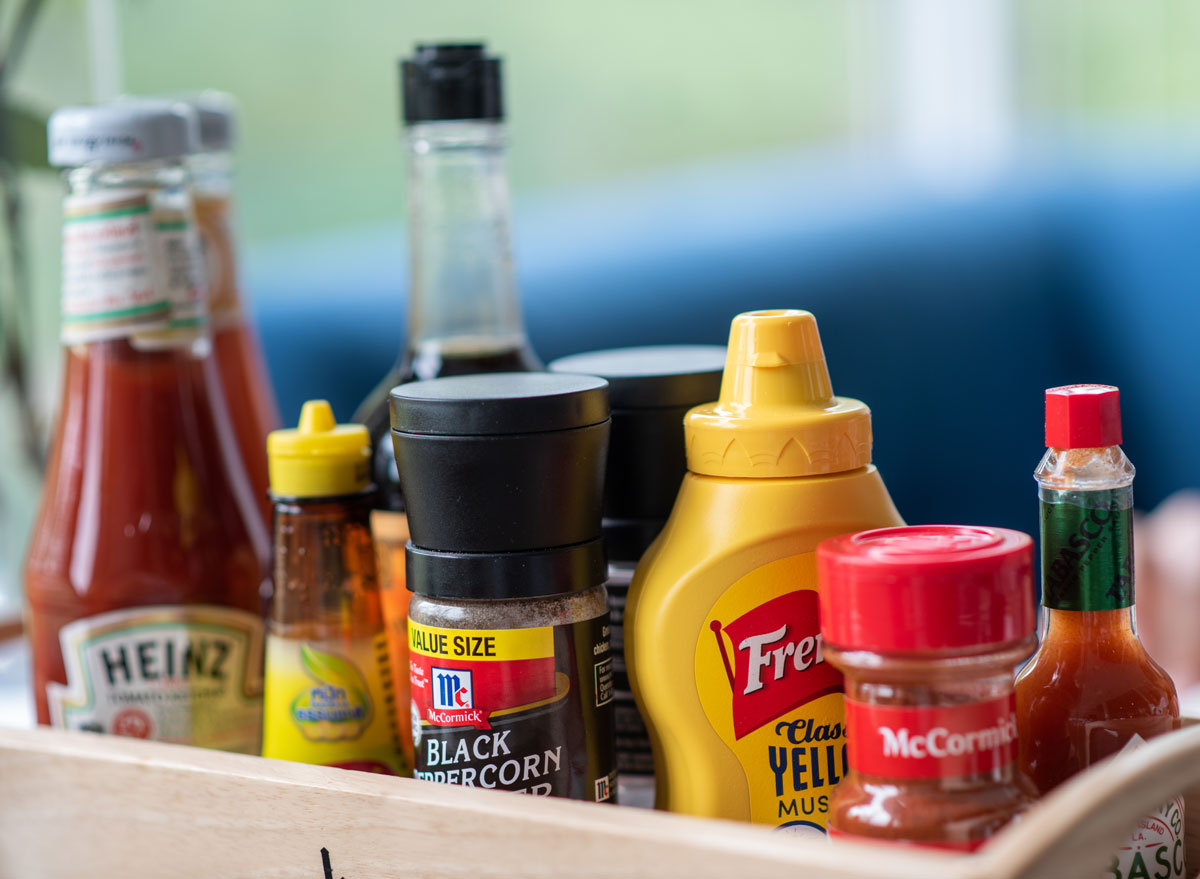 Restaurants have taken on decluttering their processes as well as their tables, which is why all those extra items like condiments, syrup bottles, butter packets, and napkin dispensers have disappeared. This helps lower the amount of things diners share among each other, which is crucial during this pandemic. Once we're dining in again, you'll likely only find ketchup in small individual packets, brought to you upon request by the server. Here are some other Things You'll Never See at Your Neighborhood Diner Ever Again.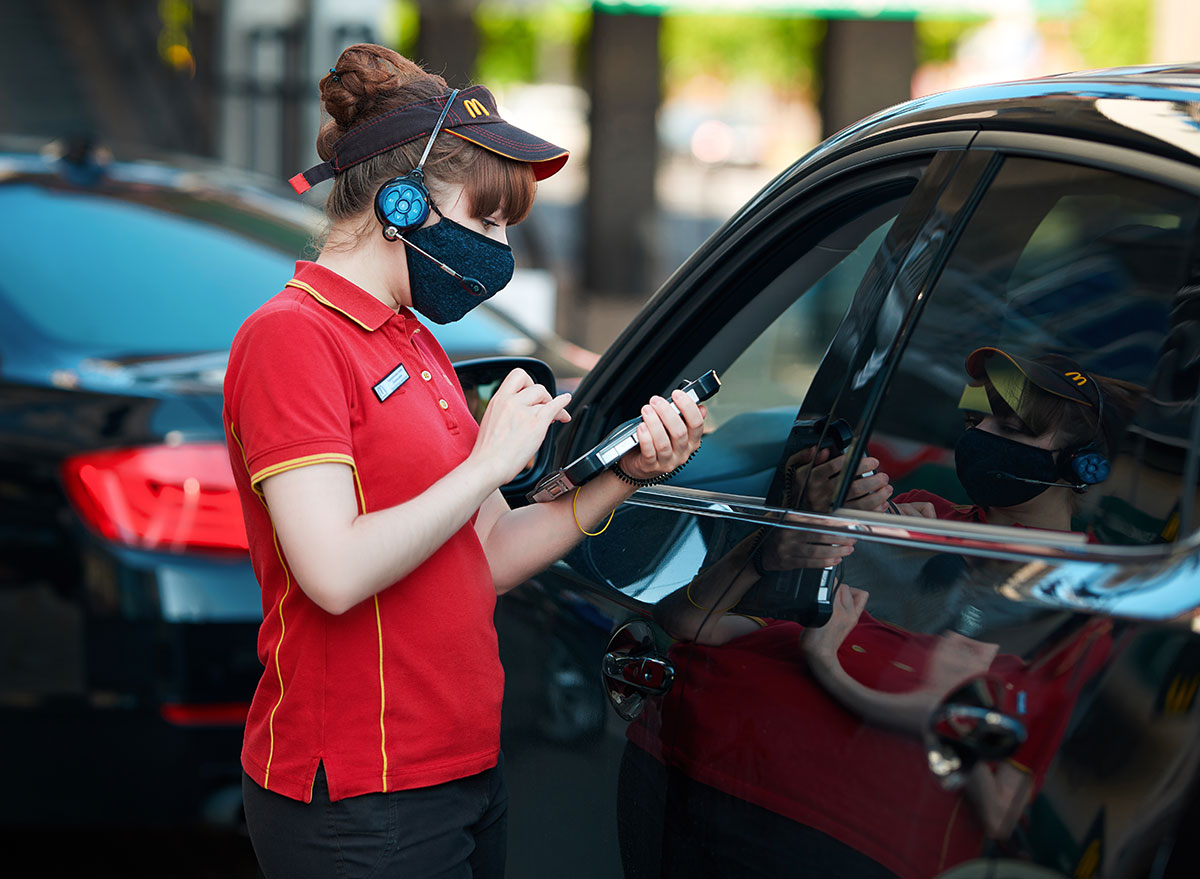 Whether you're hitting up the drive-thru, dining in, or getting delivery, masks will be covering the faces of those who are serving you. And get used to them—we'll likely be wearing masks in public for a long time. Read more about why the CDC Just Issued This Big News About Face Masks.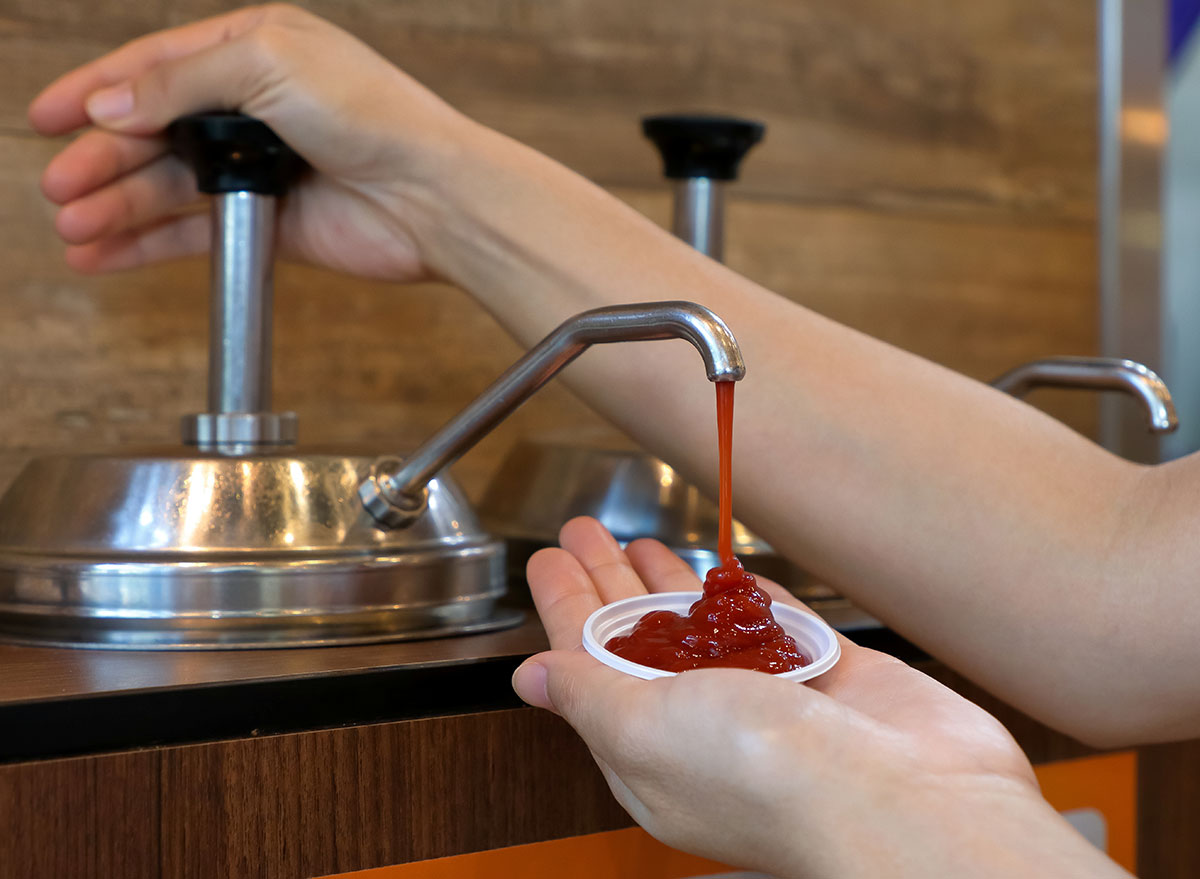 Much like the self-serve soda stations, fast food restaurants are doing away with communal sauce dispensers. Newly opened restaurants will already have their hands full trying to disinfect everything from table surfaces to booths and floors, in order to make it safe for dine-in customers. Having another common touchpoint in the facility would only complicate things and put more people at risk.6254a4d1642c605c54bf1cab17d50f1e
You won't find napkin dispensers on tables at fast food restaurants anymore. Instead, you'll get napkins delivered to your table by your server.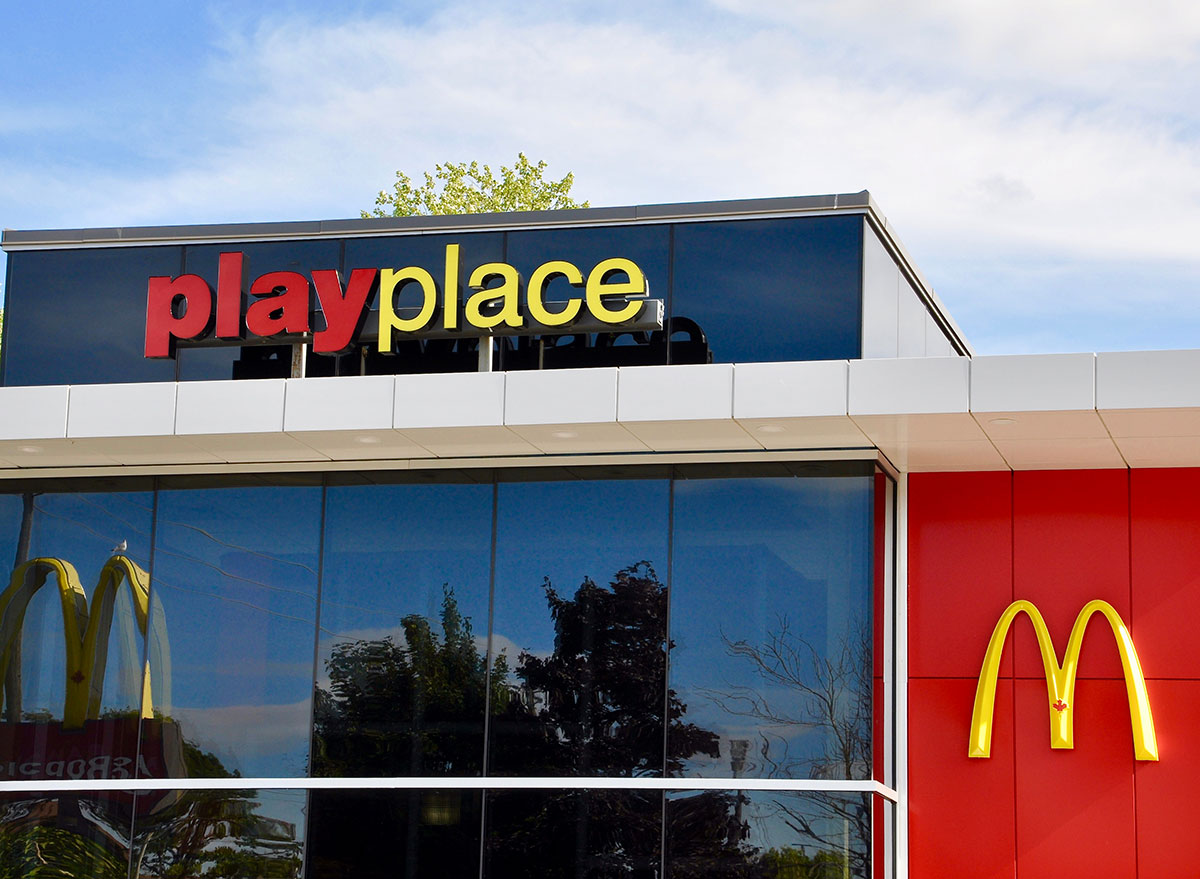 In eliminating high-traffic, high touch-point areas from their locations, it is entirely possible restaurants like McDonald's will remove play areas for children for good. McDonald's Play Places were one of the first areas closed down when the pandemic started in March, as operating them in such risky circumstances is impossible.
Open food sitting on a tray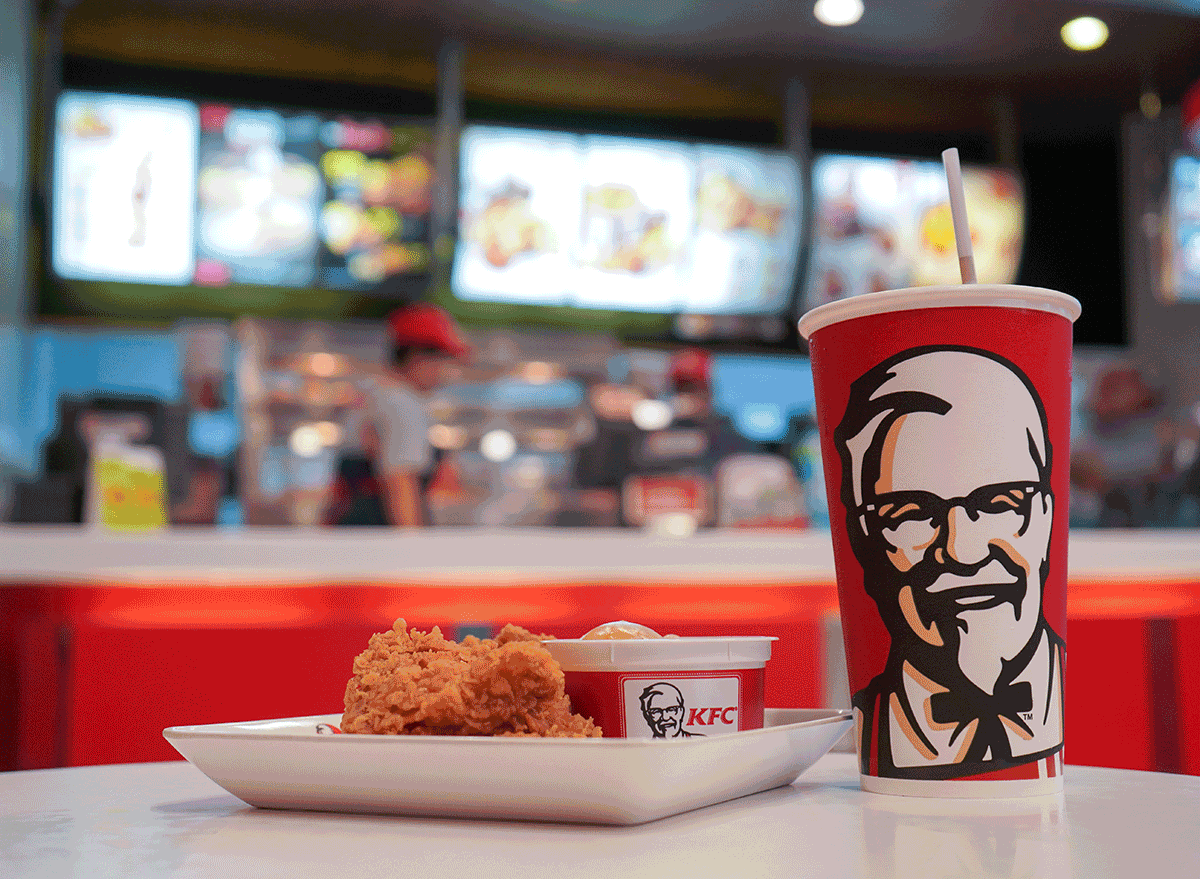 McDonald's noted in a press release that all dine-in customers can expect to have their food delivered straight to the table "in a double-folded bag, while still ensuring safe social distancing." This means that the days of getting your food handed to you on a tray, poking out of its packaging, are probably gone forever.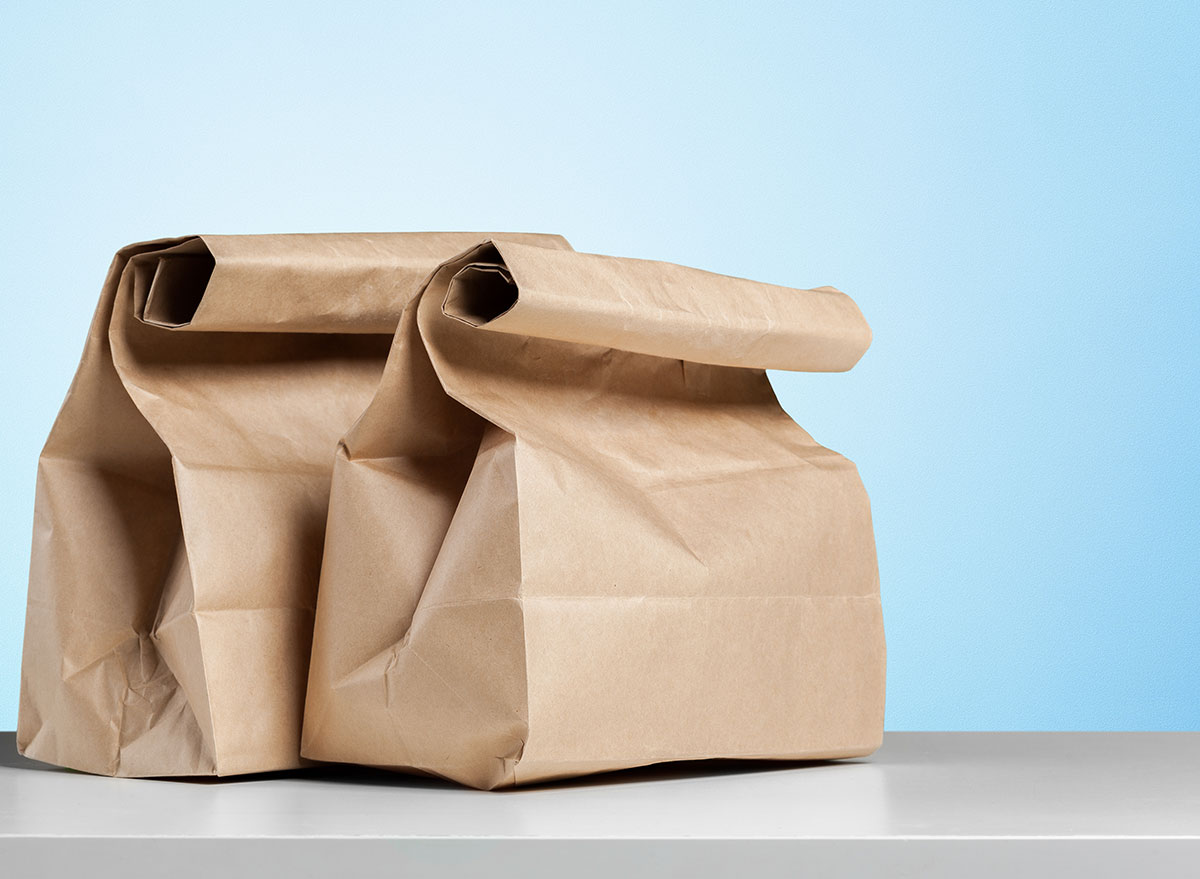 Similar efforts to prevent food contamination and tampering are being exercised for delivery and takeout orders, too. Chipotle, for example, has started using "tamper-evident bags" which are sealed at the top for your safety. The way your food delivery is packaged up will likely remain more secure than it's ever been.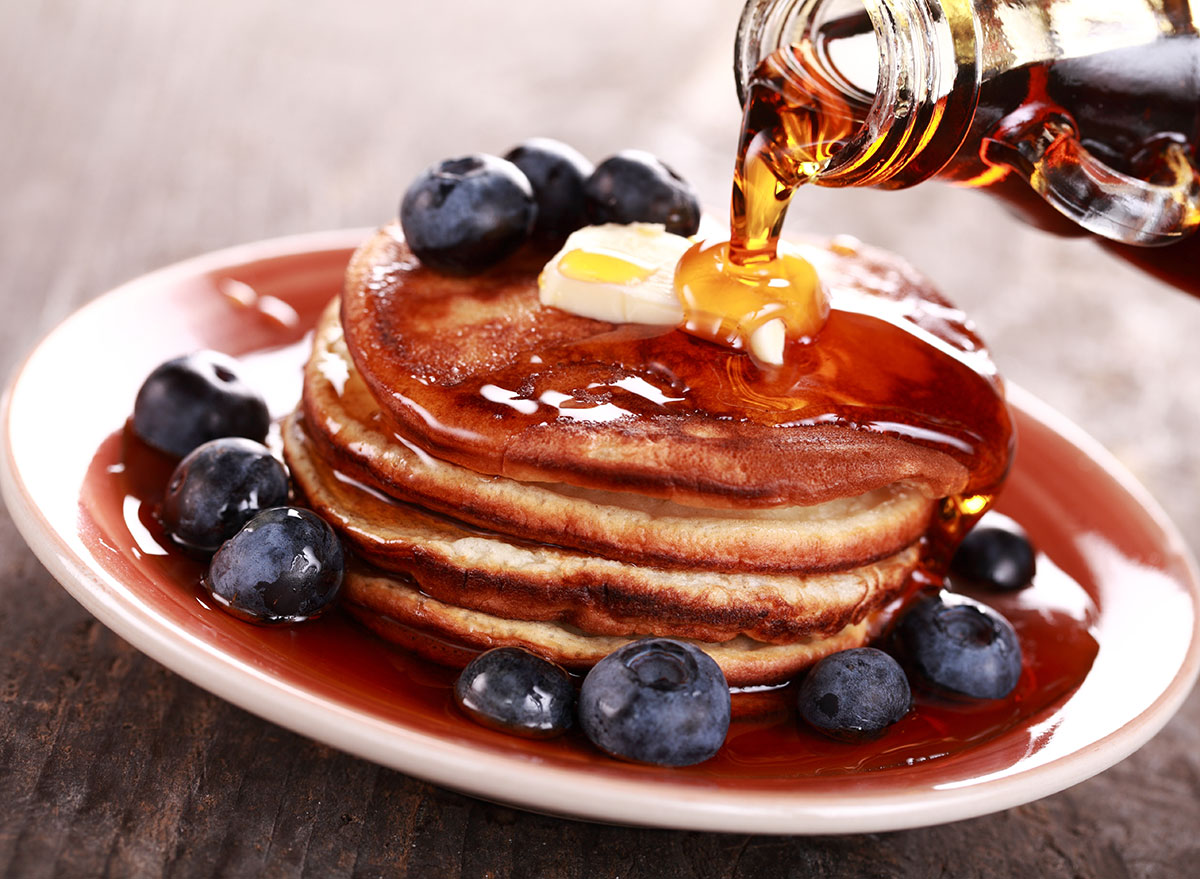 Much like table condiments, syrup bottles at diners and fast food chains are a thing of the past. IHOP, for example, is now using "syrups and condiments provided in single-use containers" instead.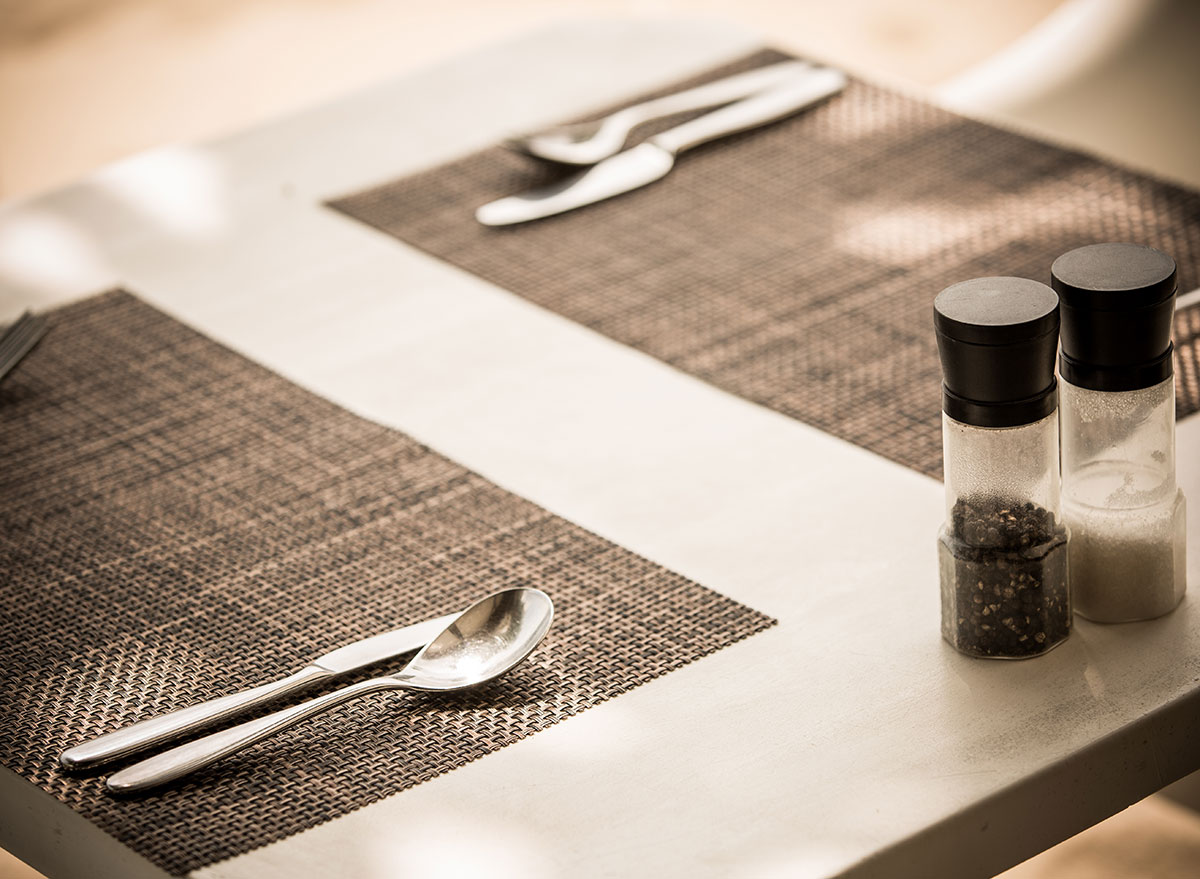 Your table will never be pre-set at full-service fast food places again. Not only will you likely get all disposable flatware, as recommended by the CDC, but even if reusable flatware is involved, it won't be all set up waiting on the table. Instead, servers will bring you cups, placemats, silverware, and napkins once you're seated.
Breakfast sales have been hit harder than any other fast food category during the pandemic. Because of a decrease in morning commuter traffic, as well as due to menu simplifications, many fast food giants have temporarily wound down their breakfast offerings. McDonald's eliminated all-day breakfast with no word on when, if at all, it's coming back, while IHOP went from offering a 12-page menu of breakfast options to a much smaller 2-pager. As long as breakfast sales keep suffering, it's likely fast food chains will pivot their strategies away from the breakfast category.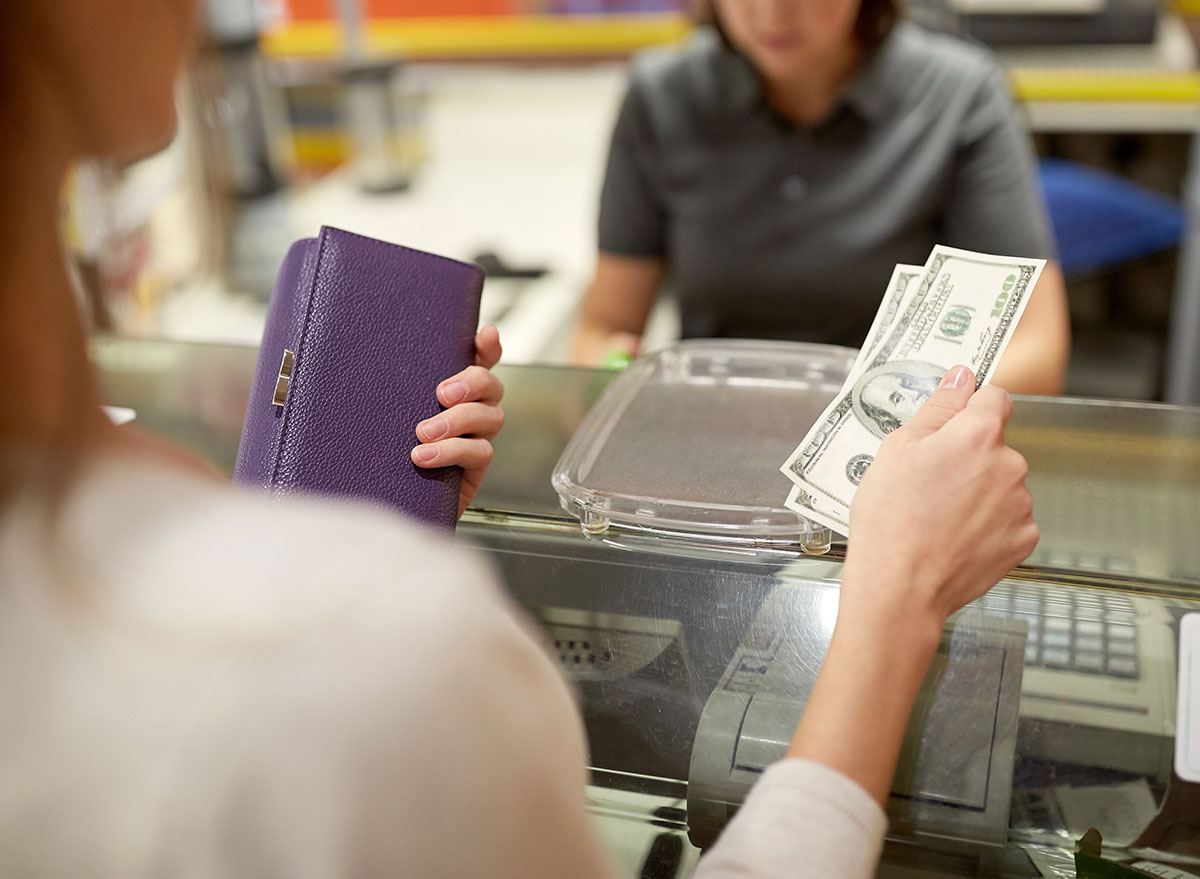 While we were inching toward a cashless world even before this year, the pandemic has kicked those efforts into high gear. As early as April, some fast food restaurants began providing their customers with easy-to-use contactless payment methods, whether through their own app, like Starbucks, or third-party apps like Allset. "We predict the mobile app will become the dominant form of payment," Starbucks CEO Kevin Johnson said in May, and we think he's right. It's hard to imagine restaurants rolling back on their app technologies to reinstate the outdated method of cash payments even after the pandemic. Here's a list of fast food chains that have gone cashless in recent months.
Some of the shuttered locations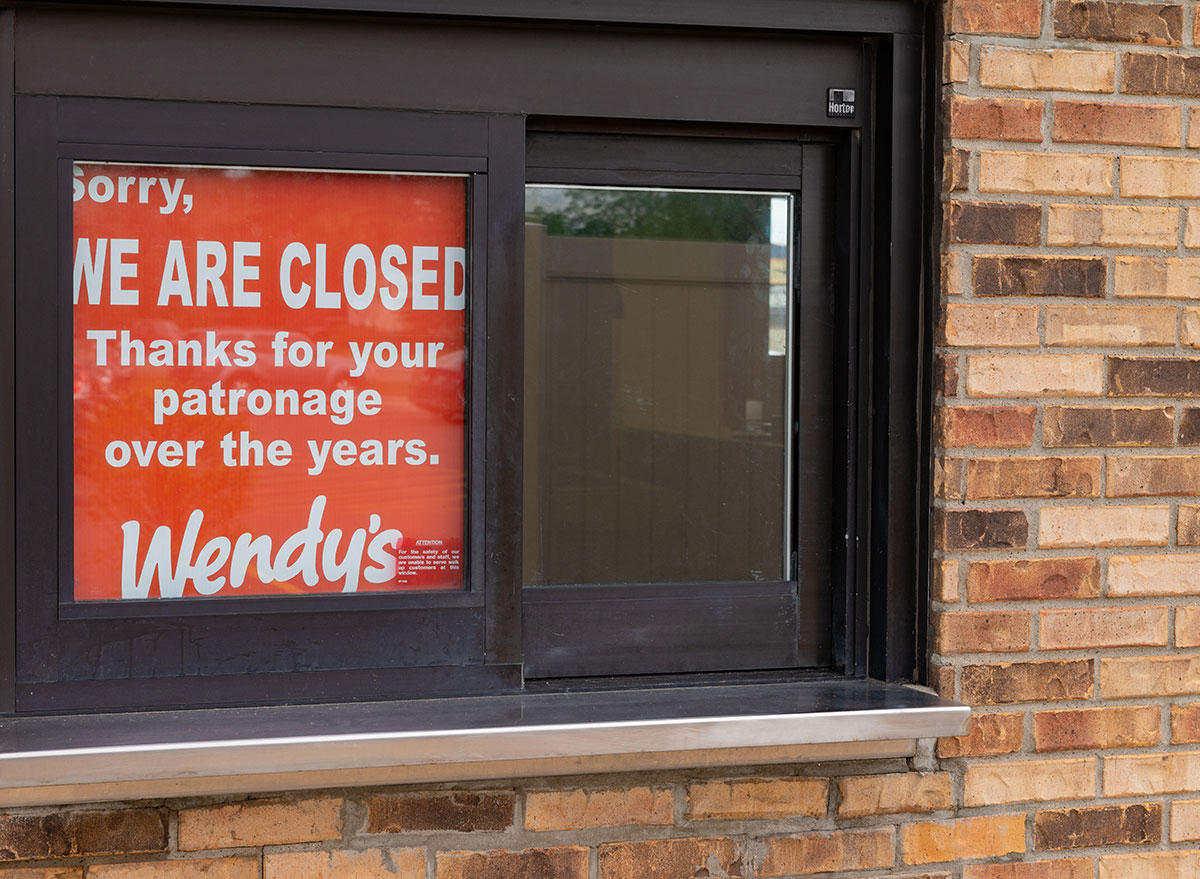 By the end of this year, we'll see thousands of fast food restaurant locations permanently closed. Brands like Starbucks, Dunkin, McDonald's, Red Robin, Wendy's, Pizza Hut, Shake Shack, etc. have all announced restaurant closures are in the works this year. Here's a full list of fast food places closing locations for good.
Mura Dominko
Mura is ETNT's Executive Editor, leading the coverage of America's favorite restaurant chains, grocery stores, and viral food moments.
Read more about Mura