31 Good Friday Dinner Recipes for a Delicious Meatless Holiday
Showstopping seafood pastas, fish mains, and cauliflower steaks, too.
Hot Cross Buns may be the most traditional food to eat on Good Friday, but you can't live on bread alone. That's why we've gathered these 31 vegetarian and seafood-centric recipes for the last Friday of Lent, so that you can keep with tradition but not have to wait until Easter brunch for a worthy holiday meal.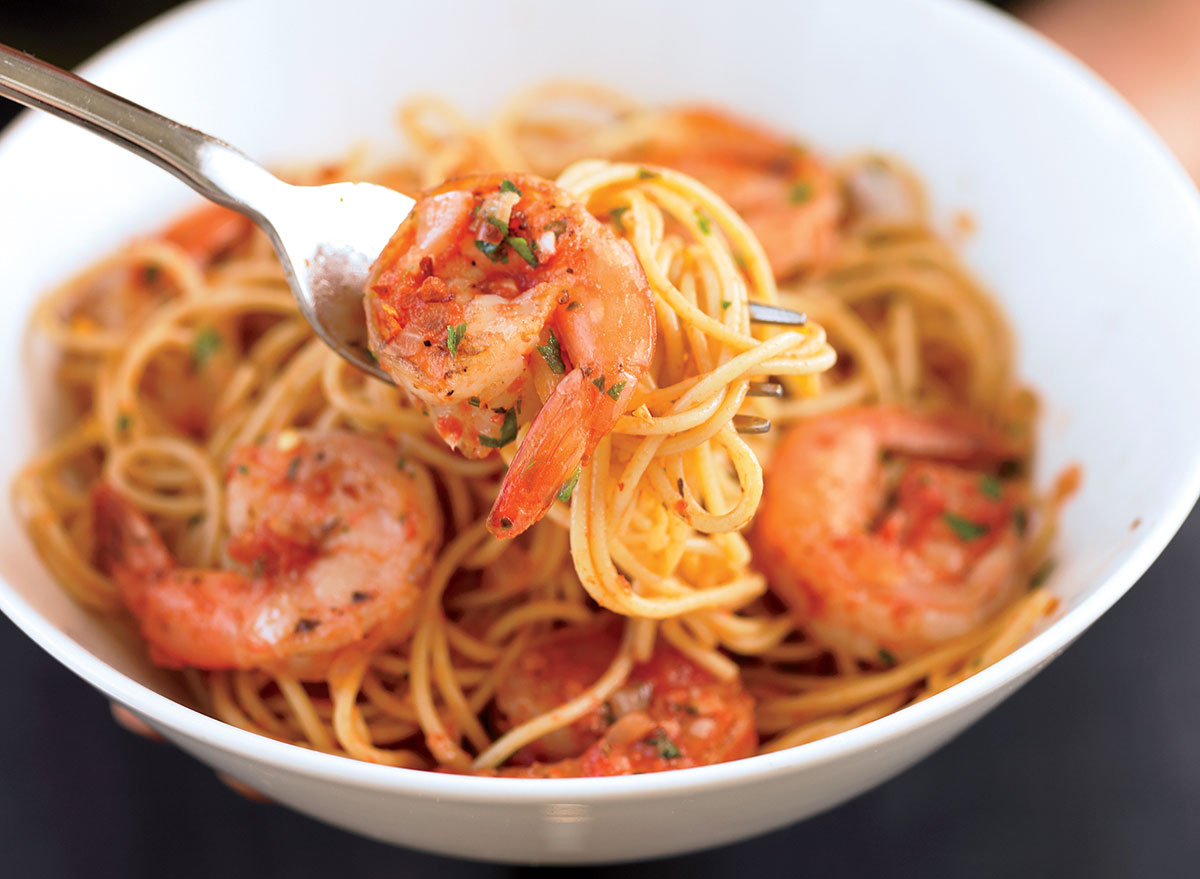 While many seafood pastas overdo it in the cream and butter department, this classic Italian dish is simply seasoned with white wine, garlic, oregano, and red pepper flakes for heat—meaning you can actually taste the shrimp, not just the sauce.
Get our recipe for Shrimp Fra Diavolo.
Vegetarian Stuffed Tomatoes
Not everyone eats fish on Good Friday. For the crowd that's trying to keep things strictly vegetarian, these herby stuffed tomatoes are an impressive showpiece that pair with a bed of rice for a filling holiday meal.
Get our recipe for Vegetarian Stuffed Tomatoes.
Honey-Mustard Glazed Salmon With Roasted Asparagus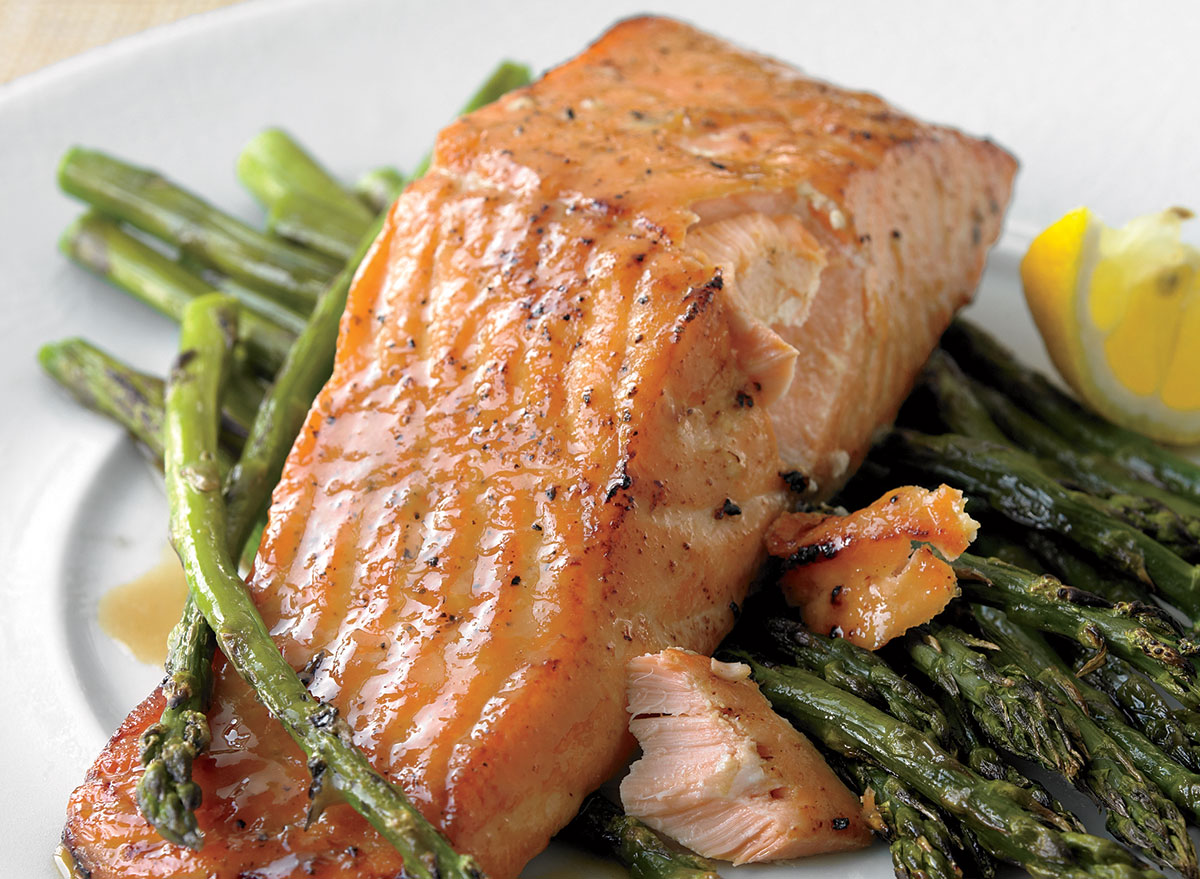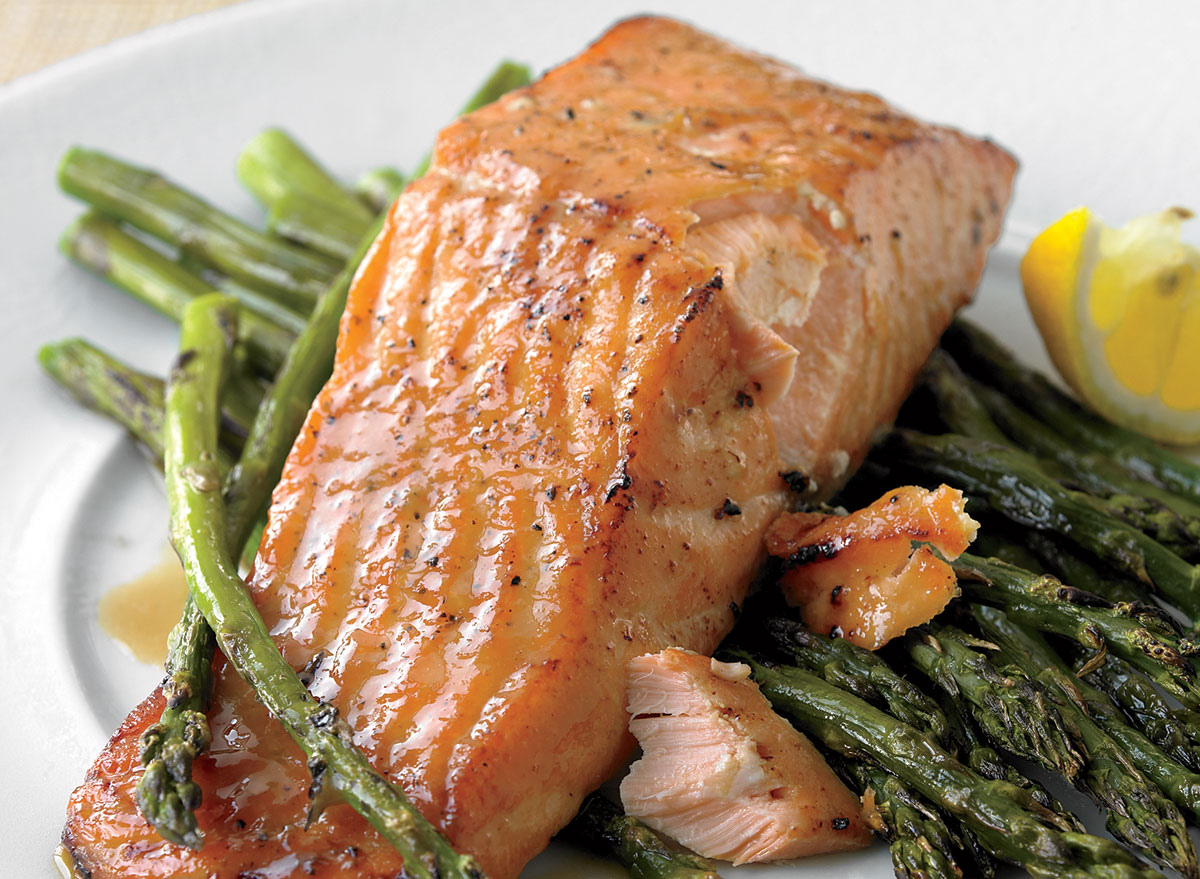 Salmon is the ever reliable crowd-pleaser of the seafood family, making it a solid option for your holiday centerpiece. Plus, the 3-minute honey mustard sauce is a useful seafood go-with to keep in your back pocket for future ventures.
Get our recipe for Honey-Mustard Glazed Salmon With Roasted Asparagus.
Thai Scallop Curry with Zucchini Noodles & Shiitake Mushrooms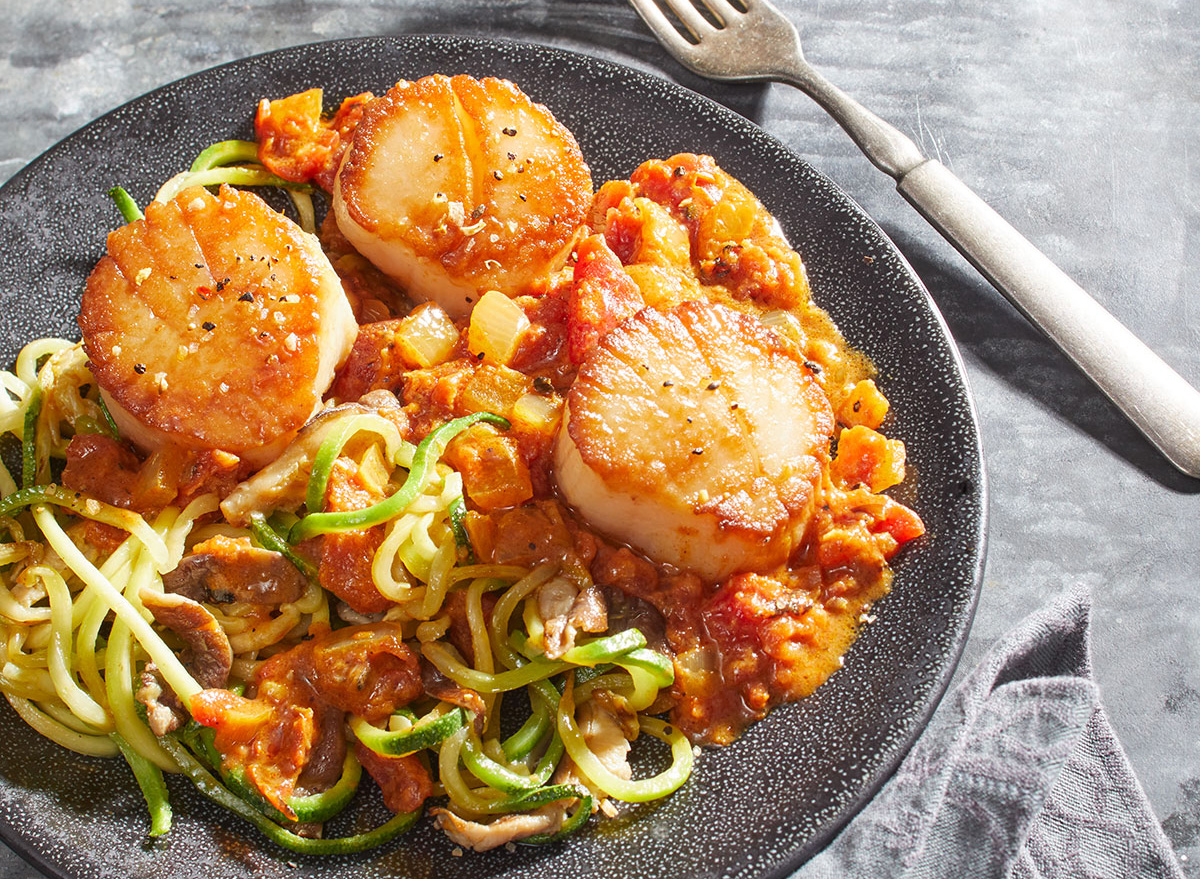 If it's a Good Friday dinner just for two this year, go for this brilliantly-flavored seared scallop dish. With fire-roasted diced tomatoes, fresh ginger, and curry powder, it's festive enough to fit the occasion but simple enough so that you don't have to spend all day in the kitchen.
Get our recipe for Thai Scallop Curry.
Pesto-Topped Grilled Swordfish Steak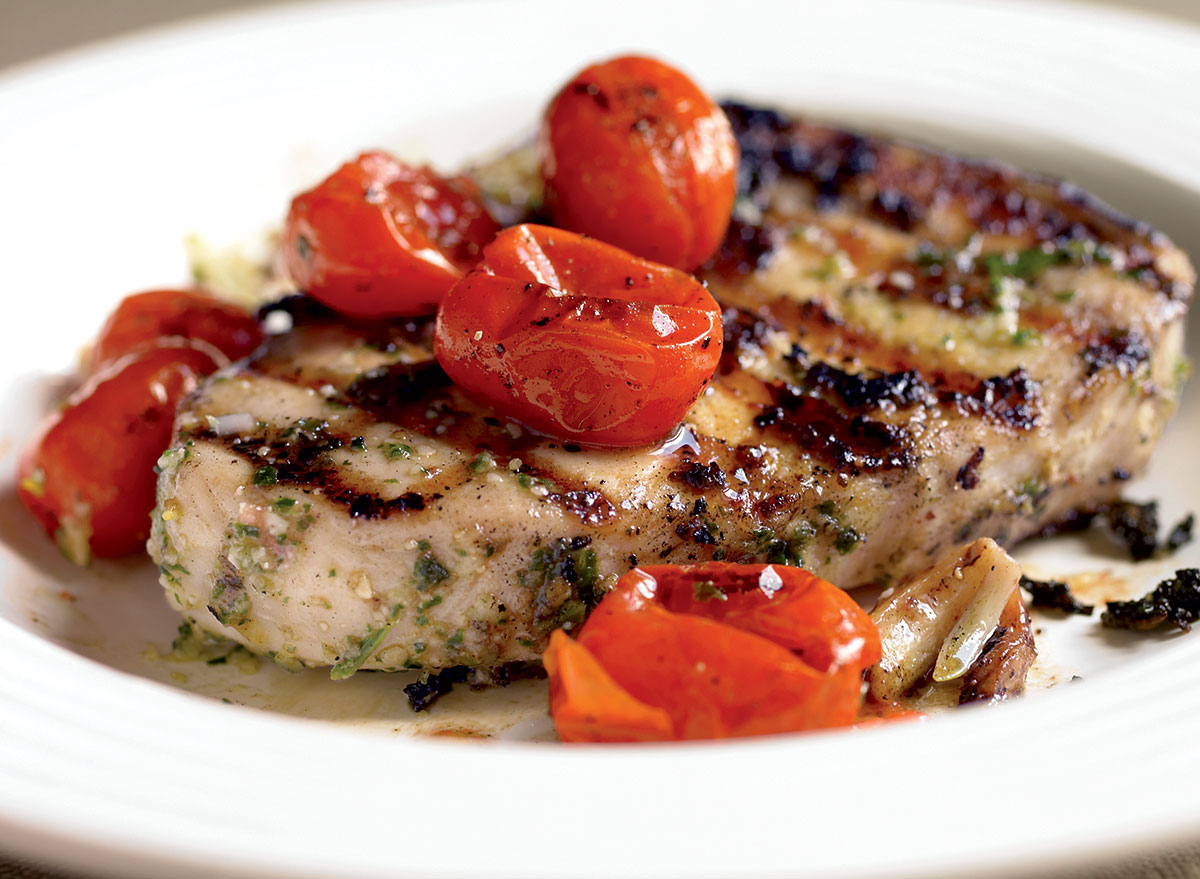 Sure, you could use homemade pesto if you wanted to, but a pre-made jar of the stuff will work just as well—and chances are your guests will be none the wiser. Use it to marinate swordfish steaks before celebrating what may very well be the inaugural grilled dinner of the season.
Get our recipe for Pesto-Topped Grilled Swordfish Steak.
Crisp Cornmeal Catfish with Corn Salsa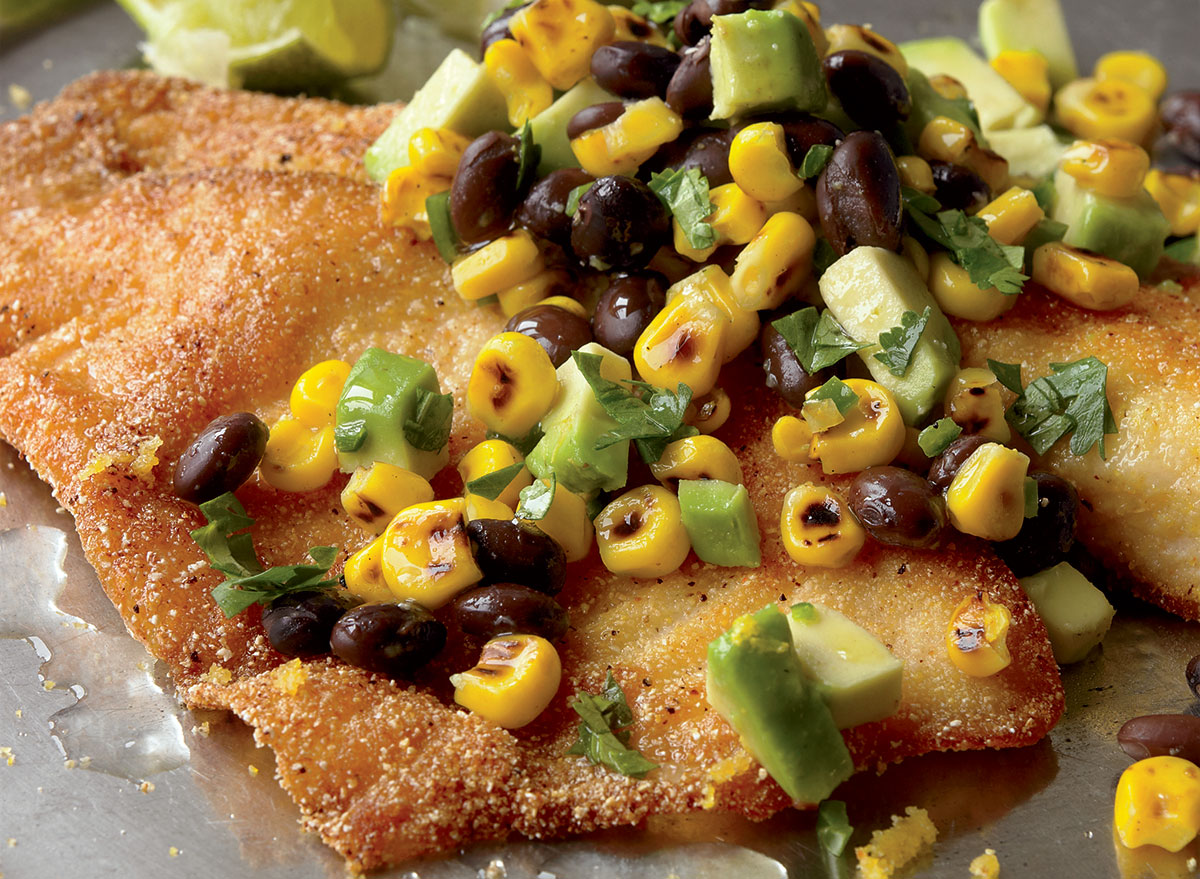 Have yourself a very southern Good Friday with this seafood recipe. A layer of cornmeal keeps the pan-seared catfish crispy without adding a need to deep fry anything, and the corn, black bean, and avocado salsa is livened up with a hearty dose of lime juice.
Get our recipe for Crisp Cornmeal Catfish with Corn Salsa.
Grilled Mahi-Mahi with Salsa Verde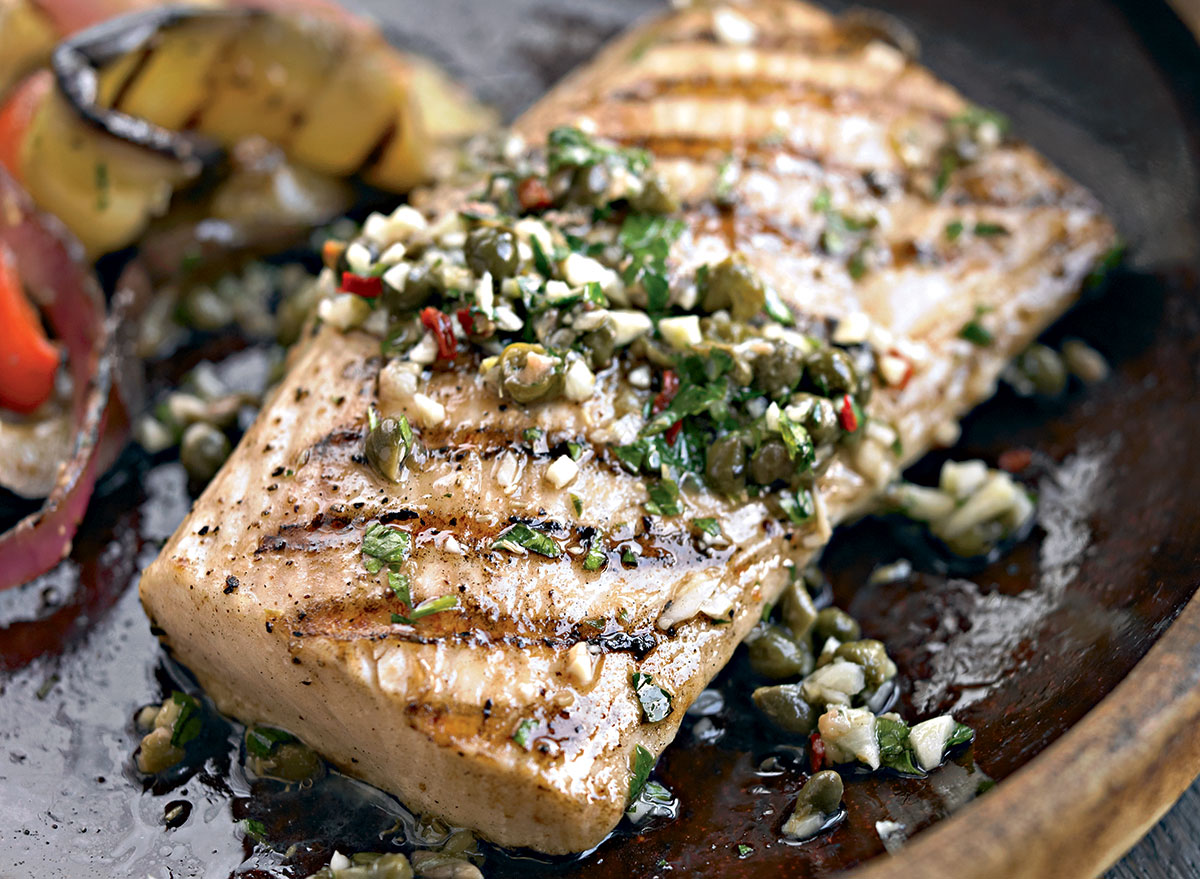 You've likely had your fair share of salsa verde with beef tacos, but it's just as delicious when paired with a filet of grilled fish. Whereas the Mexican version of the green condiment typically calls for tomatillos, this Italian one is made of parsley, anchovies, capers, and lemon juice.
Get our recipe for Grilled Mahi-Mahi with Salsa Verde.
Seared Ahi Tuna in a Ginger-Scallion Sauce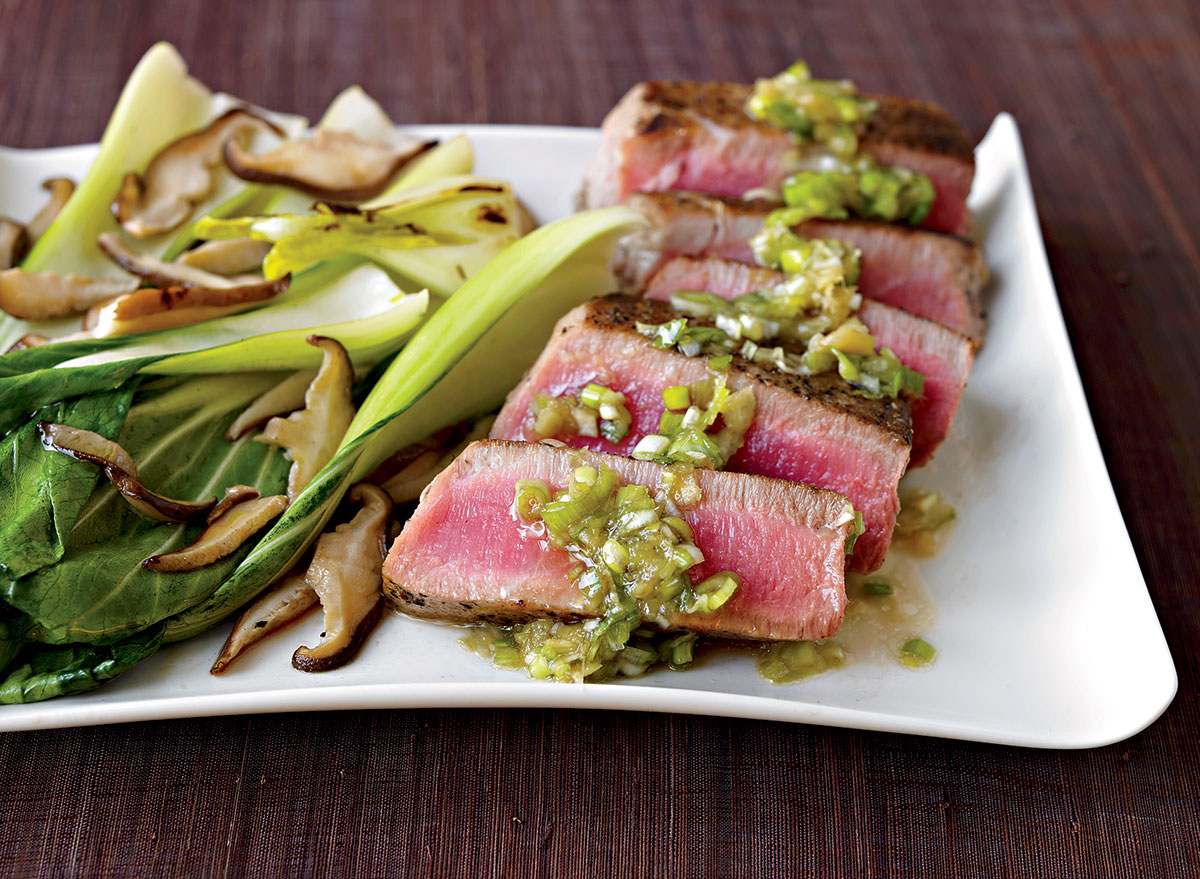 The magic of a fish-based main course is that often, even though it may look as though you invested a lot of prep time into dinner, it only takes around 5 minutes to cook. At least that's the case here, where it'll take you less time to sear the tuna than it will to assemble the ginger, scallions, soy sauce, and rice wine vinegar for the flavor-packed sauce.
Get our recipe for Seared Ahi Tuna in a Ginger-Scallion Sauce.
Homemade 3-Cheese Ravioli with Cherry Tomatoes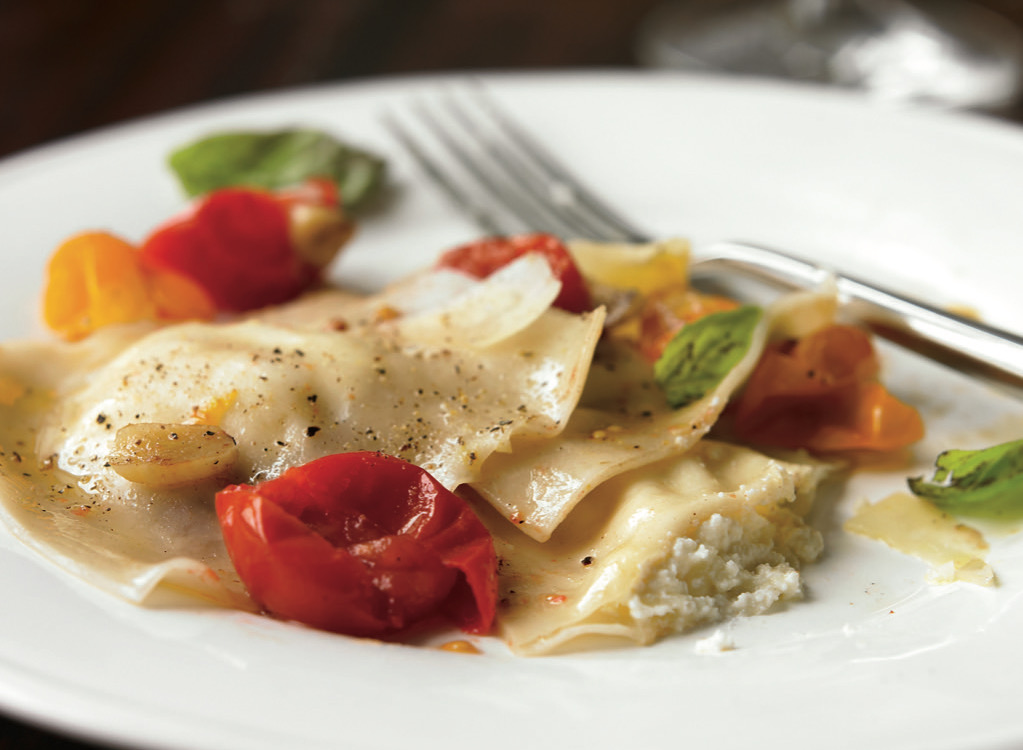 Homemade pasta always feels like a special occasion, even when you use pre-made wonton wrappers as a (genius) workaround for prepping your own dough. The holy trinity of mozzarella, Parmesan, and ricotta comes out to play, as do lightly crushed tomatoes and fresh basil.
Get our recipe for Homemade 3-Cheese Ravioli with Cherry Tomatoes.
Farmers' Market Pasta with Walnut Pesto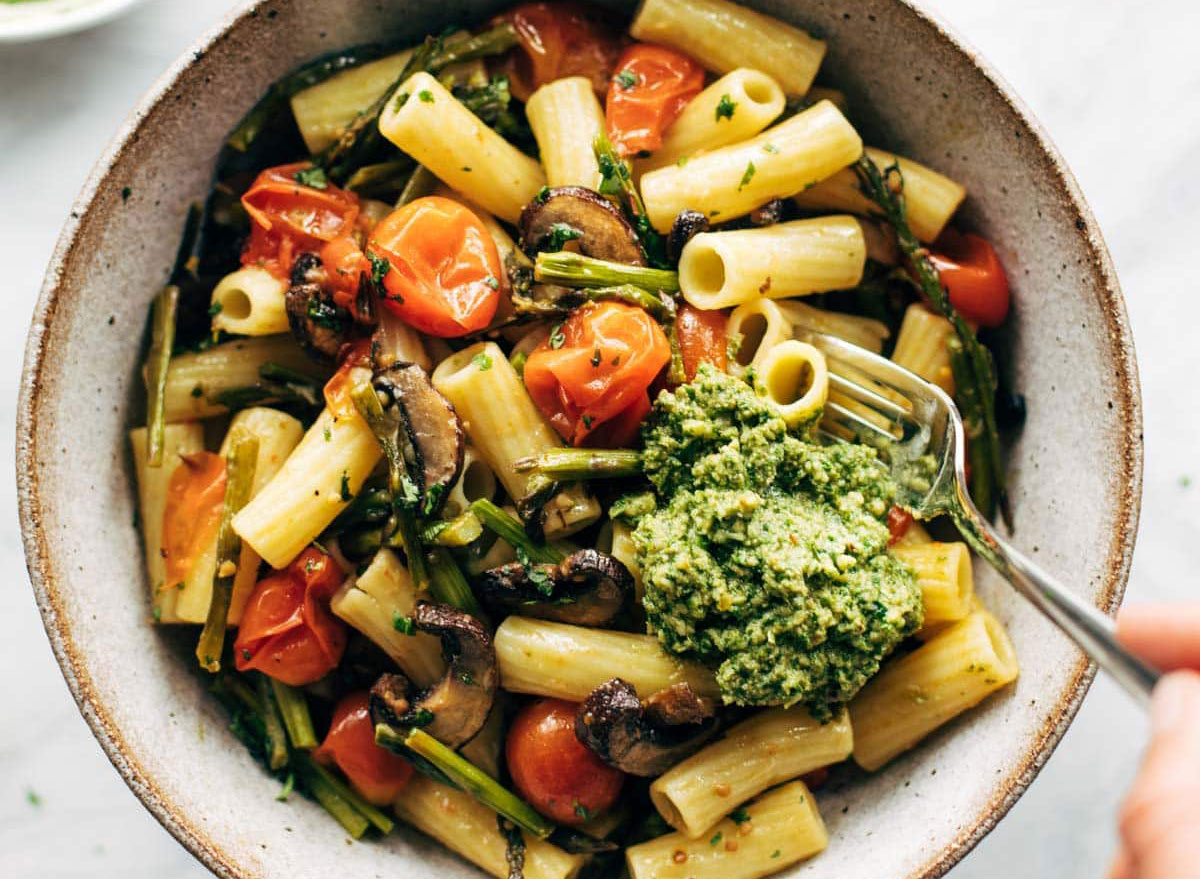 This is the best non-recipe recipe you'll find out there for a special pasta main. While it relies heavily on fresh vegetables and herbs, the specifics are completely up to you depending on market availability, your CSA delivery, or simply your mood.
Get the recipe from Pinch of Yum.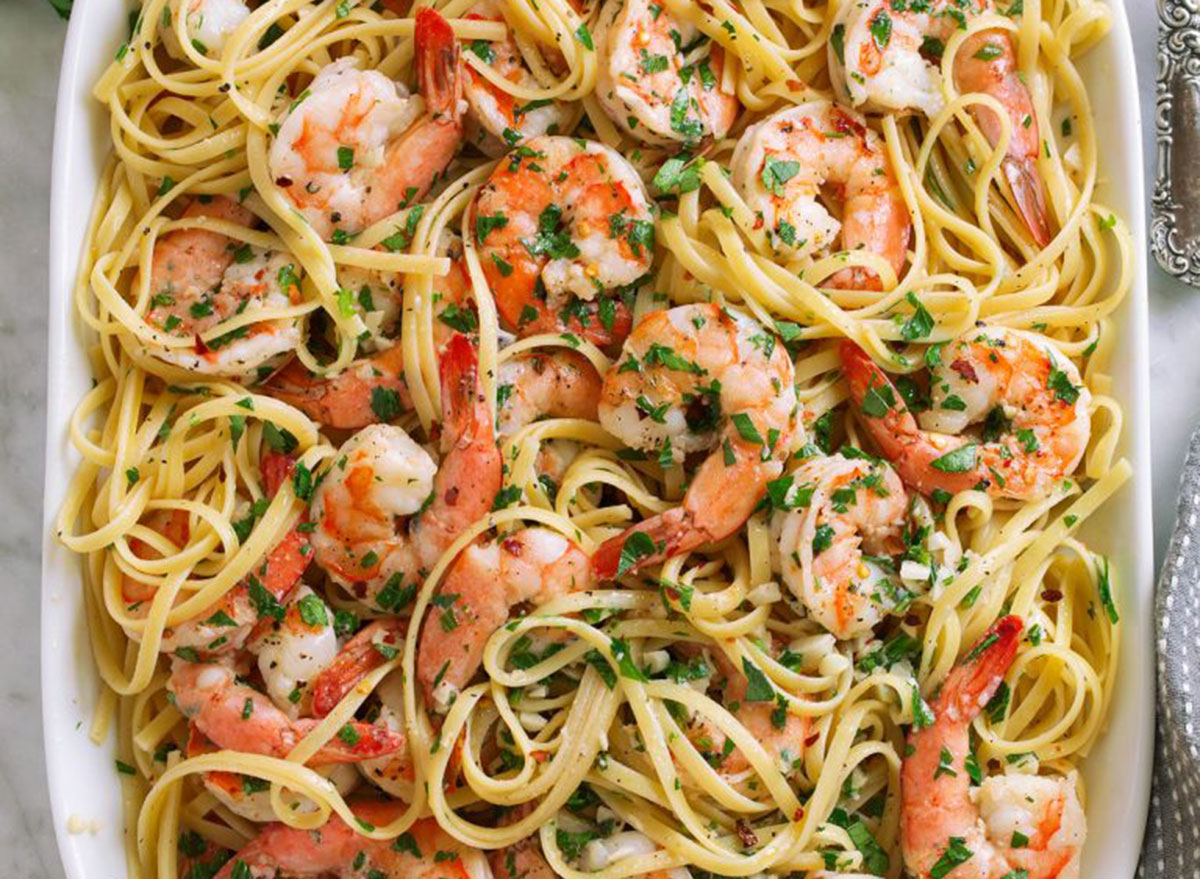 It's not a holiday meal unless garlic butter is invited, and garlic butter is definitely present at this pasta party. A squeeze of lemon helps cut the impact of the creamy sauce—speaking of which, don't forget a side of crusty bread to soak up anything that's left on your plate.
Get the recipe from Cooking Classy.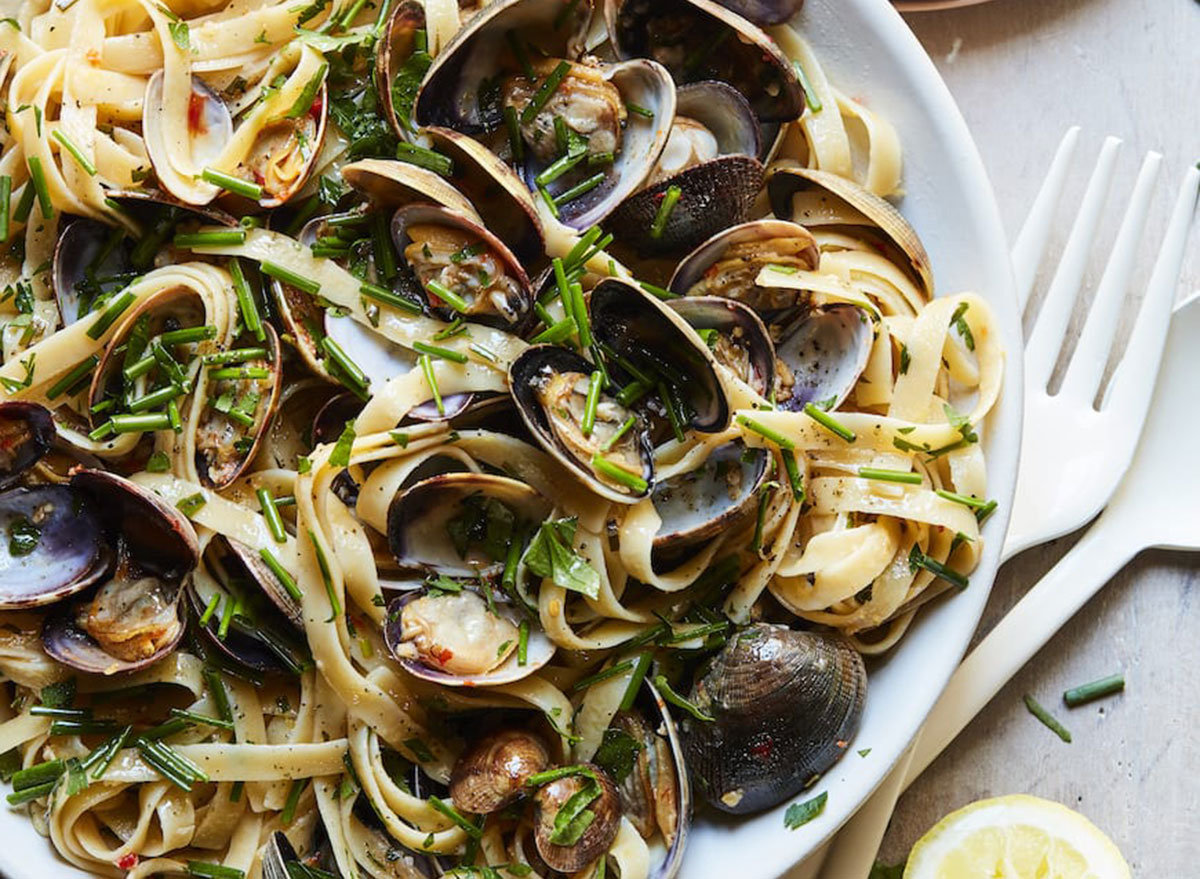 While the typical restaurant version's clam-to-linguine ratio leaves a lot of bivalves to be desired, this take on the Italian pasta dish flips the script. With a bed of pasta that's generously speckled with clams and vibrant herbs, it's a showstopping (and delicious) dinner centerpiece.
Get the recipe from What's Gaby Cooking.
Panzanella with Marinated Chickpeas and Chimichurri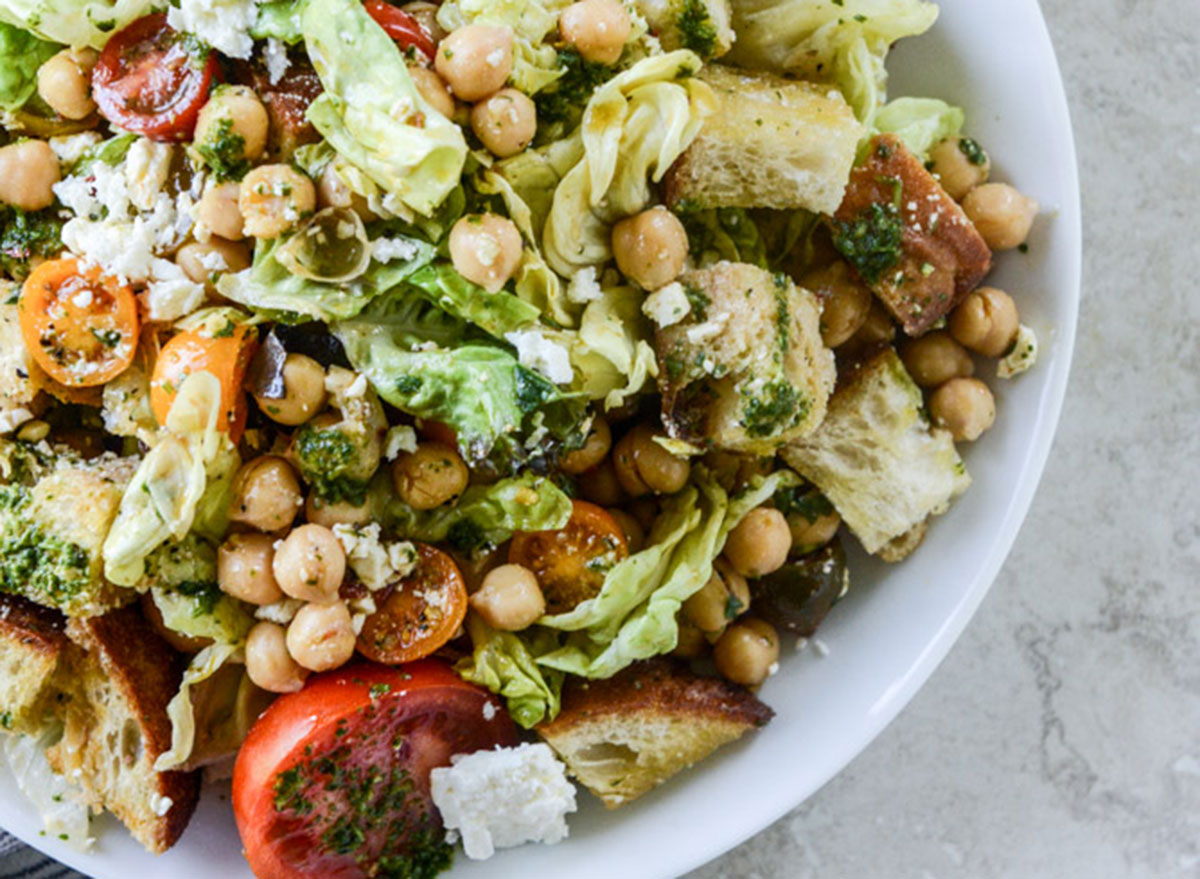 Panzanella is a salad that heavily centers around bread, meaning it's a salad that can definitely hold its own as a main course. Vinegar, oil, and herbs infuse every part of it, from the protein-packed chickpeas and crumbled feta to the thick hunks of Italian bread.
Get the recipe from How Sweet Eats.
Moqueca is a slow-cooked, traditional fish stew from Brazil that deserves all your attention. You can choose from a range of popular fish like tilapia, salmon, or cod, all of which soak up the spiced tomato sauce to flavorful effect.
Get the recipe from RecipeTin Eats.
Beef Wellington shouldn't get to have all the fun. This year on Good Friday, show off your cooking skills by wrapping salmon, spinach, and parmesan in puff pastry and get ready to watch jaws drop.
Get the recipe from Well Plated.
Garlicky Brown Butter Mushroom Risotto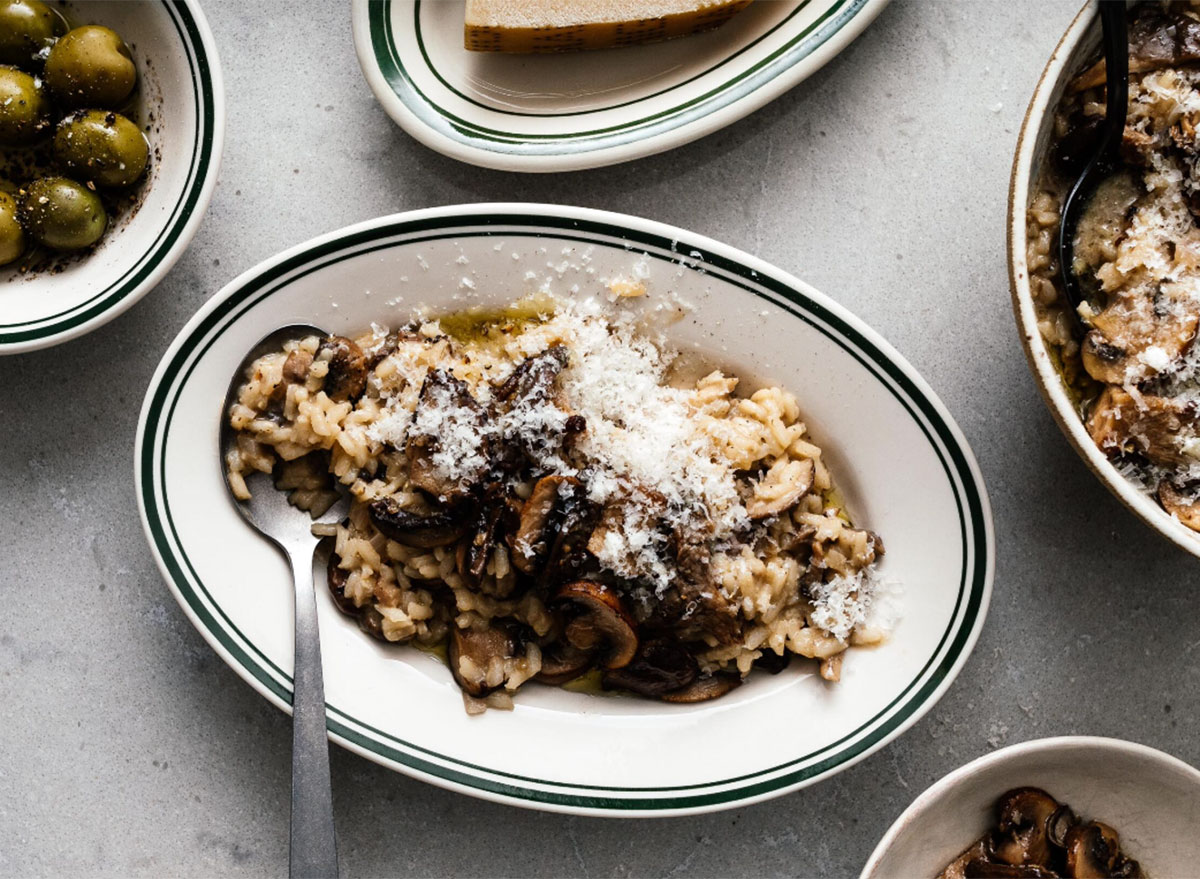 If the forecast calls for one of those chilly, rainy April days, a comforting Good Friday meal is in order. The smell alone of this mushroom-packed risotto will be enough to wrap everyone up in a great big food hug (thanks, brown butter!), and it tastes as good as it smells.
Get the recipe from i am a food blog.
Crispy Pan-Seared Halibut with Tomato Basil Quinoa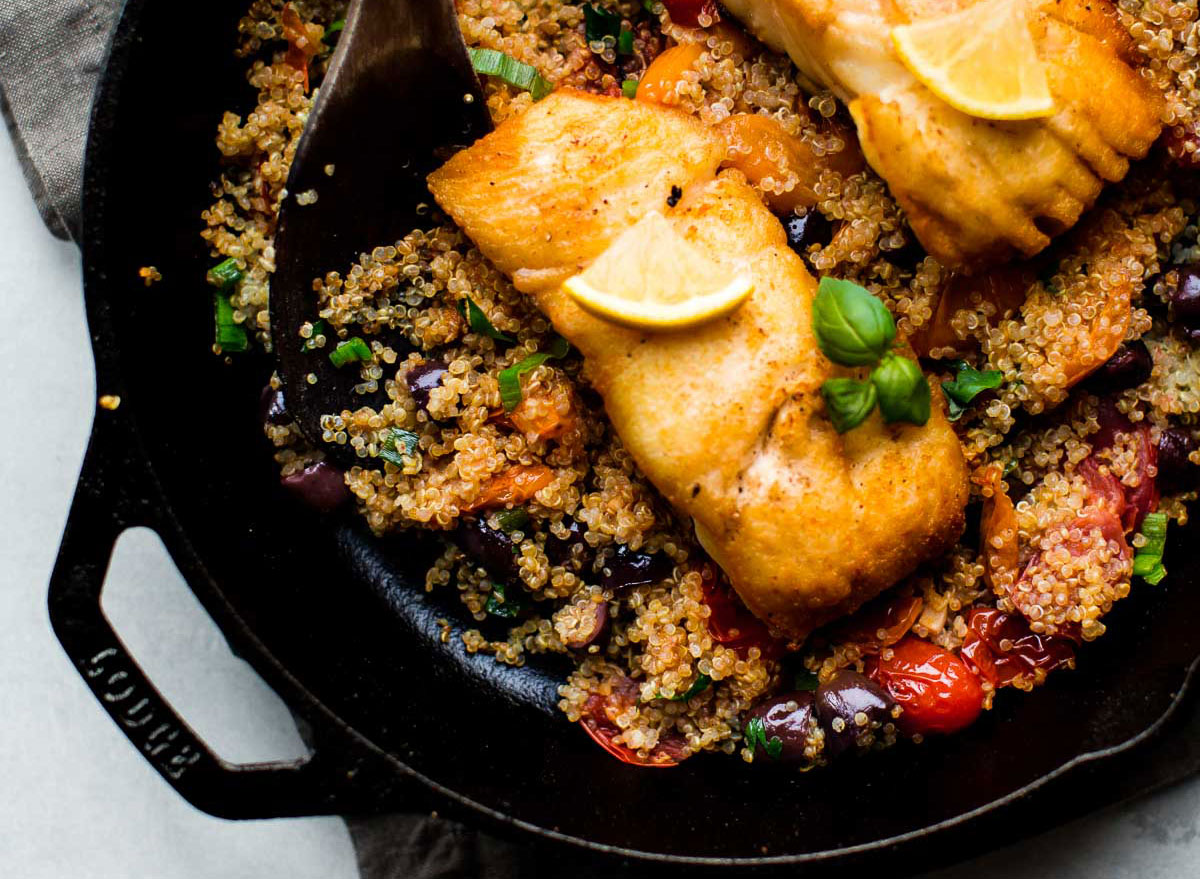 There's no need to go searching for the perfect side dish with this all-in-one cast iron halibut dish. After you pan-sear the fish, you use the same pan to make the tomato, olive, and basil quinoa, which also means that cleanup is surprisingly easy.
Get the recipe from Sally's Baking Addiction.
Potato and Wild Mushroom Burrata Pizza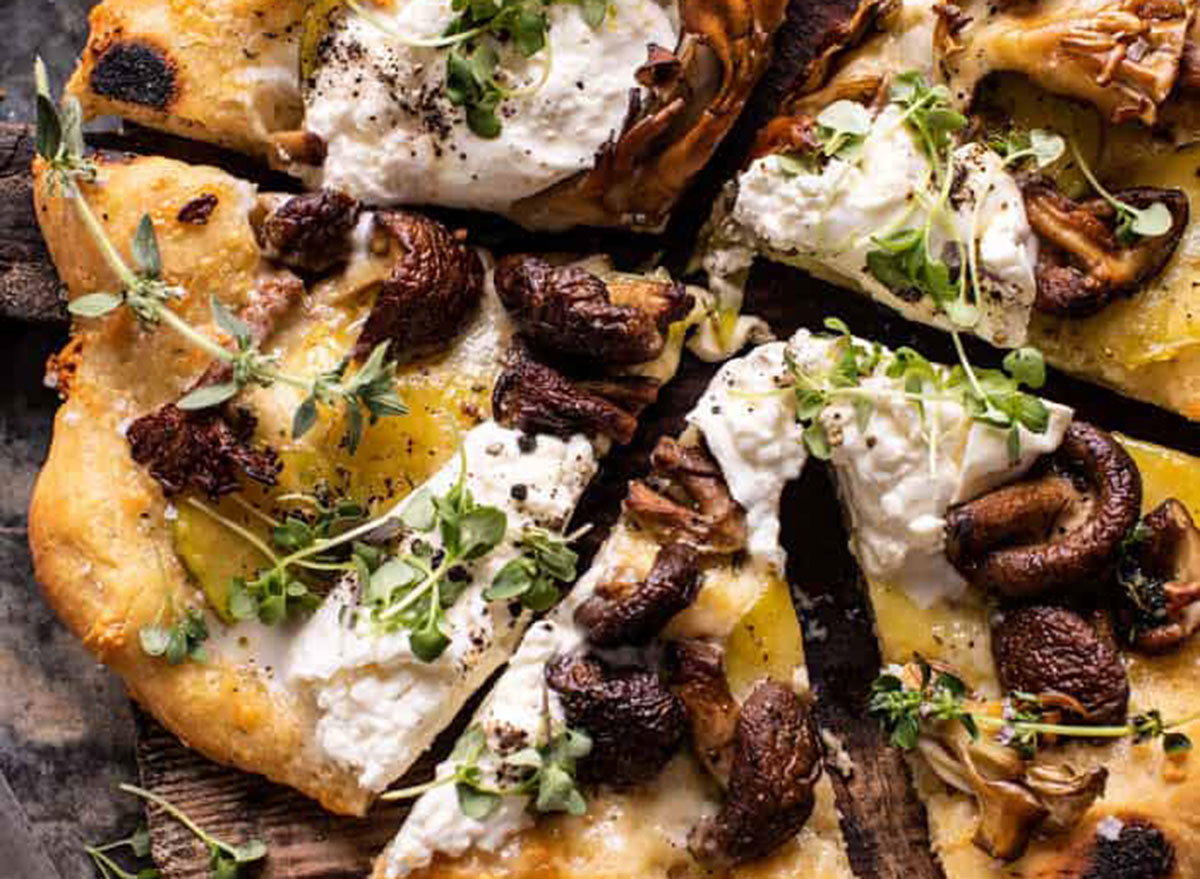 Friday night is and always will be pizza night in our hearts. This homemade one is still fancy enough to befit a holiday table, with basil pesto, fontina cheese, thyme-roasted mushrooms and dollops of creamy burrata.
Get the recipe from Half Baked Harvest.
Celery Root Puree with Roasted Balsamic Vegetables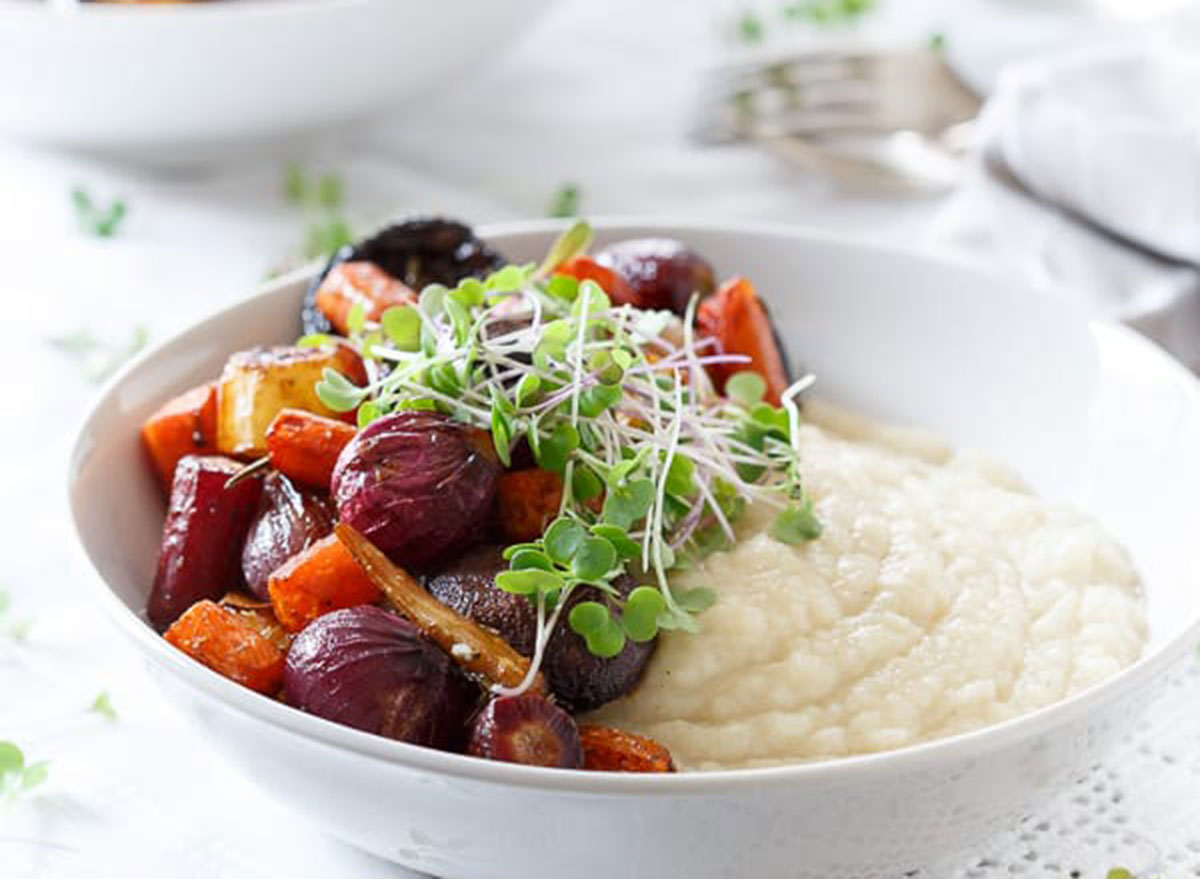 Get ready to surprise and delight a table full of vegetarians: first with a health-conscious celery root puree that looks and feels like mashed potatoes, then with sweet, tangy roasted vegetables that will actually fill them up.
Get the recipe from Running to the Kitchen.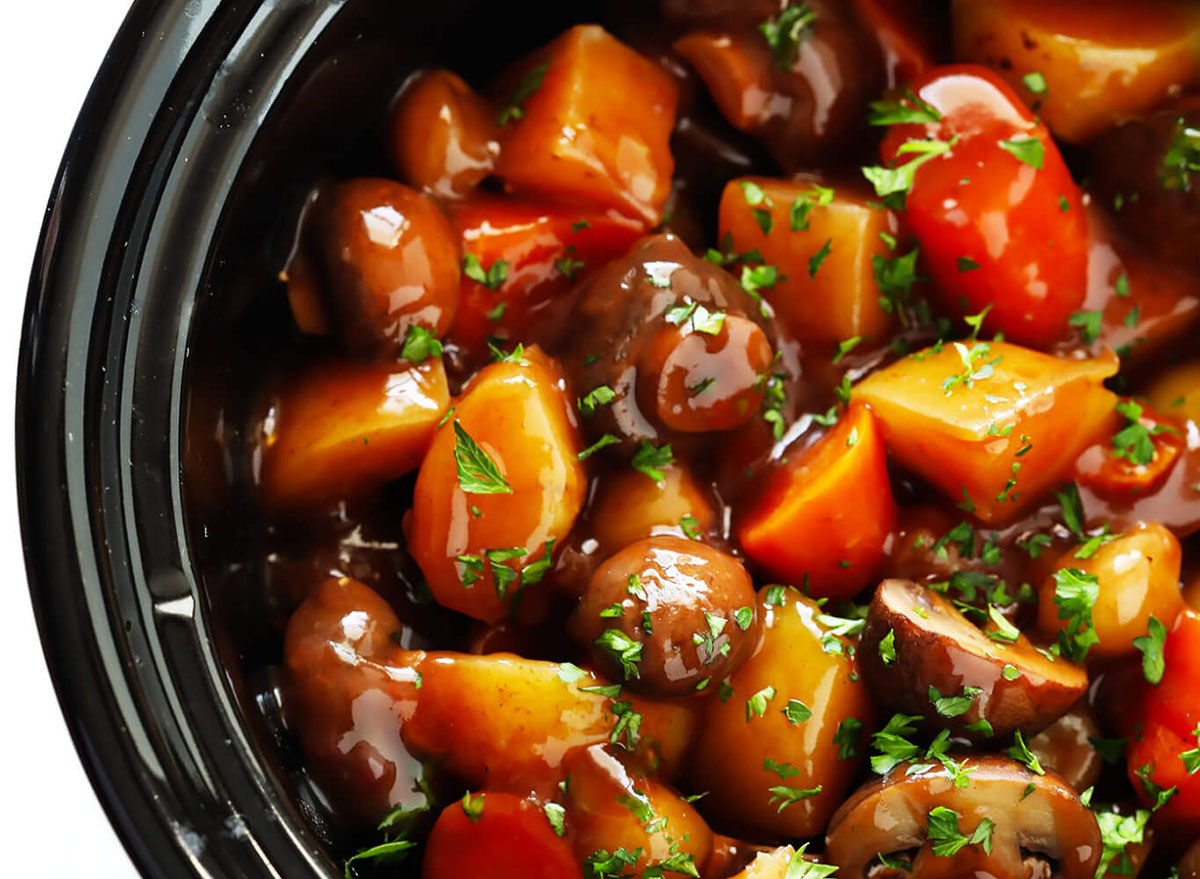 Pot roasts are a classic holiday meal, but the original meat-laden version doesn't quite vibe with Good Friday traditions. Here, you'll use mushrooms for heft, but still keep the rest of the flavor components that make the dish what it is. Don't forget the egg noodles for the full pot roast effect.
Get the recipe from Gimme Some Oven.
Salmon and Veggies in Foil Packs
Your family will be wondering whether it's Good Friday or Christmas when you present them with the gift of individually wrapped salmon with thinly sliced vegetables. You can even grill them if it happens to be a nice day.
Get the recipe from Real Food by Dad.
Baked Salmon with Roasted Red Pepper Sauce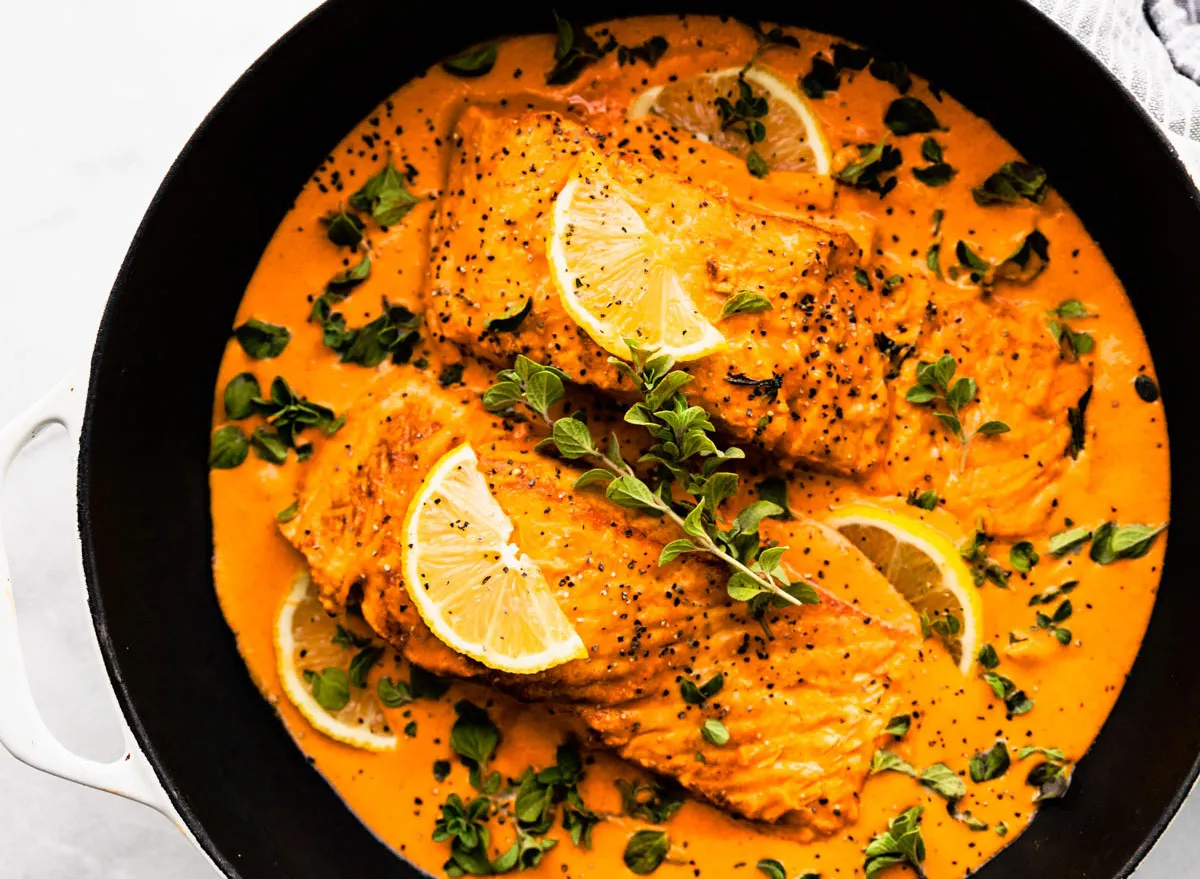 One-dish wonders can make the best holiday spread, as they allow you to make a grand entrance to the dining room holding the highlight of dinner. This one features a red pepper sauce with roasted nuts, tomato, and garlic that comes together in the blender for maximum creaminess.
Get the recipe from Cotter Crunch.
Cauliflower Steaks with Everyday Lemon Tahini Dressing
Typical steaks may be off the table, but cauliflower steaks are fair game. It's hard to say whether the best part is the tender slabs of cauliflower, the bright multipurpose dressing, or the garnish of parsley salad.6254a4d1642c605c54bf1cab17d50f1e
Get the recipe from With Food + Love.
Seared Chilean Sea Bass with Potatoes and Herb Sauce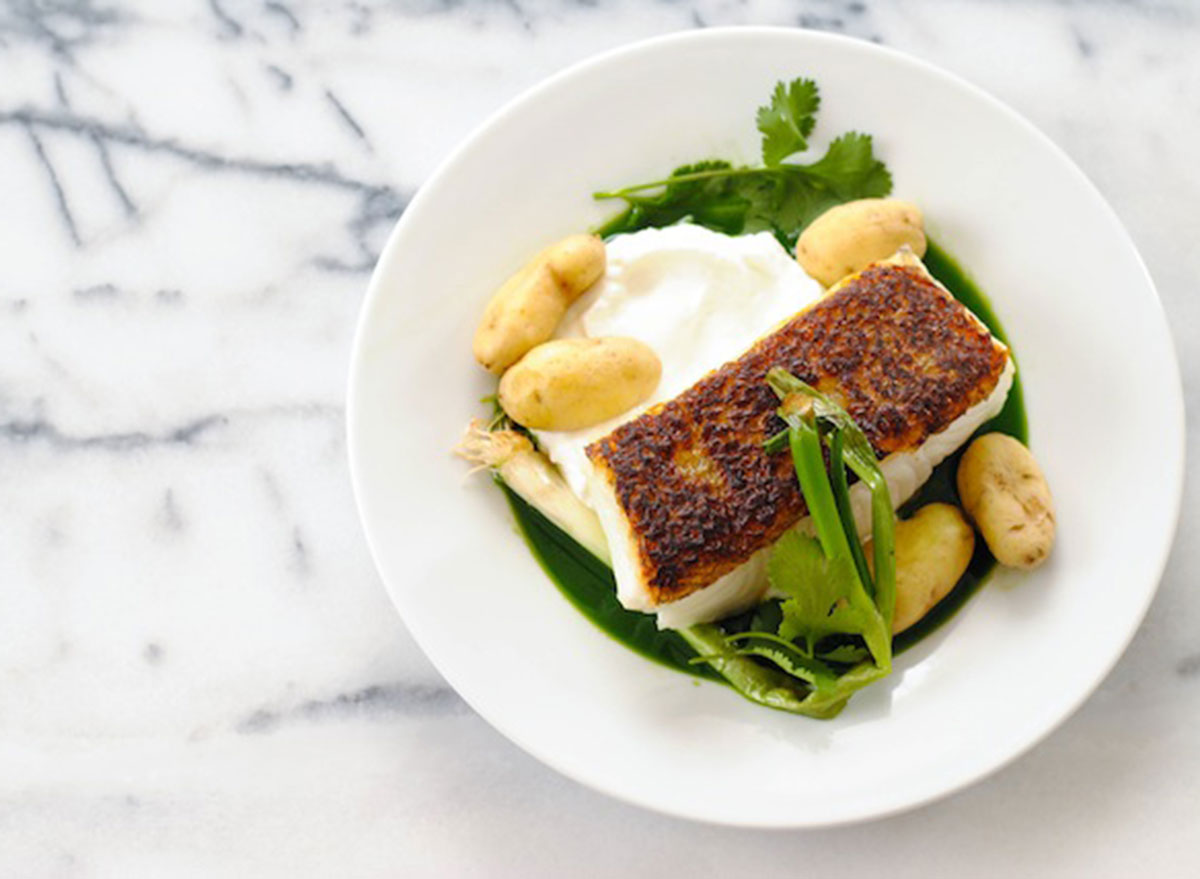 Put on your culinary school hat for this one, which has all the components of something you might find in a French restaurant. The green sauce gets its name from three different verdant inputs—celery, leeks, and cilantro—and the yogurt on top adds silky texture without weighing it down.
Get the recipe from Foxes Love Lemons.
Vegan Truffle Mac and Cheese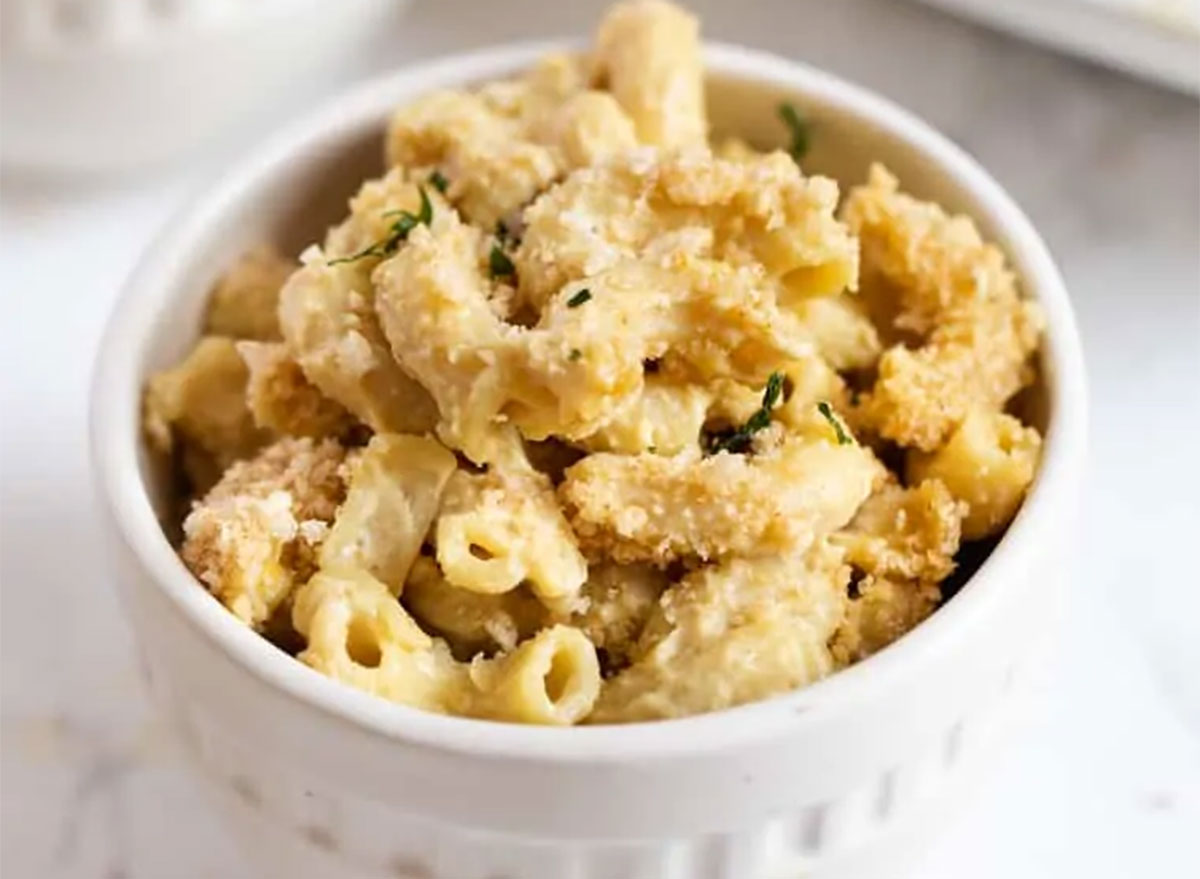 Pull out all the stops this Good Friday, because nothing says "good host" like a casserole that's imbued with both truffle oil and truffle salt. Plus, thanks to nutritional yeast and almond milk, it's completely dairy free.
Get the recipe from Simply Quinoa.
Pressure Cooker Sesame Cod
The ironic thing about pressure cookers is that they take the pressure off you for most of the cooking process. You can even go straight from frozen here, placing the cod filets on a bed of sliced zucchini, red pepper, and lemon.
Get the recipe from Macheesmo.
Spinach Artichoke Spaghetti Squash
Imagine spinach artichoke dip, but in the form of a socially acceptable meal. In addition to being full of cheese and therefore highly delicious, it's also versatile: whether you cook the squash in the oven, microwave, slow cooker, or Instant Pot, you're on your way to a successful Good Friday.
Get the recipe from Taste & Tell.
Homemade Fettuccine with Creamy Tomato Basil Sauce and Shrimp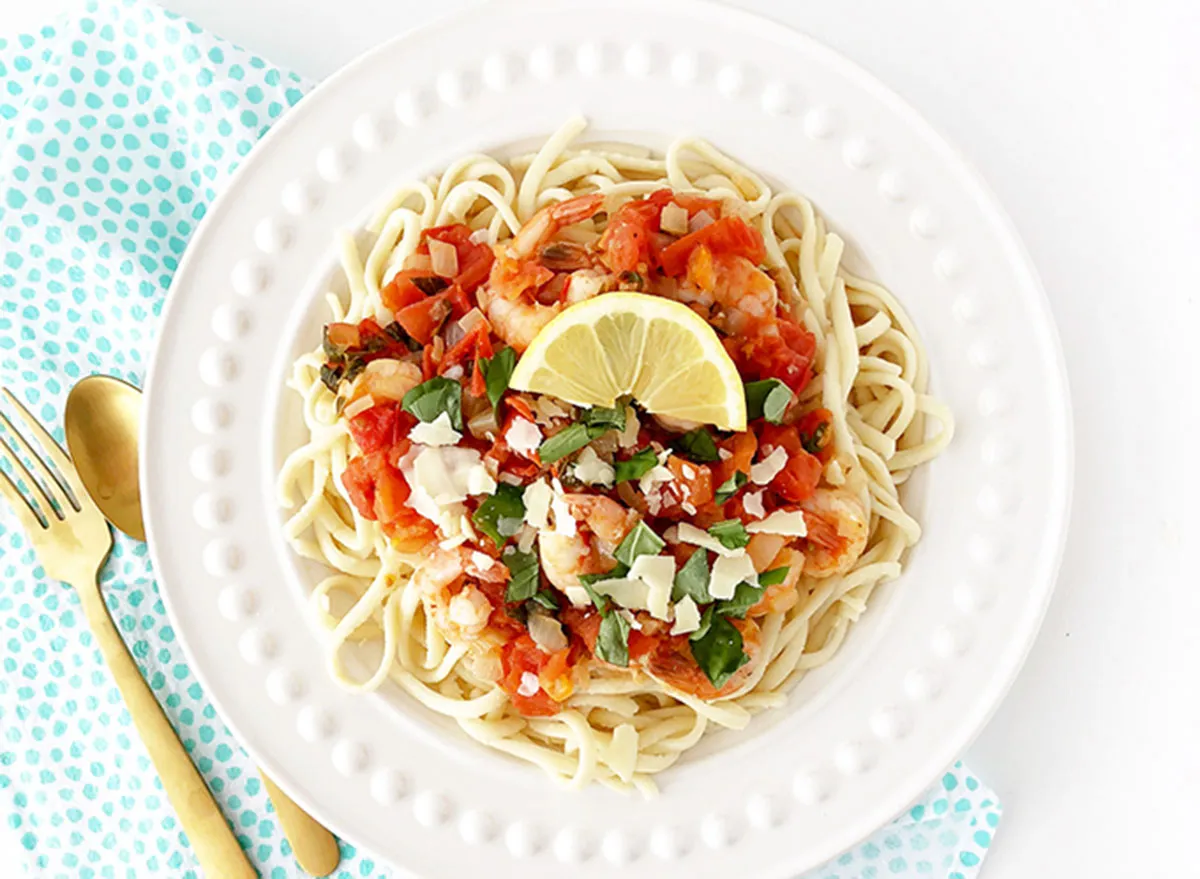 If any occasion calls for homemade pasta, it's a holiday dinner. While the ingredients themselves sound simple, the combination of fresh pasta and the addition of shrimp are what make it different from your typical weeknight bowl of pasta.
Get the recipe from A Pretty Life in the Suburbs.
Spring Veggie White Matzo Lasagna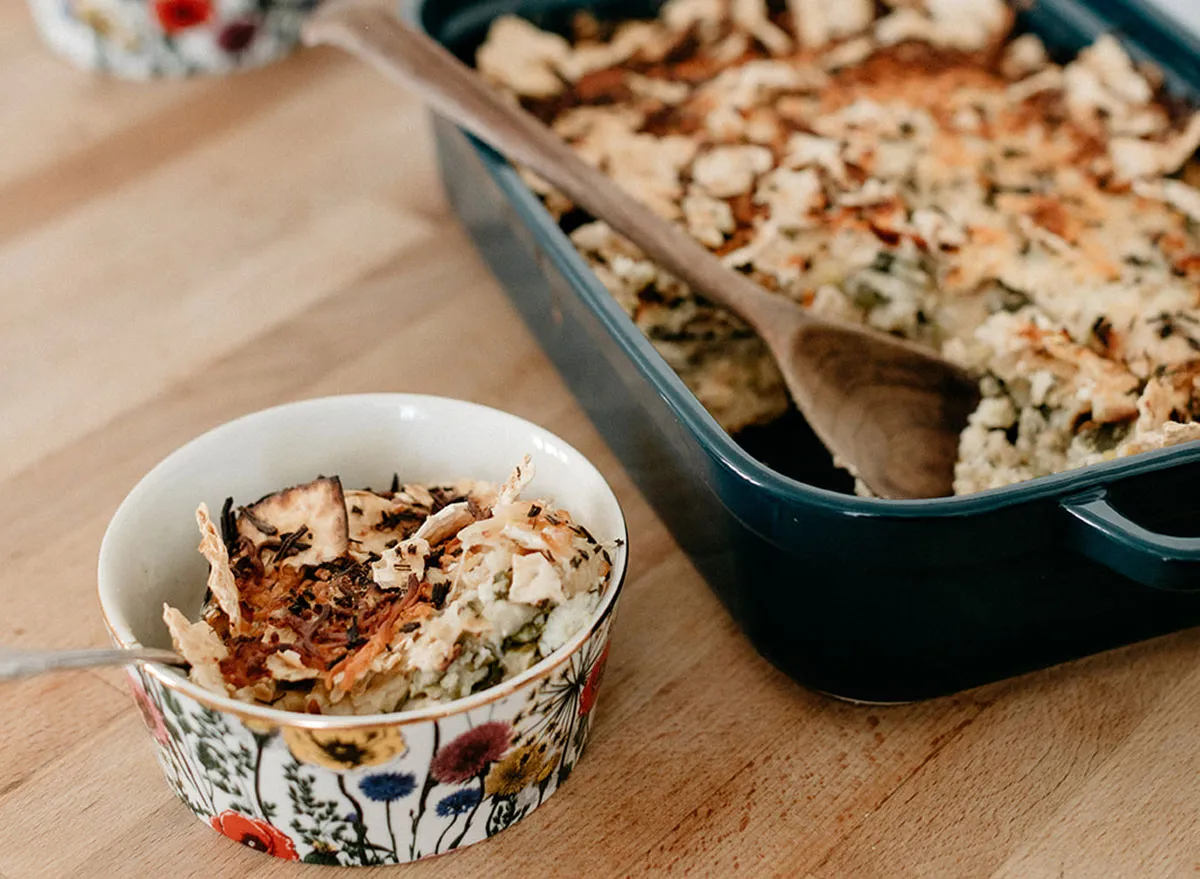 Good Friday overlaps with Passover this year, so honor both holidays with a mashup meal that features layers of matzo instead of pasta sheets. And should you have concerns that lasagna is a winter dish, the chives, peas, and leeks make it undoubtedly spring-forward.
Get the recipe from My Name Is Yeh.
Mexican Sweet Potato Quinoa Casserole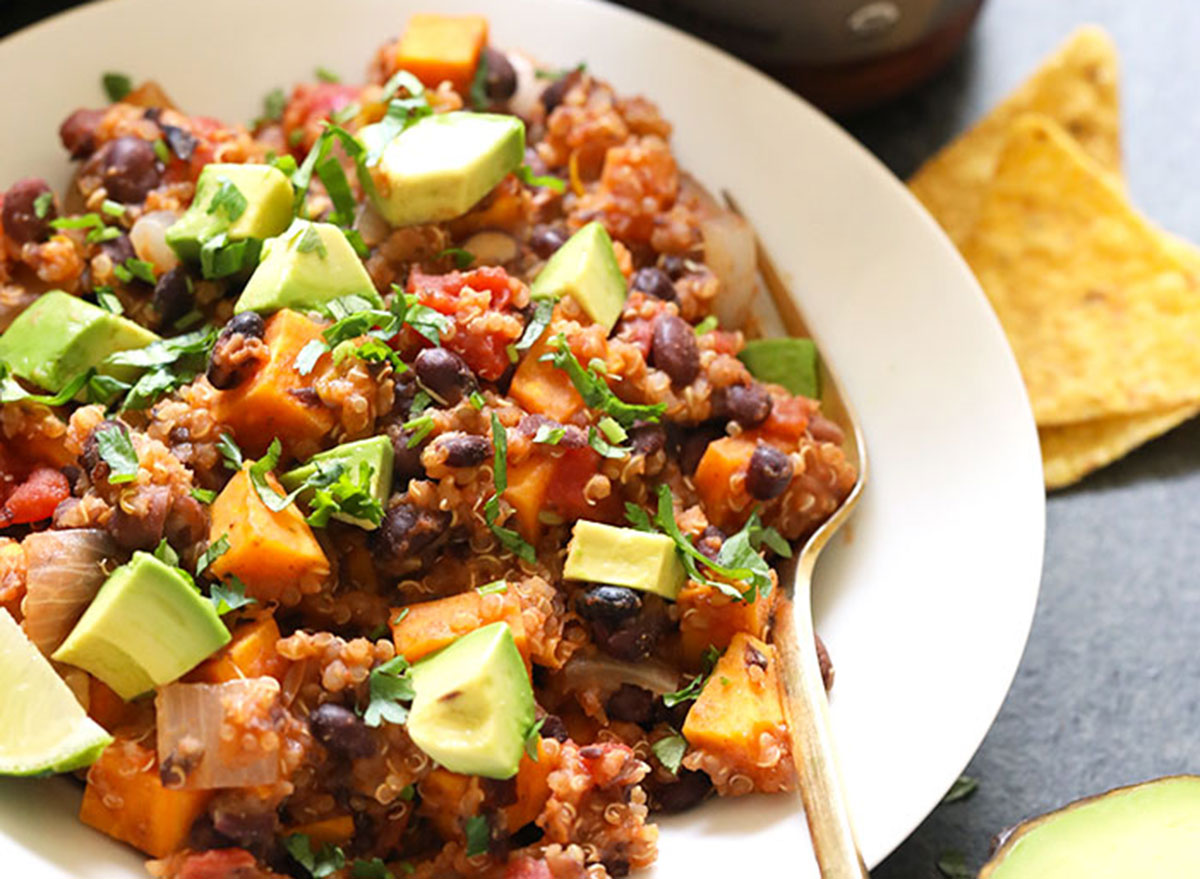 Casseroles are a one-and-done solution for the holiday meal. You don't need any side dishes, and since this recipe calls for ingredients like salsa, quinoa, canned beans, and onions, you might even already have the ingredients on hand.
Get the recipe from Fit Foodie Finds.
10-Minute Maple Crusted Salmon
For a holiday meal, you want something striking. But despite your best intentions, you might not have the time, which is where this sweet and spicy salmon comes in. It's a time-saving main that doesn't taste like you cut any corners.
Get the recipe from Foodie Crush.
Abby Reisner
Abby is a food writer, editor, cook, and digital strategist living in Brooklyn.
Read more about Abby