10 Grocery Staples That Should Always Be on Your Shopping List
Going into the grocery store unprepared stops now. Here are 10 essentials you need to pick up ASAP.
Going to the grocery store can be extremely overwhelming with so many aisles filled with various food choices—some healthy and others, not so much. It can be challenging to know which foods you should fill your cart with. Especially without a grocery shopping list—it can be easy to just fill your cart with tempting indulgences and completely forget the essentials.
That's why we turned to the experts—Beth Lipton, recipe developer, and food and wellness writer as well as Lindsay Huelse, retired nurse, certified nutrition coach, and founder of the health app, The Fitt Cycle—and asked them what they routinely include in their weekly shopping lists. These items are healthy, nutritious, and should definitely be added to your list before your next trip to the grocery store.
And don't miss the 21 Best Healthy Cooking Hacks of All Time.
Pasture raised eggs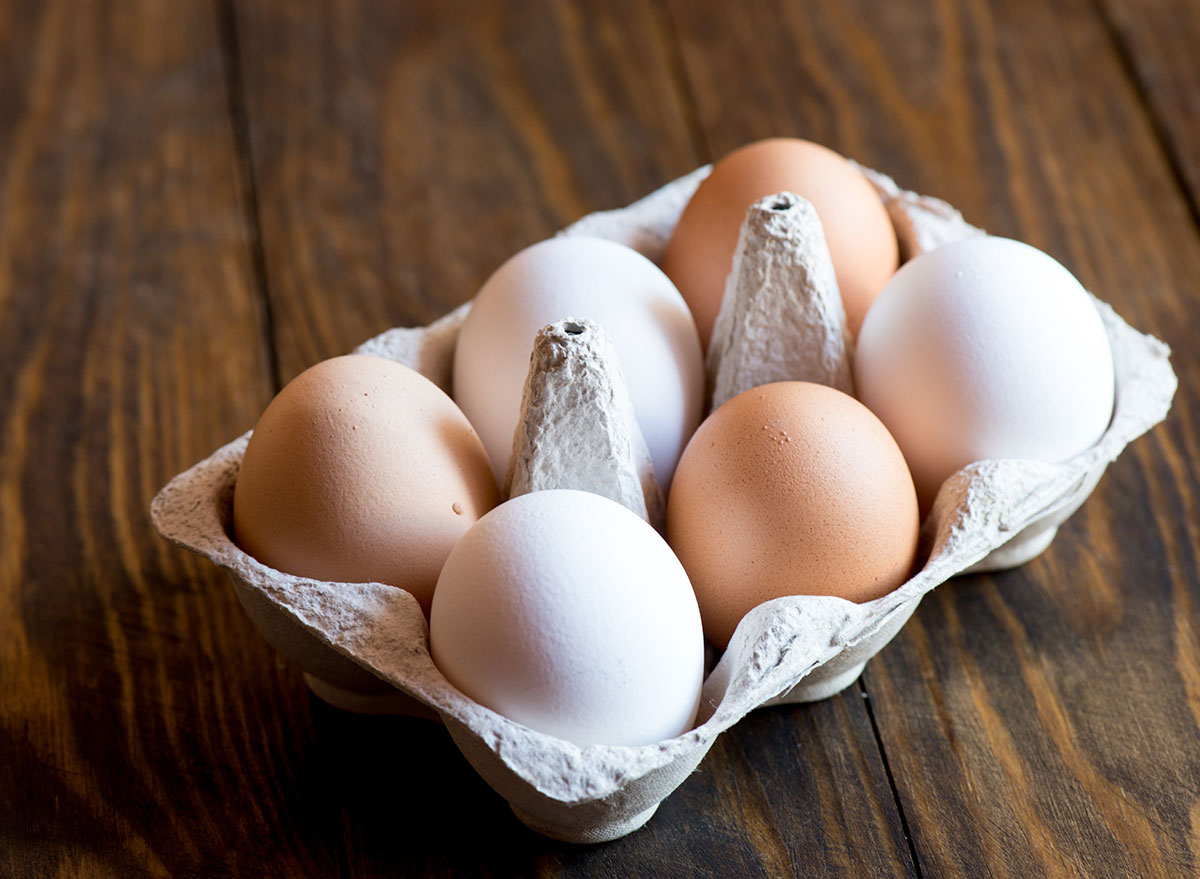 Eggs are the first essential item for your shopping list. They are packed with protein, which means they'll keep you fuller for longer, and they can also be used in many different healthy recipes for either breakfast, lunch, dinner, and even desserts.
Lipton's favorite brands are Handsome Brook Farms and Vital Farms. She says, "Pastured eggs are so much healthier, higher in omega-3 fats and vitamin E than conventionally raised, plus the process is more humane. And they taste better, too."
Rebbl Dark Chocolate Plant Protein Elixir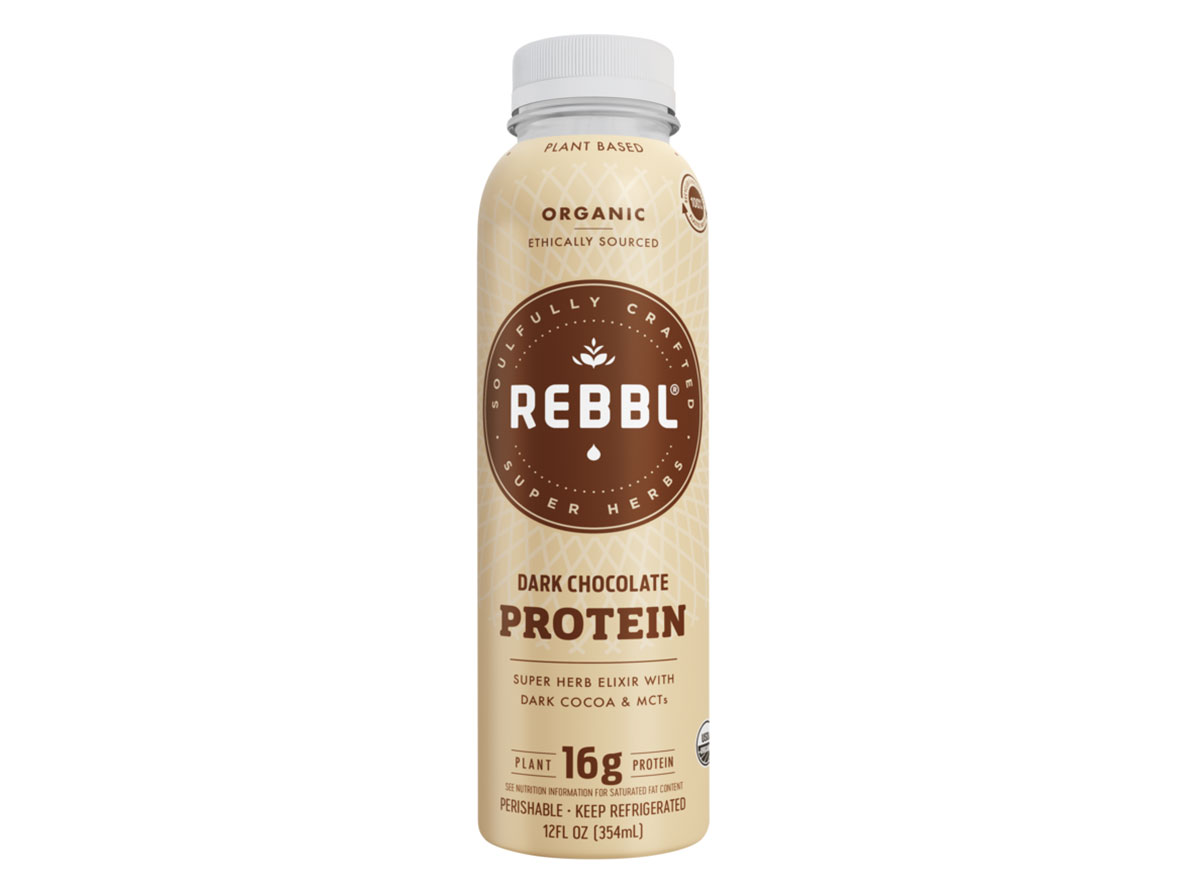 If you're looking for the perfect drink to have after a workout and you're also a chocolate lover, look no further than Rebbl Dark Chocolate Plant Protein Elixir. Huelse says this option is one of her favorites because it has "16 grams of plant-based protein, while also including several other super herbs like maca root, ashwagandha, and reishi."
Her hack? Add it to your favorite smoothie or coffee to give you that extra boost of protein. Not only is it a healthy option, but it also helps to curb your sweet tooth.
Fresh vegetables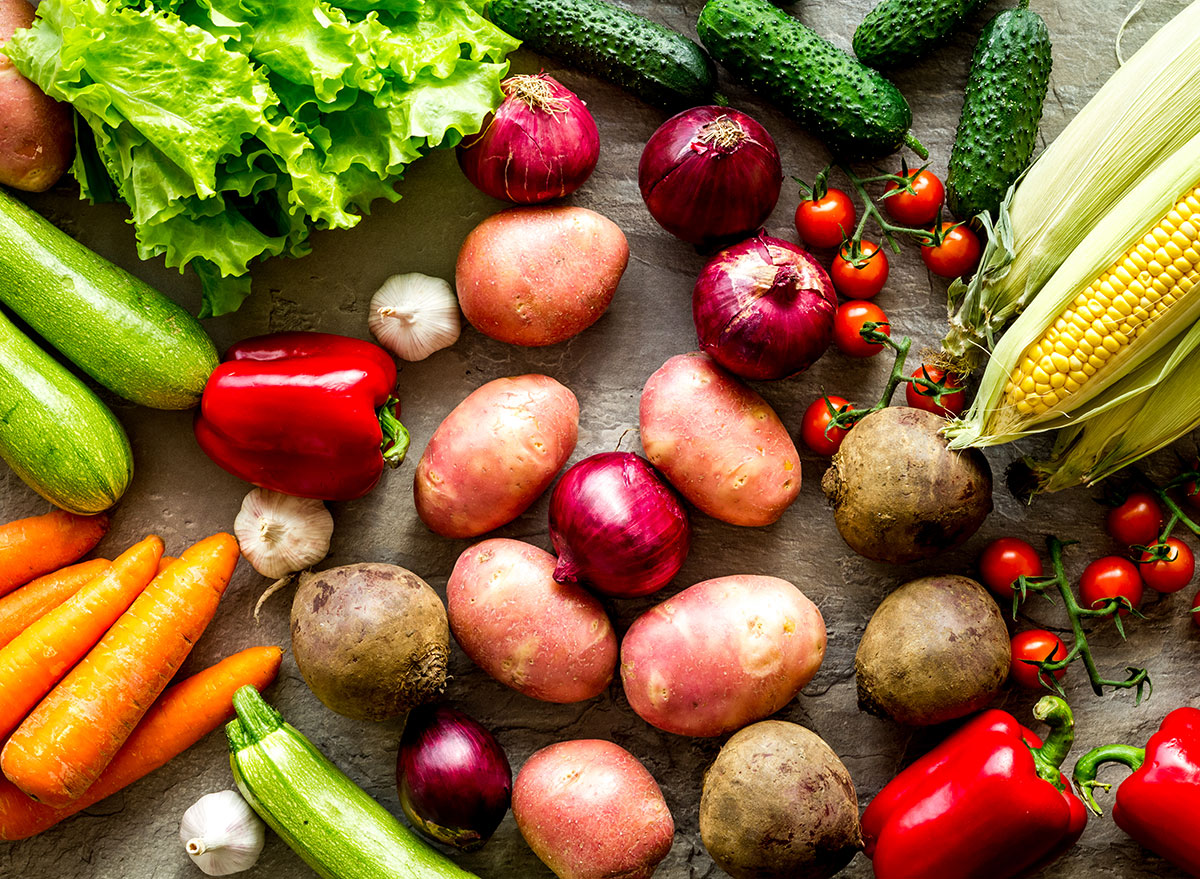 You can never go wrong adding bright, colorful vegetables to your shopping cart. Not only do they house numerous vitamins and nutrients, but they can also give you inspiration for a range of meals to prepare that week.
"In my cart, you'll always find romaine lettuce hearts, carrots, celery, snap peas, broccoli, radishes, bell peppers, avocados, green beans, onions, garlic, and cherry tomatoes," says Lipton. "I can always throw together a salad or a quick saute with this mix.
Vital Proteins Strawberry Lemon Collagen Water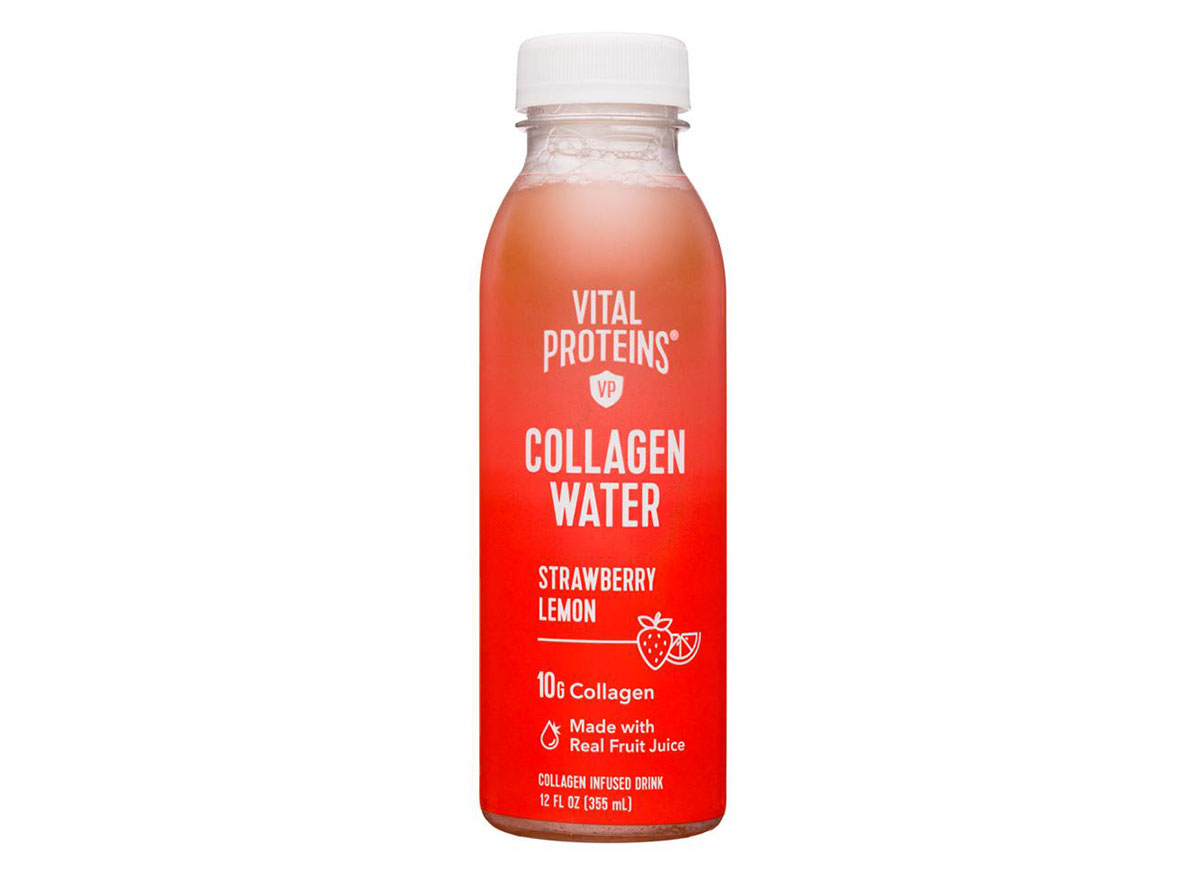 When you go grocery shopping, we bet you're not often thinking about your gut health, but you probably should be. Not only is this collagen water great for your gut, but it also helps to promote healthy joints, skin, hair, and nails too. Huelse adds, "This collagen water is packed with 10 grams of protein as well as 0 grams add sugar, so it's a great option to have if you're needing an easy protein source. You can add slices of strawberry and lemon for a little extra aesthetic or add to your favorite fruit smoothie." (Related: 11 Best Smoothies to Improve Digestion.)
Cappello's Grain Free Frozen Pizza
Bet you didn't think a frozen pizza would make our list, huh? Not all pizza options in the freezer aisle are healthy for you, but Cappello's grain-free pizza is quite the gem. Lipton notes that there are always a few boxes in her freezer at all times. "It has very clean, all recognizable ingredients, and it comes in fantastic varieties. My favorites are the sausage and peppers and the pepperoni, but I love them all," she says.
Organic bone broth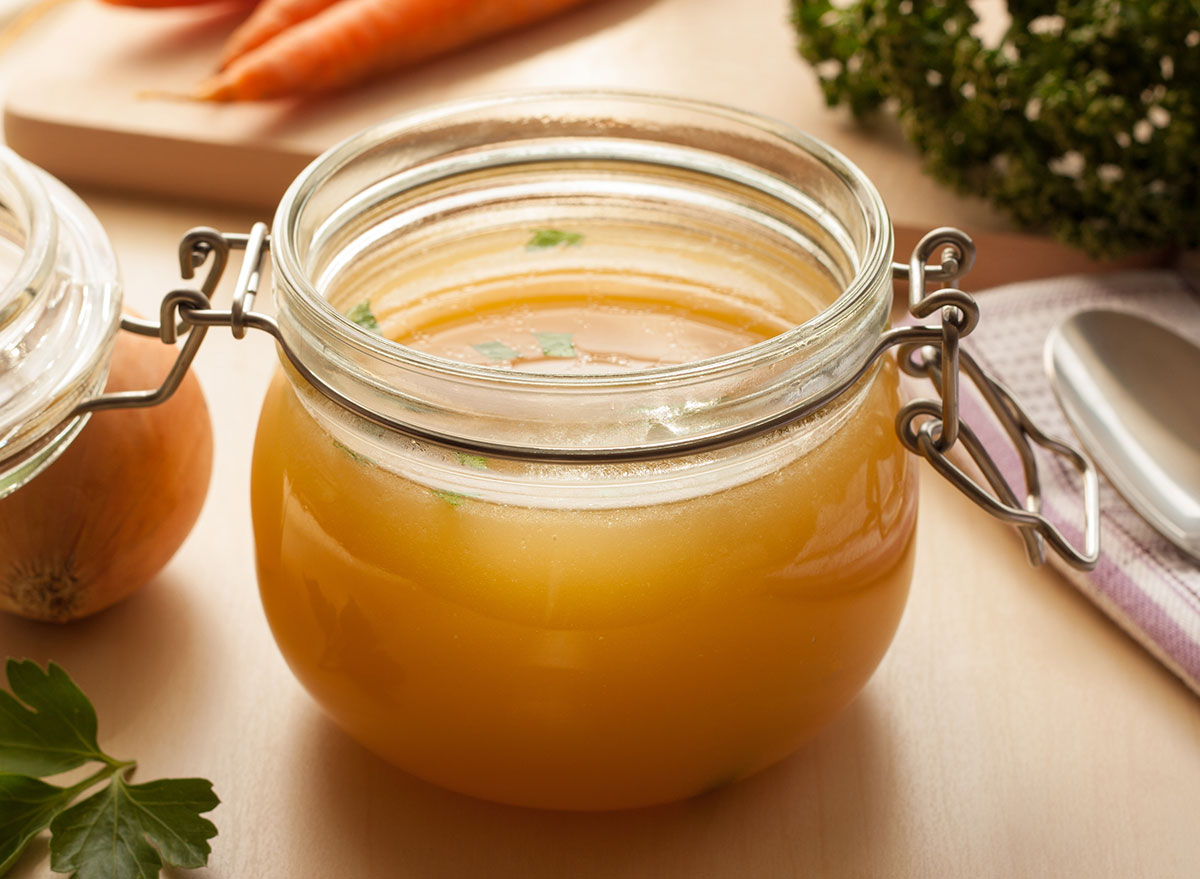 We definitely consider bone broth to be a pantry staple. As opposed to normal stocks and broths, it's packed with many nutrients as well as protein. Huelse says that one 8-ounce serving of bone broth typically has about 10 grams of protein.6254a4d1642c605c54bf1cab17d50f1e
"You can also warm a cup of bone broth to sip on during the cold winter months or anytime you're not feeling well," she adds.
Grass-fed ground beef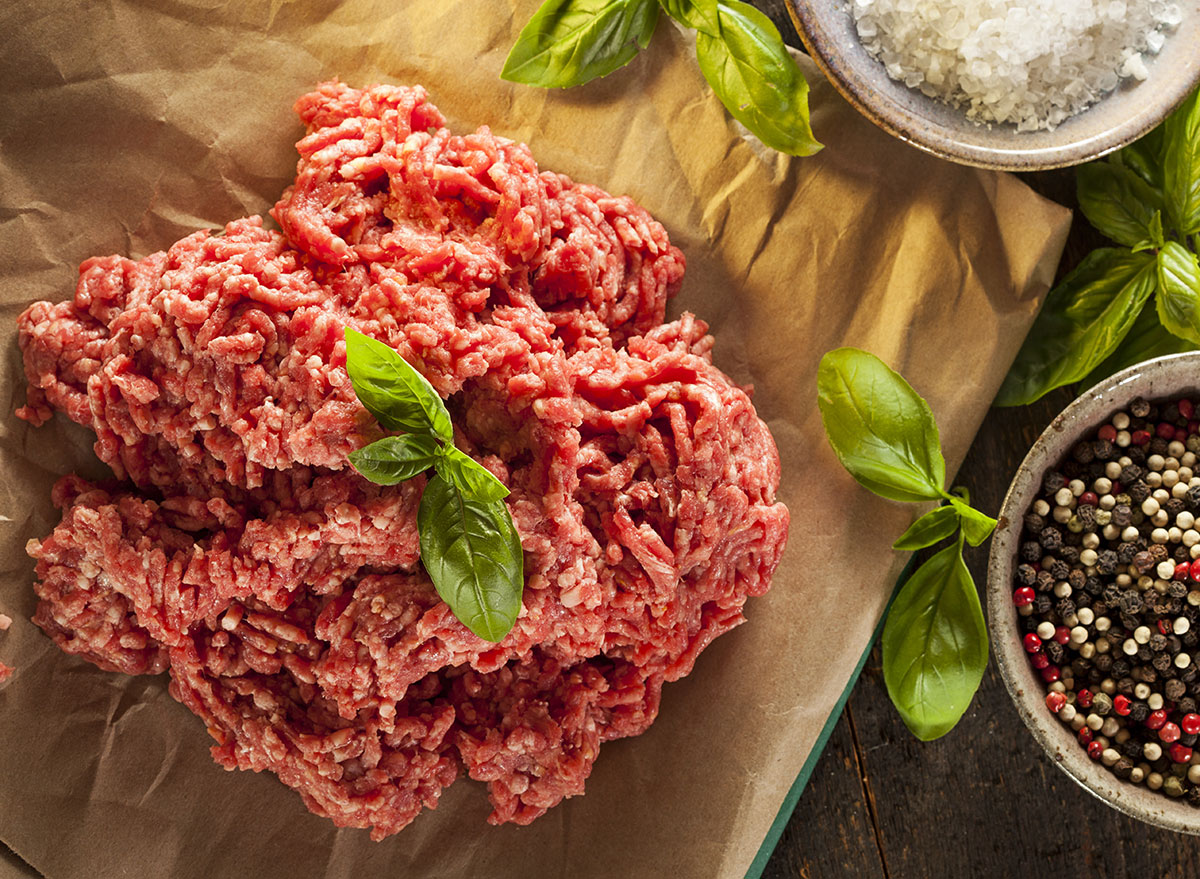 Grass-fed ground beef is a healthy and versatile shopping list essential. As Lipton says, "It's one of the most nutrient-dense foods you can eat, loaded with high-quality protein, minerals like iron and zinc, B vitamins and conjugated linoleic acid, an antioxidant essential fatty acid."
Ground beef can be bought on a monthly basis, as it can last in the freezer for up to three to four months. "I always have it on hand to make meatballs, meat sauce, burgers, tacos—and sometimes I just saute some to put on top of my salad," says Lipton.
Banza Chickpea Pasta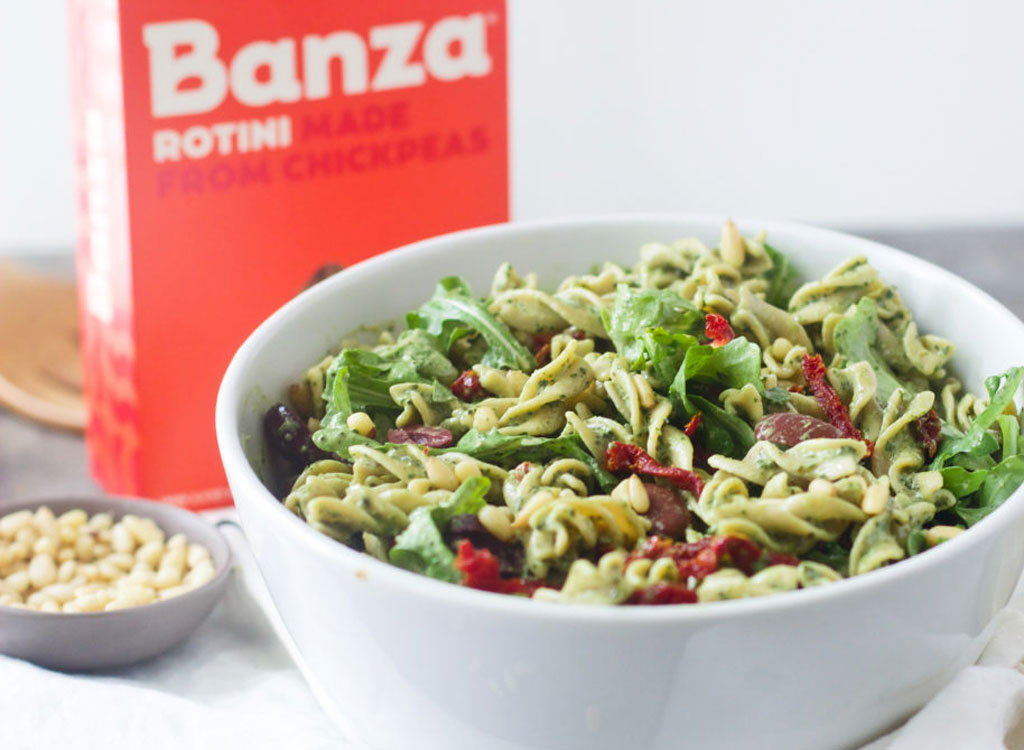 If you look in your pantry now, you may have a few boxes of pasta, but if you don't have Banza Chickpea Pasta, it's time to add it to your list. With 23 grams of protein per serving as well as 8 grams of fiber, it's an easy swap for a healthier meal at home.
"I like using Banza pasta for typical pasta dishes like spaghetti and meatballs, bolognese, and even add it to my chicken noodle soups or pasta salads," says Huelse. "Pasta is a weekly occurrence in my household so having a healthy option is amazing!"
Cooking fats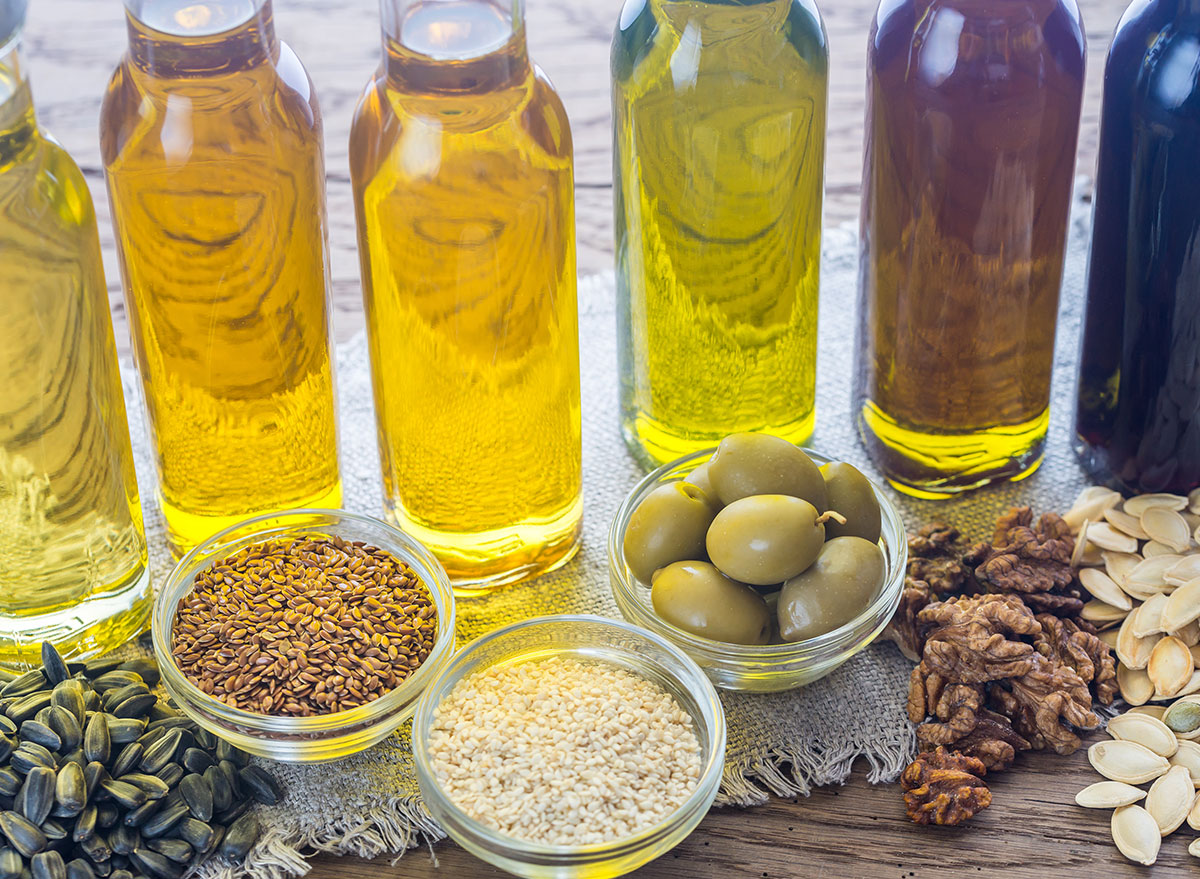 This is one item that could easily be overlooked when you hit the grocery store, but it's super essential when you go to cook your meals over the course of the week. Lipton uses different types of cooking fats depending on what she is making.
"For high-heat cooking, I buy avocado oil (Primal Kitchen, Nutiva or Chosen Foods) and ghee (from Thrive Market or Fourth and Heart), for medium heat, I buy grass-fed butter (Kerrygold is my fave) and unrefined coconut oil (from Thrive Market), and for lower heat, sauces, and dressings, I love extra virgin olive oil (California Olive Ranch is one of my go-to's)."
One of the reasons it's so crucial to vary your fats is not just for nutritional value, but "because you never want to take a fat to a higher temperature than its smoke point," Lipton explains. So, if your kitchen is not yet stocked with these essentials, it's time to get shopping.
Cedar's Organic Jalapeno Hummus
We're not expecting you to skip over the snack aisle when it comes to your shopping list. Hummus is a filling snack to keep in the refrigerator at all times. Huelse recommends Cedar's Organic Jalapeno Hummus and she says to pair it with some Simple Mills gluten-free crackers. She even adds it as a spread to her sandwiches at lunchtime.
"You can enjoy this hummus with your favorite vegetables, crackers, or use in a charcuterie board," she adds.
For more, be sure to check out 10 Easy Ways to Eat Less Sugar From a Celebrity Nutritionist.
Rachel Linder
Rachel is an Associate Editor responsible for compiling the daily Eat This, Not That! newsletter, making TikTok and YouTube videos for the brand, writing articles for the site, creating original graphics and providing direct assistance to the editors when needed.
Read more about Rachel