Healthy Fast-Food for High Protein Diets
Ronald McDonald. Wendy. The King. Though none of these prominent fast-food characters are particularly fit, that doesn't mean their food can't help you reach your fitness goals.
In fact, ordering a fast-food dish that's low in calories and packed with protein—a nutrient that revs calorie burn and satiety and preserves lean muscle mass—can aid weight loss and give you that lean look you crave. The tricky part is identifying which dishes fit the bill—and that's where we come in. All of the meals below have a reasonable amount of sodium, calories and fat, and have no less than 30 grams of protein (more than standard protein shakes). If you find yourself eating on the run, these are the muscle-building meals that deserve a place on your tray.
Salad with Chicken, Black Beans, Cheese & Fresh Tomato Salsa
Protein payout: 47 g
Nutrition: 430 calories, 15.5 fat, 8 g saturated fat, 970 mg sodium, 30 g carbs, 14.5 g fiber, 5 g sugar
Customers can pick and choose exactly what ingredients end up on their plate at Chipotle, which means there's a lot of room for nutritional error—not a risk you should take when you're trying to lean out. Beans, chicken and cheese are rich in health-promoting vitamins and primo sources of protein, making this mix-and-match salad a muscle-building MVP.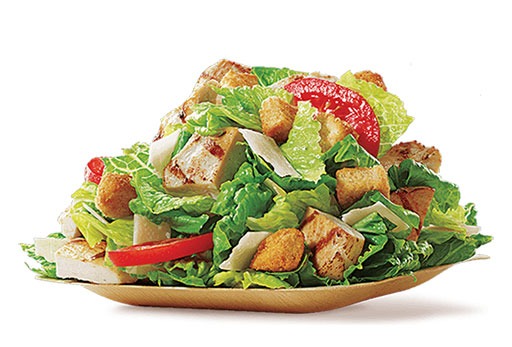 Chicken Caesar Salad with Tendergrill Chicken and Dressing (½ packet)
Protein payout: 35 g
Nutrition: 360 calories, 18 g fat, 3 g saturated fat, 900 mg sodium, 18 g carbs, 0 g fiber, 4.5 g sugar6254a4d1642c605c54bf1cab17d50f1e
Chicken Caesar salads get a bad rap for their high calorie and fat content, but the dish can be a great addition to your weight loss diet if you stick to a light drizzle of the dressing. This take on the classic salad serves up a medley of crispy, water-filled romaine lettuce, tomatoes (a powerful cancer deflector), croutons (which you can toss to cut fat and calories further) and Parmesan cheese. Delish!
Quarter White Skinless Rotisserie Chicken with Steamed Vegetables & Green Beans
Protein payout: 53 g
Nutrition: 380 calories, 13 g fat, 3 g saturated fat, 1,030 mg sodium, 17 g carbs, 7 g fiber, 4 g sugar
If you go into Boston Market without a game plan, it's easy to get tripped up along the assembly line. But if you stick to this order staying on track is a cinch. In addition to the combo's noteworthy low calorie and high protein counts, the green beans provide a hit of leucine, an amino acid that stimulates protein synthesis and muscle growth.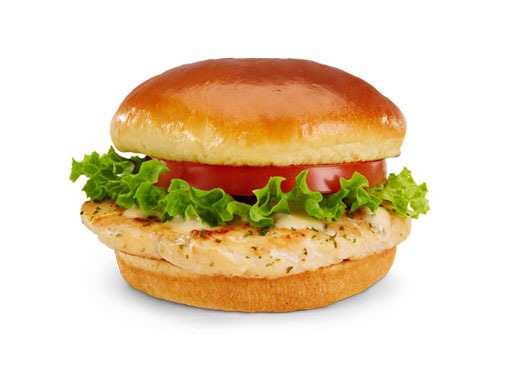 Artisan Grilled Chicken Sandwich
Protein payout: 32 g
Nutrition: 360 calories, 6 g fat, 1.5 g saturated fat, 930 mg sodium, 43 g carbs, 3 g fiber, 11 g sugar
Don't be scared by reports out of the UK that the chicken from Mickey D's is frozen and gelatinochus prior to being served. The chicken served in U.S. locations doesn't have the same bad rap. This meat and veggie sandwich carries a whopping 32 grams of protein for a mere 360 calories, a rare ratio of nutrients in the fast-food world.
Thai Chicken Salad, light dressing, no wontons
Protein payout: 38 g protein
Nutrition: 320 calories, 12 g fat, 2 g saturated fat, 610 mg sodium, 19 g carbs, 7 g fiber, 9 g sugar
Low in sugar and packed with protein and satiating fiber, this Panera salad is a winner for those trying to lose weight. It's filled with a flavorful combination of citrus-pepper chicken, edamame, romaine, cashews and cilantro (an herb that's rich in the fat-torching flavonoid quercetin), and topped with Thai chili vinaigrette and peanut sauce. Have your server go light on the dressing and hold the wontons. Doing so axes 170 calories and 7 grams of fat from your order without greatly altering the taste.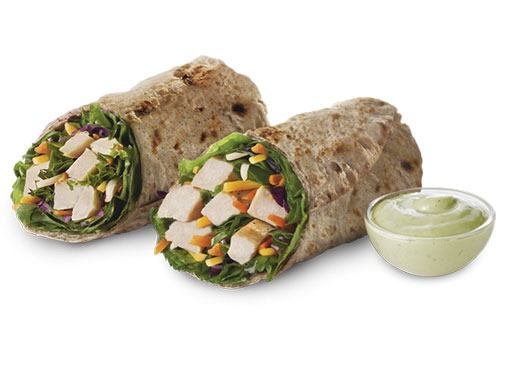 Grilled Chicken Cool Wrap
Protein payout: 36 g
Nutrition: 340 calories, 13 g fat, 4.5 g saturated fat, 900 mg sodium, 30 g carbs, 15 g fiber, 3 g sugar
One of the easiest, leanest ways to boost your protein intake is to "Eat Mor Chiken." The medley of grilled chicken, lettuce, cabbage, carrots and cheese provides a ton of the muscle builder and also serves a solid hit of belly-filling water and vitamin A, which helps the body synthesize protein. Though we don't typically recommend wraps (they tend to be made with hydrogenated oils), this flaxseed flour one is a nutritional winner.
Turkey Sausage & Egg White Flatbread
Protein payout: 31 g
Nutrition: 370 calories, 15 g fat, 7 g saturated fat, 830 mg sodium, 6 g fiber, 3 g sugar
Nearly every fast-service restaurant that sells breakfast offers some type of meat-and-egg sandwich. However, few provide as much protein as Au Bon Pain's take on the a.m. classic. Dunkin's Turkey Sausage Flatbread sandwich, for example, is higher in calories, sodium and fat and only packs 24 grams of protein. Bonus: This spinach- and cheddar-topped meal provides 15 percent of the day's iron. And when it comes to building muscle and strength, downing iron is as important as lifting it.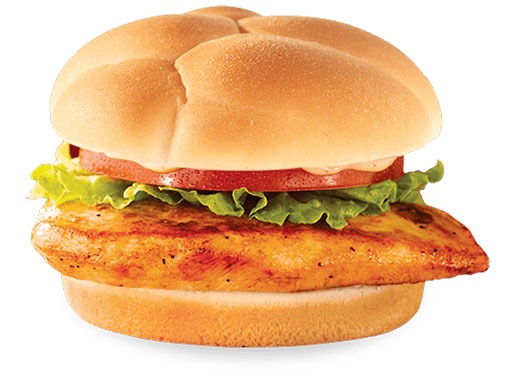 Ultimate Chicken Grill Sandwich
Protein payout: 34 g
Nutrition: 370 calories, 7 g fat, 1.5 g saturated fat, 580 mg sodium, 43 g carbs, 2 g fiber 9 g sugar
Going to the Wendy's drive-thru doesn't mean tossing your nutrition plan out the car window—just stick with the Ultimate Grill and steer clear of the ever-tempting Frosties and fries. The sandwich comes with a grilled chicken breast, tomato, lettuce and a drizzle of honey mustard, a combination that's heavy on flavor and protein but light in the fat and sodium department.