11 Banana Recipes Perfect for Using Up This Pantry Staple
Turn the bananas you have laying around into unique and amazing dishes!
Cooking with bananas is so easy because the texture is incredibly versatile and the flavor is effortlessly delicious. While they're commonly used in things like smoothies or fluffy banana bread, there are so many more unique ways to turn this fruit into even more. Not only are bananas great to cook with in terms of taste, they also reap a number of health benefits. Bananas supply the body with healthy sources of fiber, potassium, vitamin B6, and vitamin C, along with a variety of antioxidants and phytonutrients, according to Healthline.
Forget about lemons, when life gives you bananas, you should make a one-of-a-kind meal! Just in time for National Banana Day (April 20th), here are 10 delicious banana recipes you should make tonight. Plus, don't miss our 22 Meals to Melt Belly Fat in 2022.
Southern-Style Banana Pudding With Vanilla Wafers Recipe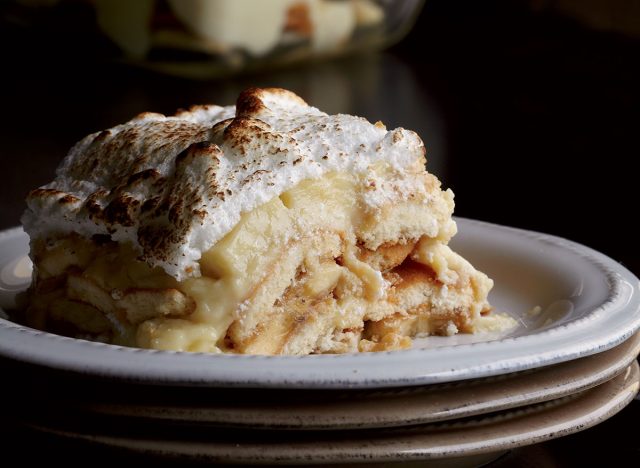 This healthy banana pudding recipe doesn't hold back on taste, but it is lower in calories than the bread pudding you would order at your local diner, and you might actually still be able to taste the banana. That's because, with this delicious dessert, there are fewer total ingredients to allow more space for the natural and delicious flavors to speak for themselves.
Get our recipe for Southern-Style Banana Pudding With Vanilla Wafers.
Banana Sushi Rolls with Crispy Rice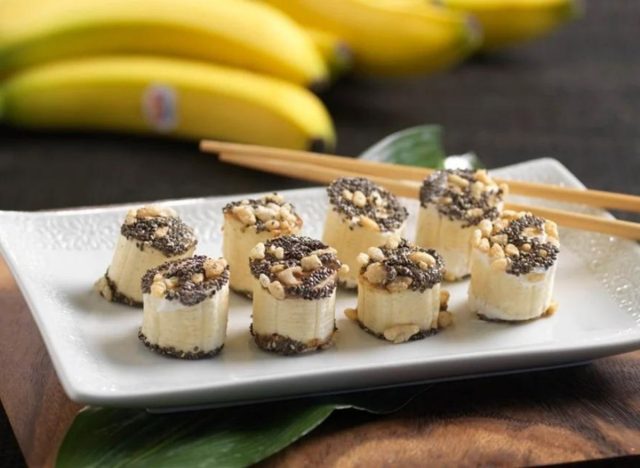 Think about swapping out raw fish for bananas next time you think about making homemade sushi rolls. These Banana Sushi Rolls are aesthetically pleasing and can be customized to your liking.
Maybe they aren't totally in the sushi family, but the look of them fits right in! Perfect for snacking or for serving up as an appetizer to hold your crowd over until the main event. Thankfully, bananas dipped in a nut butter (peanut, almond, cashew butter), is a combination that will never get old. These little banana sushi-like bites are also rolled in rice crispy cereal, which gives them a texture similar to a crispy tempura roll. An entertaining activity in the kitchen and delish richness on your taste buds, what else could you ask for?
Get the recipe for Banana Sushi Rolls with Crispy Rice. 
Mini Banana Pancake Bites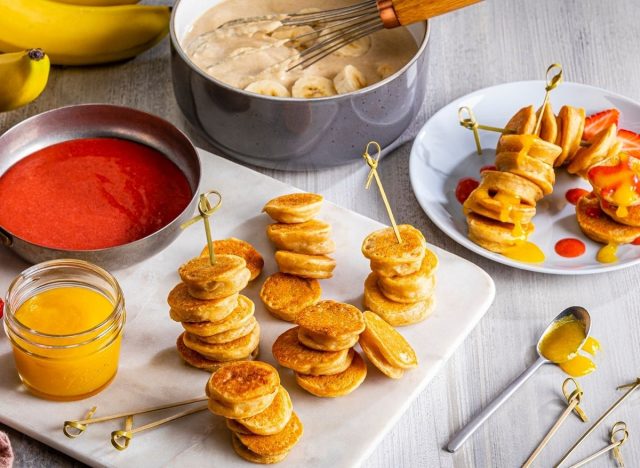 Making pancakes for breakfast is the classic way to go. But these mini banana pancake bites can up your breakfast game with just a few extra steps and ingredients.
If you're looking for a healthier meal to start your day or secretly add more fruit into your kids diet, then you need to add this recipe to your morning routine. Since bananas are naturally soft and sweet, covering them with pancake batter only ups their flavor and smooth texture. Plus, the recipe calls for a nice strawberry and mango puree that are almost too simple to make and even more fun to dip the baby pancakes in!
Get the recipe for Mini Banana Pancake Bites.
Whole30 Banana Coconut Ice Cream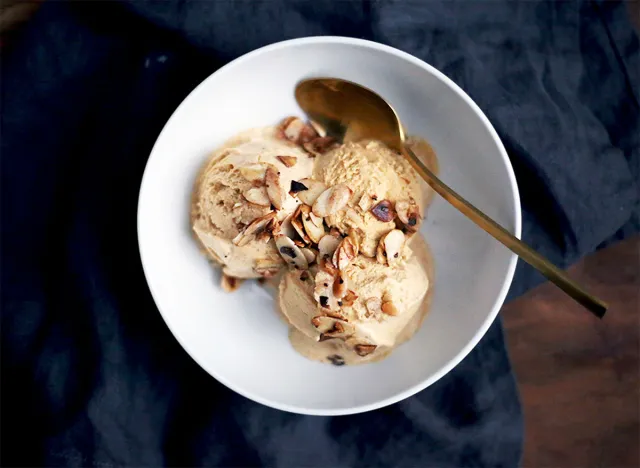 Once you taste this decadent homemade Banana Coconut Ice Cream, you won't believe it's both vegan and Whole30-approved. The trick is actually pretty simple—bananas and coconut milk give this ice cream body and flavor. Roasting the bananas with a date syrup gives them even more taste once they're frozen, plus, it adds caramel notes to the final product. We suggest topping it all off with sliced almonds (also caramelized in date syrup), which is an excellent crunch to add to the mix.
Get the recipe for Whole30 Banana Coconut Ice Cream.
Whole30 Sweet Potato Banana Muffins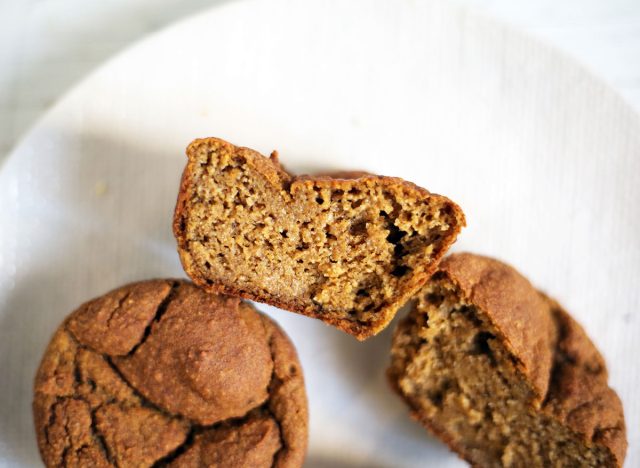 These muffins are good enough to win over anyone, regardless of their diet. They're also gluten-free, dairy-free, and don't use any refined sugar. Even more importantly, they have a wonderfully tender and moist texture and just a touch of sweetness.
The only source of sweetness in this recipe is the sweet potatoes and bananas, and you won't believe their satisfying power in these muffins. However, if you absolutely can't live without some chocolate in your muffins, we recommend adding some dark chocolate chips to the batter to give you an extra sugar boost!
Get our recipe for Whole30 Sweet Potato Banana Muffins.
A Low-Calorie Elvis Sandwich Recipe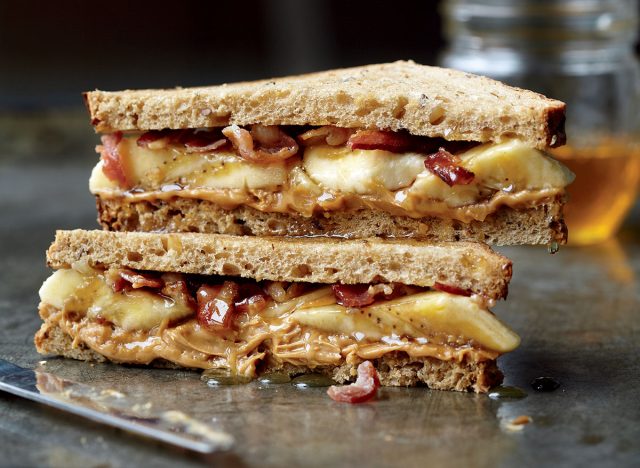 Elvis Presley is known for his hip-shaking, Hound Dog singing, and his very specific eating habits. If you haven't heard them yet, the stories about Elvis's prodigious powers of consumption are widely known—in particular, his love of a certain sandwich involving peanut butter, banana, and, according to some accounts, bacon and honey.6254a4d1642c605c54bf1cab17d50f1e
This recipe captures everything Elvis enjoyed in a sandwich, down to the last slice of banana on top of a smooth layer of thick peanut butter. Similar to the rest of the recipes in this round-up, this one is not only last-meal-worthy, it's simultaneously low in calories and filled with healthy ingredients.
Get the recipe for A Low-Calorie Elvis Sandwich.
Strawberry-Banana Toaster Tarts
This recipe will unapologetically put Pop-Tarts to shame! Making puff pastries like these from scratch isn't as difficult as it may sound. In fact, with Dole's recipe, you can pop them out in just about an hour.
These Strawberry-Banana Toaster Tarts are gluten-free and combine sweet and savory flavors seamlessly. A filling that is made with strawberries and bananas sautéed in sugar and lemon juice will definitely mix up your morning. And when cooked to perfection, the fluffy and flaky pie crust will only make your mouth water while you wait for your toaster tarts to cool.
Get the recipe for Strawberry-Banana Toaster Tarts.
Blended Banana Iced Coffee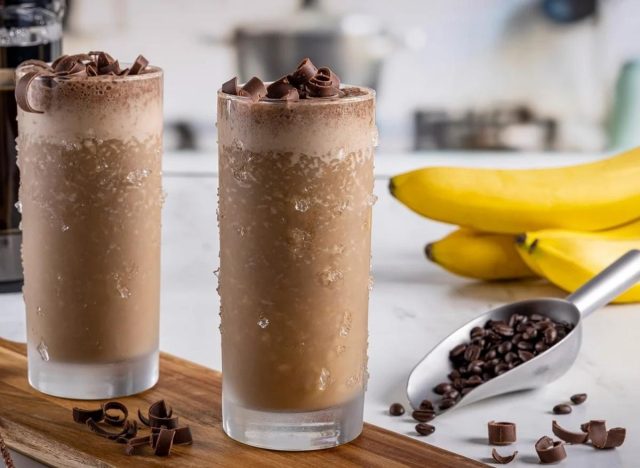 As spring and summer sneak around the corner, mixing up a nice frozen drink will help thaw you out when temperatures are high. Save the hot pot of coffee for another day and try out a new kind of caffeinated drink to get you through the day.
Blended iced coffee is nothing new—see Dunkin', Starbucks, and even Dutch Bros for example—but coffee with a dose of fruit is something special. Dole's Blended Banana Iced Coffee tames the strong taste of coffee with ground cardamom, powdered sugar, and vanilla. All of which pair very well with ripe bananas, and a touch of milk chocolate makes this beverage a real treat!
Get the recipe for Blended Banana Iced Coffee.
Spicy Banana Dip
Who knew sweet, sweet bananas could have such a spicey side? Well, Dole tried it out and found major success. Bonus: their recipe can be thrown together in 10 minutes or less!
This Spicy Banana Dip is a unique shareable that will be the new crowd pleaser and have everyone asking for the recipe. Instead of going to the basic route of chips and salsa, turn things around with this healthier alternative that is amazing with your cracker of choice (a much less salty option). This dip uses a variety of fresh ingredients like mint, ginger, and green chile, but none of which overpower the natural banana taste. It's also vegan, vegetarian, and gluten-free, so it can be enjoyed by all who can handle the heat!
Get the recipe for Spicy Banana Dip.
Berry Banana Fro-Whip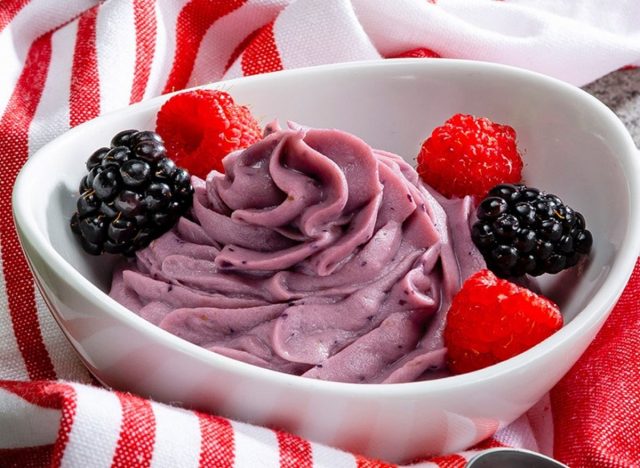 If you've ever had the Dole Whip at a Disney Theme Park, then you know the dreamy and addicting potential this dessert has. Leave the ice cream and popsicles on the grocery store shelves and let this recipe take over your sweet tooth.
Bananas and berries can do powerful things when used in unison. The ideal texture is in between frozen yogurt and light whipped cream. And if you're dairy-free, don't worry! This Berry Banana Fro-Whip recipe calls for unsweetened coconut milk, which contributes to its consistency without taking away from all the fruity punch.
Get the recipe for Berry Banana Fro-Whip.
Banana Coconut Soup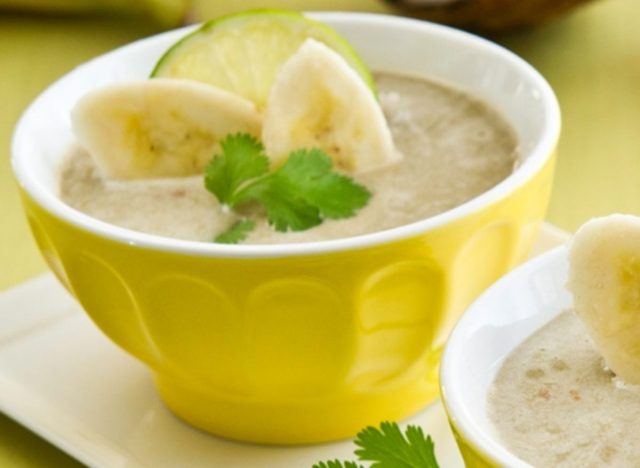 Coconut soup is a vegetarian staple for many folks and adding bananas to the mix just makes it even better. Sweet and savory transform this cozy bowl of goodness into a dish you won't be able to get enough of.
This Banana Coconut Soup simmers and sizzles to bring the hearty flavors of garlic, soy sauce, red chile, and, of course, sliced bananas. The soup's seasoning settles in just a matter of minutes and will have your kitchen smelling like a delicious dream. This hot meal will keep you feeling full without making you feel heavy or sluggish, due to its low sodium ingredients.
Get the recipe for Banana Coconut Soup.
Plus, don't miss:
6 Ways Bananas Melt Belly Fat, Say Dietitians
9 Ways Bananas Can Help You Lose Weight, Say Dietitians
17 Amazing Things That Happen to Your Body When You Eat Bananas
Jordan Summers-Marcouillier
Jordan Summers-Marcouillier was born and raised in San Jose, California and now works as a writer in New York, NY.
Read more about Jordan