Costco Members Say They "10/10 Would Recommend" These Items Right Now
Your weekly grocery list might have just gotten easier.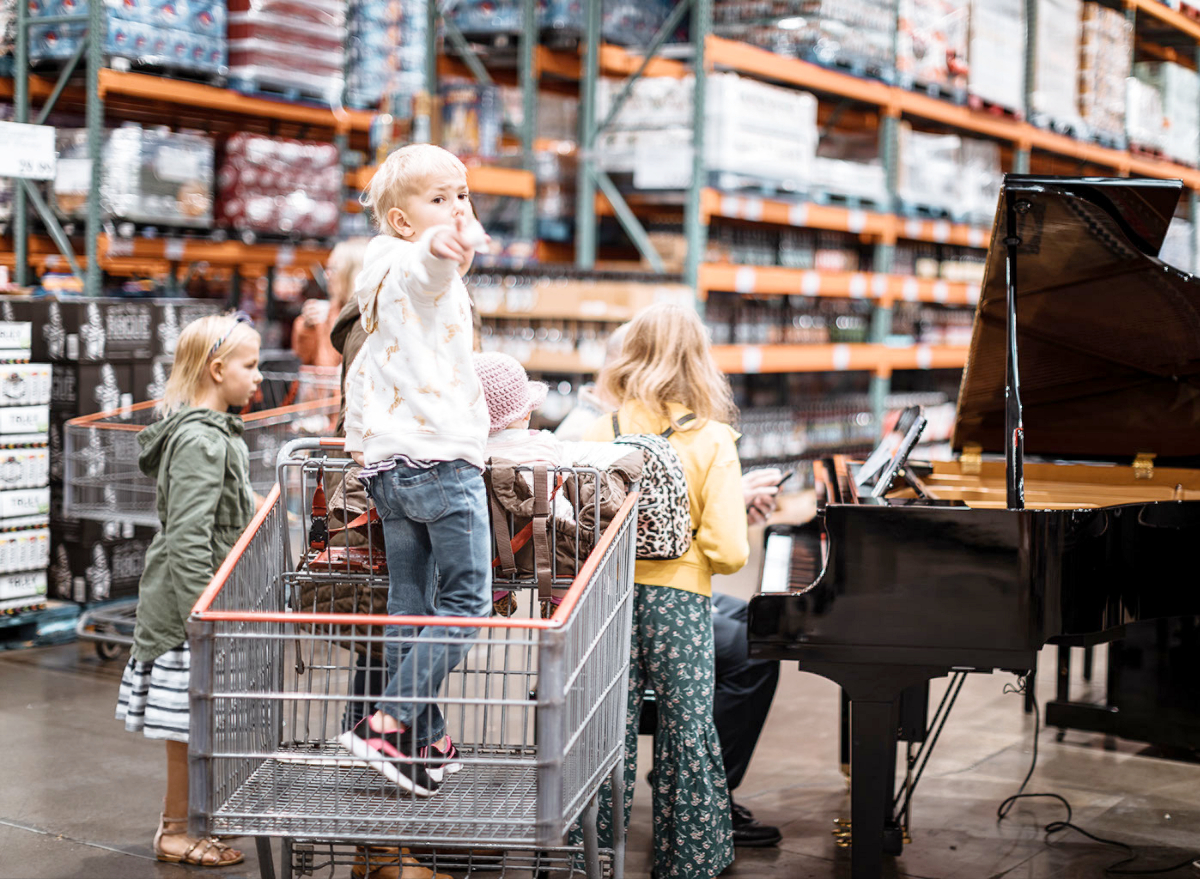 If you're wracking your brain for what to buy that will actually get eaten this week, your task just got simpler. Before you make that grocery run, check out this list of products that Costco members around the country have been excited enough to share this weekend. (Good news—the replacement for Kirkland Signature peanut butter sounds like it's a winner so far.)
Late this week, the Costco subreddit was already abuzz with solid new food finds, with redditors who identify as Costco members sharing their recommendations.
Keep reading—and get the Eat This, Not That! newsletter for what's trending in food all week. Also, don't miss this late-breaking Saturday morning update: Walmart Is Recalling This Item After Two Deaths Were Reported.
Kinder's Seasoning Taco Blend
On Friday, u/becauseoftheoffice in Washington state was one of the first to kick off the Costco weekend shopping recs, saying they "10/10 would recommend" Kinder's Taco Blend. "Spicier, has a hint of smokiness to it. I loved it!"
Looking to bring some zing to taco night? Check out The Best Store-Bought Taco Seasonings—Ranked!
Crown Bourbon Barrel Aged Organic Maple Syrup
If your chillier-weather mornings could use all the French toast, pancake, and waffle wisdom, u/FrankYoshida, another Washington-based Costco devotee, recommends this bourbon barrel-aged organic maple syrup. (Um, yum.)
Costco Meatloaf
U/AFlyingToaster might have caught last week's list of rave-worthy Costco finds, where the pre-made meatloaf and mashed potatoes made an appearance. "The meatloaf is everything I dreamed it to be," this user said. "I'm the only one that will eat it, but I could literally eat the entire tray."
Just Bare Lightly Breaded Chicken Breast Chunks
U/lakeshowtime sounded thrilled to find the popular Just Bare Lightly Breaded Chicken Breast Chunks at the their San Dimas Costco store. "My Fellow Southern Californians, FINALLY!" they exclaimed.
One of our editors recently tried Just Bare chicken. Read the review: I Tried The Costco Chicken Nuggets That "Taste Like Chick-fil-A," and I Have Some Thoughts.
"Costco's Kirkland Prosecco"
U/seltzyoself had champagne dreams for what sounded to be a special upcoming event: "I am wanting to buy some nice champagne for my upcoming small wedding ceremony on a boat. I would like to get vueve clicquot – do they still carry it or something similar? How much does it run now?"
In response, u/HumanTyphoon77 said, "I know it's different, but Costco's Kirkland Prosecco cannot be beat – and especially at that price. You can pick up a case of Prosecco for $84 and have it when your champagne stash empties."
U/joben_86 concurred. "Agreed!" they said. "My husband and I love this Prosecco. The Kirkland Prosecco Rośe is great too."
U/Abhimri was also on board with this nautical wedding Prosecco inspo, identifying as part of the "Kirkland Prosecco Gang."
RELATED: Brad Pitt's New Champagne Is Here—and You Won't Believe the Price Tag
Teddie Natural Peanut Butter
6254a4d1642c605c54bf1cab17d50f1e
As some users were saddened by what sounds like the recent discontinuation of Kirkland peanut butter in some warehouses, Teddie Natural Peanut Butter got thumbs-ups across the board. "Anyone try the new natural peanut butter?" asked u/MillenniumGreed. "If so, how'd you like it?"
The commenters who'd tried Teddie Natural Peanut Butter considered it favorable. U/guitar1257 was one who also offered up a popular way to store the product: "Oooh Teddys is good. Pro tip for natural peanut butter: store it upside down in the fridge. The oil floats to the 'top' which is actually the bottom, so it's more evenly distributed and requires much less stirring."
If you've got plans to refill the pantry, you can count on our list of The Best & Worst Peanut Butters—Ranked! Plus, get more of the latest food news here:
Krissy Gasbarre
Krissy is a senior news editor at Eat This, Not That!, managing morning and weekend news related to nutrition, wellness, restaurants and groceries (with a focus on beverages), and more.
Read more about Krissy