8 Most Popular Fast-Food Pizza Chains Right Now
These brands have risen above the competition.
The fast-food craze spawned by the pandemic has made it seem like pizza is the top food Americans crave during tough times. In 2020, several national pizza chains achieved some of their best sales numbers ever, and while many fast-food chains were closing down locations, pizza brands just kept on growing.
But not all pizza spots are created equal: There are chains people appreciate for their superior pies and others that excel in quick service or great value. On the fiercely competitive stage of best national pizza, these companies have demonstrated overall superiority over the rest. What follows are the most popular fast-food pizzas people are ordering right now. And for more on fast food, check out 6 New Fast-Food Chicken Sandwiches Everyone's Talking About.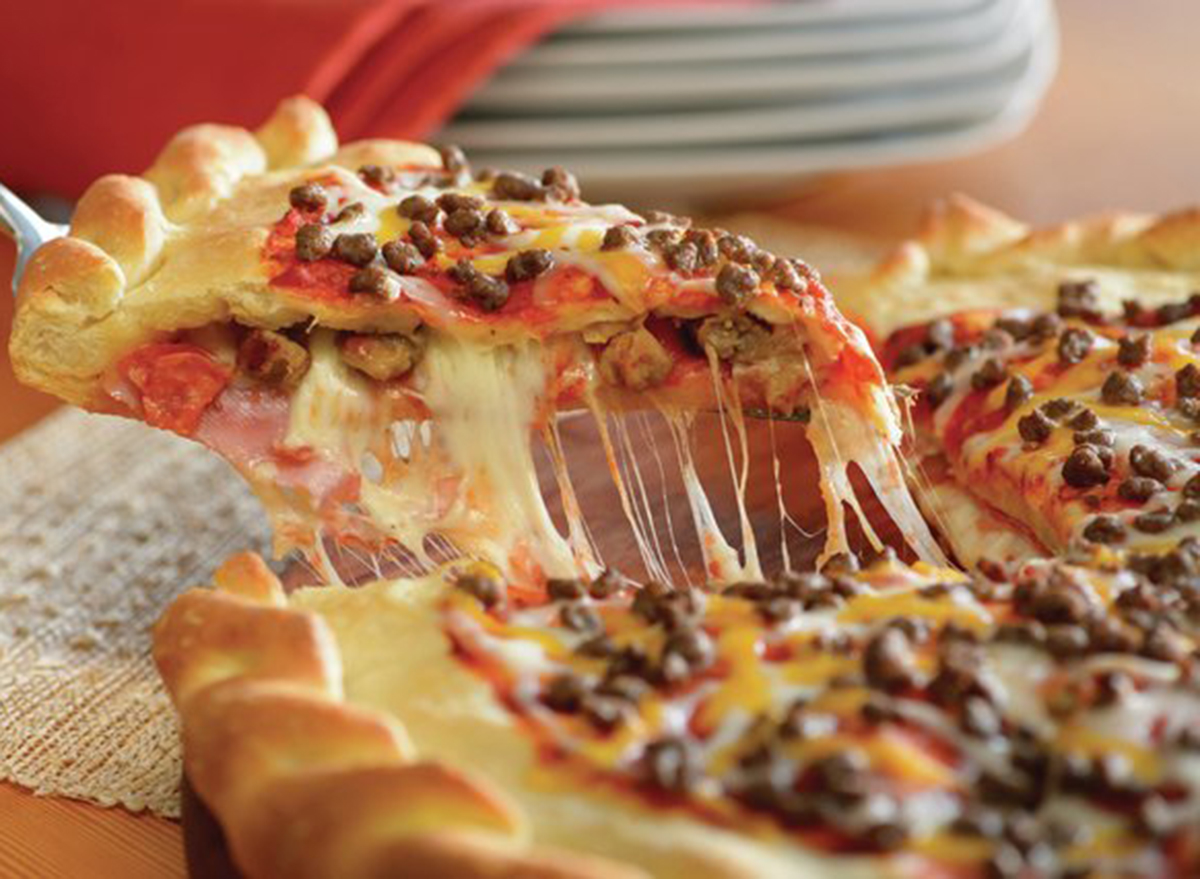 Talk about a customer favorite! America's largest take-n-bake chain was recently crowned #1 in the pizza restaurant category for overall trust, sanitation, and customer loyalty by Nation's Restaurant News, and #1 for customer service by Newsweek (two prestigious food industry publications). Papa Murphy's has more than 1,500 locations across dozens of states and provides a pizza experience unlike most chains—selling unbaked pies so customers can enjoy a fresh-from-the-oven experience in their own kitchens.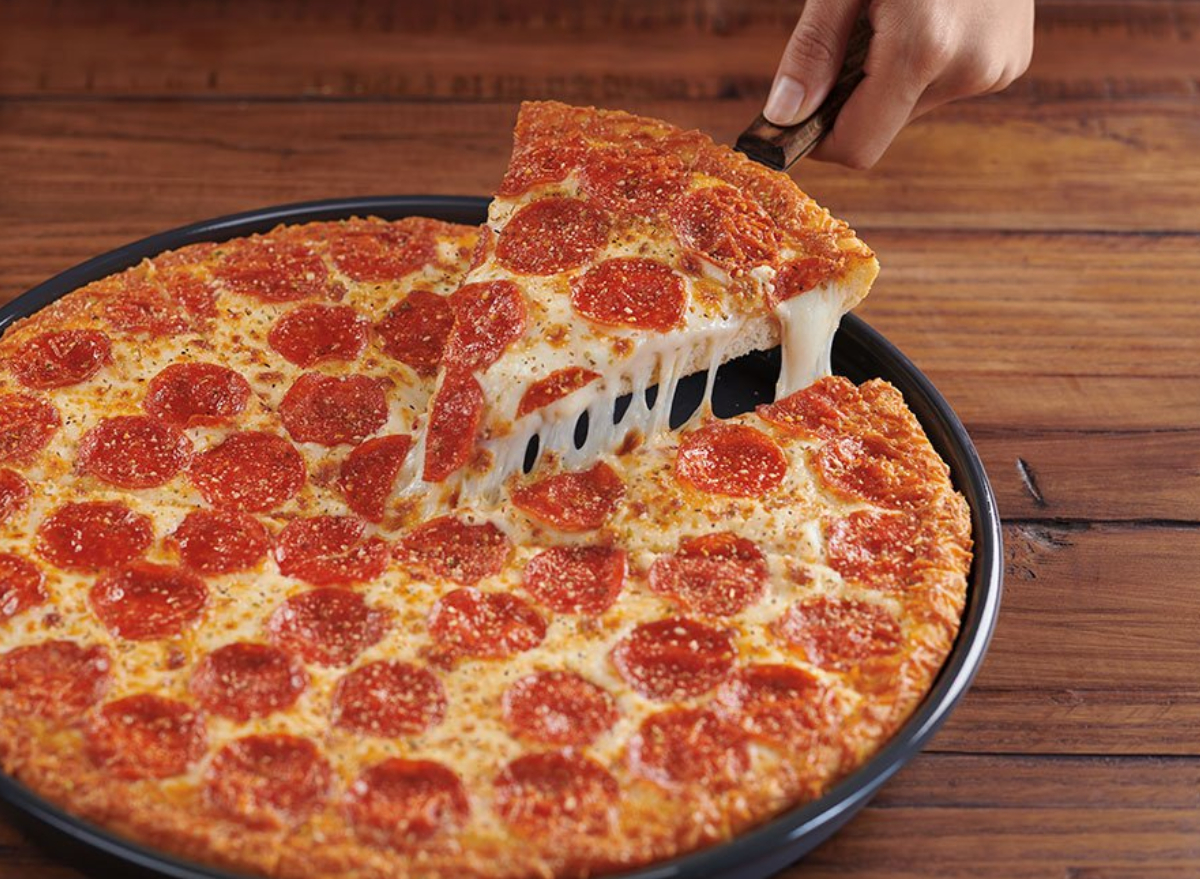 Its sheer number of locations makes Pizza Hut the most accessible fast-food pizza in the United States. The chain ended 2020 with more than 17,000 domestic locations scattered across all 50 states, which means that wherever you are in the country, you are just a stone's throw away from getting their famously craveable pies. Not to be outdone in the creative menu department, Pizza Hut launched the first national chain pizza with a plant-based meat topping last year, and kicked off 2021 with a new Detroit-style pie that's been permanently added to menus nationwide.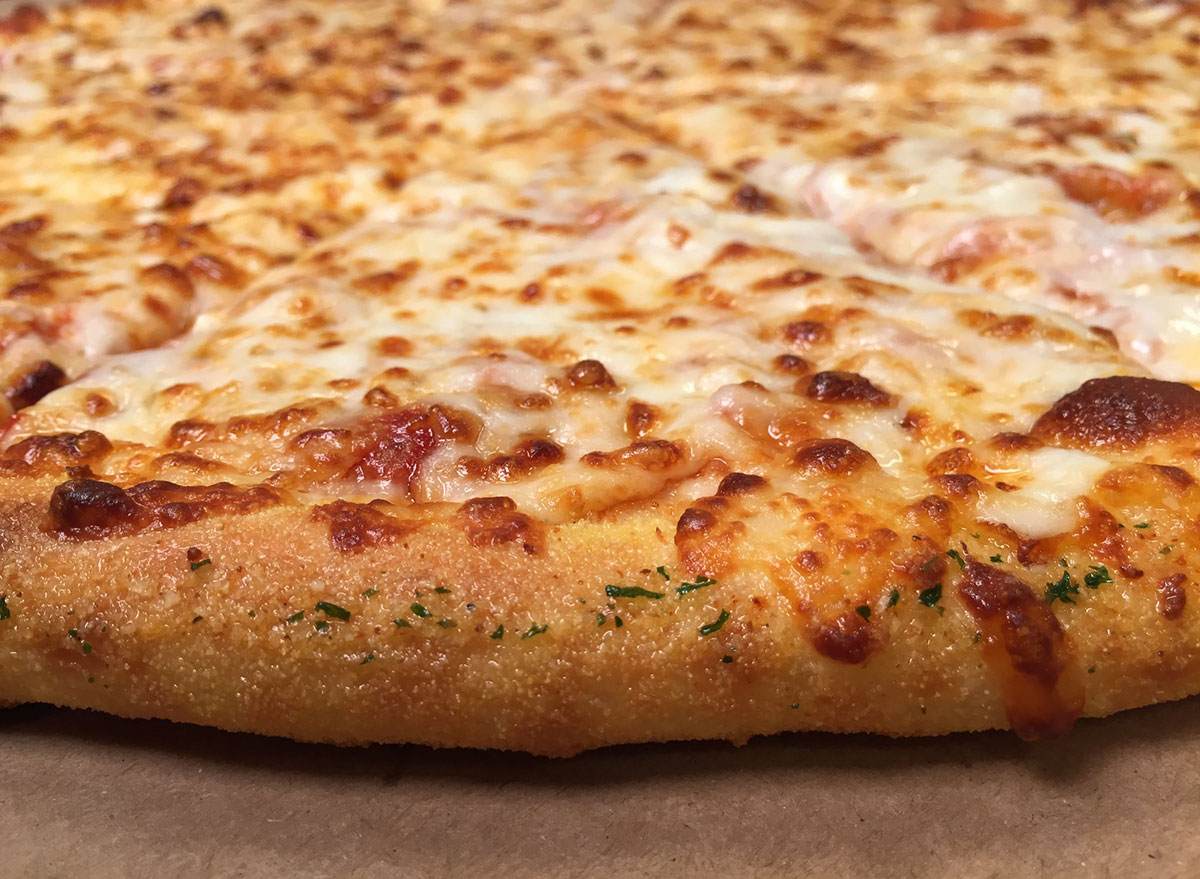 The leader of the pack when it comes to sales numbers, Domino's needs no introduction. In 2019, it was the top-grossing pizza chain in the U.S., and its dominance continued during the pandemic. The company's latest earnings report showed a 17.5% growth in sales, marking the strongest same-store sales the brand has seen since it started reporting its earnings publicly in 2004. Domino's recently added two new pizzas—chicken taco pizza and cheeseburger pizza—for the first time in eight years, and made a bold announcement that it's ready for absolute world domination.
Papa John's was another fast-food chain with a lot to celebrate last year. Its revenue, and both international and domestic sales, grew by high double digits in the third quarter, boosted by clever item launches like the new Papadias sandwiches (which basically look like a folded up pizza), and the Shaq-a-Roni pizza (named after Shaquille O'Neal and featuring the chain's largest slices to date). For those who like their pizza to come with a side of whimsy, let's not forget that Papa John's now also serves a stuffed crust nationwide.
With its 200 locations, Mellow Mushroom may not be a big player on the national pizza scene. But what it lacks in footprint it makes up for in crave-ability. According to consumer data collected in the second half of last year by research firm Technomic, this pizza chain makes the second most crave-able pizza in the country! Fans are drawn to their unique gourmet toppings like jerk marinated pork and truffle oil, the data shows. And we have to be honest, their crust is a thing of beauty, too.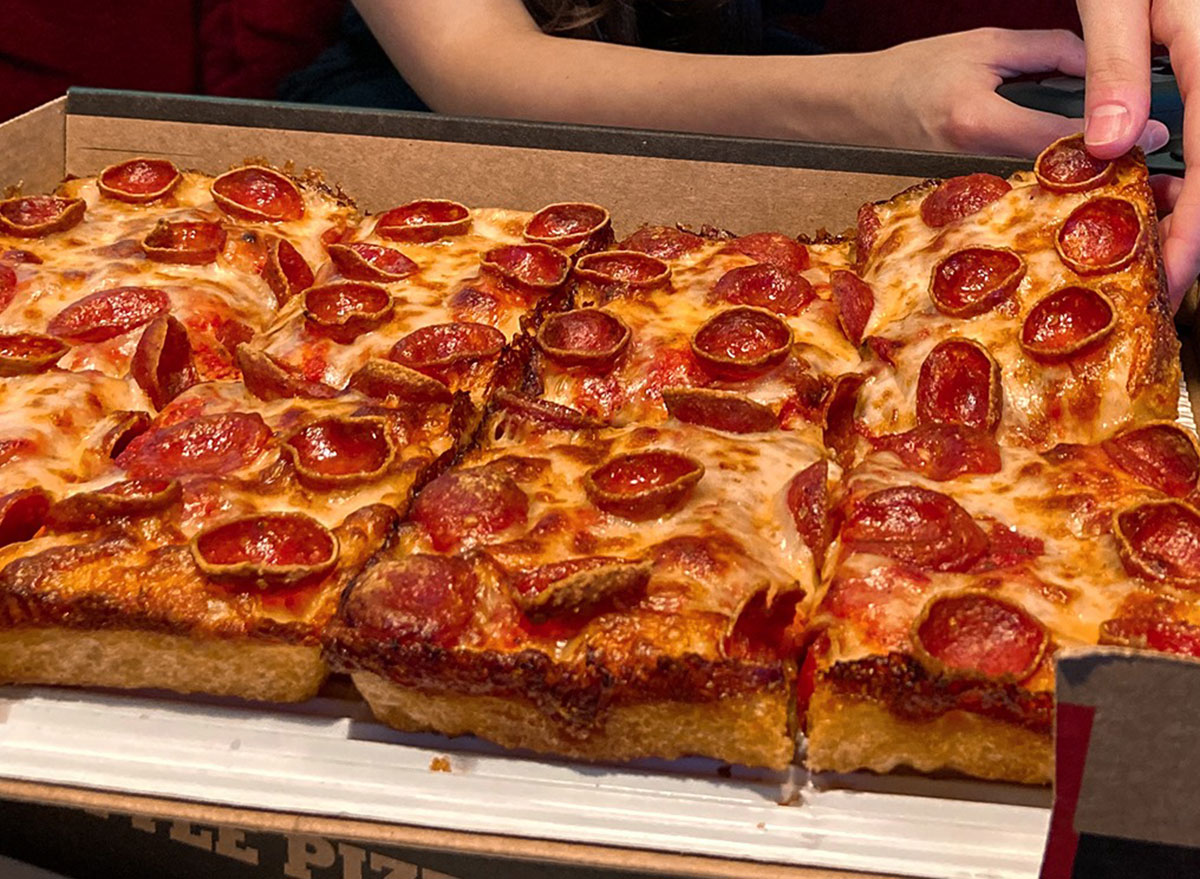 The same Technomic survey awarded the #1 most crave-able spot to Jet's, a chain serving Detroit-style pizza with a dreamy, thick, crunchy crust. "The crust is the best part, and they make pizzas specifically so you can get more crust," said one consumer, according to Restaurant Business, who first reported on the data. With Detroit-style pizza being the fastest-growing pizza trend in the country, Jet's can expect to become more popular than ever.
Little Caesars may not get as much hype as some other national chains, but this good, ol' pizza chain ranks #3 for its number of locations and earnings among national pizza chains. The use of self-service and heated Pizza Portals make for an easy carry-out experience, which helped the brand stay competitive during the pandemic (as did their seemingly prophetic partnership with Door Dash in Jan. 2020).6254a4d1642c605c54bf1cab17d50f1e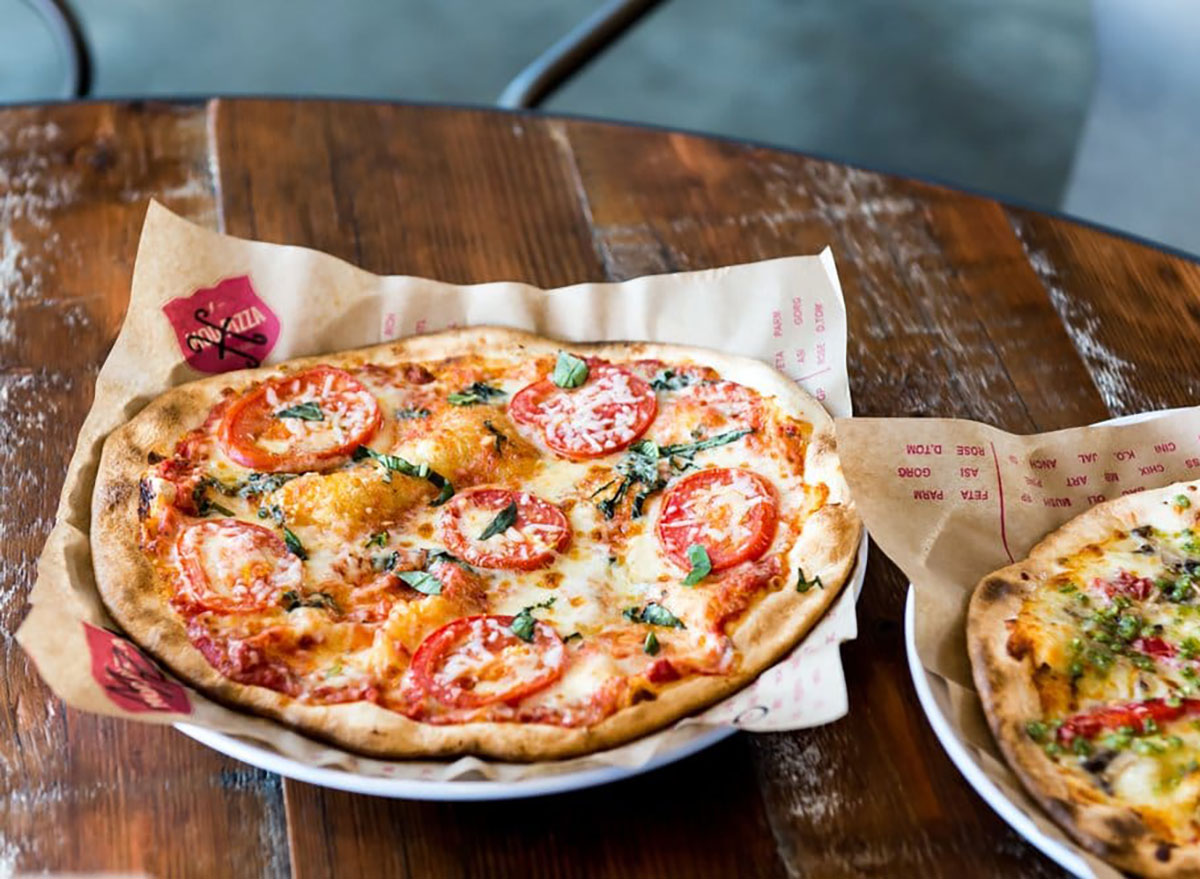 This mid-sized pizza chain was founded in 2008 and started off slowly. However, due to its reputation for great customer service and quality product, the chain has been able to quickly expand to almost 500 locations. MOD Pizza serve a distinctly thin-crust pizza and offers gluten-free crust and vegan toppings, which appeal to a growing number of pizza lovers.
For more, check out 108 Most Popular Sodas Ranked By How Toxic They Are.
Mura Dominko
Mura is ETNT's Executive Editor, leading the coverage of America's favorite restaurant chains, grocery stores, and viral food moments.
Read more about Mura