11 Most Upsetting Menu Cuts at Fast-Food Chains This Year
All the favorites we said goodbye to in 2021.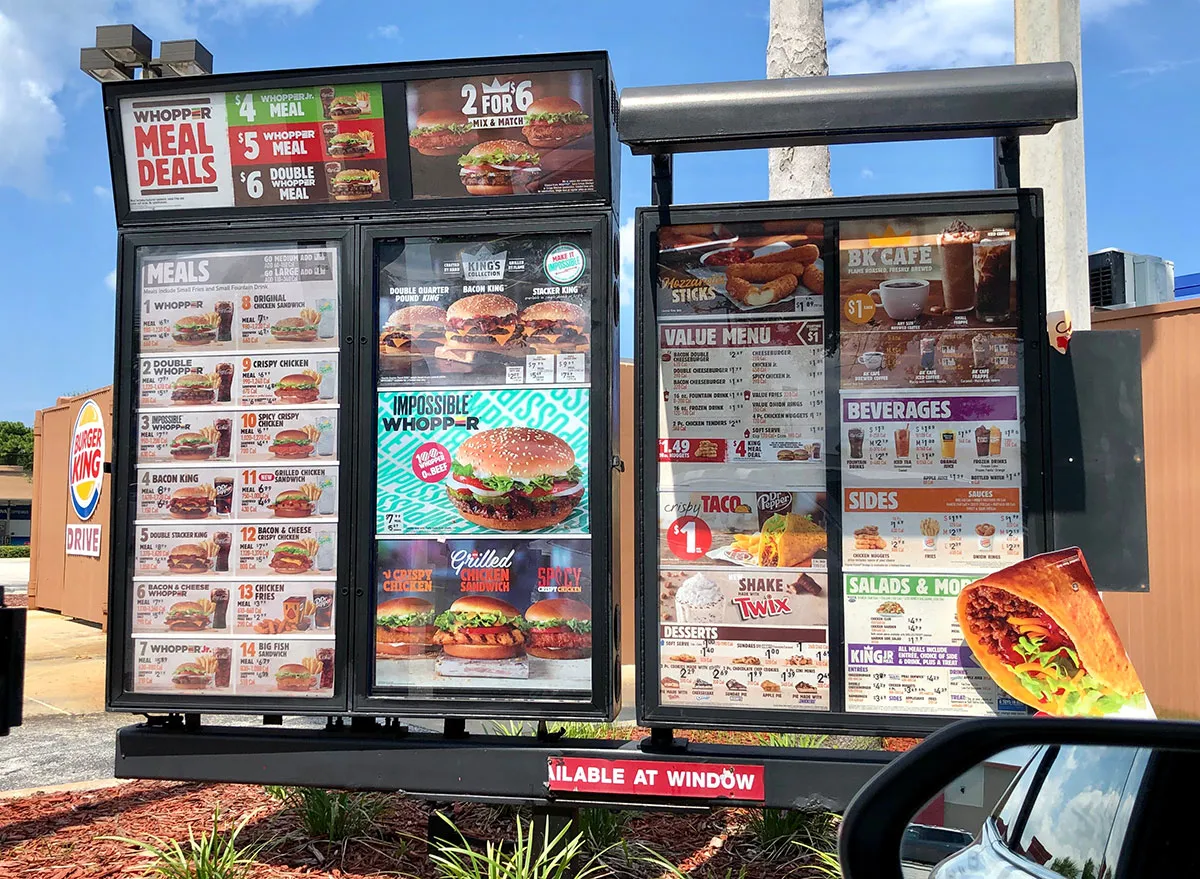 For the fast-food industry, this year was a time of innovation like none other. Most of the year was occupied by nearly weekly releases of new chicken sandwiches. Everyone from national giants like McDonald's and Burger King to smaller regional brands like Bojangles simply had to feed our collective fried chicken appetite with their own sandwich creations.
Then there were the releases of new premium items—something places like Wendy's, Shake Shack, and even Pizza Hut checked off their to-do lists. Some, like Popeyes, filled in their long-existing menu gaps, while others like Subway and Arby's undertook major menu overhauls.
And how could we forget perhaps the biggest trend on fast-food menus this year: the celeb collaboration meals. McDonald's had several successful partnerships (including one with BTS), while even Burger King and Popeyes jumped on the bandwagon of borrowing some star power to boost their sales.
But of course, all that newness was not sustainable. Fast-food brands were constantly launching exciting, fresh concoctions, but they were also just as consistently retiring the products and deals that were no longer working.
For consumers it was hard, and sometimes heartbreaking, to keep up. We were just as eager to leave pandemic memories behind, and happy to do so by clutching to wild deals and imaginative new products. And while this year did bring a triumphant return of the restaurant industry overall, some all-time favorites did get cut along the way.
Here are some of the biggest cuts that happened on fast-food menus this year. For more, check out 5 Bankrupt Restaurant Chains That Have Been Revived This Year.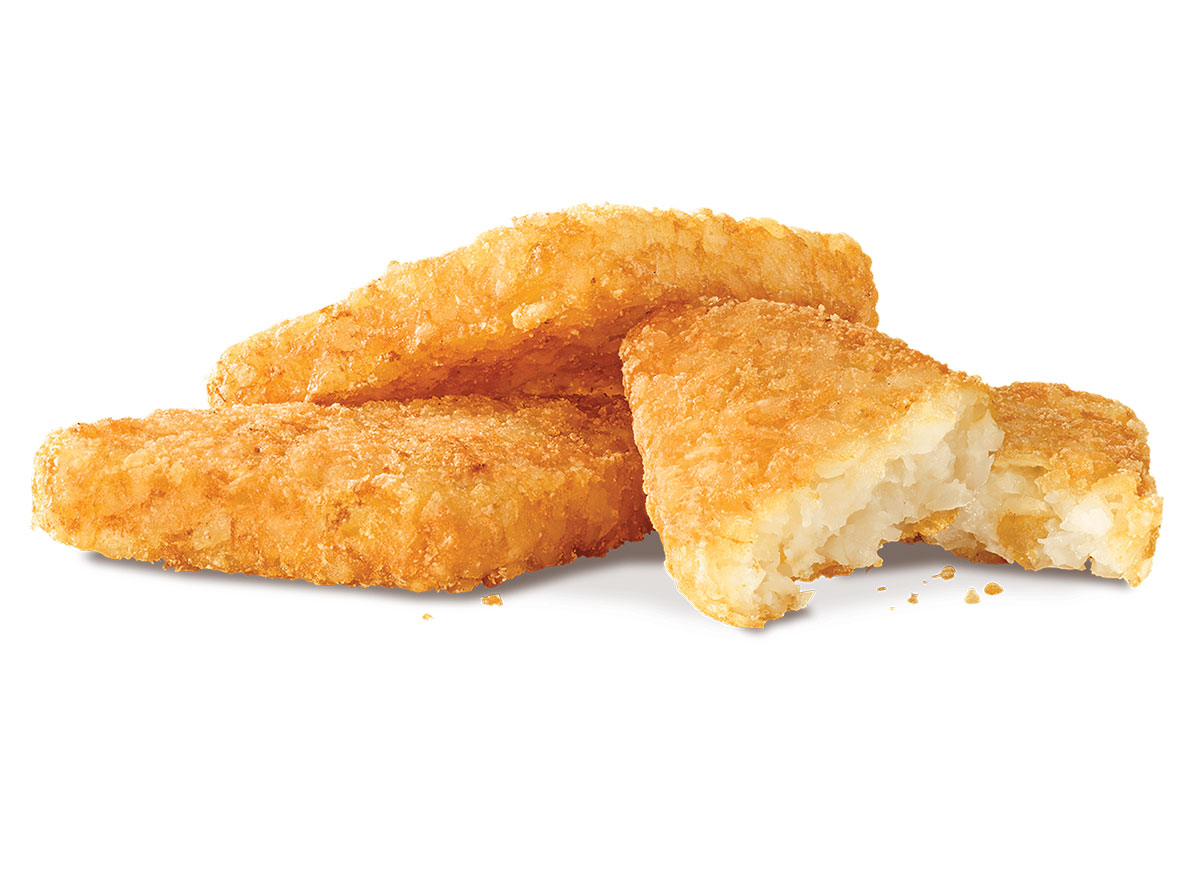 This might be a fair cancellation, given the fact that potato cakes pair with almost nothing else on the Arby's menu. Not quite a hashbrown and not quite a French fry, some fans were up in arms about Arby's decision to stop potato cake production. Ultimately, we think it was one of the easier losses to swallow.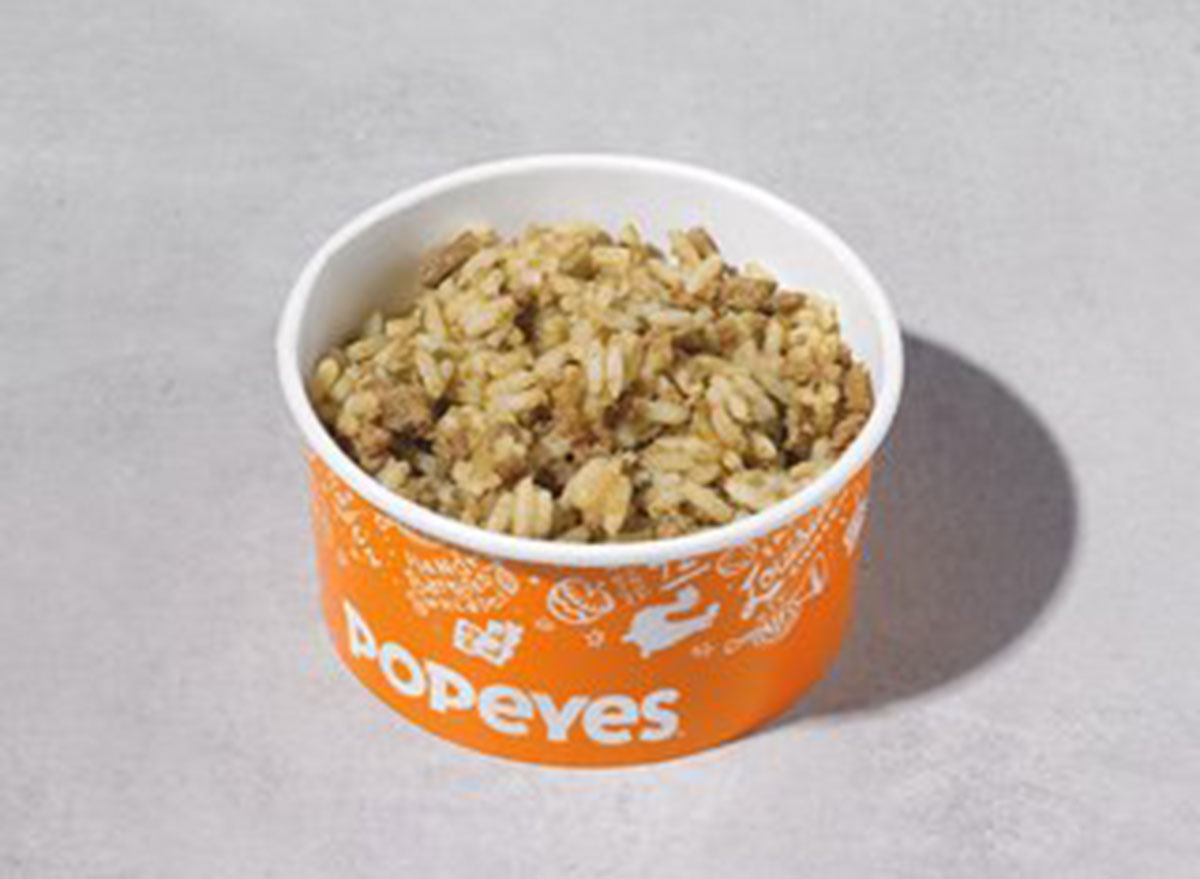 The Cajun Rice, on the other hand, brought on all-around devastation. No one seemed to understand why this popular side was chopped from Popeyes' menu, but the chicken empire stood by its decision. Fans were so upset about their favorite rice being gone that no one seemed to notice that Popeyes discontinued green beans around the same time.
Chick-fil-A Large Milkshakes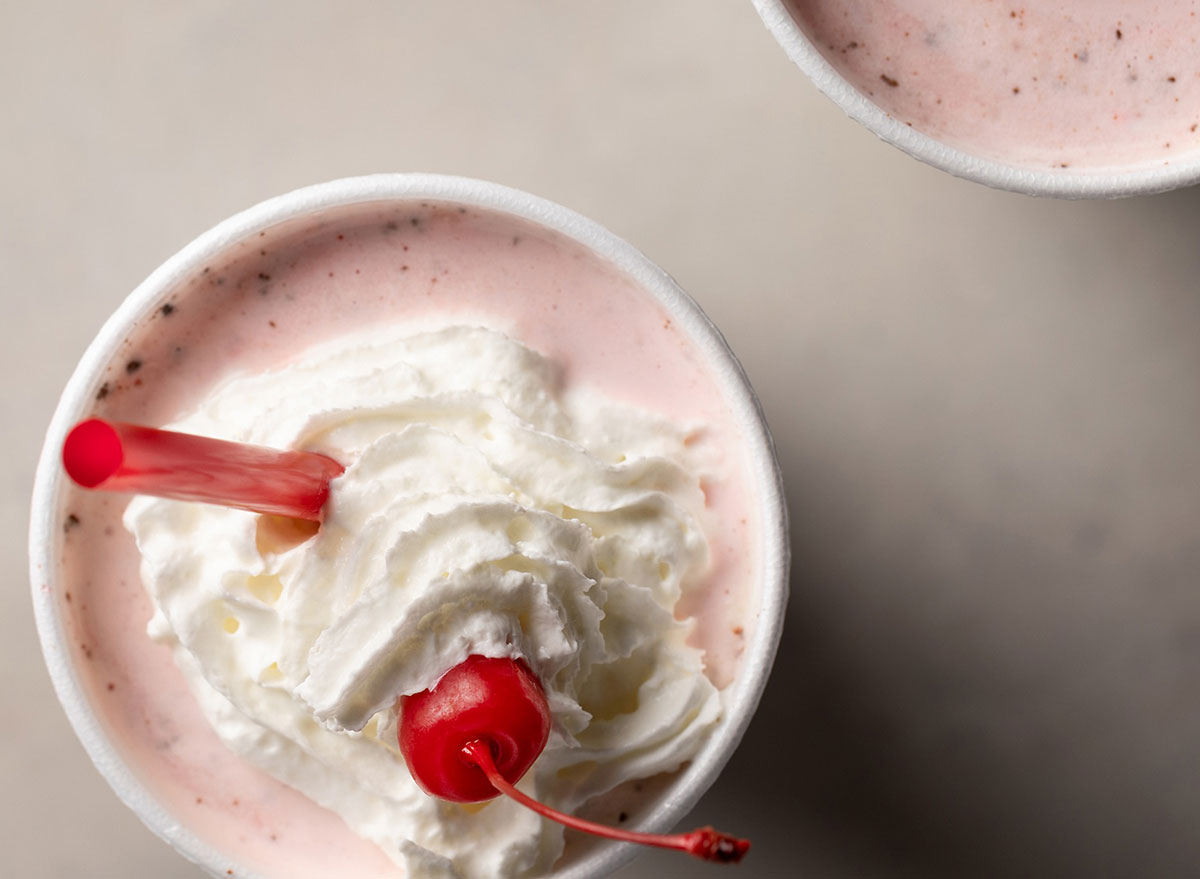 Perhaps it was a health-conscious move, or maybe it was just an effort to produce fewer cup sizes; either way, fans were not happy when Chick-fil-A cut their large milkshake option and began to offer just a single 16-ounce size of milkshakes, specialty beverages, and ice creams. Gone are the days of over-indulging with a large Chick-fil-A shake— now, customers are forced to settle for what was previously known as the "small."
Wendy's Sriracha Dipping Sauce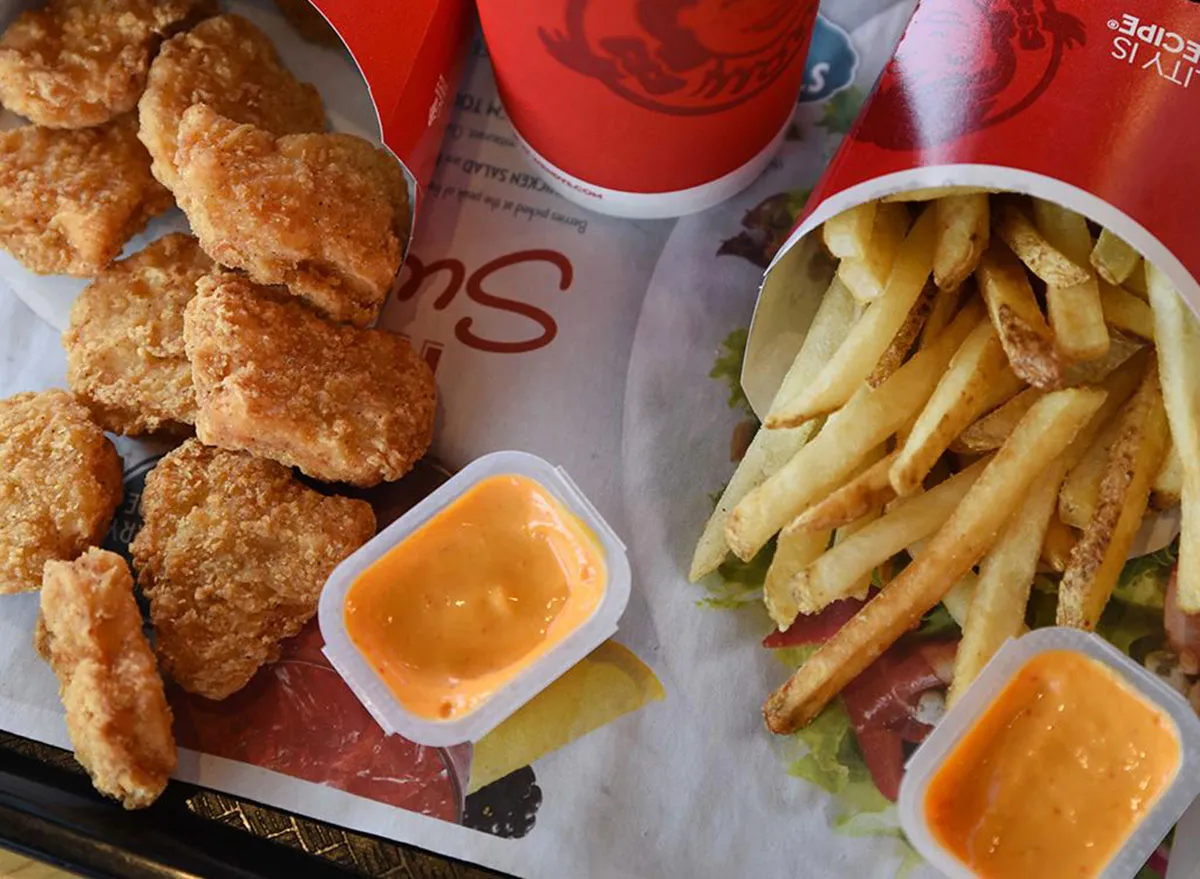 This summer Wendy's made moves to roll out a brand new line of signature sauces, perfect for all kinds of dipping. Customers were on board until that new line replaced an old fan-favorite: the sriracha dipping sauce. The concoction spent a solid six years on Wendy's menu, but now the best you can hope for is the freshly-released Ghost Pepper Ranch.
Dunkin's Beyond Breakfast Sandwich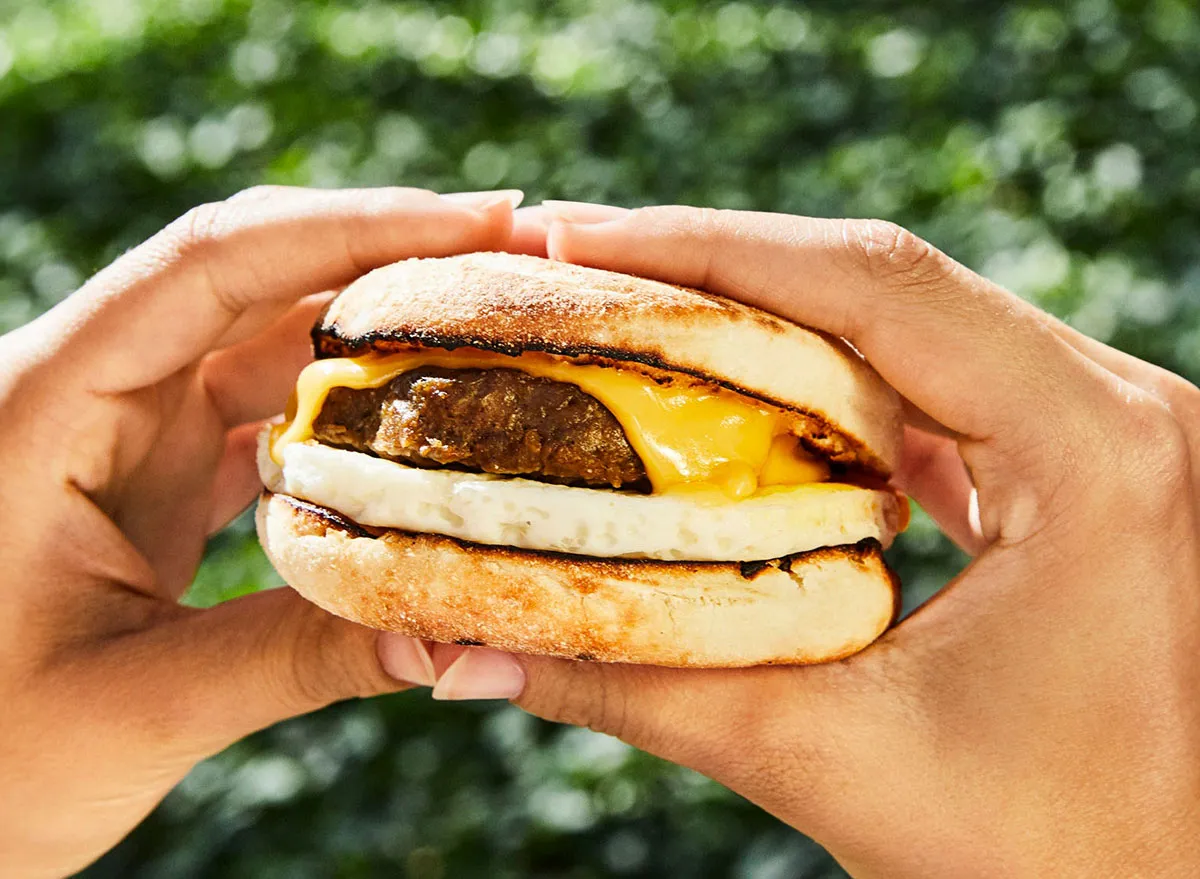 We hate to see the loss of any breakfast sandwich, especially a plant-based hero like this one. Dunkin' was one of the first fast-food chains to embrace Beyond Meat and the company's environmentally-conscious meat alternatives, so this discontinuation of the pioneering sandwich this summer was disheartening. However, the brand did replace the Beyond Breakfast Sandwich with other meat-free alternatives.
Arby's Loaded Italian Sandwich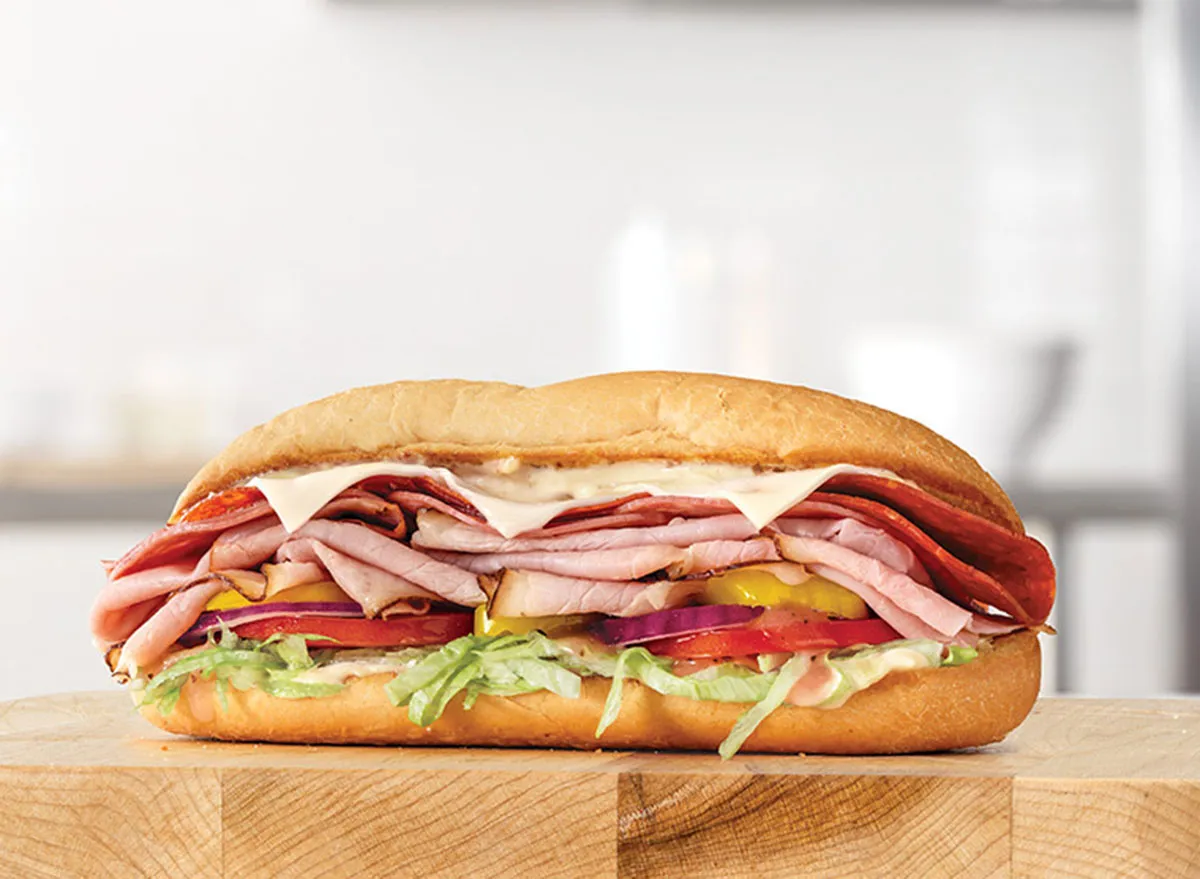 Arby's launched a lot of new items this year, but they were equally as proactive about getting rid of the old ones. One classic that didn't make the 2021 cut? The Loaded Italian. The brand stopped selling several of the meats that were heaped onto this sub, making it a goner by default.
Arby's Pizza and Ham Sliders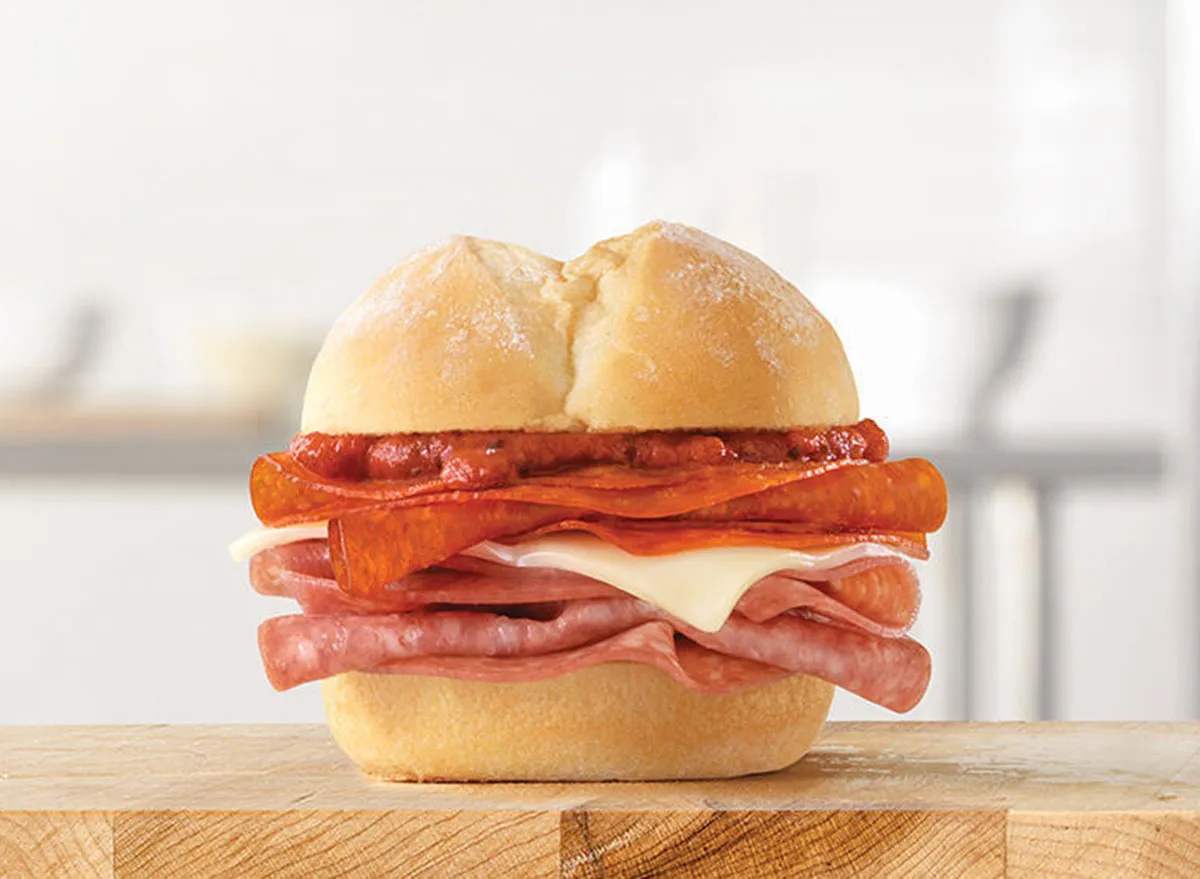 Next on the chopping block at Arby's? The pizza and ham sliders. Fans weren't thrilled about this, but look, we get it. When push comes to shove, a slider is a downright impractical food: not large enough for a meal, but also slightly overwhelming for an appetizer.
Wendy's Made to Crave Pub Line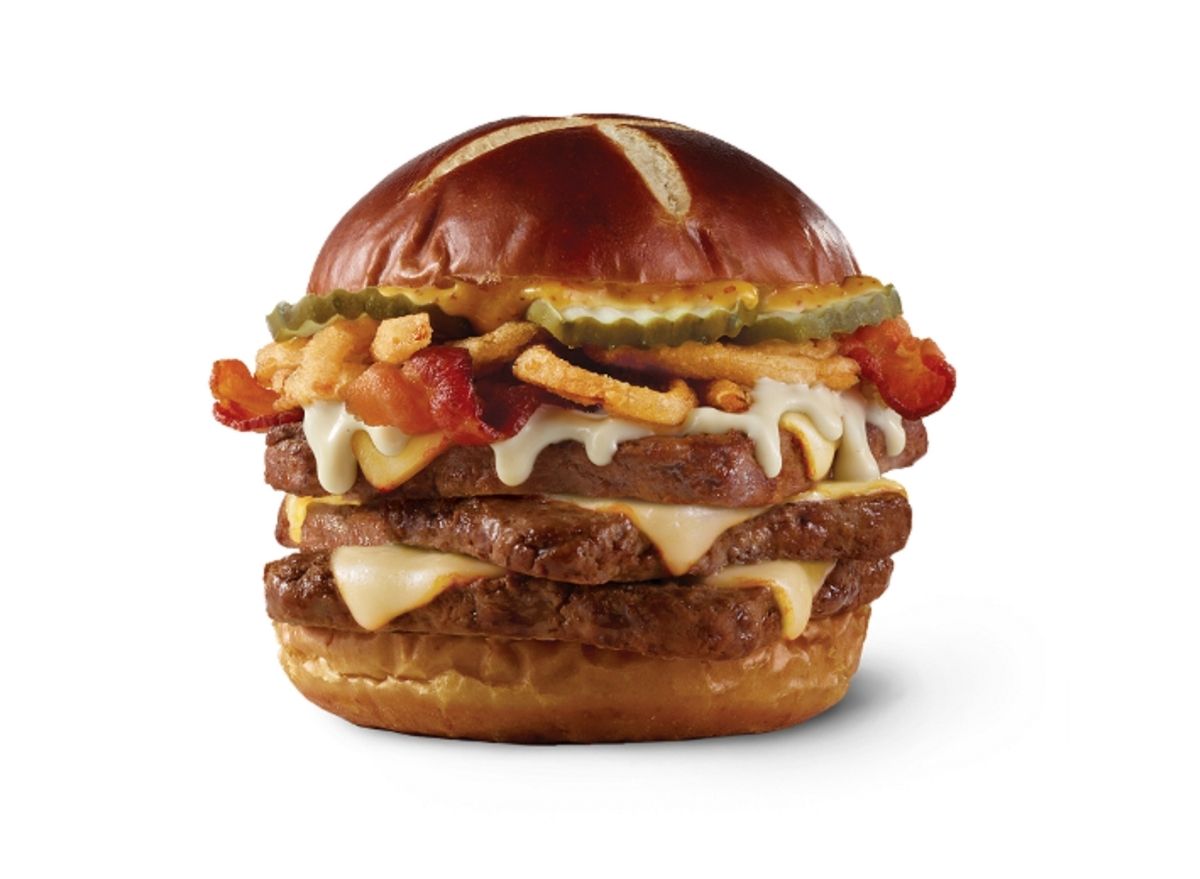 In what can only be described as a savage move this fall, Wendy's discontinued their entire Pub line. The popular spread, which included the Pretzel Bacon Pub Cheeseburger, three Pretzel Bacon Pub chicken sandwiches, and Pub Fries, had only been back on the menu for less than a year when fans had to say goodbye. But the chain did introduce the new Big Bacon Cheddar Cheeseburger and chicken sandwiches in September, so you can still get something slightly fancier than a regular burger.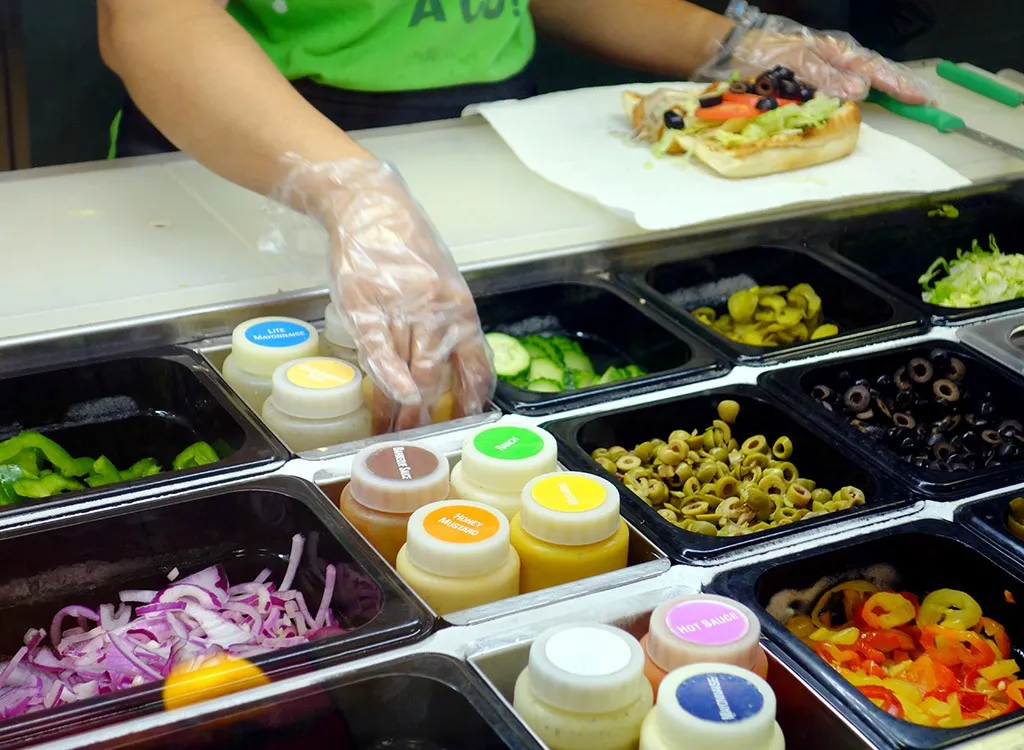 Employees let the cat out of the bag on this one, confirming via Reddit that Subway was quietly discontinuing some of its dressings. Among the casualties was, first and foremost, the Caesar. But there was also someone online debate about whether or not Subway Sauce, chipotle, and creamy sriracha were actually still around, too. The chain was likely making room for its Eat Fresh Refresh menu update, which also included the launch of some new condiments and a vinaigrette.
Taco Bell's Crispy Chicken Sandwich Taco
This bad boy, which launched as a competitor in this year's booming chicken sandwich wars, was gone before many customers even had the chance to try it. A limited-time offer from the get-go, fans estimate it was around for as little as one week this fall.6254a4d1642c605c54bf1cab17d50f1e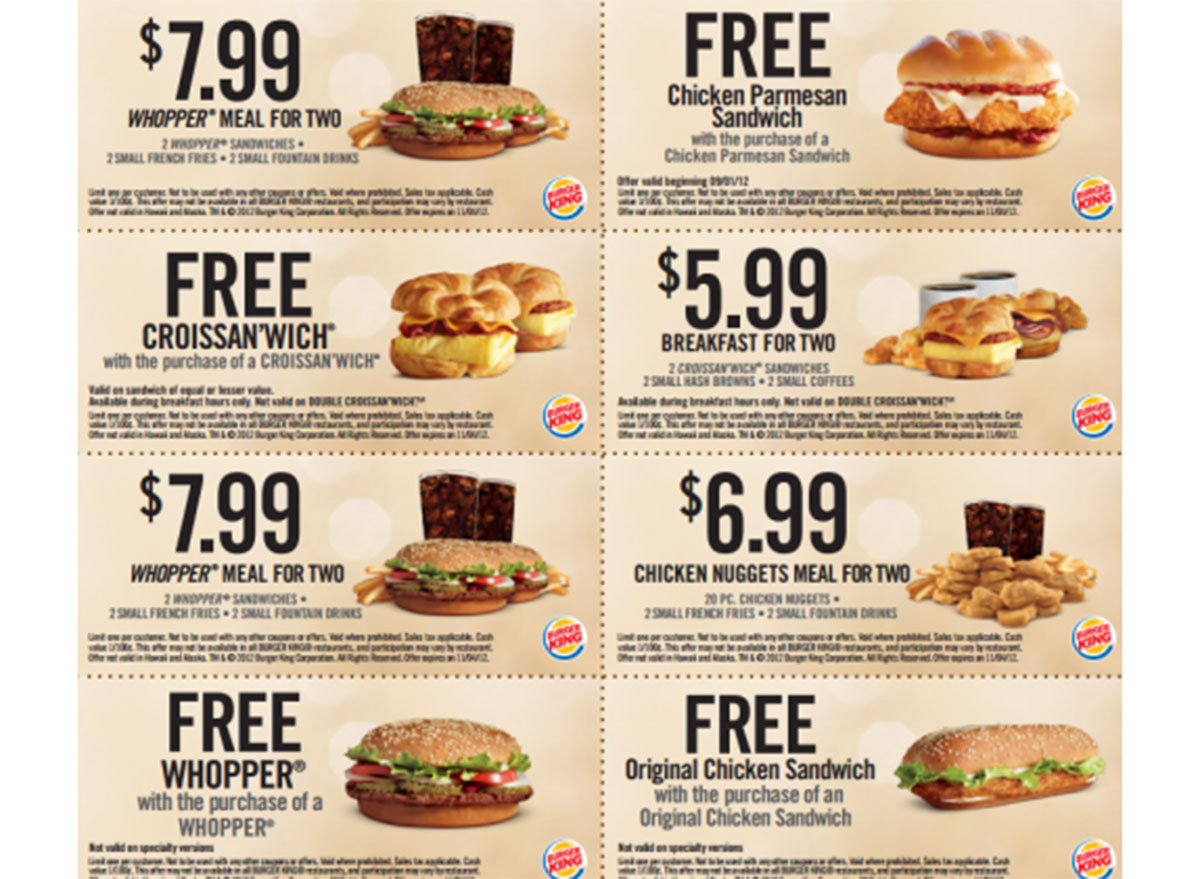 While this loss isn't a menu item, it does mark the end of one of the longest-running fast-food staples out there: Burger King's paper coupons. The King cut down on deals overall this year, but any remaining discounts can now only be found in digital form.
For more, check out the 108 Most Popular Sodas Ranked By How Toxic They Are.