8 Sandwich Chains With the Most Food Quality Complaints
Is that a sandwich or a sad-wich?
Not all sandwiches are made alike. In the wide—and seemingly infinite—pantheon of ingredient combinations, there's an even wider chasm between high-quality sandwiches and mediocrity.
Unfortunately, for every killer Cubano or exemplary hot pastrami, there's a sad sandwich waiting to ravage your waistline or put you off wraps permanently.
Of course, it all comes down to quality. Quite simply, when a restaurant is willing to invest the time, energy, and money into prioritizing high-quality ingredients, it pays off in strides.
On the other hand, many sandwich-centric chains aren't willing to literally run their own farms. In fact, there are plenty of brands out there notorious for skimping and cutting corners, and it hasn't gone unnoticed by customers.
From iffy (at best) tuna to odd mystery meat and disappearing chains, these are the sandwich brands with the unfortunate distinction of fielding the most food quality complaints.
And don't miss 1 In 3 Restaurants Now Serves Lower Quality Ingredients Due to Inflation.
Jimmy John's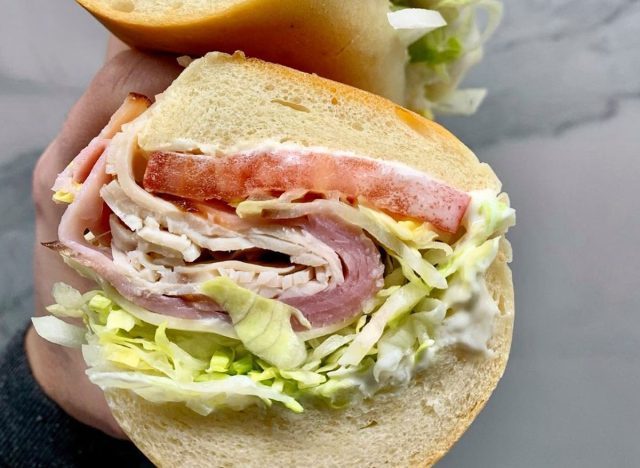 The sandwich chain competition is pretty crowded as it is, but Jimmy John's has been putting up quite a fight since 1983, by implementing affordable subs and delivery services early on. Unfortunately, popularity has started to dwindle due to quality complaints and product inconsistencies throughout the locations the brand has left.
A majority of customers get down on Jimmy John's for its day-old, stale-tasting loaves of bread, the use of cheap meats, and bottom-of-the-barrel veggies that aren't fresh whatsoever. Many Redditors also went out of their way to comment on the fact that there is always an excessive amount of mayonnaise on their sandwich upon every visit to the chain.
Obviously, to stay afloat in this current market, Jimmy John's has increased sandwich prices as well, and fans aren't willing to spend more when the brand lacks the quality they desire out of a great sammy.
Subway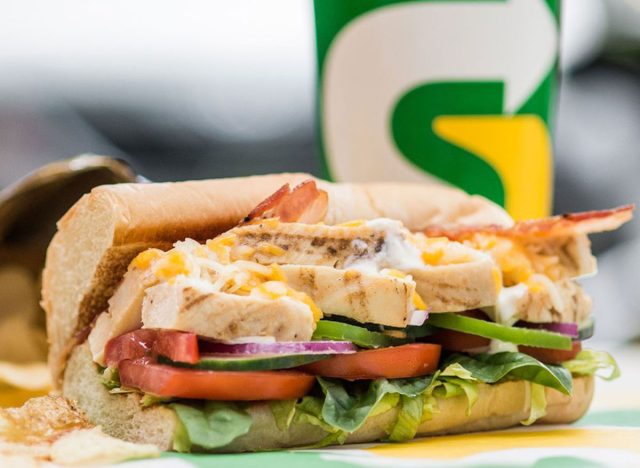 In terms of oft-criticized sandwich chains, Subway and complaints go together like peanut butter and jelly. Despite its reputation as the most widespread and popular sandwich chain in America, this is a prime example of quantity over quality, as Subway is also far and away the most notorious sandwich shop in the country. And that popularity may be waning anyway, if customers continue to abandon the brand.
It's hard to blame customers for flocking to greener pastures, though, especially considering how tarnished Subway's public perception has gotten in recent years. Popularity can only go so far when your name is practically synonymous with lawsuits and (allegedly) fake tuna.
Nowadays, Subway seems like it's constantly enmeshed in a series of complaints, be it from angry customers dismayed over a disappearing menu favorite, weird chicken that may or may not be real chicken, or coupons that are rendered useless.
But if there's one single sandwich responsible for a tidal wave of food quality complaints, it's that now-infamous tuna. No matter what the courts say about whether or not their tuna is real tuna, it's a brand-damaging look nonetheless, and customers are constantly ragging on it over its, shall we say, lackluster quality.
It's one of the most disliked fast-food menu items in general, and it's one sandwich that even former Subway employees caution against.
Arby's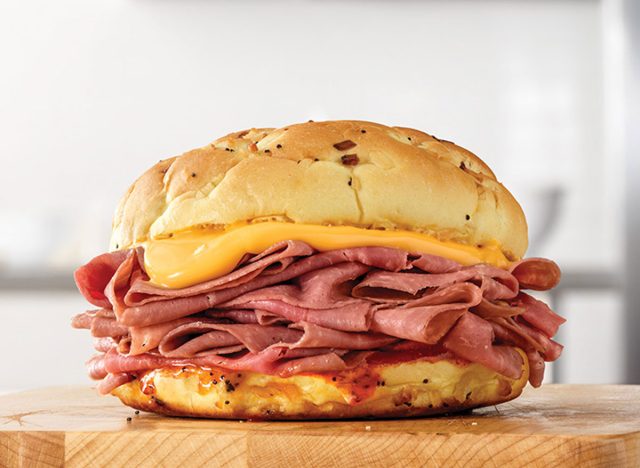 At this point, Arby's is as well known for its roast beef as it is for the beef customers have with its food quality. For starters, the meaty sandwich chain is full of secrets, including the off-putting fact that the chain isn't antibiotic-free, that rumors say its beef isn't all beef (which the chain denies), and that the sauces are laden with sugars.
Most complaint-worthy of all, though, is its signature menu item, the roast beef. As one former employee illuminates, it's not really real roast beef at all, but rather a "compressed block of beef scraps" that comes in a bag filled with beef broth, to be re-warmed in the oven for a few hours. It's then put on a slicer and placed under a heat lamp for another few hours. It's no wonder that this roast beef is some of the iffiest meat among sandwich chains.
The roast beef is bad enough, but Arby's has served other hilariously unhealthy sandwiches as well, and the chain has been known to fail health inspections on truly epic levels.
Quizno's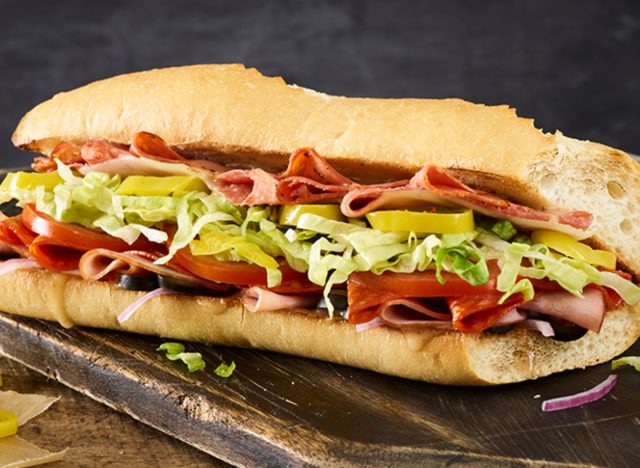 Chastising a dwindling chain like Quizno's feels like beating a dead horse, but there's probably good reason why this once-prolific chain has tumbled from thousands of storefronts to a scant few in the span of just a few years.
In fact, Quizno's has seen 94% of its restaurants close over the course of 15 years, and those staggering numbers don't lie. It's clearly a sandwich chain that customers are abandoning, and not just because it's weirdly expensive, or that some of its sandwiches are among the unhealthiest menu items you can order.
Of course, there are several factors contributing to the chain's collapse, including how the restaurant failed its franchisees—and how rapid expansion led to a drop in quality.
This might explain why Reddit threads like "Why does everyone hate Quiznos?" and "This Is Why You Don't See Many Quiznos Around Anymore" exist. Ouch.
Così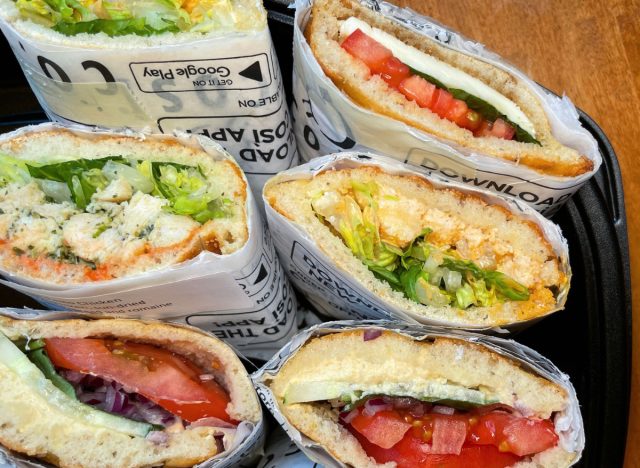 Speaking of sandwich chains people are abandoning, Così is sinking faster than the Titanic. A far cry from its former fleet of 127 locations, the fast-casual chain is down to a mere 27.
This is largely due to leadership issues, financial struggles, and an inability to retain customers after the lunch rush, but food quality has been a recurring issue for the company as well. Customer complaints cite everything from a dirty environment and poorly made sandwiches to sloppy food prep as reasons why they've jumped ship.
As if that weren't depressing enough, the chain has also been taken to task for its shockingly unhealthy salads. At the end of the day, Così is a bankrupt chain on the brink of disappearing, and if it doesn't commit to some serious quality control, its days may be numbered.
Blimpie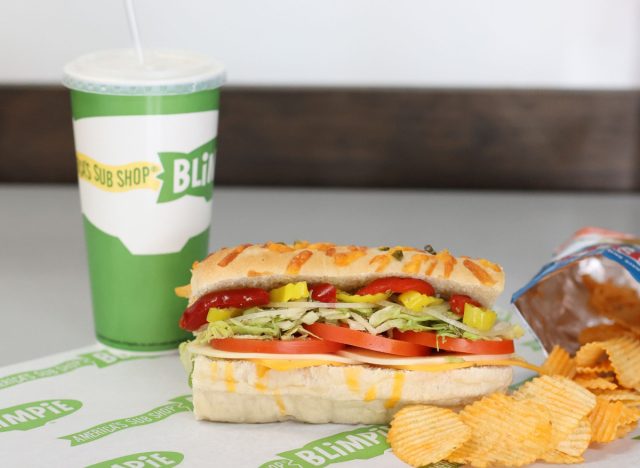 When your brand name becomes best known as a punchline in The Devil Wears Prada—and as a running joke in shows like 30 Rock—you know things have gone off the rails a bit.
Sadly, it's been a long and tedious spiral downward for one of the OG sandwich chains, as Blimpie has waned from 2,000 locations to barely 300. Sales have been on a steep decline as well.
Quality seems to have diminished in general, according to customer reviews maligning the chain over its lackluster food and tough meat, subpar ingredients and bread, and both skimpy portions and high prices.
Au Bon Pain
Like Sbarro and Orange Julius, Au Bon Pain is another endangered fast-food breed that's seen locations diminish with the disappearance of the all-American mall food court.6254a4d1642c605c54bf1cab17d50f1e
While the French-American bakery-cafe, known for its sandwiches, has been rescued, there's still plenty to complain about at Au Bon Pain. From its unhealthy coffee drinks to its overpriced sandwiches, this is one chain with as many hits as misses.
The company is the subject of a bummer blog post titled "I Hate Au Bon Pain," which digs into the brand's depressing vibes and pre-made sandwiches that smell and taste funky. And that's just the tip of the complaint iceberg, as other customers have griped about its bad quality and fruit cups with half-bitten pieces of melon.
Then there's the mere fact that Au Bon Pain can't hold a candle to its competitor Panera Bread, which trumps it in quality and number of locations.
Portillo's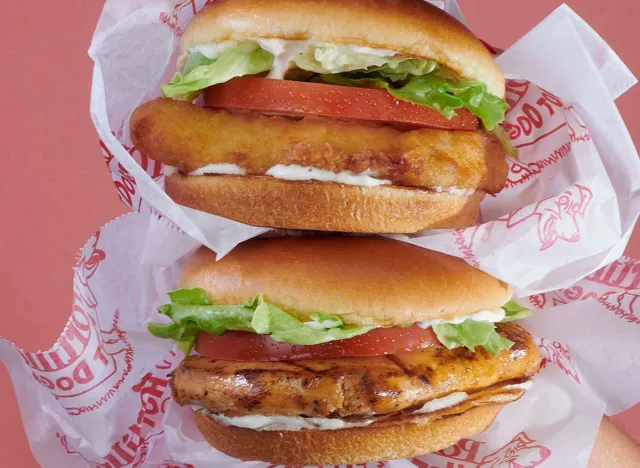 In the land of hot dogs, Portillo's might be a beloved gem in Chicago, but the sandwich-slinging chain has its fair share of detractors, too.
It seems for every fan-favorite menu item, like its hot dogs and chocolate cake, there's a customer complaint bemoaning everything from declining food quality and poor customer service to dry bread and straight-up bad-tasting food.
This might explain why Portillo's shares took a nosedive after going public. The chain has also been the subject of a series of sad Reddit threads, like "Portillo's just isn't the same" and "Portillo's is going downhill," which doesn't bode well.
A version of this story was originally published on July 6, 2022. It has been updated to include new information.
Matt Kirouac
Matt Kirouac is a travel and food writer and culinary school graduate, with a passion for national parks, all things Disney, and road trip restaurants.
Read more about Matt