7 Costco Brand Foods With the Highest Quality Ingredients
You can get both quality and quantity at Costco with these foods.
This post contains affiliate links. If you use these links to buy something, we may earn a commission.
For a lot of shoppers, Costco is the holy grail of retail. Selling everything from food to clothes to patio furniture, this warehouse is stacked with items that you need (or don't, but still grab on the way out). This mega store houses a variety of brands to ensure that you have the ability to choose from a wide selection, and one of those brands is Costco's very own—Kirkland Signature.
Kirkland Signature is a private label that defines itself as synonymous with "quality and value," meaning you'll be getting the best bang for your buck while still getting top-tier products. Take its food, for example. Kirkland Brand foods stand out from the crowd with their affordable price tags as well as quality ingredients.
We asked three registered dietitians for their recommendations of the highest-quality Costco brand foods. When deciding on what's high quality, they say to be on the lookout for no unusual additives, instead, opting for products that are as natural as possible. Read on for our dietitian-approved list of Kirkland Signature foods with the highest quality ingredients, and for more shopping tips check out The 10 Worst Foods To Buy at Costco, According to Dietitians.
Kirkland Signature Organic Olive Oil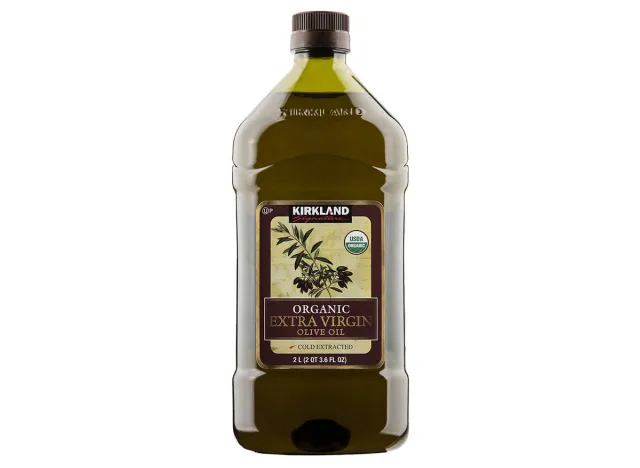 Extra virgin olive oil is the base for many cooking needs, and it's a good staple ingredient to keep in your pantry. Costco's version happens to be au-natural, containing nothing more than what's bottled in its purest form.
"This is a high-quality 100% olive oil with an affordable price tag," says registered dietitian Sydney Greene, MS, RDN. "Unlike other brands, some olive oils also contain other seed or vegetable oils which detract from the nutritional benefits of olive oil."
Why choose the organic kind? Greene says that it means the olives were not grown with harmful pesticides. Dependent on the type and the quantity consumed, pesticides can lead to problematic health issues such as hormone disruption, cognitive problems, and even cancer.
Kirkland Signature Three Berry Blend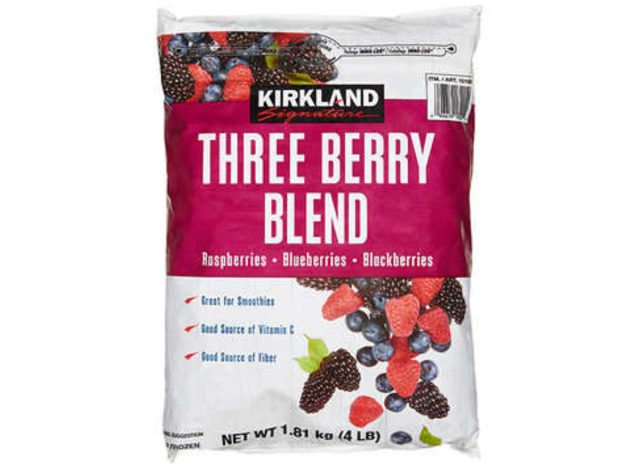 Frozen fruit is great to keep in your freezer. They don't go bad as quickly as fresh fruit, and you're still getting the nutritional benefits. The only iffy issue would be if the brand added sugars or other preservatives to keep the berries tasting fresh. Kirkland's version has none of that.
"These frozen berries are delicious and great to add to smoothies or yogurt," says Lisa Young, PhD, RDN, a registered dietitian and author of Finally Full, Finally Slim, and The Portion Teller Plan. "This blend contains a mix of blackberries, blueberries, and raspberries with no added ingredients."
Dr. Young says this mix is "simple and delicious."
Kirkland Signature Organic Nonfat, Plain Greek Yogurt
Consumers enjoy eating Greek yogurt because of its high protein content and other benefits like supporting weight loss, bone health, and digestive health. But the brand of yogurt you get can make or break the nutritional value by being low quality.
Dr. Young prefers Kirkland's version of Greek yogurt because "the ingredients in this yogurt are organic and simple." There are no additives or added sugar, but it tastes good and is affordable.
Kirkland Signature Creamy Almond Butter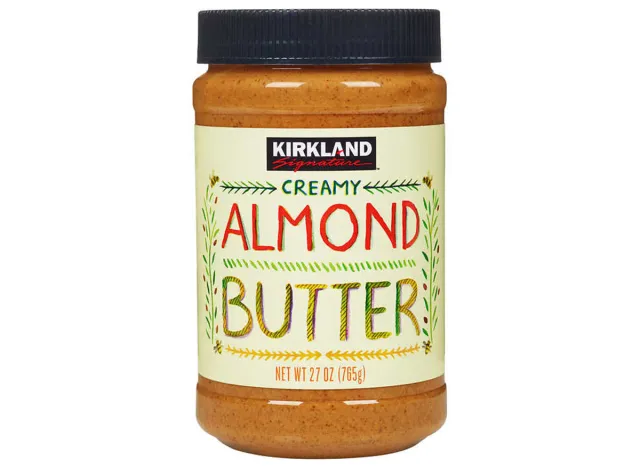 With so many different types of nut butter on the market, this Kirkland almond option happens to be a popular one with our dietitians due to its high-quality and natural ingredients.6254a4d1642c605c54bf1cab17d50f1e
"Many almond butters add additional oils like sunflower oil to help with creaminess," explains Greene. "In addition, some brands will add sugar to their nut butter to make it more palatable." Extra oils just add calories to a product that doesn't need them as there are natural oils in the almonds. It also means there's less almonds than you would have without the oil.
Greene's opinion is that the only ingredients in any nut butter should be "just the nut itself or sometimes, the addition of salt." This specific version of almond butter does not contain any added oils, salt, or sugars.
Dr. Young also speaks highly of this spread, too, saying both the almond butter and the peanut butter are organic and contain no added sugar or palm oil–which is high in saturated fat.
Kirkland Signature Organic Chicken Stock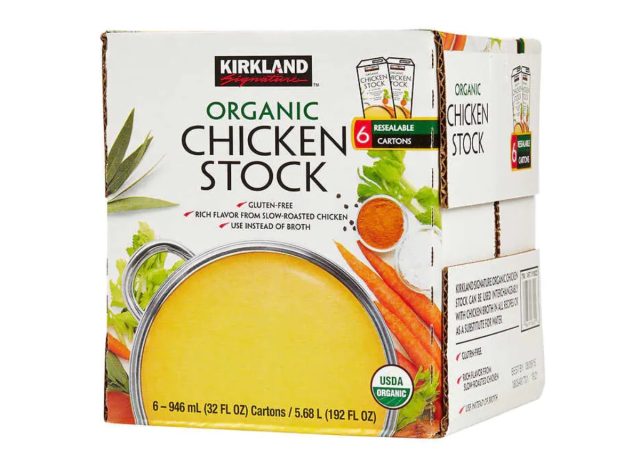 Stock is another pantry necessity that you can use for many recipes (especially now that soup season is here). Chicken stock provides a lot of flavors and is a popular choice amongst shoppers. But here's the catch- you need to be careful with what brands you're choosing.
"When it comes to animal products, it is best to buy organic when possible," advises Greene. "An organic chicken stock means the chickens were not fed GMO animal feed and do not have added hormones or antibiotics use."
With that being said, Greene's pick of Kirkland's organic chicken stock is her go-to. It's also gluten-free and contains less sodium per serving than other brands on the market.
"This one uses organic poultry and vegetables and does not contain any preservatives or massive amounts of sodium," she says.
Kirkland Signature Sunsweet Dried Plums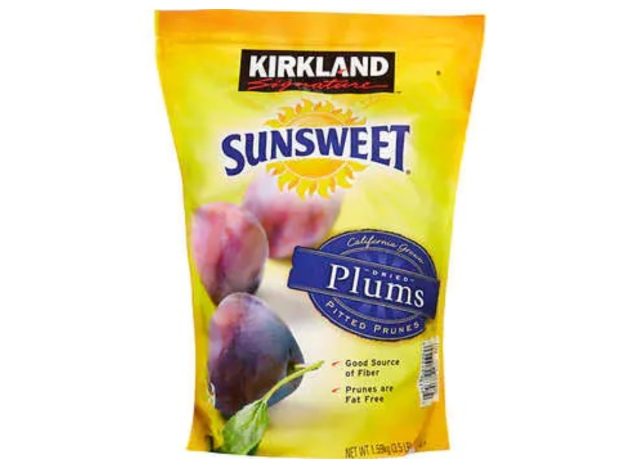 If you're in need of a sweet tooth fix but don't want the added sugar from candies or other artificial goods, turn to dried plums, which Costco stocks by the large bag full.
"Dried plums, or prunes, are a convenient fruit that has a lower glycemic index and is a natural source of many nutrients," explains Lauren Manaker, MS, RDN, LDN, CLEC, CPT, a registered dietitian and the author of The First Time Mom's Pregnancy Cookbook, The 7 Ingredient Healthy Pregnancy Cookbook, and Fueling Male Fertility.
This Kirkland variety of prunes is California-grown. Manaker says that California prunes are a source of calcium, magnesium, vitamin K, and many other nutrients that support bone health, and she recommends this bag to get your daily intake.
"Since many of us are not eating enough fruit every day, leaning on prunes can help many of us meet our quota."
Kirkland Signature Organic Quinoa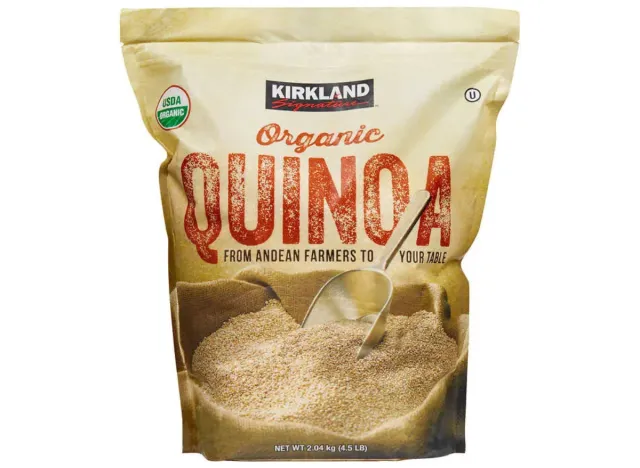 Kirkland's quinoa is straightforward: there's nothing you can't pronounce on the nutrition label.
"Made with just one ingredient, this organic quinoa is packed with antioxidants and makes for a yummy side or base for a dish," says Manaker.
As a bonus, Manaker says the bulk size helps keep the cost of this item low, and you can pre-cook this quinoa and freeze extra portions for busy nights.
Kayla Garritano
Kayla Garritano graduated from Hofstra University, where she majored in Journalism and double minored in Marketing and Creative Writing.
Read more about Kayla