The Best Drinks To Have If You're Giving Up Alcohol, Say Dietitians
Try these drinks for some fun, delicious alternatives to alcohol this month.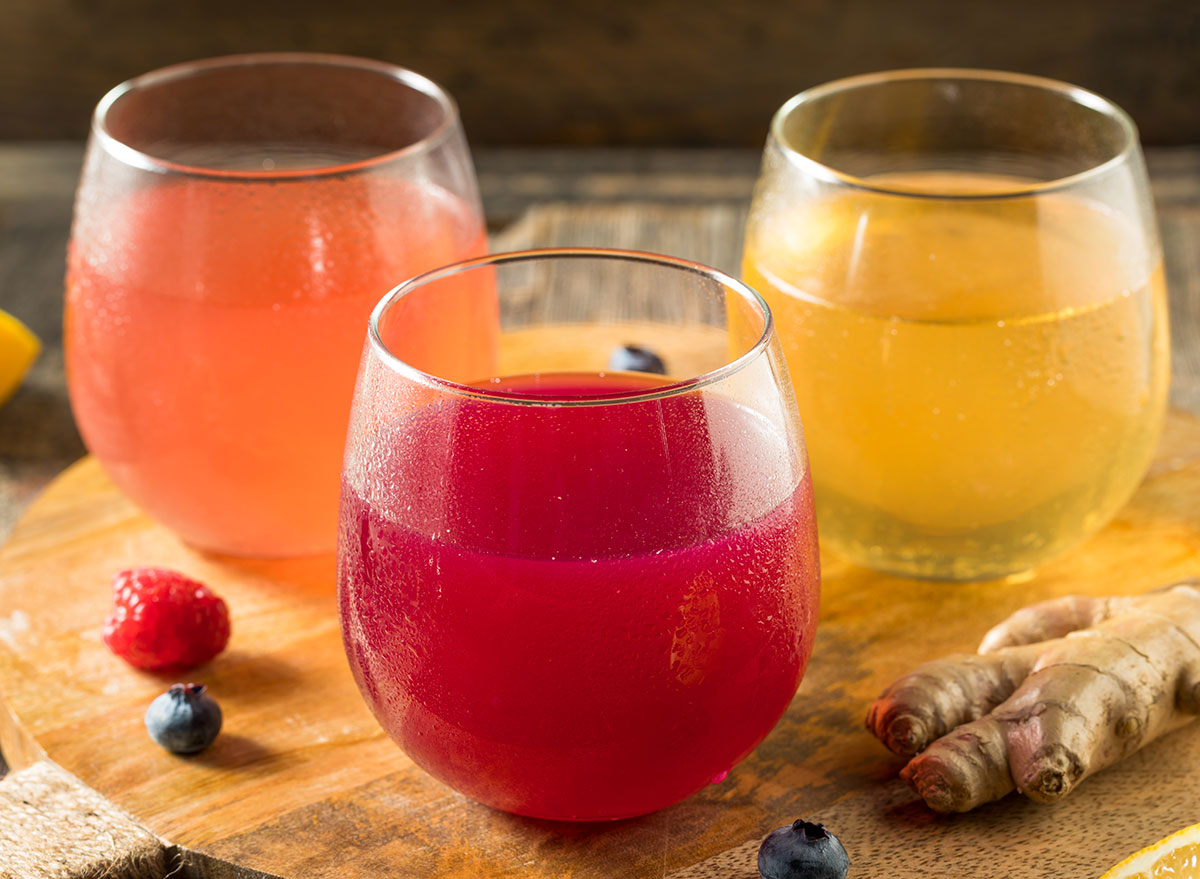 Dry January is here, and many people are setting up a game plan for how they're going to tackle the difficult step of giving up their favorite alcoholic drinks.
But just because you're choosing to give up alcohol for the month doesn't mean that you can't still enjoy delicious beverages after work or when you're out with friends.
That's exactly why we talked with some expert dietitians to learn about their favorite non-alcoholic drinks for the month of Dry January, so that we can feel prepared and ready to tackle this month with confidence.
Continue reading to learn more about what they chose, and for more healthy drinking tips, make sure to check out Drinking Habits to Avoid if You Don't Want Visceral Fat.
Tea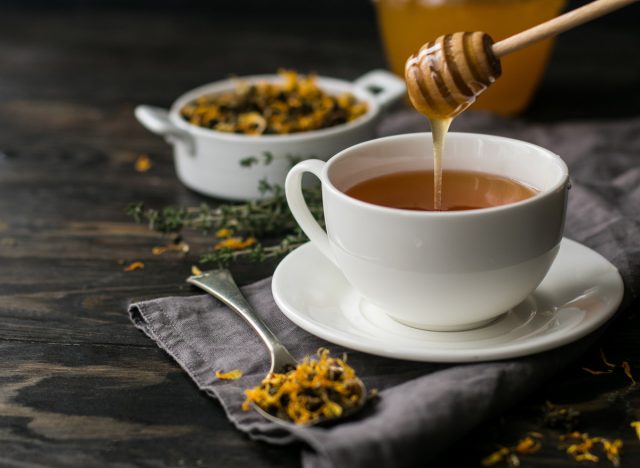 Tea can be a flavorful, low-calorie option to replace your nightly glass of wine for the month.
"[Because] January is cold for most places, you might also consider warming up with a cup of hot tea," says Amy Goodson, MS, RD, CSSD, LD, author of The Sports Nutrition Playbook and a member of our medical expert board. "Add fresh orange and spices to give it a little sweet and savory kick. It's easy to sip on and will warm you up for very few calories and no alcohol."
If you're looking for a new kind of tea to try, another medical board expert Lauren Manaker, MS, RDN, author of The First Time Mom's Pregnancy Cookbook and Fueling Male Fertility, recommends Sama Teas.
"This tea served in a pretty teacup with a touch of decadent Manuka honey is an indulgence that is booze-free but still feels special," says Manaker. "Sama Teas are also just so pretty that using them makes the sipping experience feel special."
Sparkling water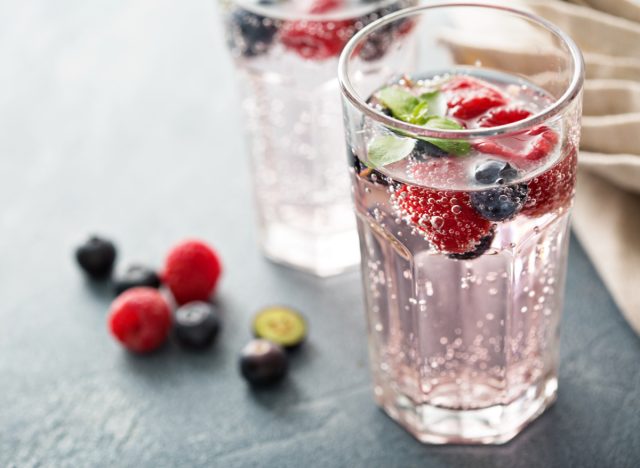 Sparkling water can be a great replacement for your favorite alcoholic drink, especially if you dress it up with some fun ingredients.
"Homemade flavored simple syrup is a great way to dress up sparkling water to make a mocktail," says Kaleigh McMordie, RD, representative for All-Purpose In The Raw. "Don't forget a pretty garnish to make it feel special, like a lemon twist or sprig of fresh rosemary or thyme."
To make a simple syrup, McMordie recommends simmering one part water to one part sugar—or making a low sugar simple syrup using a cup-for-cup sugar alternative. You can even make it flavorful with flavorings such as lavender, rosemary, or fresh jalapeño.
And if you need a new, fun sparkling water to try, Manaker suggests Found Bubbly.
"Found Bubbly is a natural bubbly water with natural minerals," says Manaker. "It comes in a beautiful glass bottle and has just enough sparkle to emulate the feeling of sipping on a nice glass of champagne."
Cranberry or pomegranate juice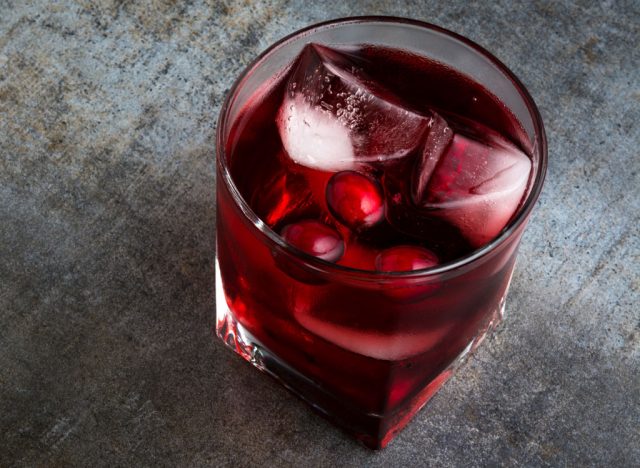 A drink option that some may not think about when it comes to good non-alcoholic drinks is cranberry juice or pomegranate juice. Not only are the health benefits through the roof, but you can make your own fun mocktails with this juice as your base.6254a4d1642c605c54bf1cab17d50f1e
"POM Wonderful 100% pomegranate juice makes for a perfect ingredient in mocktails that also gives a boost of nutrition," says Manaker. "Pomegranate juice is loaded with polyphenol antioxidants and has no added sugars, so making a mocktail martini using this juice makes for a beautiful sip."
Laura Burak, MS, RD, author of Slimdown with Smoothies, founder of Laura Burak Nutrition, and another medical expert board member, completely agrees.
"When I was pregnant and couldn't drink, I'd get half ginger ale, half club soda with a splash of cranberry juice for flavor and color as it satisfies both the bubbly and refreshing factors," says Burak. "Squeeze some lemon or lime wedges in there and you won't even miss the liquor. Mocktails can be just as fun and tasty as a cocktail without the hangover (if you're 40+ like me ) and you're still able to socialize and participate in events that involve drinking."
Tonic water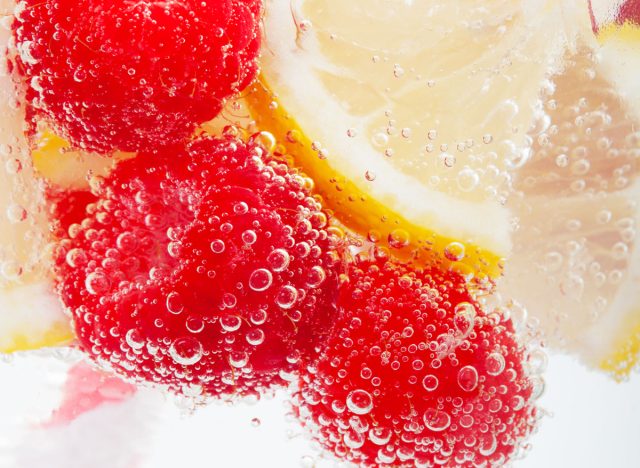 Tonic water is a great choice because it has the bubbles of sparkling water, but you'll get a bit more flavor in every sip. And for a tonic water with healthy, delicious ingredients, Manaker recommends Sunwink Mint Hibiscus Unwind.
"This tonic is made with ashwagandha-an ingredient that helps people adapt to stress in a natural way, and this blend of ingredients helps people get their chill on while avoiding booze," says Manaker.
Kombucha
Kombucha can be a fun, flavorful replacement for alcohol this month, and according to McMordie, "kombucha is a fermented tea drink that is full of probiotics."
Manaker agrees, emphasizing that it's both a healthy and delicious choice.
"Kombucha is always a nice sub for a beer or other boozy drink," she says. "You get that zingy taste, bubbles, and a bonus boost of live bacteria to help keep your gut healthy."
Here are the 11 Best Low-Sugar Kombucha Brands You Can Buy.
Non-alcoholic spirits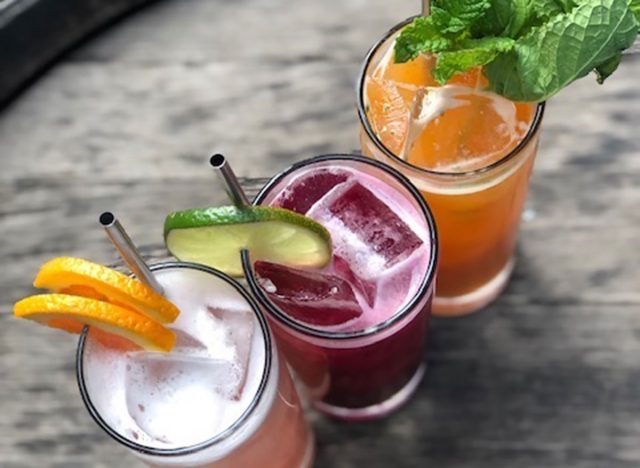 According to Goodson, making zero-proof cocktails can give you a healthy alcohol alternative for the month of Dry January.
"Zero Proof cocktails are basically a cocktail without the alcohol," says Goodson. "They balance sweet and sour or sweet and bitter. Use zero-proof spirits, soda water, or even a tea-like hibiscus as a base then you can add complexity with spices, herbs, or other savory notes. Fresh fruit like oranges and pomegranate arils are also great additions. You get the look, the feel, and a fresh taste without the alcohol."
Decaf Coffee
Finally, you can't have a discussion about delicious drinks without bringing up coffee. According to Courtney D'Angelo, MS, RD, author at Go Wellness, going decaf may be the answer.
"Regular coffee is fine too, but too much caffeine can cause other issues, such as crashing, anxiety, headaches, and the feeling of wanting more," says D'Angelo. "With decaf coffee, you're still getting that coffee taste, but without the unhealthy amount of caffeine. It's also a great choice to order decaf coffee at a bar or restaurant if you're out with your friends that aren't giving up drinking."
For more drinking tips, read these next: