9 Best Foods to Add to Your Smoothie for a Flat Belly
These ingredients will give you a boost of key vitamins and minerals all while promoting digestion.
Who doesn't love a smoothie? It's one of the best ways to make a colorful (and super easy) culinary creation. On the other hand, it can also be the perfect excuse to use up a bag of spinach, the last scoop of peanut butter in the jar, and the rest of that carton of almond milk in the fridge.
When it comes to smoothies and shakes, there is no shortage of combinations. Whether you have one for breakfast, lunch, or as post-workout fuel, smoothies can offer a big nutritional boost—that is, if you fill them with nutritious ingredients. Using foods like nut butter, plant-based milk, seeds, vegetables, and powders can help enhance your diet and ensure you're getting all the nutrients you need.
Best of all, these nutrient-dense foods also pack fiber which can help support digestion and reduce belly bloat. Aside from smoothies, you can blend these ingredients into sauces, soups, and non-dairy ice creams, or even add them to oatmeal.
Below, you'll see just nine plant-based foods our friends at Meatless Monday recommend you add to your next smoothie. After, be sure to read The #1 Unhealthiest Way To Make a Smoothie, According to a Dietitian.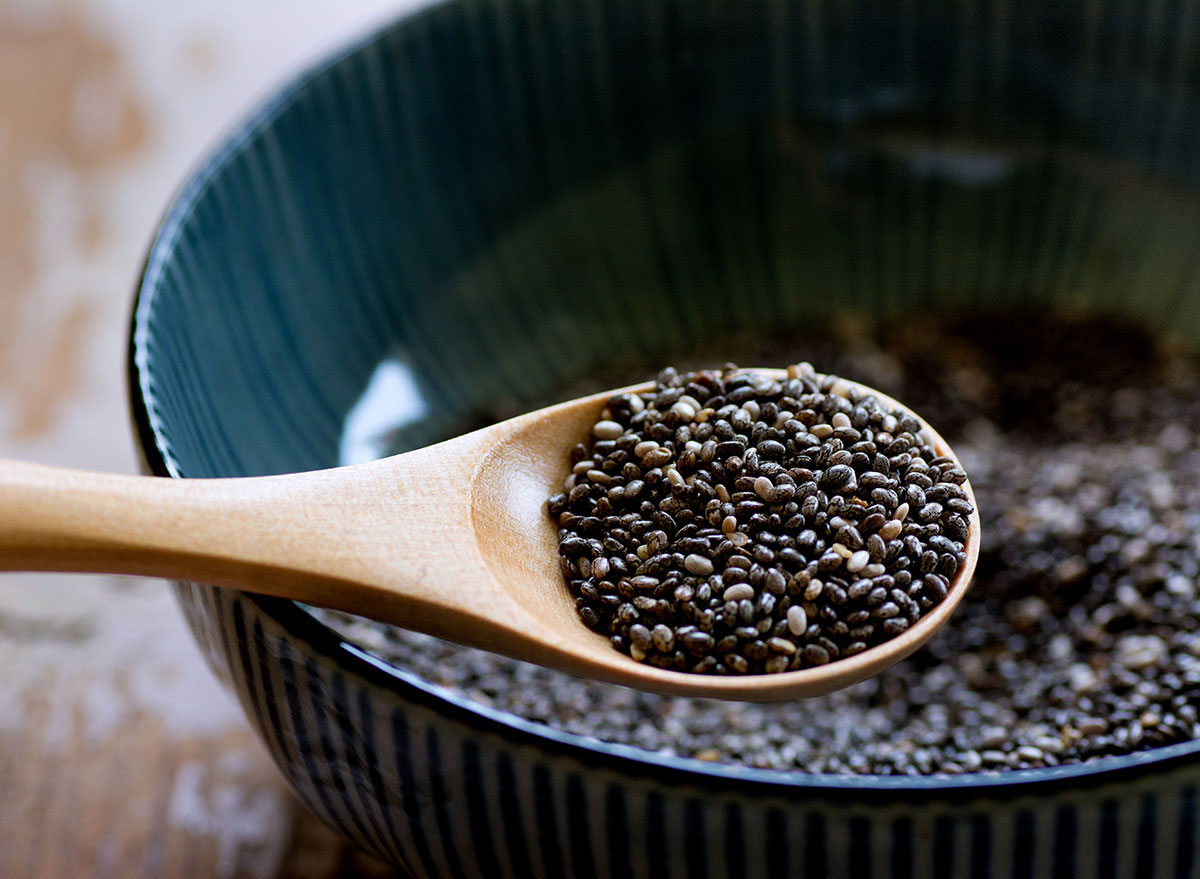 Seeds such as hemp, chia, and flax are nutritionally dense and can be effortlessly added into smoothies to provide extra fiber, healthy fats, and protein. Three tablespoons of hemp seeds contain nearly 10 grams of protein, while chia seeds are an excellent source of omega-3 fatty acids. For some added texture, try sprinkling different types of seeds on top of this grounding green smoothie bowl.6254a4d1642c605c54bf1cab17d50f1e
Don't miss One Major Effect of Eating Flax Seeds, Says Science.
Slice them up and put them on toast or cube and mash them for an easy guacamole recipe. Avocados are an excellent source of healthy fats that can help keep you full and satiated. The fruit is packed with healthy fats and contain a plethora of other nutrients, including vitamins C, E, K, B6, folate, and potassium. Plus, they're creamy and delicious, which makes them an ideal addition to smoothies. Check out 40+ Best-Ever Breakfast Smoothies For Weight Loss.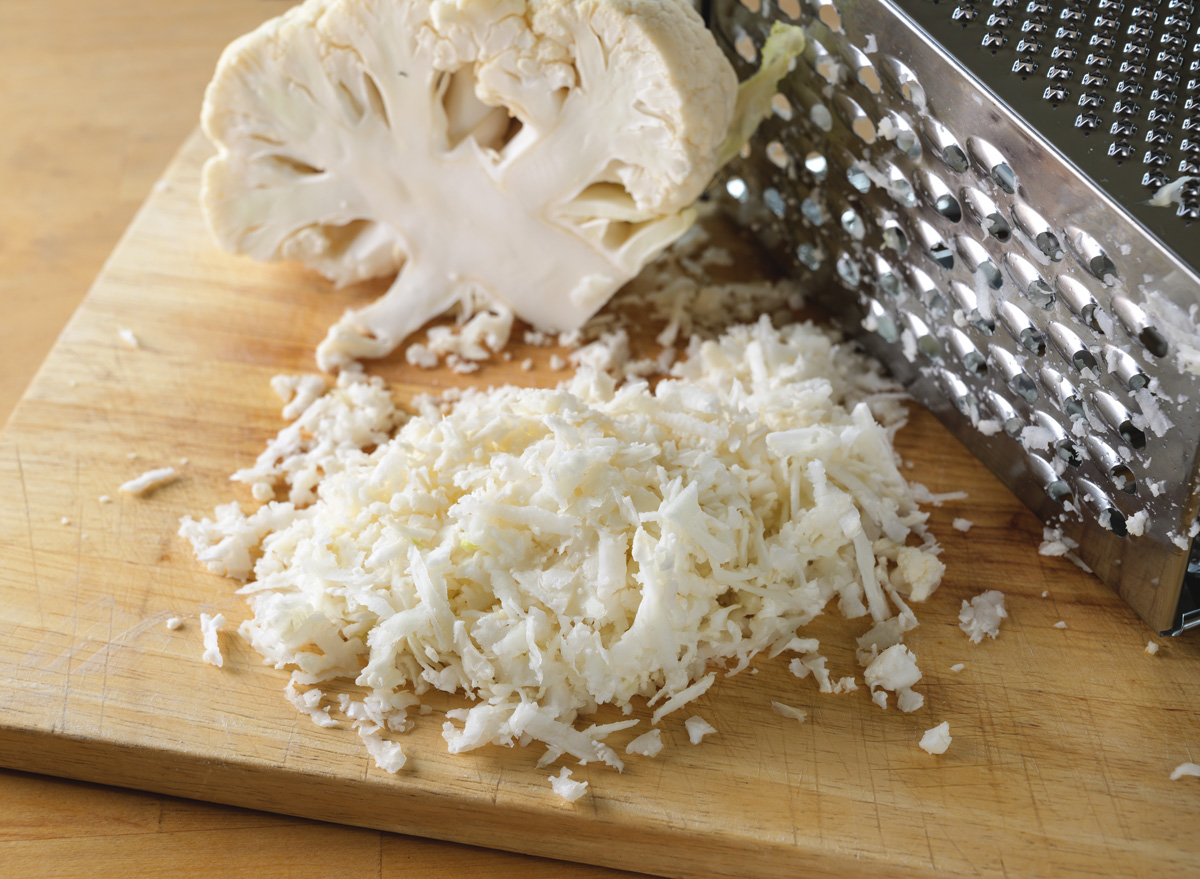 Frozen cauliflower rice is a great way to add some fiber, vitamin C, folate, and choline (an essential nutrient that regulates mood, memory, and other functions) into your diet. Cauliflower rice is bland on its own, so you won't even notice it in your smoothie. Try this Berry Cauliflower Smoothie from the Tone It Up girls!
A smoothie is a great way to get your daily dose of leafy greens. By dropping a few handfuls of spinach or kale into your morning blend, you effectively add a wide range of nutrients including vitamins C, A, and E, folic acid, iron, potassium, magnesium, and calcium. To mask the taste of raw greens, add a variety of frozen fruits and nut butter. For ideas, check out The 25 Best-Ever Weight Loss Smoothies! And speaking of nut butter…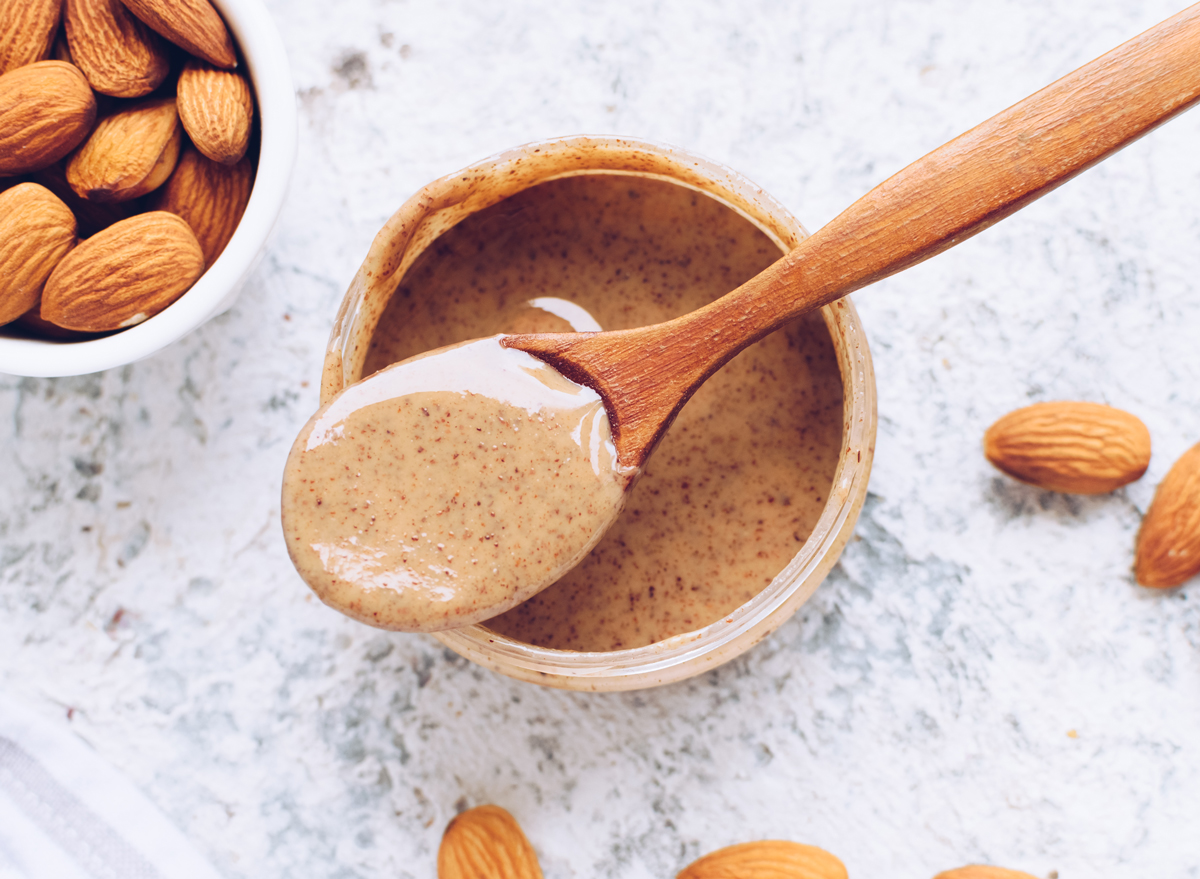 A spoonful of peanut, cashew, sunflower, or almond butter can make a smoothie taste like a nutty, toasty dessert. But a couple tablespoons of nut butter can also enhance your drink with protein, antioxidants, healthy fats, and essential minerals like magnesium and selenium. Nut butters are energy-dense, making them a great addition to your breakfast.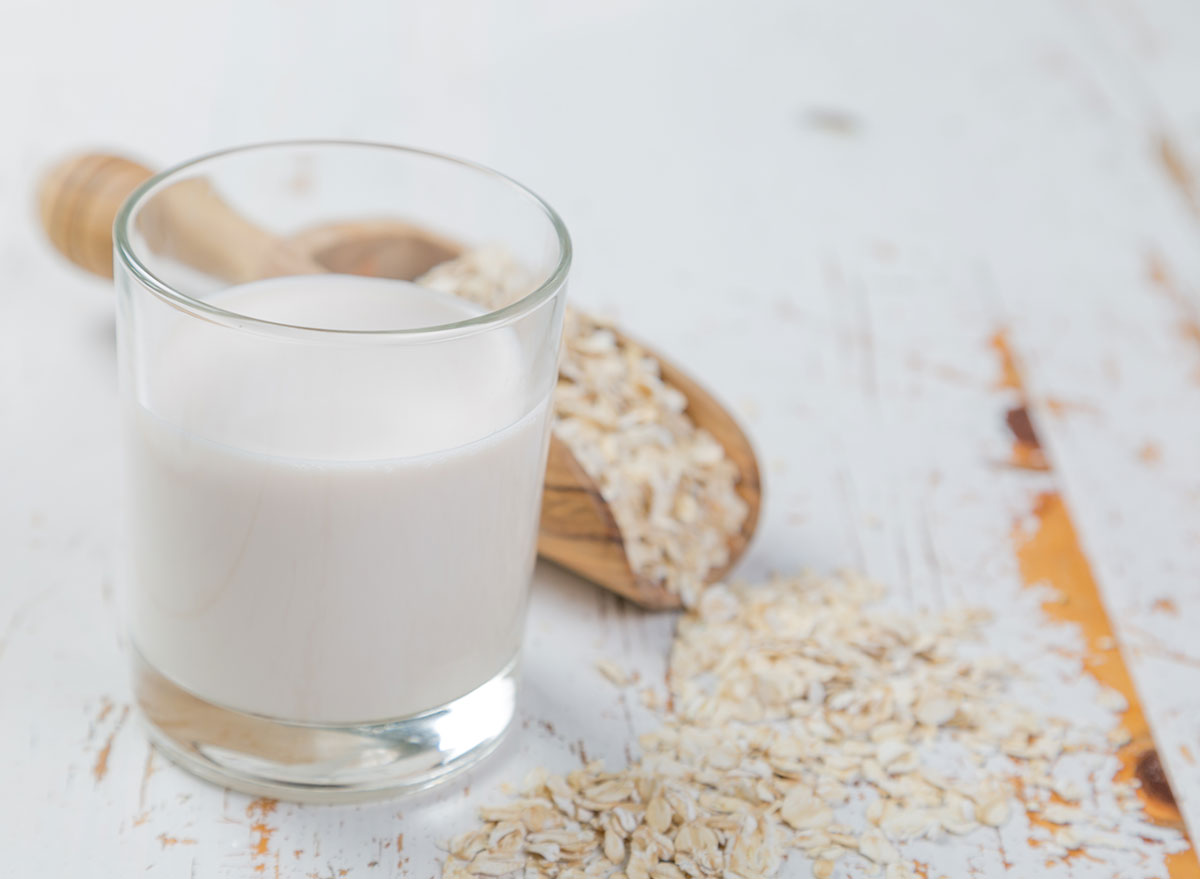 Today, most commercial plant milk options such as almond, pea, soy, and oat, are fortified with vitamins and minerals such as vitamin B12 and calcium. For this reason, they make for an excellent smoothie ingredient, especially if you're looking to replace animal products in your diet while still achieving that creamy texture.
Each variety of plant milk is a little different in taste and texture, but most of them add a pleasant creaminess when blended with other fruits and vegetables. This four-ingredient banana date smoothie is easy to make and tastes like a treat.
Plant-based protein powder
Although a plant-based diet provides the recommended daily amount of protein, adding a scoop of protein powder to a smoothie or shake is a good way to stay satiated or help your body recover post-workout. The protein in these powders often comes from some combination of peas, seeds, rice, or soy.
But before you go out and restock your protein powder supply, be sure to check out The One Protein Powder You Should Never Buy, Say Experts.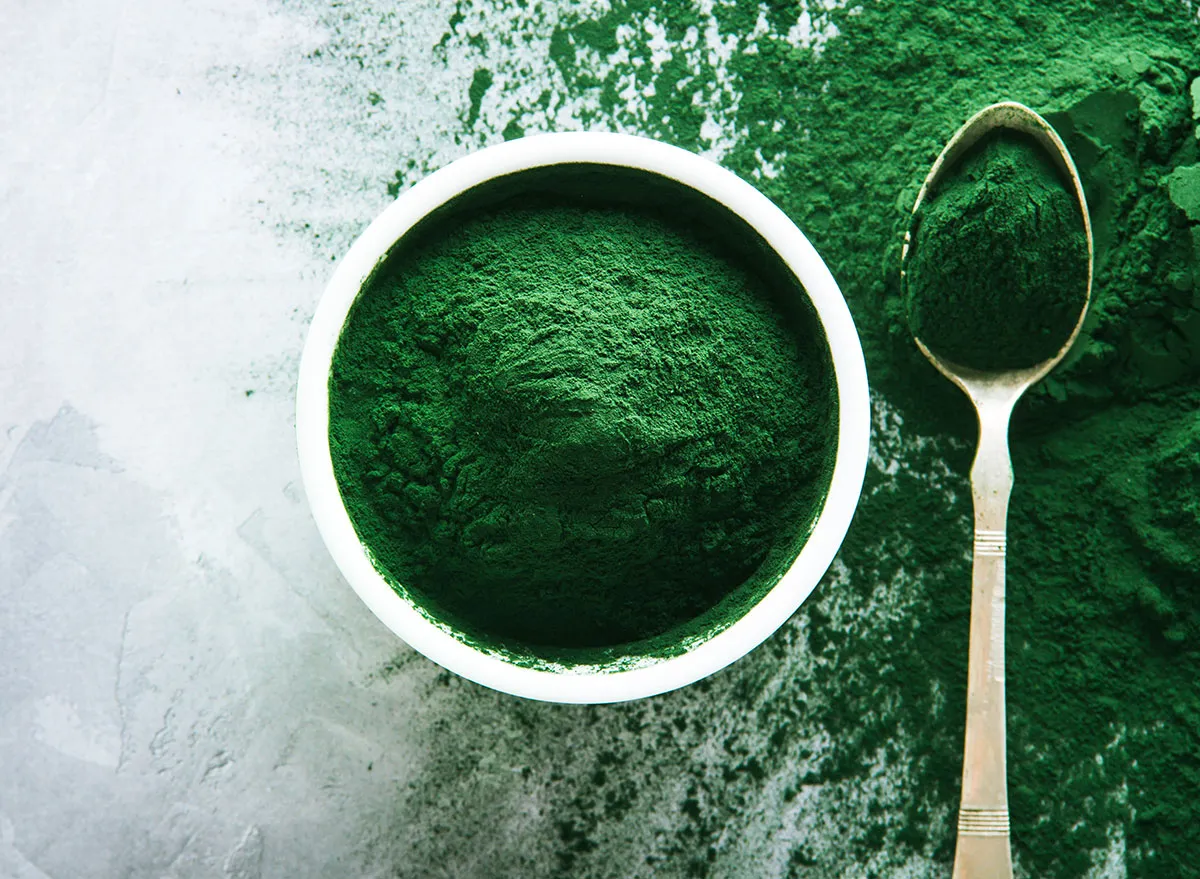 Sure, a scoop of dried algae in your breakfast smoothie may not sound appetizing, but the nutritional benefits of this superfood makes it worth it. Spirulina—also known as blue-green algae—is a good source of protein and a rich source of B vitamins. Research shows that spirulina may also have pain-relief and anti-inflammatory properties. And it really doesn't taste bad at all when mixed into a sweet drink like this blue spirulina smoothie with vanilla and coconut from Veggiekins.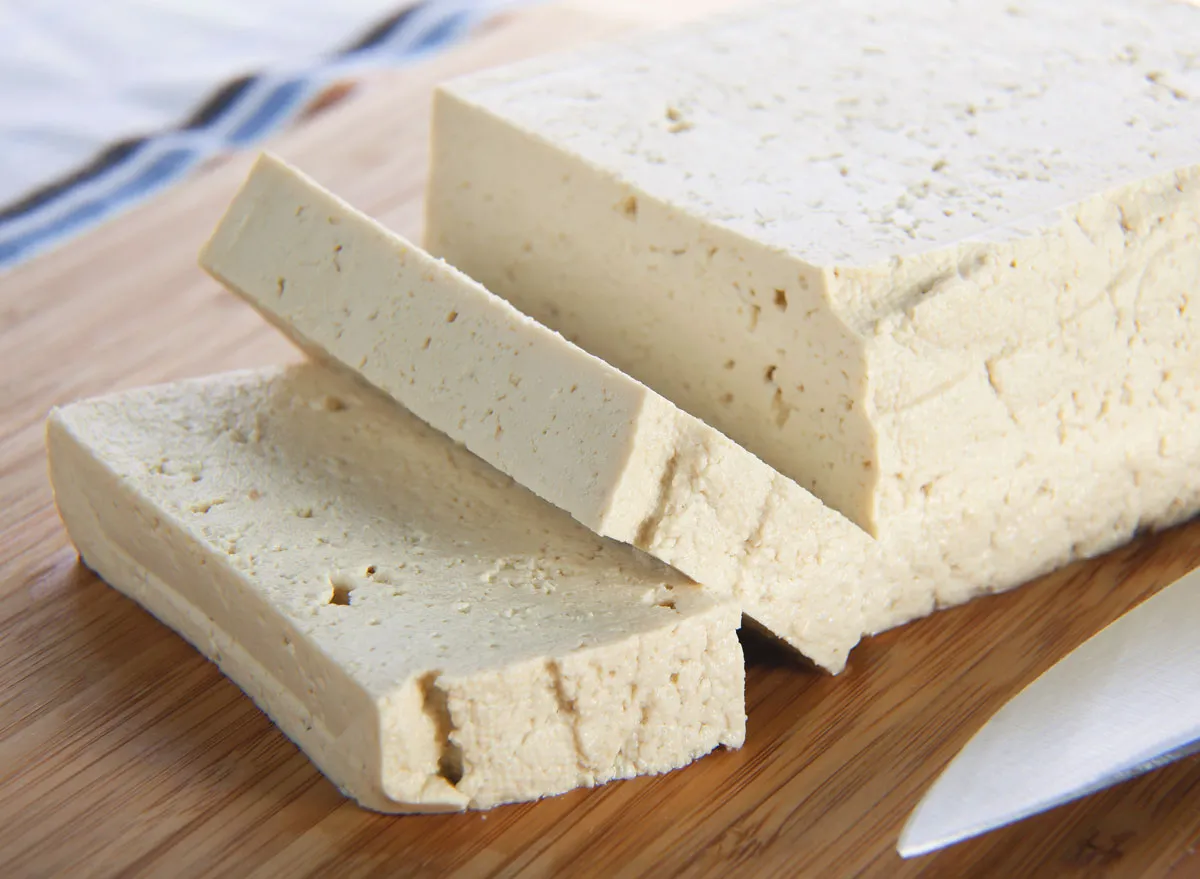 Its soft texture and relatively neutral flavor of tofu make it a great ingredient to add to smoothies. Not to mention, the soy-based product is inexpensive, holds up in the fridge for a few weeks, and offers a great source of plant-based protein, calcium, and iron. For inspiration, check out the recipe for this Plant-Based Chocolate Tofu Smoothie With Reishi Mushroom.
For more, be sure to sign up for our newsletter.