25 Traditional 4th of July Recipes That'll Make You Feel So Patriotic
Pay homage to the USA with burgers and margs.
The Fourth of July menu is predominantly made up of things you can cook to perfection on your grill—and we wouldn't dare mess with a good thing. Here are some of our absolute favorite recipes for grilling burgers, hot dogs, and steak, while we've also added some summer-bounty sides, delectable desserts, and refreshing cocktails to complete your Independence Day celebration. Make sure you're staying away from mistakes that can ruin your BBQ and keep those drinks coming. Sign up for our newsletter to get the latest food news and recipes delivered straight to your inbox.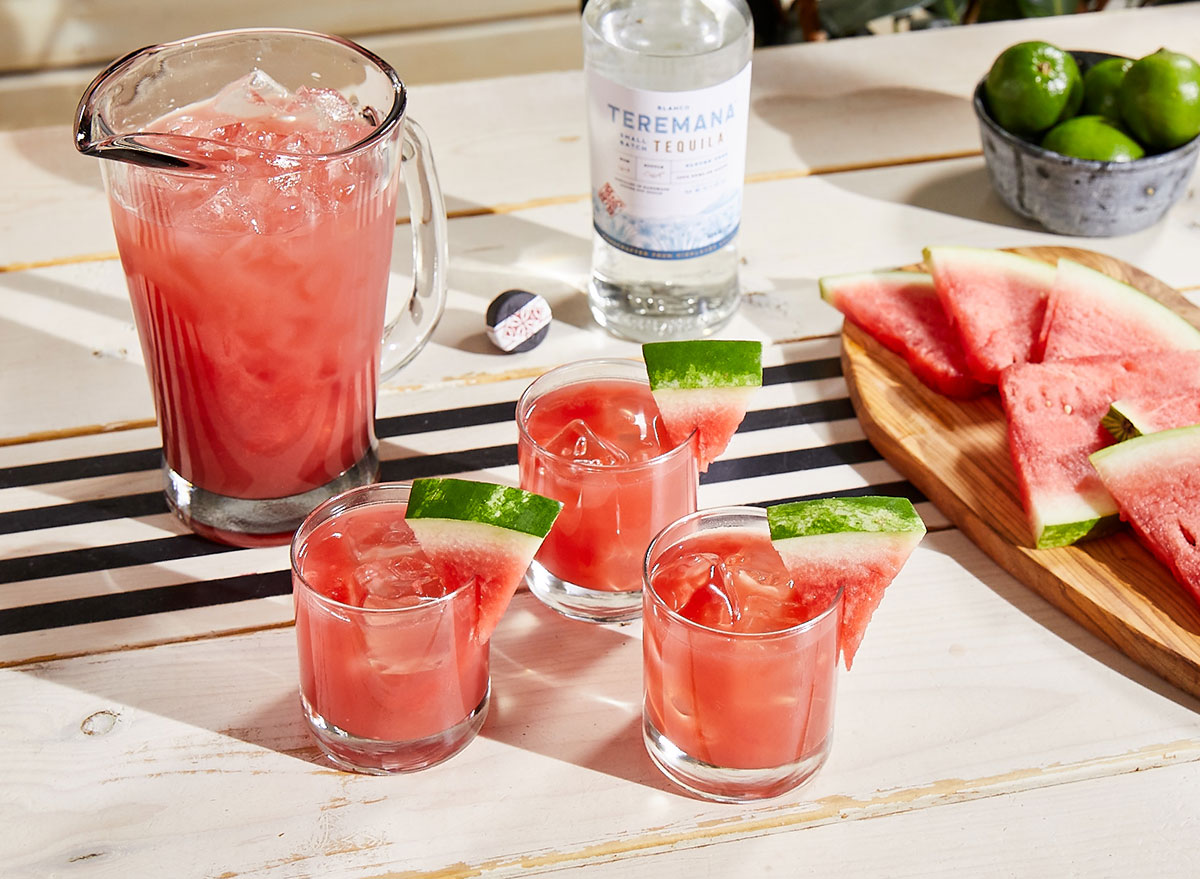 Kick off your July 4th festivities with a refreshing watermelon marg that'll keep you cool and hydrated as you're manning the grill or prepping that marinade.
Get our recipe for Watermelon Margarita.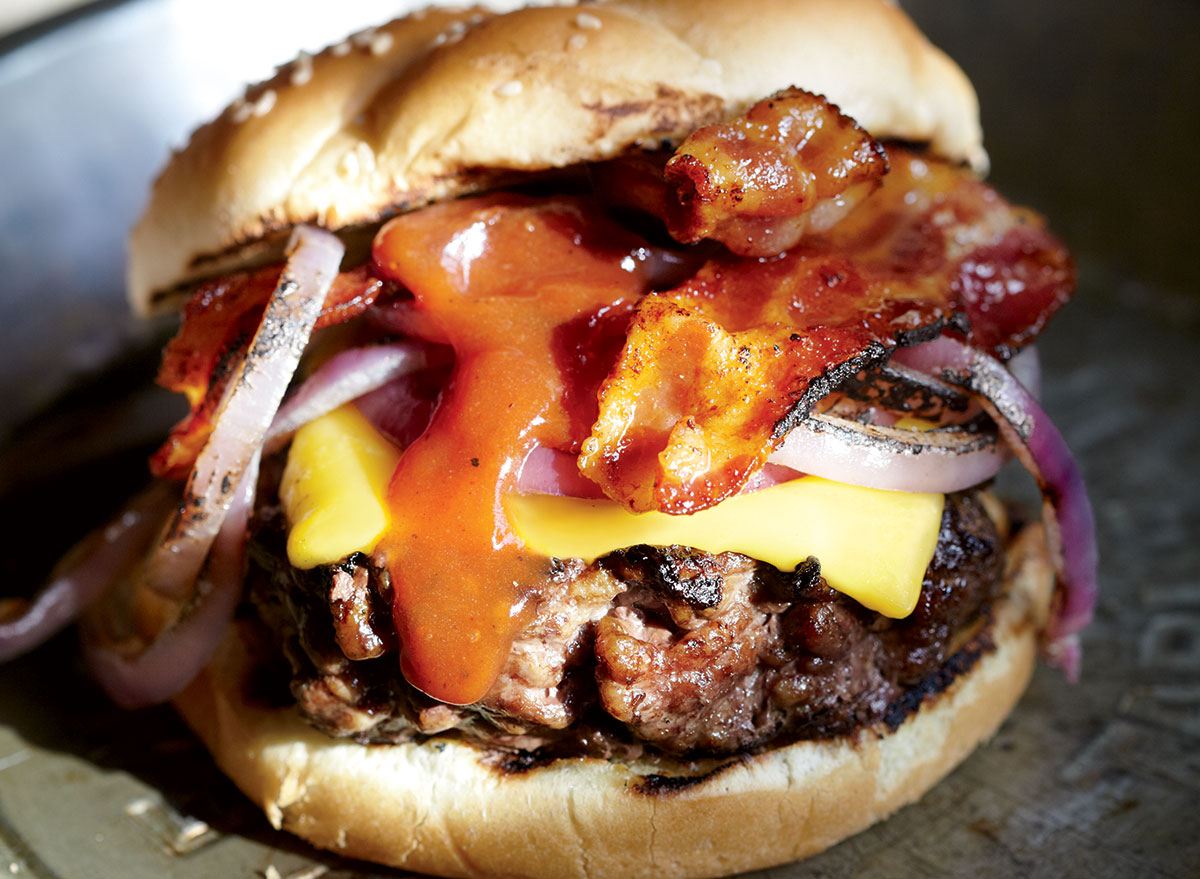 What burger could be more appropriate for a July 4th cookout than one that pays tribute to the Wild West? This spicy, melty, crispy rendition of a cheeseburger has some surprising ingredients, and can be made with bison or beef.
Get our recipe for Cowboy Burgers.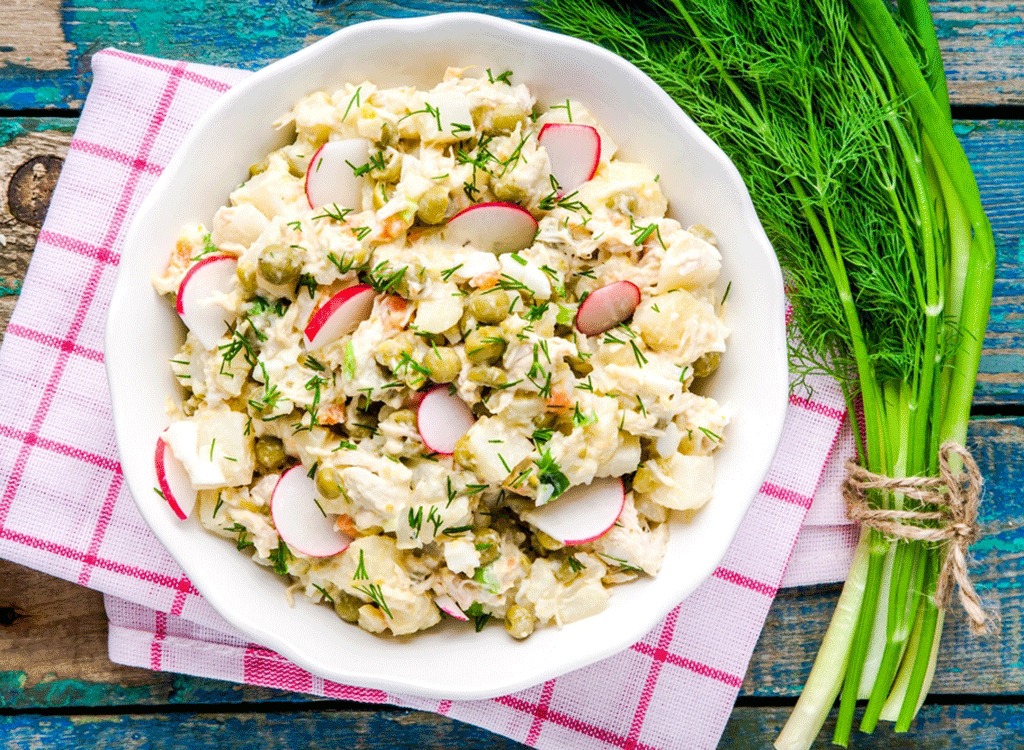 You can't celebrate without the most popular side dish of July 4th tablescapes. Our potato salad is also the lightest version you'll find. However, it doesn't skimp on flavor at all and has all the makings of a classic—pickles, onions, mustard, mayo, and some hard-boiled eggs, too.
Get our recipe for Potato Salad.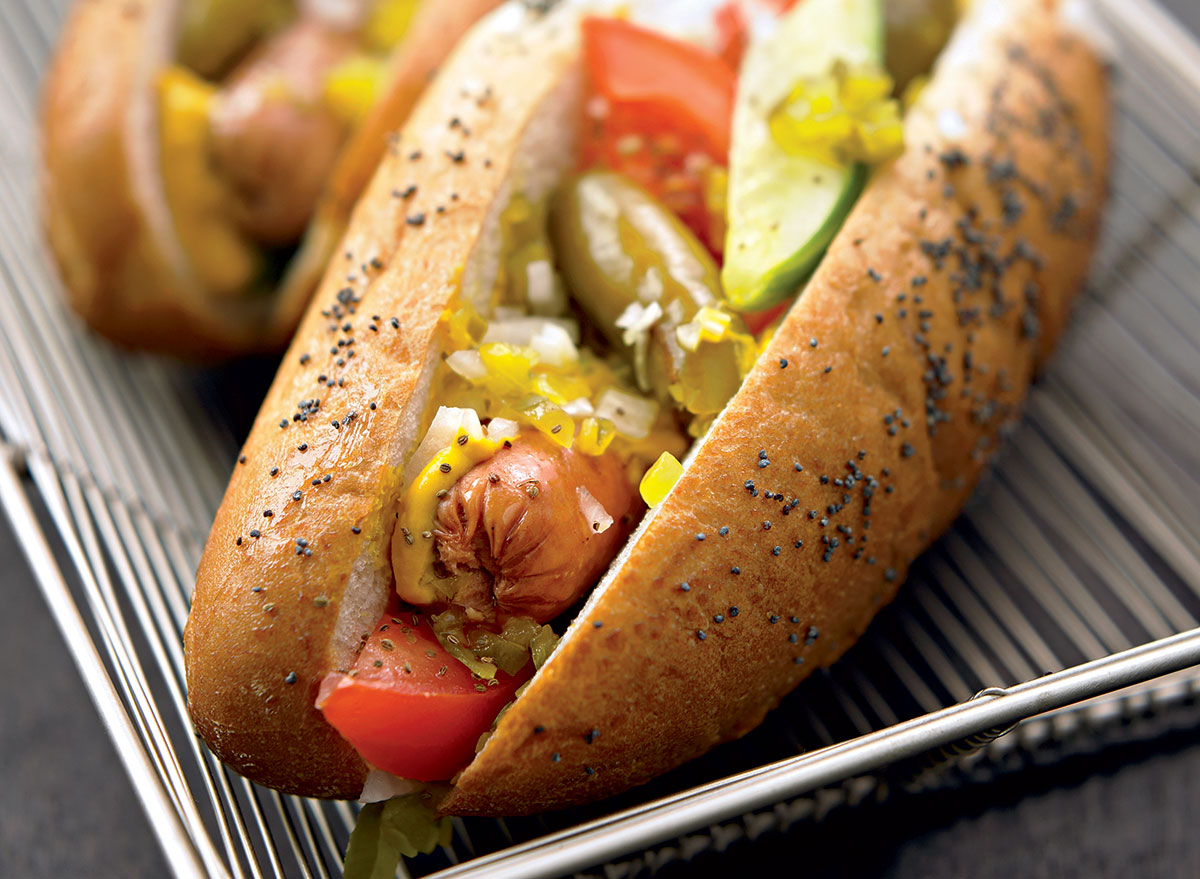 Pay homage to the home of the best American hot dog with this lightened up take on a classic Chicago-style dog. Note: the order in which you add the toppings is of paramount importance.
Get our recipe for Chicago-Style Hot Dogs.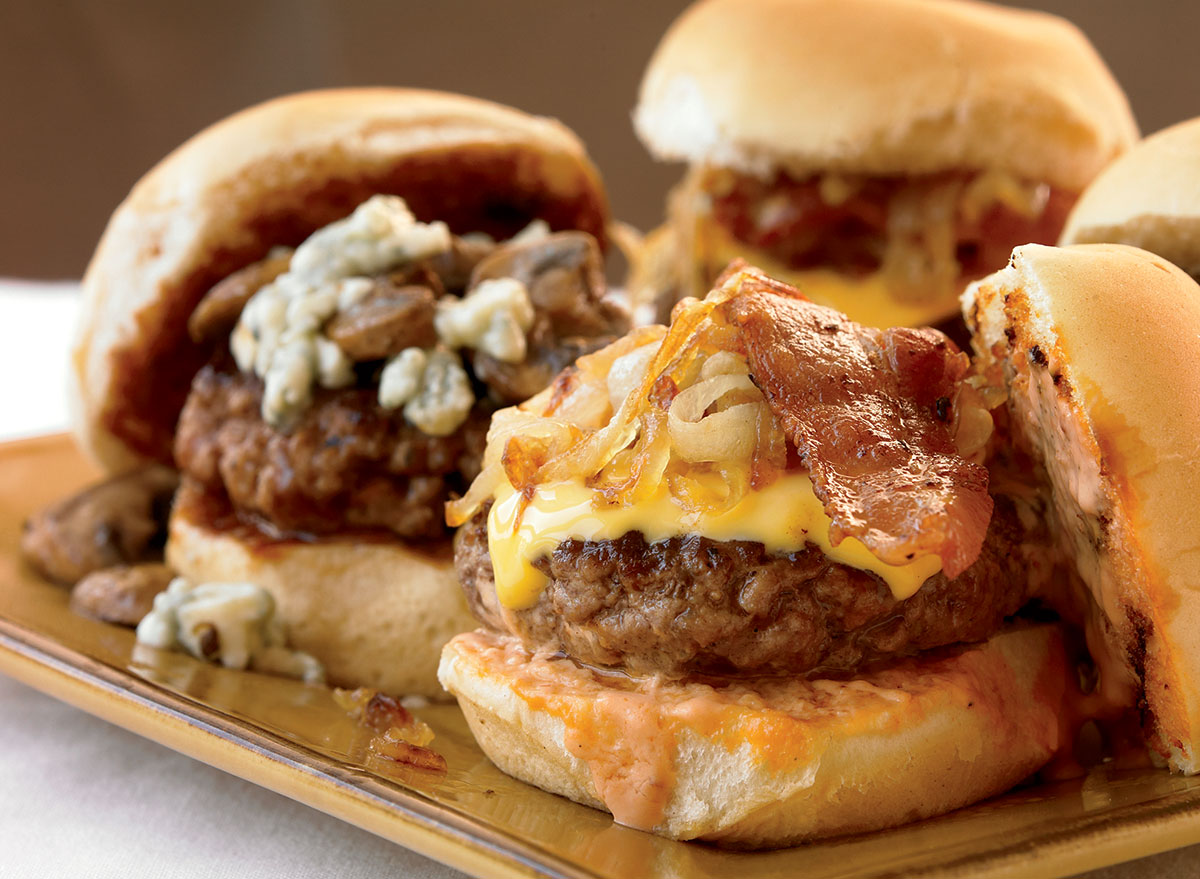 A mini version of anything is so much more fun—especially when it comes in two flavors! Make these sliders that'll cook faster on the grill in two mouth-watering flavor combos: mushrooms + blue cheese and chipotle + bacon.6254a4d1642c605c54bf1cab17d50f1e
Get our recipe for Two-Way Sliders.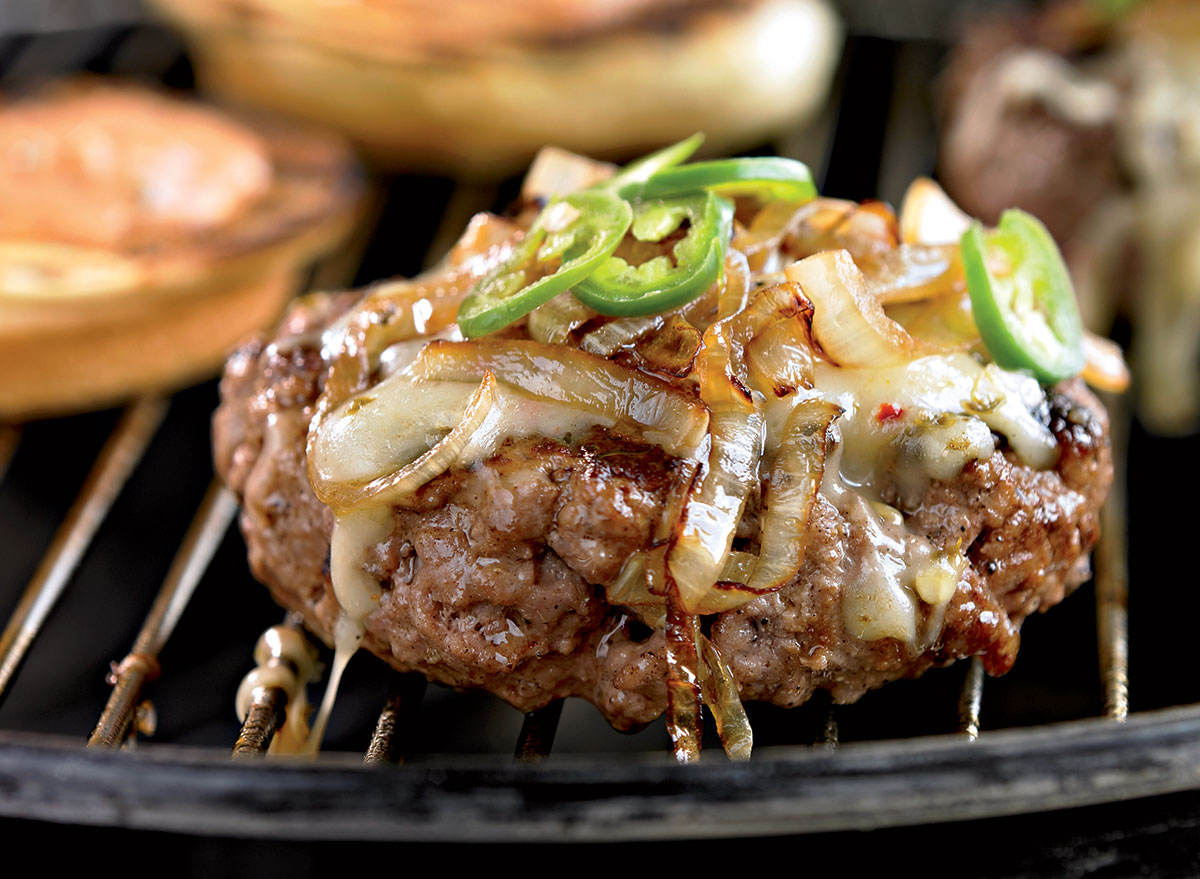 We absolutely had to include this cheeseburger recipe because it features pickly spicy jalapeño, caramelized onions, and melty gooey Pepper Jack. Make this and you'll top any takeout burger your guests have ever had.
Get our recipe for Jalapeño Cheeseburgers.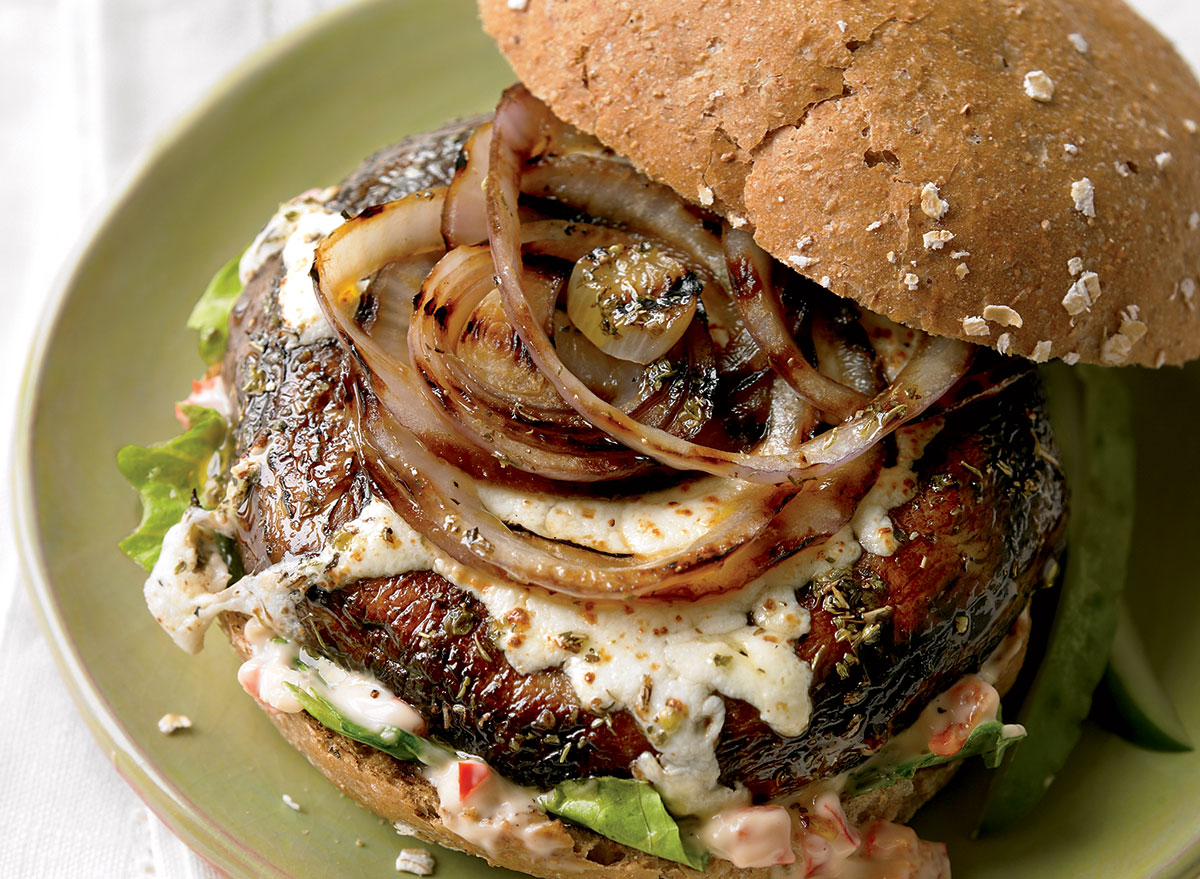 This light veggie burger is perfect for those who don't eat meat but still want to participate in Independence Day festivities by enjoying a true American dish.
Get our recipe for Mushroom Burgers. 
Whatever burger, hot dog, or sandwich you're making on the 4th will be that much better with a side of zesty, crunchy coleslaw. Our version of this ubiquitous BBQ side features both green and red cabbage, some jalapeño for spice, and a refreshing combo of yogurt and Dijon for the creaminess.
Get our recipe for Coleslaw.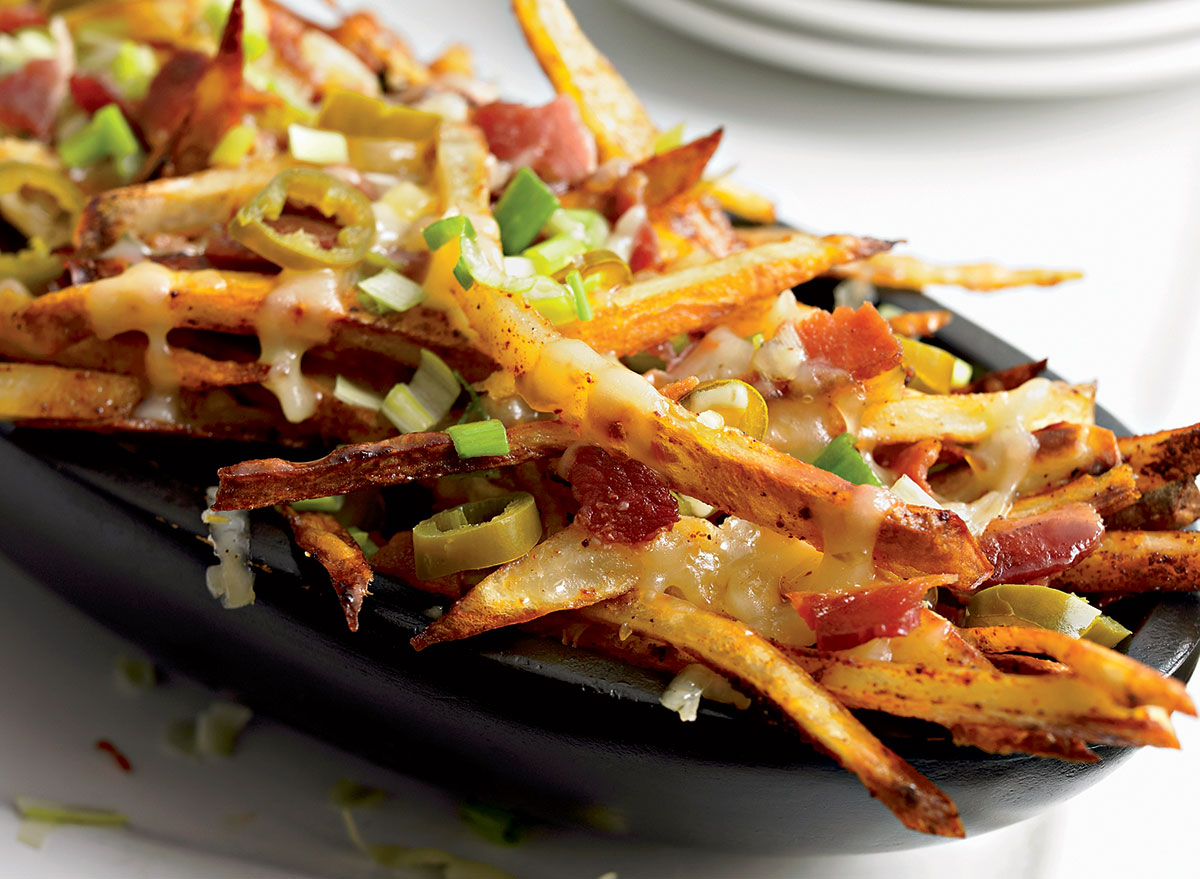 Fries are super simple to make from scratch if you're using the oven. If your cookout revolves around a backyard with a kitchen nearby, make this as a side to your burgers and watch as everyone announces this is their new favorite 4th of July dish. (Pssst, they're healthy, too.)
Get our recipe for Cheese Fries. 
There's a reason why the saying "as American as apple pie" rings eternally true. This classic patriotic dessert is the perfect sweet complement to your festivities, and we've got a light version that can be loaded with an extra scoop of ice cream guilt-free.
Get our recipe for Apple Pie.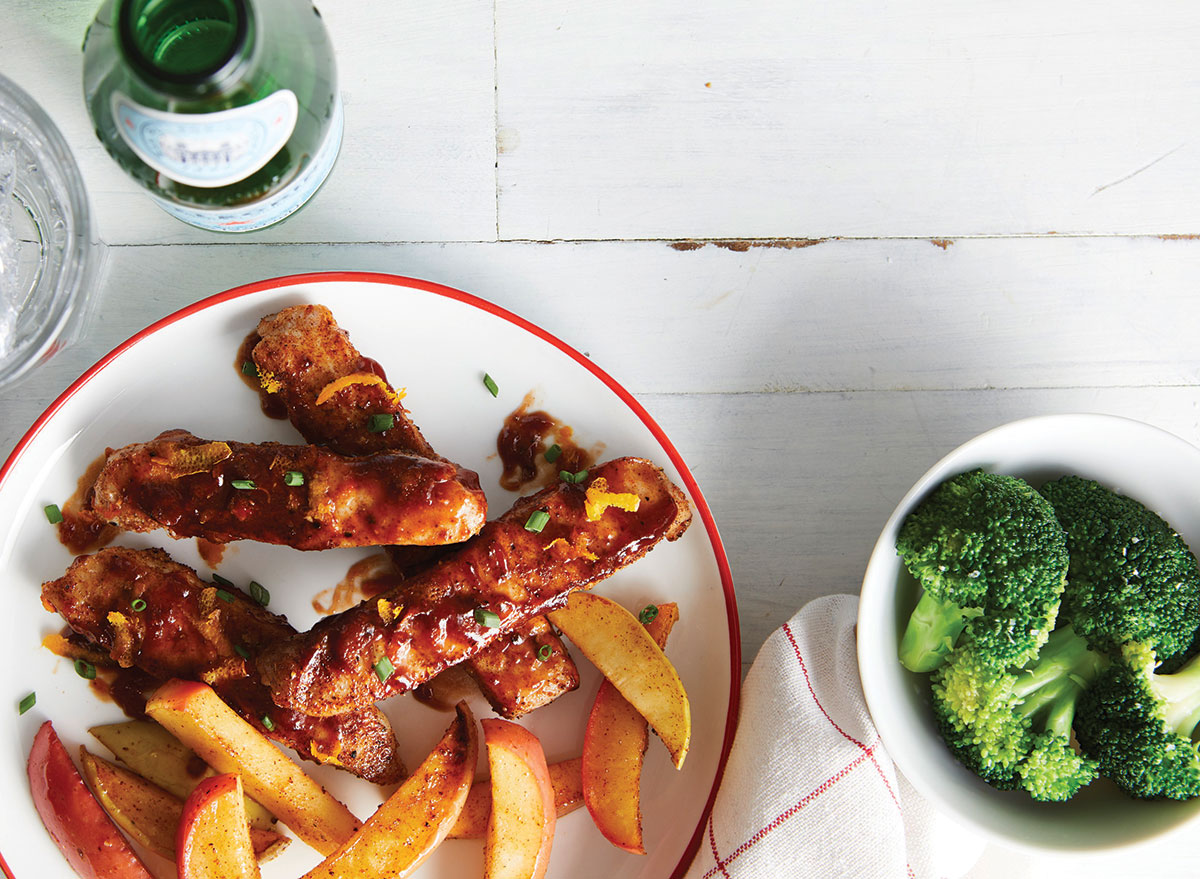 Want the impressive centerpiece of a classic BBQ dish without actually fussing with a grill on a hot day? Roast these sliced, well-seasoned pork chops in the oven for some truly finger-licking results.
Get our recipe for Boneless BBQ Ribs.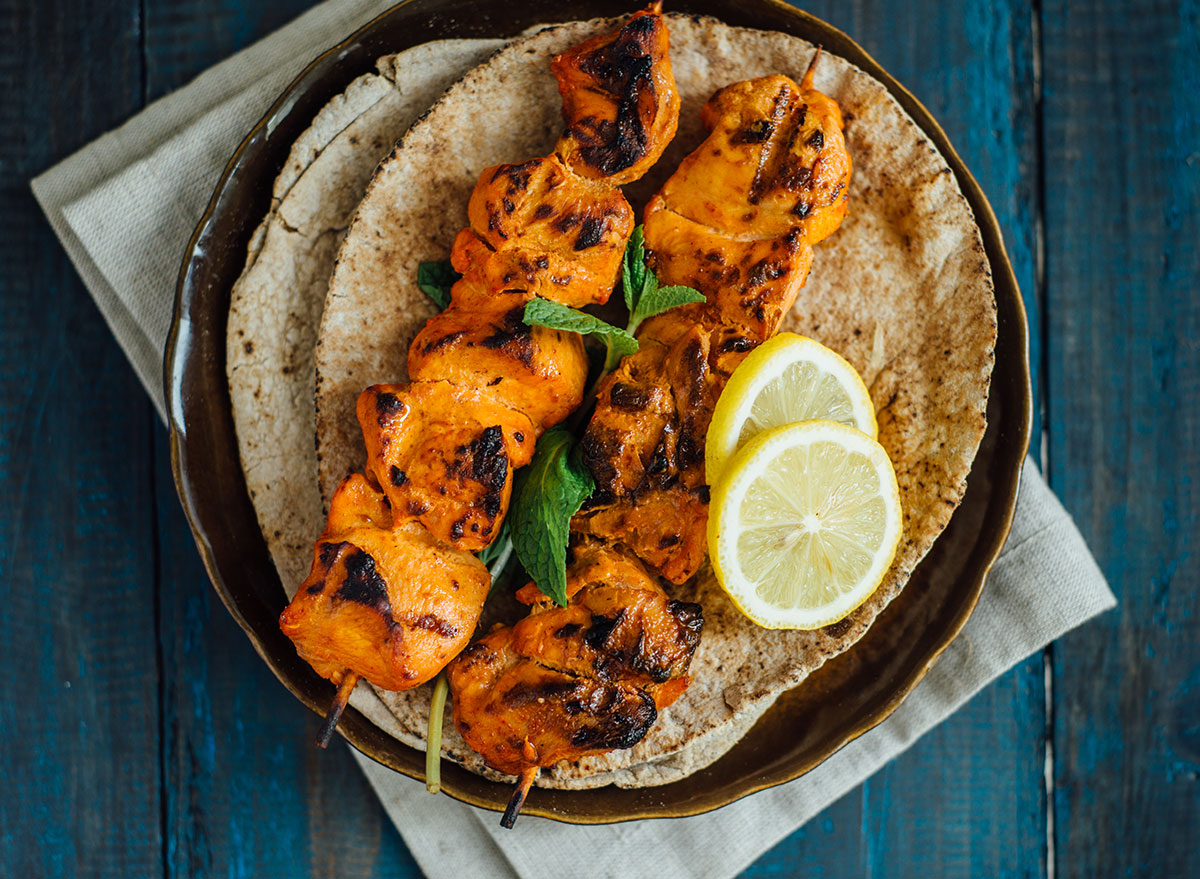 Put a little spice in your chicken and marinate it in spices and yogurt for an impossibly tender, tandoori-like skewer. Don't forget the cucumber raita which is the perfect chilled complement to this chicken with character.
Get our recipe for Tandoori Chicken Skewers. 
Grilled Mexican-Style Corn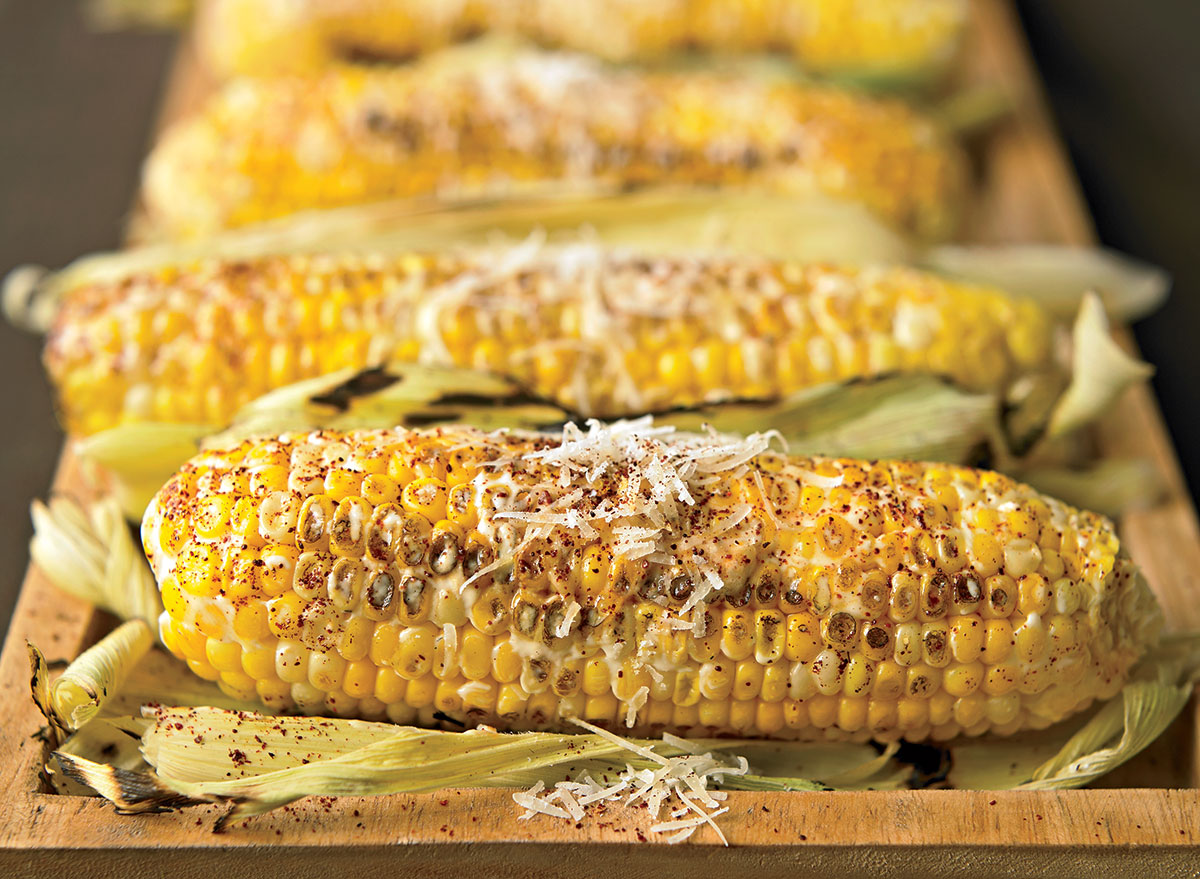 Grilling corn on the cob is the first culinary sign of summer. This recipe is a nod to elote, a beloved Mexican street food, but with a lighter twist.
Get our recipe for Grilled Mexican-Style Corn.
It's hot and you may as well eat something from the ocean, even if you're far away from it. This uber light yet super flavorful "salad" can be served as an appetizer alongside margaritas or beer while the crowd gathers and waits for the burgers to hit their plates.
Get our recipe for Avocado Crab Salad.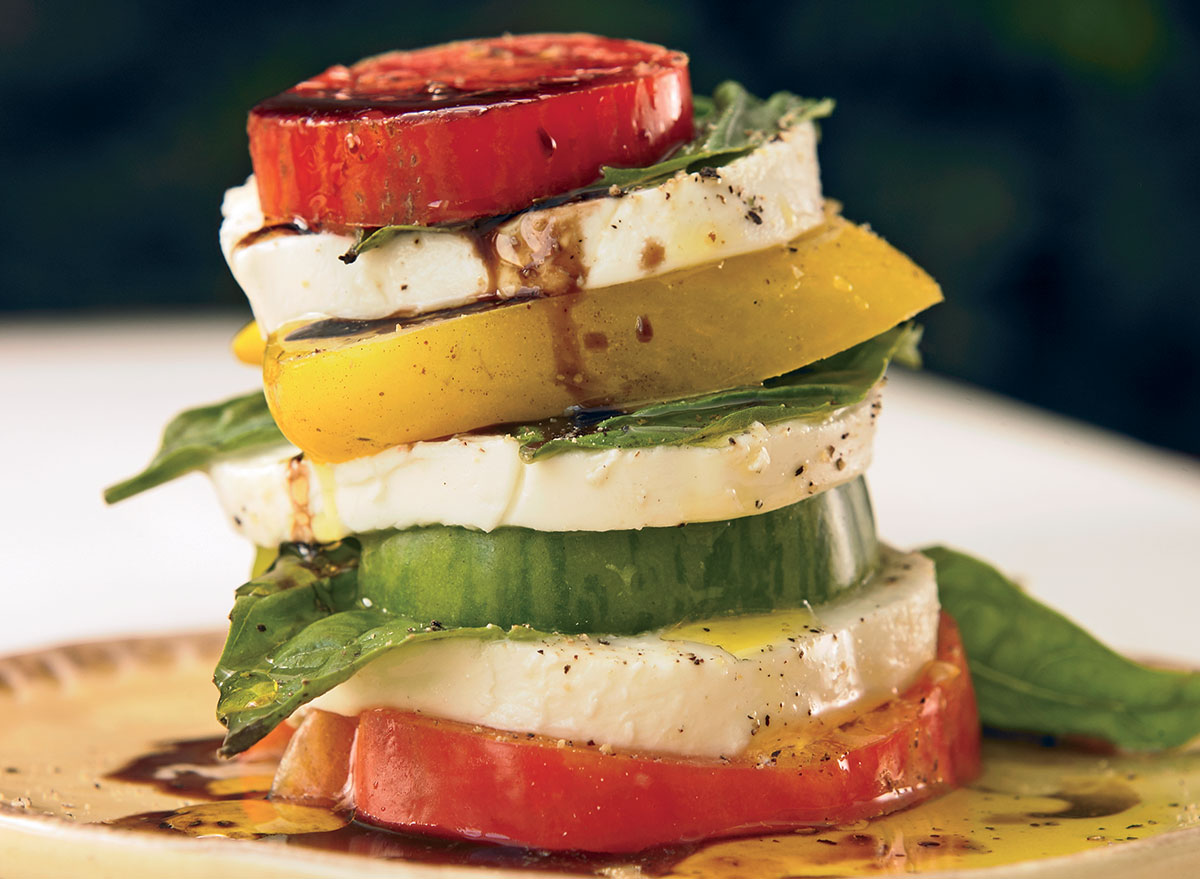 Making a summer salad that doesn't prominently feature tomatoes is like visiting Paris without seeing the Eiffel Tower. And what simpler way to really highlight all their juicy ripeness than cutting them into thick slices and serving with a mild cheese like mozzarella.
Get our recipe for Caprese Salad. 
Grilled Steak with Red Wine Butter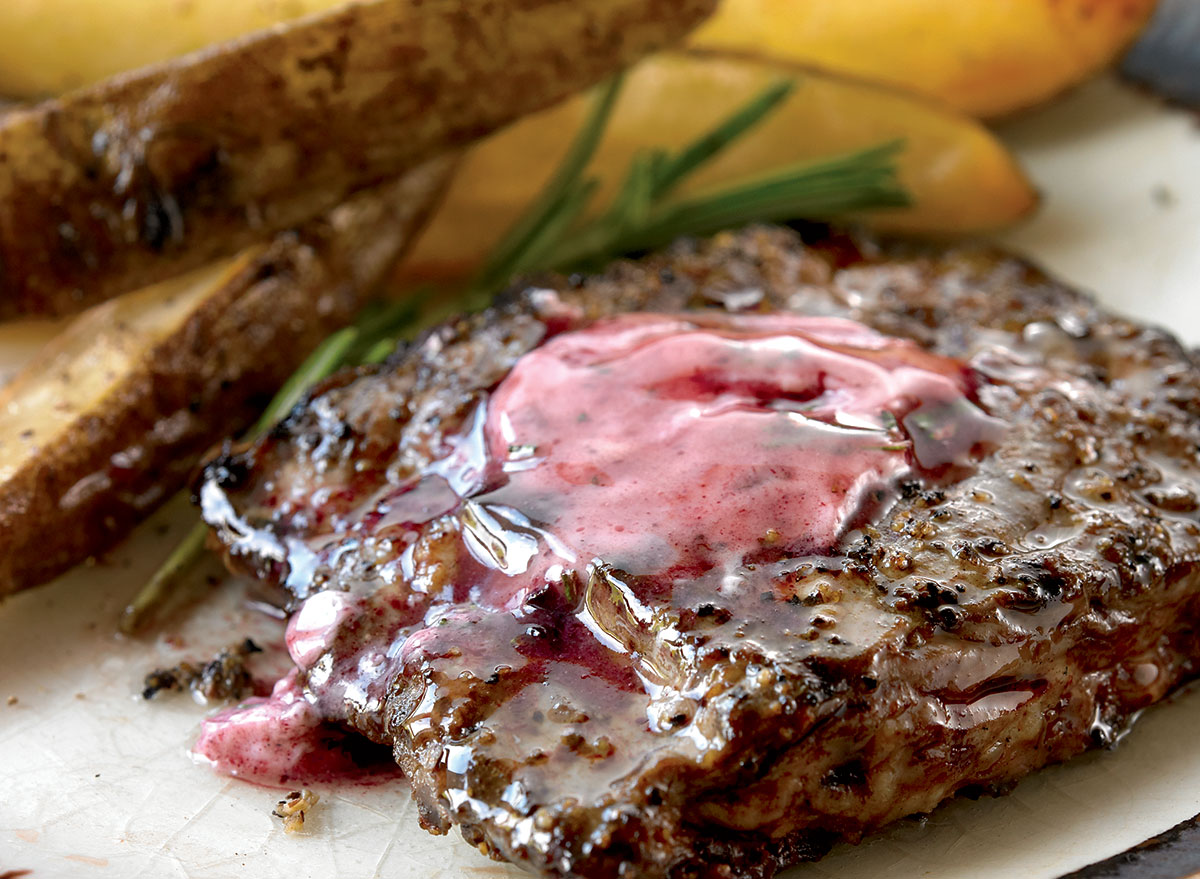 This steak is grilled to perfection and features a slab of butter spiked with red wine. Delight your family with an eating experience reminiscent of old-school American steak houses.
Get our recipe for Grilled Steak with Red Wine Butter. 
Arugula and Grapefruit Salad with Ranch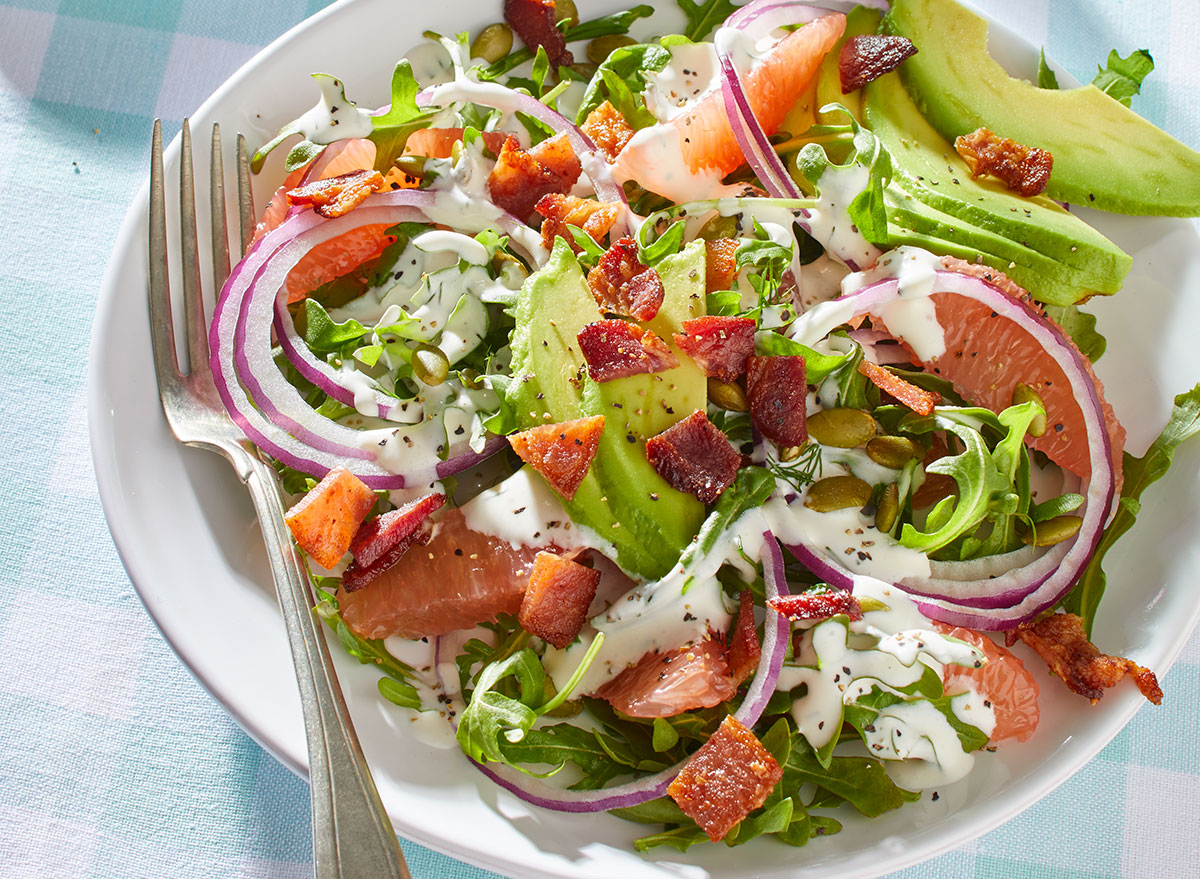 This salad checks several boxes. First off, it's fresh and crispy, which makes it a perfect side; second of all, it's got juicy chunks of grapefruit which is a nod to summer; and finally, it's got the two components that every American looks for in a salad—bacon and ranch.
Get our recipe for Arugula and Grapefruit Salad with Ranch.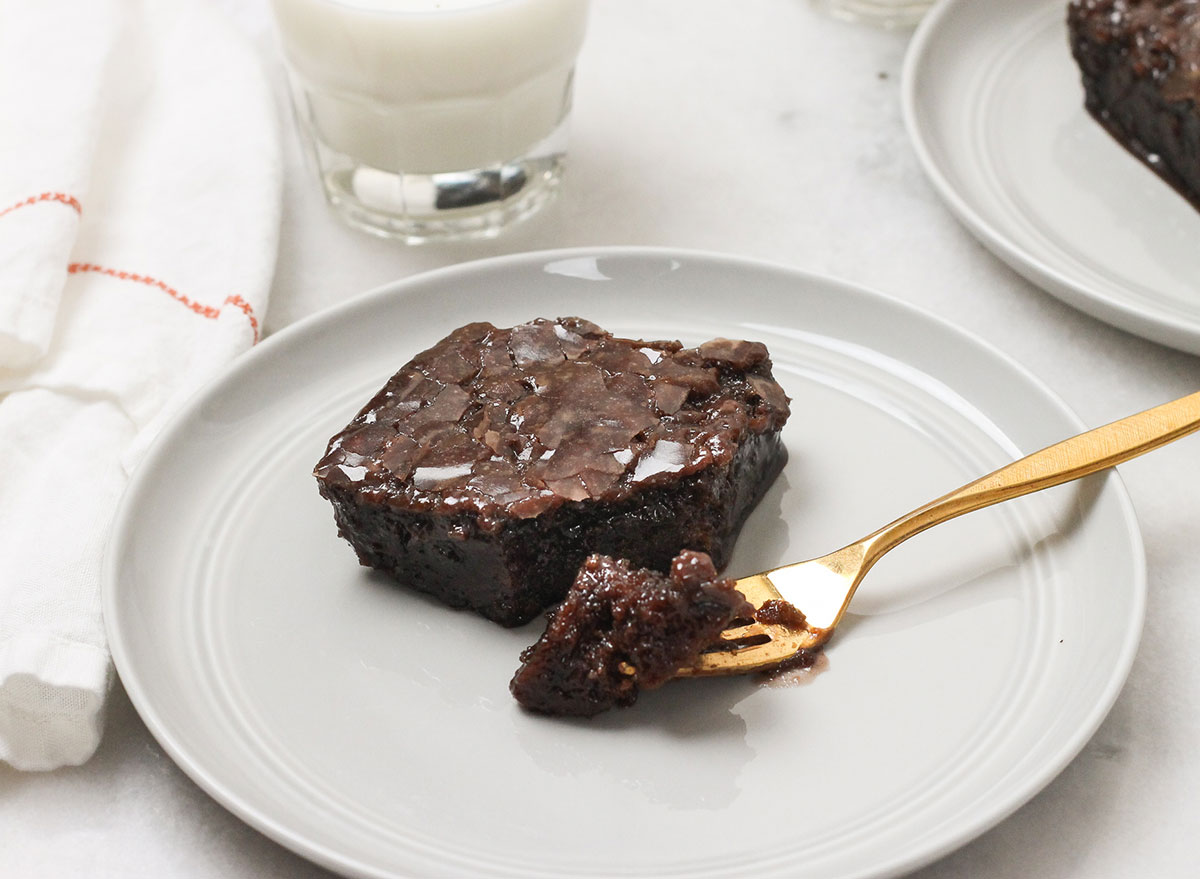 If you're going to bake for the 4th of July, might as well make a cake that uses the caramel-y moisture of America's favorite beverage—Coca Cola. That's right, this chocolate dessert uses your favorite soda in both the sponge and the frosting.
Get our recipe for Coca Cola Cake. 
These may be the best kebabs you'll ever make at home. Reminiscent of Japanese yakitori-style meats, the chunks of beef sirloin get marinated in a mix of hoisin sauce, soy sauce, sriracha, and sesame oil for the most tender cubes of beef you've ever had.
Get our recipe for Hoisin Beef Kebabs. 
Grilled Flank Steak with Chimichurri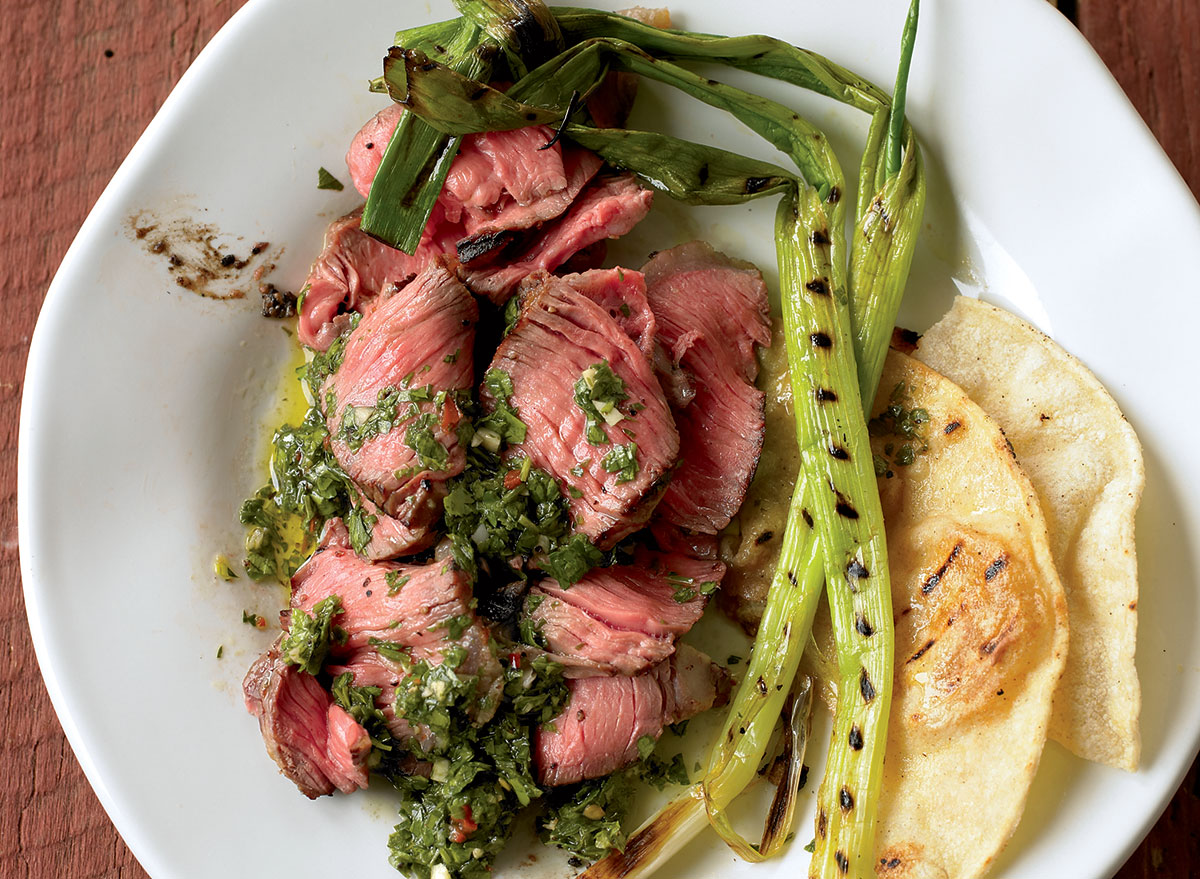 Flank steak combined with a fresh, herby chimichurri sauce is one of the easiest yet most impressive dishes you can cook to perfection on your grill. Combine it with a side of grilled scallions or some pinot beans for a well-rounded South American feast.
Get our recipe for Grilled Flank Steak with Chimichurri. 
Ginger Carrot Pineapple Cake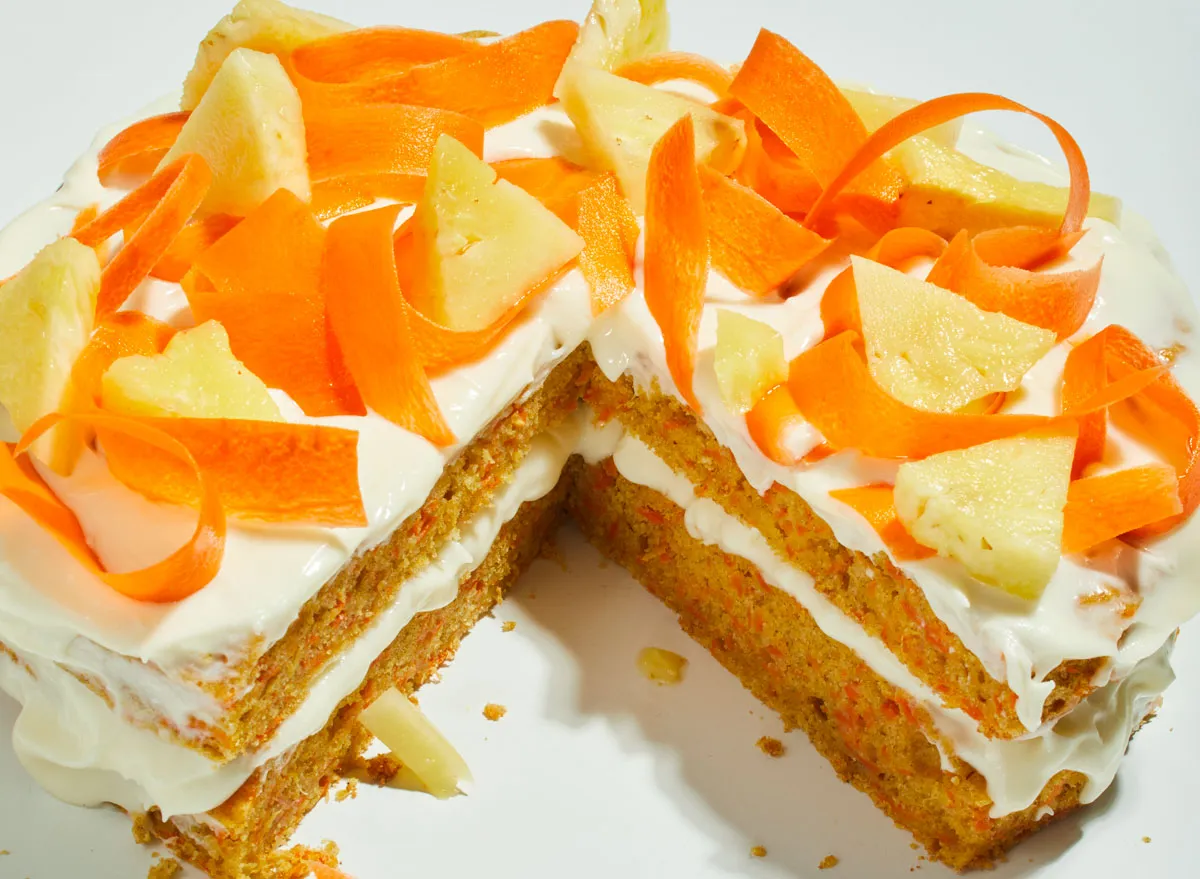 Another awesome dessert option for any summer gathering is a carrot cake featuring pineapple. It's impressive-looking but easier to make than most cakes out there.
Get our recipe for Ginger Carrot Pineapple Cake. 
Butternut Squash Pasta Salad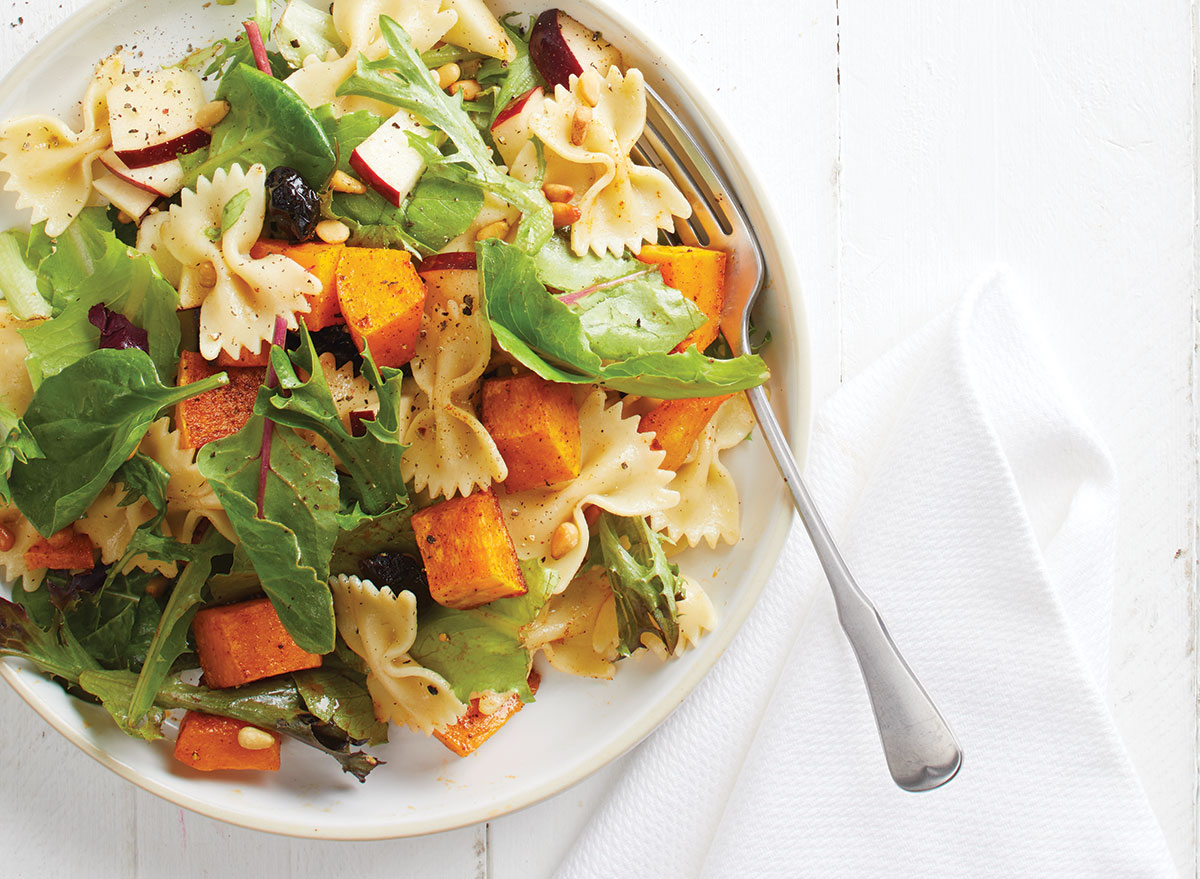 Is it a pasta? Is it a salad? Who cares! This craveable dish straddles both worlds and makes for a perfect addition to bring to a backyard BBQ because it travels well and can survive sitting out for a while.
Get our recipe for Butternut Squash Pasta Salad.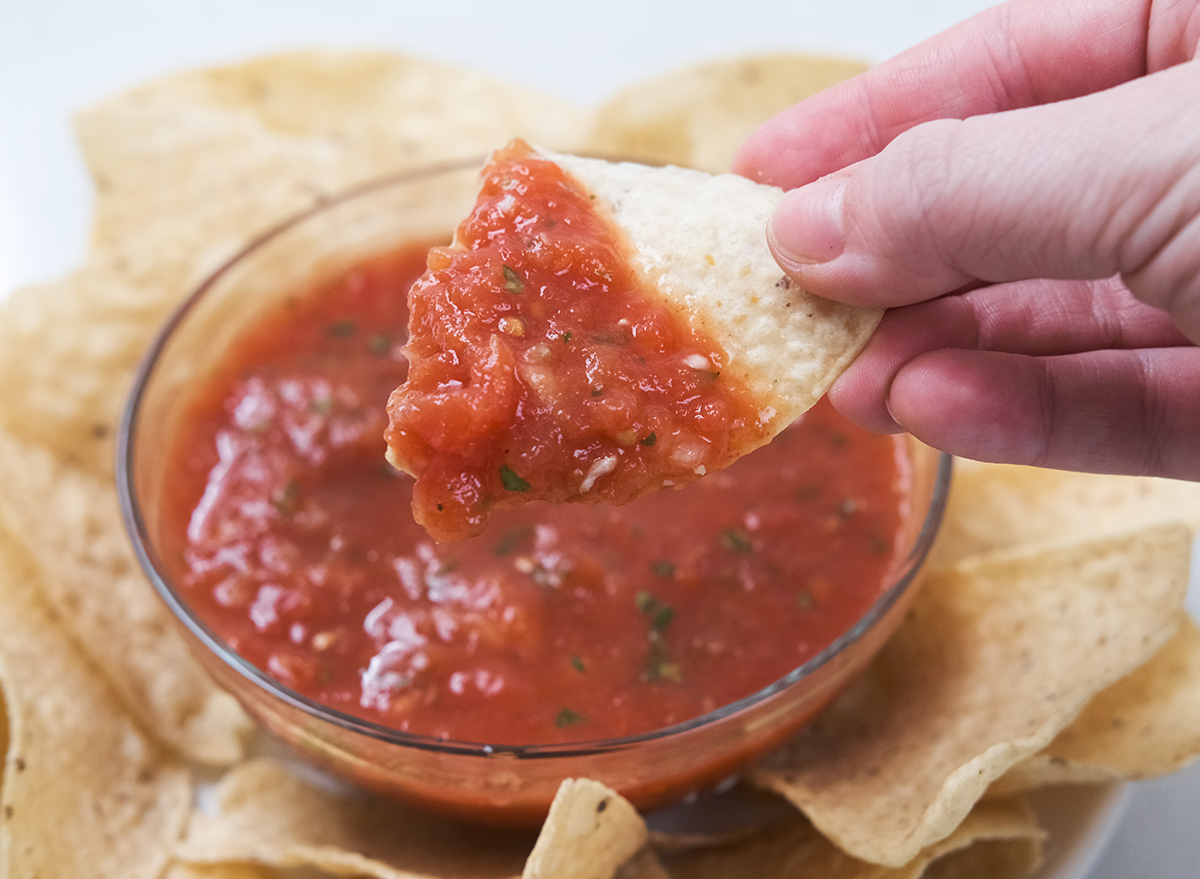 Easy peasy restaurant-level salsa is only five simple ingredients away. Truly the simplest, most popular appetizer you can serve for a crowd.
Get our recipe for Homemade Salsa. 
Classic Low-Calorie Margarita
If you prefer to stick to a simple, classic margarita, here's a low-cal version you can drink all day long.
Get our recipe for Classic Low Calorie Margaritas. 
Grilled Strawberry Shortcake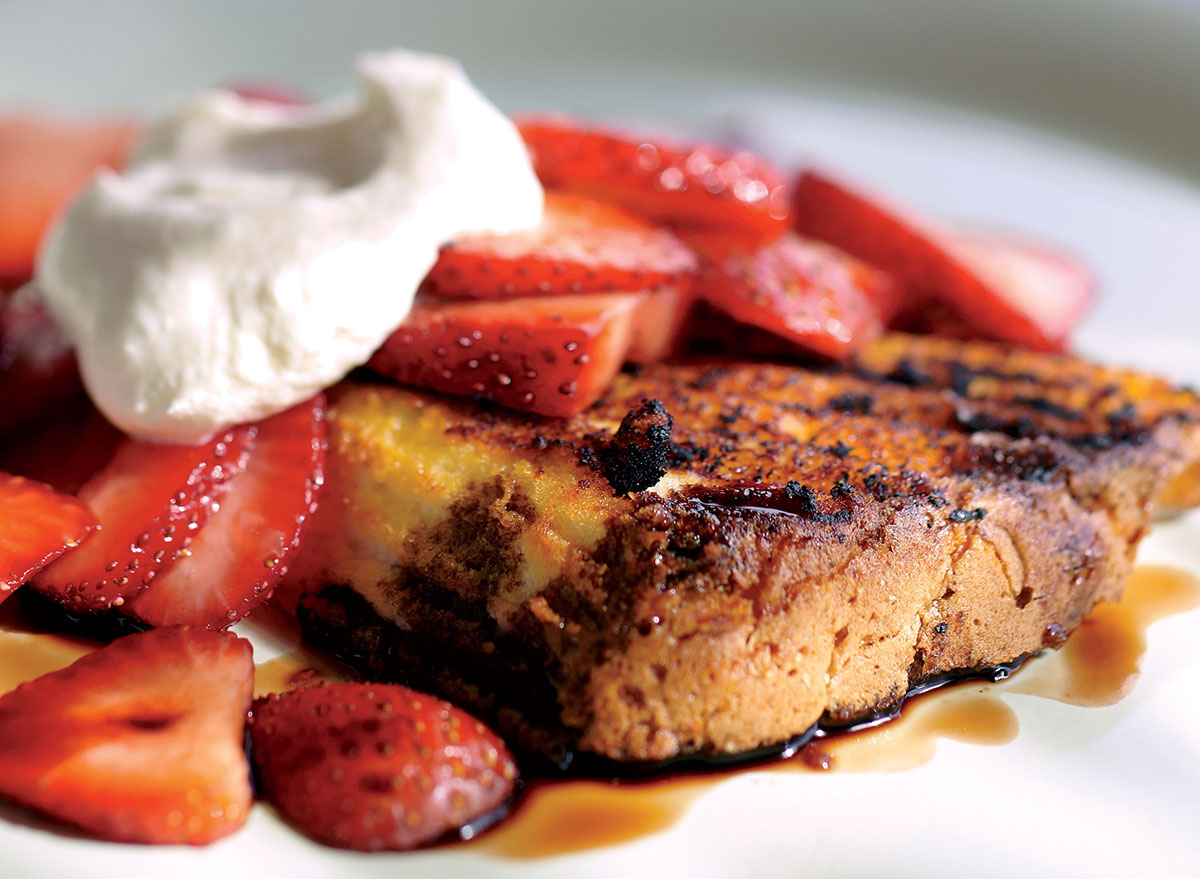 We don't need to talk this dessert up, we'll just describe it for you: soft, fluffy angel cake gets toasted on the grill, then topped with balsamic-marinated strawberries. You've never had dessert like this before.
Get our recipe for Grilled Strawberry Shortcake. 
Mura Dominko
Mura is ETNT's Executive Editor, leading the coverage of America's favorite restaurant chains, grocery stores, and viral food moments.
Read more about Mura