20 Cozy Broccoli Soup Recipes That Are Perfect for Weight Loss
Make your broccoli soup healthier without sacrificing any of the flavor.
If you are familiar with broccoli soup then you know just how delicious it can be. Maybe you prefer to enjoy the canned grocery store kind (cream of broccoli, anyone?) or perhaps you like to indulge in the holy grail of broccoli soup—the famous Panera Bread Broccoli Cheddar Soup, served in a bread bowl, of course. With endless options available nowadays, it seems that broccoli has come a long way from being that unpalatable vegetable that parents used to make for us when we were little kids.
Although store-bought and restaurant variations are packed with flavor, they, unfortunately, can also be filled with sodium, carbs, fats, and maybe even some hard-to-pronounce ingredients. This got us thinking—there have to be healthier versions of broccoli soup out there. And thankfully, there are. From vegan detox broccoli soups to options that incorporate hearty ingredients, such as lentils and potatoes, here are 20 broccoli soup recipes that are great for weight loss. (Plus, don't miss 31 Best Healthy Instant Pot Soup Recipes for Weight Loss.)
1
Low-Calorie Broccoli Cheddar Soup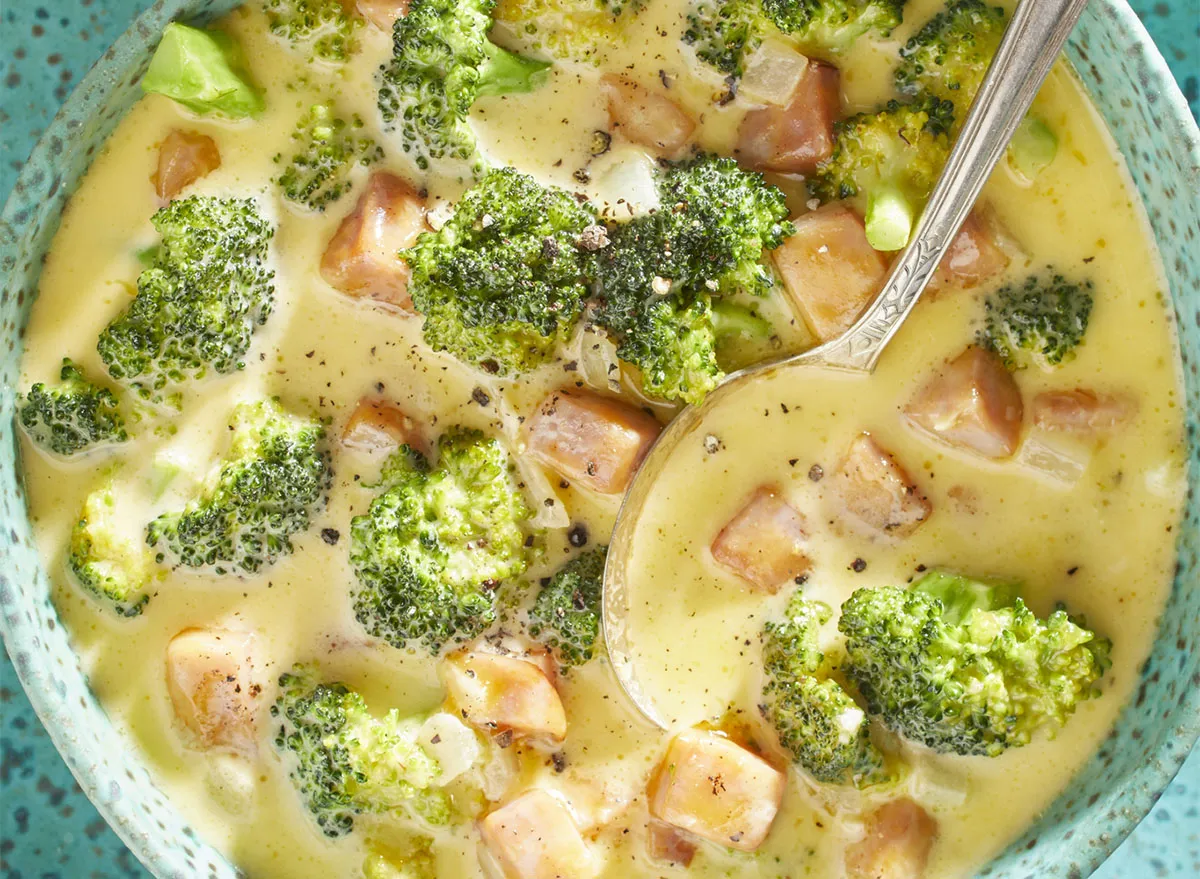 This low-calorie broccoli soup, which clocks in at 290 calories per serving, is made with an unexpected ingredient—beer. Beer is added to the stock during the simmering process and helps give this soup its full-bodied flavor. 
Get our recipe for Low-Calorie Broccoli Cheddar Soup.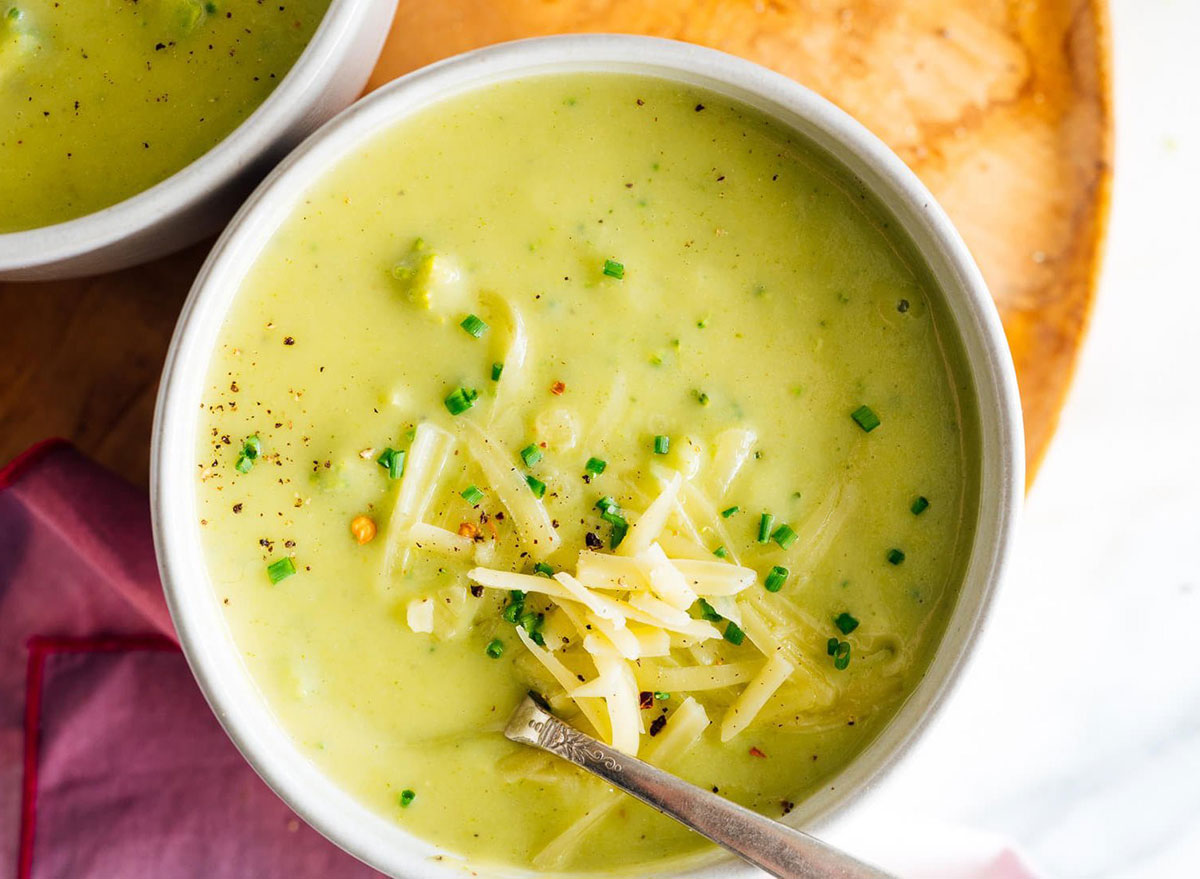 This undeniably delicious soup cuts back on some of the calories by leaving heavy cream, milk, and flour out of the equation. An added bonus? This recipe also calls for broccoli stems, the part of the vegetable that is seldom utilized and often thrown away, meaning there will be more taste and less waste. 
Get the recipe from Cookie and Kate.
Vegan Detox Broccoli Cheese Soup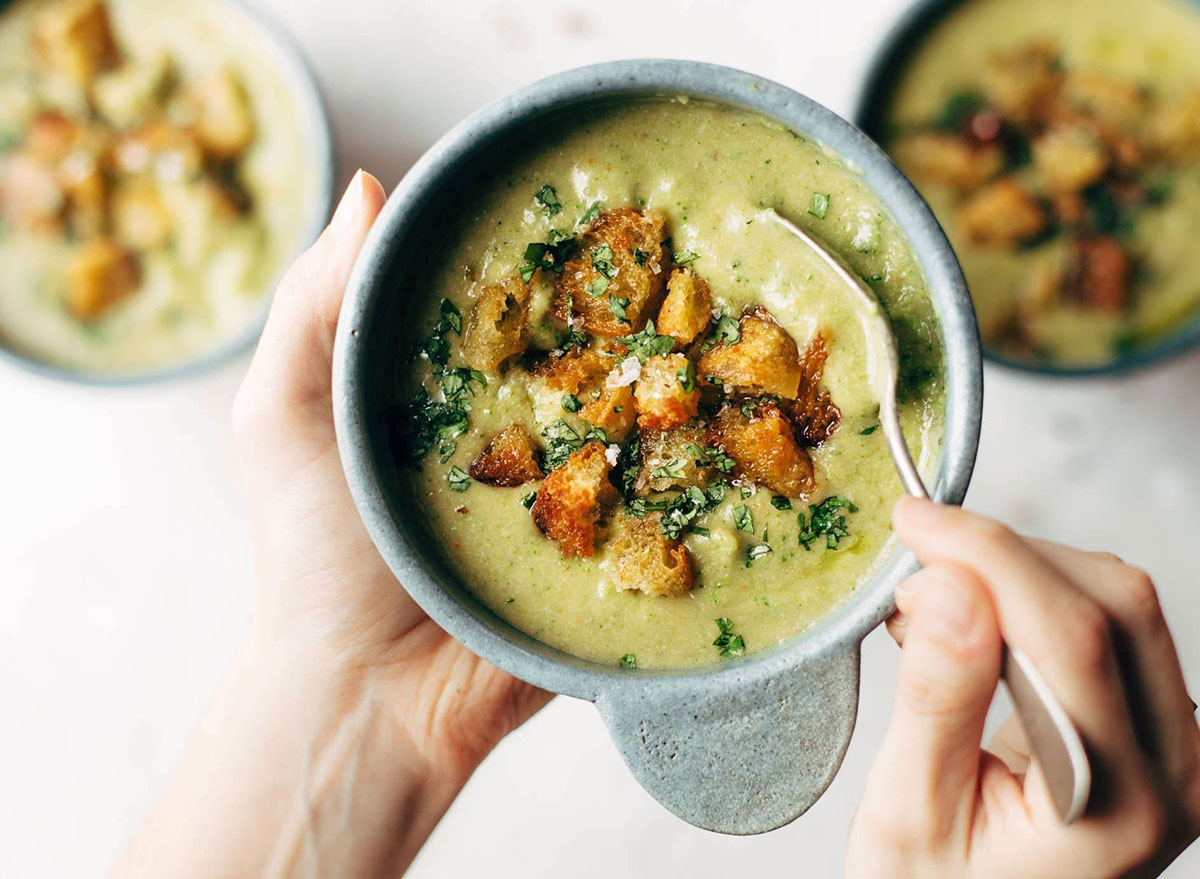 This recipe uses vegetable broth, almond milk, and nutritional yeast to achieve that signature broccoli cheese soup flavor that we have grown so used to. Rounding out at just 213 calories per serving, each bowl of this soup is also packed with 70% of the daily recommended intake of vitamin C.
Get the recipe from Pinch of Yum.
Slow-Cooker Broccoli Cheddar Soup with Fresh Veggies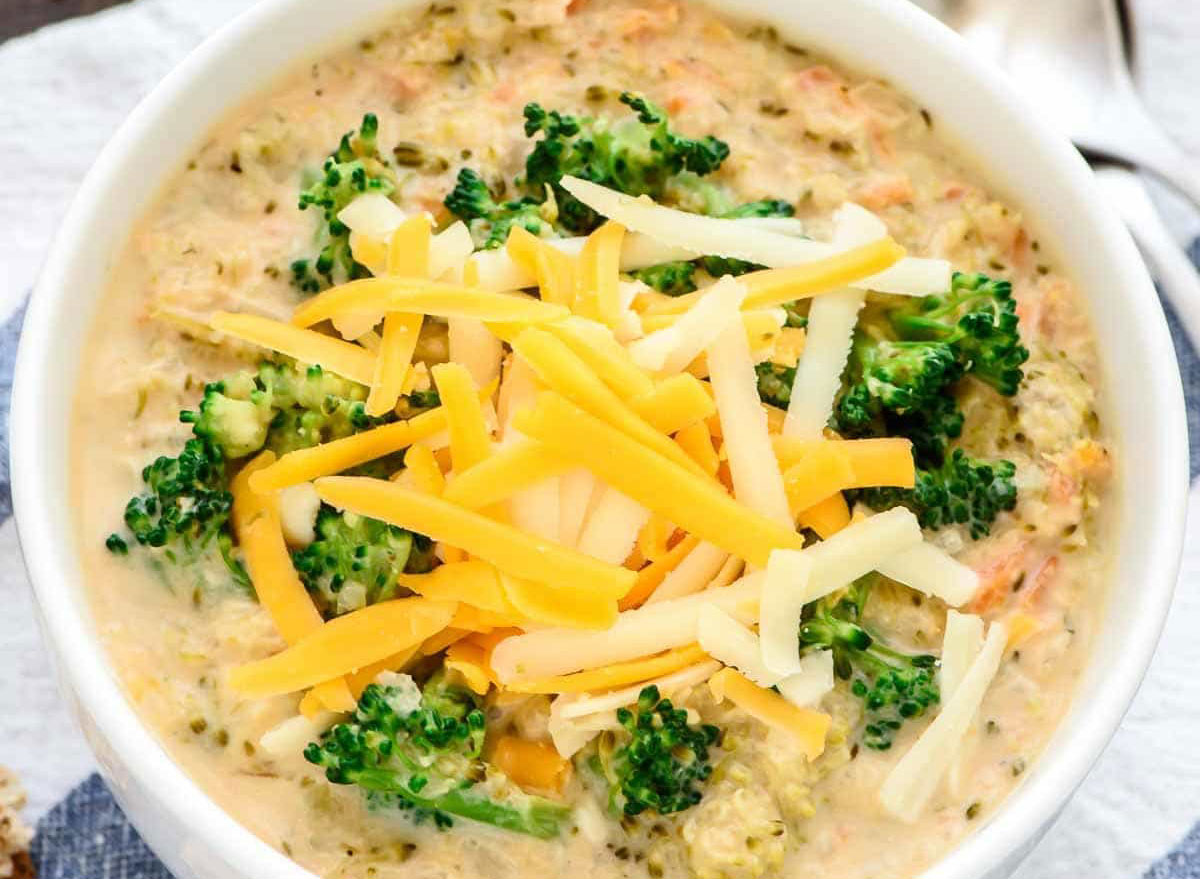 Slow cookers not only make great chilis and stews but soups, too. This no-fuss recipe, which calls for broccoli, grated carrots, and reduced-fat cream cheese, has just 16 grams of carbs per serving. Served alone or as an appetizer to a cozy fall meal, this creamy soup gives Panera Bread's version a run for its money.
Get the recipe from Well Plated.
Instant Pot Broccoli Cheddar and Zucchini Soup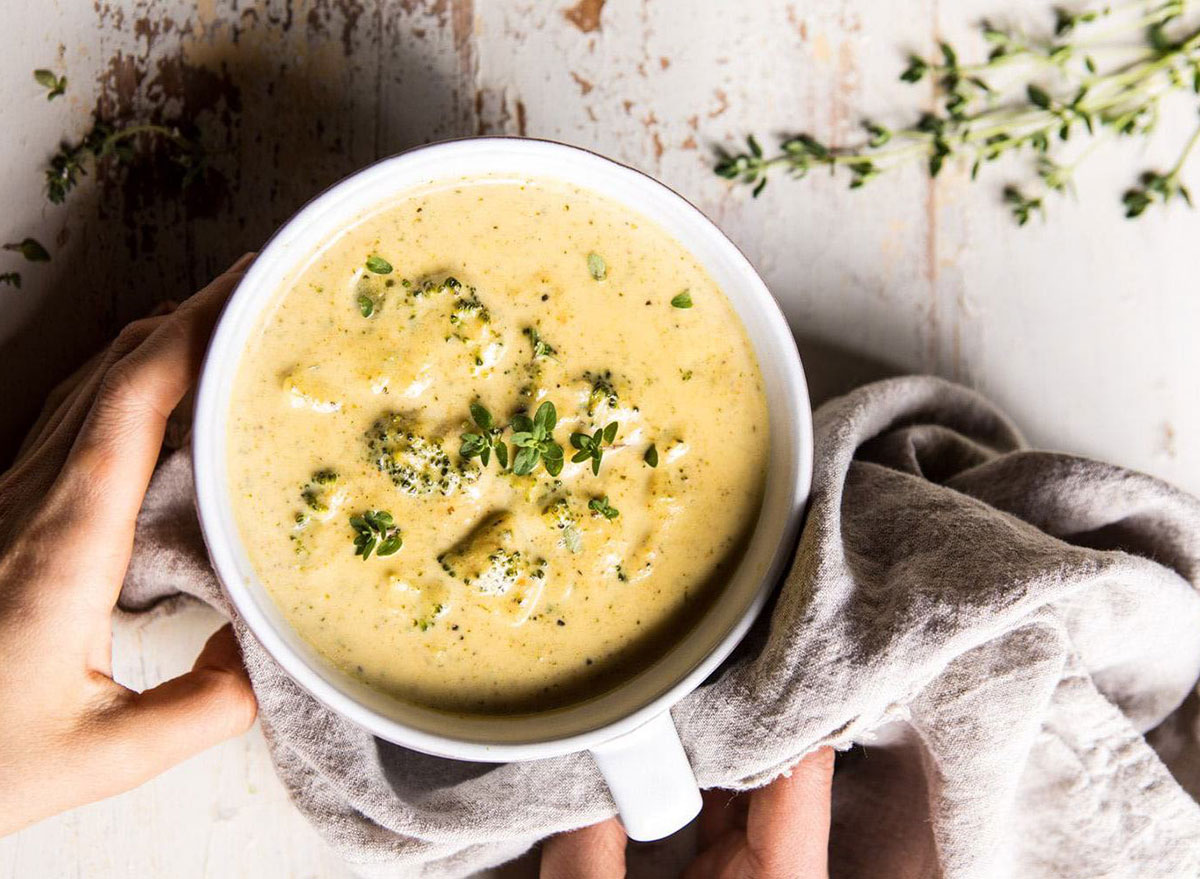 An unlikely duo, broccoli and zucchini, take center stage in this instant pot soup recipe that takes just 30 minutes to make. We imagine this steamy soup would pair well with a side of cranberry goat cheese salad or a plate of citrus-infused baked salmon.
Get the recipe from Half Baked Harvest.
Broccoli Cauliflower Soup
At 249 calories and 14 grams of protein per serving, this luscious broccoli cauliflower soup is the perfect choice for those looking for a lighter creamy soup option. Sub in vegan cheese and plant-based milk for an even healthier rendition.
Get the recipe from Well Plated.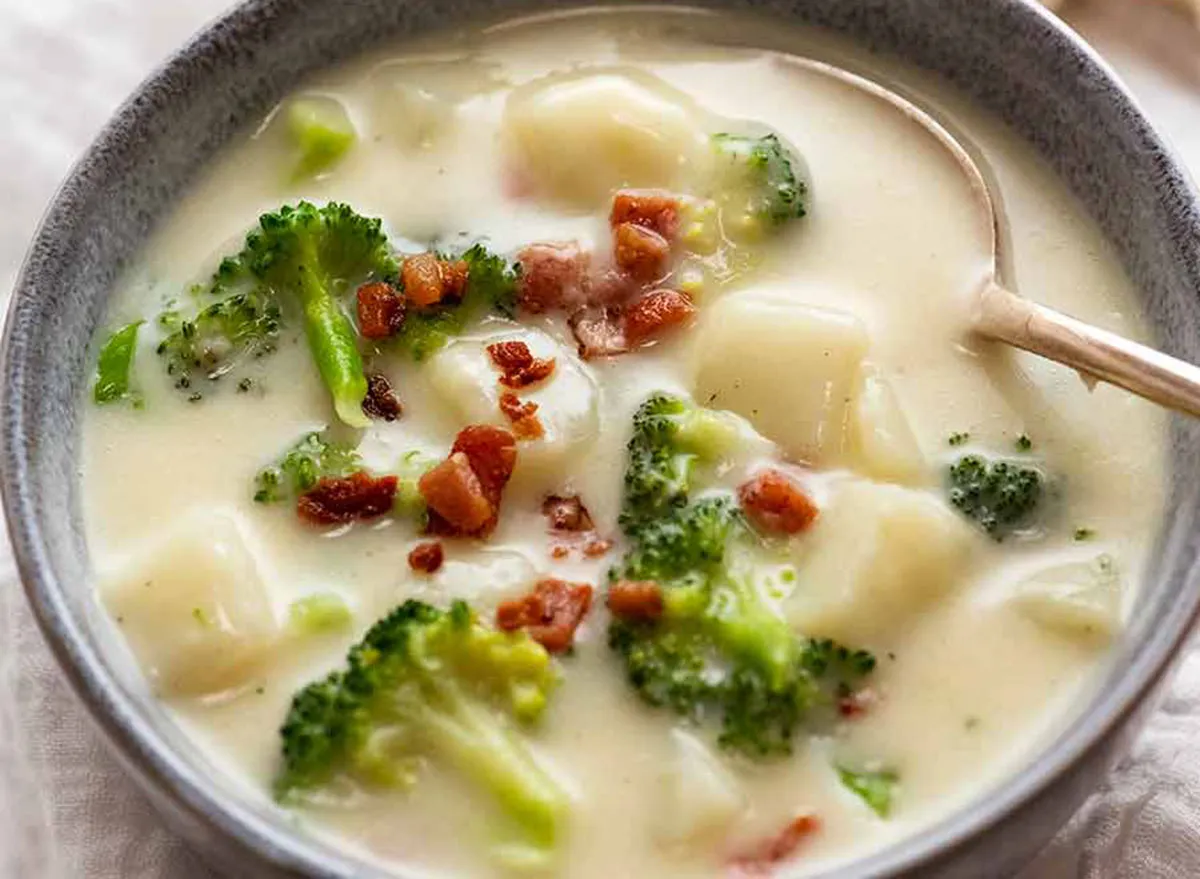 This broccoli and potato soup, which is made sans cream, is a lower calorie option to high-fat versions that grace grocery store shelves. If you want to give this hearty soup a protein boost, go ahead and add in roasted chicken, sauteed shrimp, or cubed beef.
Get the recipe from Recipe Tin Eats.
"Cheezy" Broccoli and Kale Soup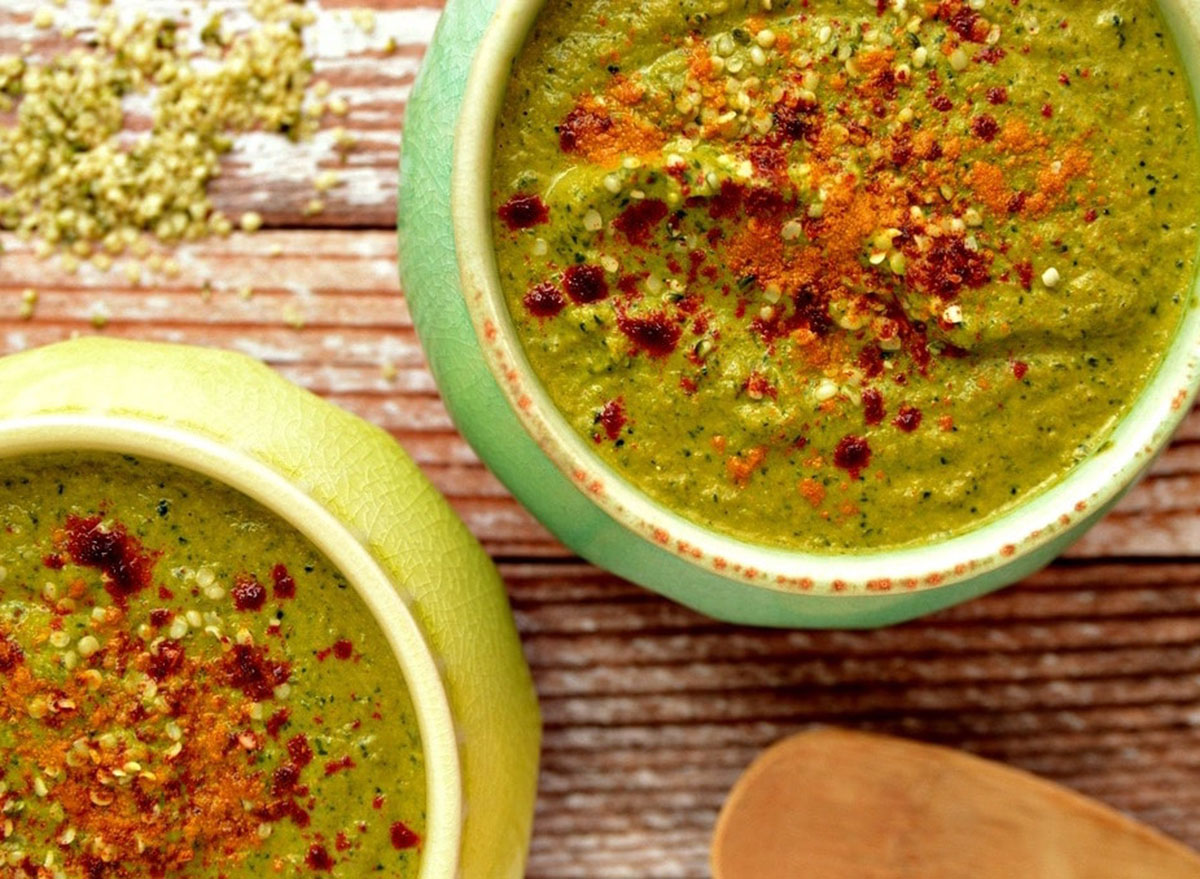 Nutritional yeast takes the place of cheese in this dairy-free soup that can be enjoyed any time of the year.
Get the recipe from Blissful Basil.
Keto Broccoli Cheese Soup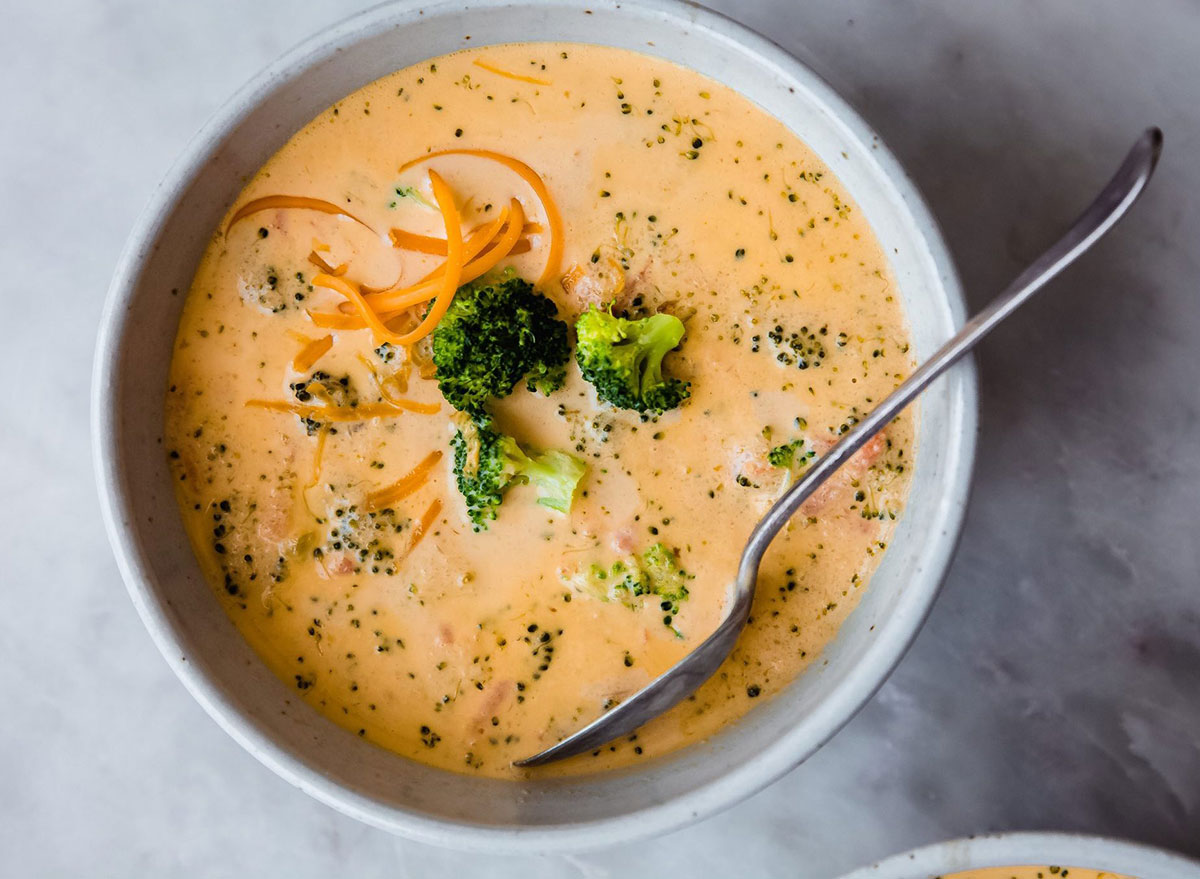 This low-carb, gluten-free broccoli soup is perfect for those who may be following a Keto diet. Made using shredded carrots, fresh broccoli florets, mild cheddar cheese, and a splash of heavy cream, this recipe needs just 10 minutes of prep time. It also comes with a handy piece of advice, which is, don't buy pre-shredded cheese. As it turns out, the starches usually found in packages of pre-shredded cheese can cause your soup to become grainy when added in.
Get the recipe from Little Spice Jar.
RELATED: 7 Warning Signs You Should Stop the Keto Diet Immediately6254a4d1642c605c54bf1cab17d50f1e
Dairy-Free Broccoli and Bean Soup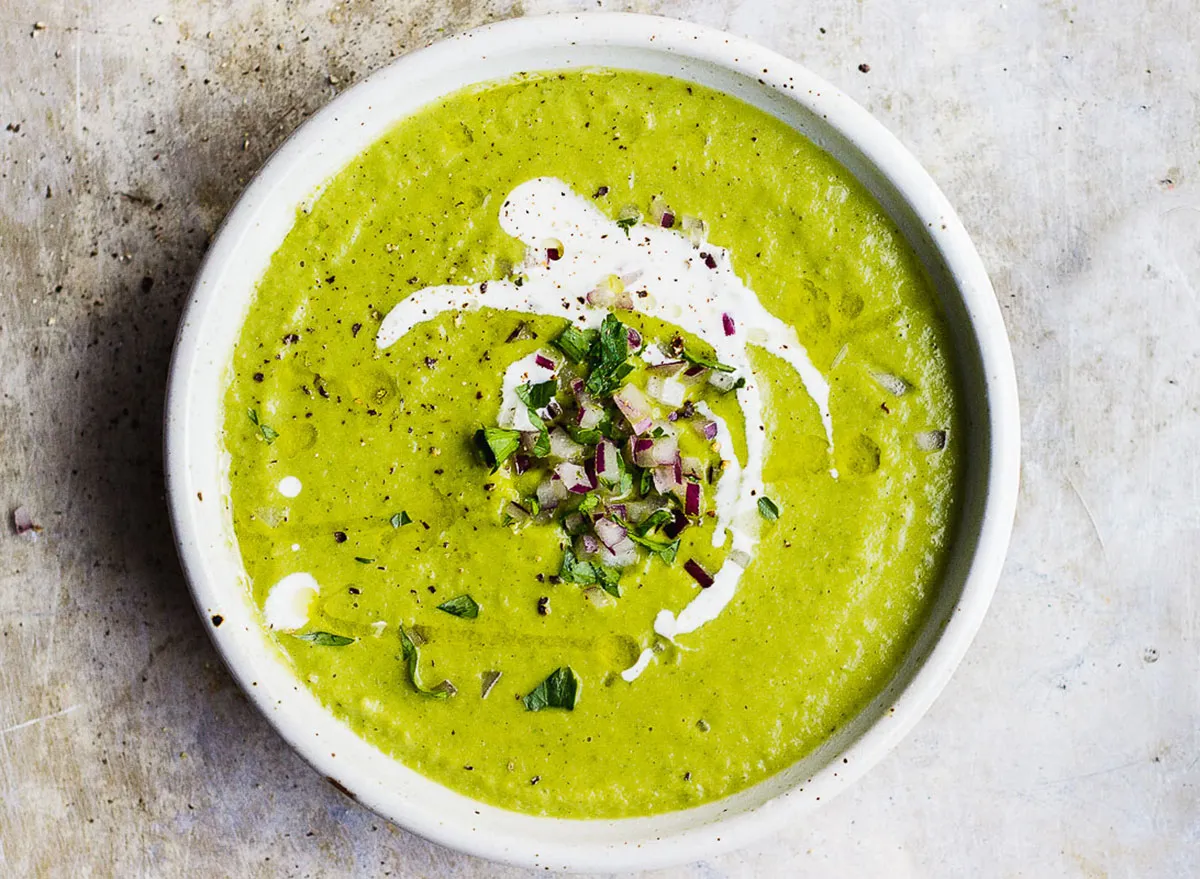 This filling broccoli and bean soup is all flavor, with zero dairy. Made using white beans, baby spinach, parsley, and a splash of dry white wine, this recipe takes just 25 minutes to make. Be sure to garnish with a dollop of plant-based yogurt and finely chopped red onion and chives for the full effect.
Get the recipe from With Food and Love.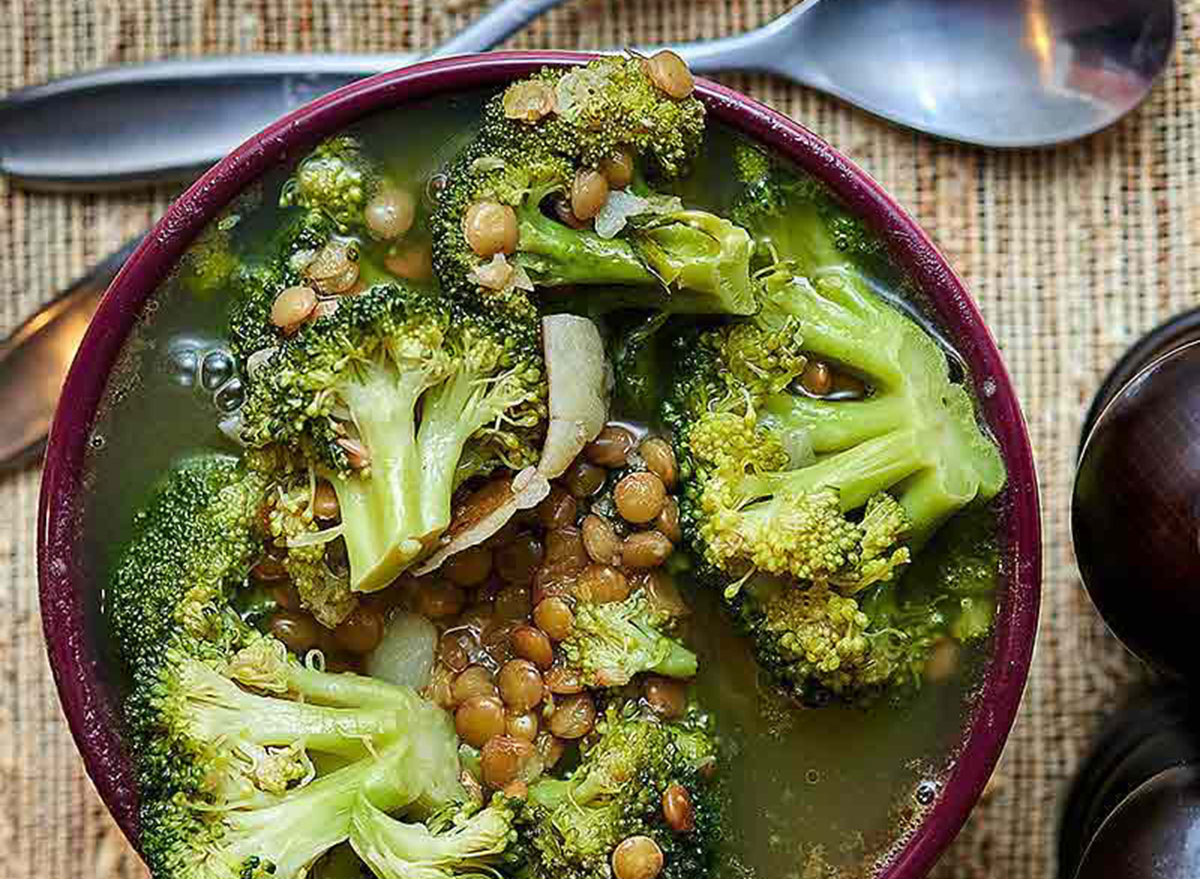 Lentil soup is a delicious option on its own. Combine it with broccoli, russet potatoes, and some soul-warming spices, and you have a soup that is seriously out of this world. One of the best parts is that it is a perfect make-ahead recipe—once cooked, it can be stored in the freezer for up to 12 months.
Get the recipe from Show Me The Yummy.
Miso Veggie Noodle Soup with Broccoli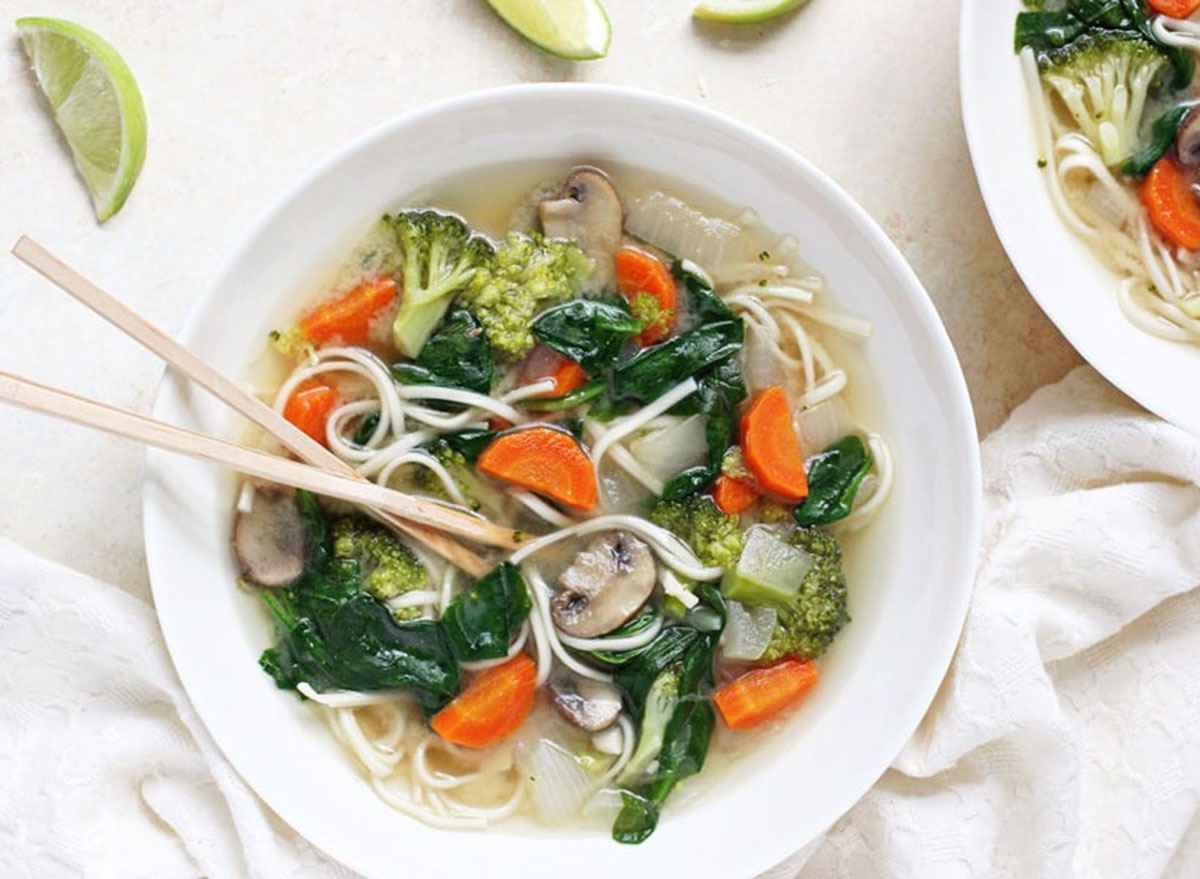 This miso veggie soup, which is packed with broccoli, carrots, mushrooms, and baby spinach, is only 230 calories per serving. Feel free to swap out the udon noodles if you are looking to eat fewer carbs.
Get the recipe from Oh My Veggies.
Creamy Lemon Broccoli Soup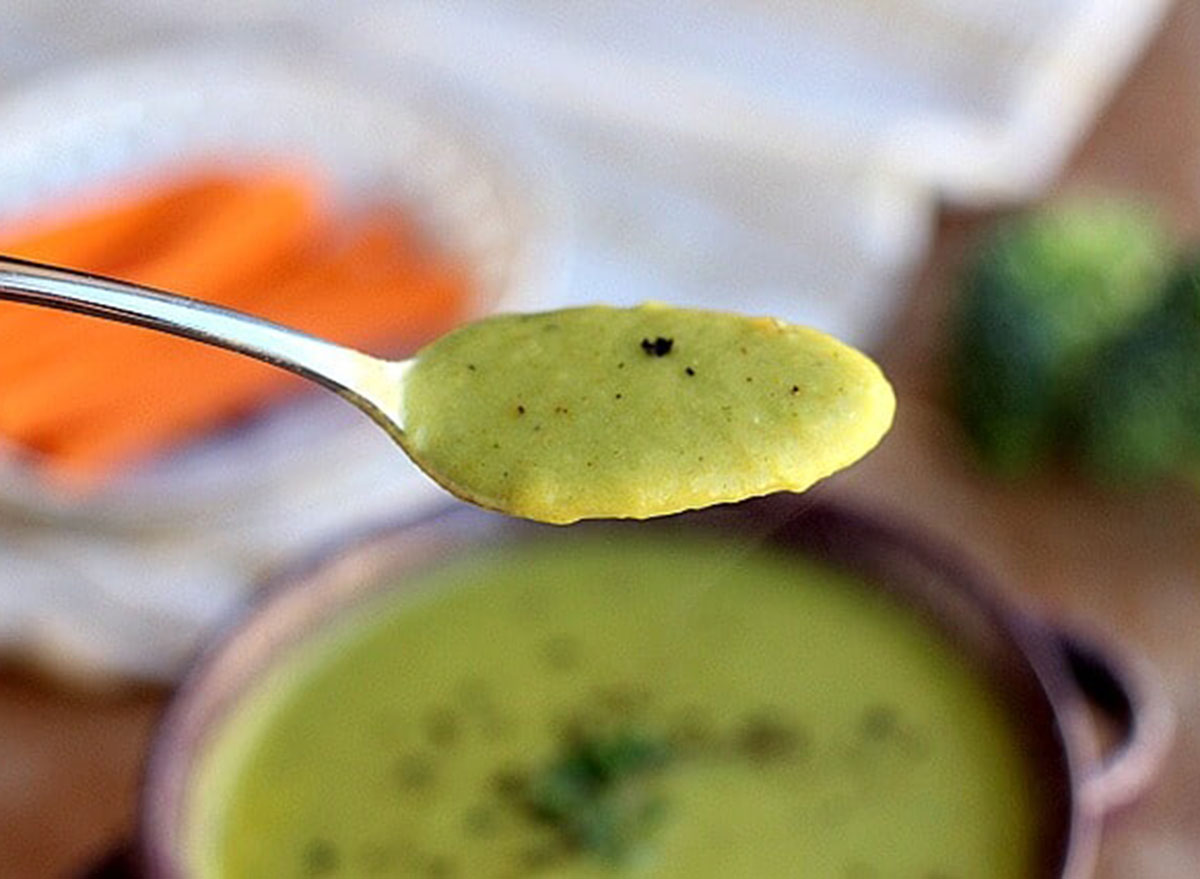 This vegan, paleo-friendly soup recipe, which features blended celery, carrots, lemon juice, and broccoli florets, comes in at just 62 calories per serving.
Get the recipe from Oatmeal with a Fork.
Spiced Creamy Vegan Broccoli Soup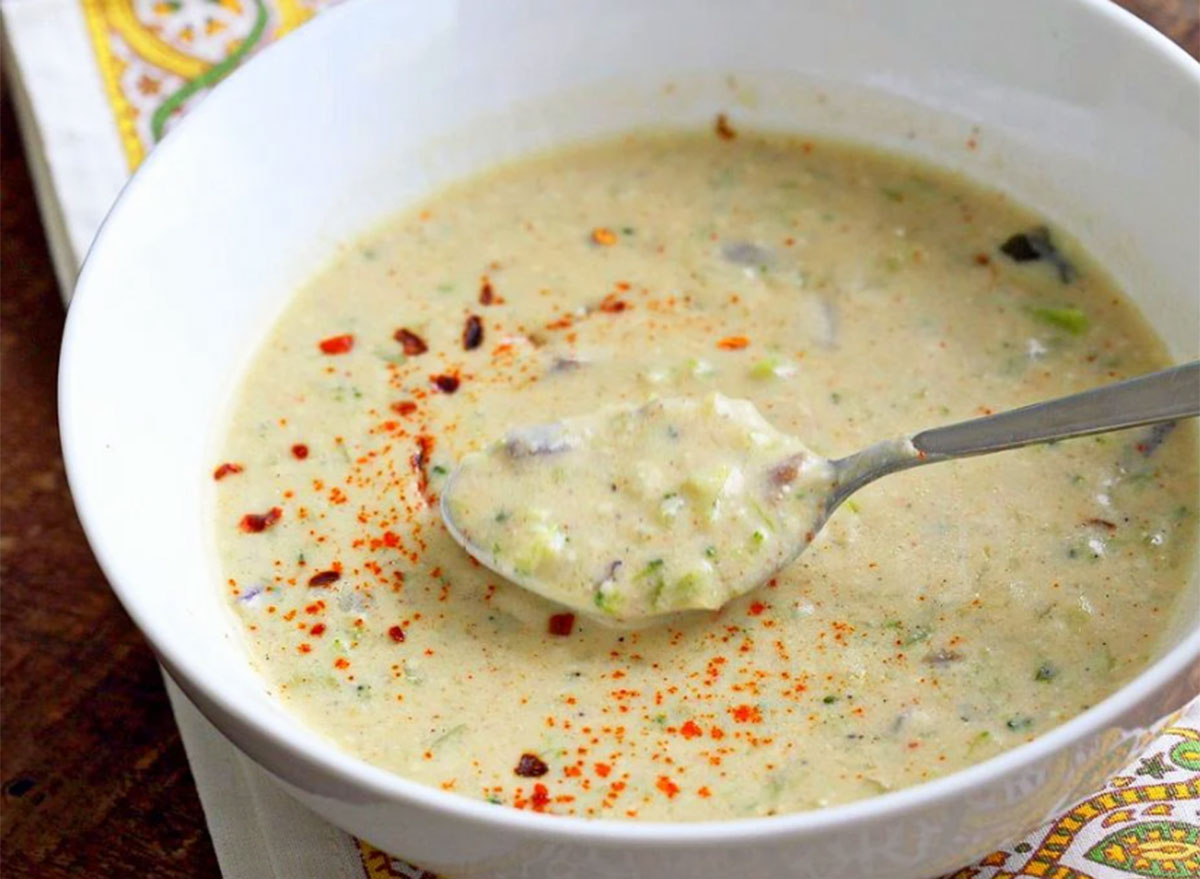 Ground cumin, coriander, and cayenne shine bright in this deliciously creamy broccoli soup recipe. We especially love that its base is made of blended cashews and non-dairy milk, making for a perfect vegan soup.
Get the recipe from Vegan Richa.
Sunflower seed and celery leaf dukkah, a Middle Eastern condiment made usually from nuts and seeds, brings this vegan soup to life. This easy-to-make recipe may just become your new go-to for fall cooking.
Get the recipe from With Food and Love.
Broccoli Parmesan Chicken Soup
This is not a drill—we may have just discovered your new favorite broccoli soup recipe. This Parmesan chicken rendition, which embraces hearty ingredients such as shredded rotisserie chicken, freshly grated Parmesan, and broccoli crowns, takes a typical vegetable and turns it into something extraordinary. Can you believe that each serving is under 300 calories?
Get the recipe from The View From Great Island.
Green Goddess is often associated with the popular salad dressing, but in this case, it is the name of a creative broccoli-based soup that is full of fresh green vegetables, such as baby spinach, collard greens, and kale.
Get the recipe from Gimme Some Oven.
Use an immersion blender to quickly make this nutrient-rich soup that takes just 40 minutes to put together from start to finish. At 166 calories and 8 grams of protein per serving, this light, yet satisfying, soup makes for a great lunch or dinner.
Get the recipe from Oh My Veggies.
This soothing broccoli and white bean soup, which takes just minutes to prep, is the perfect antidote for chilly winter nights. Enjoy alone or as a side to a homemade toasted sandwich or wrap.
Get the recipe from Potluck at Oh My Veggies.
Don't let your greens wilt in the fridge—instead, put them to good use in this broccoli spinach soup recipe. Made also with chopped celery, grated garlic, diced zucchini, and green beans, this easy-to-make soup takes under half an hour to put together.
Get the recipe from Gourmande in the Kitchen.
Get more cozy fall recipes:
25 Healthy and Delicious Sweet Potato Recipes for Fall
63 Tasty Fall Recipes That Make Weight Loss So Much Easier