40 Cool Food Brands to Buy in 2020
From oatgurt to fruit jerky, these are the food companies to know in the new year.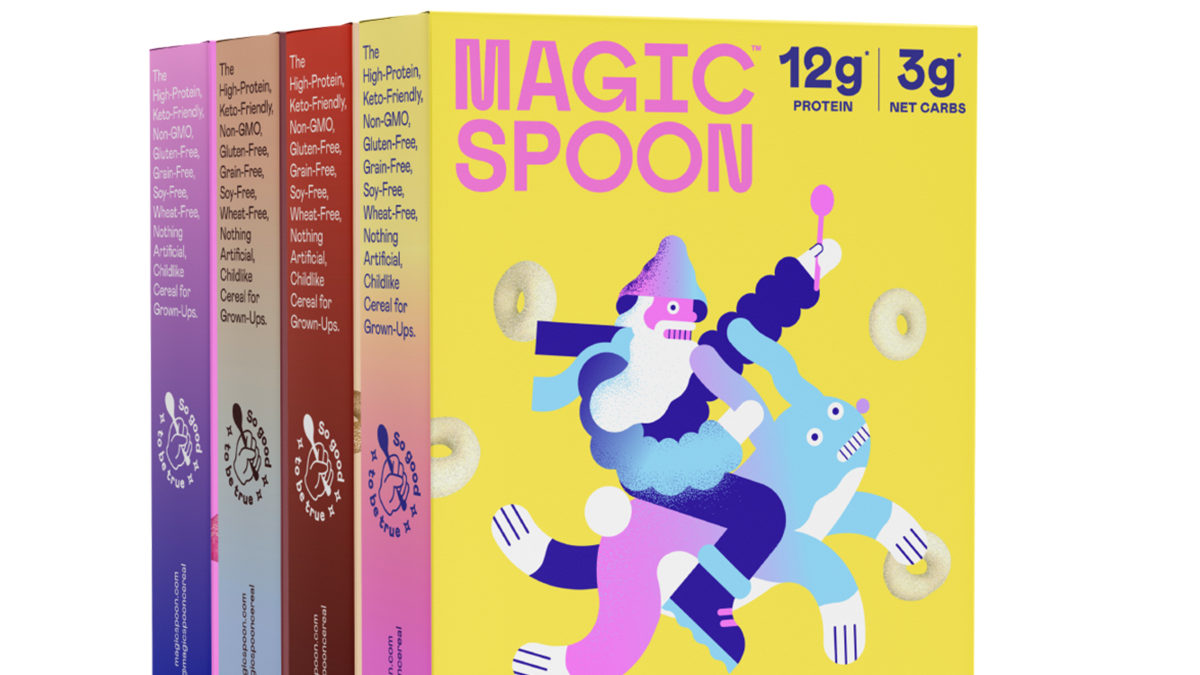 If there's anything to be thankful for this holiday season, it's that the world was introduced to a whole lot of tasty foods this year. As a New Year looms, you might be planning resolutions and mapping out what you hope 2020 has in store—things like health and happiness, for one. But what about setting a resolution to spice up your pantry and fill your fridge with new foods?
Read on to discover some of the best food brands to buy in 2020. From oatgurt to fruit jerky, we guarantee you don't want to deprive your taste buds of these innovative finds. And to take a look back at this year, see The Craziest Food Trends of 2019!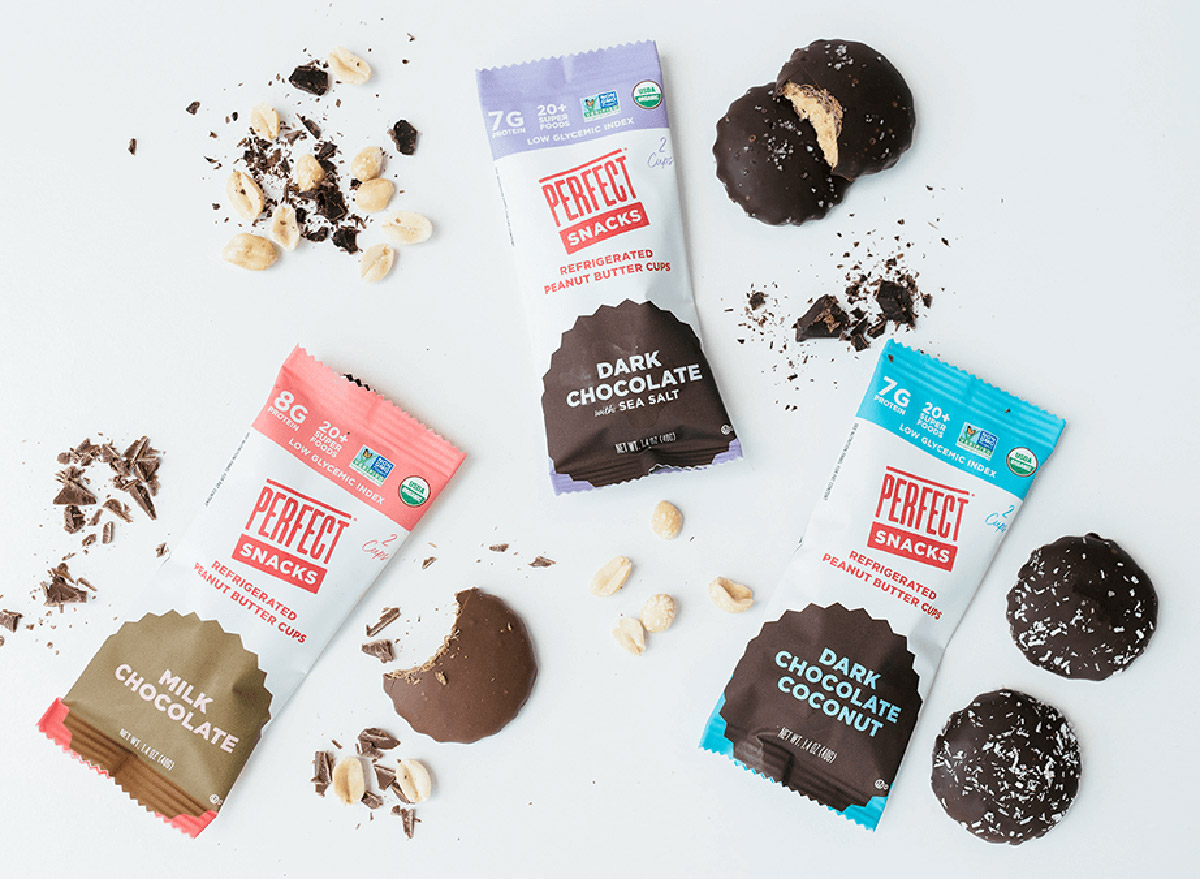 Perfect Snacks have changed the chocolate peanut butter cup game this year, and trust us when we say your 2020 after-dinner treat will be better because of it. In case you weren't already familiar with the brand, Perfect Snacks birthed Perfect Bars, aka whole food protein bars made with organic nut butters, honey, and other clean, better-for-you (amazing-for-your-taste-buds) ingredients.
Though we're still waiting for jars of Perfect Snacks nut butter (consider this our formal request, please and thank you), their line of Perfect Peanut Butter cups—available in dark chocolate coconut, dark chocolate sea salt, and milk chocolate—are nutritious, delicious, and essentially everything you could ever want from a dessert.
Need more snack inspiration? These are The 50 Best Healthy Snacks to Buy.
Once upon a time, there was Go-Gurt. Now, there's oatgurt. Yes, you read that right. Halsa Foods is new to the plant-based market, and we're happy to make their acquaintance. This 100 percent clean label company—whose name literally translates to "health" in Swedish—introduced consumers to oat milk yogurts in 2019.
Their product line features drinkable and scoopable yogurts derived from fermented oats and mixed with fresh fruit and pea protein. Each serving is packed with pro- and prebiotics to promote a healthy gut, free of added sugars, and loaded with flavor. And for some more traditional ways to enjoy oats, see 50 Creative Overnight Oats Recipes!
If you're a coffee snob but want to avoid dairy, you need Califia Farms' products in your life. The brand launched unsweetened oatmilk and an oat barista blend this year, so it's easier than ever to get a perfect oatmilk latte at home. The brand even makes canned oatmilk nitro lattes for the days you don't want to break out the frother.
Read more: This Is the Real Difference Between a Latte and a Cappuccino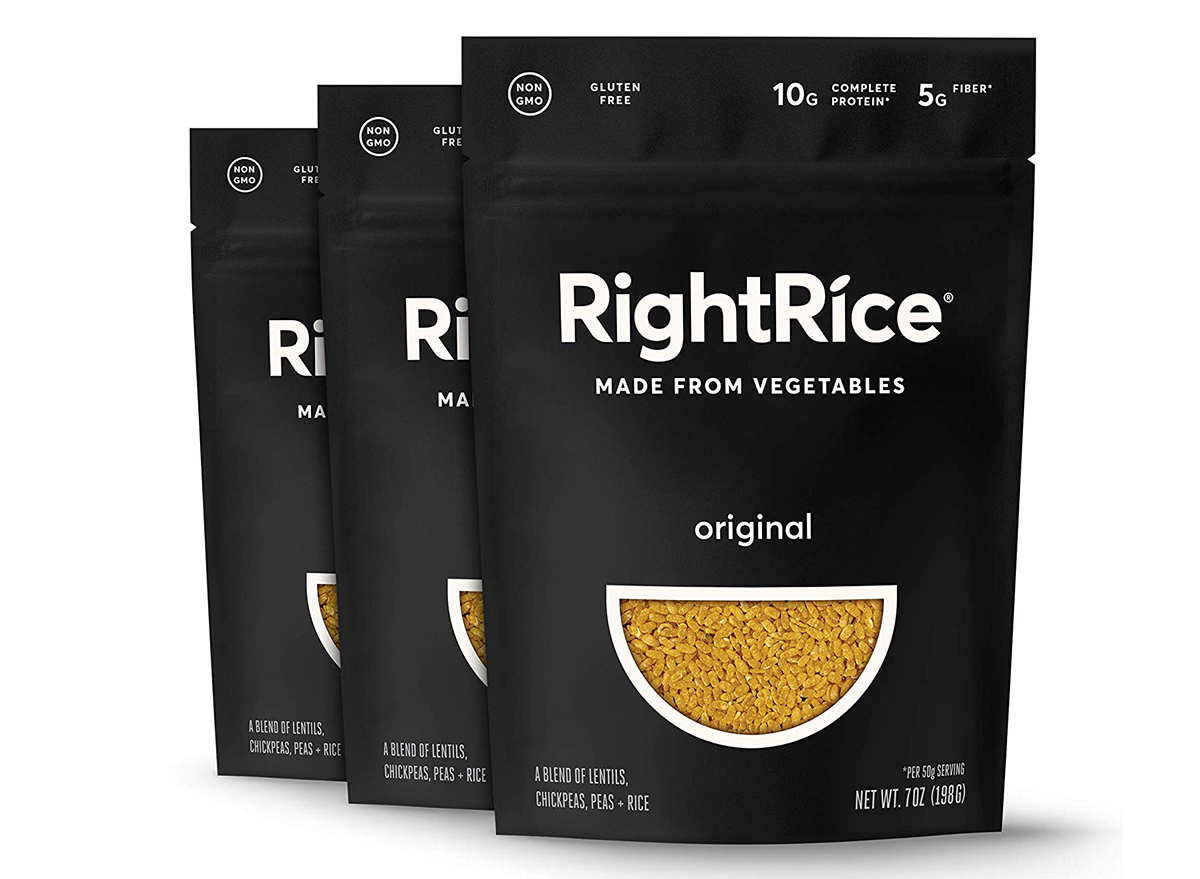 Meet RightRice, the grain that makes it possible to have your carbs and a serving of veggies, too. From the creator of popchips comes this brilliant new innovation: a line of nutritious grains that are high fiber, high protein, lower-carb, and packed with veggie fuel.
Ingredients include lentil flour, chickpea flour, and a variety of vegetable powders derived from different combinations of veggies that equate to six awesome flavors like lemon pepper, garlic herb, and cilantro lime.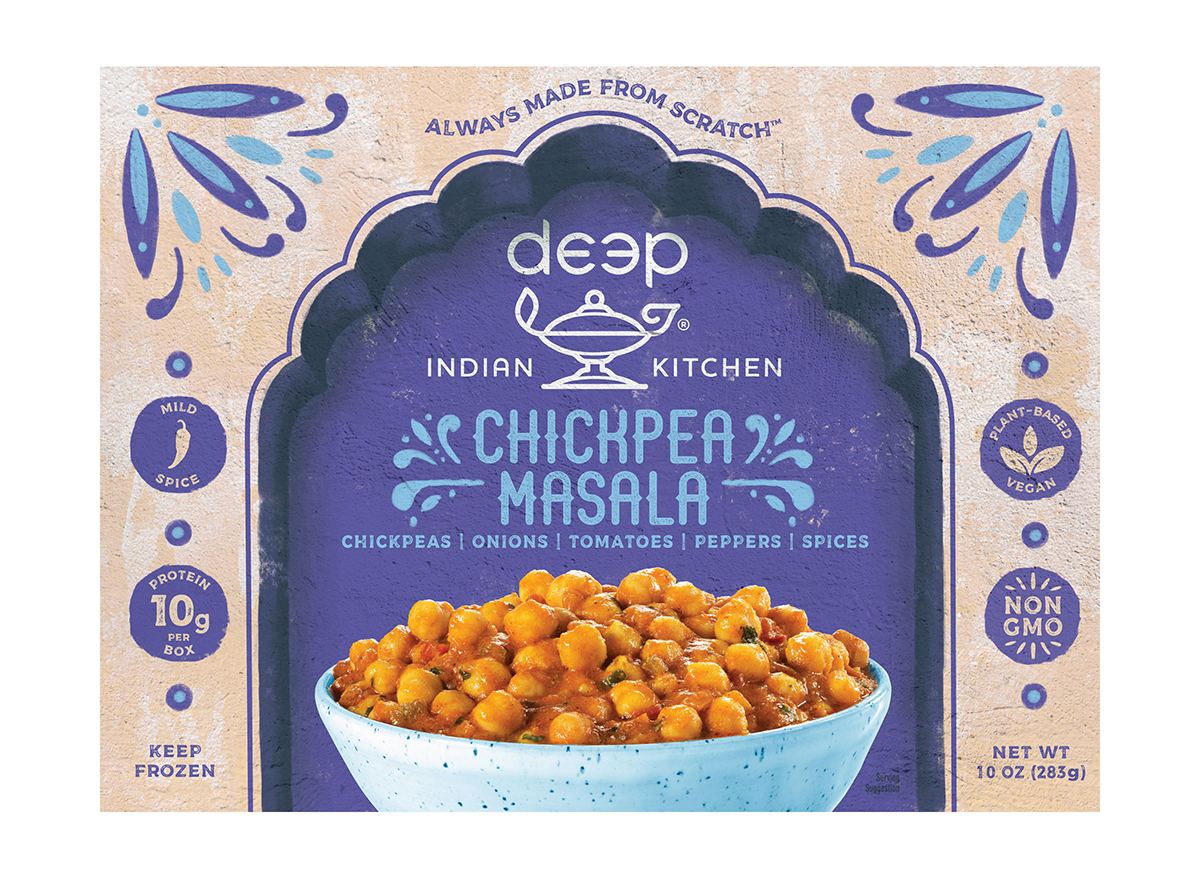 Authentic Indian takeout is hard to find, and that's where Deep Indian Kitchen comes in. Even if you aren't located in the NYC area to pop into one of their restaurants, Deep Indian Kitchen launched an assortment of frozen entrees, appetizers, bread, and street foods you can enjoy in the comfort of your own home.
From potato and pea samosas to chicken curry with turmeric rice and cilantro pesto naan pizza, you won't believe such authentic flavor could come from a frozen dinner.
And if you're looking for more comfort food, don't miss these 35 Snacks From Your Childhood That You Forgot You Loved.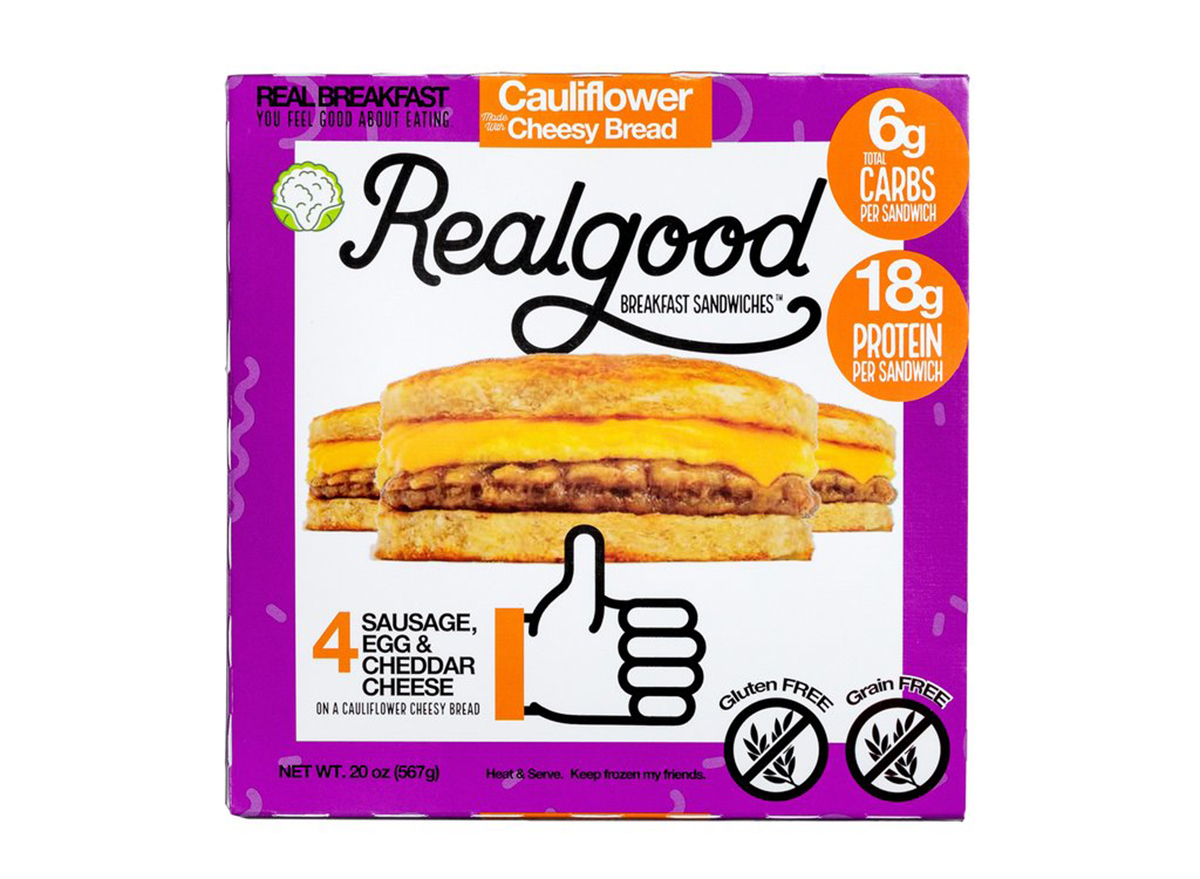 Real Good Foods lives up to its name. Made with whole food ingredients (i.e. chicken breast or cauliflower, rather than processed flours and starches), each product is loaded with protein and minimal carbs/sugars. Offerings include breakfast sandwiches (choose between bacon and egg or sausage and egg), stuffed chicken dishes, chicken poppers, enchiladas, cauliflower crust pizzas, and more.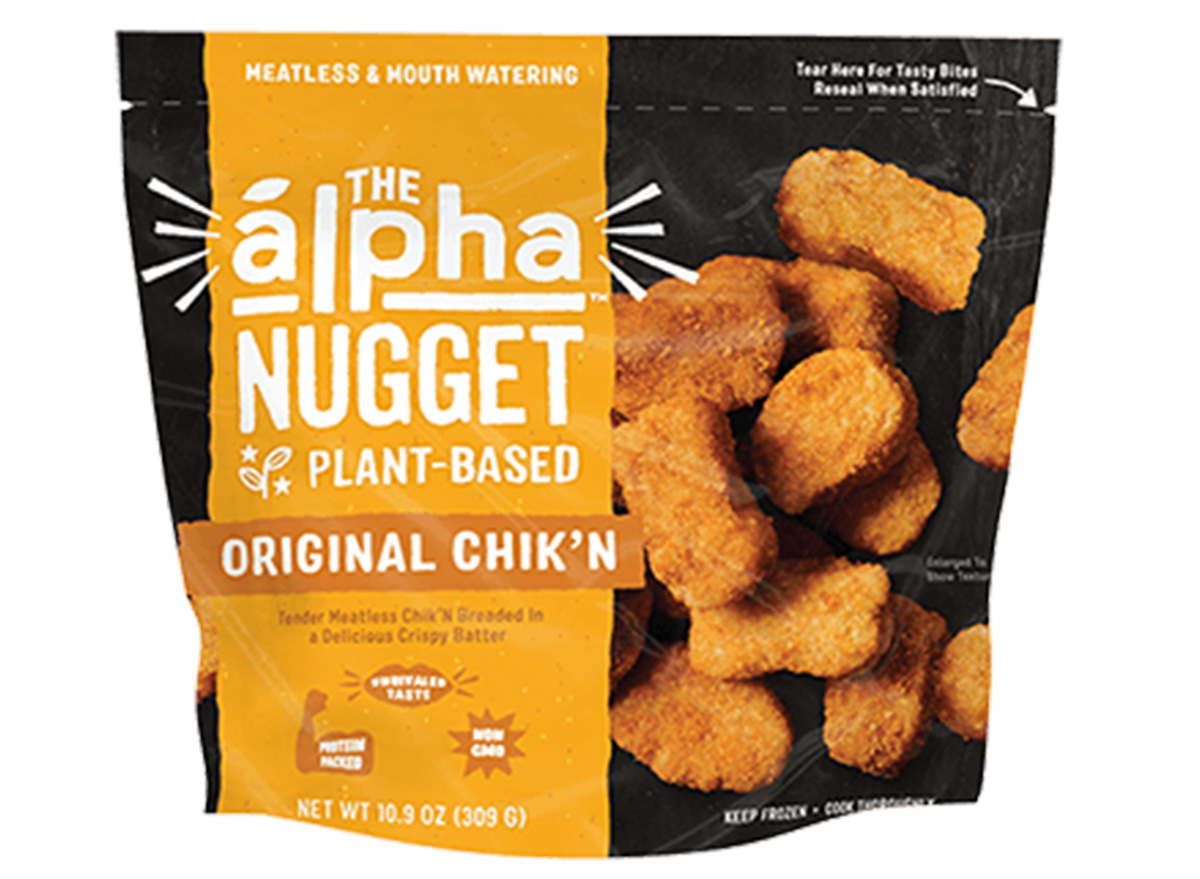 That plant-based lifestyle is becoming more mainstream, and if you're banking on 2020 being the year you start incorporating those meatless Monday rituals into the rest of your week, Alpha Foods can be of assistance. Choose from products like mouth-watering burritos, pot pies, chik'n nuggets, pizza, and more that are packed with protein and always 100 percent plant-based.
Confused about all the plant-based options? Don't miss this explainer: Impossible Burger vs. Beyond Burger: What's the Real Difference Between Them?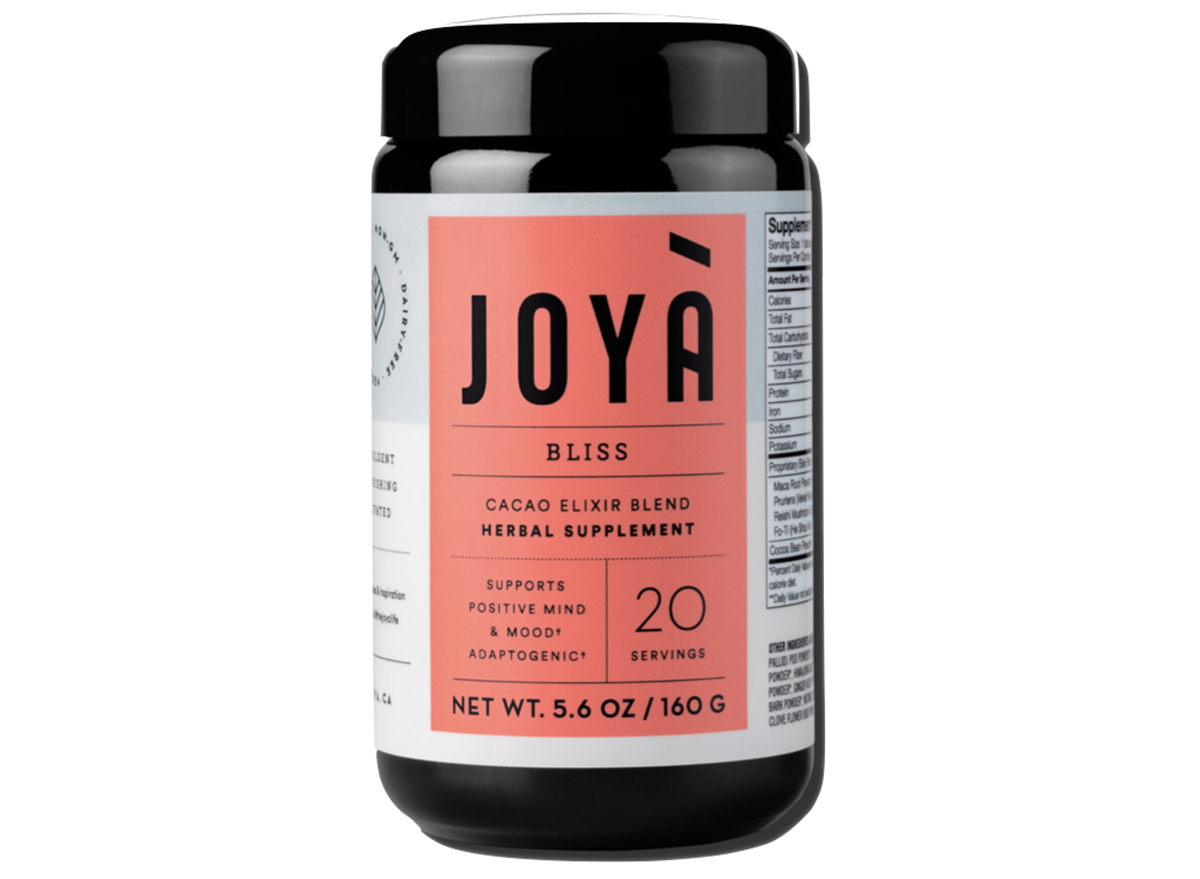 Adaptogens and ~magical~ elixirs are all the rage on social media, and while there are plenty of brands sprinkled throughout your feed, JOYA is definitely on our list of must-tries. A team of holistic nutritionists, chefs, and sustainability-obsessed personnel are the brains behind this line of functional superfoods.
Made with plant-based ingredients that are naturally nutrient-dense, the collection includes elixirs (cacao, matcha, and turmeric blends), herbal teas to boost your energy and immunity levels, and creamy, melt-in-your-mouth chocolate bars.
This pick is for the smoothie bowl enthusiasts who top their berry-packed breakfasts with all the fixings. You might recognize Crazy Richard's for their nut butters (their cashew butter is to die for), but this year the brand rolled out Wholly Rollies—frozen protein balls made with only five to six whole food ingredients—and they totally stole the show.
The collection includes three flavors: PB & Cacao, PB & Strawberry, and Cinnamon Oatmeal. Add them on top of smoothies, swirl them into a hot bowl of oats, or take them on-the-go as a snack.
And for more innovative snack ideas from 2019, don't miss The 20 Trendiest New Foods From All Your Favorite Brands.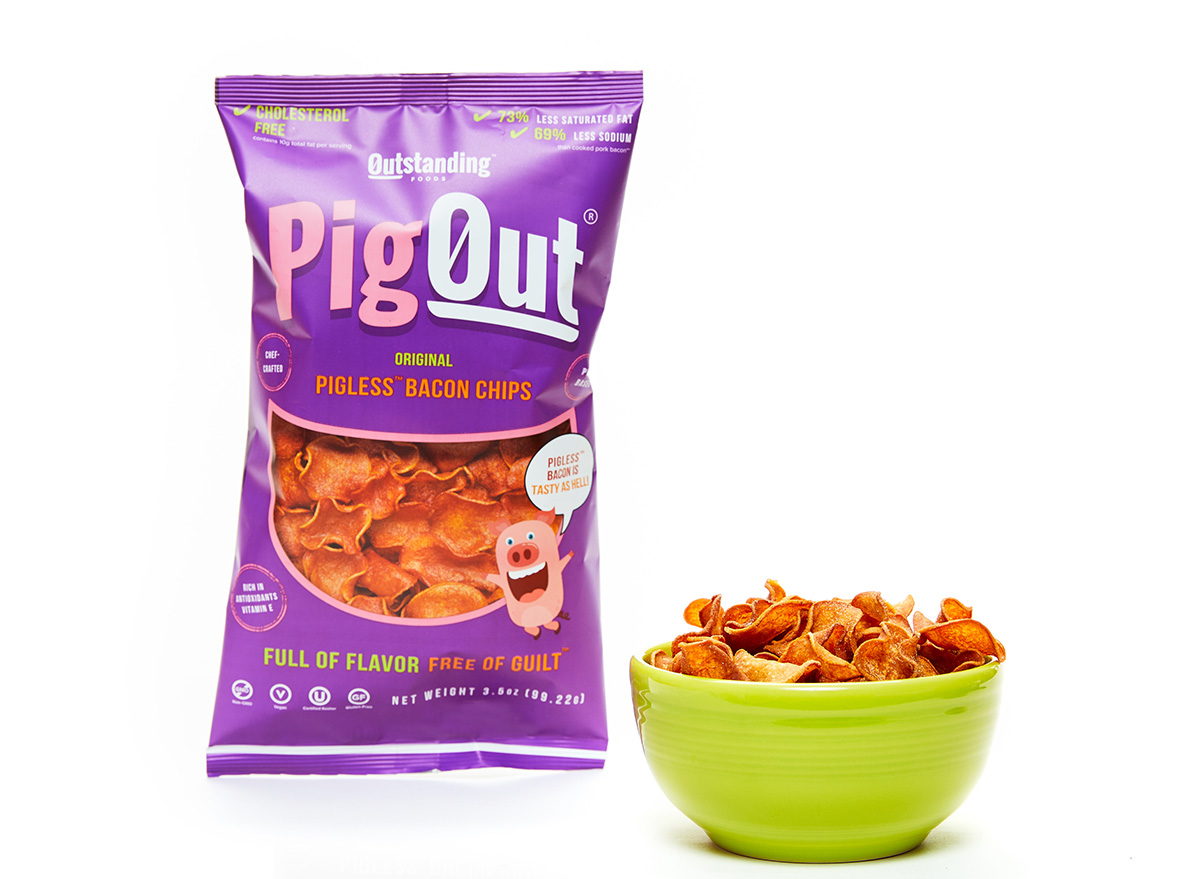 Have you ever wondered what mushrooms want to be when they grow up? PigOut Chips co-founders Bill Glaser and Chef Dave Anderson have some ideas. Now even plant-based eaters can enjoy the taste of bacon sans the actual pig.
These chips are "everything you love about bacon, and nothing you don't." They're made from mushroom slices that have been meticulously seasoned to give off that same smoky, authentic taste. We suggest eating them by the handful, or crumbling them over baked potatoes and chili.
We've established that dairy-free mylks are delicious, but have you tried dairy-free creamers yet? We're specifically referring to Elmhurst 1925's Hemp Creamers, which are the first of their kind on the domestic market. Crafted with six ingredients or less, including real hemp cream, the collection includes four flavors: original unsweetened, golden milk, French vanilla, and hazelnut (a personal favorite).
What's more, each formula is free of gums, emulsifiers, carrageenan, and oils, and is vegan, gluten-free, non-GMO, dairy-free, and OU kosher. In other words: It's a better-for-you alternative to other store-bought creamers, and it will take your morning coffee to the next level.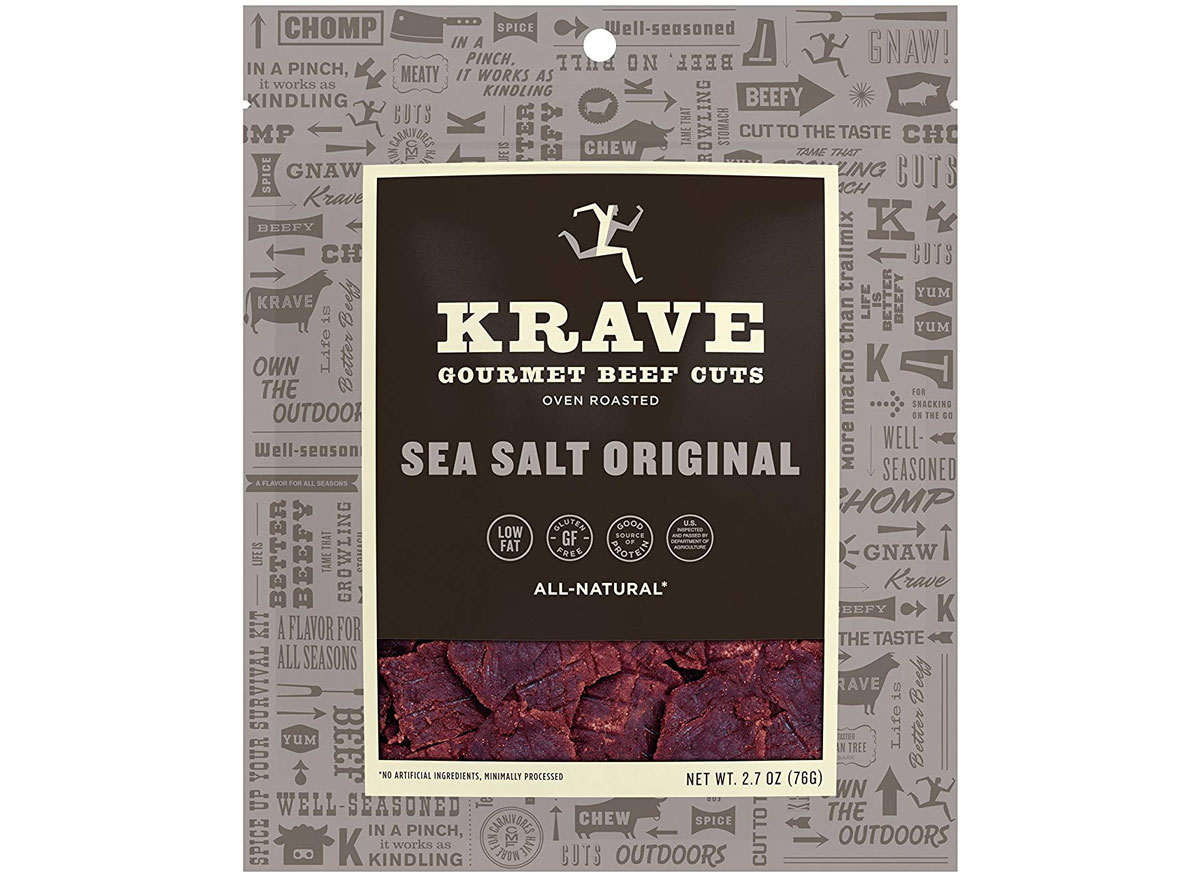 Jerky fans know Krave for its gourmet cuts, but you're going to want to familiarize yourself with its latest offerings: plant-based jerky and pork rinds, which will hit shelves early next year. Each serving of veg-friendly jerky is packed with protein from a combination of fava beans and peas.6254a4d1642c605c54bf1cab17d50f1e
They'll come in two flavors—smoked chipotle and Korean BBQ—and are great for flexitarians looking for a meatless alternative to the convenient snacking option. As for the pork rinds, they'll boast the same crunch you krave (see what we did there?) matched with bold flavors like chili lime and al pastor taco to contend with competitors already on the market.
Now here's a sneaky way to add veggies to virtually every meal of the day. Pulp Pantry's mission is to make the most out of vegetables, and that means finding creative, nutritiously delicious ways to use every part of these food items, including their pulp.
Founder Kaitlin Mogentale has been labeled a "Food Waste Warrior" for her efforts in sustainable nutrition, and her brand's debut snack food—pulp chips—won't disappoint. Flavors include BBQ, salt n' vinegar, and sea salt, and each bite contains more fiber than your average potato chip.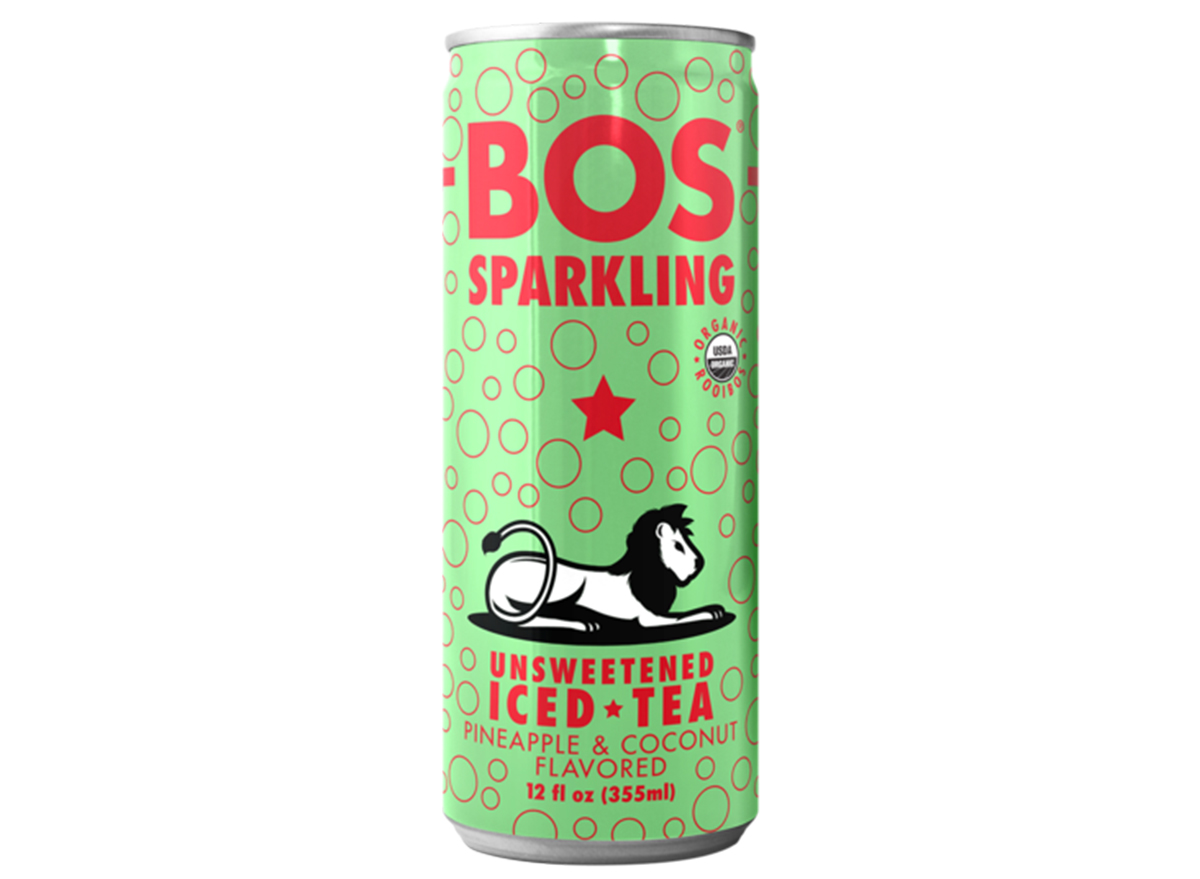 There are so many reasons to try BOS in 2020. If you like iced tea or are looking for a healthier alternative to soda than, say, flavored seltzer, then BOS will be your cup of tea (literally). From sparking to still iced teas, to their newest launch, Rooibos Red Tea bags, these drinks are packed with antioxidants and essential minerals like iron, calcium, potassium, copper, manganese, zinc, and magnesium.
They're also 100 percent caffeine-free but will still give you a boost of energy when necessary. Plus, rooibos contains natural anti-aging properties. So while they'll be the first to say they aren't promising eternal youth, you might get some anti-wrinkle benefits while you sip.
Read more: The Best Sparkling Waters That'll Help You Drink More H2O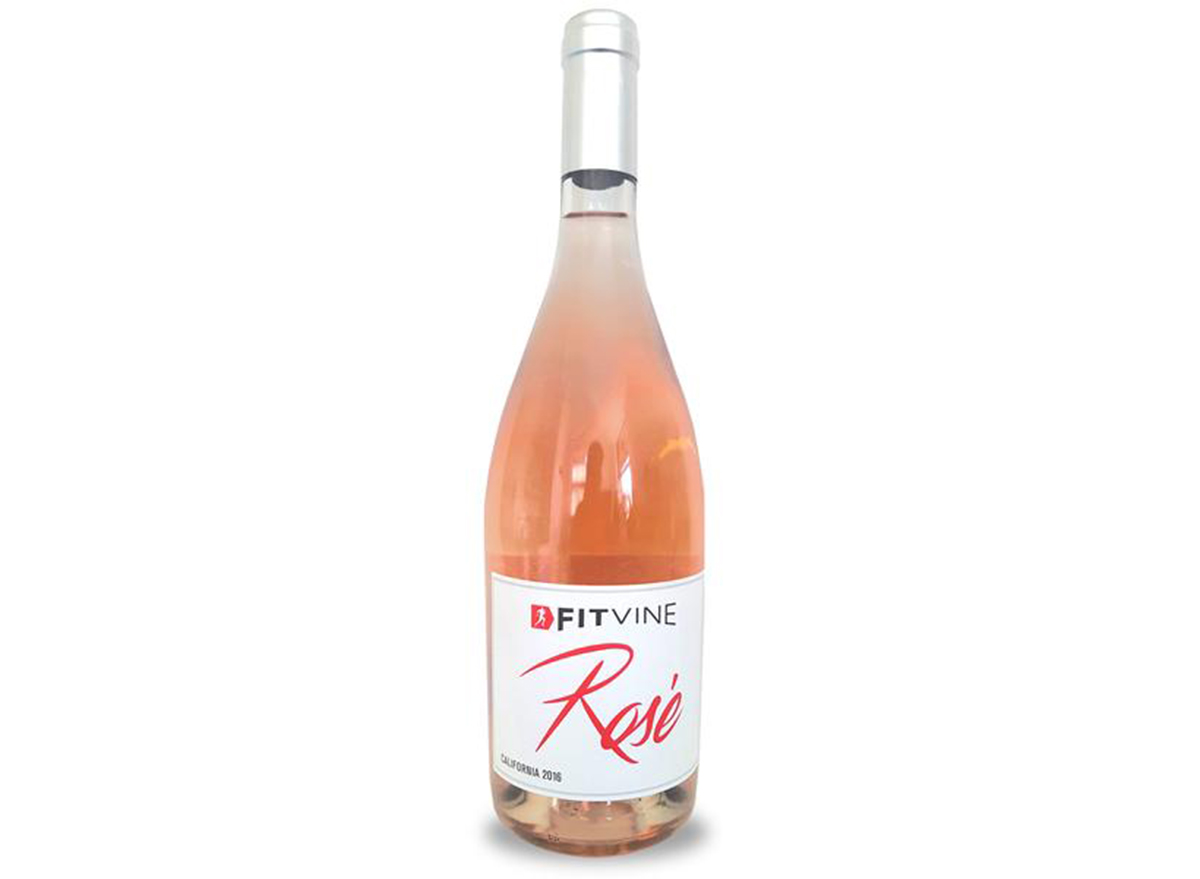 FitVine wines were crafted by winos, for winos, with the goal to create a product that lifts your spirits while simultaneously donning a clean label. From white wine to red wine, you can rest assured a glass will fit right in with your healthy lifestyle, with an impressive less than 0.09 grams of sugar per serving.
Shopping for wine this holiday season? Don't miss the 25 Best Wines You Can Buy at Costco.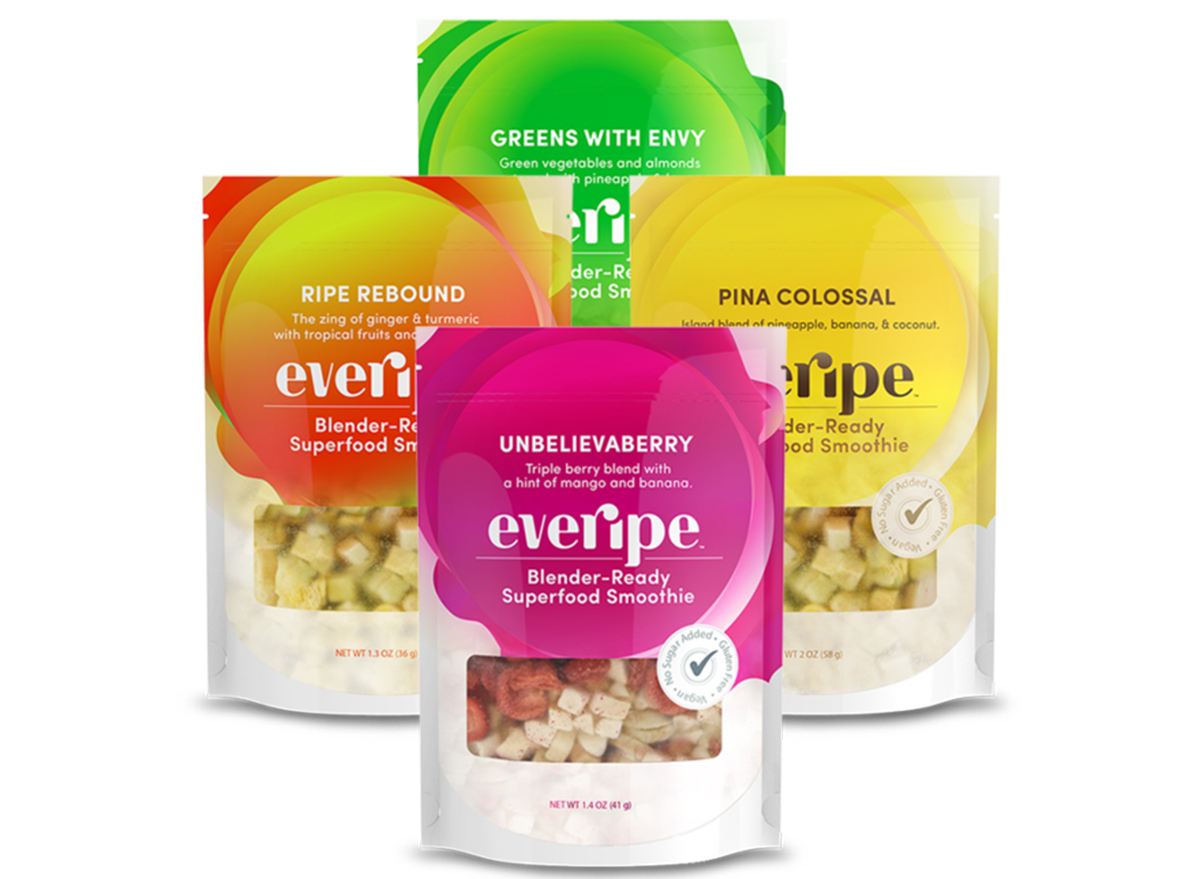 Now you can save time gathering ingredients for your morning smoothie thanks to EveRipe: pre-portioned, ready-to-blend packets that are nutritious, delicious, and always plant-based. Each single-serve smoothie is made from a compilation of freeze-dried fruits, veggies, nuts, seeds, and superfoods.
Freeze-drying fresh produce maintains more nutrients than traditionally freezing, too. And not only will your breakfast come fully loaded with the goods, but these bags are also so compact, they won't take over your pantry or freezer. Plus, see How Freeze-Dried Fruit Compares to Its Fresh Counterpart.
For anyone constantly scoping out farm-to-table options, Ark Foods is an excellent choice. The modern-day farming company offers an array of fresh, simple, highly flavorful foods, from shishito peppers to snacking squash.
The brand also launched ready-to-make veggie bowls in February. These microwavable meals are available in Veggie Spaghetti Bowl Marinara, Veggie Spaghetti Bowl Pesto, Cauli Mac-Cheddar, and Cauli Mac-Jalapeno, and they come with sauce packets and cut-up vegetables that are never frozen.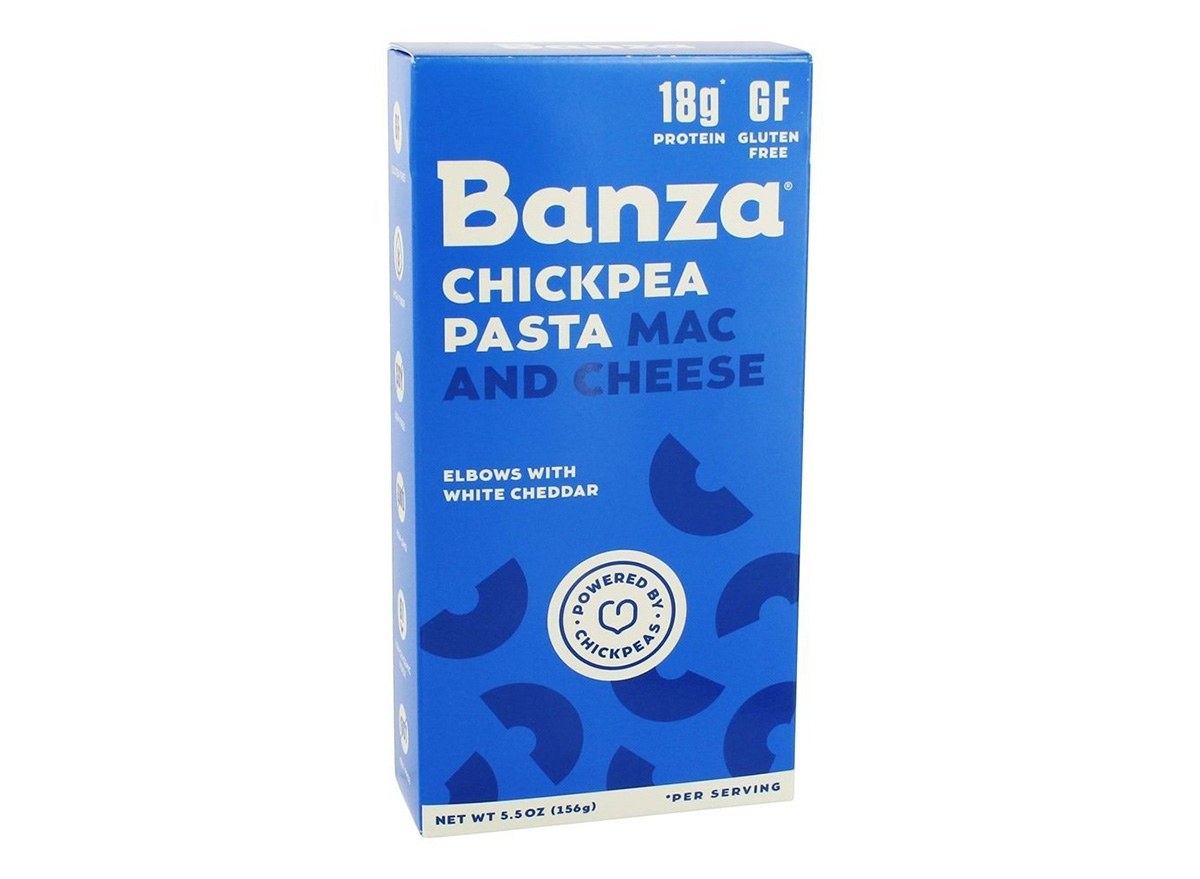 Whether you're plant-based, gluten-free, or just looking to add a little extra protein to your meals, Banza has you covered. Banza pasta is made from 90 percent chickpeas, and it's gluten-free, too. Its products range from a variety of pasta shapes (think penne, wheels, linguini, and angel hair) to mac and cheese and rice.
In November, the brand added chickpea lasagna to its offerings, too. And the best part is, these noodles are no-boil, so you can easily throw them in the oven without extra prep.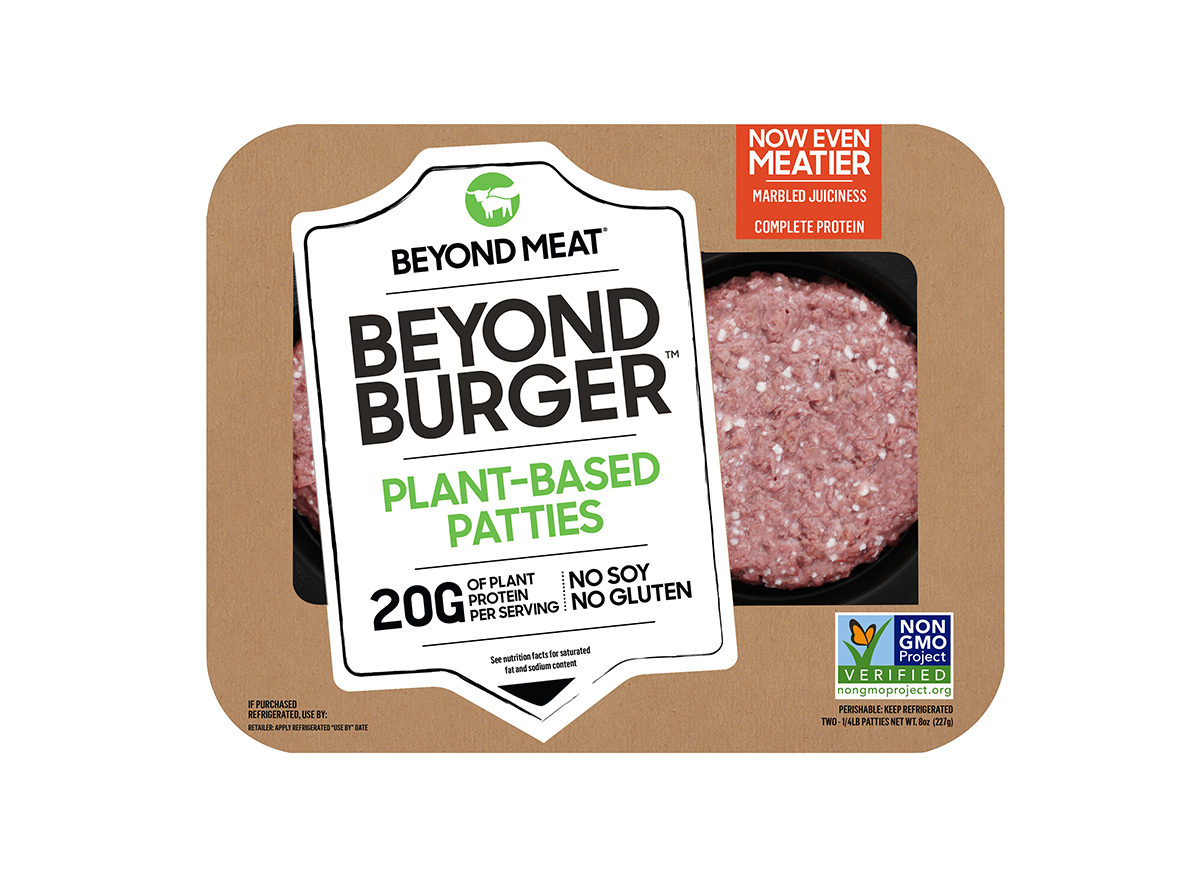 Beyond Meat is a force to be reckoned with in the plant protein category. It's popped up in grocery stores, restaurants, and even fast-food stops like Dunkin.
First, there was the Beyond Burger, but the brand has expanded its menu to plant-based sausages, beef, and beef crumbles (which are excellent for Taco Tuesday, in our opinion). Then, 2019 also brought us The New, Meatier Beyond Burger that tastes even closer to animal beef than ever before, made from a blend of pea, mung bean, and rice proteins to provide 20 grams of plant-based protein per four-ounce patty. Following a plant-based diet? These Are All the Fast-Food Restaurants You Can Still Enjoy.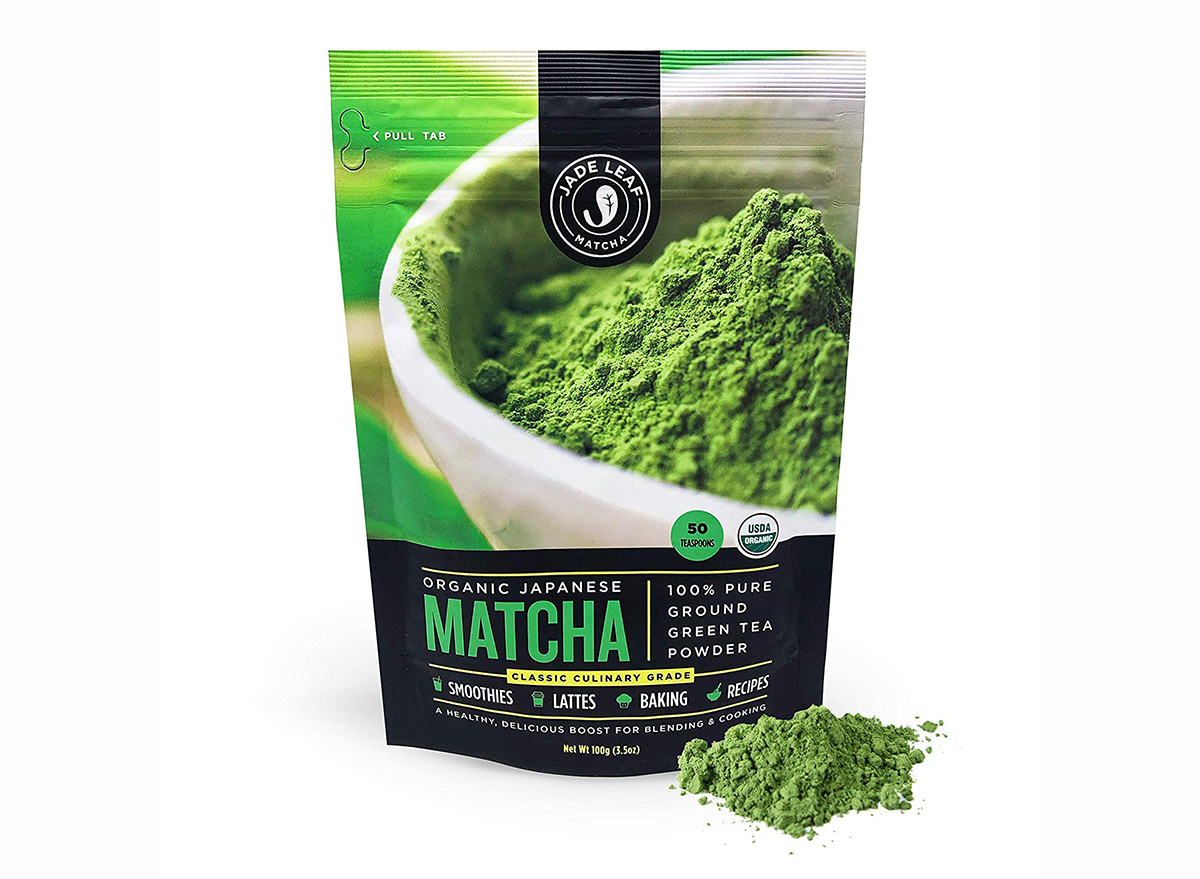 The newest way to enjoy matcha? In bite-sized pieces. Yes, Jade Leaf Matcha manufactures matcha powder, but its newest innovation, Matcha Fruit Bites, is what's going to sell you on this brand heading into the new year.
Consider these antioxidant-rich gems the grown-up version of a fruit snack: They're made with real fruit and Japanese matcha, and they yield one full serving of fruit in each pack. Plus, they offer a sustainable caffeine kick (sans the jitters) that's comparable to one cup of green tea. Available in three flavors—apple ginger, lemon, and peach mango—they're a perfect addition to your lunch bag as an afternoon pick-me-up.
And if you suffer from food sensitivities, don't miss these 15 Allergy-Free Snacks to Put On Your Radar.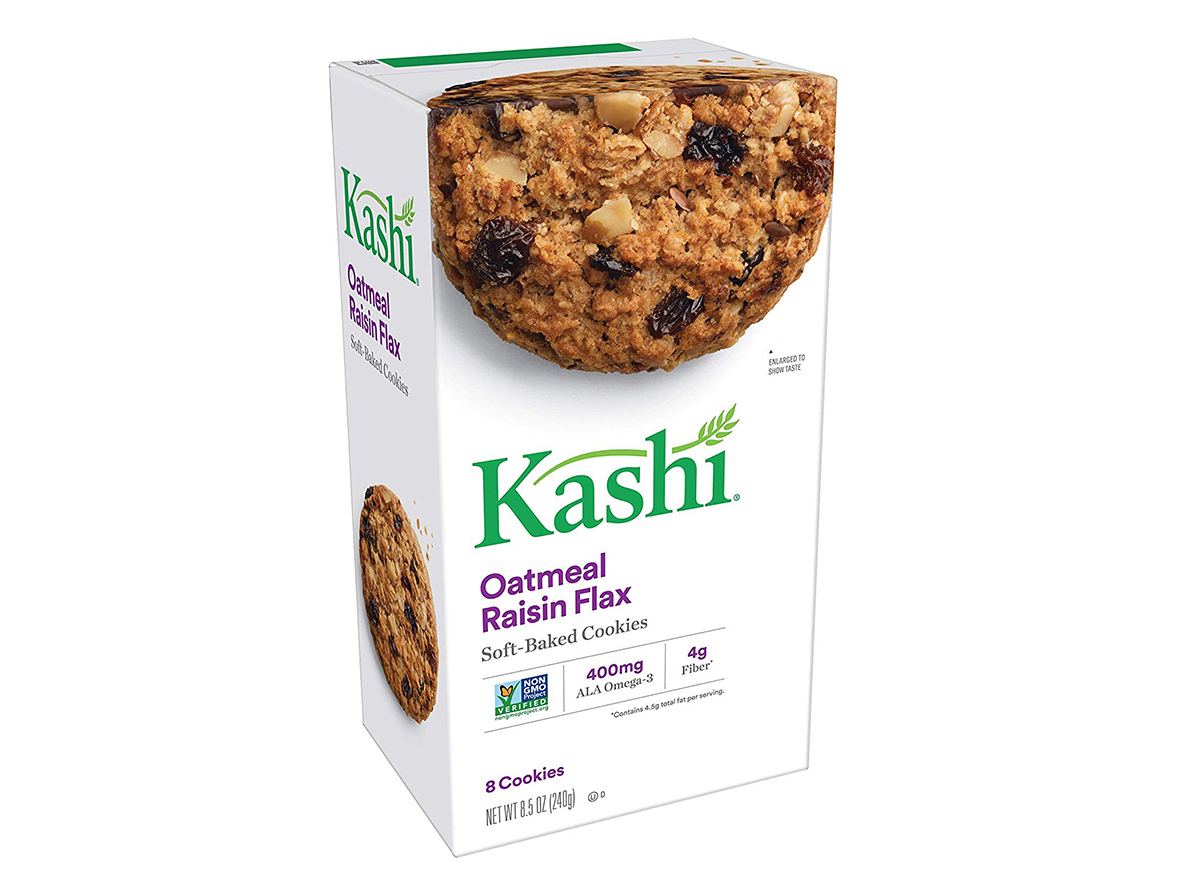 Kashi is best known for its whole-grain cereals and snack bars sourced from regular farming practices and packed with plant-based fuel. And 2019 was a busy year for the brand. It introduced not one but two brand-new product lines under its redesigned GOLEAN line, which is now Kashi GO.
ln May, Kashi GO cereal was the first plant-based protein cereal to hit cereal aisles. Available in Maple Brown Sugar Flakes & Clusters, the mix is loaded with plant-based proteins from pumpkin seeds, lentils, peas, and quinoa to deliver 10 grams of protein per serving, and it comes lightly sweetened with maple and a hint of brown sugar and cinnamon.
Kashi GO plant-based bars were also introduced to shelves this year, offering 12 grams of protein and only six grams of sugar per serving. Available in Dark Chocolate + Almonds + Sea Salt, Peanuts + Peanut Butter, and Dark Chocolate + Peanut Butter, the bars are soft and flavorful, and they utilize nut butters as their first ingredient. And speaking of PB, see 24 Things That Happen to Your Body When You Eat Peanut Butter.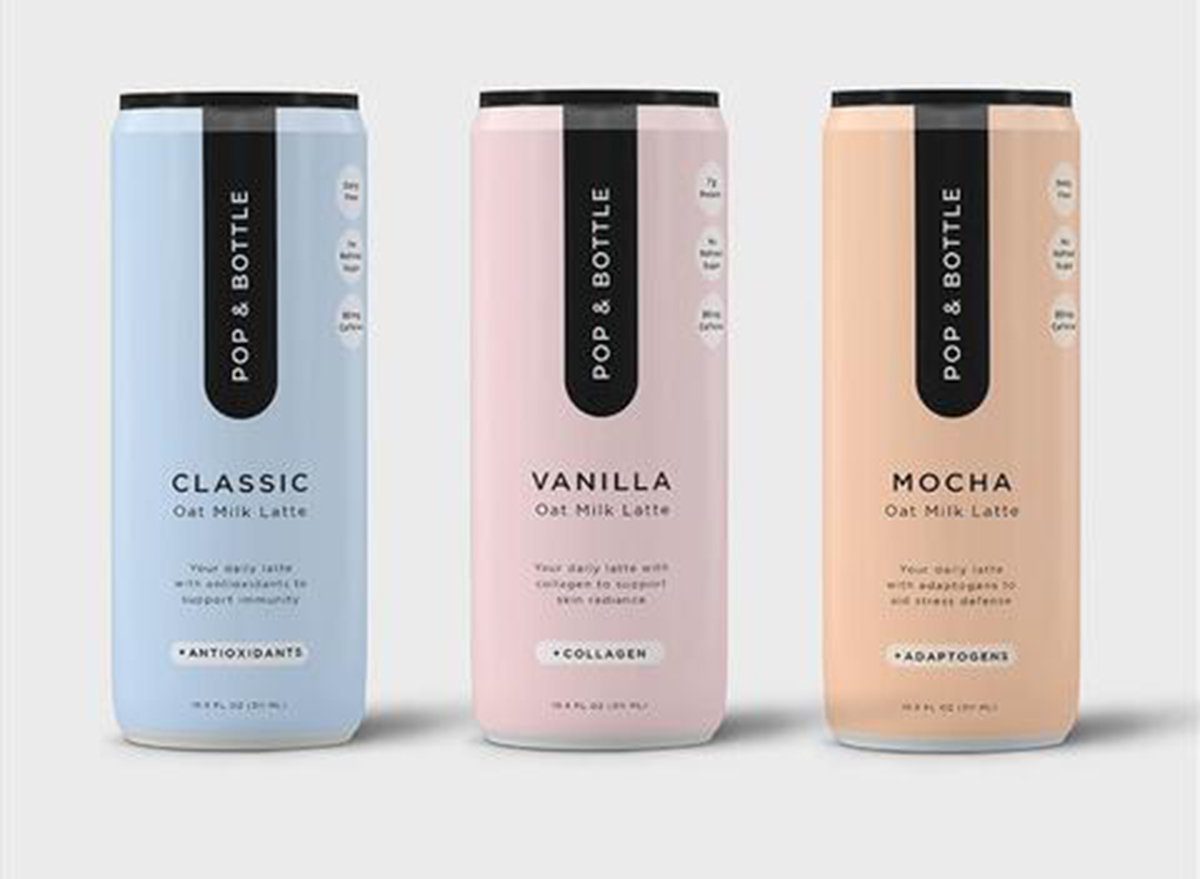 Aside from its Instagram-worthy packaging, Pop & Bottle is a brand to covet in 2020 because its plant milk products are top-shelf.
It all started with almond milk lattes: classic cold brew, vanilla cold brew, mocha cold brew, golden turmeric cold brew, cacao cold brew, and matcha green tea. Then the brand introduced The Supers in October 2019, and oat milk lattes took the spotlight. Available in three flavors—classic with antioxidants, vanilla with collagen peptides, and mocha with adaptogens—Pop & Bottle's oat milk products are crafted with wellness in mind.
Tessemae's was founded by a mother of three athletic boys who needed to find a way to make veggies more appetizing. The solution was found in none other than Tesse's own all-natural dressing and sauce recipes, which just so happen to be keto-friendly and all-natural.
In September, the brand launched six new additions to its offerings: Unsweetened Ketchup, Organic Habanero Mayo, Organic Ranch Mayo, Organic Chocolate BBQ Sauce, Organic Honey BBQ Sauce, and Organic Diggy's Sweet & Spicy BBQ Sauce.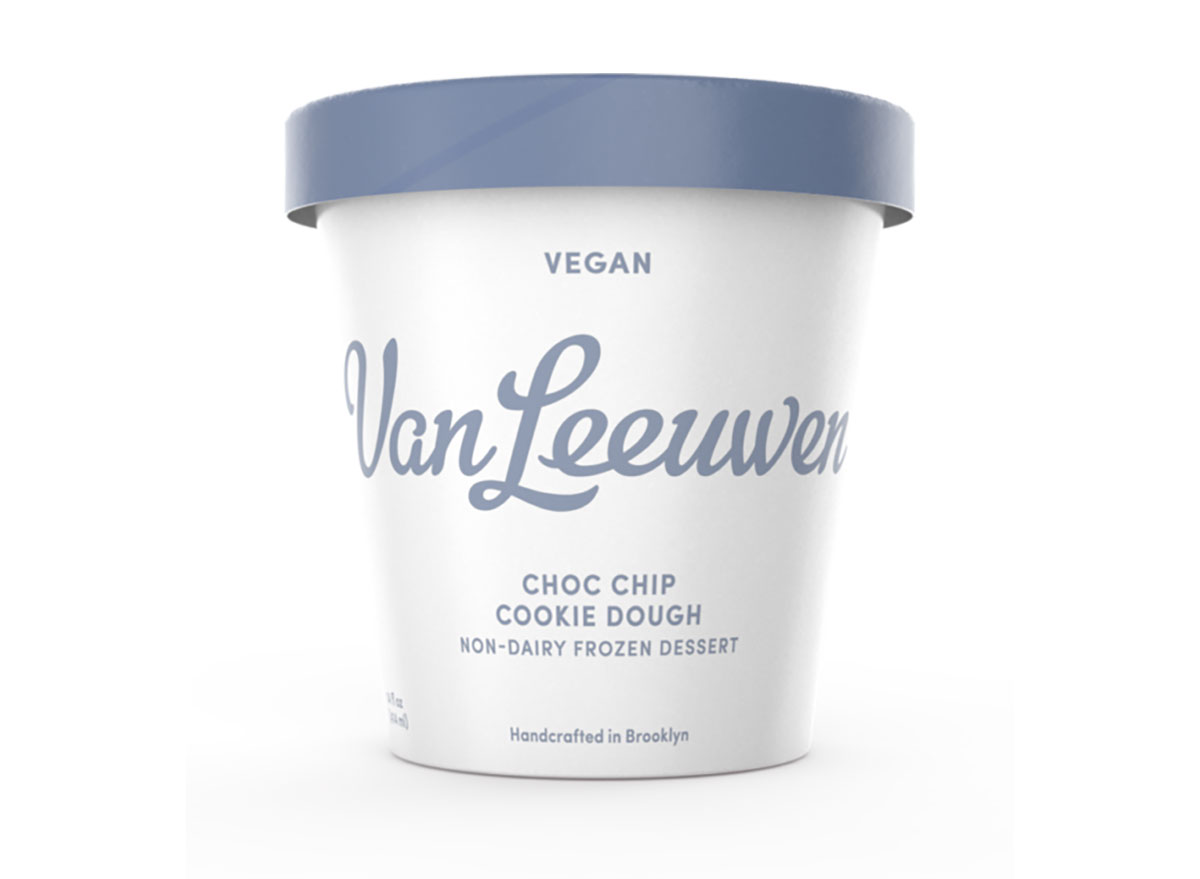 If you think oat milk lattes are a hit, you definitely need to try Van Leeuwen's oat milk-based pints in the new year. That's right: Ice cream is hopping on the oat-milk train. And you don't want to miss out on this artisan brand's new flavors like Honeycomb, Salted Caramel, and Peanut Butter Chocolate Chip, which are also vegan-friendly.
TRUWOMEN are protein bars designed by women and for women looking for a snack that can power them through the day. Each bar is plant-based, made with real ingredients, and free of dairy, soy, gluten, and GMOs. They also contain 12 grams of protein, are vegan-friendly, and come in mouth-watering, super satisfying flavors.
The brand's 2019 launches include Whole Lotta Macchiato and Whipped for Key Lime Pie, but you can also choose from indulgent bites like Oh Oh Cookie Dough, Smother Fudger Peanut Butter, and more.
Wondering what everyone else is eating in the snack food section? These Are the 25 Most Popular Snack Foods in America.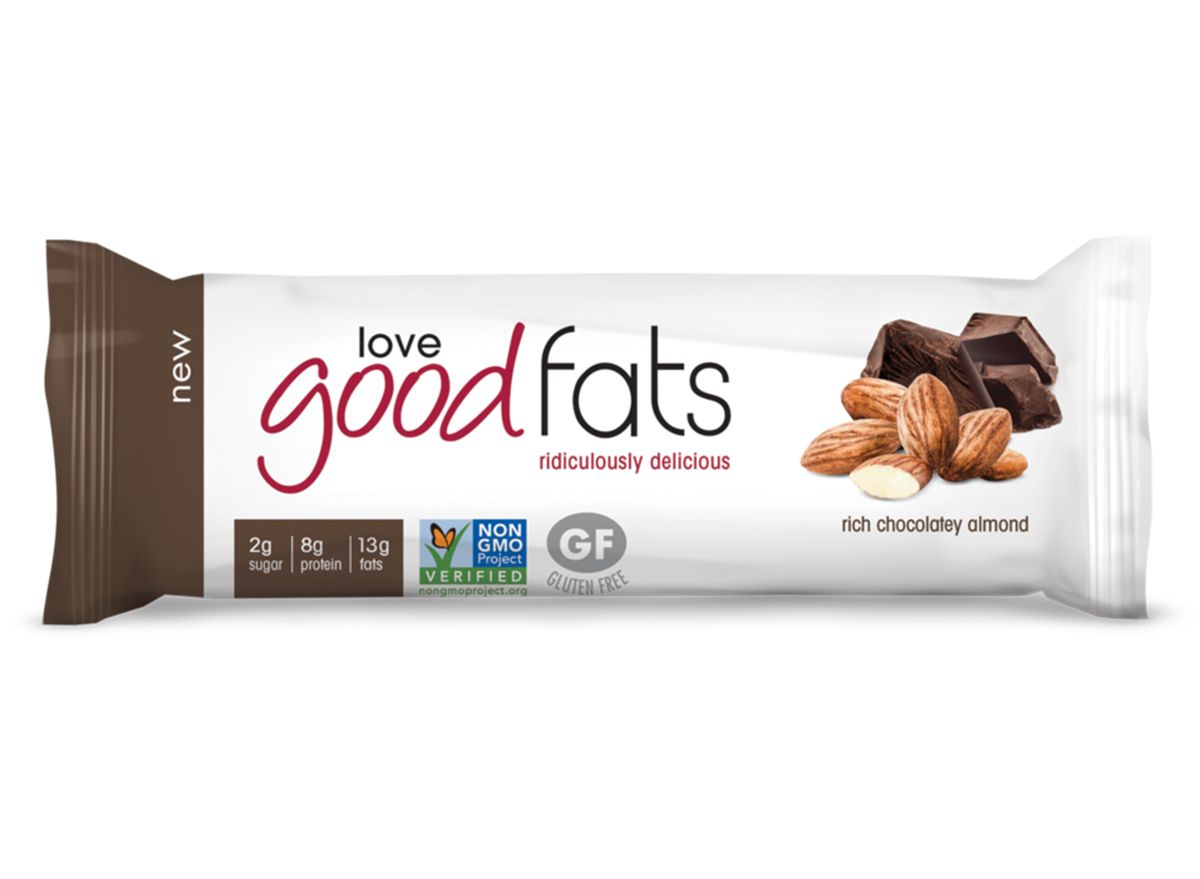 Looking for a tasty, high-fat snack on the go? Love Good Fats bars come in decadent flavors like coconut chocolate chip and peanut butter and jelly. The brand also makes moderate protein, high-fat shakes to fit your dietary needs, too.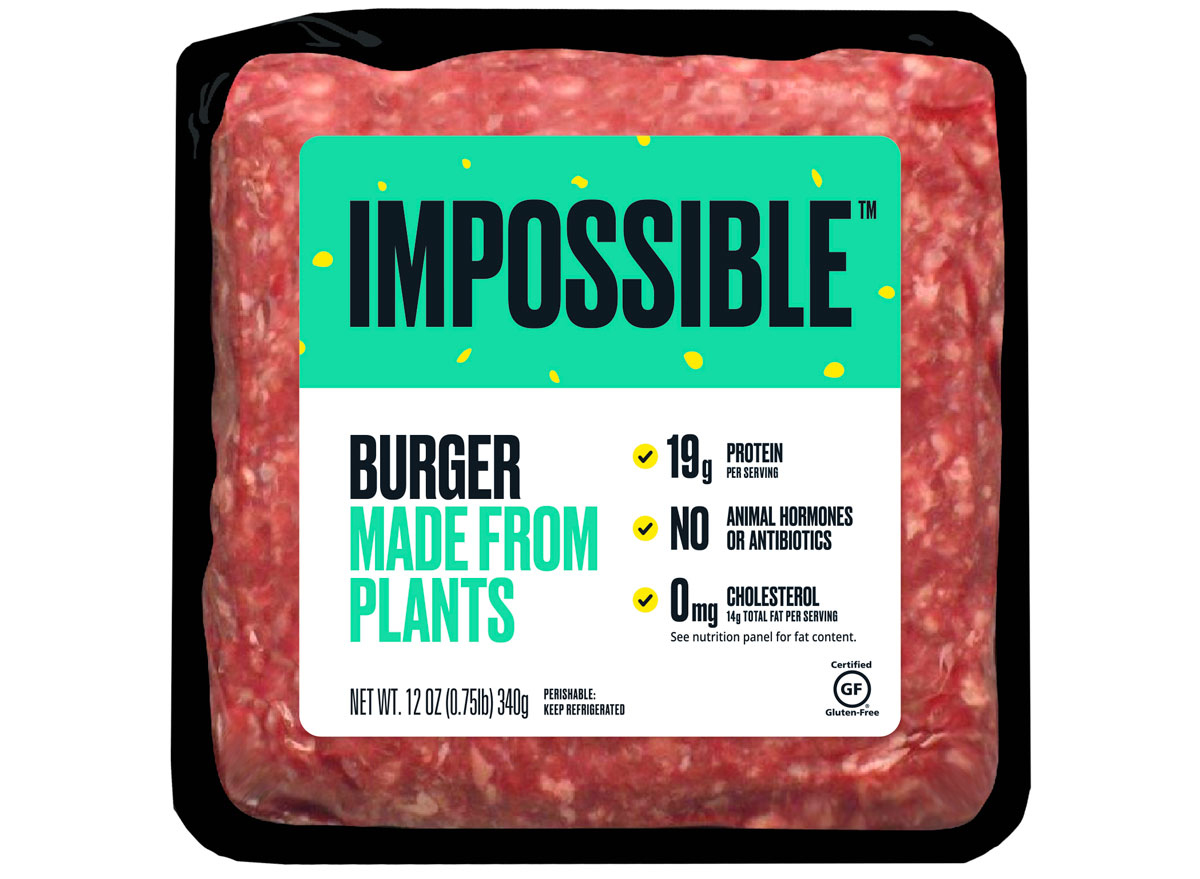 Arguably Beyond Meat's top competitor, Impossible Foods is the parent company of Impossible Meat, aka a plant-based meat alternative that sizzles, smells, and bleeds like animal protein. How does it taste so similar, you ask? Impossible meat contains heme, an essential molecule found in every living plant and animal that humans have been consuming since their caveman days. What's more, these patties have the same amount of protein as 80/20 ground beef burgers, so they're just as satiating as the real thing, too. And if you want to learn more, see 21 Things to Know About the Impossible Burger.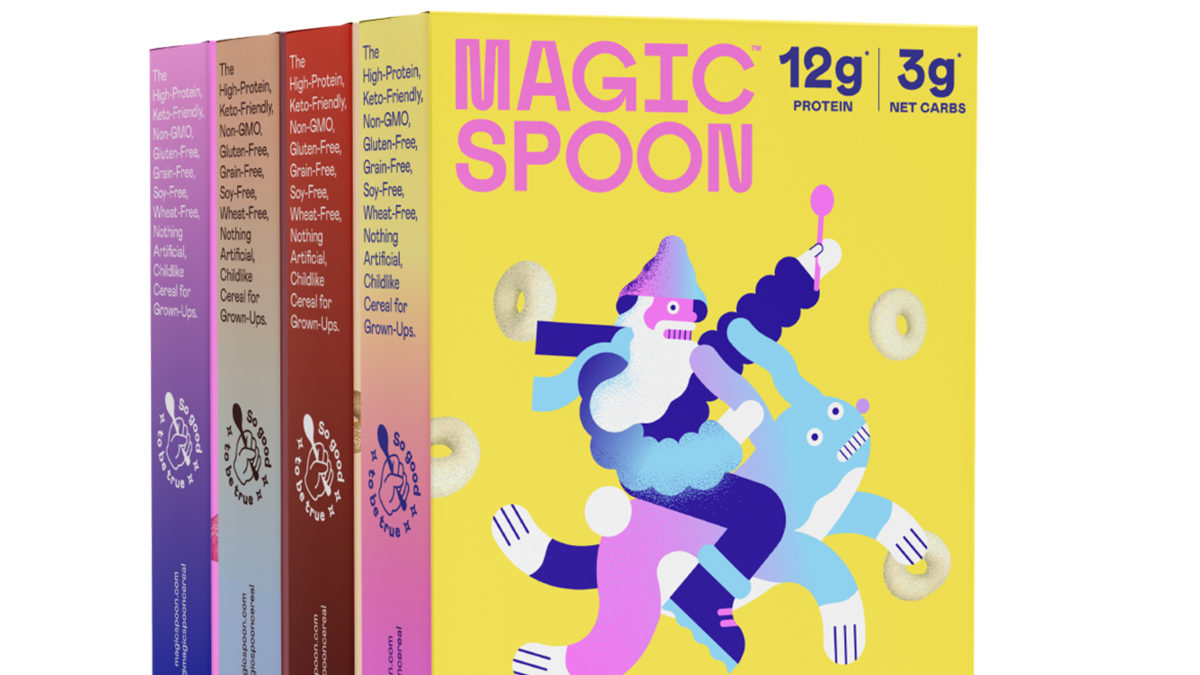 There are two kinds of cereal in this world: kid cereal (aka fun cereal) and adult cereal (aka fibrous hamster food). But what if we were to tell you there's a third option? A cereal that evokes the taste and joy of eating cereal as a child that's also good for you? One bowl of Magic Spoon has 12 grams of protein. Available in four flavors—cocoa, frosted, fruity, and cinnamon—the cereal is gluten-free, keto-, and paleo-friendly, and it has a limited ingredients list. Now that's a breakfast (or snack) of champions.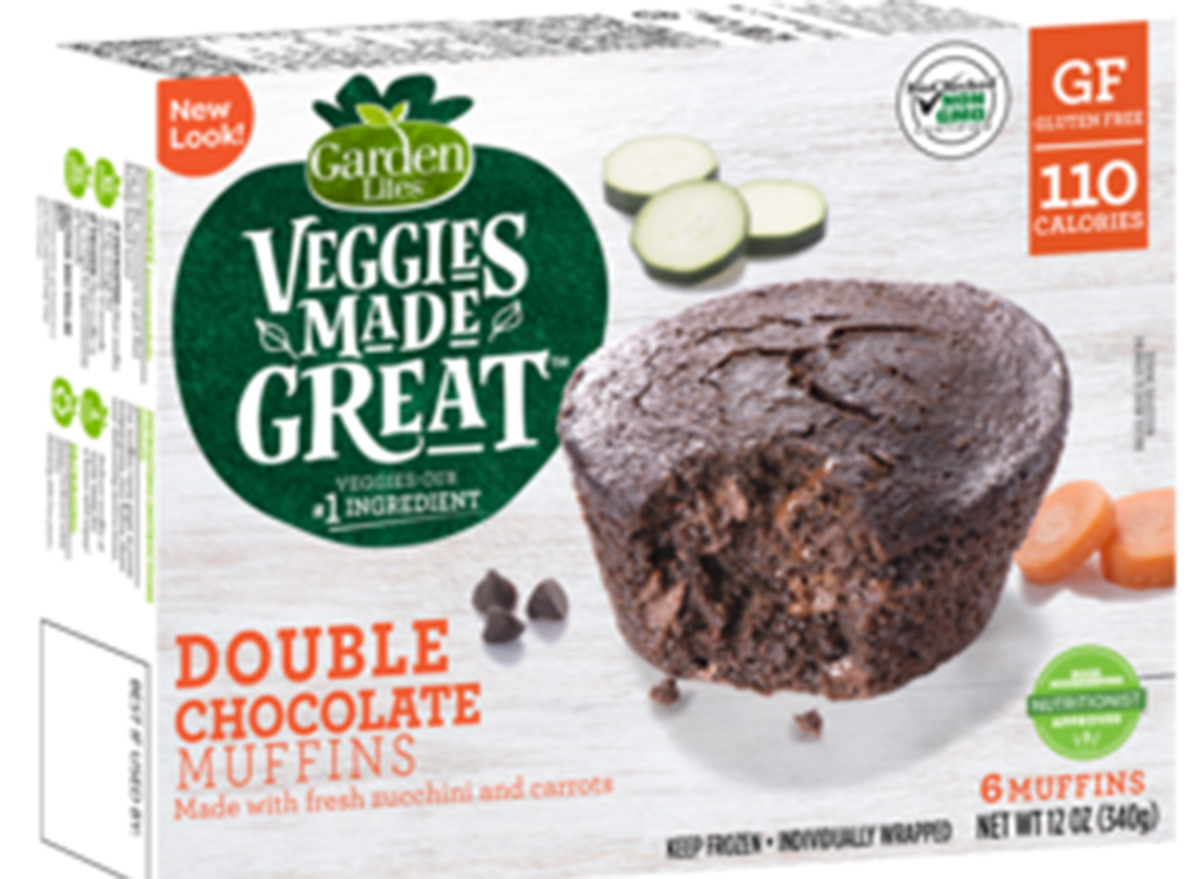 Yes, homemade breakfasts and snacks are great. But sometimes, you just need something fast when you're on the go. Enter Veggies Made Great, which makes frozen muffins, veggie cakes, frittatas, and more, all packed with fresh ingredients.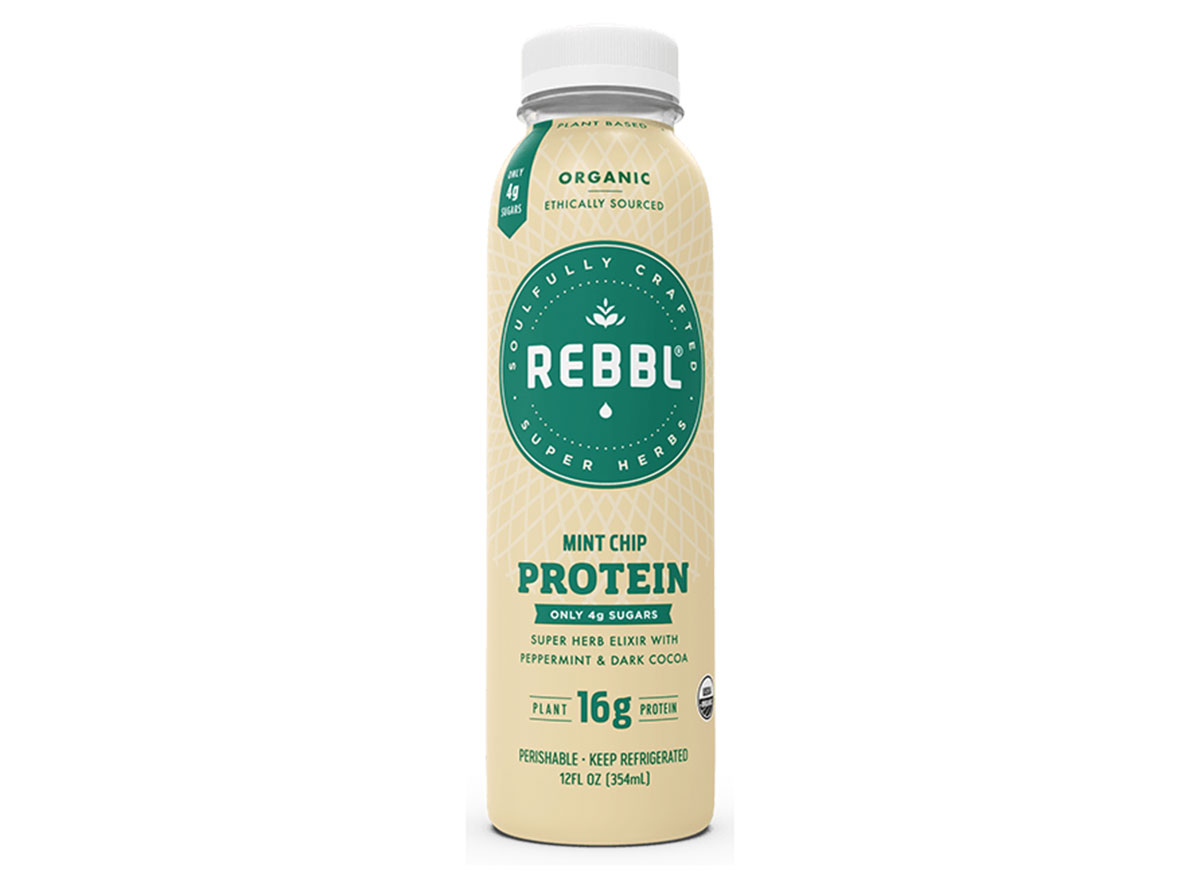 The easiest way to experience the benefits of adaptogens? Pre-made elixirs that already taste amazing. A cult favorite is REBBL drinks, which are organic, plant-based, and made from coconut milk, ethically sourced ingredients, and adaptogens.
The REBBL product offerings include Super Herb Elixirs and Plant Protein Elixirs with flavors including Reishi Chocolate, Schizandra Berry Creme, Vanilla Spice, and Mint Chip. The brand's latest innovation is the Sparkling Prebiotic Tonic, an in-store exclusive at Whole Foods. These refreshing beverages come in four flavors (Mystic Mint, Ginger Gold, Cold-Brew Cola, and Forest Berry), and are super gut-healing sips that are low on sugar, yet still rich with flavor.
And for more ways to feed your snack habit, These Are Our Favorite Snacks on Amazon.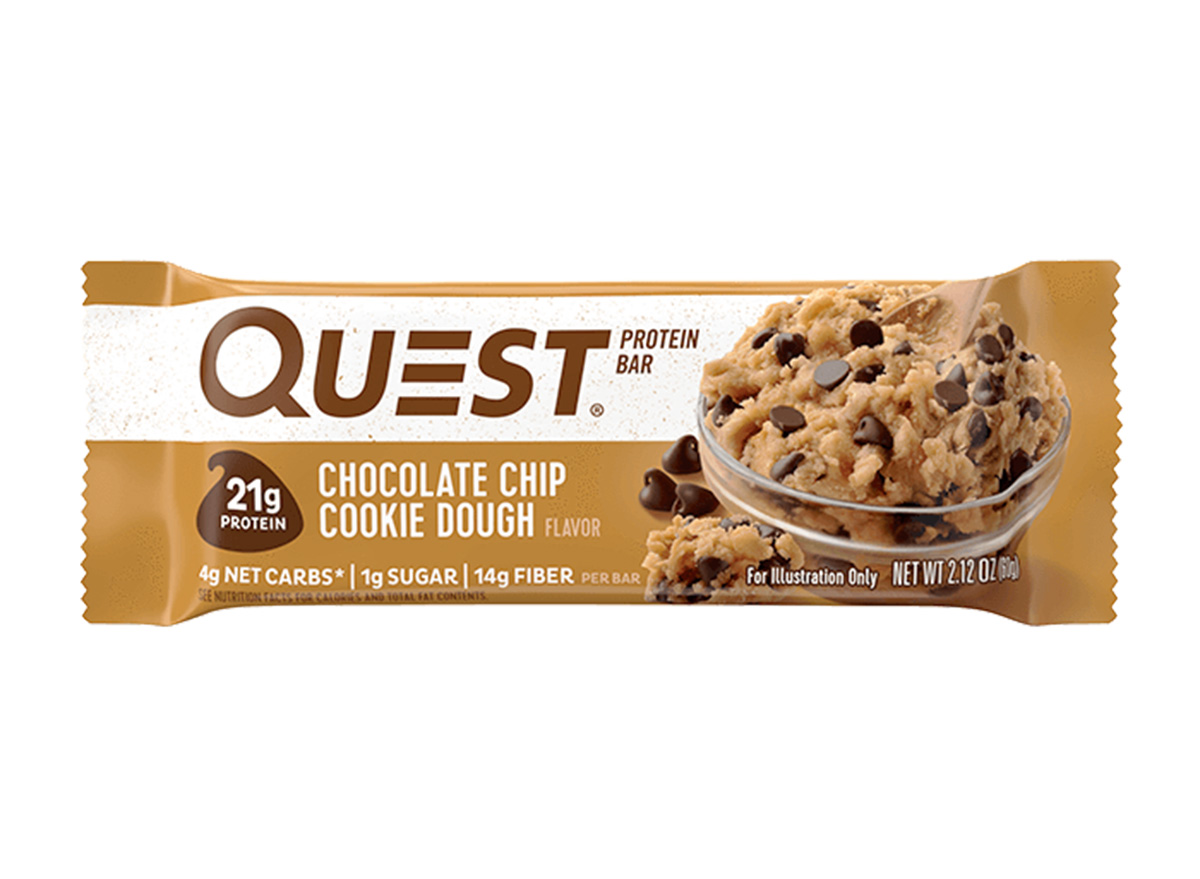 Fans know and love Quest for its decadent protein bars, flavorful powders, chips, cookies, and pizza crust. But we're predicting its newest innovation is what will attract new customers in 2020.
Quest Protein Shakes are the latest to join the ready-to-drink market. Made with 11 ingredients you can actually pronounce, the shakes come in three creamy and delicious flavors—chocolate, salted caramel, and vanilla—all of which yield 30 grams of protein per serving. And for some DIY ideas, see 22 Best Protein Shake Recipes.
Named one of the fastest-growing companies in the UK, Grenade's Carb Killa Bars were crowned Protein Bar of the Year at the 2019 Product of the Year awards. Available in flavors like Caramel Chaos, Peanut Nutter, and White Chocolate Cookie, these bars are as delicious as they are nutritious. However, just in case you're sick of snacking on bars pre or post-workout, the brand has also developed brownies, vegan nut bars, protein spreads, and protein powder, and plans to roll out new products in the upcoming year.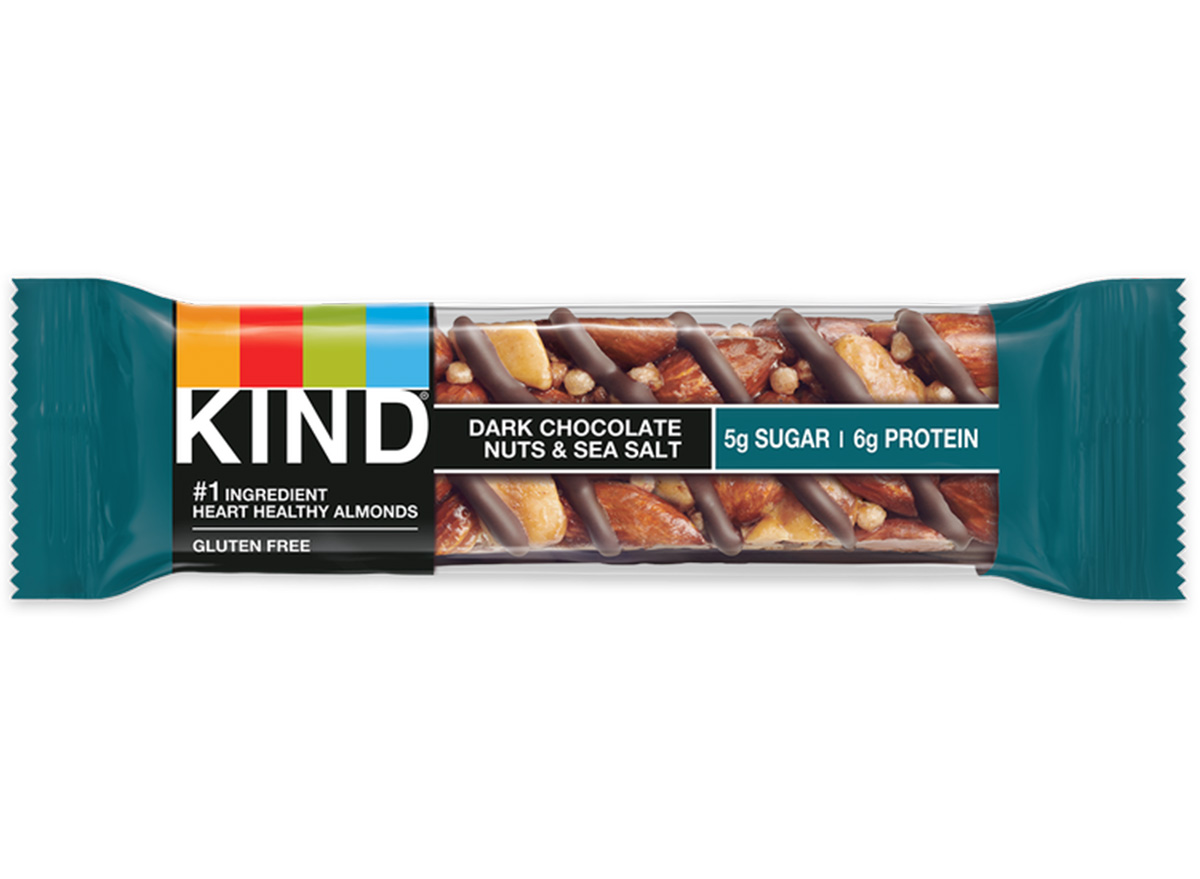 Between bringing back its limited-edition autumn flavors, rolling out a limited-edition Heroes bar for Veteran's Day, and more, KIND Snacks had a busy 2019. And if you have yet to try these delicious grab-and-go bars, what are you waiting for?
The brand has developed an array of product lines, from nut bars to bars filled with nut butter, protein bars (the Crunchy Peanut Butter flavor is a personal fave), breakfast bars, frozen bars, and more—all of which don minimal, nutrient-dense ingredient lists that include items like whole nuts, fruits and whole grains.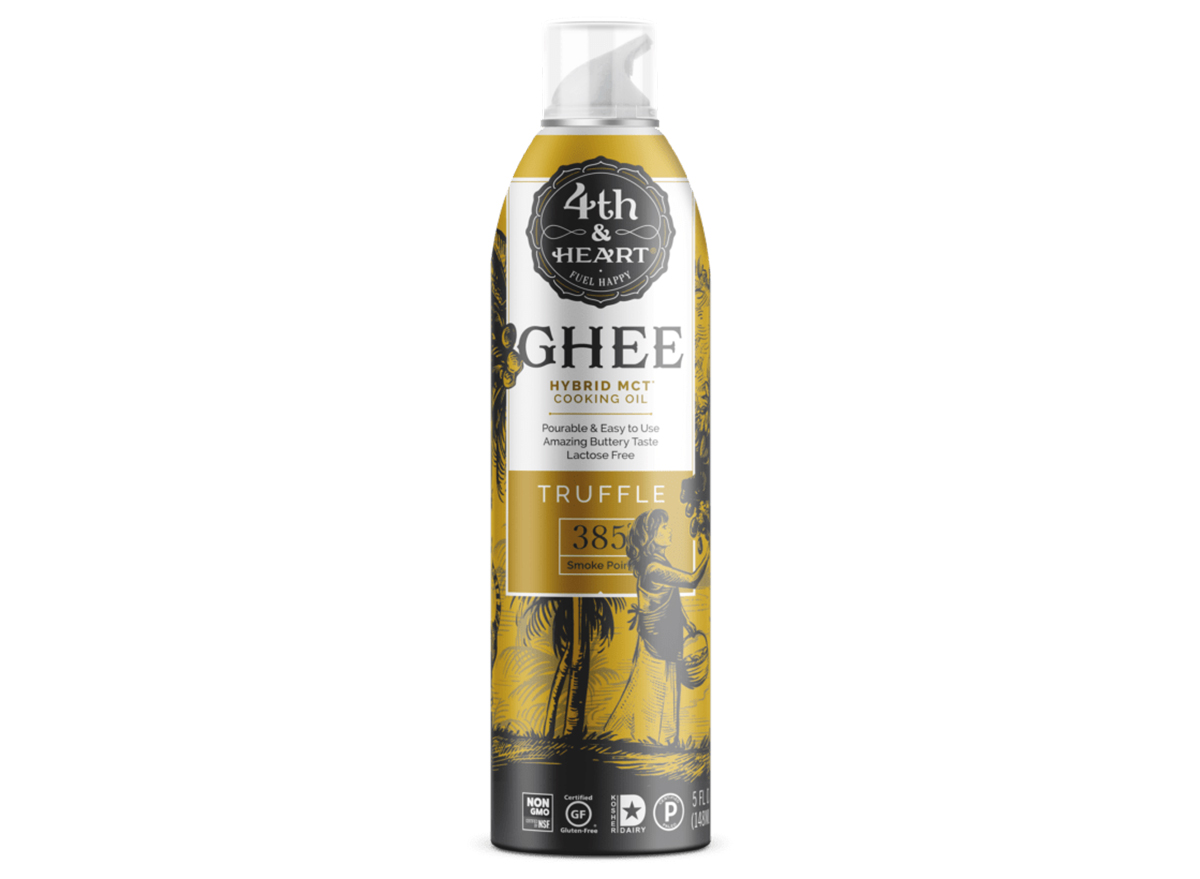 Hey, butter lovers: Have you considered switching to ghee? It's a kind of butter that's better for you because it doesn't contain lactose. Plus, it has a higher smoking point than your traditional stick, is shelf-stable, and it's loaded with fat-soluble vitamins A, D, and E, among other benefits.
The 4th & Heart ghee come in five flavors: turmeric, original, California garlic, Himalayan pink salt, and Madagascar vanilla bean. And aside from butter, the brand has also developed Chocti, a collection of chocolate ghee spreads (amazing on toast, baked goods, etc.), on-the-go ghee packets (for your purse, office desk, etc.), ghee oils, and cooking sprays.
When you think of cacao, you probably think of chocolate, right? CaPao's mission as a brand is to introduce the world to all that cacaofruit can deliver beyond just dessert.
Evidently, the beans and cocoa butter are the only parts of the fruit used in the majority of foods, so CaPao found creative ways to use the naturally sweet and zesty pulp via smoothie balls and fruit jerky. Each flavorful snack is 100 percent plant-based and vegan-friendly, packed with nutrients, and free of artificial colors, flavors, and preservatives.
Love chocolate? Don't miss The 20 Best Chocolate-Covered Foods for Your Sweet Tooth.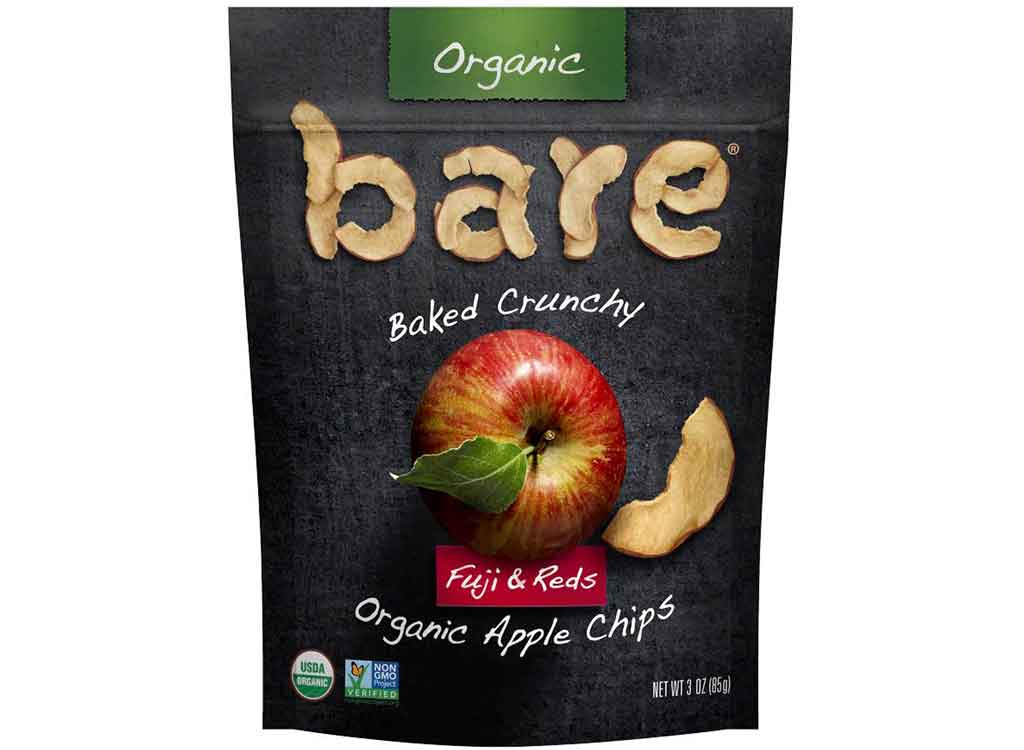 Bare Snacks isn't new to the dried fruit scene, but this year, the brand introduced us to its Medley collection, a line of fruit chips that combined the flavors of pineapple and coconut into one snack and apples and strawberries into another. The new offerings are perfect for snacking on to curb an afternoon sugar craving or for sprinkling over smoothies. But if you prefer not to mix your fruit snacks (um, why?), the brand's portfolio of products include apple, banana, and coconut chips, as well as beet, carrot, and sweet potato veggie chips.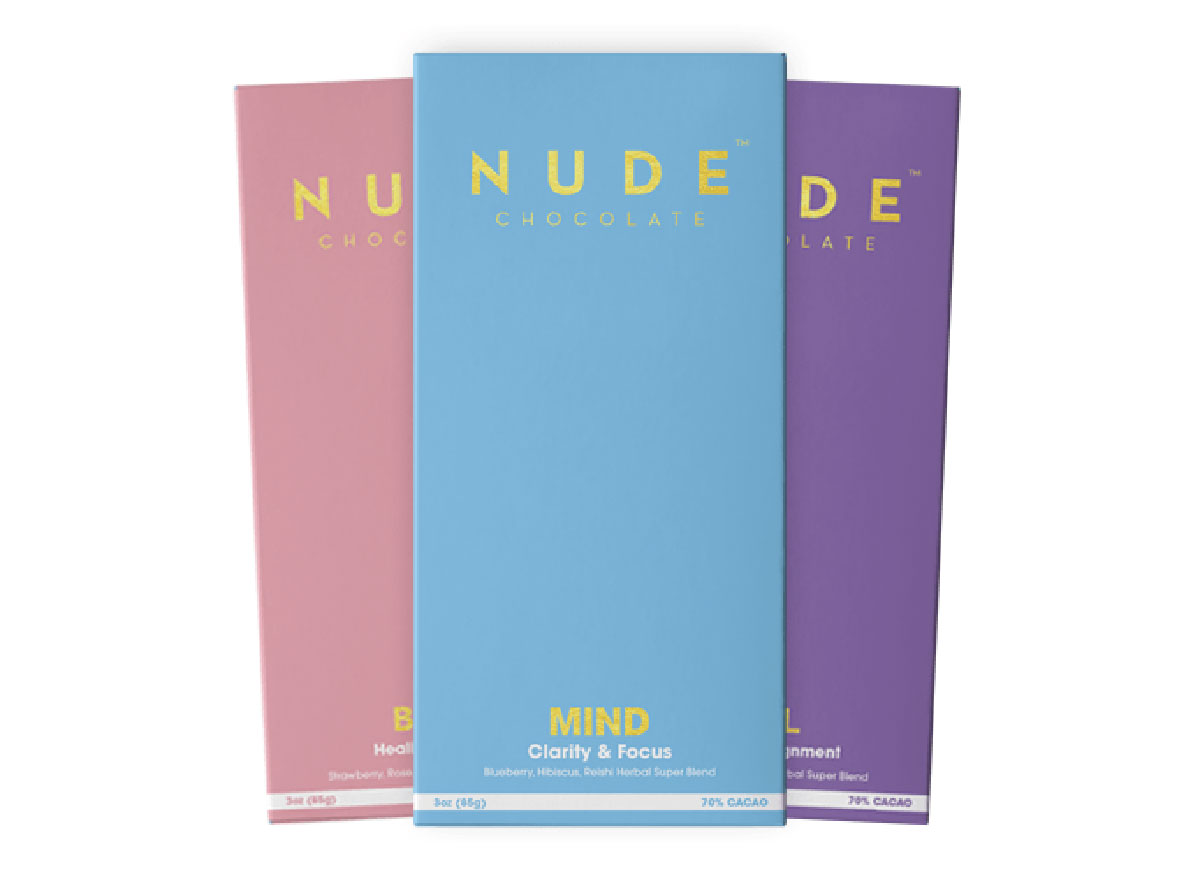 Adaptogens and functional mushrooms have been hogging the spotlight across social media. But while powders and elixirs make up the bulk of posts, we think it's time reishi chocolate received some buzz. NUDE Chocolate bars are made with a "high-end, Valhrona 70 percent dark chocolate cacao blend from the Dominican Republic, Peru, and Ecuador," its website explains.
Each dairy-free, gluten-free, and vegan-friendly recipe was developed in tandem with certified herbalist Natasha Lloyd and world-renowned chocolatier Kriss Harvey. The chocolates contain reishi mushroom and other selected herbs to deliver decadence and nutrition to your taste buds, mind, body, and soul.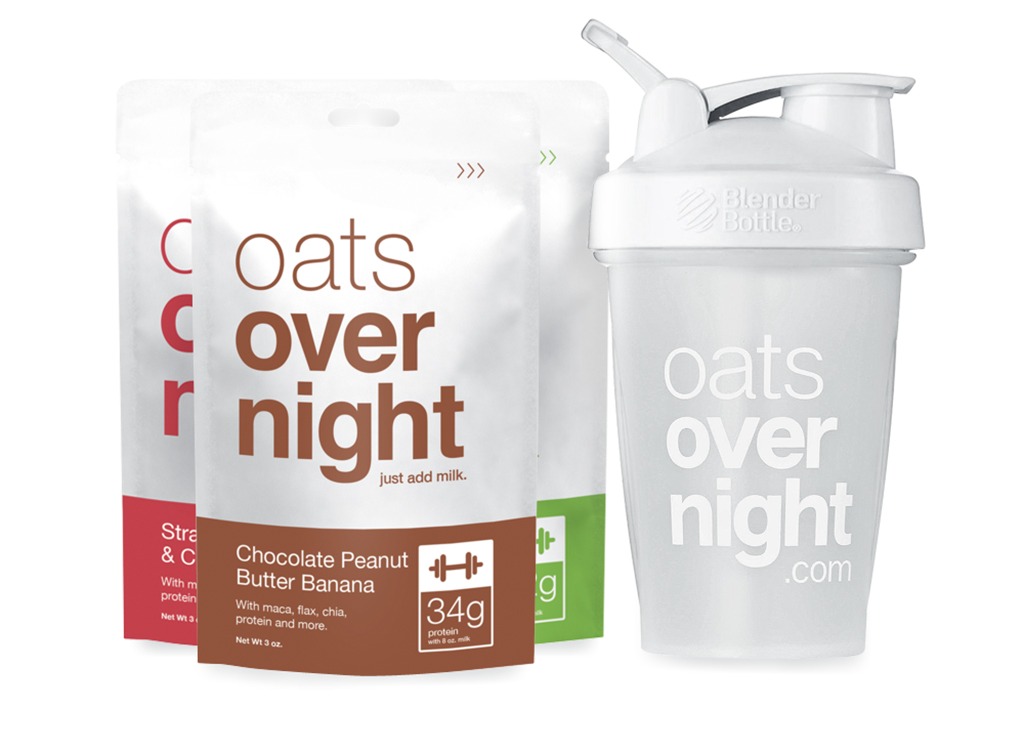 Overnight oats are no longer just a simple grab-and-go breakfast option; they're an art form. A quick internet search or browse through social media will lead you to recipes and photos of aesthetically-pleasing bowls and endless flavor and topping combinations. We appreciate the inspiration, but not everyone has the time to whip up a masterpiece for their first meal of the day. That's where Oats Overnight comes in.
One packet of "proats" (protein oats) equals one serving, and all you have to do is add eight ounces of milk or milk alternative into your shaker bottle, mix it up, and refrigerate overnight. Whey protein flavors include Green Apple Cinnamon, Strawberries & Cream, and Chocolate Peanut Butter Banana, while the plant pea protein vegan line includes flavors like Maple Pancakes, Blueberry Cobbler, Peanut Butter Cookie Dough Cacao Crunch, and the caffeinated Chai Latte. And if you need any customization ideas, see The 24 Best Toppings for Overnight Oats.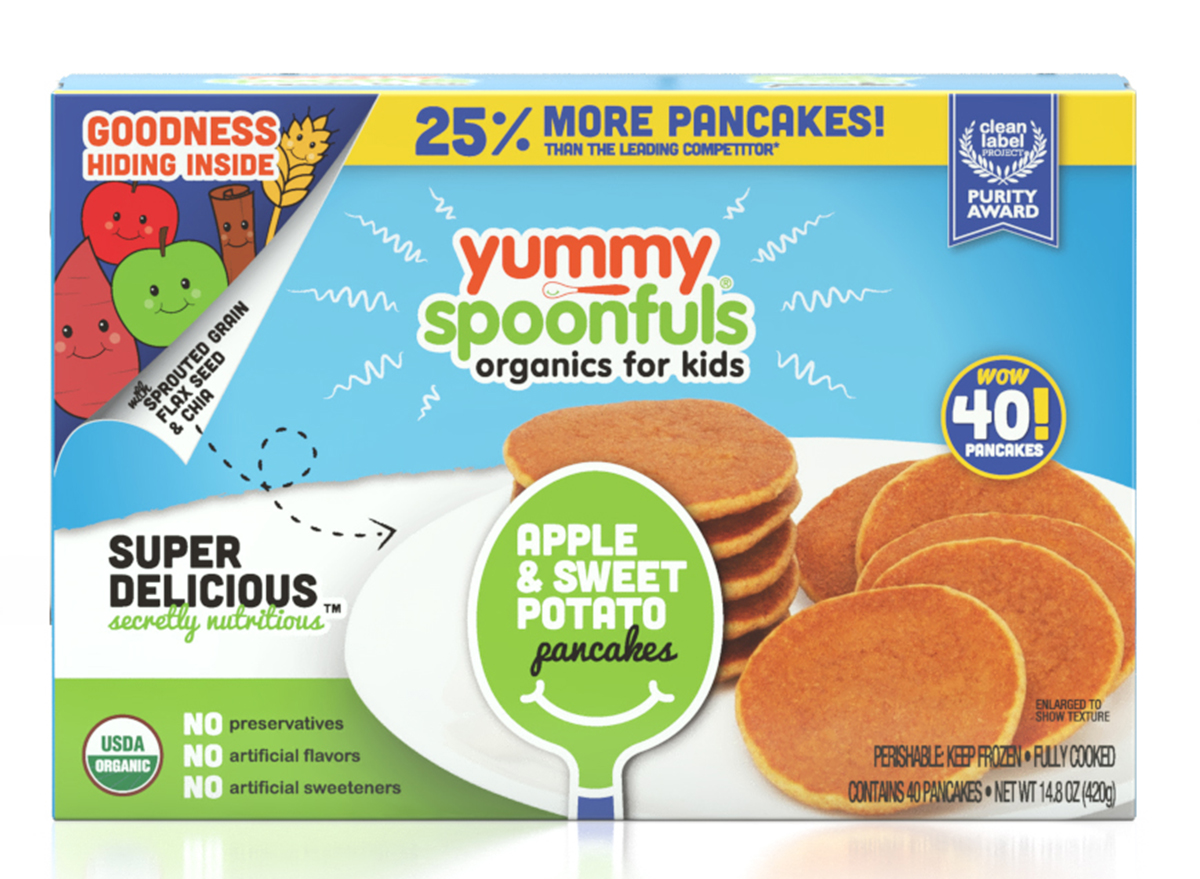 Technically, Yummy Spoonfuls is a made-for-kids food brand. But even if you don't have little ones running around, you should definitely give Yummy Spoonfuls a try because, well, these products are yummy.
Founded by mother and certified nutrition coach Agatha Achindu, these organic frozen meals for toddlers (and anyone else looking for healthy eats) contain only the highest quality farm-fresh certified organic whole fruits, vegetables, legumes, whole grains, and meats. The brand recently introduced pancakes and burritos to its menu, but its offerings also include organic mac and cheese, pasta bowls, and chicken and sweet potato and turkey spinach bites.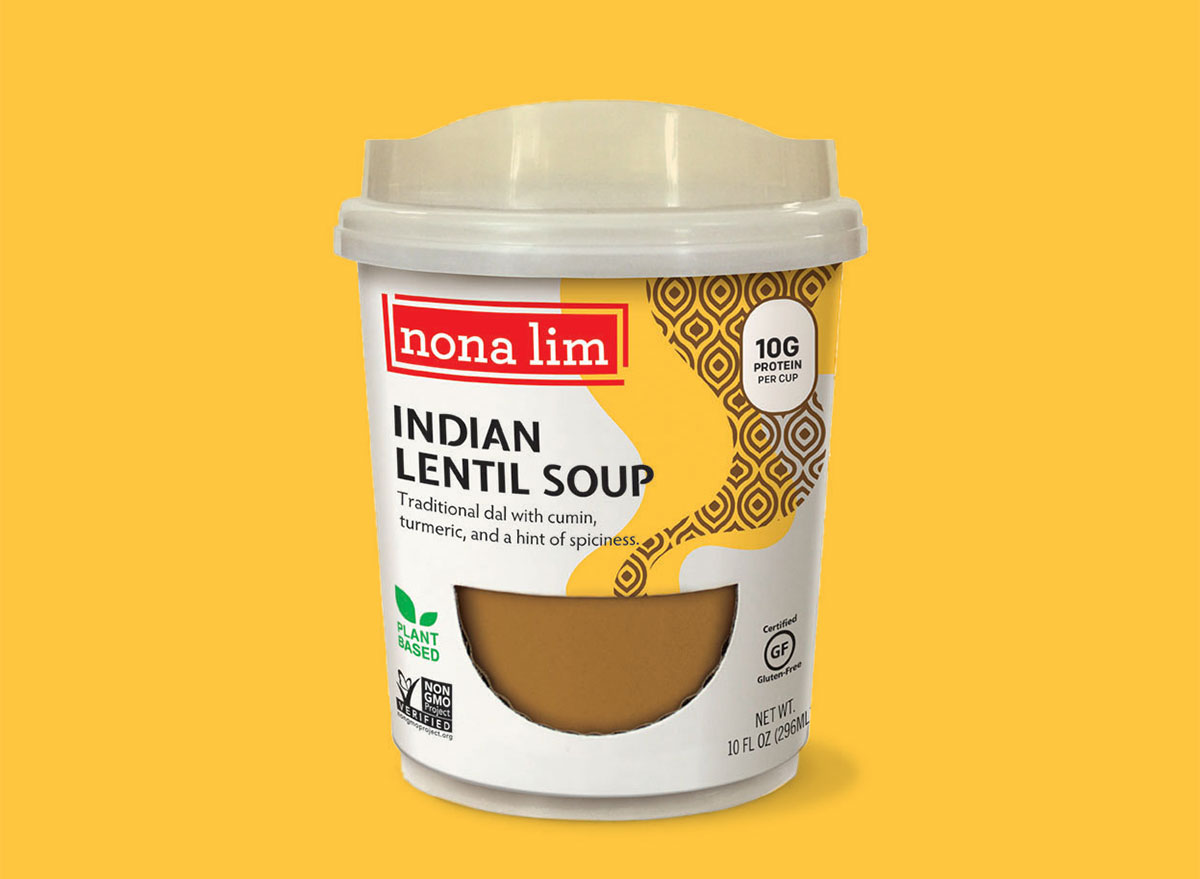 If you love prepackaged ramen but want something fresher, Nona Lim should be your go-to. The brand's bone broth and refrigerated soup and ramen options are flavorful and fresh—no packet of "chicken flavor" needed.
We can't wait to stock our shelves with these brands in 2020! And to see what else is in store in the new year, see the 50 Top Food Trends for 2020.