The 21 Best Cheap Foods to Buy That Are Surprisingly Healthy
Consider this your guide to the healthiest cheap food in America.
This post contains affiliate links. If you use these links to buy something, we may earn a commission.
Most people think that eating healthy comes with a stiff price tag—cold-pressed juices for $8 a pop? Case in point.
However, healthy foods like oats, potatoes, popcorn, and lentils are all nutrient-dense choices that won't bottom-out your budget.
Shopping locally and in-season can help cut down on costs, and buying healthy foods in bulk will also save you money and trips to the store. It's all about choosing the right foods. Small budget—no problem.
Stock up on these cheap and healthy foods the next time you hit the grocery store so you can keep your weight in check and your wallet full. And if you need ideas for what to make with these cheap foods, we put together These Cheap, Healthy Meals for Eating on a Budget.
Eggs
Price: $0.17 each
The best breakfasts for all-day productivity are high in protein and low in refined carbohydrates. That's why eggs are the perfect breakfast food. Any way you cook them—hard-boiled, scrambled, or poached—you'll get six grams of protein per egg. Speaking of hard-boiled eggs, you should learn What You Need to Do to Easily Peel the Shells from Hard-Boiled Eggs.
Bananas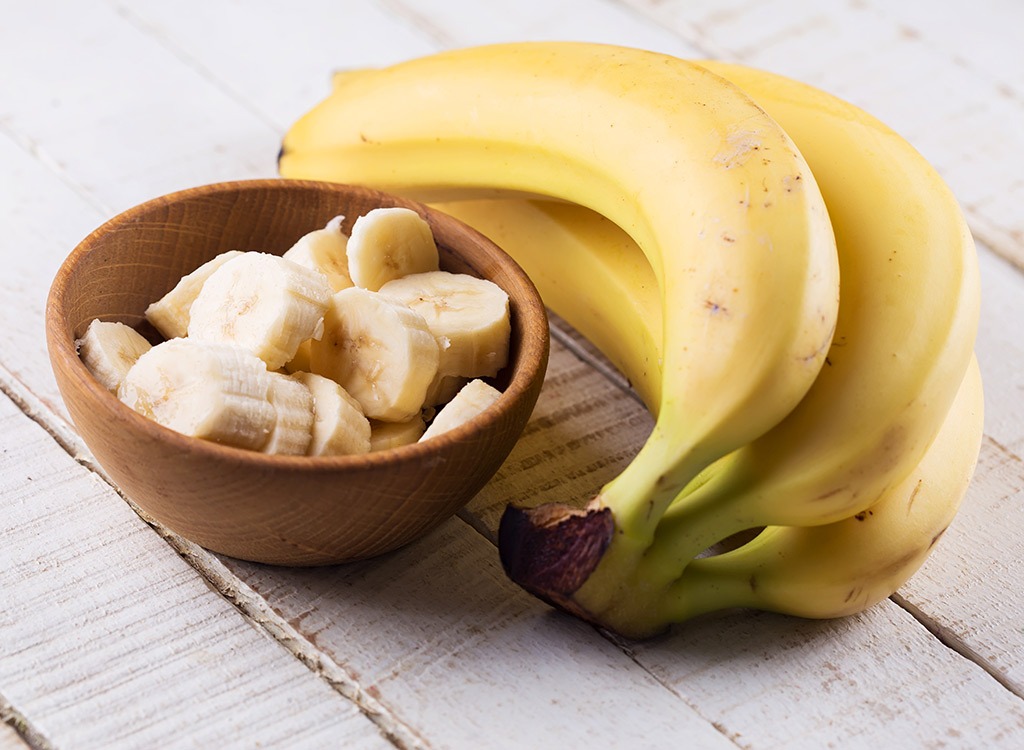 Price: $0.20 each
Bananas are nature's perfectly portioned, portable snack. They're rich in potassium, which is important for healthy heart function. They are also a great source of fiber—three grams on average per serving, which is why they're known to help with weight loss. Don't be afraid to purchase a large bunch, either. If they start getting spots before you're close to finishing them, peel and store in the freezer. Frozen bananas give smoothies that creamy, indulgent texture that can sometimes be watered down by too many ice cubes.
Dried lentils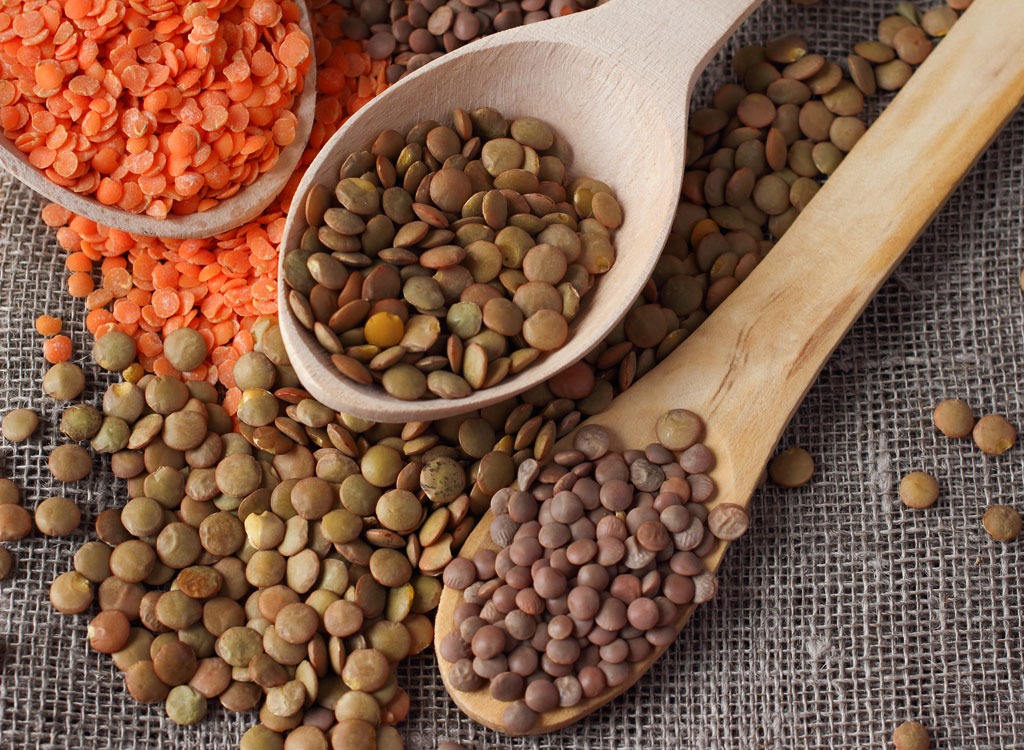 Price: $0.30 per 1/4-cup serving
For about the price of a bottle of water, you can boil up a massive pot of soup- and salad-ready lentils. A one-pound, 11-ounce bag has 19 grams of fiber and 11 grams of protein in each of its 15 servings. It's also one of the world's richest sources of folate, a B vitamin that helps form oxygen-carrying red blood cells and promotes communication between nerve cells. For meal inspiration, we put together these 31+ Healthy Recipes To Make With The Dried Lentils In Your Pantry.
Natural peanut butter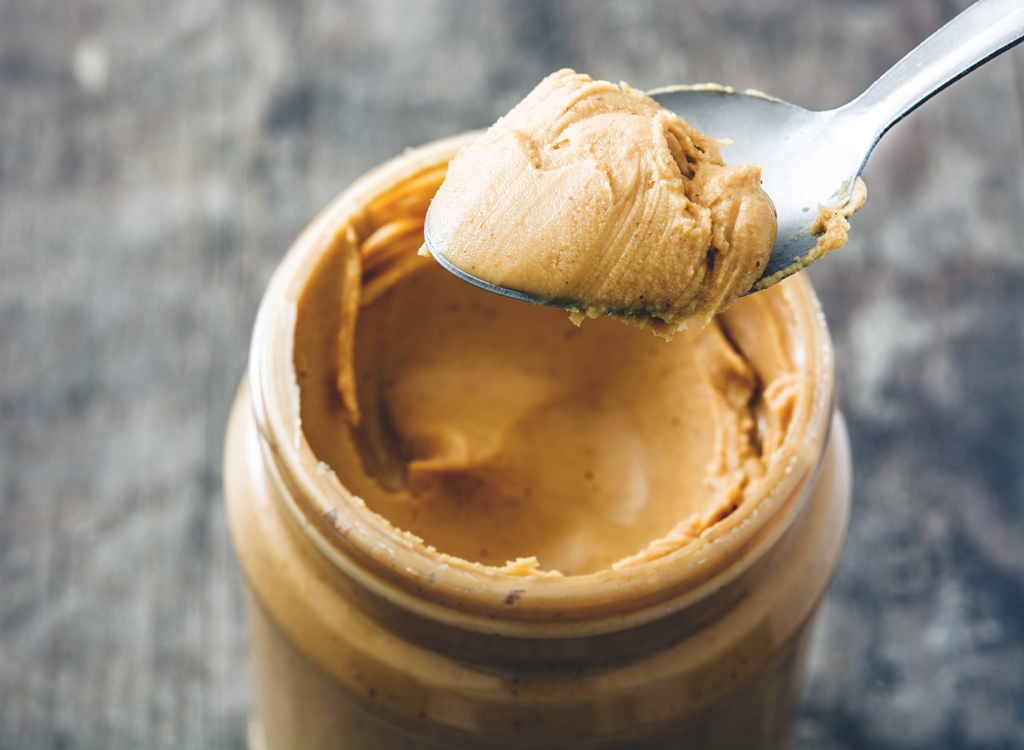 Price: $0.11 per 2-tablespoon serving
A study published in the journal JAMA Internal Medicine found a link between the consumption of peanuts and a decreased risk for heart disease. Resist buying reduced-fat versions! The healthy polyunsaturated and monounsaturated fats found in peanuts are what provide those heart-healthy benefits. Due to its caloric density, peanuts and peanut butter should be consumed in small portions, but that modest two-tablespoon serving offers eight grams of protein on average.
Dry beans
Price: $0.15 per 1/4-cup serving6254a4d1642c605c54bf1cab17d50f1e
Beans are one of the most versatile pantry staples you can buy. Use them in soups, chili, as a main protein, in baking, and more. Beans are high in both fiber and protein, making them a food that will keep you full for hours. Their affordability is just a bonus.
Regular Rolled Oats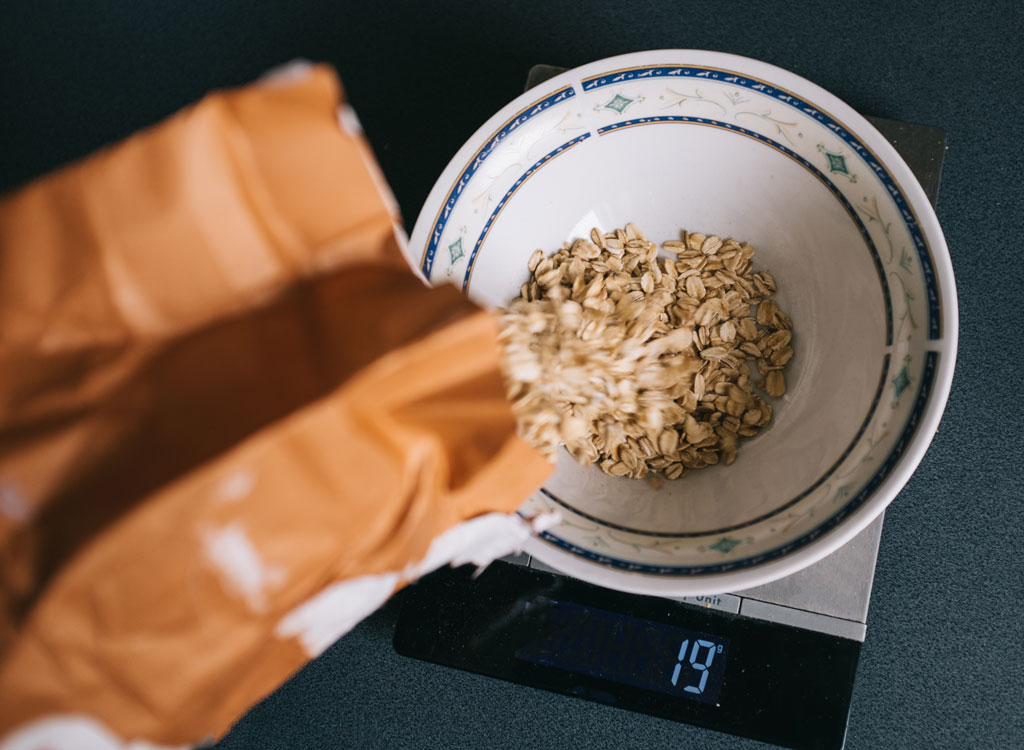 Price: $0.08 per 1/2-cup serving
Oatmeal is high in soluble fiber, which helps slow the digestion of food and keeps you feeling fuller longer. One half-cup serving contains about four grams of fiber, five grams of protein and 150 calories, making it a perfect breakfast option if you're watching your diet. Stick to buying plain oats. They're not only cheaper, but also healthier than flavored versions. Flavored oatmeal packets often contain high amounts of sugar and other unhealthy add-ins. Mash up a banana and sprinkle on some cinnamon to add a little sweetness to your morning oats the natural way.
Popcorn kernels
Price: $0.07 per 2-tablespoon serving
Snack time needs some attention, too. Those of you who didn't know popcorn was considered a "health food" have been missing out! Microwave popcorn does not qualify, unfortunately. Plain popcorn kernels are a whole grain food high in fiber and antioxidants. When air-popped, the classic snack only contains about 30 calories per cup. You can also pop kernels on the stove in coconut or olive oil for a more indulgent flavor. Sea salt, cinnamon, Parmesan cheese, or herbs and spices are a healthy way to kick the flavor up a notch.
Raw Pumpkin Seeds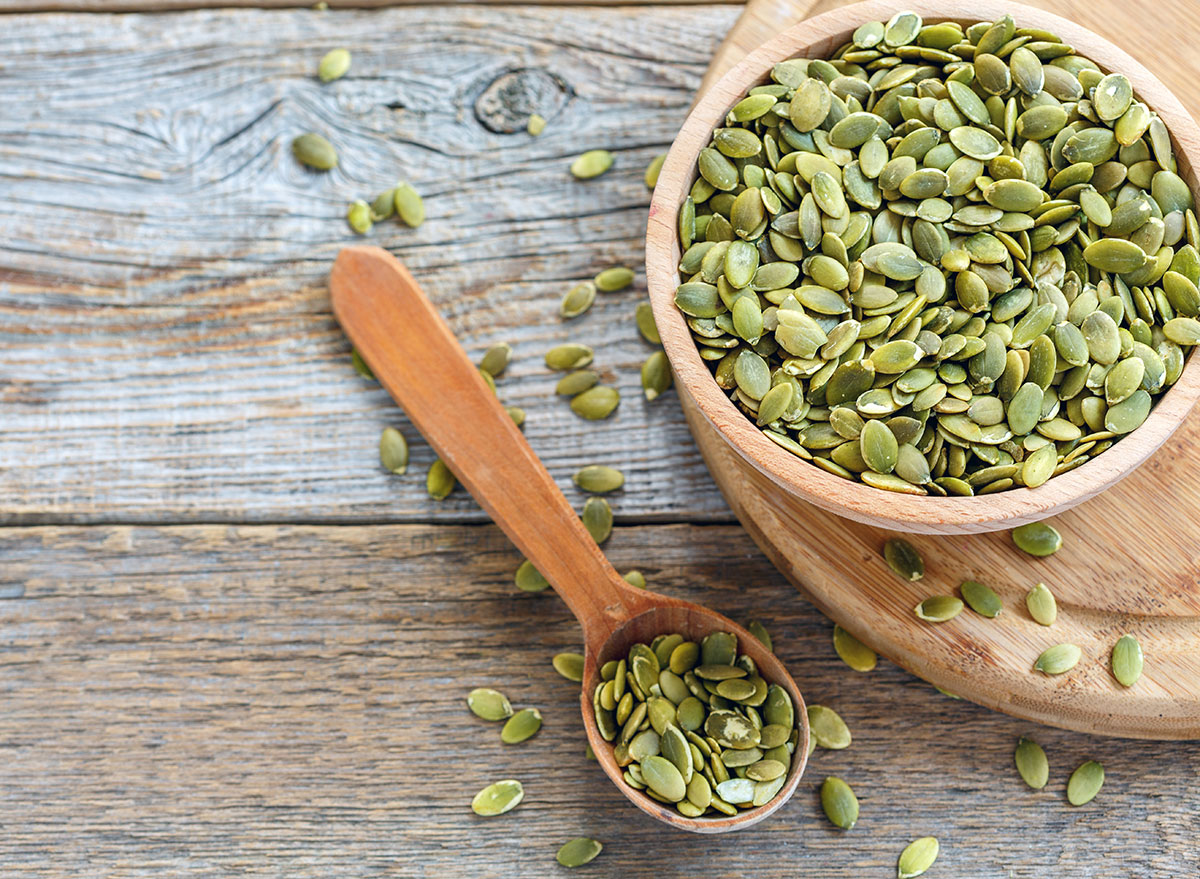 Price: $0.66 per 1/4 cup serving
The great thing about these crunchy seeds is that you only need to consume them in small quantities to reap the health benefits. One ounce contains more than eight grams of protein and is also high in iron, potassium, phosphorus, magnesium, and zinc (important for a healthy immune system). Add into salads, oats and yogurt, or pop them in your mouth as is for a quick snack.
Frozen vegetables
Price: $0.25 per 1-cup serving
Fresh veggies may sound like the healthiest and overall best option, but in many cases you're better off hitting up the frozen section. Frozen fruits and veggies are frozen at their peak, so they retain high levels of vitamins and antioxidants. Get this: For just 25 cents and 25 calories per serving, a veggie blend can help reduce inflammation, cut your risk for cancer, aid digestion, and enhance your body's natural detoxification process. Registered dietitian Angela Lemond, RDN, and owner of Lemond Nutrition notes that many grocery stores often run "10 for 10" specials on frozen veggies, making them an even more affordable option–so, stock up!
Potatoes
Price: $0.44 per pound
Sweet potatoes, purple potatoes, white potatoes—Lemond, says you shouldn't discriminate because each kind offers great health benefits, including high levels of potassium and vitamin C. "[In my opinion], potatoes give you the most nutrient-rich bang for your buck in the supermarket," says Lemond. Keep your peeler in the drawer, too. "Only 20% of the nutrition is in the skin, BUT most of the fiber is there. They also contain "resistant starch," which has been shown to help stabilize blood sugar levels," adds Lemond. The bigger the bag, the bigger the savings. So grab that 10-pound bag. Potatoes will last long if you know The Single Best Way To Store Potatoes.
Rice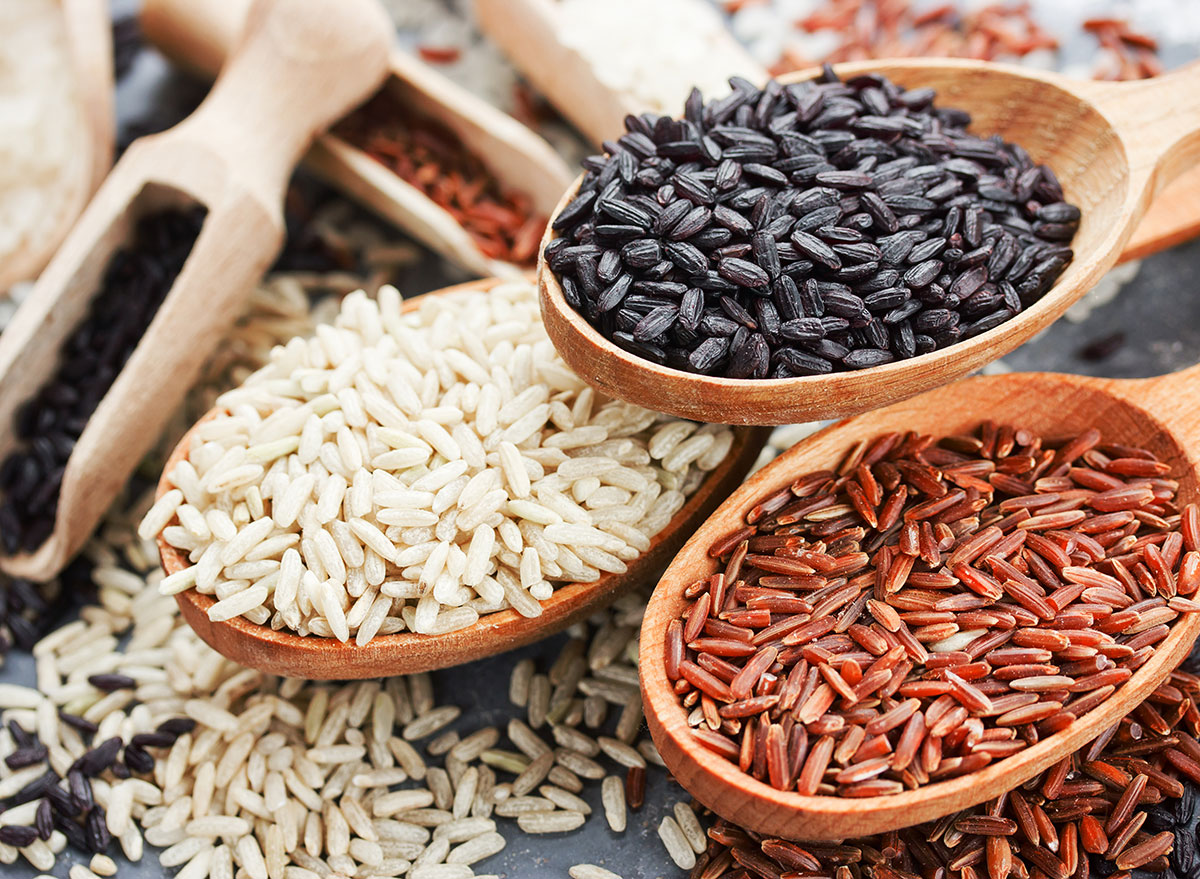 Price: $0.17 per 1/4-cup serving
When in doubt, rice is the perfect starch to round a meal out. Opt for brown rice, and you'll get 45 grams of whole grains per serving.
Tofu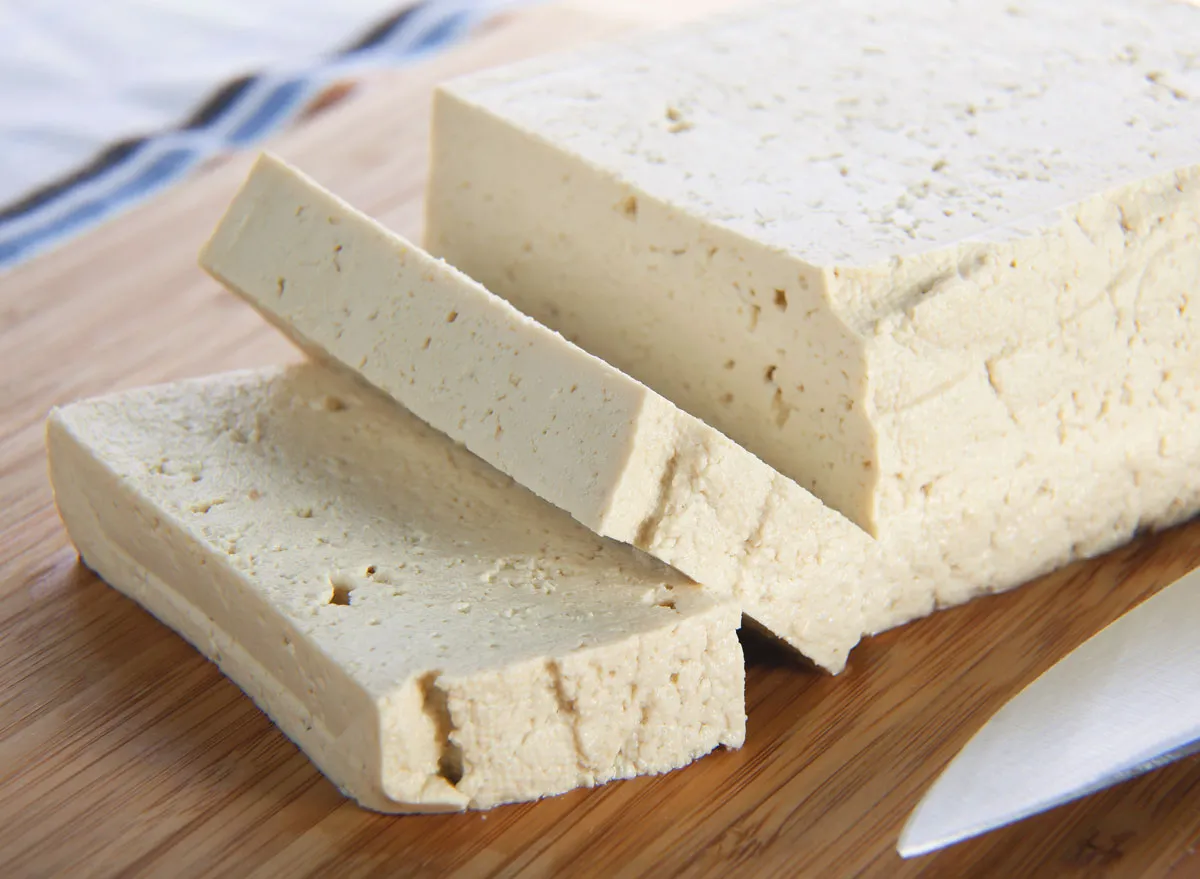 Price: $0.59 per 3-ounce serving
When meat is in short supply, turn to plants for your protein. Tofu is a great source of lean protein: you get nine grams of protein per serving, only four grams of fat, and no cholesterol. We recommend opting for organic when buying soy products. Because 90 percent of soy production is genetically modified, it's more likely to be contaminated with cancer-causing pesticides.
Baby spinach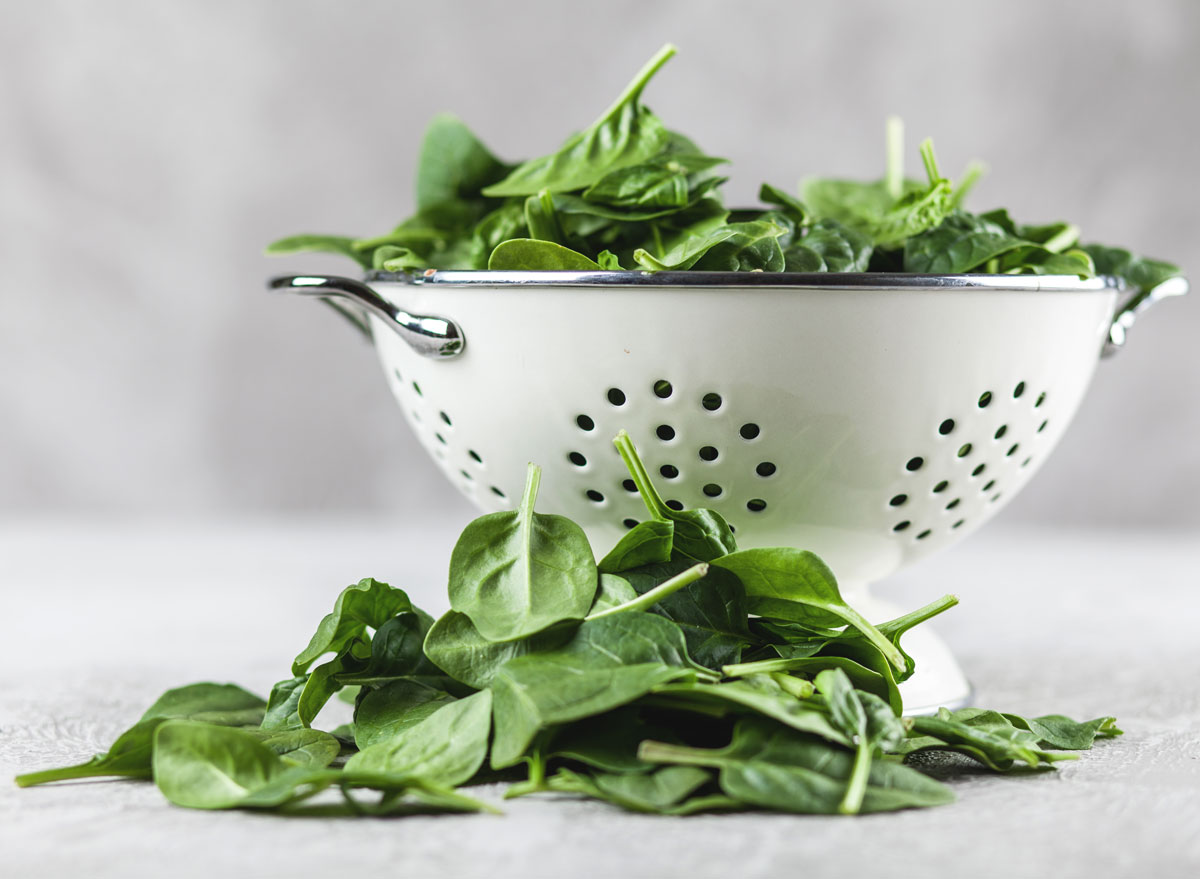 Price: $0.75 per 1/2-cup serving
Popeye's favorite vegetable is a must-have on your cheap healthy grocery list. The leafy green is rich in iron, which is particularly important if you haven't been eating much beef. It also contains high levels of vitamins A, C, and K, as well as minerals like magnesium and manganese.
Carrots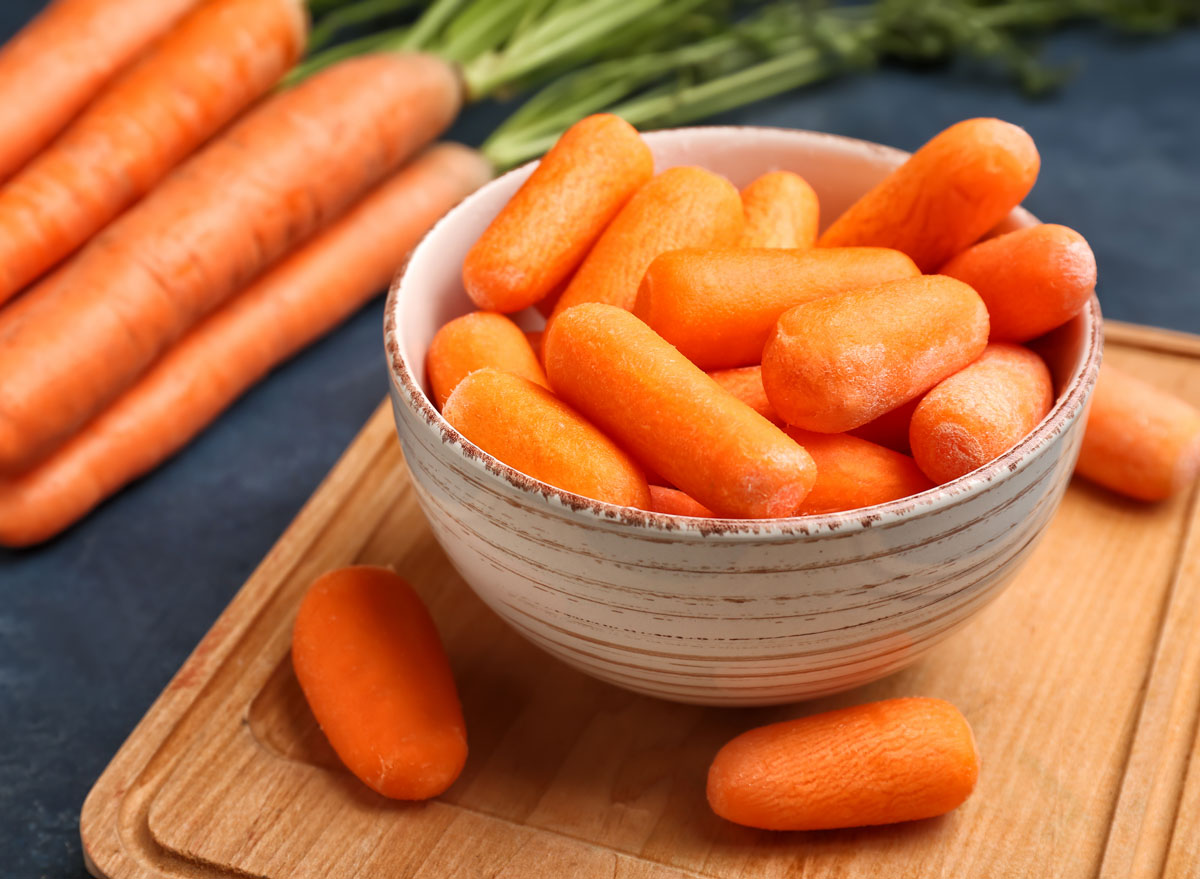 Price: $0.82 per pound
If you're looking for a super healthy, low-calorie snack, you'll get a nutritional punch from carrots. One serving of carrots has three grams of fiber and 100 percent of your daily value of vitamin A. Perhaps best of all, when carrots are stored correctly, you can make them last longer.
Chicken thighs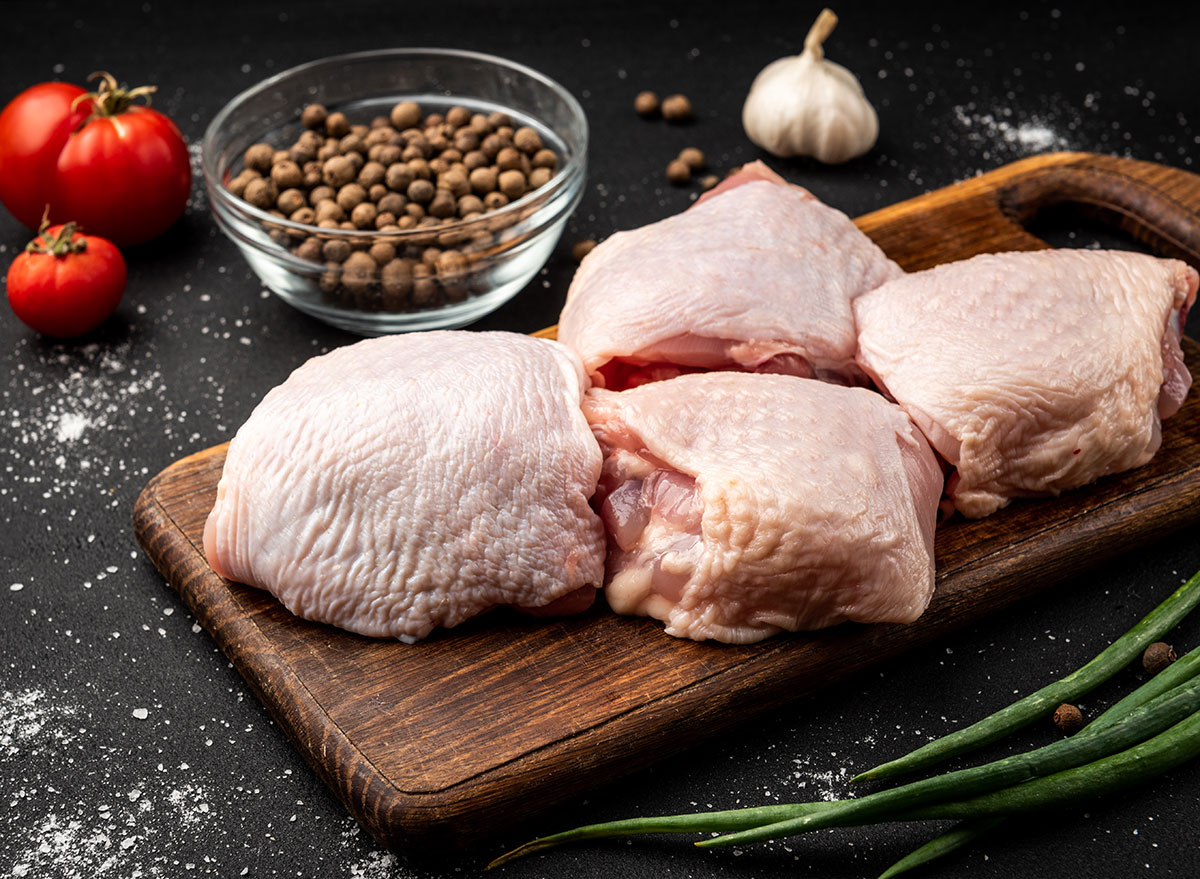 Price: $1.13 per pound
Yes, you can have chicken while keeping to a budget, just opt for dark meat over white meat. Dark meat is often overlooked, but it's more forgiving than white meat and it also stays juicy when breasts tend to get overcooked.
Frozen fruit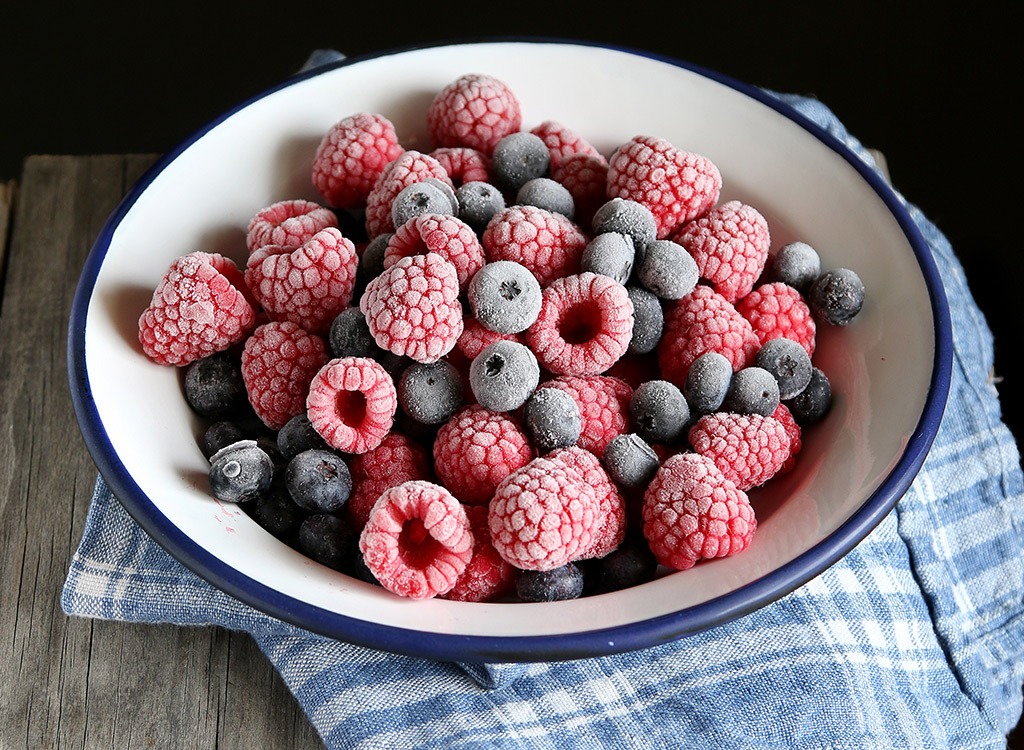 Price: $0.71 per 1/2-cup serving
The price of fresh fruits out of season is significantly higher than when they're in season, due to transportation costs. And if you want to get your money's worth, you'll need to eat them within three days of buying, so they don't spoil. 1 cup of frozen berries gives you just as much fiber as the raw variety, and a handful fewer calories.
Canned tuna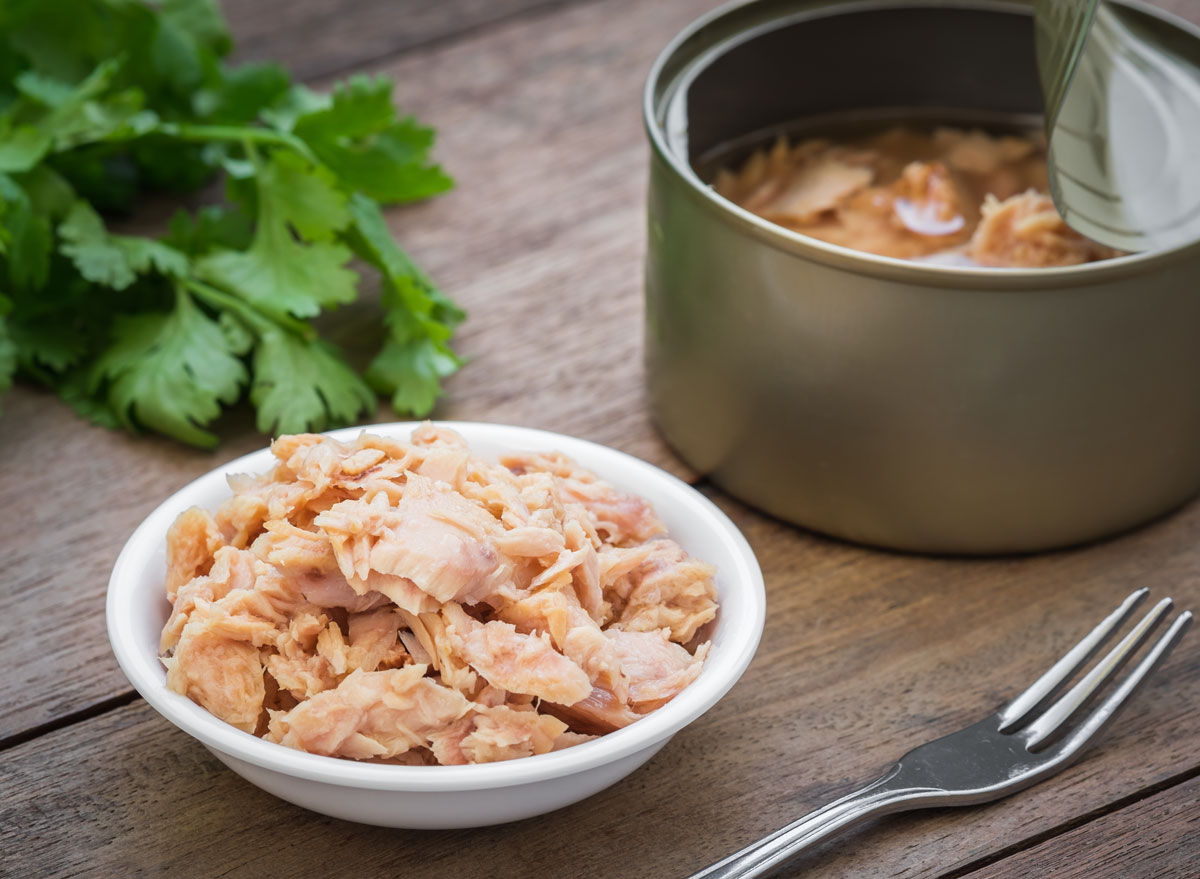 Price: $0.68 per can
You can't beat the convenience of pre-cooked protein. Canned tuna isn't just convenient, delicious, and versatile, it's also incredibly healthy. It's one of the top sources of omega-3 fatty acids in our diets; omega-3 fatty acids are anti-inflammatory, heart-healthy fats that can improve your health and lower the risk of chronic disease over time.
Canned tomatoes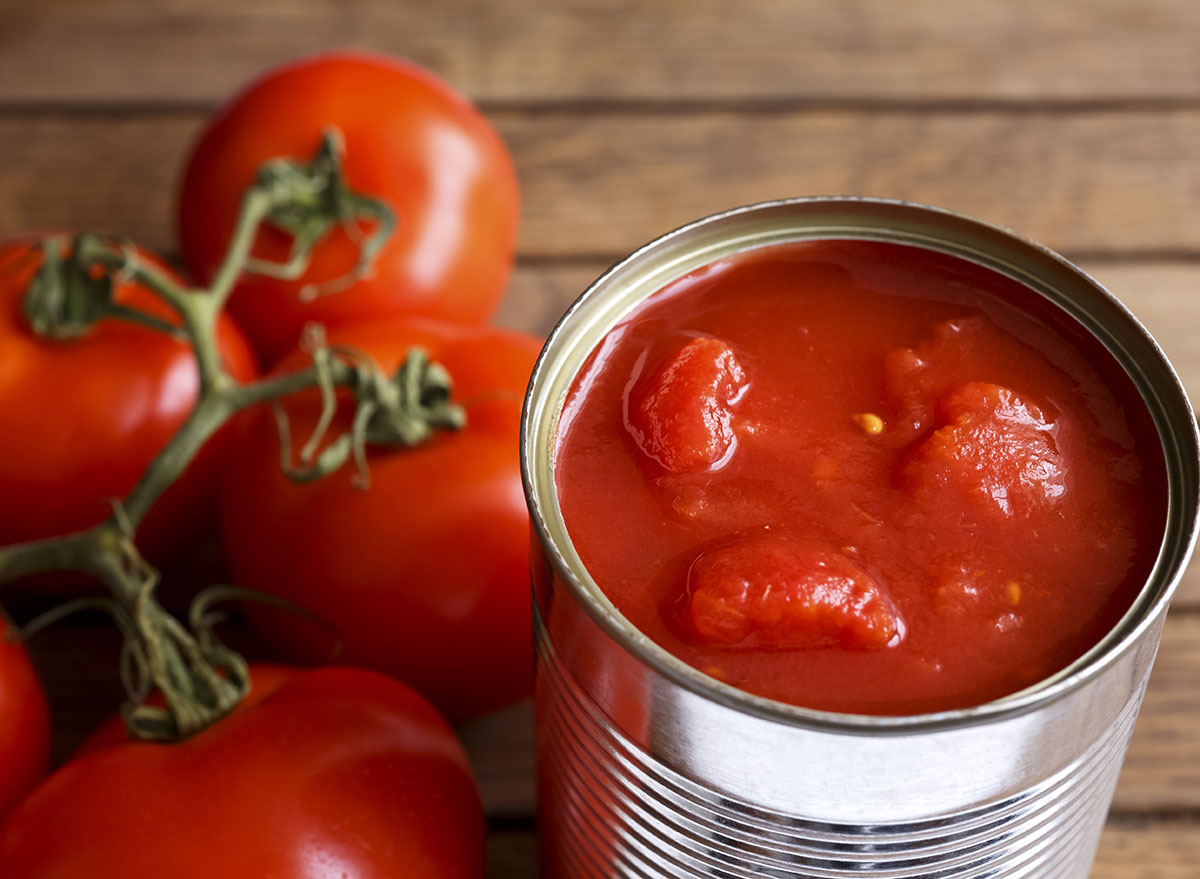 Price: $0.07 per 1/4-cup serving
Canned tomatoes are the perfect base for soups, pasta sauce, and many other dishes. They aren't just a pantry staple. Tomatoes are rich in lycopene: an antioxidant that has been shown to have a wide variety of anti-inflammatory effects.
Spices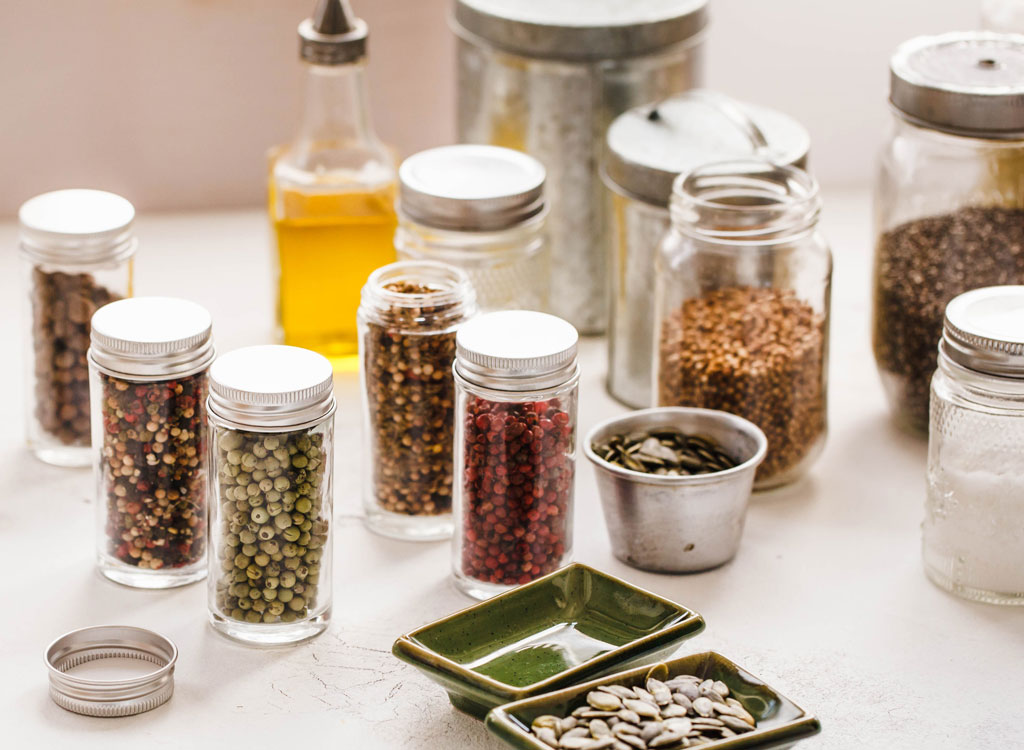 Price: $0.98 per ounce
Dress up your cheap protein with a touch of seasoning and you see how far your protein can take you in your route to flavor town. For more bang for your buck, opt for a seasoning blend instead of single spices. Try lemon pepper, Italian seasoning, or chili powder.
Yogurt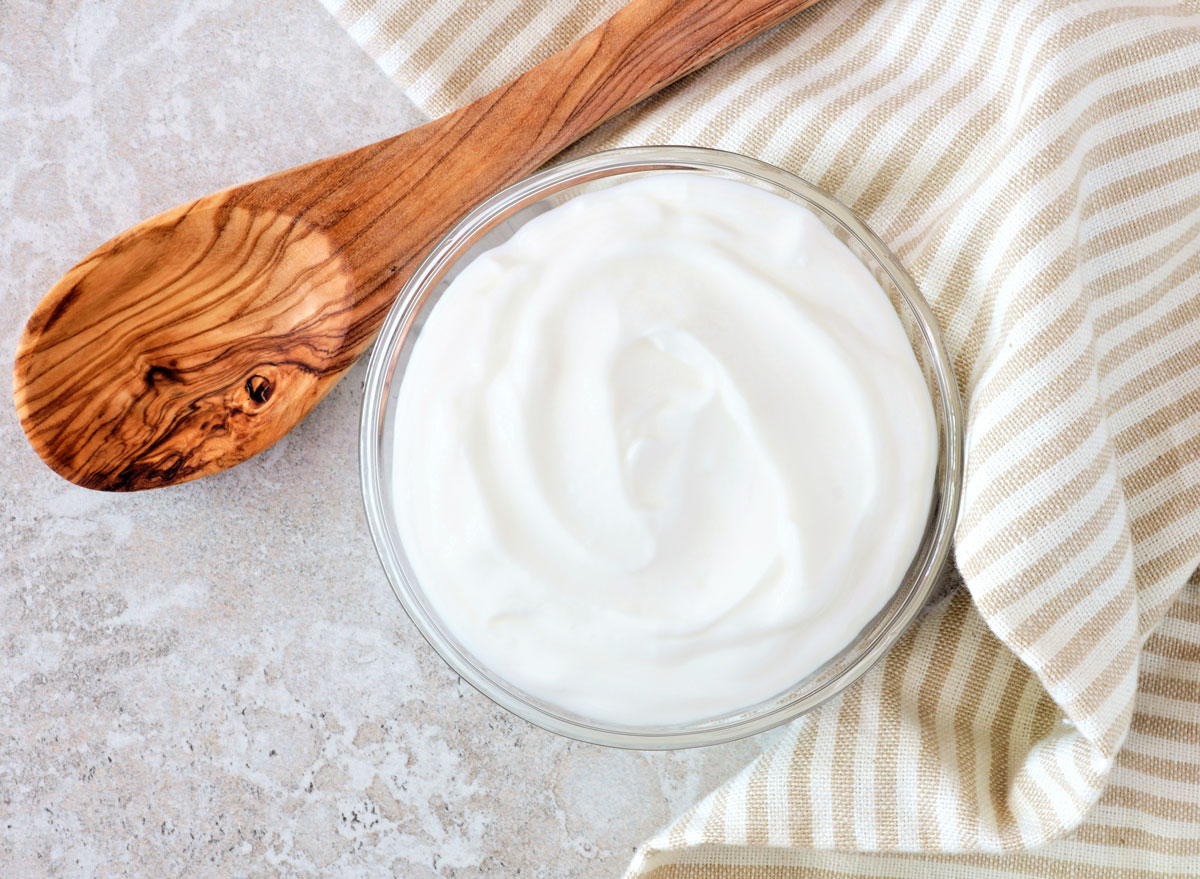 Price: $0.59 per 1/2-cup serving
If you opt for Greek yogurt or Icelandic skyr, you'll be consuming anywhere between 12 and 15 grams of belly-filling, muscle-building protein per serving. We recommend opting for some fat in your yogurt. The fat helps to keep you full and it also helps your body absorb fat-soluble vitamins like immune-boosting vitamin D.
Onions
Price: $0.60 to $1.00 per pound
If you're on a budget, you want to make the most of the food you have. Onions, garlic, and shallots will help you accomplish that. Just a little bit of these alliums with make the flavors in your dish shine. Plus, they're all foods rich in prebiotic fiber, which help to encourage a healthy gut.
Eat This, Not That!
Inspired by The New York Times best-selling book series, Eat This, Not That! is a brand that's comprised of an award-winning team of journalists and board-certified experts, doctors, nutritionists, chefs, personal trainers, and dietitians who work together to bring you accurate, timely, informative, and actionable content on food, nutrition, dieting, weight loss, health, wellness, and more.
Read more about Eat This