21 Easy Lunch Ideas Made With 3 Ingredients or Less
Fill up and stay on track without stressing over what to eat in the middle of your day.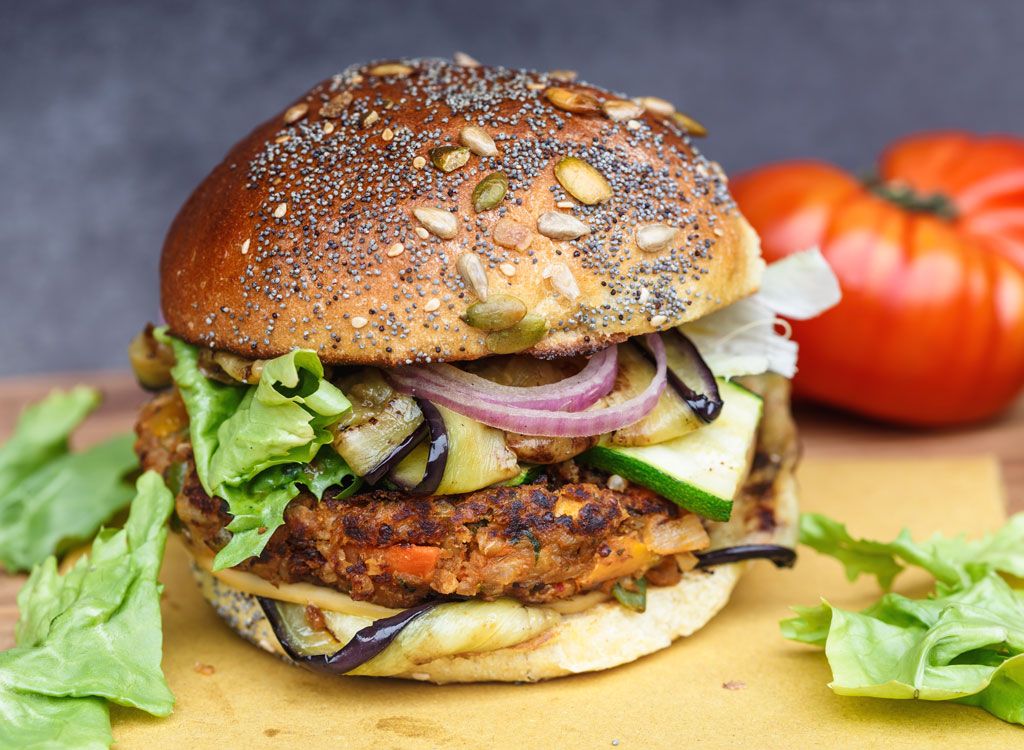 For me, the easiest way to derail my commitment to healthy eating is when there's too much prep and too many ingredients involved. Who has the time to make sauces and chop a million veggies or make things from scratch? If you do, more power to you, and please keep doing what you're doing. But for me, my toddler, full-time job, side projects, and a million errands mean that I'm going to order takeout if a recipe takes too long to make.
So, the fewer ingredients and the less cooking required, the more I'm guaranteed to find success. And these 21 meal ideas are all just three ingredients (slightly more if you want to add some salt or other flavor enhancers, but that's it), all filled with nutritious components, and they all take less than 10 minutes to whip up. And if you have a little more time, here are The Easiest Meals That Use 5 Ingredients or Less. and don't miss our 22 Meals to Melt Belly Fat in 2022.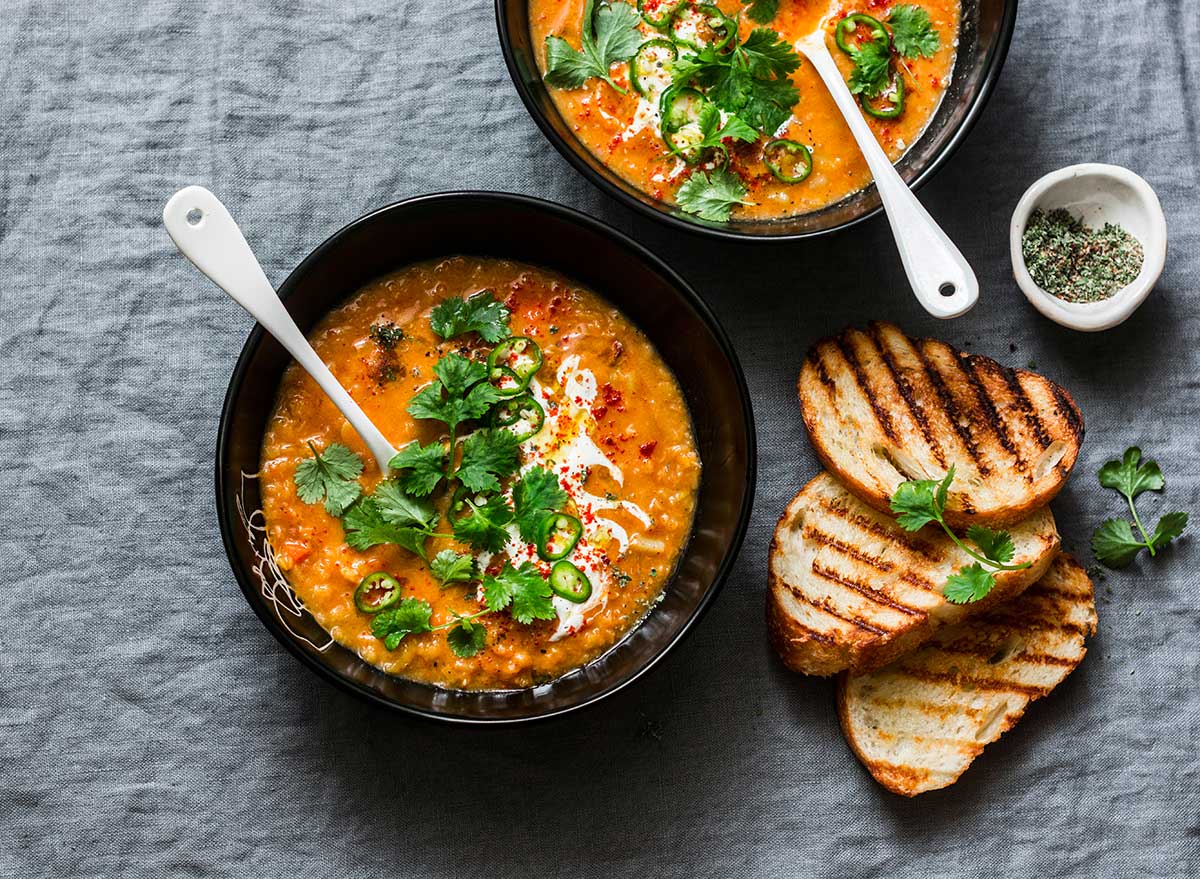 Ingredients: Chicken or vegetable stock + thyme + lentils
"Soup is one of my favorite healthy lunch alternatives because preparation is simple and it travels well in a good on-the-go container," says Kerri Axelrod, certified holistic health and wellness counselor. She prepares her three-ingredient lentil soup the night before. All you do is place chicken or vegetable stock, thyme, and lentils in a slow cooker overnight on the low setting.
"The lentils are an excellent source of plant-based protein, will curb midday hunger, and keep you feeling satiated well into the afternoon," she says. "Thyme is also a natural antiseptic and full of vitamin C." As for what you shouldn't ever throw in your soup, check out these 20 Worst Ingredients to Put In Your Soup.
Avocado toast with a fried egg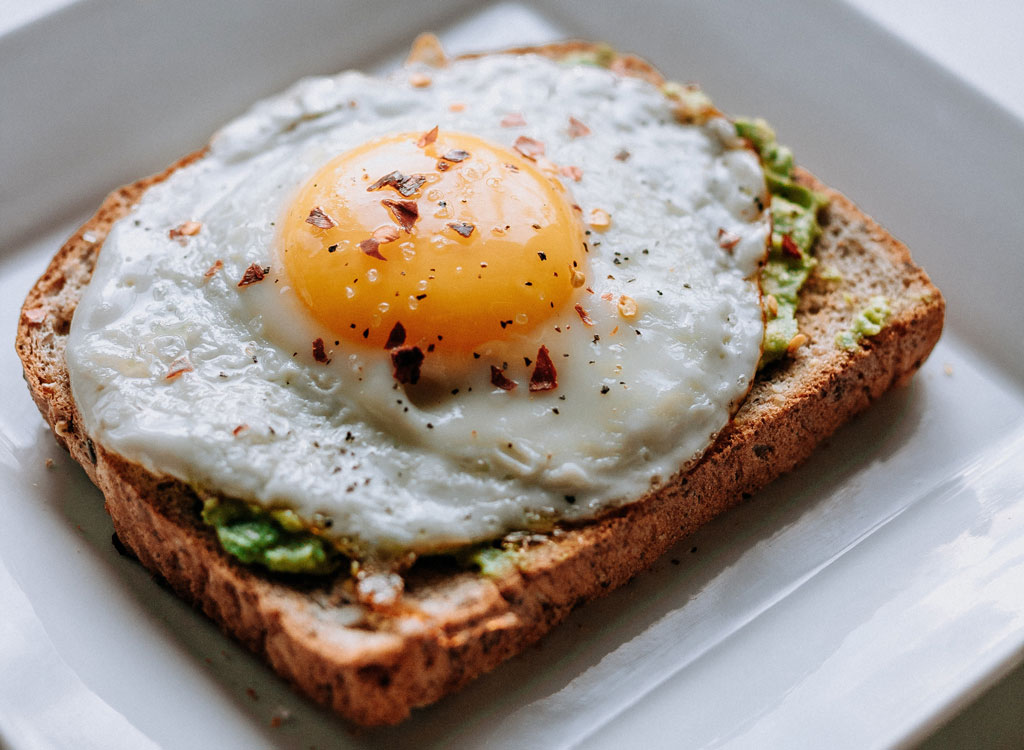 Ingredients: Sprouted bread + avocado + egg
Breakfast for lunch? Yes! This satisfying option is easy to make and provides fiber, protein, and healthy fats. Nutritionist Emily Dingmann suggests topping toasted sprouted bread with mashed avocado and a fried egg. Optional: Sprinkle with salt & pepper to taste and pop on a slice of tomato if you have one handy.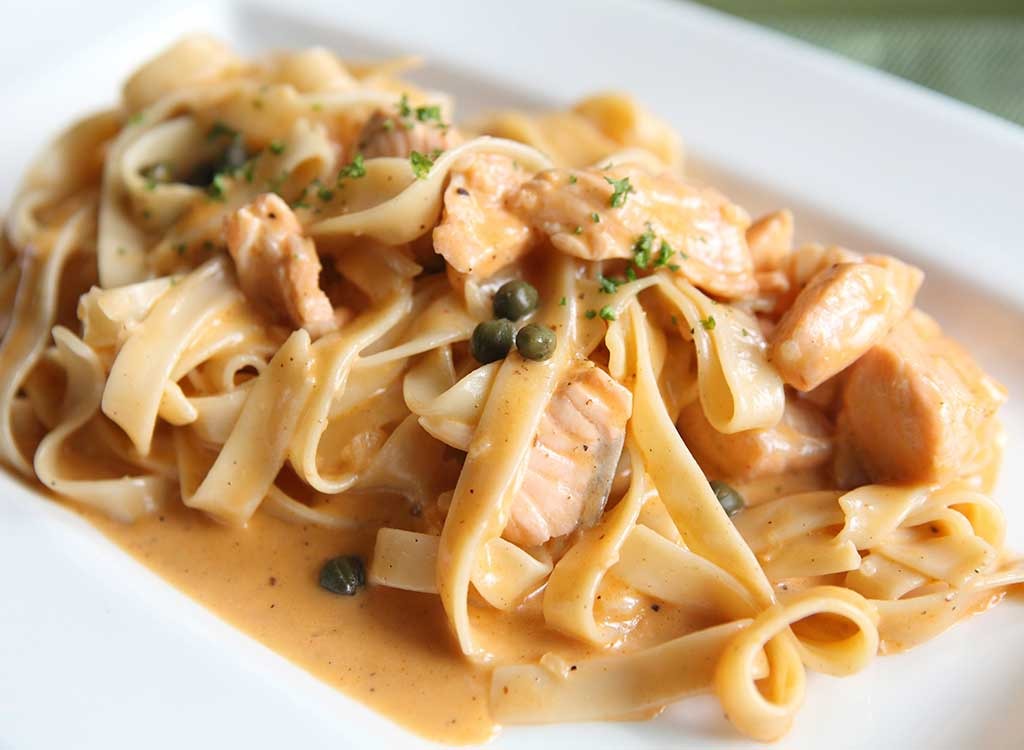 Ingredients: Whole-wheat pasta + tinned salmon + capers
Rima Kleiner, MS, RD, of Dish on Fish has the perfect lunch idea when you have whole-wheat pasta leftover from dinner. "Stick the pasta in a reusable container, mix in a can of salmon, and top with capers for some added flavor!" she says. "Simply pop this in the microwave at work for a refreshing Mediterranean dish."
Baked sweet potato with cottage cheese and steamed broccoli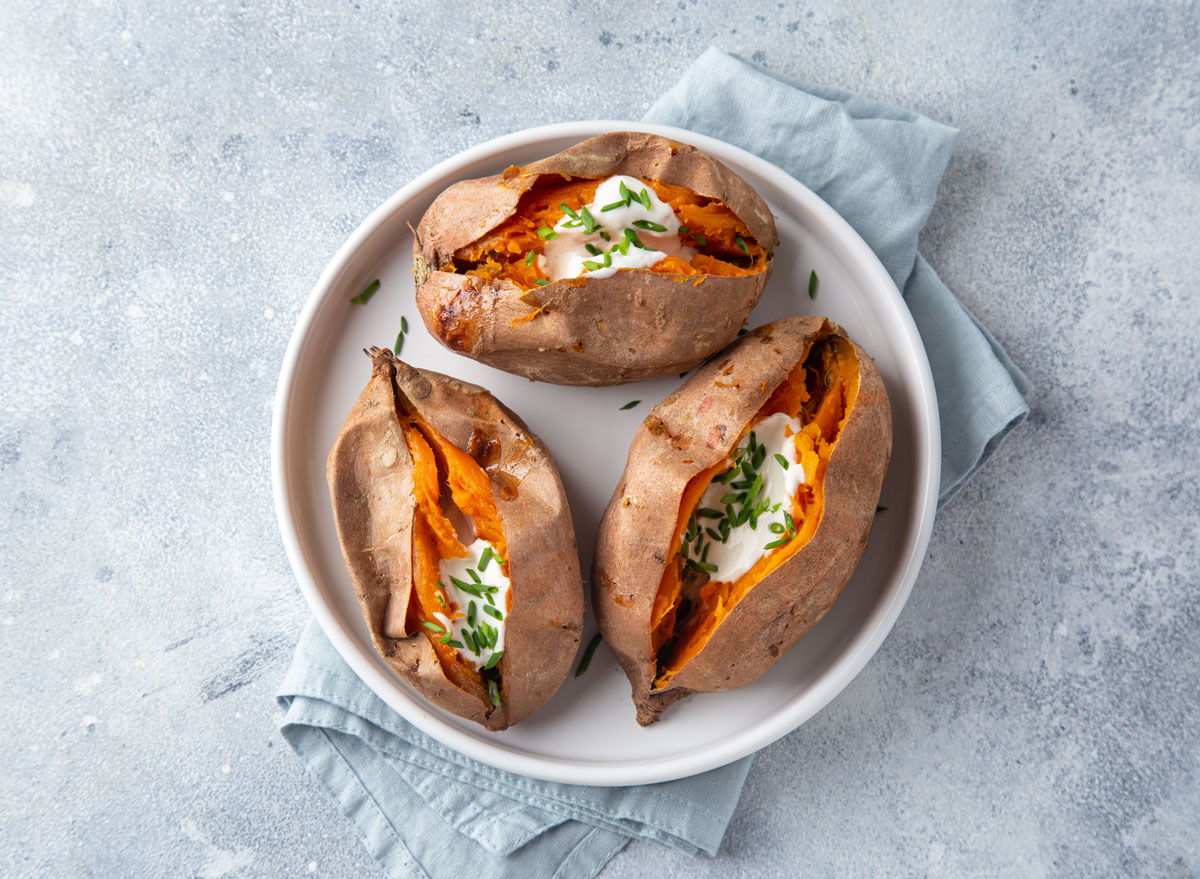 Ingredients: Sweet potato + cottage cheese + broccoli
"A fast and healthy winter lunch is a baked sweet potato with cottage cheese and steamed broccoli. You can top it off with some black pepper and/or hot sauce if you want and you're good to go," says Heather Pratt, MNT, BCHN. "I like to bake sweet potatoes for lunch the night before, and I always bake a couple of extras for a quick addition to any meal. The broccoli can be prepared simply by cutting it into bite-sized pieces and then placing it in a sauté pan over medium heat with about 1/4 cup of water. Cover and cook until broccoli is tender but still bright green, about 5-7 minutes; then, drain any excess water."
For more ideas on what to do with those extra sweet potatoes, check out these 20 Sweet Potato Recipes for Weight Loss.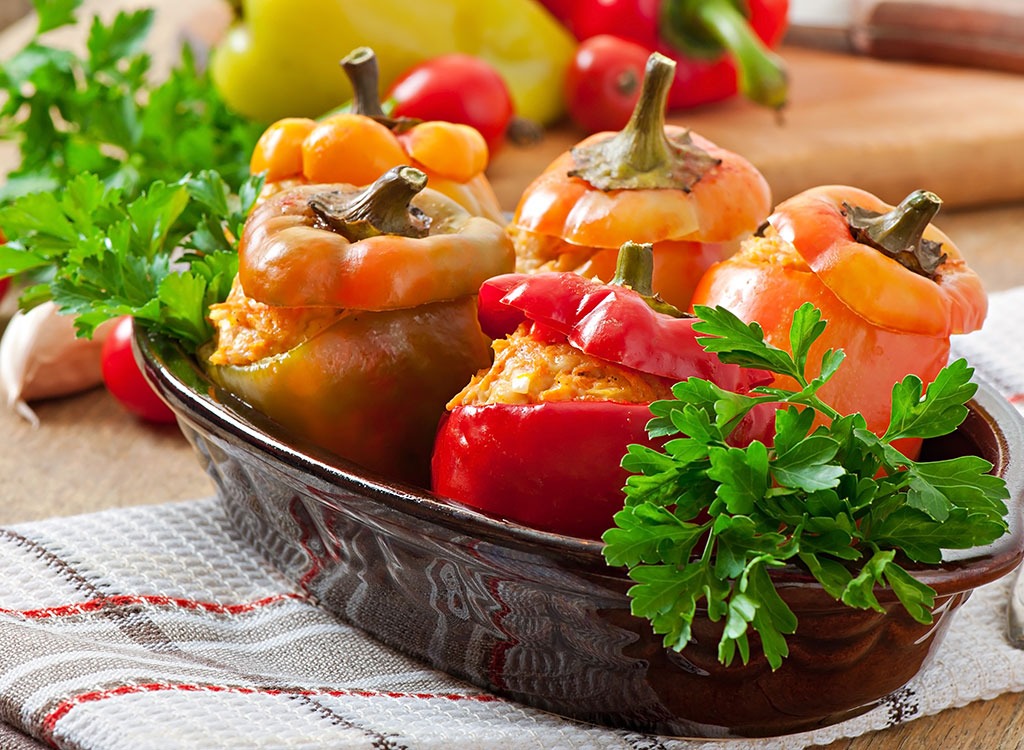 Ingredients: Tinned tuna + Greek yogurt + red bell pepper
For a busy day when you have no time for prep, Kleiner says to whip out a can of tuna, a container of plain Greek yogurt, and red bell pepper. "Simply combine the canned tuna and Greek yogurt, and add the mixture to red bell pepper slices," Kleiner says. "Easy as one, two, three!"
If you have a little more time, try these 10 Stuffed Peppers Recipes for Creative Weeknight Dinners.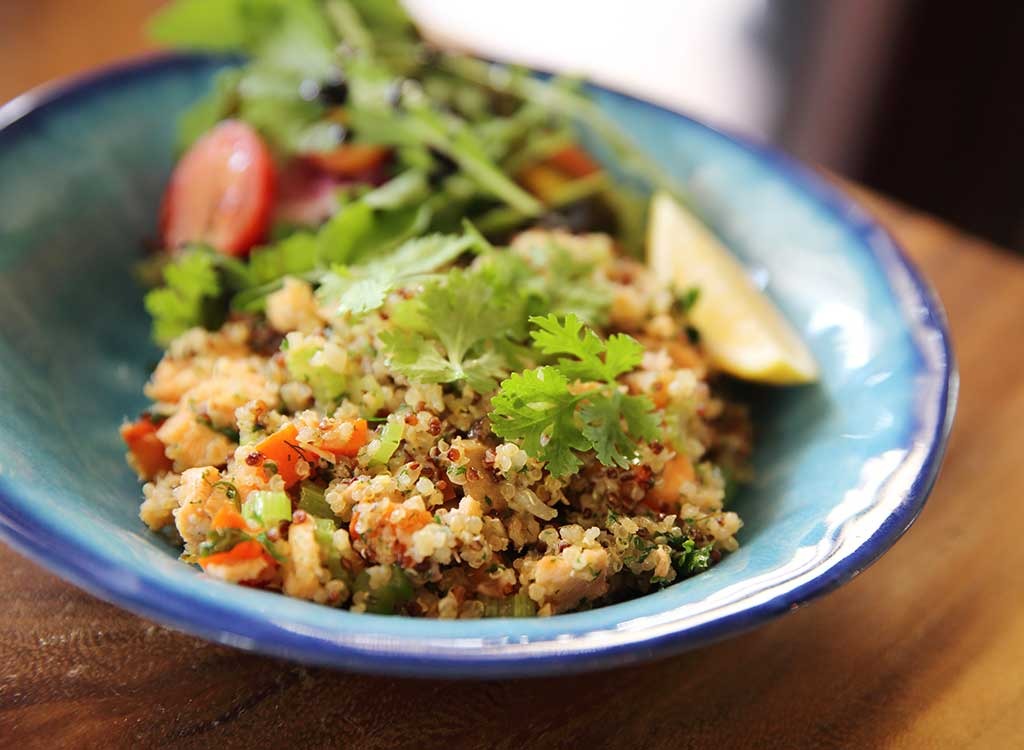 Ingredients: Quinoa + sun-dried tomatoes + tinned salmon
The night before, boil some quinoa for about 15 minutes and store it in your refrigerator. Add olive oil to sun-dried tomatoes and let that soak overnight. At lunchtime, Kleiner says to combine canned salmon, quinoa, and your olive-oil-soaked sundried tomatoes to make a healthy, easy lunch. Sounds good to us!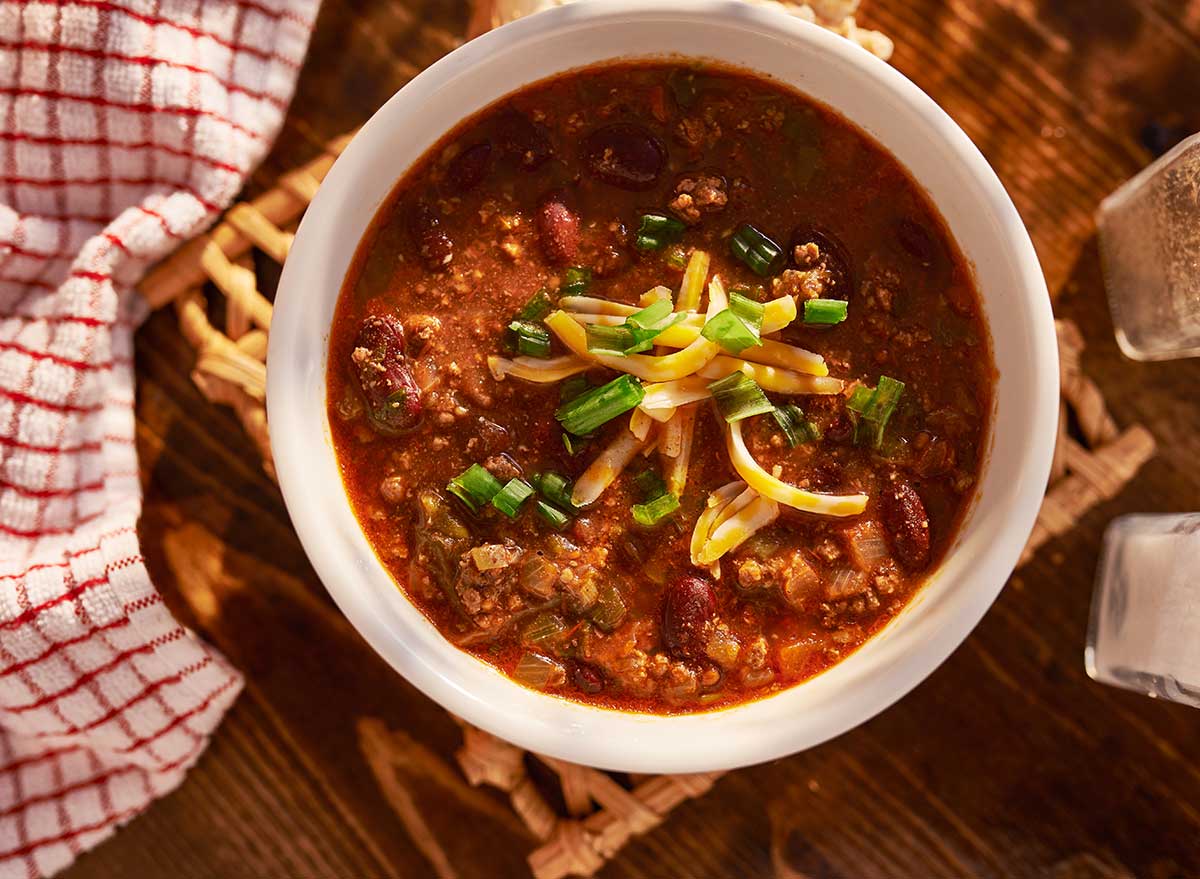 Ingredients: Lean ground beef + kidney beans + salsa
Jim Burdumy of Elite Core Fitness whips up a filling chili in less than 10 minutes. Just brown some ground beef, stir in kidney beans and the salsa of your choice, and you've got a hearty, low-carb meal.
For plenty more chili ideas, try these 20 Slimming Chili Recipes That Will Keep You Warm This Season.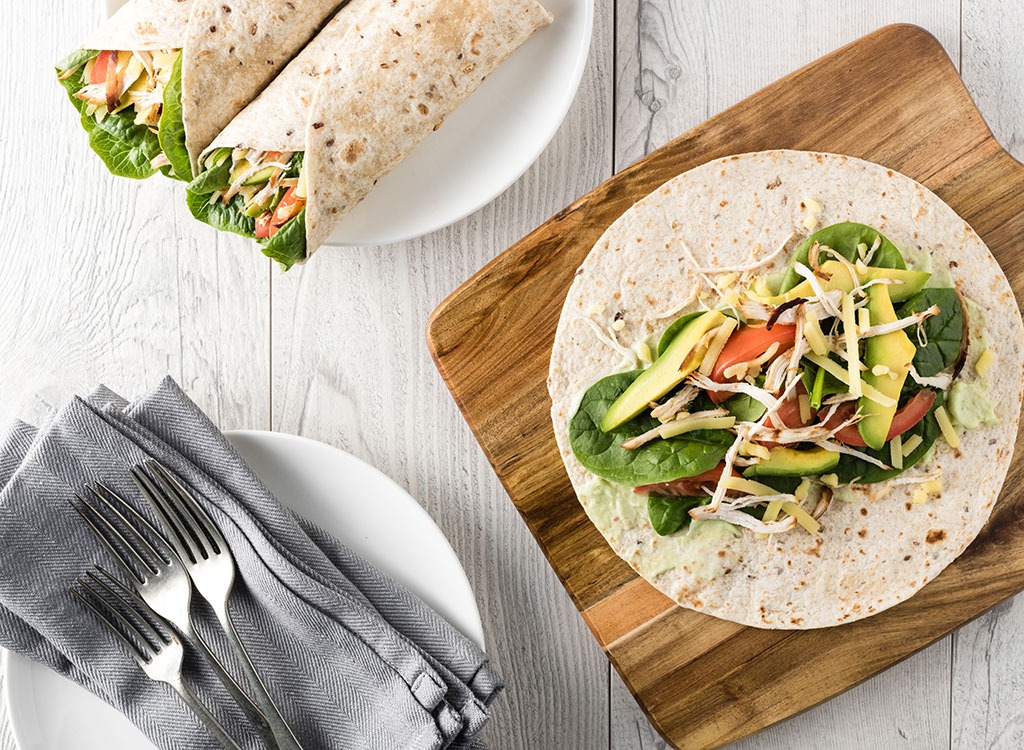 Ingredients: Avocado + ground turkey + almond flour wraps
Skip the overpriced, boring turkey deli sandwich and make this easy lunch yourself. Slice up a ripe avocado, brown some ground turkey (free-range and local) in a skillet, and then put both in almond flour wraps. "Ground turkey is a good source of protein, B-complex vitamins, and selenium, and almond flour wraps are a great gluten-free alternative," says Axelrod. "Avocados are also a good source of the healthy fats that aid in brain functions to keep your mind at peak performance throughout the workday."
Ingredients: English muffin + ricotta cheese + tomato
Pizza has never been easier! Scott Levy, the founder of Daily Spot, says to spread ricotta cheese on an English muffin, top with a tomato, and toast. You'll curb your pizza cravings in a flash! And best of all, it's high in protein, low in fat, and takes less than five minutes to prepare.
If you have a little more time, try making these Cheesy Keto Pizza Cups.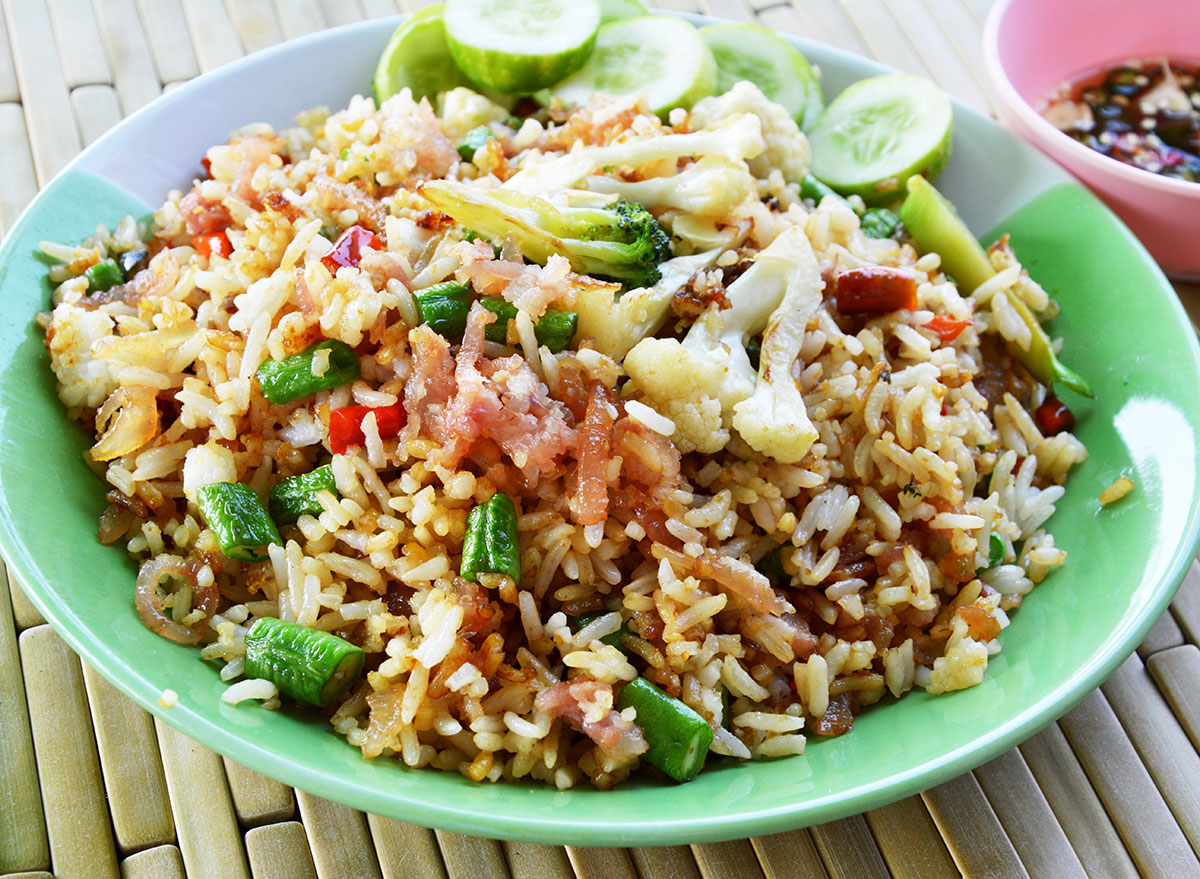 Ingredients: Chicken breast + eggs + brown basmati rice
Jenny Woodberry, a nutritionist and professional chef for Ultimate Performance, recommends boiling brown basmati rice and then stir-frying it (with coconut oil if possible) in a skillet with chicken breast that's been cooked and chopped. Lastly, crack two beaten eggs into the pan and scramble it all together. If you want to add extra ingredients, you can add spring onions, garden peas, diced pepper, or a drizzle of light soy sauce.
Smoked salmon egg-white wrap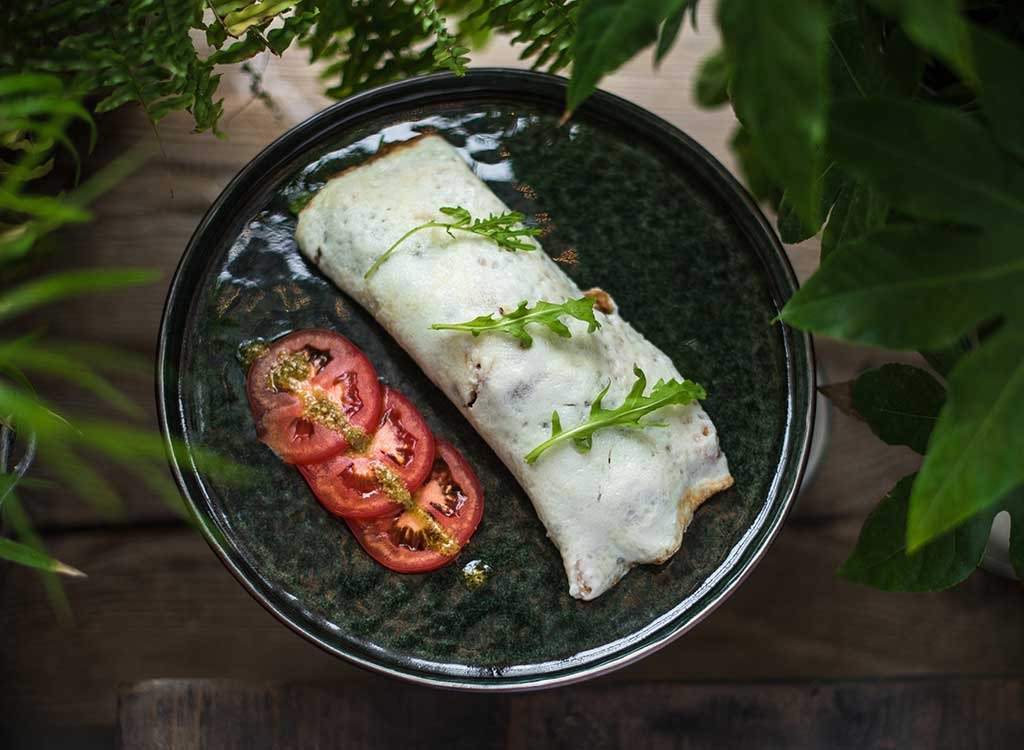 Ingredients: Smoked salmon + egg whites + asparagus
While we love egg yolks—the choline in them has been proven to help fight belly fat—we're sharing this egg white lunch idea from Woodberry. For this dish, she says to cook your egg whites as if they'll be an omelet (but instead, they'll be the "wrap" part). Layer it with smoked salmon and asparagus, season with some salt and pepper, and wrap it all up! Genius!
Ingredients: Chicken breast + feta cheese + lettuce (such as romaine or buttercrunch)
Looking for a little Mexican-inspired flair for a healthy lunch? Woodberry suggests roasting your chicken, pulling it apart, and then filling lettuce leaves with the chicken and feta. From there, you can get as creative as you want.
"There are many varieties of this simple dish," she says. "You could add chopped tomatoes, olives, jalapeños, cucumber, peppers—whatever you fancy." You could also do this with a rotisserie chicken! Check out our rotisserie chicken taste test to choose the best one.
Smoked salmon butternut spaghetti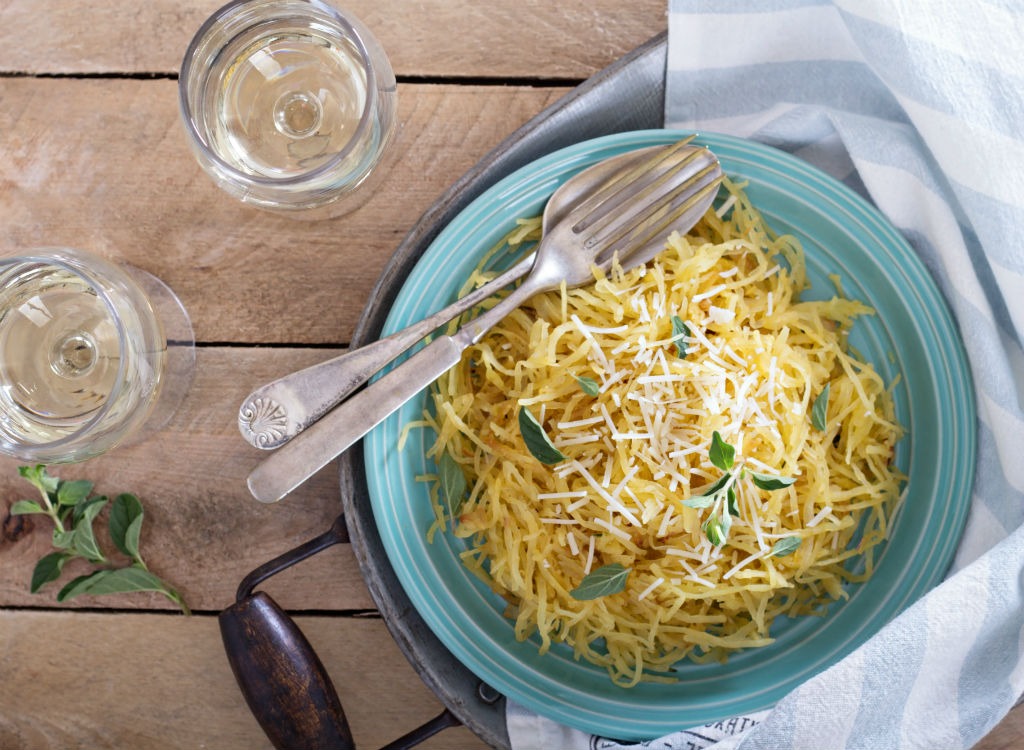 Ingredients: Smoked salmon + cream cheese + butternut squash spaghetti
This low-carb version of a creamy pasta still feels hearty and indulgent, and we're excited to try this savory combo. All you have to do is heat the cream cheese until it's smooth and runny in a pan; add the smoked salmon and the butternut squash to the pan and cook for 5-10 minutes; finally, sprinkle with some black pepper and a squeeze of lemon if you'd like.
"Make this in advance or place all your ingredients in a container and heat through in the microwave at work," Woodberry says. "Heat for about three minutes, stirring halfway through."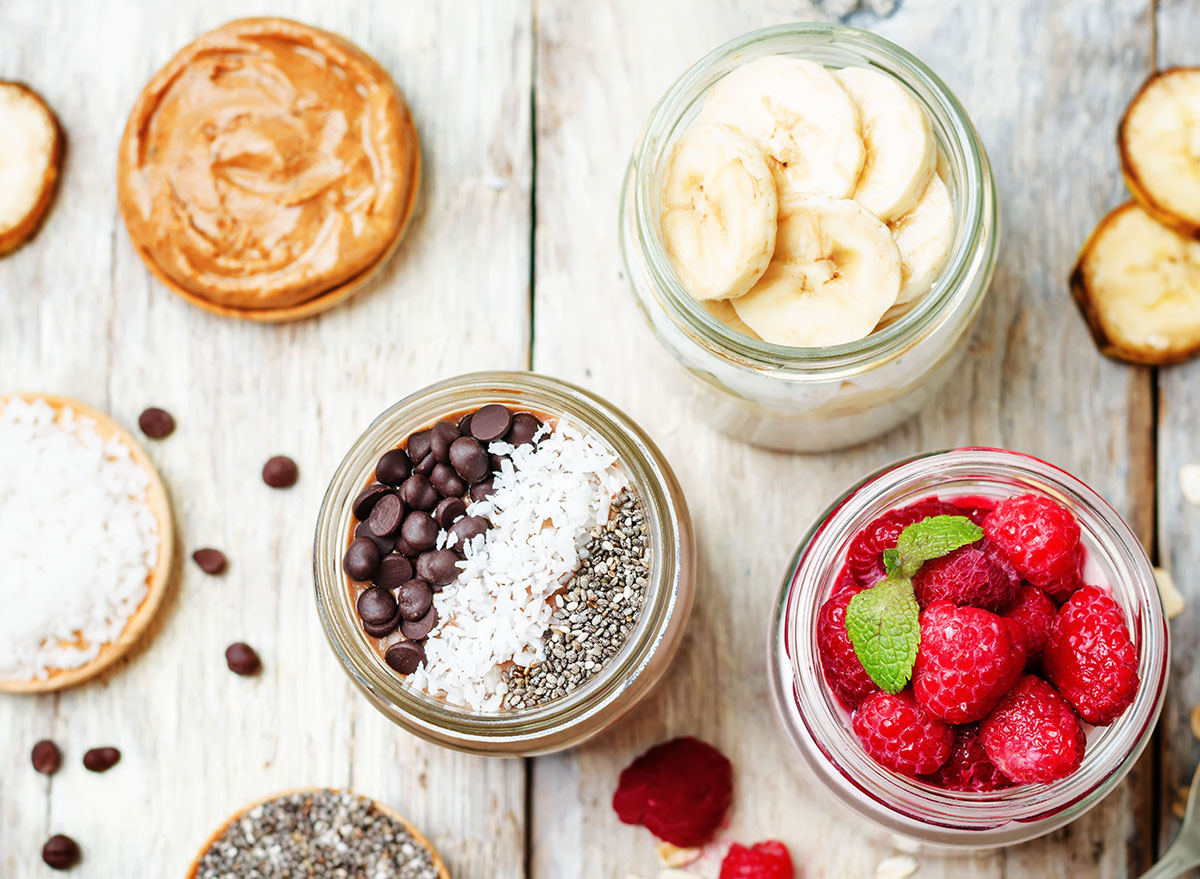 Ingredients: Rolled oats + milk + Greek yogurt
You've either discovered overnight oats and they're your new favorite thing ever, or you haven't yet, and they're about to be! While there are plenty of ways to whip up your overnight oats, here's one simple way to get a Mason jar full of fiber-packed goodness.
All you have to do is put some dry, uncooked rolled oats into a Mason jar, cover with your choice of milk, and then add in some Greek yogurt and stir. You can have fun with it by adding in any extra flavors or toppings, but the last step is to put the jar (with a lid on it!) in the fridge overnight. In the morning, stir it up and enjoy it cold. Does it need honey? Bananas? Chocolate nibs? Coconut flakes? Whatever you want, you decide!
Quinoa or couscous tabbouleh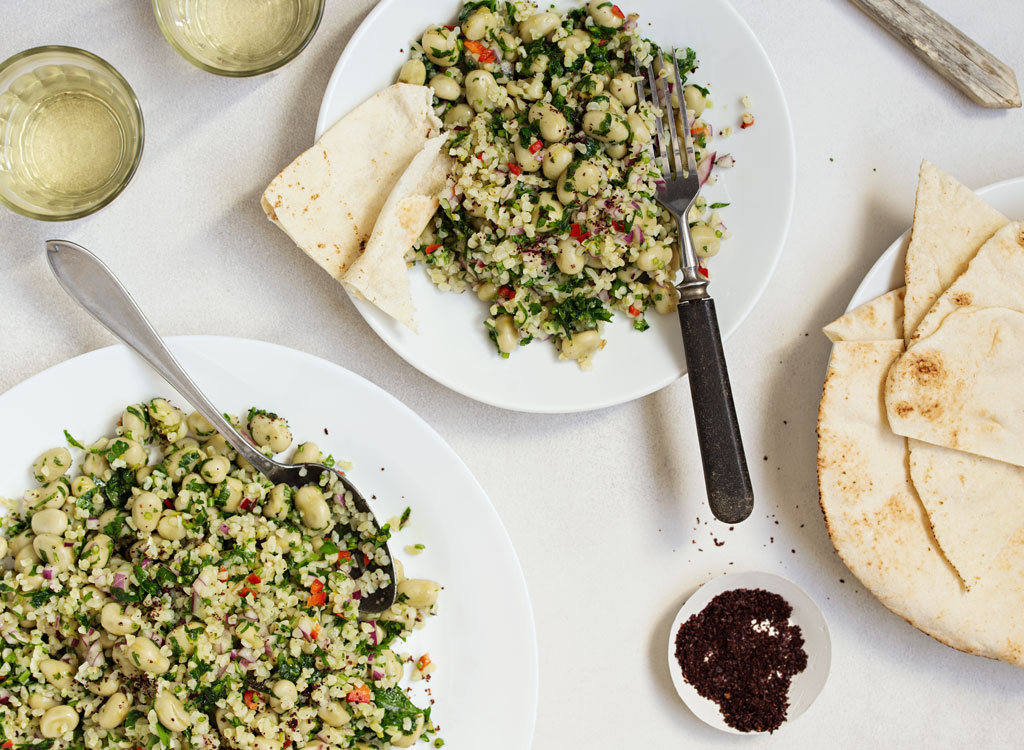 Ingredients: Quinoa + pomegranate seeds + feta
Try this Middle Eastern salad for a light but surprisingly filling lunch. Woodberry says to add feta and pomegranate seeds to cooked quinoa and spruce up however you desire. She likes tossing in fresh coriander and toasted sunflower seeds, but you can keep it to just these three ingredients as well. After all, pomegranate seeds and feta are pretty delicious on their own.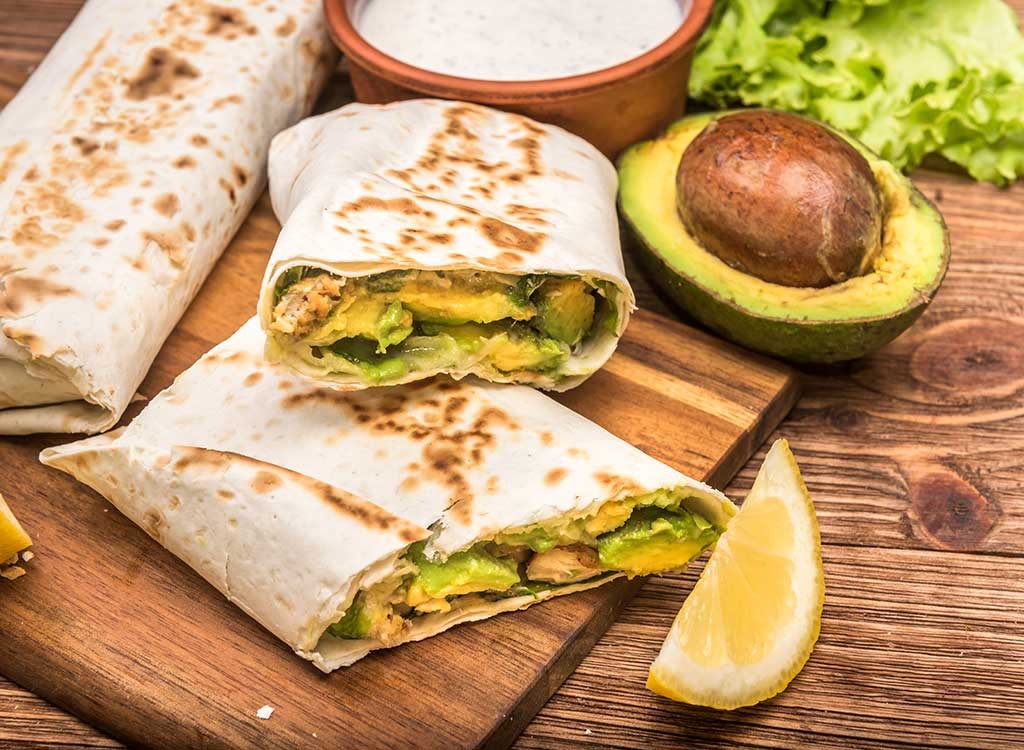 Ingredients: Tinned tuna + avocado + whole-wheat wrap
"My go-to simple lunch is one can of tuna, half an avocado, and a whole wheat wrap," says Cara Harbstreet, MS, RD, LD, of Street Smart Nutrition. "This combination offers the protein, fat, and fiber I need to keep me full and focused during a busy workday. There is no need for a fridge or microwave; simply drain the tuna, mash in the avocado, and roll into the wrap. In a matter of seconds, I have the balanced, nutritious lunch I need with minimal effort."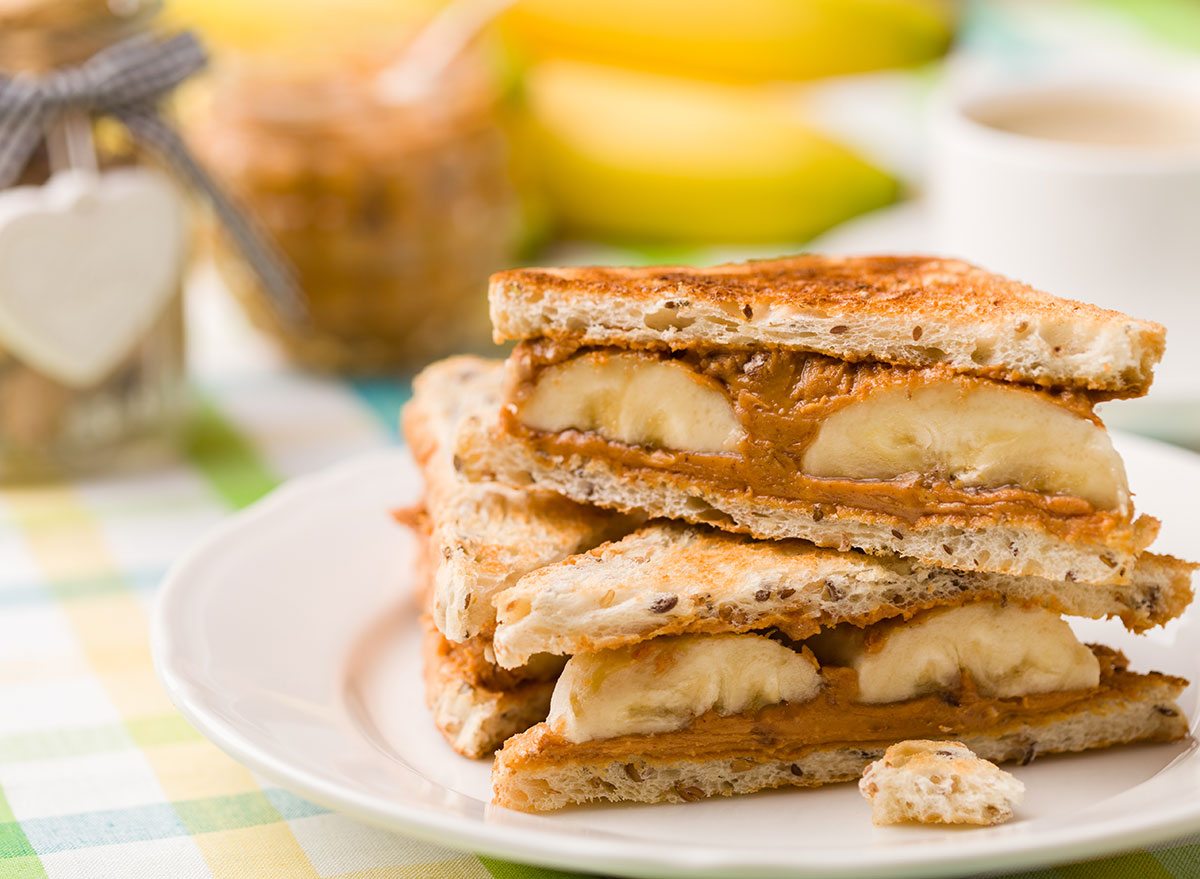 Ingredients: Peanut butter + banana + whole-grain bread6254a4d1642c605c54bf1cab17d50f1e
Does this sandwich ever get old? We think not. Just spread your choice of peanut or nut butter on whole-grain bread and top with sliced bananas; you'll get a balanced lunch or snack in a snap.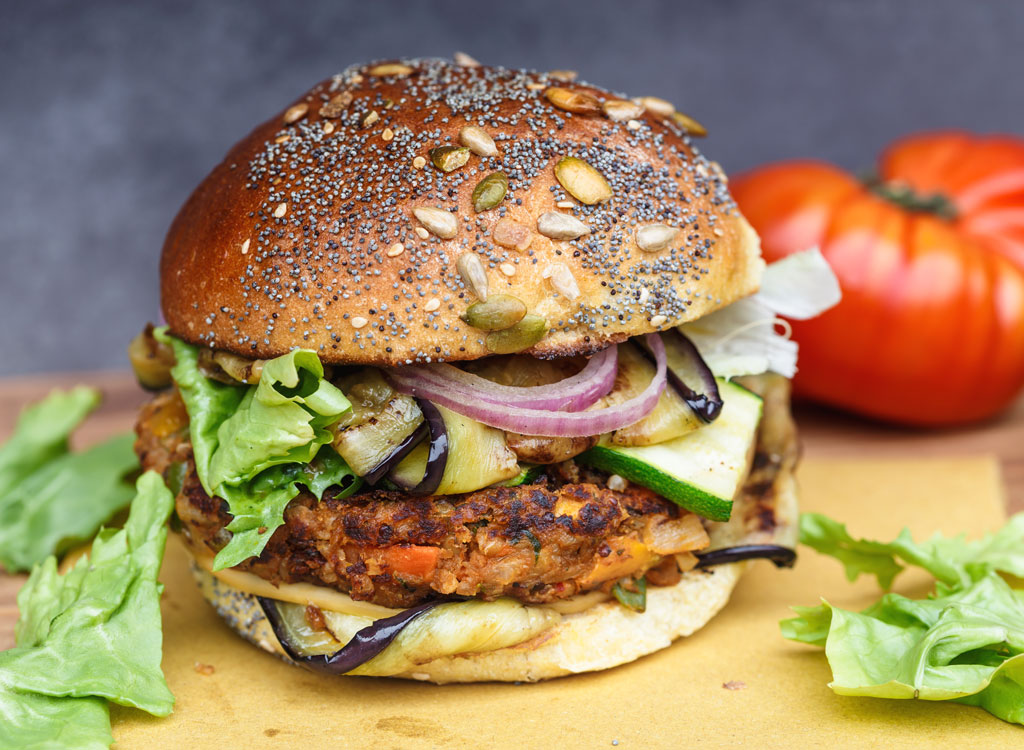 Ingredients: Veggie burger + hummus + whole-grain bread
Prepare the veggie burger the night before, or prepare two at the beginning of the week so you have them on hand for two lunches. Then, just pop it on a slice or two of whole-grain bread that's been spread with hummus. Yum!
Juicy chicken sausage roll-up
Ingredients: Chicken apple sausage + asparagus + whole-wheat wrap
Nicole Meyer, the founder of Nibbles by Nic, has a tasty lunch idea that you can prep the night before or cook fresh if you have more time. Simply cook up a chicken apple sausage on a skillet alongside some asparagus spears (that were lightly coated in olive oil), and then roll it all up in a wrap. If you want to make it a five-ingredient lunch instead of three, Meyer says to add some crisp apple slices and spicy mustard to the wrap.
All you'll need is a 12-ounce package of chicken apple sausage, one bunch of asparagus spears (trimmed and cut into halves), and two tablespoons of olive oil. You can add salt and pepper to taste.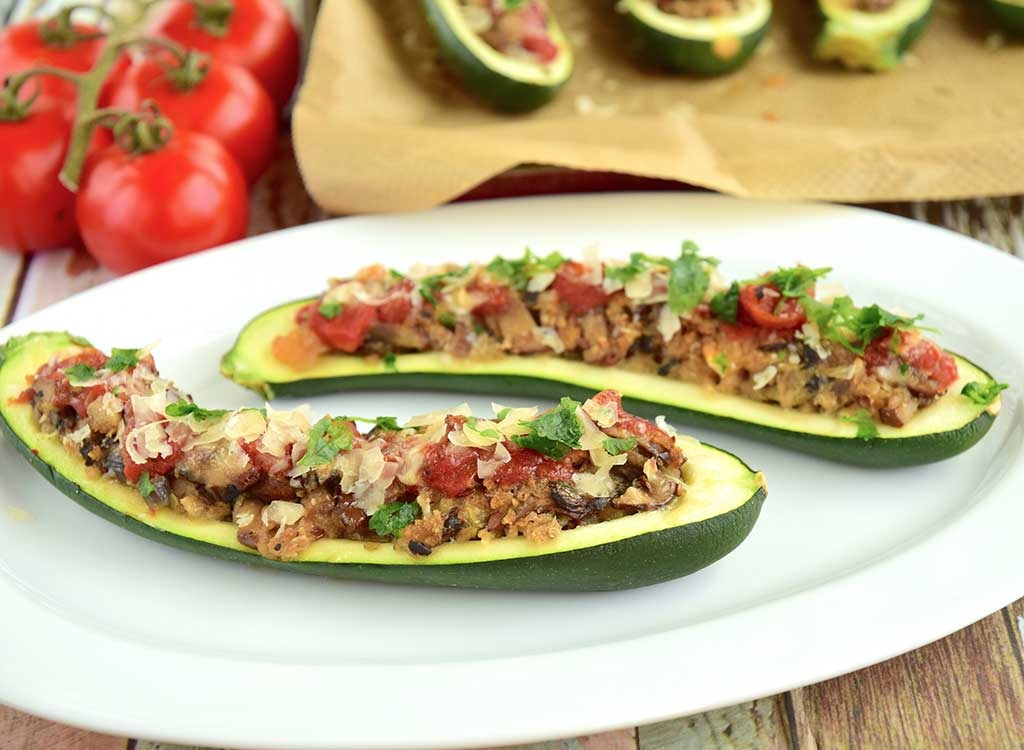 Ingredients: Lean ground beef + zucchini + low-sodium taco seasoning
For a twist on your next Taco Tuesday, Meyer halves a zucchini, scoops out the flesh, roasts the shells, and then later fills the boats with cooked, lean ground beef that's been mixed with taco seasoning. Make sure to pop the filled creations back into the oven for a few more minutes so that they can "set."
Tuna and guacamole rice bowl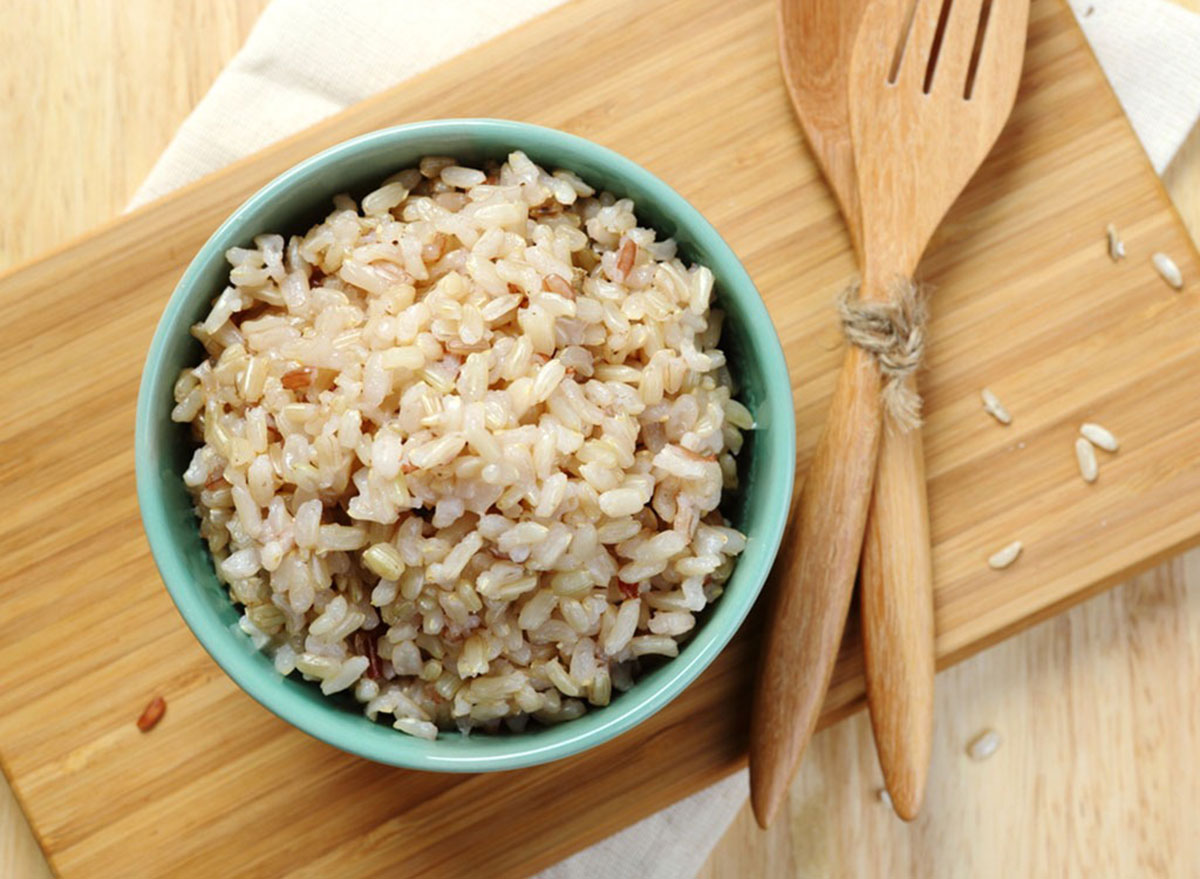 Ingredients: Brown rice + tinned or to-go tuna + guacamole
Registered dietitian Shoshana Pritzker has a simple recipe that's made even easier if you can get the portable versions of the three ingredients. "Take one single-serve brown rice cup and one packet tuna—flavored ones are awesome—and a 100-calorie pack of guacamole," she says. "Throw the brown rice cup in the microwave for one minute, then top with tuna and guacamole. Enjoy!"
Amazingly, you can sometimes find these portable tuna packets at the dollar store, too; it's not often we recommend doing your grocery shopping there, but here are 17 Food Items You Should Buy at the Dollar Store.
Read more: