15+ Best Healthy Kale Recipes for Weight Loss
Get an extra boost of nutrients with these recipes, thanks to this magical superfood.
If you haven't taken advantage of this nutrient-dense superfood yet, now is the time! Kale may not be a winner when you eat it all on its own, but with the right recipes, you can easily learn how to fit kale into all types of meals. This is why we compiled some of our favorite healthy kale recipes for you right here!
Plus, these kale recipes are perfect for last-minute dinners or meal prep days in the weeks that you're tight on time. For example, instead of carbing up on a chicken rice bowl, you can try substituting in kale and enjoy a chicken quinoa bowl. For those healthy folks that love salads, your kale salad doesn't have to be so tasteless; try a light lemon dressing or mixing in a variety of veggies to help the flavor of the kale take on the best form.
Here are even more clever kale recipes for you to pack this classic superfood into your diet—and lose the pounds while doing it!
Bean, Salmon, and Kale Salad Recipe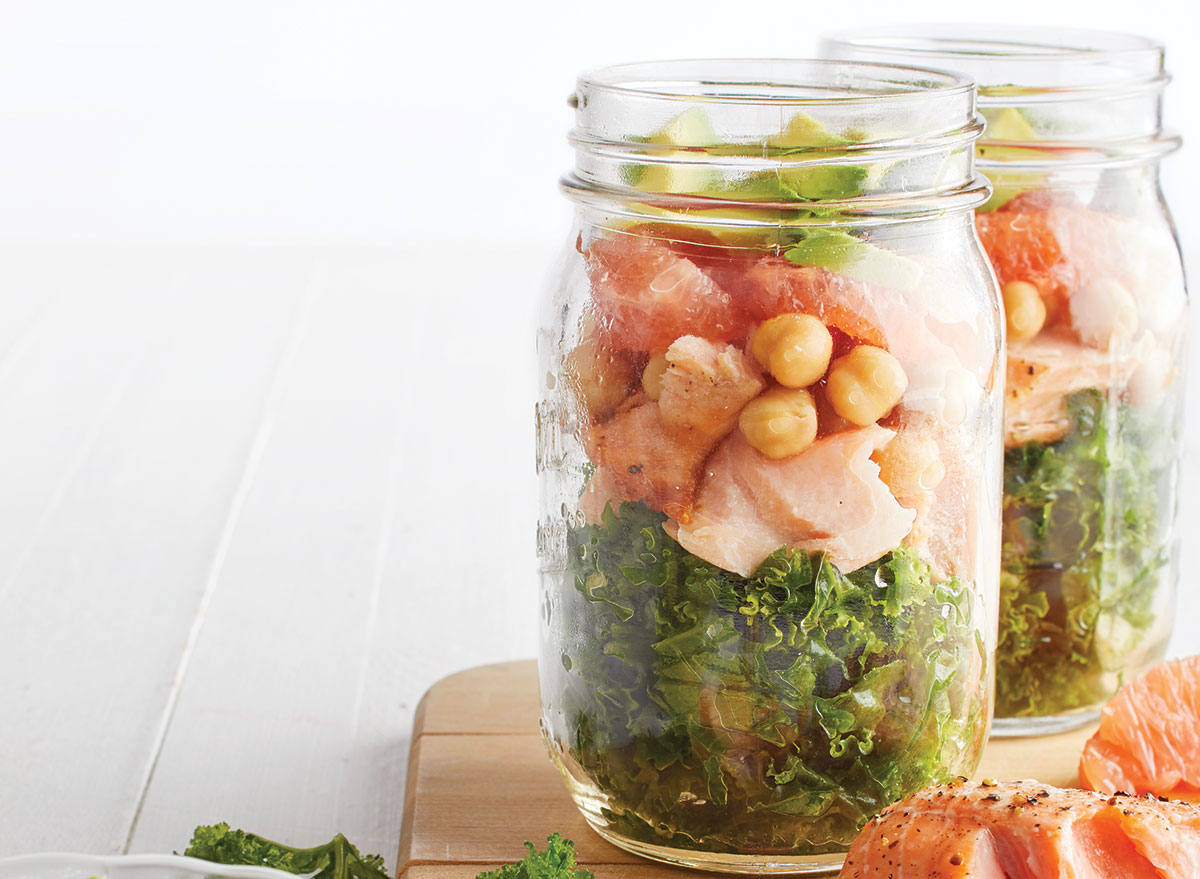 This healthy mason jar salad is a great staple for all kale lovers! Not only is this one of our favorite meal prep-friendly kale recipes, but it also has an exceptional source of protein (with 24 grams) and natural fibers (11 grams). Between the combination of tastes from the salmon and potent grapefruit, along with your kale greens, you'll want to prep this salad for lunch every single week.
Get our recipe for Bean, Salmon, and Kale Salad.
Peaches and Kale Smoothie Bowl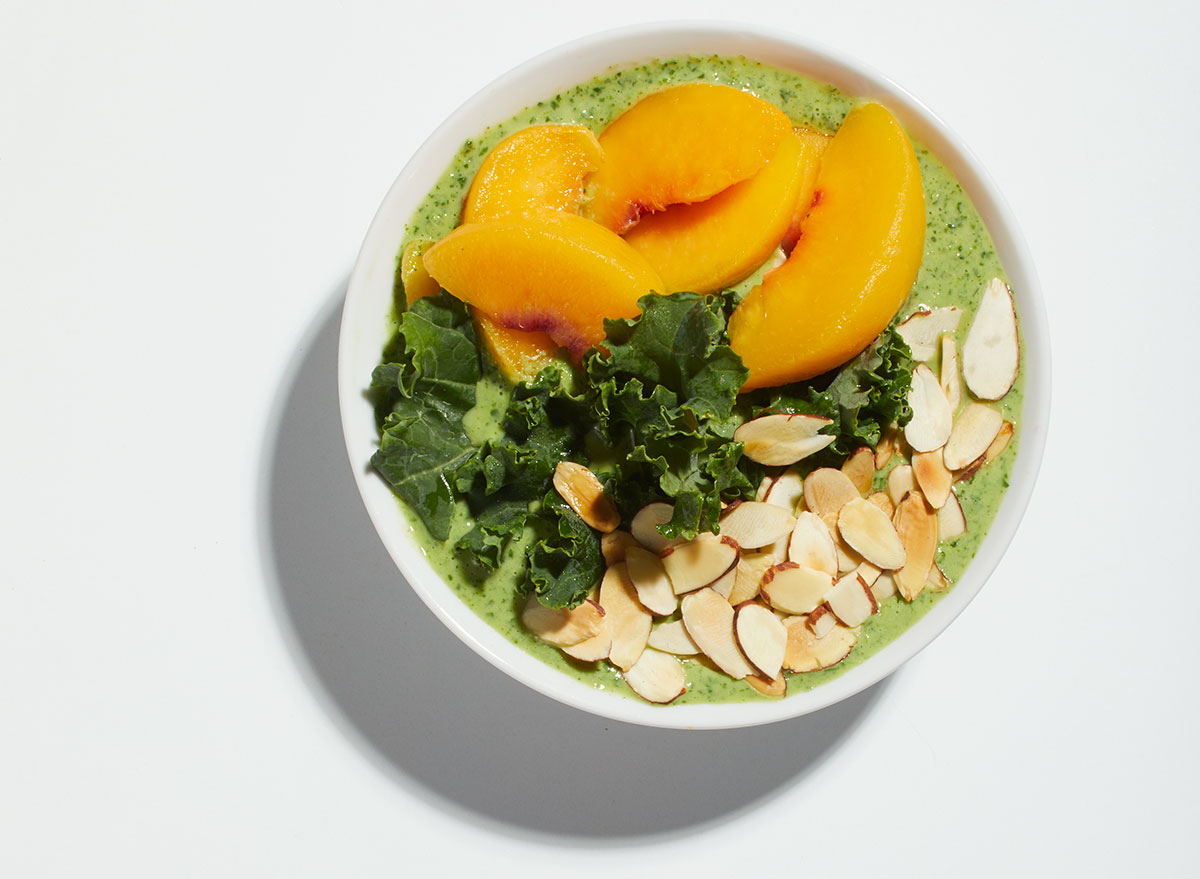 If you love a sweet healthy smoothie, this peach and kale smoothie bowl will happily surprise your craving. Even though this recipe is high in sugar (38 grams), the sugar comes from natural fructose from the fruit, which also provides a generous amount of vitamin A and vitamin C.
Get our recipe for Peaches and Kale Smoothie Bowl.
Plant-Based Lentil and Kale Tots Casserole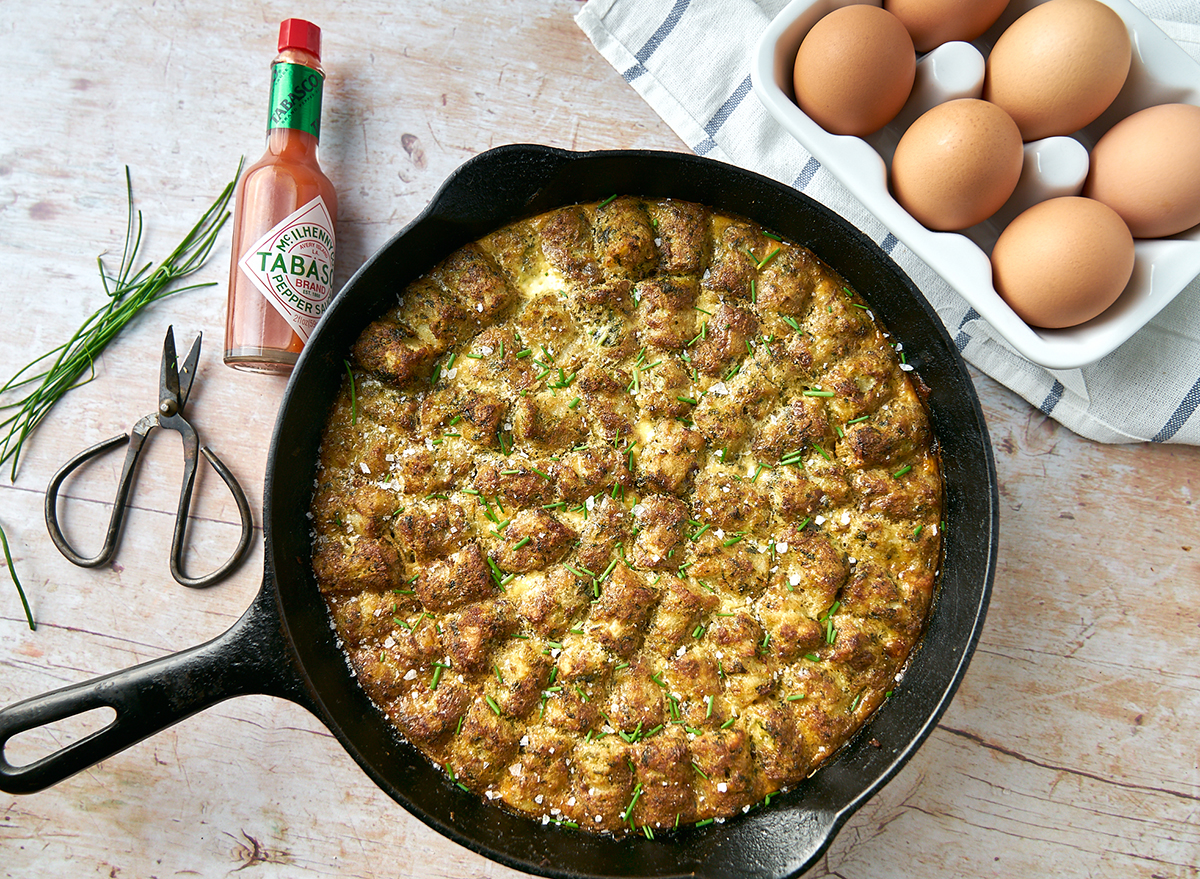 This kale recipe was made to make your taste buds sing! This healthy twist on a casserole classic has great flavors and it's also completely plant-based.
Get our recipe for Plant-Based Lentil and Kale Tots Casserole.
Homemade Kale Chips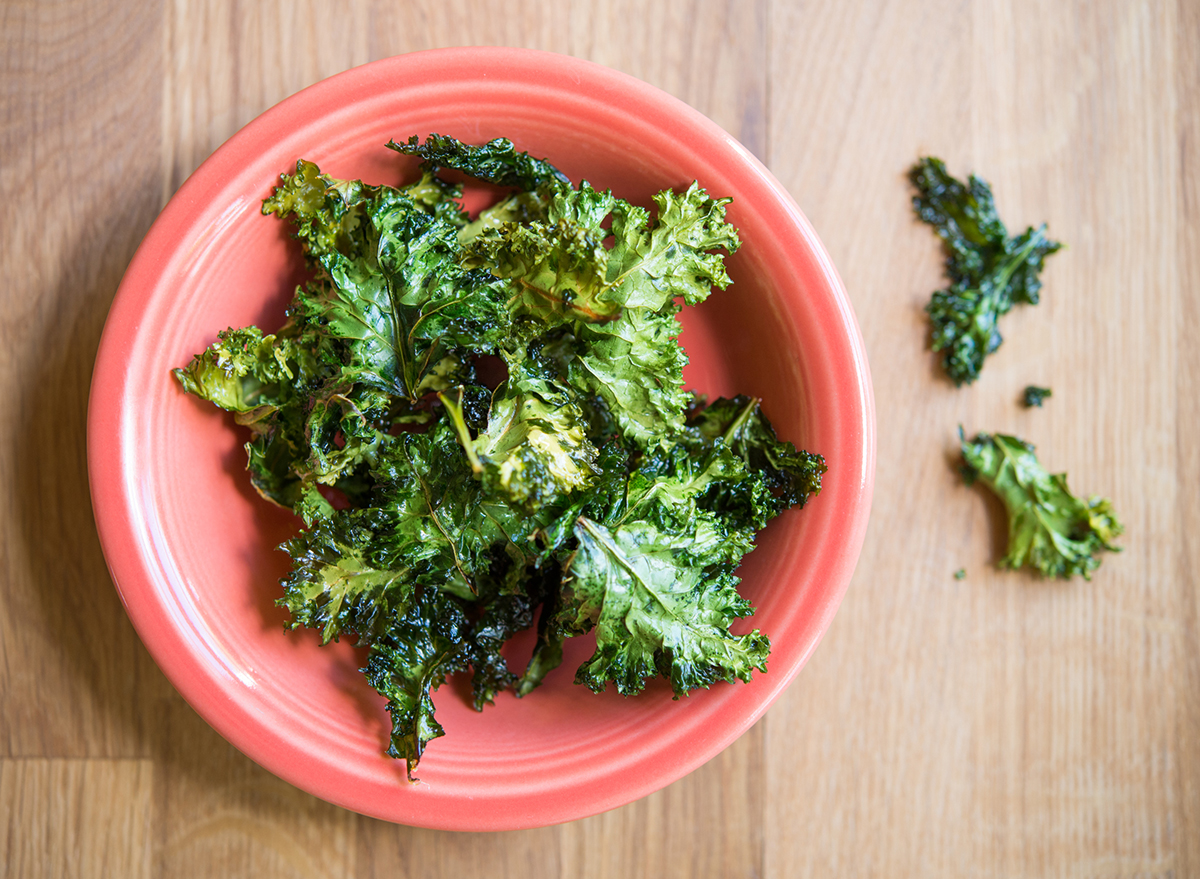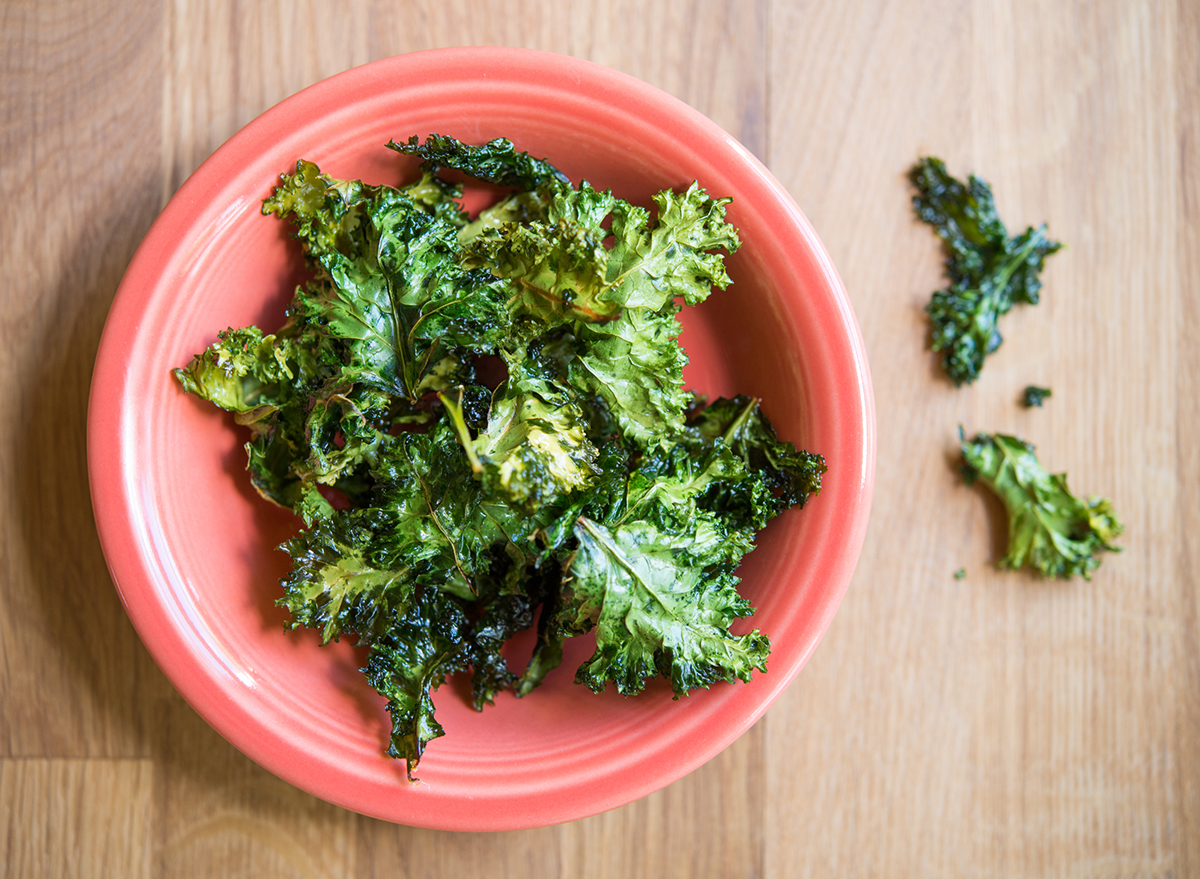 Everyone loves to snack, so why not use your kale to make a healthier option? These kale chips are full of needed nutrients and they're so tasty!
Get our recipe for Homemade Kale Chips.
Rotisserie Chicken, Kale, and White Bean Salad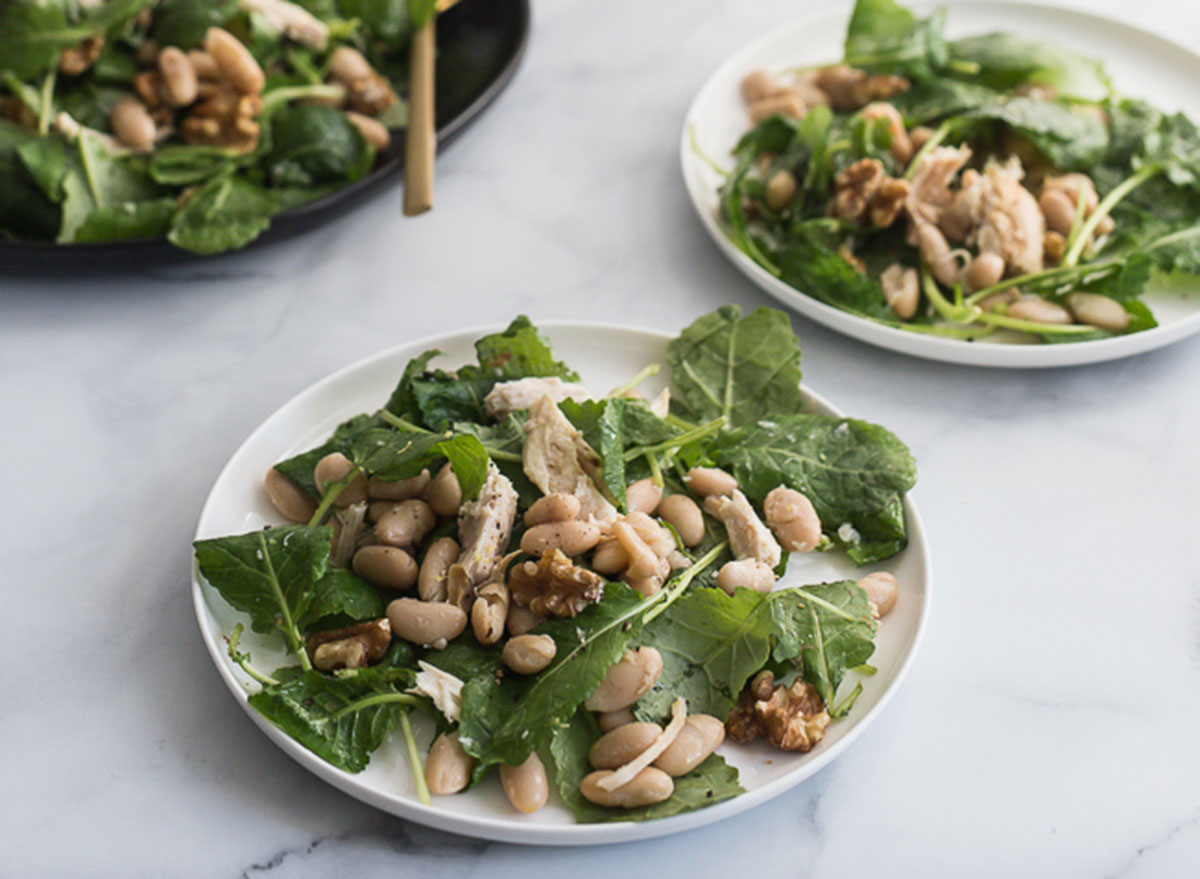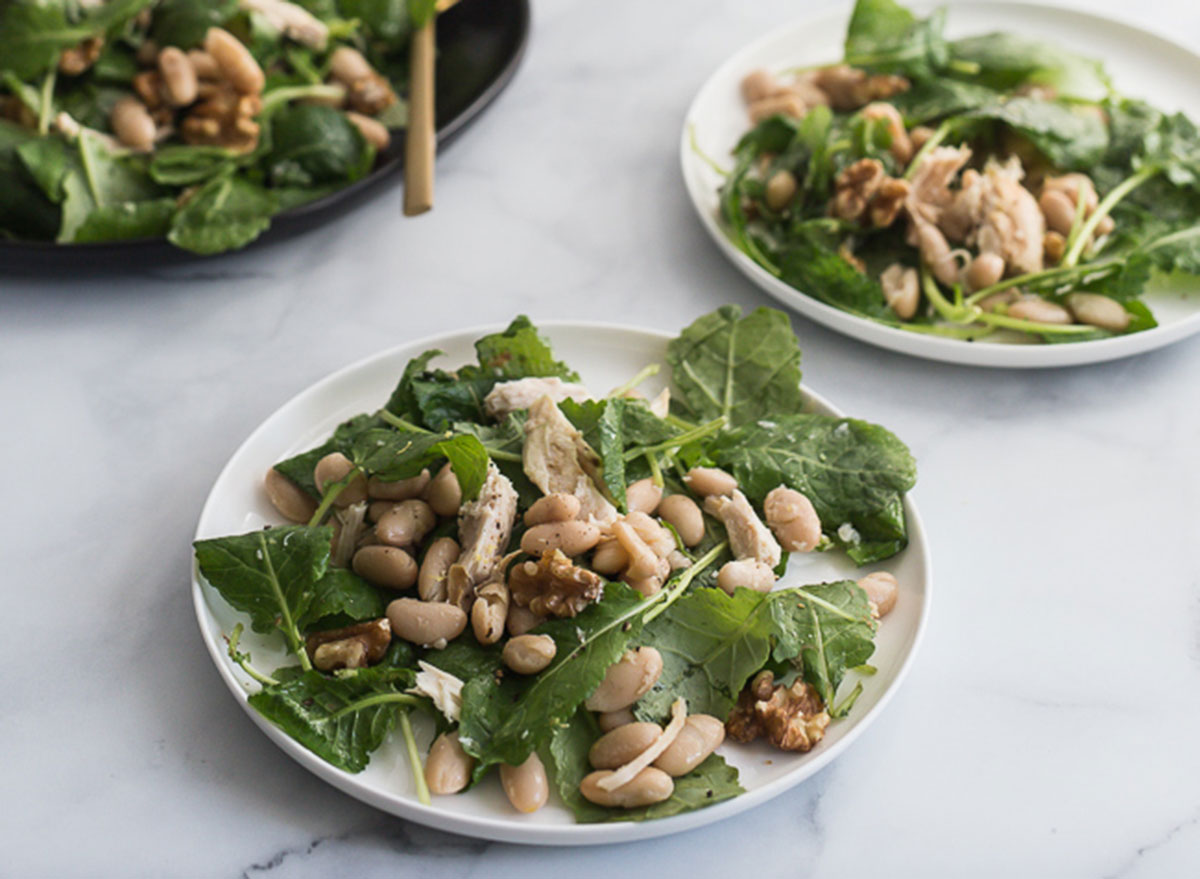 This kale recipe is not only very healthy but it's also very quick in the making! This kale salad has many sources of protein, like the rotisserie chicken, cannellini beans and raw walnuts. Although, in this light and healthy recipe the kale remains the main star when it comes to capturing flavor.
Get our recipe for Rotisserie Chicken, Kale, and White Bean Salad.
BBQ Pork Shepherd's Pie with Sweet Potato Topping
This barbeque spin on a classic shepherd's pie has so many new and creative flavors, but more importantly, it's good for you! Swapping out regular potatoes for sweet potatoes adds a sweet, unique taste that blends so well with the kale, tangy barbeque sauce, and seasoned ground beef. This healthy option offers great vitamin A and vitamin B6, as well as 33 grams of protein per serving.
Get our recipe for Paleo BBQ Pork Shepherd's Pie with Sweet Potato Toppings.
Instant Pot Zuppa Toscana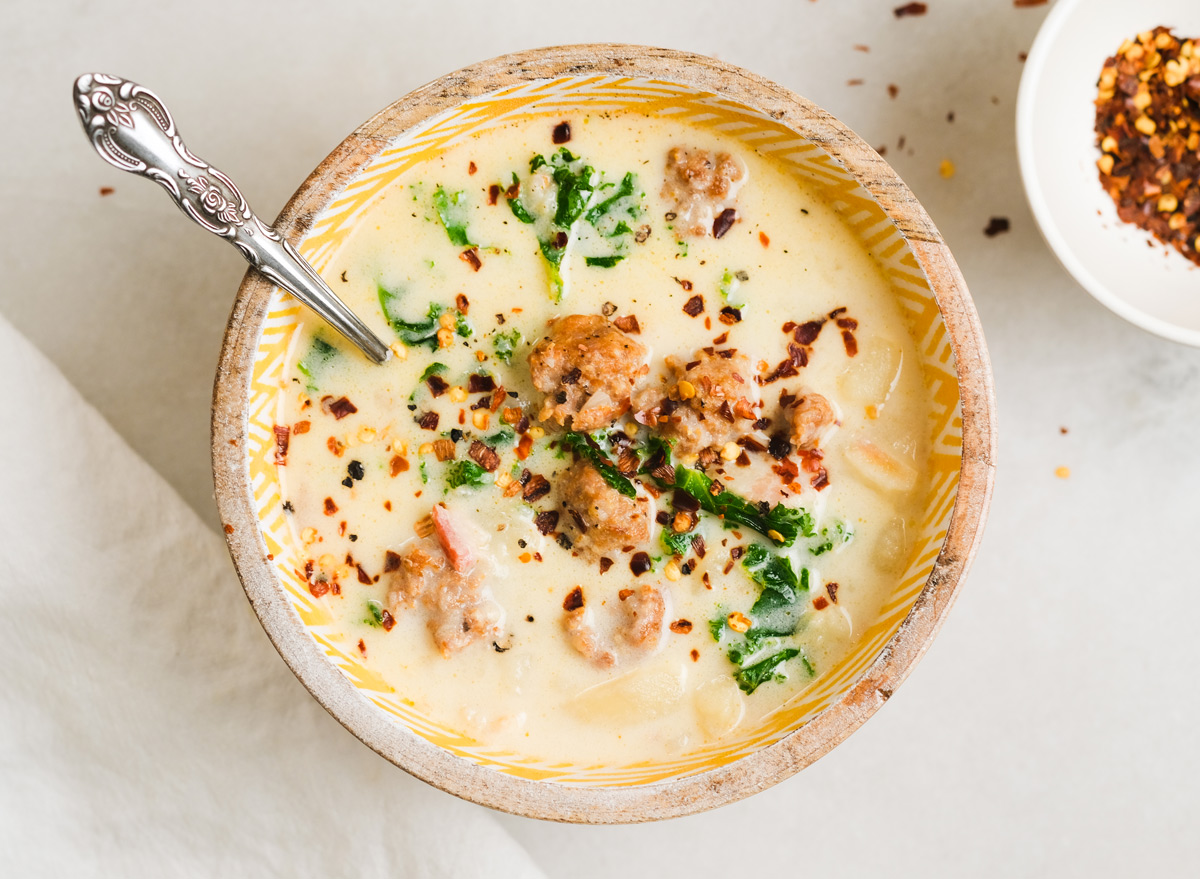 Between the fatty sausage and bacon, the potatoes, and the nutrient-dense kale, having a cup of this Zuppa Toscana will truly leave you feeling full for hours. Plus by making it in your Instant Pot, you'll have numerous cups of soup that you can meal prep and pack for the week ahead.6254a4d1642c605c54bf1cab17d50f1e
Get our recipe for Instant Pot Zuppa Toscana.
Kale Pesto Pizza
Greens on greens on greens! This recipe combines two of the most wonderful ingredients ever made—kale and pesto—to create a kale lover's dream. Most importantly, the creamy pesto is tasty and vegan.
Get the recipe from Cookie and Kate. 
Skinny Slow Cooker Kale And Turkey Meatball Soup
This kale recipe is a healthy and hearty meal for any day of the week! The ground turkey meatballs are perfect little bites that go fantastically with your nutritious kale and any other veggies you want to throw in the slow cooker.
Get the recipe from FoodieCrush. 
Kale and Feta One Pot Pasta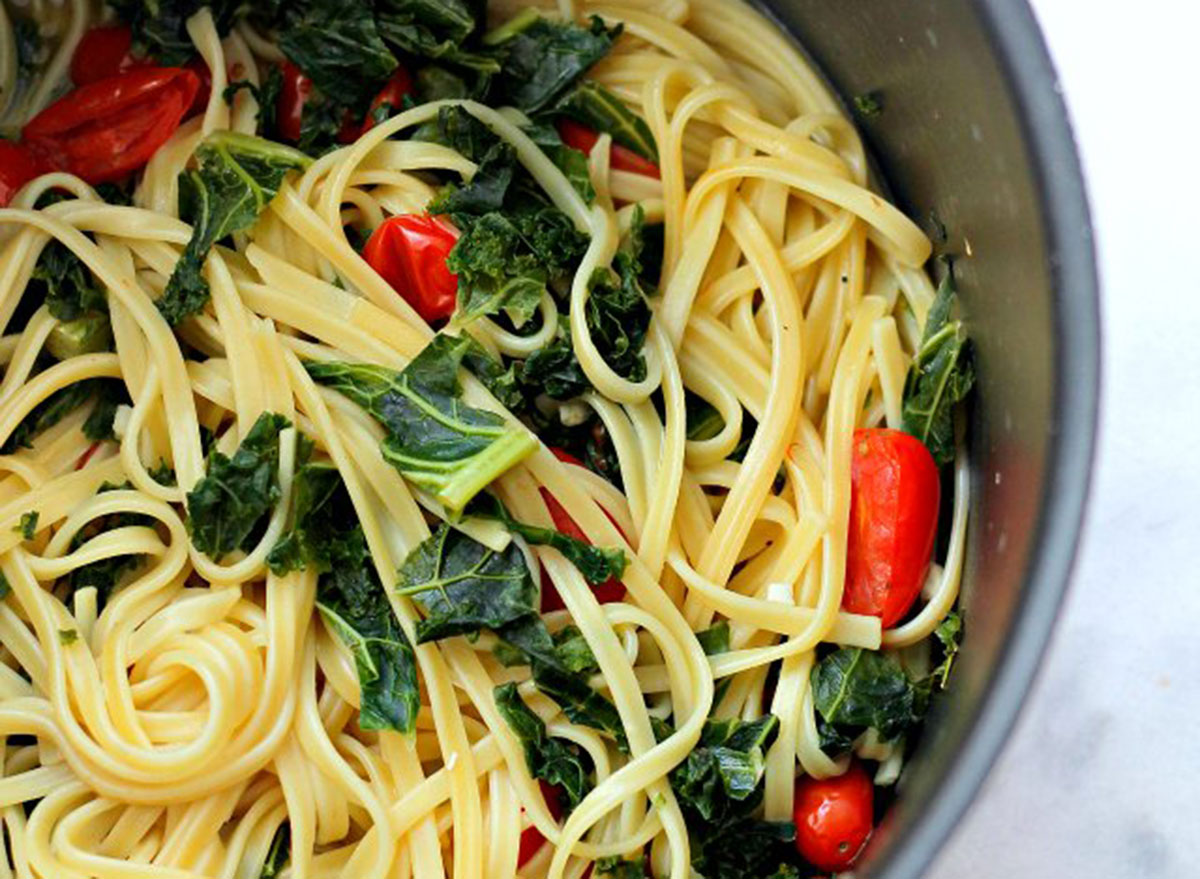 This dish is an outstanding choice if you're looking for a healthy way of making yourself some comfort food. This one-pot recipe is so simple to make, with only a handful of ingredients, you'll be happy with the taste and full of nutrition!
Get the recipe from Diethood. 
Kale Salad with Baked Almond Chicken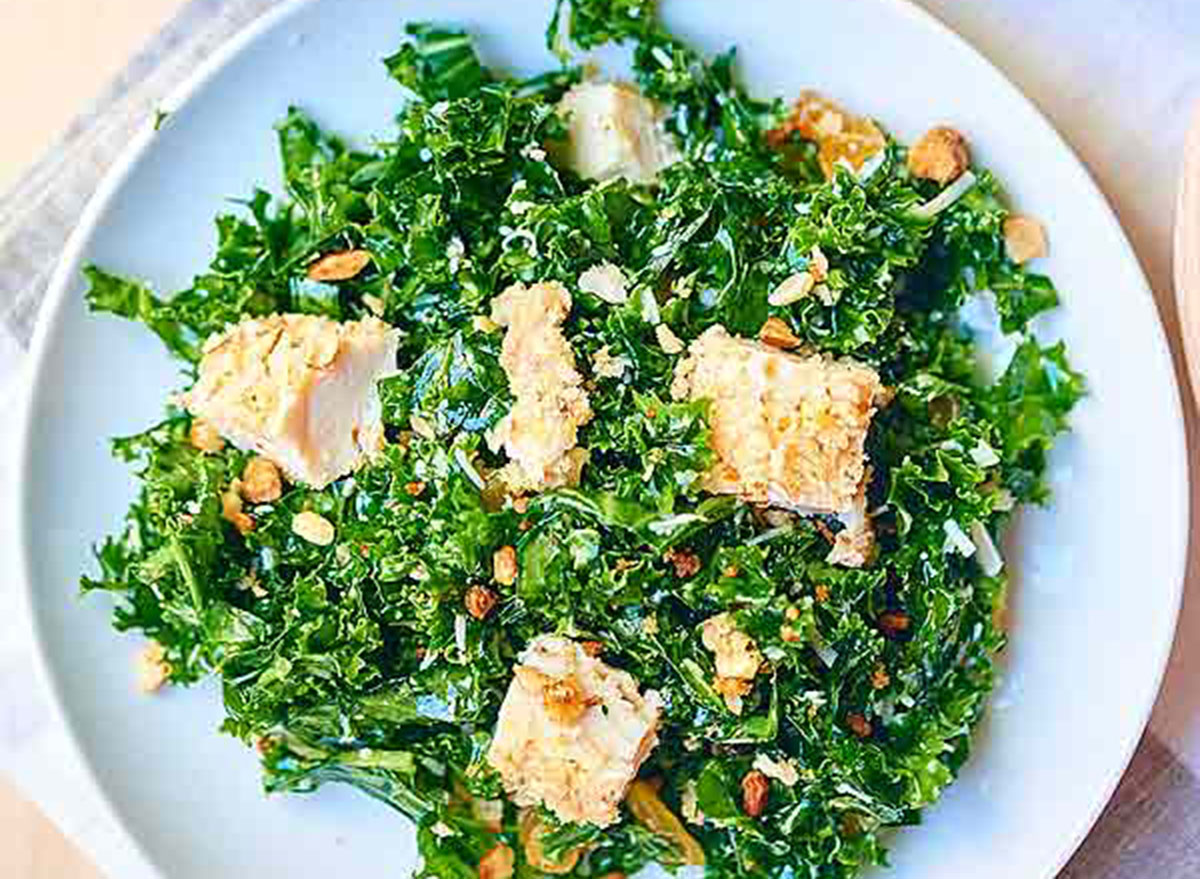 If you're looking for a new way of eating kale salads, this recipe is where it's at! This kale salad is light and minimal. Your kale will never be lonely between all the raisins, the baked almond chicken and the lemon dressing drizzled over it all.
Get the recipe from Show Me The Yummy. 
Dairy-Free Kale Smoothie
This unique kale smoothie recipe is jam-packed with healthy ingredients but it's too heavy so it's perfect for breakfast or a post-workout meal. It's loaded with fresh items to power up your body like kale, bananas, Medjool dates and ginger. Plus, it's dairy-free!
Get the recipe from Fit Foodie Finds. 
Marinated Kale and Chicken Bowls with Sun Dried Tomato Sauce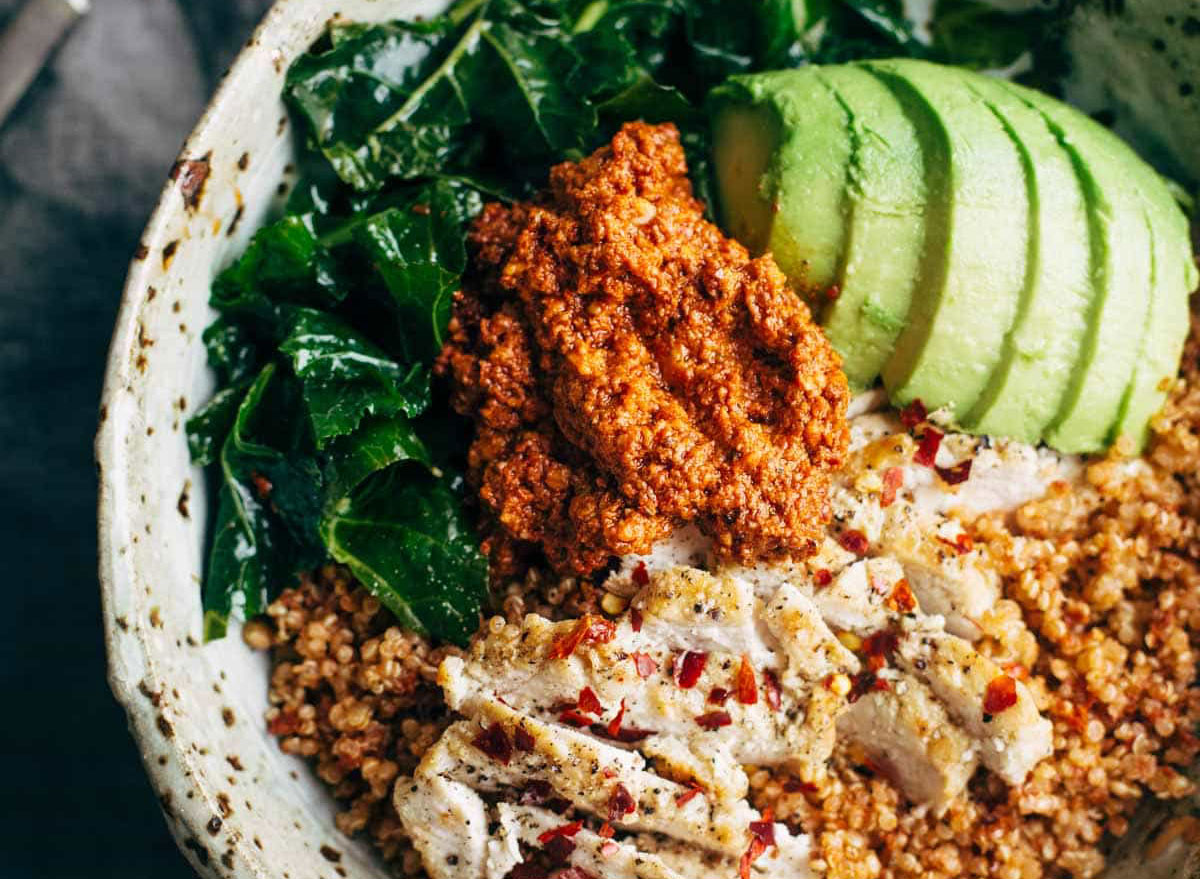 This kale and quinoa bowl is the perfect swap for when you're craving a rice bowl, but the mix of bright flavors and different textures might even make it your new favorite kind of bowl to reach for.
Get the recipe from Pinch of Yum. 
Warm Balsamic Kale Salad
This recipe is no ordinary kale salad. The chef herself calls this, "an everything but the kitchen sink kinda salad" and we couldn't agree more! All the veggies, kale and potent Asiago cheese are all brought together by a healthy balsamic dressing—yum!
Get the recipe from Pinch of Yum. 
Simple Kale and Black Bean Burritos
Between all the greens in this recipe, like the kale, jalapenos, cilantro, and avocado are truly enjoyable and taste even better once mixed with your classic black beans and choice of tortilla. So, if you're looking to make a quick, easy, and healthy meal, this is the recipe for you.
Get the recipe from Cookie and Kate.
Healthy Kale and Quinoa Minestrone Soup
This Italian staple is transformed with the addition of kale and quinoa and is a deliciously healthy meal. There are so many fresh ingredients in this kale recipe and little to no added sugars, fats or empty carbs.
Get the recipe from Cooking Classy.
Jordan Summers-Marcouillier
Jordan Summers-Marcouillier was born and raised in San Jose, California and now works as a writer in New York, NY.
Read more about Jordan