17 Things You'll See in Every Grocery Store in 2021, According to Experts
2020 rocked the grocery store scene as we know it. Here are the new changes you can expect to stick around.
Although we wish things in the grocery store like empty shelves, plexiglass shields, and capacity limits could stay behind in 2020 as we begin the new year, the coronavirus and its effects are still ravaging how we shop for food. Masks will still be required for a while, and senior shopping hours, Clorox disinfecting wipe shortages, and even social distancing are here to stay.
There are some intriguing supermarket changes to look forward to, though, says the Supermarket Guru, Phil Lempert. For over 25 years, he has been an author, speaker, and analyst on grocery store consumer behavior, marketing trends, new products, and more. We spoke with him and gathered other data to prepare you for what grocery stores will look like in 2021. (And before your next trip, check out the 100 Easiest Recipes You Can Make so you can add the ingredients to your list.)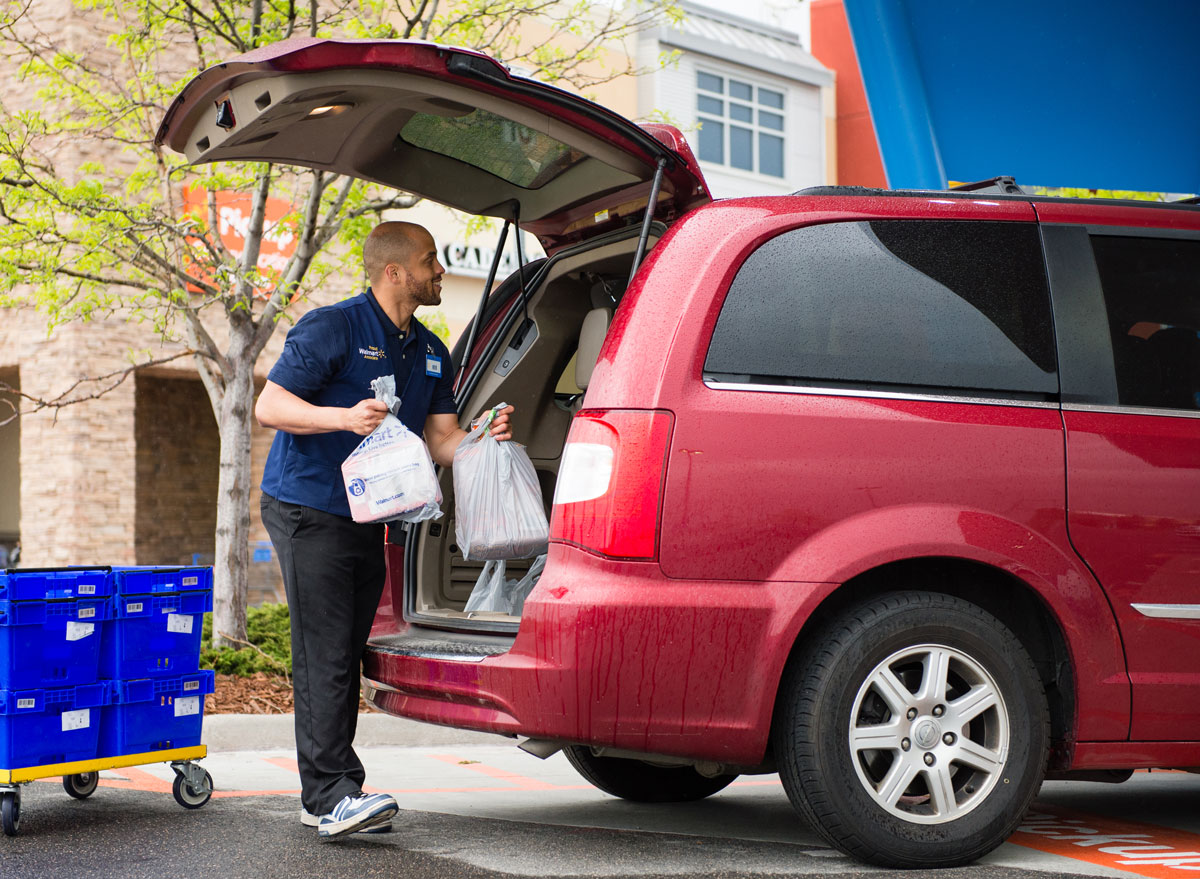 Grocery delivery saw a huge increase in popularity this year because it is safer than shopping in-store. Chains updated their websites, apps, and click and collect services (like pickup lockers!). Some grocers even added pickup for the very first time.
Lempert believes this trend is temporary because some people simply prefer picking their own items, even if going inside the grocery store is considered to be more dangerous. With that said, the various types of grocery delivery options may be reduced.
For more on how to stay safe should you decide to go to your local supermarket, here are 10 Grocery Store Safety Tips From a Health Expert.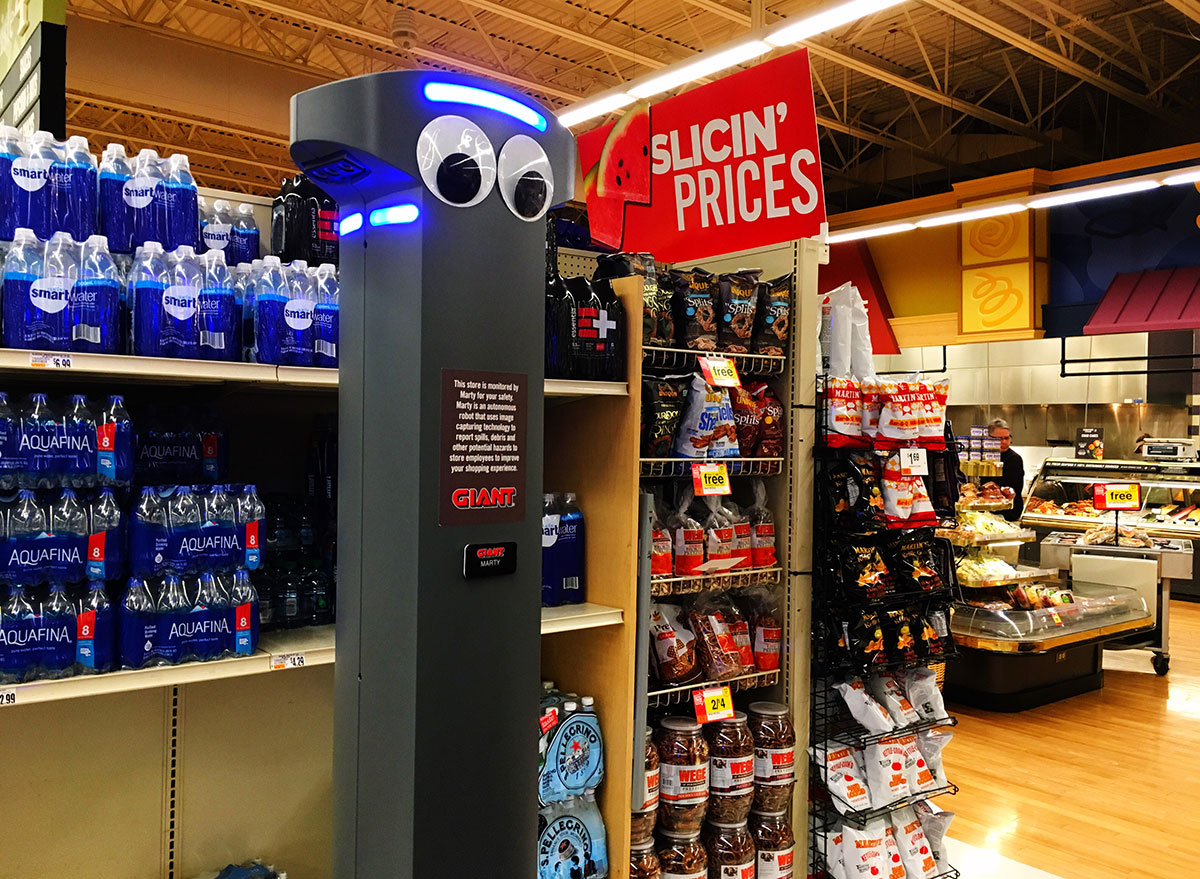 Meatpacking plants saw the number of coronavirus cases among workers skyrocket in 2020. Over 10,000 Tyson employees tested positive between March and July. Smithfield was fined thousands of dollars for outbreaks at its meatpacking plants, and other companies like Hormel, Cargill, National Beef, and more also saw employees get sick. Lempert believes this will pave the way for robots to have larger jobs in these types of facilities. But, you may also potentially see more robots working inside your local grocery store.
Reservation slots for shopping times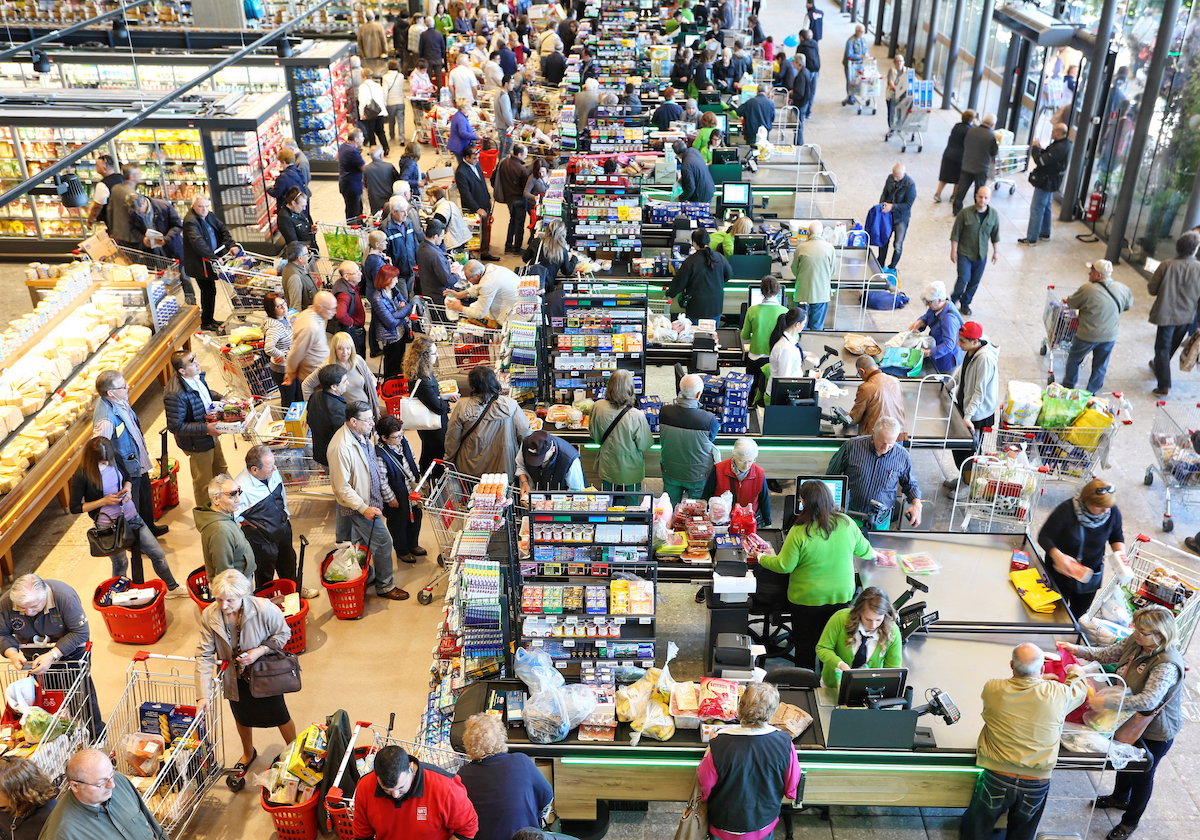 Expect to approach grocery shopping like going to a restaurant: You'll go to a reservation making website, then pick your preferred time to shop. Next, Lempert predicts that you'll be asked to select any non-produce grocery store items ("the stove-top stuffing, the Heinz ketchup," Lempert says) that you'll need during your trip so that those can be retrieved, bagged, and ready for you once you arrive for your reservation. At that point, you can peruse the produce aisles, then checkout.
All of this, of course, will be in an effort to reduce crowding and encourage social distancing. (Related: The Worst Grocery Stores of 2020.)
Because of the previous prediction, Lempert says grocery store websites are going to be significantly more detailed than they are now. "The data that's on most retailer's websites is horrible and outdated," he says. "The ingredients are typically wrong. The nutritional information is wrong. The product gets updated probably about once every nine months. That's not right."
One way some grocery chains are already using their platforms to help inspire change is by highlighting minority-owned food brands inside their stores.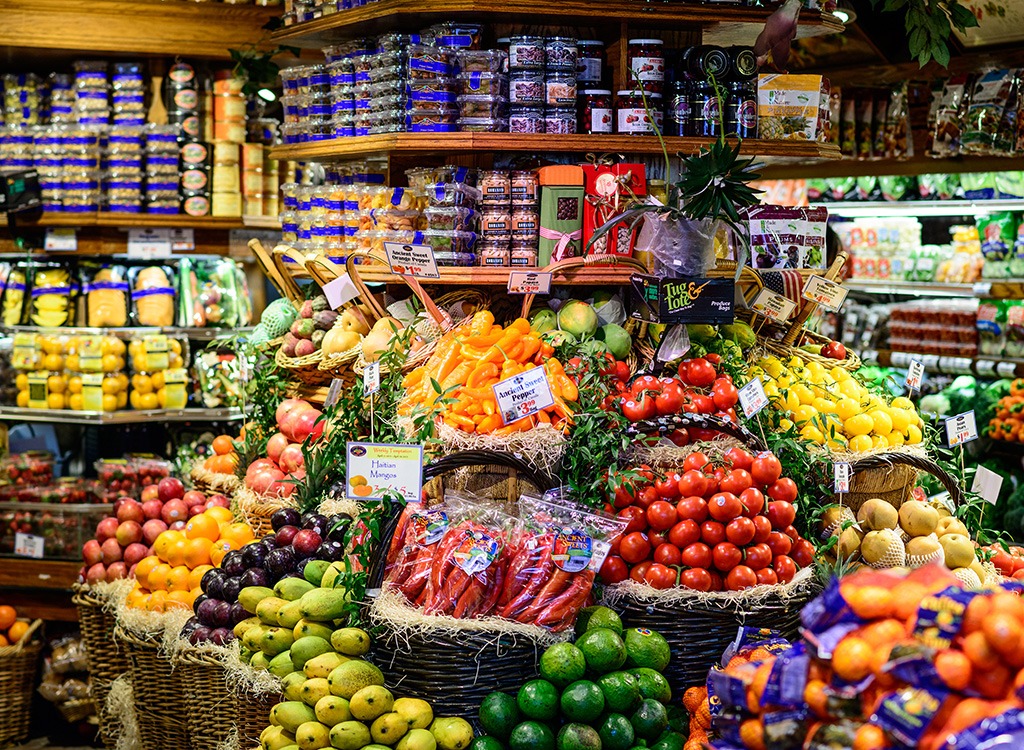 Another huge change you can expect? A new layout! "The size of your grocery store will likely be cut in half, Lempert says. "The back half of the store will be fully robotic, and those robots will now be picking the items that you ordered online."
The front of the store will be all the fresh items you can shop for yourself, as well as the baker, butcher, and produce sales associates whom you can still ask for help. But this way, "You're going to be able to pick all those fresh foods that you want, and you're going to have a much better shopping experience," Lempert says.
Related: 5 COVID Food Safety Questions—Answered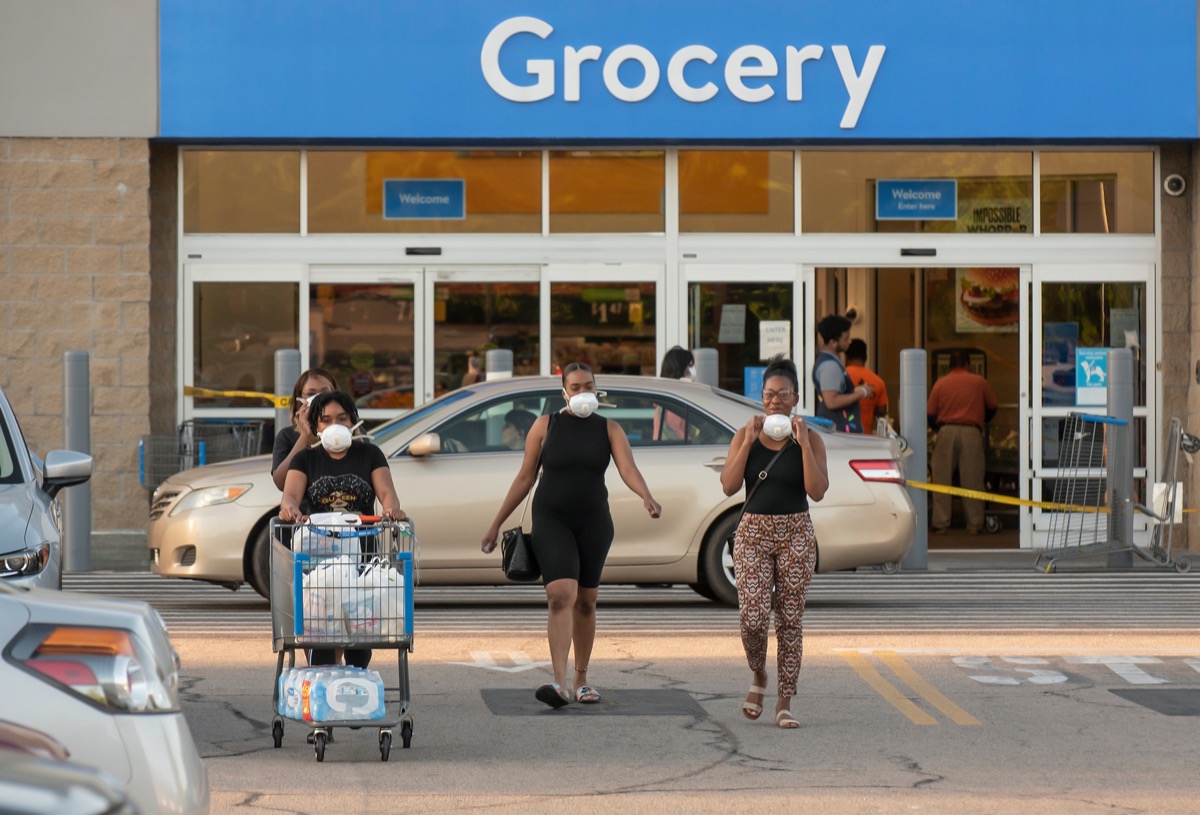 Because of his new prediction about the way we will shop, customers will spend a lot less time inside shopping, Lempert says. One trip will consist of about 10 minutes picking out fresh produce and deli items, grabbing the bags of items from the center of the store that the robots packed up for you, and simply checking out.
Before 2020, Lempert thought it would take about three to five years for this change to happen, but because of the coronavirus pandemic, he says it will only take six or seven months.
In the meantime, know that More Grocery Shoppers are Making These Dangerous Mistakes, Survey Finds.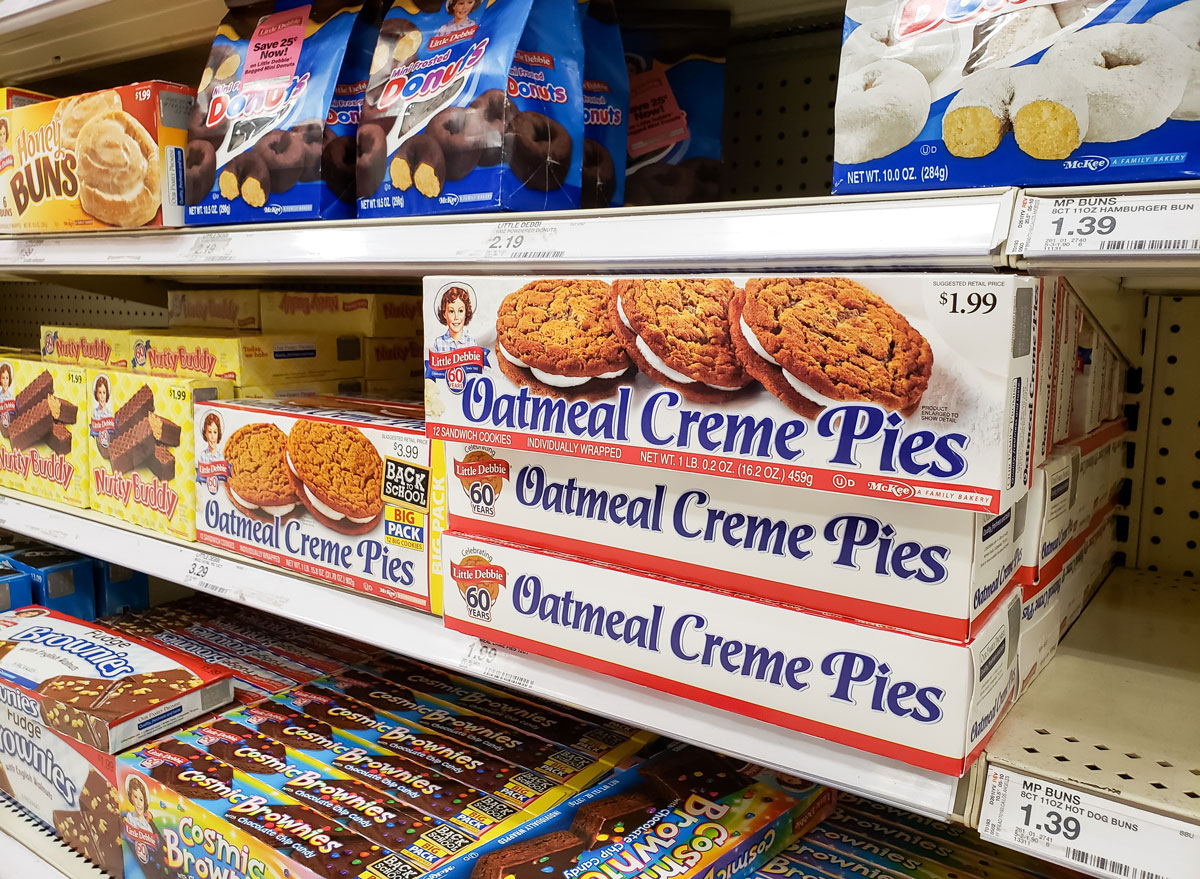 Kroger also released its predictions for what's in store for 2021, and one trend is the continued rise of comfort foods. Things like quick-cook risotto, white cheddar macaroni and cheese, and even brown butter truffle ice cream will be on shelves for you and your family. This trend dominated 2020, too. But as you shop, keep in mind The Shocking Side Effect of Eating Comfort Food.
More fresh and prepared foods
Convenience is key, especially during—and after—a pandemic. "We're buying frozen foods and more convenient offerings," Lempert says. "And if you look at the prepared foods offerings in the supermarket—the freshly prepared ones—they're going through the roof because people just want to microwave or put food in the oven."
That said, here are 12 Frozen Dinners to Always Leave on Grocery Store Shelves.
Fewer items to choose from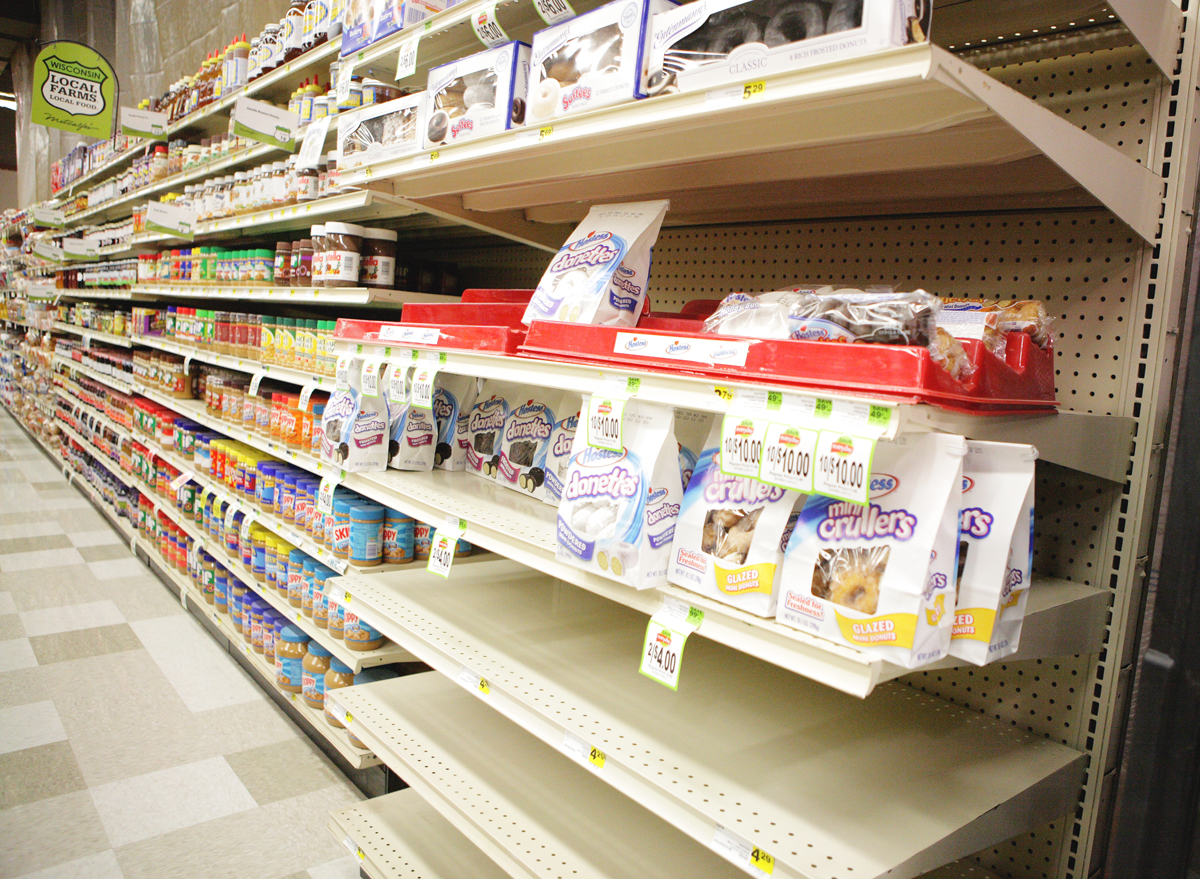 Some of your favorite companies have downsized this year. Coca-Cola announced it's discontinuing 200 drink brands, Kraft-Heinz is cutting 20% of its products, and quite a few more are cutting down. Even if products return ever so slightly to normal production, the way factories are built now doesn't quite allow for safety measures to be implemented (that Lempert believes are here to stay).
For more, here are All of the Beloved Grocery Items That Are Secretly Being Discontinued.
More sustainable products and transparency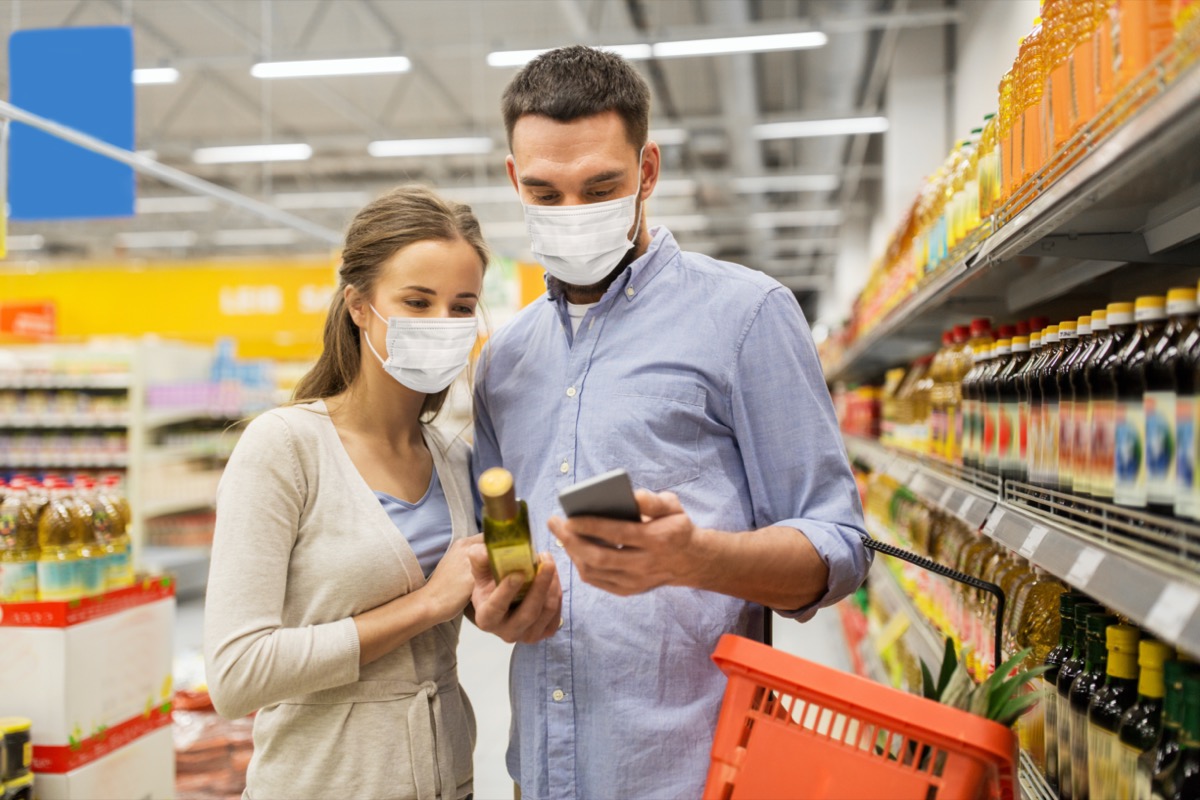 For the products that do make it to grocery store shelves in 2021, transparency about their ingredients and where they were grown or made will be important. Lempert says companies want to keep sustainability in mind with their products, and that will be reflected because, now, "we really don't have a choice" about whether or not to care about the environment. For more on this prediction, here are 20 Ways to Be More Sustainable When It Comes to Food.
More Immune-supporting foods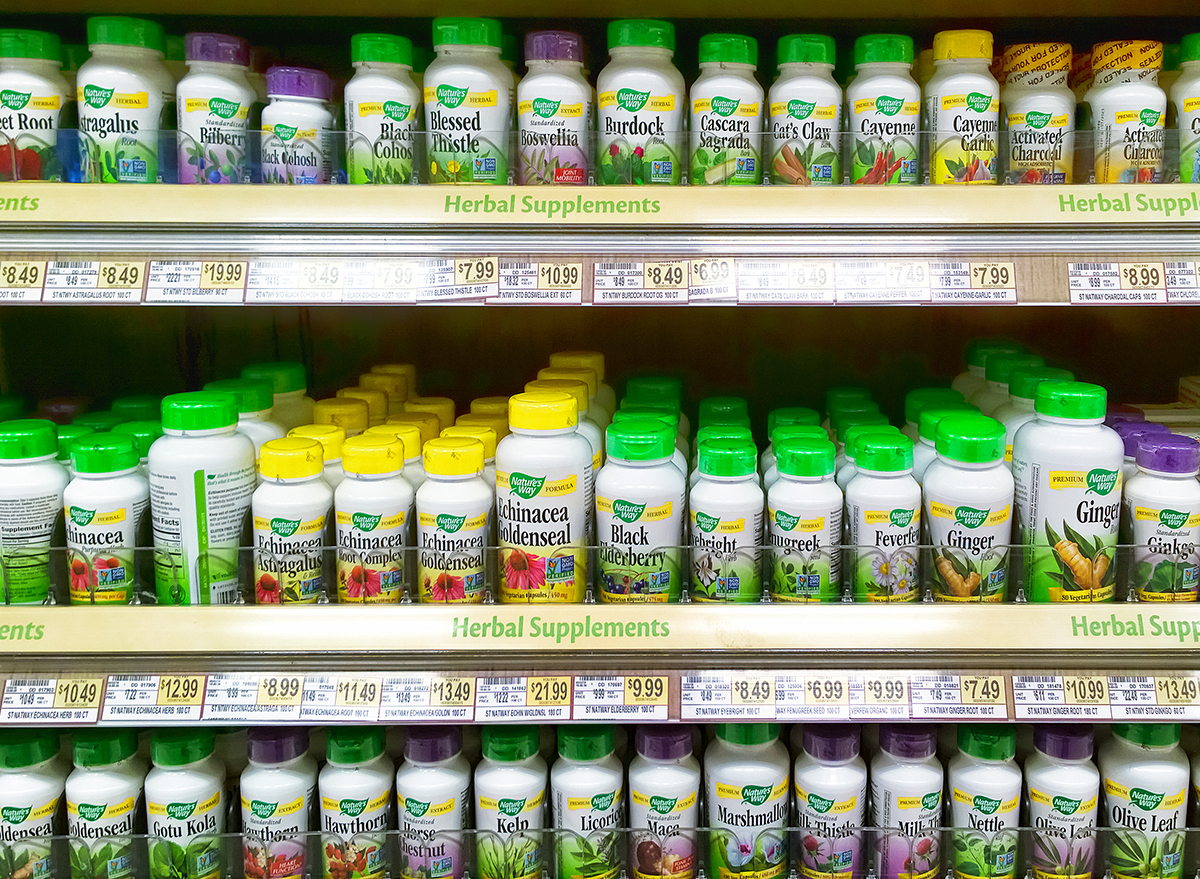 Thanks to the influx of safety rules and regulations COVID-19 gave us, the experts at Kroger believe foods that help keep us healthy and support the immune and digestive system will see more popularity in 2021. On your next trip to one of the grocery store chain's almost 3,000 stores, look out for products like almond butter, organic sparkling kefir water, caffeinated water, and even elderberry gummies. (Related: The 7 Healthiest Foods to Eat Right Now.)6254a4d1642c605c54bf1cab17d50f1e
Walmart started to test driverless trucks in Arkansas in 2019, and so far, those vehicles have driven more than 70,000 miles on their own (but with a safety driver inside), the grocery store chain says. Now, the initiative is moving to Louisiana.
Lempert believes this trend will expand next year because of the increased importance of sustainability, the cost, and much more. But, it's not just driverless grocery chain trucks you may see out and about: Walmart is also testing drone delivery.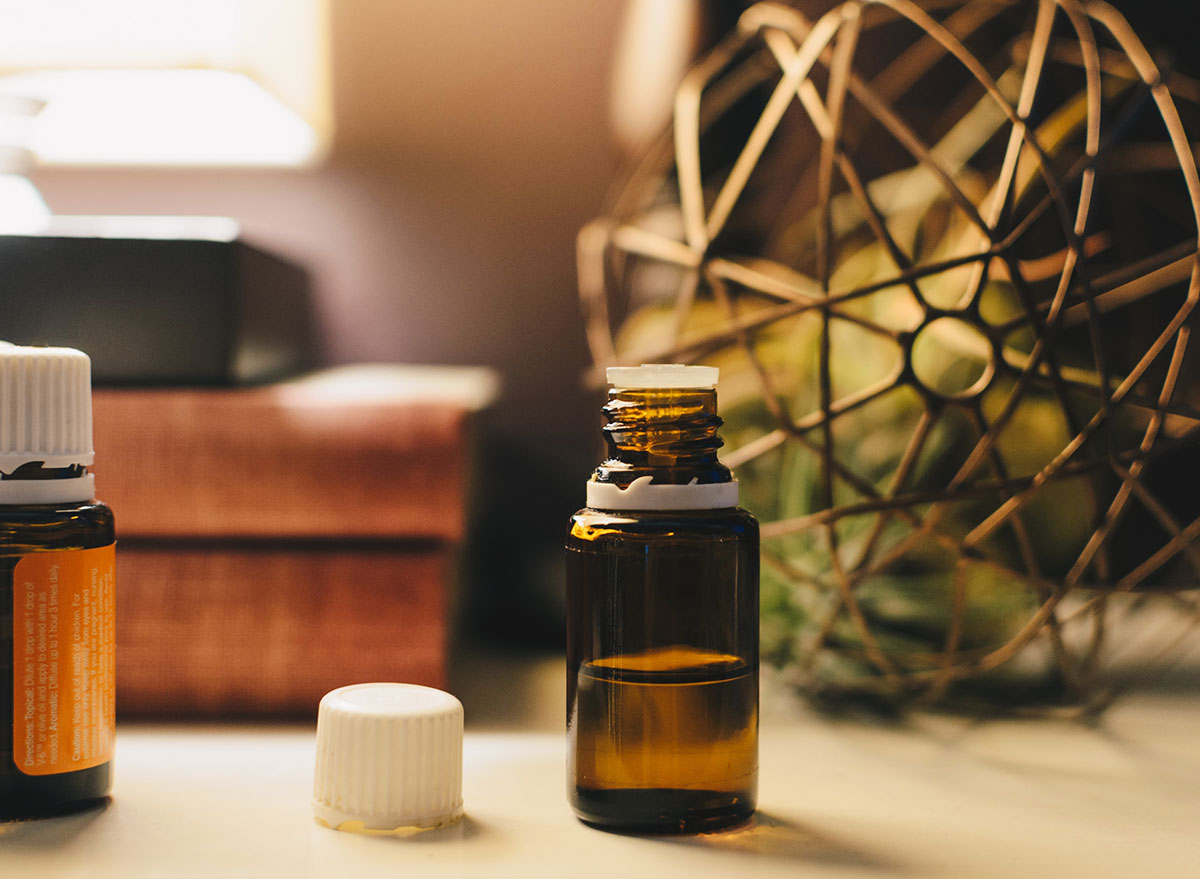 All the CBD items you saw sprouting up in your local supermarket this year may not have the same luck in 2021, Lempert says. This is because these products aren't regulated, so the amount of CBD in them ranges based on the manufacturer. Lempert does believe they will come back, though, once the government gets involved and forces companies to show the total CBD percentage and other information on labels. (Related: What Happens to Your Body on CBD.)
Cleaner ingredients in alternative meats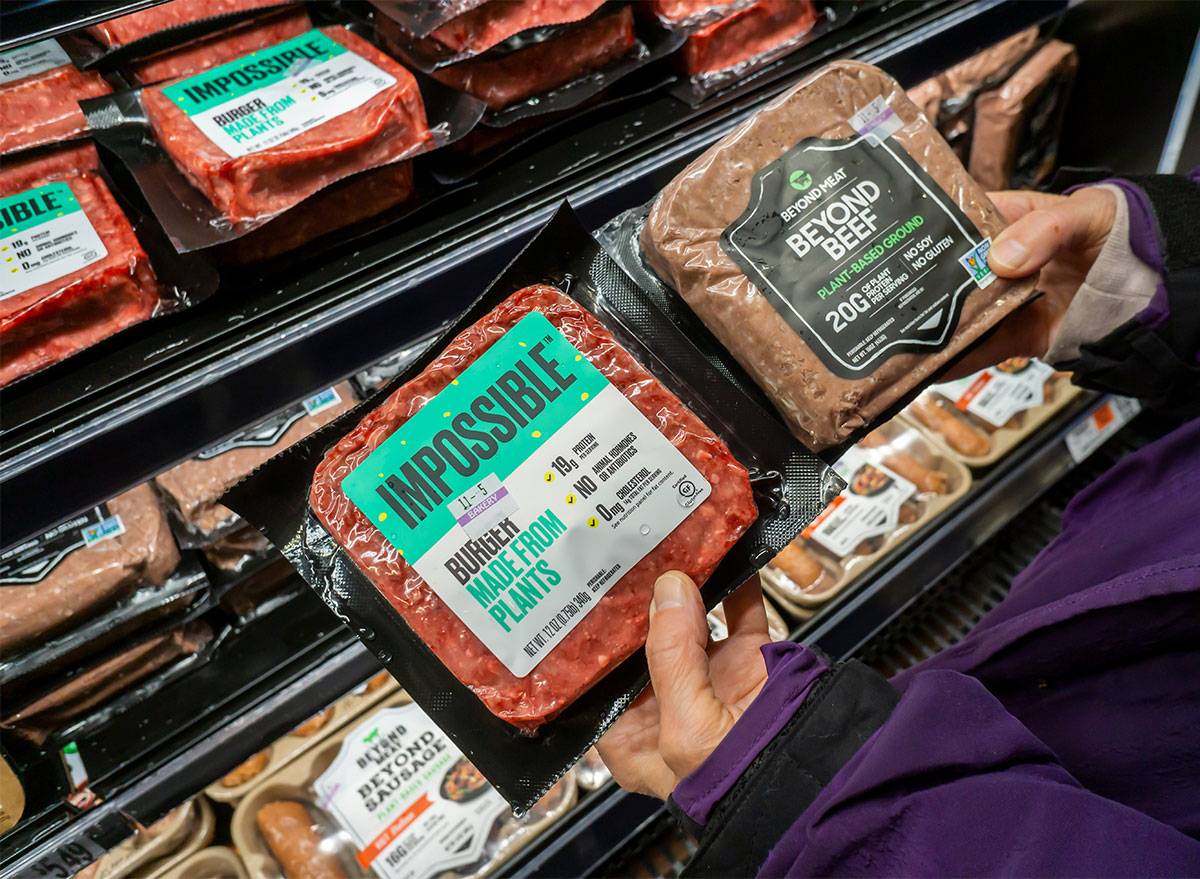 The number of meat alternative products that entered the market in 2020 has given shoppers tons of options. But, new options will contain a few other things besides just plant-based protein. "What we're really seeing is flexitarianism will be much more important," Lempert says. "It's not about extremes; being all-vegan or an omnivore."
This means you may see blended meat options, featuring both mushrooms and beef or cauliflower and pork. Until then, here are 33 Easy Plant-Based Recipes Even Carnivores Will Love.
More items from restaurant chains
"I think we're going to see a lot more restaurant-supermarket partnerships," Lempert says of grocery stores in 2021. "Prepackaged foods made fresh from the restaurant and delivered to the supermarket on a daily basis."
This is a win-win for both—especially as the restaurant industry continues to struggle because of the pandemic.
A bigger emphasis on health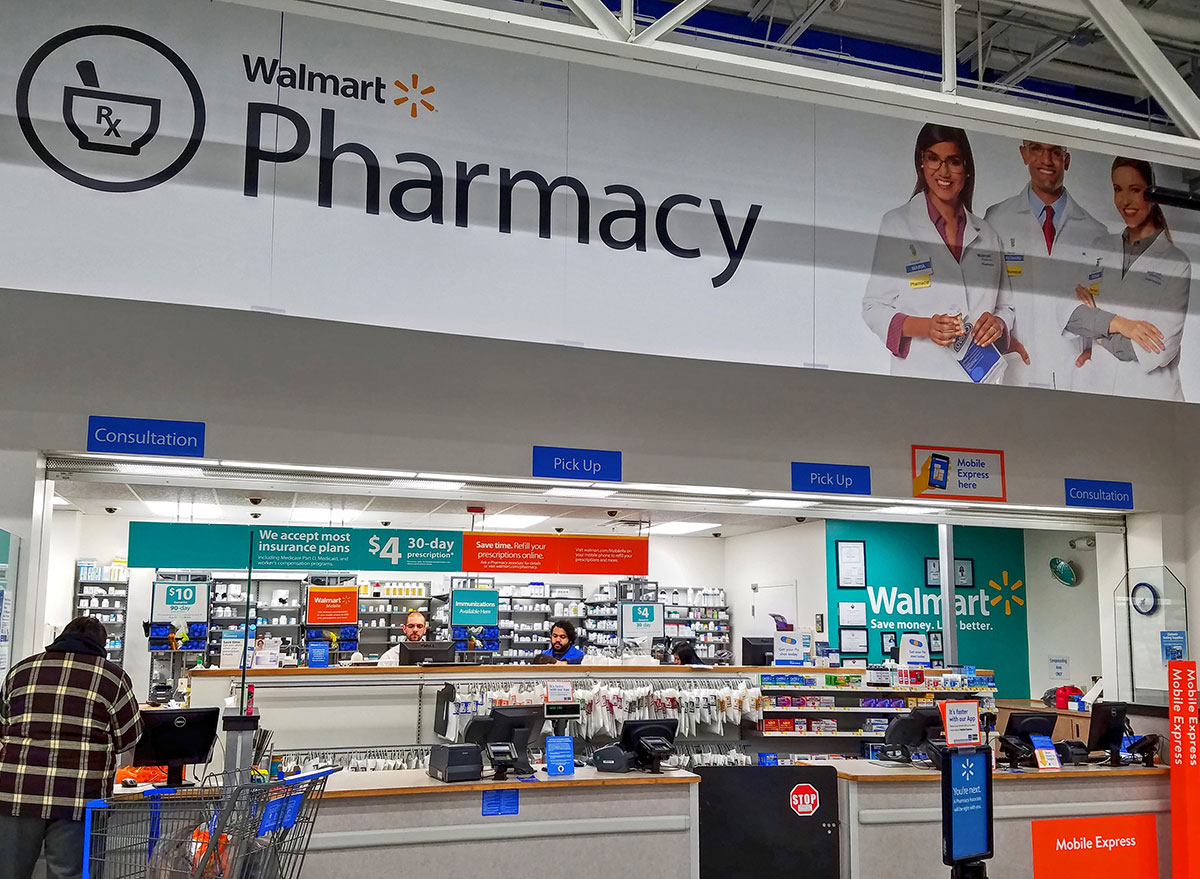 Right now, the most super of supermarkets, aka Walmart, is starting to distribute one of the FDA-approved COVID-19 vaccines to healthcare workers in New Mexico, with plans to supply it at over 5,000 stores and pharmacies across the country. The Supermarket Guru says Walmart will continue to promote and grow the health clinics in their stores. (Related: 8 Ways to Shop Safely at Walmart Right Now.)
More indoor and verticle farming
You may not see these in your local grocery store, but they may be popping up just down the street thanks to now-empty office buildings that can be converted into indoor farms. "That's the perfect place to put in vertical farms because you can serve the population closer," says Lempert. "Produce also grows three times faster because it's in a controlled environment. Right now, most indoor farming is either tomatoes or leafy greens. But that's about to change."
To get the latest grocery store news delivered right to your email inbox every day, sign up for our daily newsletter!
Amanda McDonald
Amanda has a master's degree in journalism from Northwestern University and a bachelor's degree in digital journalism from Loyola University Chicago.
Read more about Amanda