The #1 Entrée to Order at 8 Major Dine-In Chains, According to Chefs
Even the pros eat at chains from time to time. Here's what they're ordering.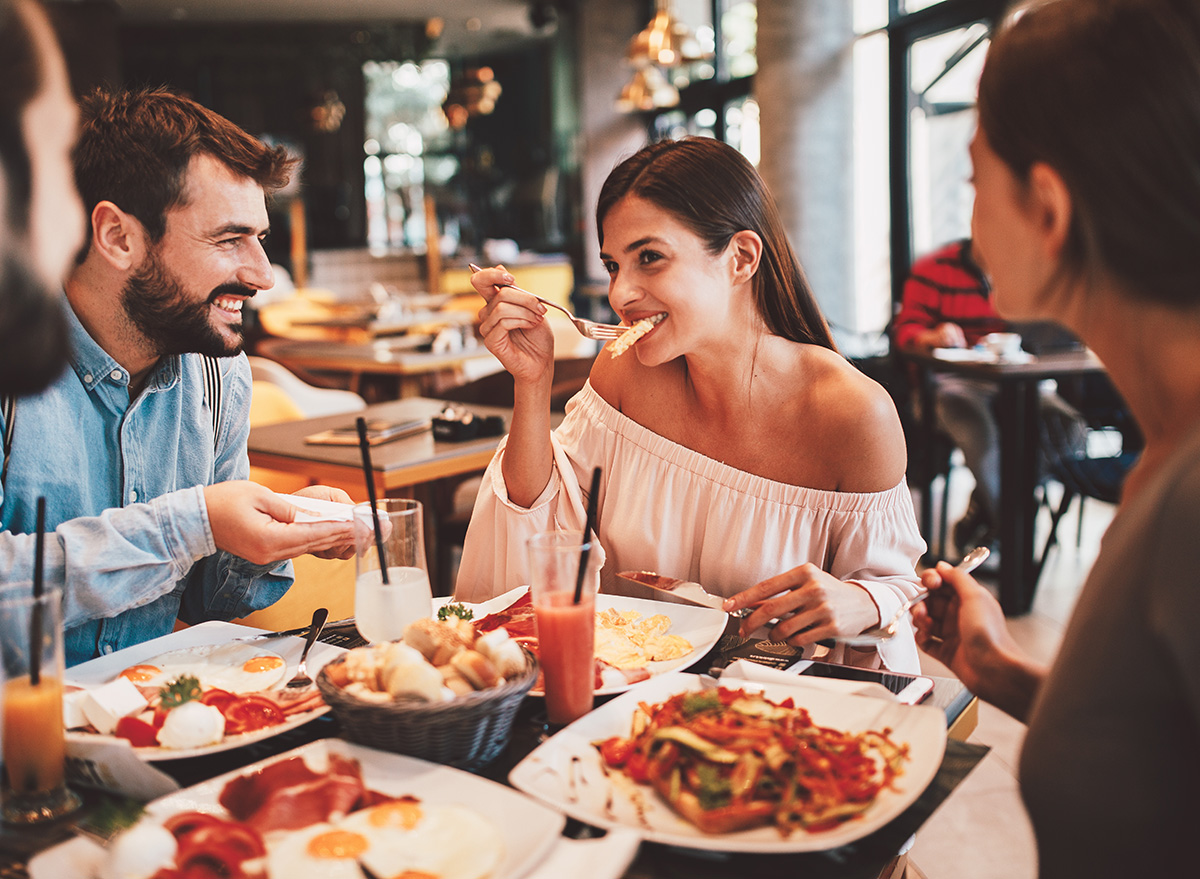 The product recommendations in this post are recommendations by the writer and/or expert(s) interviewed and do not contain affiliate links. Meaning: If you use these links to buy something, we will not earn a commission.
For every unabashedly guilty pleasure found at dine-in restaurant chains, there are menu items that are surprisingly legit. For every Bloomin' Onion and deep-dish pizza, there are real-dish dishes so good that even chefs crave them.
Chefs, after all, and for all their culinary prowess, are not a pretentious bunch. They've been known to declare their love for sandwich chains, fast-food burgers, and fried chicken joints, so it should come as no surprise that they're not above a little corporate pasta now and again. 
While some chains may fall decidedly into the "guilty pleasure" camp, others—even some of America's biggest and most prolific chains—serve entrées that are surprisingly good. From Italian fare to breakfast, these are the number one entrées to order at major dine-in chains in America.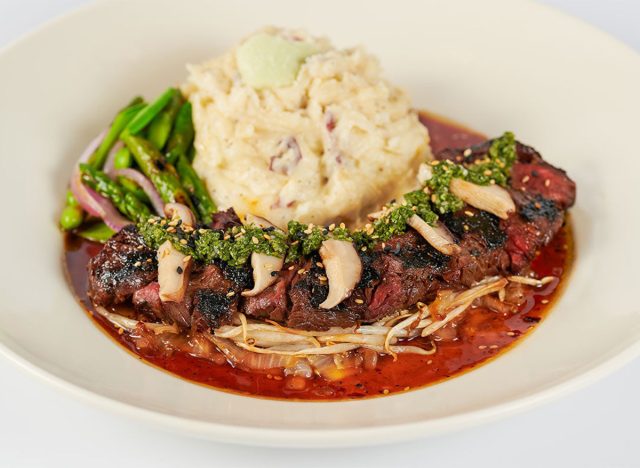 Hibachi Steak: 1380 cal, 85 g fat (34 g saturated fat), 3280 mg sodium, 97 g carbs (10 g fiber, 37 g sugar), 57 g protein
Despite the fact that its namesake dessert is pure nightmare fuel for dietitians, The Cheesecake Factory has some unexpected menu hits to be found on the savory side of the kitchen. Not only does it serve some of the best bread among full-service chain restaurants, and feature some killer underrated egg rolls, but the chain is a favorite among restaurant pros for its entrées. 
Chef Mike Futia's go-to pick at The Cheesecake Factory is the furthest thing from cheesecake: hibachi steak. "The steak is tender and full of flavor," proclaims the founder and editor-in-chief of Grill Frenzy. "It's cooked just right. The mushrooms, onions, and asparagus that come with it add a nice contrast. They're fresh and well-prepared." Futia adds that the hibachi sauce is the low-key star of the plate, describing it as "sweet, tangy, and smoky," enhancing the steak without overwhelming it. "This dish is more than just a meal. It's a well-rounded experience, and it shows that The Cheesecake Factory can do more than just desserts."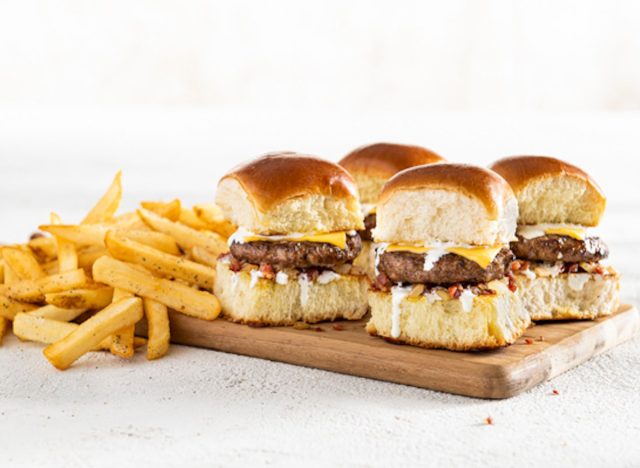 Big Mouth Bites: 1290 cal, 80 g fat (28 g saturated fat), 2670 mg sodium, 77 g carbs (5 g fiber, 20 g sugar), 65 g protein
A meaty mecca of a chain, Chili's is the kind of place you turn to for reliably seared steaks, sizzling fajitas, and crispy chicken tenders. It's also a place where it's perfectly suitable to select a bulky burger as your dinner entrée. That's the M.O. for Adam Polisei, executive chef of Union New American restaurant in Tampa, Fla. In particular, he opts for the Big Mouth Bites. For him, it's all about the "super soft bun, bacon, sautéed onions, and ranch dipping sauce with a giant ice-cold beer."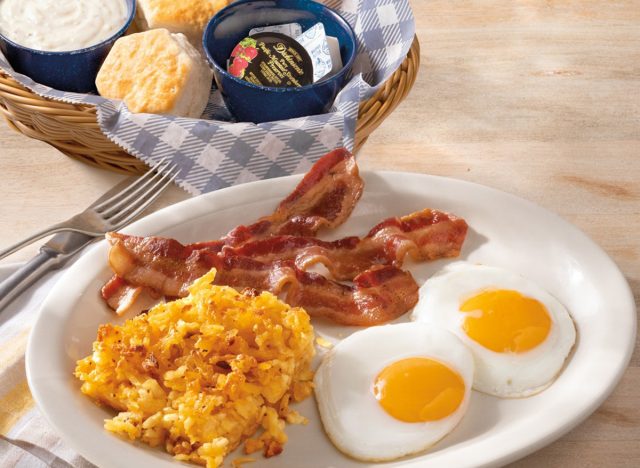 Old Timer's Breakfast w/Sides: 1110 cal, 63 g fat (22 g saturated fat), 2070 mg sodium, 89 g carbs (2 g fiber, 10 g sugar), 47 g protein
A bit of a polarizing choice for a morning meal, Cracker Barrel is a chain that's not without its fair share of controversy and menu misfires. But for every ill-conceived plant-based breakfast sausage, there are some menu treasures to be mined as well. Just ask Rafael Gonzalez, executive chef of the JW Marriott Houston Downtown, who picks the chain as his favorite breakfast spot. The trick for him is to keep the order simple and classic. "I can eat breakfast all day," he explains. "So with the family we sometimes end up at Cracker Barrel and order eggs scrambled, cheese, hash brown casserole, biscuits and gravy. Good at any time of the day."
Build Your Own Omelette
: 400 cal, 28 g fat (8 g saturated fat), 440 mg sodium, 8 g carbs (0 g fiber, <1 g sugar), 28 g protein
Between the fact that it's such a great bargain, and that All-You-Can-Eat Pancakes is a thing that exists in this world, there's a lot to love about the almighty IHOP. Indeed, it's another favorite for breakfast-loving Gonzalez, but not for the entrée you'd assume. In lieu of pancakes, he prefers the savory fare. "I stick to the omelets, which are pretty good and large. I like starting the day with a big breakfast."
Kyle Jones, head chef at Craft Wood Fired Catering in Santa Barbara, is another IHOP champion. While he also highlights the supremacy of the eggy entrées here, he's more a fan of the sweeter side."Their pancakes and waffles are especially delicious, always light and fluffy," he says.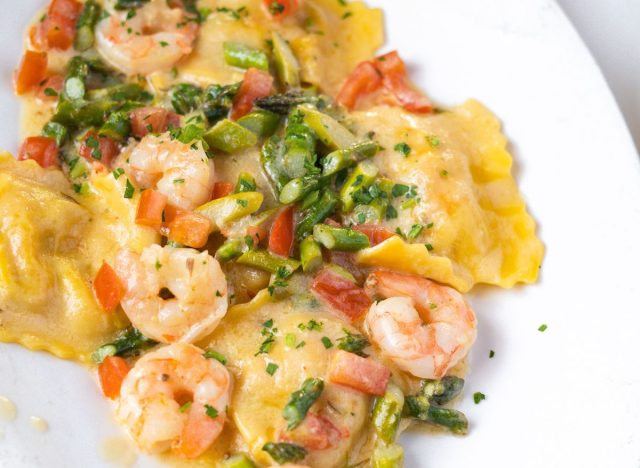 Seafood Ravioli
: 920 cal, 74 g fat (46 g saturated fat), 1390 mg sodium, 36 g carbs (3 g fiber, 3 g sugar), 31 g protein
With a name like Macaroni Grill, you'd hope that the Italian-themed chain would serve some reputable pastas—and if it's good enough for celebrities, it's good enough for chefs. The chain obviously makes a mean bowl of macaroni, but according to chef Andrea Frizzi of Il Posto in Denver, the company is well-versed in other styles of pasta, too. When dining at one of his favorite Italian chains, the chef's top choice is the seafood ravioli, served with roma tomatoes, asparagus, lemon butter, and shrimp.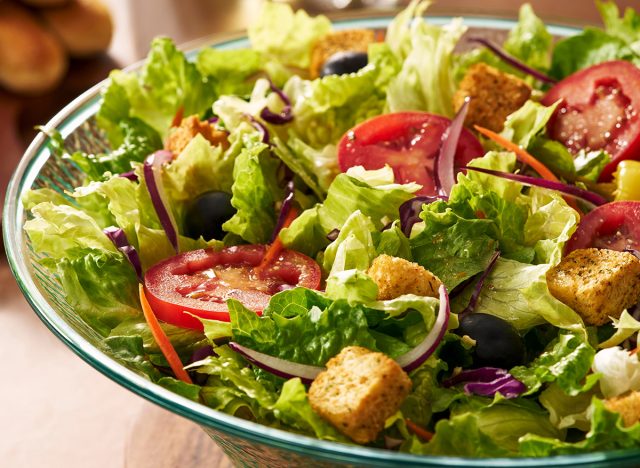 Salad With Signature Italian Dressing
: 150 cal, 10 g fat (1.5 g saturated fat), 770 mg sodium, 13 g carbs (2 g fiber, 4 g sugar), 3 g protein
Another Italian-themed chain with a cult following is Olive Garden, a brand known for its habit-forming bread, can't-beat lunch deals, and a little thing called the Never Ending Pasta Bowl. But bottomless pasta, as tempting as that may sound, isn't necessarily the main reason for chefs to pay a visit. Pablo Estrada, for example, loves the chain for its less gluttonous options.
The chef-owner of Fattoria e Mare in Half Moon Bay, Calif., likes to make the salad into his entrée. "The Olive Garden salad is very unique to me, as it's very fresh and full of flavor," he notes. "The crisp lettuce, red onions, olives, croutons, parmesan, and peperoncino blend together to create a bright, fresh taste that pairs perfectly with a bottle of Vermentino." While there, it's not uncommon for Estrada to order seconds.6254a4d1642c605c54bf1cab17d50f1e
Dallas Filet (6 ounces)
: 270 cal, 10 g fat (4 g saturated fat), 720 mg sodium, 6 g carbs (2 g fiber, 2 g sugar), 5 g protein
It should come as no surprise that one of America's top restaurant chains—and one of the country's fastest-growing brands—boasts its share of chef fans. For instance, Robbie Shoults, chef-owner of Bear Creek Smokehouse in Texas, likes to hit up Texas Roadhouse when that steak craving hits. "I always order the Dallas Filet because it's the best cut, lowest in fat, and most tender," explains the chef.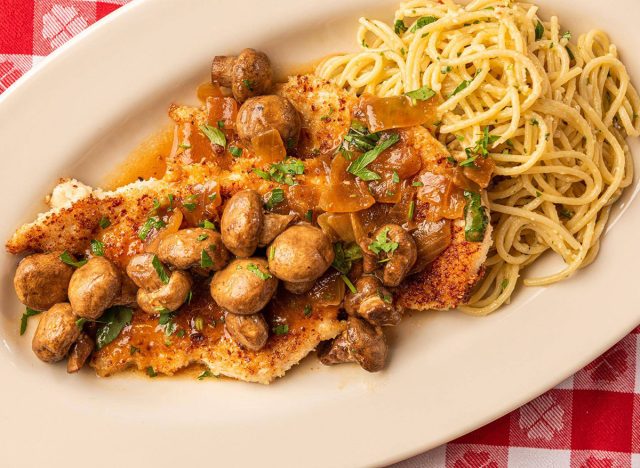 Chicken Marsala
: 970 cal, 43 g fat (16 g saturated fat), 1840 mg sodium, 74 g carbs (5 g fiber, 12 g sugar), 67 g protein
While comparatively underrated next to, say, an Olive Garden, Maggiano's Little Italy is another big winner in the Italian entrée department. Known for its winning flatbreads and pastas, it's another go-to for Shoults, and his top choice for Italian chains in general. That's largely thanks to his beloved chicken marsala. "I love the mushroom sauce in this dish," he says. "It's full of rich meaty flavor and is a great complement to the Spaghetti Aglio Olio."
Matt Kirouac
Matt Kirouac is a travel and food writer and culinary school graduate, with a passion for national parks, all things Disney, and road trip restaurants.
Read more about Matt