We Tasted 9 Protein Powders & This Was the Best
We sipped our way through nine different protein powder shakes to find the ones you'll actually want to try.
This post contains affiliate links. If you use these links to buy something, we may earn a commission.
You don't have to be an athlete or someone who frequently exercises to enjoy drinking protein powder in a shake, although it is a great way to replenish your muscles immediately after a strenuous workout. While there are many protein shakes on the market that are full of health benefits, we know that sometimes they may not be the best tasting or most appetizing things to sip on. We made it our goal to find the best-tasting protein powders, so you'll actually look forward to your recovery.
If you don't regularly buy protein powder but want to give it a whirl, you'll notice that there are myriad brands and types of protein you can choose from. For example, you can choose between whey and plant-based protein. With so many brands to choose from, we thought we would hand-pick a few that we think are some of the strongest contenders on the market and then run a taste-test to see which ones are the actual best in terms of taste.
To keep it consistent, we sampled all vanilla flavored protein powder with the correct ratio of Oatly oat milk and four frozen strawberries. We kept the fruit to a minimum so that it didn't overwhelm the protein powder flavor and so we could really taste the powders themselves.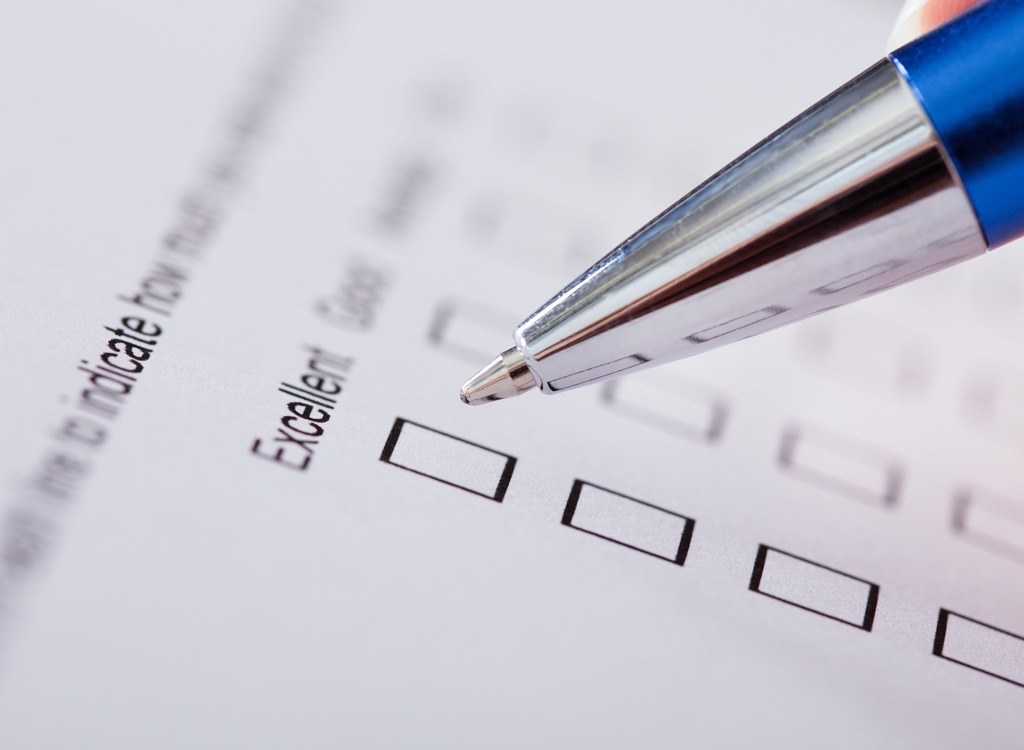 Our metric was pretty simple. It was all about texture and taste.
When it comes to protein powder, we appreciate a variety that will innately thicken the milk, as well as one that doesn't taste chalky. These were two things we took note of for this taste test. The three we liked best demonstrated a balance of the two.
Here are the nine protein powders we tried:
Tone It Up Plant-Based Protein + Greens, Vanilla
F-Factor Vanilla Shake Powder
Levels 100% Grass-Fed Whey Protein, Vanilla Bean
PURE Whey Protein, Vanilla
Plant Fusion Complete Protein, Creamy Vanilla Bean
Vega One Organic All-in-One-Shake, French Vanilla
Less Naked Whey, Vanilla
Orgain Clean Grass-Fed Whey, Vanilla Bean
Orgain Organic Plant-Based Protein Powder, Vanilla Bean
Now, here are our top 3 picks for the best-tasting protein powders, ranked from great to absolute best.
And for more, check out these 15 Classic American Desserts That Deserve a Comeback.
Tone It Up Plant-Based Protein + Greens, Vanilla
1 scoop (26 g)
: 100 calories, 3 g fat (1 g saturated fat, 0 g trans fat), 220 mg sodium, 4 g carbs (1 g fiber, <1 g sugar), 15 g protein
Texture & Taste
Tone it Up's Plant-Based Protein + Greens blended well with the oat milk, as it thickened the drink into what we would consider a true shake. The taste was pleasant and didn't taste chalky at all. We also appreciated the hint of vegetable flavor in this protein powder.6254a4d1642c605c54bf1cab17d50f1e
Eat This, Not That! Verdict
The majority of the Eat This, Not That editors preferred this protein powder over a lot of the others, and two of us especially loved it. One editor wrote, "Yummy! Give me more! The flavor is ideal for a protein shake. [It's] the best plant-based one I've ever had."
I, too, really enjoyed the taste and consistency this protein powder yielded in shake form. The powder itself is a subdued green, and it's very soft and fluffy rather than coarse and grainy as some protein powders can be. I also love how this protein powder contains 14 leaves of kale, four leaves of spinach, and one floret of broccoli per one scoop serving. High in protein and antioxidants, we would recommend this protein powder to anyone, especially those who struggle to get their daily servings of vegetables in a day.
And for more, sign up for our newsletter to get daily recipes and food news in your inbox!
Levels 100% Grass-Fed Whey Protein, Vanilla Bean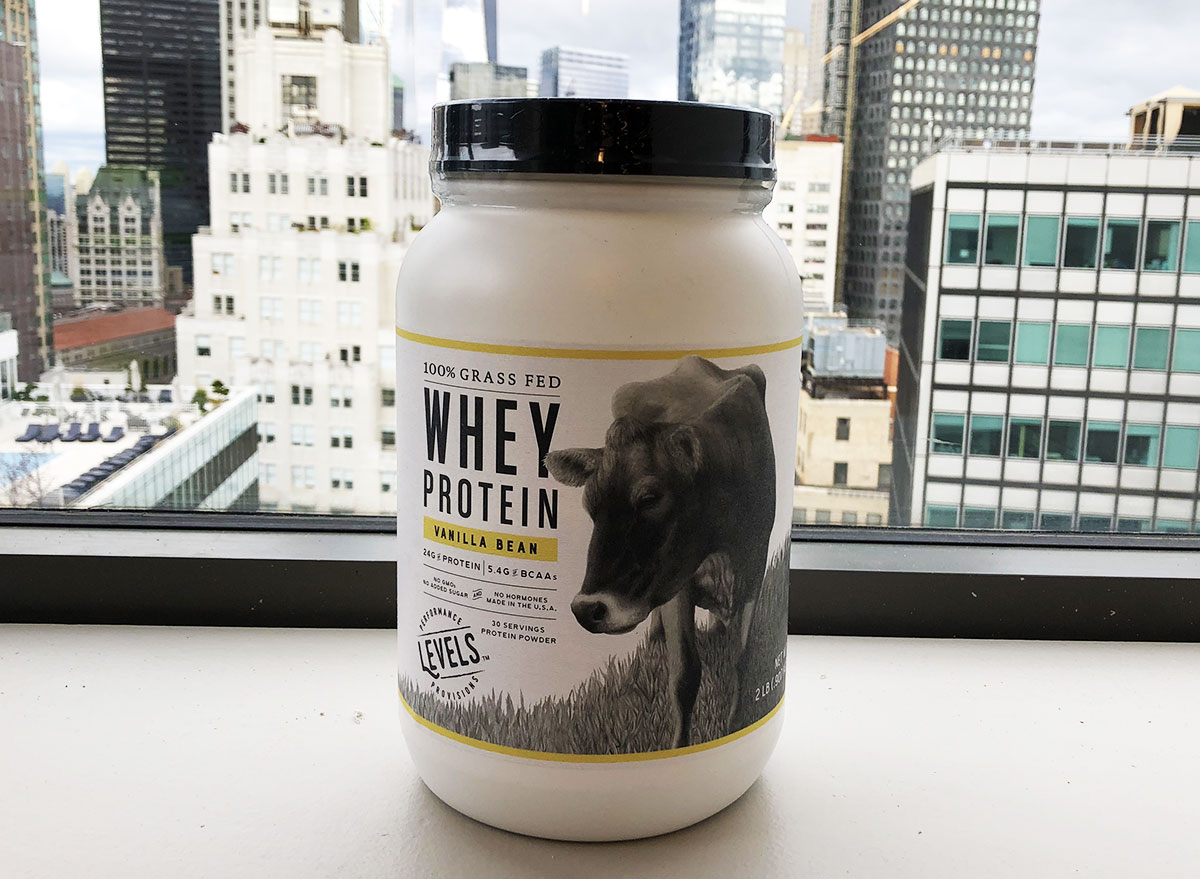 1 scoop (30 g)
: 130 calories, 2 g fat (1.5 g saturated fat, 0 g trans fat), 60 mg sodium, 3 g carbs (0 g fiber, 2 g sugar), 24 g protein
Texture & Taste
After blending this protein powder with the oat milk, it left a frothy top and relatively thick center. The taste was delicious with a prominent but not overpowering vanilla bean flavor.
Eat This, Not That! Verdict
Levels 100% Grass-Fed Whey Protein is one of the best tasting protein powders you can buy that contains whey. Opting for whey protein that was derived from the milk of a cow that ate an all grass-fed diet is a great indication that this product is free of hormones and has a greater concentration of omega-3 fatty acids than conventional whey. It also lends this powder a pleasant flavor.
I personally thought this protein powder tasted like a milkshake once it was blended with the oat milk. The texture was smooth and it didn't leave a bad aftertaste. Not to mention, one scoop of this protein powder contains just under 25 grams of protein, which will boost satiety and replenish your muscles after a workout.
F-Factor Vanilla Shake Powder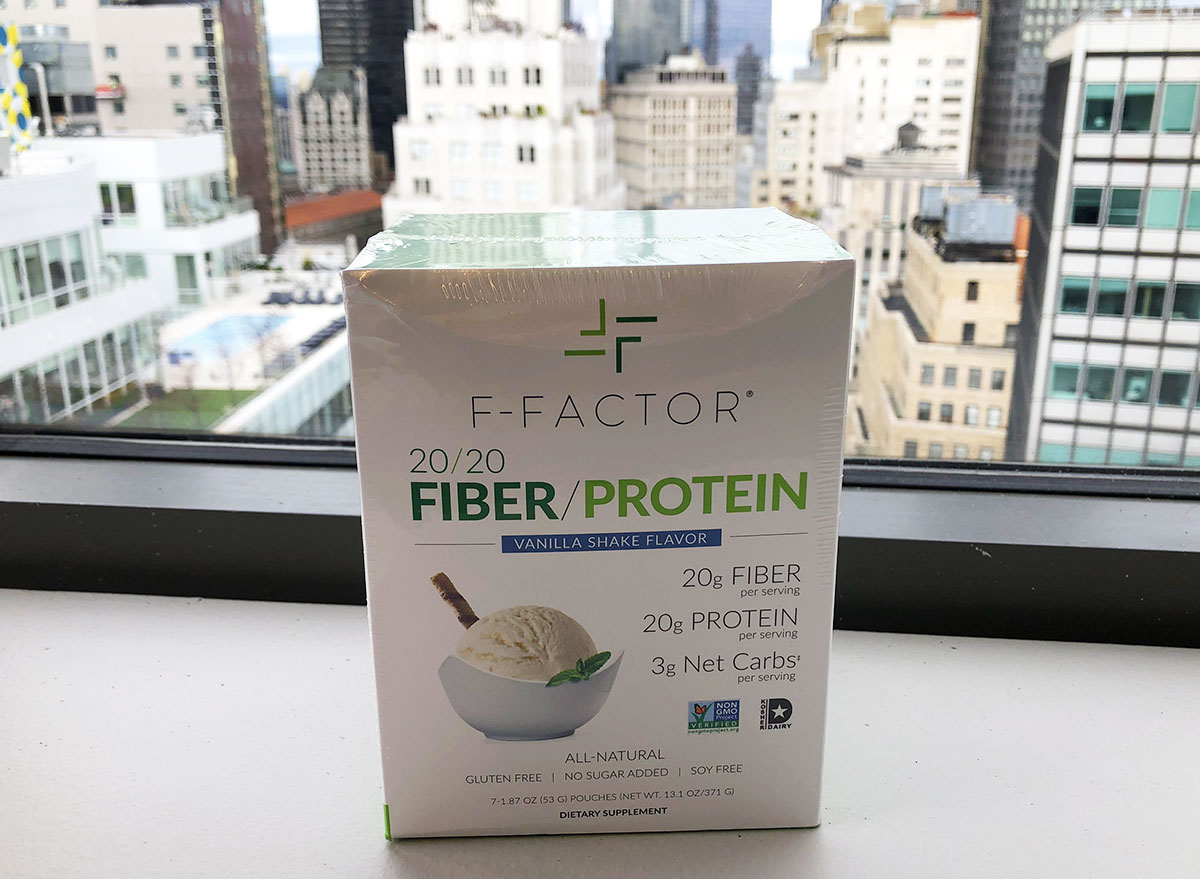 1 packet (53 g)
: 150 calories, 1.5 g fat (0.5 g saturated fat, 0 g trans fat), 70 mg sodium, 23 g carbs (20 g fiber, 1 g sugar), 20 g protein
Texture & Taste
The texture was not terribly thick, which made for a smooth consistency, and the flavor was the most delicious of them all.
Eat This, Not That! Verdict
This was by far the best-tasting protein powder we tried, with almost all of our editors choosing this one as their top choice. One editor, for example, described the flavor as a nice blank canvas, noting that it would complement other flavors. Anyone else thinking of using this powder for a fruit smoothie?
"Smooth [and] nice, blends well with other flavors," she wrote.
Another editor wrote, "Consistency was good, not too grainy."
We were also taken aback by how much fiber is in just one packet of this shake mix. There are 20 grams of fiber, and if you follow a 2,000-calorie-a-day diet, that's equivalent to about 71% of your daily needs. Overall, we would highly recommend this protein powder, even to those who have never had protein powder before. This is the one you should start with!