We Tasted 9 Canned Chilis & This Is the Best
See if any could stand up against a homemade recipe.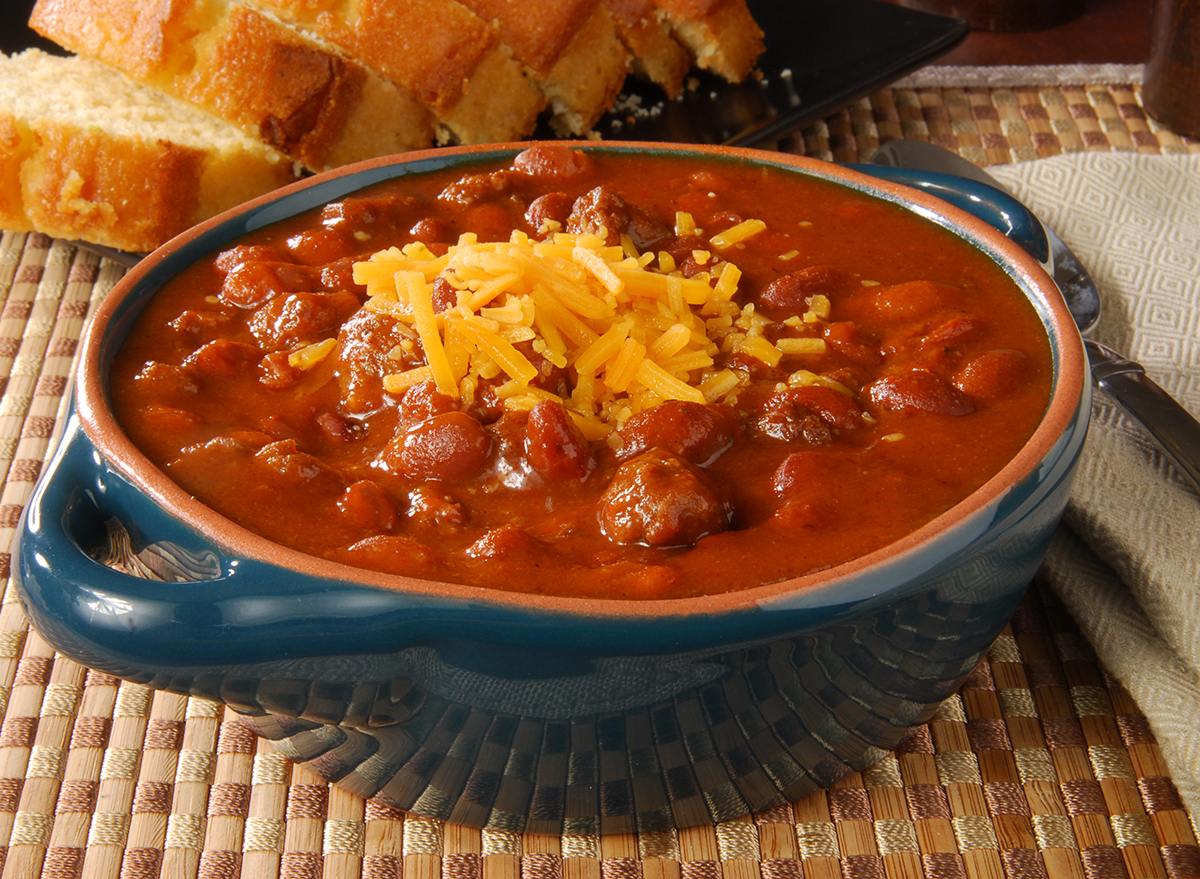 There's nothing better than a hot bowl of home-cooked chili. Well, maybe one with a mound of melty cheese and some bread for dipping, or some piled on top of a baked potato with some sour cream. There's no doubt that chili is a quintessential comfort food staple. But can that comforting taste you know from home be replicated from a supermarket chili?
When you don't feel like dusting off your Crock-Pot or slow cooker, or standing over the stove until you get your recipe just right, a can is a great way to have a hot and hearty meal on the table in little to no time. We went out and searched our local supermarket shelves to see if any canned chilis could outshine homemade recipes. Here are the best and worst supermarket chilis we found. (Plus, if you are in the mood to cook, check out 20 Best Healthy Chili Recipes for Weight Loss or 22 Meals to Melt Belly Fat in 2022.)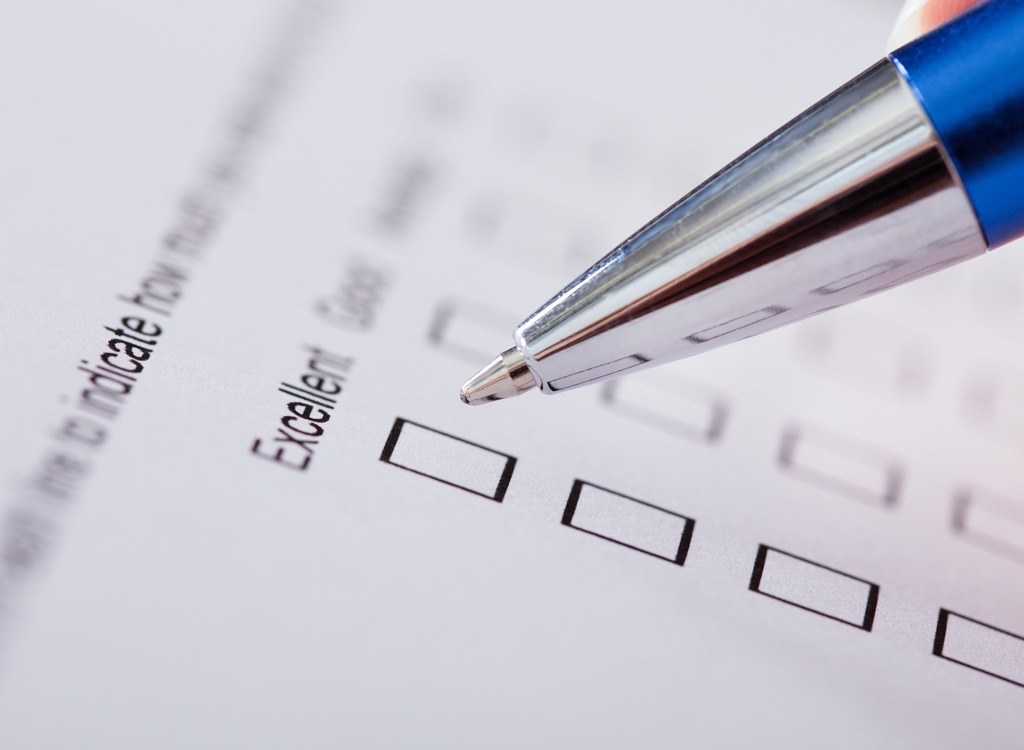 A good chili is thick, chunky, and full of flavor with just the right hint of spice. Nothing too soupy, spicy, or bland made it far with our taste testers. We graded each supermarket chili based on the flavor of each ingredient, the texture of the beans/meat, and whichever warmed our bellies (and hearts) with the most nostalgia came out on top.
The supermarket chilis we tried included:
Amy's Organic Black Bean Chili
Amy's Organic Medium Chili
Campbell's Chunky Chili with Beans Microwaveable Bowl
Engine 2 Plant-Strong Organic Firehouse Chili
Hormel Turkey Chili with Beans
Hormel Vegetarian Chili with Beans
Hormel Chili with Beans
Modern Table Bean Chili Snack Cup
Wolf Brand Chili With Beans
Here are the nine chilis we tasted, ranked from worst to best.
Engine 2 Plant-Strong Organic Firehouse Chili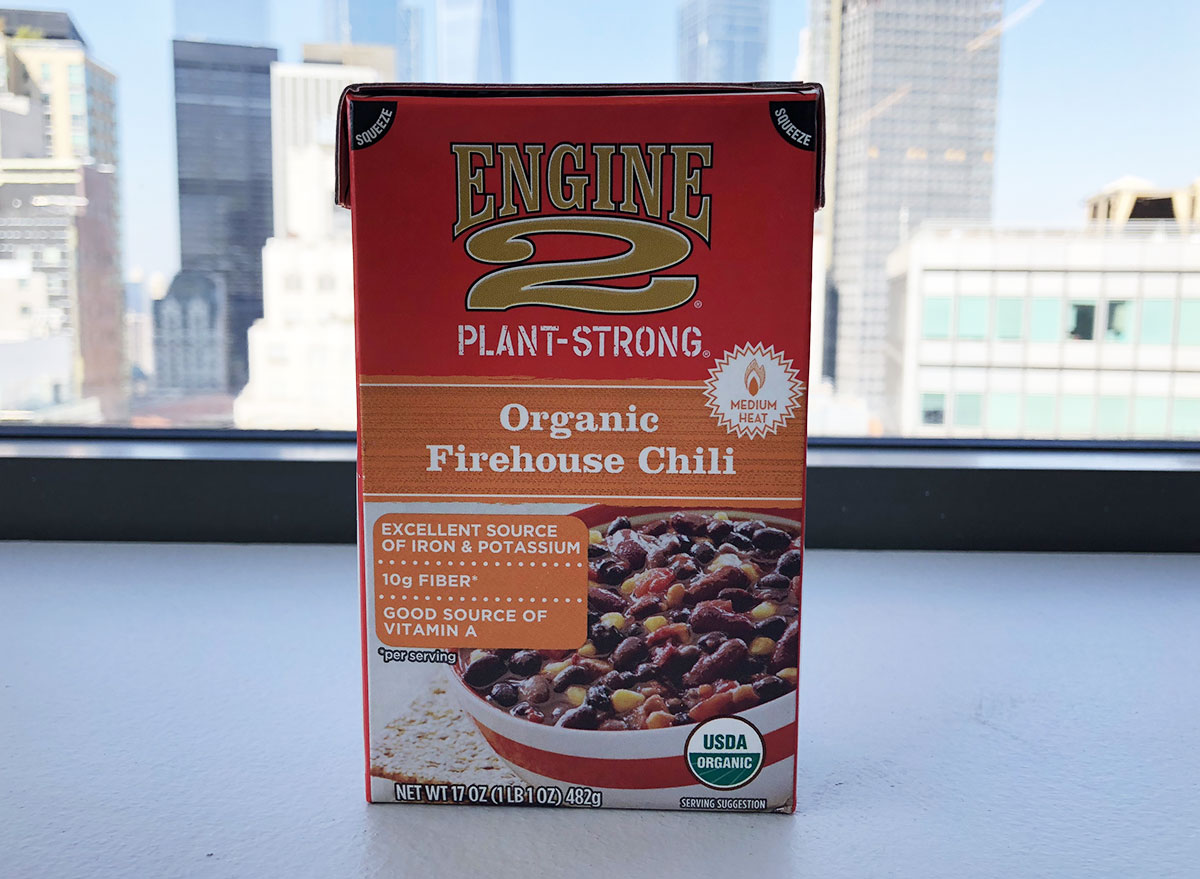 OK, the box should've been a dead giveaway. This was the only "canned" chili that came from a box. The instructions for opening the box were similar to that of lunchroom milk cartons, but the thick cardboard layers made it almost impossible to crack open this brand's chili without the help of a very large knife.
Eat This, Not That! Verdict:
No one on the team was a fan of this brand. One taster explained how the experience of eating this chili really made them feel: "This chili taste as if they left chili sitting out in a pot for several days, and then they dumped out all the beans and meat and just left the leftover water from where the chili once sat. Then, they let that chili water sit out for a couple more days. And after that, they added just one teaspoon of hot sauce and boxed it up for consumption."6254a4d1642c605c54bf1cab17d50f1e
If that's not enough to convince you this boxed chili is a no-go, maybe a few comments from our other editors may help. One editor stated this was "absolutely inedible."
One editor couldn't get over the packaging and thought that was the explanation for the horrible taste. "It's OK, but a little watery. Also, who eats chili straight out of a box?"
We had nothing nice to say about Engine 2's chili. It was "horrible. It tasted like watered-down bean soup and the texture of the beans almost tastes fake. How is that possible?" If you're going to try a supermarket chili, stay away from the boxed options.
Modern Table Bean Chili Snack Cup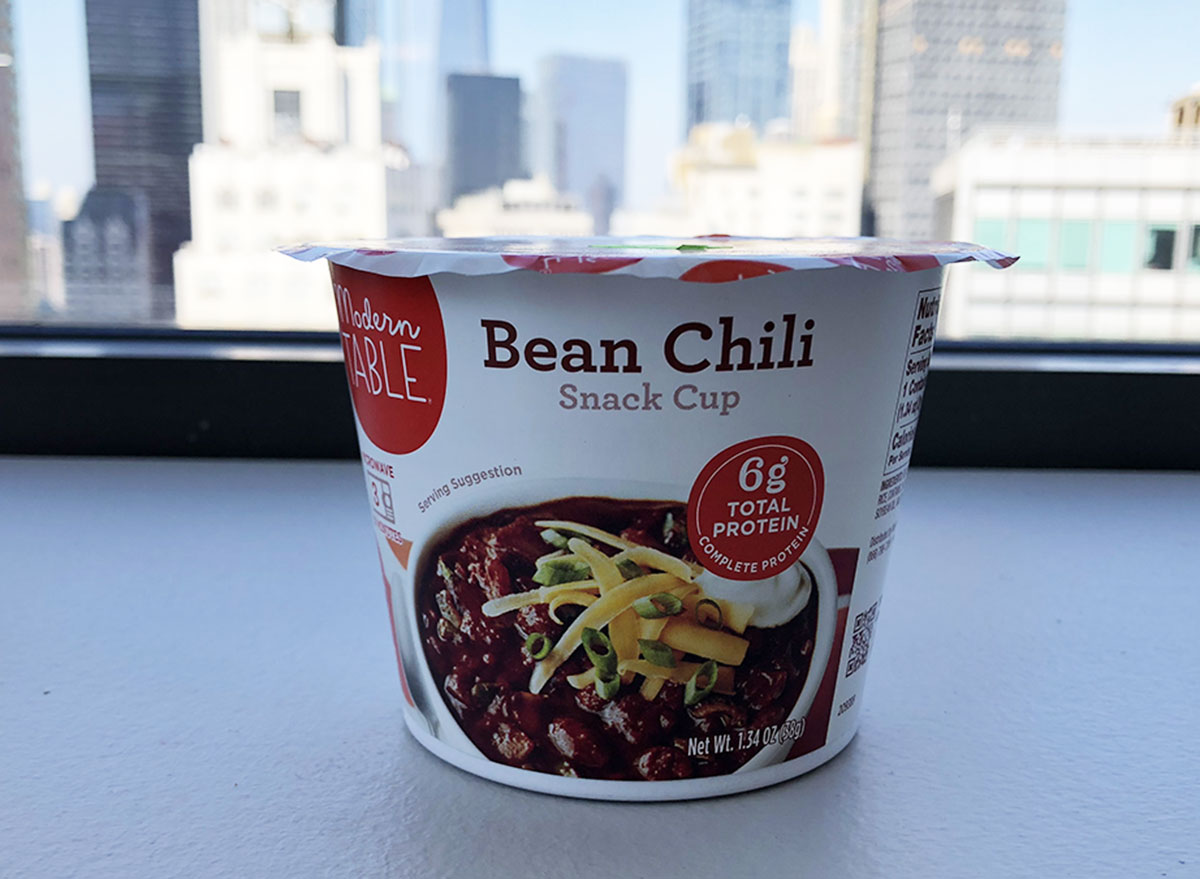 We loved the convenience of this chili and the fact that you need zero dishes other than a spoon. However, that was all that was positive about Modern Table's bean chili snack cup.
Eat This, Not That! Verdict:
One editor started by stating this chili's taste was bland. "It's just too thin of a texture to be considered chili. It's a little more like soup," they said.
Another taster's experience was far from pleasant, stating, "I wanted the sensation to end so bad. Probably the most horrific thing I've ever eaten in my life." Yikes. Ultimately, it was, "watery and basically tomato soup with some veggies floating in it. Pass me some Campbell's and a grilled cheese instead."
The soupy base wasn't our only issue, either. One editor said that this soup "made beans taste stale," which we didn't even know was a thing.
Hormel Vegetarian Chili with Beans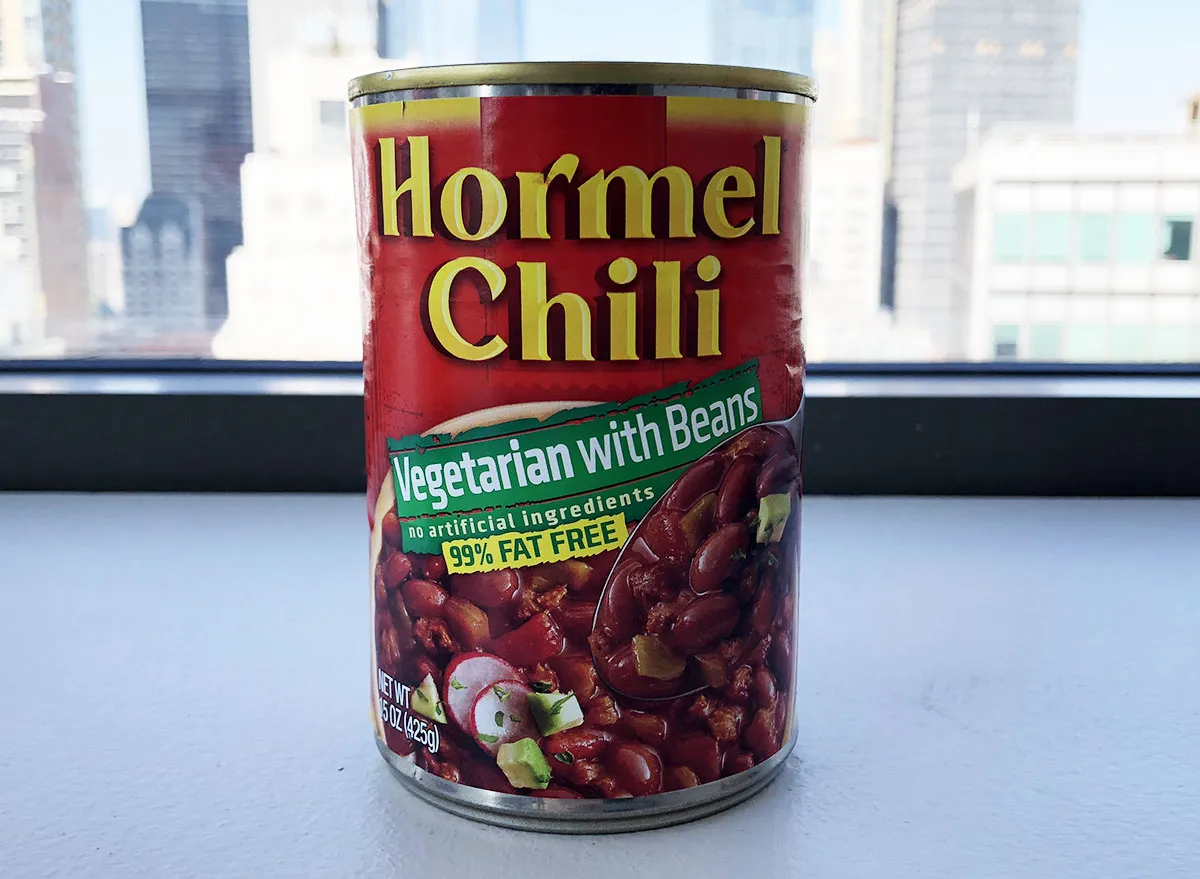 Hormel is a more well-known brand, so you'll see it multiple times on this list with options that are both vegetarian-friendly and meat lover-friendly. However, as you can see, the vegetarian version couldn't stand up to the other options.
Eat This, Not That! Verdict:
We weren't big fans of this Hormel chili. Almost all of the comments from the meat lovers in our taste test said that there needs to be meat for it to be considered chili. One editor stated they "didn't like the spices in this. Hard pass."
Overall, this one had a "cardboard-like aftertaste." However, one editor liked this can, stating, "for veggie chili, this isn't so bad. I appreciate the thickness of the stock, and the seasoning is pretty good." Another editor boosted points for its "green" taste, saying it "tasted clean and very veggie-like." It was "not bad, good consistency without being too thick or too soupy. A little sweet tasting for a chili, however."
Amy's Organic Medium Chili
Amy's was another brand that offered more than just one type of canned supermarket chili, both vegetarian and not. We were fans of the versatility of the spicy level labeled on the cans. If you don't like spice or want even more spices, look to Amy's to try out different levels of heat.
Eat This, Not That! Verdict:
One editor's nostalgia came back when trying this chili. "I used to eat this a lot as a vegan, and it's still as good as I remember. For a vegetarian supermarket chili, it's got it all! Spice, flavor, and meat 'taste'." But another editor disagreed, saying this had "ZERO FLAVOR. The turkey is dry and it has a soupy texture."
Another editor went in open-minded, stating, "I was excited by the celery addition here, but boy, was it bland with a capital 'B.'"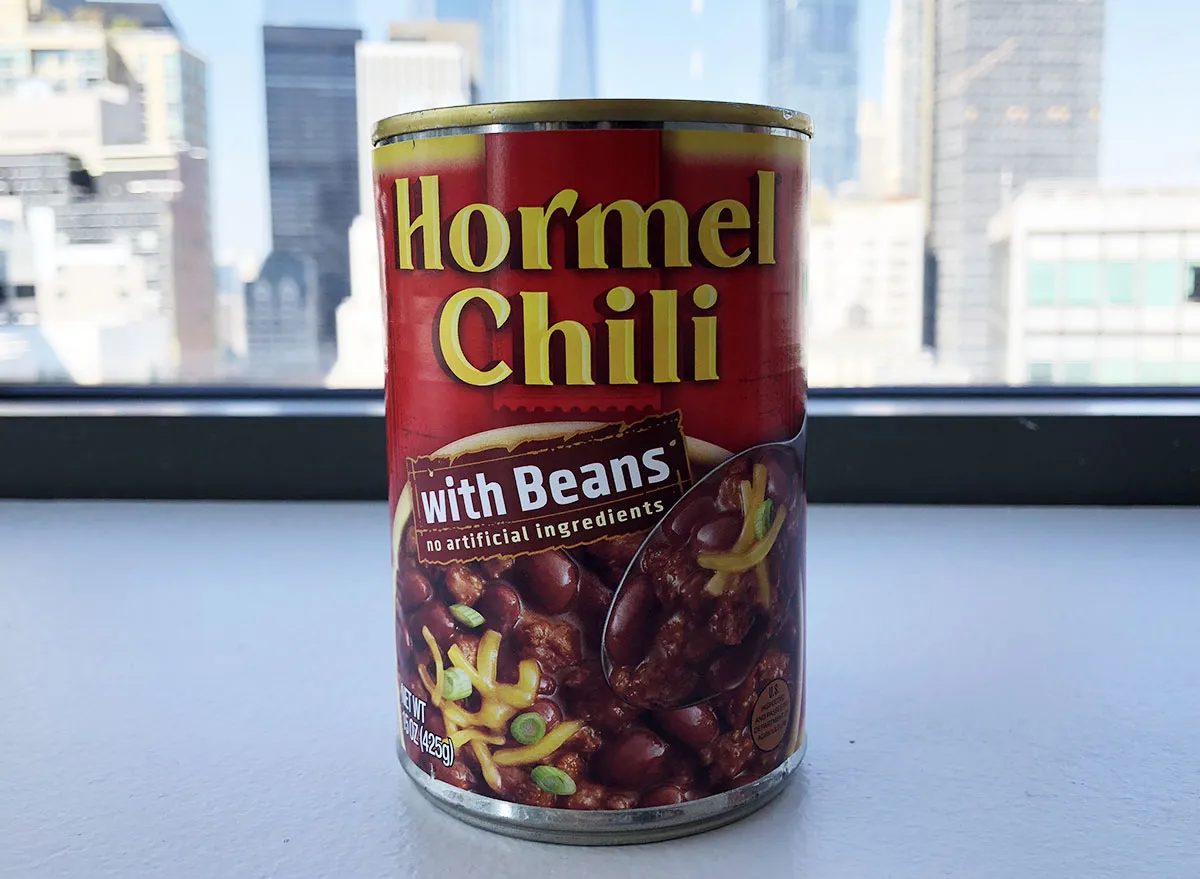 This meaty version with beans stepped above the vegetarian option from the same brand. This pick came in the dead center of our taste test list.
Eat This, Not That! Verdict:
We were off to a good start, with one editor stating that this had "great flavor, great thickness. It's not too spicy, and had a good meat-to-beans ratio." Another said they thought this was "the best out of all the Hormel options. I would love to sprinkle some shredded cheddar cheese on this."
However, not everyone agreed. One editor said, "NO, NO, NO. The taste and texture are incredibly off-putting" and that this version was "goopy and bland." Another editor thought this could "really benefit from some spice."
Most of the comments stated this can was bland. But the nostalgic flavors helped boost it into our top five. One editor said, "this is the classic chili flavoring I could imagine on a hot dog at a baseball game. It's not great or the best out there by any means, but very nostalgic."
Wolf Brand Chili With Beans
This can looked and smelled like dog food at first, but it was a dark horse in this chili cook-off. The initial smell from this can was awful, but after we heated a portion in the microwave, the beefy spices expelled from this bowl made us crave some cheese and tortilla chips for dipping.
Eat This, Not That! Verdict:
Our team was split across the board with this one. The look of this supermarket chili was too much for some of us, but others braved the dog food-like consistency and were pleasantly surprised. One editor stated, "this tastes the most like actual chili, even if it looks gross." Another said, "I would definitely choose this as a great chili dog chili."
A few editors loved Wolf Brand. One said, "Yum!! Super thick and hearty. The perfect amount of spice. This would be great on a cold day." Another said, "This is very creamy and meaty. I don't feel like I need cheese and potato to eat it, but it would be stellar with both." And one last one said, "If you eat with your eyes first, you're missing out. This is the creme da la creme of chili. It would be great for toppings–perfect for hot dogs, baked potatoes, fries, etc."
Amy's Organic Black Bean Chili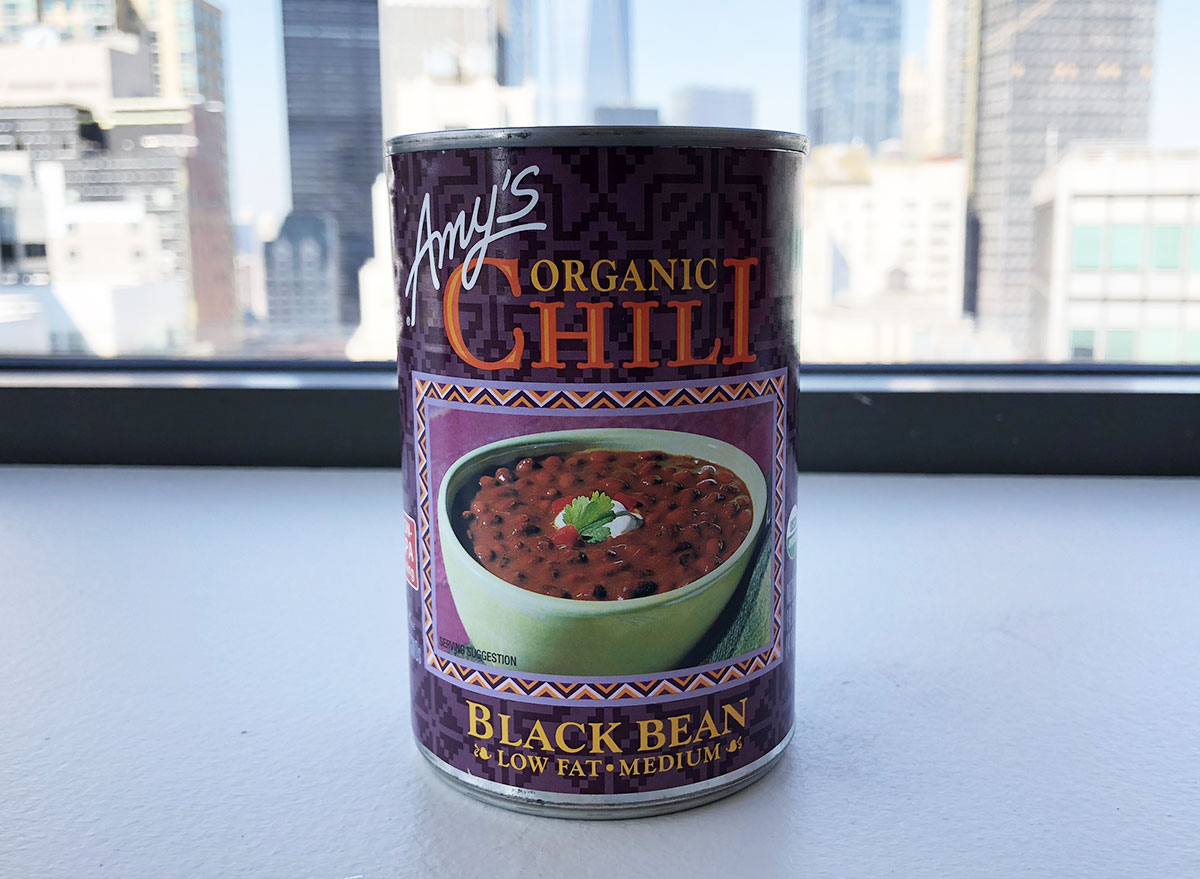 This meat-free chili wasn't what we expected for third place. Some went into this wondering why there was a bowl of beans on the table. To our surprise, this can beat out most of the traditional chilis and landed in our top 3 because of the perfect blend of spices.
Eat This, Not That! Verdict:
One editor named this supermarket chili the best on their list, saying, "Finally. A chili that actually tastes like it's supposed to taste." Another said that "even though this is canned and vegetarian, it has an impressive depth of flavor."
This bean mixture is the perfect vegetarian option to warm up your tummy on a cold night. One editor stated this reminds them of "spicy black bean soup."
Hormel Turkey Chili with Beans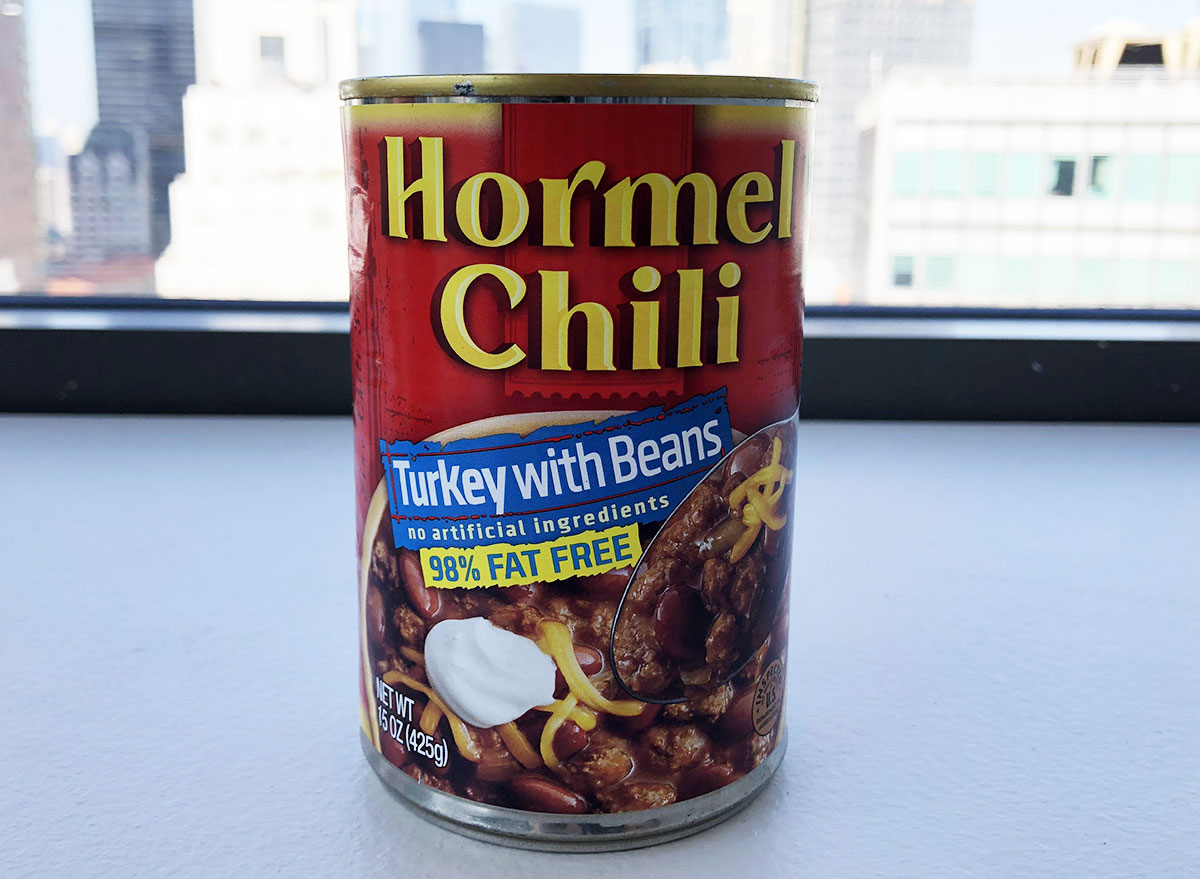 Our second pick was also not what we expected. Surprisingly, our taste-testers preferred chili with turkey instead of ground beef. For our low-fat-seeking chili eaters, this is the canned chili for you.
Eat This, Not That! Verdict:
Our team had many good things to say about Hormel's turkey version. This one received top ratings for its "hearty taste. It tastes very clean and has a good meaty texture and flavor." Some of our testers thought it "felt healthy. This one is also very flavorful."
For our turkey lovers, this was a crowd-pleaser. One taster said this was, "super hearty. I prefer turkey to beef, so I like this a lot." One editor also said, "the turkey is much better than the normal with beans."
What kept it just shy of the #1 spot? A lack of spice. One editor stated this one was "really good, but def. could use some spice."
Campbell's Chunky Chili with Beans Microwaveable Bowl
Our top pick came not from a can, but a convenient microwavable bowl. We loved Campbell's Chunky chili with beans and got everything we were looking for from chili in this cute little cup. Thick texture, flavorful meat, hearty beans, and, on top of that, zero mess to clean up. Once you're finished with this little tub, you just rinse and recycle this bowl. No dishes! That gives it extra points in our book.
Eat This, Not That! Verdict:
Our team liked this chili a lot in comparison to the other eight. One editor said they "would buy this for a cold night and add tons of cheese. Campbells's doesn't disappoint." Another editor "appreciated the multitude of beans offered here. Receiving extra points because it "tasted fresh comparatively to some of the others."
The taste of this one was a mix of "hints of ketchup and gravy and beef bits." Overall, it had a "really nice flavor" and "tasted closest to home-cooked," which is why it ended up at the top of our list.
One editor said, "Not bad! I would definitely not be opposed to putting a small portion of this on my plate at a cookout." Another liked "how easy it was to heat up." Out of the nine we tried, Campbell's did the best in the race. Surprisingly enough, we didn't need to be looking for a can for the best supermarket chili—it was in a portable cup the whole time.
Read more of our exclusive taste tests:
We Tasted 10 Popular Light Beers & This Is the Best
We Tasted 5 Chain Restaurant Burgers & This Is the Best
Ann Marie Langrehr
Ann Marie is the Social Media Editor for Eat This, Not That! running the brand's social media accounts.
Read more about Ann Marie