30 New Twists on Classic Christmas Recipes
Brighten the holidays with these new takes on time-tested favorites.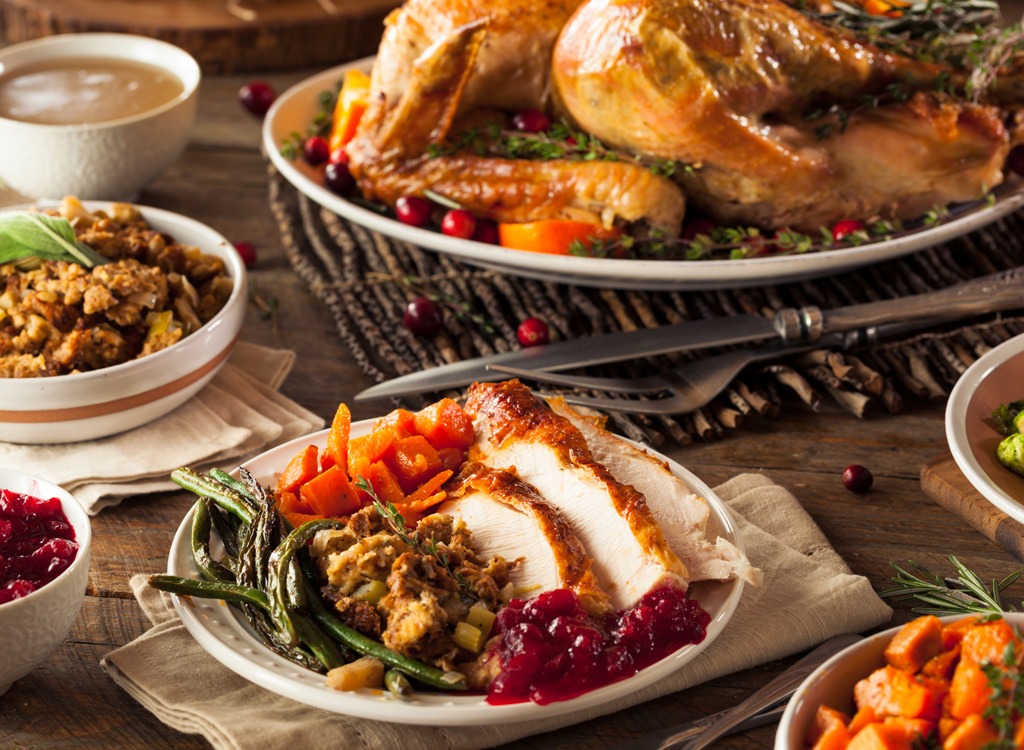 As the holidays continue to creep up on us, planning your seasonal menu can feel hopeless (or at least, a lot different from years past). According to The New York Times, coronavirus cases in the U.S. keep climbing, making any large holiday gatherings impossible. But while we can't celebrate with big gatherings, don't feel like you can't show off your cooking skills this season. Start some new family traditions this Christmas by supercharging familiar recipes with spiced up new takes, making the season's festivities feel exciting, even if your crowd just consists of family.
Trying to reimagine a whole seasonal feast feels impossible, but fear not—we've assembled the master list of the ultimate menu that can please anyone looking to celebrate the holidays right. Round up your family and tempt them with a slew of new meals that not only remind us of Christmases past but also help us get ready for the bright new year ahead of us. Get ready to spread some holiday cheer with these 30 creative Christmas classics that guarantee to become a tradition at your home for years to come.
And for more ways to indulge this winter, check out these 25 easy Christmas cookie recipes to keep the holidays rolling ahead!
Christmas Appetizer Recipes
If you can't have chestnuts roasting over an open fire, it might as well not even be Christmas. While many of us probably plan to prepare our chestnuts in an oven, this take on the classic winter favorite marries the flavor of butter and rosemary together, creating a modern spin on the age-old classic. If you've never roasted chestnuts before, this recipe keeps it simple and serves up a new flavor combo you need to show the family.
Get our recipe for Roasted Chestnuts.
Brie, Apple, and Walnut Toast
Christmas meals invite warm, cozy flavors that can tap into nostalgia. For a quick bite, the flavors of brie, apples, and walnuts combine to bring us back to Christmases past. These fun pre-dinner appetizers stave off hunger and get us excited for the holidays with their seasonal flavor pairings. If you've never tried these tastes together, you have no excuses this year!
Get our recipe for Brie, Apple, and Walnut Toast.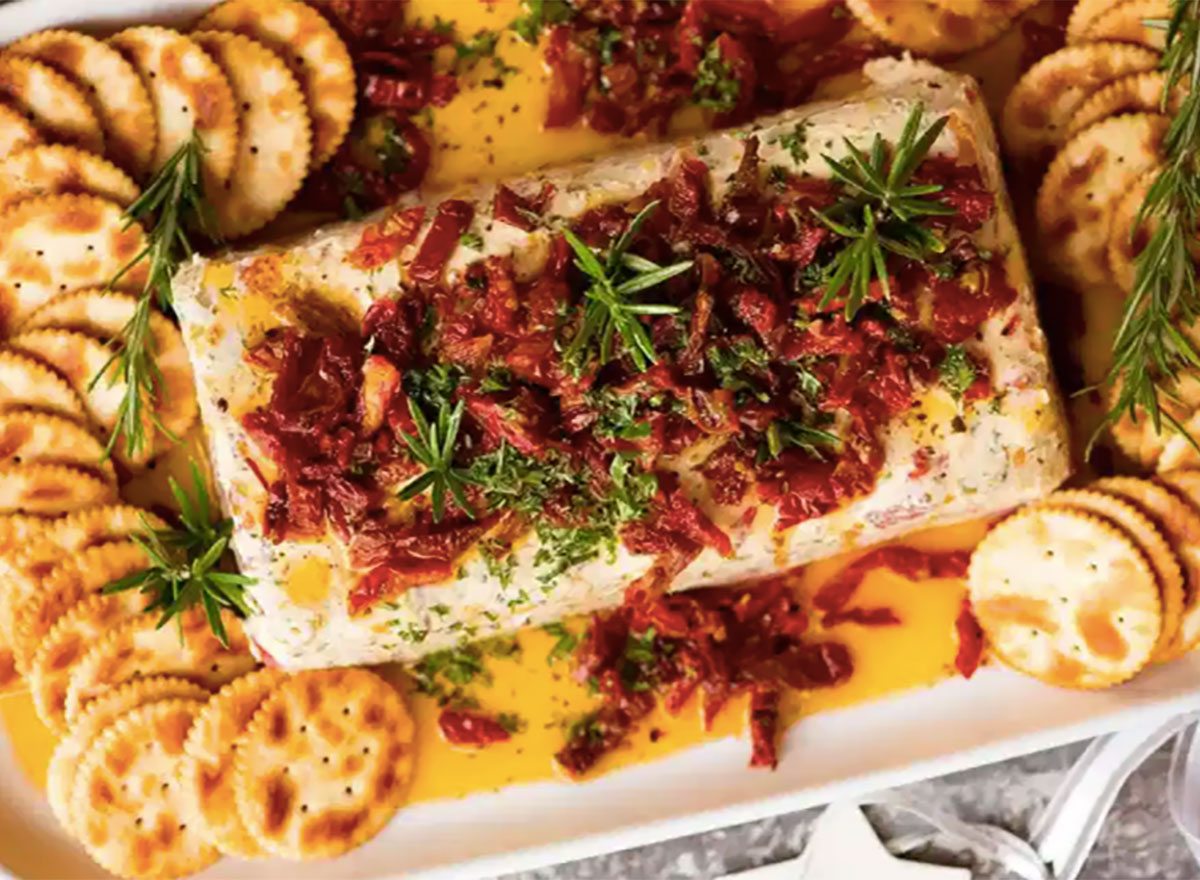 No holiday get-together is complete without a cheese log. Even if you only plan to entertain the family, why not bring out this time-tested appetizer? Instead of the standard, stodgy cheese log that you might remember from Christmas long ago, the original Italian version marries the taste of salami and sun-dried tomatoes to create a standout cheese log your family will reminisce about for many holidays to come.
Get the recipe from Recipe Tin Eats. 
Cranberry Pecan Cheeseball
If you love a good cheese dish but want to keep the flavors a bit more reserved, then you need to try the cranberry pecan cheeseball. The enticing flavors of cranberries and pecans couldn't fit the season better, and anyone looking for some seasonal flavor can get excited serving this classic recipe to the family.
Get the recipe from Creme de la Crumb. 
Nothing warms up the heart, not to mention anyone coming in from the cold, like a seasonal quiche. These warm, buttery, bite-sized treats can get you and your family ready for any Christmas feast. Even if you're just entertaining your household, everyone is sure to love the garlic-spinach, Mediterranean, and mushroom flavors, not to mention the decadent quiche Lorraine.
Get the recipe from Recipe Tin Eats.
Christmas Side Dish Recipes
Spicy Mashed Sweet Potatoes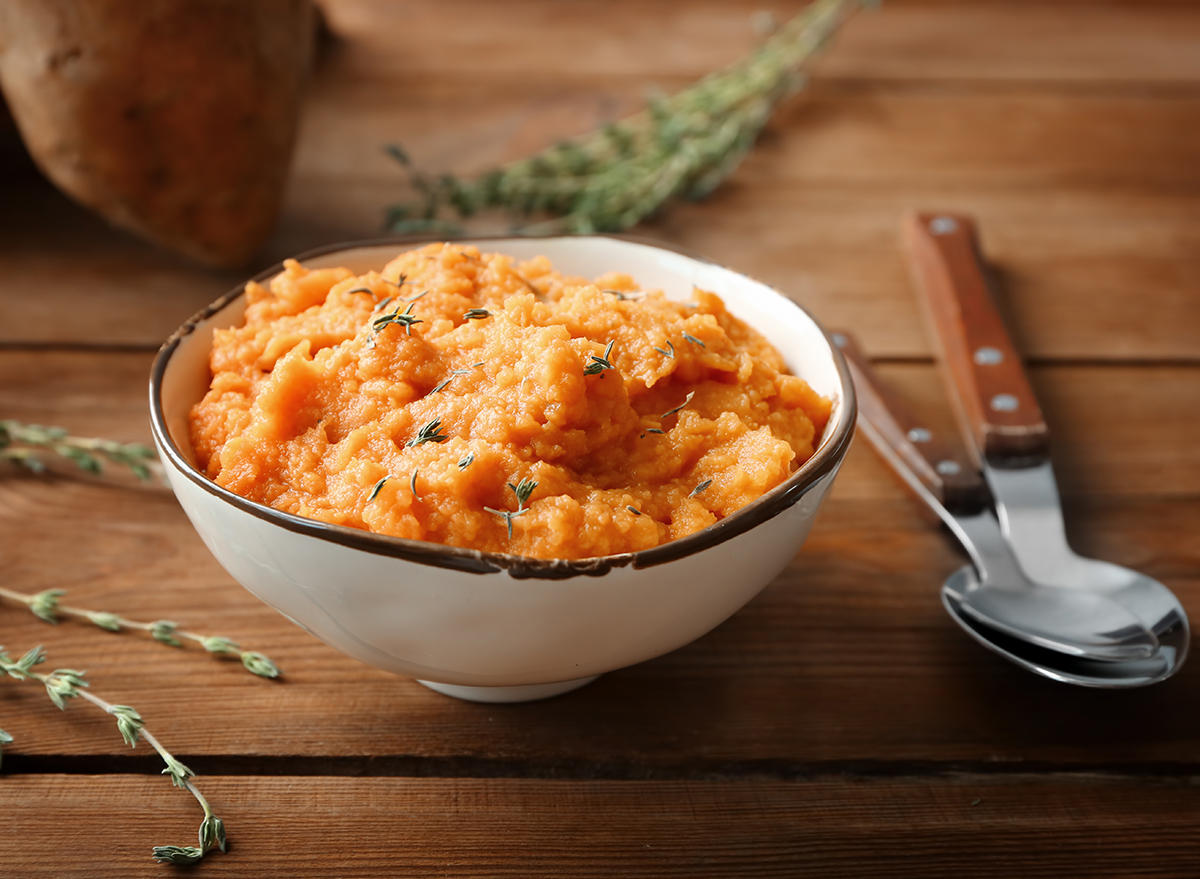 No Christmas feast comes complete without a side of mashed potatoes. But with Thanksgiving just weeks behind us, many have gotten burnt out on repetitive leftovers of plain mashed potatoes. Why not take the plunge this Christmas and indulge in mashed sweet potatoes with a kick? This spicy take on mashed sweet potatoes can be toned down if your group has a lower heat tolerance, but the seasonal flavors of sweet potato will get anyone excited for winter.6254a4d1642c605c54bf1cab17d50f1e
Get our recipe for Spicy Mashed Sweet Potatoes. 
We love stuffing when it makes an appearance at Thanksgiving, but you might not feel up for another round of the classic bread side during your holiday festivities. Don't feel like you have to accept the same old stuffing! This apple sausage version dishes out a hearty side to keep you stuffed, and the combo of apple and sausage has graced Christmas tables for generations. See what the fuss is about and tap into some deep seasonal roots with this new classic.
Get our recipe for Apple Sausage Stuffing. 
At this point, you may have let Brussel sprouts into your heart by incorporating them into your weekly family meals. If you want to take this classic side to the next level and make them even more seasonally appropriate, why not dress them up and prepare them as crunchy parmesan Brussels sprouts or roast them with maple pecans for some festive cheer? With a side so versatile, the possibilities are endless.
Get our recipes for Roasted Brussel Sprouts.
Baked Shrimp in Butter Sauce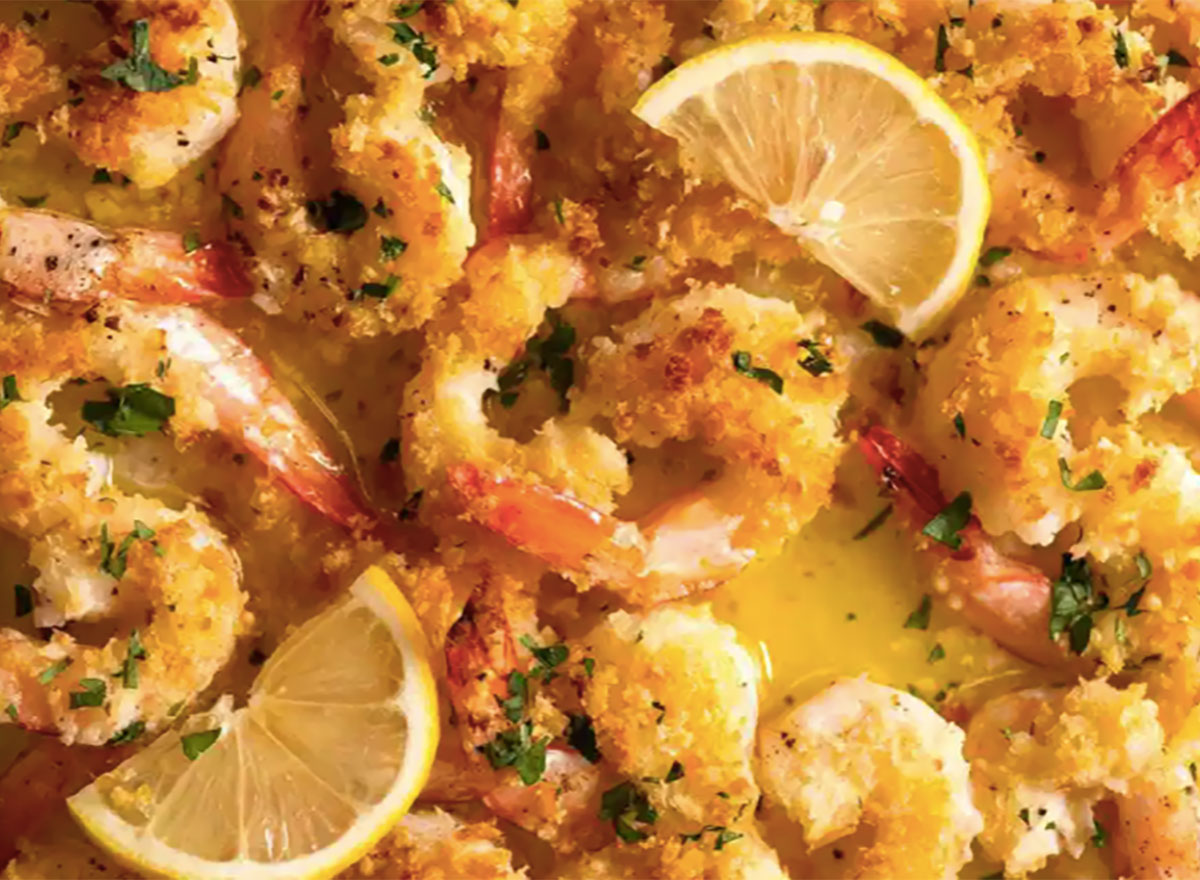 Celebrating the holidays without some seafood just doesn't feel festive. But if you feel burnt out on shrimp cocktail or shrimp scampi, try crunchy baked prawns in a butter sauce. These decadent flavors make your regular shrimp favorites feel boring in comparison. And if you have nostalgic memories of getting served shrimp at Christmas, this revamped version will get you excited to bring back classic memories.
Get the recipe from Recipe Tin Eats.
Brown Sugar-Glazed Carrots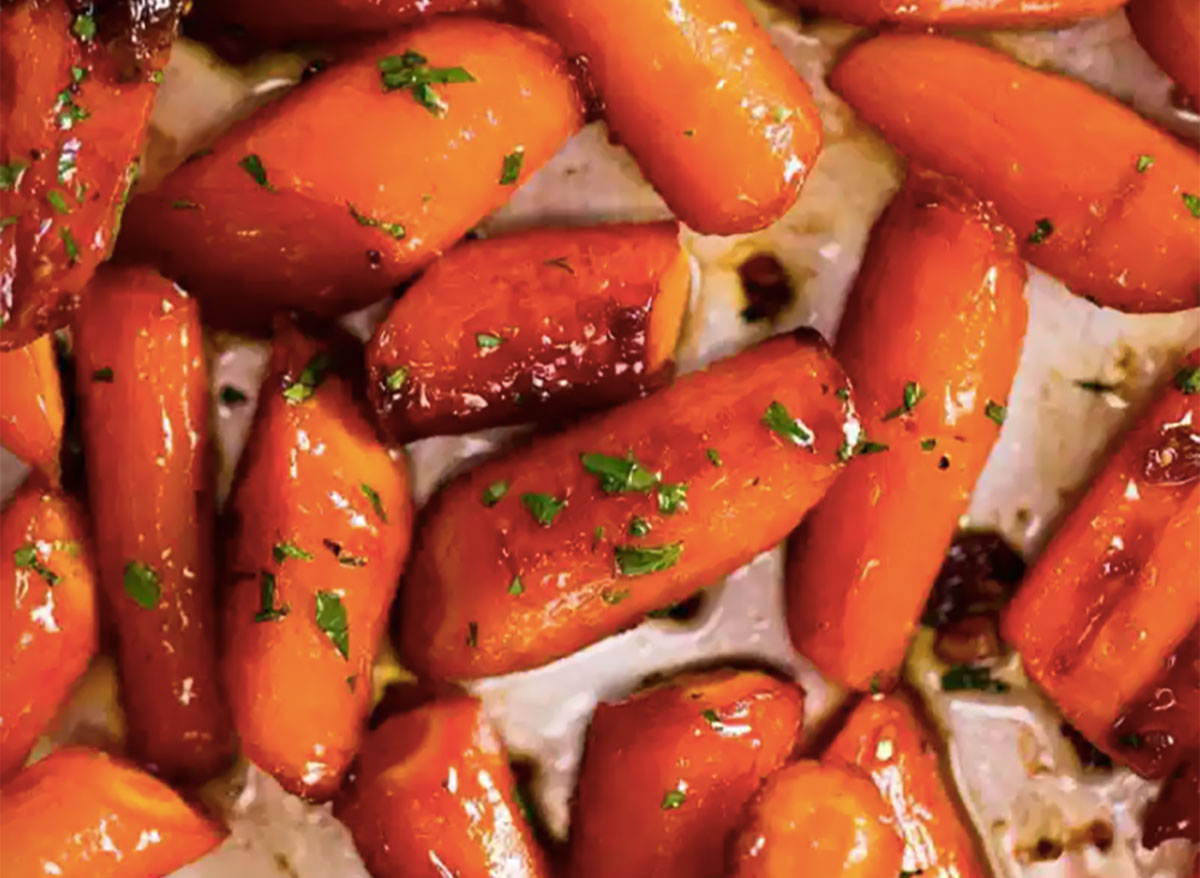 Winter feasts demand a fresh veggie, and with carrots in season across the U.S., it's no wonder these root vegetables turn up at holiday feasts across the country. If you love carrots but want a fun seasonal spin on the classic, glaze them in brown sugar and butter to serve up a cold-weather classic that demands to grace your table for years to come.
Get the recipe from Recipe Tin Eats.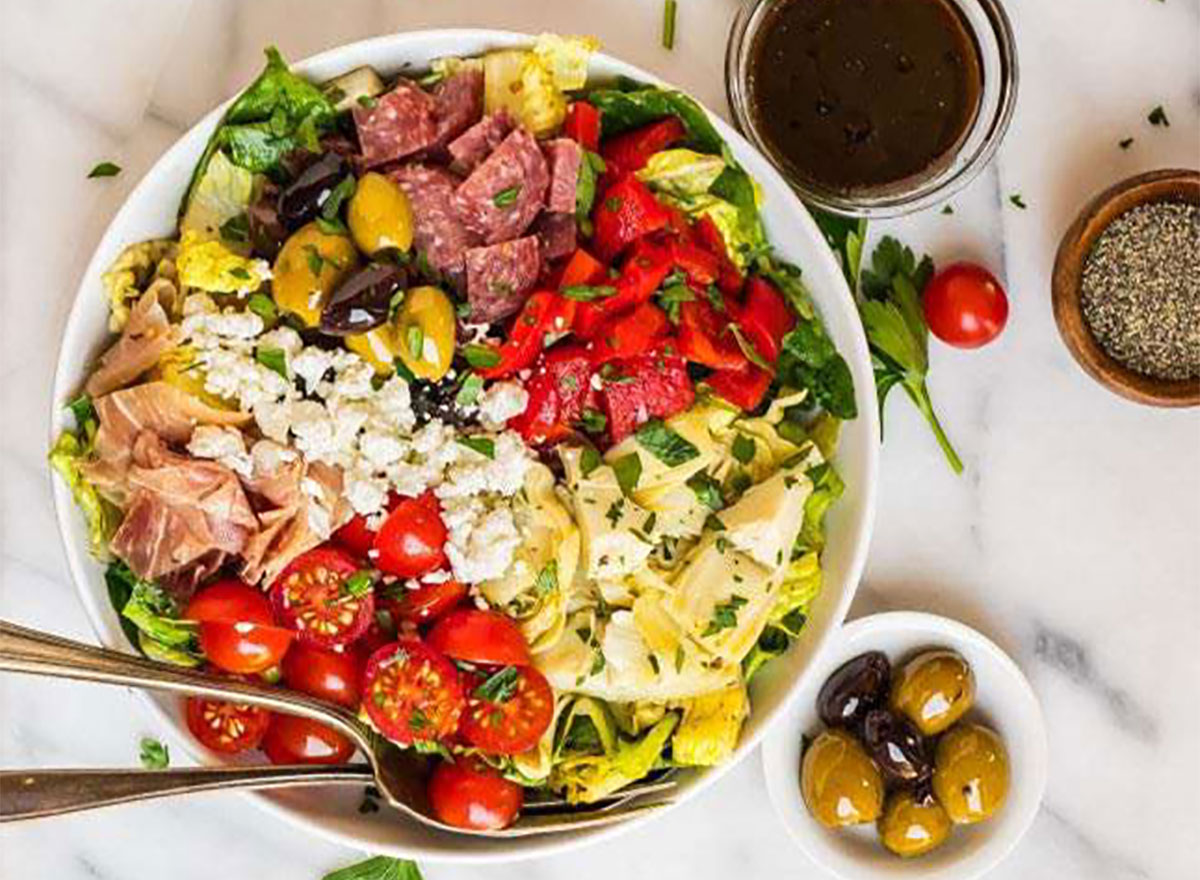 Everyone needs some nutrition in the form of a salad, but that doesn't mean you need to settle for a plain mix of iceberg lettuce and boring veggies. Spice up your Christmas salad with an antipasto salad, combining cured meats, red bell pepper, artichokes, and more while celebrating the season as your ancestors did in the old country. This rich salad makes everyone excited to dig in, and Christmas is the perfect time to indulge in these rustic flavors.
Get the recipe from Well Plated.
Christmas dinners can prove tough for anyone looking to cut out meat and animal products, but that doesn't mean vegans should go without enjoying some culinary nostalgia. These vegan stuffed mushrooms pair a dairy-free pesto with garlicky bread crumbs and herbs to serve up a side that will make both meat-eaters and vegans rejoice. Try it yourself, and these stuffed mushrooms might replace your favorite meats at your next Christmas dinner.
Get the recipe from The First Mess. 
Anyone looking to ring in the holidays needs to round out their dish with some sweet candied yams, but if these holiday classics remind you of the harsh yams you ate growing up, have no fear. Food has come a long way, and these candied yams pack in a ton of flavor, thanks to cinnamon, nutmeg, ginger, brown sugar, and a touch of vanilla. Redefine your whole relationship with candied yams after one bite of this side.
Get the recipe from Cooking Classy.
While the term "casserole" might bring green beans or tuna with noodles to mind, don't feel like you can't serve up a brand new casserole. A warm, gooey cauliflower casserole provides the perfect soul food your Christmas tradition needs. And with such an appealing dish, you might just have to keep serving this well past the holidays.
Get the recipe from Well Plated.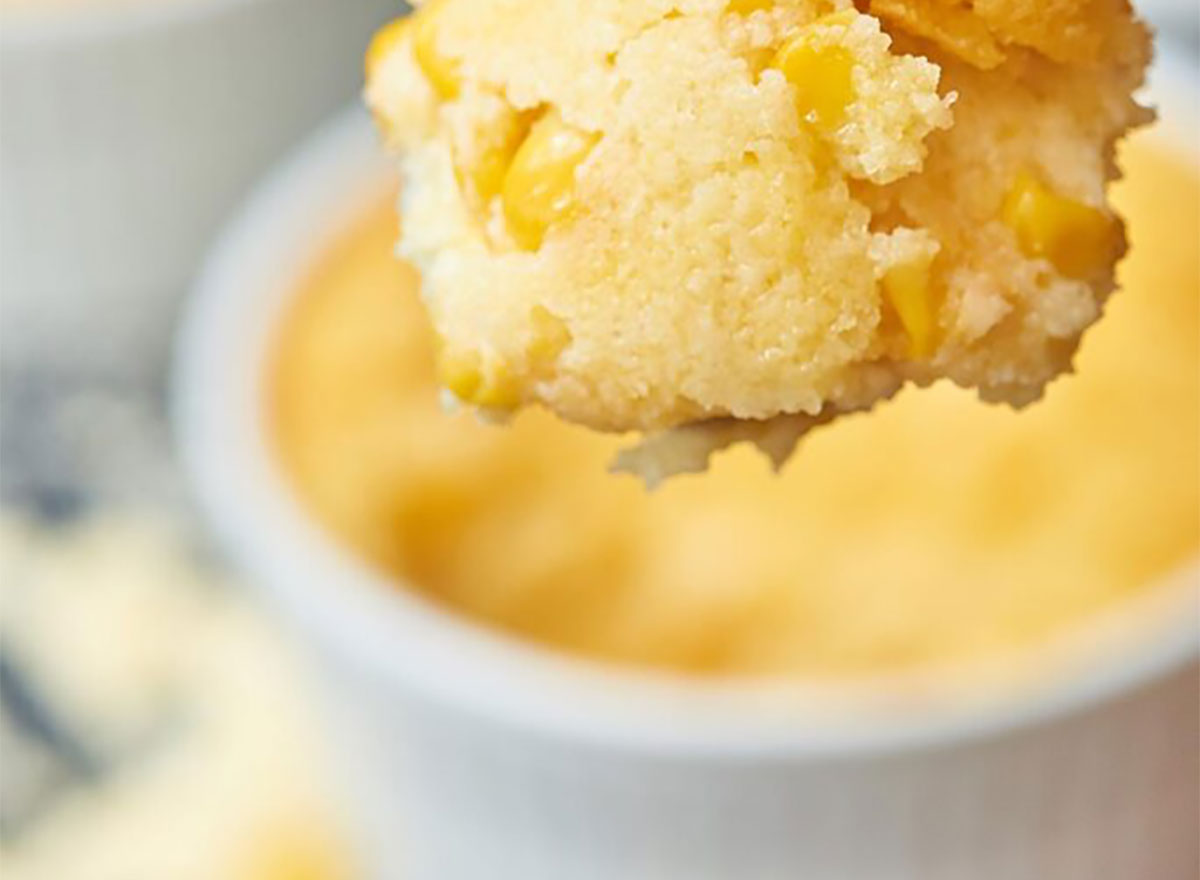 Creamed corn casserole can make the toughest of us wince with pain as we remember this terrifying dish from years past. Don't feel like you need to live with this pain any longer—redefine this dish with creamy corn casserole instead. This Christmas side dish leans closer to the souffle end of casseroles, rather than the goopy, corn-filled messes from holidays past. With an easy recipe any home cook can accomplish, this casserole can be a goal to treat your loved ones and break the cycle of poorly cooked creamed corn.
Get the recipe from Show Me The Yummy.
Christmas Main Course Recipes
Many of us fondly remember a steaming, glazed ham making its debut around Christmastime, and some of us might even remember the glaze containing root beer. Modern times call for modern recipes, and this revamped bourbon-glazed ham elevates the classic Christmas main course while pairing it with a tart peach chutney that cuts right through the richness. If you want to start a new Christmas meal tradition, this ham guarantees the perfect place to start.
Get our recipe for Bourbon-Glazed Ham with Peach Chutney.
Garlic Herb Slow Cooker Turkey Breast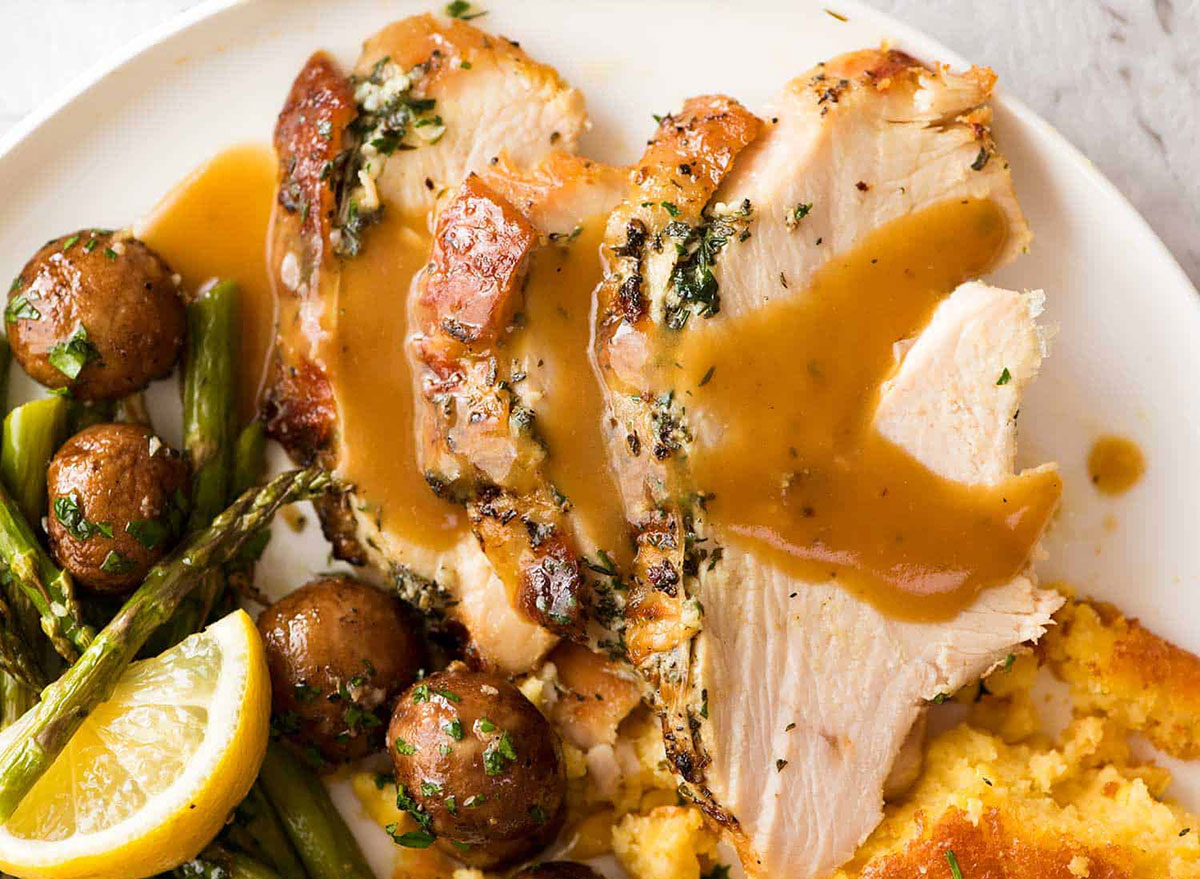 If you don't feel like ham this year but want to avoid another Thanksgiving-style turkey, your options seem limited. Don't feel boxed in by these choices—the garlic herb slow cooker turkey breast helps dish out the holiday spirit by combining turkey with garlic-herb flavors. Tackling this recipe with a slow cooker also takes the pressure off, making it an ideal way to serve a classic roast while taking it easy.
Get the recipe from Recipe Tin Eats. 
While Christmas may not feel complete without a classic roast, many of us have gotten bored with slightly dried-out pork loins. Don't believe that all roasts are created equal—this new take on the classic will have you rub down your pork with paprika, garlic, rosemary, and more, before glazing it in honey and garlic. For the ultimate juicy pork you never knew you needed, this meal should play the main role on any Christmas table.
Get the recipe from Diethood.
You might assume that prime rib only comes out at the country club or on special Sunday dinners. But Christmas presents the perfect opportunity to celebrate with this show-stopping roast. It has graced tables during Christmas for centuries, and your family will love seeing the ribs poking through the top of the roast. The only thing more appealing than the looks of this prime rib are the flavors—the recipe makes a red wine sauce and a garlic-herb butter to coat the roast with, making it an instant winner in anyone's book.
Get the recipe from Recipe Tin Eats.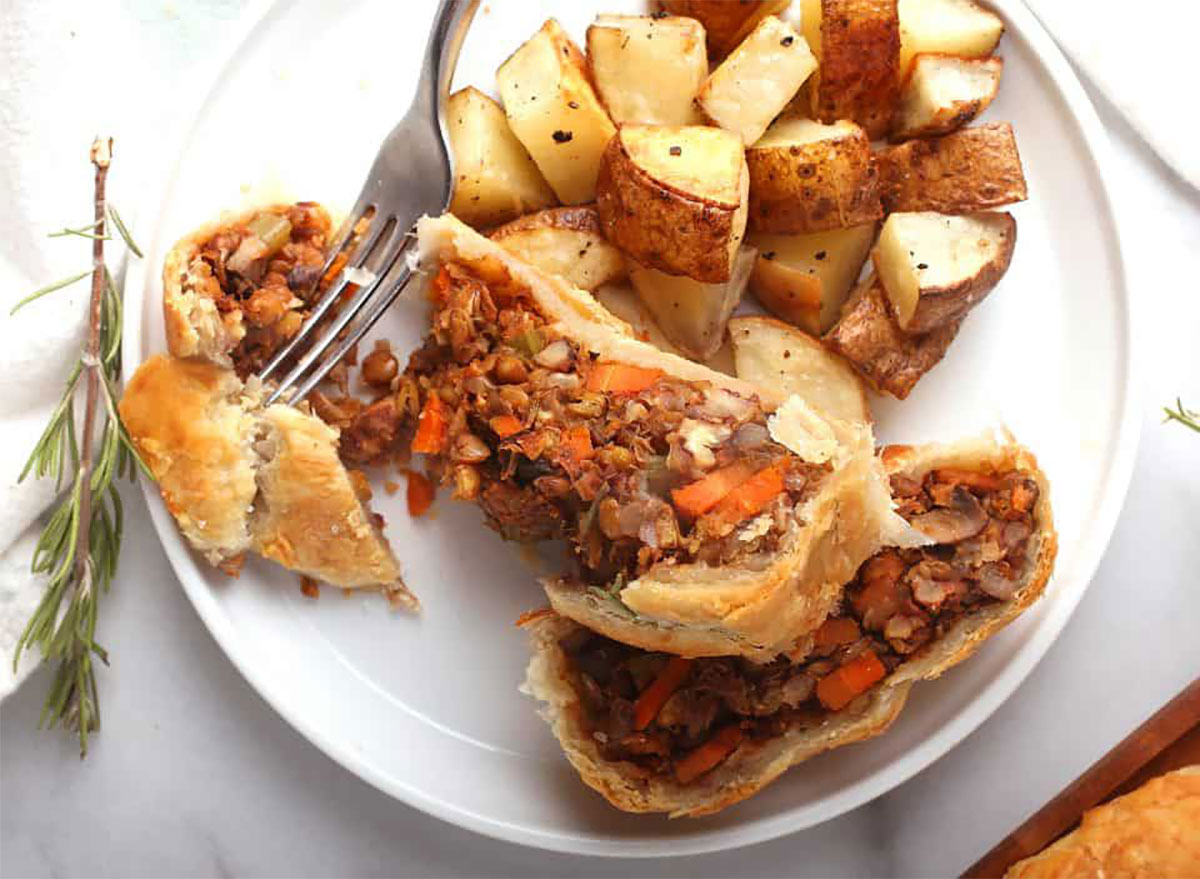 What better way to celebrate the holidays than with a beef Wellington? If the classic dish feels impossible, start off with the easier-to-cook vegan Wellington and spice up your Christmas meal in a flavorful way where no animals get harmed in the making. This version combines vegetables, lentils, and nuts together in a classic puff pastry that will make you feel like you are celebrating Christmas in the most decadent way possible.
Get the recipe from My Darling Vegan.
Christmas Dessert Recipes
Apple Pie with Crunchy Topping
Apple pies taste great, but they take so much work—the latticework on top takes a ton of patience and doesn't feel worth it half the time. But don't ignore apple pies this holiday season! Instead of stressing out about pastry work, try this Dutch-style version that tops off your dessert with a crunchy faux streusel of almonds, oats, butter, and more for a fun way to bring joy back to pie-making.
Get our recipe for Apple Pie with Crunchy Topping.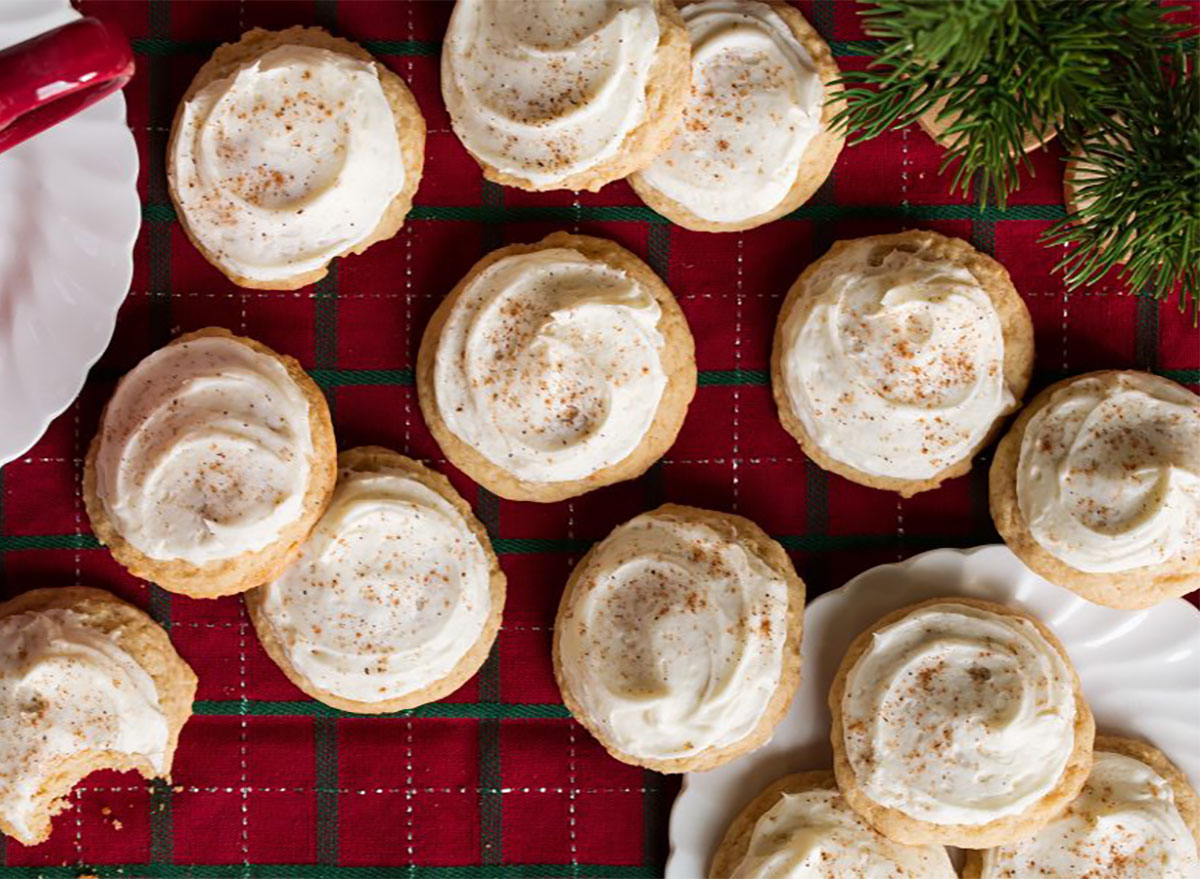 Christmas means that it's eggnog time, and if you can't get enough of this seasonal drink, we have good news for you! You can take the classic flavors of eggnog and imbue it in cookies, making for one of the most decadent desserts you can eat this holiday season. After the season ends, you'll want to keep baking these classic creations well past Christmas.
Get the recipe from Cooking Classy.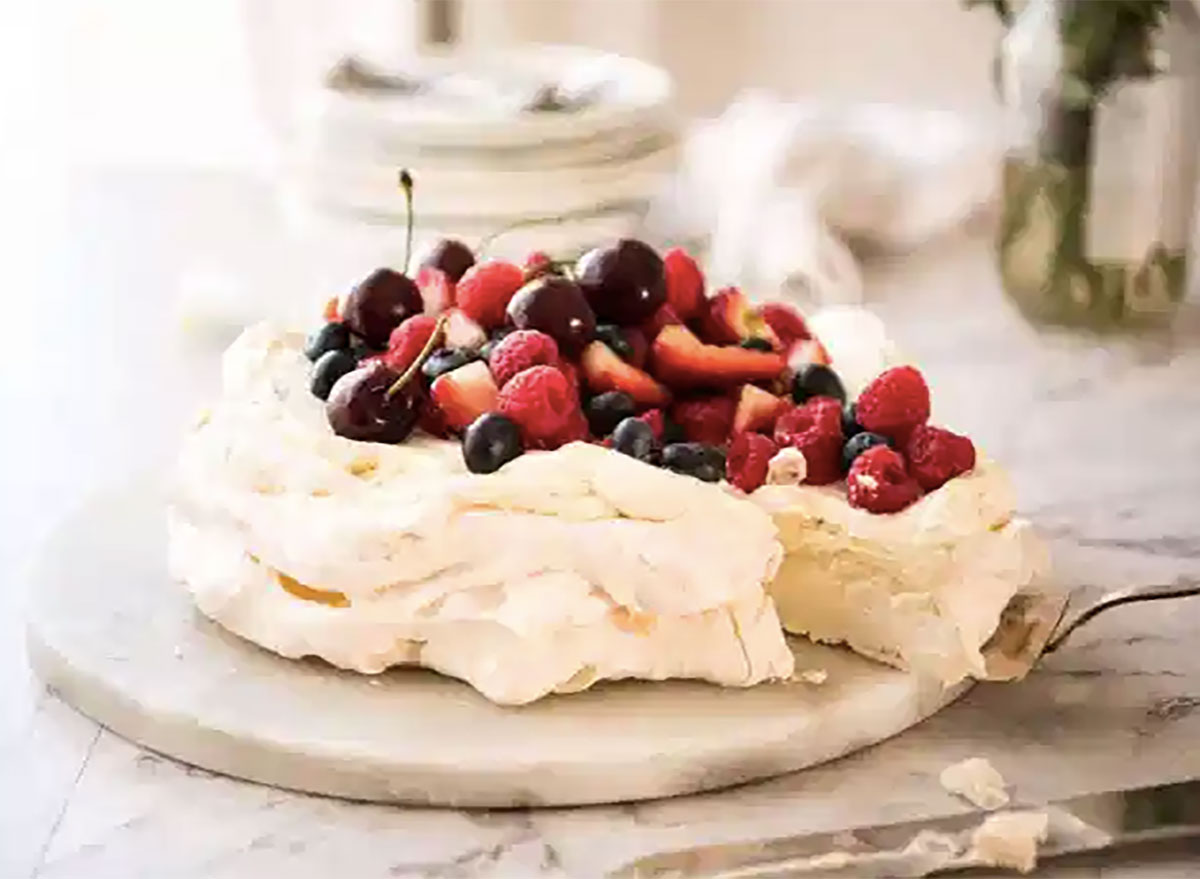 One of the best classic dessert recipes stems from Australia in the form of Pavlova. Whether you haven't ever tasted this creation or want an updated version to meet today's palate, this version of the classic dessert doesn't disappoint. Fluffy meringue mixes with whipped cream and seasonal fruit, meaning you can tailor this specific recipe for the holiday season and build your ultimate Christmas Pavlova. With the sky as the limit, this recipe can go as far as your imagination can take it.
Get the recipe from Recipe Tin Eats.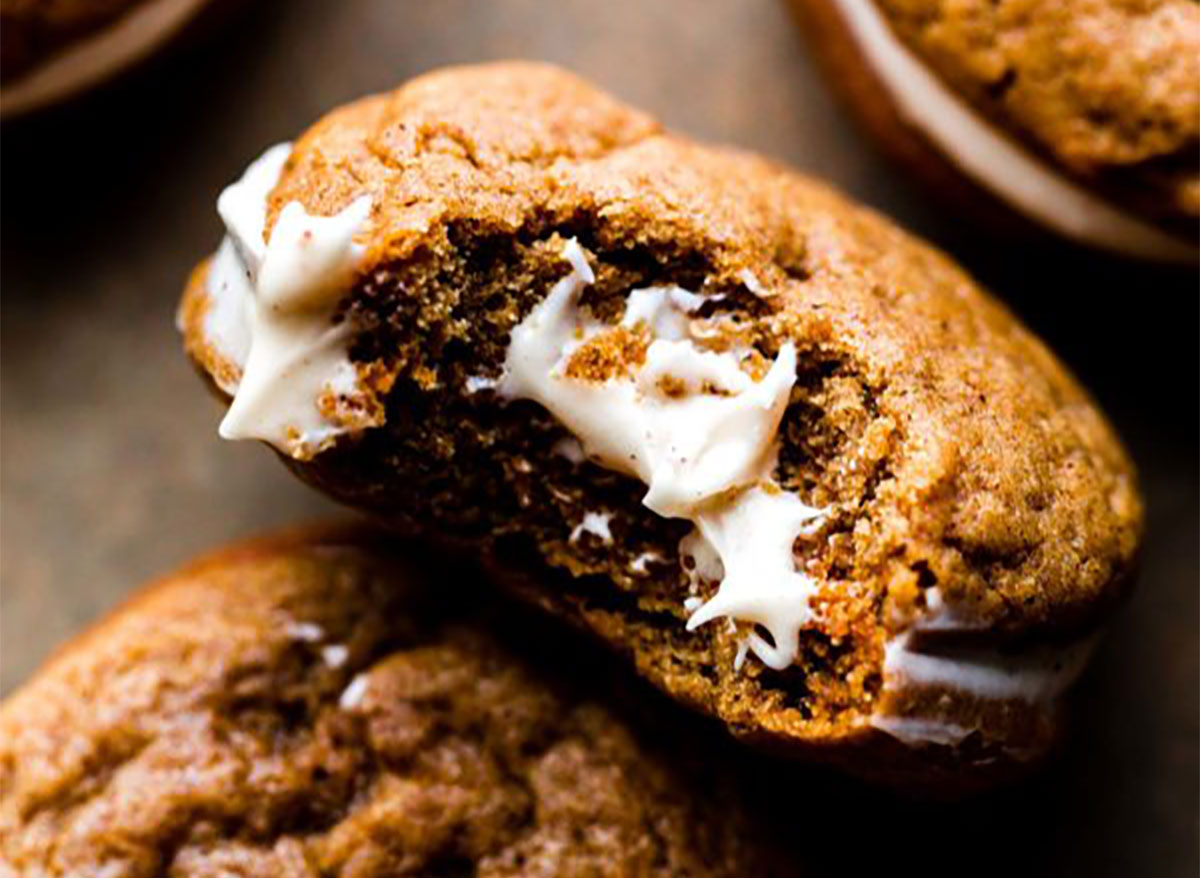 Nothing makes you think of Christmas like a gingerbread house inhabited by little gingerbread people. But with so much prep work required, who has the time to go all out and make one of these creations? For anyone facing a time crunch, we can indulge in the same great seasonal gingerbread flavors in the form of the ultimate creamy whoopie pie. If you've given up on gingerbread, come back to the holiday spirit with these confections.
Get the recipe from Sally's Baking Addiction.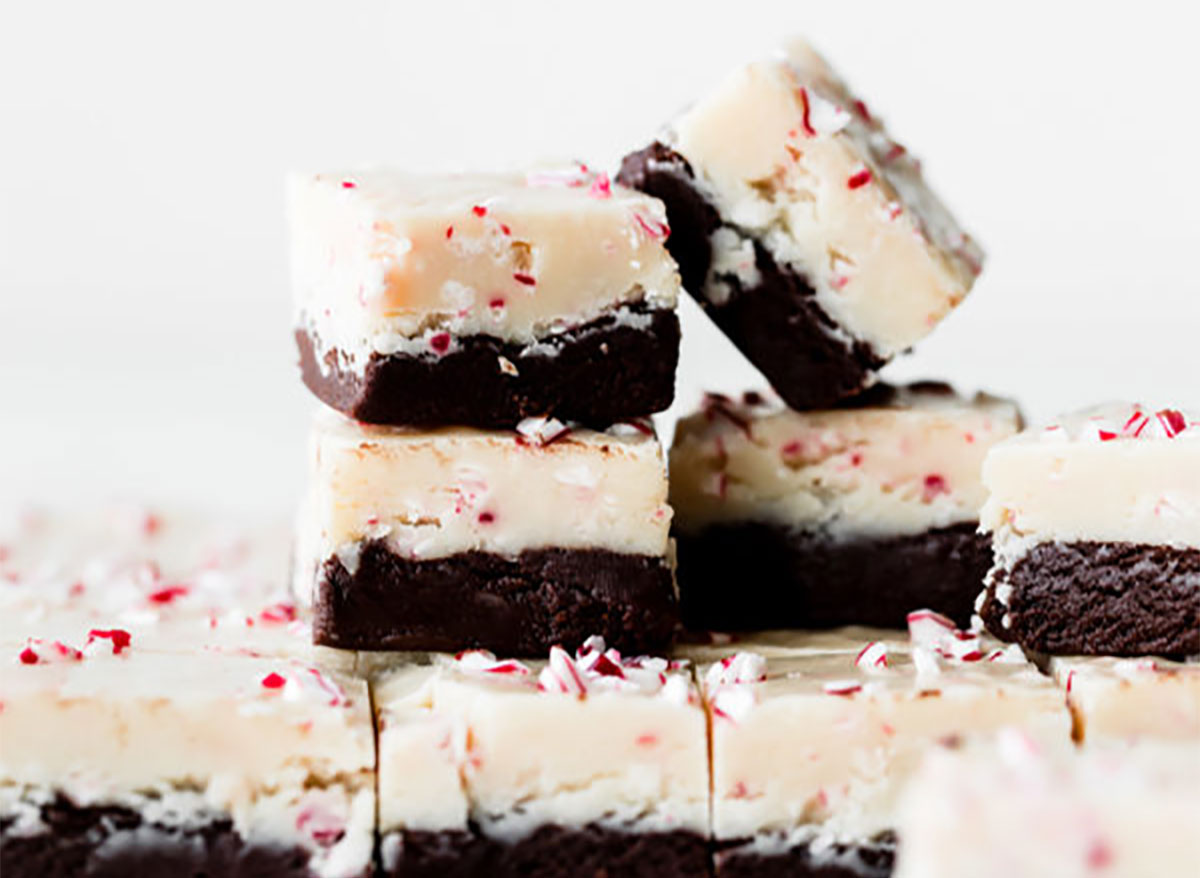 Christmas baking means peppermint galore. But if you get burnt out on candy canes, you might have limited options ahead of you. Don't feel constrained to limit your seasonal mint love to just hard candy—this fudge filled with peppermint bark can get anyone excited and makes us ready to enjoy a great mashup of two classic Christmas treats.
Get the recipe from Sally's Baking Addiction.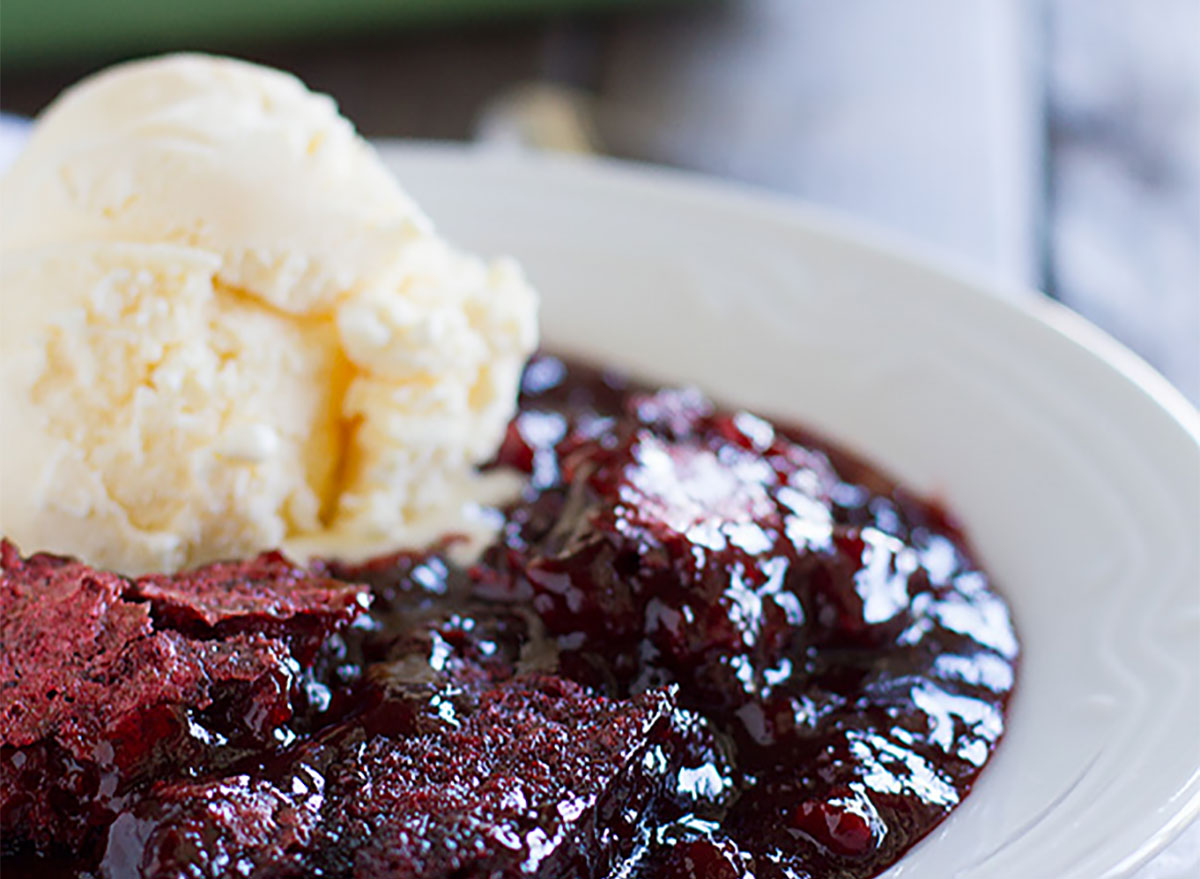 Red velvet cake makes any Christmas gathering feel that much more decadent. Even if you just hang out with your immediate family this year, don't feel like you can't roll out the proverbial red (velvet) carpet. This cobbler takes the same classic flavors found in the cake version and simplifies the baking process, making it a fun and easy treat to enjoy as we all wait for Santa.
Get the recipe from Taste and Tell.
Christmas desserts mean filling, rich cakes. And if you love indulging in pound cakes or pecan pies, don't assume you can't have the best of both worlds. This cake marries the flavors of both desserts, resulting in an airy, irresistible baked good that makes the season come alive. If you love the warm nutty flavors that make you think of winter, this cake is for you.
Get the recipe from Cooking Classy.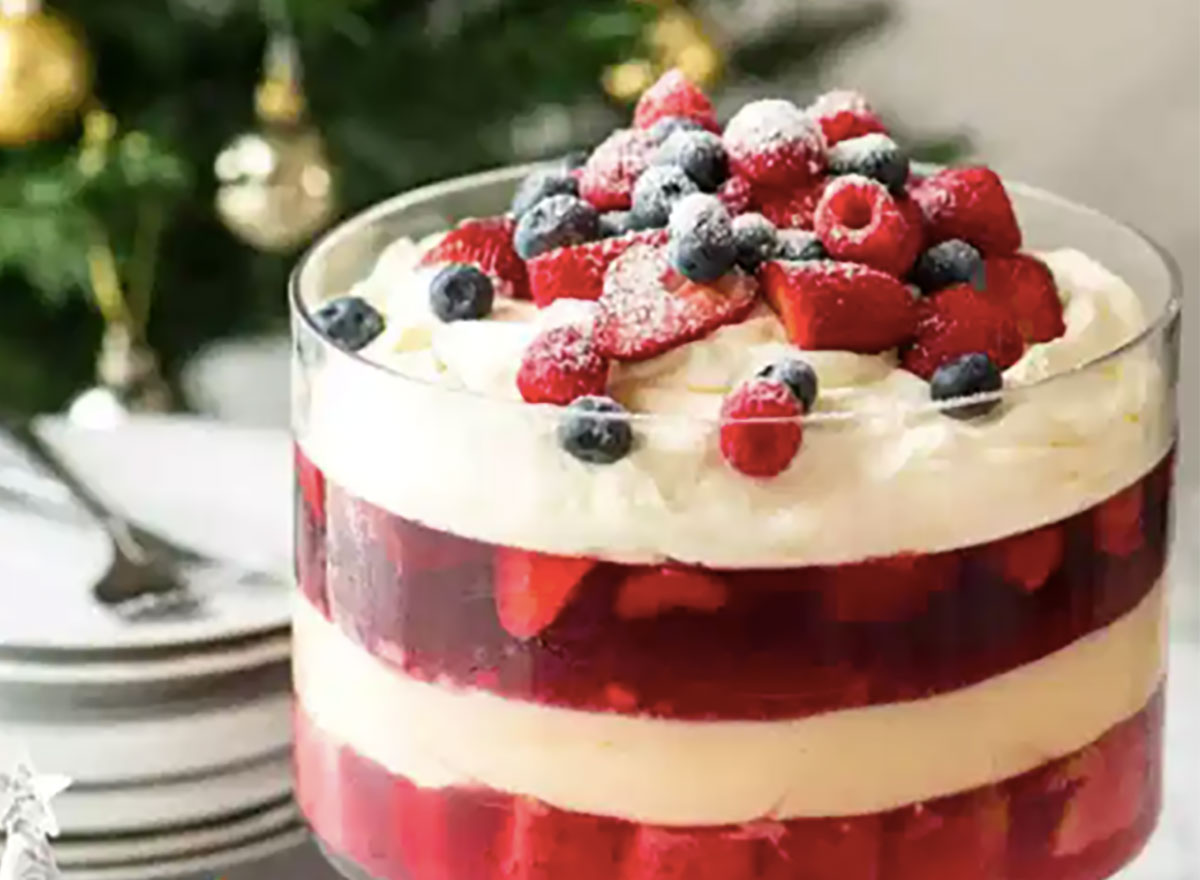 So many of us have forgotten that trifles exist. But these ultimate layered creations used to bless vintage holiday parties, and our grandparents loved them for a reason. Rediscover this classic with an up-to-date take on the recipe, layering custard, cake, fruit, gelatin, and more to create the ultimate Christmas delight.
Get the recipe from Recipe Tin Eats.
Cold winter days means you get the perfect opportunity to splurge on extra hot cocoa, but don't feel like you can't pair this flavor with your favorite cookie. Bring the best of both worlds together with hot cocoa cookies, a chocolate cookie loaded with marshmallows that can warm up anyone and make the moment that much cozier.
Get the recipe from The Baker Mama.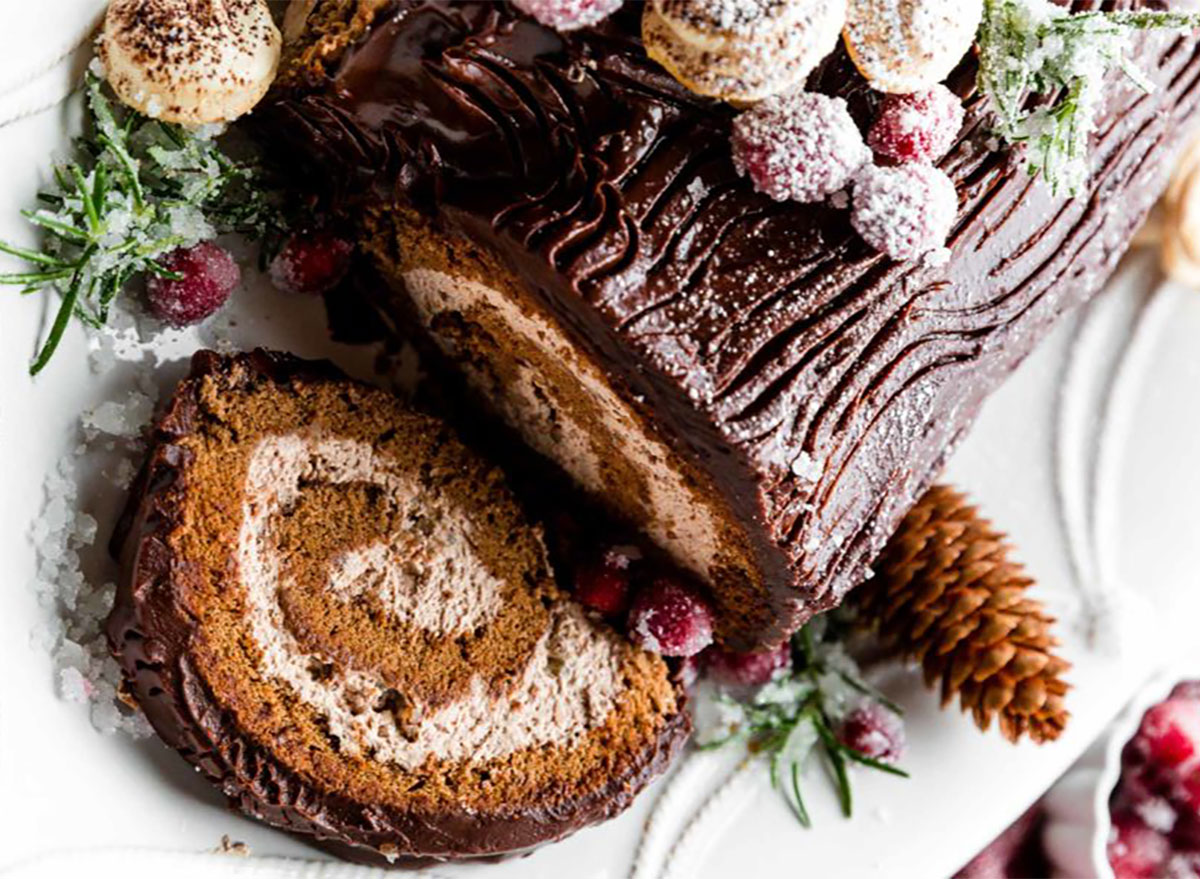 No Christmas table comes complete without a Bûche De Noël, aka a Yule Log. These dense chocolate roulades feel like a relic of the past, but they impressed crowds for decades for a reason. Don't feel like you have to rely on a vintage recipe to bring this classic dessert to life. This particular version combines a hazelnut spread, chocolate cake, and chocolate ganache to form the ultimate holiday dessert. For the chocoholics in your house, this dessert guarantees to reign supreme.
Get the recipe from Sally's Baking Addiction.