10 Cucumber Recipes That Are Crisp, Crunchy & Refreshing
Impress your friends and family with these refreshing and flavorful cucumber recipes.
Everyone has that one special food or drink that reminds them of summertime. For some, it may be freshly sliced watermelon. For others, it could be hot dogs and hamburgers cooked on the grill. One popular produce item that you'll see on menus everywhere throughout the summer months is cucumber, which is in season from May through August. Whether it's in the form of a salad, a margarita, or a simple cucumber-based yogurt sauce for chicken skewers, cucumber recipes not only provide a refreshing hint of flavor but they're also packed with nutritional benefits.
Cucumber is a fruit that is low in calories but high in water, fiber, vitamins C and K, magnesium, and potassium. This fruit has also been found to contain high levels of antioxidants, which can help your body fight free radicals as you age. Flavor-wise, they provide a light, crisp, refreshing hint of flavor to dishes that is never too overpowering, and they go well with both food and drink recipes.
So, what are some easy, tasty cucumber recipes you can make right at home, whether it's for yourself or for your next BBQ? Read on to find out, then for more, don't miss 10 Perfect Potato Salad Recipes for Your Next BBQ.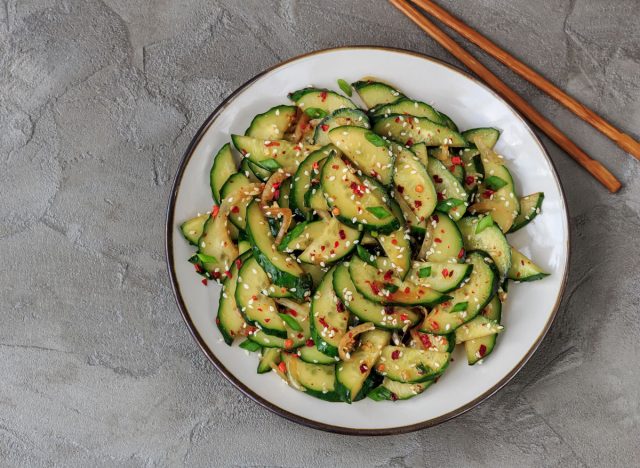 Cucumber salad can come in many forms, but this recipe gets back to the basics. All you'll need are cucumbers, onions, vinegar, sesame oil, sugar, salt, and pepper flakes, and in about 15 minutes you can have a refreshing pickled cucumber salad.
Get our recipe for Cucumber Salad. 
Chicken Skewers with Spicy Cucumber Raita
Raita is an Indian side dish made from dahi (or milk curd), oftentimes mixed with vegetables or fruit. In this raita recipe, you can mix your cucumber with regular or Greek yogurt and add plenty of spices and herbs along the way. Enjoy with some grilled chicken skewers at home or for your next family BBQ.6254a4d1642c605c54bf1cab17d50f1e
Get our recipe for Chicken Skewers and Cucumber Raita.
Keto Everything Cream Cheese Cucumbers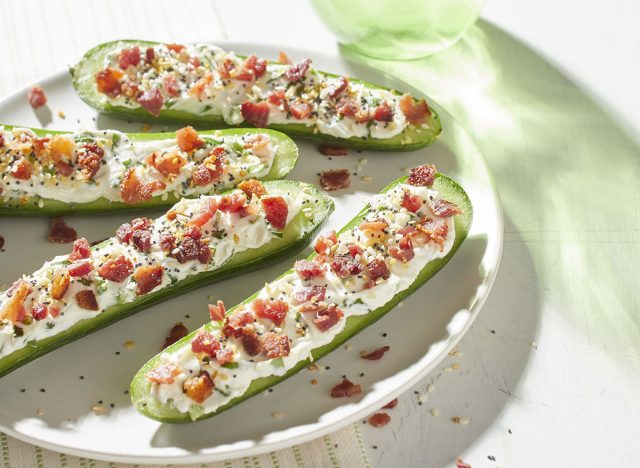 Most people love an everything bagel topped with cream cheese, but if you're on the Keto diet or are needing to lower your intake of carbohydrates for other reasons, this recipe can act as an easy replacement. No, cucumbers can't fully replace the taste and texture of your favorite bagel, but the combination of cucumber, cream cheese, and crumbled bacon will still make for a satisfying snack.
Get our recipe for Cream Cheese Cucumbers.
Cucumber and Jalapeño Margarita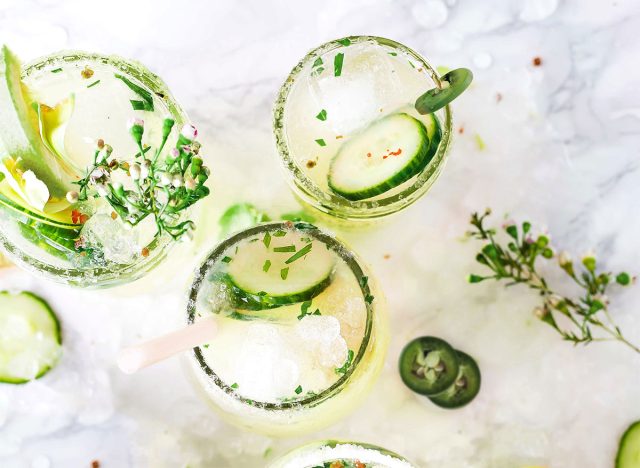 You can't go wrong with a traditional margarita by the pool this summer, but why not jazz up your favorite hot-weather drink with some cucumber and jalapeño? You'll still use your classic ingredients like tequila, simple syrup, and triple sec, but adding in some muddled jalapeño and cucumbers will turn the flavor up a notch.
Get our recipe for Cucumber and Jalapeño Margarita.
Kiwi, Cucumber, and Mango Salsa
You've probably never thought to use kombucha as an ingredient in salsa, but combining a few tablespoons of this drink with fruit and vegetables like kiwi, mango, tomatoes, onions, cucumber, and cilantro will give your salsa just the right amount of acidity to keep your friends coming back for seconds.
Get our recipe for Kiwi, Cucumber, and Mango Salsa.
Cream Cheese, Lemon Zest, Dill, and Cucumber Toast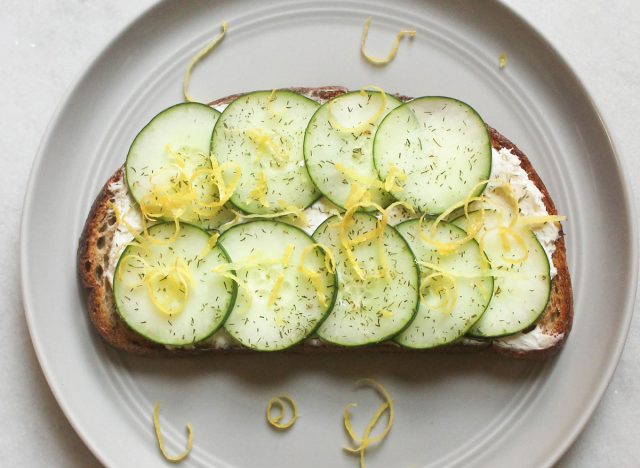 Toast can make for a filling breakfast or an easy snack for the afternoon slump, as long as you use the right toppings. This toast combines cream cheese, lemon zest, dill, and cucumbers, which adds even more flavor than just your usual combination of cucumber and cream cheese.
Get our recipe for Cucumber Toast.
Blackberry Cucumber Collins Mocktail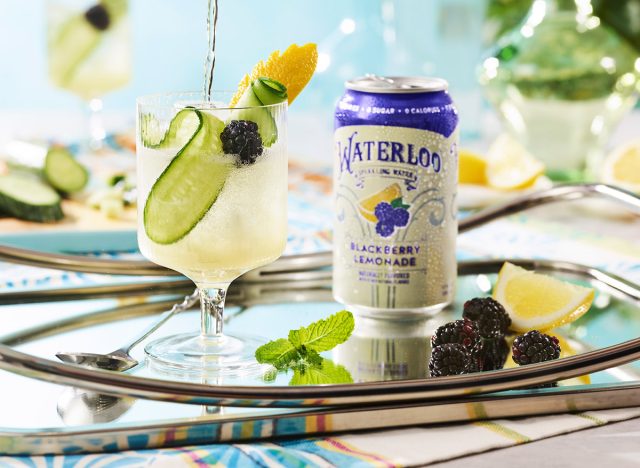 Cucumbers will forever be a classic ingredient in many summertime cocktails, but they can also be the perfect refresher and hint of flavor to your favorite mocktail recipe, too. All you need for this mocktail is cucumber, mint, lime, blackberries, and sparkling water like Waterloo Blackberry Lemonade.
Get our recipe for Blackberry Cucumber Collins.
Asian Cucumber Sesame Salad
You don't need much to make a tasty cucumber salad, and this recipe is no exception. Using an Asian-inspired vinaigrette that consists of rice wine vinegar, sesame oil, soy sauce, lime juice, ginger, and honey, this salad is nothing short of flavorful and will even have added health benefits because of the sesame seeds on top.
Get the recipe from Recipe Runner.
Creamy Pineapple Cucumber Smoothie
Green smoothies don't have to taste gross. This cucumber smoothie recipe features pineapple, lime, banana, coconut milk, and your preferred leafy greens—they suggest kale or spinach—and it will give you a nutrient boost that you'll actually look forward to drinking.
Get the recipe from Minimalist Baker.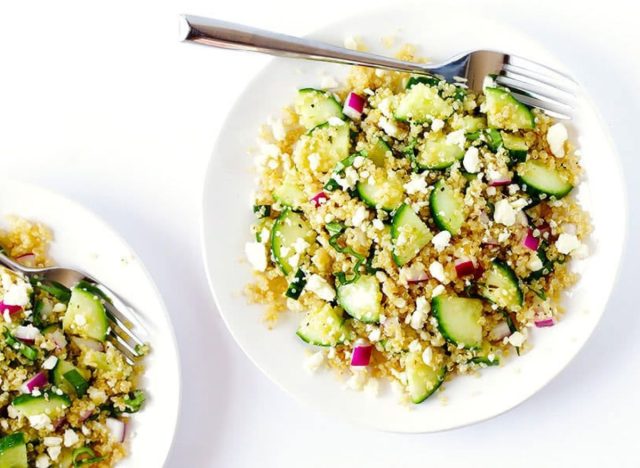 Many cucumber salad recipes that you see will consist mainly of pickled cucumbers, but this cucumber quinoa salad is more balanced and filling. Using cucumber, onion, feta cheese, basil, and a homemade Lemony Italian Vinaigrette, you can have a side dish bursting with flavor and nutrients at the same time.
Get the recipe from Gimme Some Oven.
Sources referenced in this article