12 Easy Deli Sandwiches You Can Make At Home
Skip the line at the deli and make these classic sandwiches at home.
A freshly made deli sandwich could be the perfect easy lunch. Stuffed with our favorite sliced meats, tasty cheeses, and delicious accompaniments, such as avocado and roasted peppers, deli sandwiches always seem to satisfy. Luckily enough, we don't have to always run out to our local deli to pick up one of these tried and true lunchtime favorites. Instead, they can be made right at home in the comfort of our own kitchens.
From simple recipes—that may soon become new favorites—to others that give an upgrade to old sandwich classics, here are 12 easy deli sandwiches that can be whipped up right at home. Read on to see how to become your own sandwich chef or work up an appetite and head out to the best deli in your state.
Turkey Reuben Sandwich
Tart sauerkraut and tangy relish really help make the flavors of this deli classic come alive. Traditionally prepared with warm turkey, toasted rye bread, and melted Swiss cheese, this sandwich only sounds complicated to make. A quick tip: If you don't have time to whip up your own Reuben sauce from scratch you can always pick up salad dressing, such as Russian or Thousand Island, from a local store.
Get our recipe for Turkey Reuben Sandwich.
BLT Sandwich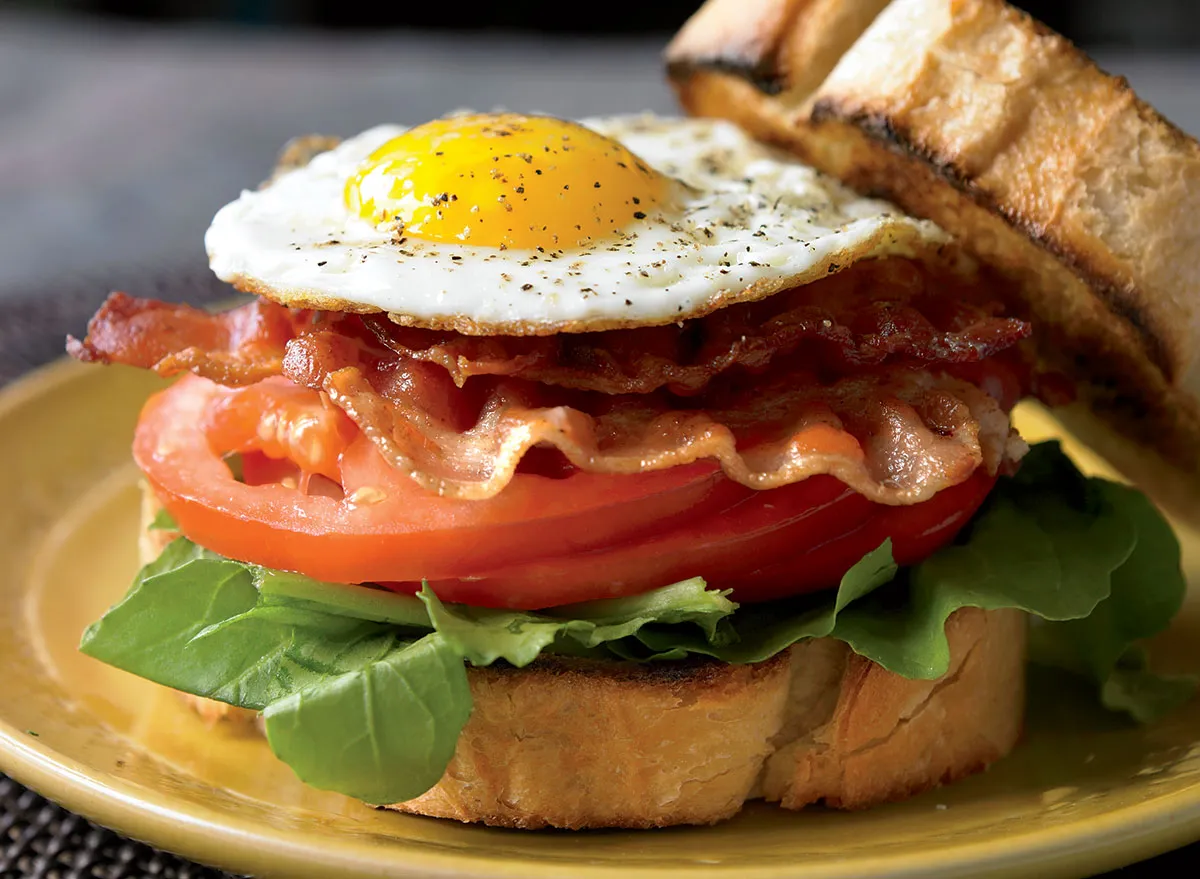 BLTs can truly be enjoyed at all times of the day—breakfast, lunch, or even dinner. In this recipe, a fried egg joins crispy bacon and fresh sliced tomatoes to give this popular sandwich a protein boost. This memorable BLT pairs well with a bowl of creamy tomato soup or a side of potato salad.6254a4d1642c605c54bf1cab17d50f1e
Get our recipe for BLT.
Philly Cheesesteak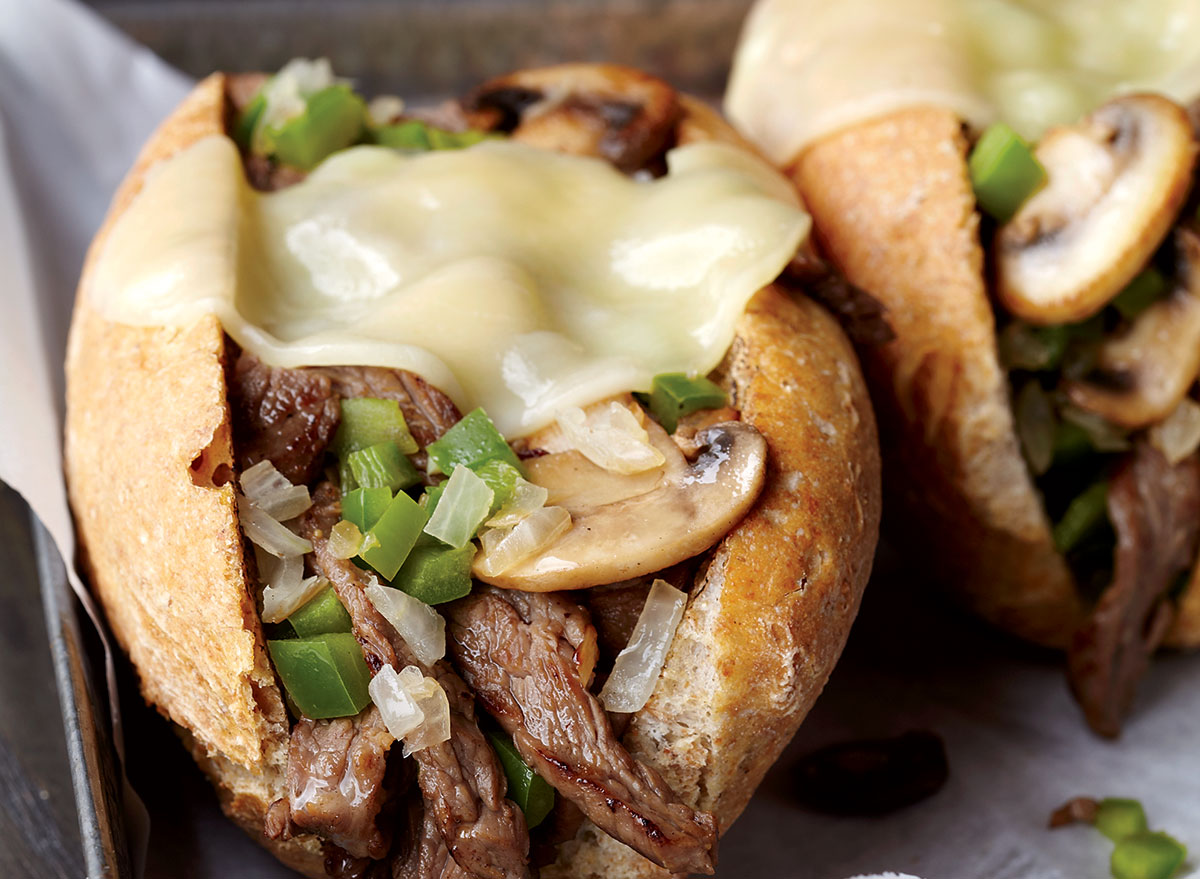 You don't have to travel all the way to a deli in Philadelphia to enjoy a traditional Philly cheesesteak—you can make one right in your kitchen using only a few ingredients. This recipe, which calls for skirt steak and provolone cheese, is taken to new levels when caramelized yellow onion, green bell peppers, and mushrooms are all added to the mix. To help cut back on time, prepare the meat and veggies beforehand so when the time comes you can just heat everything up and quickly assemble your meal.
Get our recipe for Philly Cheesesteak.
Open-Faced Ham and Cheese Sandwich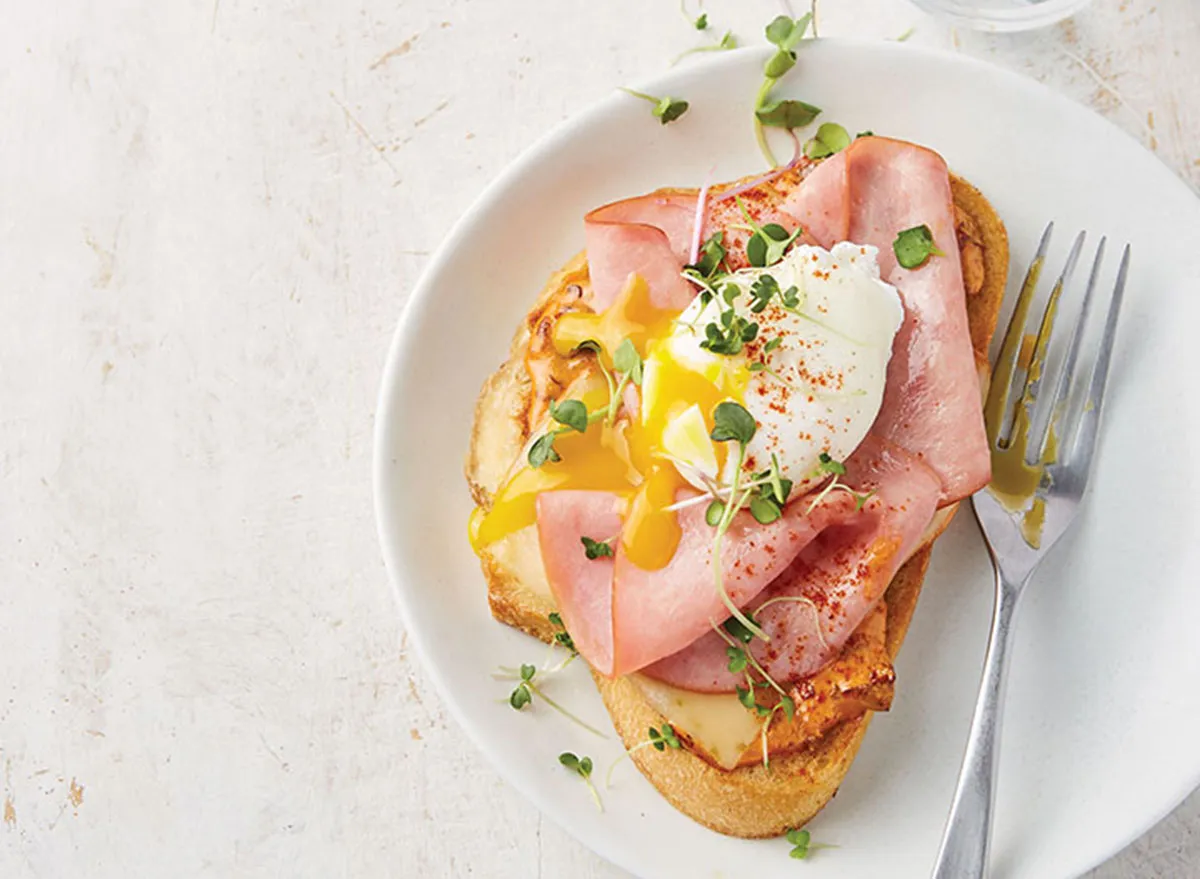 Where this sandwich lacks in bread it makes up for in delicious flavor. Made using sourdough bread, low-sodium deli ham, and pepper jack cheese, this sandwich gets its signature smoky flavor from easy-to-make homemade chipotle mayo.
Get our recipe for Open-Faced Ham and Cheese Sandwich.
Chicken Salad Sandwich with Raisins and Curry Powder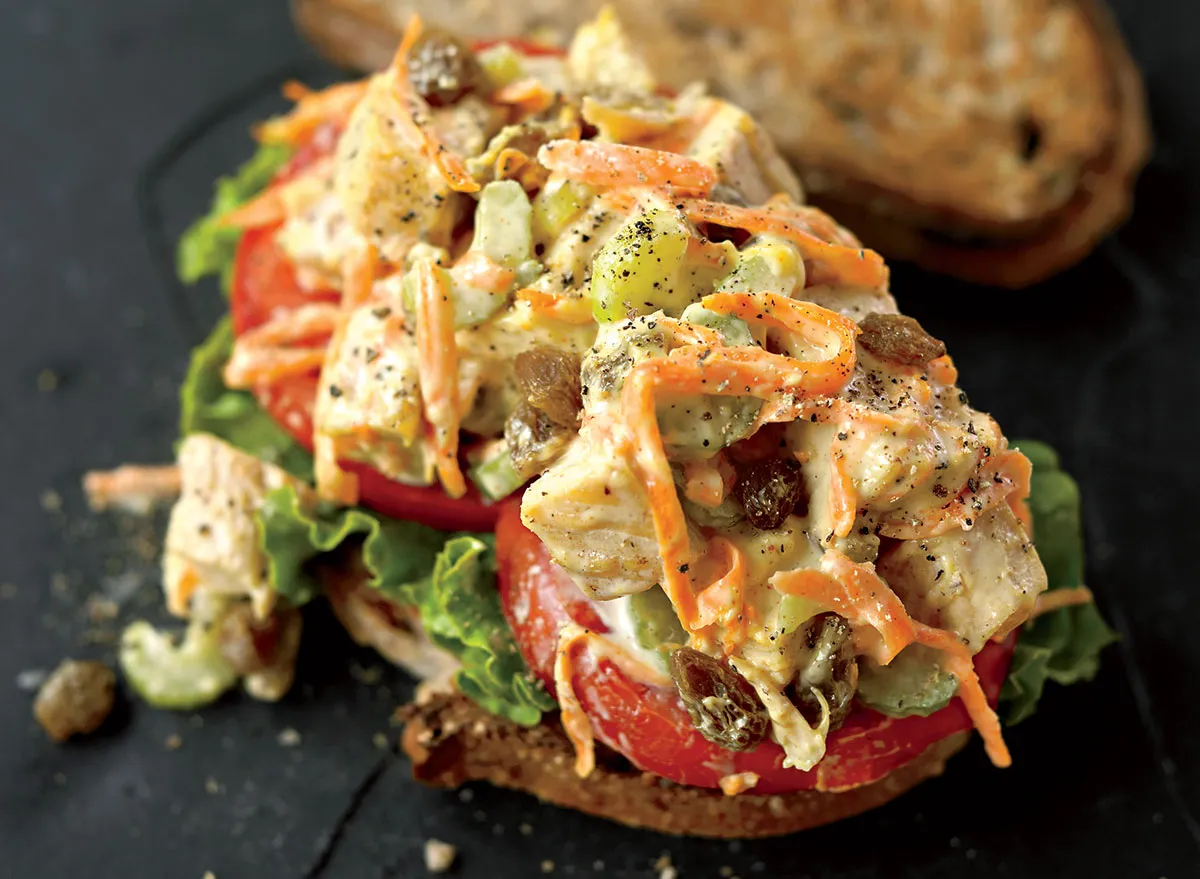 Tasty details, such as golden raisins and curry powder, put an innovative twist on a classic chicken salad sandwich recipe. Also made using chopped celery, onion, and olive oil mayonnaise, this delicious filling, which takes just minutes to make, can be enjoyed in a myriad of ways—such as in a pita, on an English muffin, or between two pieces of toasted rye bread. To cut back on prep time, make sure to cook your chicken the night before, or try a rotisserie chicken!
Get our recipe for Chicken Salad Sandwich with Raisins and Curry.
Italian Tuna Melt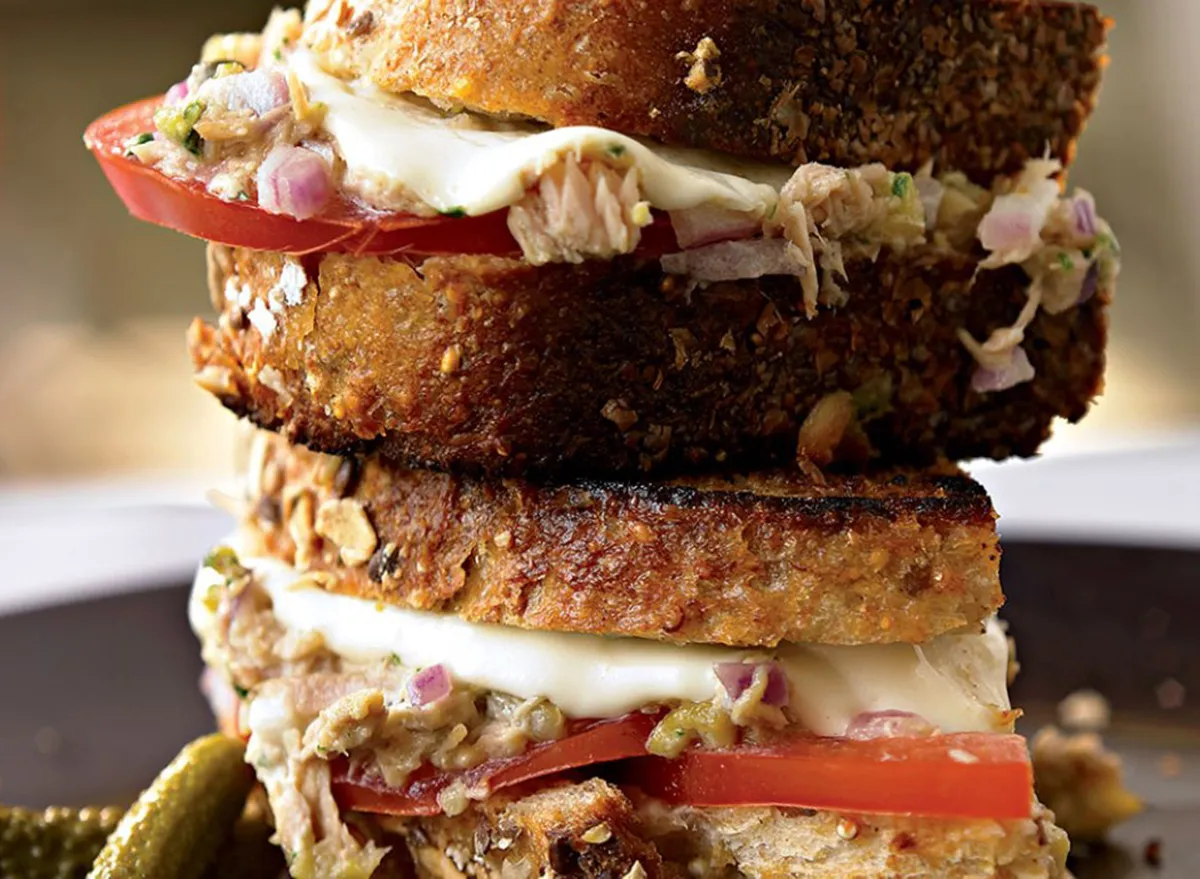 Oozing with flavors that are out of this world, this Italian Tuna Melt takes a ho-hum tuna sandwich to new heights. Made using chopped green olives, diced red onion, bottled pesto, and fresh mozzarella, this sandwich is amazing on its own or served alongside a simple side salad. Here are the Best & Worst Pesto Sauce—Ranked!
Get our recipe for Italian Tuna Melt.
Low-Calorie Ultimate Club Sandwich
The club sandwich—a quintessential deli and diner food that is traditionally made using crisp bacon, fresh tomato, and sliced turkey. This rendition of a menu favorite gets its unique flavor from its reimagined mayonnaise when Dijon mustard, minced garlic, and oregano are added to it.
Get our recipe for Low-Calorie Ultimate Club Sandwich.
Caprese Sandwich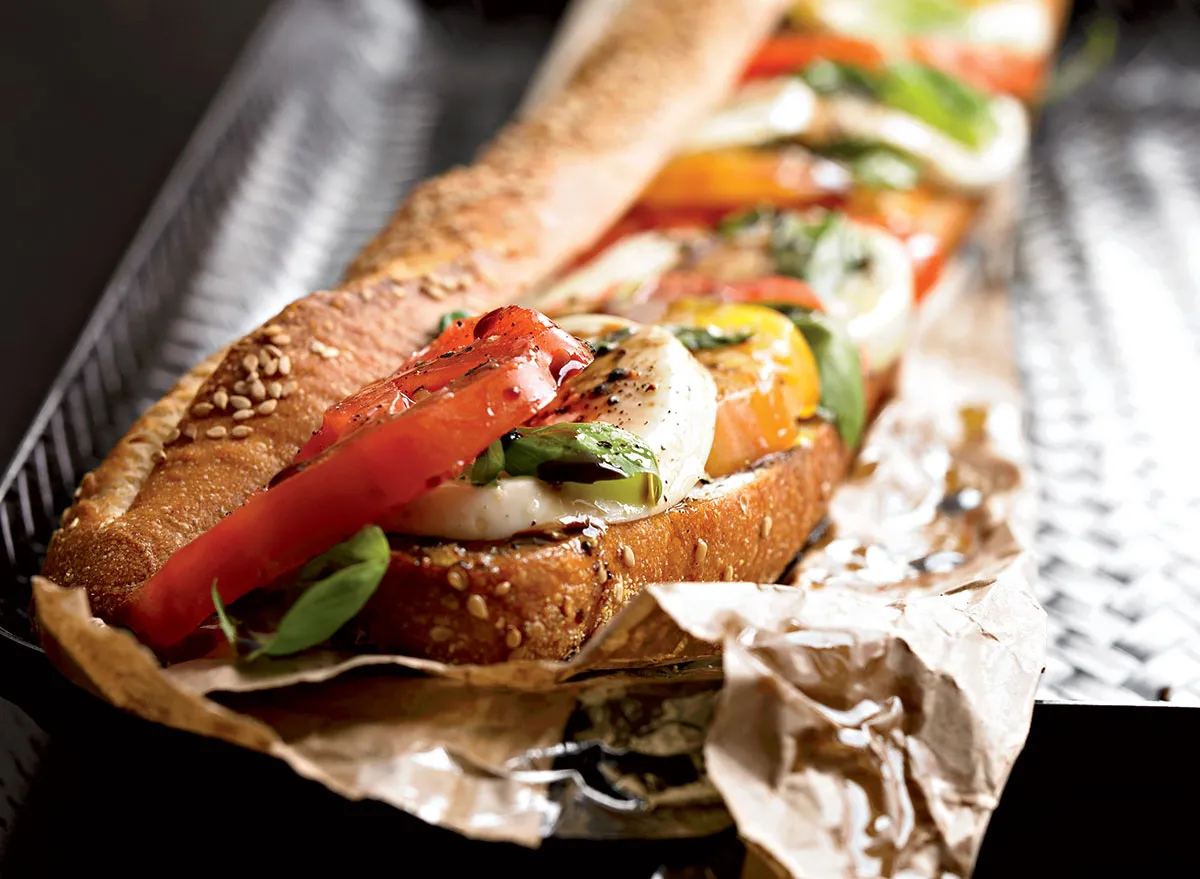 Due to its fantastic flavor and quick prep time, this easy-to-make Caprese sandwich may just become your next favorite homemade lunch. Featuring tasty ingredients, such as heirloom tomatoes, fresh mozzarella, aromatic basil leaves, and balsamic vinegar, this sandwich takes mere minutes to make.
Get our recipe for Caprese Sandwich.
Grilled Chicken and Pineapple Sandwich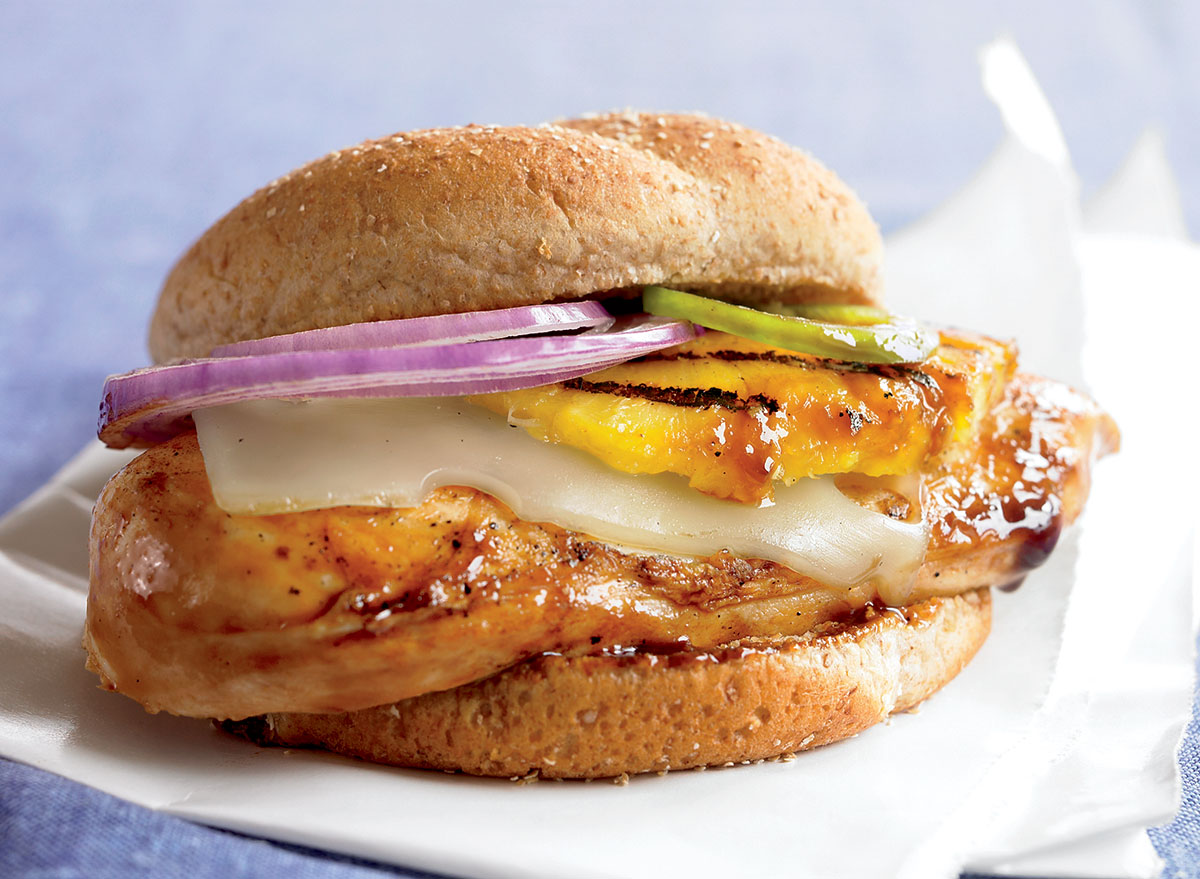 Grilled chicken sandwiches from the deli are one of those lunchtime options that are not only healthier but also delicious. This specific one builds upon a typical grilled chicken deli sandwich by adding showstopping details such as Teriyaki sauce, Swiss cheese, grilled pineapple slices, and pickled jalapenos. Our mouths are watering just thinking about it.
Get our recipe for Grilled Chicken and Pineapple Sandwich.
Roasted Turkey Avocado Sandwich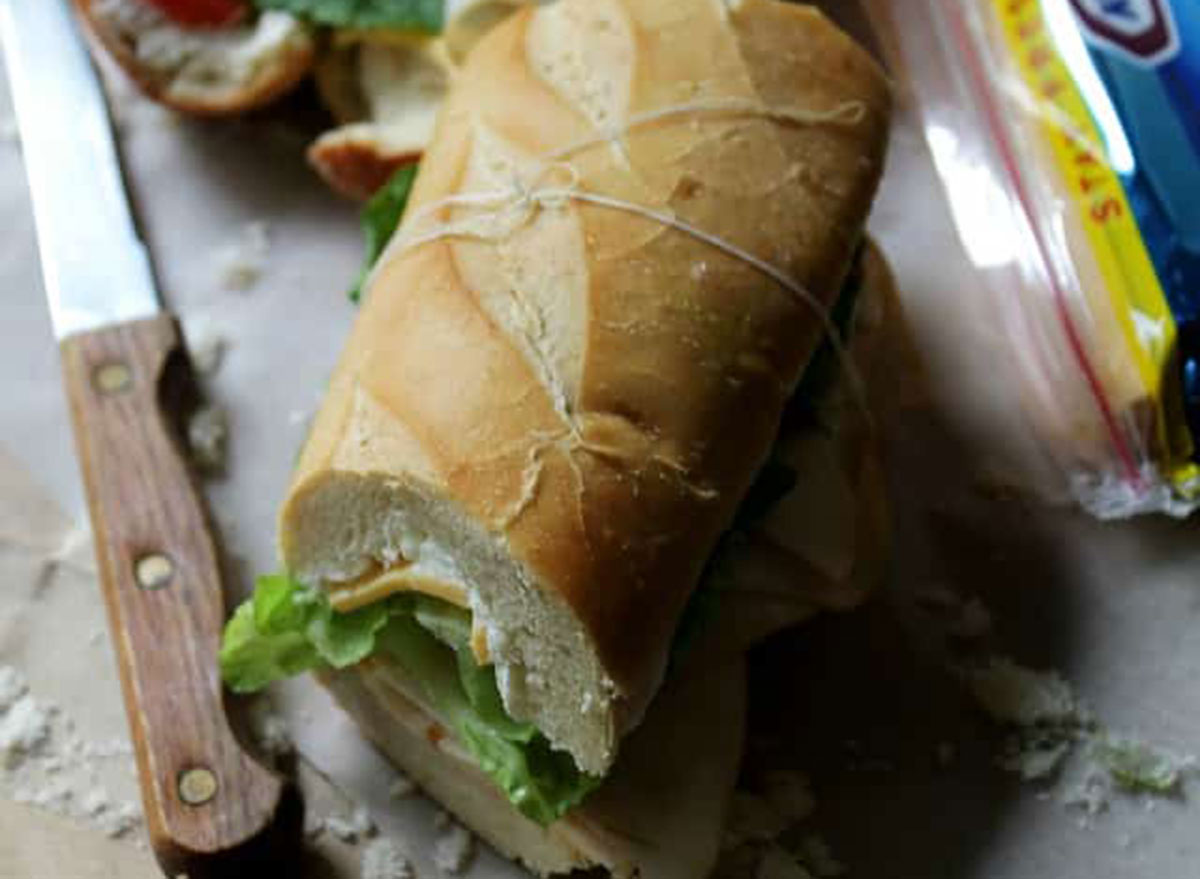 The ingredients for this roasted turkey sandwich can easily be picked up during your next trip to the grocery store. Made using whipped cream cheese, sliced American cheese, packaged sliced turkey, and fresh sliced avocado, this delicious sandwich can be put together in under ten minutes. (P.S. We tried 5 American cheese brands and this is the best!)
Get the recipe from The Diethood.
Italian Hero Sub Sandwich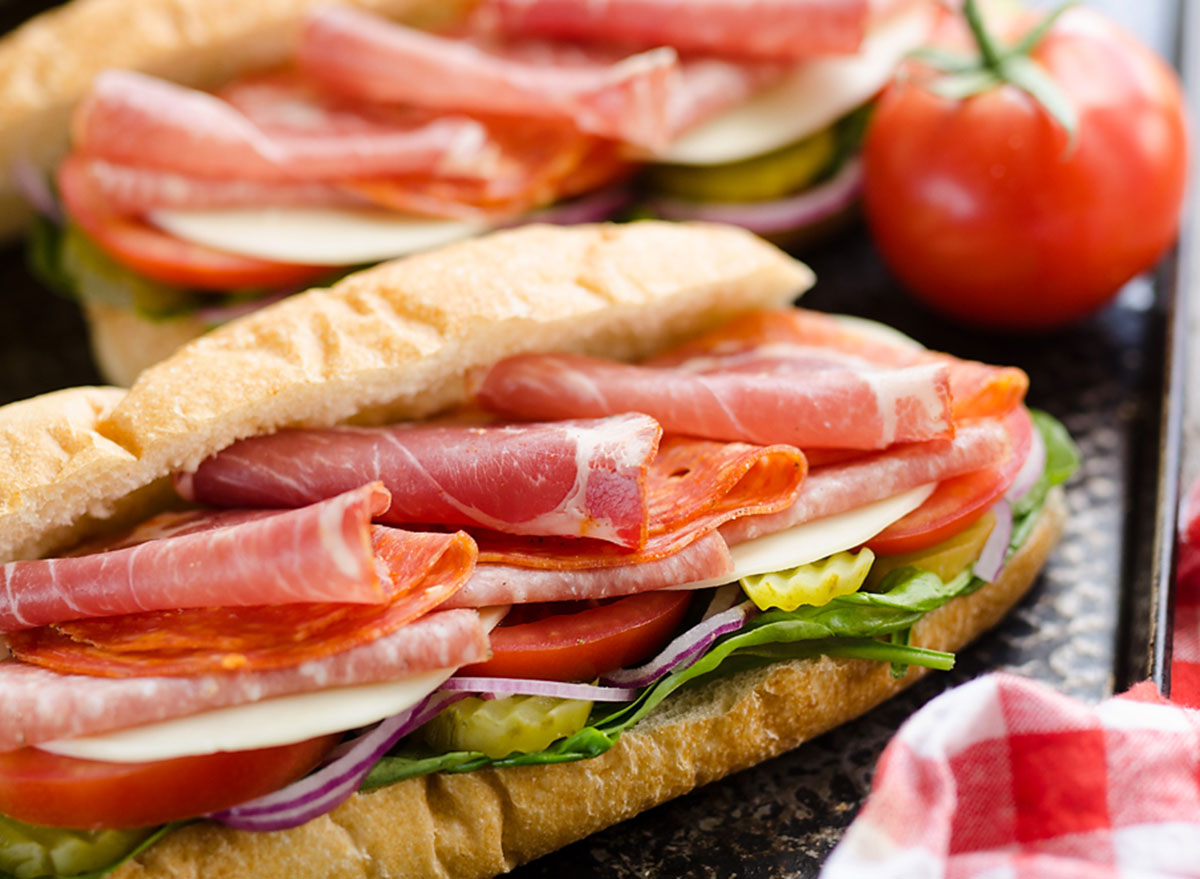 If you are a fan of picking up Italian hero sandwiches at your local deli then we have good news for you—you can make them easily right at home. This recipe, which takes just ten minutes to prepare, is made using thinly sliced Italian meats, such as salami and capocollo, provolone, and a medley of vegetables, such as banana peppers, tomato, and fresh spinach. Plus, if you love sandwiches here are some interesting side effects of eating a sandwich every day.
Get the recipe from The Creative Bite.
Egg Salad Sandwich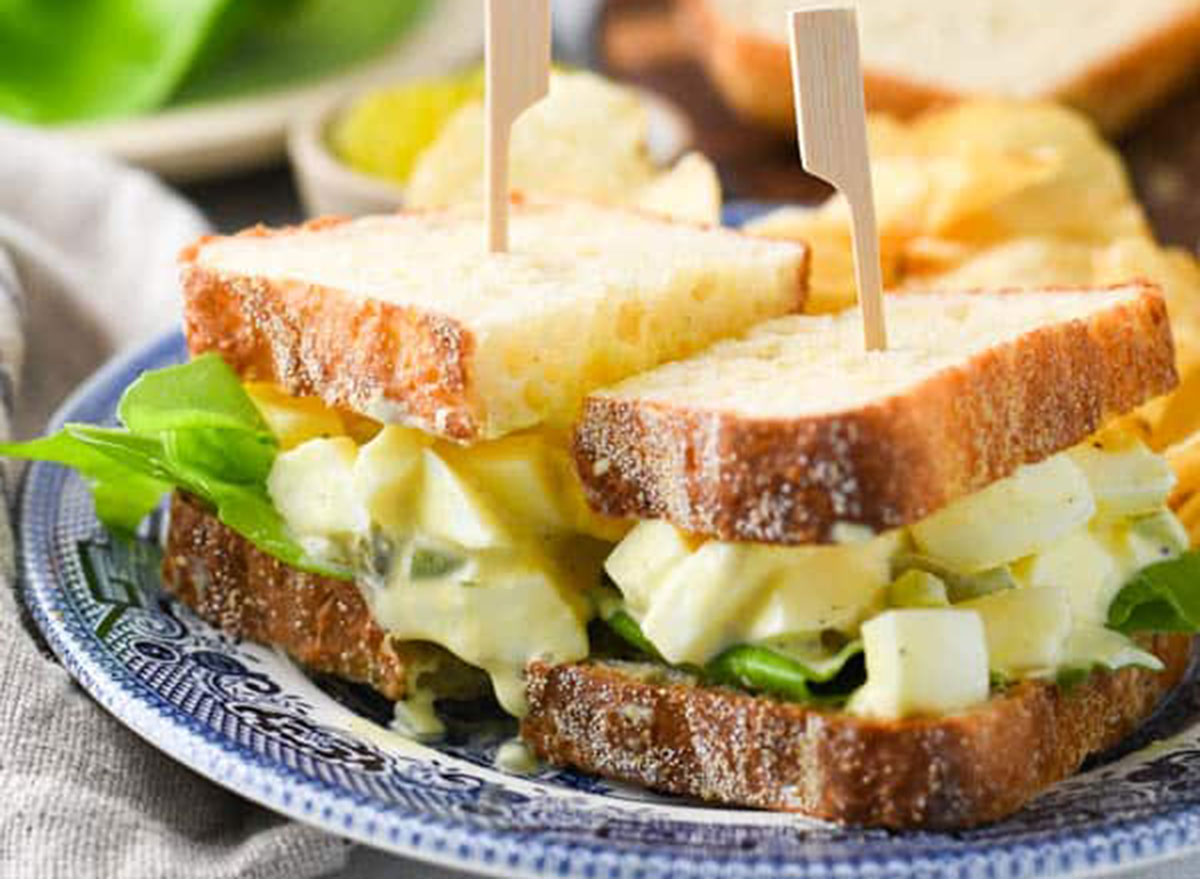 This creamy egg salad gets its wonderful flavor from a combination of tangy yellow mustard, crunchy chopped celery, and sweet pickle relish. Try serving this lip-smackingly good recipe on a croissant or an everything bagel for an added "oomph." Here's why you should be eating eggs right now! 
Get the recipe from The Seasoned Mom.
If you're craving more food news and delicious recipes, sign up for our newsletter now!
Read more:
These Are the Most Popular Sandwiches in America
The World's Best Sandwich Recipe