15 Healthiest Winter Pantry Staples
If you're looking for tasty, yet healthy ways to change up your meals at home, let this list be your guide.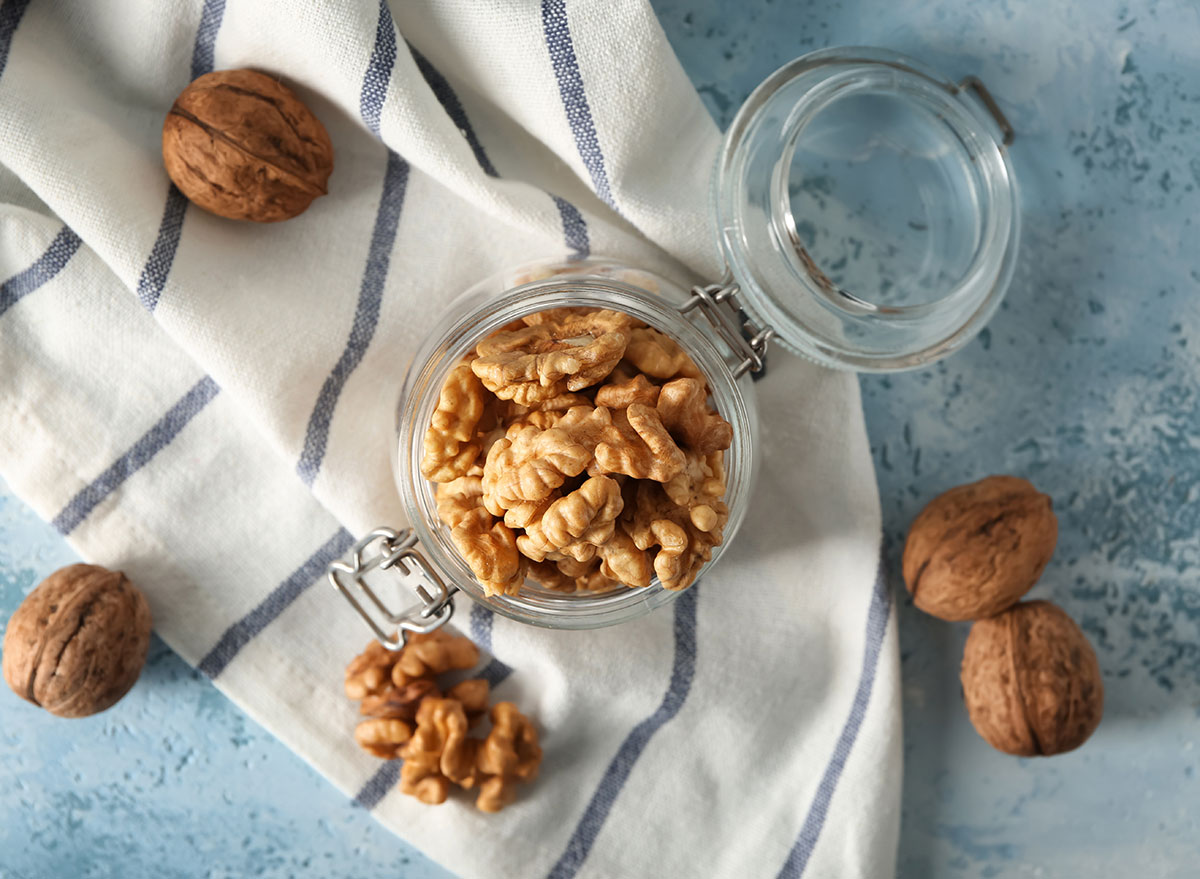 If you're no longer feeling inspired by your pantry staples, fear not! There are so many ways to jazz up your dinner routine with just a handful of shelf-stable goods. And now that winter is approaching, there are plenty of foods you should stock up on that you might not think to have on your grocery list. The items below might not already be regular features on your shopping lists, but with their rich flavors and wonderful nutritional benefits, they're sure to revitalize your cooking routine this season.
Check out out list of the long-lasting foods that might not be what first comes to mind, but will soon enough make their way into your kitchen once you see how much flavor these healthy pantry staples can add to basically any meal. And while you're making healthier swaps, be sure to check out these 21 Best Healthy Cooking Hacks of All Time.
With a lower mercury content and a lower carbon footprint than canned tuna, canned sardines are a delicious staple to have around. These little fish are rich in flavor, and one three-ounce portion contains more than twice as much calcium as a cup of milk. Sardines can easily turn a salad of winter greens like kale and radicchio into a meal, and they can also be a protein and healthy fat-rich snack atop your favorite seeded cracker, whole grain toast, or all on their own.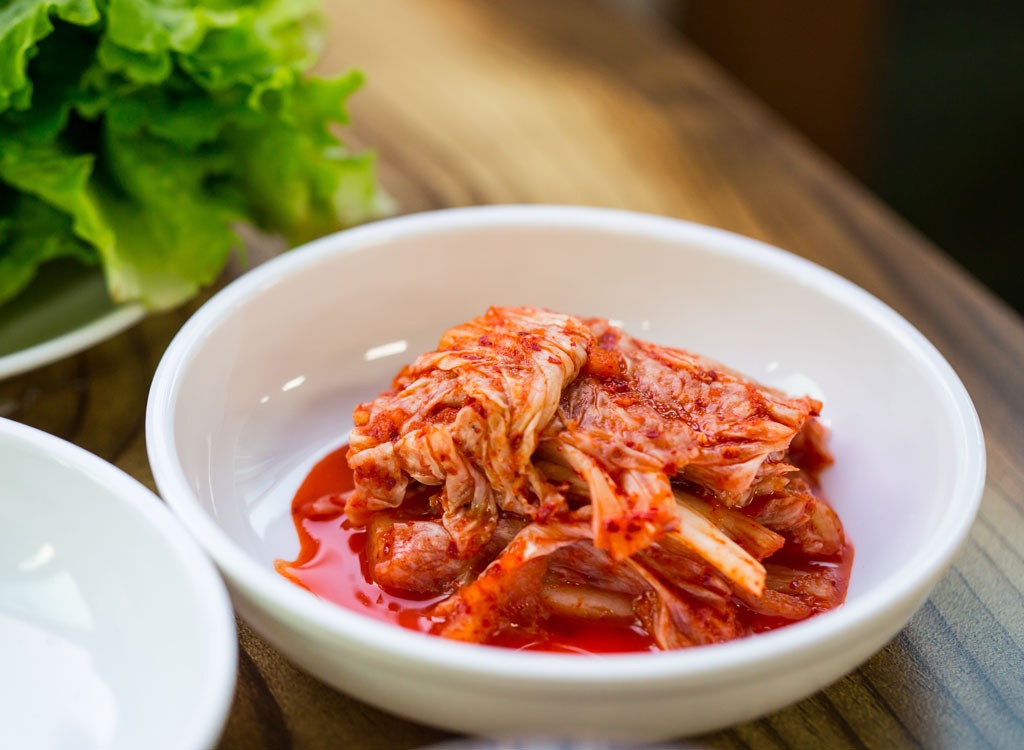 This spicy fermented cabbage is a staple in Korean cuisine, rich in heathy probiotics. While a jar certainly makes it easy to enjoy kimchi jjigae at home, it's also easy to use in other recipes. Consider layering kimchi on your favorite cheddar for a dolled up grilled cheese or sautéing it with bacon for a delicious, spicy pasta sauce. Kimchi is also delicious in eggs, on a grain bowl, or simply spooned atop steamed brown rice.
Pulses are a common pantry staple, and for good reason! Cheap and sustainable, this vegan protein is as versatile as it is delicious. French Puy lentils in particular cook up more quickly than dried beans, all the while retaining their shape and texture better than other lentils. Earthy and flavorful, they're wonderful in stews, salads, and soups and marry just as well with flavors like bacon, tarragon, or goat cheese as with spices like turmeric, cumin, and chile.
Looking for more helpful tips? Sign up for our newsletter to get daily recipes and food news in your inbox!
Instead of regular old jarred red peppers, jazz things up with Spanish piquillos, perfect for stuffing. These sweet Spanish peppers rich in vitamin C are traditionally filled with a combination of salt cod, potatoes, and cream, but they're also super tasty stuffed with goat cheese, crab, or tuna salad. Any scraps or torn bits can be added to canned tomatoes for a flavorful spin on tomato sauce or tomato soup.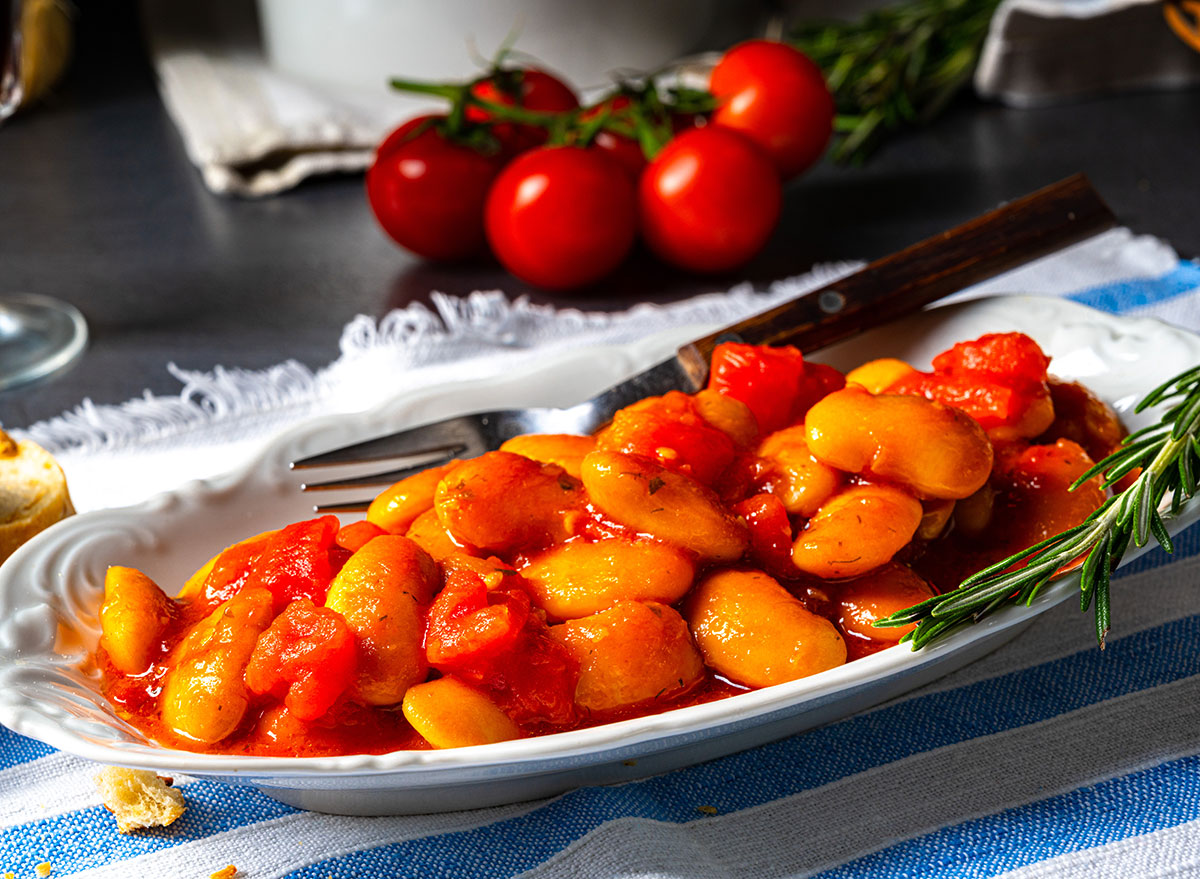 Change up your jarred bean selection with Greek gigantes beans. These aptly named giant cousins of the lima bean are lower in calories and carbs than other white beans, and their creamy texture makes them a delicious addition to salads and soups. Try them quickly sautéed with greens and a combination of minced anchovy and garlic for a warm, protein-rich main that's ready in minutes, or season them simply with lemon zest, olive oil, and flaked sea salt for the perfect winter bruschetta topping.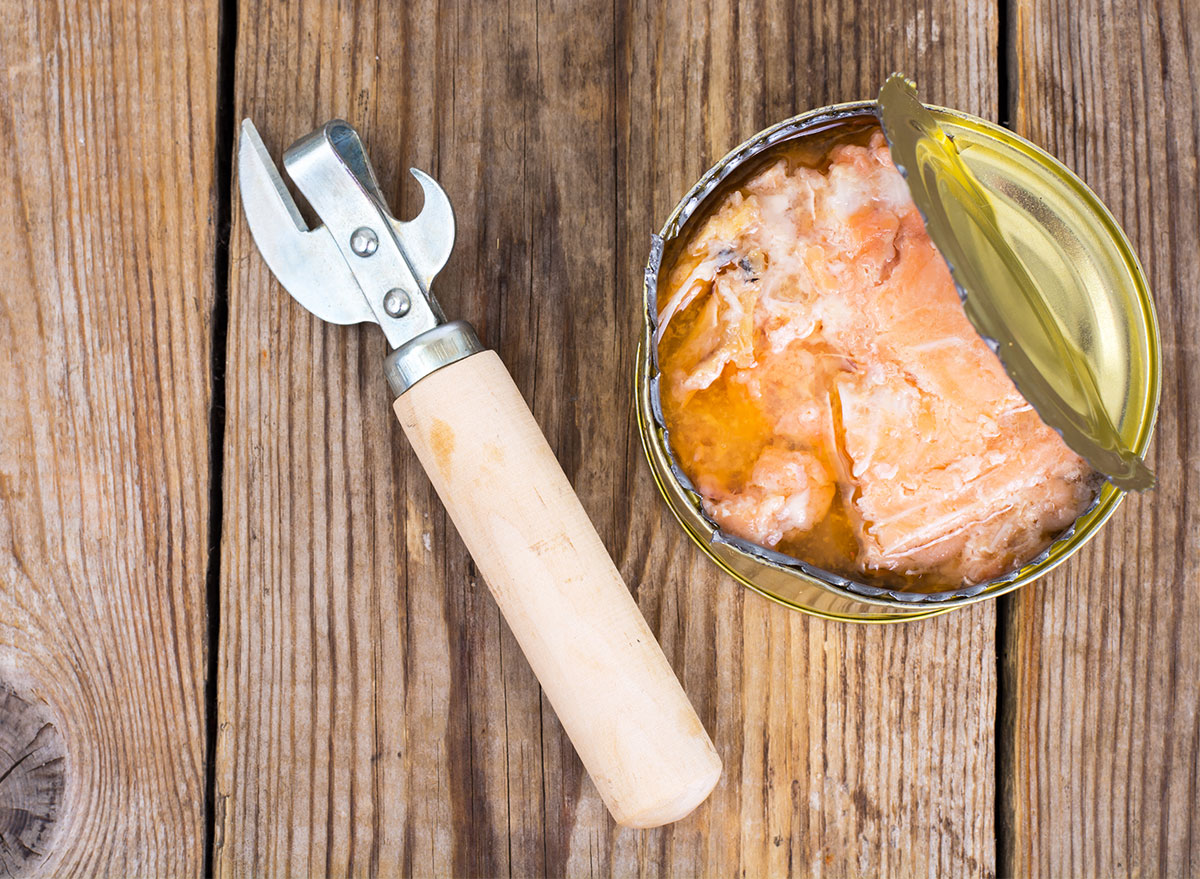 Nutritionist Monica Auslander Moreno, MS, RDN, of Essence Nutrition recommends stocking your pantry with canned salmon, which is lower in mercury than canned tuna and therefore safer for most people to consume on a daily basis. Rich in omega-3 fatty acids, it's a fantastic staple to have on-hand for salads, omelets, or easy homemade fish cakes.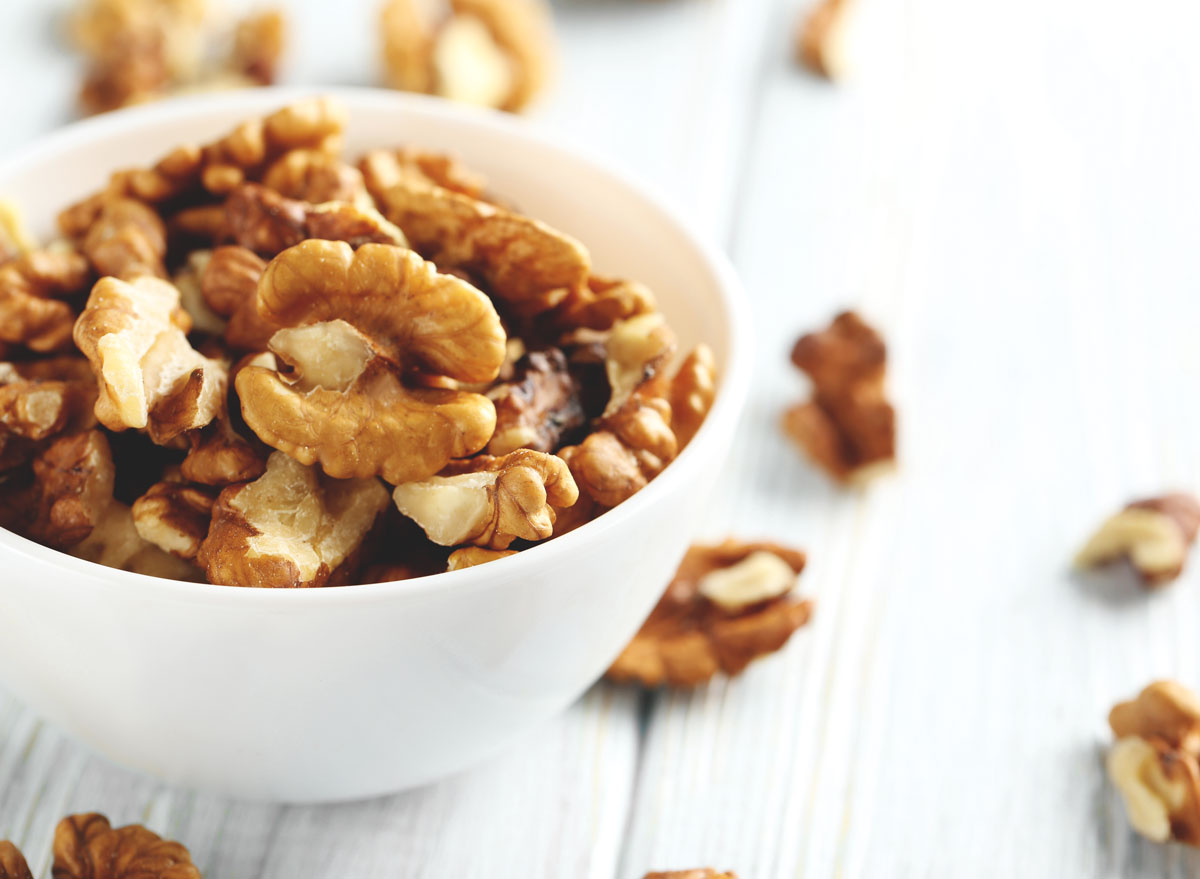 Nuts are an easy way to add loads of healthy fats to your diet. Walnuts, in particular, are excellent for brain health, too. Toast walnuts lightly in a pan before adding to your favorite salads, sprinkling on your morning oatmeal, or simply pairing with sliced apples for a delicious, healthy snack.
To change things up from wheat-based pasta or rice noodles, consider giving soba noodles a whirl. These buckwheat noodles have a nutty, earthy flavor and are a good source of manganese. They are delicious in a Japanese-style noodle soup or tossed with sesame dressing and a cornucopia of crunchy winter vegetables, like cabbage, kale, and carrots for a noodle salad that's just as delicious hot or cold.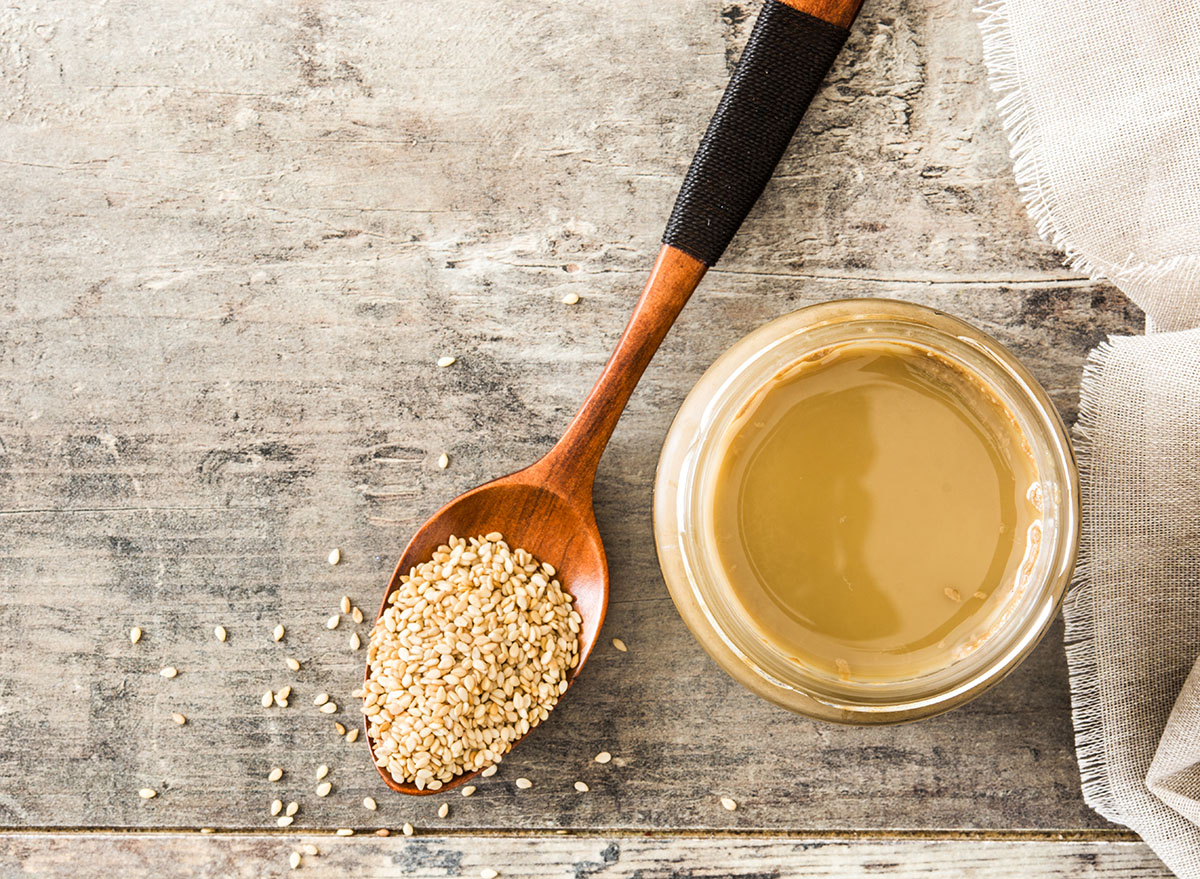 This sesame paste is a key ingredient in hummus, but that's far from the only way it can add novelty to your fall and winter cooking routine. Tahini is rich in protein, B vitamins, and healthy fats, and it makes a rich, nutty base for a creamy vegan salad dressing. Combine it with olive oil and maple syrup for a deeply flavored glaze for your favorite roasted root vegetables, or blend it with lemon juice and smoked paprika to make a sauce to drizzle over baked sweet potatoes.
Artichoke hearts are low in calories and high in fiber and potassium, making them the perfect cupboard staple for a quick salad. But that's not all these little thistles can do. Drain and toss them on a frozen pizza before popping it in the oven to dress it up and make it even more nutritious, or combine with spinach, lemon, and Parmesan for a quick and easy pasta sauce reminiscent of spinach-artichoke dip.
Beldi lemons preserved in salt are a key to the aromatic flavor of many Moroccan tagines. But preserved lemons can also be used to liven the flavors sandwiches, homemade hummus, or pasta. You can even use them to dress up simple roasted vegetables or grilled meats, too.6254a4d1642c605c54bf1cab17d50f1e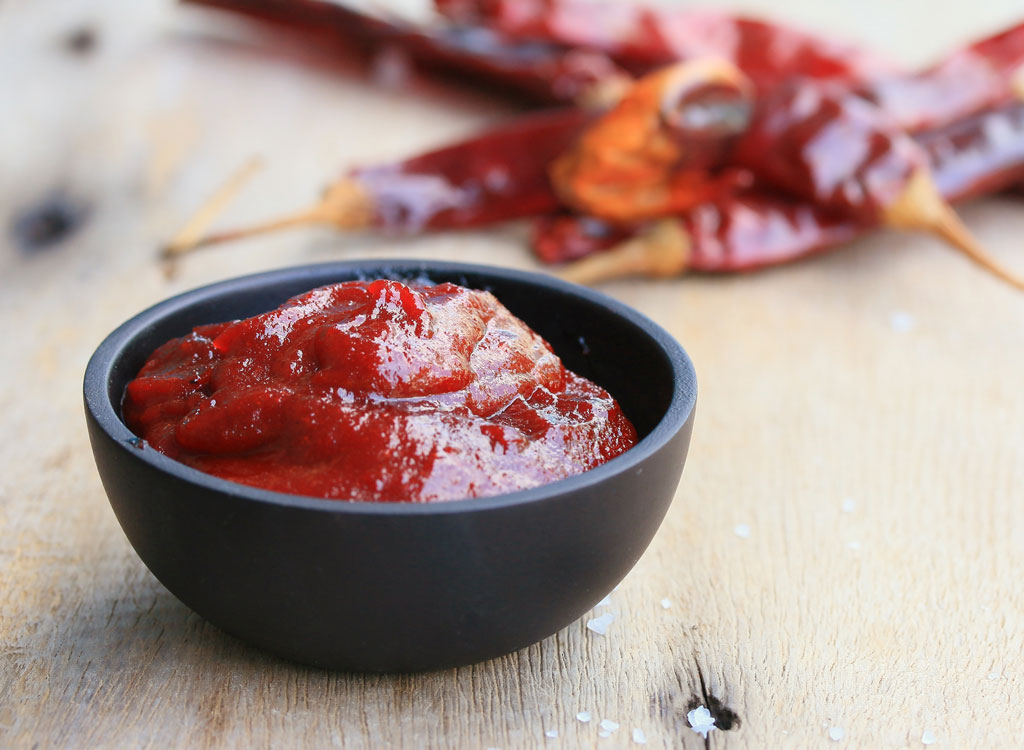 Gochujang is a key ingredient in Korean bibimbap, but this flavorful pepper paste will also make your favorite winter vegetables sing. Toss pumpkin, sweet potato, parsnip, and carrot in a combo of gochujang and sesame oil before popping into the oven. The veggies will emerge sweet, spicy, and ready to enjoy.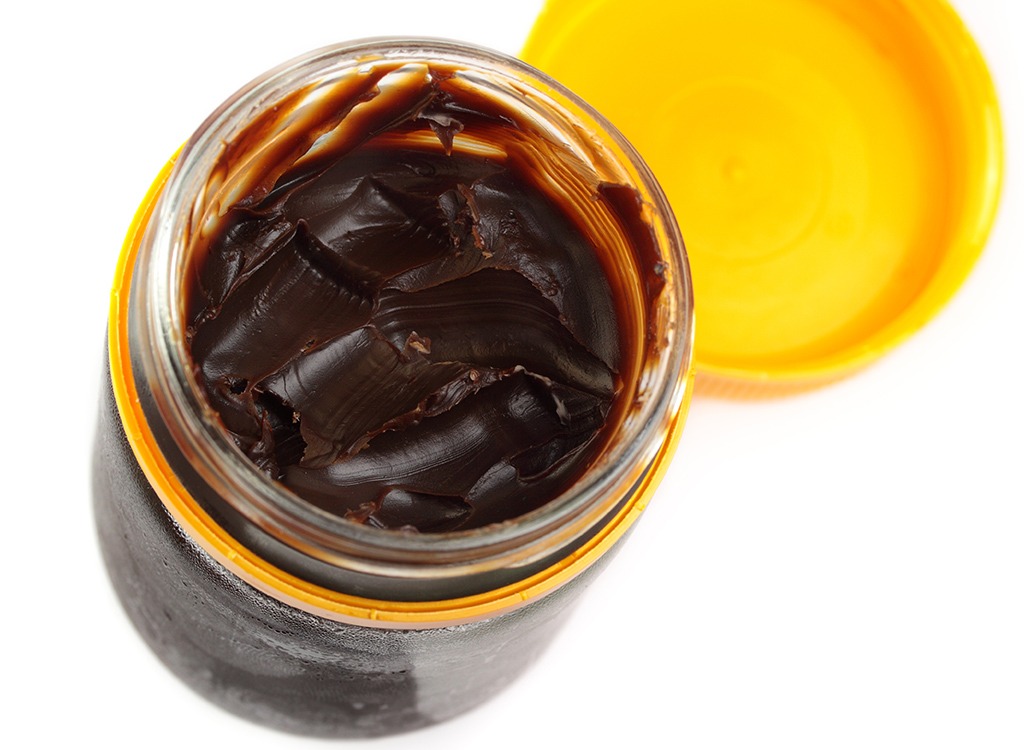 Marmite is a yeast extract spread popular in the UK, and while the most classic way of enjoying it—on bread with butter—might not be the healthiest, the spread itself is rich in B vitamins and can be a super healthful addition to your pantry. Stir Marmite into vegetarian chili to deepen its flavor, or spread a thin layer on your toast before topping it with avocado to give avo-toast a vitamin and mineral punch.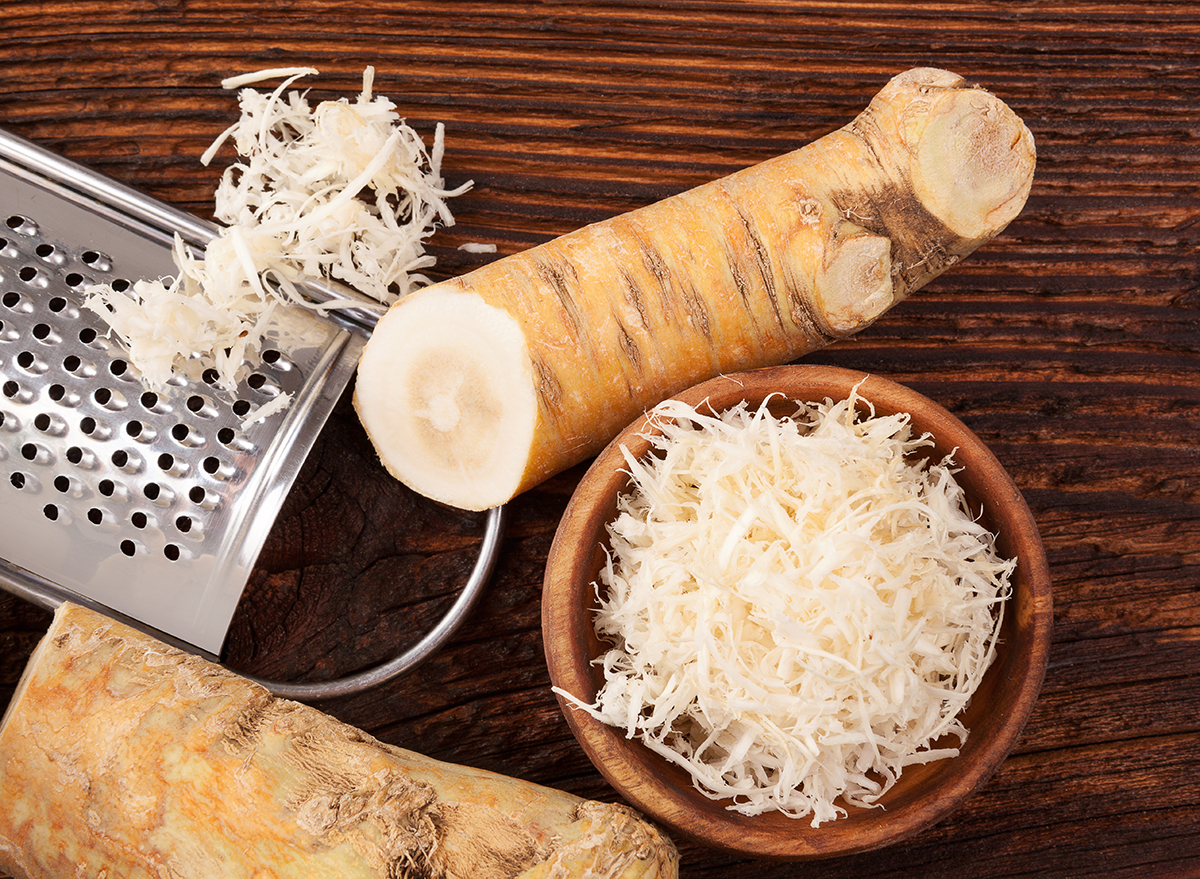 A relative of wasabi, spicy horseradish is naturally rich in antioxidants, and a little jar goes a long way. Stir the grated root into Greek yogurt to make a tasty dipping sauce for any pan-cooked protein from steak to chicken, or add a bit to your deviled egg mixture to give the snack a spicy note worthy of the name.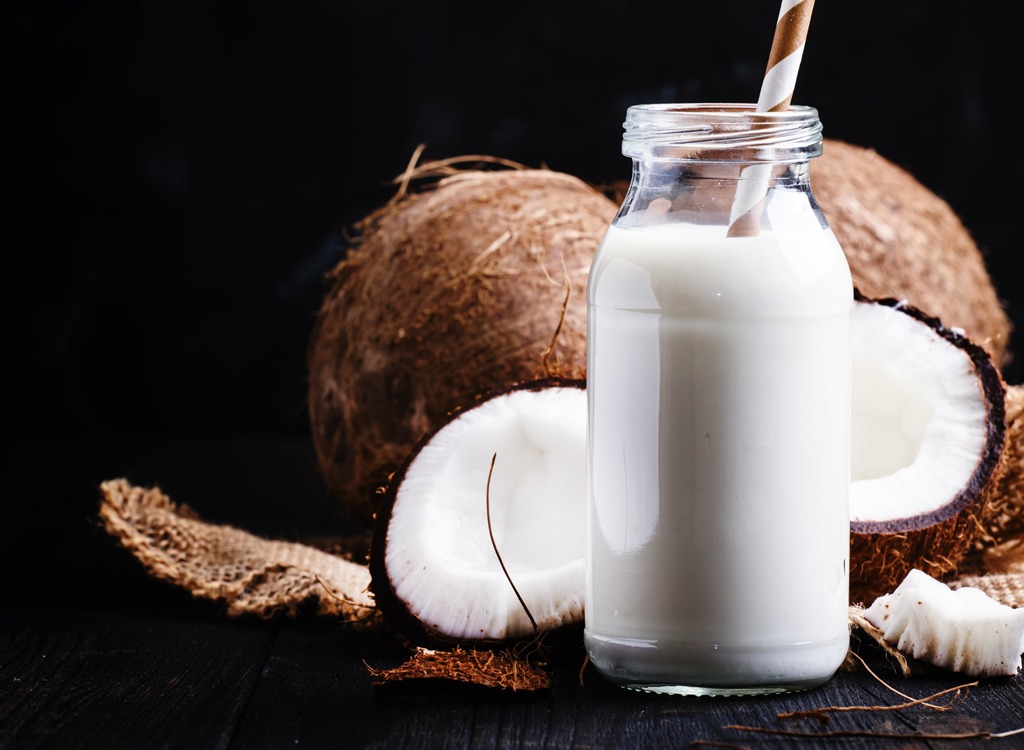 Coconut milk is a solid plant-based option rich in healthy fats. Use it to add creaminess and flavor to simple lentil soups and Thai-inspired curries, or sweeten up your breakfast by stirring it into chia seeds or your overnight oats. Just be sure to choose brands without carrageenan, which is a stabilizer some studies have shown can cause digestive problems.