Healthy Dinner Foods Dietitians Say You Should Be Eating
Making a healthy dinner just got a whole lot easier!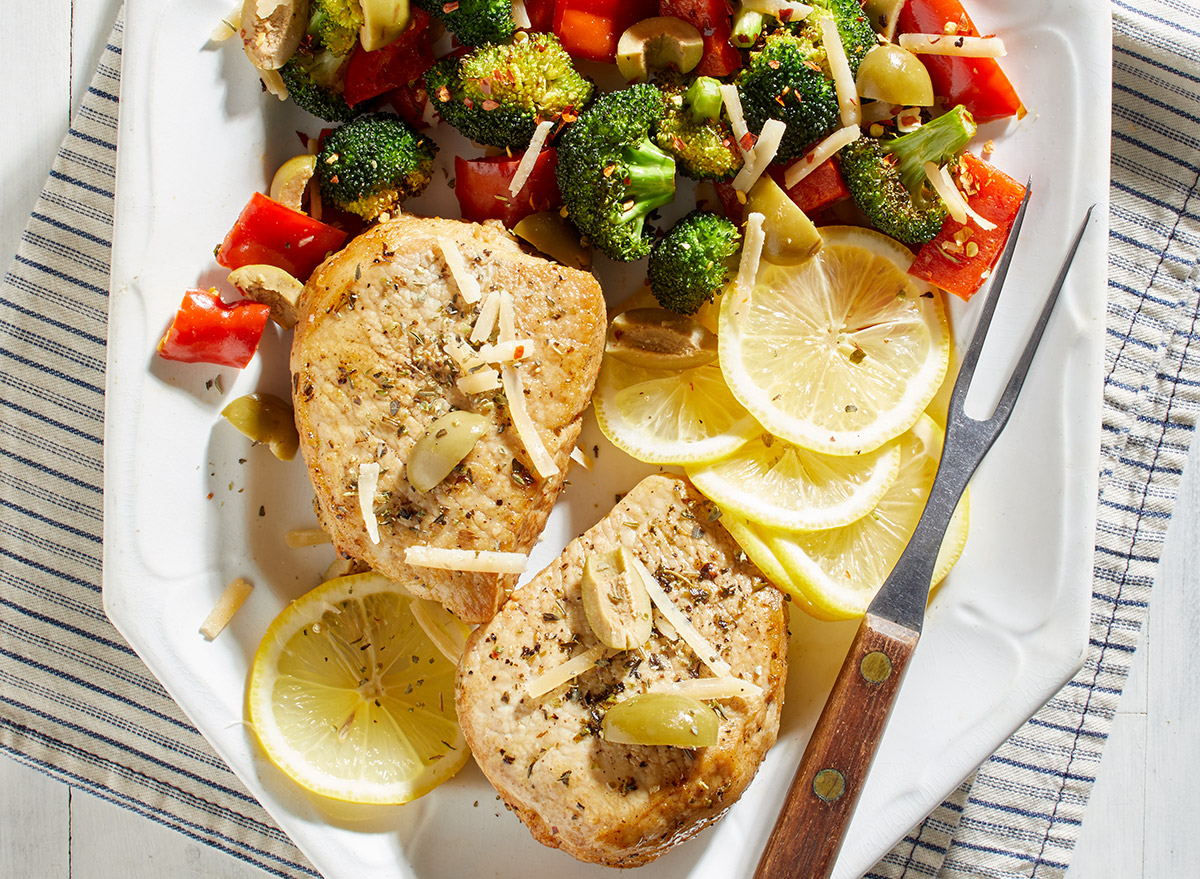 It's 5 p.m. You just finished a workday, you're exhausted, and all you can think about doing is popping a frozen pizza in the oven and calling it a night. You sit there pondering how in the world you'll ever be able to handle cooking healthy meals for yourself—especially when some of those online recipes are drowning in a long list of ingredients and instructions, coercing you to spend over two hours of your night making a meal.
How many times has this happened to you? For the longest time, this story was my own. I never had the energy to cook meals after a long workday, and found myself relying on frozen pizzas, boxed mac-and-cheese, or takeout on a regular basis. That is until I was taught an easier method on how to make healthy meals that aren't such a gargantuan time commitment.
This easy method is one recommended by numerous dietitians, and even one that is backed by the USDA Dietary Guidelines for Americans: Fill your plate with lean protein, whole grains or high fiber starches, and vegetables.
"I love to advise a well-balanced plate for dinner including a healthy protein, half the plate veggies, and a healthy starch," says Lisa Young, PhD, RDN is the author of Finally Full, Finally Slim, and adjunct professor of nutrition at NYU.
So what exactly does that look like? What types of healthy dinner foods should you make that won't take you all night to cook?
Here are some healthy dinner foods you can make using all three of these elements to a healthy meal, and if you're on the hunt for even more healthy recipes, check out our list of 100 Easiest Recipes You Can Make.
Stir fries
Cooking up a stir fry with vegetables and lean protein is an easy way to make a healthy dinner. Ricci-Lee Hotz, MS, RDN at a Taste of Health and Expert at Testing.com says you can include different types of lean protein like chicken, fish, or turkey with vegetables like broccoli, cauliflower, Brussels sprouts, spinach, peppers, and more. Top your stir fry on a bed of high fiber starch like rice, quinoa, or squash.6254a4d1642c605c54bf1cab17d50f1e
Not sure what kind of stir fry to make? We're particularly obsessed with this Chili-Mango Chicken Stir-Fry Recipe!
Chilis & soups
Another easy way to incorporate all three of these elements (lean protein, high-fiber starch, vegetables) is by stirring up a large pot of chili or a soup. Cheryl Mussatto MS, RD, LD, Clinical Dietitian and blogger at Eat Well to Be Well, specifically recommends using lentils in these types of meals when you can.
"Lentils are a pantry staple I use quite often whenever I can," says Mussatto. "These tiny legumes—a cousin to beans, chickpeas, soybeans, and peanuts—are packed with protein, fiber, vitamins, minerals, and phytonutrients and are an easy way to add extra protein without meat to every meal. Lentils also help promote heart health and may reduce your risk of diabetes. They can be easily added to soups, sauces, and salads."
Try making one of these 20 Best Slow Cooker Soup Recipes for an easy weeknight meal!
Sheet pan meals
"The healthiest dinner food for people to eat regularly is a combination of protein, vegetables, and healthy carbs. A good rule of thumb is [to fill] 1/2 your plate with vegetables, 1/4 of your plate with protein, and 1/4 plate of a healthy carb," says Jamie Feit, MS, RD, and Expert at Testing.com. "A great way to take action on this is by making a sheet pan meal. There are endless possibilities. As long as vegetables are prominent on your plate you are in good shape."
You can easily make one of these 37 Super Easy Sheet Pan Dinners!
Omelets
If you're a breakfast-for-dinner kind of person, then you are going to love this suggestion from Shannon Henry, RD with EZCare Clinic. She recommends whipping up an omelet for an easy weeknight dinner, especially since omelets are an easy (and delicious) way to get more vegetables in your diet. Serve with a side salad or a fruit cup to get even more fiber into your meal!
Here's The Single Best Way To Make an Omelet.
Salads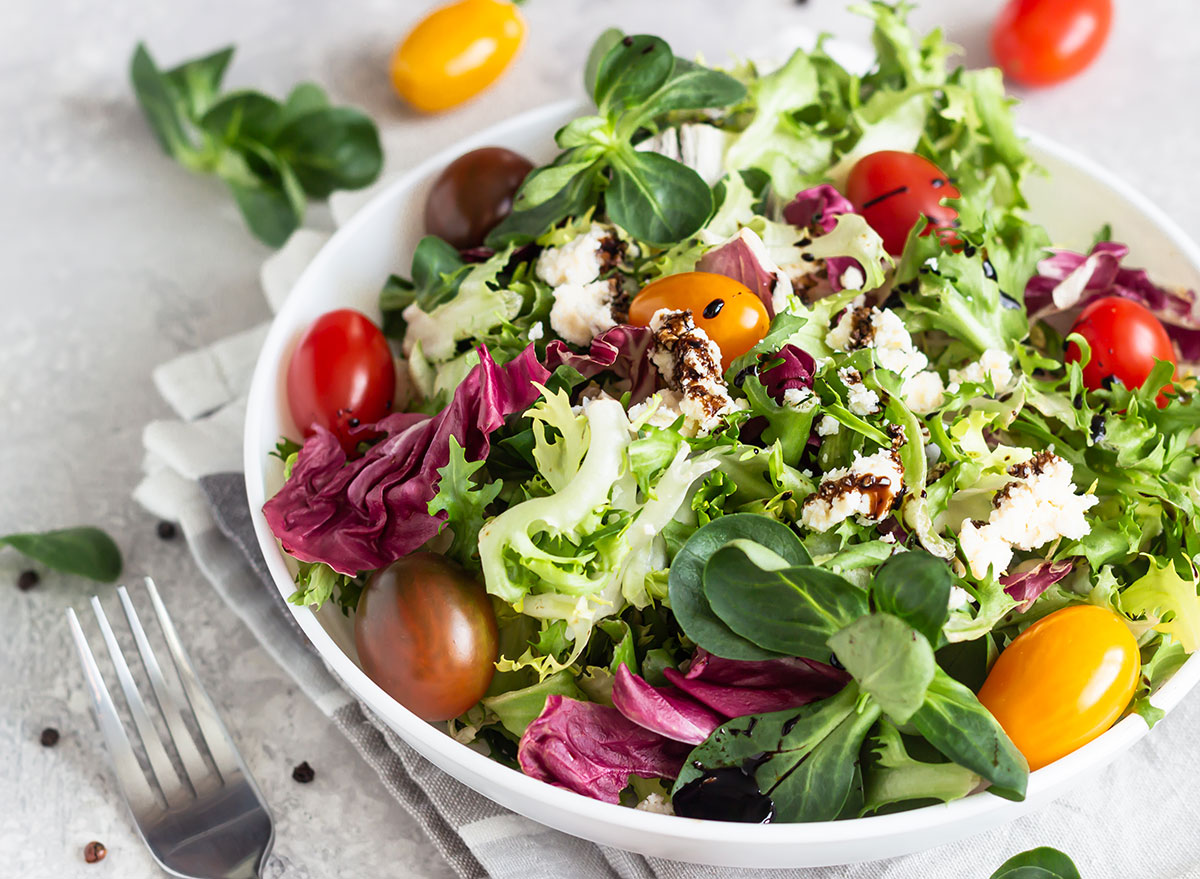 If you don't feel like turning on the stove or the oven, tossing together a big salad is an easy way to get a healthy meal in with minimal effort, says Henry. We particularly love these 35+ Healthy Non-Boring Salad Recipes, as well as these 30 Summer Salad Recipes!
Grilled meat or fish with vegetables
Who doesn't love firing up the grill when the weather gets warmer? The grill is a great tool for making healthy weeknight dinners. Grill up a lean protein like chicken, or even a fish! Young says a grilled salmon is rich in protein and omega-3 fatty acids, and don't take too long to cook! Top with a high-fiber starch like with our Grilled Salmon and Chermoula Chickpeas recipe.
Along with your grilled lean protein, you can also grill or roast a few of your favorite vegetables as well. You can easily skewer some veggies to grill (like squash, peppers, onions, mushrooms, and more), or roast some of your favorite cruciferous veggies like broccoli, cauliflower, Brussels sprouts, or even cabbage!
"Cabbage is another favorite of mine that offers a surprising number of health benefits," says Mussatto. "This humble vegetable is a member of the cruciferous vegetable family and may lower risk of many chronic diseases such as certain cancers and is very beneficial for gut health. Whether you prefer red, green or purple cabbage, each offers a slightly different antioxidant profile, but all are abundant in fiber, vitamin C, and flavonoids (good for heart health)."
Here's How to Cook Cabbage Easily, or try these Roasted Summer Vegetables!
Get the latest healthy eating tips by subscribing to our newsletter, and for more, read these next: