100 of the Most Popular Fast-Food Items You've Got to Try at Least Once
Here's what everyone else is ordering.
Fast food is a $234 billion industry in America, and it's long been a pillar of people's diets since becoming popular in the 1950s. Despite the fact that 76% of Americans acknowledge that fast food is "not too good for you" or "not good for you at all," 16% of the population still say they eat it several times per week, and 33% eat it at least once per month, according to a 2013 Gallup poll. More surprisingly, the CDC reports that on any given day, 34% of children and adolescents have eaten a fast-food meal.
We may not believe it's healthy—and it's not, as a study revealed fast-food today is worse for you than it was in the '80s—but that doesn't stop us from heading to the nearest McDonald's or Chick-fil-A with some frequency.
So what are these mesmerizing meals that keep us hooked despite our best efforts? We've compiled a list of the 100 most popular fast-food items that keep fans coming back for more. We began with QSR Magazine's 2018 report of the top 50 most successful fast-food chains in America as a measure for popularity, then identified the standout menu items from each, using a range of articles, reports, and published rankings to guide us.
Here are the 100 most popular fast-food menu choices. How do they stack up against your favorites? And if you're looking to clean up your fast-food meal a bit next time you run out, be sure to reference these healthy fast-food orders.
And for more, check out these 15 Classic American Desserts That Deserve a Comeback.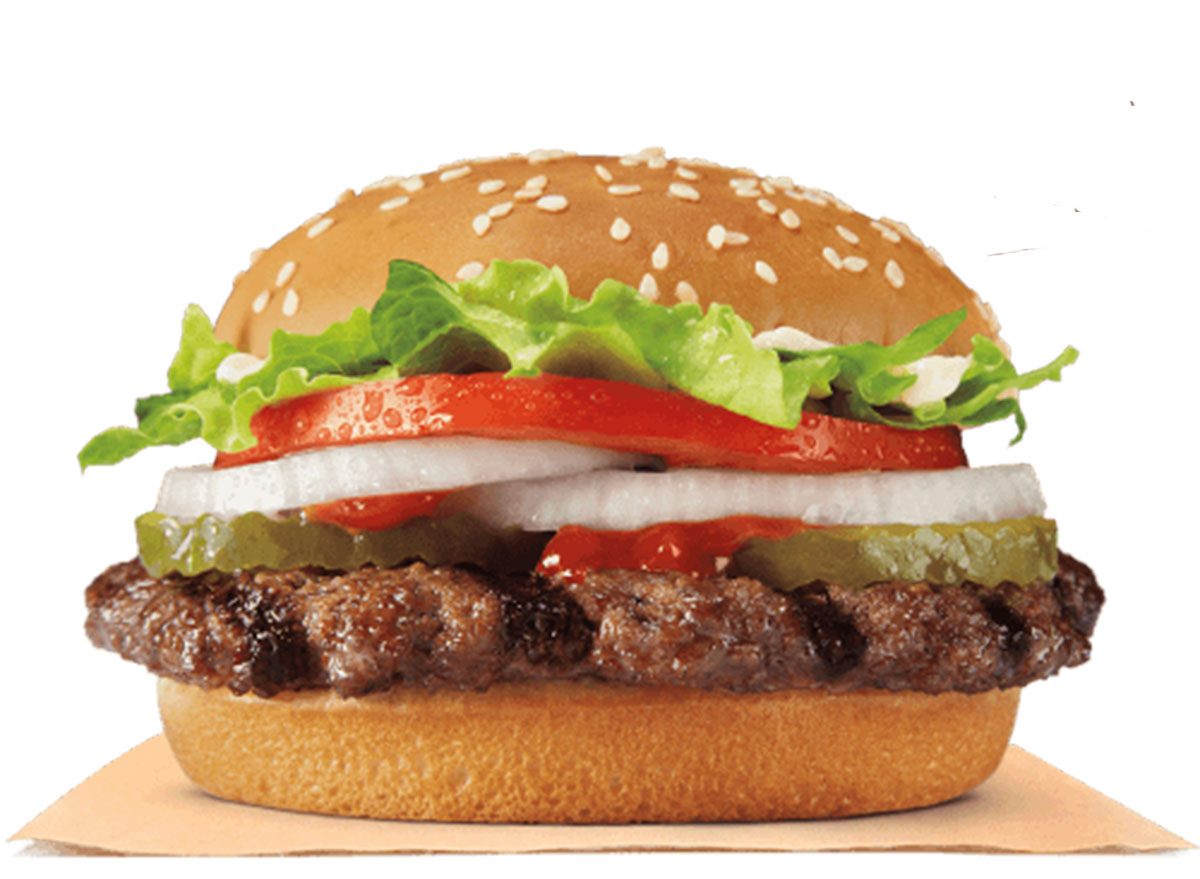 Burger King advertises the Whopper as "America's Favorite Burger," and there's no doubting its iconic status. More than 11 million customers walk through Burger King's doors each day, many of them in pursuit of the famous burger.
RELATED: Sign up for our newsletter to get daily recipes and food news in your inbox!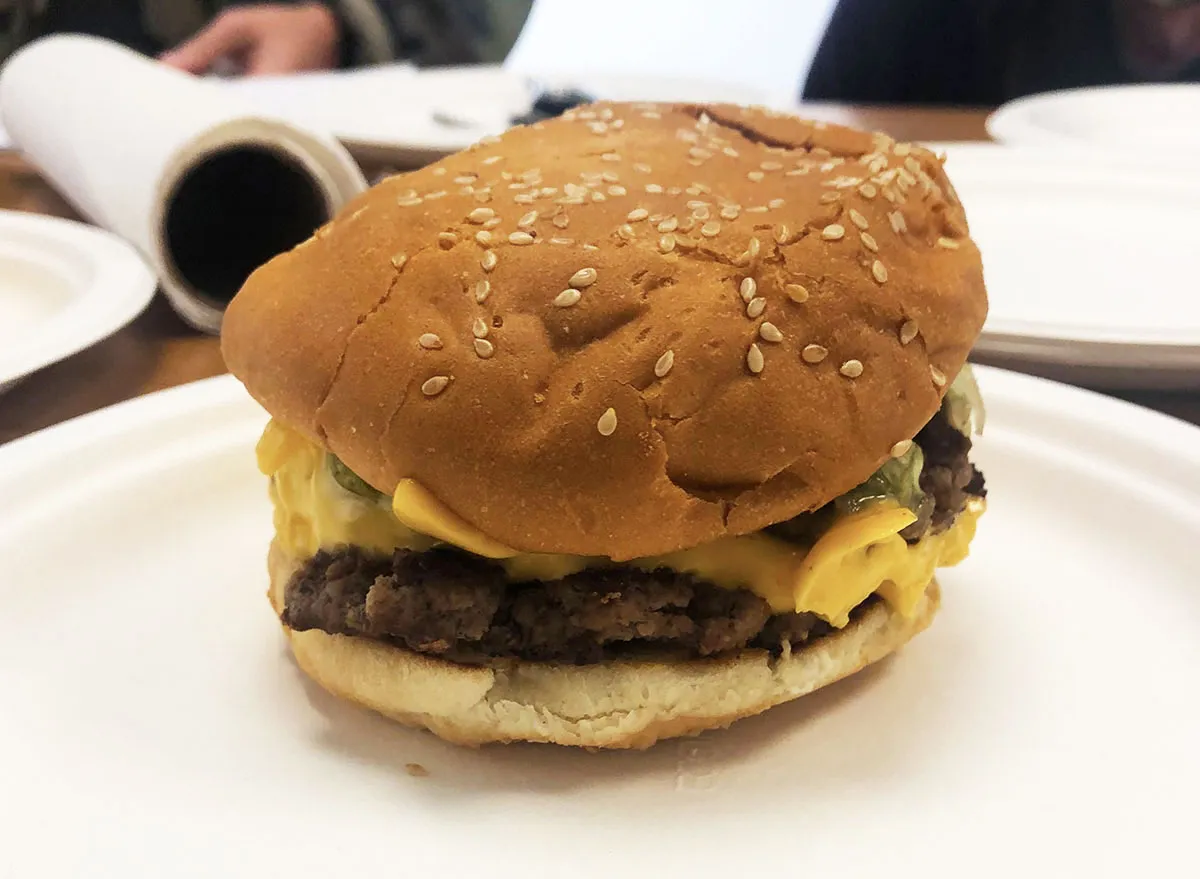 According to The Harris Poll's 2018 EquiTrend Study, Five Guys holds the title of #1 fan-favorite burger chain, replacing two-time winner In-N-Out. The cheeseburger is a classic staple on the menu.
RELATED: Your ultimate restaurant and supermarket survival guide is here!
KFC Original Recipe Chicken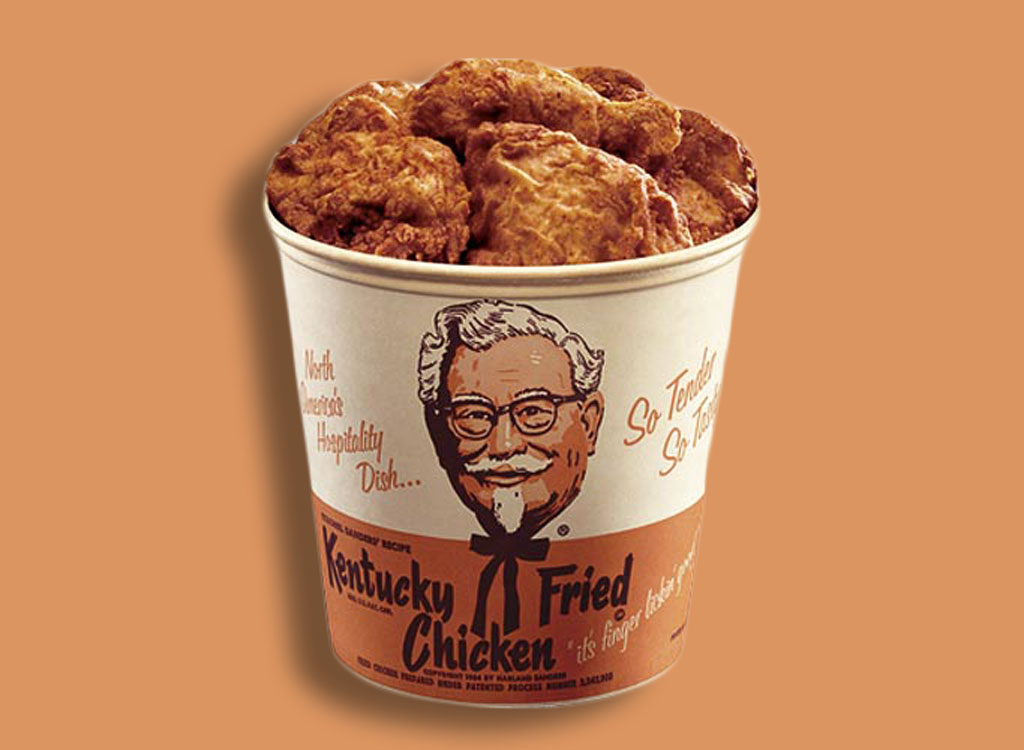 KFC's Original Recipe Chicken is famous for its secret 11 herbs and spices and for launching the brand into fast food superstardom.
White Castle has been serving sliders since 1921, when the restaurant became America's first fast-food burger chain. Today, sliders remain the most popular item on the menu.
Arby's Roast Beef Sandwich
Featuring only two ingredients, roast beef and a sesame seed bun, Arby's claims that this is the sandwich that put roast beef on the map. Like hitting up Arby's for lunch? It might be ok once in a while, but make sure it doesn't turn into one of the unhealthy lunchtime mistakes you're making.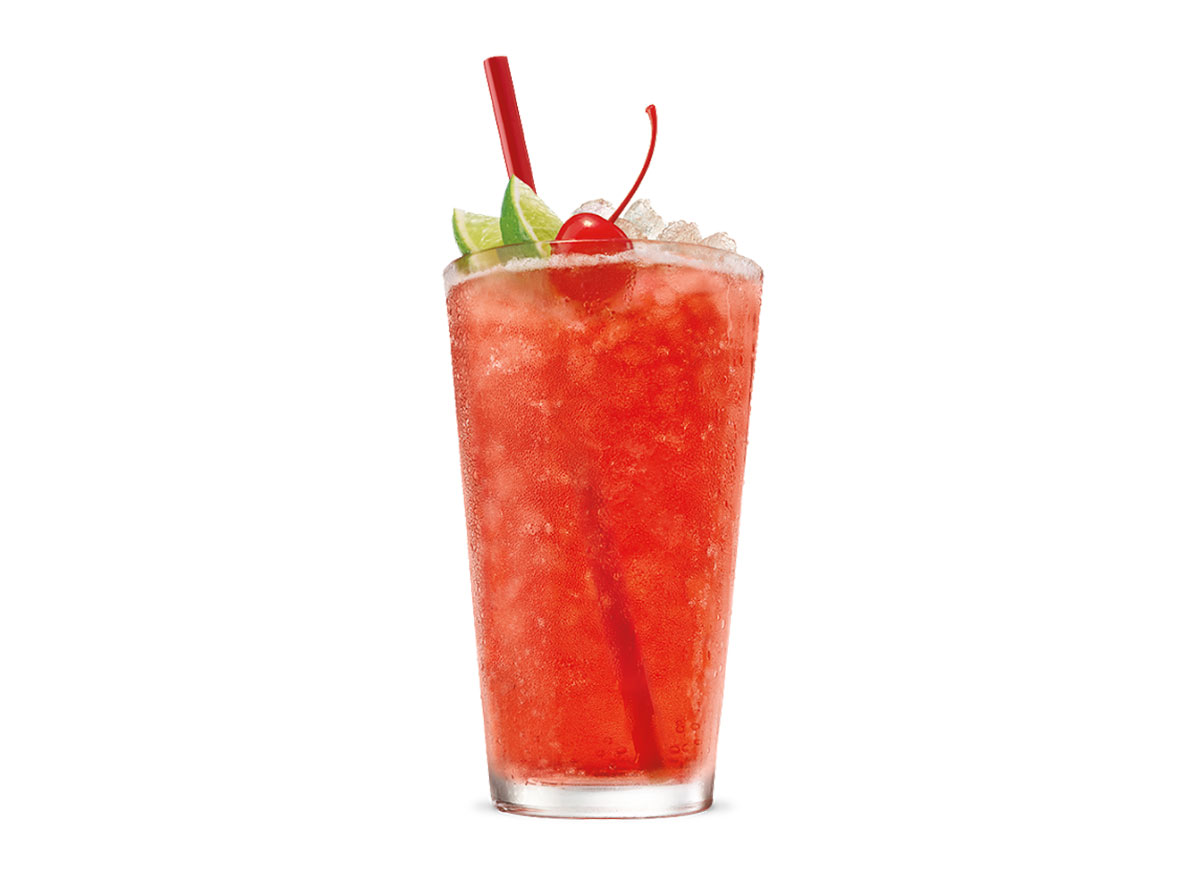 Sonic holds a daily Happy Hour that features half-priced drinks, and people turn up on schedule for the Cherry Limeade.
The Frosty is considered the signature dessert at Wendy's, available in only two classic flavors: chocolate and vanilla. It's been going strong since 1969.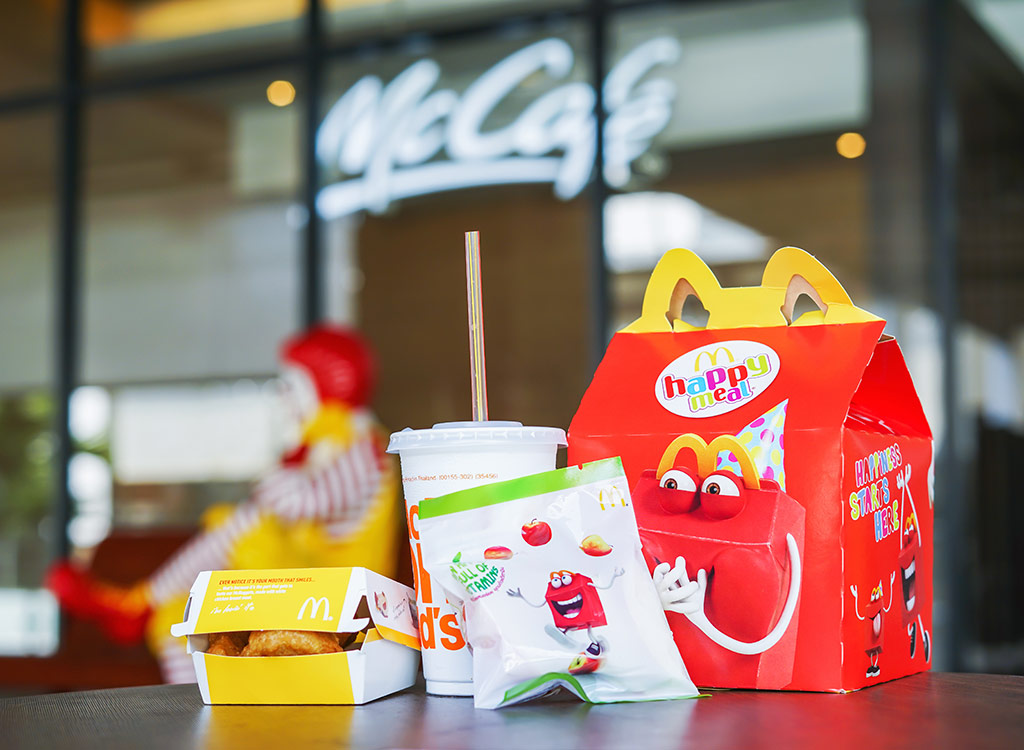 The McDonald's Happy Meal has been thriving since 1979, thanks to its kid-sized portions, colorful signature packaging, and of course, the collectible toys.
Starbucks Pumpkin Spice Latte
Nothing says "fall" like a Starbucks Pumpkin Spice Latte. No other chains have managed to claim an entire season as their own. Now that's popular.
Taco Bell Burrito Supreme
Taco Bell has crowned this burrito "The Supreme Ruler of the Burrito Empire," and it has many loyal subjects to prove it.
Chick-fil-A Chicken Sandwich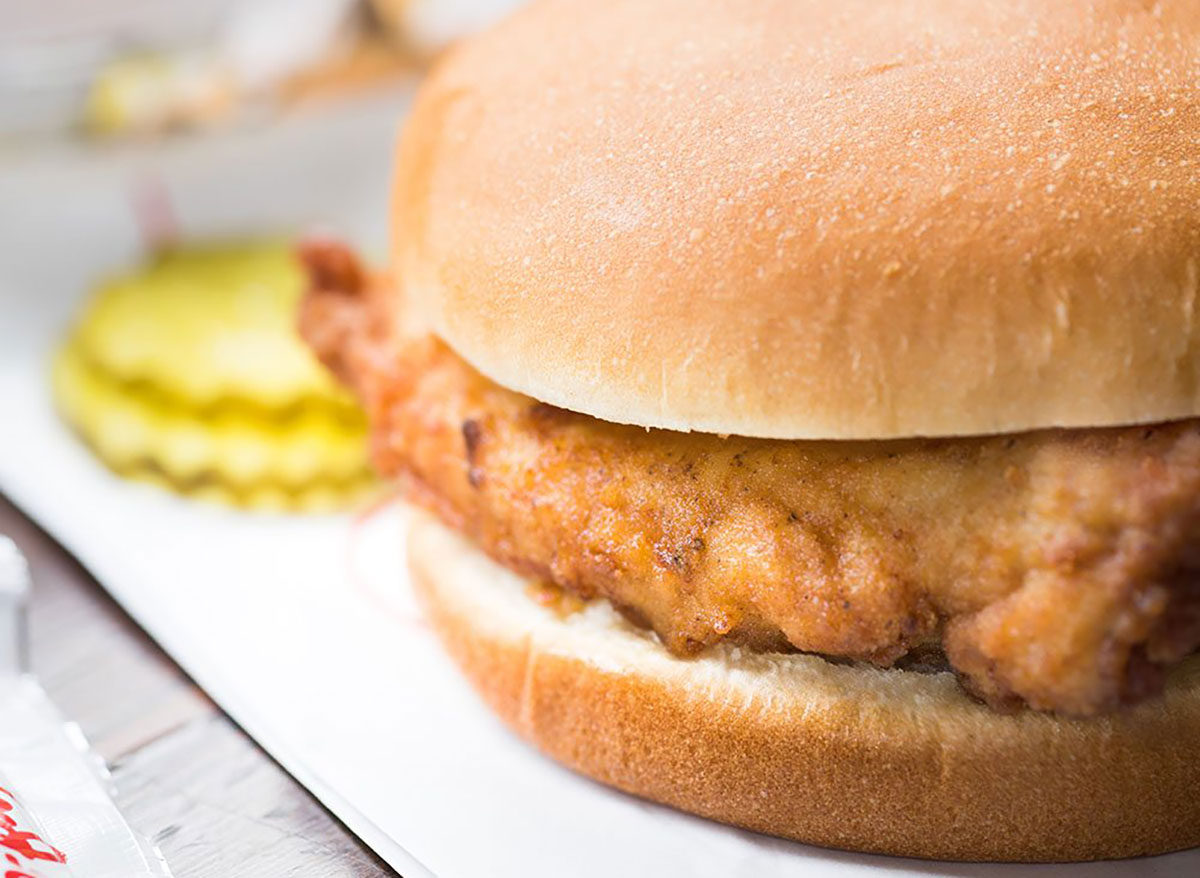 Chick-fil-A may be politically polarizing, but people tend to have a unified stance on their original Chicken Sandwich: "delicious."
Forget the donuts! Rebranded as just Dunkin' in 2018, the chain made it clear that it's all about focusing on their beverages. But don't worry—the franchise sells 2.9 billion donuts and Munchkins globally each year, so the sweet treats aren't going anywhere.
Krispy Kreme Original Glazed Doughnuts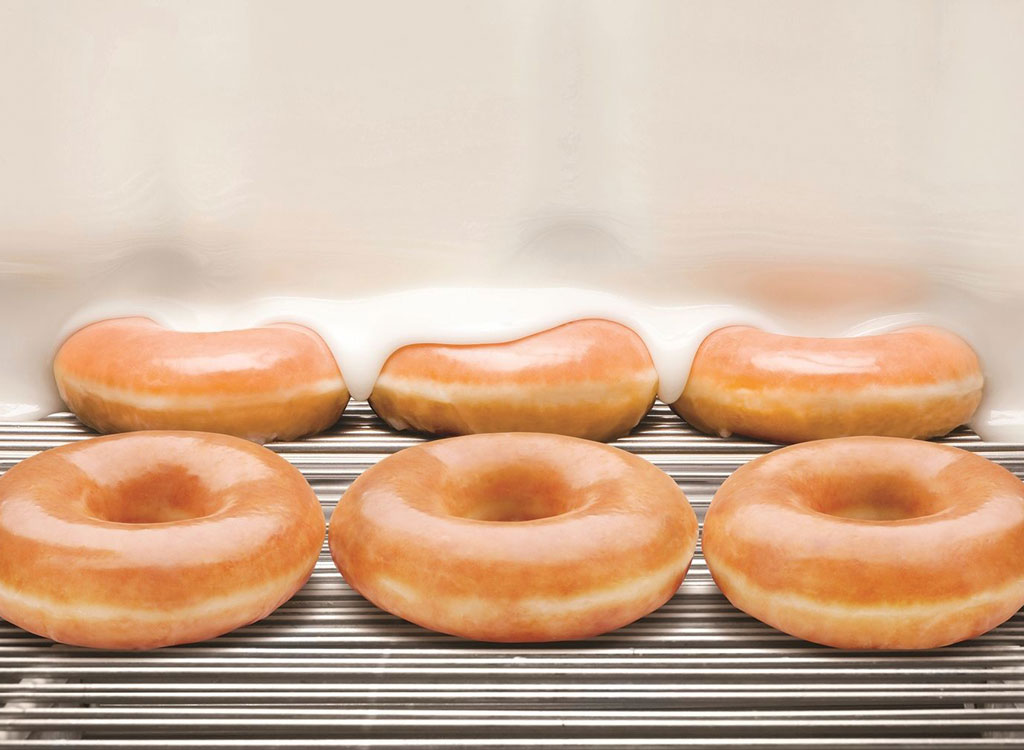 If Dunkin' is trying to pivot away from the doughnut world, Krispy Kreme will hold down the fort. The chain has been making its Original Glazed Doughnuts since 1945, and the recipe hasn't changed since, due to its runaway success.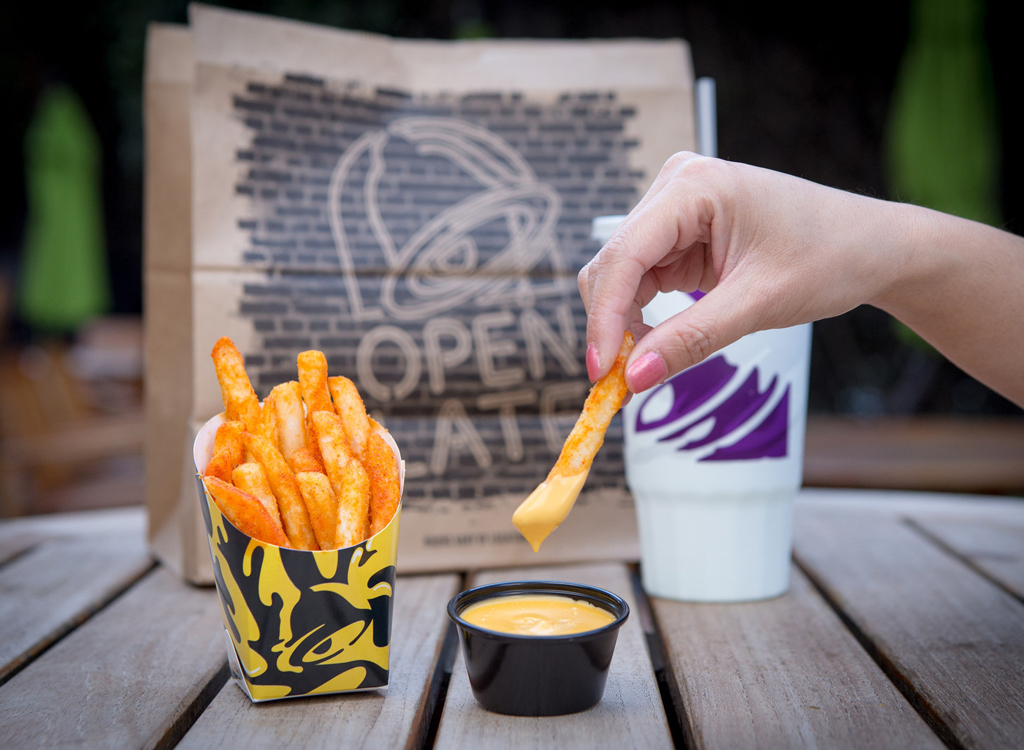 Taco Bell's Nacho Fries have come and gone multiple times over the years, and they aren't currently available at the fast-food chain. But that doesn't mean they aren't popular! Fans love when these dippable, seasoned fries return to the menu.
This side reached legendary status when it became the best-selling new product launch in the chain restaurant's history, selling more than 53 million orders within the first five weeks it was available.
Ask anyone what Culver's is famous for and they'll tell you: the ButterBurger. The fast-food chain has nicknamed it "The Original," and affectionately references the ButterBurger as having "started it all."
Whataburger Taquito with Cheese
According to Bon Appetit, Texans are down to ride or die for Whataburger. The Taquito with Cheese has, in particular, been called "a Texas tradition," but its popularity extends beyond the lone star state.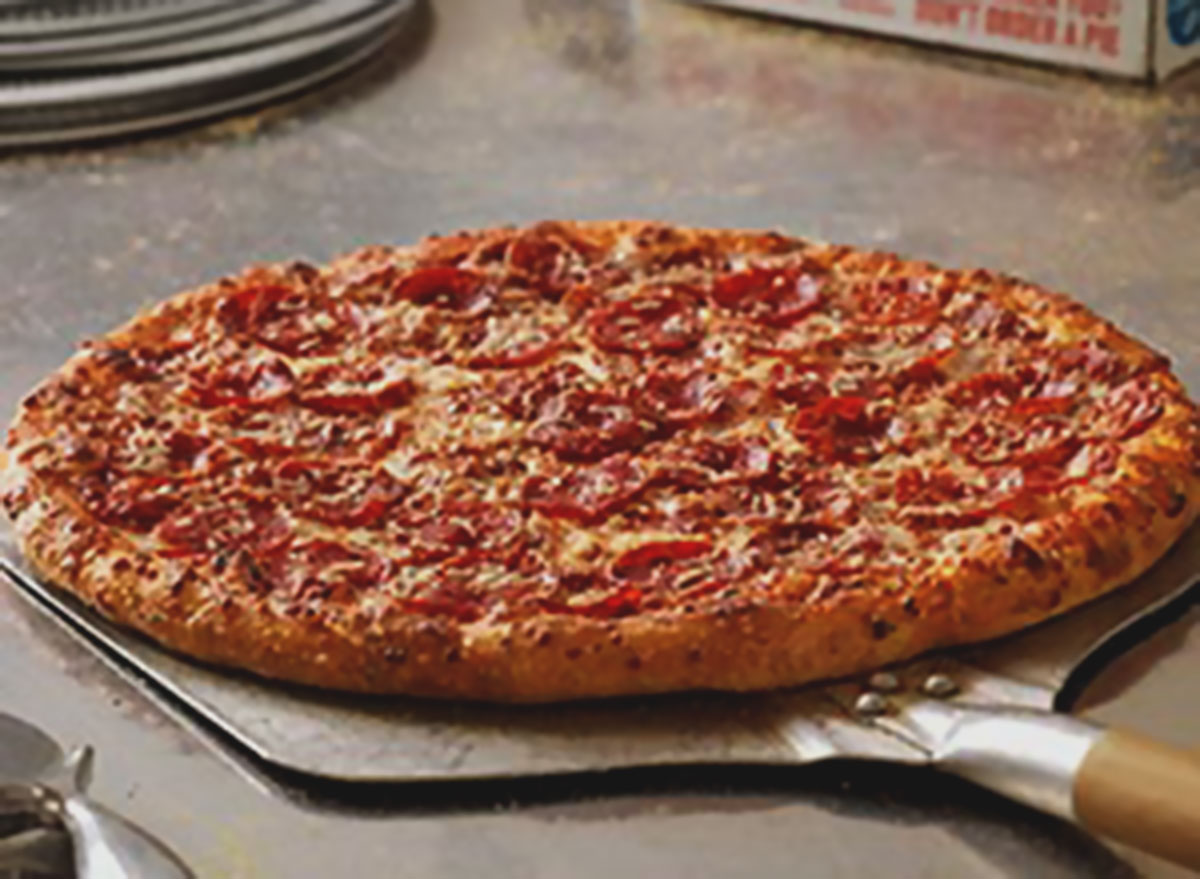 Domino's may be the number-two pizza chain in America, but it's quickly gaining steam on Pizza Hut and could surpass it in popularity. According to QSR, its pepperoni pizza is easily the most-delivered item on the menu.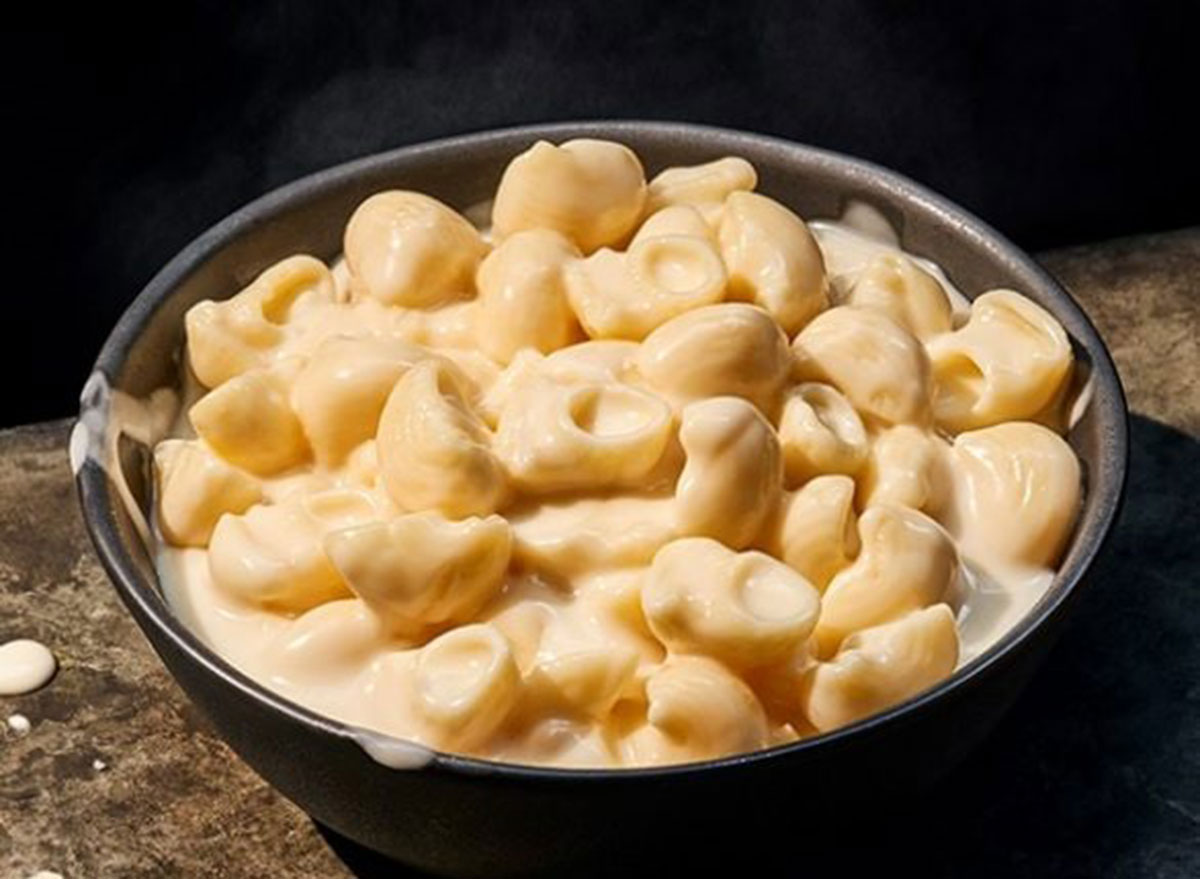 Panera maintains steady popularity as it continually changes its menu. The chain has said that its mac and cheese is one of the most popular offerings.
Panda Express Kung Pao Chicken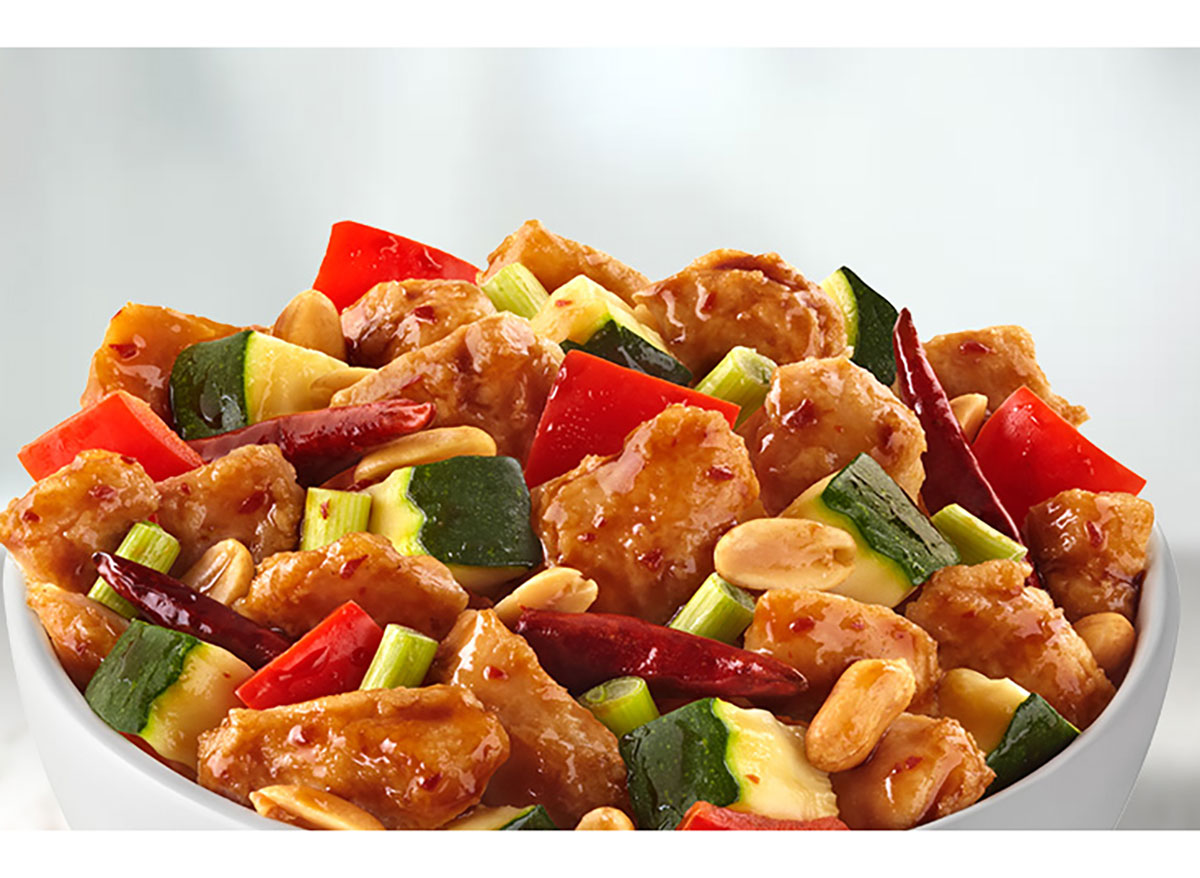 This spicy stir-fry dish is a Panda Express classic. Unlike most fast-food chains who keep their secrets to success under lock and key, Panda Express has graciously released its signature recipe to appease its insatiable fans.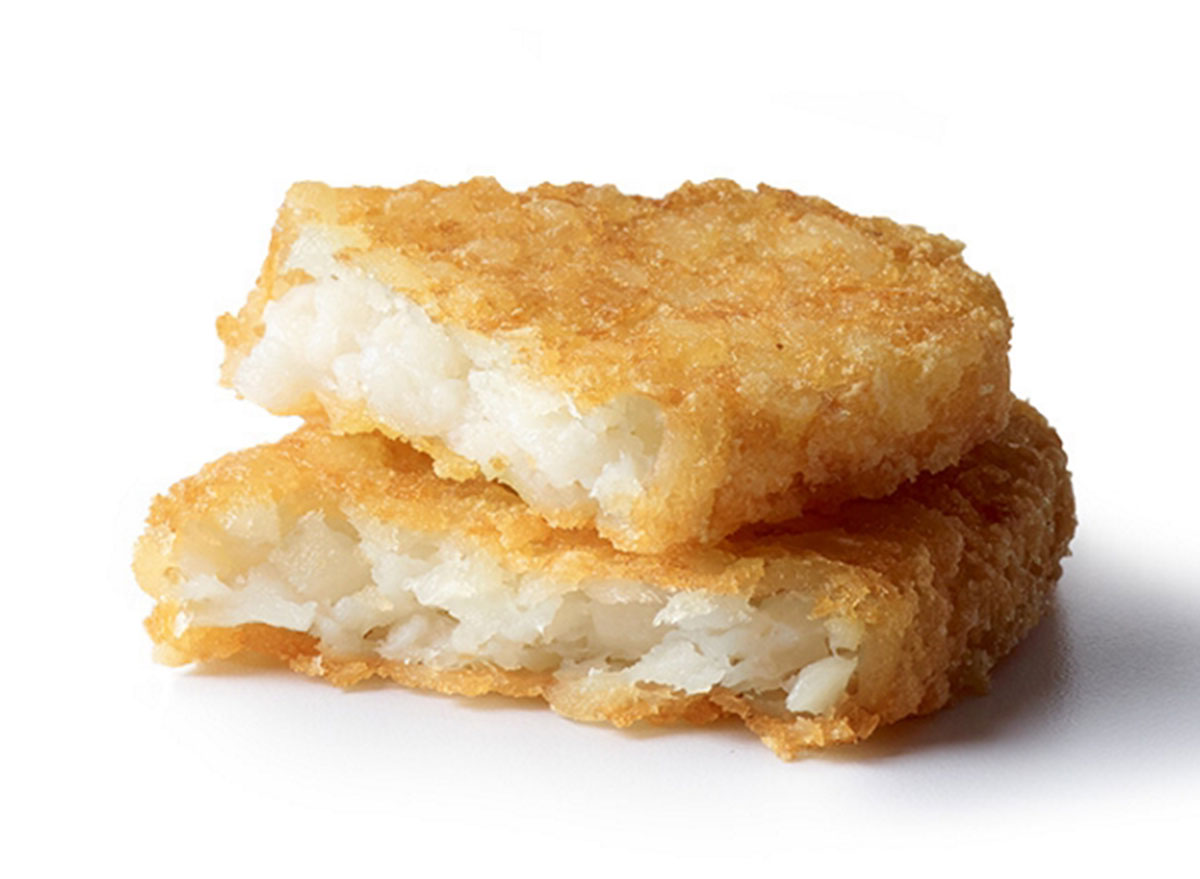 Sure, everyone knows that French fries are the star of the Mickey D's sides menu. But McDonald's Hash Browns are a close second, and have the added advantage of being "breakfast friendly."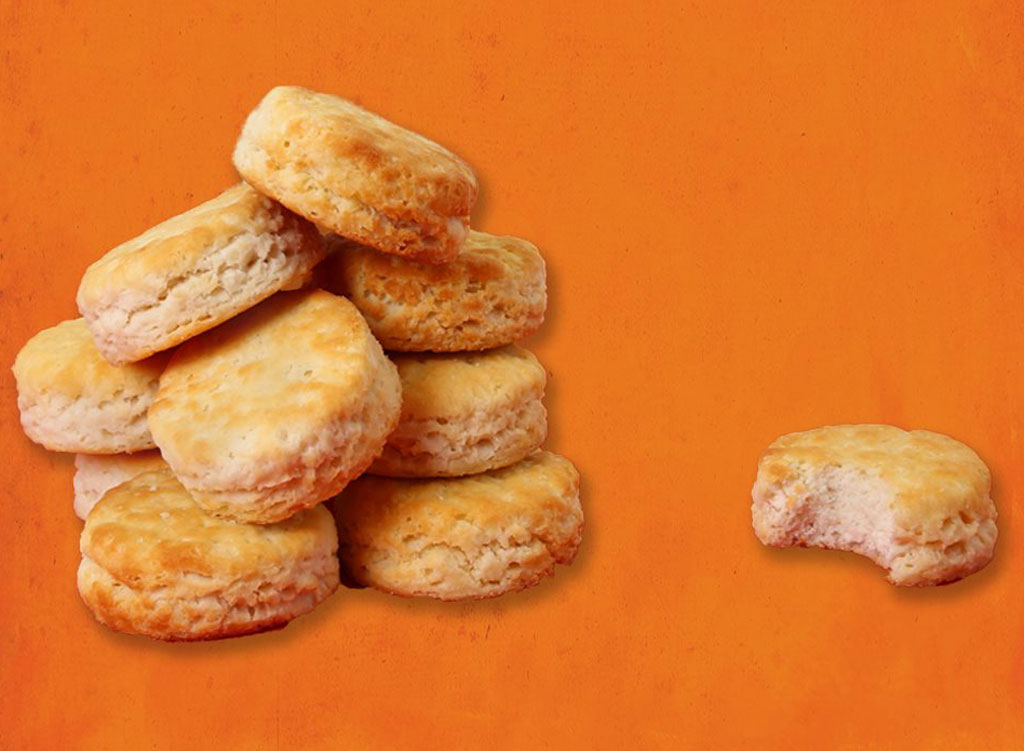 Few fast-food items have inspired more copycat recipes on the internet than Popeyes Biscuits. They're delicious and pretty simple to make!
Little Caesars Hot-N-Ready Pepperoni Pizza
Pepperoni is America's favorite topping, so it's no surprise that it's Little Caesars Pizza's most popular order. But perhaps the strongest draw for customers is the price point, at just $5 per pie.
Taco Bell Chalupa Supreme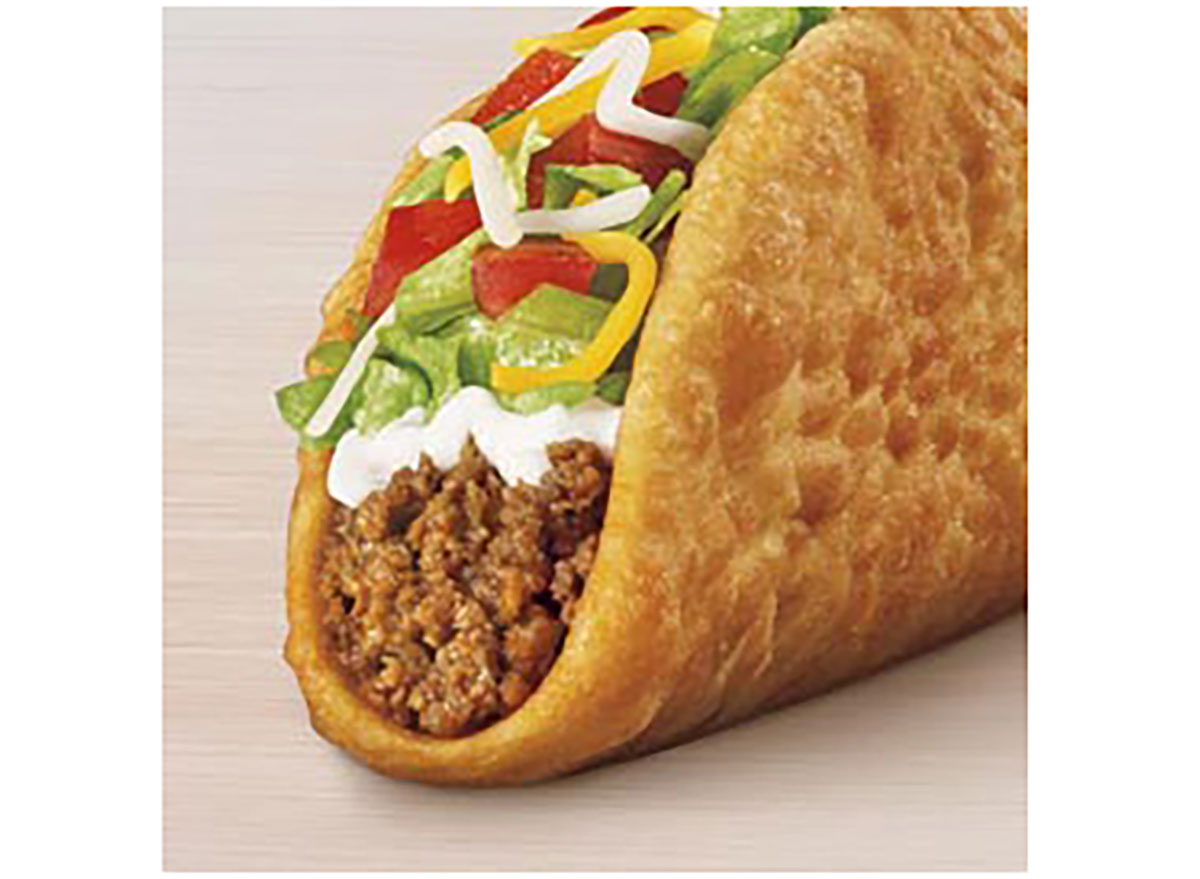 Before Taco Bell, many Americans had never heard of chalupas. Thanks for that, Taco Bell.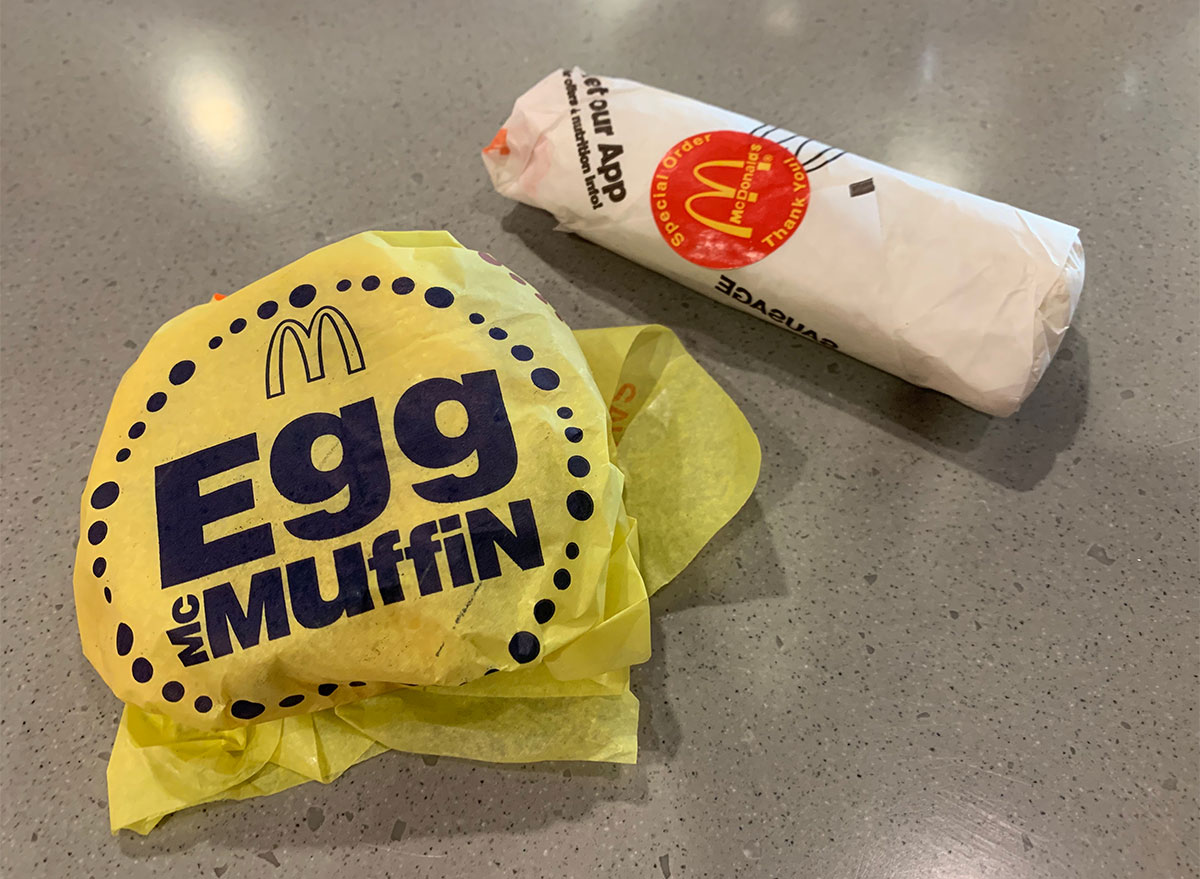 McDonald's Egg McMuffins—essentially bacon, egg, and cheese on an English muffin—have maintained their popularity since they were first introduced in 1972. They are likely the most iconic fast-food breakfast option.
Not only are Wendy's Chicken Nuggets one of the most popular items at one of the most popular fast-food chains; according to Business Insider, a tweet about Wendy's Nuggets was the most popular tweet of 2017. Now that's famous.
RELATED: The easy way to make healthier comfort foods.
Subway Chicken & Bacon Ranch Melt
According to Business Insider, the Subway Chicken Bacon Ranch Melt is one of Subway's least healthy—but most popular—sandwiches.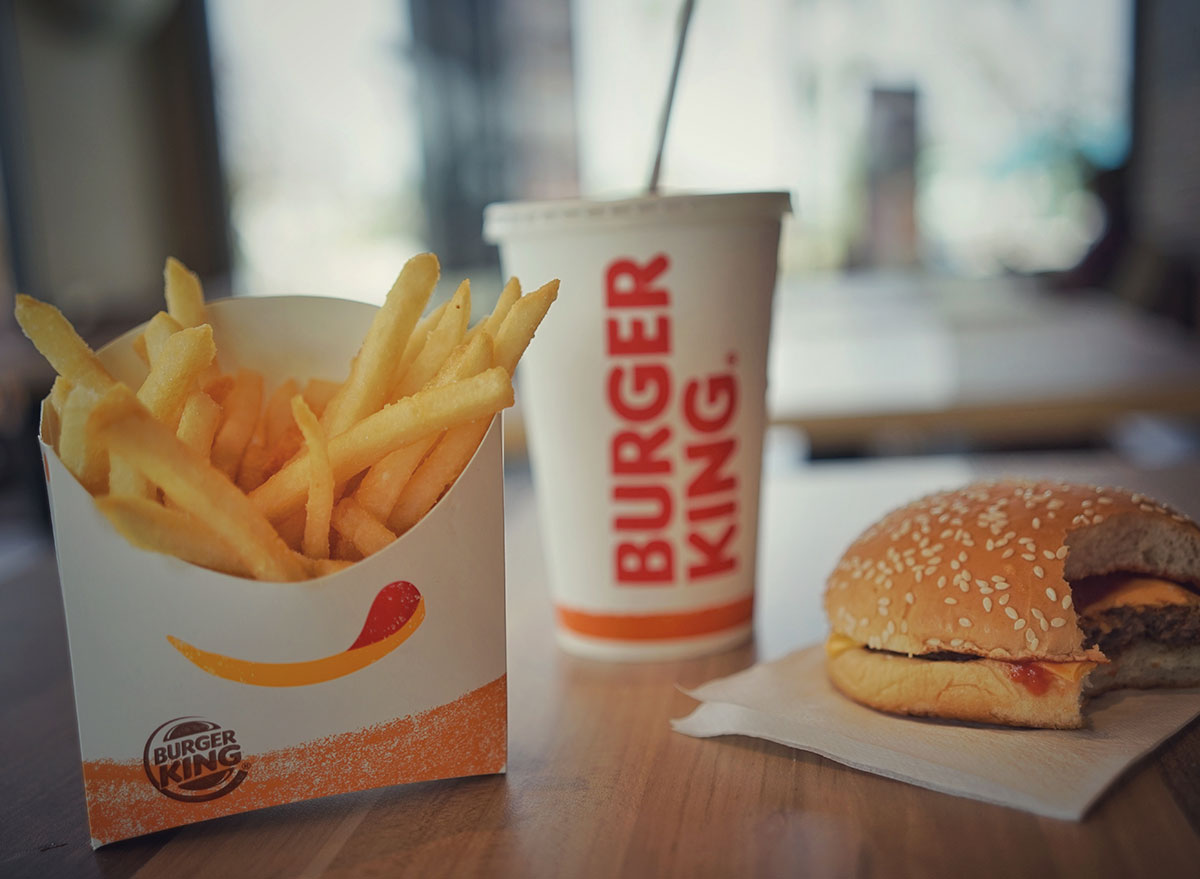 It's possible that all French fries, being a natural sidekick to burgers, are some of the most highly ordered items at any fast-food chain. That said, according to Business Insider, Burger King fries deserve their popularity based on merit.
Shake Shack SmokeShack Burger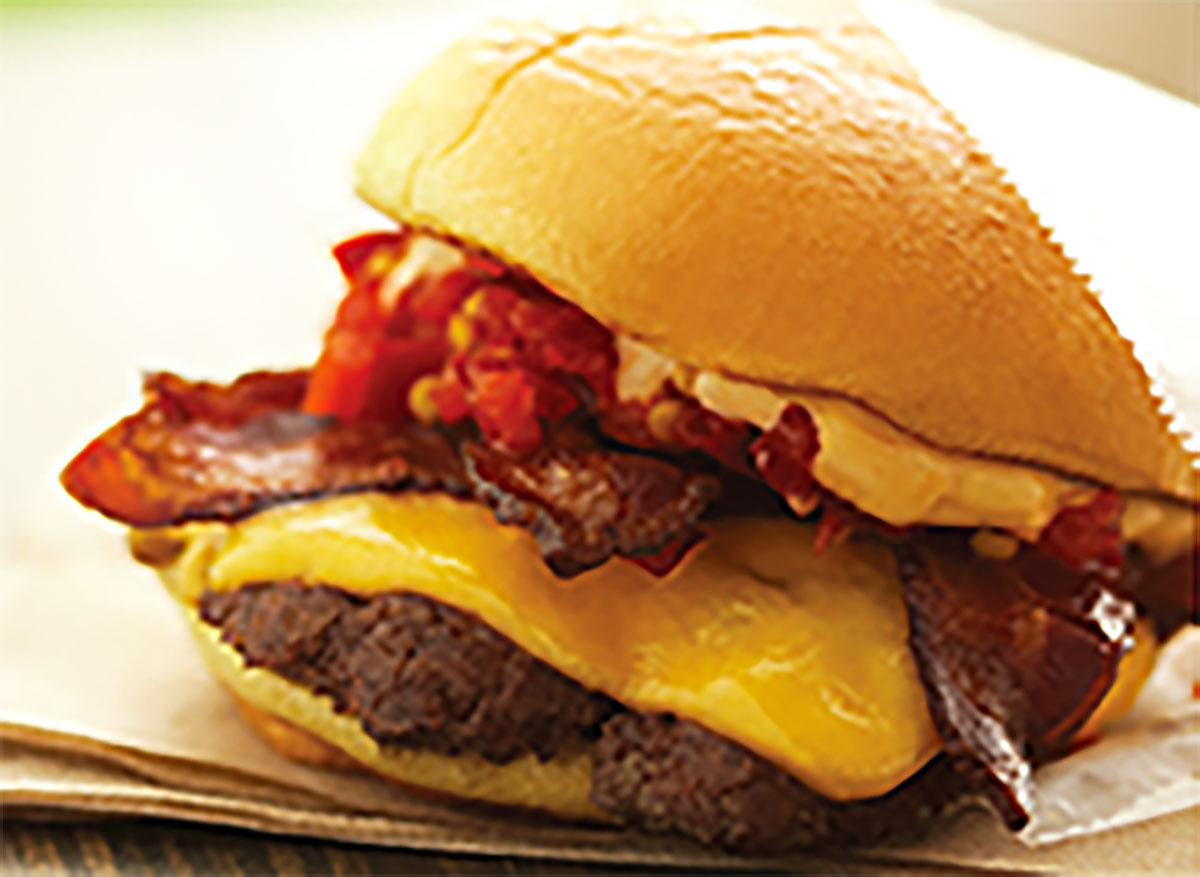 After maintaining a fairly consistent menu for years, Shake Shack debuted the SmokeShack Burger in 2012 to customers' wild approval. This came as no surprise because it's essentially Shake Shack's already popular cheeseburger with bacon on top.
KFC Mashed Potatoes with Gravy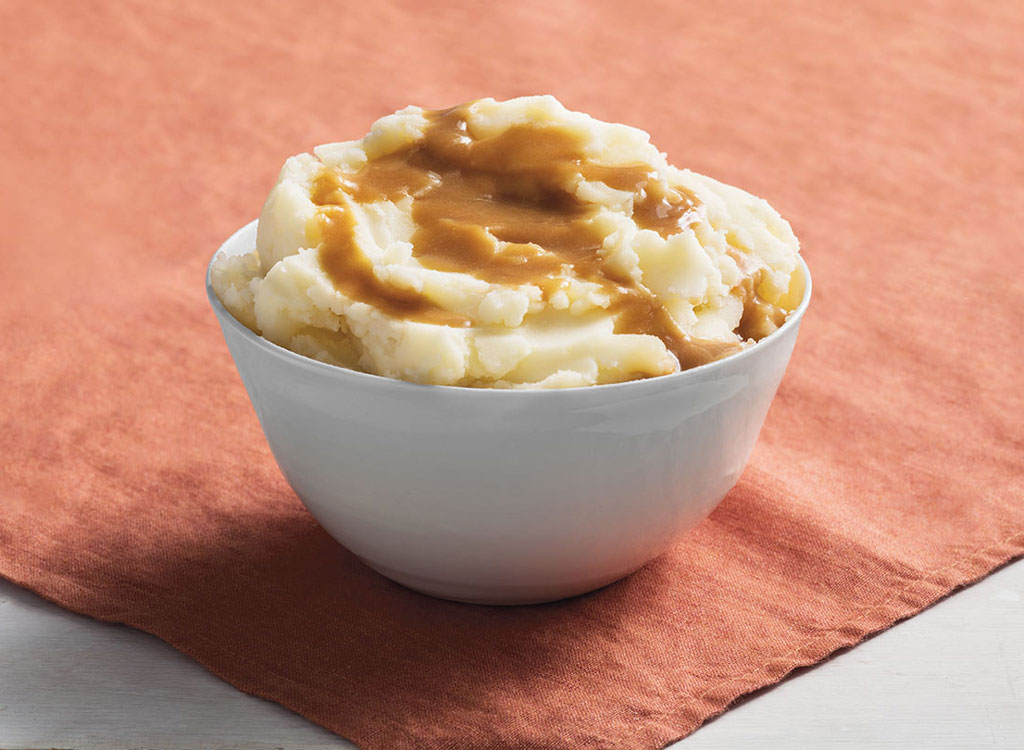 Just like French fries ride their burger's coattails all the way to the top, KFC's mashed potatoes with gravy are flying high alongside its many chicken entrees.
This foamy espresso concoction is a consistent favorite among Starbucks patrons and has been a mainstay on the menu for over three decades. The Caramel Macchiato is the most frequently ordered version today.
Just because it's popular doesn't mean it's good for you. Beware of The 20 Worst Drinks at Starbucks.
McDonald's Baked Apple Pie
Just as Wendy's has the Frosty, McDonald's has its own signature dessert: the apple pie. The secret to its nearly 50 years of success might just be its adaptability, as Eater points out.
Pizza Hut Pepperoni Pizza
By now, you're probably thinking, "What? Another pepperoni pizza?" Yes, but this is the single most popular one at the number one ranked pizza chain. So there's no getting around it.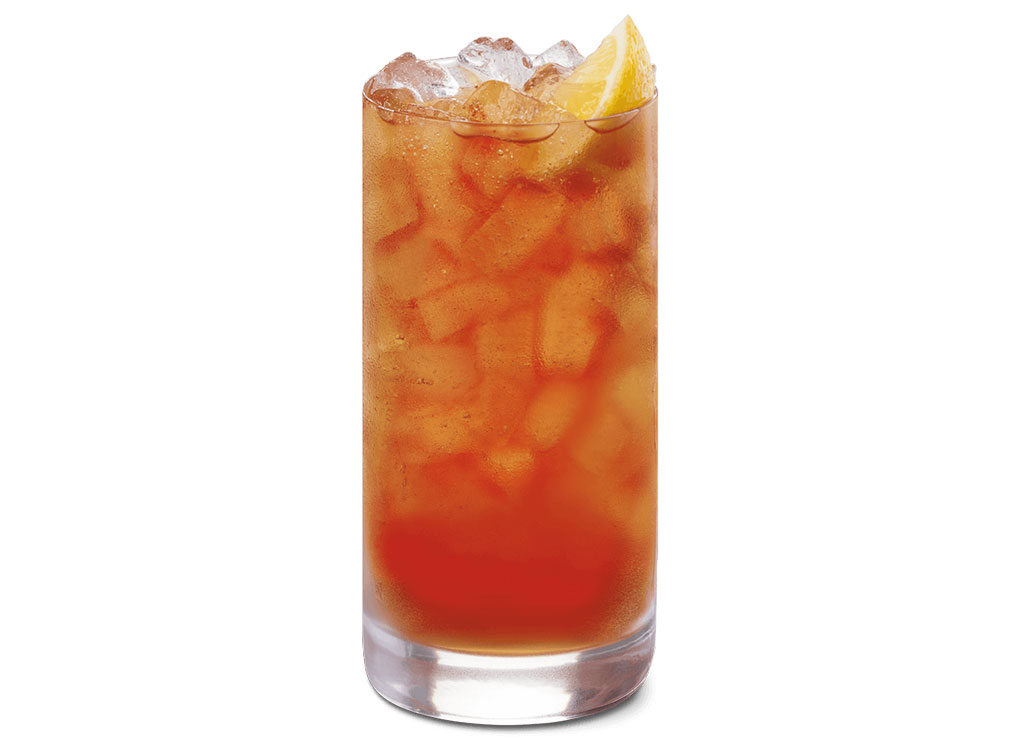 Chick-fil-A is so proud of its iced tea that it details the beverage's 30-year history on its website. Apparently, they haven't changed the recipe since it joined the menu.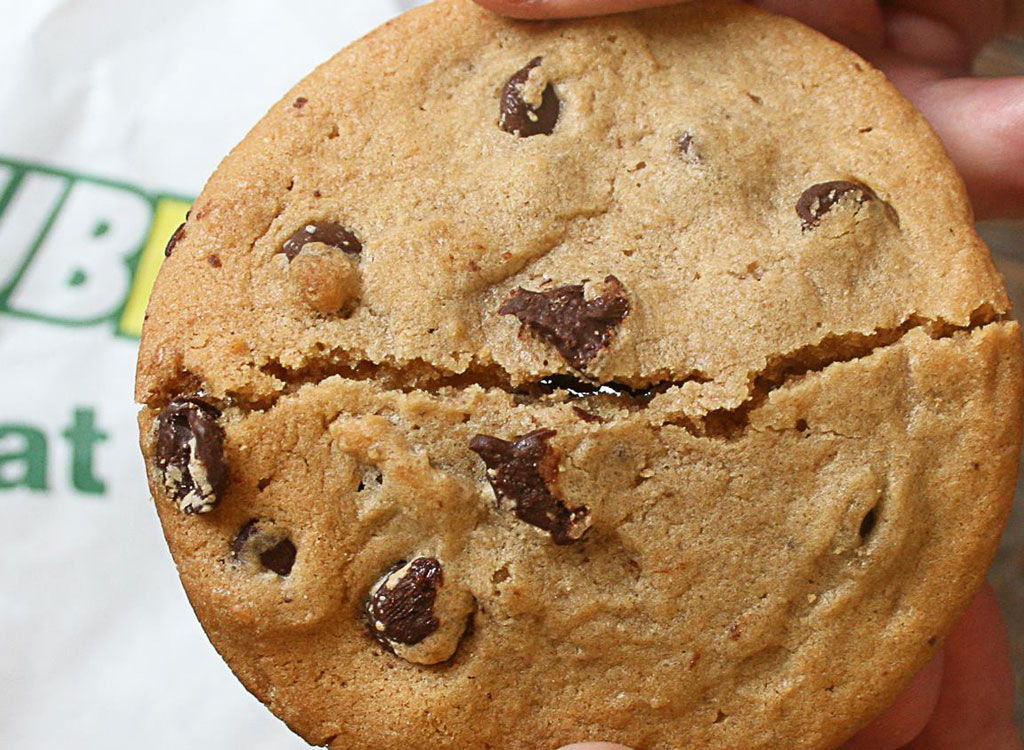 When you've chosen a healthier lunch (at least compared to the other fast-food options available), it feels perfectly valid to treat yourself to a little dessert. Perhaps that's why Subway cookies are so popular.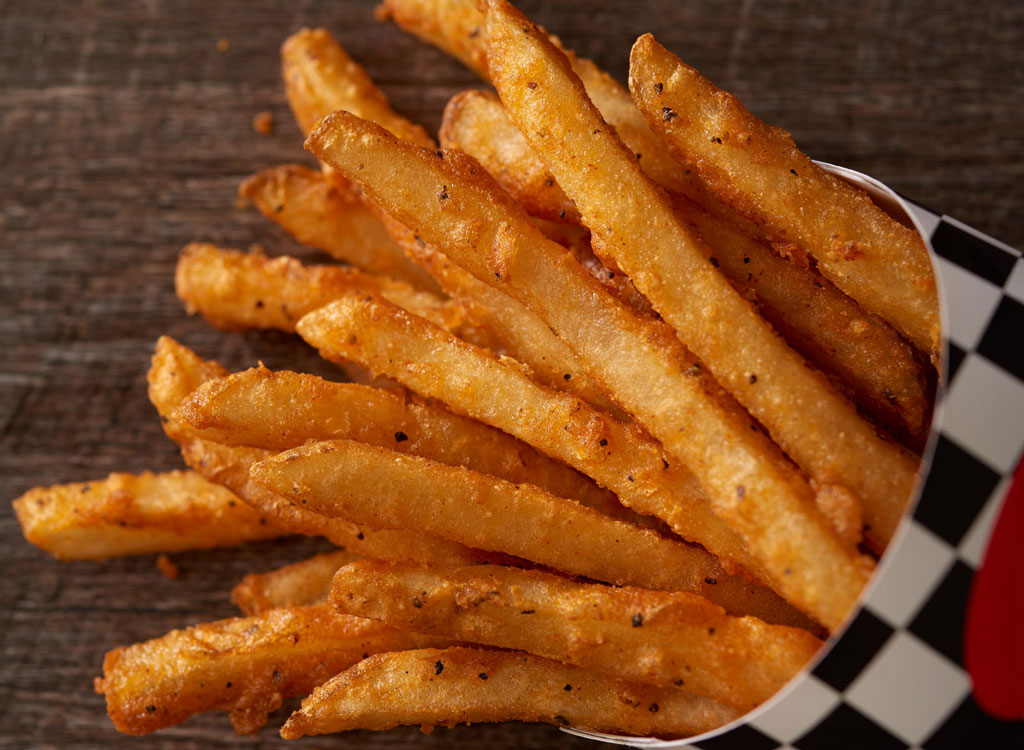 There aren't many burger chains where a good portion of the crowd is in it for the fries. But in Checkers' very own words, this is the menu item that "put Checkers on the map."
Whataburger Original Whataburger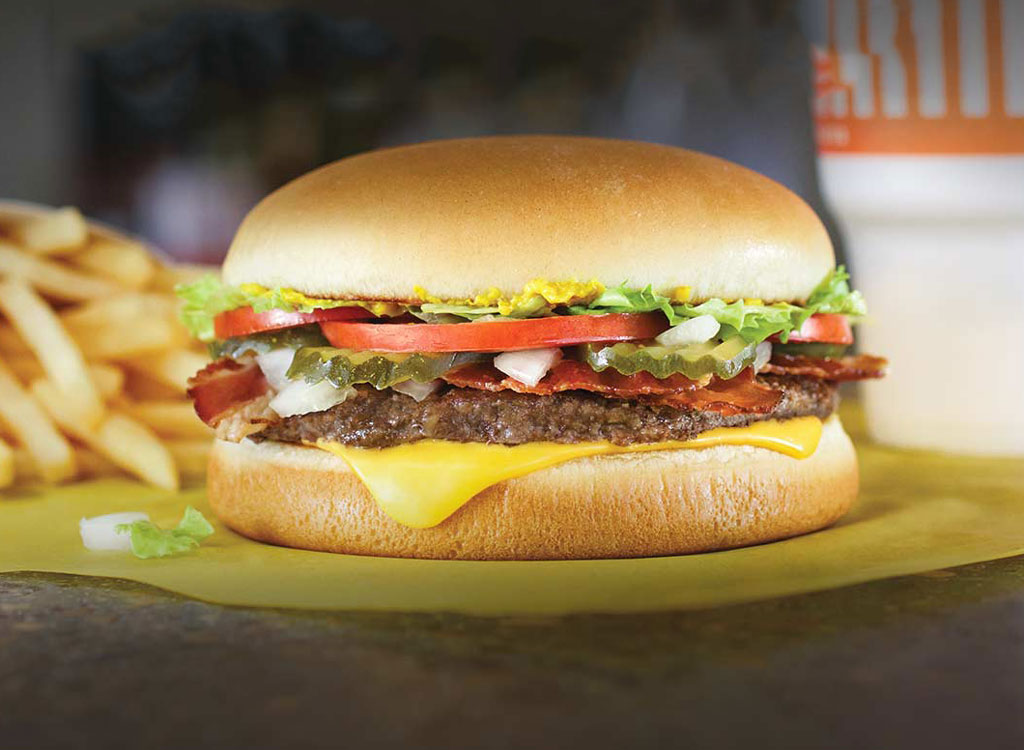 If you're in the South or Midwest, you already know that regionally, Whataburger is number one in many people's hearts.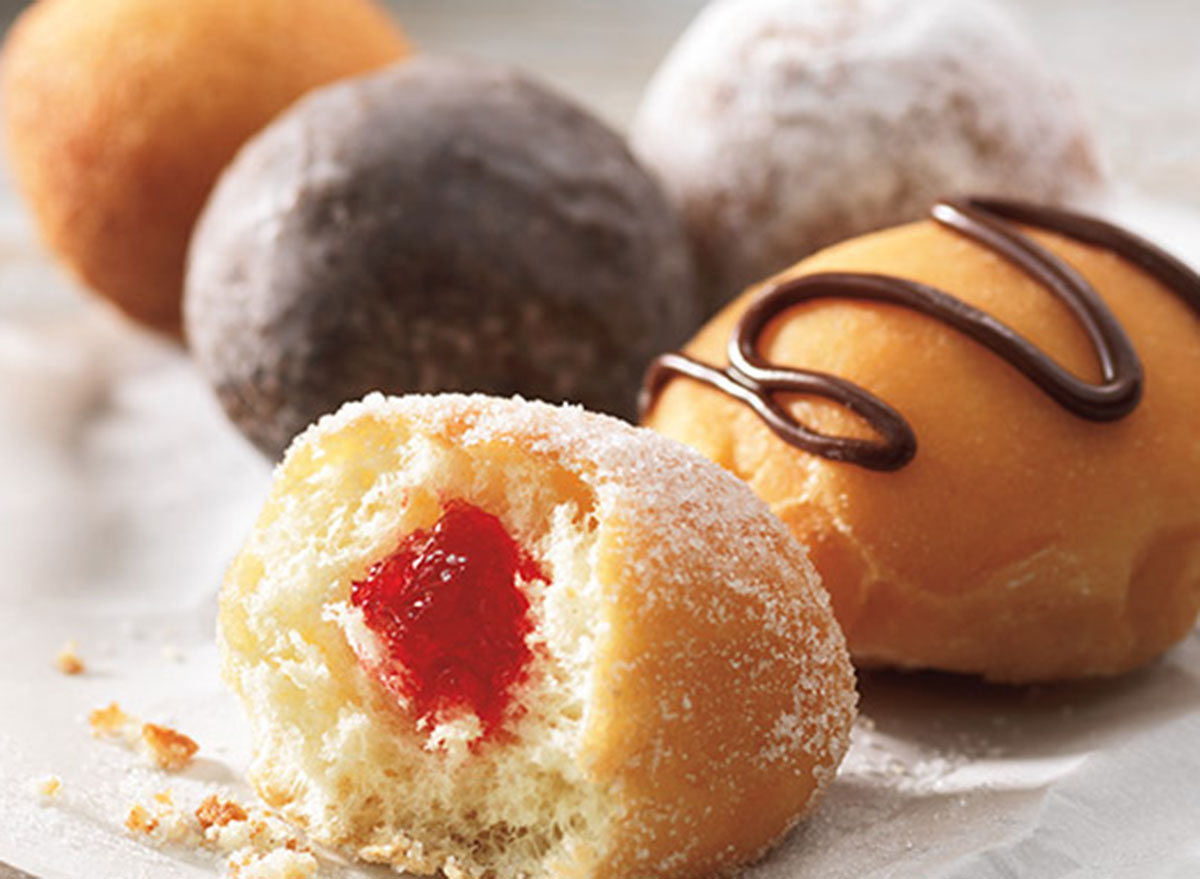 Who can resist Munchkins? They're tasty, cute, convenient for sharing and they're technically a healthier choice than if you'd eaten a whole donut. Did you know they're named after the Munchkins from The Wizard of Oz? If not, you need to read up on the 30 Things You Don't Know About Dunkin'.
KFC Popcorn Chicken Nuggets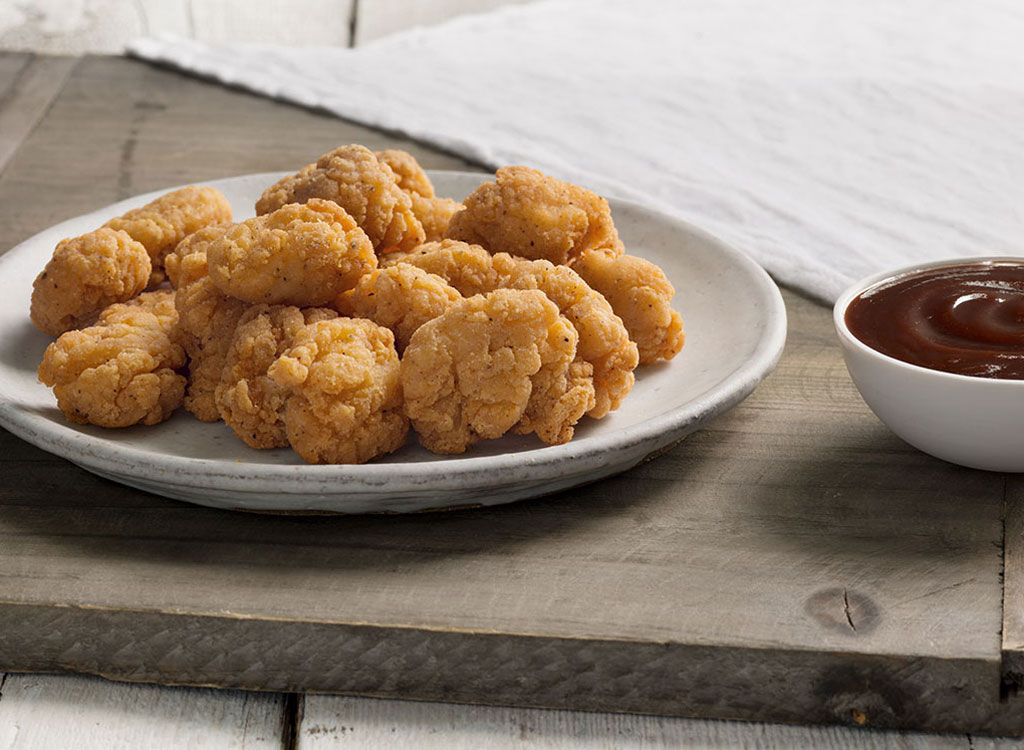 If you take one of the most popular fast-food recipes and make it conveniently bite-sized, ta-da! You have another hit on your hands.
Burger King Chicken Fries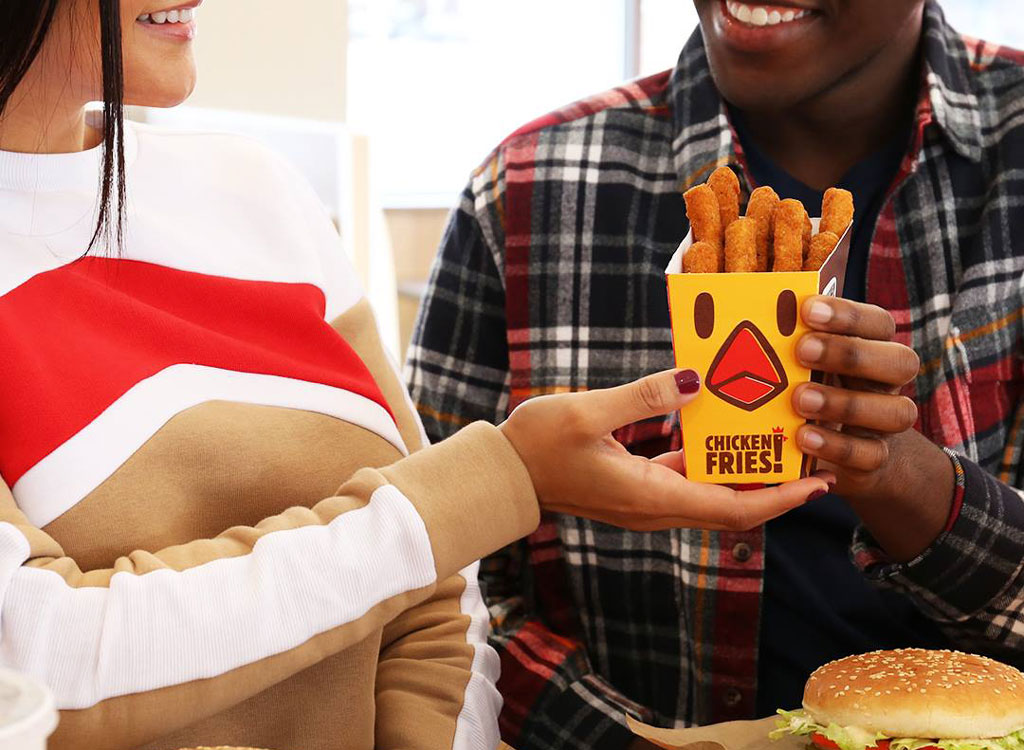 The Burger King Chicken Fries had a dramatic start—they were first offered as a novelty item in 2005, and according to USA Today, when they were pulled from the menu, fans started a change.org petition and various social media campaigns to get them back in circulation. In 2014, Burger King decided to make them a permanent fixture on the menu.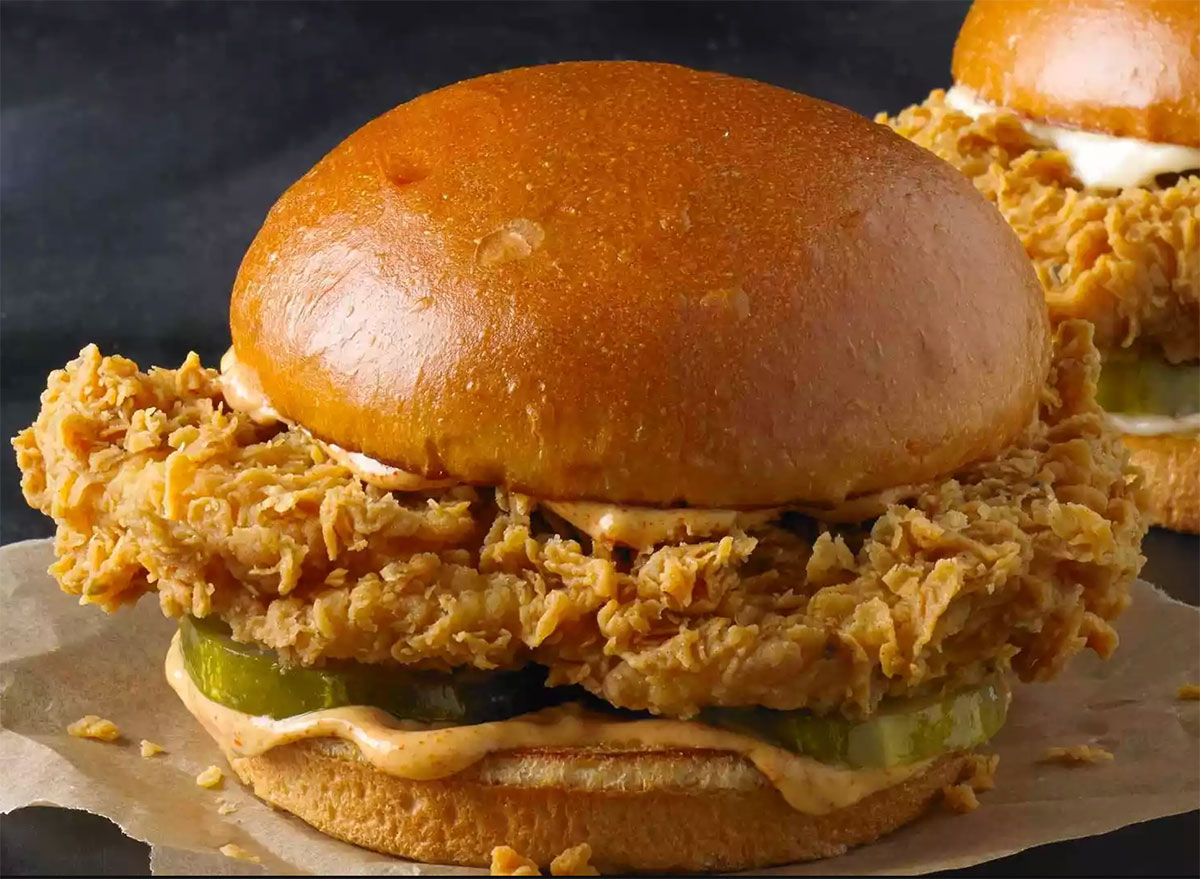 If you haven't tried the Popeyes chicken sandwich, what are you waiting for? There's a reason it became an instant classic among fast-food fans—it's worth the hype.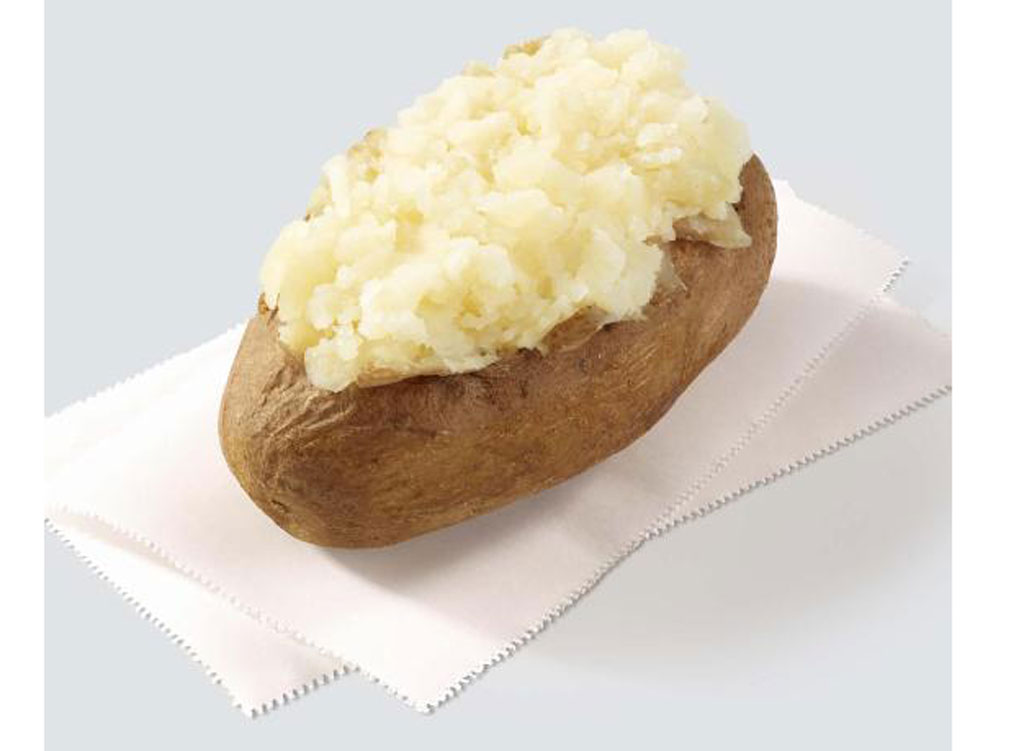 Wendy's is the only fast-food company in the U.S. that sells baked potatoes, which is surprising because America is traditionally a meat-and-potatoes kind of place. It likely owes part of its success to that novelty, along with the fact that the baked potato is seen as a healthier alternative to French fries.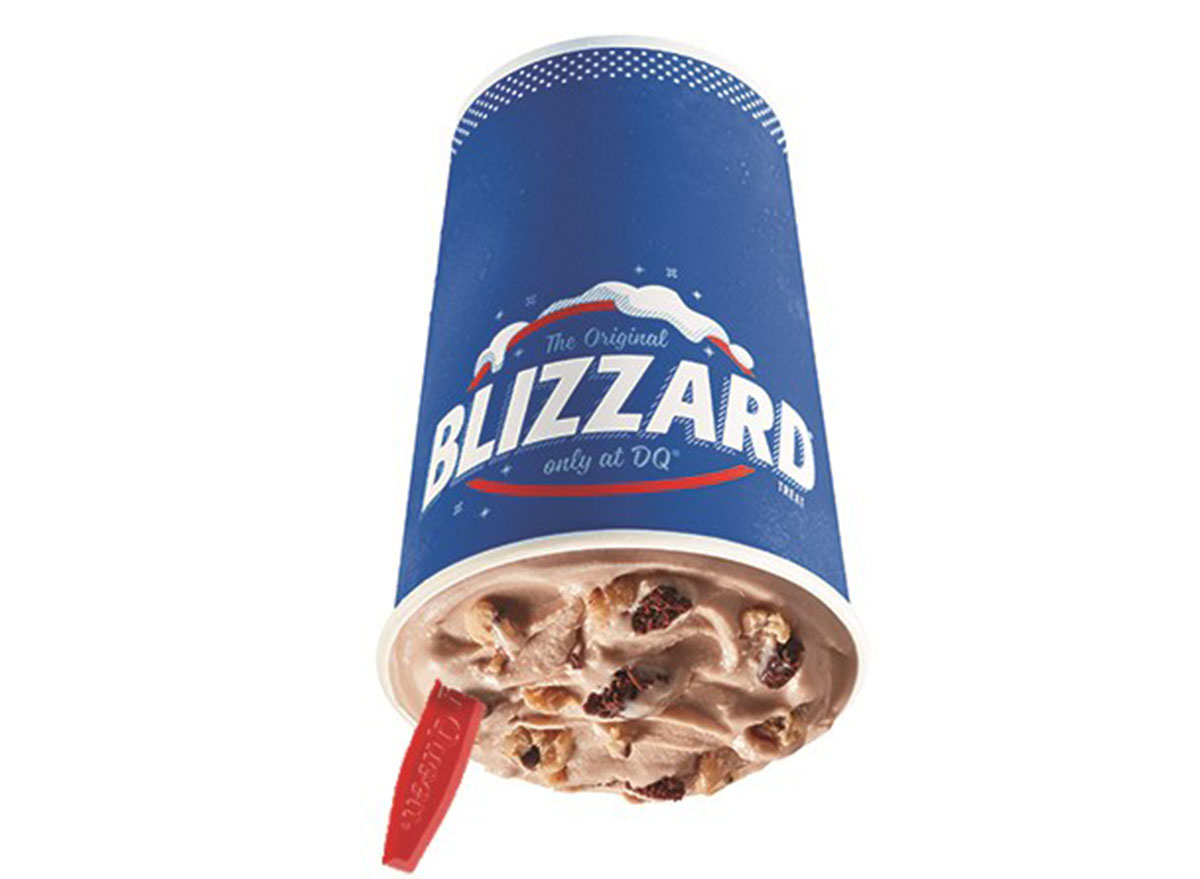 As its name suggests, Dairy Queen is famous for its frozen dairy treats. The Blizzard is its most popular iteration, and the chain maximizes its popularity by announcing new promotional Blizzards each month.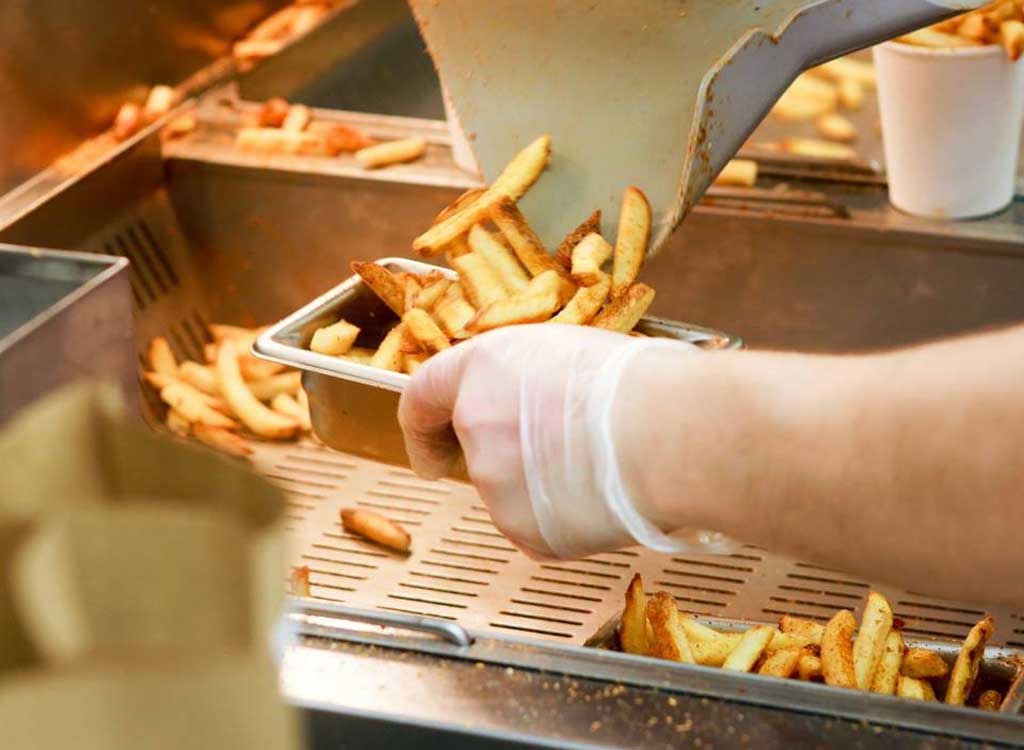 Five Guys is known for being "picky" about its fries, only using Idaho potatoes, which are known for being particularly dense.
Culver's Wisconsin Cheese Curds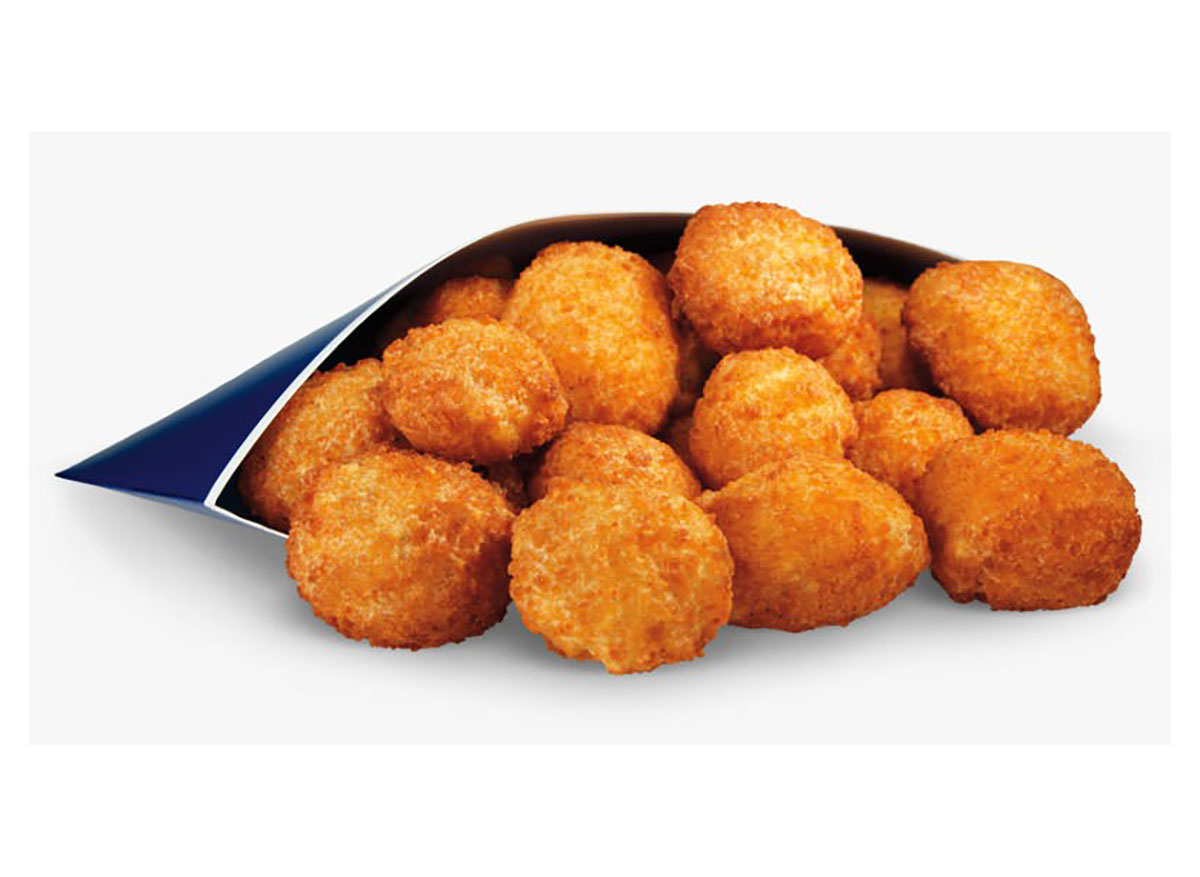 Culver's calls its Wisconsin Cheese Curds a "dairyland delicacy" and enthusiasts agree. If you need further convincing… just see what Culver's has to say about this cheesy treat.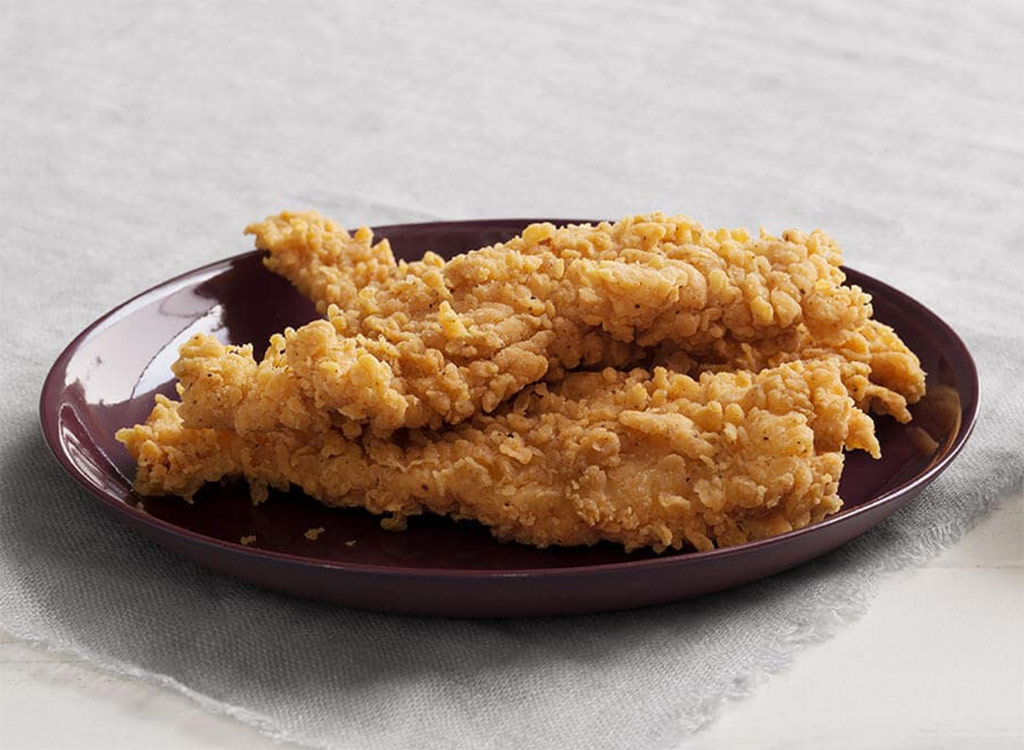 Much like the beloved original, but even more deeply fried? Of course this is popular.
Little Caesars Crazy Bread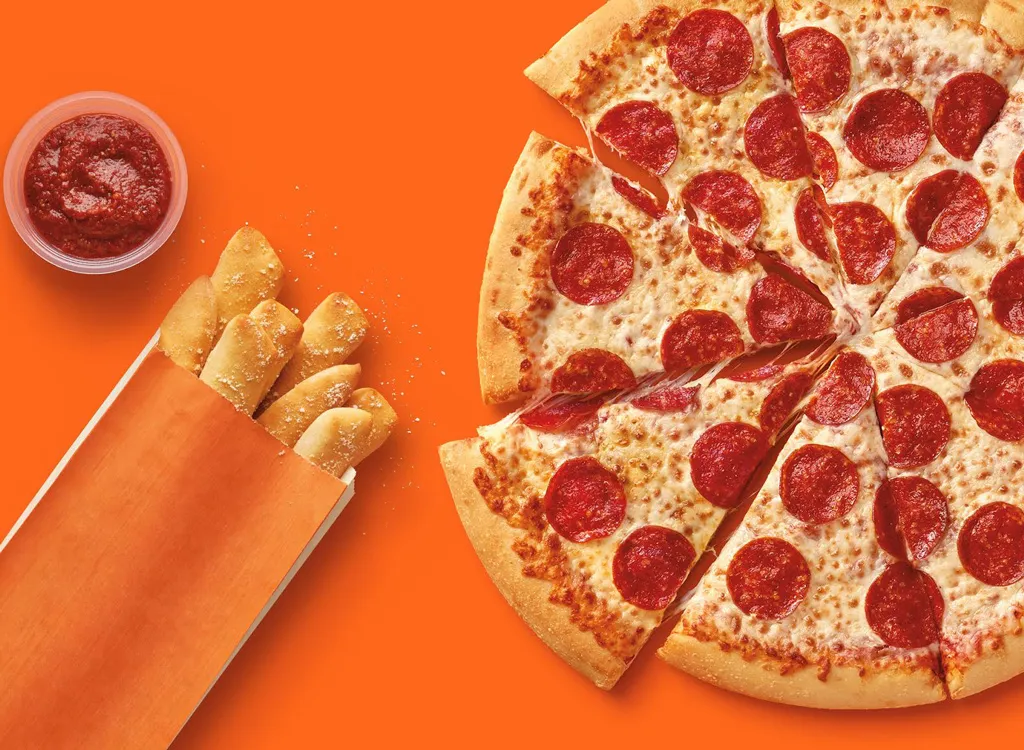 Little Caesars is best known for pizza, but coming in at a close second is Crazy Bread, its much-loved parmesan-encrusted garlic breadsticks.
McDonald's Filet-O-Fish Sandwich
The Filet-O-Fish owes its popularity to being a solid alternative to a burger for non-beef-eaters, especially during Lent when there is a tremendous uptick in sales, as many people have given up eating meat on Fridays.
Papa John's attributes its popularity to "real meat and fresh veggies" on its website. But sometimes, a classic cheese pizza hits the spot, too.
Hardee's Original Thickburger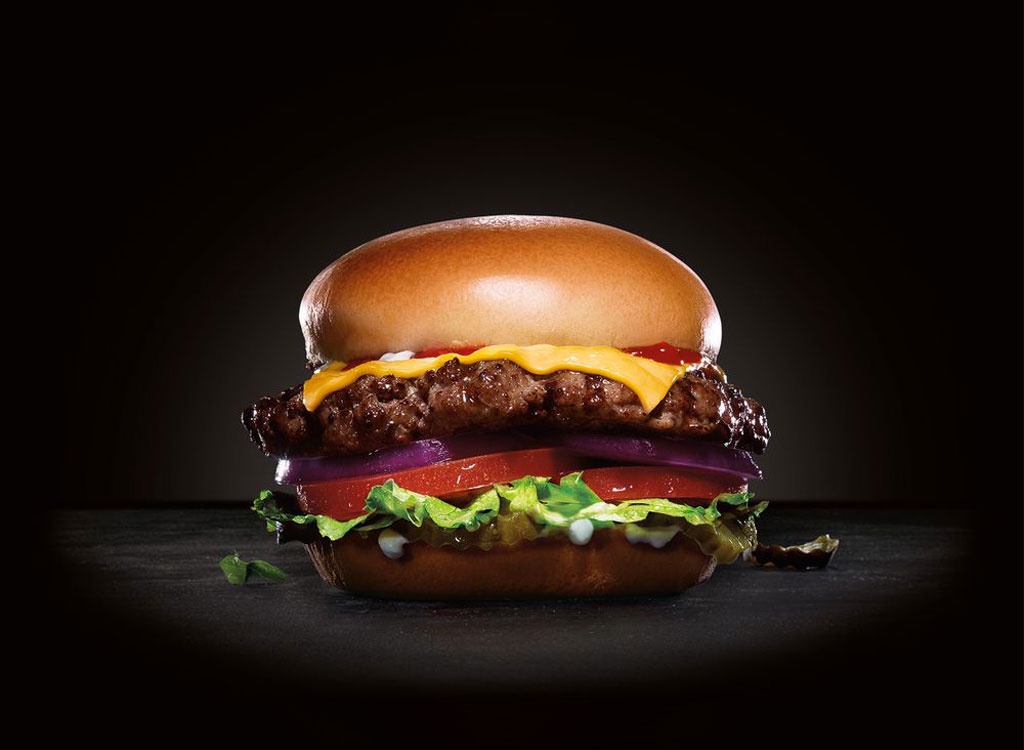 Hardee's Thickburgers are massive Black Angus beef burgers, piled with all the traditional fixings. You can order it in 1/4 pound, 1/3 pound and 3/4 pound iterations, but the 1/3 pound Original is the most popular.
Domino's Extravaganza Pizza
The Domino's Extravaganza owes its mass appeal to including everything but the kitchen sink atop its pizza. It has four types of meat, three types of veggies, and two types of cheese.
Panera Broccoli Cheddar Soup
Scan customer reviews posted on Panera's website and you'll see that their broccoli cheddar soup is among the favorite choices of those visiting the fast-casual chain.
Panera Roasted Turkey and Avocado BLT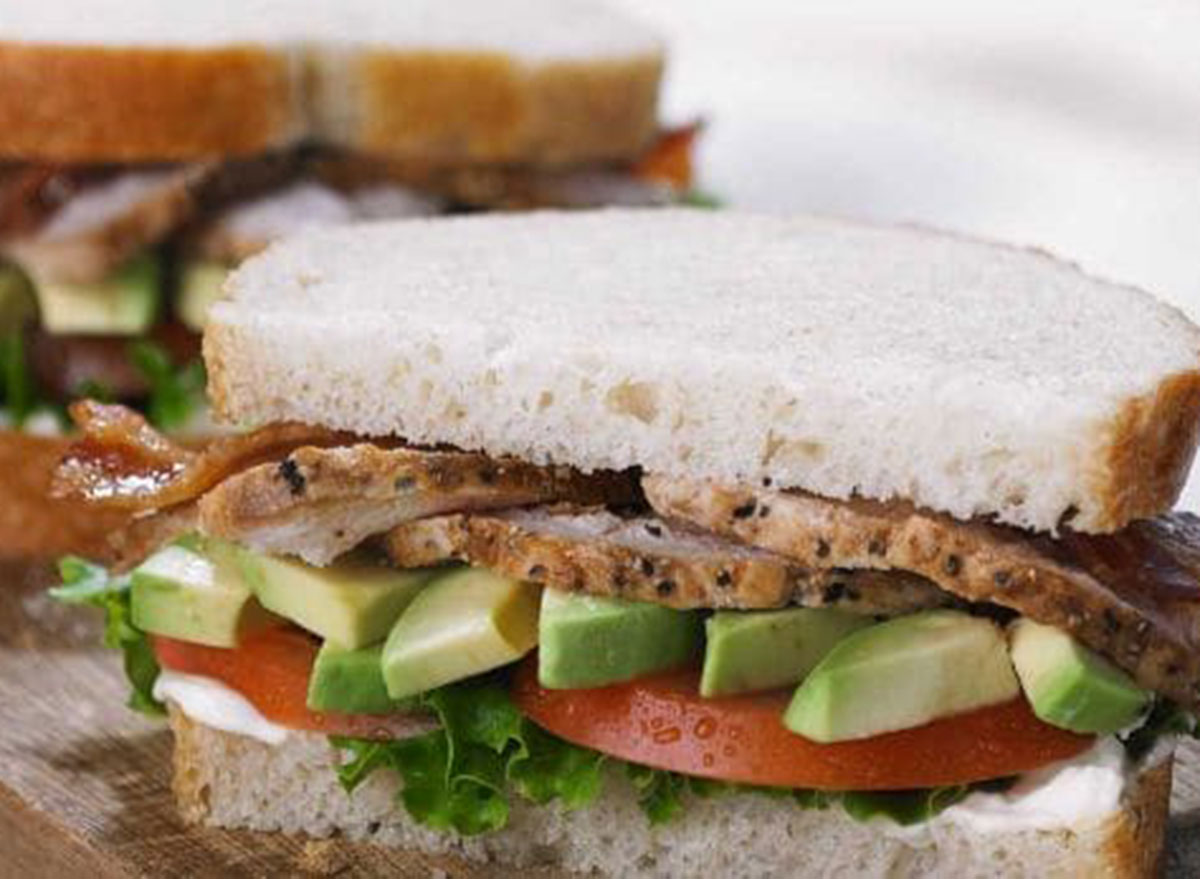 We ranked this as one of the healthiest choices available at Panera, and it also happens to be one of the most loved.
Wendy's Daves 1/4 lb. Single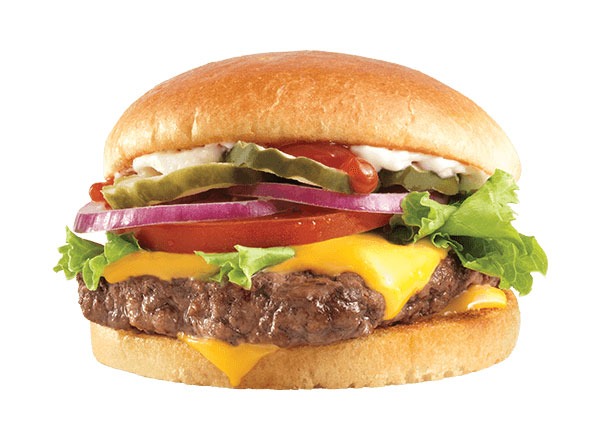 After phasing out the "Big Classic", Wendy's was temporarily out of a competitor for the Big Mac and the Whopper. Enter Dave's ¼ lb. Single, which fulfilled the public's craving for a solid, standard classic burger option.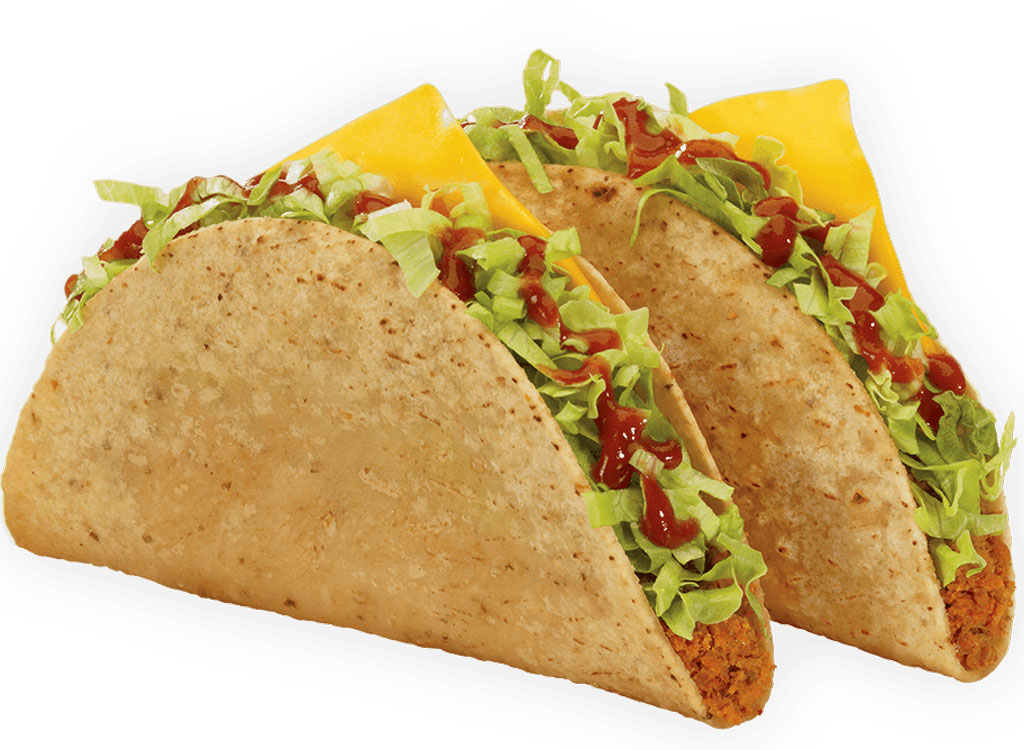 Tacos may not be the first thing to come to mind when you think of Jack in the Box, but Fortune recently reported that the chain sells over 554 million of them per year, and it is their single best selling item.
Dairy Queen Chicken Strip Basket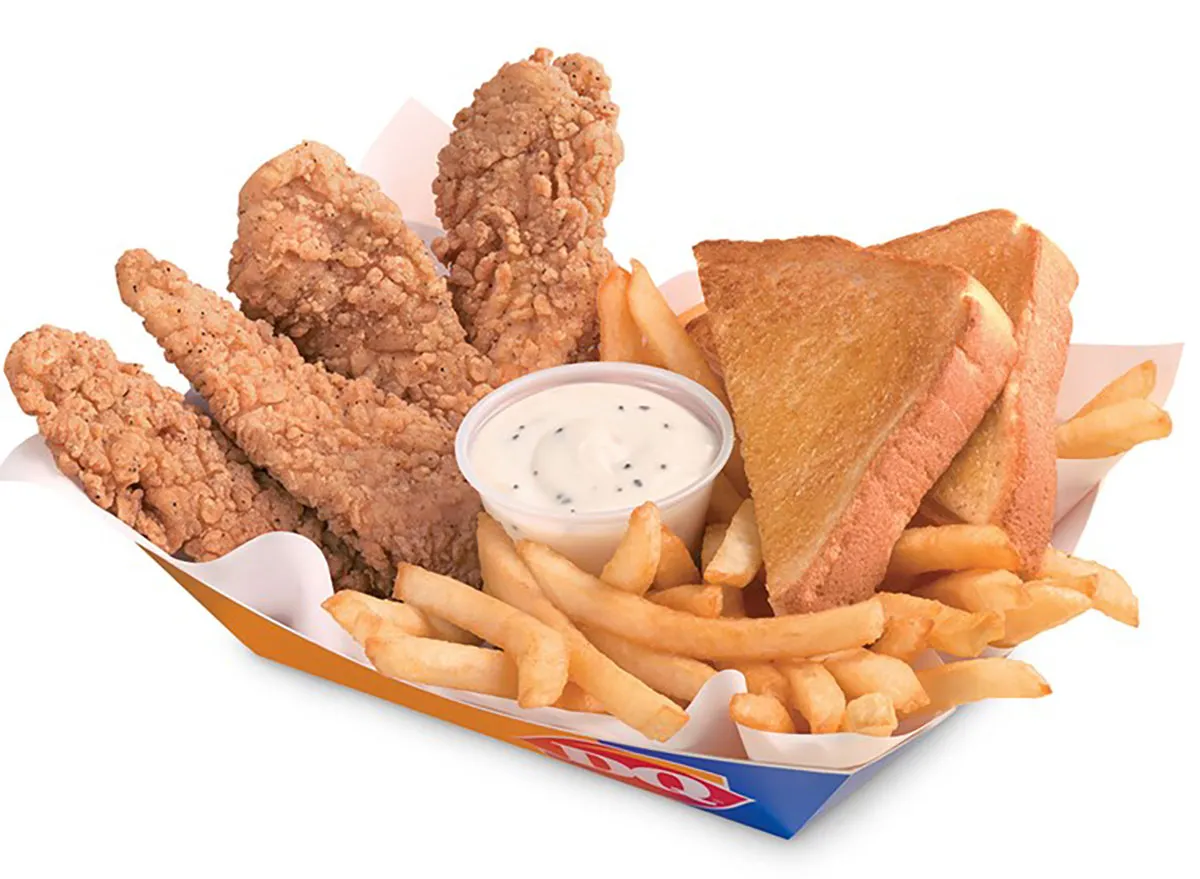 Dairy Queen does more than just Blizzards. The Chicken Strip Basket—chicken served with french fries, Texas toast and a choice of sauce—is its signature meal.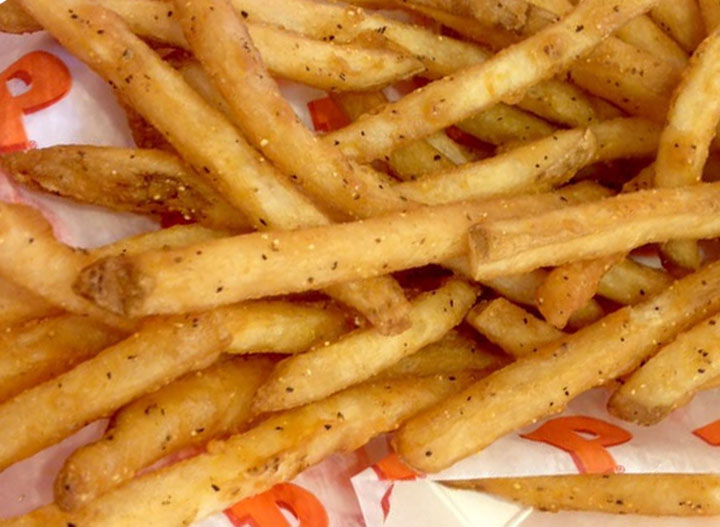 What people love most about Popeyes is its Louisiana-style seasoning. Their french fries bring that same Cajun flavor to an all-time classic side.
In-n-Out Animal Style Burger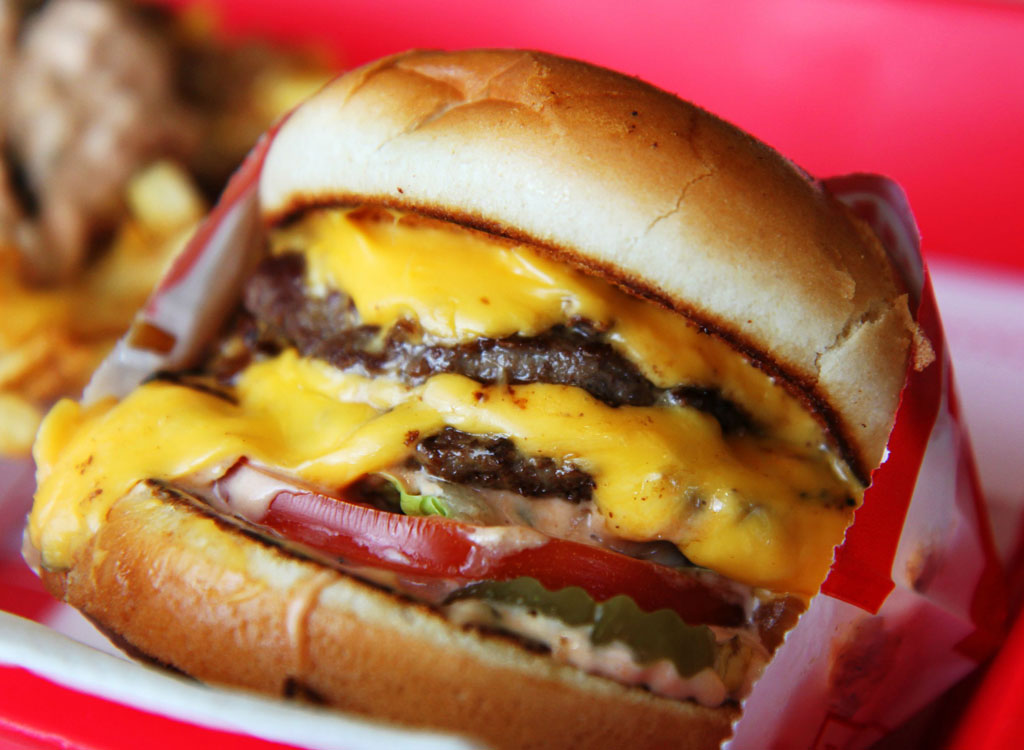 Beginning in 1961, In-n-Out began preparing Animal Style Burgers and promoting them through a "secret menu." These days, In-n-Out now features these burgers on the website as one of its most popular "not so secret" items.
Jack in the Box Curly Fries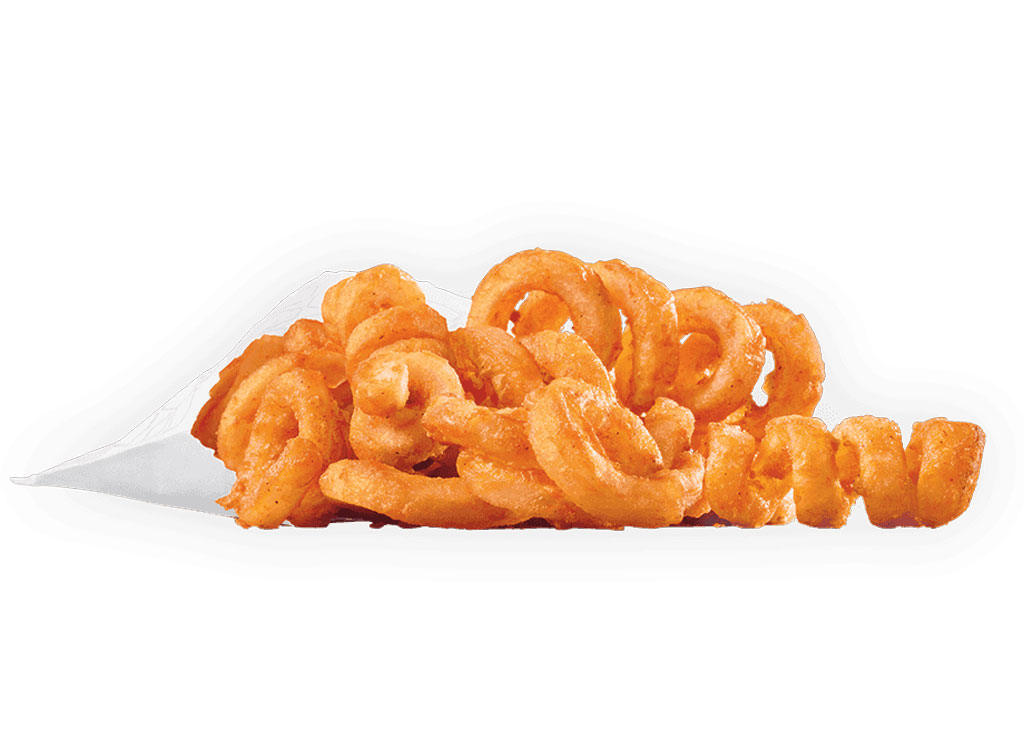 Jack in the Box has been serving its Seasoned Curly Fries since the 1980s. As the website says, "They're seasoned veterans. They've been around the block. And your taste buds do their secret handshake."
Taco Bell Doritos Locos Tacos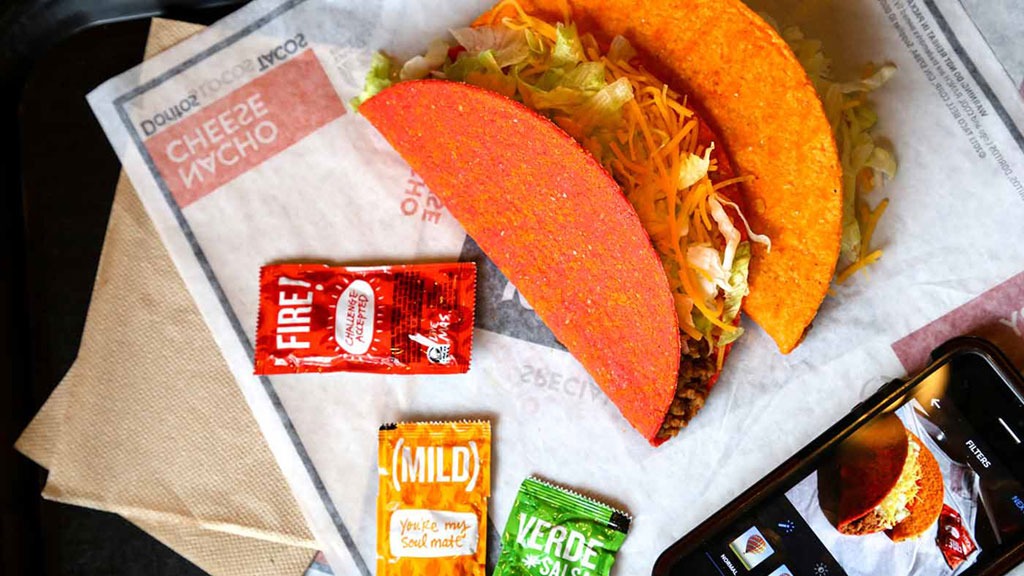 What happens when you combine a top-selling chip brand with a top-selling taco chain? Pure sales magic, apparently.
Soft and flavorful on the inside, crunchy and golden brown on the outside. America loves its Dunkin' breakfast fare, and the Hash Browns are a key staple that can be added to any breakfast item.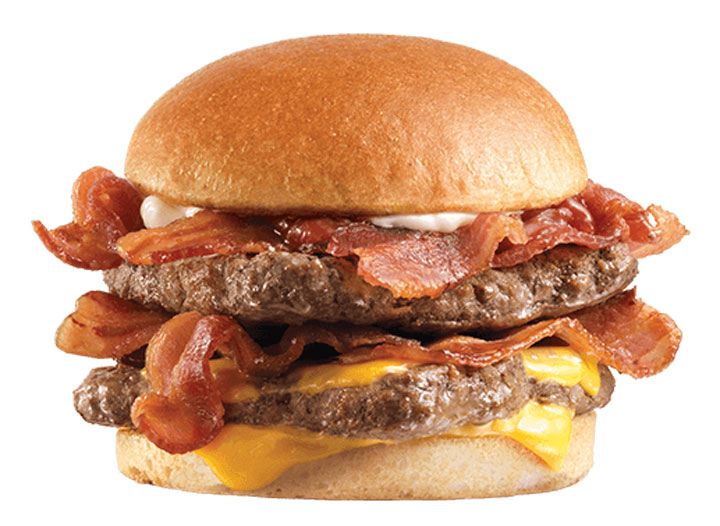 The Baconator was introduced in 2007, leading up to the height of America's bacon craze which peaked in 2014. According to USA Today, its arrival coincided with (and likely contributed significantly to) an 11% growth at Wendy's over just five fiscal quarters.
The Starbucks Frappuccino has millions of fans. That is all. Everyone else can go home.
Starbucks Bacon and Gouda Breakfast Sandwich
Starbucks does more than just coffee. This Bacon and Gouda breakfast sandwich routinely tops taste-test competitions, including this one by Starbucks baristas. How does it rank in terms of health? Find out here with the healthiest hot breakfast items at Starbucks.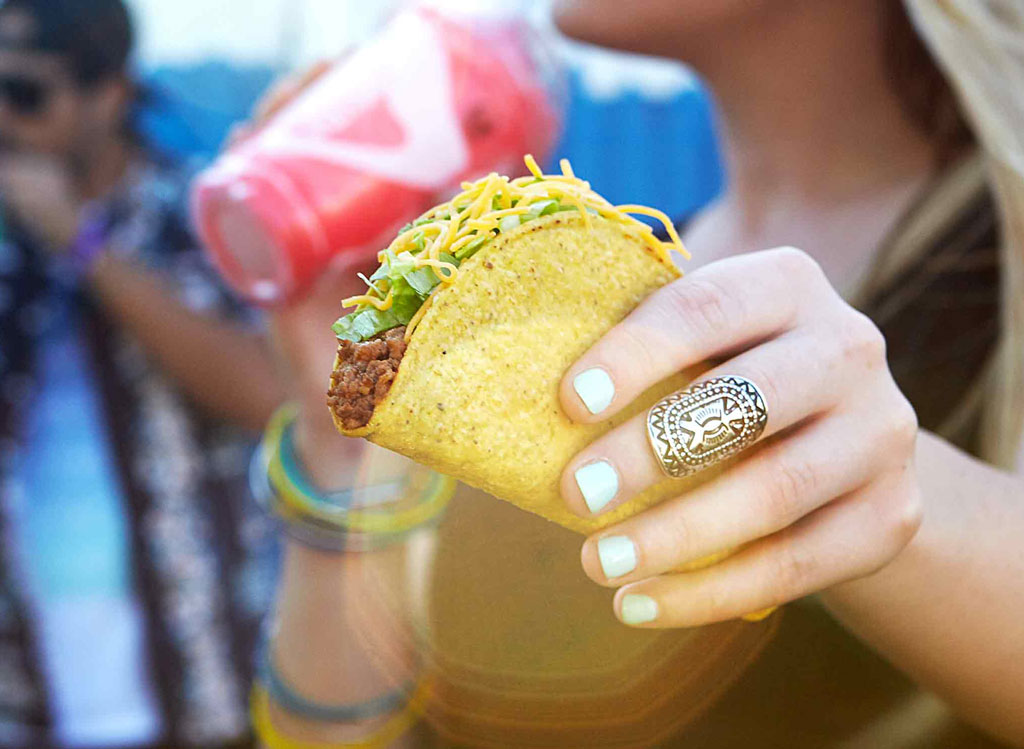 According to Thrillist, the $2 Taco Bell Crunchy Taco is it's most frequently ordered item, despite its apparent simplicity. If it ain't broke, as they say…
Steak 'n Shake has an 83-year long history that nearly ended in 2008 after a brush with bankruptcy. But it looks like the burger chain has made a successful turnaround in claiming the number 29 spot.
Shake Shack is considered an East Coast favorite, though in 2016 it spread its wings and expanded into new locations in the South and West Coast, as well as internationally. The Shackburger is considered "gourmet" compared to its fast-food peers.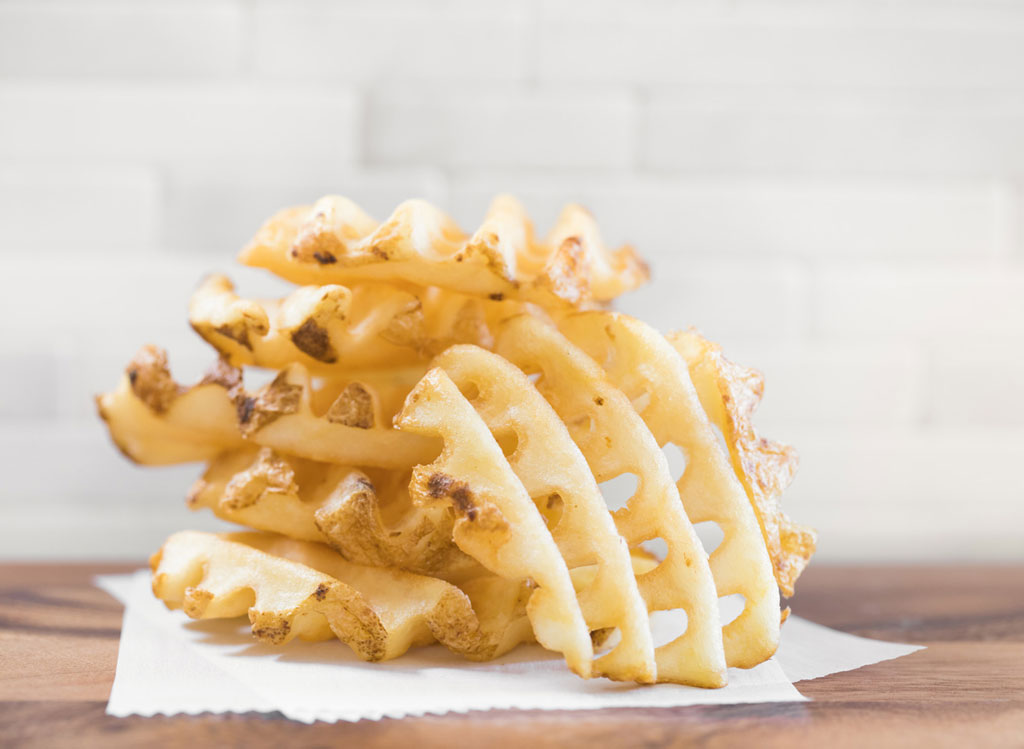 Waffle Fries are the most ordered item on the Chick-fil-A menu, according to the company's list of top-ordered foods. Chick-fil-A has made them the same way since 1985, and they still reign supreme.
Dunkin' Boston Creme Donut
Dunkin' is more known for its drinks these days, but people still love the brand for its doughnuts, too. The Boston Creme Donut sits atop a wide range of "best of" ranking lists for both its flavor and its sales rates, even internationally.
The McFlurry is McDonalds' answer to the Frosty: it's cold, creamy, and its sweetness hits the right spot to balance all of that salt you've just eaten from your burger and fries.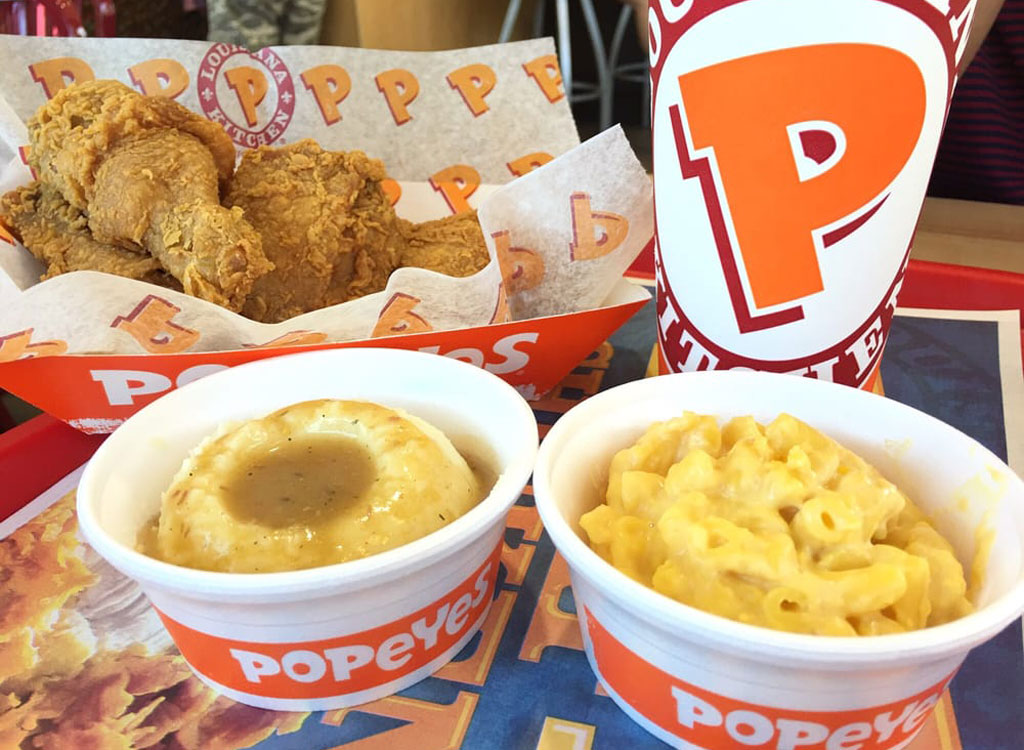 Popeyes Mac 'n Cheese has some surprising devotees. In an interview with Esquire Magazine, Anthony Bourdain admitted that this particular side dish was one of his guiltiest culinary pleasures, along with Popeyes chicken.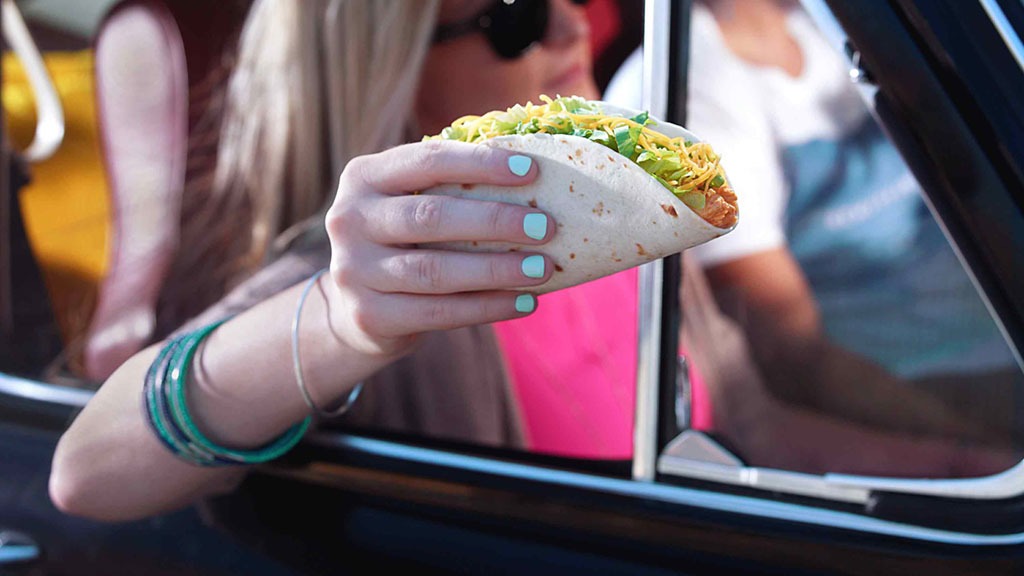 These are the second most frequently ordered Taco Bell items, just after the Crunchy Taco. Like their crunchy counterpart, soft tacos serve as an inexpensive add-on item that can piggyback any larger meal.
Panda Express Orange Chicken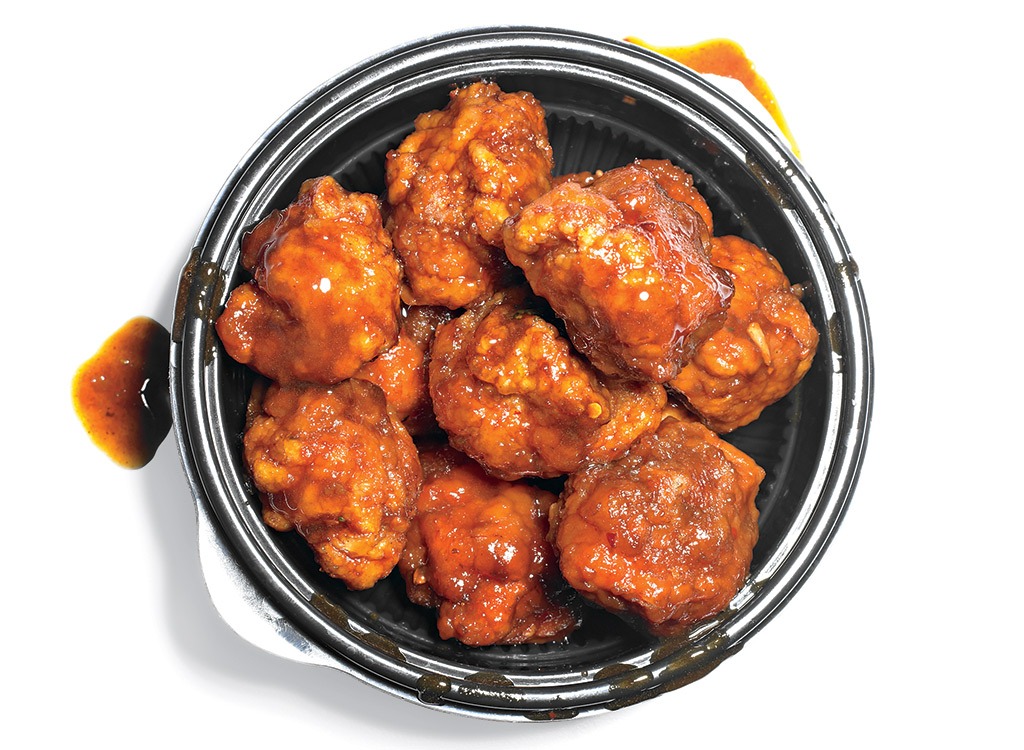 The Panda Express website refers to the orange chicken as their "most beloved dish," and considering that the company is the only Asian fast-food chain in the top 50 (sitting comfortably at number 22) it's fair to say they pretty much have a monopoly on the Orange Chicken game.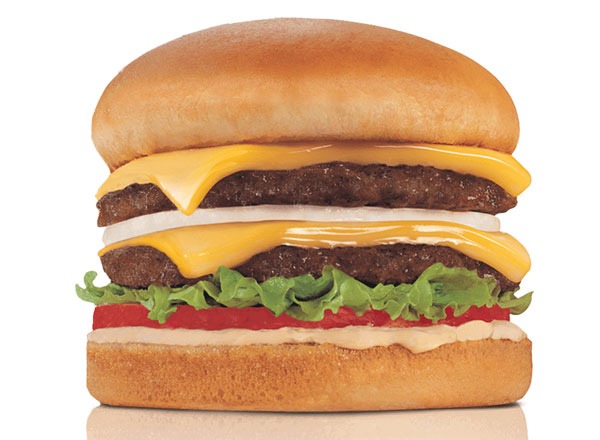 The Double Double has been on In-n-Out's menu since 1963, initially costing only 63 cents. The price has gone up of course, but not much by today's standards: for $3.65 you can still get that same crowd-pleasing burger and taste the official flavor of Los Angeles for yourself.
Whataburger Bacon and Cheese Whataburger
If In-n-Out is the reigning burger chain of the West Coast, Whataburger has the South on lock. The Bacon and Cheese Whataburger improves upon its classic version by throwing two of America's favorite ingredients on top.
Burger King Bacon Egg and Cheese Croissan'wich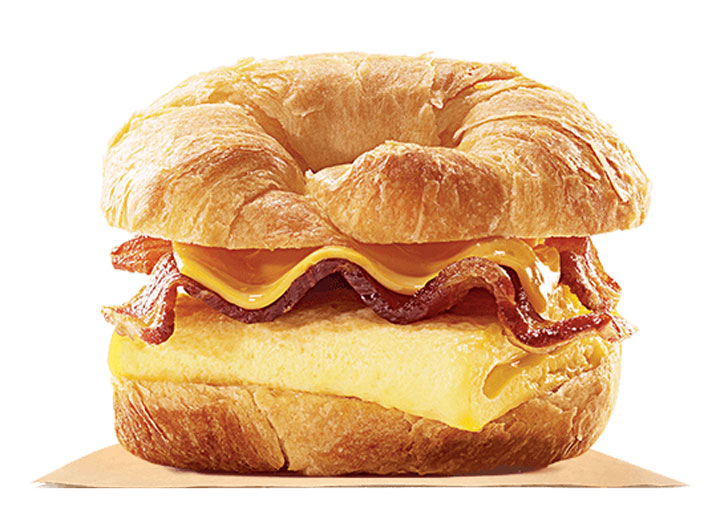 Though Burger King ends breakfast hours with a strict 10:30 am cut-off, its Bacon Egg and Cheese Croissan'wich has enough of a following to get people out of bed on time.
Chipotle Chicken Burrito with Black Beans
Chipotle, like Shake Shack, built its business on being a fast-casual restaurant without a fast-food reputation. The Chicken Burrito, customized to each patron's whims in the topping bar, is one of its most ordered items. According to company spokespeople, black beans are preferred over pinto beans.
Pizza Hut Meat Lover's Pizza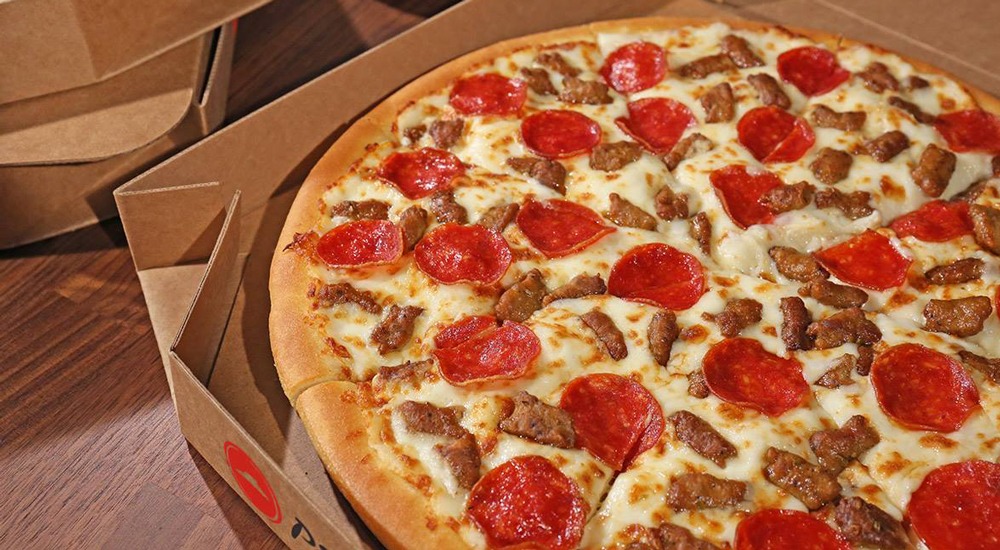 Pizza Hut confirmed that the Pepperoni Pizza was it's most popular with a Facebook post in 2012. But the most common trend in the comments was a defense of the Meat Lover's Pizza as a close second fan favorite.
Jimmy John's Vito Sandwich
In its 30 years of existence, sandwich chain Jimmy John's has franchised over 2,500 locations and earned the number 24 spot of coveted fast food popularity. The Vito is a piled-high classic Italian hero that leaves little to be desired.
Wendy's was even voted "best fast food restaurant" on the website ranker.com. These Chicken tenders are part of the reason.
Tim Hortons Double Double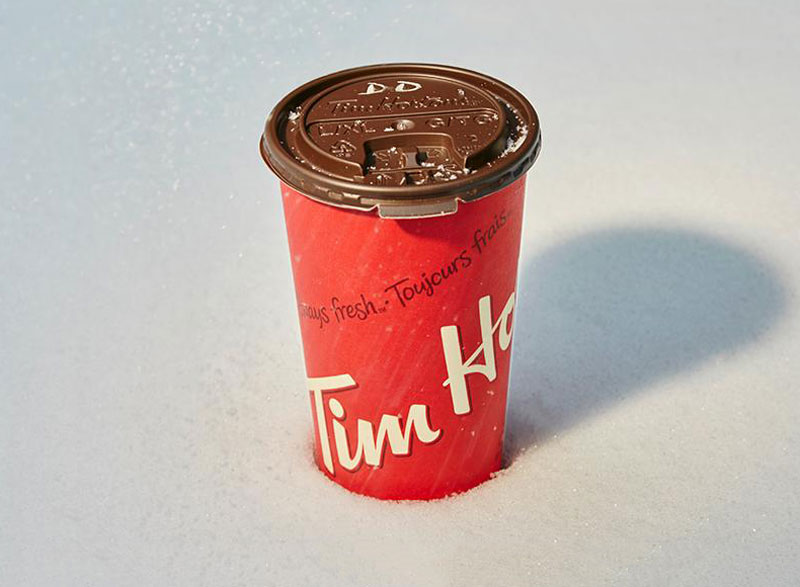 Tim Horton's fills a similar space to Dunkin', serving coffee, baked goods, and a range of sandwiches and snacks. It's not officially on the menu, but ordering a "Double Double" coffee from Tim's is hands-down one of the most popular items on the menu. (Double Double means two creams and two sugars in your coffee.) Not only was this confirmed in a 2012 tweet by the brand, but its popularity could also be gauged by the fact that the specific order was added to the Canadian Oxford Dictionary in 2004.
Zaxby's Chicken Finger Plate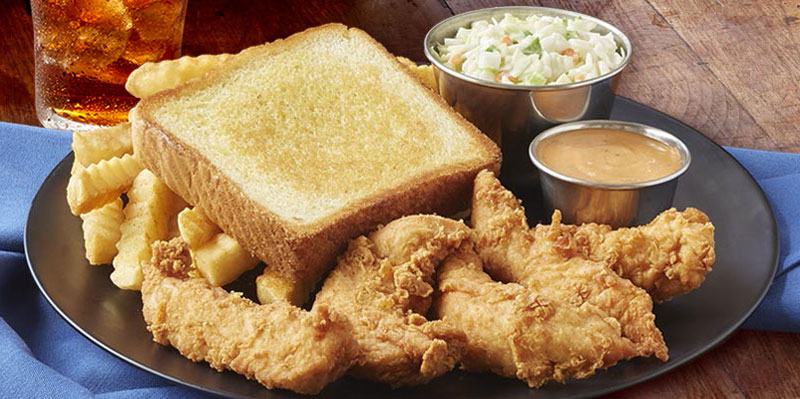 Zaxby's is a chicken chain that holds the number 25 spot for the most successful fast food establishment. Its Chicken Finger Plate—both in Original and Buffalo Chicken—is listed as two of its topmost ordered items on the website.
Hardee's Monster Biscuits
Hardee's released its Monster Biscuits in 2007 as a "sequel" to the popular Thickburger. As it said in a press release, "the version… that sold the best in our consumer tests was the one that had everything on it", so to the public's delight that's just what they made.
Sonic Bacon Cheeseburger Toaster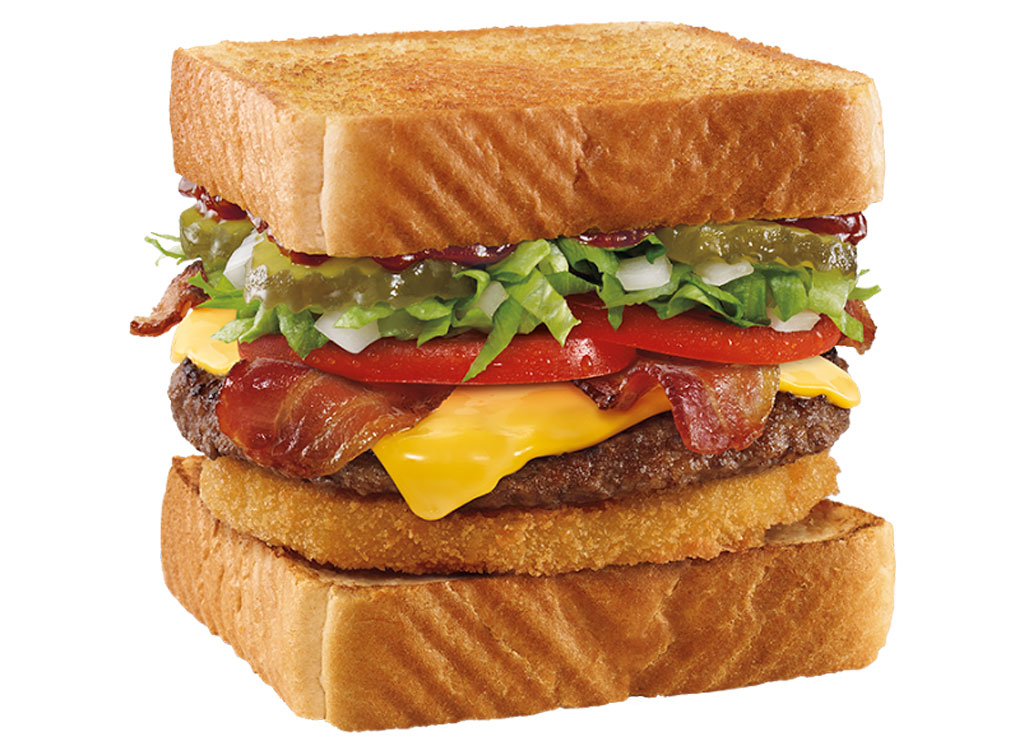 What sets Sonic's Burger Toasters apart from your traditional fast food burger? Piling all of the ingredients onto thick cuts of Texas toast. Customers can't get enough.
Chick-fil-A Chicken Nuggets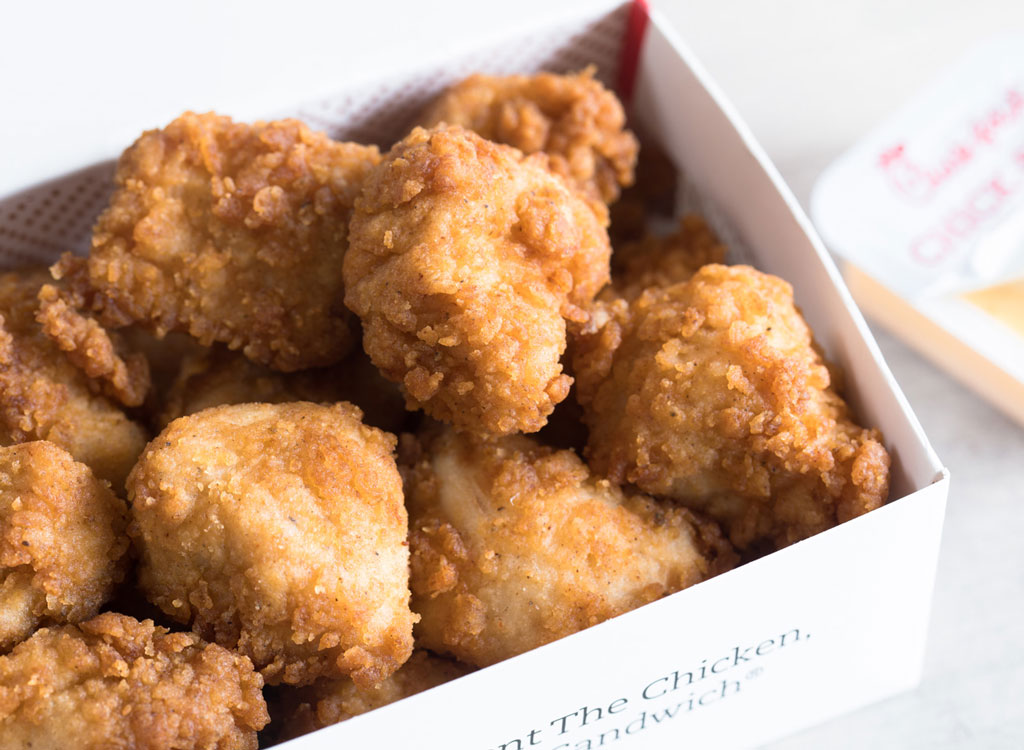 This is Chick-fil-A's self-reported fourth most popular item. Considering that they're the number four fast food chain in America, that's got to be a lot of nuggets. How do they stack up to their chicken brethren? Don't miss our ranking of the Chick-fil-A menu!
Jack in the Box Loaded Breakfast Sandwich
While other chains have struggled to serve breakfast after 10:30 am, Business Insider reports that Jack in the Box has successfully served a "breakfast anytime" menu for over twenty years, with the Loaded Breakfast Sandwich at its forefront.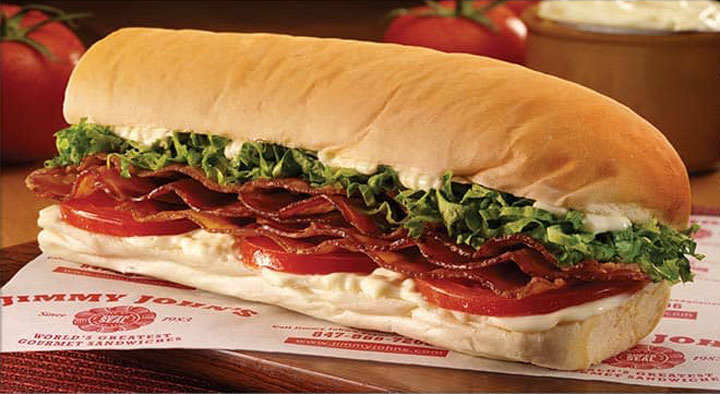 This is Jimmy John's simple and popular take on a BLT. As the website boasts, "the only better BLT is mama's BLT".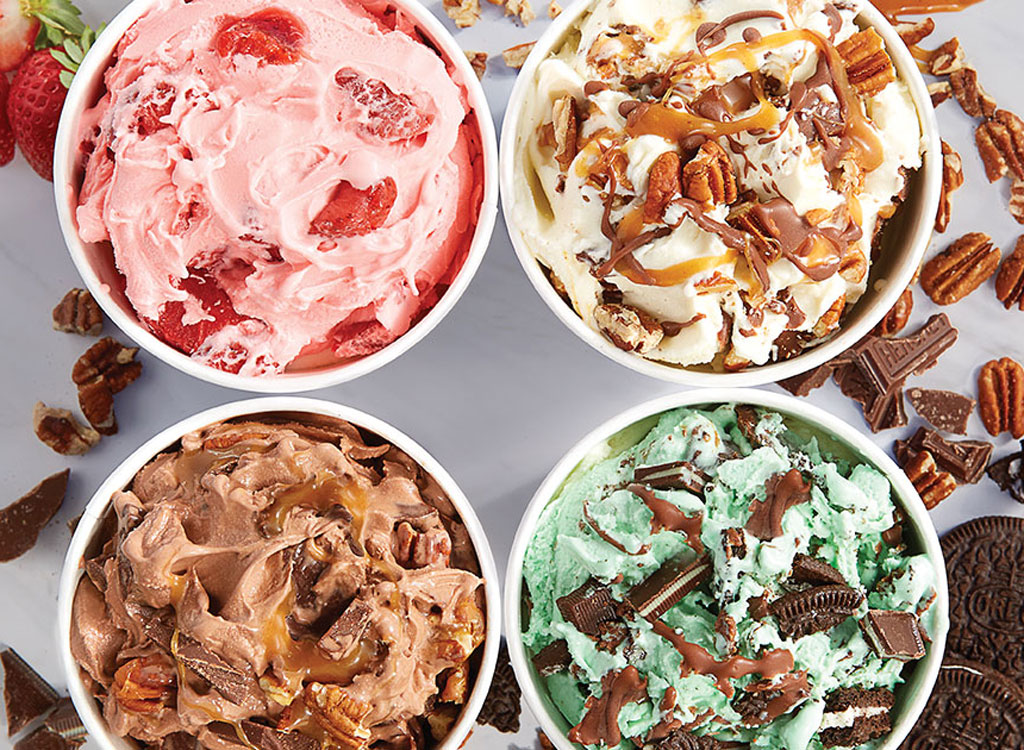 With special flavors of the day, including Culvers' favorite Caramel Fudge Cookie Dough this sweet indulgence is hard to beat.

The winner of TimeOut New York's Subway taste test, the Spicy Italian sub hits all the right notes. As they put it, "All other subs must bow before the glory of this king of sammies."
Qdoba Shredded Beef Tacos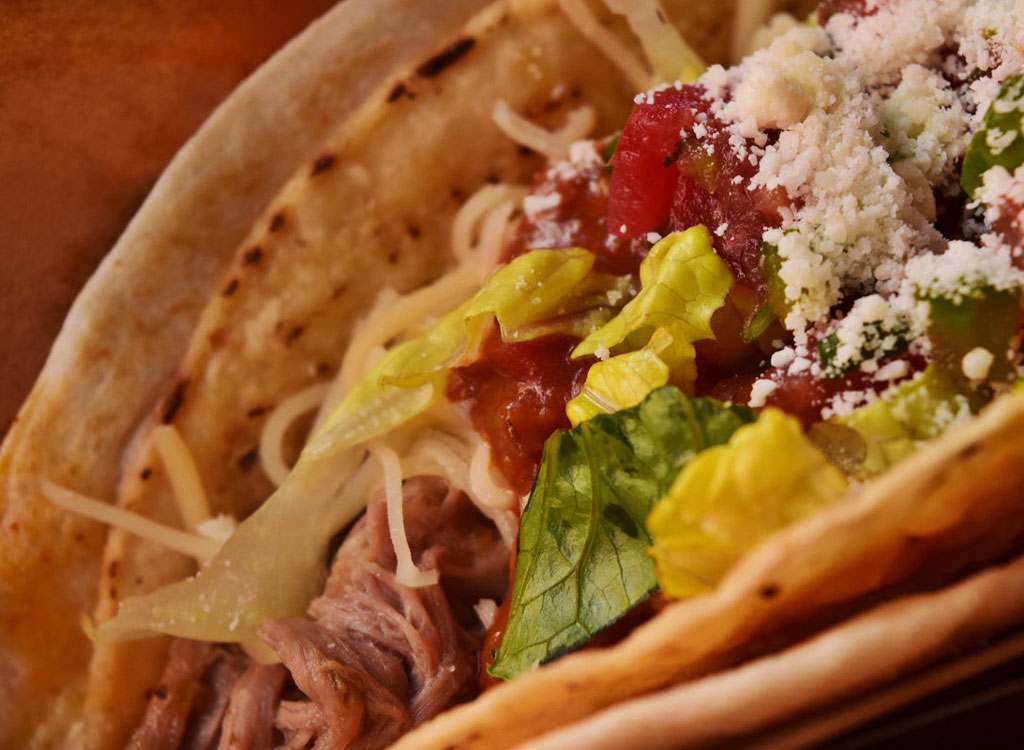 Qdoba is a Mexican-style chain owned by Jack in the Box, and it occupies the number 36 spot for popularity. The most commonly ordered item, at least on GrubHub (which admittedly could skew results) is the Shredded Beef Tacos.
Raising Cane's Sandwich Combo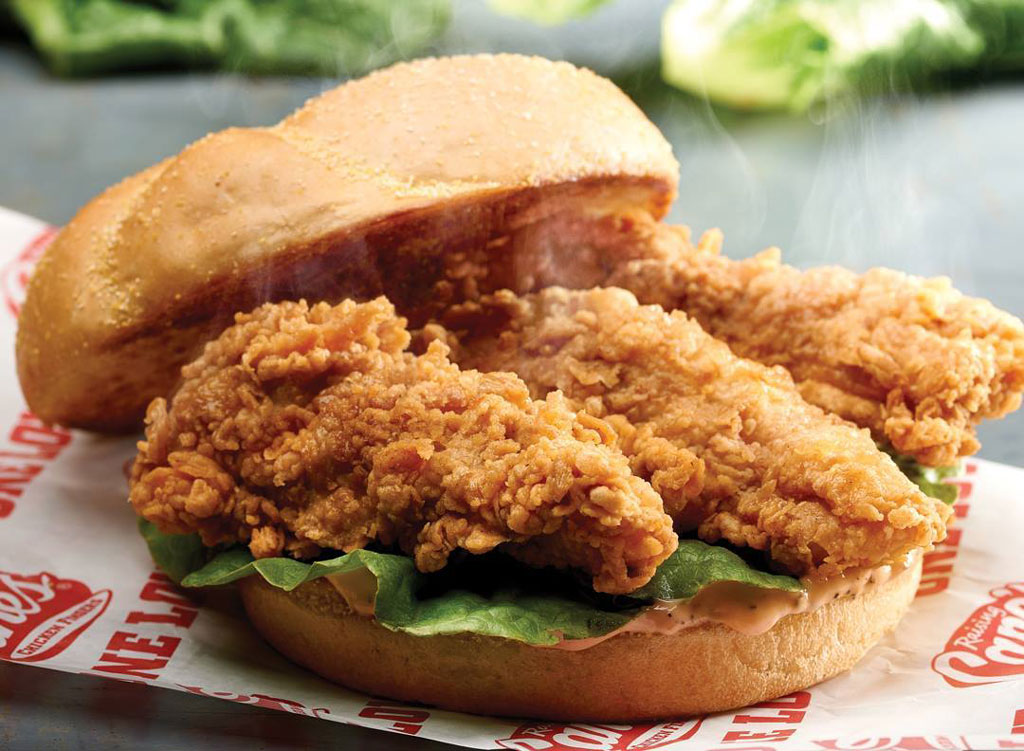 The Raising Cane's menu only features six meal options, including a kids' meal and a tailgating platter. Of the four standard meal items, three are variations on simple fried chicken, so the sandwich combo set itself apart… by adding a bun.
McDonald's Chicken McNuggets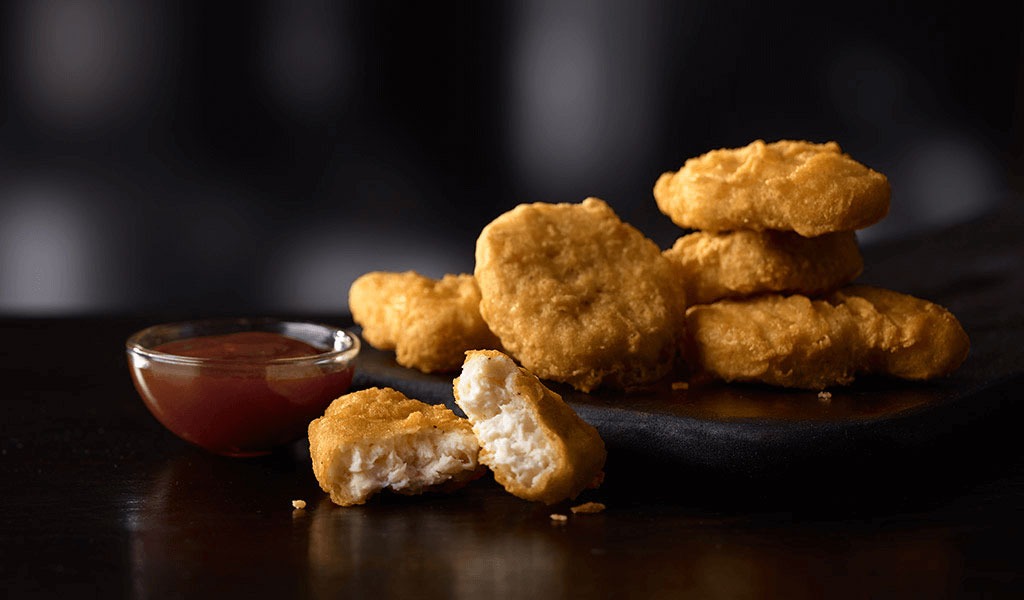 Chicken McNuggets made their debut in 1983, and at this point, they're arguably as iconic as the Big Mac. Though they've long been mired in controversy about their ingredients they continue to be a top-seller and customer favorite.
The BMT once stood for Brooklyn Manhattan Transit, in reference to New York City's subway lines, but today it's been changed to mean "Bigger, Meatier, Tastier." Whatever you call it, it's the number one highest selling sandwich at the number-three fast-food chain in all of America, so you'll want to say it with respect.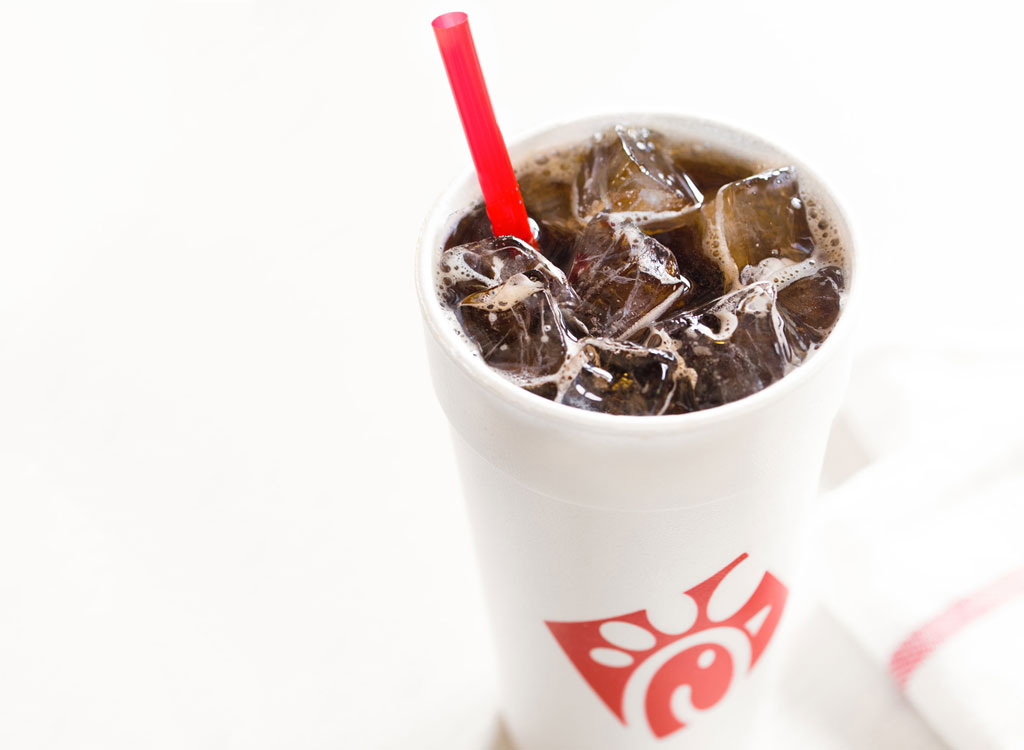 Chick-fil-A pointed out that this is their second most popular item, but come to think of it, soft drinks are probably toward the top of most chains' popularity rankings.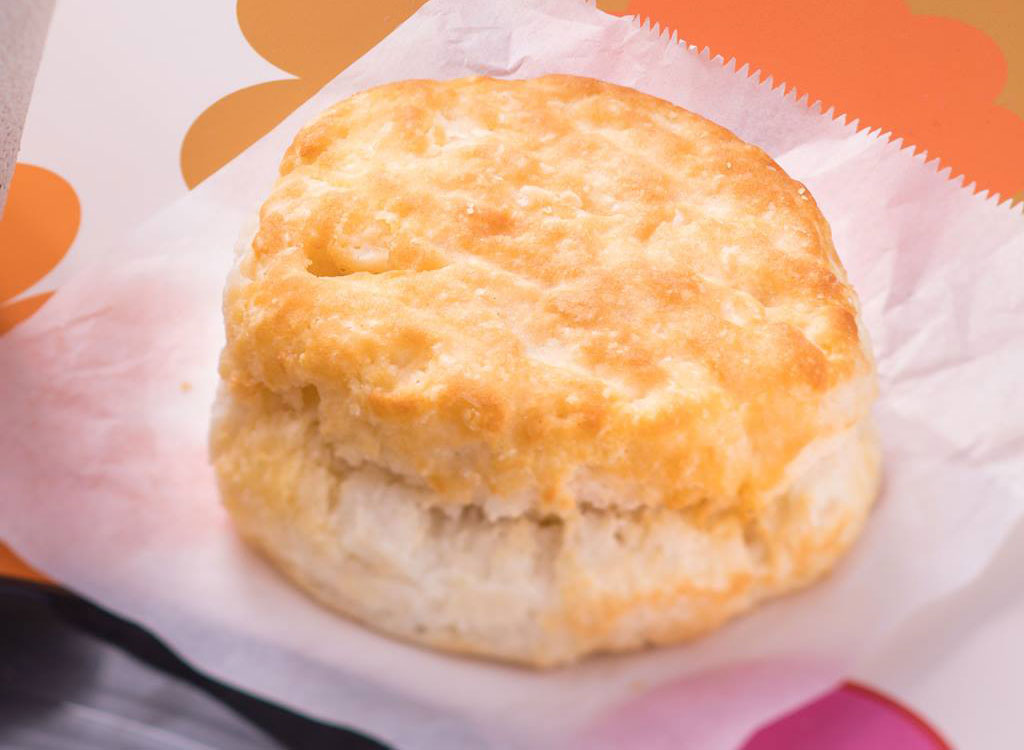 Bojangle's is famous for its made-from-scratch buttermilk biscuits, many of which come in sandwich form. Though they all, for the most part, follow the egg-cheese-meat template popular among breakfast sandwiches, making their popularity difficult to distinguish, the most beloved standout is the bacon, egg and cheese biscuit.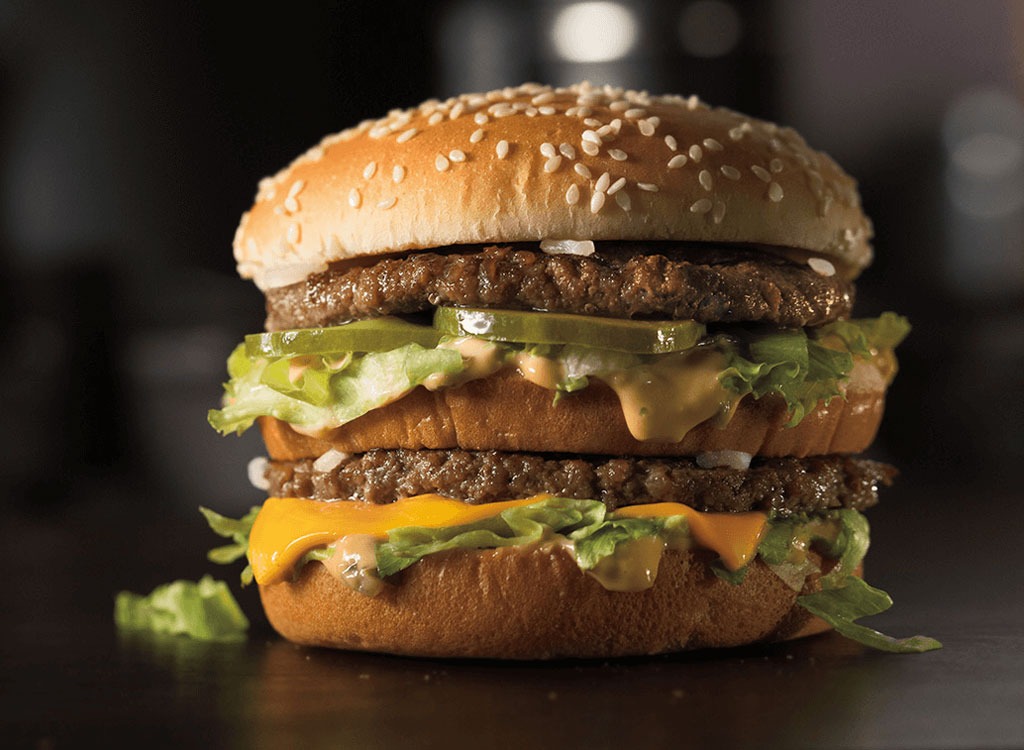 You knew this was coming. The Big Mac is arguably the most iconic burger in the world, selling an estimated 550 million per year. This year marked the burger's 50th anniversary, which McDonald's celebrated with the release of the Grand Big Mac.
Church's Chicken Honey Butter Biscuits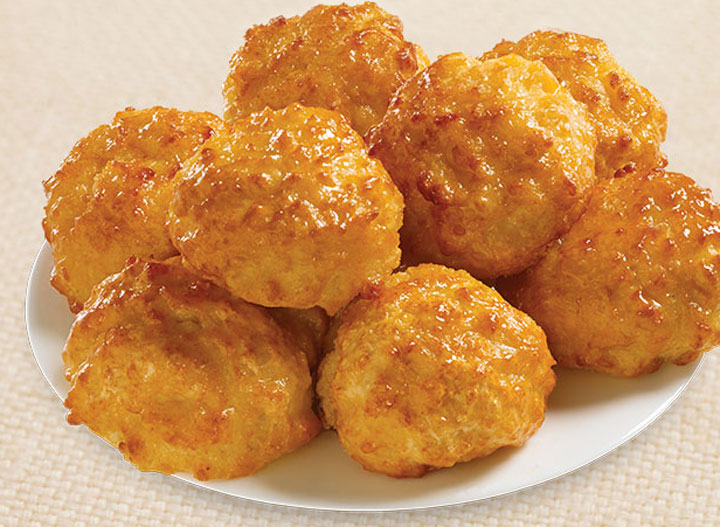 Church's Chicken sits in the number 37 spot for popularity on the QSR list, and it has two clear menu stars: the Hand-battered Fried Chicken, and Honey Butter Biscuits. The biscuits break the tie for inspiring the most at-home recreations of the recipe.
Tim Horton's Chocolate Doughnuts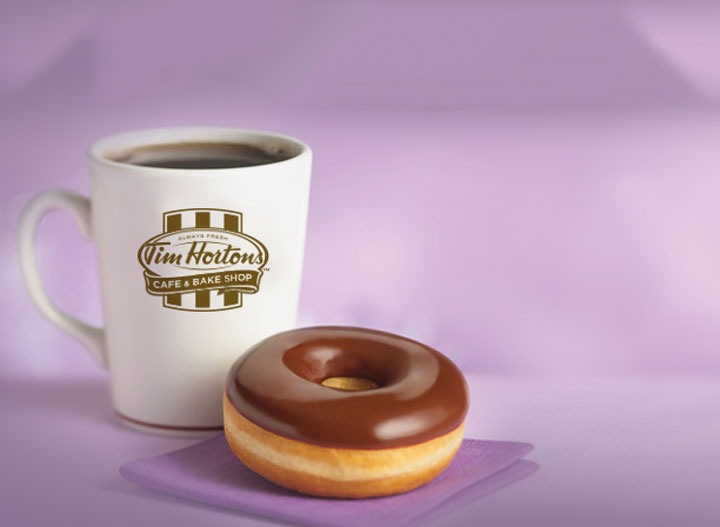 Beyond coffee and specialty beverages, Tim Horton's is famous for its doughnuts (they go well with Ice Capps after all). The classic Chocolate Dip and Boston Creme are two of the most popular flavors.
McDonald's Quarter Pounder with Cheese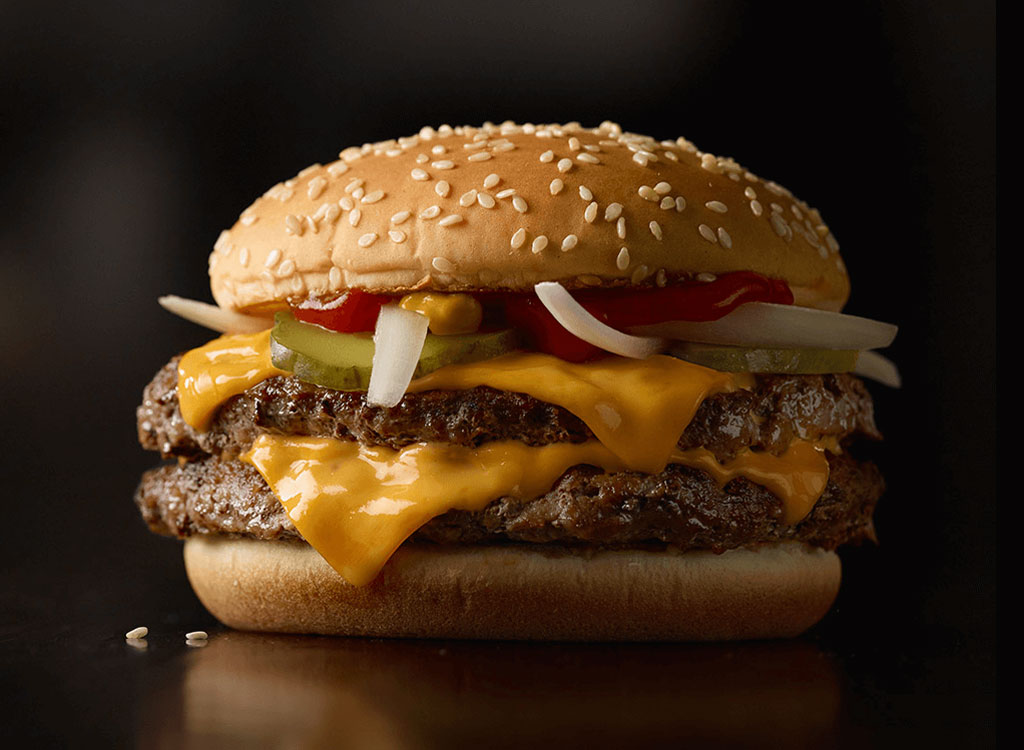 The Quarter Pounder has been around since 1972, with little change. But, as USA Today reports, McDonald's recently vowed to use higher quality beef in its Quarter Pounders to compete with fresh ingredient chains like Five Guys, Shake Shack, and their arch-nemesis, Wendy's.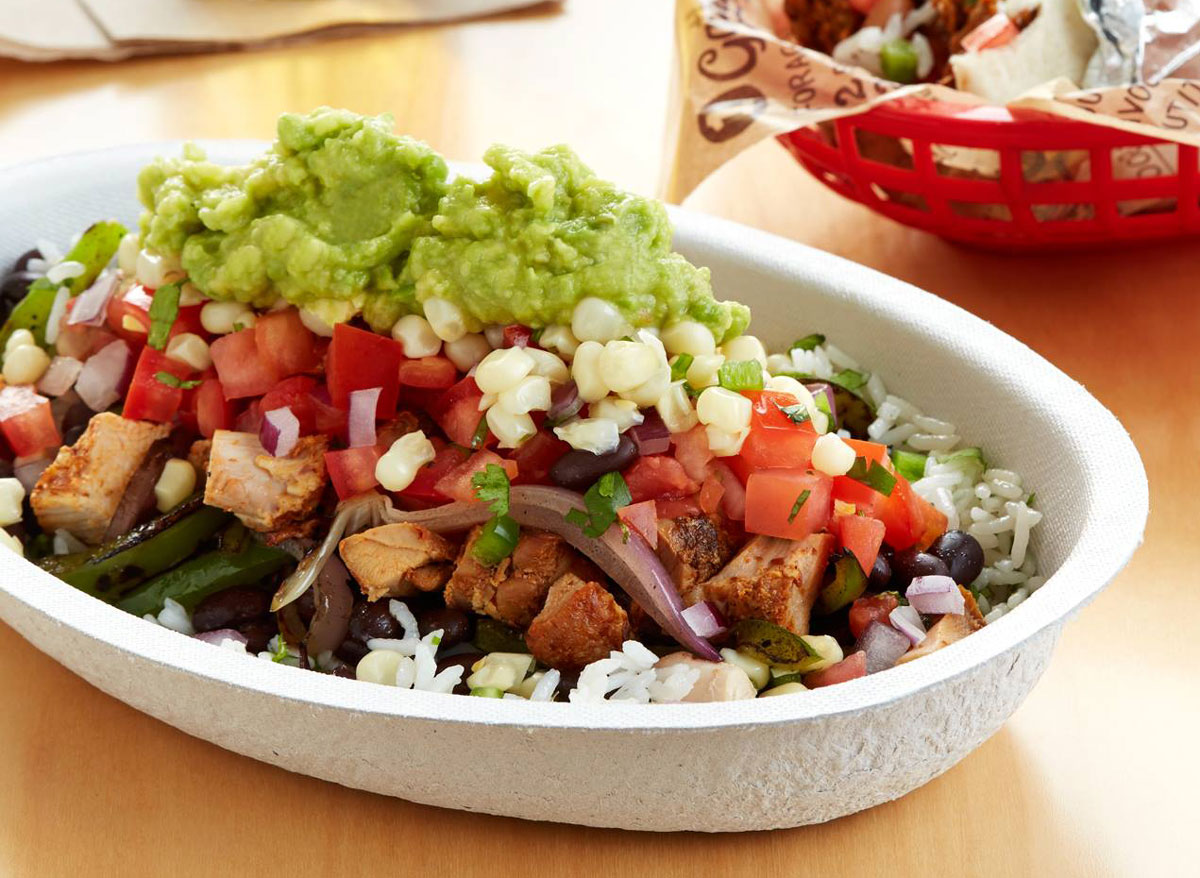 Chipotle suffered a PR nightmare in 2015 after hundreds of customers were affected by an E. coli outbreak spread through its ingredients. But that seems to be a distant memory, with sales climbing back up and customer favorites like the Chipotle Chicken Bowl going strong as ever.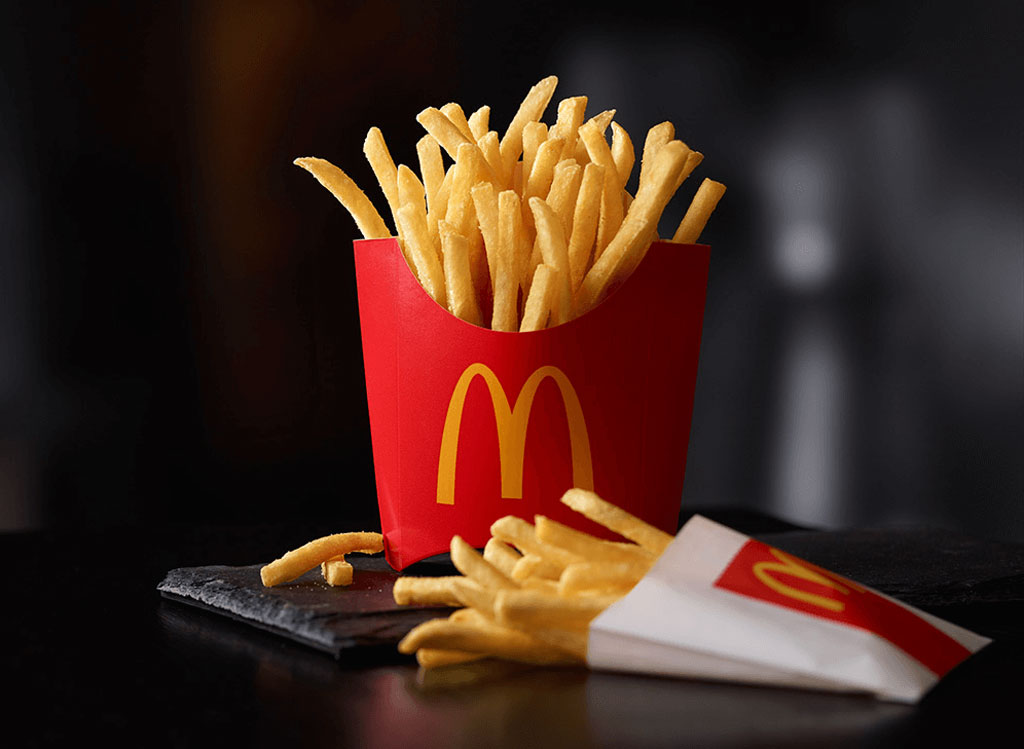 McDonald's French fries are their own economy. According to Fox News, 7% of all potatoes grown in the United States become McDonald's fries. We think these fries certainly deserve a spot on our list of the best fast-food items.
For more, check out these 108 most popular sodas ranked by how toxic they are.
Lauren Gray is a New York-based writer, editor, and consultant.
Read more