11 Beloved Foods That Disappeared From Store Shelves in 2021
Some of these items made a comeback, but others are gone forever.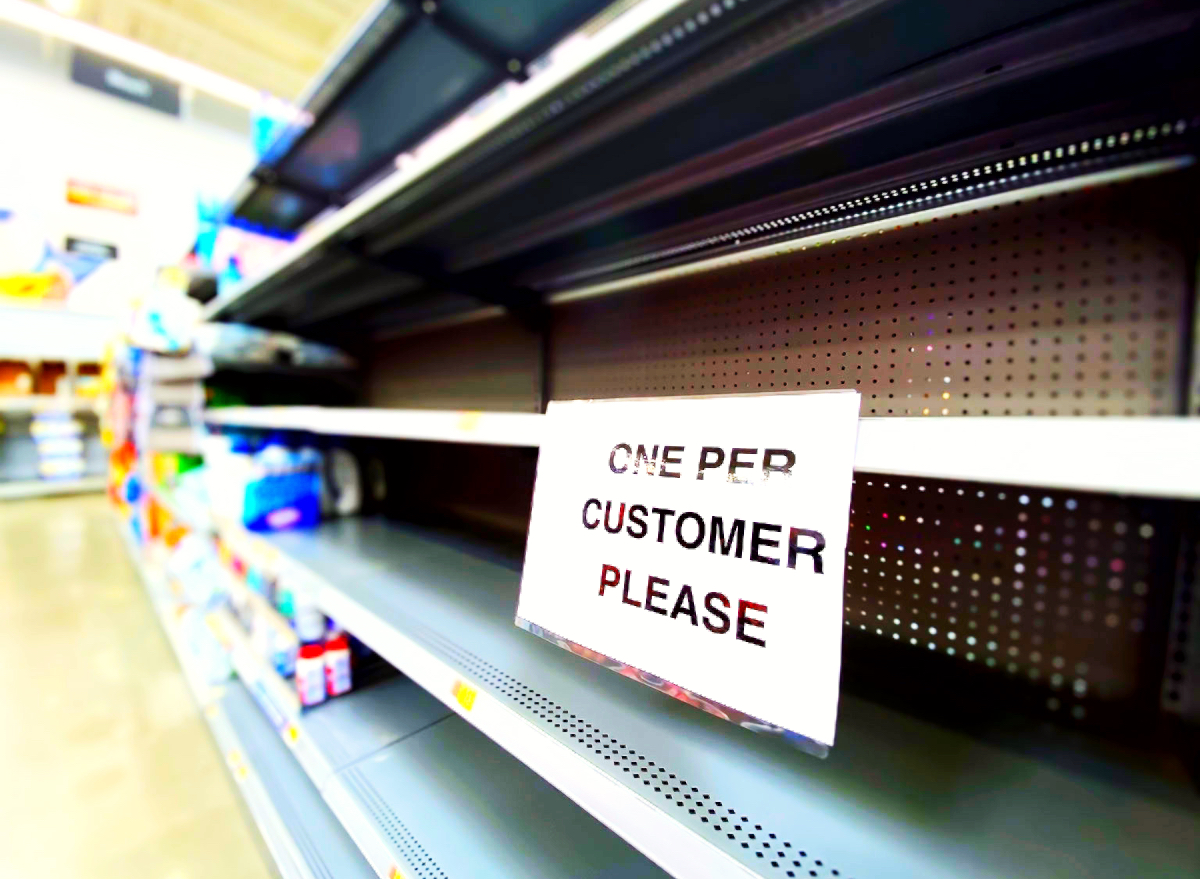 This year, it feels like there were more discontinuations, shortages, and recalls than ever before, which means going through the grocery aisles looked very different from one week to the next. Even some of the most popular pantry staples and household favorites were nowhere to be found.
So, if you're not seeing some of the items on your grocery list in the store, it could be because they've disappeared from shelves altogether. We've rounded up some of the most beloved foods that vanished from grocery stores in 2021.
Related: 5 Grocery Items Plummeting in Supply
Barilla Bucatini Pasta
We don't know many people who don't have pasta in their pantry—and Barilla is one of the most popular brands. And since COVID-19, fewer people are going out to restaurants and instead, they're staying in—and apparently making pasta. Earlier this year, Barilla acknowledged that their bucatini pasta, a long pasta with a hole in the middle, was in short supply due to production delays. The company explained that their pasta will eventually make its way back on grocery store shelves, but there is no timeline yet.
Paper Towels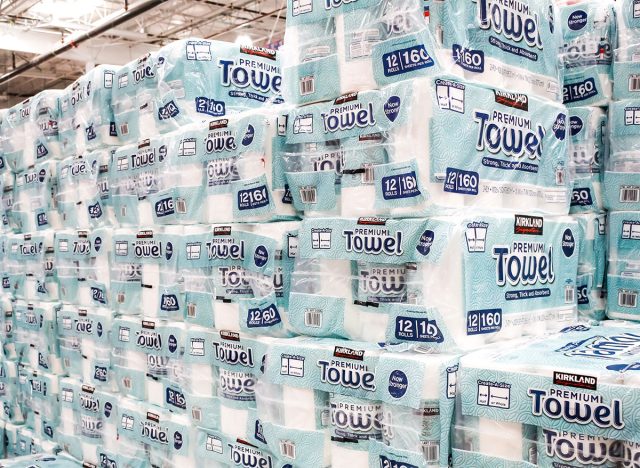 This is a shortage we've been hearing about since the start of the pandemic, but it didn't fade quickly. In August, Costco announced that they reinstated a purchase limit of one unit per member on their Kirkland Signature Paper Towels. So, if you thought you could run to the store to stock up before it's too late, you may need to think again.
And apparently, Costco isn't the only store limiting this paper product. According to Facebook users, many other local grocers are putting similar one or two-unit limits on their paper towels as well.
Related: To get all the latest grocery store news delivered right to your email inbox every day, sign up for our newsletter!
Maple Syrup
Before you start whipping up your next batch of pancakes or waffles, you should know that a bottle of maple syrup might be tough to come by. According to Bloomberg, this year maple syrup production was down by 24% compared to last year in the biggest maple syrup region. This means that the Quebec Maple Syrup Producers had to dip into their stockpile of syrup to try to stock the shelves in Canada, but thankfully in the United States, there is less of an issue.
According to the Vermont Maple Sugar Makers' Association, they are having no problem getting maple syrup to grocery stores in the U.S. So, as long as your supermarket keeps the shelves fully stocked with their inventory, you shouldn't have too much trouble picking up a bottle despite the tough year for the production teams.
Lunchables
When most schools are back in session in person this fall after all of that remote learning, parents were looking for those easy packed lunches once again. And one option that's been popular for decades now is Lunchables. But, Kraft likely wasn't expecting the demand to increase so quickly, which led to fewer Lunchables on grocery store shelves and a challenge to keep them stocked. So, don't be surprised if the Lunchables shelf is left bare the next time you head to the grocery store to stock up.
Kirkland Signature Organic Creamy Peanut Butter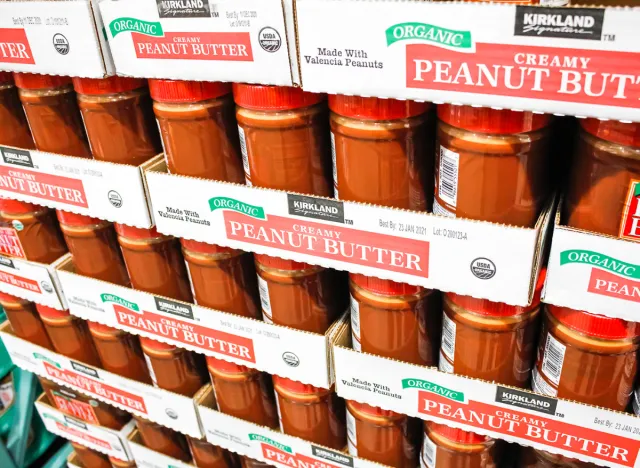 Costco shoppers took to social media over the summer to report the Kirkland Signature Organic Creamy Peanut Butter, an extremely popular pantry staple, was disappearing from warehouse shelves. The peanut butter favorite also vanished from the website as of July 26th. B
ut, even though this product was gone for months of 2021, the 2-pack 28-ounce containers are now back. So, Costco shoppers can breathe a sigh of relief knowing that they can start 2022 by filling their carts with this creamy peanut butter.
Related: Costco Is Adding This Perk to 200+ Warehouses, CFO Says
Coke Energy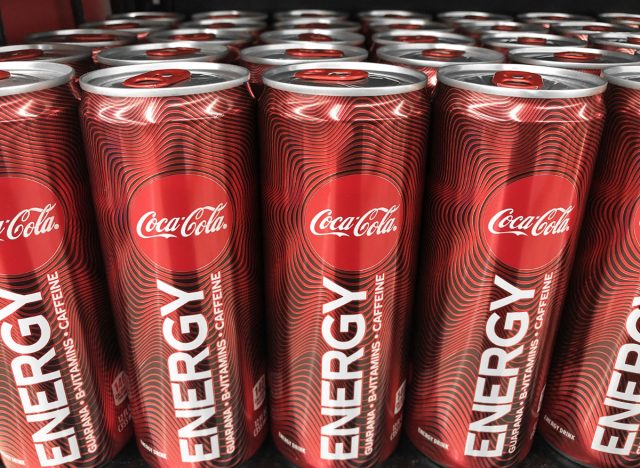 One item that won't be popping back up on grocery shelves anytime soon is Coke Energy. Coca-Cola attempted to break into the energy drink space with this product, but unfortunately, it missed the mark. According to Coke executives, the cut was made based on low sales, so these cans were no longer sold in North America as of May 2021.6254a4d1642c605c54bf1cab17d50f1e
But if you're looking for a new energy drink to replace Coke Energy, we've ranked them with the help of registered dietitians.
Canned Goods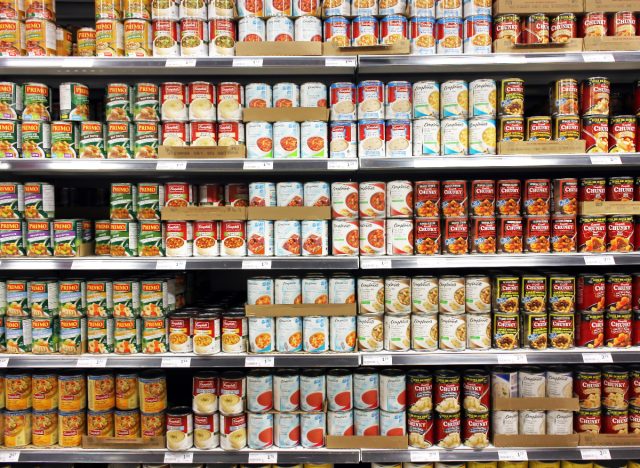 An aluminum can shortage from 2020 is sadly still impacting our ability to get canned goods as we head into 2022. Grocery stores are getting far fewer of the canned items they ordered, which means that shelves are left bare and customers aren't able to find what they're looking for. Specifically, the canned goods that many have reported were tough to find at the end of the summer were tomato paste, canned tomatoes, and tomato sauce.
Kraft Fat-Free Mayo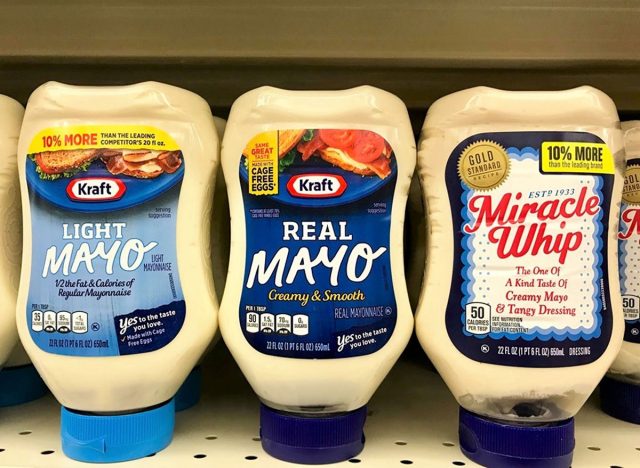 This summer, Kraft decided to call it quits on their Fat-Free Mayo, so if that was your go-to mayo product, it's time to find a new one. Kraft shared the news via Twitter on July 26th—and reported that the reason for its disappearance is due to the fact that it doesn't compare to the full-fat version, especially when it comes to flavor and texture.
In addition to the brand's "Real Mayo", they also make a version with avocado oil and another with olive oil. So, if you're looking for a replacement for the Fat-Free Mayo, you have options.
Toilet Paper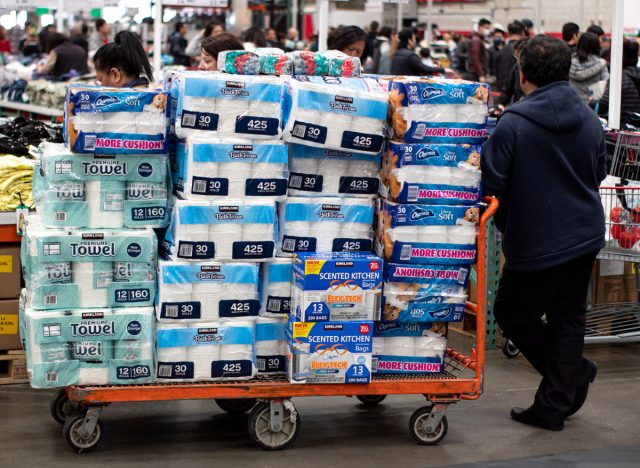 Just like paper towels, toilet paper has been a tough find in the grocery store throughout the pandemic, and unfortunately, it lasted all 2021. Costco started up their one-unit purchase limit on Kirkland Signature Toilet Paper again this summer. So, you definitely want to grab toilet paper when you see it on shelves because that's not something you want to run out of at your house. Here's to hoping the toilet paper supply increases in 2022.
Litehouse's Freeze-Dried Garlic
A spice favorite at Costco, Litehouse's Freeze-Dried Garlic will no longer be available in that giant container at the warehouse. The claim was initially made on Reddit, and then confirmed by a spokesperson for Litehouse that the garlic will indeed be disappearing from shelves.
The good news is that the brand will be replacing the garlic with some new products popping up at Costco warehouses in the near future like a blue cheese salad dressing and a freeze-dried herbs variety pack. So, at least there's some good news to come out of this disappearing product.
Pumpkin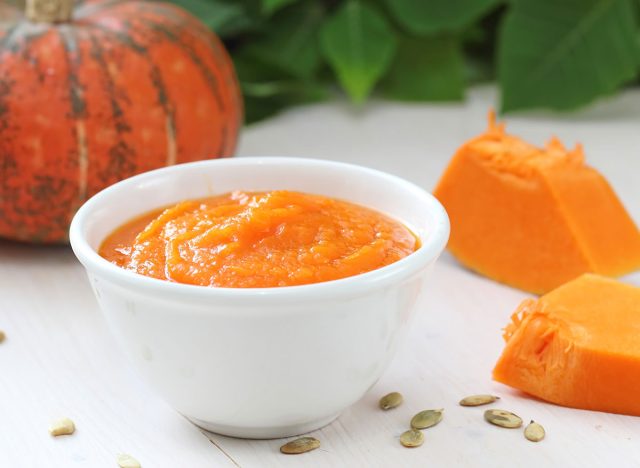 Due to a fungus that's been affecting pumpkin plants in Illinois, it could be difficult to find canned pumpkin going into the New Year. Bet you didn't realize that the majority of canned pumpkin products sold nationwide come out of Illinois—well, they do. And it's because of this that you could be missing them on your grocery store shelves nationwide. Hopefully this issue will be resolved the next time you're looking to make a pumpkin pie.
For more info about what's happening at the supermarket in your neighborhood, read these next:
Rachel Linder
Rachel is an Associate Editor responsible for compiling the daily Eat This, Not That! newsletter, making TikTok and YouTube videos for the brand, writing articles for the site, creating original graphics and providing direct assistance to the editors when needed.
Read more about Rachel