25 New Frozen Foods That Will Be Flying Off Shelves in 2021
There's good stuff hiding in the freezer aisle.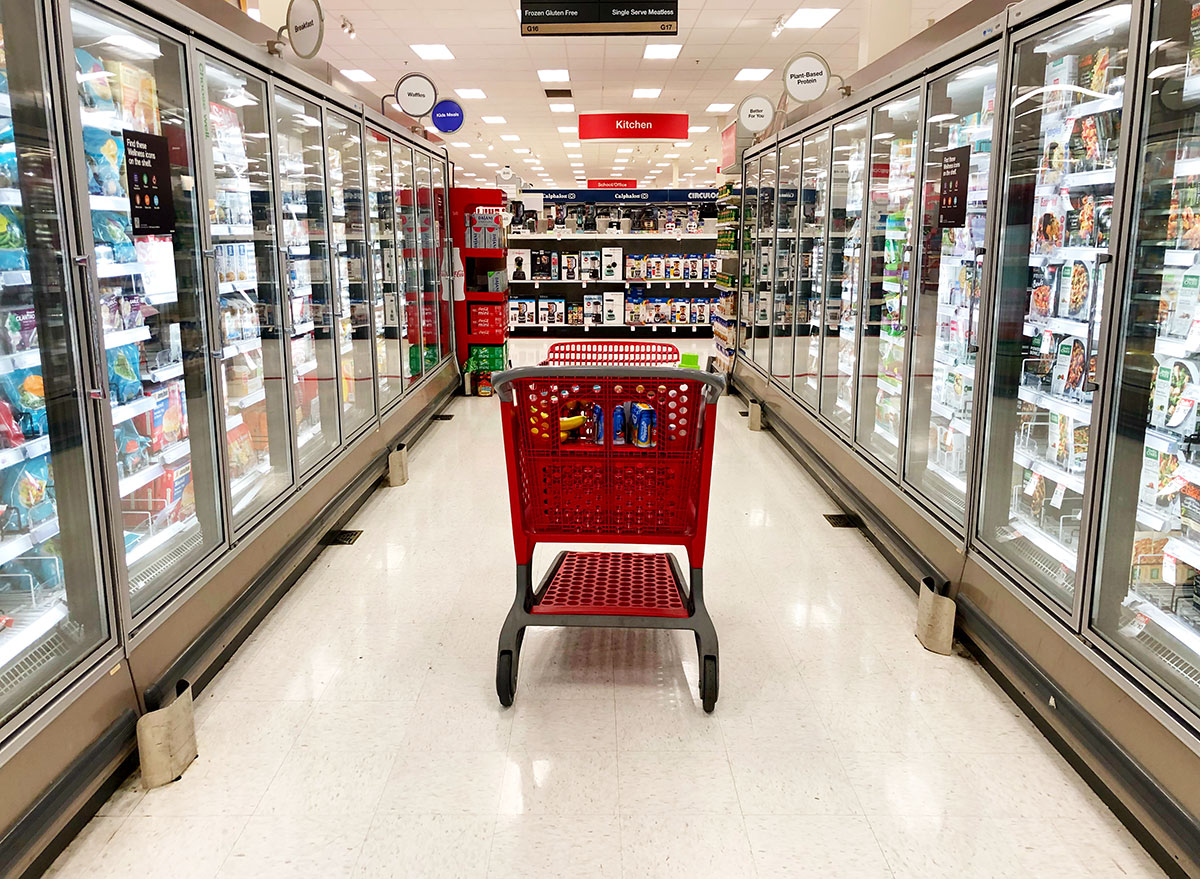 Frozen foods have come a long way since Swanson sold its first TV dinners in the '50s. While we'll probably always wax nostalgic when it comes to those compartmentalized tin foil trays of yore, we're more than happy with the way frozen foods have evolved (but for a trip down memory lane, check out these 9 frozen foods that have long since been discontinued).
Whereas the grocery aisle was once regarded as the place where fresh foods went to die, it now offers a vast selection of healthy, delicious, and remarkably fresh-tasting cuisines from all cultures. The transformation has been underway for years, but the pandemic has served as an accelerant, according to restaurant industry website, Restaurant Dive.
"Frozen food saw a huge rise in popularity in 2020," agrees Deepak "Deep" Amin, head of Deep Indian Kitchen. "People who weren't previously shopping the frozen aisle realized that there are, in fact, a lot of delicious, healthy, restaurant-quality options," he told Eat This, Not That! 
Of course, frozen foods have always offered convenience and a long shelf-life, not to mention portions that discourage both overeating and food waste. But now, as brands offer new options geared to various diets and eating styles,  we'll be seeing the frozen food aisle bustling in the months to come, Laurentia Romaniuk, Instacart's trends expert, predicted for Eat This, Not That!
Read on for the frozen foods you can expect to see flying off the shelves in 2021. And don't miss 8 Grocery Items That May Soon Be in Short Supply.
Amy's Kitchen Vegan Broccoli & Cheeze Bake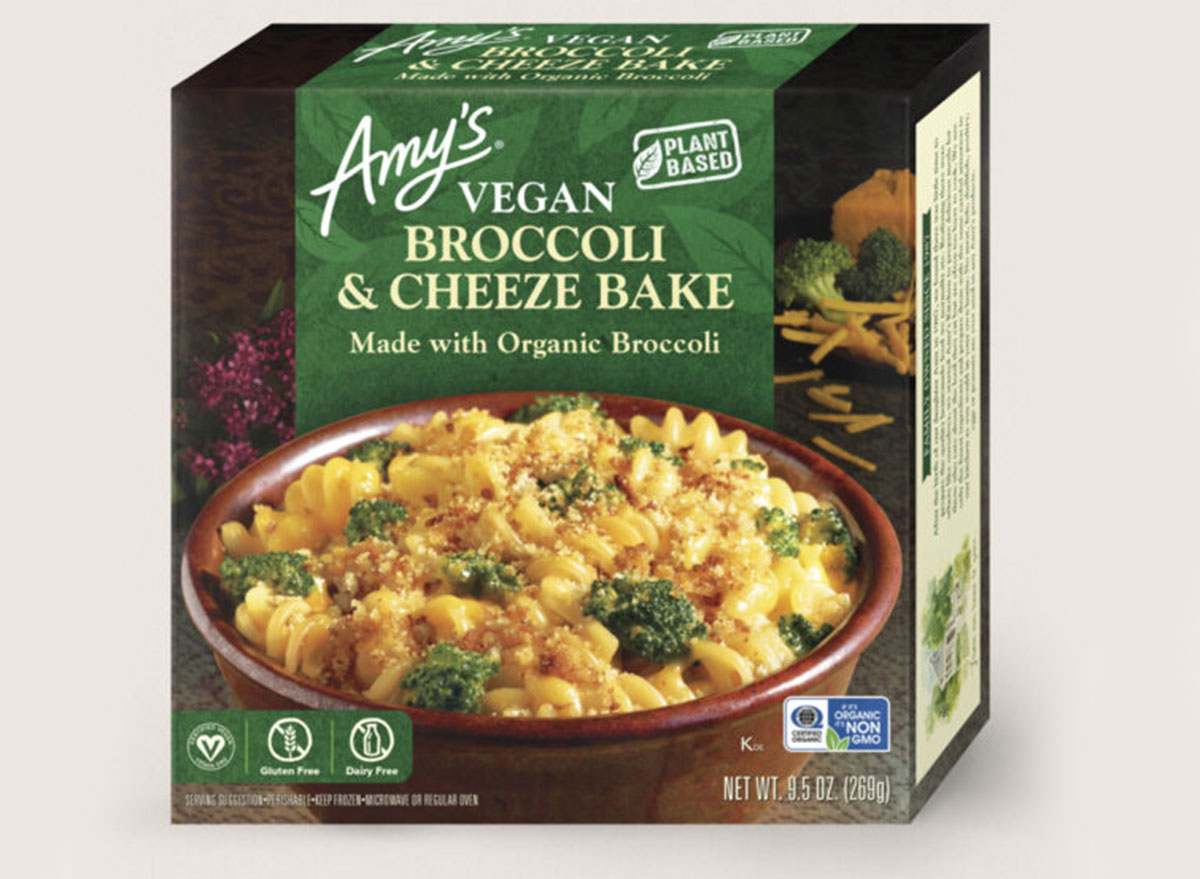 The year 2020 saw all kinds of shortages at grocery stores, but the one that might have hurt the most was the brief shortage of Amy's Kitchen frozen meals. Thankfully, those days appear to be over, and Amy's Kitchen is not only back but it's introduced a new line of veggie and vegan "cheeze"  bowls.
"The Vegan Broccoli & Cheeze Bake is one of our new products that address two big trends we've seen recently," Amy's Kitchen founder Rachel Berliner told us. "People are looking for more plant-based options, but they also want comfort food."
That's what you can expect to find in Amy's Kitchen's newest vegan bowls. Berliner promises "they're the ultimate vegan comfort food" because they're not only comfortingly delicious, it's also comforting to know they are entirely plant-based.
Don't forget to sign up for our newsletter to get the latest restaurant news delivered straight to your inbox.
Banza Chickpea Pizza Crust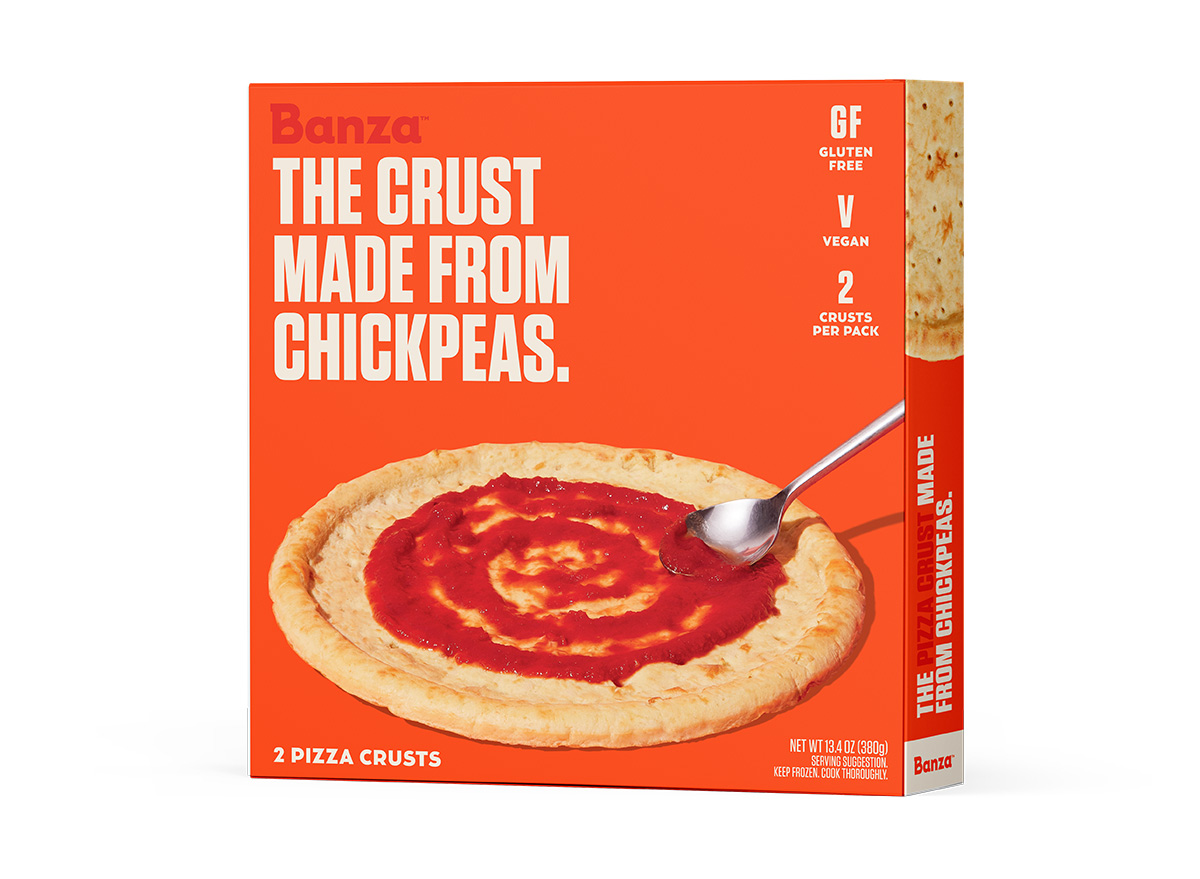 Cauliflower pizza crust has been serving the gluten-intolerant for several years now. But chickpea pizza crust only appeared on our radar recently, which is why we say it's currently the most underrated frozen pizza option out there.
We're not saying Banza's chickpea pizza crust is necessarily better than the cauliflower variety, but it's certainly nice to have another delicious option—one that's high in protein. Here are 3o more high-protein foods to stoke your metabolic fire.
Bell & Evans Chicken Meatballs
Bell & Evans makes some truly delicious meatballs, but the fact remains that some of their offerings are less than healthy, as you can see in our roundup of the 8 best (and 6 not-so-great) frozen meatballs in the grocery freezer.
However, these Traditional Chicken Meatballs do happen to be gluten-free as well as tasty. Those two factors may be what's propelling them into the top five Refrigerated & Frozen Foods' annual roundup of Best New Retail Products.
Evol Fire Grilled Steak bowl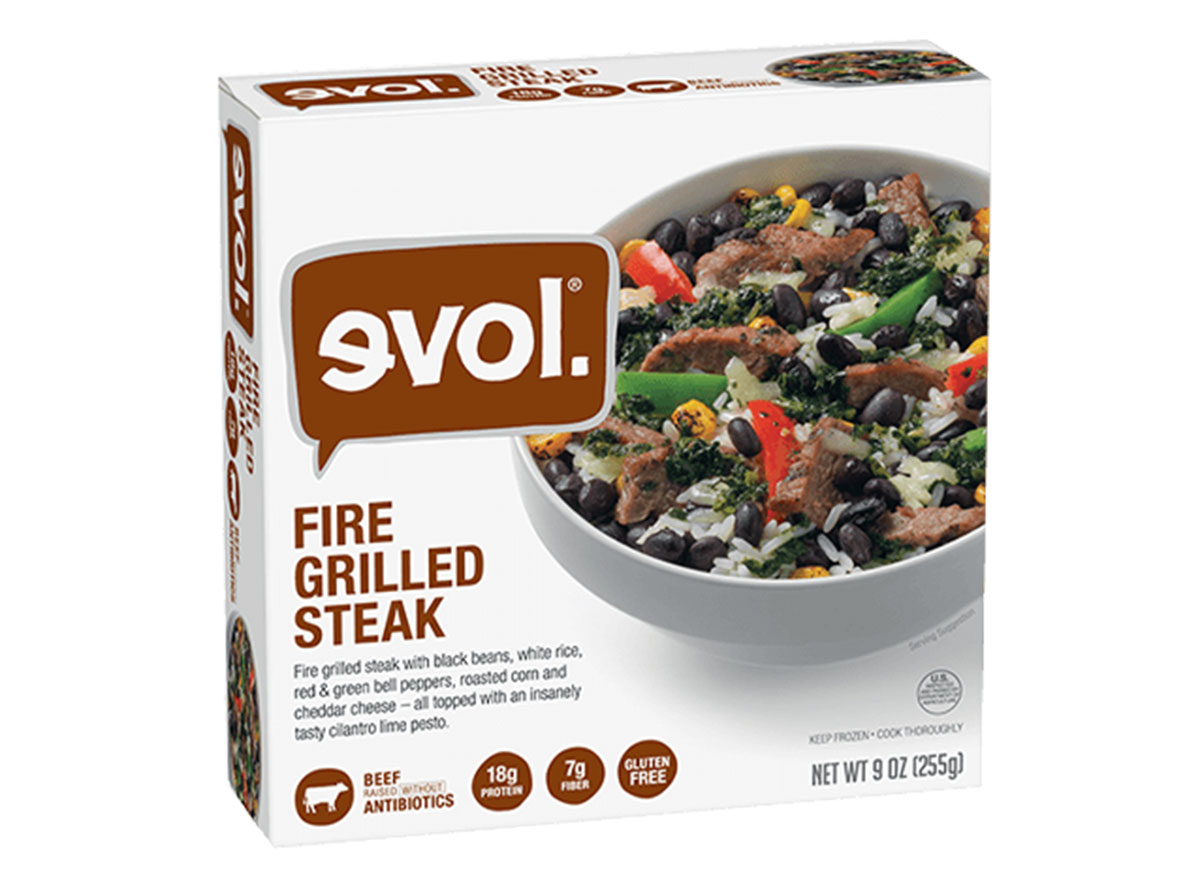 The Evol Fire Grilled Steak bowl was one of the 25 healthiest frozen dinners we recommended in September. Made with antibiotic-free beef, black beans, rice, veggies, cheese, and a cilantro-lime pesto, we think this dish could actually give Chipotle a run for its money in terms of flavor and nutrition.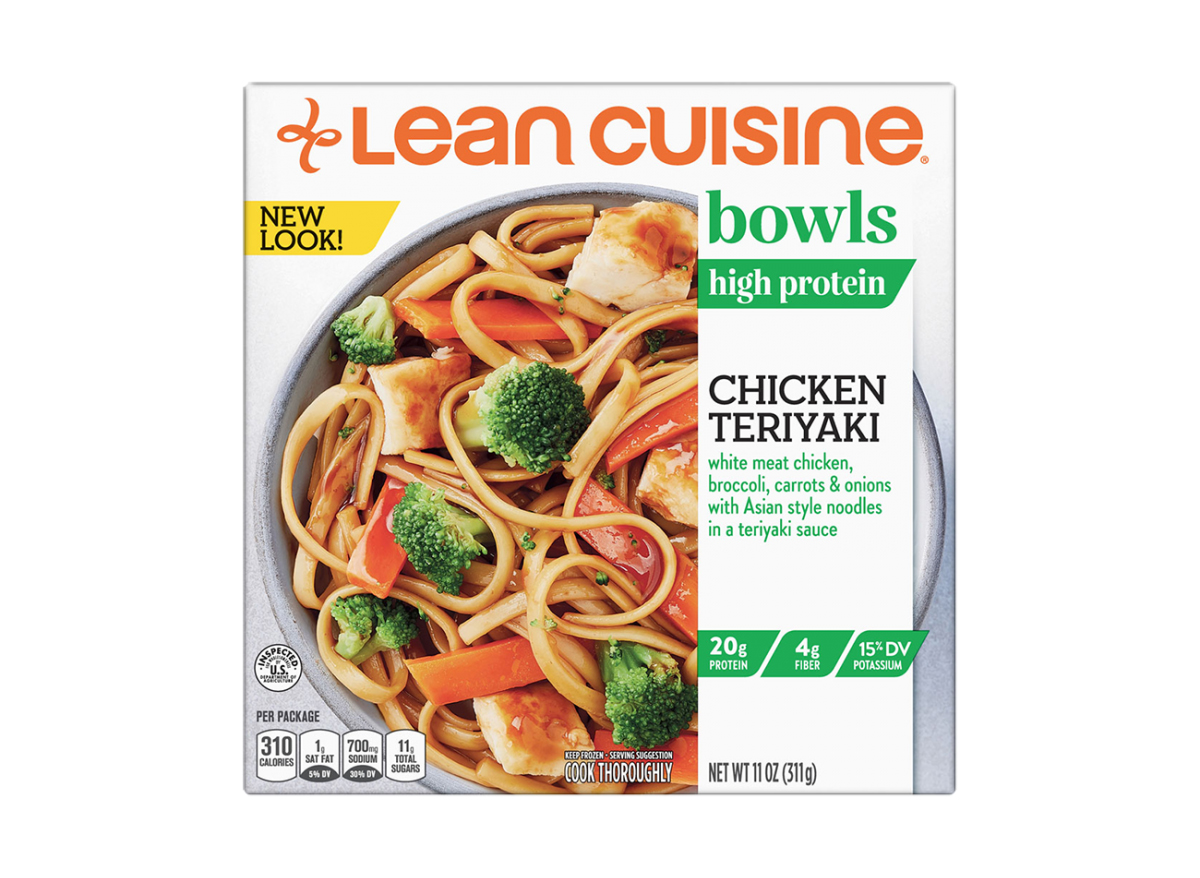 In an effort to give the people what they want, Nestlé is introducing 18 new Lean Cuisine frozen meals featuring new and improved recipes and more satisfying portions—including five in a bowl format.
"The flavorful new lineup…adapts long-time favorite recipes to fit modern tastes…to help consumers stick to nutrition goals," the company said in a press release. If the Chicken Teriyaki bowl isn't quite adventurous enough for you, how about giving the Korean-Style Rice and Vegetables a whirl?
Find out which Lean Cuisine varieties made our roundup of 25 best frozen dinners for healthier weeknights.
Lean Cuisine Life Cuisine Entrees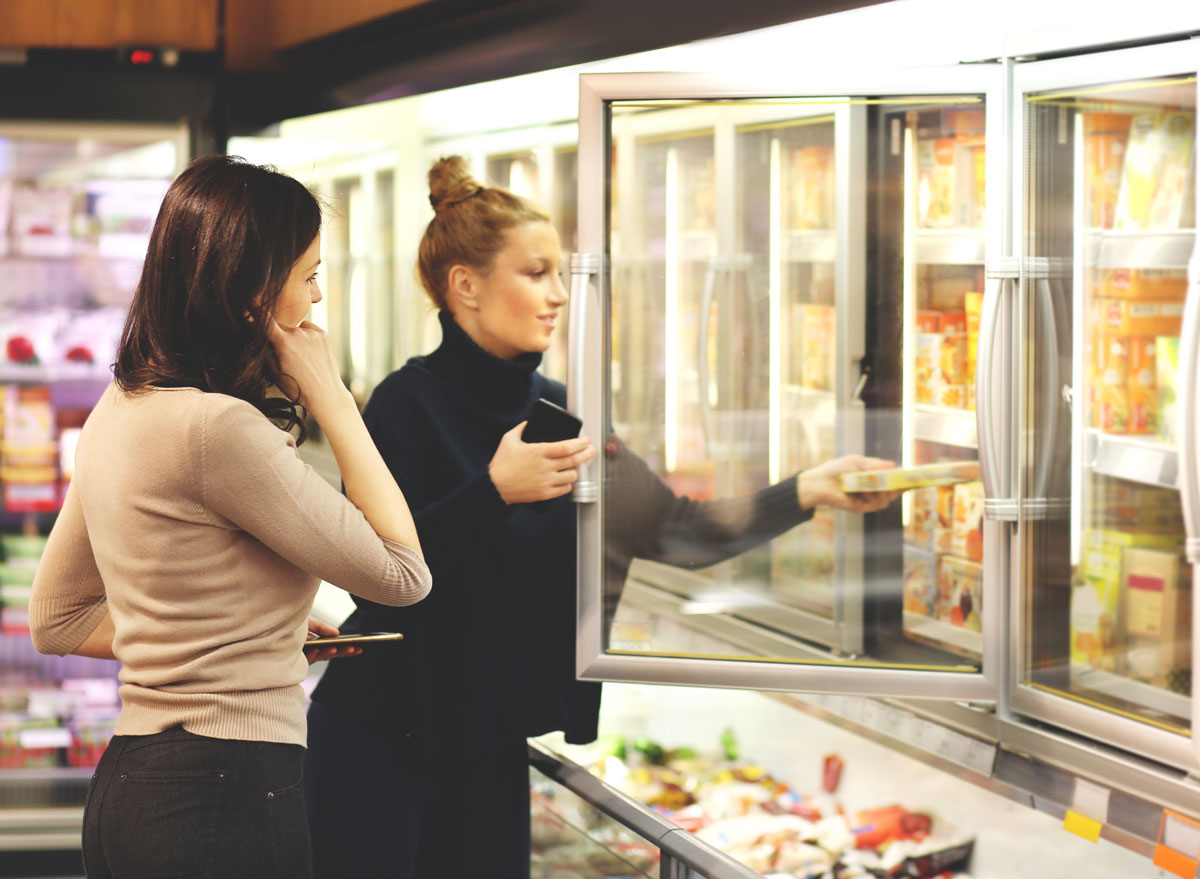 Along with its new and improved Lean Cuisine frozen meals, Nestlé has also introduced Life Cuisine, which currently offers 15 new recipes aimed at satisfying various eating styles, including gluten-free, low-carb, and meatless.
Expect to see cauliflower-crust pizzas, sous vide egg bites, and meaty bowls, among others. It's an "exciting new brand delivering delicious and satisfying meal solutions that match your approach to eating well," the company wrote in a press release. Here are the best low-carb diets, ranked.
Blue Circle Frozen Seafood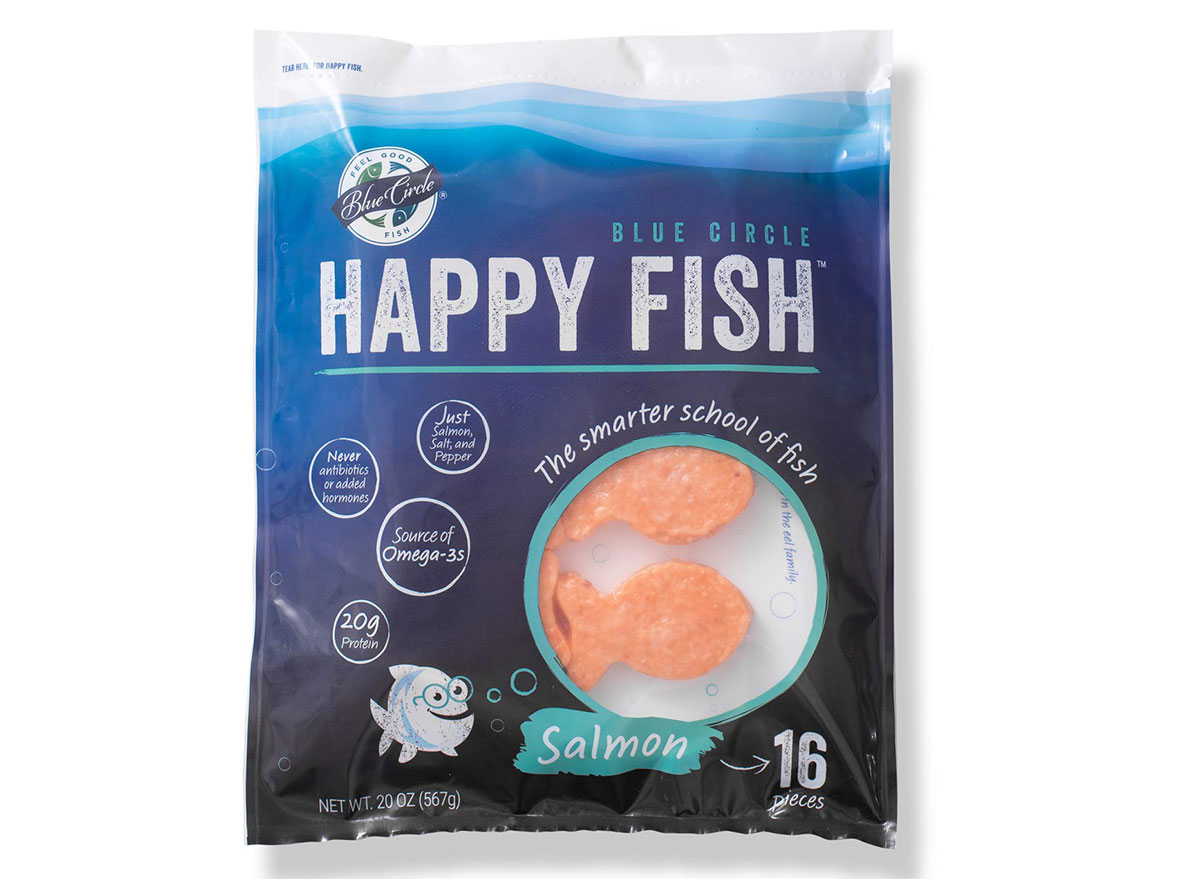 Seafood is enjoying a starring role on plates across America, according to a survey conducted in October by Blue Circle Foods.  And it doesn't hurt that the Mediterranean diet earned the title of best diet of this year according to experts. Frozen seafood helps connect home cooks with seafood no matter the season, and Blue Circle Foods offers high-quality, Omega-3 rich, responsibly sourced seafood that's been flash-frozen to optimize freshness.
Here are 9 things to know about the Mediterranean Diet before getting started.
Good Catch Plant-Based Seafood
With enthusiasm for plant-based meats reaching a fever pitch, no one should be surprised when Good Catch, the chef-driven, 100% plant-based seafood brand, starts filling up shopping carts and winning over fans. Its new plant-based line of class frozen seafood entrees and appetizers include New England Style Plant-Based Crab Cakes, Thai Style Plant-Based Fish Cakes, and Classic Style Plant-Based Fish Burgers.
But Good Catch isn't new to plant-based seafood. They've already been offering plant-based tuna to the delight of Whole Foods and Thrive Market shoppers. Chad Sarno, co-founder and chief culinary officer at Good Catch, says the new additions are more of the same, "plant-based alternatives to classic staples."
Deep Indian Kitchen Potato & Pea Samosas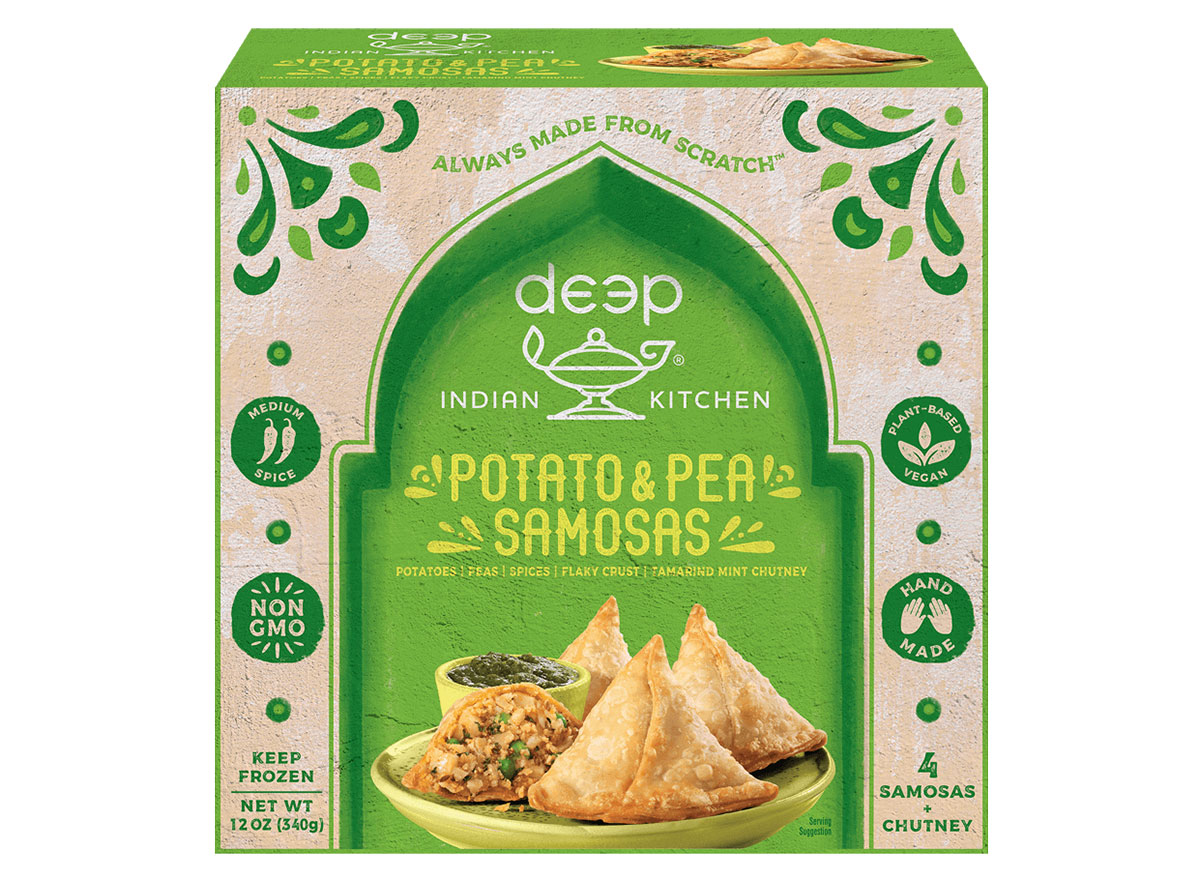 "The year 2021 is going to be a very flavorful year," says Instacart's Romaniuk, with consumers yearning to shake up their eating routine with bolder flavors, new spices, and influences from other cultures. With frozen foods like Deep Kitchen's line of authentic Indian fare, there's an easy, low-commitment way to get started, according to Deep Indian Kitchen's Deepak "Deep" Amin.
The relaunched version of Deep's Potato & Pea Samosas is perfect for the plant-based trend (they're 100% plant-based). For a crisp, savory, authentically spiced snack, just pop 'em in the air fryer and then serve with the accompanying tamarind mint chutney dipping sauce.
Devanco Foods Gyros Sandwich Kits
Devanco Foods' Gyros Sandwich Kit was the number one winner of Refrigerated & Frozen Foods' 2020 Best New Retail Products Contest, finishing with 25,573 votes out of a possible 61,243. In fact, this MSG-free frozen meal kit got more votes than any other single product in the eight-year history of the contest.
Want to make a homemade batch of gyros today? Here's our own flavor-packed Grilled Lamb Gyros Recipe.
Cedarlane Foods Keto-Friendly Frozen Meals
Another frozen food category that promises to be huge in 2021, according to trend-watchers at the National Frozen & Refrigerated Foods Association, is food that supports specific weight loss diets. That is precisely what Cedarlane Foods is offering with its new line of keto-friendly frozen meals, including several 10-ounce bowls and two 8-ounce omelets (pictured here is the Buffalo Pulled Pork Omelet, made with cage-free whole eggs and fresh pork shoulder).
Here are 8 common keto mistakes you don't want to keep making in 2021.
Another healthy and effective diet choice that's been picking up steam is the Nutrisystem plan. Nutrisystem makes following its diet just a bit easier by offering an entire line of foods devoted to taste and nutritional bang for the caloric buck.
As 2021 dawned, Nutrisystem announced the launch of 25 brand new menu additions, including harvest pizza bowls, delicious flatbreads, and savory dinners, the company said in a press release.
The Alpha Plant-Based Breakfast Burritos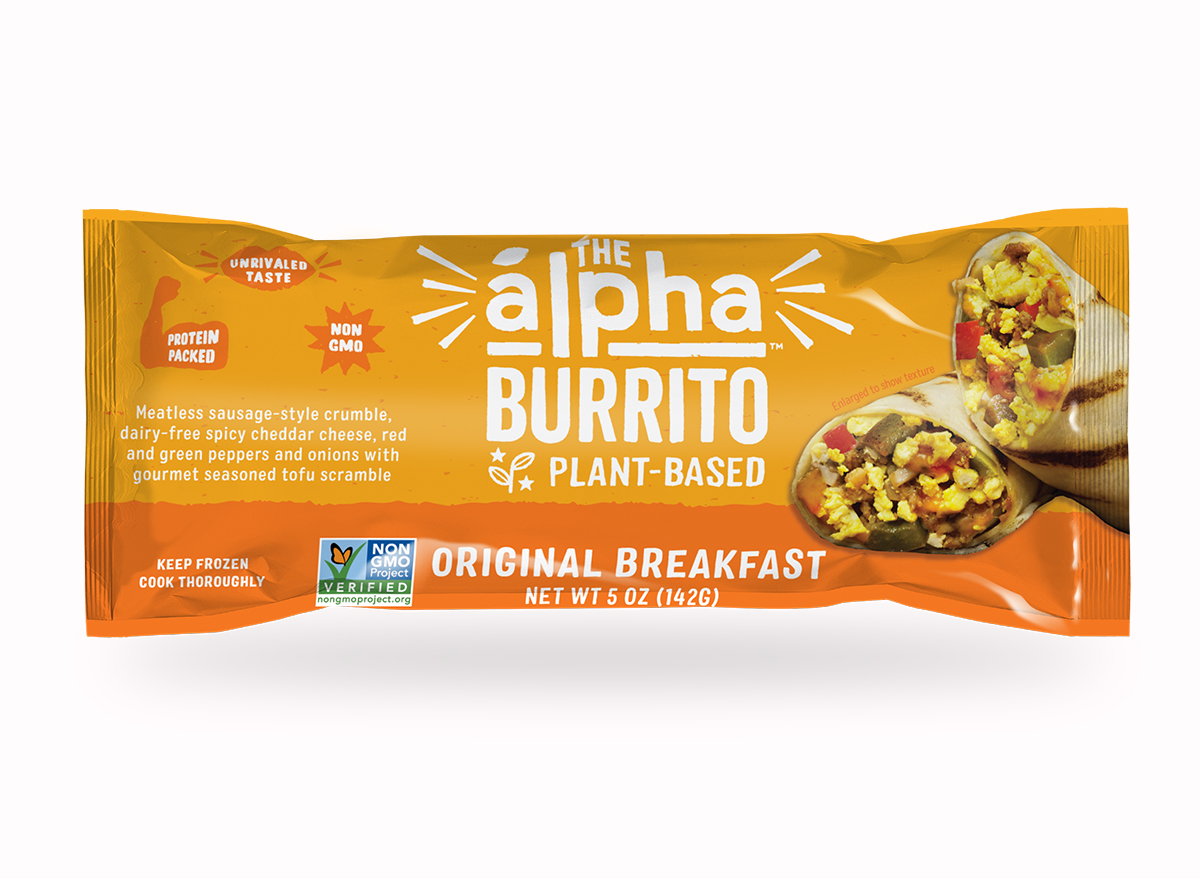 Did you think working from home would mean more sit-down breakfasts on a plate…only to discover you actually miss hand-held breakfast wraps?
If so, you're not alone, according to this recent research, which suggests that hand-held breakfasts are a major driver of frozen food's popularity. And you'll be happy to discover Alpha Foods' newly-launched frozen plant-based line of Breakfast Burritos.
They're plant-based, protein-rich, and were "designed to go perfectly with a nice cup of coffee,"  a spokesperson from Alpha Foods told us. Here's the way to serve your coffee for a longer, healthier life.
Jimmy Dean Plant-Based Patty, Egg & Cheese Croissant Sandwich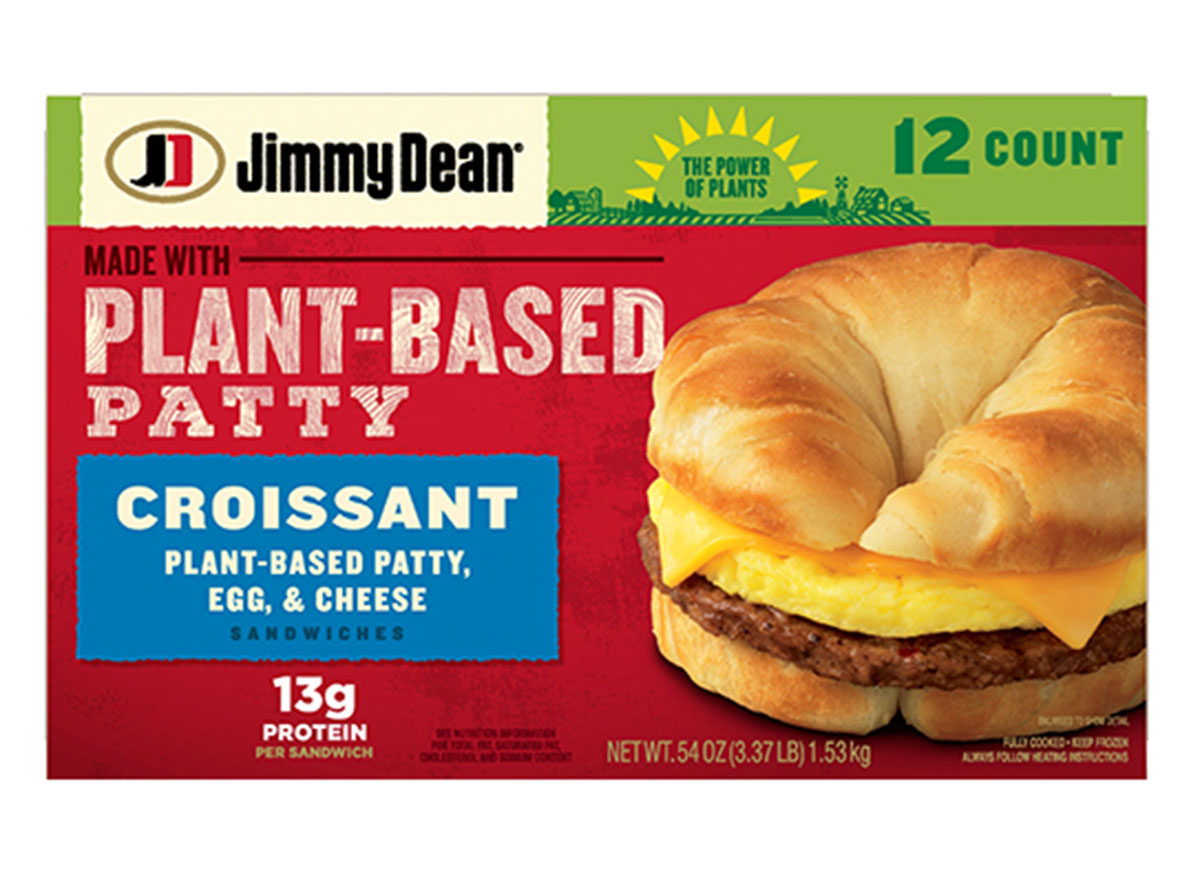 These sandwiches aren't exactly vegan, but they're on-trend with a plant-based meat patty replacing the sausage component. Not to mention, they're another easy hand-held sandwich to pop in the microwave.
Mikey's Cauliflower Pockets
Another one of the top five winners of Refrigerator & Frozen Foods' eighth annual Best New Retail Products Contest is Mikey's cauliflower & broccoli cheddar cheese-style pockets. If you love cauliflower- or broccoli-cheese soup, you're going to love this literal mashup that is surprisingly grain-free considering the crispiness of the crust.
It's also milk-, lactose-, and soy-free. Like the Jimmy Dean plant-free breakfast sandwiches, Mikey's contains eggs, so it's not for vegans, but all other plant-based enthusiasts should feel free to dig in.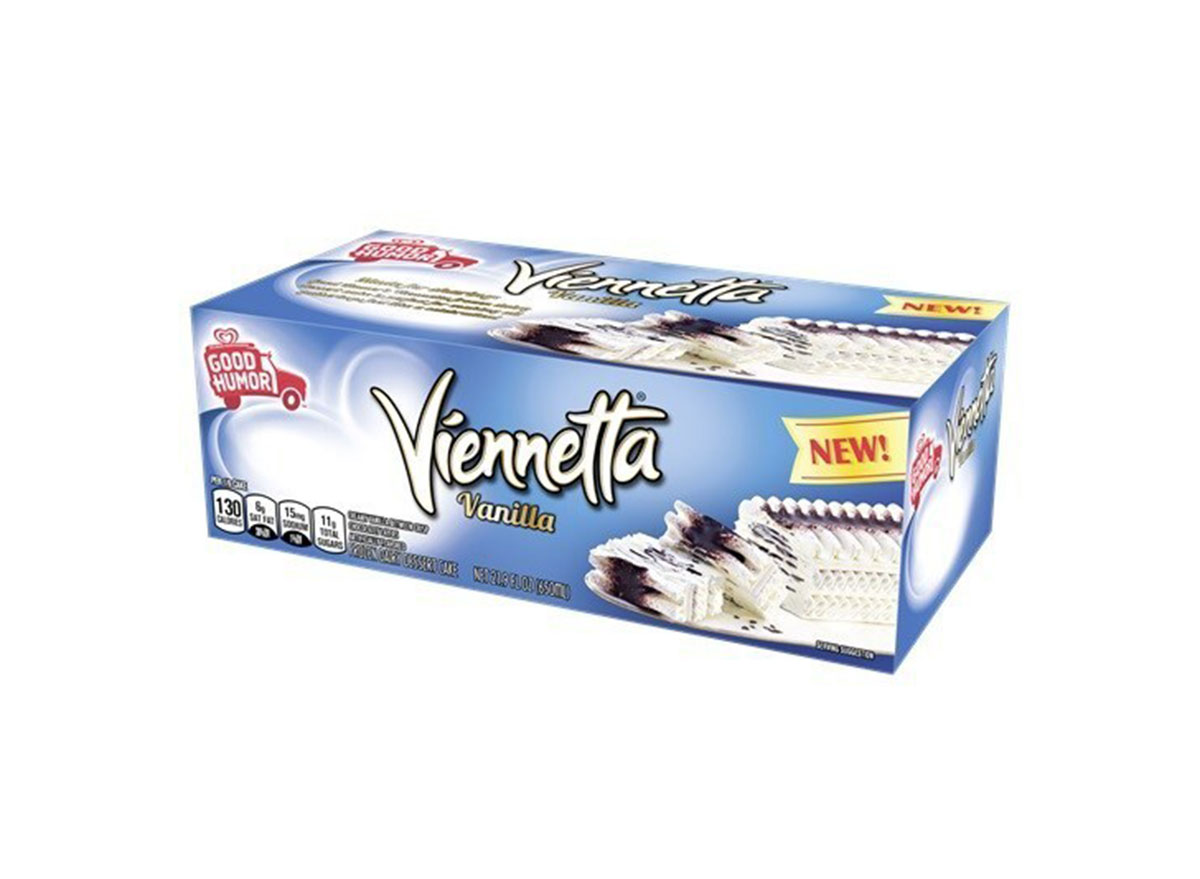 Can you guess the category that is most responsible for the surge in enthusiasm for frozen foods?
It's ice cream, which was responsible for $6.7 billion dollars worth of the frozen food industry's sales this past year, according to the NFRA's recently released State of the Industry Report.
Perhaps that's why Good Humor made the decision to bring back Viennetta. After all, fans of the beloved cross between ice cream- and icebox-cake have been waiting for its return for 30 years!
Enlightened Ice Cream Bars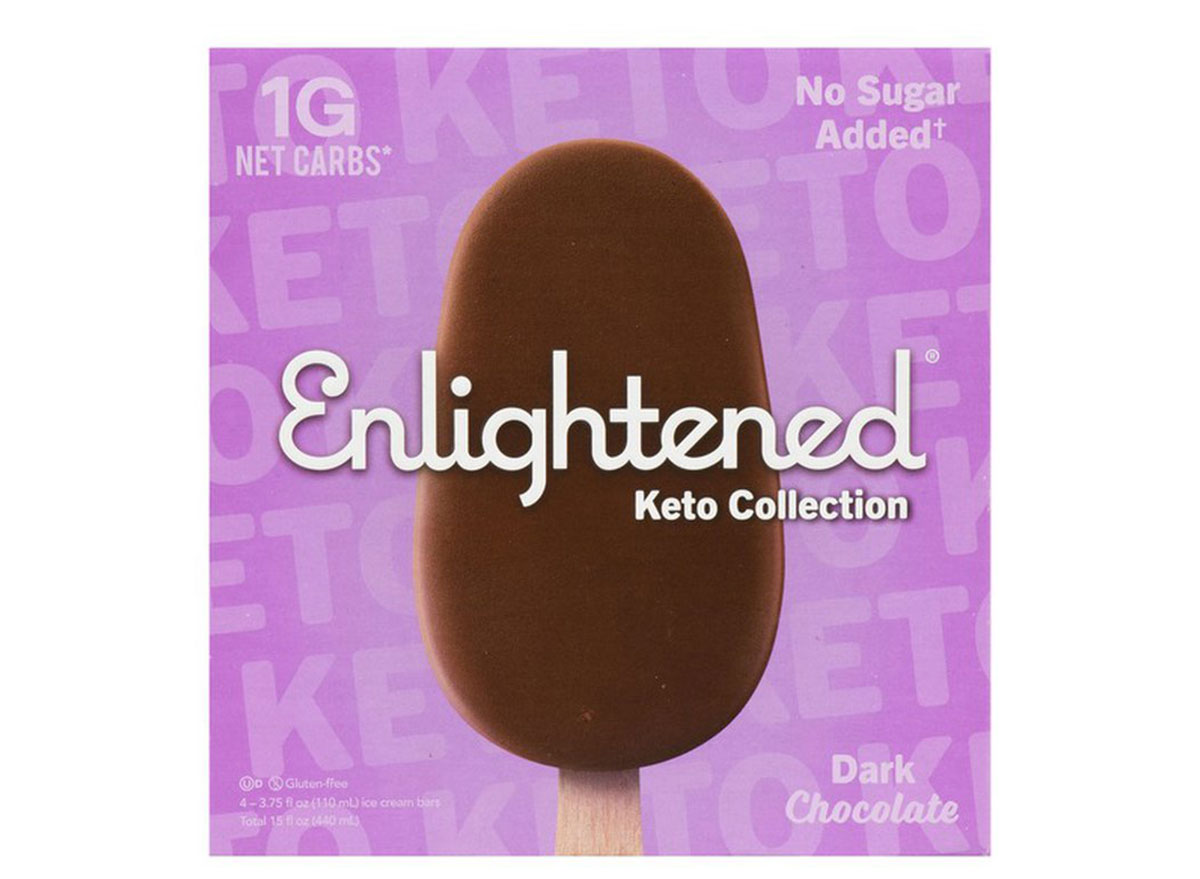 As we can see, the surge in enthusiasm for frozen foods goes well beyond the traditional "complete meal" category. According to Instacart's trends expert, Laurentia Romaniuk, we shouldn't be surprised to see more and more snack foods and desserts taking over the freezer case. And that's especially true when it comes to keto treats like this new ice cream flavor from Enlightened. Dark Chocolate boasts a total of 1 gram of net carbs.
The only caveat we have is that this product is on back-order at many retail outlets, due mainly to production delays that the company says it is working to resolve.  In the meantime, these are the unhealthiest frozen desserts you should steer clear of.
Ben & Jerry's Change the Whirled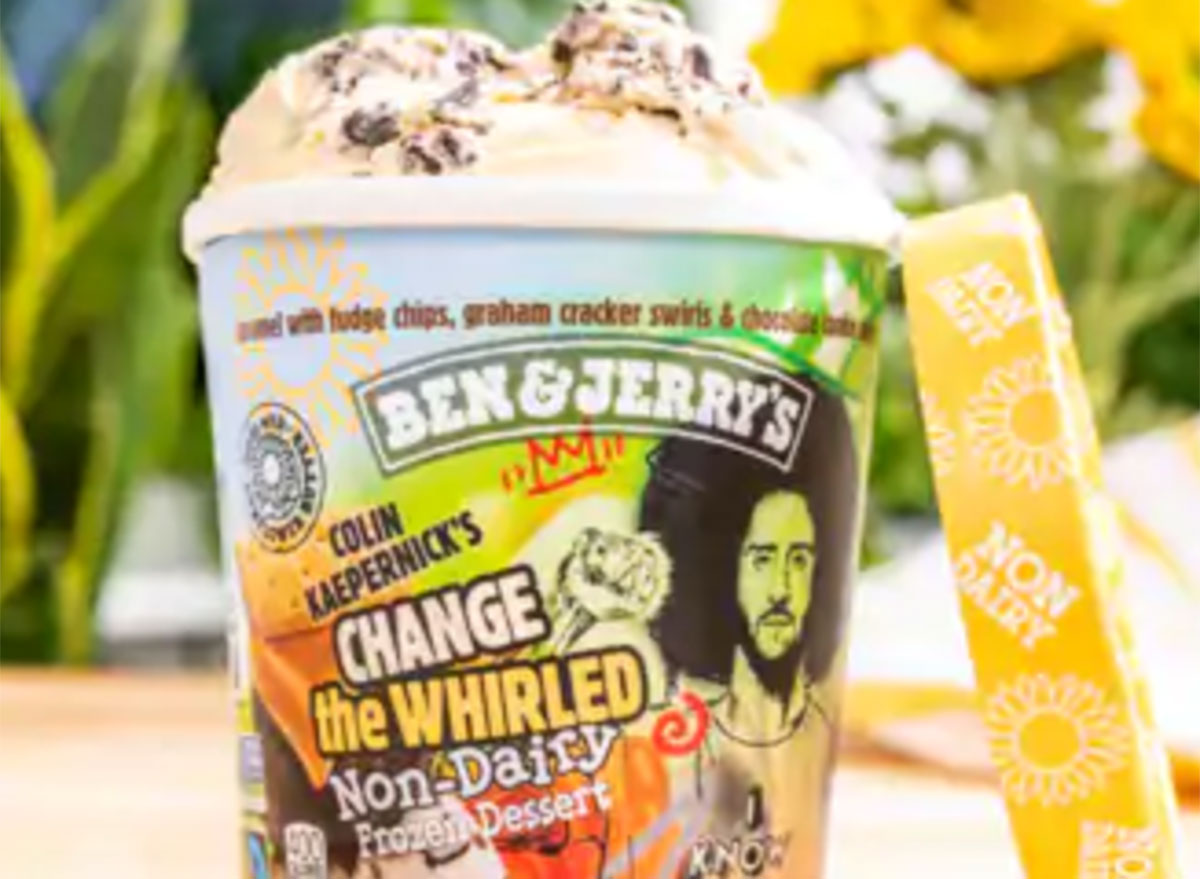 Ben & Jerry's already offers more than a dozen non-dairy vegan ice creams, but the one to watch out for in 2021 is Change the Whirled, a caramel-based non-dairy frozen dessert studded with fudge chips and swirled with graham crackers and chocolate cookies.
This flavor honors football star and social activist Colin Kaepernick for his tireless pursuit of racial justice (a portion of the proceeds from sales of Change the Whirled will go to Know Your Rights Camp).
Field Roast Buffalo Wings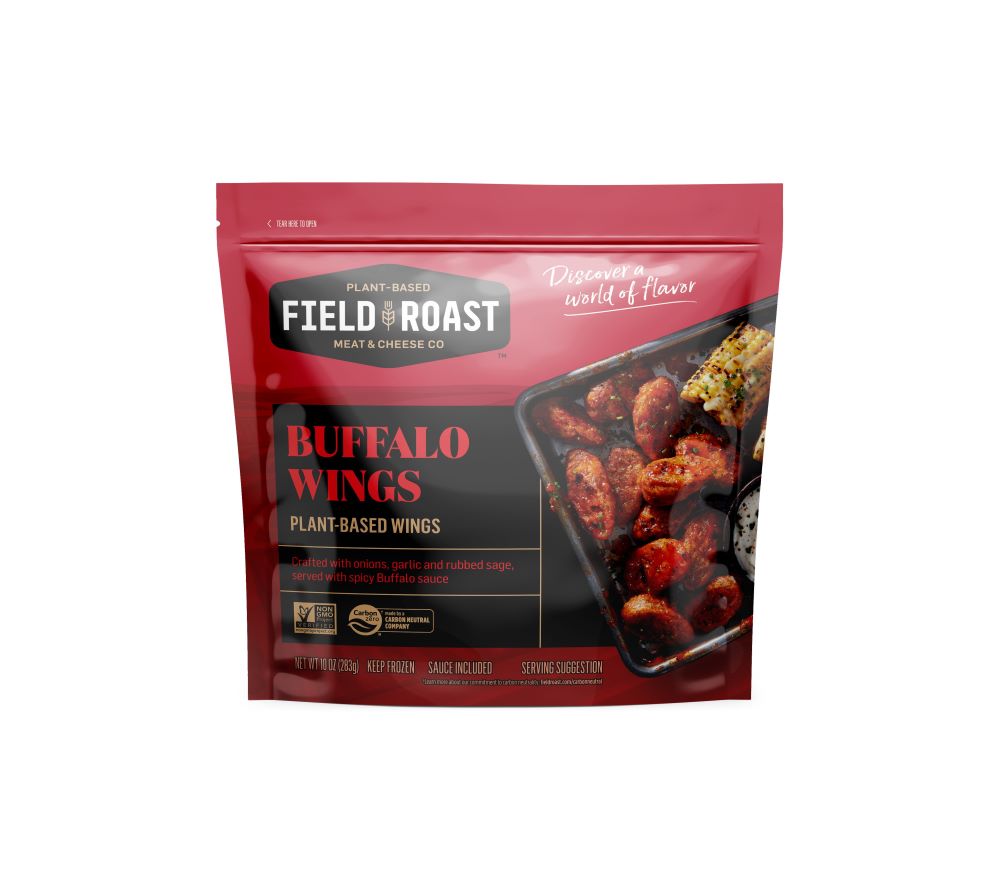 Since 1997, the Field Roast Grains Meat Company has been crafting meat-free meal alternatives. Starting with several eclectic meat-free loaves (Smoked Tomato, Lentil Sage, and Wild Mushroom), the company added meat-free sausages and "roasts" (like the vegan-puff-pastry-wrapped Hazelnut Cranberry Roast) as well as vegan "cheeses" (which they refer to as "chao").
Field Roast's most recent additions delve frozen snacks, including Buffalo Wings made from meat-free sausage, and flavorful "nuggets," both of which start with bias-cut, meat-free sausage.
Levain Bakery Frozen Cookies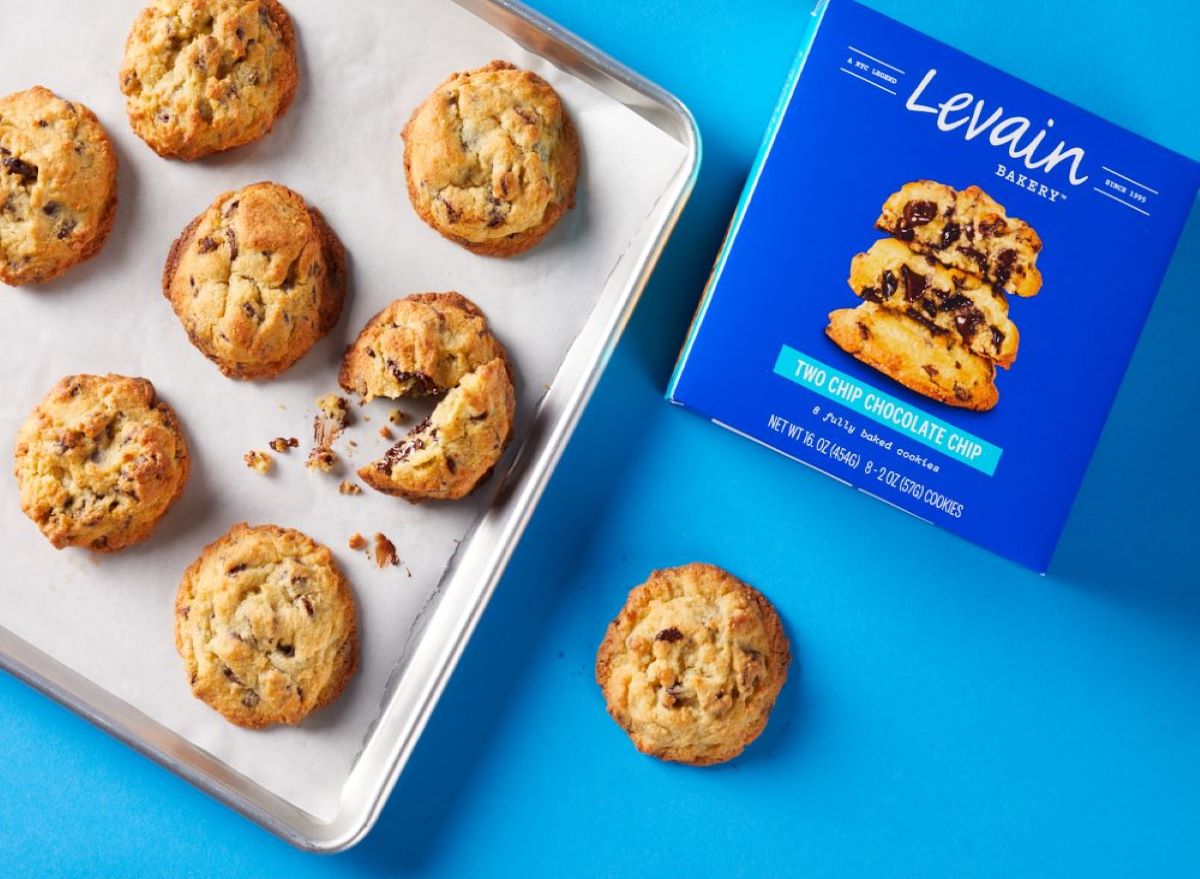 Clearly snacks and treats are an important part of the pandemic experience. For the most part, we try to keep it healthy, but sometimes, there's simply no substitute for bakery cookies, especially from New York City's well-known Levain Bakery.
To reach customers beyond New York, the company launched frozen versions of their famous fresh-baked cookies. They're a treat like no other!
Birds Eye Cauliflower Wings
There are lots of new frozen vegetables to choose from over in the Birds Eye section of the freezer. But we're predicting these new cauliflower Buffalo-style "wings," which come in four flavors, will be getting the most love for the simple reason that they check off all the of-the-moment boxes: spicy, saucy, and snackable. Reminds us of what we're missing when we have to watch sports at home on our televisions all winter? Check.
Although they do contain wheat (they're breaded) and aren't vegan, they're certainly appropriate for anyone exploring a flexible plant-based diet. Here's what a flexitarian diet looks like.6254a4d1642c605c54bf1cab17d50f1e
Green Giant Cauliflower & Spinach Gnocchi
Green Giant is also offering a wide array of new frozen vegetable-based foods, including this cauliflower gnocchi, which are 40% vegetables. There is also a spinach and cauliflower gnocchi. While Green Giant's vegetable gnocchi contains wheat flour, making it unsuitable for gluten-free eaters, we nevertheless predict this item will be popular.
Green Giant Grilled Veggies
Green Giant's new Grilled Veggies like eggplant, zucchini, and peppers and onions may not look as titillating as, say Green Giant's new veggie rings, but they certainly do address an interesting new development across pandemic-ridden America: kitchen fatigue.
You feel it? We feel it. So much cooking. So much baking. So much prepping. So much cleaning after the fact. Wouldn't it be nice to have some of your prepping done for you, and then some?
These pre-cut, ready-to-go veggie packs are a tired cook's dream come true.
Beyond Meat Cookout Classic Burger Patties
Speaking of sausage and peppers, have you tried Beyond Meat's Beyond Sausage yet? Perfectly spiced, fennel-scented, and with a lovely consistency, it's a great way to make your healthy sausage and peppers sandwich even healthier.
But the Beyond Meat product that really deserves a shoutout is the box of frozen Cookout Classic Plant-Based Burger Patties. You can find these at Walmart, among other retail outlets, and if Beyond Meat's fresh plant-based patties are any indication, these are going to be huge. Like Bubba Burger huge.
Gerber Freshful Start Bowls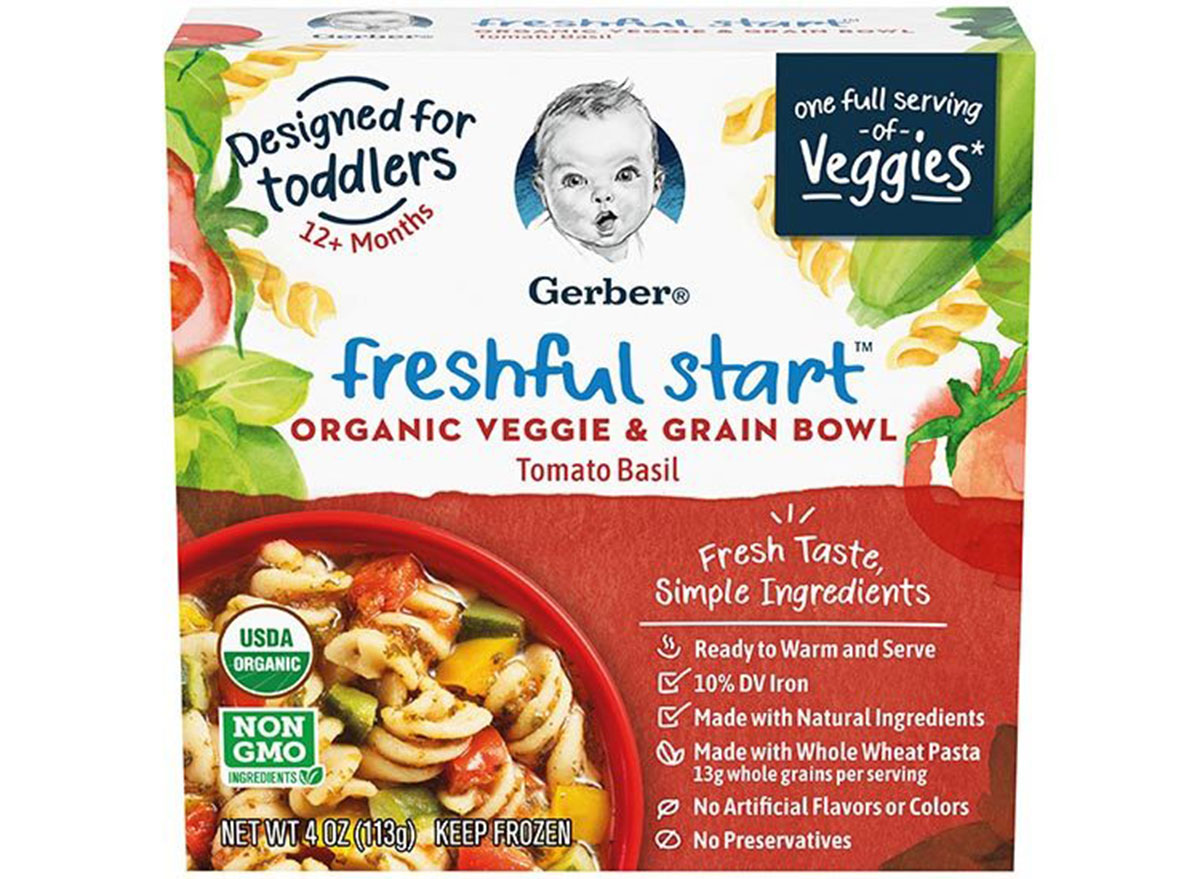 Gerber's Freshful Start bowls were launched in November, and are the brand's first foray into the frozen foods space. Organic and made with whole grains and veggies, these bowls come in three varieties and are designed for toddlers from 12 months onward, and can be ready to serve in minutes.
And now, for the frozen foods we could all do without, here are the 100 Worst Frozen Foods in America.
Lauren Cahn
Lauren Cahn is a food, health, and culture writer whose work has appeared online and in print for Reader's Digest as well as Health Digest, Huffington Post, Taste of Home, and others.
Read more about Lauren