9 Restaurant Chains That Serve the Best Pasta Carbonara
The classic Roman dish takes on delicious New World variations at popular chains nationwide.
The product recommendations in this post are recommendations by the writer and/or expert(s) interviewed and do not contain affiliate links. Meaning: If you use these links to buy something, we will not earn a commission.
A perfect burger. A street taco. A scoop of vanilla ice cream. Sometimes, the simplest dishes are the most comforting—and it's even better when it's enriched with culture and tradition. Such is the case with pasta carbonara, an Italian dish that may seem complicated and extravagant, but is surprisingly simple. 
"Pasta carbonara is deceptively simple," says Phil Rubino, executive chef at the Evie in Chicago. "Since there are so few ingredients, each one needs to be top notch." According to Rubino, that means high-quality guanciale, great pecorino, cracked black pepper, and "really good farm eggs." Not to mention, he says, the right pasta. "I prefer dry spaghetti instead of fresh pasta, or you can switch it up for something like a rigatoni," he adds. "In the end, execution and technique are key to making a great carbonara."
Something so simple can really set the mark for what differentiates a good Italian restaurant from a meh one. According to Diana Manalang, chef/owner of Little Chef Little Café in New York City, pasta carbonara is the true testament to an Italian restaurant. "It should be slightly smoky and salty from the pancetta, yet creamy and decadent from the addition of egg yolks, not the heavy cream," she notes. And since she says that it's all too easy to overcook the eggs and thwart a good carbonara experience, it pays to be discerning—especially since not all carbonaras are made the same. 
Nowadays, some come in healthier zucchini form, while others take the opposite approach and heap on the smoked bacon. But, any pasta dish that's good enough for the actor Tom Cruise, aka the self-described "King of Carbonara," is well worth seeking out. While the pasta dish can be found in any number of reputable independent Italian restaurants, don't overlook the chains, either. From chains known for their pitch-perfect pastas to eclectic eateries with a knack for noodles, these are nine restaurant chains that serve the best pasta carbonara. 
Maggiano's Little Italy
Chef KB's Lobster Carbonara (1 order)
: 1810 cal, 111 g fat (50 g saturated fat), 4430 mg sodium, 141 g carbs (8 g fiber, 16 g sugar), 72 g protein
Is there anything Maggiano's Little Italy can't do? Regarded as one of the foremost restaurant chains for pasta in general, it's particularly acclaimed for its spaghetti and meatballs, its crab cakes, and its lasagna. But don't sleep on another kind of pasta, either. While pasta carbonara is not a menu mainstay across the country, the chain is known to rotate it on regional menus as seasonal specials, exhibiting a real knack for locality and ingenuity, as is the case with a delicious-sounding lobster version—with smoked bacon, sugar snap peas, and truffle cream sauce—in Boston. Considering the uniqueness of Maggiano's pastas, a Reddit thread emerged as a way for diehard fans to share recommendations and raves, including shoutouts for the carbonara. One user even ranks it higher than most other Italian chains, followed by a commenter who vouches for the legitimacy of its carbonara. 
Buca di Beppo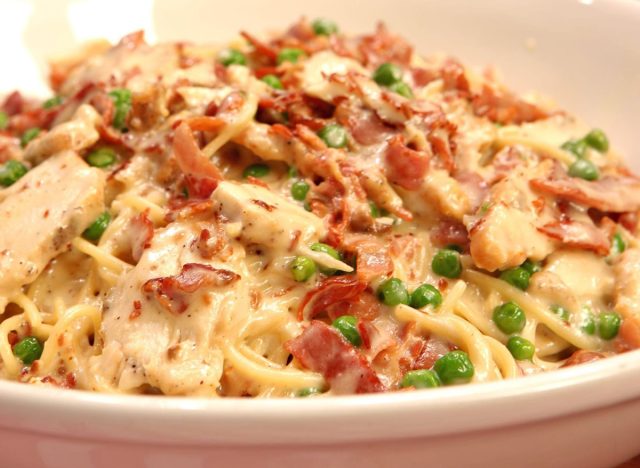 Chicken Carbonara (1 order)
: 730 cal, 36 g fat (9 g saturated fat), 2150 mg sodium, 69 g carbs (4 g fiber, 5 g sugar), 33 g protein
An acclaimed Italian chain known for its mozzarella sticks and chicken parmesan, Buca di Beppo is a restaurant that knows how to use cheese. Beloved for its old-school Italian-American decor, attuned to a matching menu of red-sauce comforts, it's a restaurant that doesn't skimp when it comes to indulgence. And that's also true of its Alfredo sauce dishes, too, like the chicken carbonara loaded with chicken breast, prosciutto, peas, and garlic. It's a fan-favorite on social media, and YouTuber Vannie Eats singled out the dish as "flavorful" and "by far the creamiest carbonara I've ever had."
Olive Garden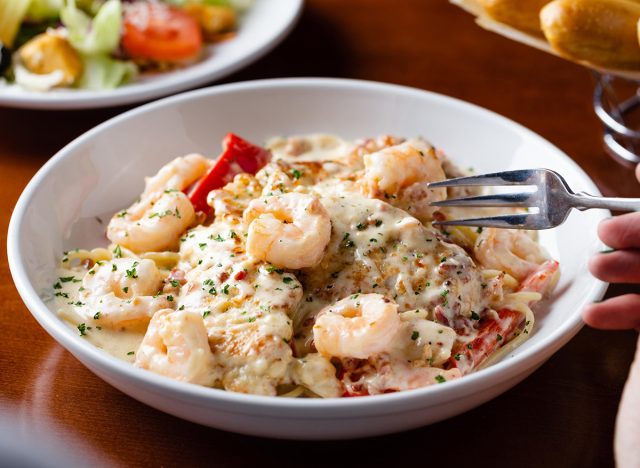 Chicken & Shrimp Carbonara (1 order)
: 1370 cal, 91 g fat (47 g saturated fat), 2050 mg sodium, 75 g carbs (3 g fiber, 10 g sugar), 64 g protein
You may come to Olive Garden for the endless breadsticks, but make sure to save room for another kind of carb. An Italian chain where chefs actually eat, the restaurant serves pastas tested by the pros. This includes the carbonara, made with sautéed seasoned chicken, shrimp, and spaghetti tossed in a cream sauce with bacon and roasted red peppers. Chef Ajai Sharma, whose career includes stints at New York restaurants the Resident and Altro Paradiso, calls Olive Garden's version simply delicious. "The sauce is cooked and seasoned, and then the whole thing is tossed over a fire—it will always leave you satisfied."
Brio Italian Grille
Sausage Carbonara Campanelle (1 order)
: 2110 cal, 138 g fat (66 g saturated fat), 3580 mg sodium, 137 g carbs (9 g fiber, 8 g sugar), 69 g protein
Among the best Italian chain restaurants in America, Brio Italian Grille is an underrated sleeper hit that does a bang-up job with menu favorites like calamari. It also offers one of the meatier renditions of carbonara, a sausage carbonara campanelle, made with mild Italian sausage, pancetta, fennel, peas, and Grana Parmesan tossed with campanelle pasta and egg cream sauce. All topped with crispy pancetta and a sunny-side up egg, it's a version of the dish that boldly flies in the face of tradition, and while purists might scoff, it earns points for its undeniably delicious audacity. One TripAdvisor review gives the dish a rave, saying "the portion was just right" and "the flavor was excellent." A sentiment echoed by another reviewer, proclaiming "the carbonara was nicely seasoned, not too heavy on bacon, with fresh spinach." 6254a4d1642c605c54bf1cab17d50f1e
Fazoli's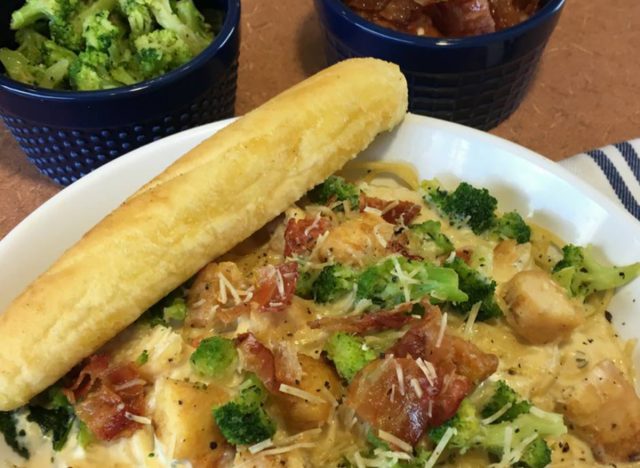 Chicken Carbonara (1 order)
: 1050 cal, 48 g fat (12 g saturated fat), 3370 mg sodium, 107 g carbs (6 g fiber, 8 g sugar), 48 g protein
One of the most revered regional fast-food chains, with locations across the Midwest and South, Fazoli's is another restaurant serving timeworn recipes in a speedy setting. It's developed a reputation for its breadsticks and hot subs, but Fazoli's also has a penchant for pasta. Of its chicken carbonara, the company website delves into details by calling it an Italian staple: "'Pasta Carbonara' loosely translates to 'Coal Miner's Pasta.' The origin of the name isn't completely known but some think the name refers to the black specks of pepper appearing to be black specks of coal." The more you know!
Fazoli's version of this historic dish is a cheese-lover's dream, featuring spaghetti with rich and creamy parmesan Alfredo sauce, parmesan-roasted broccoli, baby sweet peas, chopped bacon, garlic-roasted chicken, and shaved parmesan. And, of course, it's all topped with freshly ground black pepper. The company has such a dedicated following that there's a whole Reddit community for lovers of its pasta, and a manager attests to the quality of ingredients, and how everything is made to-order, stating "we are as fresh as you can get." 
Cheesecake Factory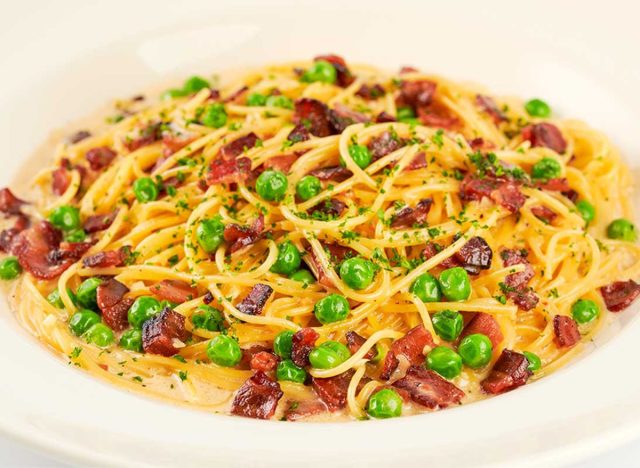 Pasta Carbonara (1 order)
: 1470 cal, 96 g fat (46 g saturated fat), 2710 mg sodium, 112 g carbs (8 g fiber, 7 g sugar), 38 g protein
It may not be the beacon of health or authenticity, but when a chain puts dessert front-and-center in its name, Cheesecake Factory doesn't purport to be, either. Customers don't come here for reasonable portion sizes or regional traditions—they come here for unabashed comfort food bursting with big, bold flavor. And that's precisely what Cheesecake Factory delivers on, be it savory or sweet. Case in point: the pasta carbonara is a spaghetti dish enrobed in garlic-parmesan cream sauce and flecked with smoked bacon and green peas. Calories be damned, it's a dish that features more cream and peas than tradition calls for, but customers still clamor for it. One Reddit user claims it "may not be traditional but this shit is so good," and another likes it so much that they tried to recreate it at home. The carbonara is also, according to one TripAdvisor review, a soothing balm for a sore throat.
Piada Italian Street Food
Carbonara (small)
: 550 cal, 33 g fat (14 g saturated fat), 1170 mg sodium, 46 g carbs (3 g fiber, 4 g sugar), 17 g protein
A fast-food chain you might not have heard of, Piada Italian Street Food is well worth seeking out for high-quality pastas in a convenient fast-casual setting. Founded in 2010, and now boasting upwards of 50 locations in states like Texas, Minnesota, Pennsylvania, and Kentucky, it's grown to be among the fast-food chains serving the best pasta dishes—including a reputable riff on carbonara. Similar to places like Chipotle, customers are able to customize their pastas as they please, or they can opt for the pre-designed carbonara pasta bowl, brimming with parmesan Alfredo, bruschetta tomatoes, pancetta, spinach, and grated parmesan, for a fresher and lighter take on tradition (unless, of course, you add fried chicken). For its fast-casual convenience and flavor, Piada boasts its fair share of fans on Reddit, and the brand notes an emphasis on quality and freshness, prepared in open kitchens that are run by chefs. All of which just goes to show that, even in a fast-food setting, pasta carbonara can be destination-worthy. 
Roscioli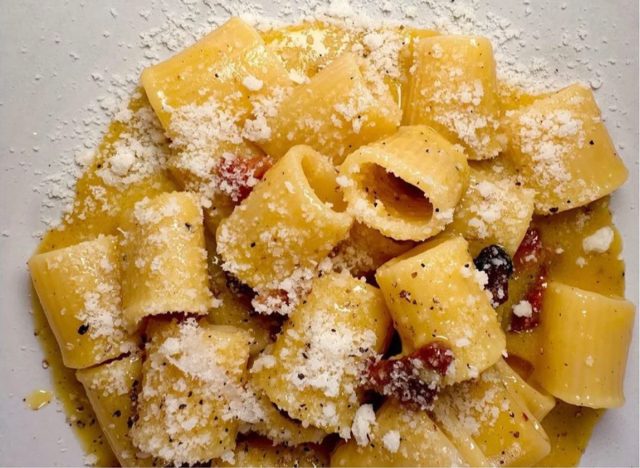 Any Italian mini-chain with connections to Rome is bound to be as authentic as it gets. Indeed, Roscioli is a home-grown institution with a handful of locations in the Eternal City, which recently made its U.S. debut in New York City—much to the delight of pasta-loving chefs like Sandro Fioriti Jr. The chef of Sandro's, also in New York City, he speaks to the simplicity and perfection of the pastas at the Roman-born institution, and how thrilled he is he doesn't need to cross an ocean to satisfy a craving. 
"Whenever I am in Rome I make a point to go to Salumeria Roscioli," he says. "I always order whichever salumi they recommend, carbonara, and pick a bottle of wine from their extensive list. I was so excited to hear about them opening up downtown in New York." The chef adds that the carbonara in New York is just as good as the version in Rome. "You go to so many places that absolutely butcher a carbonara by adding cream, or using pancetta or bacon instead of guanciale," he rants. "To some, it might taste better and I get it, but at the end of the day, it simply isn't carbonara. It's always good to see a Roman restaurant sticking to the traditions of Roman cuisine no matter where in the world they are."
Il Mulino New York
With locations in Miami, Boca Raton, New York City, Atlantic City, and Long Island, Il Mulino New York is an upscale boutique chain that specializes in authentic, chef-driven Italian dishes—which bodes very well for a carbonara that threads the needle between simple and sublime. Of the chain's spaghetti alla carbonara, executive chef Michele Mazza explains that it's a dish designed to transport guests directly to Italy. "This dish, crafted with the finest guanciale, delicate onions, and the creamiest Parmigiano Reggiano, creates a harmonious symphony of flavors, with the perfectly cooked pasta is enveloped in a rich, velvety egg sauce," he says. "To add more to the flavor, we used a lot of crushed black pepper to really elevate the dish."
Matt Kirouac
Matt Kirouac is a travel and food writer and culinary school graduate, with a passion for national parks, all things Disney, and road trip restaurants.
Read more about Matt