11 Restaurant Chains With the Most Outrageous Sandwiches
Go big with an extravagantly stacked sandwich at one of these popular chains.
The product recommendations in this post are recommendations by the writer and/or expert(s) interviewed and do not contain affiliate links. Meaning: If you use these links to buy something, we will not earn a commission.
Sandwiches, with all their infinite filling options and breadth of breads, have always been one of those "blank canvas" foods, which give restaurants ample opportunity to innovate. And by "innovate," we mean get absolutely bonkers with off-the-wall excess. Like burgers, this is a genre of cuisine that can run the gamut from understated and classic to completely over-the-top.
Among America's myriad sandwich chains, from places specializing in breakfast sandwiches to fried chicken, some have proven a penchant for the eccentric—and we're not just talking miso sesame hummus and Napa almonds, either. A far cry from what any dietician might deem healthy, these are the kinds of stacked creations that reach for the stars, using atypical fillings and ingredients to get there.
Sometimes successful, sometimes terrifying, and sometimes packed with enough protein to meet your monthly meat quota, these sandwiches are truly something to behold. Here are 11 restaurant chains with the most over-the-top sandwiches.
Primanti Brothers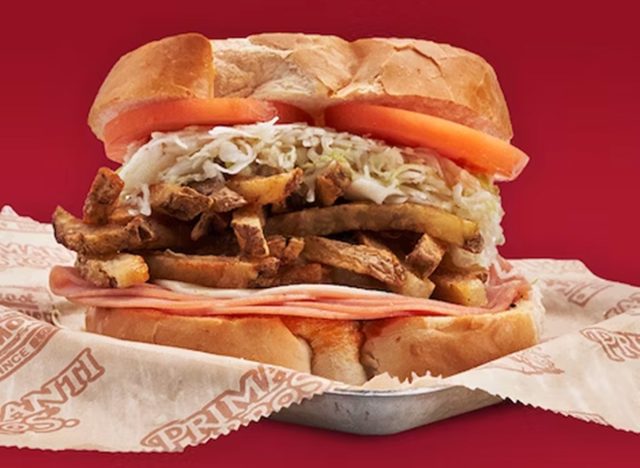 Once upon a time, someone in Pittsburgh decided their sandwich was missing something. It wasn't good enough to have their grilled meat-and-cheese sandwich with a side of fries. No, they needed to have their sandwich with french fries pressed right in the middle. Thus, Primanti Brothers was born in 1933, quickly developing infamy and glory for its singular spud-stacked sandwiches—so much so that the restaurant would go on to earn an America's Classic award from the prestigious James Beard Foundation Awards in 2007.
Today, there are 41 locations scattered up and down the East Coast and mid-Atlantic regions primarily, all known for that signature over-the-top sandwich. Today, the self-described "Almost Famous" sandwiches come in a bevy of flavors, from tuna fish and Genoa salami to turkey breast and corned beef. No matter your protein of choice, though, they all come on fresh Italian bread with coleslaw, tomatoes, provolone cheese, and a pile of fresh-cut french fries, which lend a nice salty crunch to each bite.
Potbelly
Considering that it slices meats to-order and serves some of the freshest tuna sandwiches in the country, you might safely assume that Potbelly is merely a beacon of health and wholesomeness. The quality is there, sure, but that shouldn't suggest this rebounding sandwich chain shies away from excess.
Case in point: the Wreck sandwich is aptly dubbed for its melange of meat—turkey breast, hickory-smoked ham, Angus roast beef, and salami—and what it's about to do to your digestive system. Then there's the Pizza Melt, which is basically a meat-lover's pizza in sandwich form, featuring pepperoni, capicola, crumbled meatballs, marinara sauce, provolone, Italian seasoning, and mushrooms. And, if all that wasn't enough, customers can upgrade to a "big" size for any of their sandwiches, which equates to 30% more bread, meat, and cheese.
Call Your Mother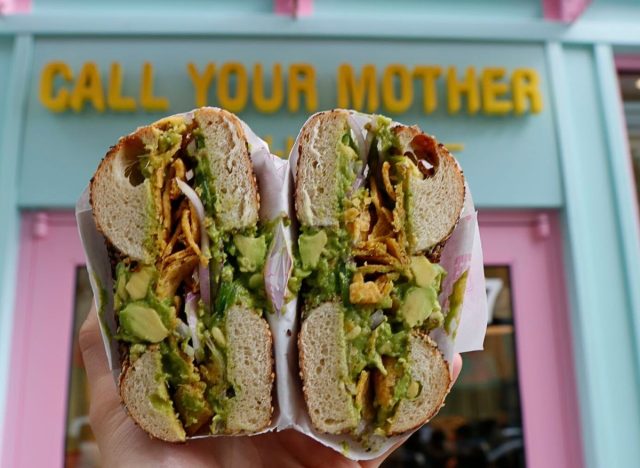 Delis are fitting locales for a bit of decadence. Known for doughy bagels, cream cheese shmears as thick as cake frosting, and cured meats galore, they aren't exactly known for subtlety. Such is the case at Call Your Mother, a booming mini-chain with locations throughout the Washington, D.C., area, and newly Denver. Self-described as a "Jew-ish Deli," this is the kind of place where customers can expect whimsical irreverence and stacked indulgences.
Guests can order bagels straight-up, in atypical flavors like za'atar and maple salt and paper, but Call Your Mother is particularly prized for its jaw-dropping sandwiches—or, rather, jaw-opening? The Thunderbird features maple-chicken sausage, bodega-style eggs, American and cheddar cheeses, and spicy honey on a maple salt and pepper bagel. Meanwhile, the Whisper Walk is a playful medley of Cheez-It cream cheese, bacon, jalapeño, and Fritos on a cheddar bagel. For something sweet, opt for the Fiddler's Creek, which piles apple-pie cream cheese with apples, dulce de leche, and Apple Jacks cereal on an apple-cinnamon bagel.
Arby's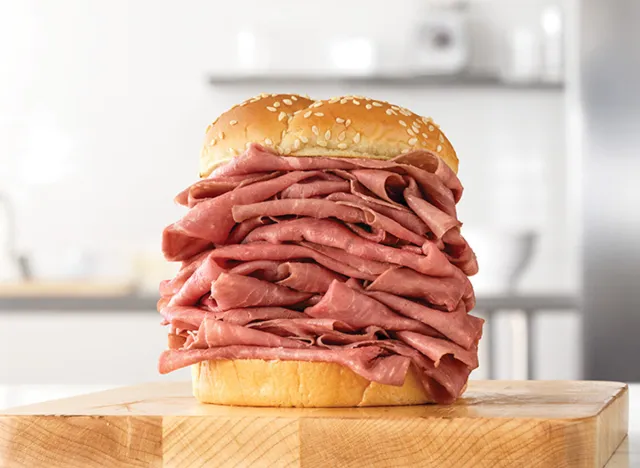 If there's one thing that Arby's has proven over the years, it's that this is a sandwich chain as well known for curly fries and roast beef as it is for audacity. Questionable quality of meat aside, this is a chain that has made headlines in the past for things like a 5 Meat Mega Stack, which was just as absurd as it sounds, made with pepper bacon, smoked ham, roast beef, roast turkey, and chicken filet. It also dabbled in wild game, with ill-conceived venison sandwiches and duck sandwiches. Of course, for a more run-of-the-mill over-the-top sandwich, you could just order a three cheese and bacon sandwich as long as your arm. Or a sliced rib-eye sandwich topped with crispy onions, Swiss cheese, and garlic aïoli.
Jason's Deli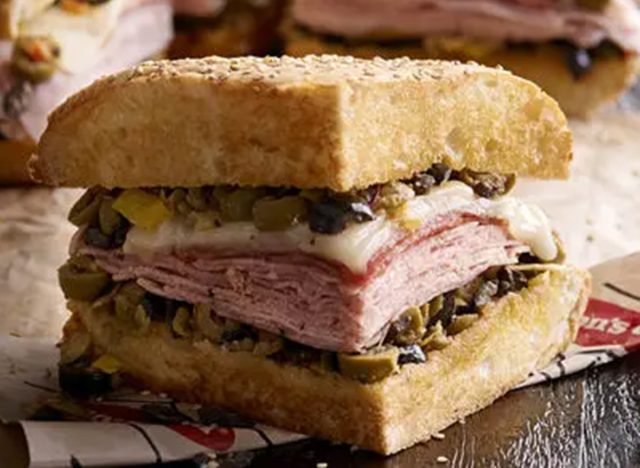 Compared to many fast-food sandwich chains, Jason's Deli may get the stamp of approval from dietitians, but that shouldn't suggest it's all light health food here, either. That's all thanks to the deli's muffalettas, an ode to New Orleans' famed sandwiches, made with multiple forms of cured meats and cheese on thick sesame-speckled bread. Constructed with the likes of ham, salami, and turkey, plus provolone and zesty olive mix, these things are so burly that they're served as quarter sandwiches—because a full version would exceed 2,000 calories in one gut-busting sandwich. Elsewhere, another New Orleans homage is the Italian Cruz Po'boy, an Italian-meets-Cajun mashup that features ham, salami, Italian peppers, asiago cheese, tomatoes, mustard, and Italian dressing on crusty New Orleans-style French bread.
KFC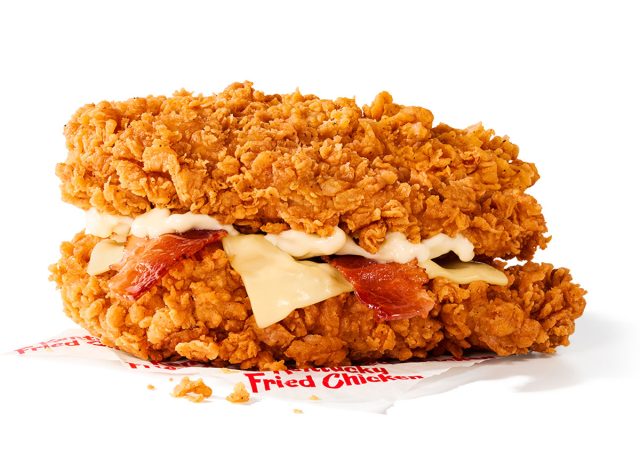 Any modicum of balance that KFC once possessed went out the window in 2010, when the fried chicken chain launched its notorious Double Down. This notorious monstrosity used two pieces of fried chicken in place of bread for a sandwich made with bacon, cheese, and the Colonel's "Secret Sauce." Over the years, the infamous sandwich has made recurring menu appearances, disappearing for years at a time like some kind of mythical fried-chicken Bigfoot. If there's one restaurant chain sandwich that typifies the notion of over-the-top, it's this one. But, the Double Down isn't KFC's only foray into excess.
The chain also made something called the Cheetos Sandwich, wherein a crispy chicken filet was topped with vague "Cheetos Sauce" and stacked with mayo and crunchy Cheetos.
McDonald's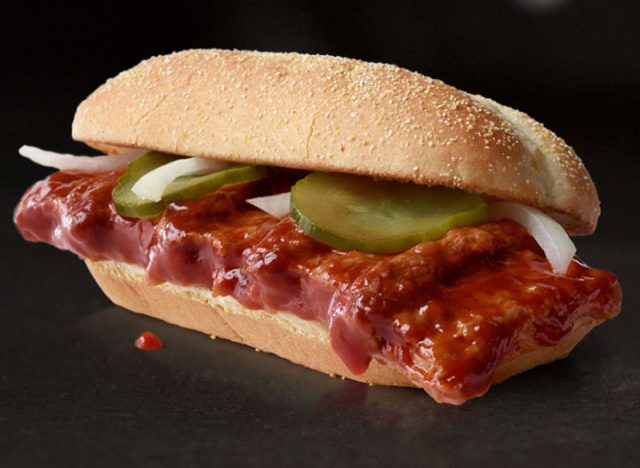 A place that coined the term "super size" is a place that knows how to push the envelope. McDonald's is a global sensation that's made a name for itself, for better or worse, for a wide variety of innovations and inventions, from collectible Happy Meal toys to McMuffins, Big Macs, and habit-forming french fries. But over the years, the juggernaut brand has frequently crossed the line into heinous territory.
There was the limited-time Grand Mac, which was a super-sized burger that was basically an extra-cheesy club sandwich in burger form. It gave the similar treatment to breakfast, with its Triple Breakfast Stack McMuffins, in case you'd like to start your day with a meaty anvil of a sandwich. And who can forget the storied McRib Sandwich, a thing of mystery meat folklore. Most recently, the chain has been testing "extra-large" chicken sandwiches, essentially upping the ante on its comparatively dainty Grand Chicken sandwiches.
Chicken Salad Chick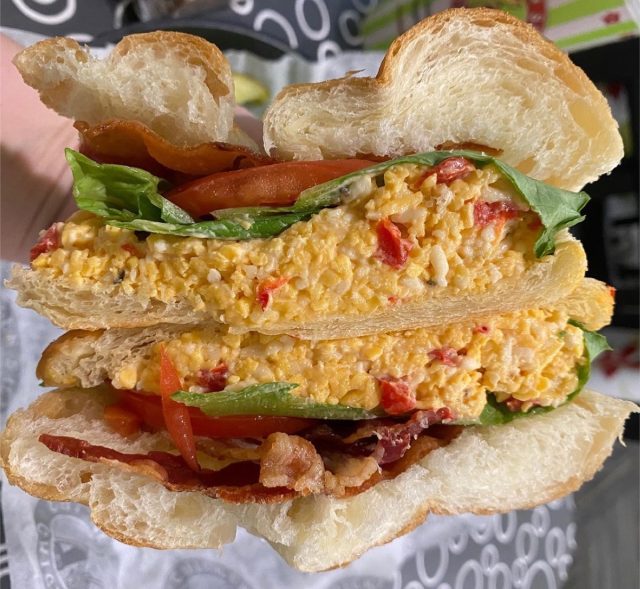 If you can't get chicken salad in fast-food form near you yet, just wait, because one unique chain is on an expansion tear across the country—and it's bringing its over-the-top sandwiches with it. Currently the only fast-food chain dedicated to chicken salad, Chicken Salad Chick is giving the lavish treatment to the humble picnic fodder, particularly by heaping it on sandwiches alongside a slew of other meats and cheeses. Considering creamy, mayo-based chicken salad is inherently pretty decadent on its own, just imagine combining it with spicy pimento cheese, or crispy bacon, or provolone. The Chick Melt, which features your choice of chicken salad and provolone, achieves a new level of decadence as its sandwiched between a buttery toasted croissant.
Wild Eggs
True to its name, the menu gets pretty wild at Wild Eggs, a Louisville-born breakfast and brunch chain that now spans multiple locations in Kentucky, Indiana, and Ohio. Such wildness includes breakfast nachos, pumpkin pie pancakes, and cinnamon rolls made with croissant pastry dough. Sandwich-wise, the Asiago Breakfast Sandwich is a behemoth made with poblano cream, scrambled eggs, country ham, applewood-smoked bacon, roasted tomatoes, and melted American cheese on a thick asiago cheese bagel. And it only gets wilder from there.
One of the signature items pays homage to Wild Eggs' Louisville roots, as Kelsey's KY Brown puts a brunchy spin on the open-faced Kentucky sandwich staple. While the original Hot Brown was invented at Louisville's Brown Hotel, made with roast turkey, tomatoes, bacon, and Mornay sauce in an open-faced sandwich, this one tops toasted sourdough with fried egg and smoked paprika—plus all the aforementioned requisites for good measure.
Honey Bunny Biscuit Co.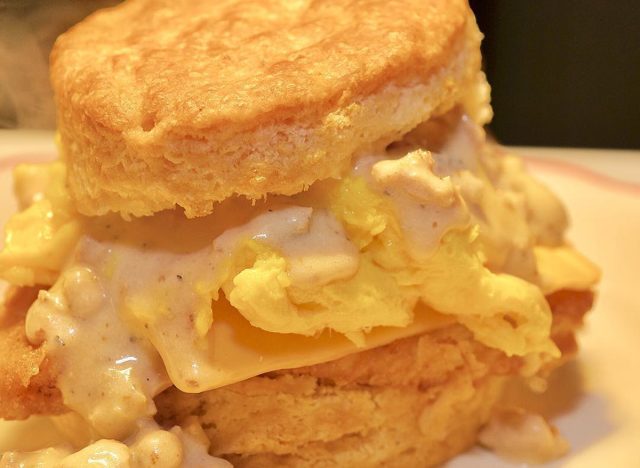 Fluffy, flaky, and unabashedly buttery, biscuits are a go-to sandwich base for breakfast fare like eggs and bacon. But, at Honey Bunny Biscuit Co., a burgeoning mini-chain in the Oklahoma City area, the super-sized carbs lay the foundation for a dizzying variety of unconventional sandwiches. Sure, even the Classic—with bacon, ham, or sausage, plus cheese and egg—is pretty extra, considering the sheer heft of these biscuits. But they ascend to new heights when you add in things like fried chicken and sausage gravy for the Cannonball sandwich, collard greens and hot sauce for the Charleston, and hot links with jalapeño cream cheese for the No. 7. For a bit of sweet and savory, opt for the Velvet Elvis, an extravagant stack peanut butter, banana, bacon, and honey.6254a4d1642c605c54bf1cab17d50f1e
Duck Donuts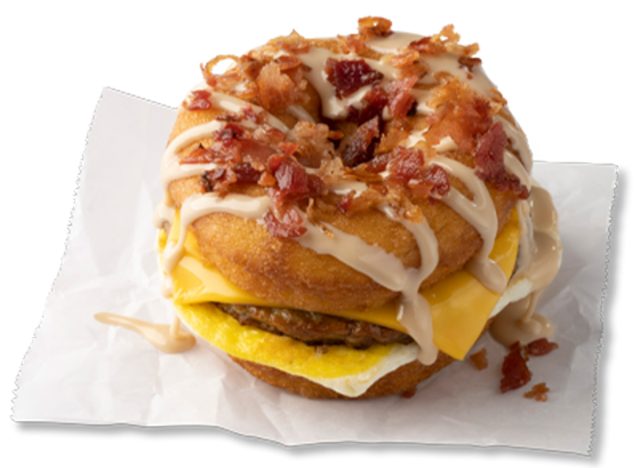 What began as a humble doughnut operation on the Outer Banks of North Carolina has spread its wings into an ever-growing empire of deep-fried comfort food. Duck Donuts now boasts locations all over the country, from Florida and Arkansas to California, Idaho, and Massachusetts. The doughnuts themselves, in funky flavors like Blueberry Pancake and Piña Colada, are fan favorites, but for something really over-the-top, they're also used in place of bread for sandwiches. The breakfast sandwiches here are all made with a sliced plain cake donut, served warm with things like bacon, egg, cheese, and sausage. There's also a maple version that features chopped bacon, sausage, egg, and cheese in the doughnut sandwich, which is then topped with maple icing and more chopped bacon.
Matt Kirouac
Matt Kirouac is a travel and food writer and culinary school graduate, with a passion for national parks, all things Disney, and road trip restaurants.
Read more about Matt