15 Best Side Dishes for Steak
Are you cooking up a juicy steak tonight? If you are, here are steak's best sidekicks for a perfect meal.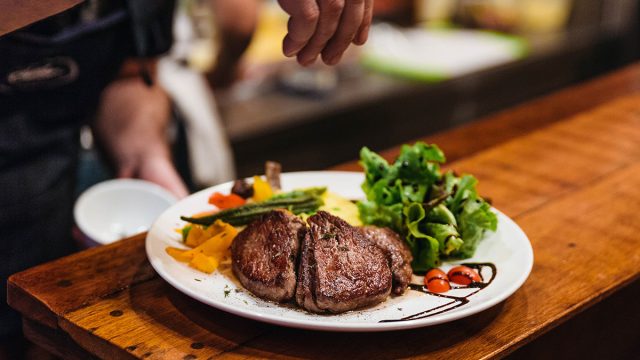 Look, you could have cooked your steak to absolute perfection, but what if your side dishes aren't up to par? Your whole dinner could be sabotaged. To avoid such a catastrophe from gracing your dinner table, we compiled a list of excellent side dishes for steak so you don't have to fret about what may or may not actually pair well with it.
Here are 15 side dishes that perfectly complement that seared steak.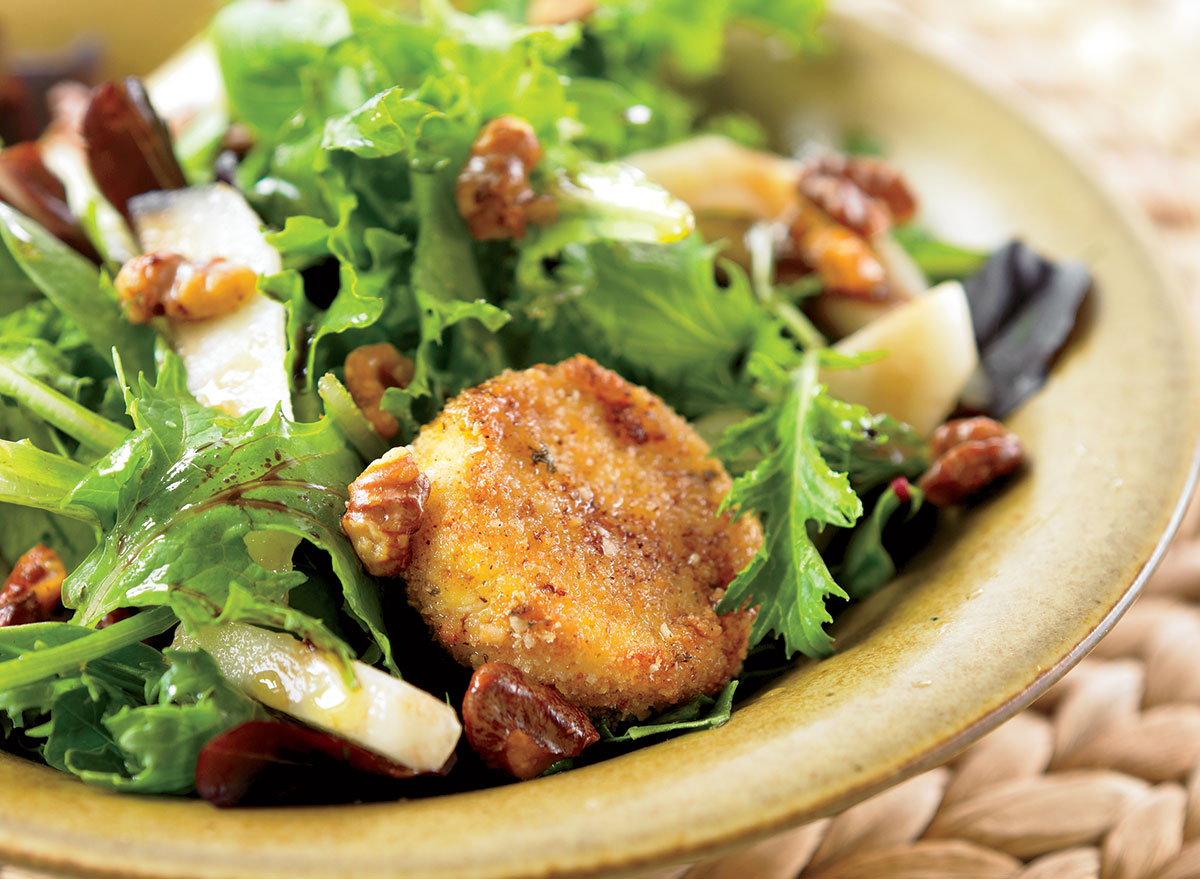 A savory steak can be really heavy, so why not pair it with a lighter, equally savory side salad? Slices of fresh goat cheese are breaded and then baked until crispy on the outside but nice and gooey on the inside. They're then placed on a bed of arugula, joined by walnuts and slices of pear. This is the perfect pairing for a hearty hunk of meat.
Get our recipe for Warm Goat Cheese Salad.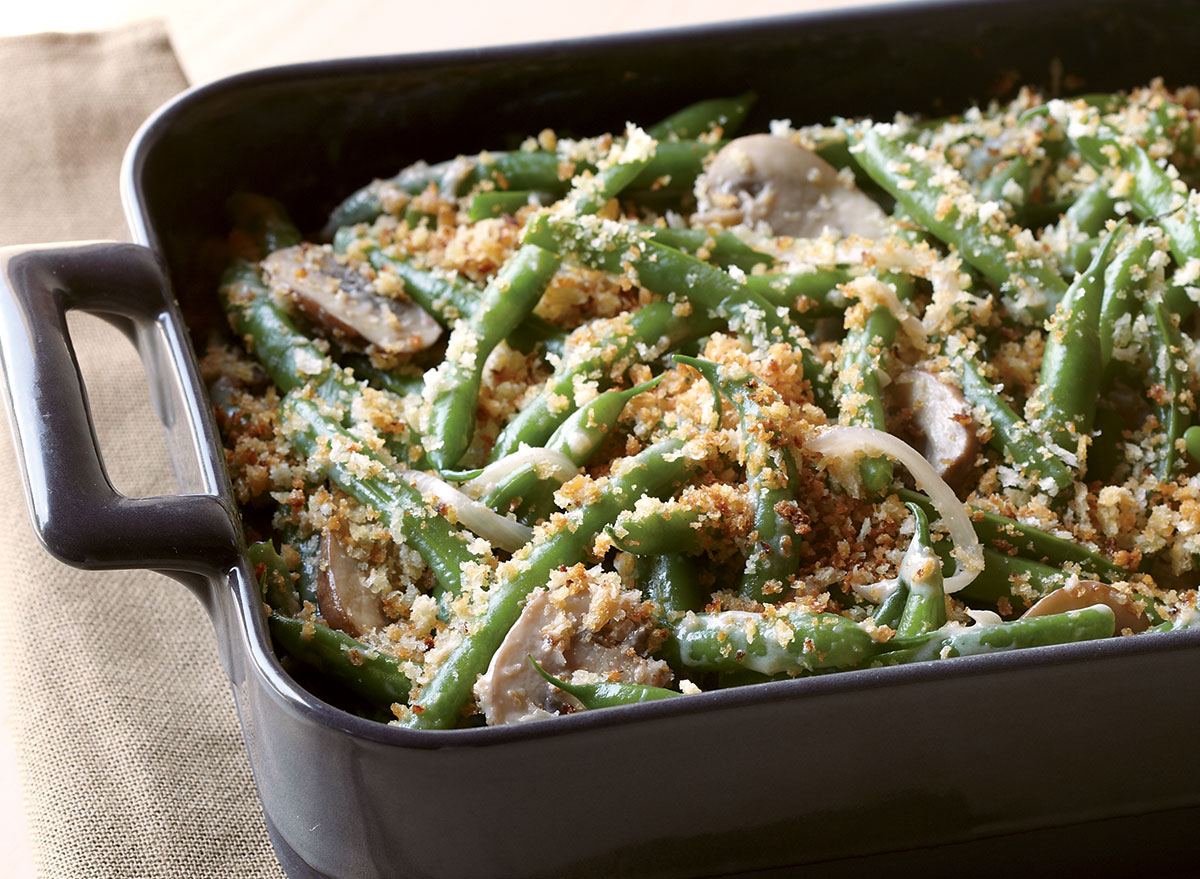 Green bean casserole pairs well with just about any main meal, and the comfort food classic gets a decidedly lighter makeover here. Between a steak and a green bean side, you'll feel like you're at a steakhouse right in your own home.
Get our recipe for Green Bean Casserole. 
Melted Brie with Vegetables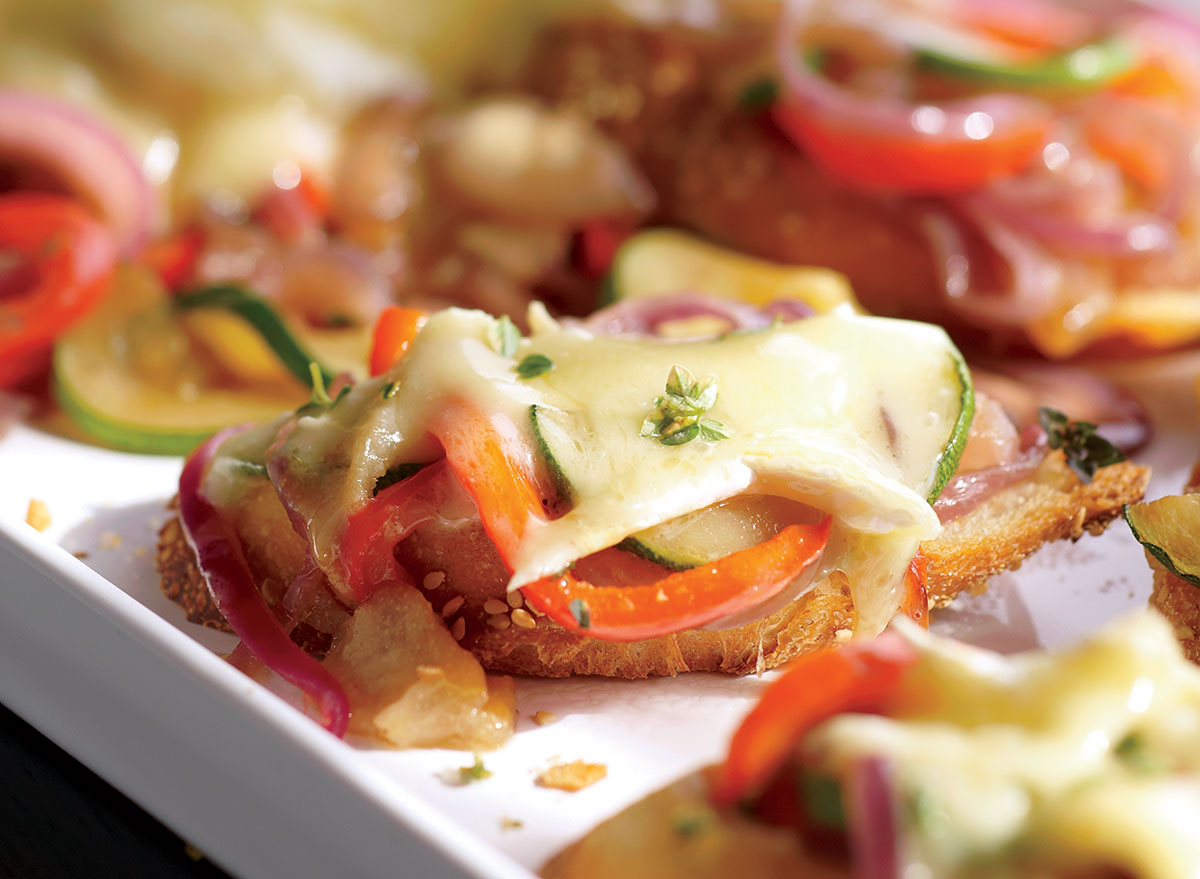 If you love brie cheese, you're bound to love this side dish. Think bruschetta without the tomato and shaved parmesan, and instead made with thin slices of red onion, red pepper, zucchini, pear, and melted brie. Your steak won't be bland when it's paired with this colorful side dish.
Get our recipe for Melted Brie with Vegetables.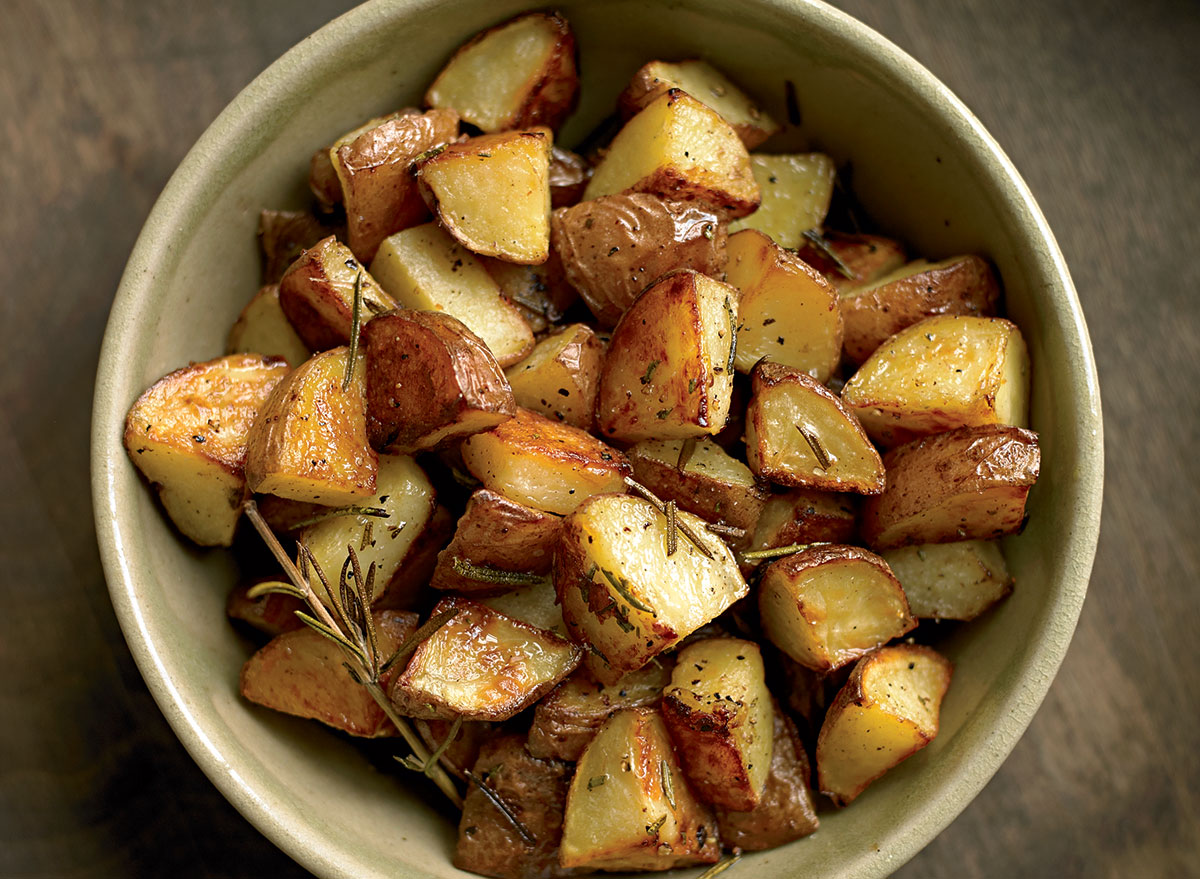 Are you a steak and potatoes kind of person? Of course you are. This simple side dish is the perfect pairing for steak. The rosemary is what makes these roasted potato cubes stand out from its competitors.
Get our recipe for Crispy Rosemary Potatoes.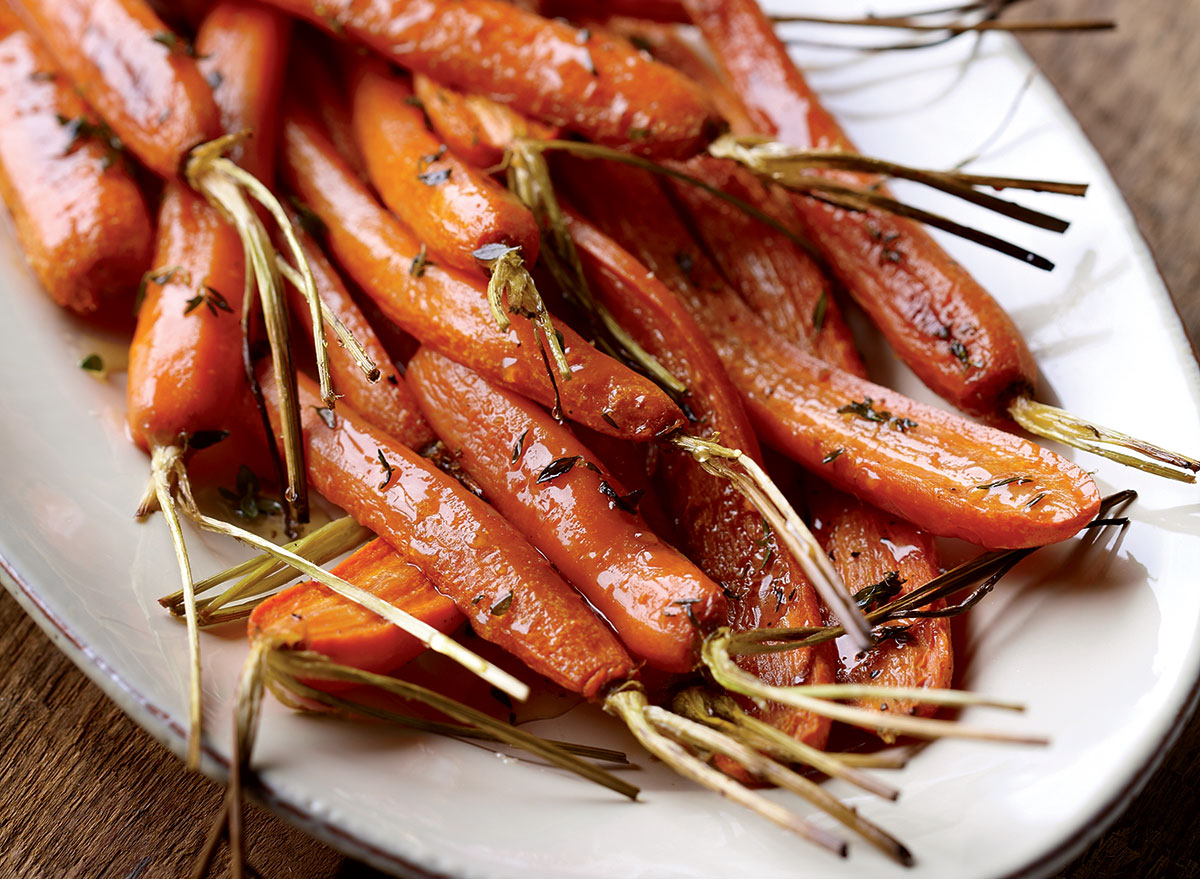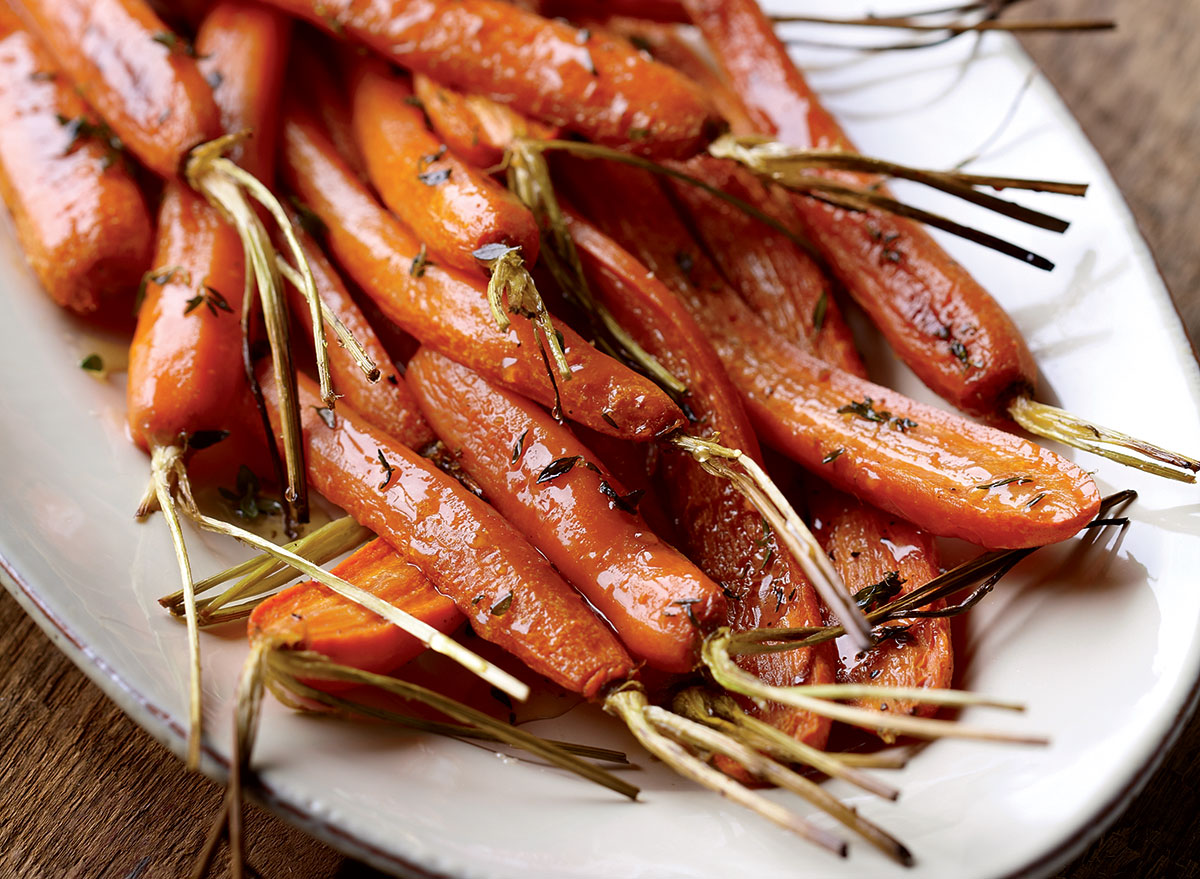 If you're chomping on red meat, it may be in your best interest to add a light veggie to your plate to counterbalance the calories and saturated fat. Another perk about these easy roasted carrots? They're extremely easy to make and will take you no more than 45 minutes from start to finish.
Get our recipe for Honey Roasted Carrots.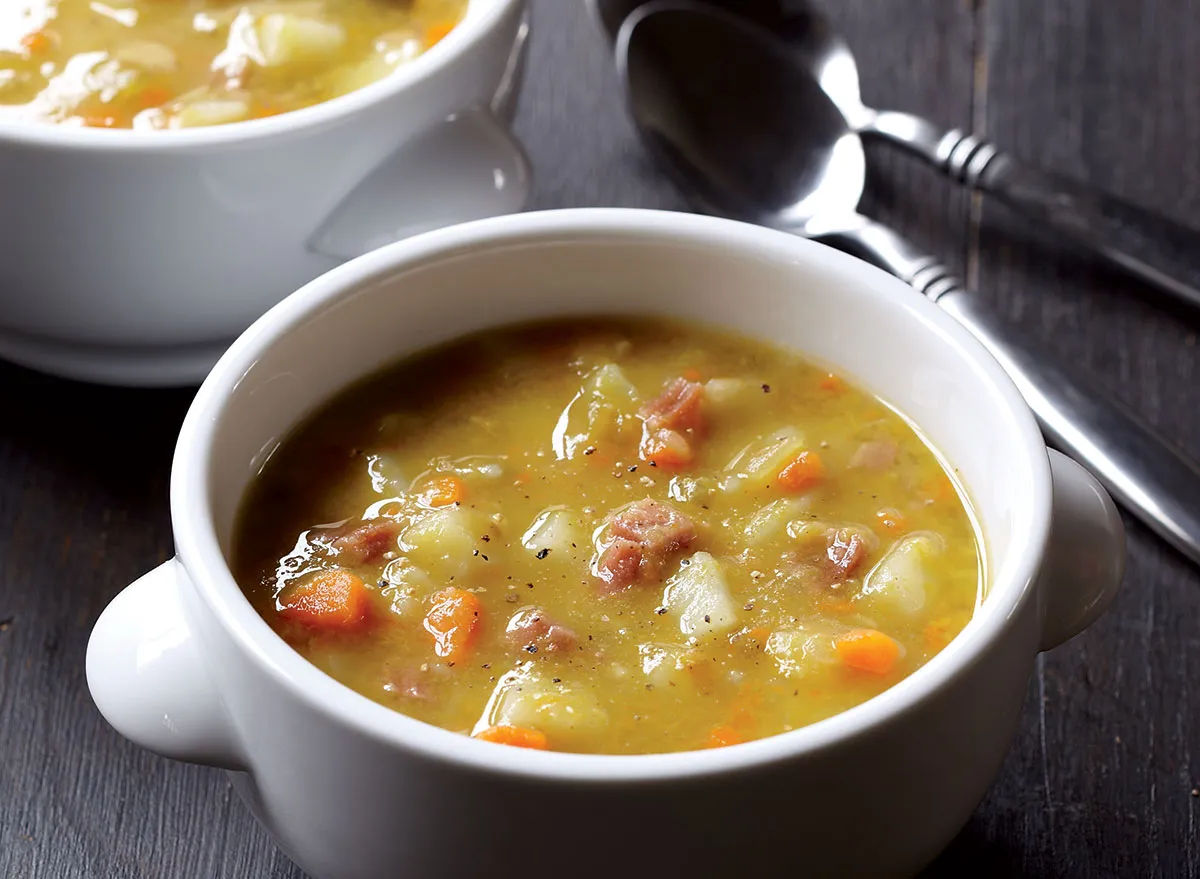 Soup warms the soul and fills your belly. With this creamy, veggie-filled soup, you'll likely want to split your serving of steak in half, which will ultimately save you calories, cholesterol, and saturated fat.
Get our recipe for Perfectly Creamy Split Pea Soup.
Who doesn't love a baked potato? The standard spud is a perfect pairing for a hearty piece of steak. Thankfully, this recipe is a bit healthier than a traditional twice-baked potato. For example, our recipe swaps sour cream for protein-rich Greek yogurt. You'll get the same creamy flavor with fewer calories.
Get our recipe for Bacon and Cheese Twice-Baked Potatoes. 
Caprese Tomato Tower Salad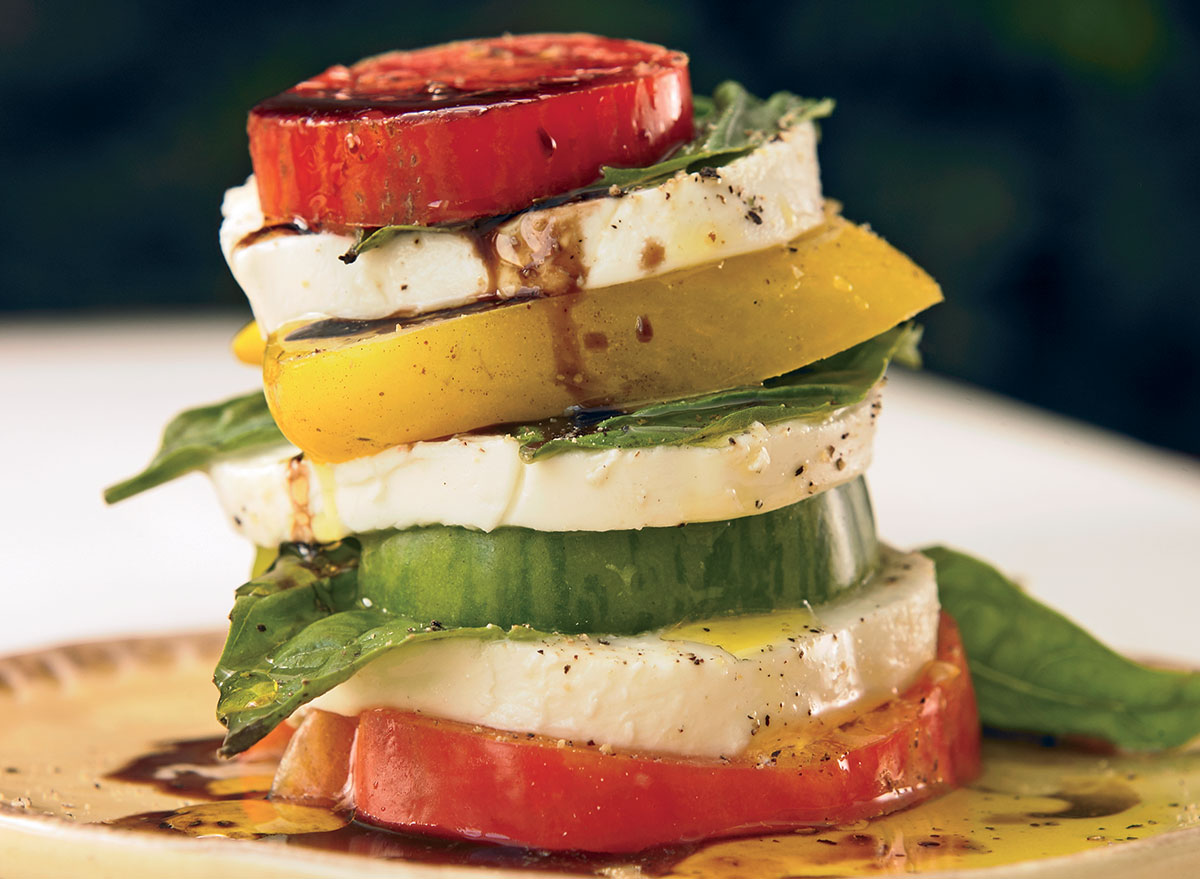 Leaning tower of Caprese, anyone? Test out this fresh side dish next time you have a reverse sear steak. It's a light enough side that it won't overwhelm the star of the show.
Get our recipe for Caprese Tomato Tower Salad.
Fluffy biscuits and juicy steak? Could a meal possibly get any better than that? A steak and biscuit sandwich sounds like a true Southern staple in our book.
Get our recipe for Southern-Style Biscuits.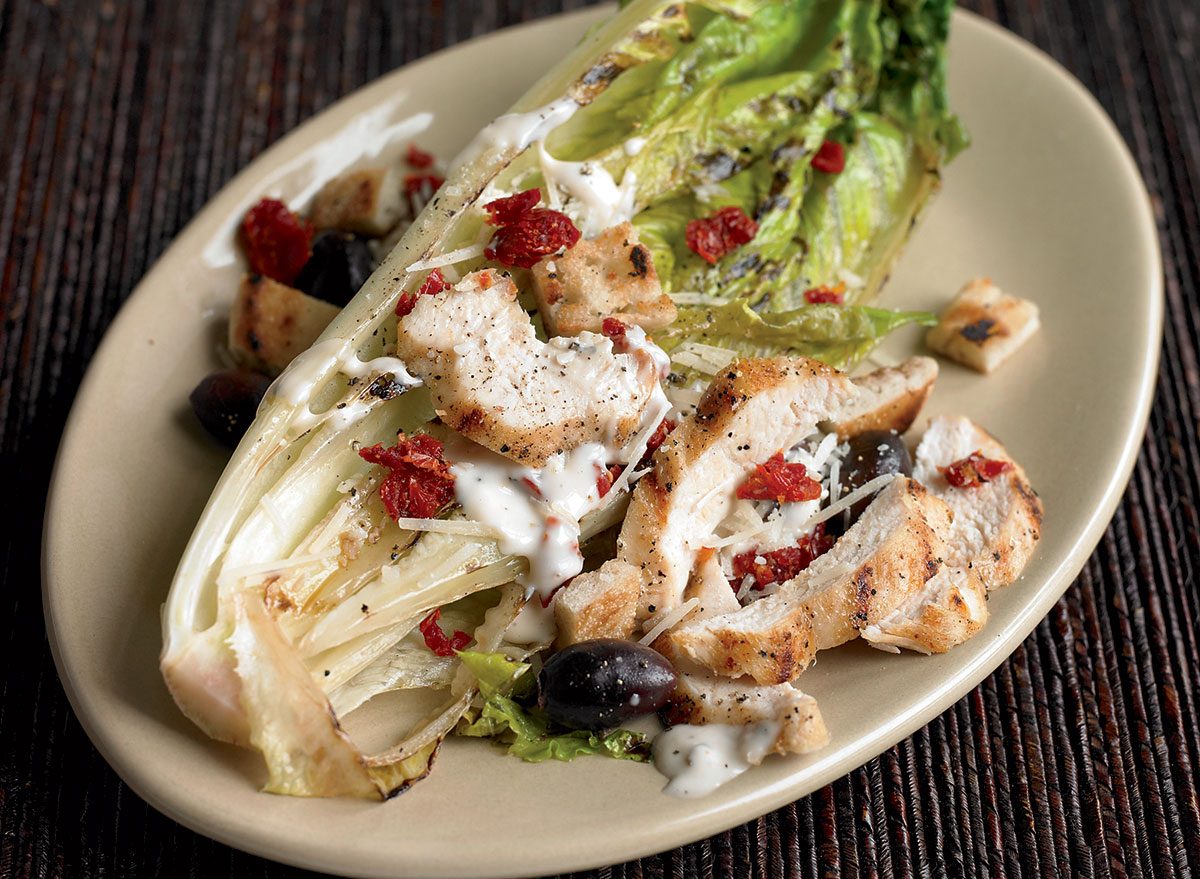 Is there anything more classic than a Caesar salad and a steak? Make this Caesar salad without chicken for a delicious side dish for your main meat. The smoky taste of the grilled lettuce with the grilled taste of the steak is a picture-perfect steakhouse meal in your own kitchen.
Get our recipe for Grilled Caesar Salad.
RELATED: Your guide to the anti-inflammatory diet that heals your gut, slows the signs of aging, and helps you lose weight.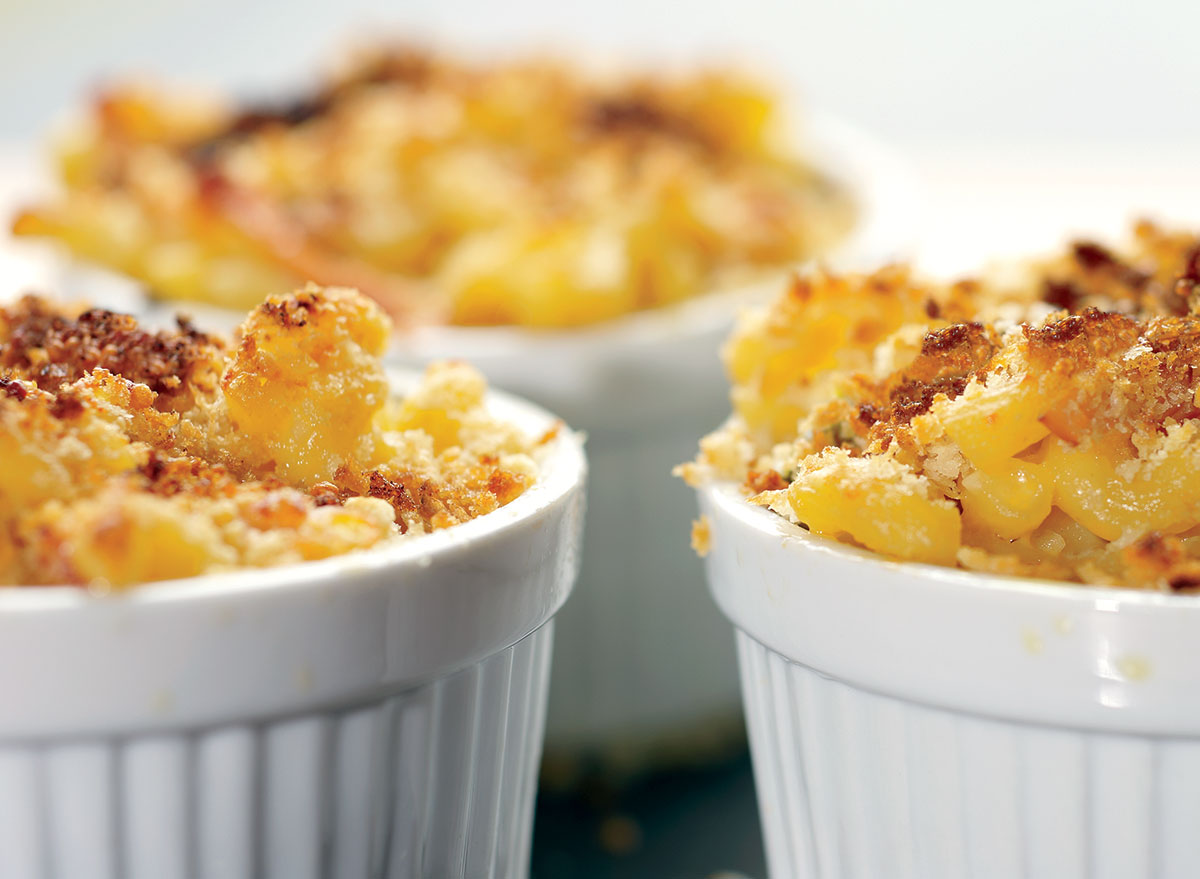 You've made your fair share of macaroni and cheese, but have you ever attempted spicy mac and cheese? Pickled jalapeños give these cheesy noodles that kick of spice you never knew they needed. This may just be one of your new favorite side dishes for steak.
Get our recipe for Spicy Macaroni and Cheese with Jalapeños and Prosciutto.
Curry with Cauliflower and Butternut Squash Stir Fry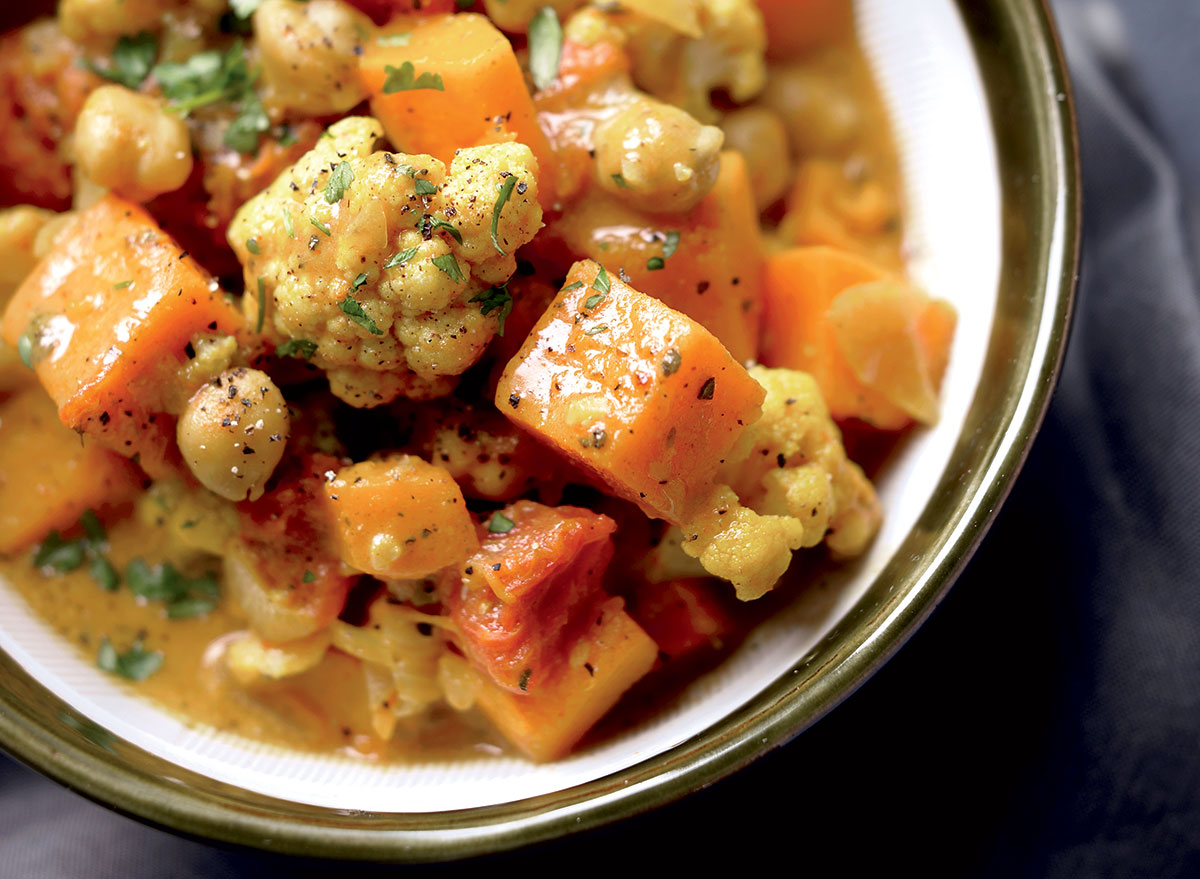 Talk about a vitamin-rich, inflammation-fighting stir fry! Pair this with your steak if you're looking for something out of the ordinary (and very delicious).
Get our recipe Curry with Cauliflower and Butternut Squash Stir Fry.
Healthy Fig, Prosciutto, and Goat Cheese Salad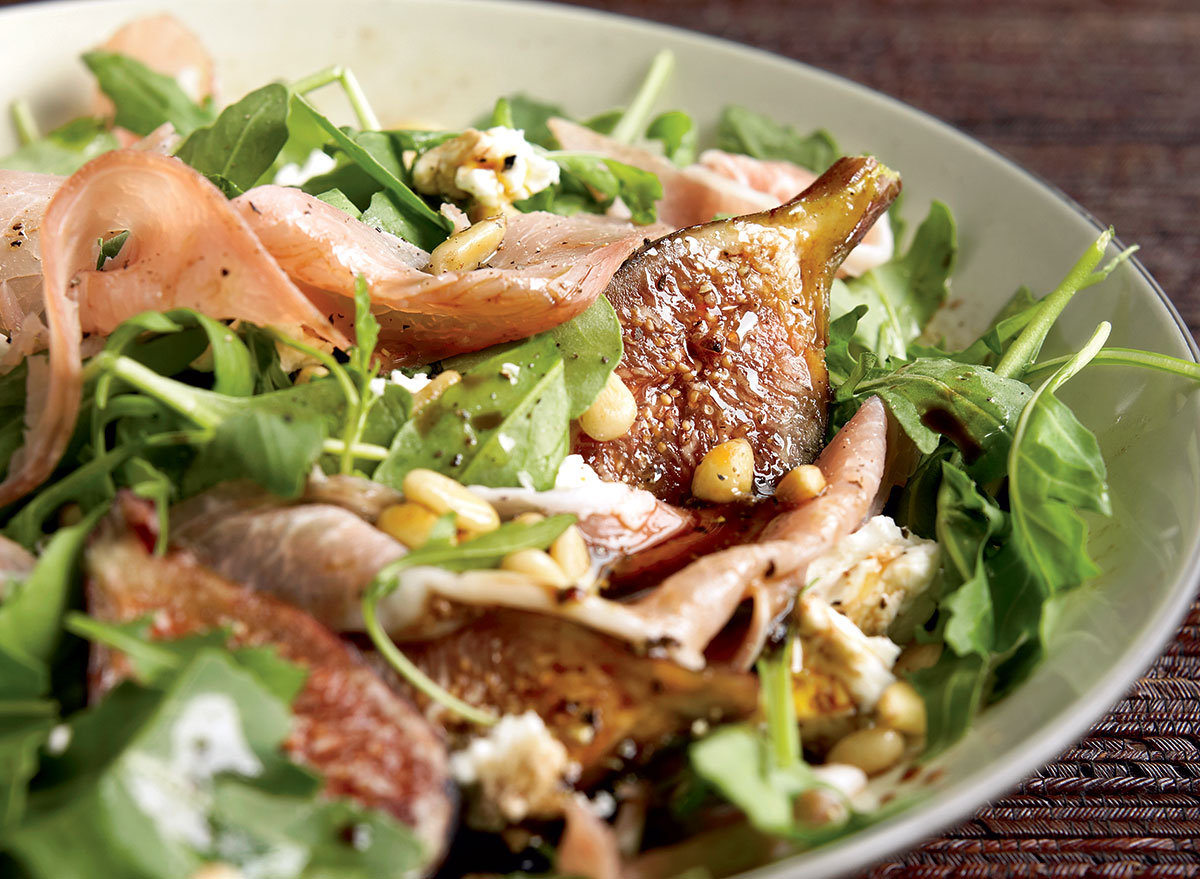 This arugula-based salad contains thin slices of prosciutto, sweet fig, goat cheese, and pine nuts. Need we say anymore? This savory and mildly sweet salad makes for a perfect light pairing to your tender steak.
Get our recipe for Healthy Fig, Prosciutto, & Goat Cheese Salad. 
Quinoa is a special plant-based food, as it's the only one that comprises all 11 essential amino acids, which are the building blocks to protein. Why not pair your steak over a bed of quinoa?
Get our recipe for Quinoa Pilaf.
Spicy Mashed Sweet Potatoes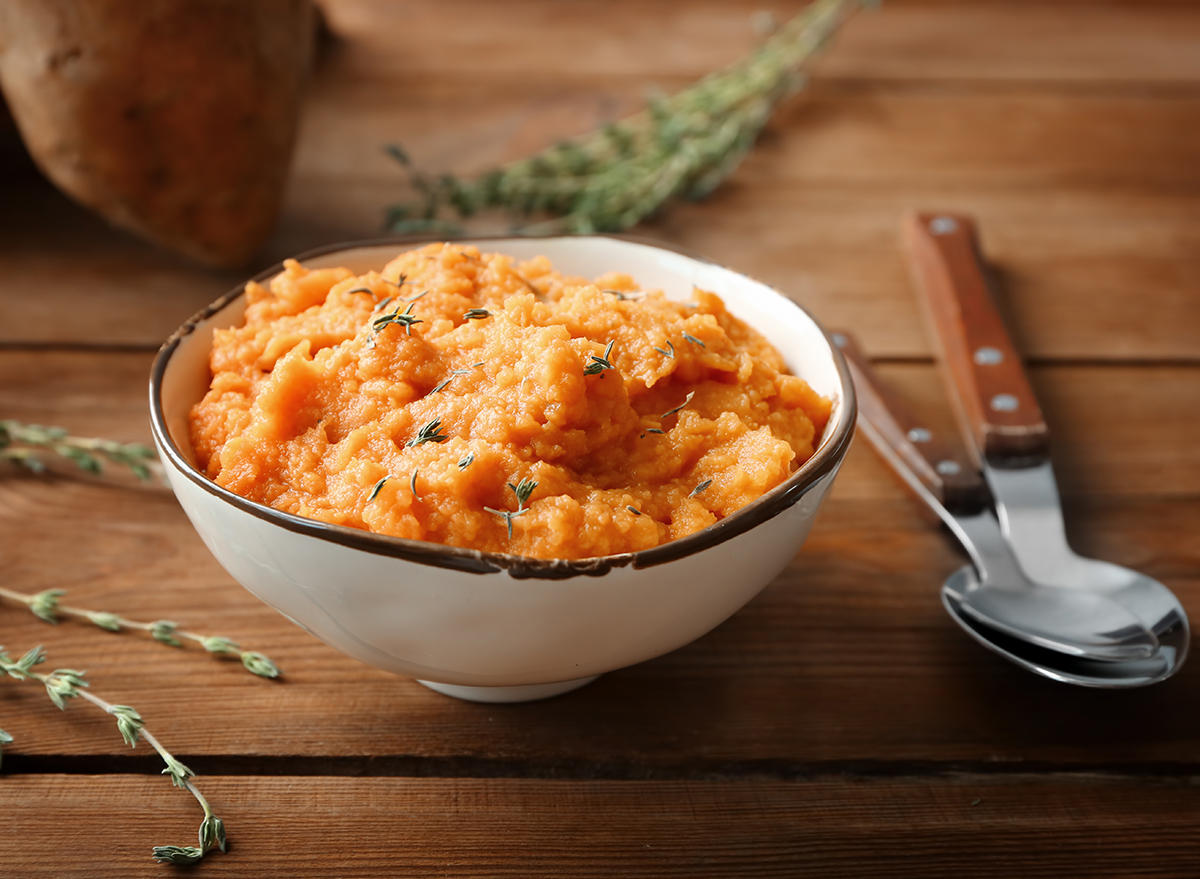 Last but not least, spicy mashed sweet potatoes are a great addition to steak. Of course, aside from the unexpected heat, the main pull for this side dish is how easy it is to make. You only need five simple ingredients to make this side dish!
Get our recipe for Spicy Mashed Sweet Potatoes.
Cheyenne Buckingham is the news editor of <Eat This, Not That!, specializing in food and drink coverage, and breaking down the science behind the latest health studies and information.
Read more