The Best Pie in Every State, According to Yelp
From key lime to classic apple, there's a pie for every dessert lover on this list.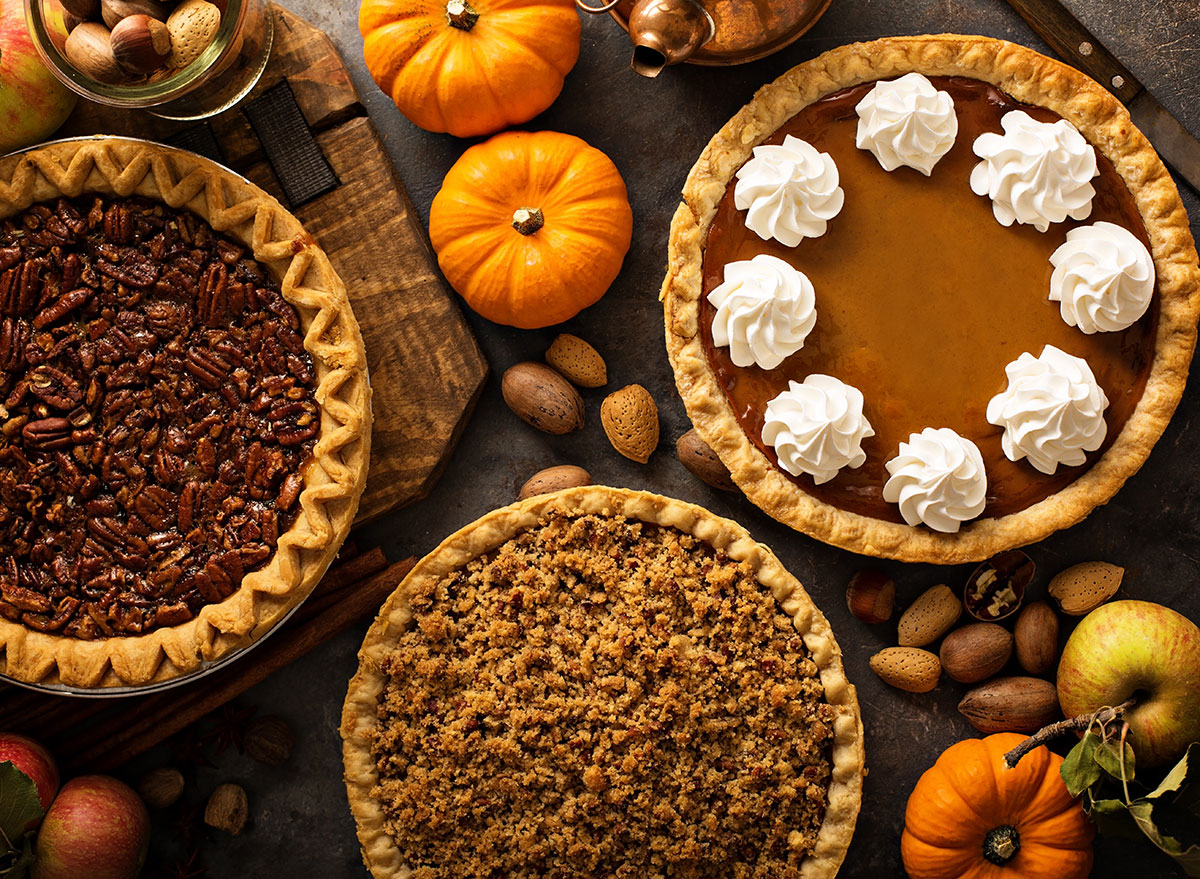 Is there anything more American than a slice of pie? Whether you like a classic apple pie or a rich chocolate variety, there's a pie flavor out there for everyone. And there are plenty of places to pick up the treat, too, including diners and even places like McDonald's.
But if you're looking for the absolute best pie slice, where can you go? We're taking the guesswork out of that question. We've partnered with Yelp to find the best slice of pie in every state, based on which restaurants had many reviews that mentioned pie, along with user rankings. Keep reading to see what pie won out in your state!
And for more, find out The Most Popular Cake Flavor in Every State.
ALABAMA: Pecan Pie at Uncle Mick's Cajun Market & Cafe in Prattville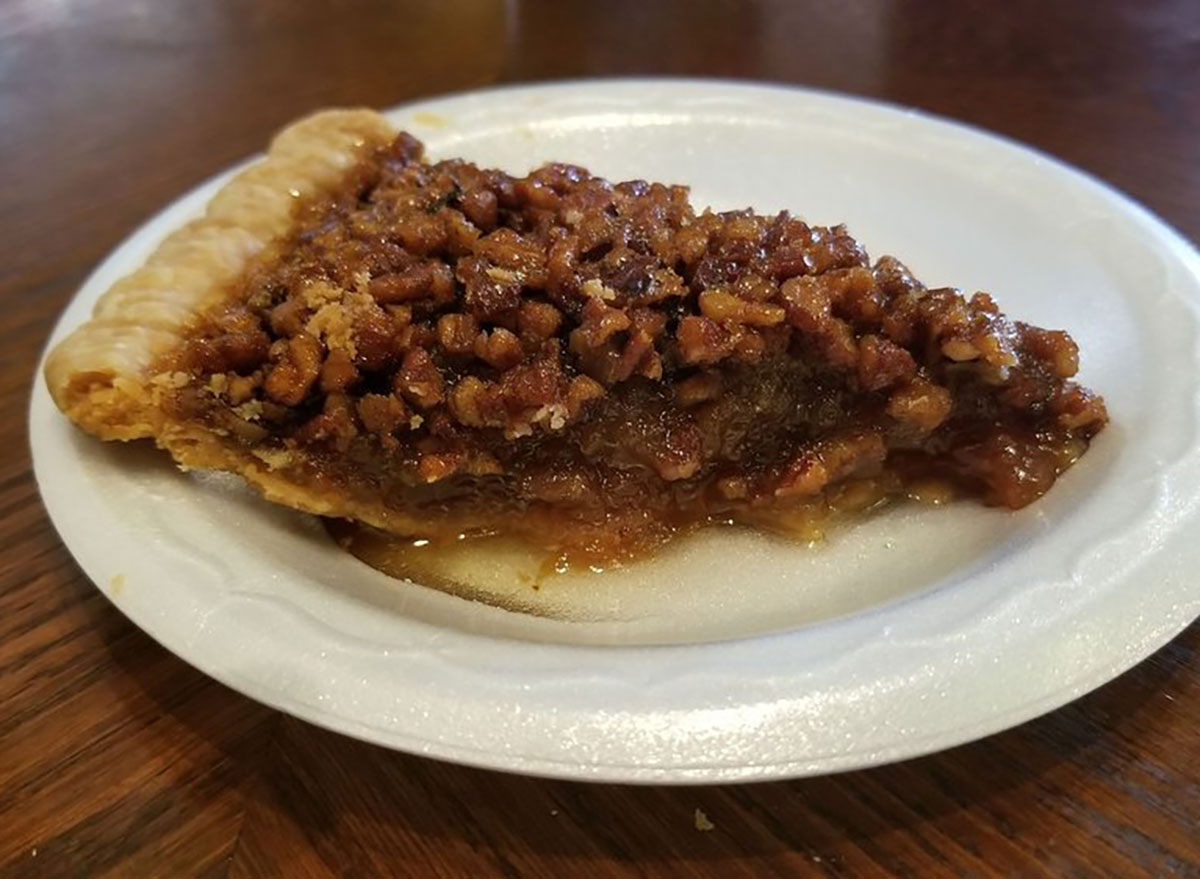 Pecan pie is a Southern delight, and diners love the version at this Alabama restaurant. You can't go wrong with the seafood gumbo and dirty rice, either.
ALASKA: Strawberry Rhubarb Pie at A Pie Stop in Anchorage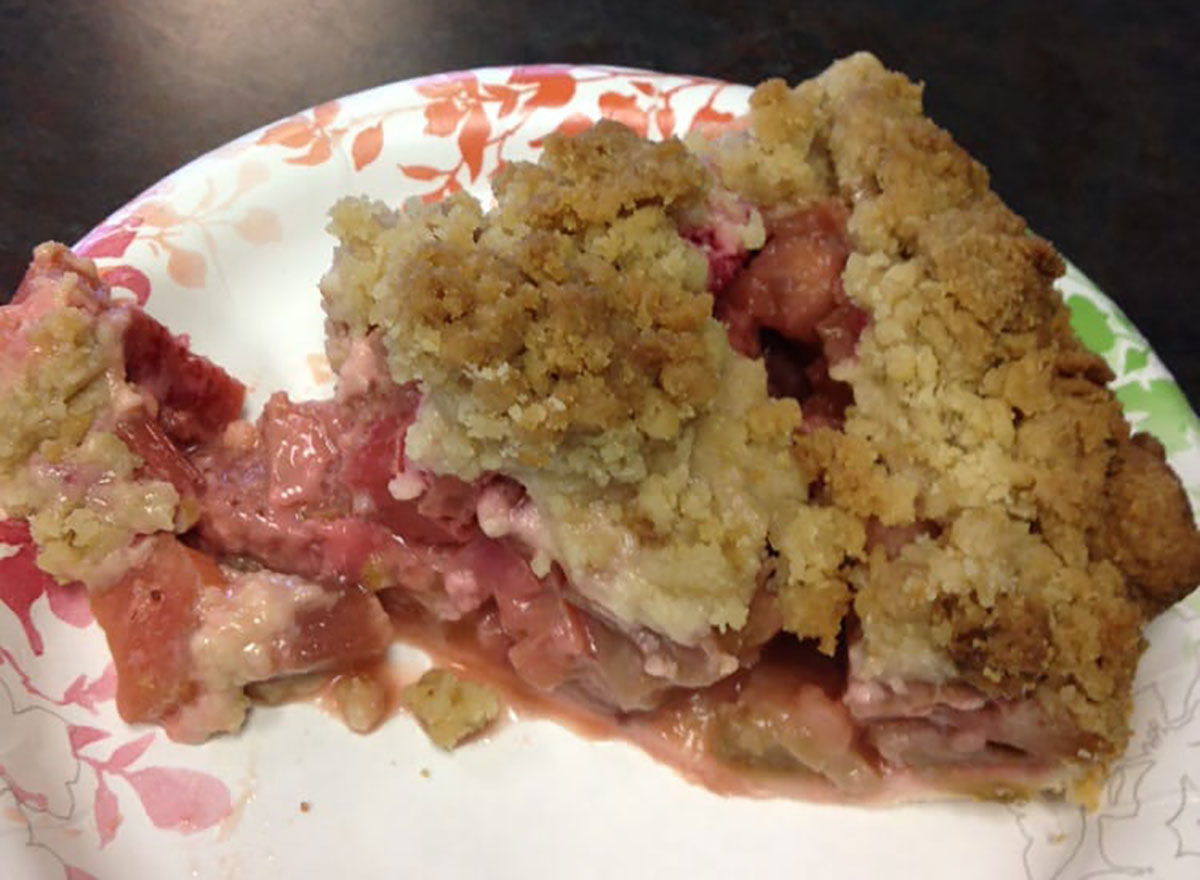 Yelp reviewers seemed to enjoy all of the pies at A Pie Stop, but the strawberry rhubarb looks especially delicious. Other popular options include Key Lime and triple berry. Bonus: This restaurant offers gluten-free crusts, too!
ARIZONA: Peach Pie at Oracle Patio Cafe in Oracle
Peach and strawberry rhubarb are two popular pie flavors at this casual spot. Stay for lunch while you're here, too.
ARKANSAS: Apple Pie at The Original Fried Pie Shop in Conway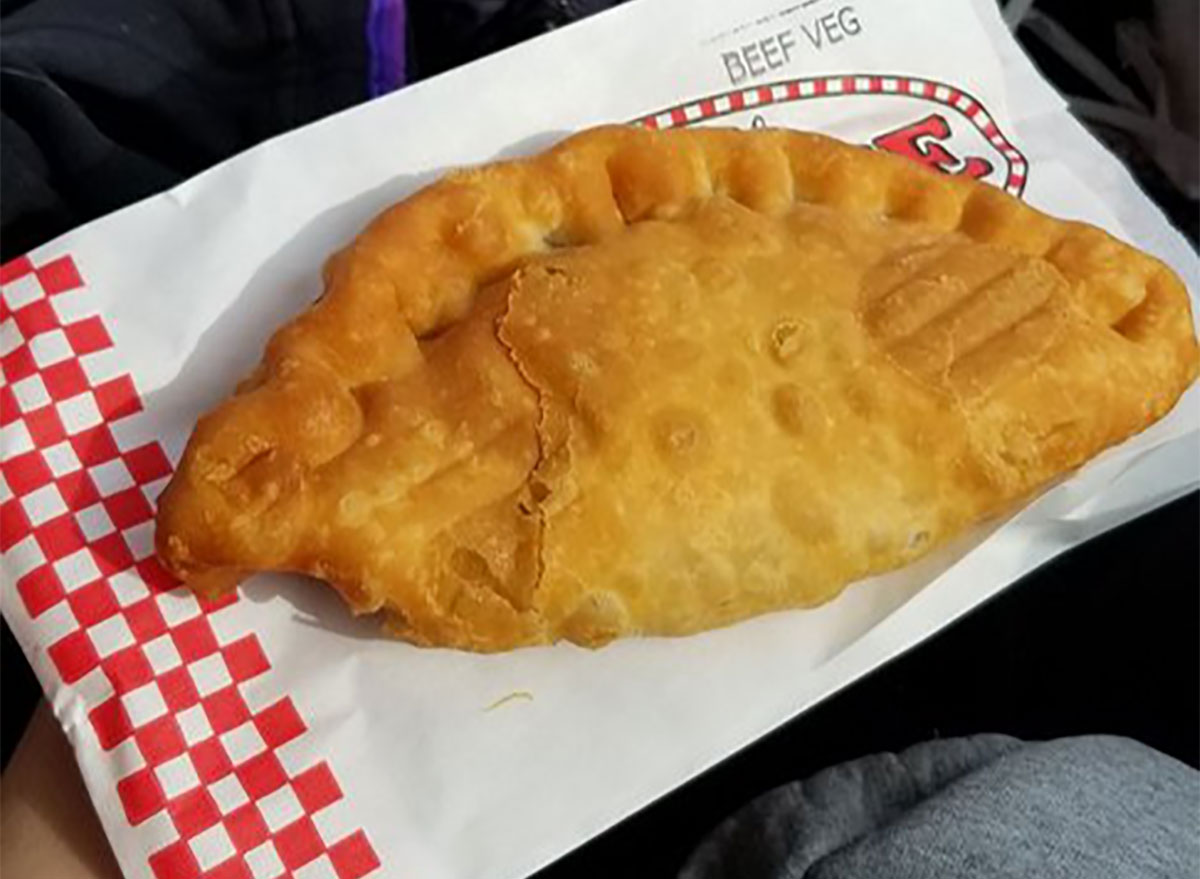 These single-serving hand pies are the perfect way to end a meal at The Original Fried Pie Shop. Try the classic apple flavor, or go for something more adventurous like pineapple.
CALIFORNIA: Sweet Potato Mini Pie at Morika's Southern Delights Dessert Company in Laguna Hills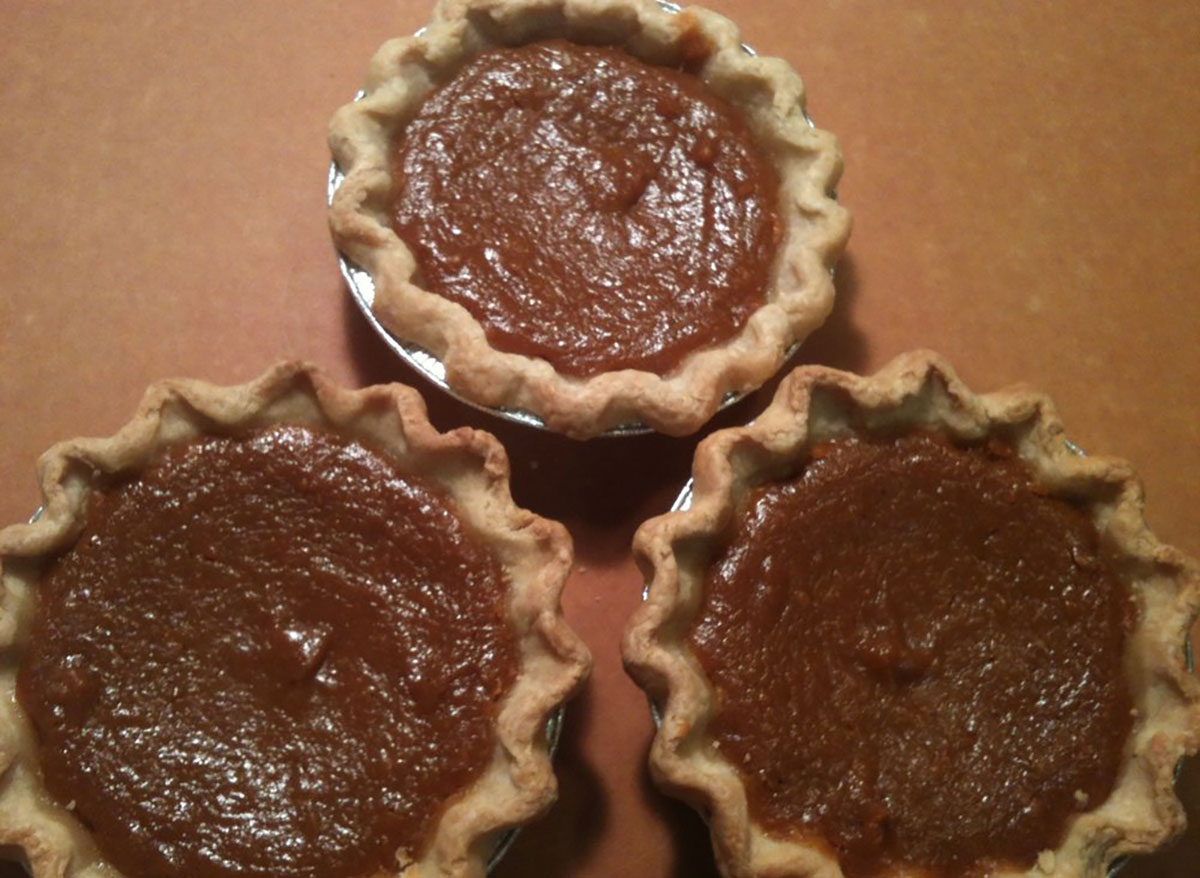 Aren't these mini pies adorable? Enjoy a little taste of the South right in California with this sweet potato pie.
COLORADO: Raspberry Pie at Piece, Love and Chocolate in Boulder
This sweet dessert spot has more than just pie, so it's perfect for groups with various tastes. The raspberry pie is absolutely picture-perfect.
CONNECTICUT: Pumpkin Custard Tart at Bantam Bread in Bantam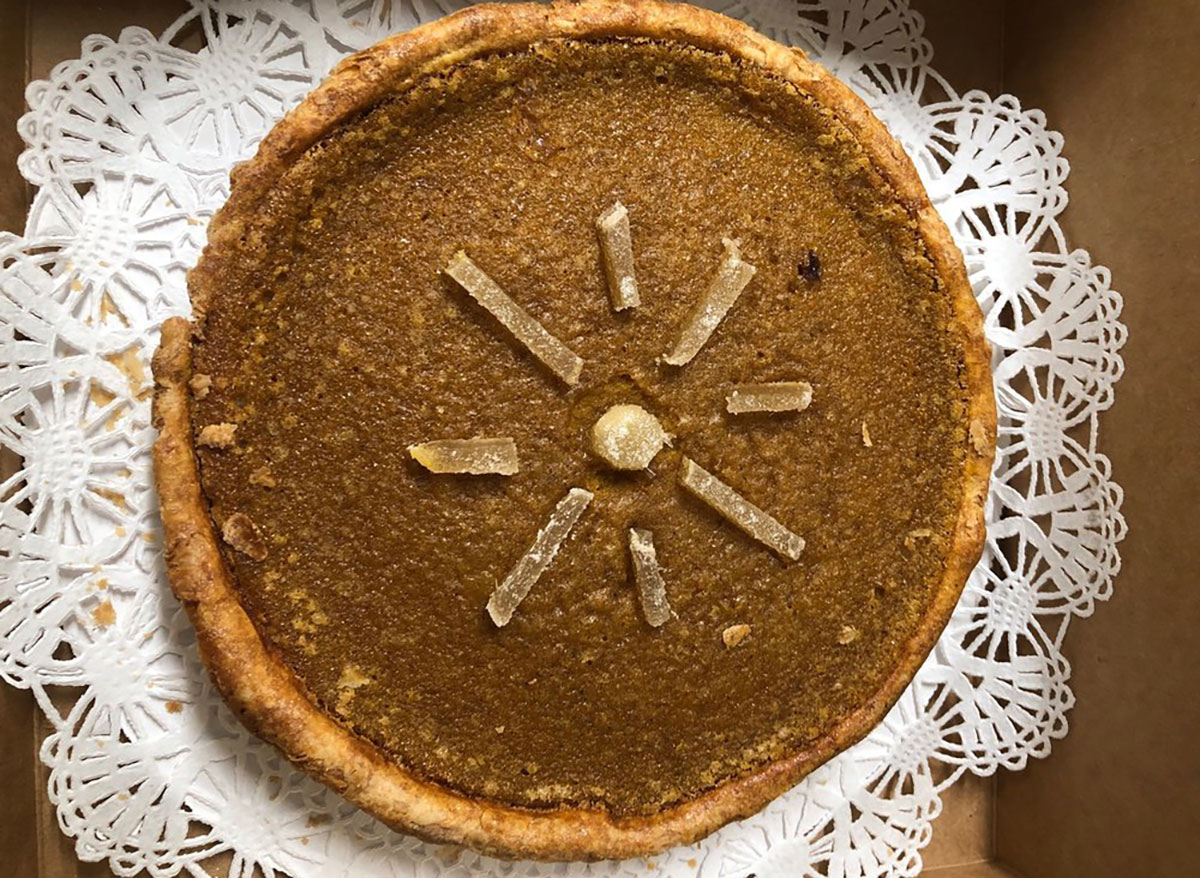 The tarts from Bantam Bread are known as hand pies by some Yelp reviewers, and they're too pretty not to include on the list. Not a pumpkin fan? Try flavors like peach blueberry and sour cherry.
DELAWARE: Key Lime Pie at Off the Hook in Bethany Beach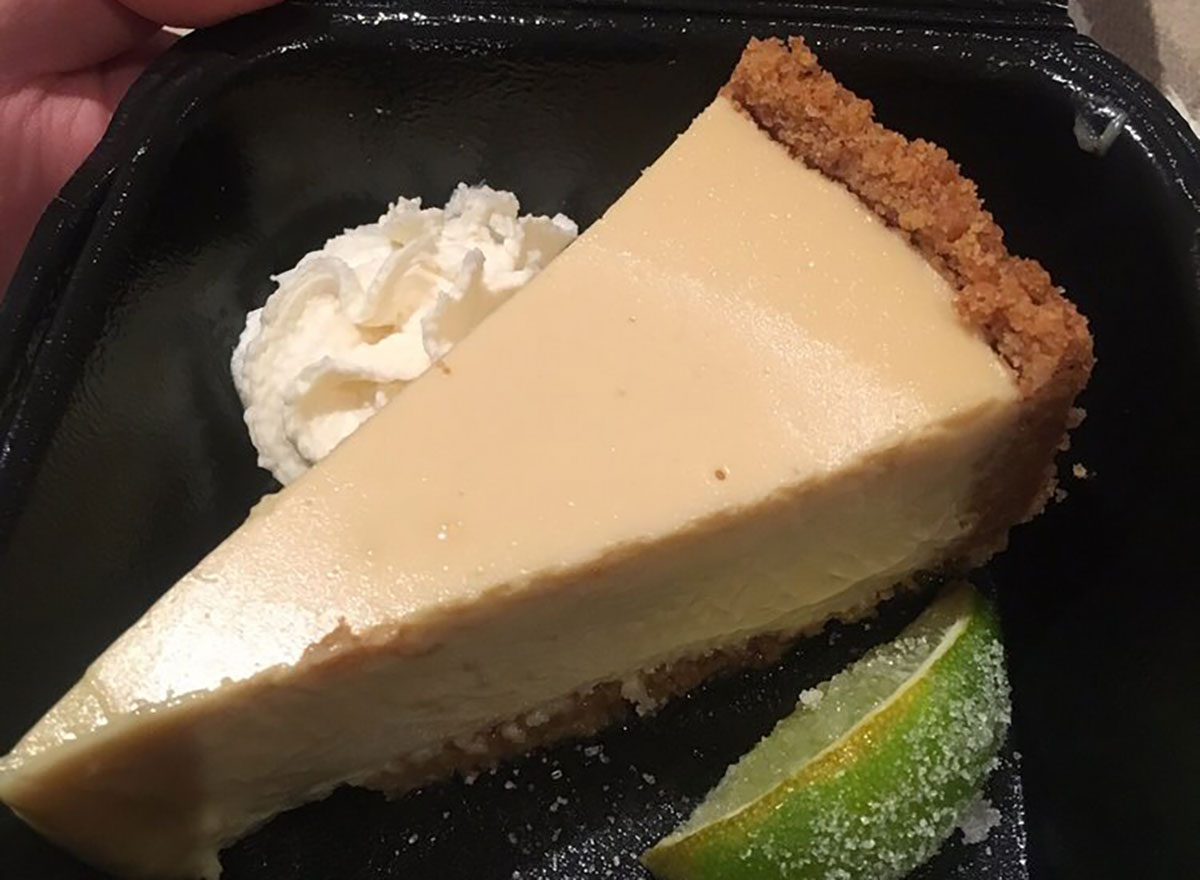 Yelp reviewers called this key lime pie delicious, making it the perfect way to cap off a seafood meal. You can't go wrong with the main courses at Off the Hook, either.
FLORIDA: Country Chocolate Pie at Pie Heaven Bakery Cafe in Atlantic Beach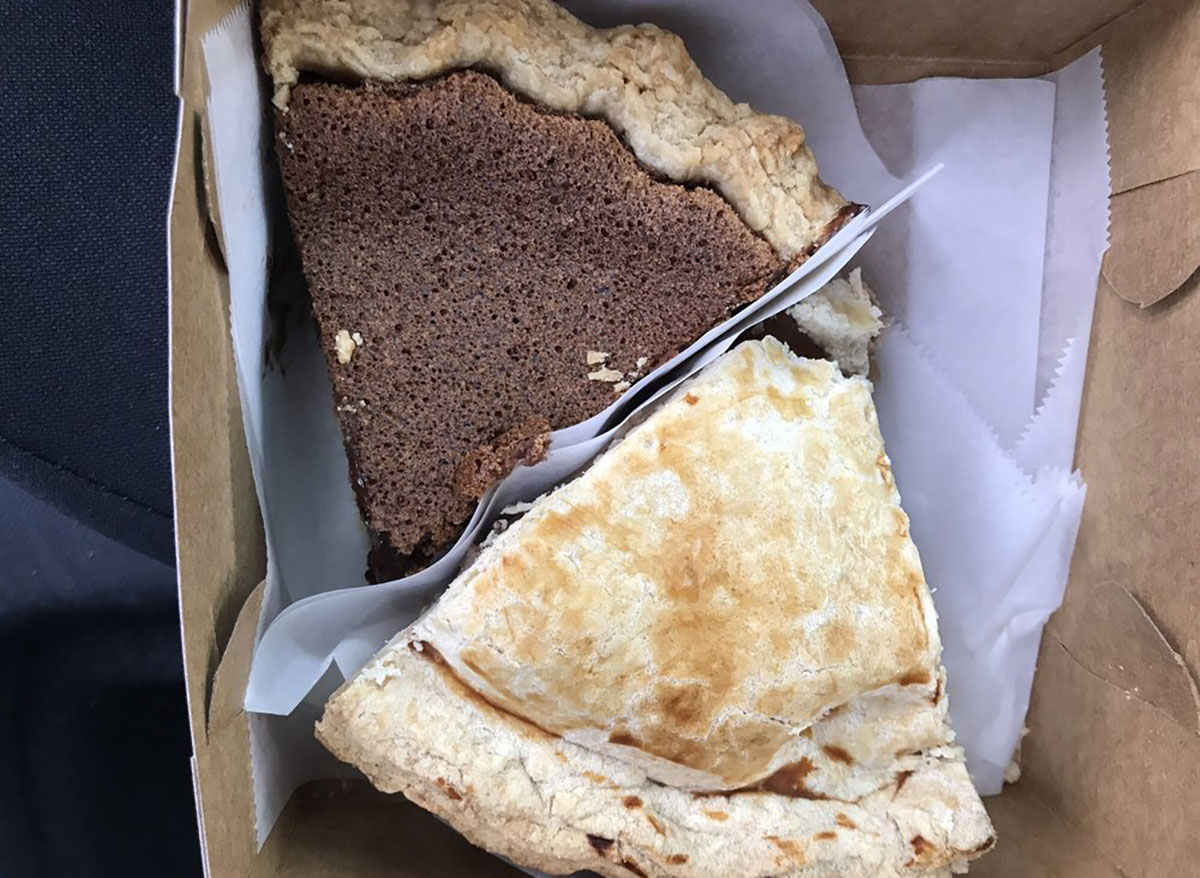 "The Country Chocolate was decadent, rich, and delightfully sweet without overdoing the chocolate or the sweetness," Yelp reviewer Matt M. wrote of this pie. Enough said.
GEORGIA: Peanut Butter Pie at Jonah's Fish & Grits in Thomasville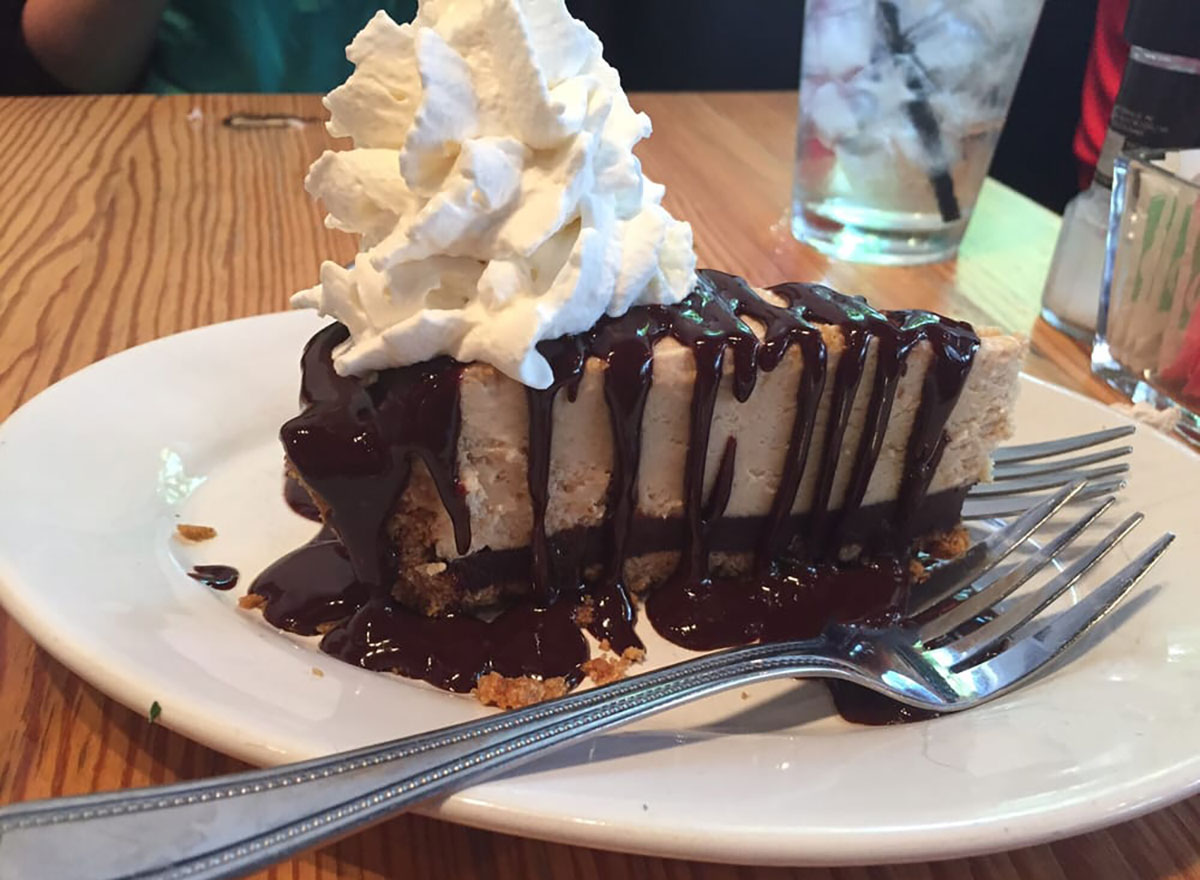 Yelp reviewers encourage seafood fans coming to Jonah's Fish and Grits to save room for this delectable dessert. Topped with fudge and whipped cream, it's impossible to resist.
HAWAII: Chocolate Haupia Pie at Maui Pie in Kihei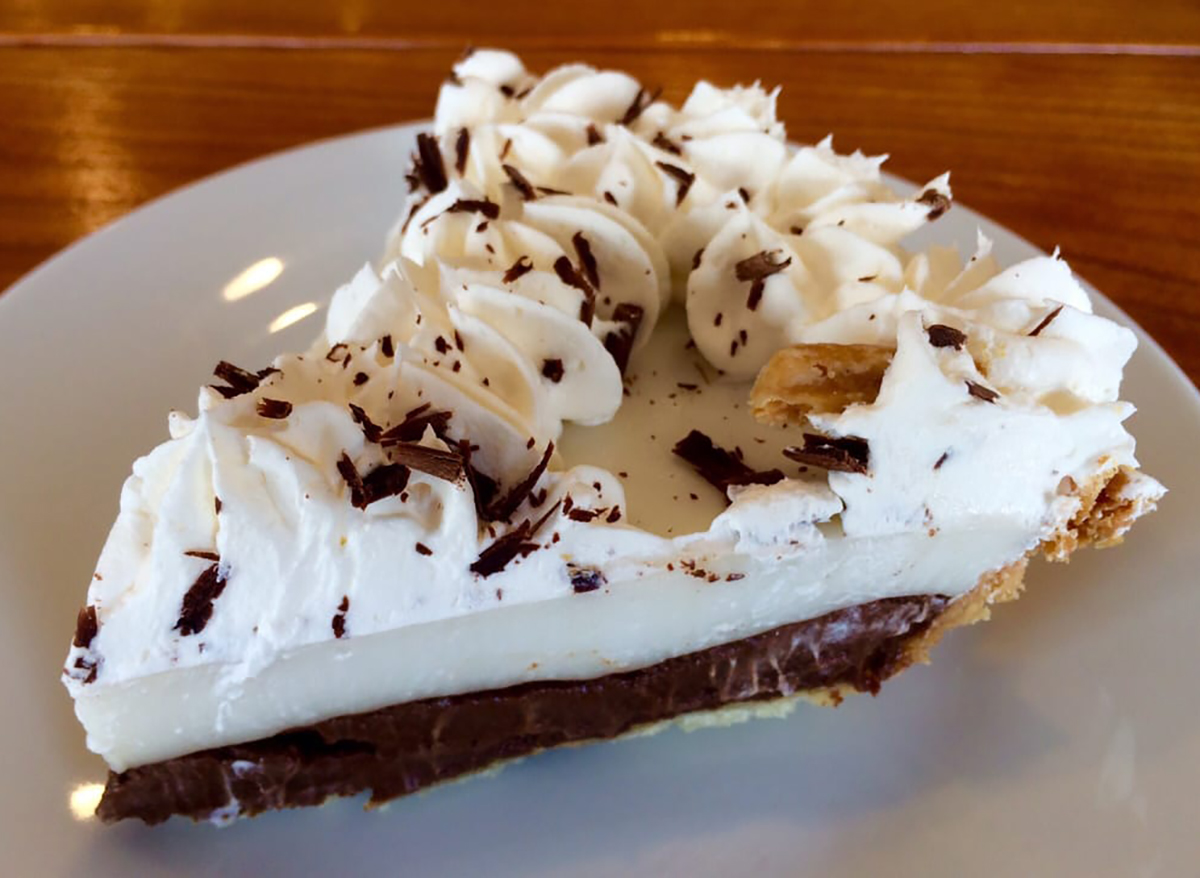 Get an authentic taste of Hawaiian food with this chocolate and coconut pie. If the flavor doesn't appeal to you, Maui Pie has an extensive menu of fruit and cream pies, as well as savory options like a chicken pot pie.
IDAHO: Bourbon Pecan Pie at Boise Pie Co. in Boise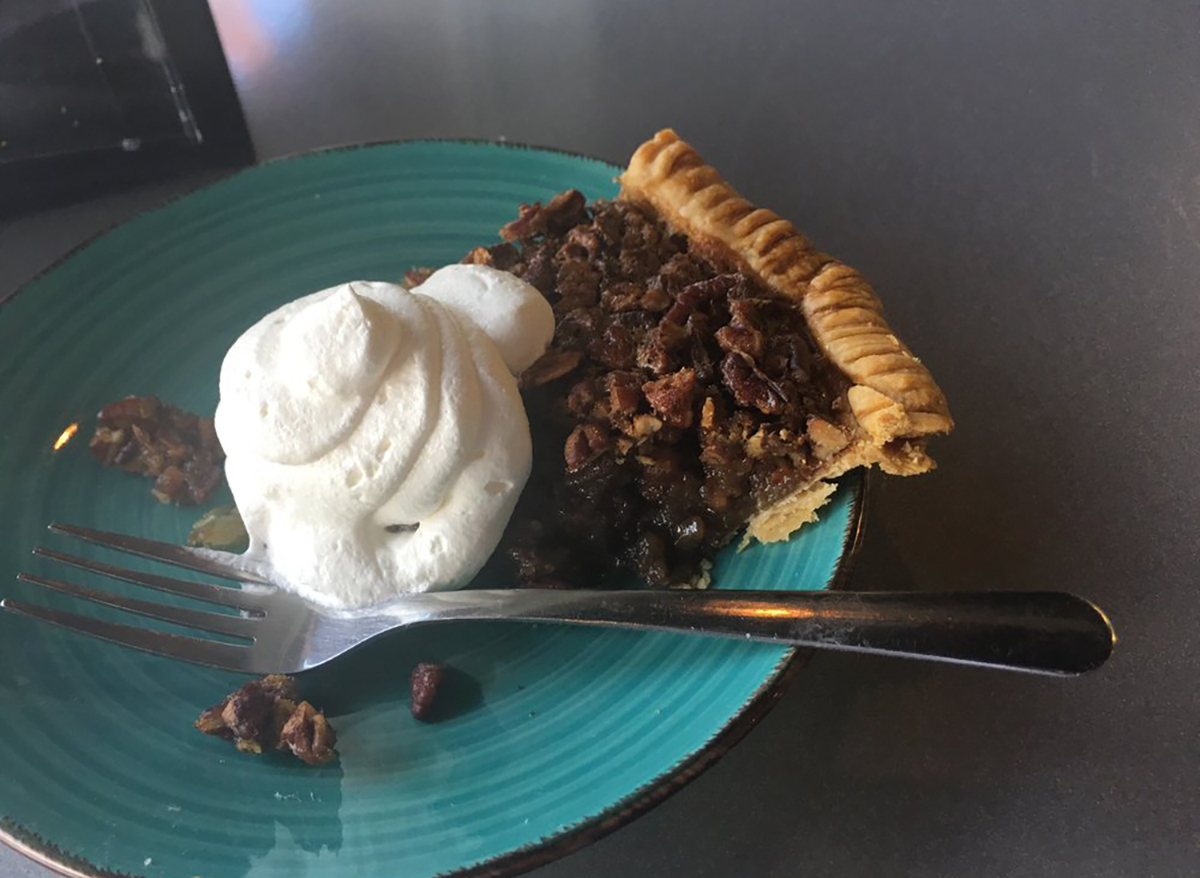 This restaurant's menu features both savory pies and desserts, so you can eat an entire pie-based meal here. Try the key lime pie, too.
ILLINOIS: Chocolate Chess Pie at The Happy Apple Pie Shop in Oak Park
Sure, you can't go wrong with the signature apple pie at this beloved pie shop. But the fudgy chocolate chess pie is a must-try, too.
INDIANA: Rhubarb Pie at Clay's Family Restaurant in Fremont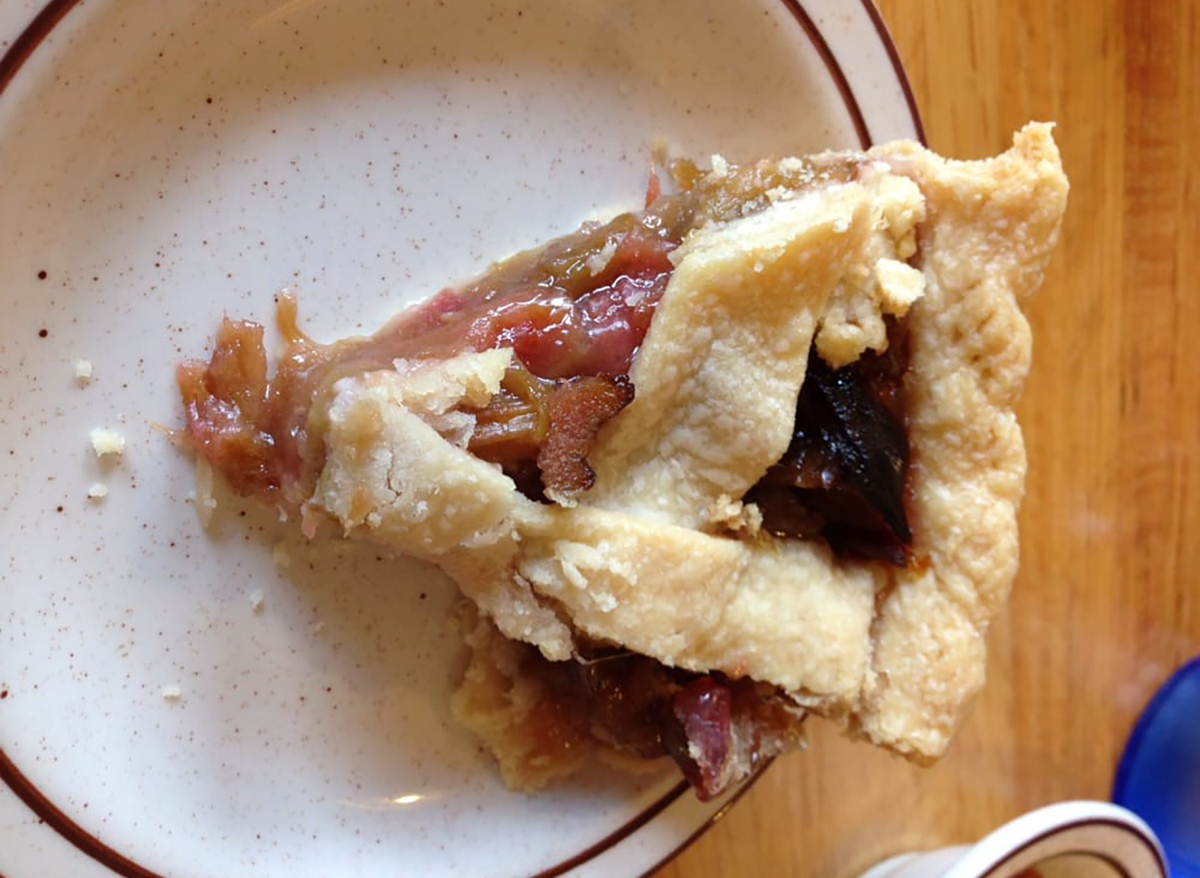 Many reviews of this restaurant mention the pie, and you can't go wrong with the fruit-based options. Take a slice with you on the road!
IOWA: Key Lime Pie at Flying Mango in Des Moines
This barbecue restaurant is as beloved for its desserts as it is for its meats. Give the key lime or blueberry pie options a try!
KANSAS: Pineapple Coconut Pie at Bradley's Corner Cafe in Topeka
The pie menu at this cafe rotates, but there are always plenty of options. This pineapple coconut flavor looks especially unique.
KENTUCKY: Dutch Caramel Apple Pie at Homemade Ice Cream & Pie Kitchen in Louisville
"You will not regret anything you buy from Homemade Ice Cream and Pie Kitchen," one Yelp review reads. Well, when you put it that way, we might just have to try every pie on the menu.
LOUISIANA: Wookiee Pie at Fry and Pie in New Orleans
Ever heard of a Wookiee pie? (And no, they're not just for Star Wars fans.) This peanut butter and chocolate pie is perfect for peanut butter cup lovers sp stop into Fry and Pie to give it a try.
MAINE: Blueberry Pie at Islandbound Treats in Southwest Harbor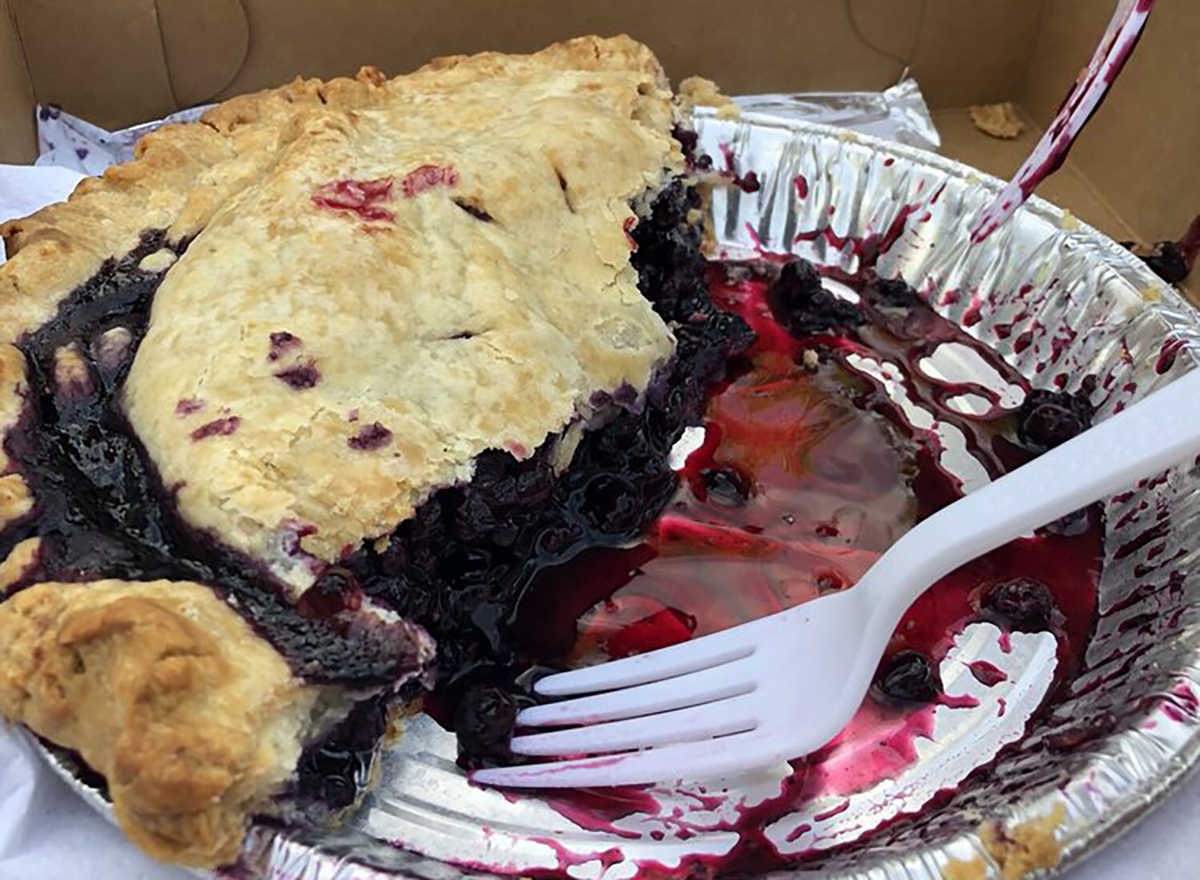 Take one look at this blueberry pie, and you'll understand why customers at Islandbound Treats can't get enough of it. The juicy, plump berries make for a delicious pie filling, perfectly complementing the flaky crust.
NOTE: Islandbound Treats is temporarily closed until May 2022.
MARYLAND: Ube Pie at Gwenie's Pastries in Rockville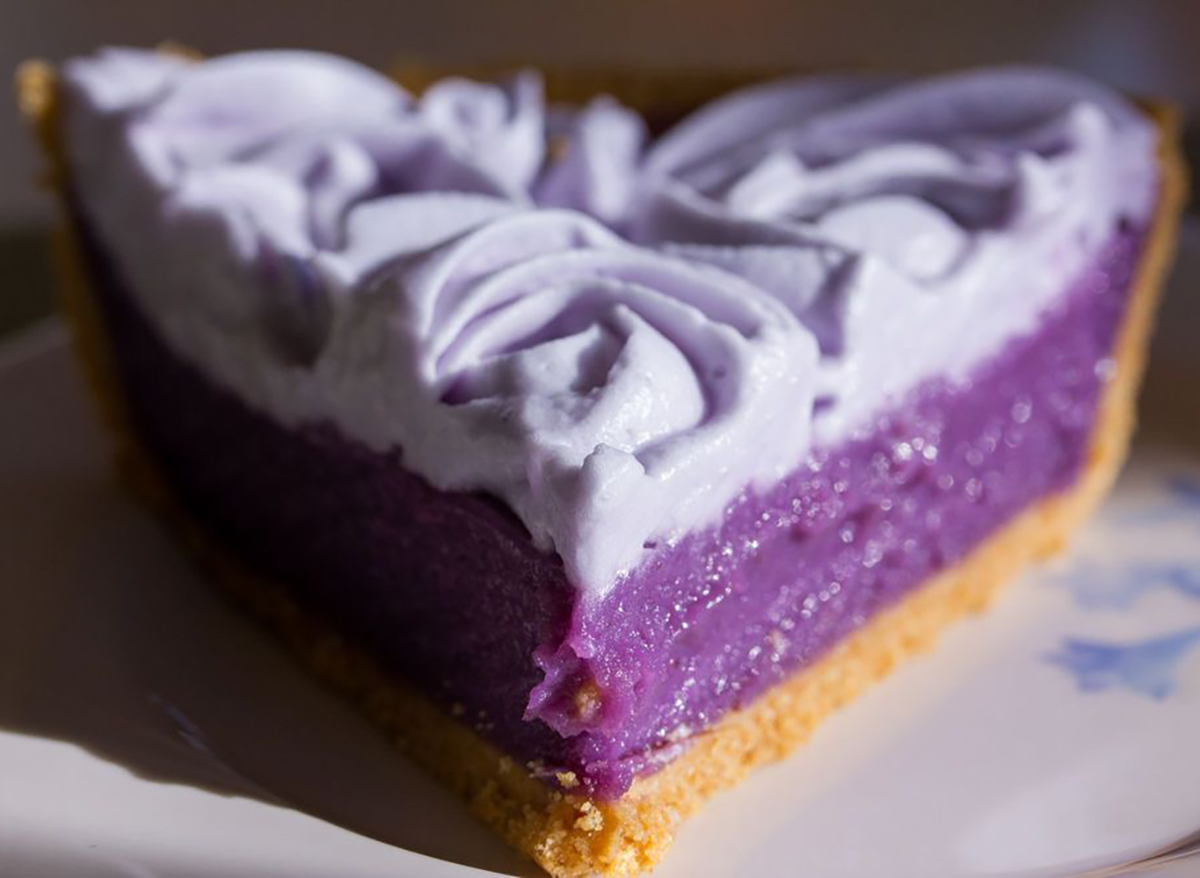 Ube is a stunning food and now you can enjoy the purple yam in pie slices at Gwenie's Pastries. This one is just as delicious as it is Instagrammable.
MASSACHUSETTS: Ricotta Pie at Modern Pastry in Boston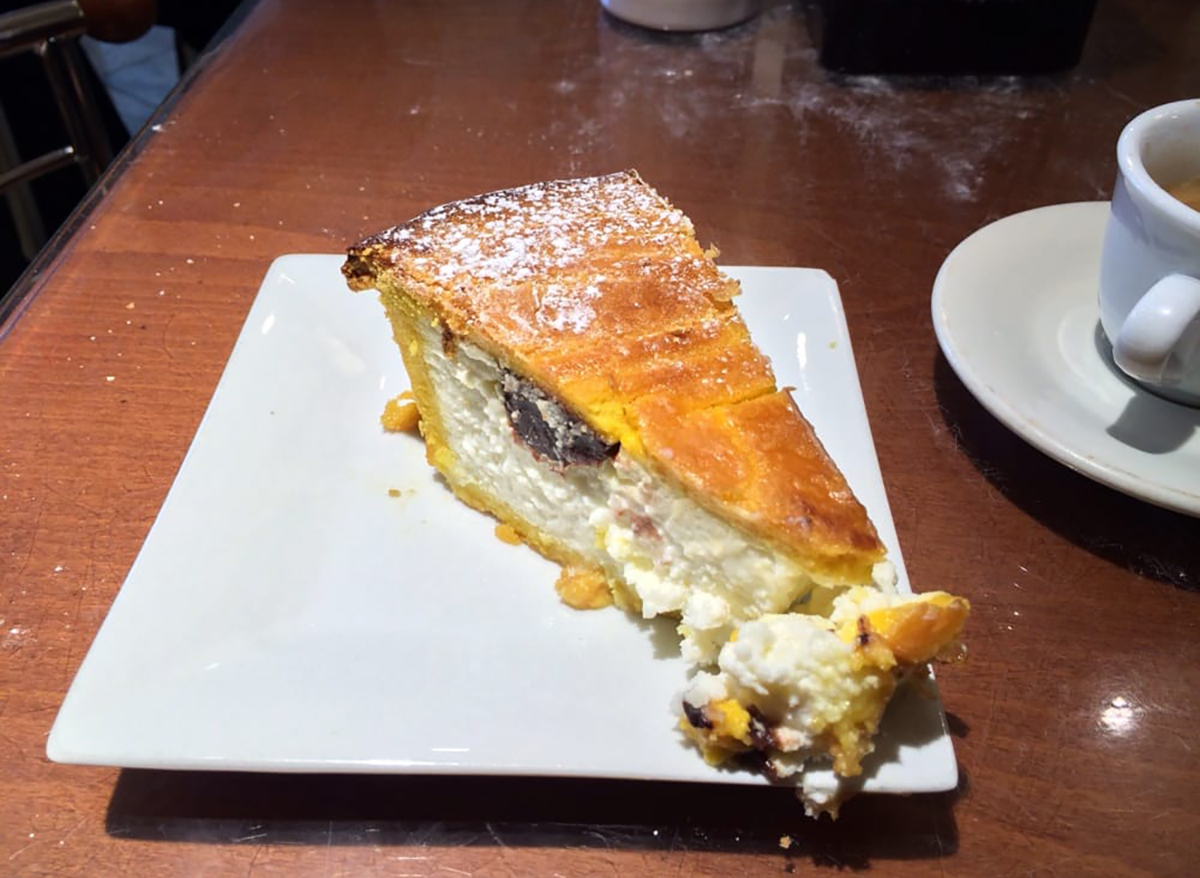 Yelp reviewers can't stop raving about the ricotta pie at this Boston shop. There are cannolis and cakes, too, making this the perfect dessert stop.
MICHIGAN: Chocolate Pecan Pie at Crane's in the City in Holland
This cozy shop serves fresh donuts and a variety of pies. Grab a warm sandwich and a slice or two, and sit back and relax.
MINNESOTA: Apple Pie at Cornerstone Cafe & Catering in Monticello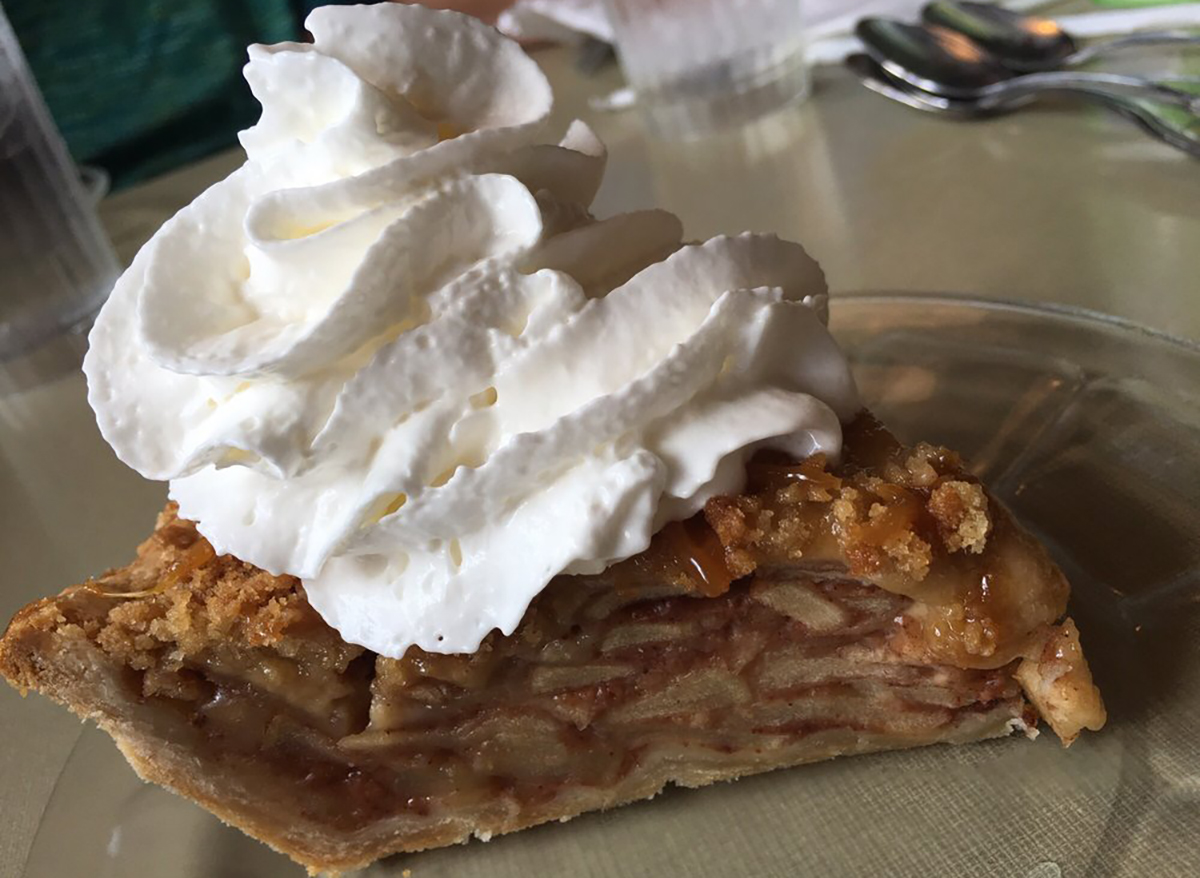 This cozy cafe is a great spot for a meal, but don't skip out on the dessert. Yelp reviewer Joline E. called this "the best apple pie I've ever had," so you'll want to save room.
MISSISSIPPI: Pecan Pie at Char Restaurant in Jackson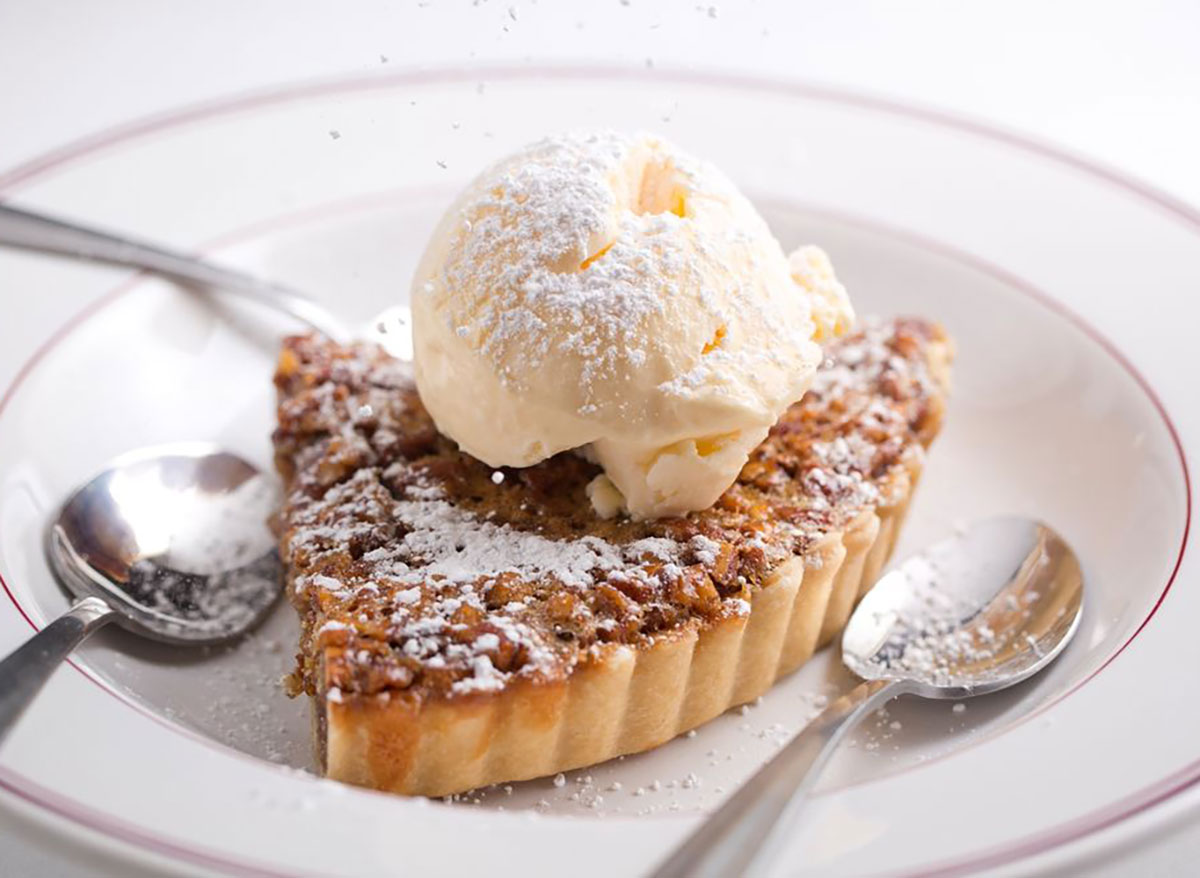 "The person I was with ordered the pecan pie ala mode. I stole a bite. Omg! That was amazing! I'd go back for the pie if nothing else," one Yelp reviewer wrote of the dessert at Char Restaurant.
MISSOURI: Hand Pie at Pint Size Bakery & Coffee in St. Louis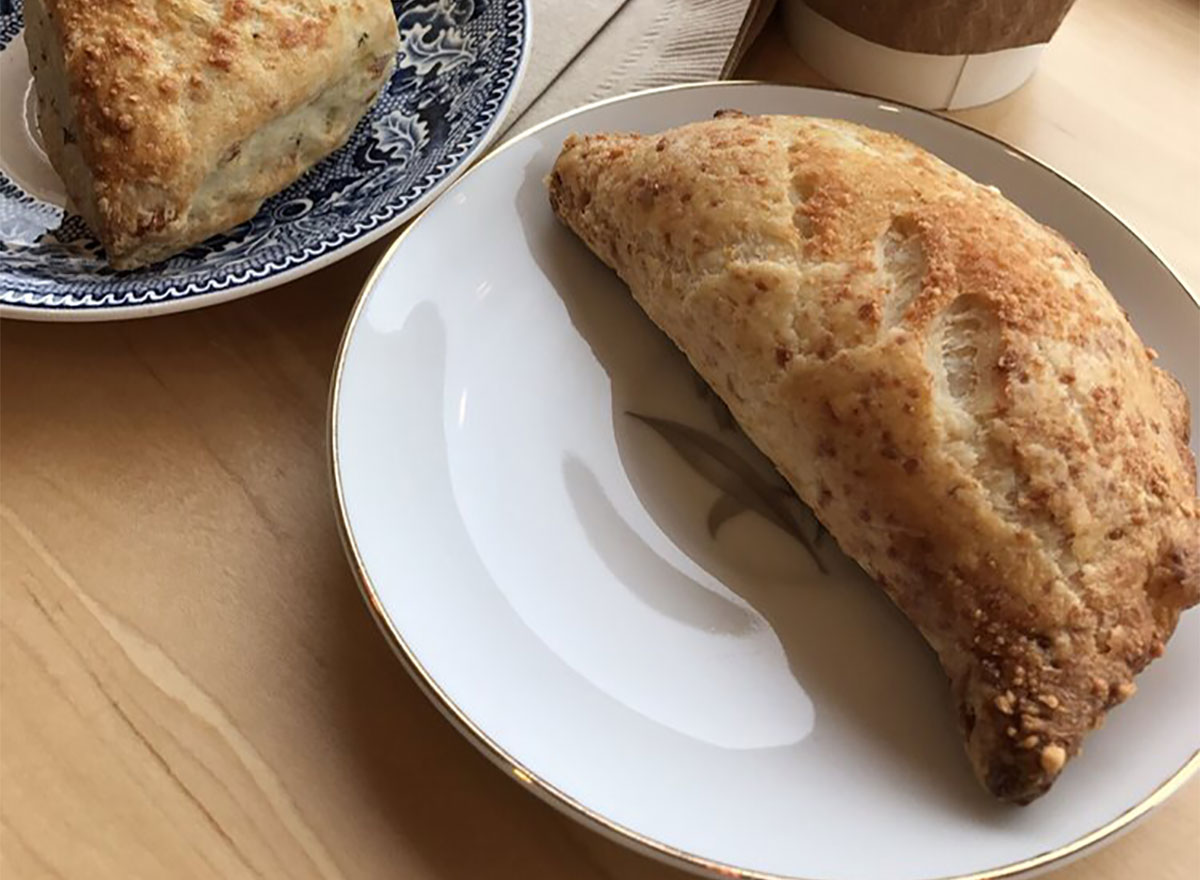 You can't go wrong with any of the baked goods at this sweet shop. Try one of the rotating flavors of hand pies, or go for a slice of pecan pie if it's available that day.
MONTANA: Huckleberry Pie at The Huckleberry Patch in Hungry Horse
Based on the name alone, you can tell that the huckleberry pie at this dessert spot has to be good. "It's been over a month, but I still think back [on] that slice of huckleberry pie from The Huckleberry Patch," wrote Yelp reviewer Ana P. Now that's a glowing recommendation!
NEBRASKA: Blood Orange Coconut Pie at Modern Love in Omaha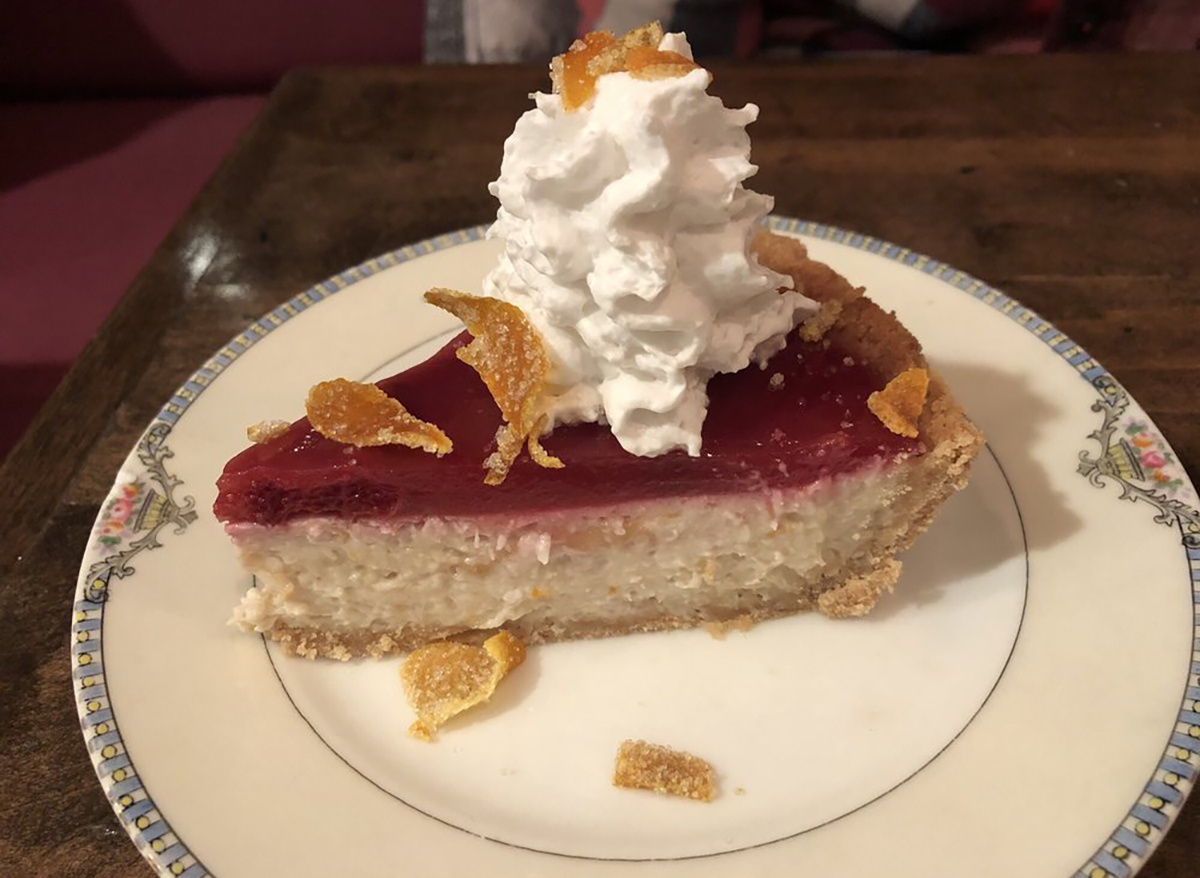 The food at this vegan restaurant is so delicious, it will appeal to plant-based folks and carnivores alike. The dessert menu includes a rotating selection of pies as well as soft serve, in case you want your slice a la mode.
NEVADA: Sweet Potato Pie at Suzuya Patisserie in Las Vegas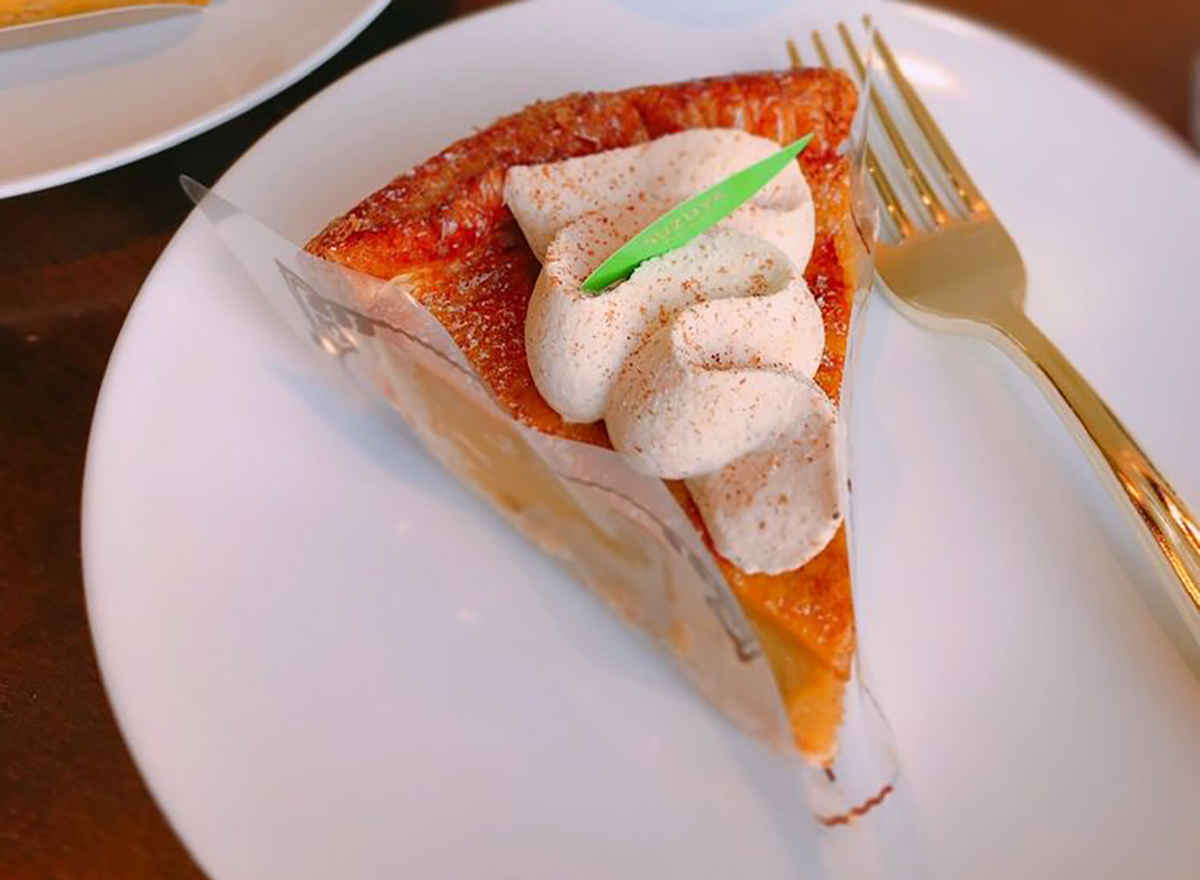 Whatever dessert you're looking for, you'll find it at Suzuya. The picture-perfect treats include everything from sweet potato pie to green tea cake to panna cotta.
NEW HAMPSHIRE: Dutch Apple Pie at Black Forest Cafe & Bakery in Amherst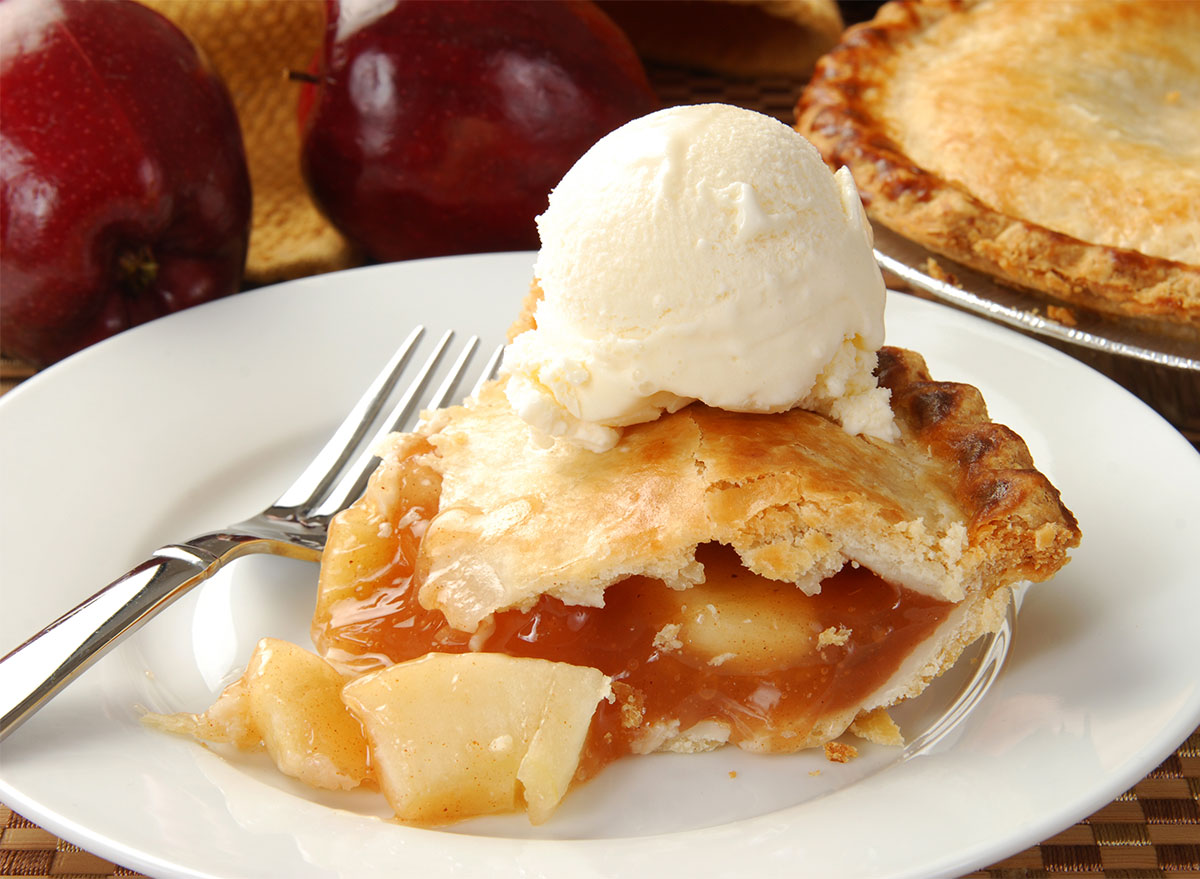 Yelp's top pie spot in New Hampshire has closed, but we think Black Forest Cafe & Bakery looks delicious, too. Yelp reviewers rave about the pies, one saying "If you are looking for an impressive dessert to take to someone, take a look at their cakes and pies!"
NEW JERSEY: Pumpkin Pecan Pie at Erie Coffee & Bakery in Rutherford
This pie from Erie Coffee & Bakery is as delicious as it looks. Other delicious options include the apple cranberry pie and the caramel apple pie.
NEW MEXICO: Banana Cream Pie at Coyote Cafe in Santa Fe
"Banana Cream Pie! I thought I'd died and gone to heaven," wrote Yelp reviewer Debra H. We hope this dessert at √ won't literally send you to an early grave, but it really is that good.
NEW YORK: Pecan Pie at Two Little Red Hens in New York City
"Best pecan pie ever!" wrote Juan M. in a Yelp review. This bakery is also known for cupcakes and cheesecake—anything you get there will be delicious.
NORTH CAROLINA: Cherry Chocolate Chip Pie at Baked Pie Company in Asheville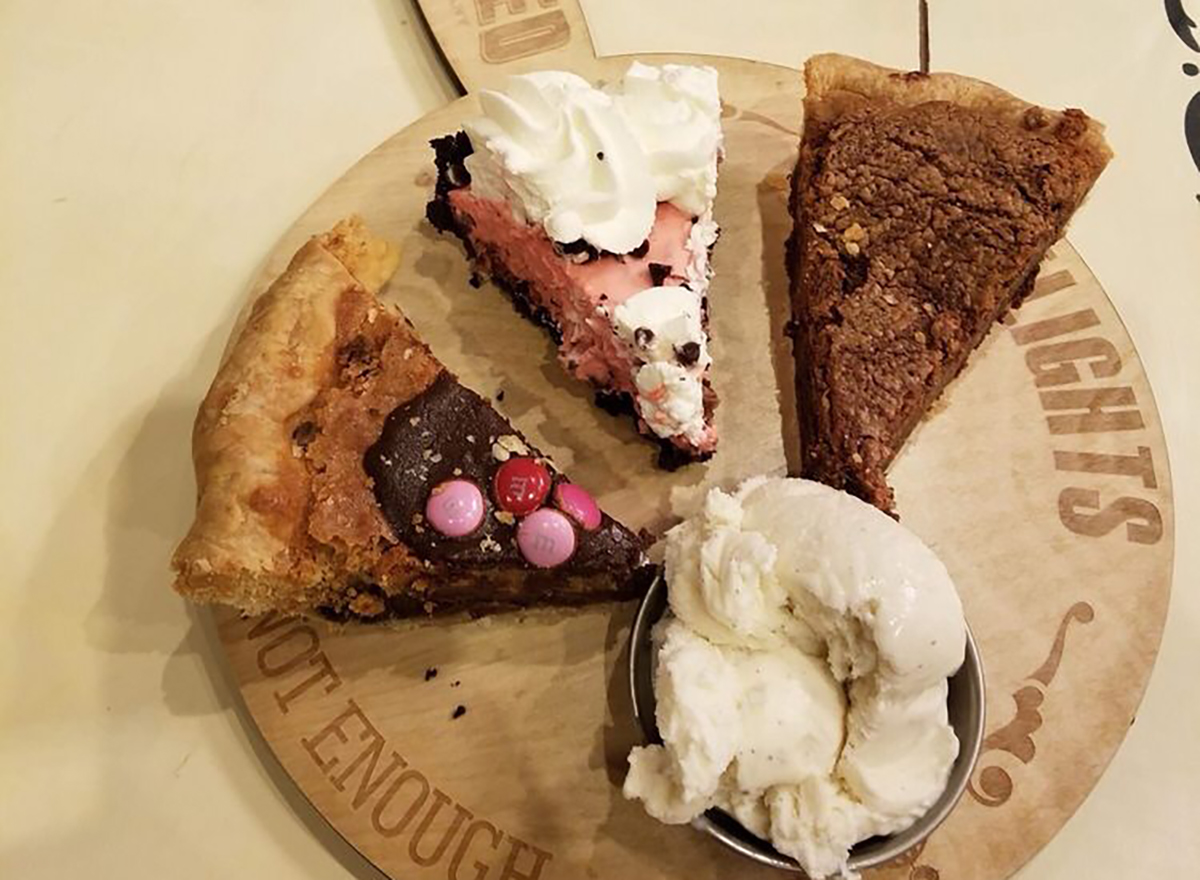 Try a pie flight so you can try even more delicious options at this Southern bakery. With flavors from buckeye pie to gluten-free chocolate chip pie, there's something for everyone.
NORTH DAKOTA: Key Lime Pie at Nichole's Fine Pastry & Café in Fargo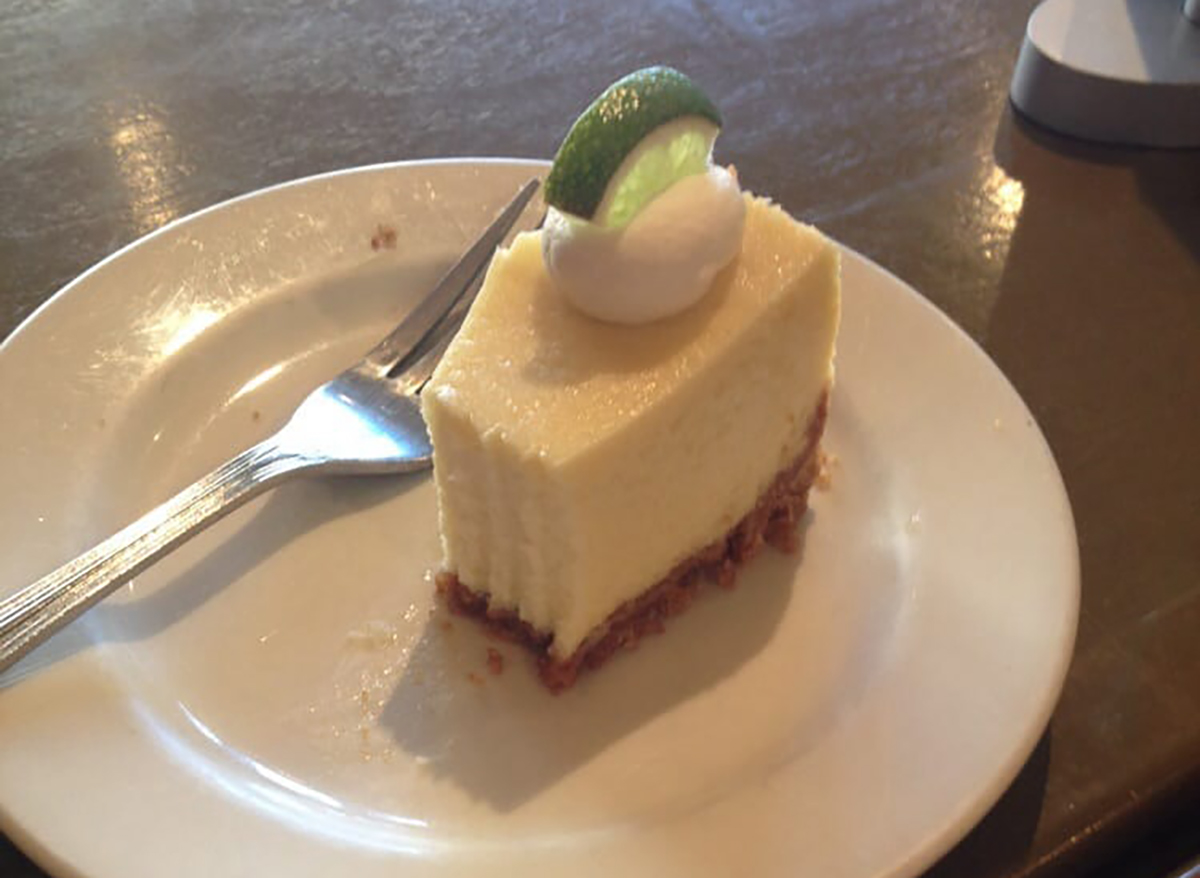 "The key lime pie and the creme brûlée are amazing," wrote Yelp reviewer Alice A. Another review called this bakery "absolutely magical," so you should definitely stop by if you're visiting Fargo.
OHIO: Orange Sage Pumpkin Pie at Rood Food and Pie in Lakewood
You can't go wrong with any of the pie options here, and diners are loving the main dishes, too. Try the seasonal pumpkin pie for a real treat.
OKLAHOMA: Drunken Turtle Pie at Pie Junkie in Oklahoma City
With chocolate, pecans, bourbon caramel, and a graham cracker crust, this pie is a top seller for a reason at Pie Junkie. Try a slice, or bring home a whole pie—you won't regret it.
OREGON: Brumble Berry Pie at The Pie Guy in North Plains
This store specializes in one thing: homemade pies. The brumble berry is delicious, but the other fruit flavors are, too.
PENNSYLVANIA: Sweet Potato Pie at The Sweet Life Bakeshop in Philadelphia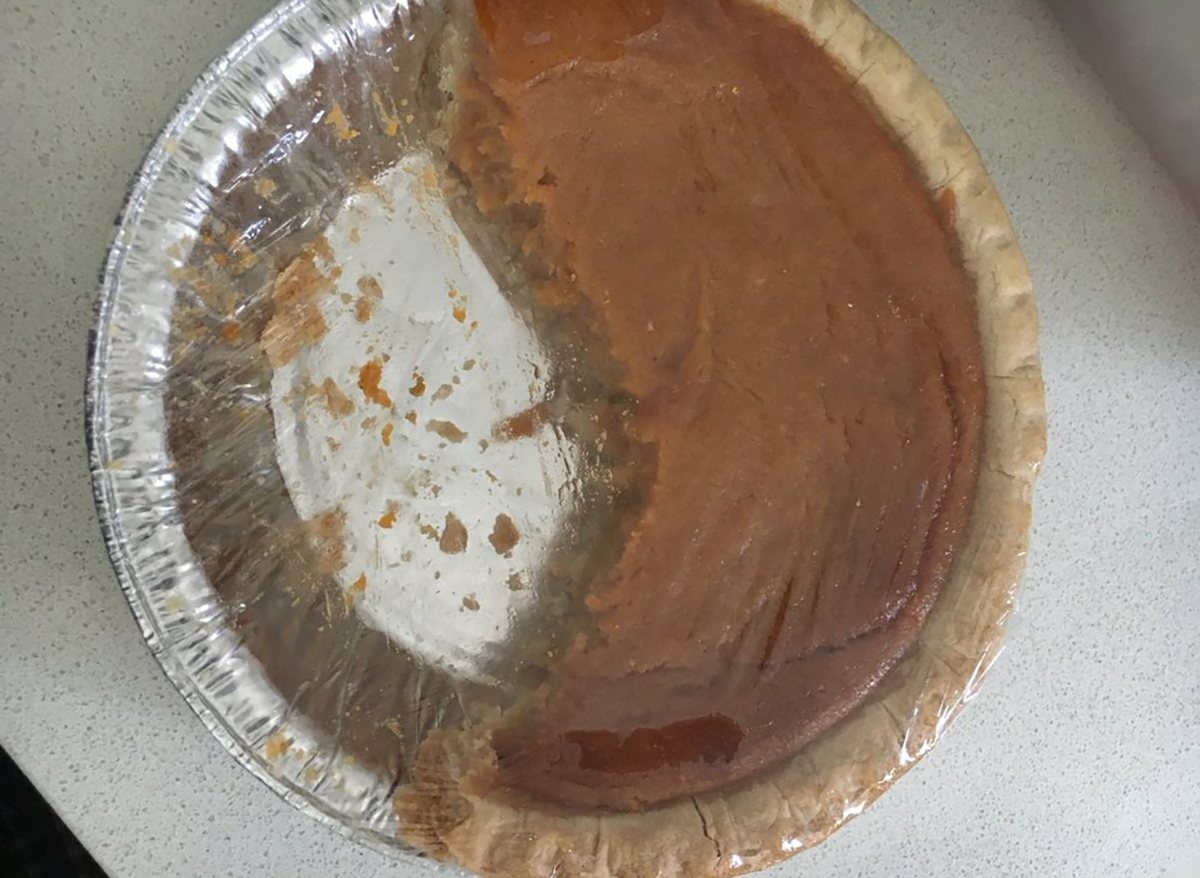 "Definitely the best bakery in the area," wrote Yelp reviewer Tavonia Nicole S. "The banana pudding and sweet potato pie are both phenomenal." Stop by this bakery for a little slice of Southern heaven, right in Philadelphia.
RHODE ISLAND: Dutch Apple Pie at Pastiche in Providence
"I can't recommend the Dutch apple pie enough," wrote Yelp reviewer David M. Sometimes, classic is best and Pastiche delivers.6254a4d1642c605c54bf1cab17d50f1e
SOUTH CAROLINA: Peanut Butter Pie at Swig & Swine in Summerville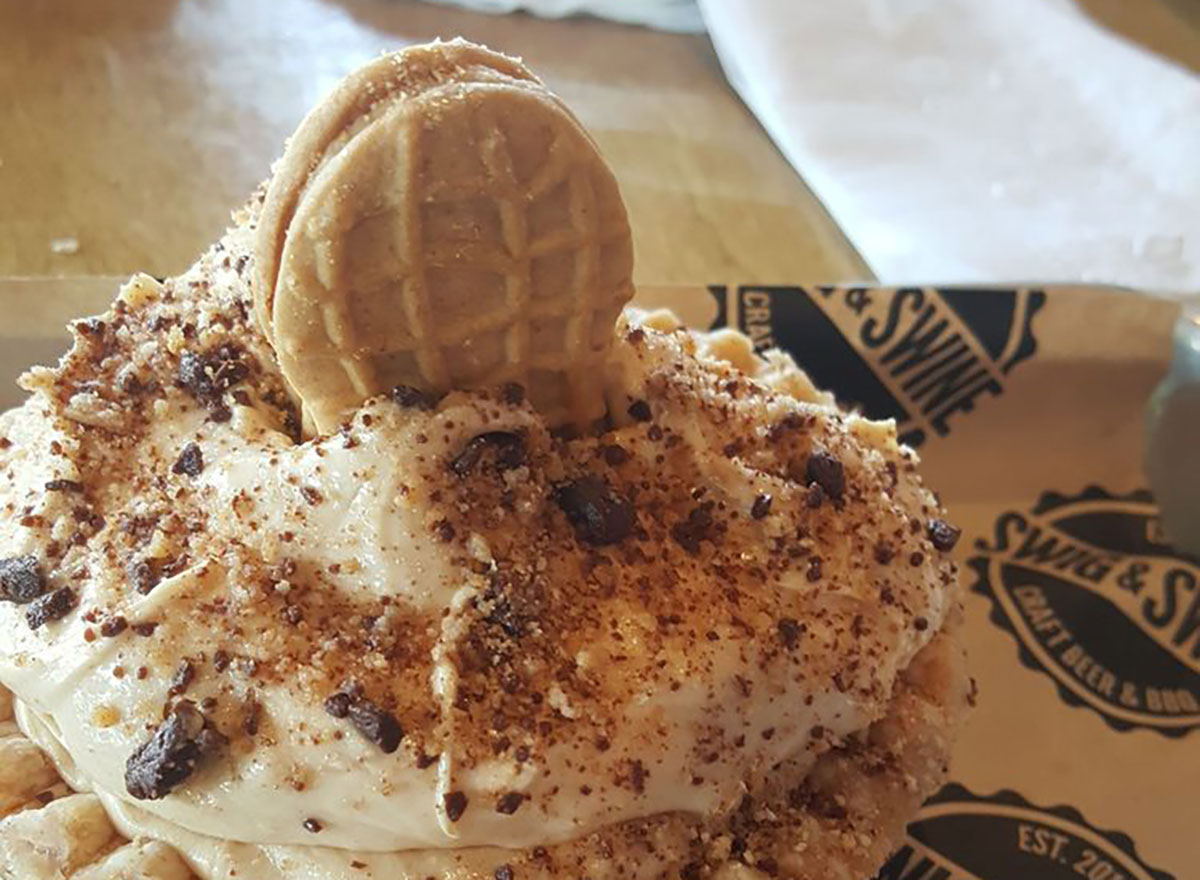 Save room for dessert at this BBQ spot! Yelpers rave about the peanut butter pie.
SOUTH DAKOTA: Coconut Custer Pie at Black Hills Burger and Bun Co. in Custer
This cleverly named coconut pie has plenty of local fans. If you're in the area, head to Black Hills Burger and Bun Co. to give it a try for yourself.
TENNESSEE: Chocolate Pie with Meringue at Arnold's Country Kitchen in Nashville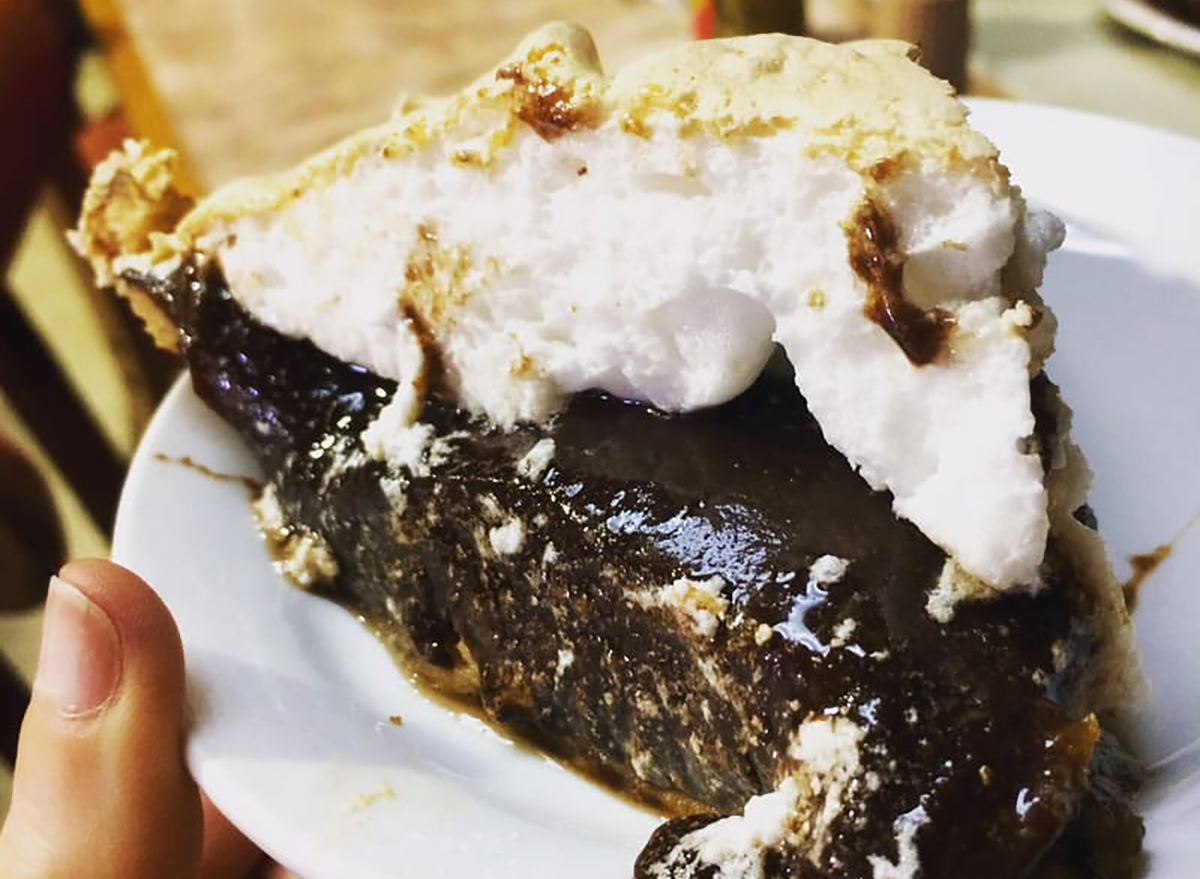 "Try the chocolate pie! It was quick, fast and fantastic," Lacey B. wrote on Yelp. There are plenty of rave reviews for the restaurant's main course foods, too.
TEXAS: Cherry Pie at Papi's Pies in Round Rock
There are plenty of five-star Yelp reviews for a variety of items at Papi's Pies. The cozy spot also offers brunch items like sandwiches and quiches.
UTAH: Peach Blackberry Pie at Burr Trail Grill in Boulder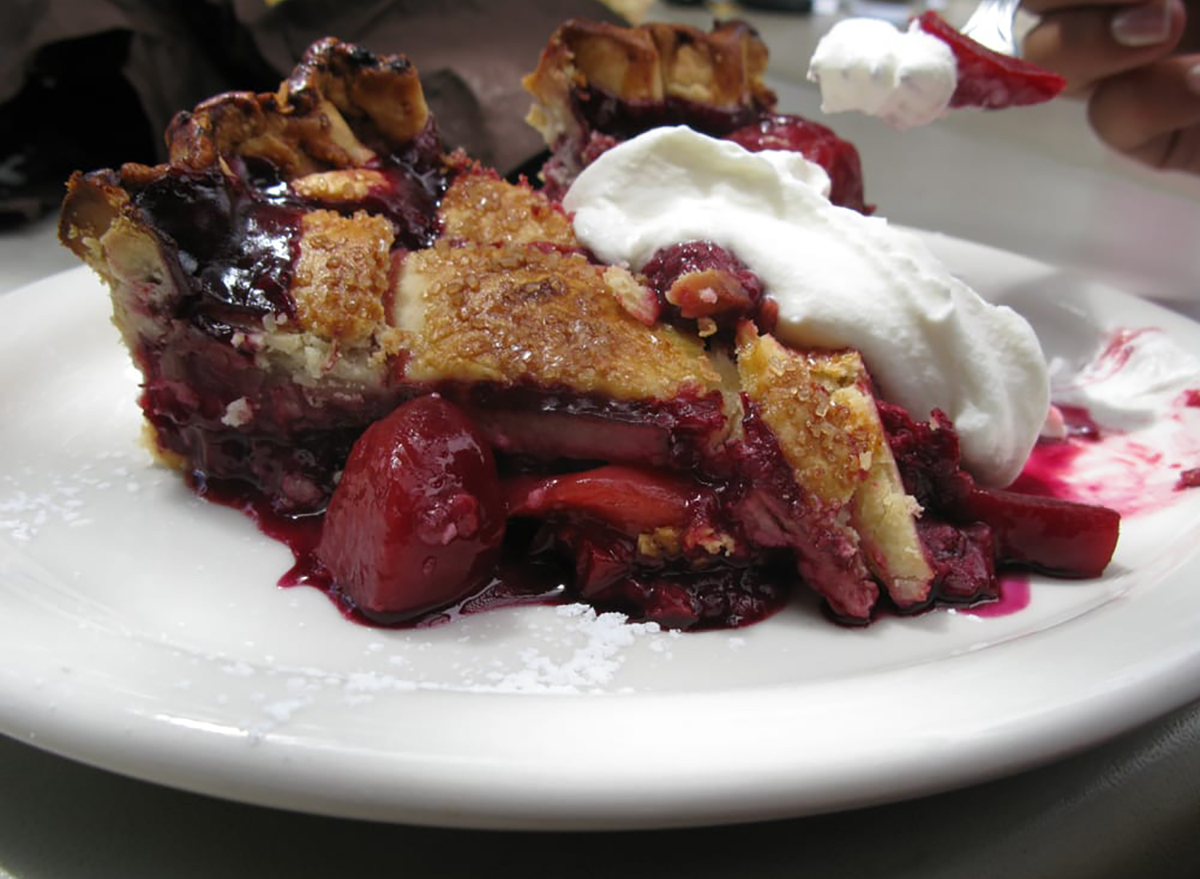 Take a break from hiking the Utah scenery at this homey grill. And be sure to finish off your meal with a tasty slice of pie.
VERMONT: Sour Cream Strawberry Rhubarb Pie at The Southern Pie Cafe in Chester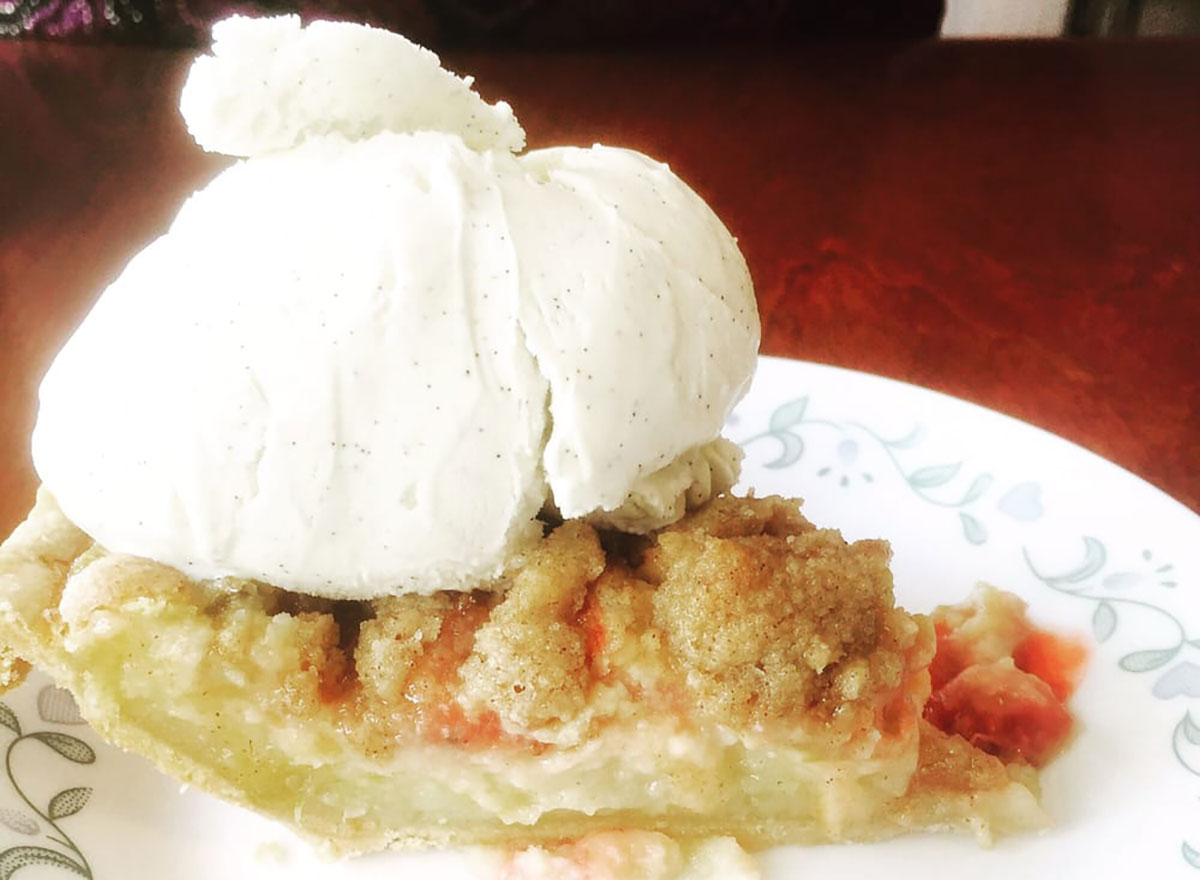 Who doesn't want a taste of the South all the way up in Vermont? Try the sour cream strawberry rhubarb or sour cream apple pies for new twists on old favorites at The Southern Pie Cafe.
VIRGINIA: Raspberry Chocolate Pie at Proper Pie Co. in Richmond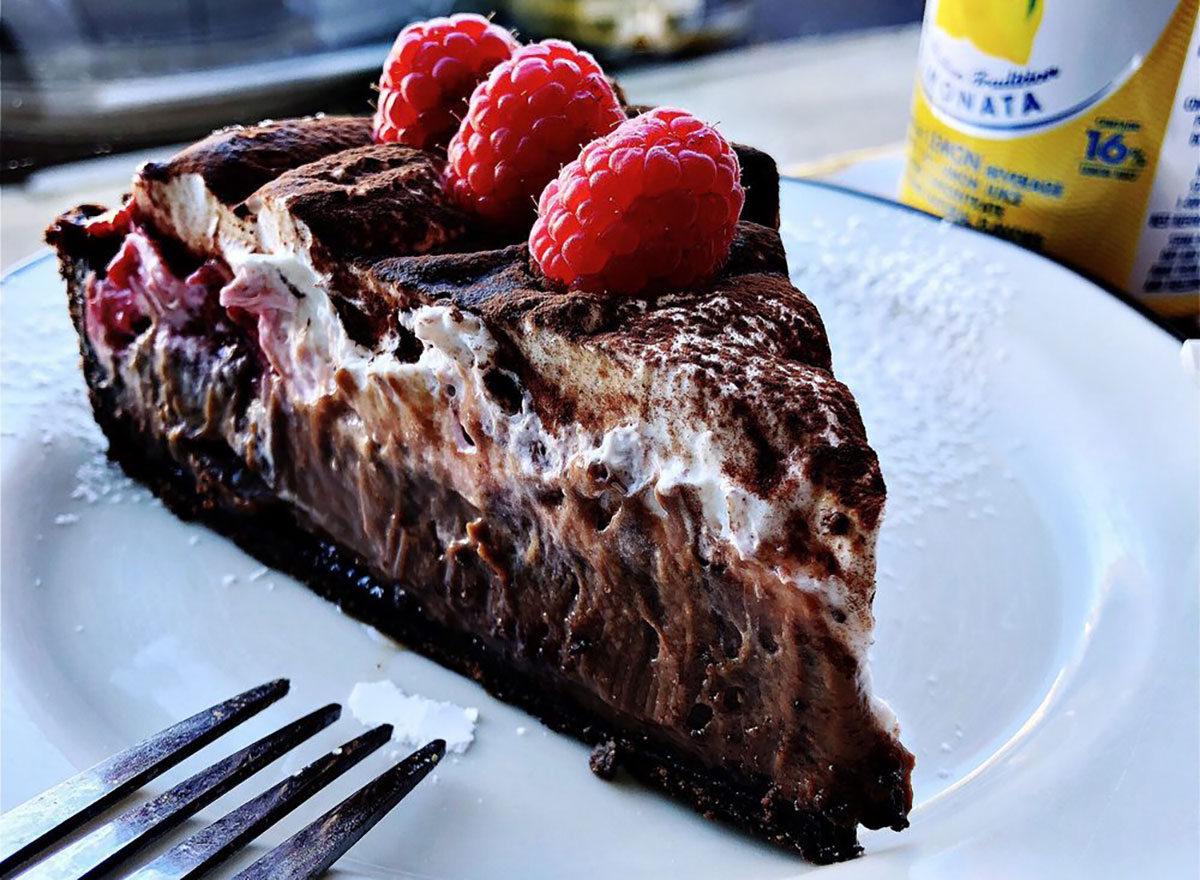 "This pie shop has the best sweet or savory pies around," wrote Yelp user Liz R. Another reviewer called these pies "life-changing," so you can't go wrong.
WASHINGTON: Custard Pie at Cakes of Paradise in Seattle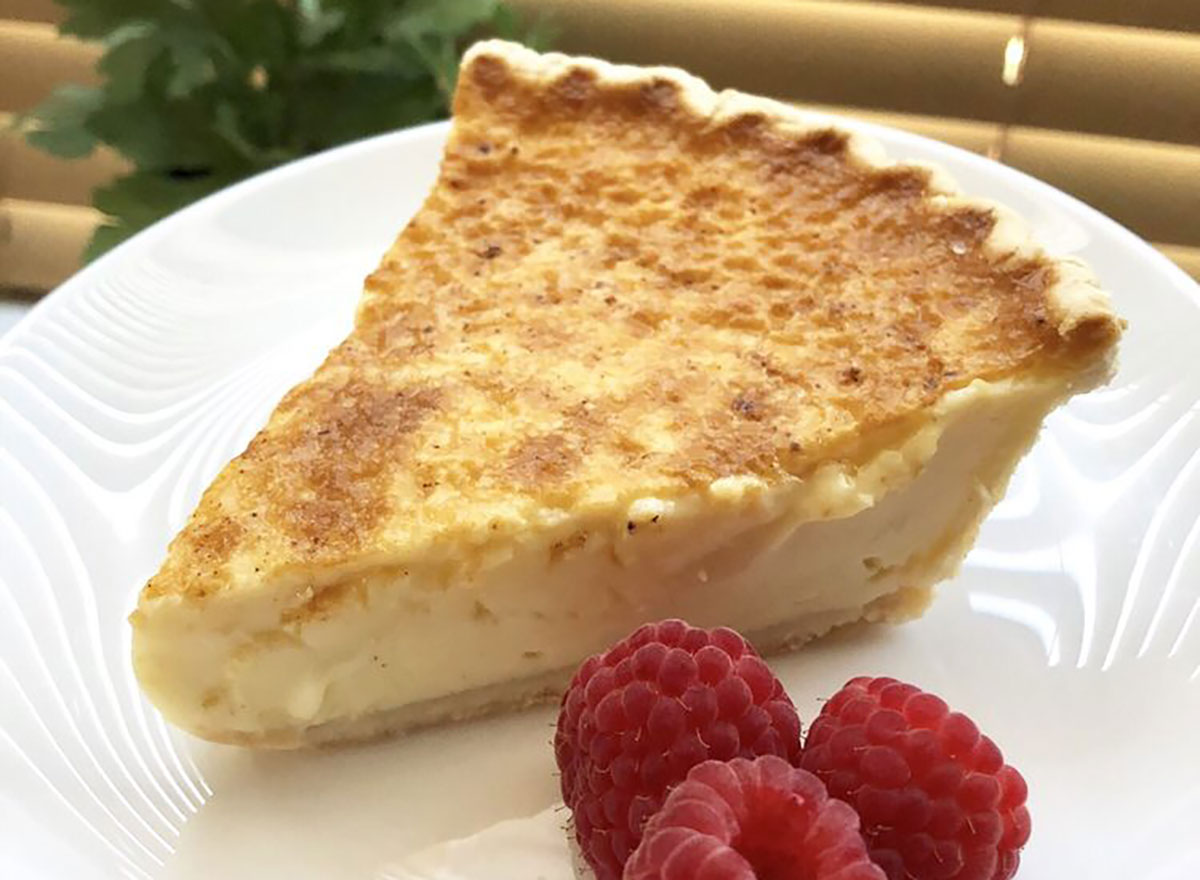 Sure, this store is known for its cakes, but the pies deserve recognition, too. In addition to the custard pie, Yelp reviewers seem to love the macadamia nut pie and the coconut cream pie.
WEST VIRGINIA: Strawberry Rhubarb Pie at Nana's Pizza & Pie in Moundsville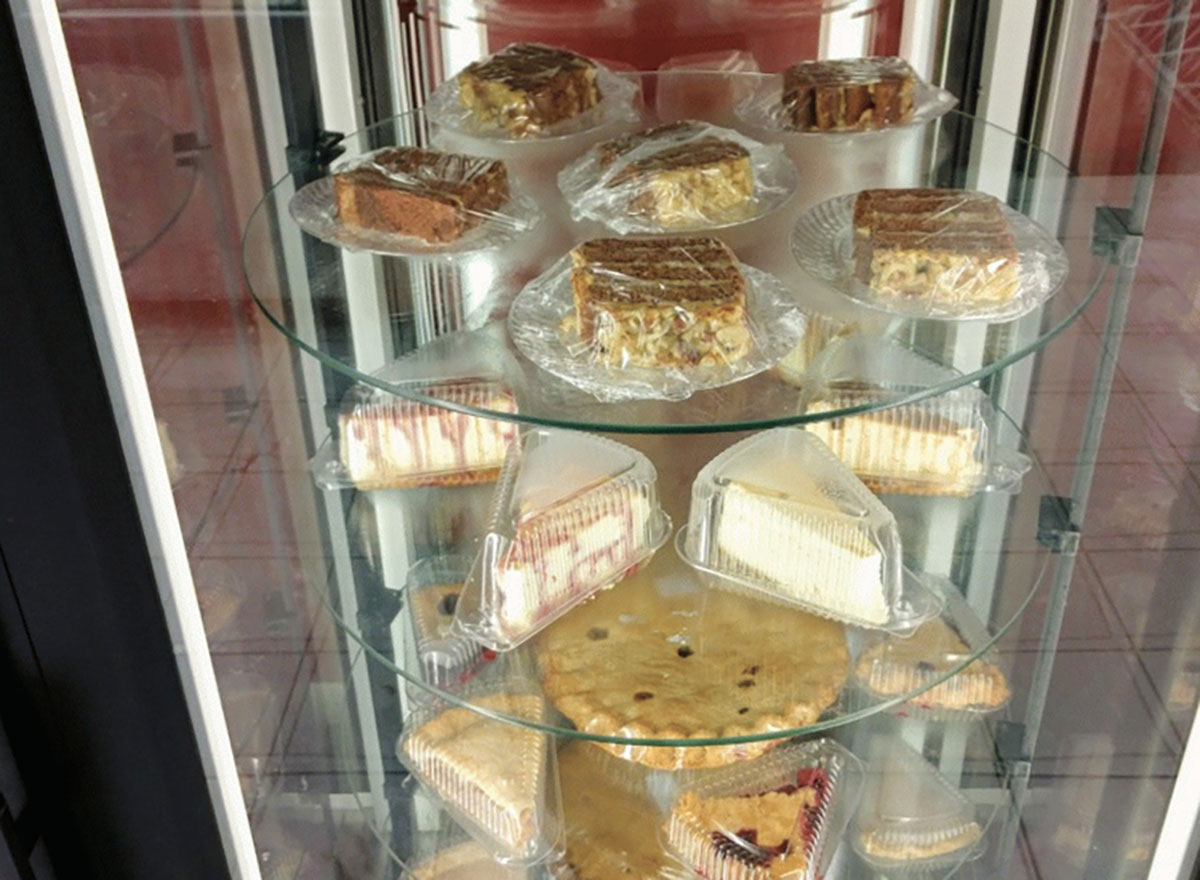 Save room for dessert at this pizza shop! The desserts and ice cream are homemade, so be sure to get your pie slice a la mode.
WISCONSIN: Chocolate Cream Pie at Stockholm Pie & General Store in Stockholm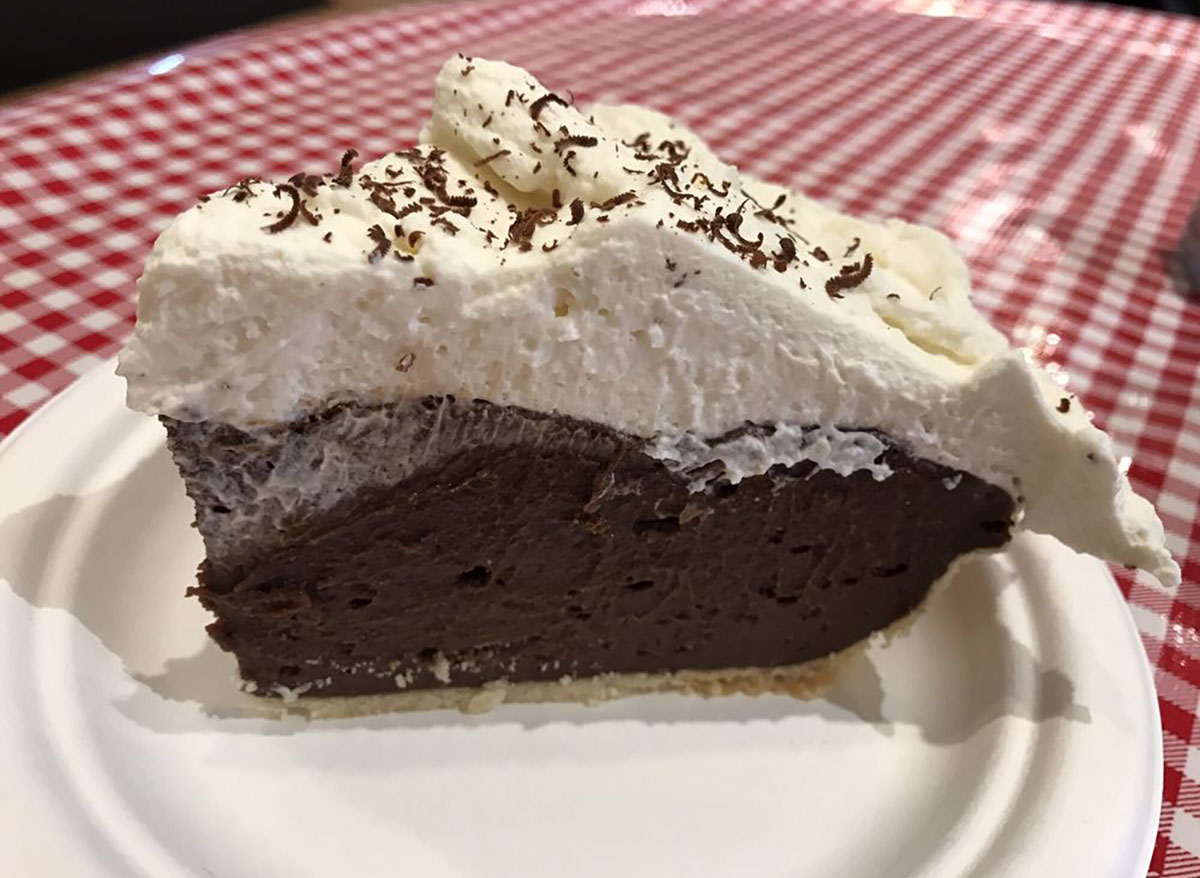 "This is the best pie I've had in the Midwest!" wrote Yelp user Kate R. Bring a group of friends to try multiple pie flavors at this down-home store.
WYOMING: Pecan Pie at Liberty Burger in Jackson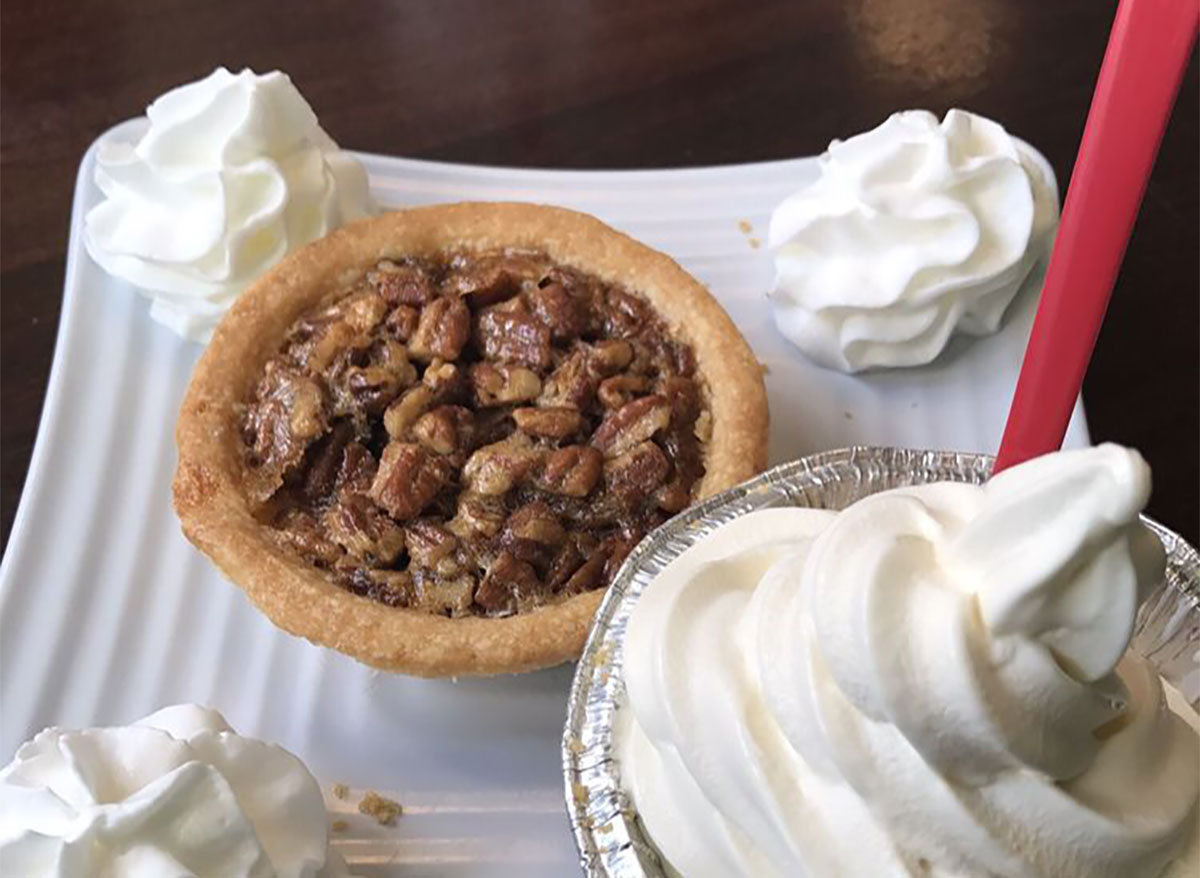 Could anything at a restaurant called Liberty Burger be bad? This mini pecan pie looks like it's bursting with flavor.
For more, check out:
The Best Thanksgiving Side in Every State
The Best Themed Restaurant In Every State
The Best Egg Dishes In Every State
Meghan De Maria
Meghan De Maria is a senior editor at
Eat This, Not That!
, specializing in food, product, and restaurant coverage.
Read more about Meghan