11 Best Breakfasts Olympic Athletes Eat to Stay Fit
It's not all oatmeal and egg whites.
Professional athletes are known to consume thousands of calories in order to fuel their workouts, especially leading up to a major competition like the Olympics.
While many events are endurance-based, pretty much all sports require enough fuel for intensity, even if it's only for short bouts. Like most physically active individuals, a majority of Olympians eat a pretty healthy diet, but of course, not all of them fall under this training method. Swimmer Michael Phelps made headlines in 2008 when it was reported he relied on a 12,000 calorie diet of chocolate chip pancakes, French toast, and egg sandwiches to start his day.
Nutritional density aside, most athletes have a balanced breakfast of fat, protein, and carbs to get them going in the morning, not to mention aid in muscle recovery. Whether you're training for a sporting event or just want to get into shape (or are just curious what other people eat!), we can all learn a little something from the breakfast choices of these 11 Olympians, past and present. After, don't miss What The Food Is Like in Olympic Village!
Gwen Jorgensen: Breakfast tacos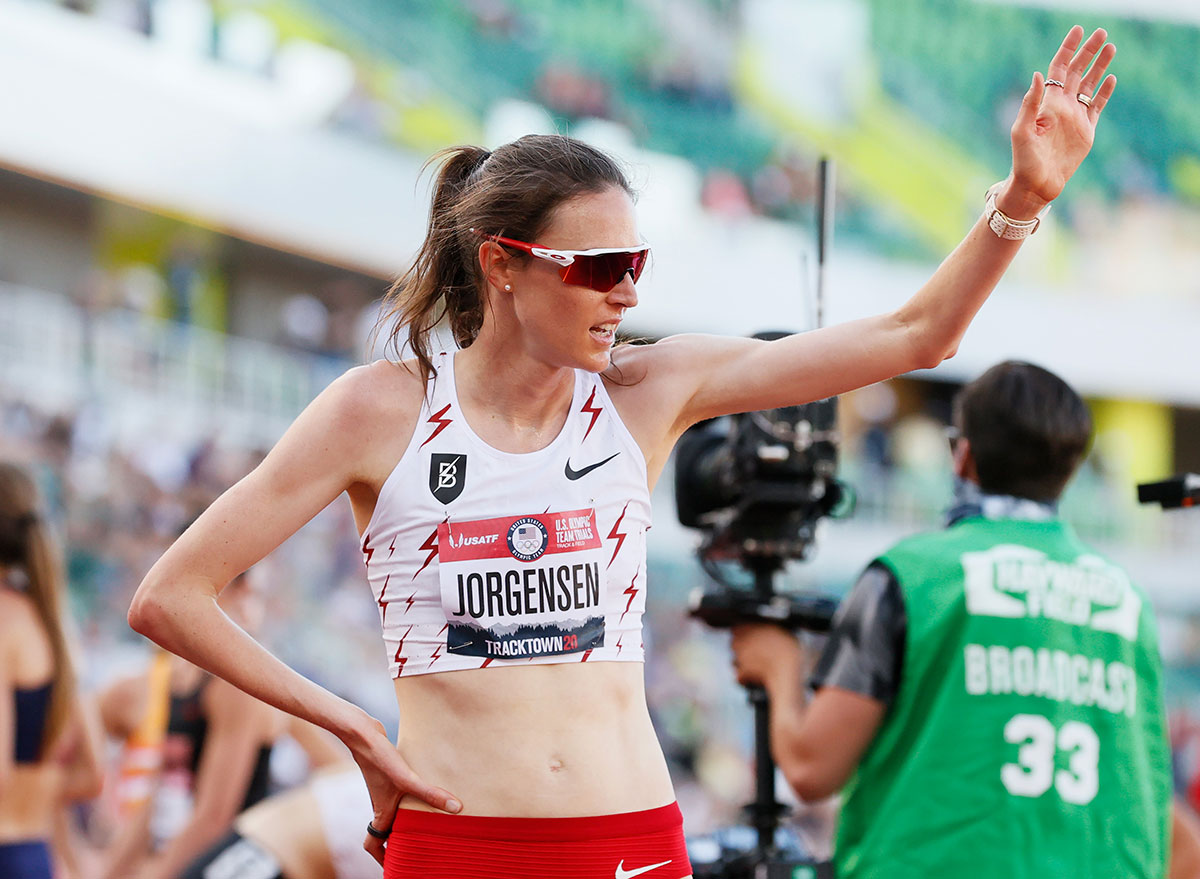 U.S. distance runner and 2016 Olympic Gold Medalist Gwen Jorgensen let fans in on one of her and her husband's pre-workout meals by filming themselves cooking breakfast tacos at home. "You can't go wrong with potato and egg," said Jorgensen mid-bite.
The tacos are super easy to make. A simple combo of eggs, potato, peppers and cheese, topped with avocado, a squeeze of lime, and cilantro. You can catch the play-by-play in the video.
Michael Phelps: Eggs (lots of them)
In 2008, word got out that Olympic swimming champ (and most decorated Olympian of all time), Michael Phelps, ate 12,000 calories a day and he hasn't been able to shake the rumor since. While it's not quite accurate, the man still consumed a ton of food during his competitive days.
According to reports (which all stemmed from this New York Post story), while training for the 2008 Beijing Olympics, Phelps consumed three fried egg sandwiches "loaded with cheese, lettuce, tomatoes, fried onions and mayonnaise." Phelps could easily down a five-egg omelet, a bowl of grits, piles of French toast, and chocolate chip pancakes. And that was just breakfast.
In all, the total was closer to 8,000-10,000 calories a day. In 2016, Phelps told the Washington Post that he's not eating or training nearly as much these days.
Ryan Lochte: Eggs, hash browns, pancakes, oats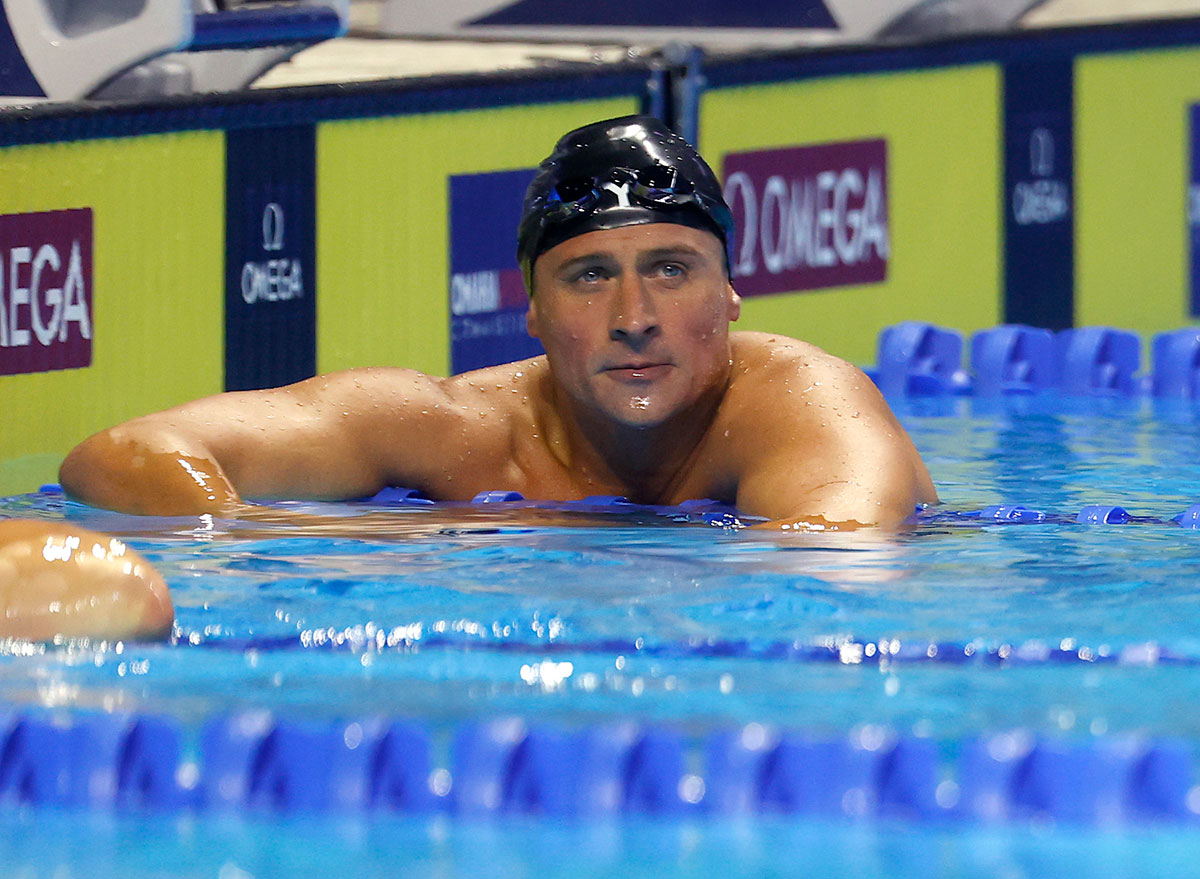 In the lead-up to the 2016 Rio Olympics, 12-time Olympic medalist Ryan Lochte shared with Bon Appetit the massive quantity of food he consumed while training for the U.S. Olympic swim team. And while it doesn't really compare to the diet of rival Phelps, Lochte had a huge capacity for calories. For breakfast, it wasn't uncommon for him to have six eggs with spinach, tomatoes, and ham, hash browns, pancakes, oatmeal, and fruit. Oh, and some French vanilla coffee with one sugar and cold milk.
Back in 2016, Lochte was also really into avocado toast.
​​"You get a piece of toast and then you put some avocado, mushed up avocado, and you spread it on the bread," he said. Lochte adds spinach, a sunny-side egg, hot sauce, and tofu sausage. "Anything tofu I'm just, I'm loving it."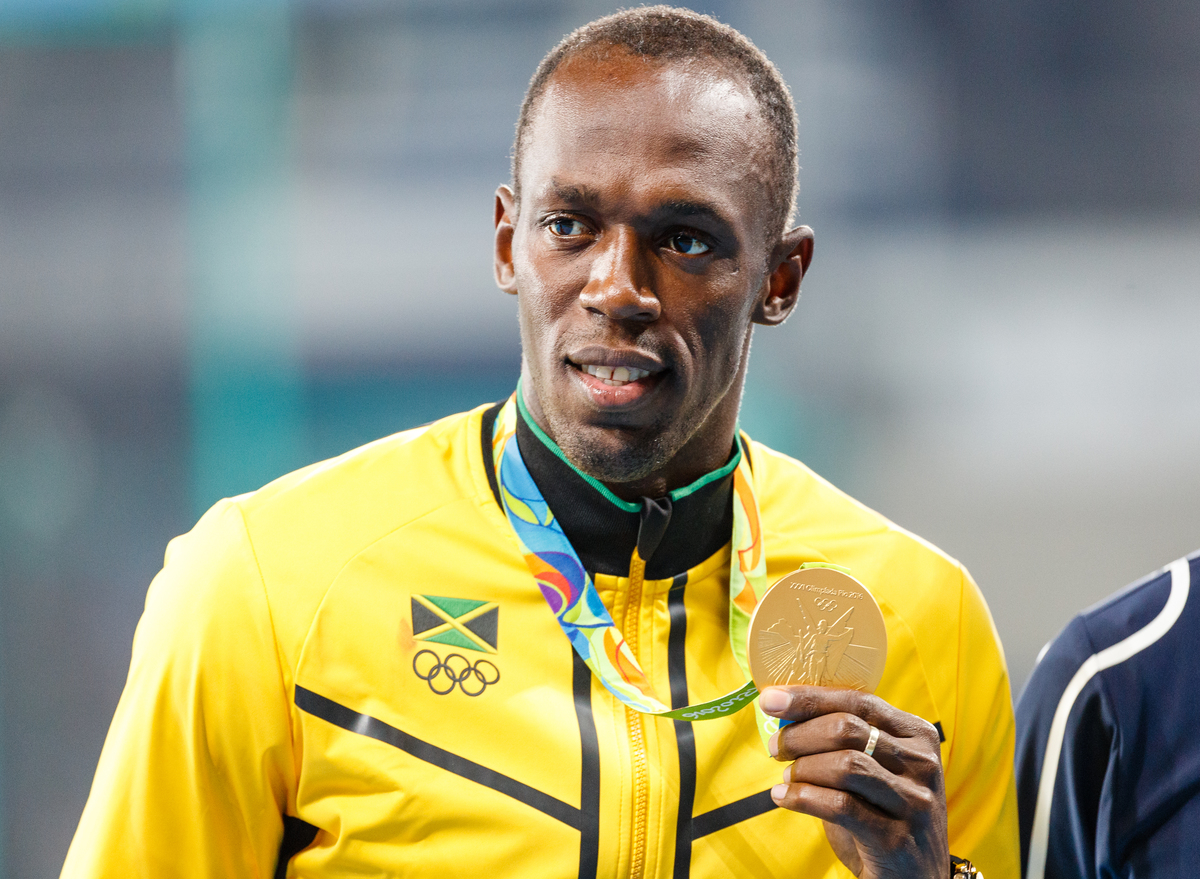 The fastest man on earth, Usain Bolt, has a reputation for eating chicken nuggets in the morning, which makes having McDonald's as an Olympic sponsor pretty convenient for him. But the Olympic track star explained that he's much more regimented these days, in a 2015 interview with British GQ. During training season, he opts for an egg sandwich for breakfast.
"During the day I only eat just enough to have energy for training and to make sure I digest fast enough. But at nights, before I go to sleep, I consume a lot of food. My coach wants me to eat a lot of vegetables, so I do eat more of that than anything else. I'll eat broccoli, but I'm not a big fan."
Olympic swimmer and four-time gold medalist Ryan Murphy—who picked up his most recent gold in Tokyo—shared a typical training day meal plan with Men's Health.6254a4d1642c605c54bf1cab17d50f1e
His breakfast consists of a single banana before training, followed by an egg omelet with spinach, mushrooms, onion, and salmon when he's out of the pool. He's also known to inhale a bowl of yogurt with berries and granola.
Murphy also shared that his philosophy to fueling himself during training is to keep it simple, saying, "I want to be able to refuel from my training, and use my diet to complement [it]."
Gabby Douglas: Oatmeal with banana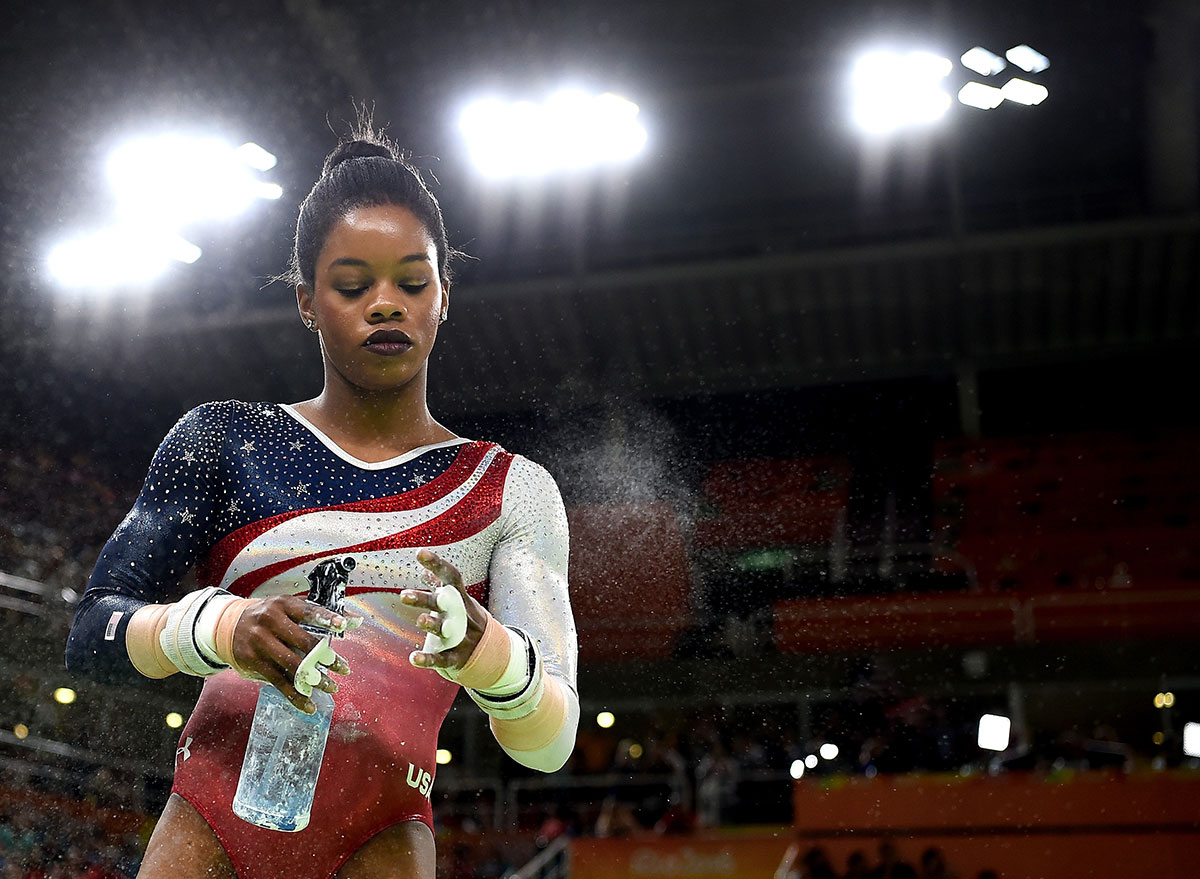 Before the 2016 Rio Olympics, gymnast Gabby Douglas shared with Cosmopolitan her typical training day meal as a two-time Olympic gold medalist:
"7 a.m.: I wake up at this time for 8 a.m. practice almost every day and drink a glass of water. To get through my first four hours of training, I ate a hot bowl of oatmeal and a banana with tea. My amazing grandmother helps make my meals so I can stay focused on my training."
On her off days, she gives herself more leeway with her diet.
"9:30 a.m.: I stick to my clean eating plan even on my days off, for the most part, but I had a larger breakfast than usual today. My grandma made waffles, scrambled eggs with cheese, and kosher beef bacon. It was good enough to get anyone out of bed!"
Simone Biles: Oatmeal and fruit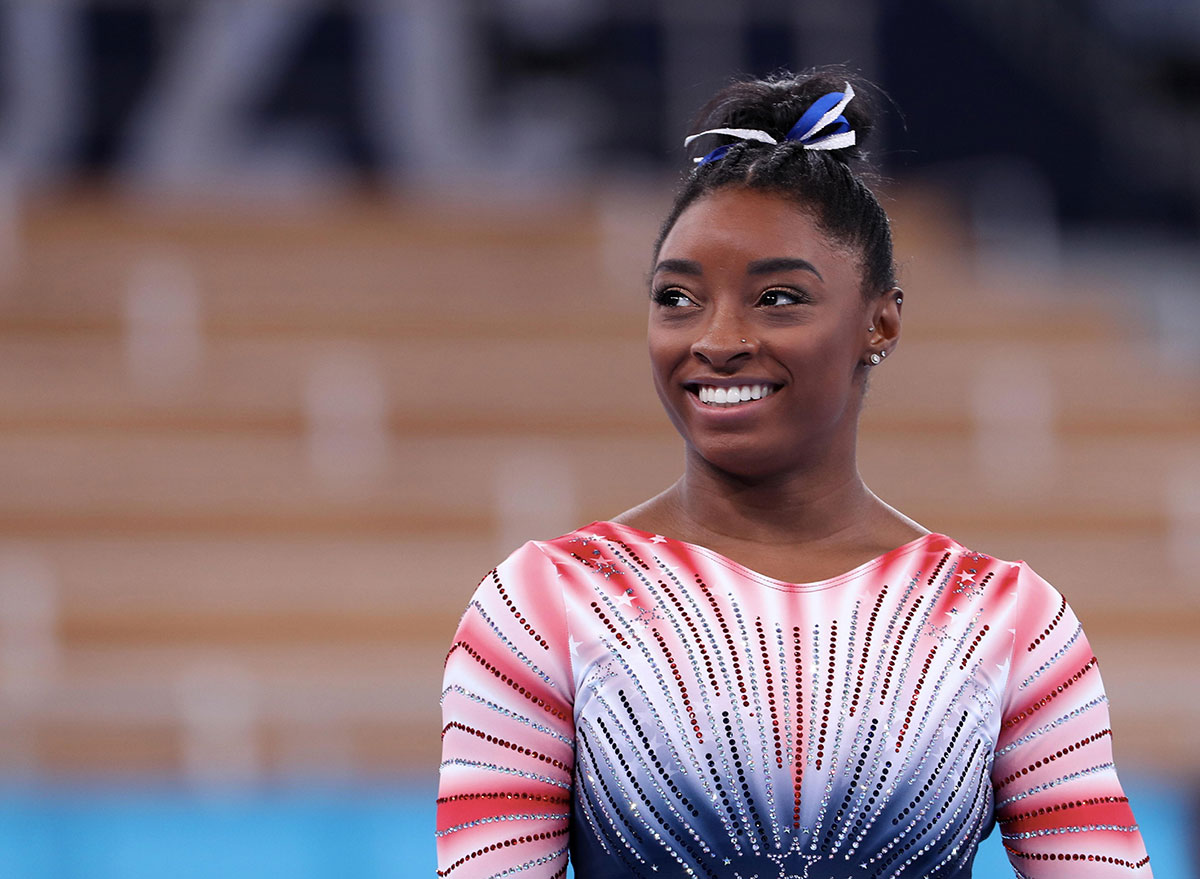 Just like knowing when to bow out of an Olympic gymnastic event to tend to her mental and physical well-being, Simone Biles follows her intuition when it comes to food. "I do not track anything," she told Women's Health in October 2020. "I eat what I feel good with and try not to overeat or stuff myself because I'm always at the gym."
She said for gymnasts, in particular, tracking can lead to eating issues, so "I just eat what I know I can and should." Biles wakes up early before her 7 am practice, "so sometimes I'll grab a quick bite and sometimes I won't," she said. When she does have time to eat, she opts for oatmeal or fruit.
Now, be sure to check out The Exact Meal Plan Simone Biles Eats to Stay Fit.
Katie Ledecky: Peanut butter toast
U.S. swimmer and five-time Olympic gold medalist Katie Ledecky (she brought home two gold medals at the Tokyo Games) eats a light breakfast that won't weigh her down in the pool.
"My first swim practice is at 6:15, so I'll usually wake up 30 minutes prior. Before diving into the pool, I'll typically have a granola bar or peanut butter toast and a banana," she told PureWow in September 2019. "These are great options pre-practice because they give me enough energy to power through an early morning workout, without making me feel too heavy or full."
Caeleb Dressel: Anything with carbs
Olympic (record-setting) swimmer Caeleb Dressel, who took home five gold medals at the Tokyo Games, explained to USA Today what a typical day of eating looks like when he's in training mode.
For his first practice of the day, Dressel said he'll eat something small like a bagel, toast, or oatmeal. "I never eat a lot before I get in the water because I don't want to, you know," he said. "Anything with carbs is what I go for if it's not a full meal."
Naomi Osaka: Green smoothie and rye bread with smoked salmon and avocado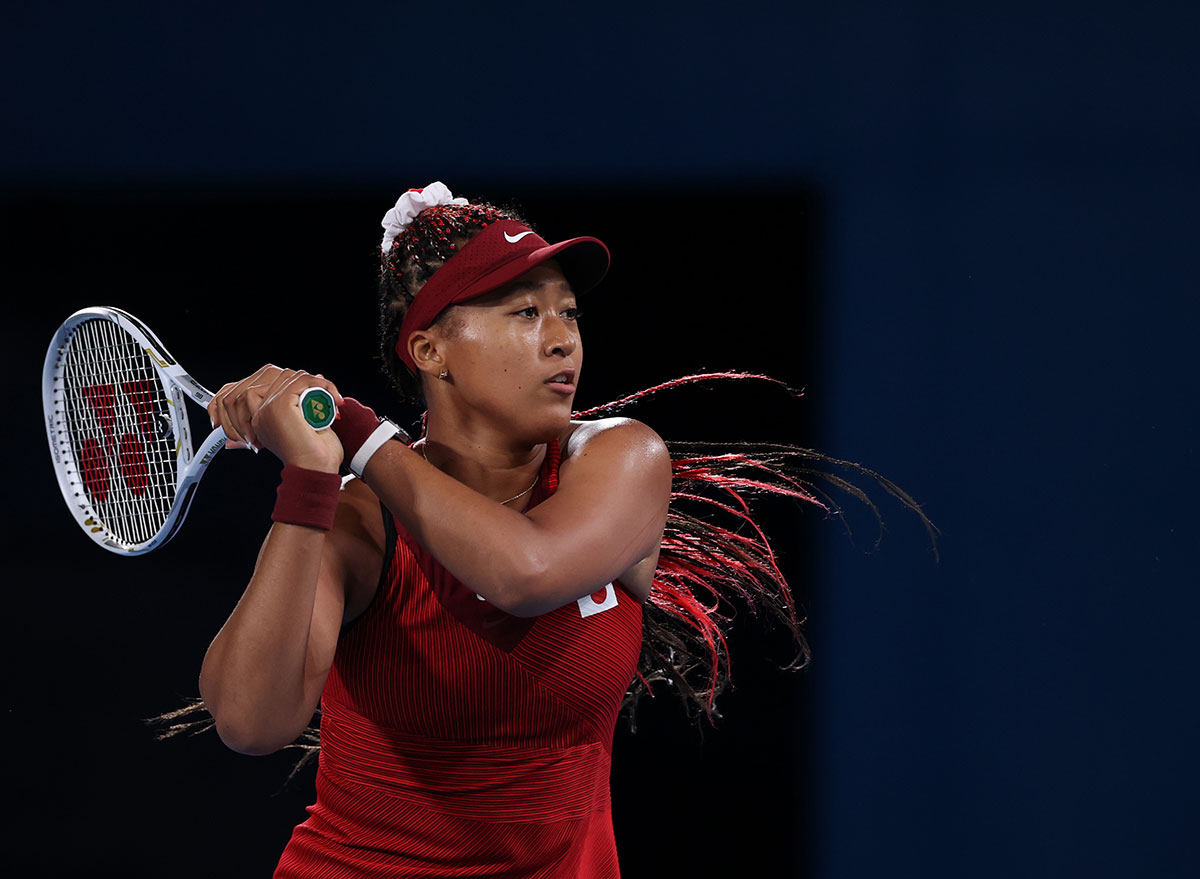 Four-time Grand Slam singles champ and reigning champion at the US Open and the Australian Open, Naomi Osaka, keeps it pretty "lyte" in the morning. Osaka, who has a sponsorship deal with BodyArmor Lyte, hydrates as soon as she gets out of bed.
"Typically, when I wake up in the morning, the first thing I do is drink a smoothie that my trainer Yutaka [Nakamura] makes me," she told PureWow in April. "It has kale, spinach, Coconut BodyArmor Lyte…I feel like it has kiwi in it. It's a guessing game for me but that's the first thing I drink and then normally I have rye bread with smoked salmon and avocado."
Don't miss Naomi Osaka Reveals the Exact Breakfast, Lunch, and Dinner She Eats to Stay Fit.
Laurie Hernandez: Scrambled eggs
Olympic gymnast Laurie Hernandez laid out what she eats to keep in shape—and it's not about counting or restricting calories.
"On a day when I don't practice until the afternoon, I'll go all out for breakfast with scrambled eggs, turkey, and cheese. Then I will eat a light lunch, with a snack in between. On mornings that I have somewhere to be, like physical therapy, I'll do something a little quicker like yogurt or fruit. I'll usually make oatmeal the night before or prep something small because I won't have time to make food in the morning. No matter what I have, almond milk always makes an appearance. It goes in my coffee, my oatmeal, my cereal, and even my eggs!"
Hernandez said her nutrition strategy is all about listening to her body and finding what works for her. "I'm not calorie counting and tracking everything, but I'm still a big fan of being invested in what I'm eating, knowing what I'm eating, and knowing what's in it. I don't want to eat numbers…I just want to eat! Sometimes I'll eat the recommended amount of carbs and my body says, I want more, so I'll eat more. It's not about overdoing, but it is about listening."
For more, be sure to check out The One Food That Olympians Refuse to Eat When Training.