22 Easy Recipes When You're Cooking for Two People
Make your pantry and freezer staples go a long way in feeding two.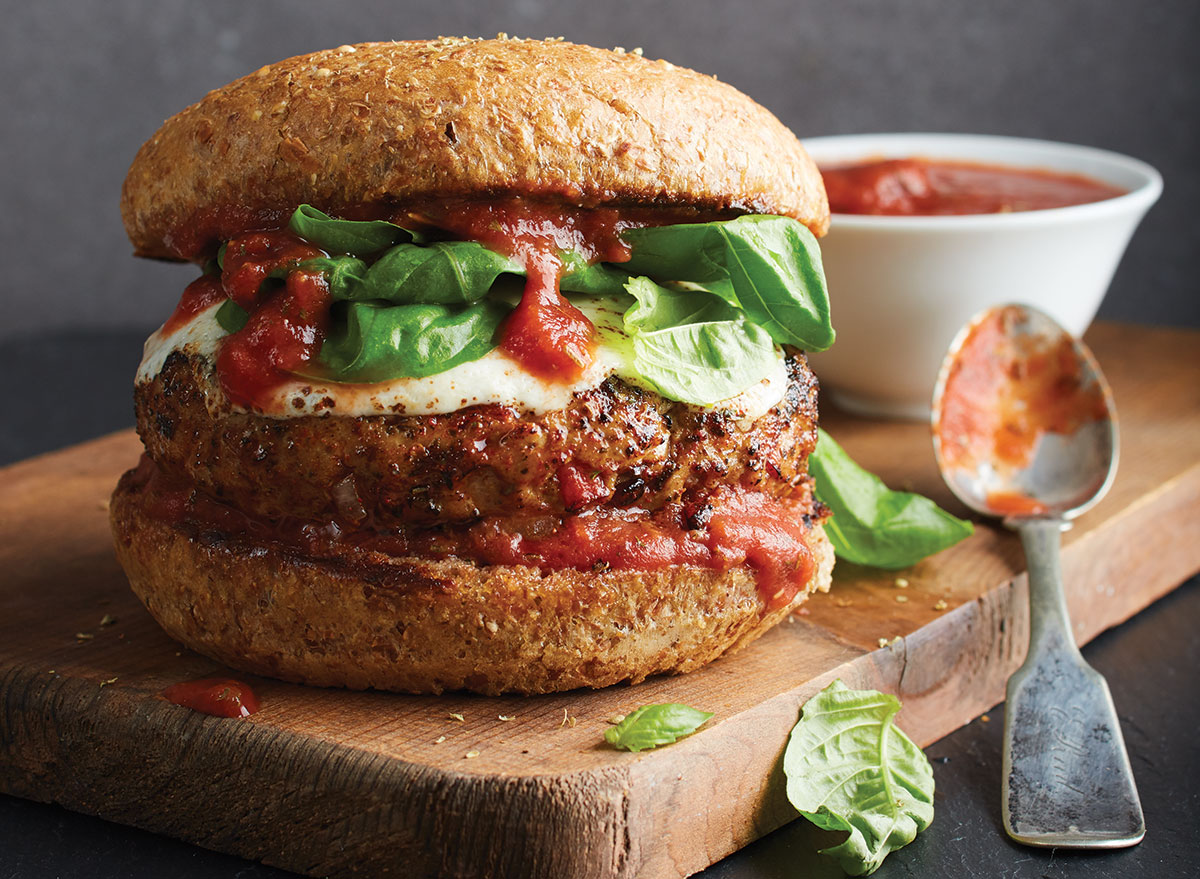 Secluding ourselves at home during the COVID-19 outbreak is a new reality for many of us. And with that comes a need for more home cooking, too. If you're cooking for two, it may seem hard to pick recipes that make sense, and you may be wondering how to make your hard work in the kitchen pay off. These recipes make simple and nutritious meals for two. Some make more than two servings, but we chose them because they make great leftovers. We also made sure to include recipes you can largely achieve using pantry staples that are still available in most grocery stores.
Get inspired to make breakfast, lunch, dinner, and even dessert for two, while you're braving the coronavirus quarantine.
Brown Rice Congee with Chicken, Edamame and Crispy Mushrooms
Ease into quarantine cooking with a delicious, simple, and healing rice bowl. Yes, congee is basically an over-boiled risotto, where grains of rice turn into a thick porridge-like consistency. This is a quick and easy lunch for two when you have pantry staples like frozen edamame, or dehydrated shiitake mushrooms, or simply some leftover roast or boiled chicken.
Get our recipe for Brown Rice Congee with Chicken, Edamame and Crispy Mushrooms. 
Oatmeal with Peanut Butter and Banana
This recipe makes four servings of an incredibly hearty and satisfying oatmeal. So store any leftovers in a sealable jar in the fridge, and you'll have another breakfast ready to go later in the week.
Get our recipe for Oatmeal with Peanut Butter and Banana. 
Instant Pot Tilapia with Vegetables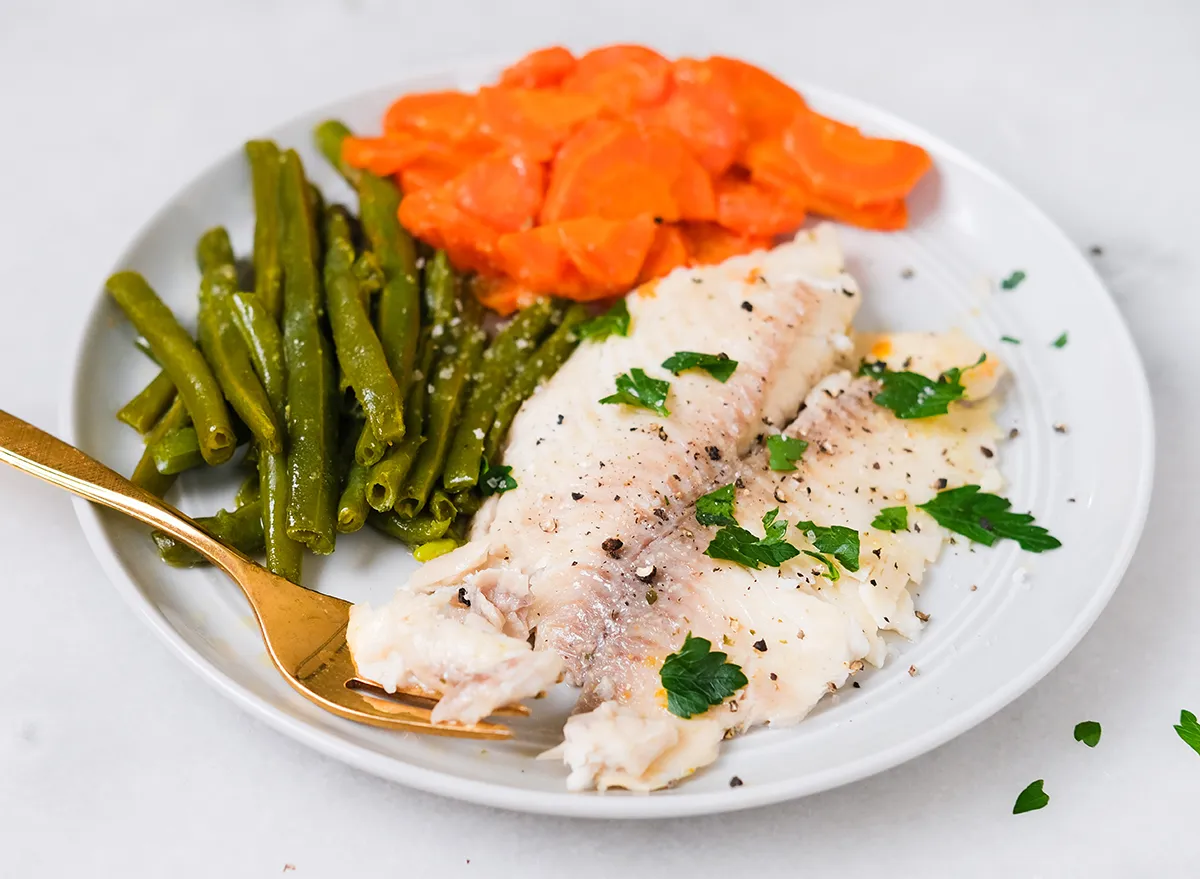 Tilapia is an easy fish to prepare because it doesn't need a long cooking time, and can be flavored with anything you have on hand: butter, lemon juice, parsley, or a simple spice rub. This simple recipe can be made with defrosted or fresh tilapia, and only takes 8 minutes in the pressure cooker. And let's be real, it doesn't get much healthier than steamed fish and vegetables.
Get our recipe for Instant Pot Tilapia with Vegetables. 
Butternut Squash Soup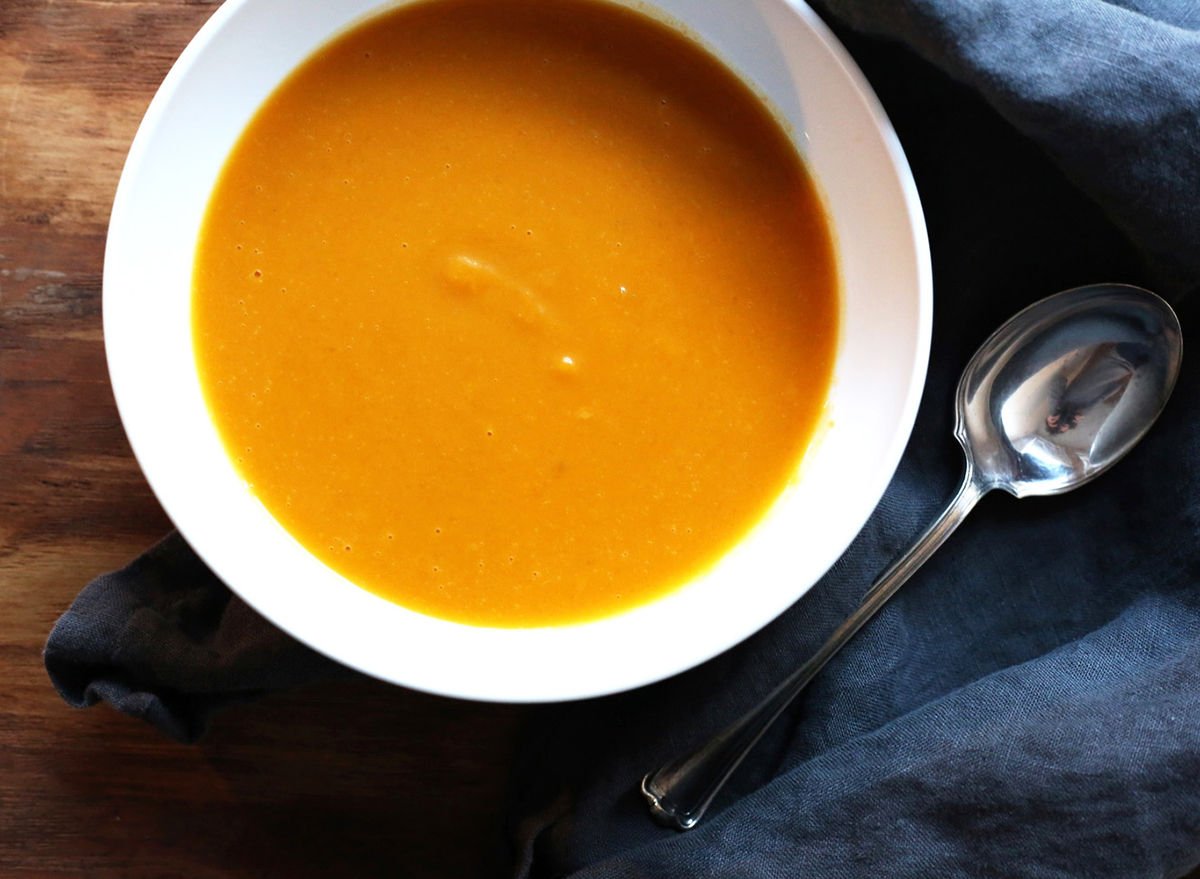 If you have a can of coconut milk and a butternut squash, you can make some version of this recipe. Soup is such a great thing to make when you're cooking for two, because you can freeze it indefinitely, and set yourself up with 2-meals worth of food by just cooking once.
Get our recipe for Whole30 Butternut Squash Soup. 
Spicy Turkey Meatballs with Sweet Potato Fries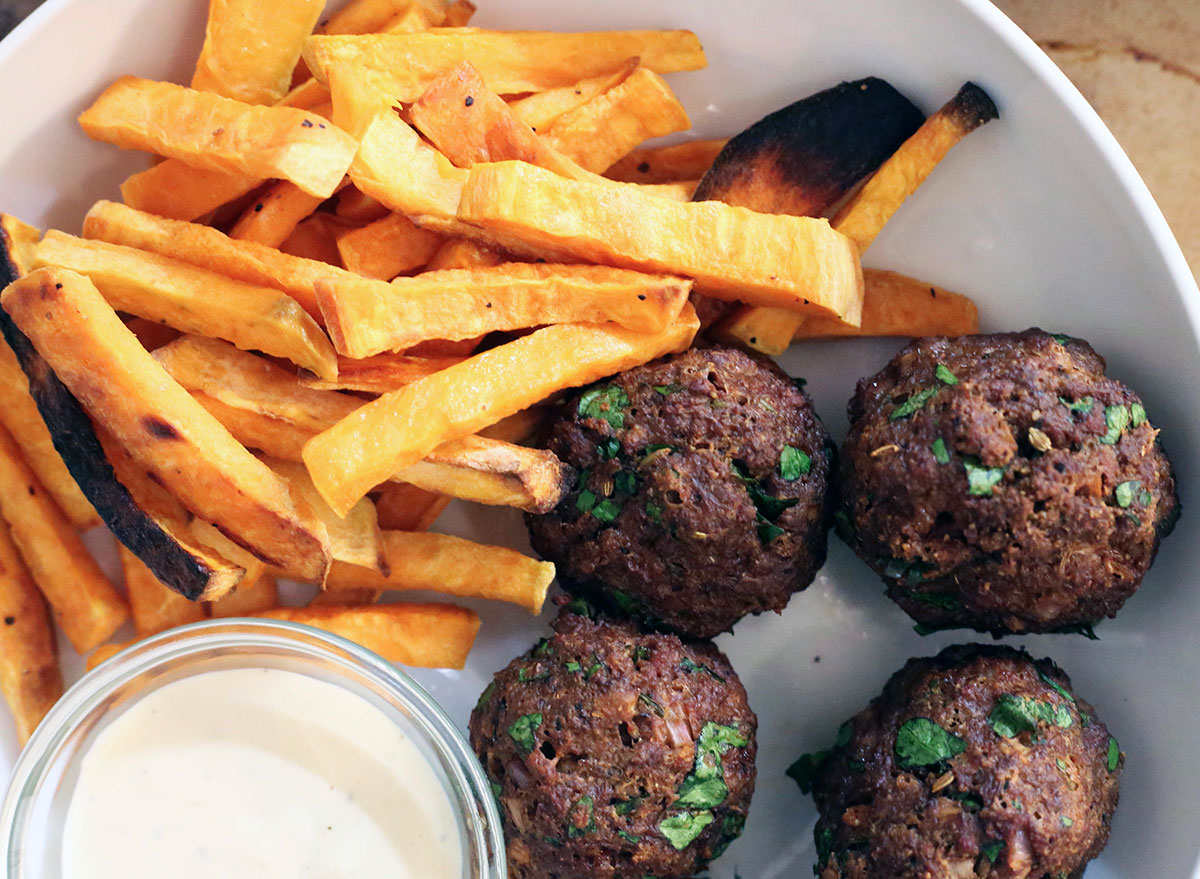 One pound of minced turkey and several sweet potatoes will make the perfect amount of food for you and a loved one. For the meatballs, free to swap in any dry spices you have on hand, and use bread crumbs instead of almond meal. Sweet potato fries are lighter than regular fries, so you're still eating healthfully although you feel like you're eating fast food.
Get our recipe for Whole30 Spicy Turkey Meatballs with Sweet Potato Fries. 
Chicken Piccata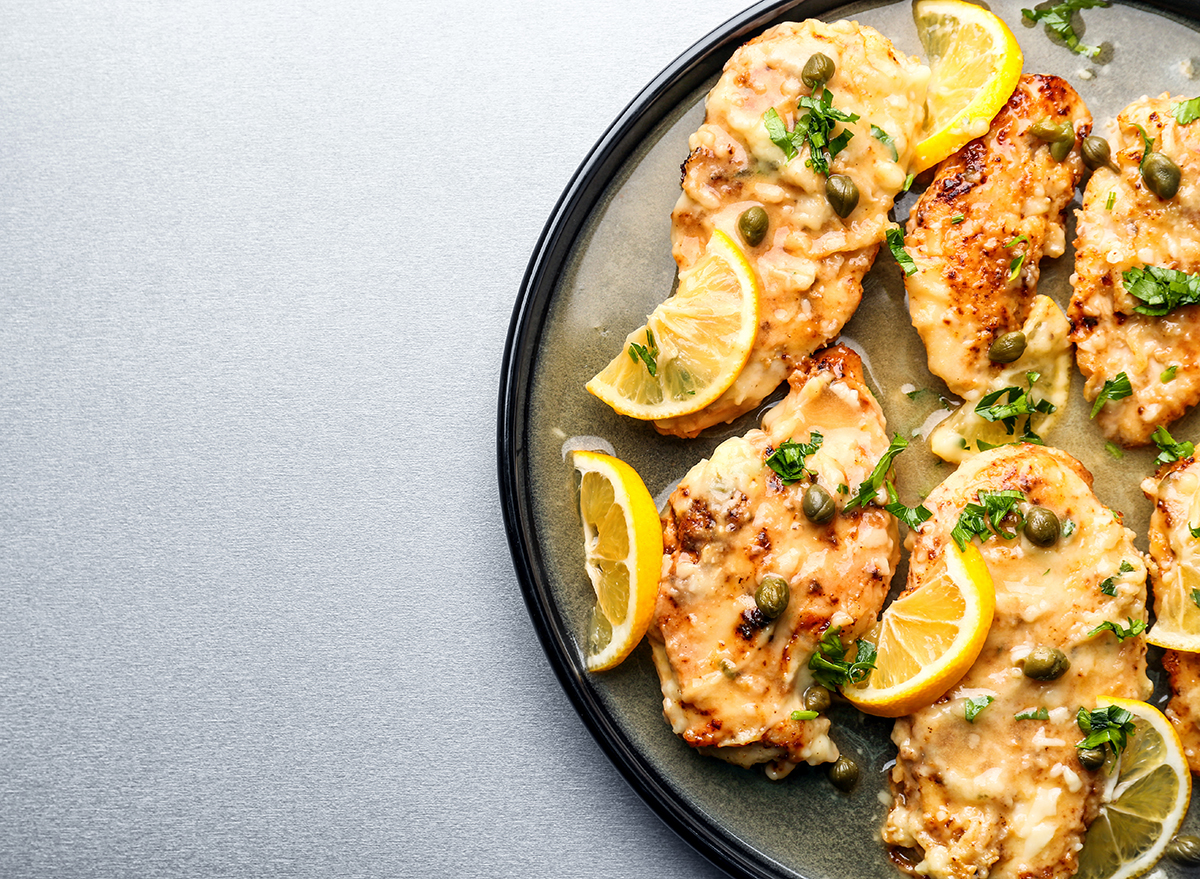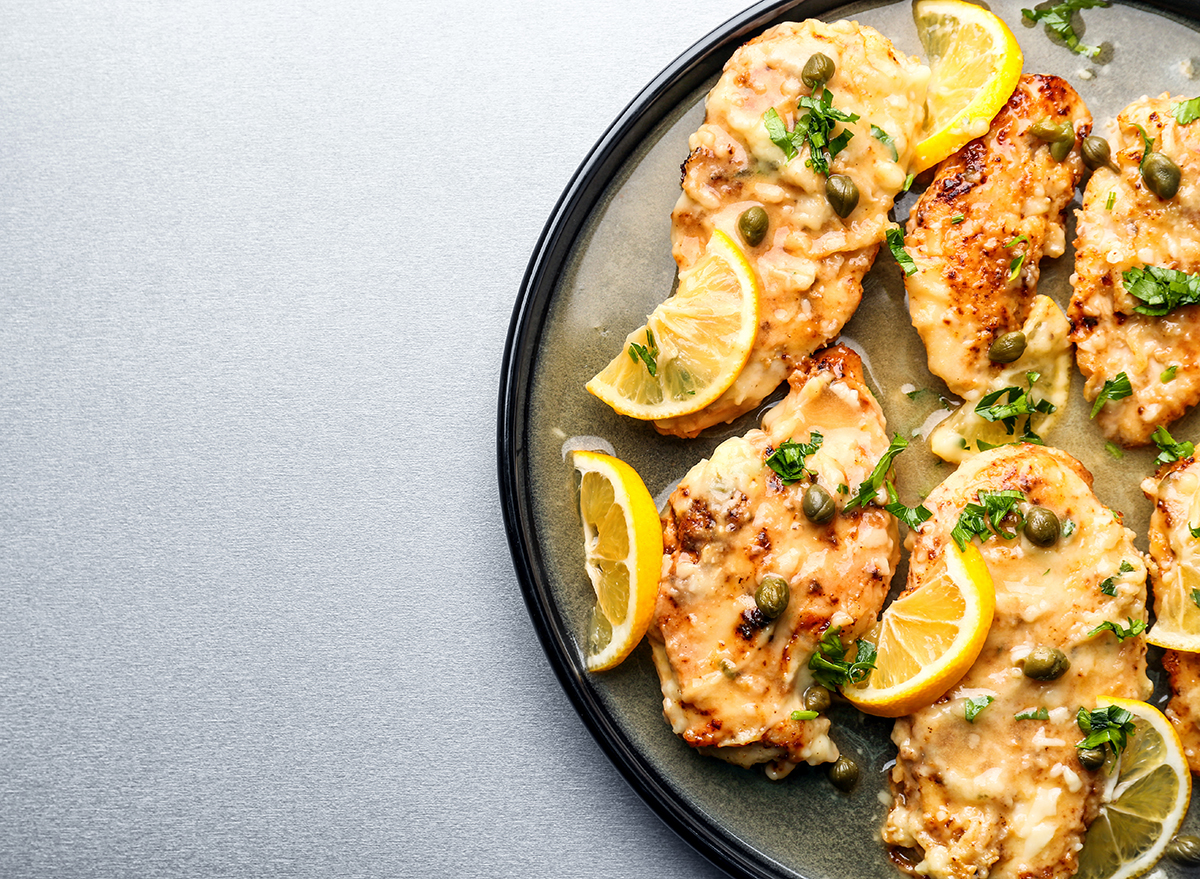 If you asked us for advice on how to make boring old chicken breasts flavorful, we'd simply point you in the direction of chicken piccata. Make a creamy sauce of butter, garlic, and lemon, then smother your chicken breasts in it for a dinner that feels greater than the sum of its parts. You add some boiled rice, mashed potatoes, or al dente pasta for light and easy meal.
Get our recipe for Chicken Piccata. 
Pan Burgers with Fried Eggs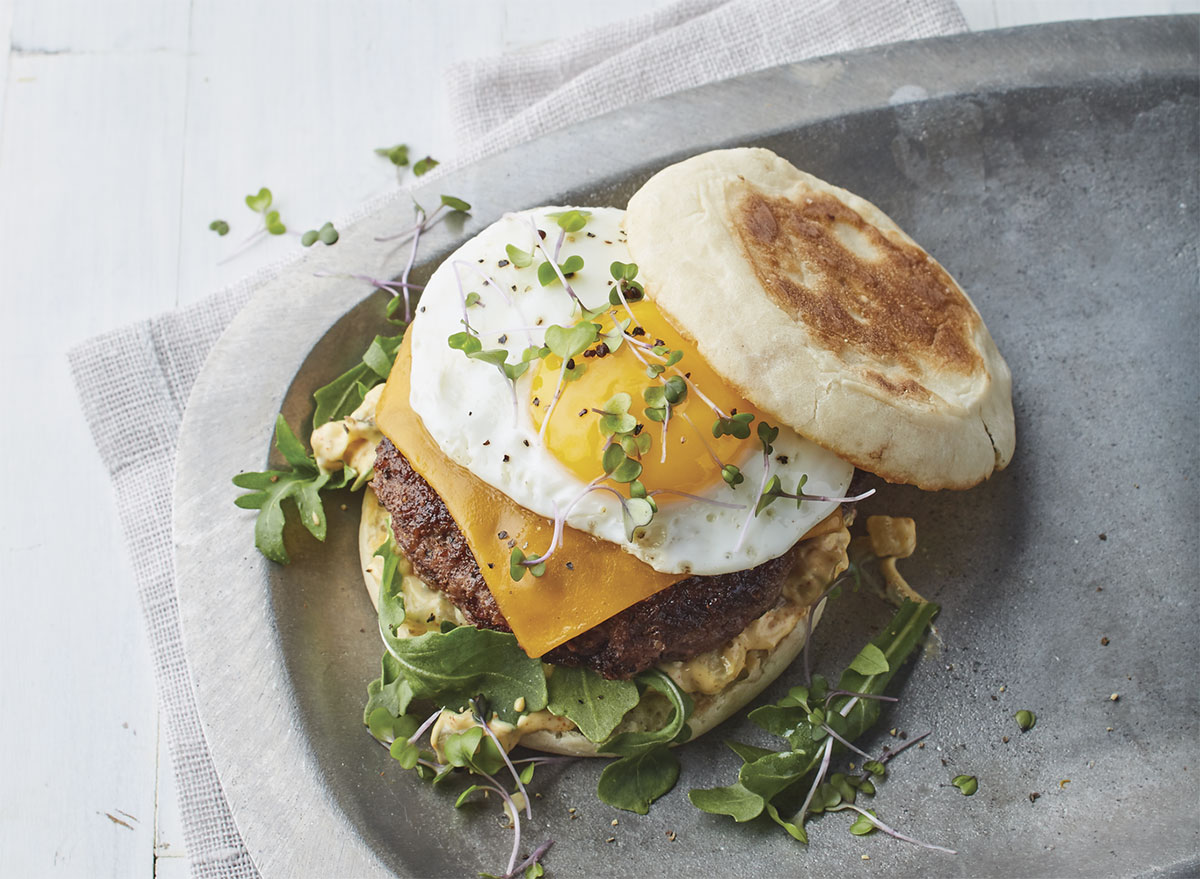 Imagine you're making English muffin egg sandwiches, then turn them into cheeseburgers with the addition of a homemade beef patty. It's that easy! A pound of beef will make four burgers, so if you're cooking for two, freeze two of the patties, spices and all, for another day.
Get our recipe for a Pan Burger with Fried Egg. 
Grilled Pizza Burgers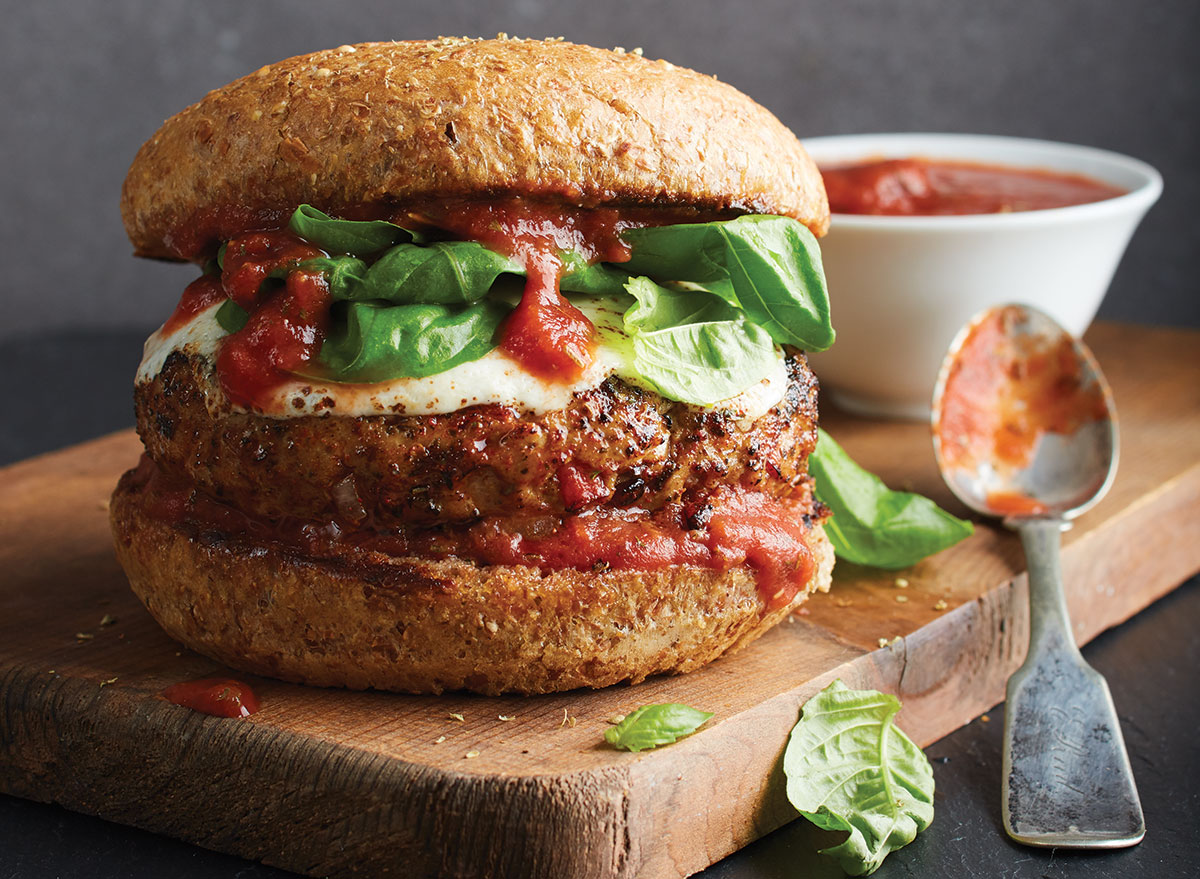 Same principle applies to this juicy burger topped with pizza sauce, cheese, and pepperoni. Make the patties and freeze two for later, or simply grill all four at once, and keep the extra meat in the fridge for next day. These pizza burgers are sooo good, you won't mind eating them two days in a row.
Get our recipe for Grilled Pizza Burgers. 
Chicken Greek Salad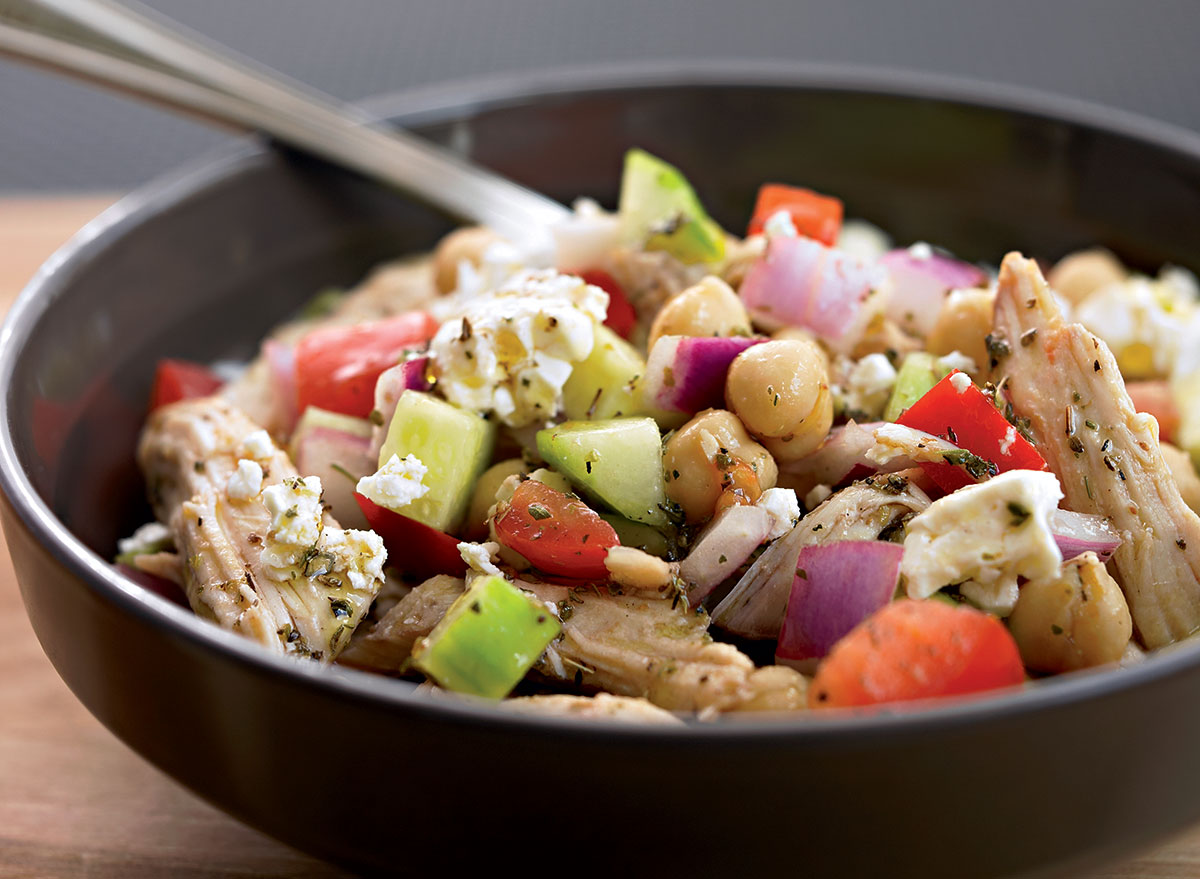 Craving summery Mediterranean vibes? Want to feel like you're eating lunch on a beach in Greece? Make this high-protein, low-carb salad for two, which is basically a Greek salad with chicken and chickpeas. It can live in your fridge for several days, while you nosh on it at your leisure.
Get our recipe for Chicken Greek Salad. 
Italian Tuna Melt
This hot sandwich is the best lunch you can make with jarred and canned goods in a pinch. Get a can or two of tuna, jarred pesto, olives, and capers, and you have the basics for this irresistible tuna melt. Having sliced frozen bread in the freezer at all times is a good strategy for surviving the quarantine on home cooked food, so make sure you stock up.
Get our recipe for Italian Tuna Melts. 
Panini with Provolone, Peppers, and Arugula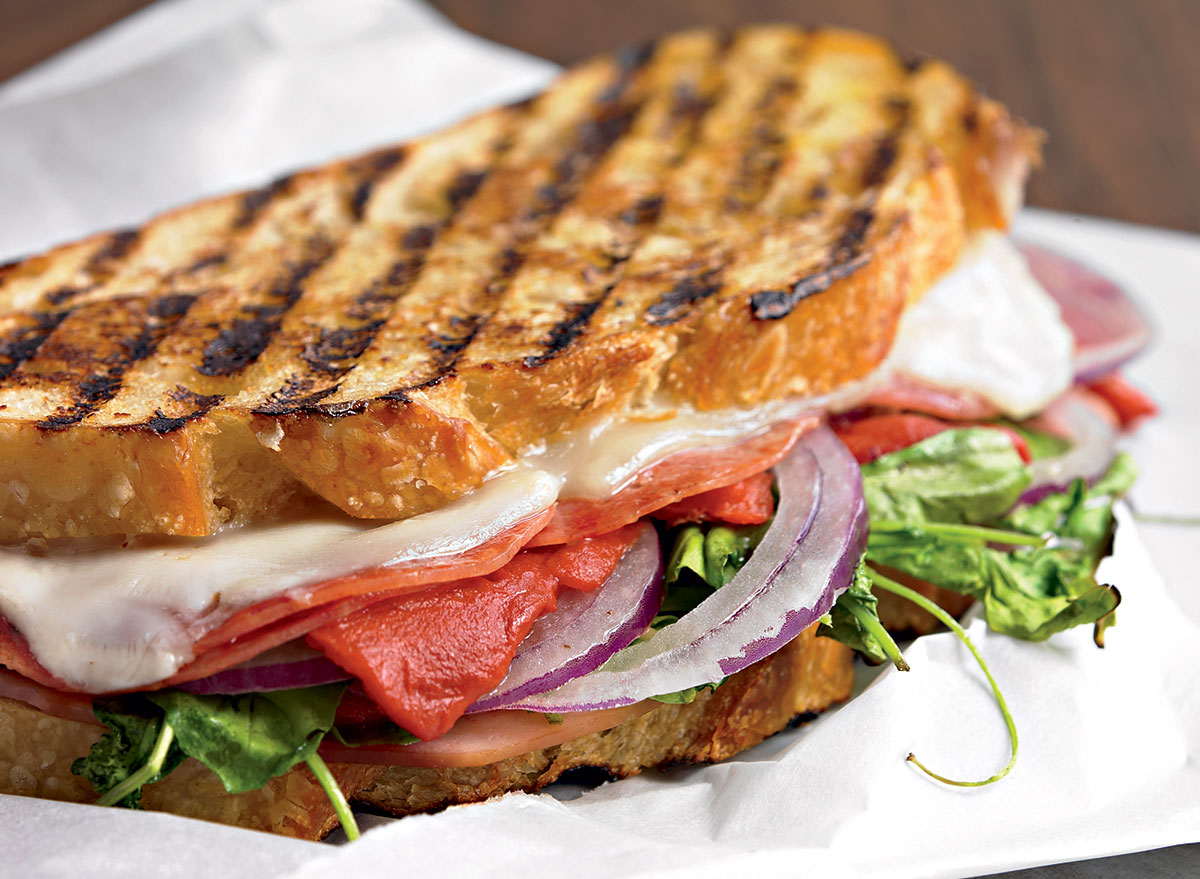 Another hot sandwich for the win! What's easier to whip up for two people than a veggie-with-melty-cheese combo between two slices of toasted bread. Few things are also as satisfying.
Get our recipe for Paninis with Provolone, Peppers, and Arugula. 
Shakshuka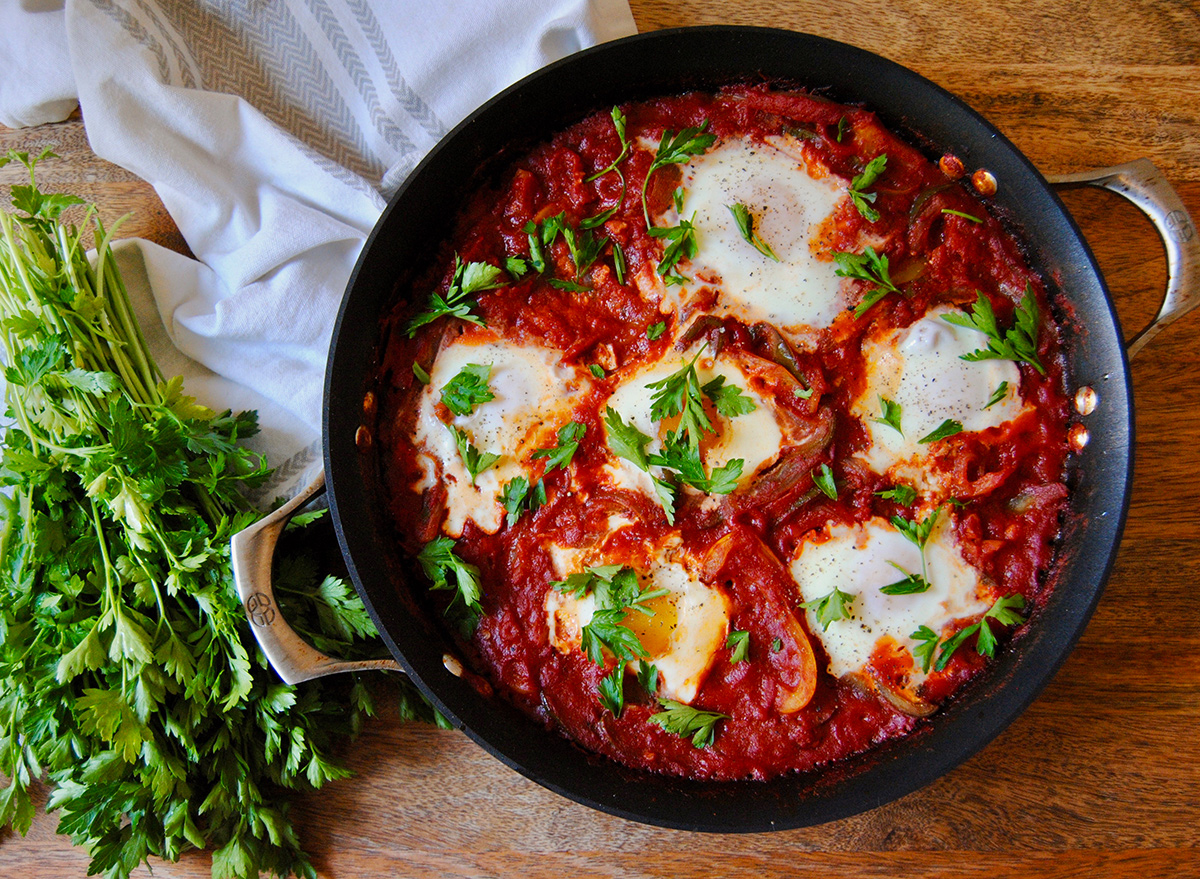 Ahhhh shakshuka. A go-to brunch or breakfast-for-lunch when you don't have much else in the fridge besides a can of tomato sauce and some eggs. This version will feed you well—it includes browning ground lamb as a meaty core of this dish. But you'd also get by swapping in a can of chickpeas and mushing them up into the sauce, if lamb isn't in your freezer drawer.6254a4d1642c605c54bf1cab17d50f1e
Get our recipe for Shakshuka. 
Steak In a Red Wine Pan Sauce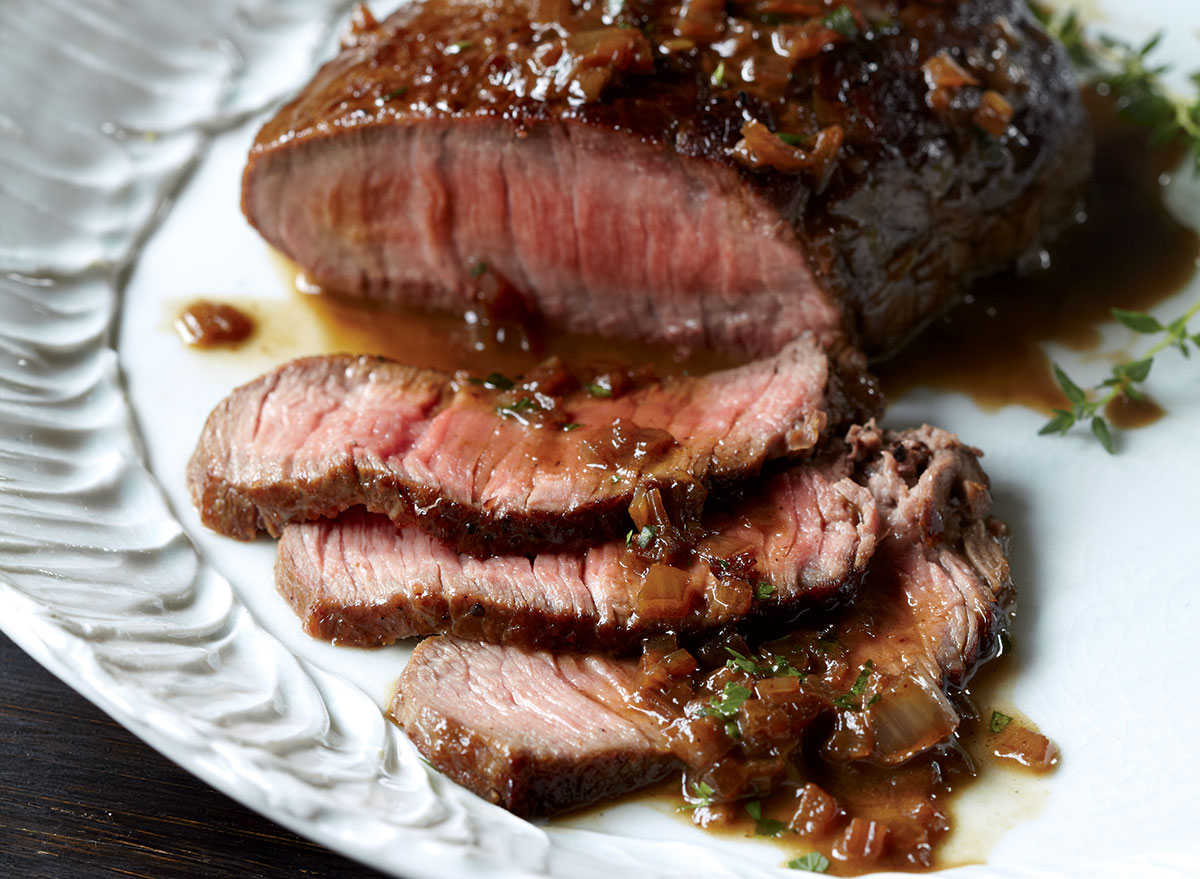 When you feel like treating yourself and your significant other to a meal that'll make you feel like your fine dining, get two sirloin, flank, or skirt steaks, grill them on the pan, then pop open a bottle of red wine to make a pan-sauce. Then have a romantic dinner in with the rest of that wine.
Get our recipe for Steak In a Red Wine Pan Sauce. 
Sheet Pan Chicken Fajitas
You'll make these easy chicken fajitas and have several dinners for two. Wrap them in tortillas one day, and serve them over a bowl of rice and black beans the next. Finally, make a big fridge-cleanout salad and top with what's left by day three. It's the one–sheet pan meal that keeps on giving.
Get our recipe for Chicken Fajitas. 
Sunny-Side Up Egg Pizza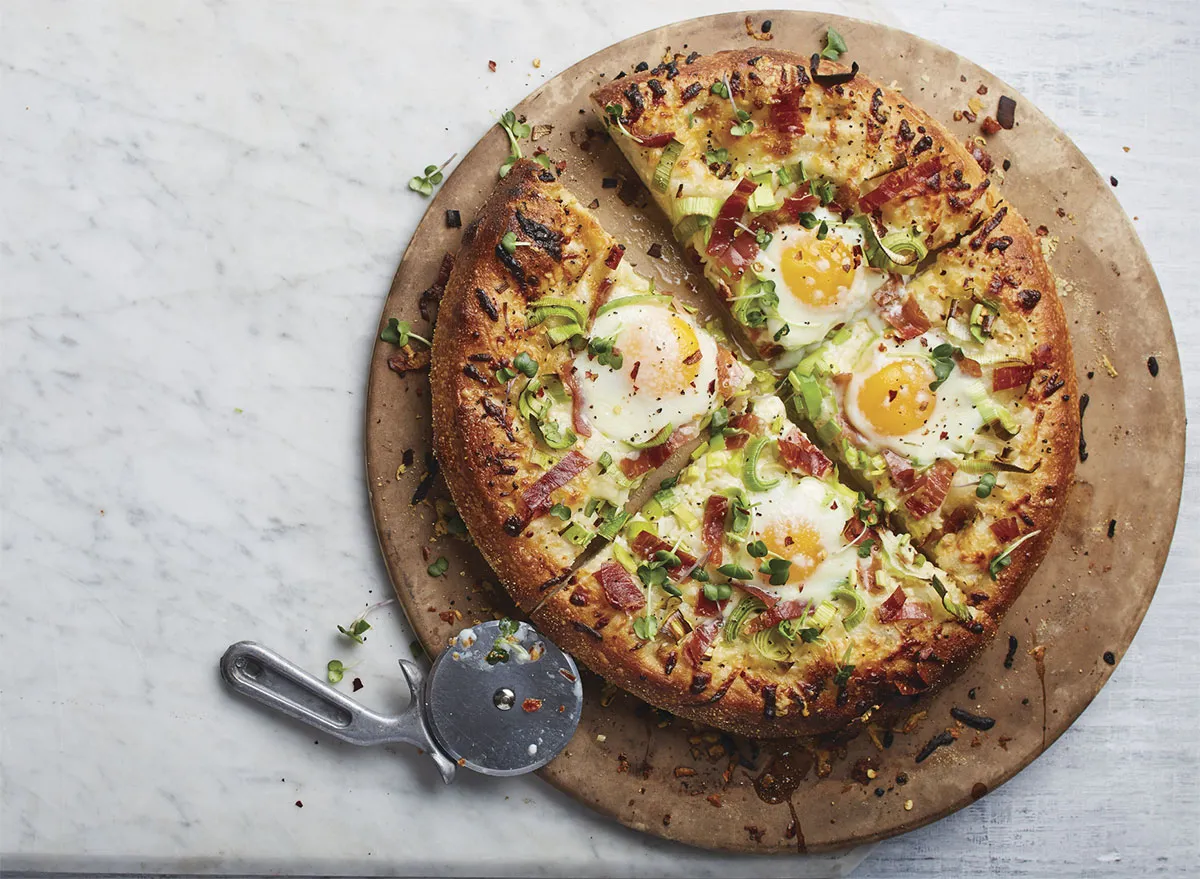 You have to attempt homemade pizza at least once during the quarantine. And when you do, make it this thick, juicy, indulgent version with eggs, leeks, and prosciutto, that you'll want to eat for every single meal until it's gone. So what, allow yourselves an indulgent carb day!
Get our recipe for Sunny-Side Up Egg Pizza. 
Crock-Pot Beef Ragu
A hearty beef ragu. Made in a crock pot. To put on pasta. Need we say more? Freeze any leftover sauce for later, or simply put it in a sandwich or over roasted veggies.
Get our recipe for Crock-Pot Beef Ragu. 
Warm Sautéed Apples with Caramel Drizzle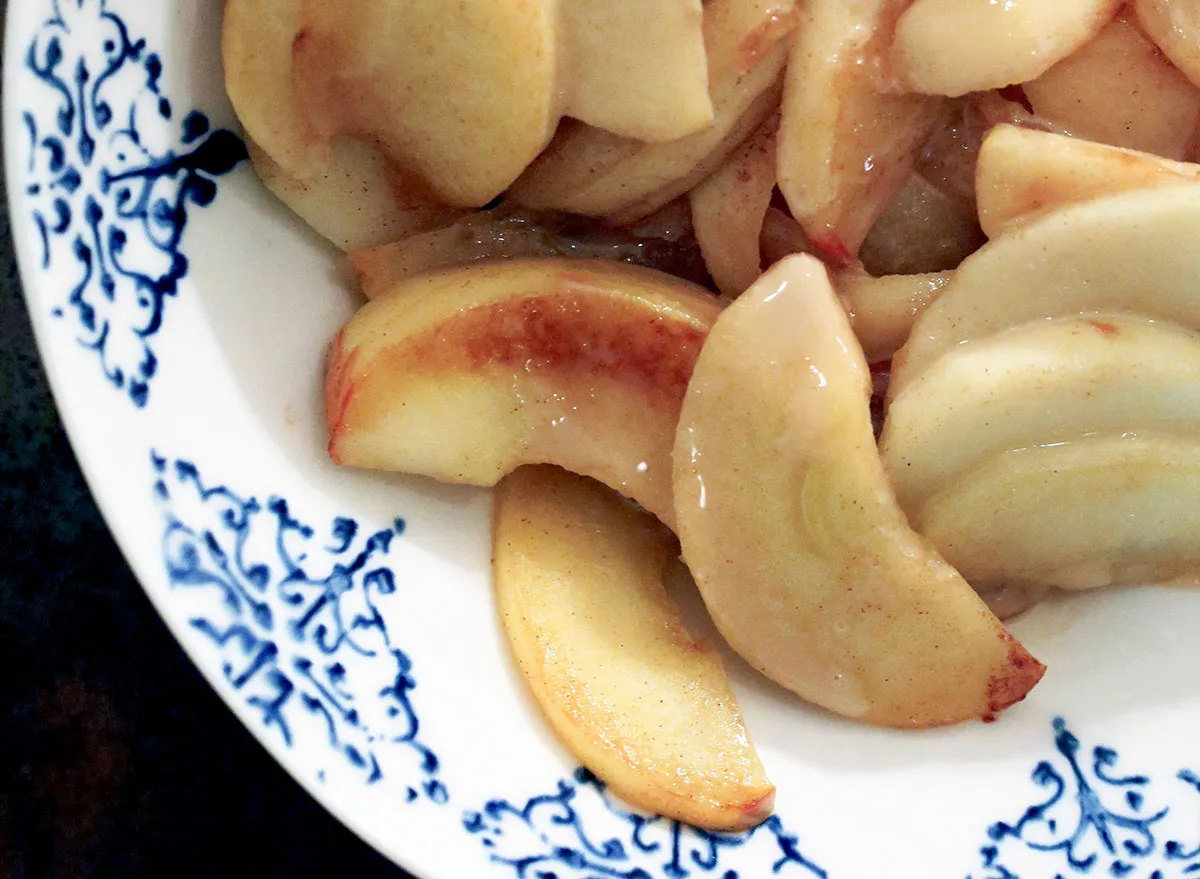 And now, for the easiest dessert in the history of homemade desserts. Warm apples with a drizzle of clean, homemade caramel. If you're looking for desserts that won't have you gaining weight while you're staying in, follow the recipe exactly. If you're just trying to satisfy a sweet tooth, feel free to use pre-made caramel sauce, melted chocolate, or maple syrup.
Get our recipe for Warm Sautéed Apples with Caramel Drizzle. 
Miso Soup with Greens and Tofu
Need an easy soup for two, ready in 15 minutes? This miso soup consists of six ingredients and is a great way to use up fresh or frozen leafy green veggies.
Get the recipe from Minimalist Baker. 
Creamy Leek and Pancetta Pappardelle Pasta
Put your box of pappardelle to good use in a creamy pancetta-leek sauce. It's comfort food at its simplest, yet the meal can serve as a special occasion treat, too. And, sorry, but there will likely be no leftovers.
Get the recipe from A Beautiful Plate. 
Balsamic Glazed Salmon
Two salmon fillets in your freezer are a 20-minute dinner waiting to happen. The balsamic glaze requires just a few pantry staples, and pairs well with a simple side salad or a batch of roasted potatoes.
Get the recipe from Well Plated. 
Egg in a Hole Avocado, Bacon, Egg, and Cheese Bagel
No weekend at home would be complete without a bagel sandwich. In this recipe, bagels get the royal treatment: they're toasted on a skillet with butter, layered with two different kinds of cheese, and stuffed with crispy bacon, avocado, eggs, and greens.
Get the recipe from Half Baked Harvest. 
Fudgy Brownies
No one should have to brave uncertain times without a decadent chocolate dessert that makes the world disappear for a while. And guess what—these brownies are just a little bit healthier (they have less butter and sugar than regular brownies), so you can feel good about indulging. And if you don't want to have the temptation of the whole pan of brownies laying around, just freeze half and store for later.
Get our recipe for Fudgy Brownies. 
Mura Dominko
Mura is ETNT's Executive Editor, leading the coverage of America's favorite restaurant chains, grocery stores, and viral food moments.
Read more about Mura