Healthy Lunch Recipes That Take 10 Minutes (or Less!)
A 10-minute lunch can be a reality if you stock the right ingredients.
Successfully making a quick and healthy lunch that doesn't come out of a greasy takeout bag is all about thinking ahead. If you keep healthy proteins in the fridge, like a rotisserie chicken, your favorite cheeses, eggs, and low-sodium lunch meats, the options for a meal you can whip up in no time are pretty endless.
Although, it's also important to stock your pantry with other ingredients that lend themselves to a fast midday meal. You'll need canned beans, quick-cooking rice, and your favorite spices. In the freezer, stock your favorite frozen veggie combos and some specialty items like frozen udon noodles. This way, you'll have everything you need to throw together all of these quick healthy lunch recipes.
The swift and delicious lunch recipes that follow don't require full-on meal prep. Instead, all of these meals can be made on the fly or prepped before you head out the door. Plus, if you're super short on time, don't miss 20+ Healthy Mug Recipes You Can Make in 5 Minutes (Or Less!)
Open-Face Hot Ham and Cheese with Chipotle Mayo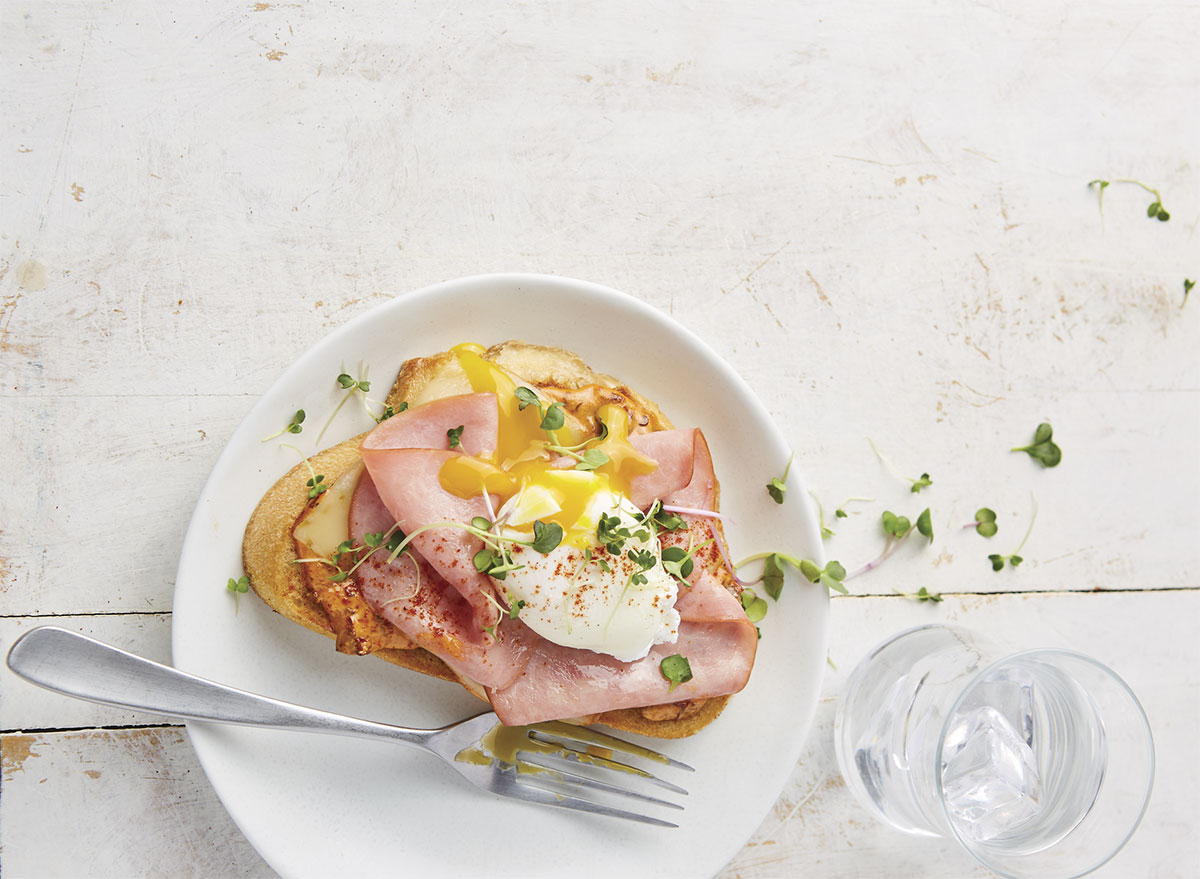 Skip the fast-food McGriddle that's grease-filled and loaded with processed ingredients. Instead, make a quick sammie with one sunny-side-up egg, two pieces of all-natural bacon (or ham), and a slice of cheese. Leave off the top of the sandwich to cut back on the starchy carbs and keep you away from that overstuffed feeling.
Get our recipe for the Open-Face Hot Ham and Cheese with Chipotle Mayo.
Microwave Mug Cheese and Broccoli Rice Bowl
Quick-cooking rice is the key to this warming meal. Everything cooks right in a bowl in the microwave, making this one of the easiest meals ever. Toss in some rotisserie chicken for a little bit more protein.
Get the recipe from Bigger Bolder Baking.
Piling fresh veggies, low-sodium cold cuts, and little cubes of cheese on skewers just seems more fun than a salad or sandwich, doesn't it? Dip these babies in a low-fat dressing of choice and enjoy!
Get the recipe from Lil' Luna.
Gnocchi With Peas and Prosciutto
Here, we take the classic Italian pasta pairing of peas and prosciutto, replace the noodles with dumplings, and throw in plenty of asparagus to round out the creation.
Get our recipe for Gnocchi With Peas and Prosciutto.
Asparagus Salad With a Fried Egg and Prosciutto
This can be a warm-up to dinner (especially if you have guests over), or a light meal on its own. Better yet, double the recipe and freeze some for a busy week. Enjoy!
Get our recipe for Asparagus Salad With a Fried Egg and Prosciutto.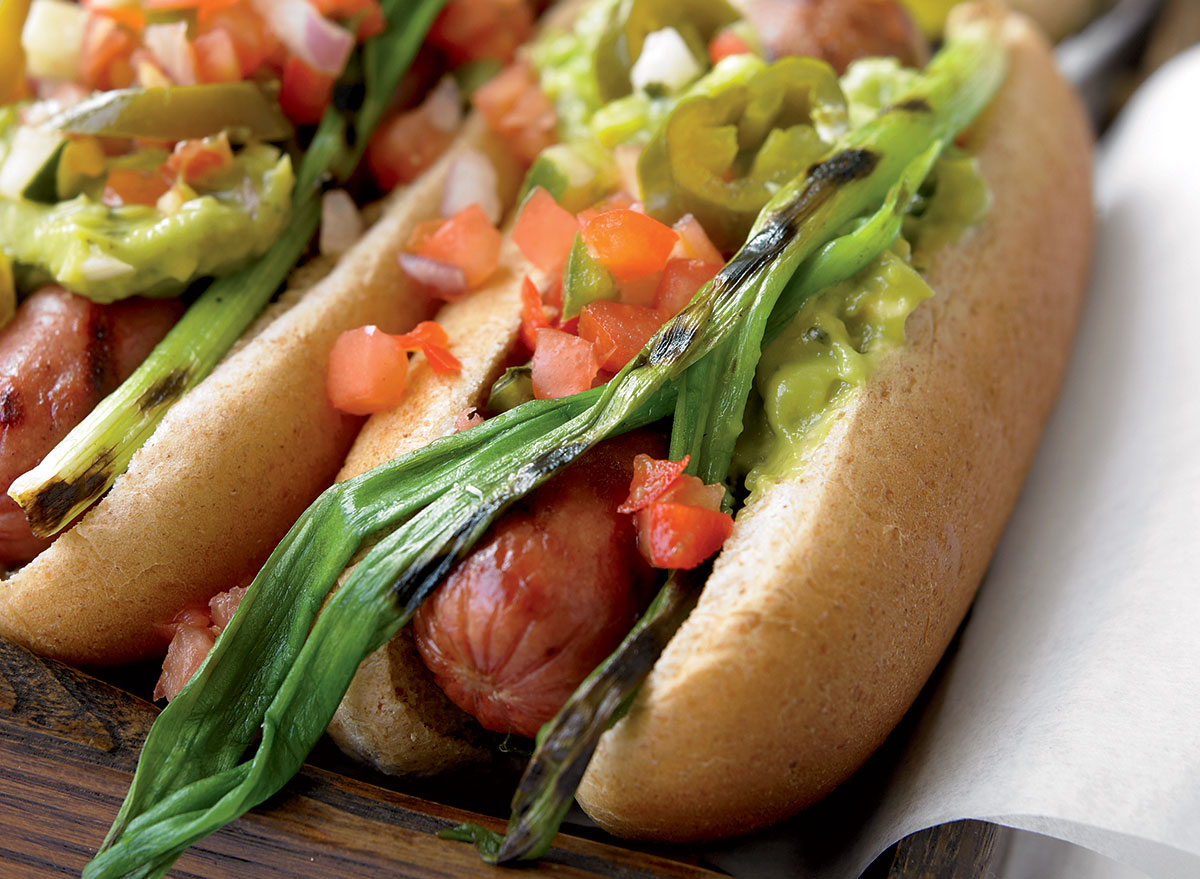 Hot dogs normally arouse the scorn of nutritionists and health-conscious eaters alike, but don't be so quick to dismiss the humble wiener. Yes, more often than not the ones you buy from a cart contain questionably nondescript insides, but there is another way! In the best circumstances, hot dogs are perfectly portioned, protein-packed vessels set to play host to a barrage of healthy, boldly flavored toppings.
Get our recipe for Mexican Hot Dogs.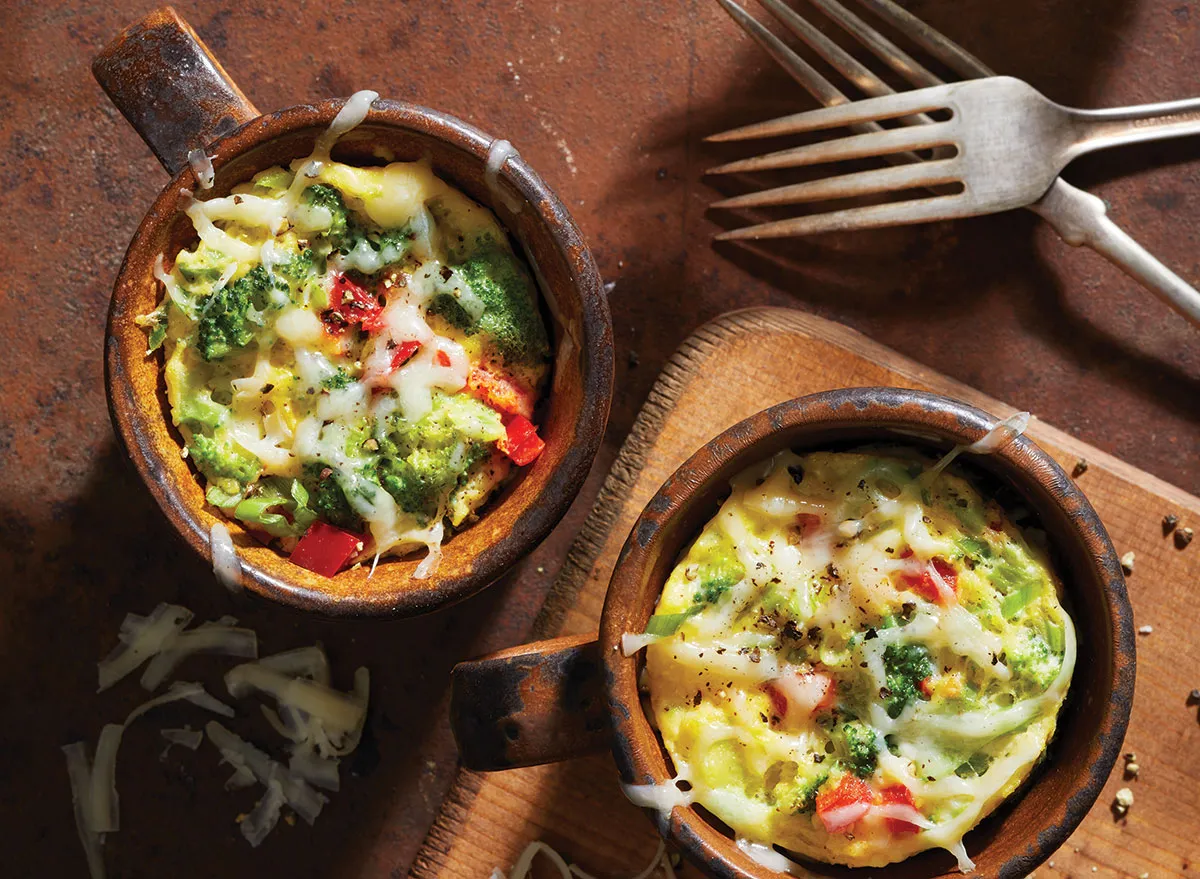 Who would've thought that a delicious breakfast can be made in just minutes with the help of a mug? Combine two eggs, diced bell pepper, tomato, spinach and spices into a greased mug and microwave for about two minutes. You'll get a hearty protein-filled breakfast that will keep you energized and ready to take on the day in just an instant!
Or try our recipe for Easy Broccoli-Cheese Eggs in a Mug.
Chicken Taco Mason Jar Salads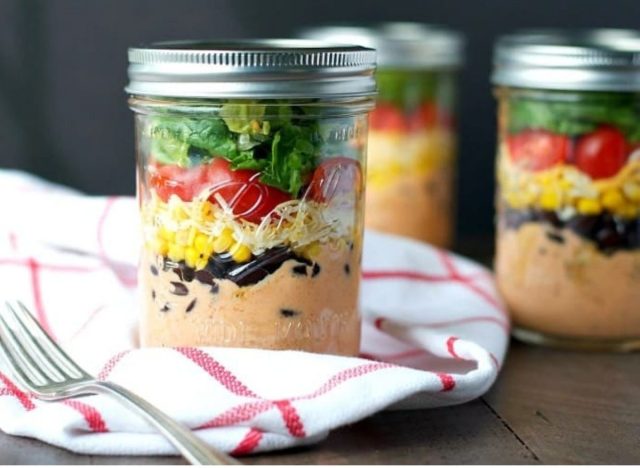 Put these tasty protein-packed salads together in the morning and then just shake and pour out onto a plate come lunchtime.6254a4d1642c605c54bf1cab17d50f1e
Get the recipe from The Seasoned Mom.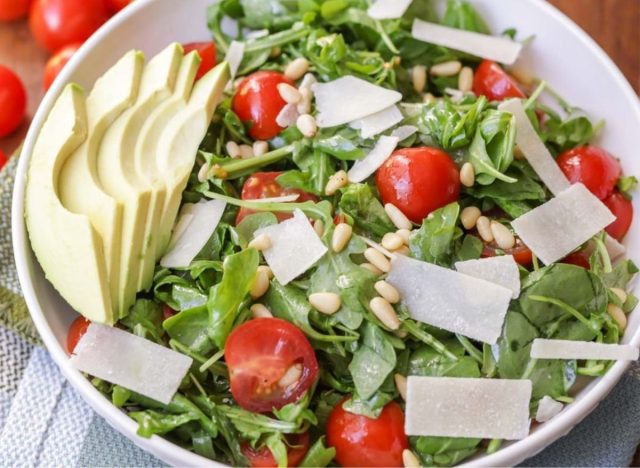 Salads are the king of quick lunches and can be filling if you plan them out correctly. This bright arugula salad is packed with tomatoes, avocado, pine nuts, and Parmesan cheese for a satisfying and healthy mid-day break.
Get the recipe from Lil' Luna.
It's taco time! In less than 10 minutes, you can throw together a Mexican-style raw taco by loading up a whole grain taco shell with salsa, shredded rotisserie chicken, avocado, and cilantro. Give it a squeeze of lime or lemon juice for that added tanginess.
Get our recipe for Rotisserie Chicken Tacos With Salsa Verde.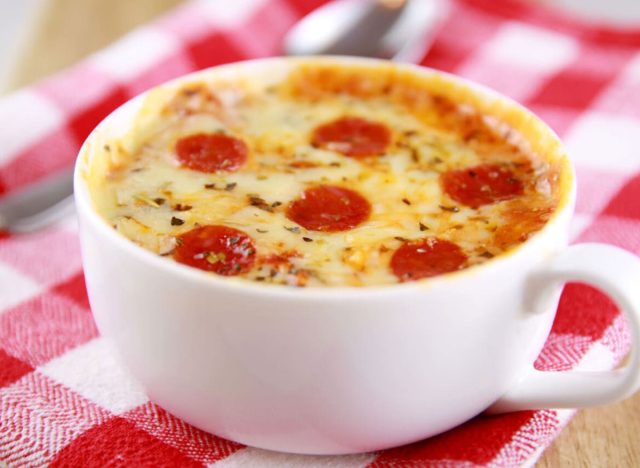 These super-simple individual pizzas are a breeze to make. You can customize them any way you want with your favorite toppings.
Get the recipe from Bigger Bolder Baking.
High-Protein Black Bean Avocado Tuna Salad Sandwiches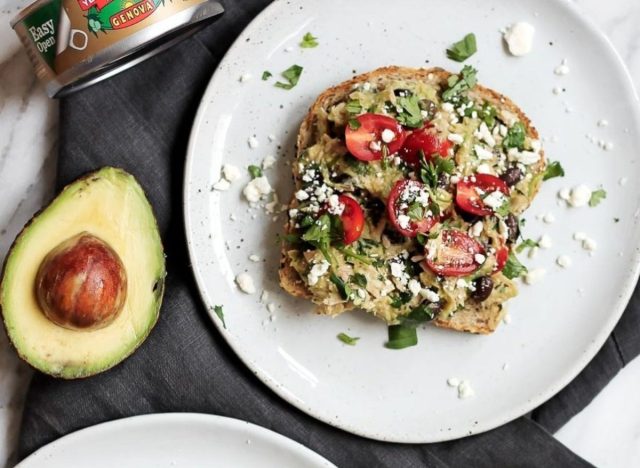 Mashed avocado takes the place of mayo in these crazy healthy sandwiches. Black beans, cilantro, tomato, and goat cheese make these the most un-boring tuna sandwiches you've ever had.
Get the recipe from Ambitious Kitchen.
Smashed Chickpea Avocado Salad Sandwich with Cranberries + Lemon
If you're not a fan of tuna or you're looking for a vegan sandwich recipe, try this one with mashed chickpeas, avocado, cranberries, and lemon. Full of fiber and flavor, this is one quick lunch that you'll want on repeat.
Get the recipe from Ambitious Kitchen.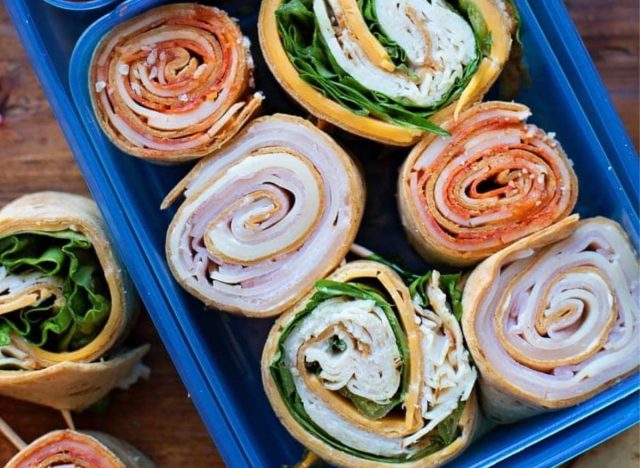 Layer your favorite sandwich toppings and roll up these flatbreads for a quick and easy lunch that looks as good as it tastes. Bonus: the kids will love these too.
Get the recipe from Lil' Luna.
Cherry Jam, Turkey & Spicy Cheddar Grilled Cheese Sandwich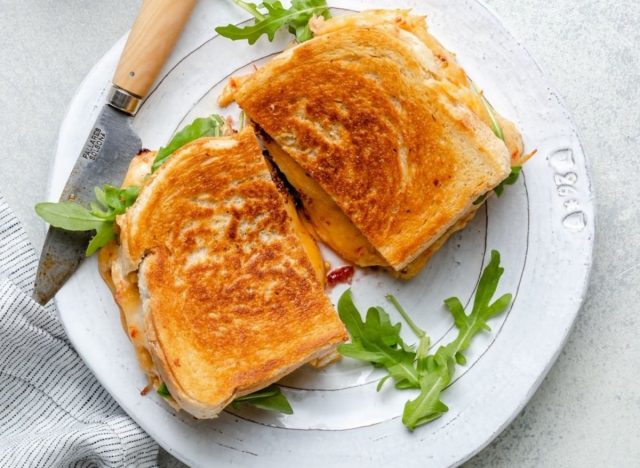 Sure you could toss together a simple grilled cheese in a few minutes, but this one will send your taste buds into overdrive. It strikes the perfect balance between sweet, savory, and spicy. If you don't have cherry jam, use what you have and play around with the flavors.
Get the recipe from Ambitious Kitchen.
10-Minute Beef Teriyaki Skillet
Really good teriyaki sauce and a good dose of garlic, ginger, and onion is the key to this sweet and tasty meal. Add some quick-cooking rice and a bag of frozen broccoli and you'll have a completely balanced meal in 10 minutes.
Get the recipe from The Seasoned Mom.
Cheesy Crispy Quesadillas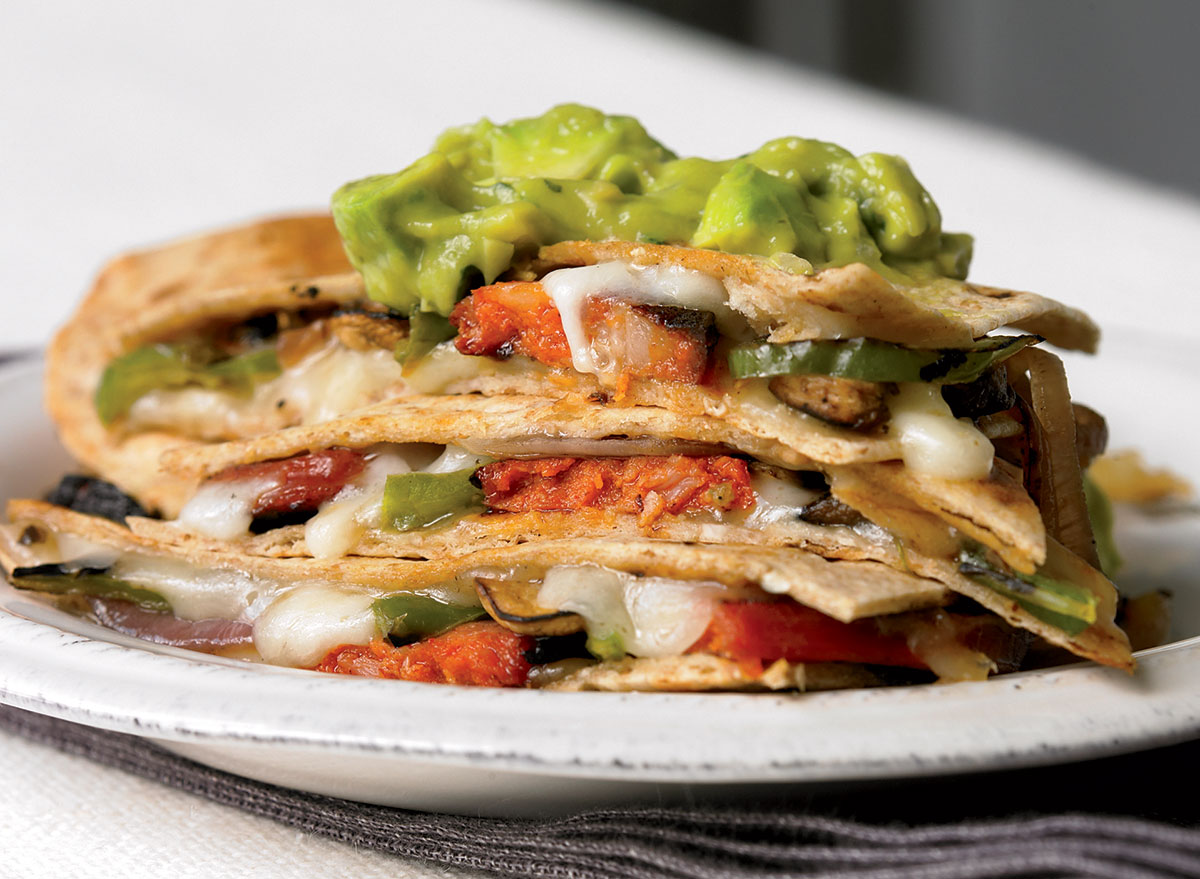 Cheese doesn't always have to be on the list of diet no-nos. As long as cheese is consumed in moderation it can make a healthy lunch much easier. Fill a whole wheat or sprouted tortilla with provolone or mozzarella which both easily get a day's worth of calcium per serving. You can use a stove, microwave, or panini press to make this dish, all in under ten!
Get our recipe for Cheesy Crispy Quesadillas.
Quesadillas are a quick-cooking lunch or snack, but why not kick them up by making them pizza-flavored? Mozzarella, marinara sauce, and your favorite toppings combine into the crispy, cheesy lunch. Add a salad on the side and you're good to go.
Get the recipe from The Seasoned Mom.
If you're not already avocado obsessed, this lunch will change that! Split an avocado in half, take out the pit and spoon out a small amount of the avo (obviously eat that). You can stuff it with anything from tomatoes and mozzarella with balsamic drizzle to quick brown rice with beans and salsa. Or try our recipe with crab!
Get our recipe for Avocado-Crab Salad.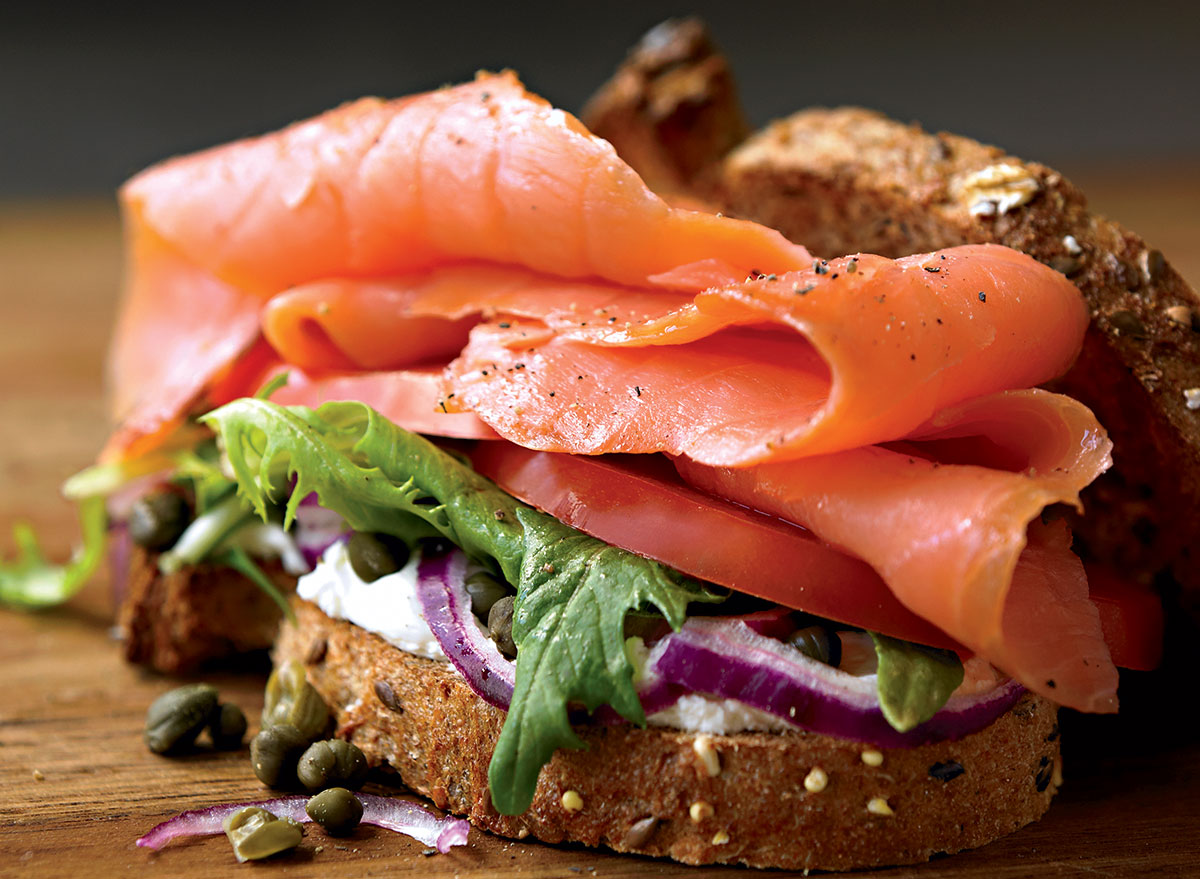 Wild salmon is a nutritional powerhouse with metabolism-boosting omega-3 fatty acids that can actually help burn calories. Throw together this quick meal in minutes with this New York bagel-inspired meal.
Get our recipe for the Smoked Salmon Sandwich.
Sweet and Spicy Asian Tofu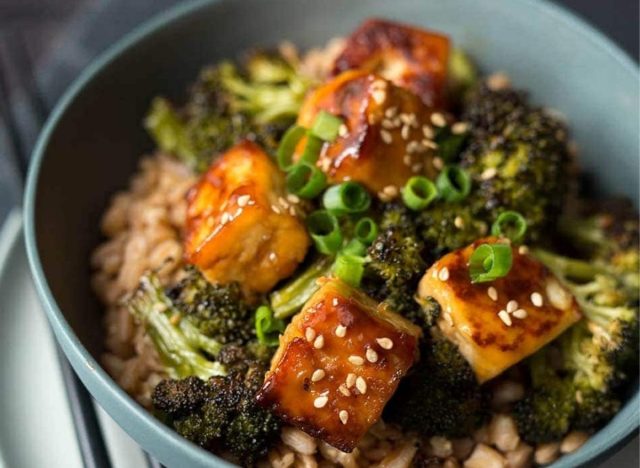 If you're working from home, don't discount the stir fry as an amazing lunchtime option. The secret to a quick stir fry is to buy a package of assorted stir-fry vegetables so that you only have to do a minimal amount of chopping.
Get the recipe from Savory Simple.
Avocado Toast with Asparagus and White Beans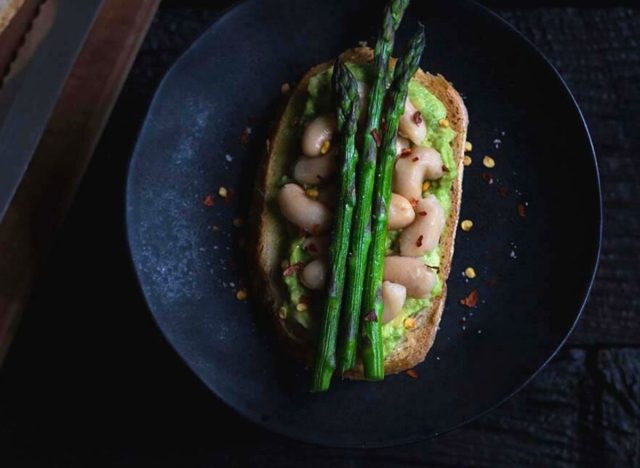 If you're only eating avocado toast in the morning, you're missing out on a perfect quick lunch. White beans and quickly microwaved asparagus make this a very healthy, balanced lunch in just 10 minutes.
Get the recipe from Savory Simple.
Spicy Cashew Butter Udon Noodles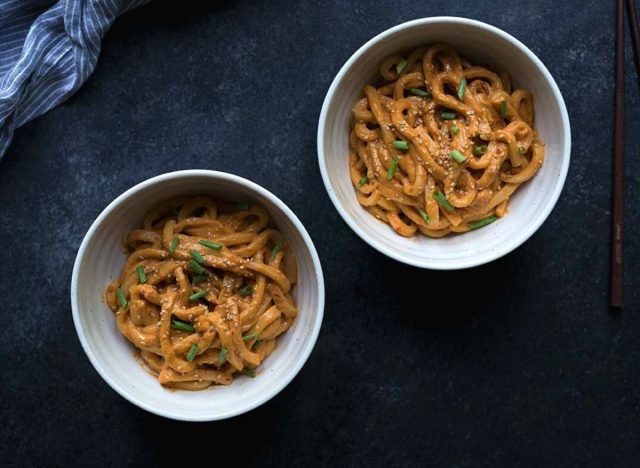 Frozen udon noodles are the secret to this perfect quick dish. A quick bath in boiling water thaws the noodles which are then tossed with almond butter that's been flavored with soy sauce, vinegar, sambal, sesame oil, garlic, and fish sauce. You can even throw in a bag of microwaved broccoli for a little more of a fiber punch.
Get the recipe from Savory Simple.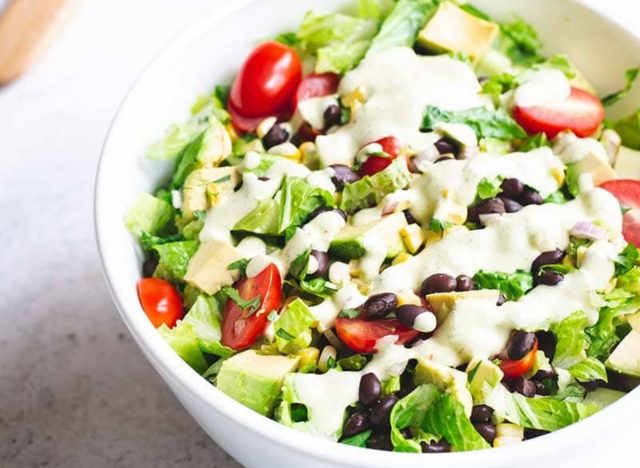 Avocado, corn, black beans, and red onion are tossed over romaine lettuce for this fiber-filled salad. A quick dressing of sour cream, scallions, lime juice, red pepper, honey, and olive oil turn lunch into a party for your mouth.
Get the recipe from Savory Simple.
Browse more of our quick, healthy recipes:
50 Healthy Recipes to Make in 10-Minutes (or Less)
20 Instant Pot Meals You Can Make in 20 Minutes or Less