14 Secret Rules Fast-Food Employees Have to Follow
Fast food may seem easy, but there are quite a few intricate rules employees have to follow.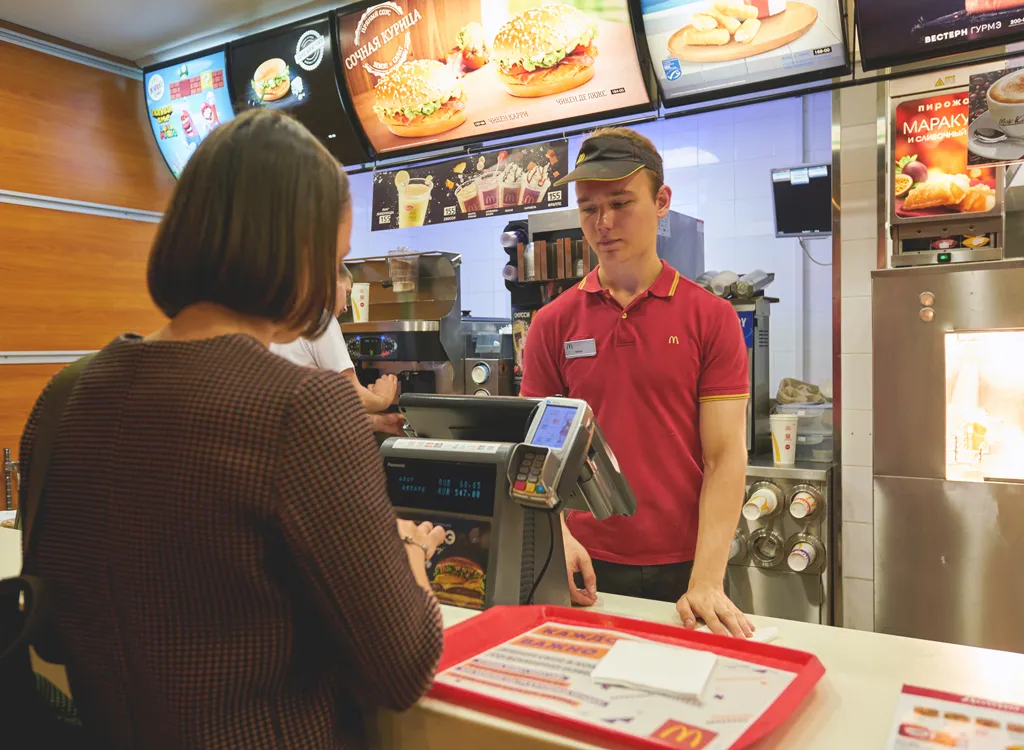 If you've only experienced the world of fast food from the front side of the counter, you may not be aware that there are some strange requirements workers need to follow. Did you know that DQ workers are required to flip over the company's signature Blizzard ice-cream treats in front of a customer's eyes—even at the drive-thru—or that Wendy's employees have to cut all the veggies for the chain's salads by hand? These 14 odd fast-food rules will have you thinking a lot more about the care that goes into your food.
And for more, don't miss these 20 McDonald's Secrets Employees Don't Want You to Know.
Chick-Fil-A employees are taught to respond "my pleasure" instead of "you're welcome"
Although it's not in the official rule book, employees of Chick-Fil-A are encouraged to use the phrase "my pleasure" after someone thanks them. The idea is that the phrase will elevate the tone of interactions with their customers. The tradition goes back to founder Truett Cathy, who reportedly heard the phrase used at a Ritz-Carlton and thought it made the hotel stand apart from the competition.
Dairy Queen employees have to "flip the Blizzard"
A Dairy Queen Blizzard is so thick that it can be turned upside down and not budge from its cup. In fact, the chain is so confident about the quality of their product that they've instructed workers to flip customers' Blizzards over. In 2016, the chain even ran an "Upside Down or Free" promotion where customers could claim complimentary ice cream treats if a DQ employee forgot to perform this sleight-of-hand. Order a Dairy Queen blizzard and one of their famous fast food rules in action.
Starbucks employees have to stand in one place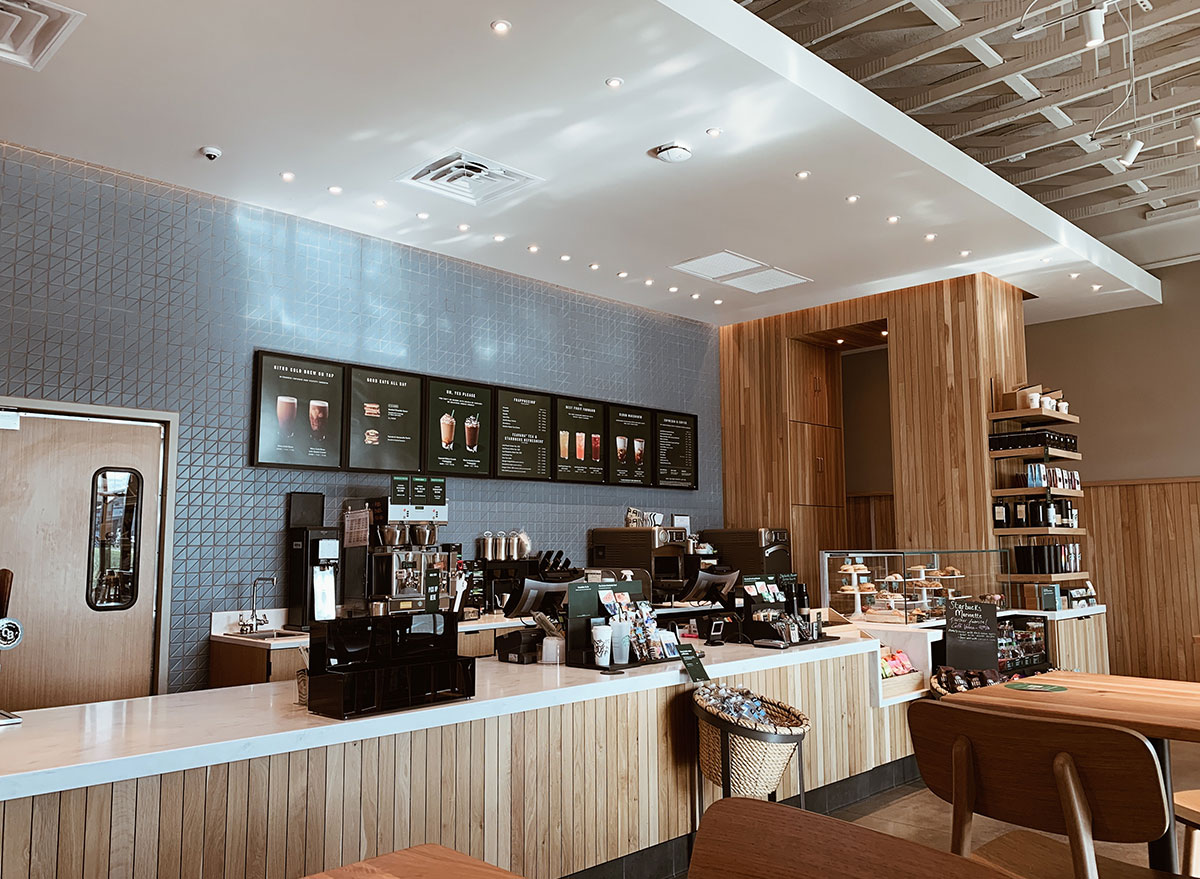 Starbucks baristas are taught to use "planted positions," which means that they have to stay at their assigned stations until a supervisor tells them they can move—sometimes for all or most of their entire scheduled workday. This rule is part of a set of strict employee codes for Starbucks employees called Playbook, according to The Talko.
Chipotle employees aren't allowed to give you "just a little more" meat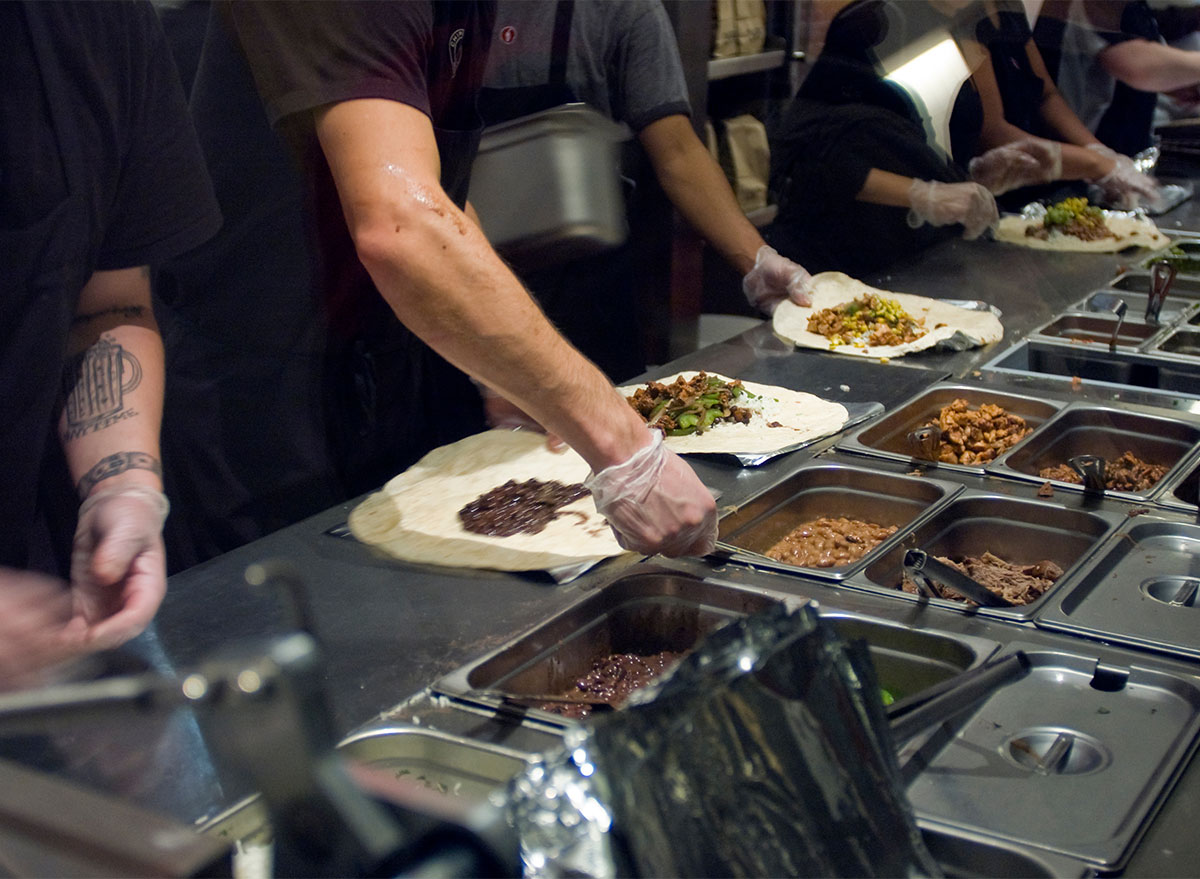 One former employee of the fast-casual chain explained how all Chipotle workers are taught during training that if the customer asks for more than a standard spoonful of meat, they should respond, "If you want more meat, I can double your serving, but for an additional cost."
Arby's employees have to make the chain's off-menu Meat Mountain sandwich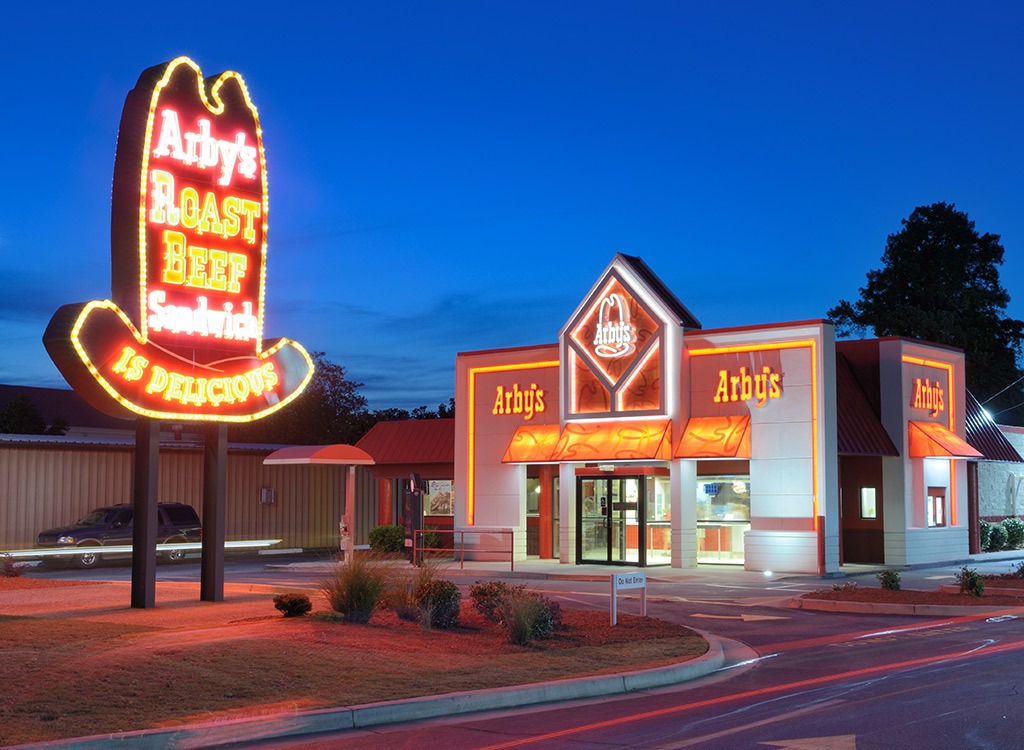 The enormous "Meat Mountain" sandwich featured on an Arby's poster in 2014 was meant to illustrate all of the chain's options for carnivores and was never part of the official menu. But when customers started asking for it, Arby's workers complied. So what's in a Meat Mountain sandwich? Two chicken tenders, three half-strips of bacon, 1.5 ounces of Angus steak, 1.5 ounces of brisket, 1.5 ounces of corned beef, 1.5 ounces of ham, 1.5 ounces roast beef, and 1.5 ounces of roast turkey, all topped with a slice of cheddar and a slice of Swiss cheese.6254a4d1642c605c54bf1cab17d50f1e
Panera employees aren't allowed to sell customers sliced bread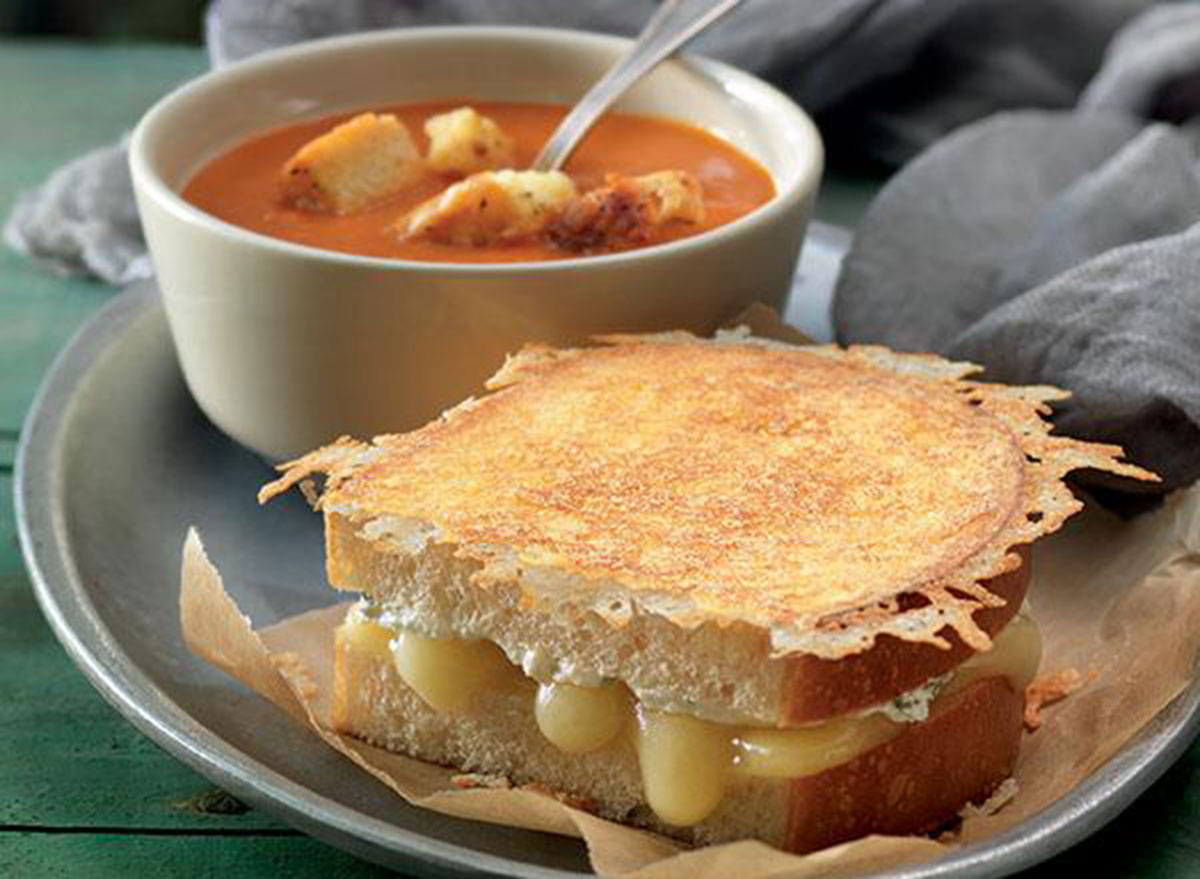 Panera is known for its bread, but workers don't have much leeway when customers want to go a la carte. "I asked if I could order a couple of pieces of bread on the side, I'll pay whatever. Nope, you'd have to order an entire loaf," says one customer who tried to order bread with his soup.
Some Papa John's employees had to sign nondisclosure agreements about the company's founder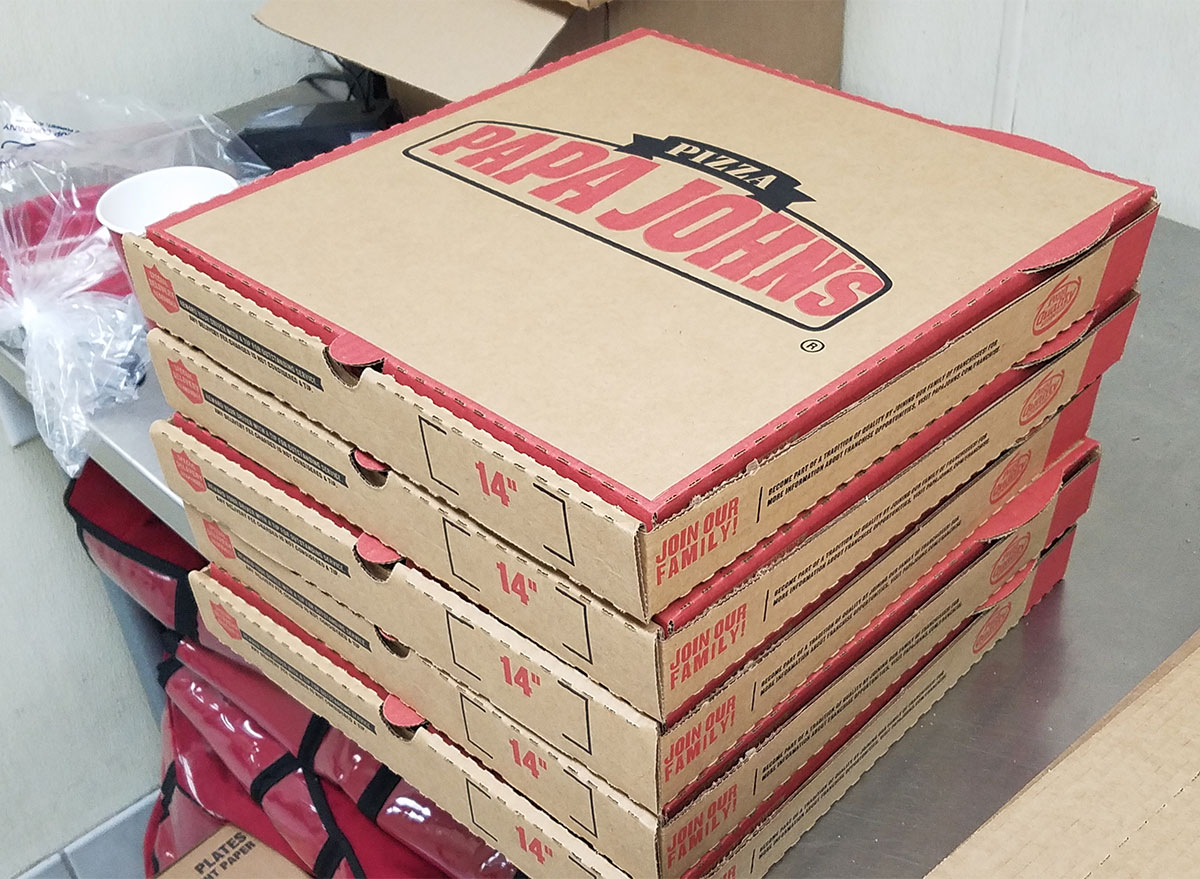 According to Forbes, Papa John's colorful founder John Schnatter made employees at the chain's corporate headquarters sign confidentiality, non-disclosure, and non-disparagement agreements to clear the way for the publication of the tell-all memoir Papa: The Story of Papa John's Pizza. While this may sound like one of the more sinister fast-food rules, it was really just a business play.
RELATED:
Domino's employees have to update the progress of your pie manually
Did you think that the Domino's Pizza Tracker app was just a gimmick? One employee of the popular chain told Buzzfeed that it's the real deal, and one of the fast-food rules that's rather a hassle for kitchen and delivery staff to boot: "Some people think the tracker runs automatically on a countdown timer, but each stage of progression is manually updated as your pizza is prepared. Although sometimes we may overestimate the progress to keep things flowing smoothly on our end."
Subway workers can only give you a certain number of olives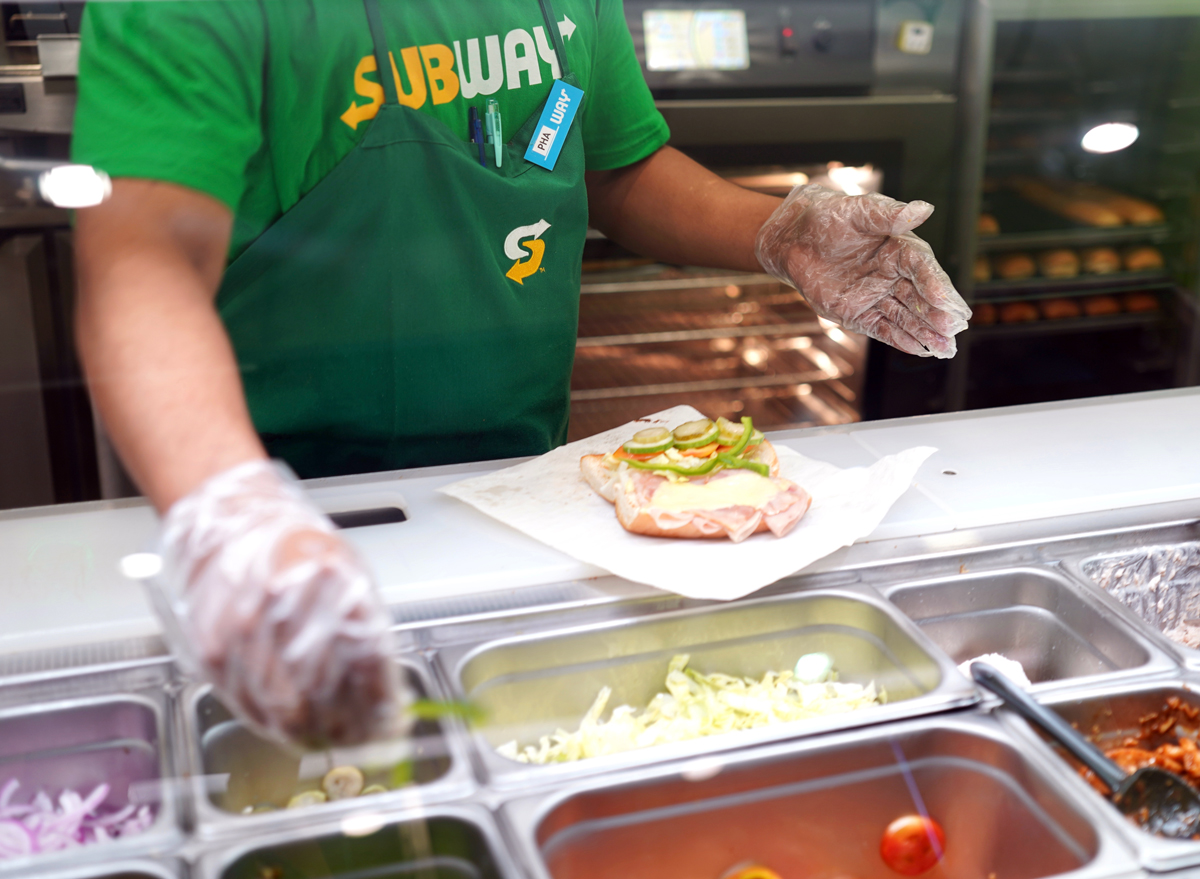 One former sandwich artist told Reddit that her store had some very specific policies surrounding their high-end vegetables. "When I worked at Subway, it was three olives per six inches. Same for tomatoes. They have all of these precise quantities." The worker was actually rebuked by her manager when she dared to put seven tomatoes on a foot-long sandwich.
Dunkin' employees aren't allowed to sell you muffin tops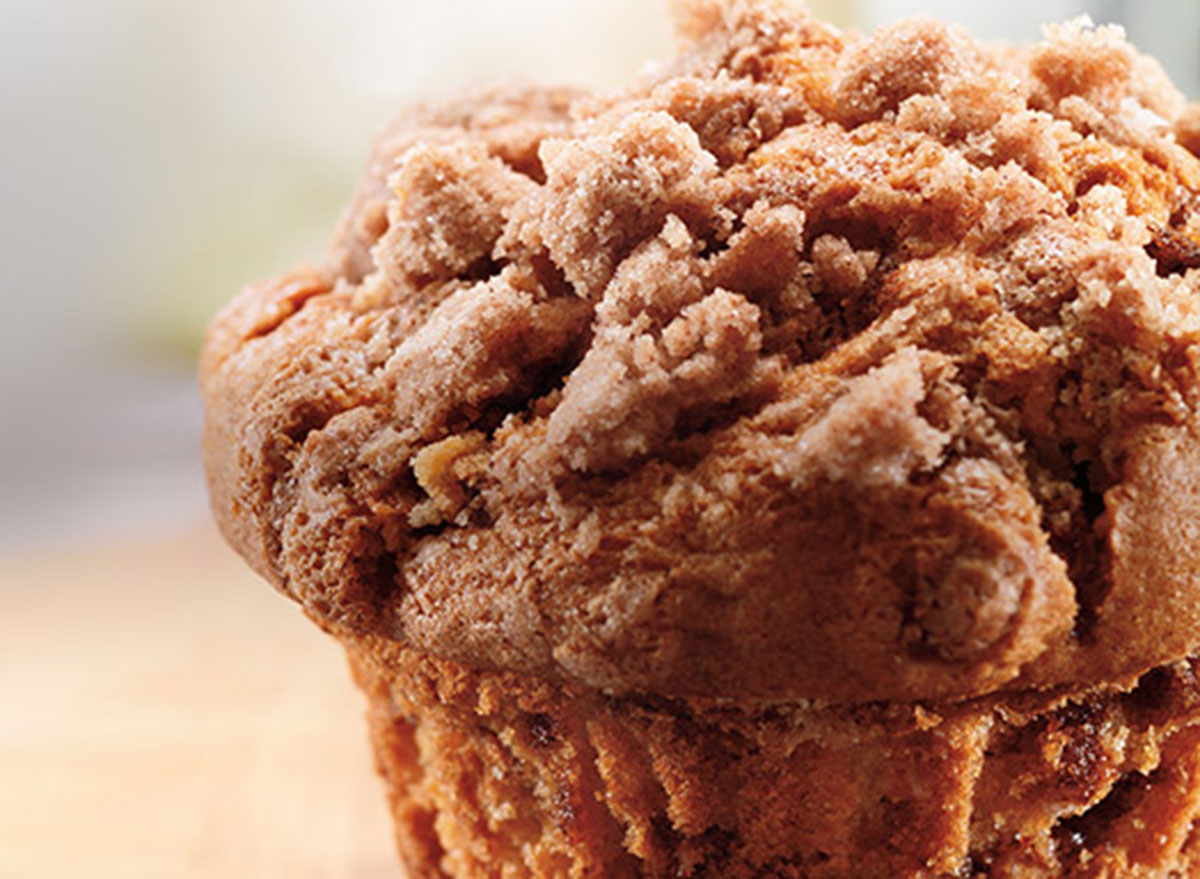 Some restaurants are happy to let customers go off-menu, and some aren't. A college student who took a summer gig as a donut slinger related the tale of a customer who requested muffin tops—which aren't part of the Dunkin' lineup—and wouldn't take no for an answer: "He then proceeded to have a hissy fit when I explained that we do not sell only tops of muffins and that he would have to purchase the entire muffin and cut it himself."
Wendy's employees aren't allowed to take any salad shortcuts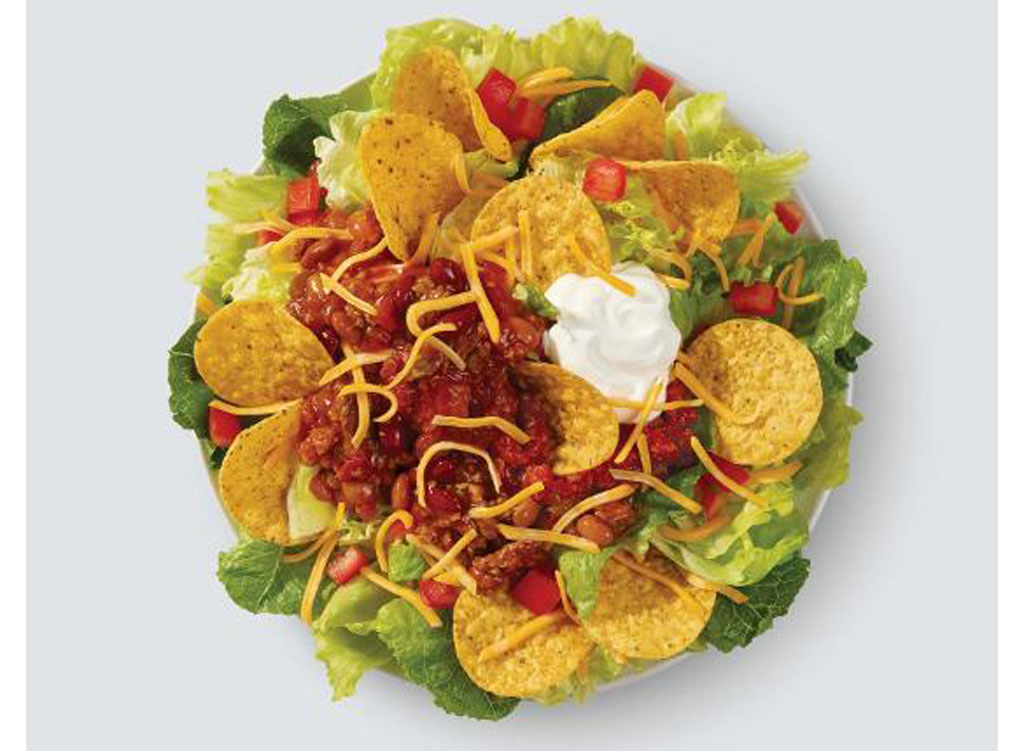 Wendy's "fresh, never frozen" philosophy applies to more than just their burgers. One former employee of the franchise told Insider that she can still remember exactly how to prepare each of the salads on the menu. "I am personally invested in the freshness of Wendy's salads because I spent too many mornings washing and chopping dozens of lettuce varieties and produce, and hand-prepping the batches needed for the day—Apple Pecan, Spicy Chicken Caesar, you name it—I can still recite the number of tomatoes that were to be placed in the bottom right-hand corner of each."
Little Caesars workers have to grate 40-lb. blocks of cheese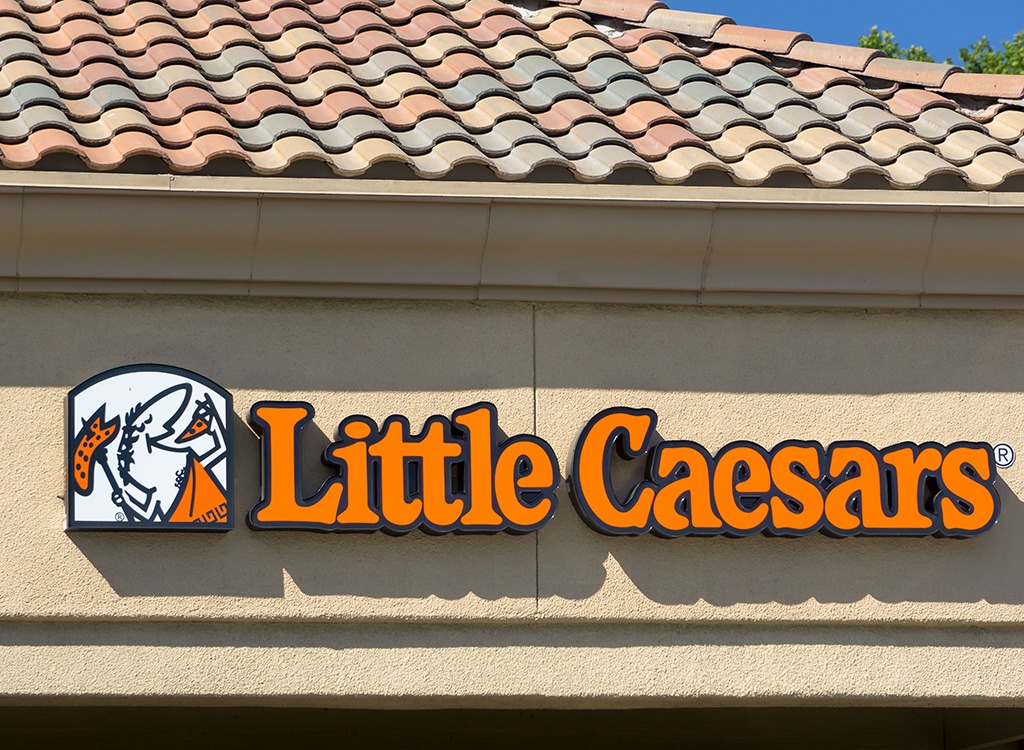 One former chain manager told Reddit how Little Caesars saves on cost by using massive blocks of mozzarella instead of bags of pre-processed cheese: "Instead of pre-shredded cheese, we get 40 lb. blocks of mozzarella and muenster cheese and diced it in a machine called the Vertical Mixing and Cutting Machine (VMC for short)." This money-saving measure also ensures maximum freshness.
Sonic Drive-In carhops have to pay for their own roller skates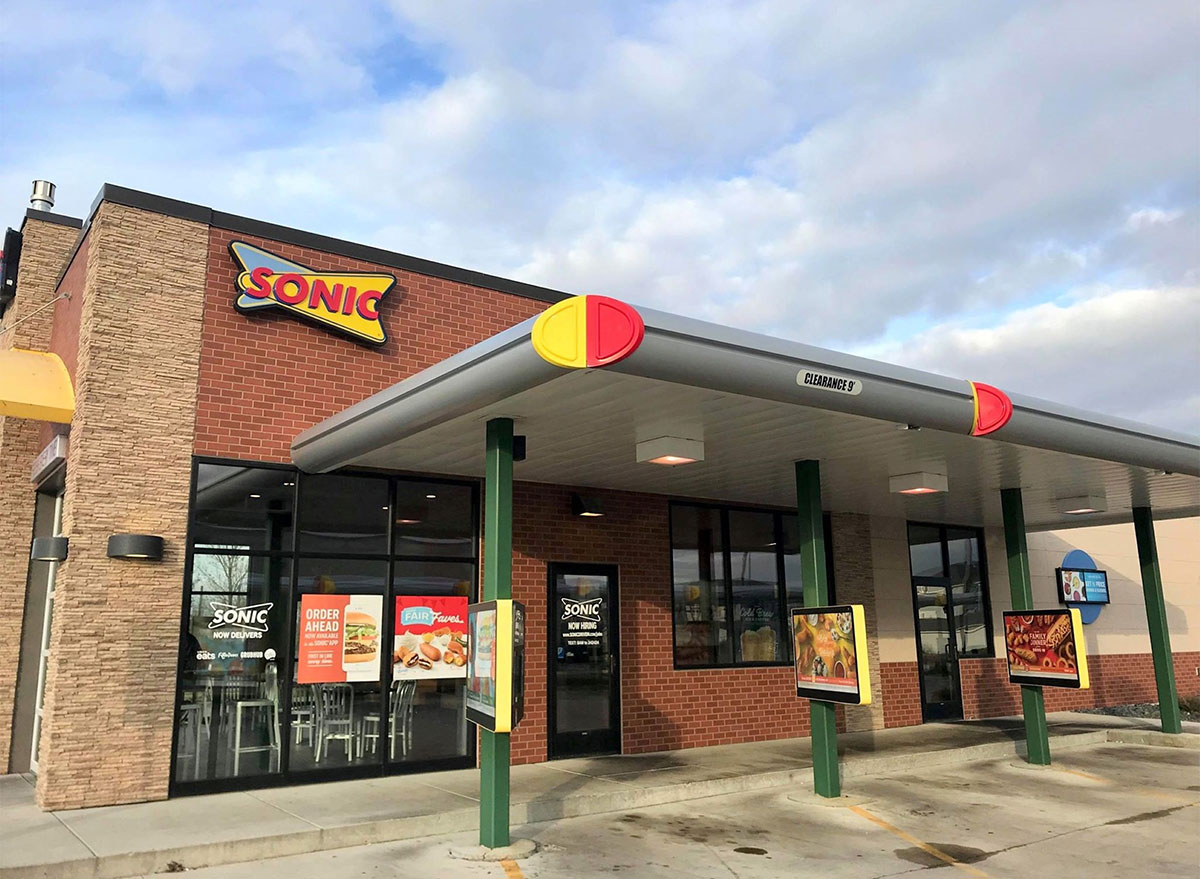 Not all Sonic servers do their jobs on wheels, but the fun tradition certainly makes the burger joint stand out from the competition. One Redditor who works at Sonic revealed on Reddit that servers have to buy their own roller skates: "My skates broke and my Sonic makes you pay for your own so I have been too cheap to buy a new pair. Skating carhops normally get paid more, too."
Taco Bell employees in California aren't always allowed to leave the store during lunch breaks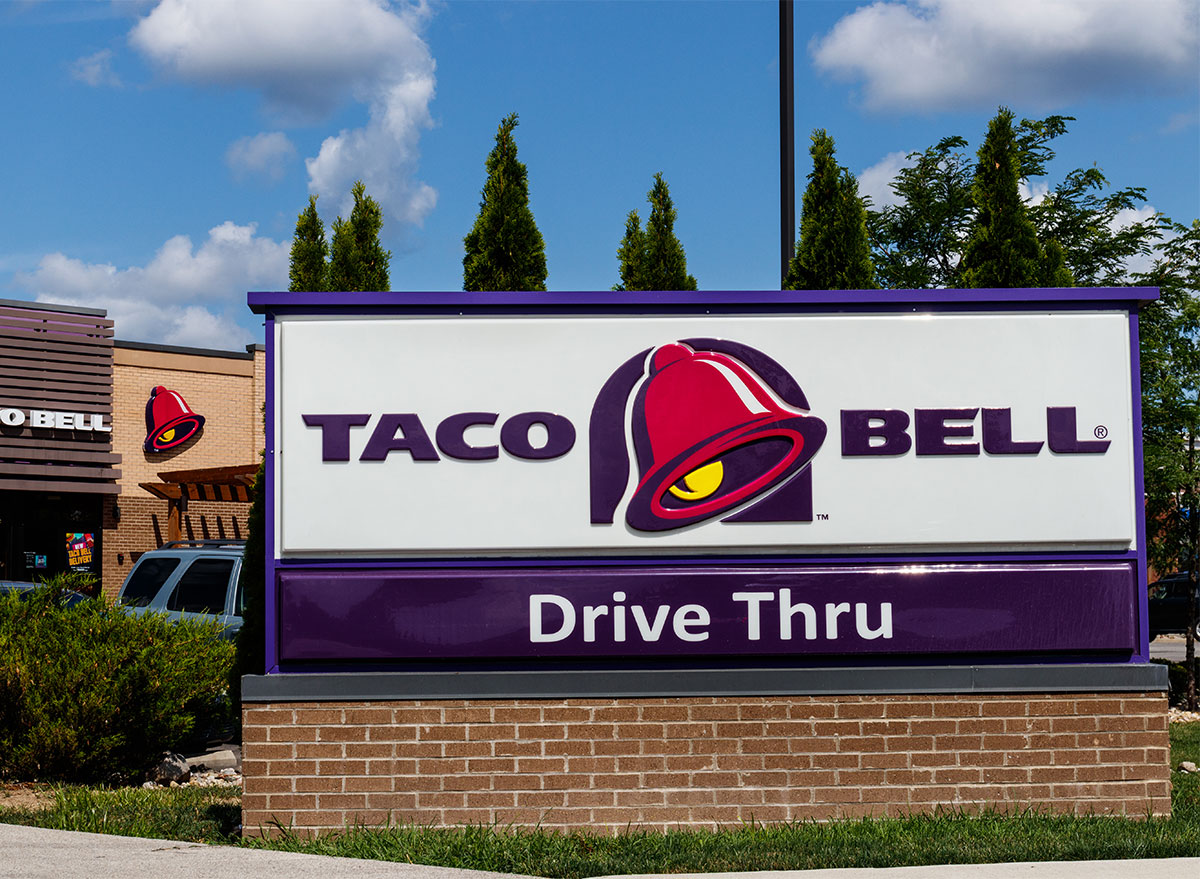 If Taco Bell workers want to take advantage of the employee discount on food, they have to eat it in the restaurant—even on breaks. An Inc. investigation revealed that Taco Bell's top brass was worried that employees were ferreting discounted food out to family and friends, so they decided to institute a strict eat-in only policy.
Discover more secrets about your favorite restaurants:
11 Secrets In-N-Out Doesn't Want You to Know
11 Secrets Texas Roadhouse Doesn't Want You to Know
Kate Mulcrone
Kate Mulcrone is an entertainment, food, and travel writer.
Read more