18 Best-Ever Fat-Burning Soup Recipes
Lose weight with help from these liquid meals that will actually fill you up.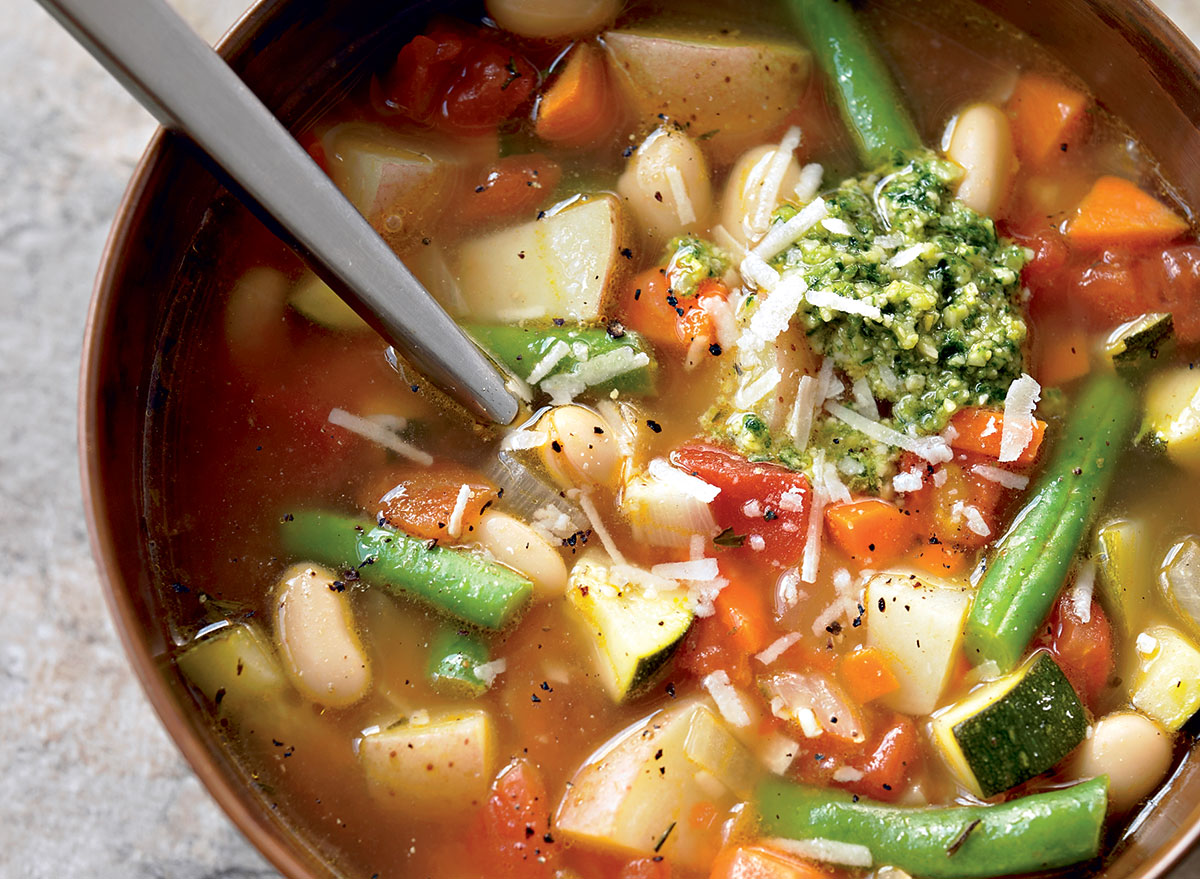 Theoretically, having more choices is a good thing, but when you're out to eat and your waiter asks, "Soup or salad?" most of us would rather bury our faces under the napkin than make even one more decision. (We can make one choice for you, though: Skip the bread roll, which certainly isn't on the list of the best carbs for a flat belly!) But soups really are critical to weight loss, especially when they happen to be fat-burning soups.
You know how the USDA wants you to get between five and nine servings of fruits and vegetables a day, right? Well, think of the soup as your extra credit, your personal ace in the hole—the tiny little bit you do on the side that skyrockets your daily nutritional score from a C+ to an A-. A well-crafted soup can give you three or four servings of vegetables and fruits, and presto, you go from failing the nutritional test to passing with flying colors.
Here are 18 of our favorite weight-loss, fat-burning soup recipes for a healthier cold-weather season without weight gain. And to make sure you maximize your soup benefits, be sure to avoid these worst ingredients to put into your soup!
Homemade Chicken Noodle Soup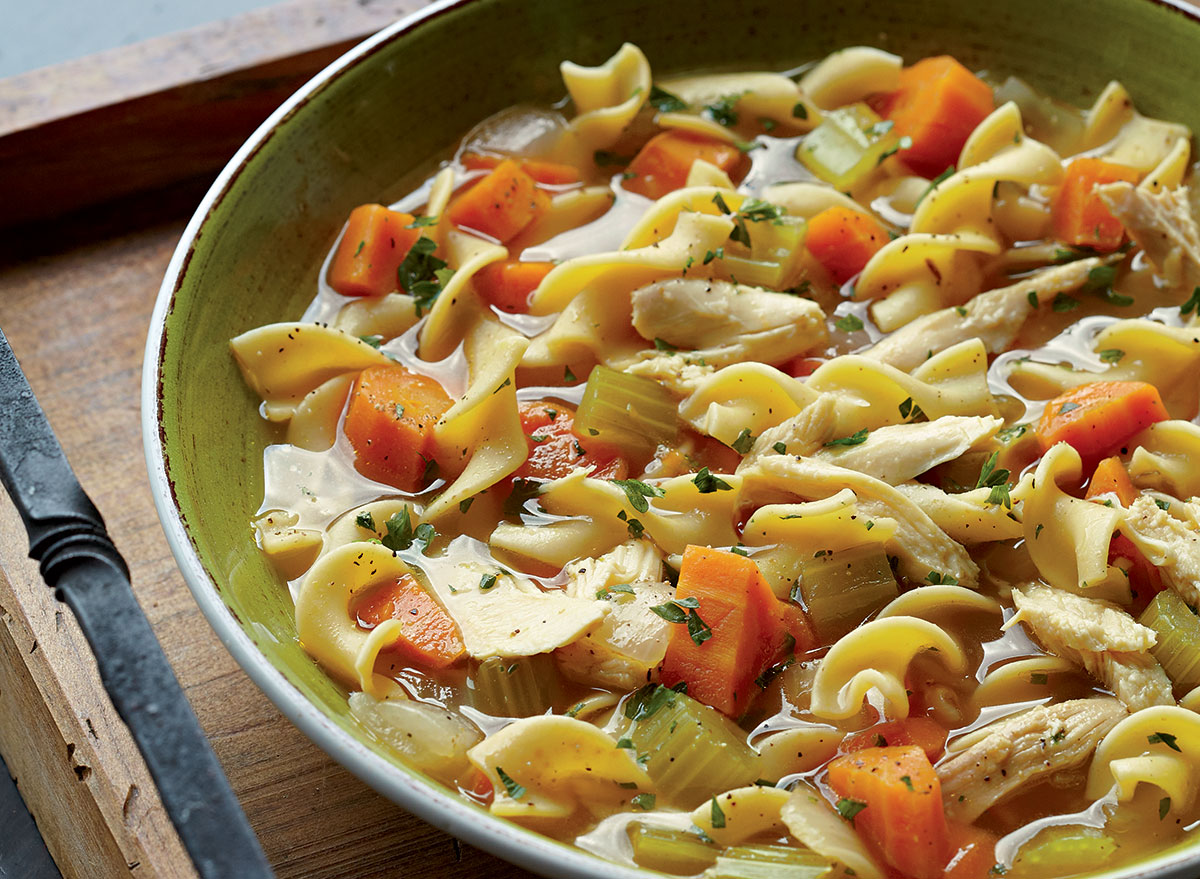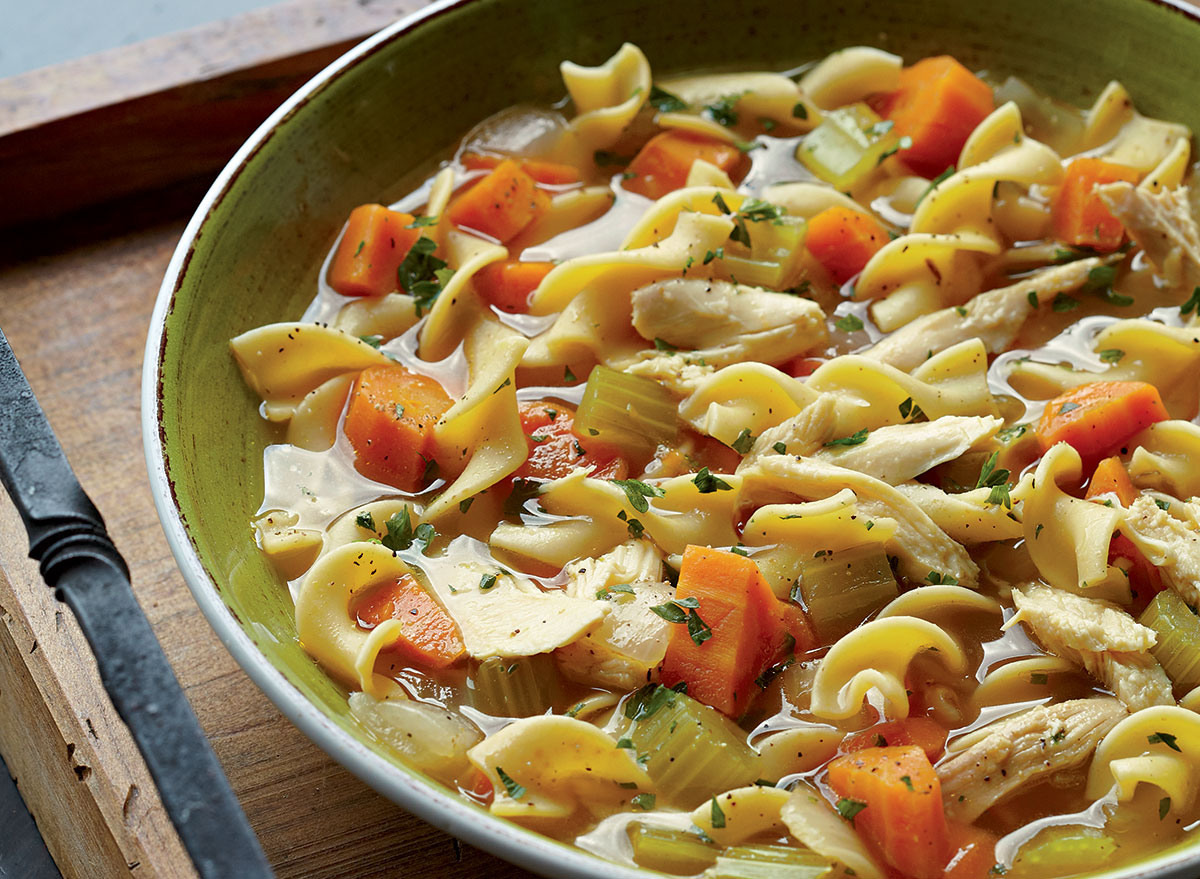 Per 1 serving
: 225 calories, 4 g fat (1 g saturated), 720 mg sodium
Curer of colds, warmer of hearts, soother of souls: Chicken noodle soup does everything a comfort food is supposed to do, and does so without a hefty caloric price tag. But steer clear of canned chicken soup: Not only is it sparse on chicken and vegetables, but a single cup can also carry up to half a day's worth of sodium. This healthier homemade chicken noodle soup recipe is light on the salt, but so loaded with chunky vegetables and shredded chicken that it could be dinner on its own.
Get our recipe for Homemade Chicken Noodle Soup.
Butternut Squash Soup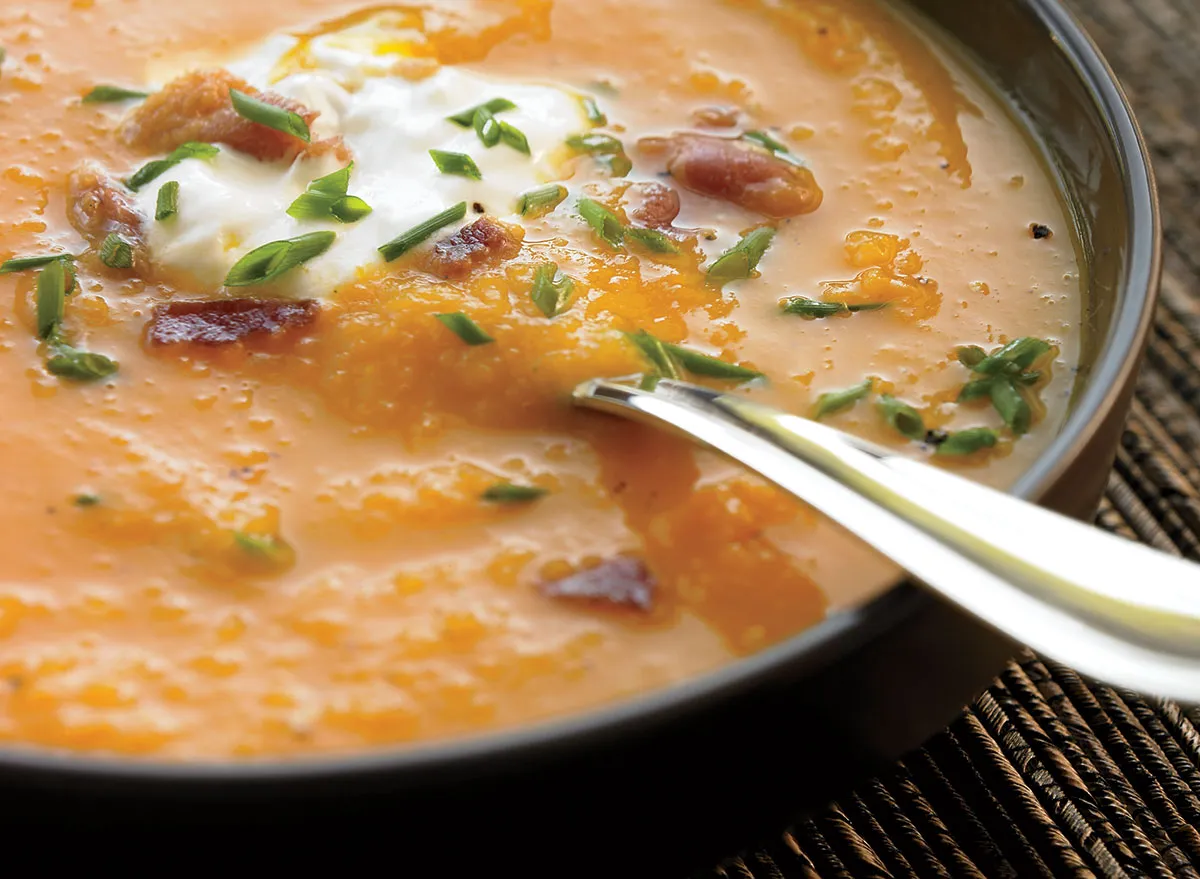 Per 1 serving
: 150 calories, 3.5 g fat (1 g saturated), 490 mg sodium
We love tomato soup, but when it comes to vegetable soups, butternut is unbeatable. Beyond being super tasty, it's also among the healthiest because it's packed with vitamin A, fiber, and omega-3s.
Get our recipe for Butternut Squash Soup.
Tortilla Soup
Per 1 serving
: 300 calories, 11 g fat (1.5 g saturated), 550 mg sodium
Over the past 2 decades, tortilla soup has rivaled chicken soup as a comforting mainstay on major restaurant menus. Between the pulled chicken, the soothing tomato broth, and the pile of fixings, what's not to love? How about a bowl of soup with 86 percent of your day's sodium allotment? Unless you learn to enjoy it at home, that's what you're likely to get if you eat it at a restaurant. Luckily, our homemade recipe is lower in sodium, and it gives you a full meal that comes in at just 300 calories per serving.
Get our recipe for Tortilla Soup.
Minestrone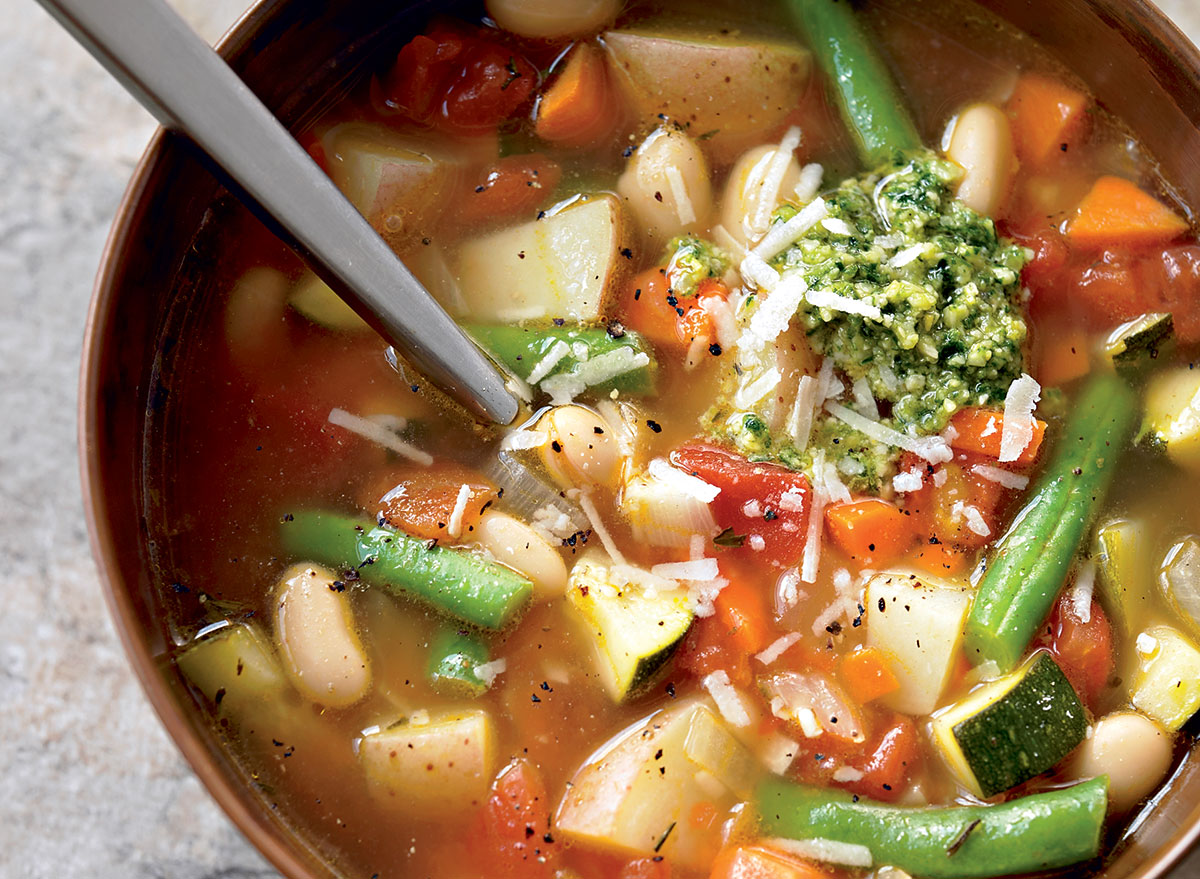 6254a4d1642c605c54bf1cab17d50f1e
Per 1 serving
: 200 calories, 5 g fat (1.5 g saturated), 490 mg sodium
Nearly 9 out of 10 Americans don't consume enough fruits and vegetables on a daily basis. This hodgepodge soup will go a long way in making sure you're not one of them. Vary the specific vegetables depending on what's in your fridge and what looks good in the market, but be sure to finish with a spoonful of jarred pesto, which helps tie the whole bowl of minestrone together.
Get our recipe for Minestrone With Pesto Soup.
Healthier Broccoli-Cheddar Soup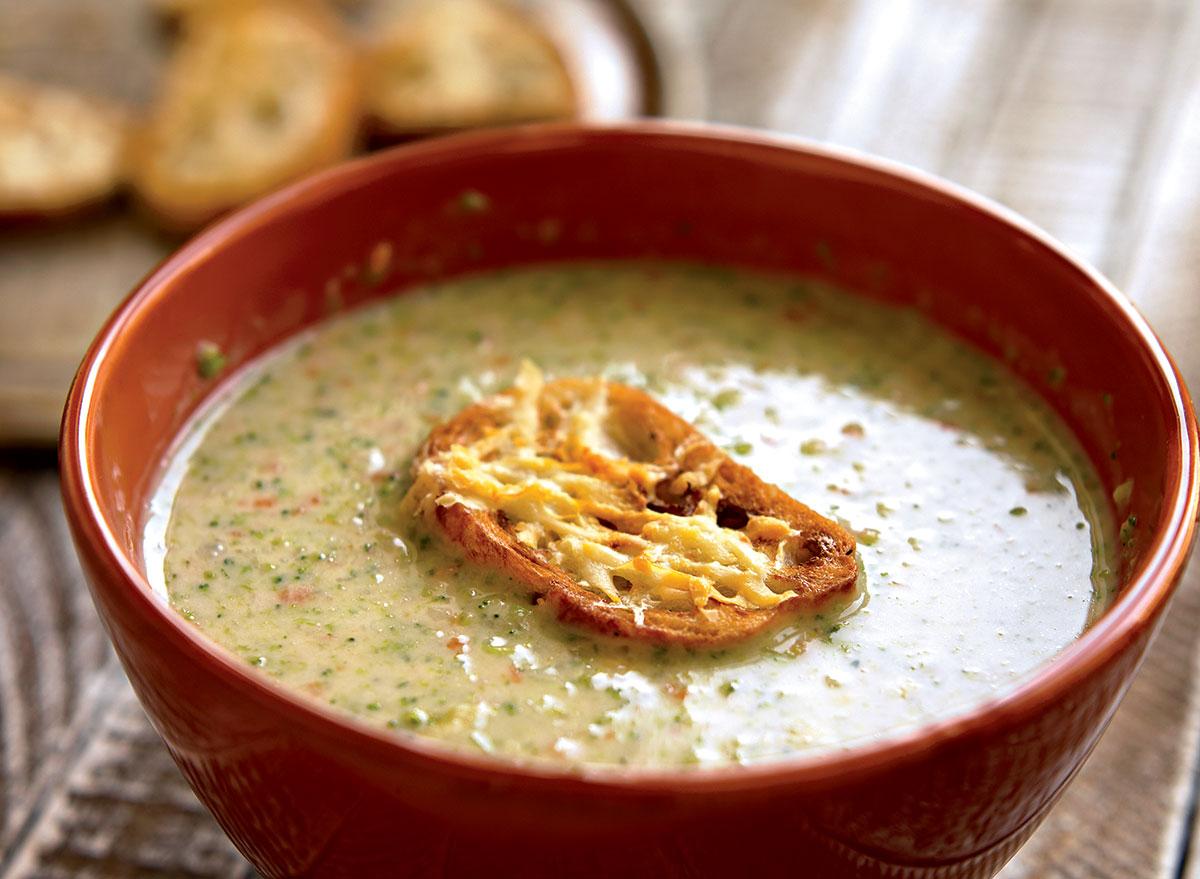 Per 1 serving
: 290 calories, 17 g fat (9 g saturated), 580 mg sodium
Traditionally, broccoli-cheddar soup is about the cheese, the broccoli playing second fiddle to a bowl of glorified fondue. We turn the tables on tradition, giving broccoli its proper due and using only a handful of sharp cheddar to give this soup a rich, creamy texture and beer—preferably a full-flavored ale like Bass—to give it body and soul. Just 8 ounces is needed, which leaves you 4 to sip on while the soup simmers away. A broccoli-cheddar soup with less than 300 calories? No, you're not dreaming.
Get our recipe for Healthier Broccoli-Cheddar Soup.
Baked Potato Soup
Per 1 serving
: 220 calories, 9 g fat (4 g saturated), 650 mg sodium
In its normal restaurant iteration, this is the only soup that can compete with broccoli-cheddar soup or clam chowder in terms of sheer caloric impact. Most versions you'll find start with a base of heavy cream, making for a bowl that can easily pack 400 calories or more. We cut the calories dramatically by switching to chicken stock as the foundation, then adding a splash of half-and-half. The creamy potato flavor still shines through, and the bacon, cheese, and Tabasco give it the indulgent taste of a fully loaded spud. Add a bowl of mixed greens tossed with olive oil and balsamic, and you've got a full dinner.
Get our recipe for Baked Potato Soup.
Asian Beef Noodle Soup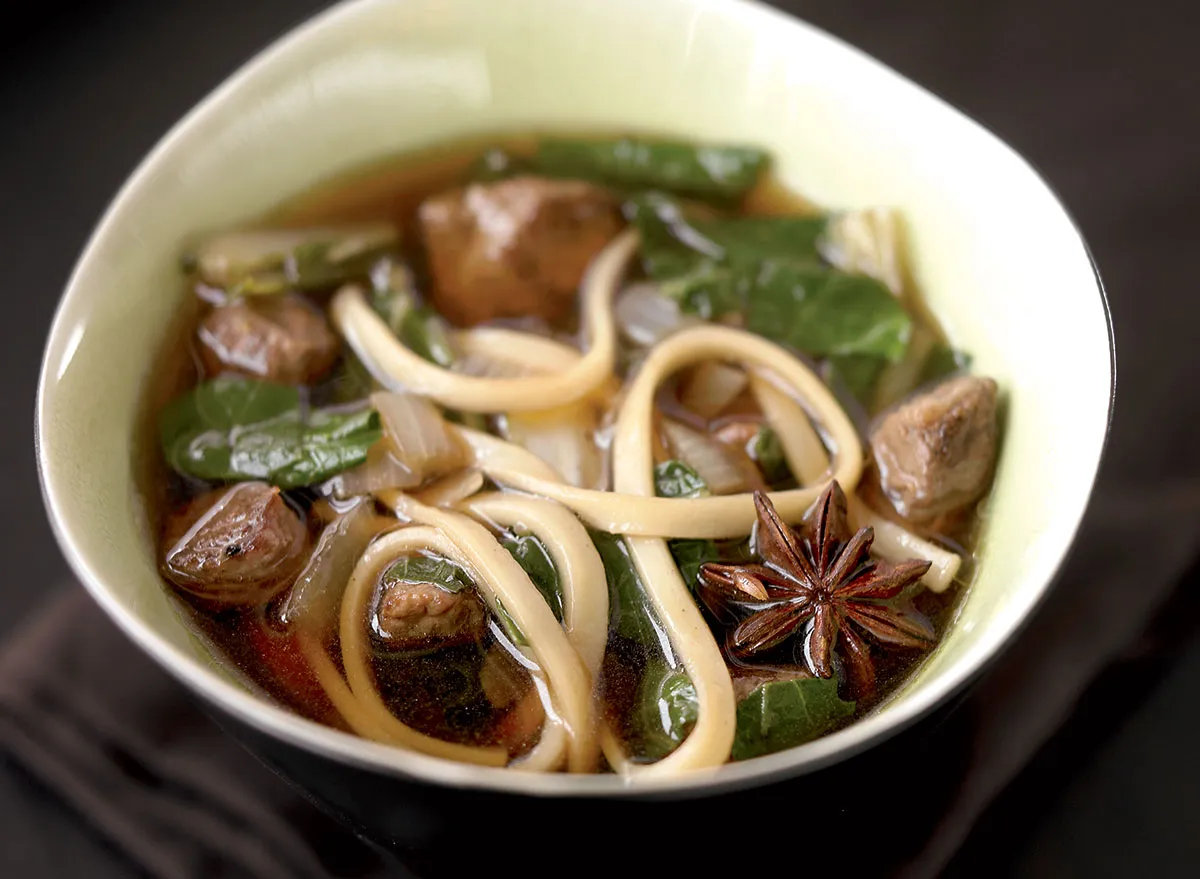 Per 1 serving
: 350 calories, 8 g fat (2 g saturated), 550 mg sodium
When it comes to soups that serve as meals, no one can touch the Asian cuisines. From the thick, heady ramens of Japan to the darkly satisfying beef noodle soups of China, to the spice-suffused bowls of pho from Vietnam, the entire continent seems to have mastered the art of transforming a few scraps of meat and vegetables into a magical eating experience. The slow-cooker soup here takes a cue from all three, combining a rich ginger- and soy-spiked broth with chunks of fork-tender beef, a tangle of springy noodles, and—for a fresh, high note to pair with the dark, brooding ones—a pile of fresh bok choy. This is no appetizer soup; this is a full-on meal.
Get our recipe for Asian Beef Noodle Soup.
Gazpacho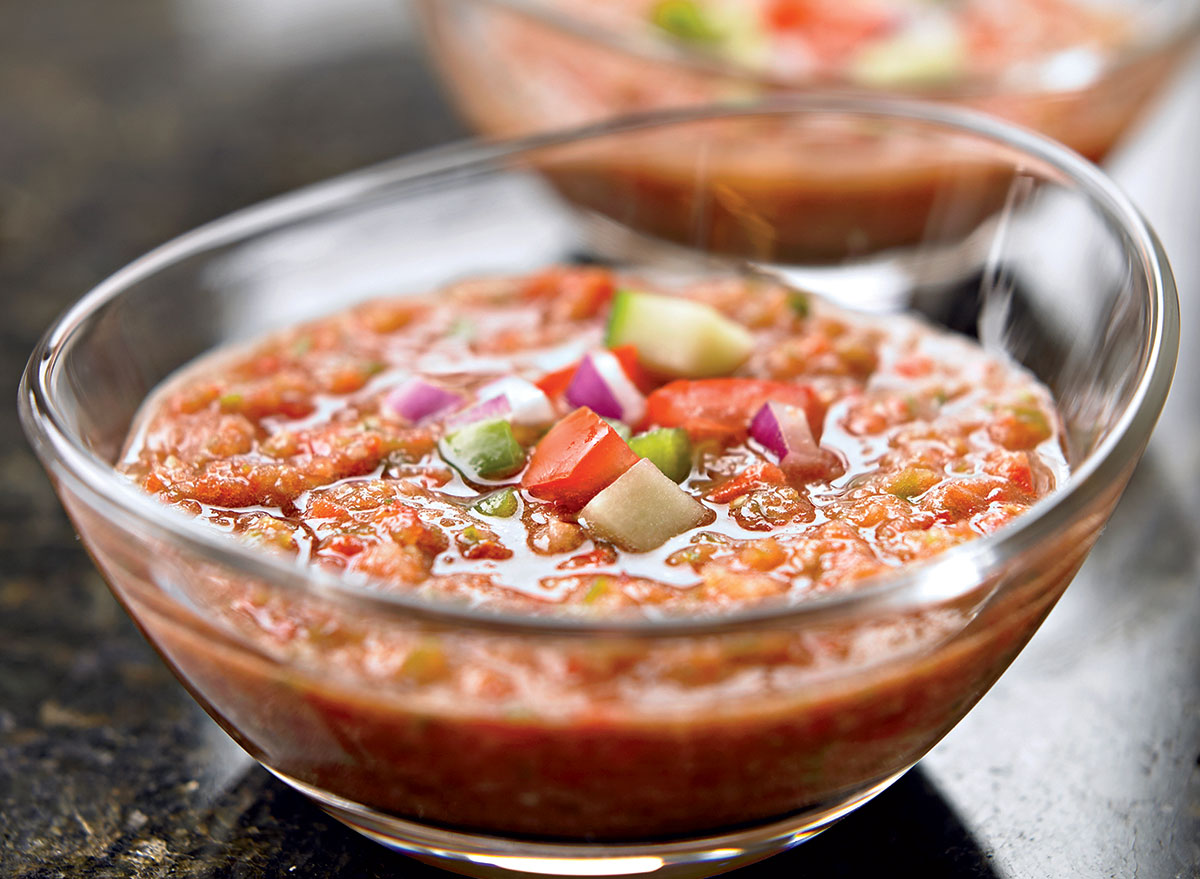 Per 1 serving
: 120 calories, 7 g fat (1 g saturated), 650 mg sodium
Ever feel the urge to cool off on a sweltering summer day with a bowl of hot tomato soup? Apparently, the Spaniards didn't, either, which is why they created gazpacho to fend off the oppressive heat of August in Andalusia. Beyond beating the heat, gazpacho is also best in August and September because tomatoes are at their peak in late summer when they're sweet and ripe and cheap. Gazpacho is a garden in a bowl, which means it's better for you than plain, one-dimensional tomato soup.
Get our recipe for Gazpacho.
Clam Chowder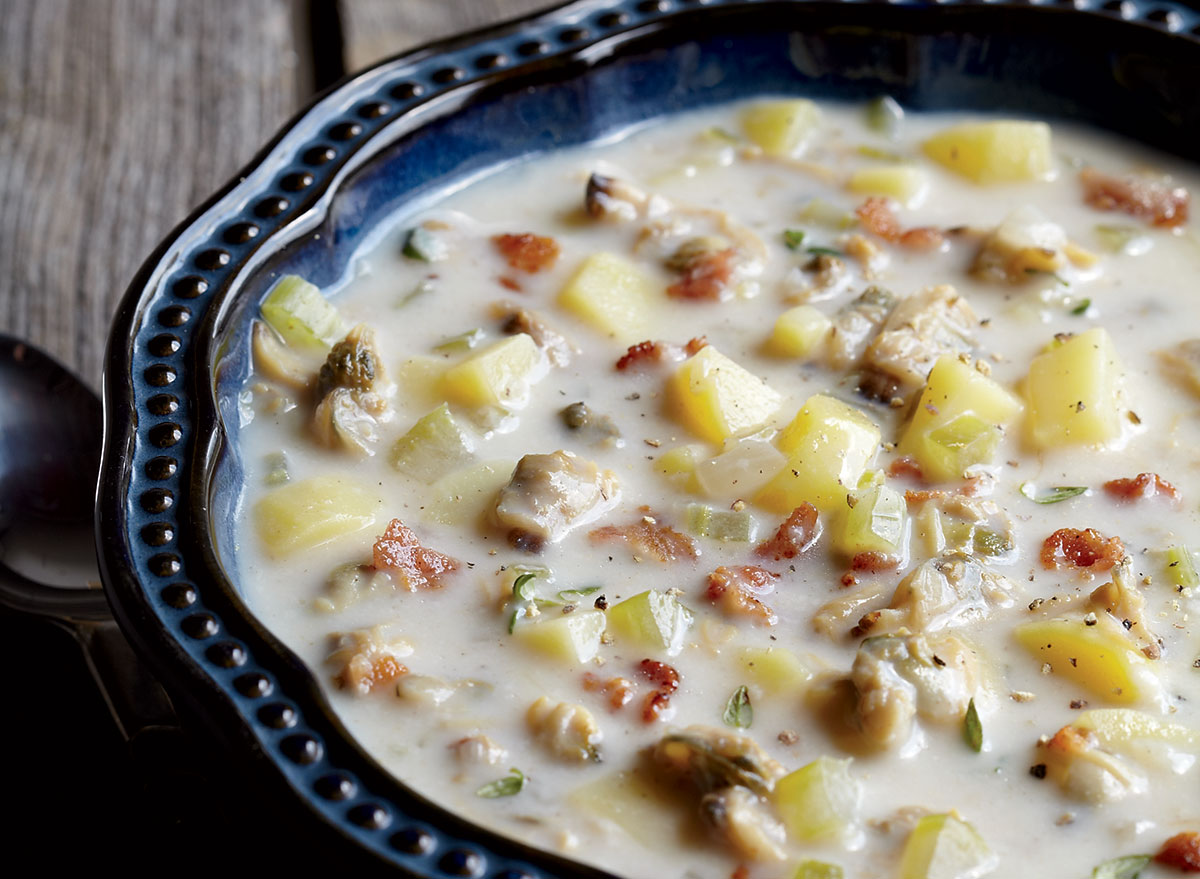 Per 1 serving
: 270 calories, 6 g fat (2 g saturated), 650 mg sodium
Most people expect a bowl of soup so thick and creamy you can stand a spoon up in it, but the truth is, clam chowder—real clam chowder—has always been about the clams, with a thin but bracing broth of clam juice and a hint of dairy. We chose milk, which makes a light, clean, low-calorie chowder that won't sit in your stomach all afternoon. There is, however, one item we won't compromise on: bacon, whose smoky flavor pairs perfectly with the brine of the clams. You don't need much—just one piece per serving.
Get our recipe for the Ultimate Clam Chowder.
French Onion Soup
Per 1 serving
: 230 calories, 8 g fat (4 g saturated), 720 mg sodium
We're not going to lie: Good French onion soup takes time. But it takes almost no effort, other than fighting back the tears as you chop your way through the five onions. And wouldn't you rather deal with a few errant tears than with a lackluster, overpriced bowl of soup that packs as much saturated fat as 20 strips of bacon and more sodium than nine bags of Lay's potato chips, like those at many chain restaurants? Now that's a real reason to cry, especially when you can make your own French onion soup at home.
Get our recipe for French Onion Soup.
Italian Meatball Soup
Per 1 serving
: 333 calories, 14 g fat (5 g saturated), 690 mg sodium
Order a plate of spaghetti and meatballs in Italy, and you'll likely leave your waiter dumbfounded, scratching his head for an answer. That's because one of America's favorite Italian dishes is a purely American invention, one that generally hinges on our typical tenets of excess. In Italy, polpettine are more likely to be enjoyed in a lighter fashion, either by themselves or in a soup like the one here. The pasta is still there (albeit a much smaller portion of it), but the broth houses a handful of stellar vegetables and serves to keep the meatballs moist and luscious. Though it's light in calories, this is still a potent bowl of goodness—served with a lightly dressed salad, it makes for an incredible weekday dinner.
Get our recipe for Italian Meatball Soup.
Italian Sausage Soup
Per 1 serving
: 360 calories, 12 g fat (2.5 g saturated), 890 mg sodium
The best definition of comfort food is the food mom made when you were growing up. You can load this deceptively simple soup full of vegetables, doubling the amount used in our recipe, and end up with a chunky, sausage-strewn minestrone. Either way, this soup is hearty enough to work as dinner on its own.
Get our recipe for Italian Sausage Soup.
Split Pea Soup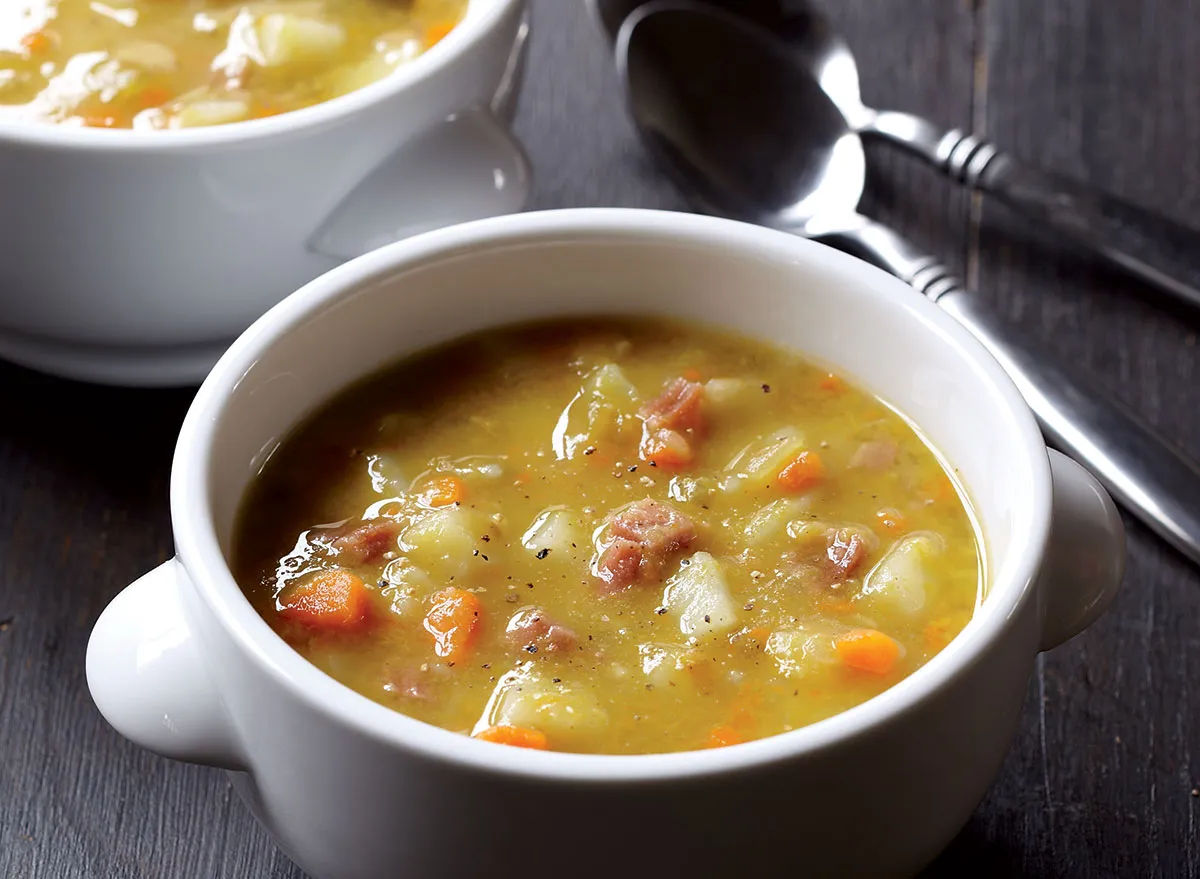 Per 1 serving
: 300 calories, 3.5 g fat (1 g saturated), 780 mg sodium
Split peas rank up there as one of the heroes of the health-food world, boasting deep reserves of fiber, B vitamins, and dozens of other vital nutrients. But despite their reputation as a straightlaced superfood, something magical happens to split peas when combined with a bit of smoky ham and a long, slow simmer. Slowly they begin to break down, commingling with the ham and the other vegetables to create a thick, creamy broth that could warm even the most frigid soul on a long winter day.
Get our recipe for Split Pea Soup.
Cuban Tomato and Black Bean Soup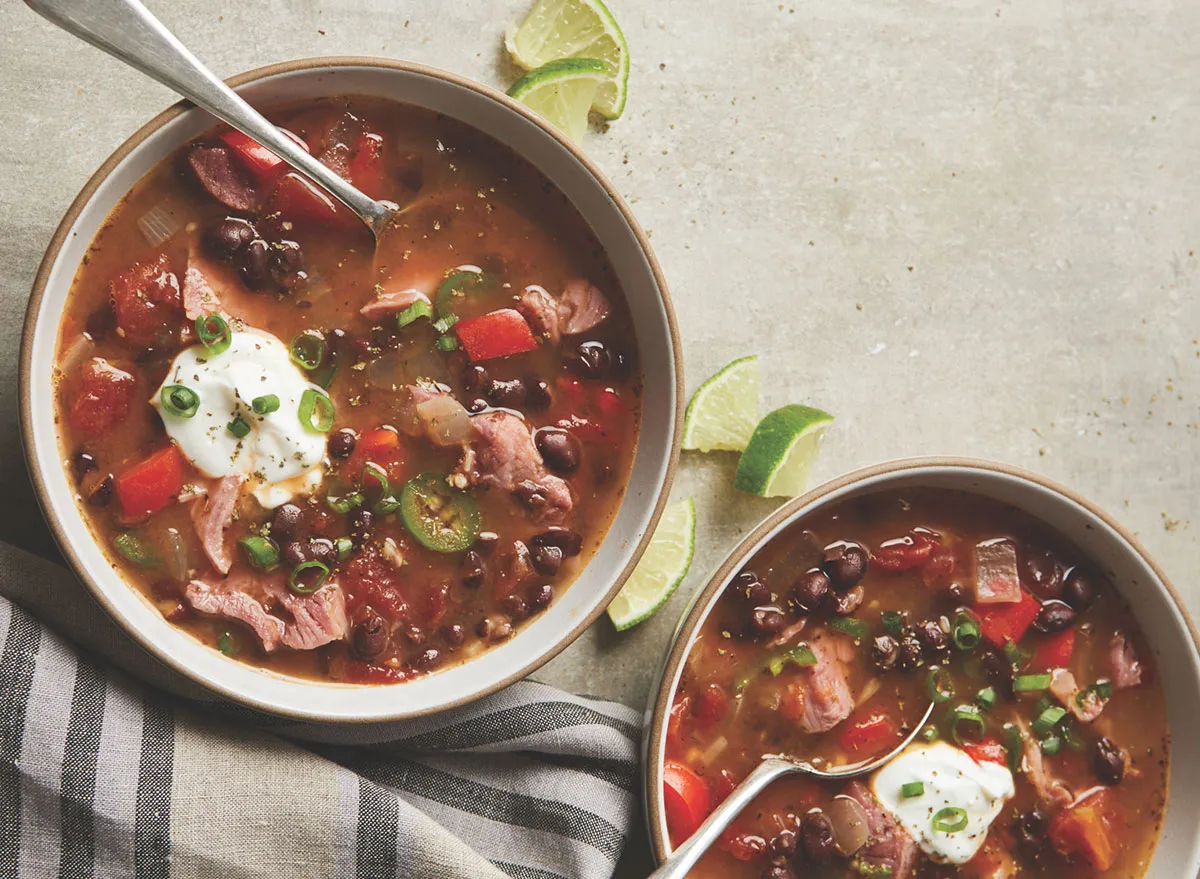 Per 1 serving
: 261 calories, 7 g fat (2 g saturated), 679 mg sodium
Here, we combine two beloved soups: tomato and Cuban black bean for one flavor-packed bowl of deliciousness. Even with the combination of jalapeño, red, and green peppers, ham hock, onions, and all the other fixings, we make sure to keep things as light as possible, thanks to the reduced-sodium black beans, no-salt-added diced tomatoes, unsalted chicken broth, and the addition of Greek yogurt for a healthy garnish.
Get our recipe for Cuban Tomato and Black Bean Soup.
Green Chile Pork Soup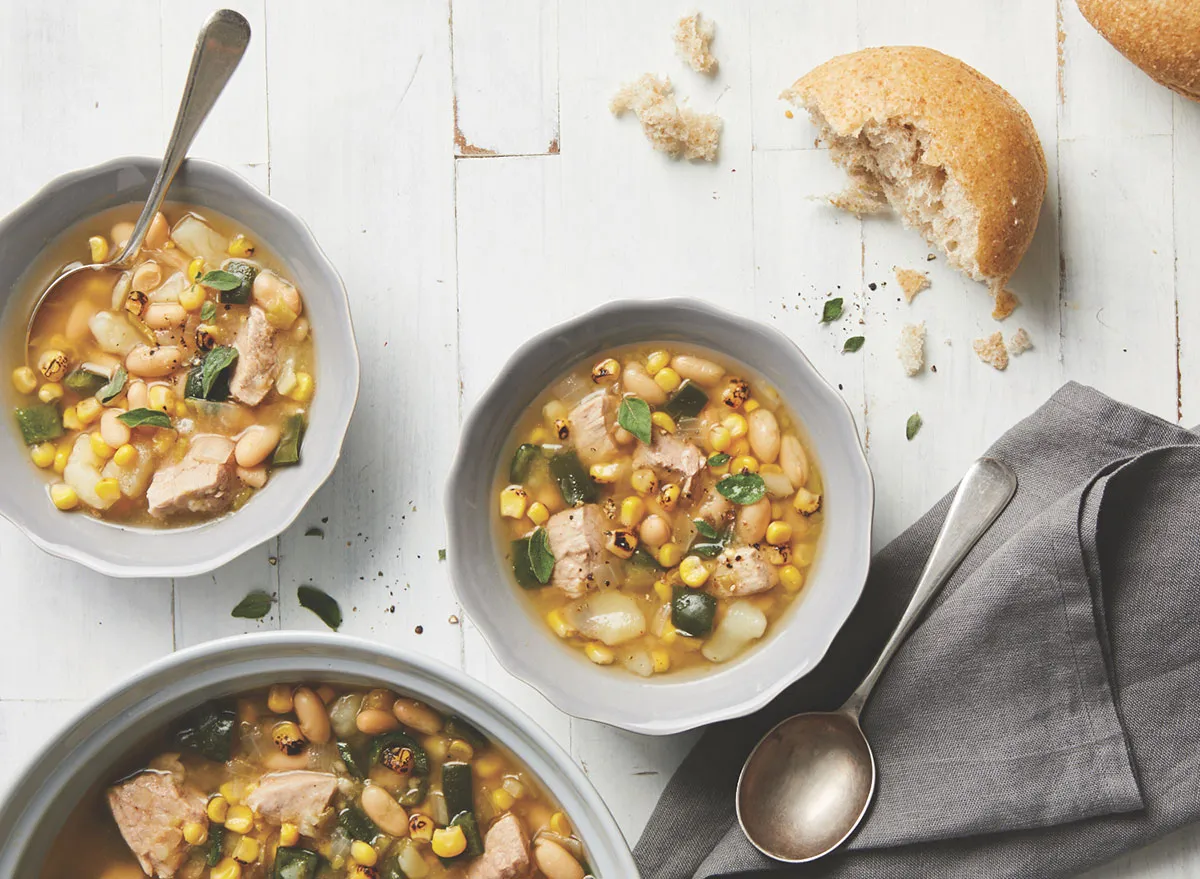 Per 1 serving
: 259 calories, 3 g fat (1 g saturated), 667 mg sodium
This hearty soup is infused with pork, beans, peppers, russet potatoes, onions, and roasted corn, and it's perfect for a slow cooker. It's low in calories and will give you 25 grams of protein, plus six grams of fiber, so you'll stay full.
Get our recipe for Green Chile Pork Soup.
Roasted Tomato Soup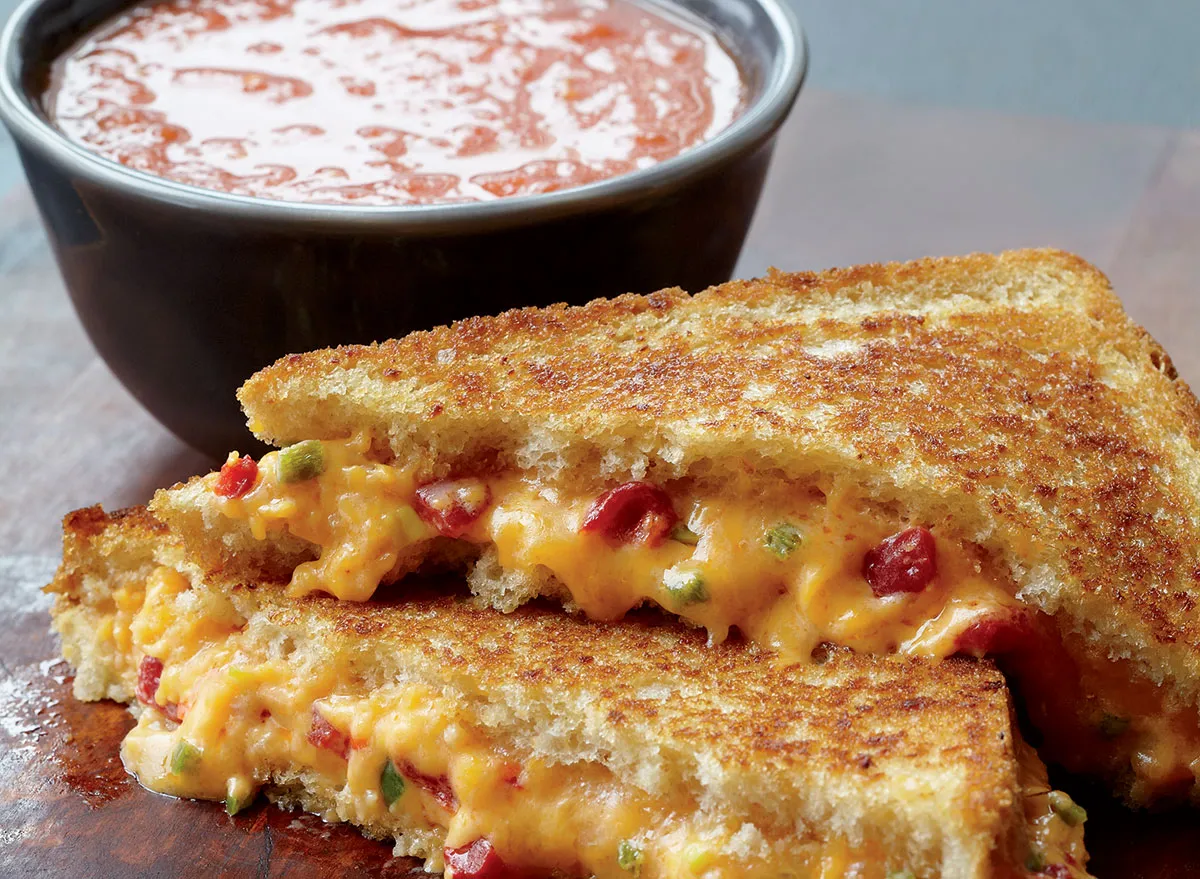 Per 1 serving
: 130 calories, 7 g fat (1 g saturated), 370 mg sodium
There really is no greater pairing than a grilled cheese sandwich and tomato soup. In our version, you get hit with some pure tomato intensity with every spoonful, thanks to an oven roasting technique, which concentrates the natural sugars of the tomatoes. It's all the goodness of a comfort-food dish, with half the calories.
Get our recipe for Grilled Cheese and Roasted Tomato Soup.
Chicken and Dumplings Soup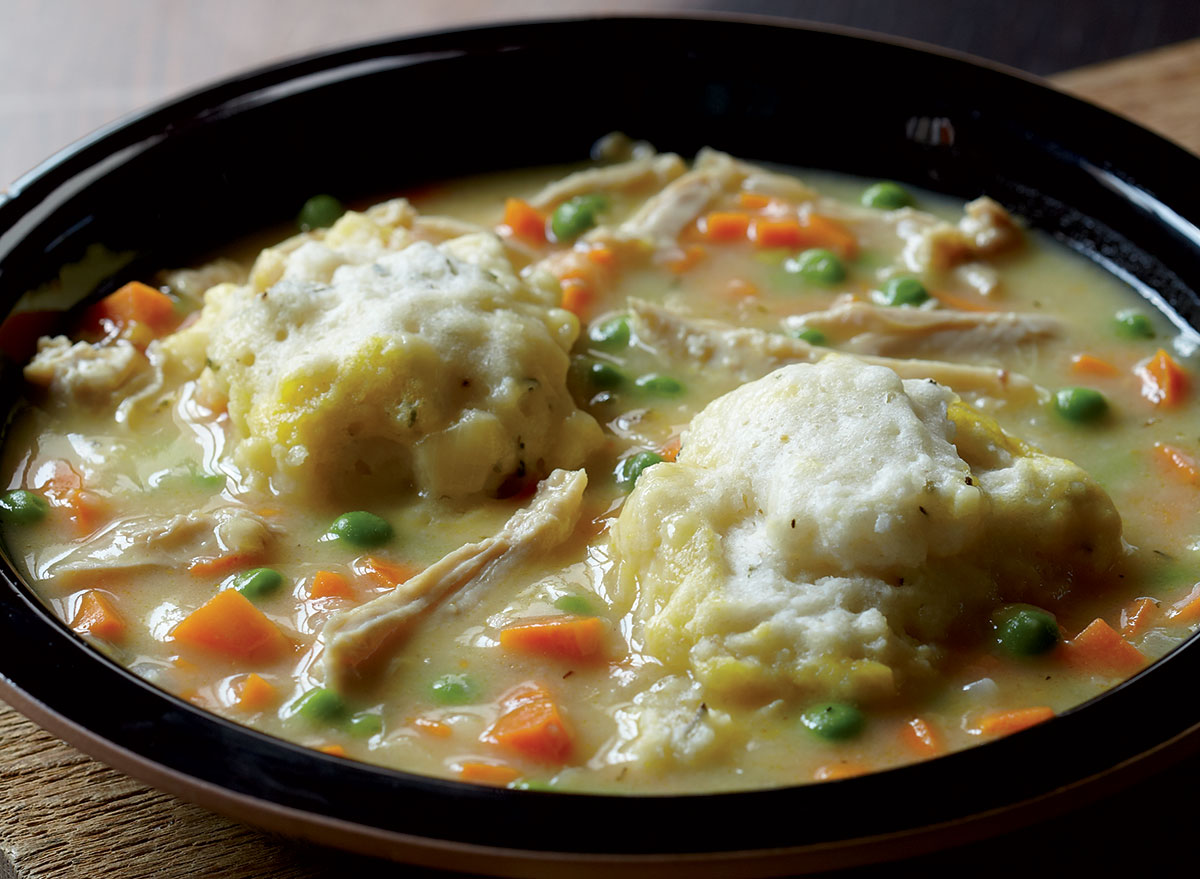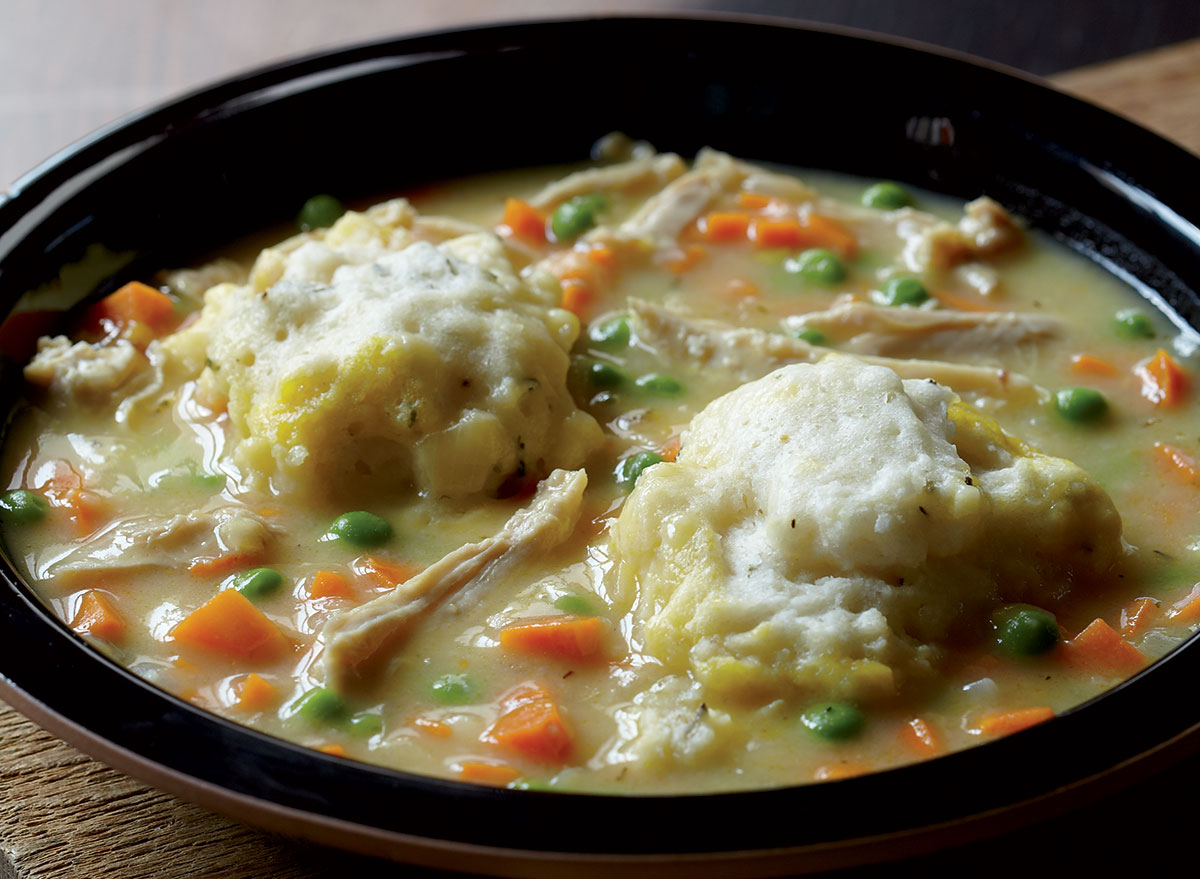 Per 1 serving
: 380 calories, 12 g fat (5 g saturated), 810 mg sodium
This chicken and dumplings recipe has many of the core flavors of chicken noodle soup—root vegetables, savory broth, and shredded chicken—but it is made more substantial by the addition of a roux to thicken the soup base and help create those fluffy dumplings.
Get our recipe for Chicken and Dumplings.
Easy Chicken and Rice Soup
Per 1 serving
: 225 calories, 10 g fat
This delicious recipe from our Zero Belly Cookbook makes for a deliciously easy lunchtime (or anytime) soup. It's ready in just 15 minutes, so you can make a big batch for the week and have meal-prep done in no time!
Get our recipe for Easy Chicken and Rice Soup.
Eat This, Not That!
Inspired by The New York Times best-selling book series, Eat This, Not That! is a brand that's comprised of an award-winning team of journalists and board-certified experts, doctors, nutritionists, chefs, personal trainers, and dietitians who work together to bring you accurate, timely, informative, and actionable content on food, nutrition, dieting, weight loss, health, wellness, and more.
Read more about Eat This