Eat This, Not That! on St. Patrick's Day
Keep the luck of the Irish on your side—and on your plate—this St. Paddy's Day.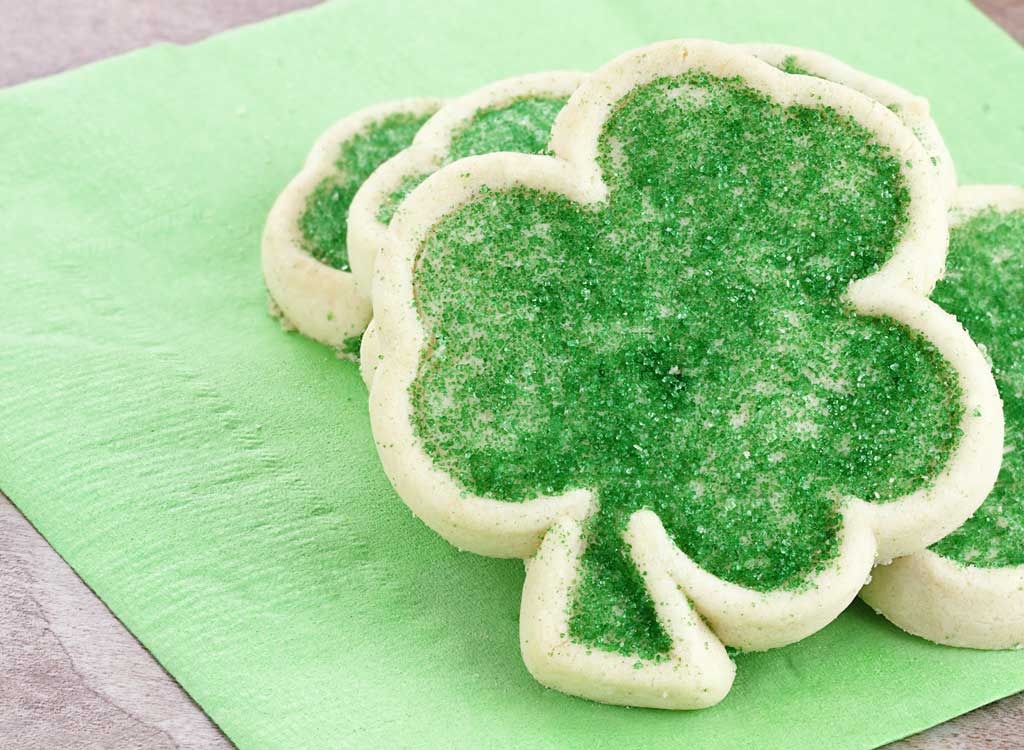 Pitchers of green beer, corned beef and cabbage, and festively-decorated shamrock sugar cookies; it's hard to celebrate St. Patrick's Day without the onslaught of tempting Irish fare and green treats. St. Paddy's Day has also become a popular drinking holiday, with Guinness specials and green Jell-O shots practically unavoidable.
However, you can still celebrate Saint Patrick and Irish traditions without gaining those unlucky pounds. Although exact nutritional info may vary from pub-to-pub, our list of the worst St. Patrick's Day food and drinks is a pretty handy guide for what to avoid during the festivities. That doesn't mean you can't have any fun, though; stick to our best list to have the best of both worlds on March 17! (And speaking of holidays, don't miss these 50 National Food Holidays That Won't Make You Fat.
The 10 Worst St. Patrick's Day Food and Drinks
Avoid indulging in these fattening, sugary, and high-calorie options.
Serving size: 3 ounces
Nutrition: 213 calories, 16 g fat, 827 mg sodium
Corned beef is a popular Irish-American dish, but dieters should steer clear of it on St. Paddy's. The fatty cuts of meat are doused in salt, so the sodium and saturated fat intake quickly add up. Find out the Best Cuts of Meat for Weight Loss for your best protein-packed swap.
Serving size: Plated entree
Nutrition: 1,086 calories, 52 g fat, 150 g carbs, 18 g sugar, 25 g protein
Fish and chips are an Irish pub staple, but the all-beige meal offers virtually no nutritional value. The deep-fried fish and fries usually amount to a day's worth of fat, and more than 1,000 calories.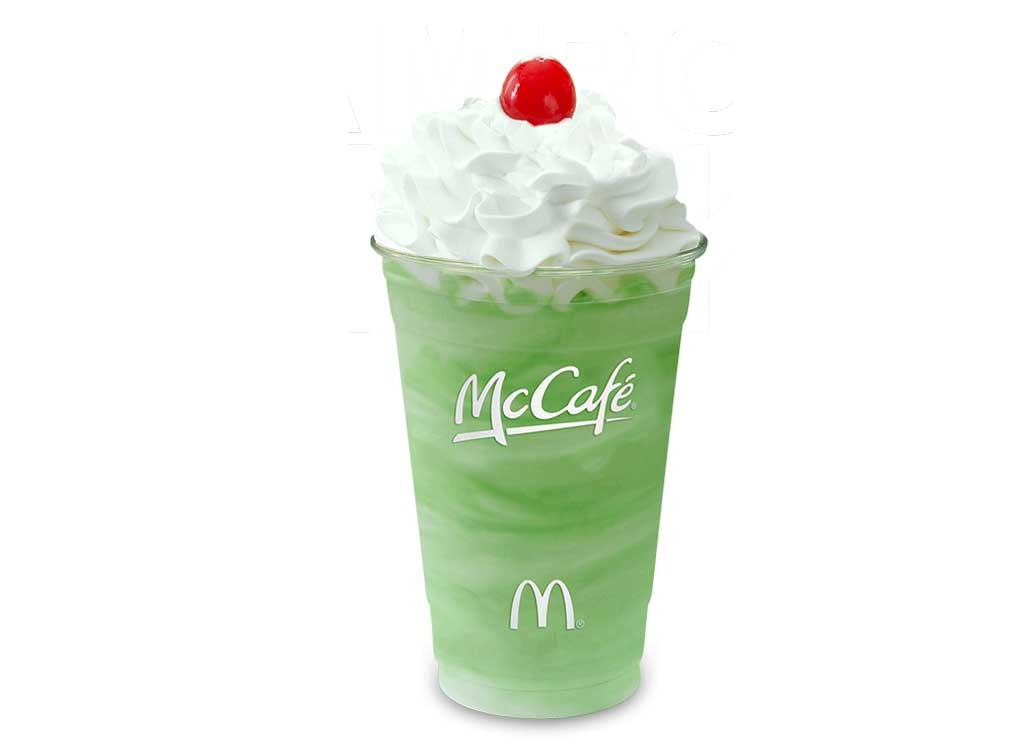 Serving size: 12 ounces
Nutrition: 530 calories, 15 g fat, 86 carbs, 73 g sugar
The seasonal treat from the McDonald's menu only comes around for St. Patrick's Day, but it should be off the menu completely. The green minty-vanilla milkshake packs a whopping 73 grams of sugar and 86 grams of carbs in just the small size alone. With a long list of unhealthy additives including carrageenan, yellow 1, blue 5, and artificial vanilla flavor, it's best to drive right past the golden arches.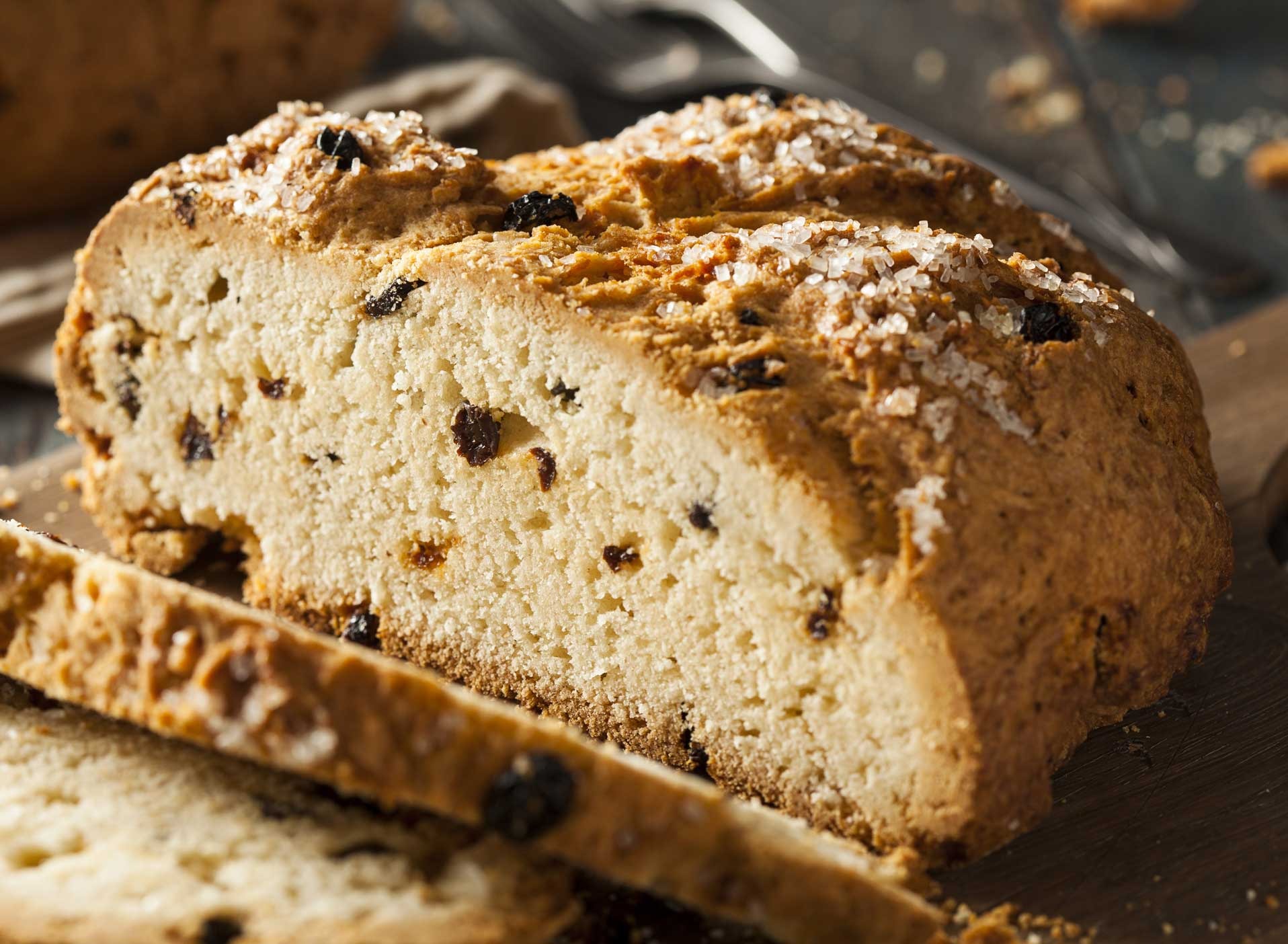 Serving size: 1 slice
Nutrition: 214 calories, 3.6 g fat, 283 mg sodium, 41.5 g carbs, 14.46g sugar
Bread, in general, isn't diet-friendly, and Irish soda bread is even worse. Ingredients include buttermilk, sugar, and butter, so just one slice packs over 200 calories.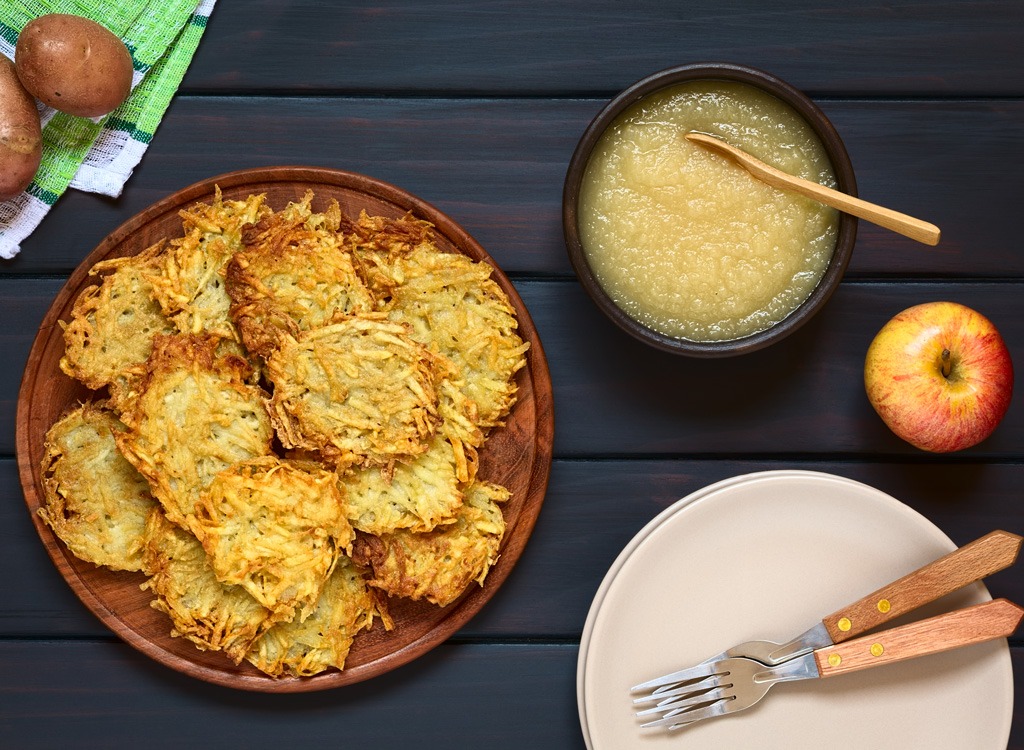 Serving size: 1 cake
Nutrition: 226 calories, 10 g fat, 29 g carbs
Also known as boxty, these hashbrown-like pancakes don't offer much in the way of nutrition: potatoes, whole milk, butter, flour, and then they're cooked in oil. Sometimes they are deep-fried, which means even more fat and calories. You're better sticking to a simple small baked potato. (You could also get creative with some sweet potatoes!)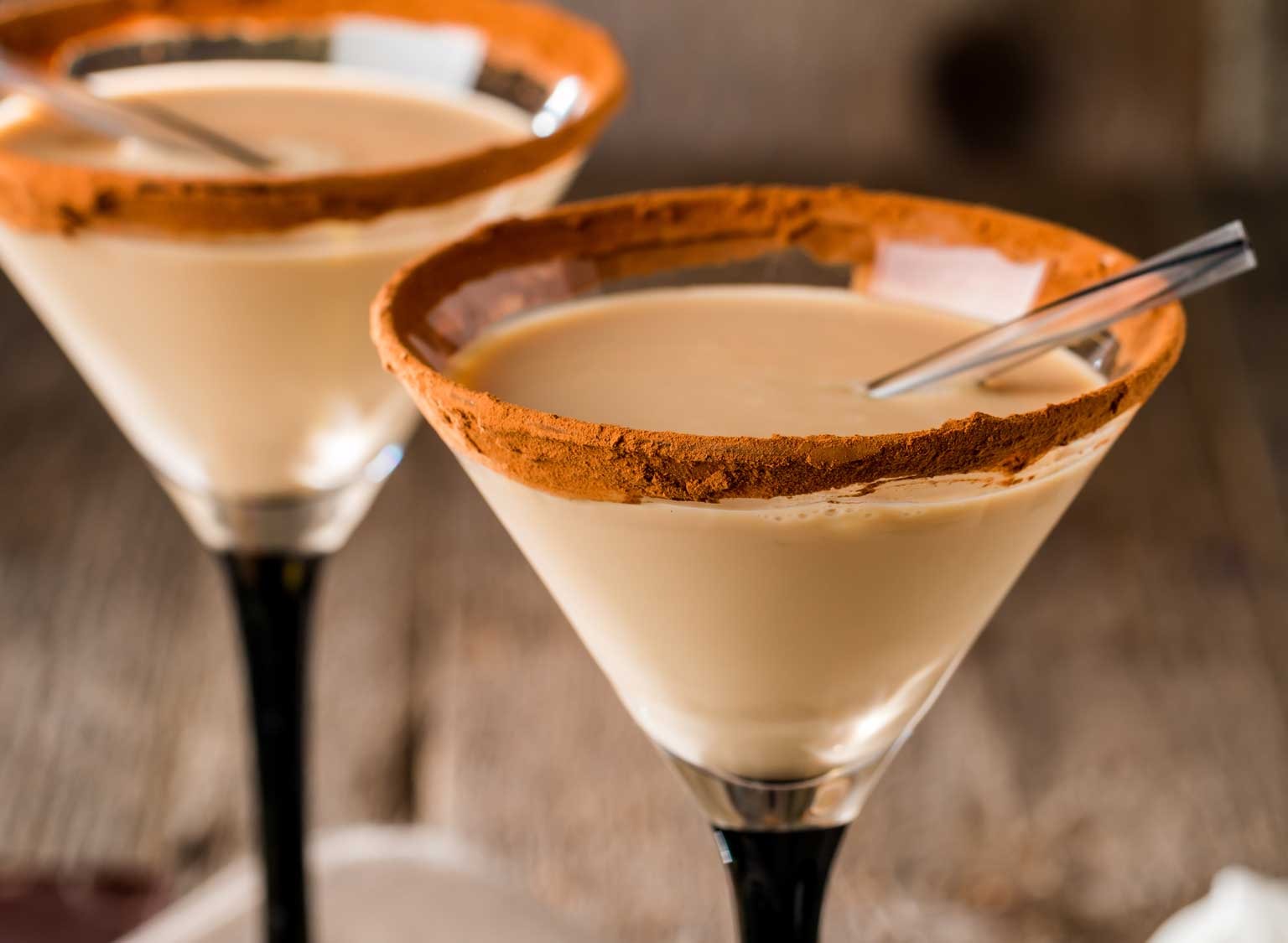 Serving size: 1 ounce
Nutrition: 147 calories, 5.9 g fat, 11.3 g carbs, 9 g sugar
It should come as no surprise the popular Irish cream is loaded with sugar and fat; the boozy liqueur is cream-based, afterall. Stick to plain Irish whiskey to add to your coffee or cocktail.
George Killian's Irish Red Amber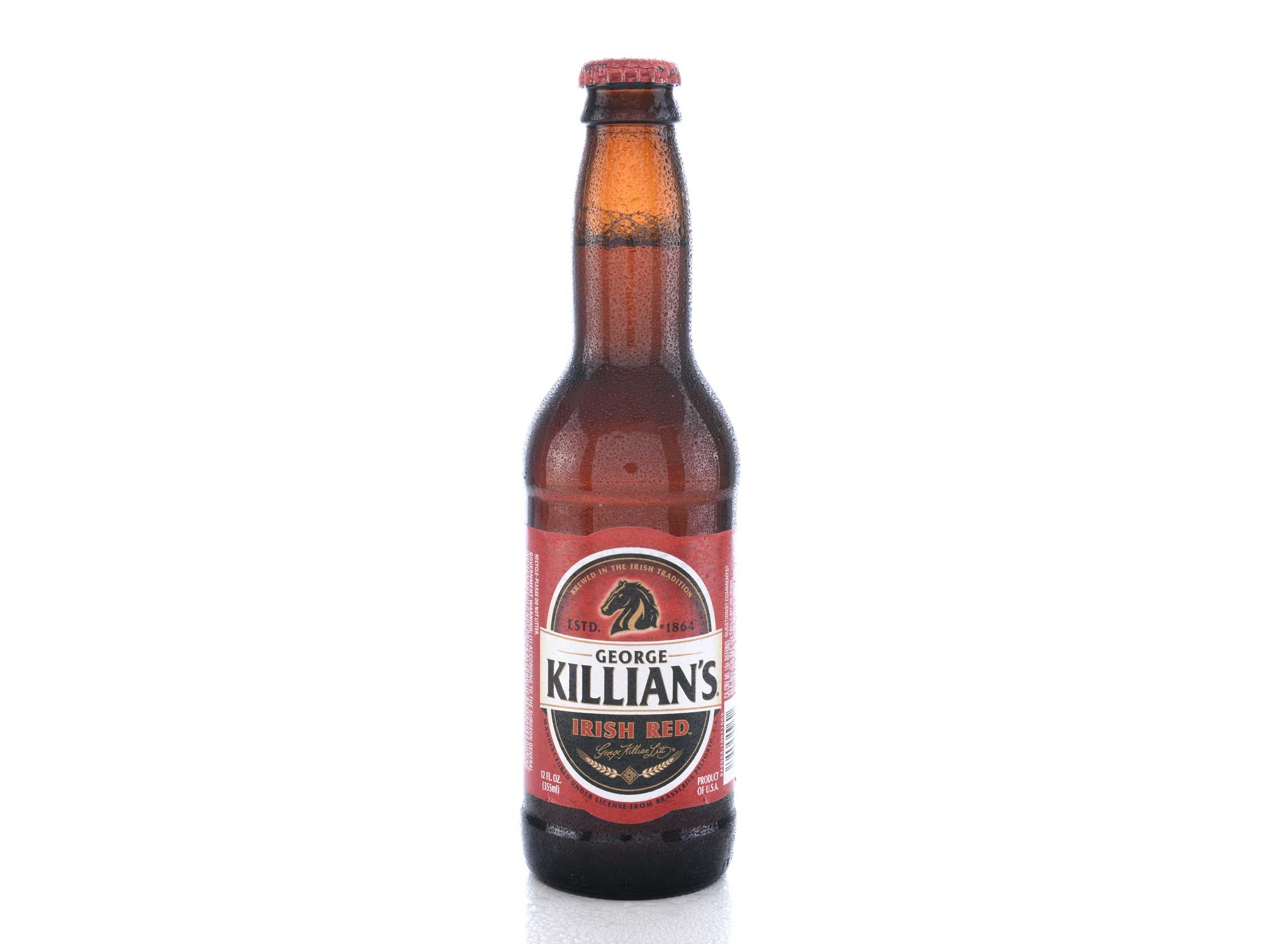 Serving size: 12 ounces
Nutrition: 162 calories, 15 g carbs
Irish beer is a must during all St. Patrick's Day celebrations, but some brands carry more calories and carbs than others. Killian's is one of the worst, with 162 calories per 12 ounces.
Serving size: 1 cup
Nutrition: 147 calories, 1 g fat, 29 g carbs, 2 g fiber, 14 g sugar, 2 g protein
The children's breakfast cereal isn't exactly Irish, but the festive leprechaun-themed marshmallows make it a popular St. Paddy's Day treat. However, each serving is jam-packed with refined sugar, so these horseshoes, clovers, and balloons are best to be avoided at all costs. Skip the cereals altogether and try one of these new, trendy 15 Breakfast Salads Worth Waking Up For.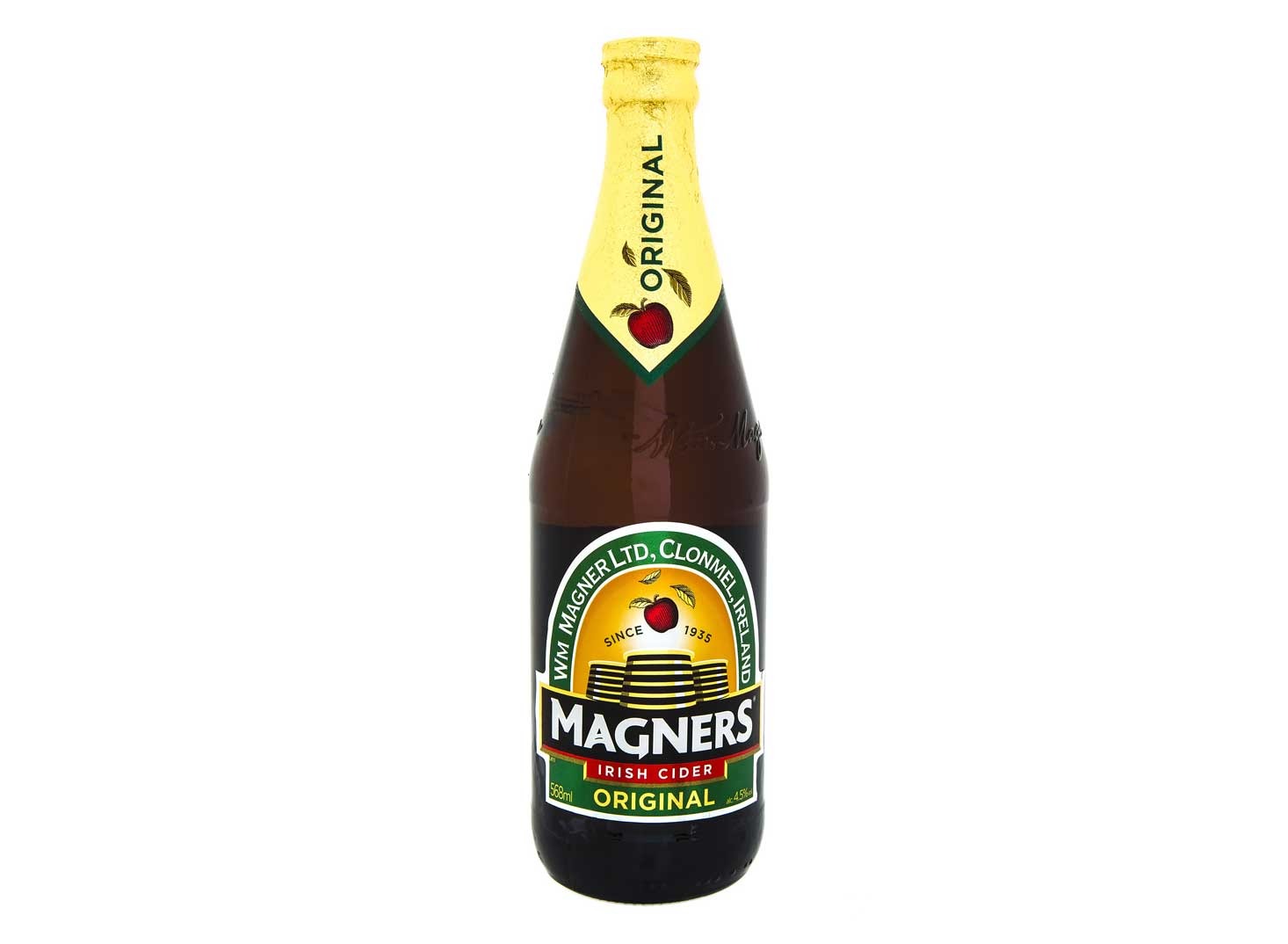 Serving size: 12 ounces
Nutrition: 150 calories, 14 g carbs, 12 g sugar
Think hard cider is a better alternative to beer? Think again. Magners cider carries more calories and carbs than light beer, with even more sugar.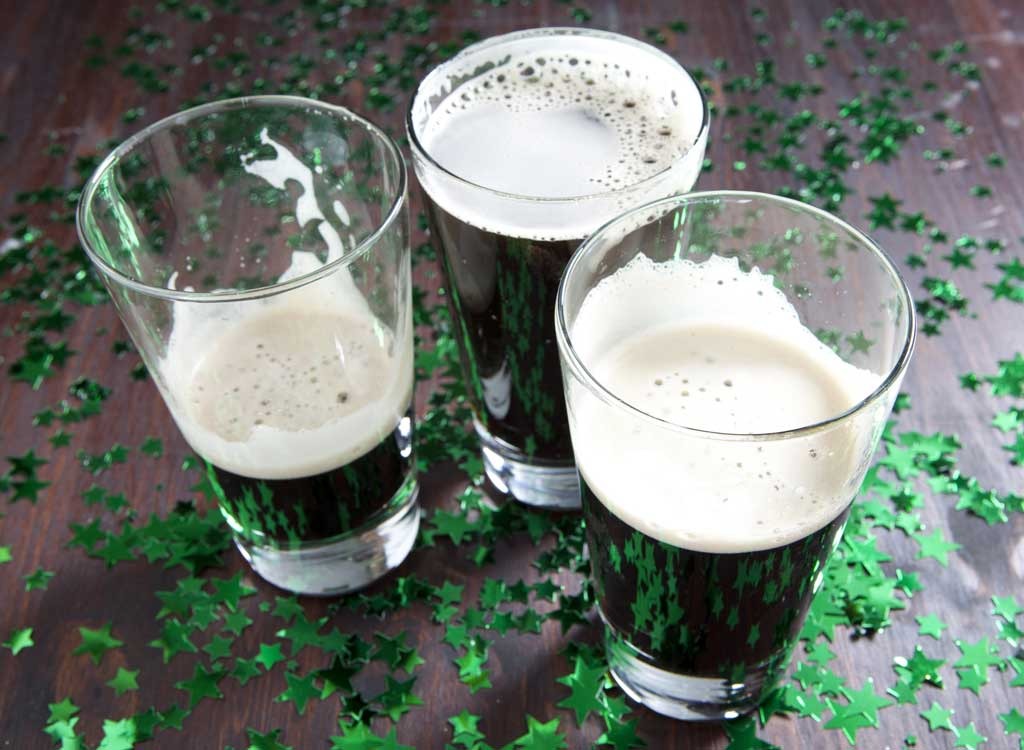 Serving size: 1 shot
Nutrition: 177 calories, 3.4 g fat, 7.6 g carbs, 4.3 g sugar
This St Patrick's Day favorite* is the trifecta of Irish booze: Guinness, Irish whiskey, and Bailey's. All those ingredients combined also create a heavy dose of calories and sugar—not to mention massive hangover cravings the next day.
*In America. In Ireland, it's pretty offensive; try to imagine if people in other countries drank something called the 9-11 Attack.
The 10 Best St. Patrick's Day Food and Drinks
Celebrate your Irish-American pride with these lighter meals and beverages that won't totally sabotage your weight loss efforts.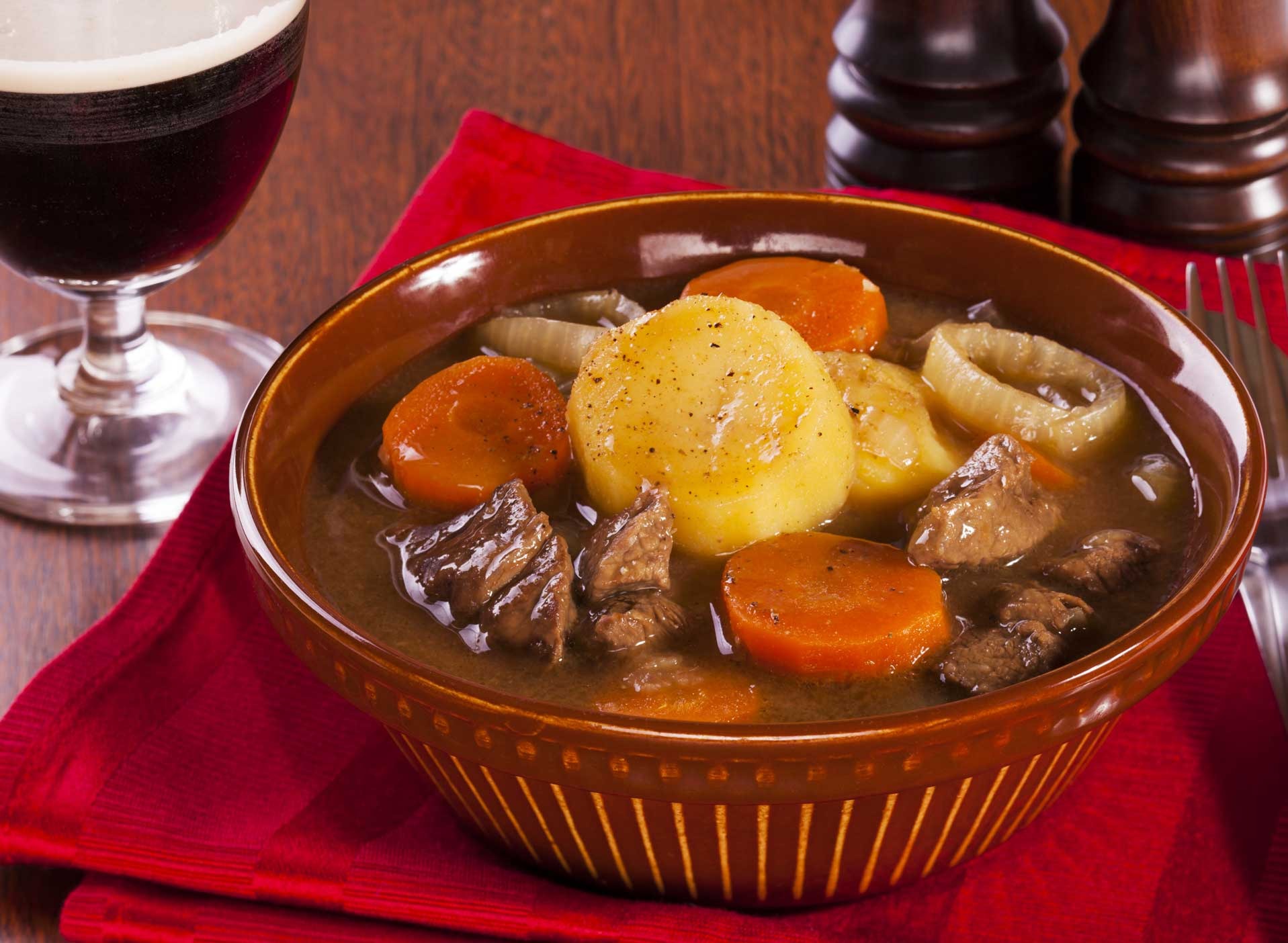 Serving size: 1 cup
Nutrition: 266 calories, 7 g fat, 27 g carbs, 23 g protein
Soups and stews are usually lighter options, and an Irish lamb stew (made with low-sodium stock and lean cuts of meat) is chock full of veggies and herbs like carrots, onion, thyme, and parsley. Get our delicious soup recipes with these 20 Best-Ever Fat-Burning Soups!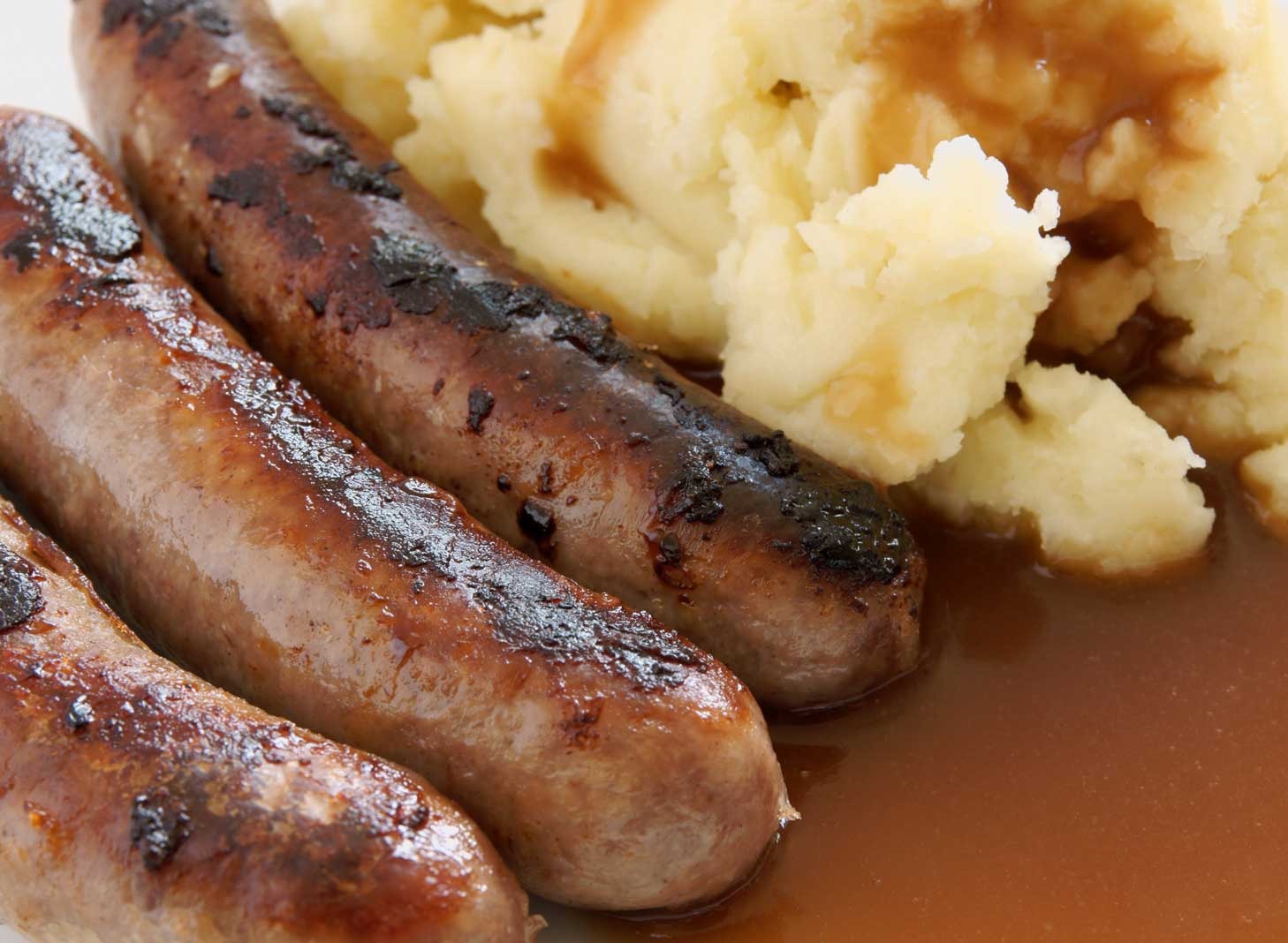 Serving size: 1 sausage
Nutrition: 140 calories, 11 g fat, 2 g carbs
Although these Irish sausages can be higher in fat, a healthier cut from your butcher will be leaner and fewer in calories. Stick to just one, and enjoy with cabbage (instead of mash) for a less-sinful meal.
Colcannon Potatoes and Cabbage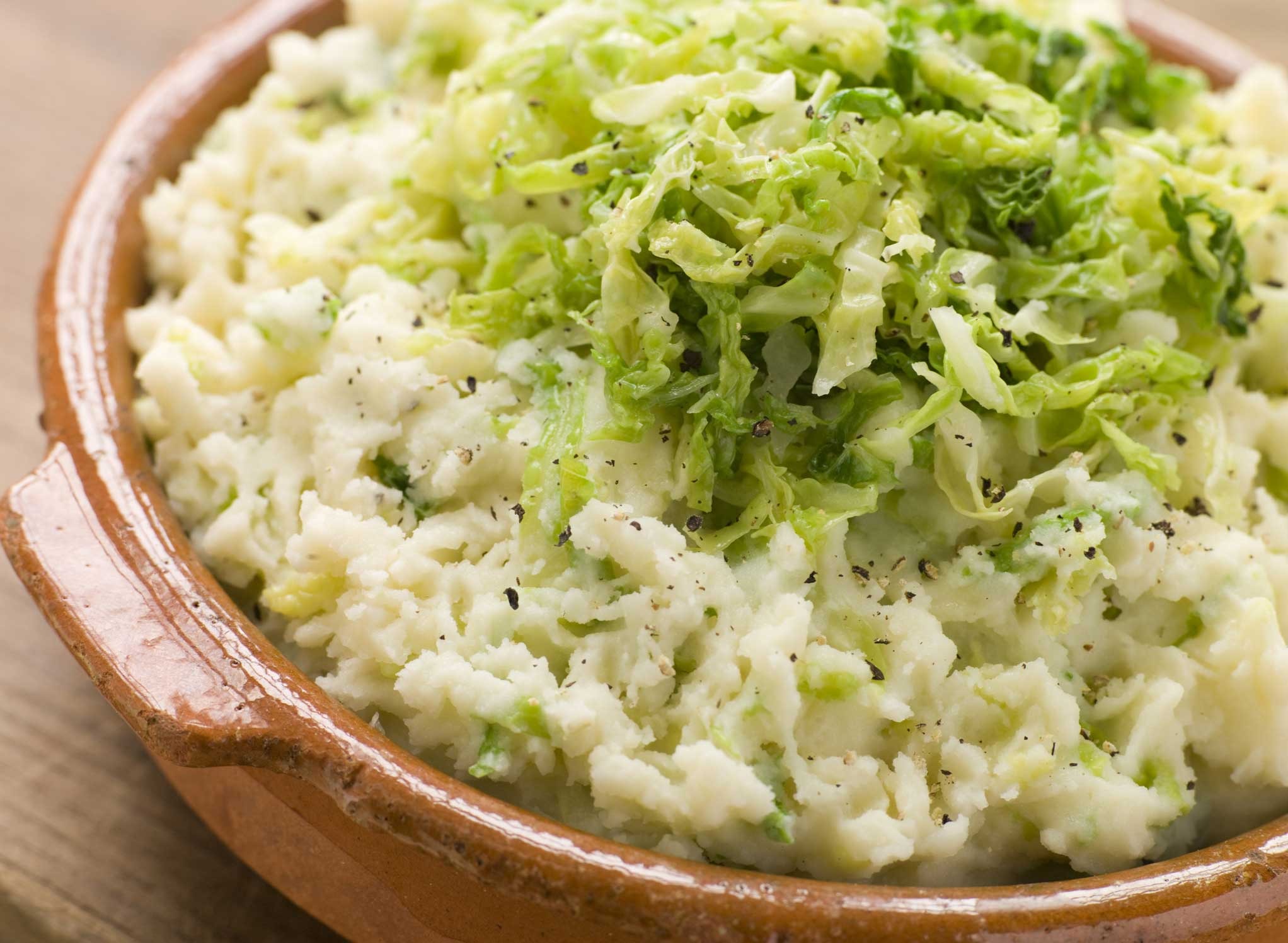 Serving size: 1 cup
Nutrition: 149 calories, 4 g fat, 26 g carbs, 3 g fiber, 4 g protein
Colcannon potatoes are basically mashed potatoes mixed with sautéed cabbage or kale. The ingredients are simple enough; go heavy on the greens for a more nutritious side dish.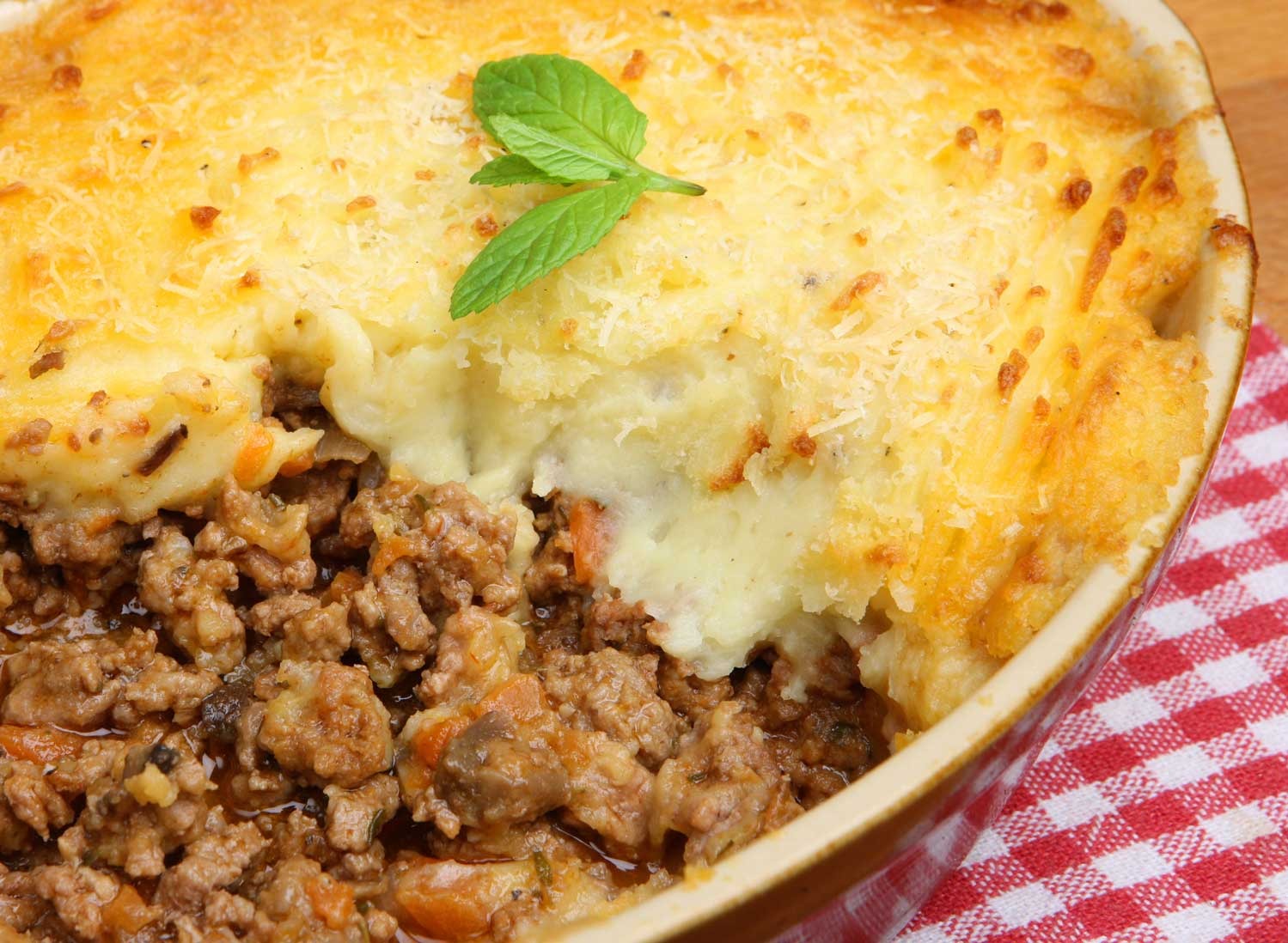 Serving size: 1 slice
Nutrition: 270 calories, 8 g fat, 35 g carbs, 20 g protein
Shepherd's pie can easily be lightened up, and the recipe itself isn't that bad: meat, veggies, and mashed potatoes. Just opt for lean ground beef, go easy on the butter and sour cream, and fill your plate with more veggies than potatoes. (Psst! Do you know which fruits and veggies are low-carb? Take our quiz to find out!)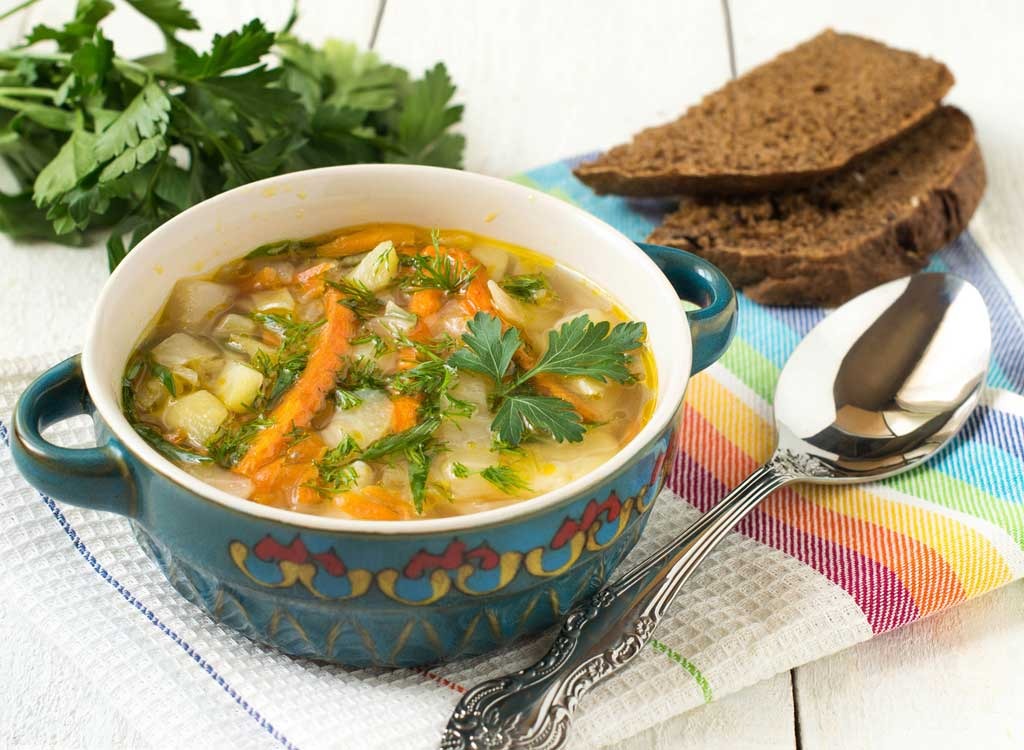 Serving size: 1 cup
Nutrition: 152 calories, 2.1 g fat, 28.8 g carbs, 365 mg sodium
The broth-based soup has simple, healthy ingredients. Potatoes and cabbage are both common in Irish fare—and when combined, they and make for a light yet filling soup.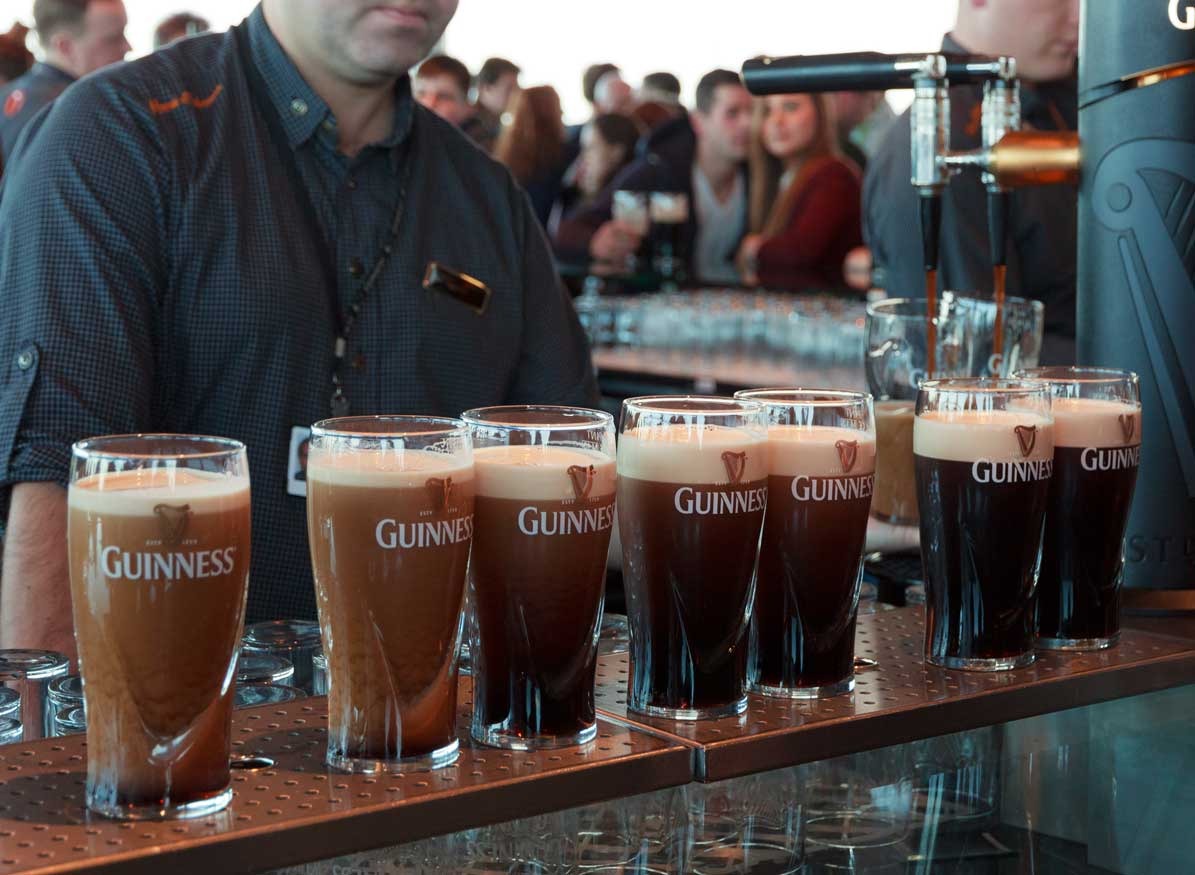 Serving size: 12 ounces
Nutrition: 125 calories, 10 g carbs
Guinness may be a stout, but it's surprisingly low in alcohol—just 4.2% ABV. Since beer's main source of calories is alcohol, a pint of Guinness is just 125 calories; you can totally throw back a couple without feeling super guilty.
Try our Short Ribs Braised in Guinness recipe!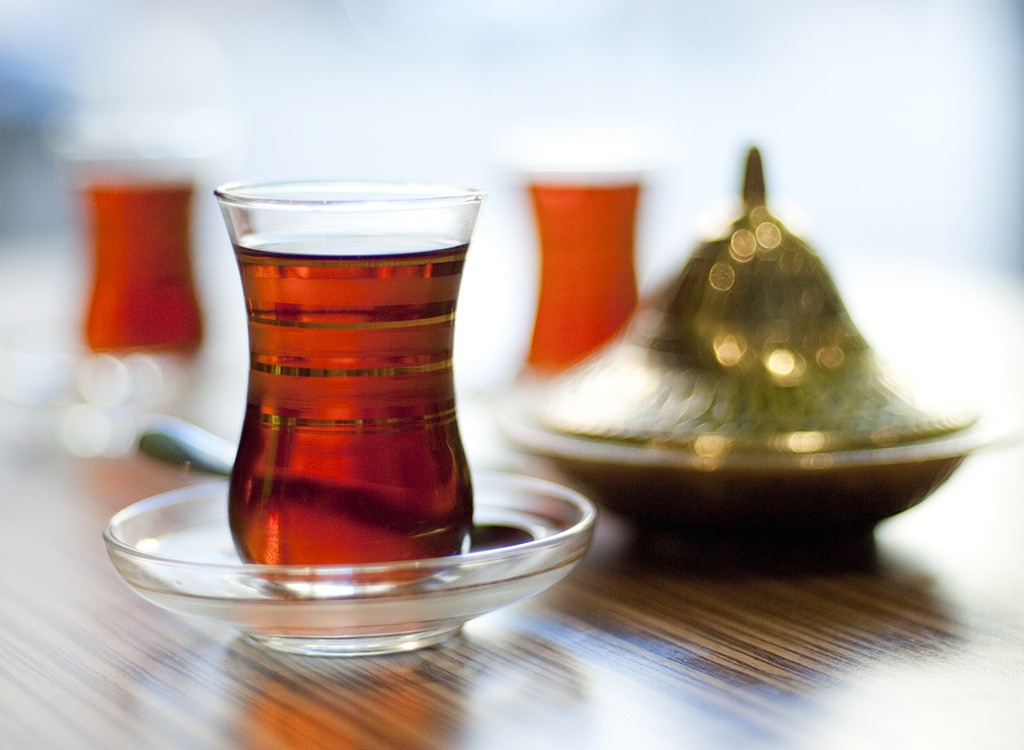 Serving size: 8 ounces
Nutrition: 0 calories, 0 g fat, 0 mg sodium, 0 g sugar, 0 g carbs
This seems like a no-brainer, but this Irish black tea has such a fractional amount of calories that it clocks in at zero. It seems tame, but it's still a festive way to celebrate St. Paddy's Day—and you can add in one ounce of Irish whiskey for a boozy treat!
Kelly's Traditional Hard Cider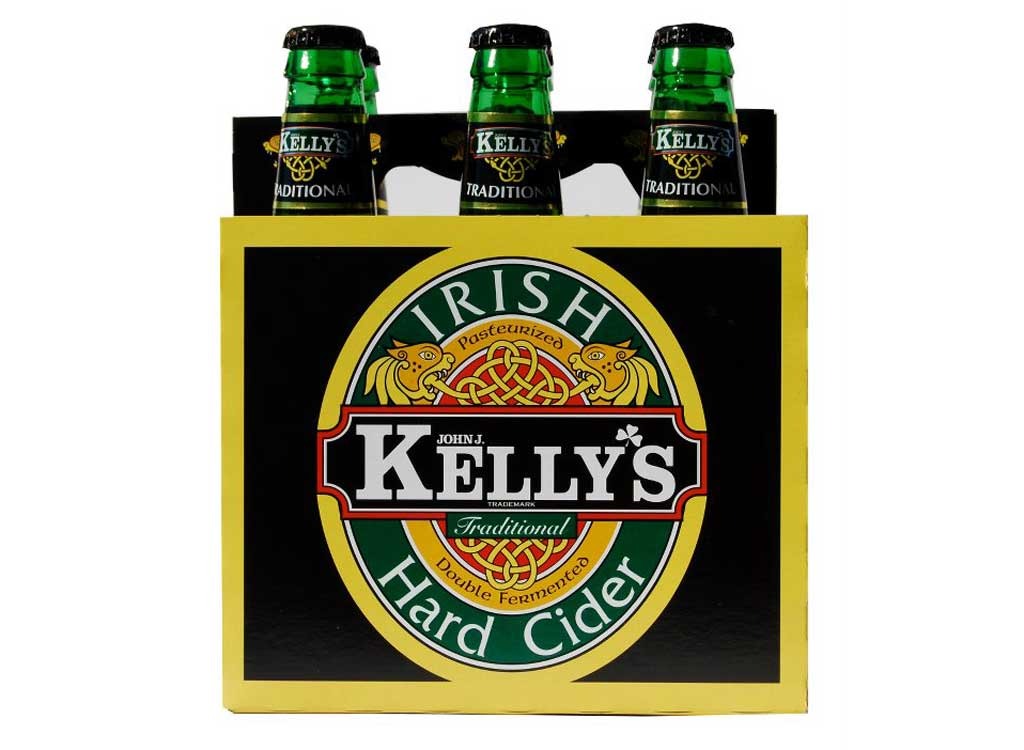 6254a4d1642c605c54bf1cab17d50f1e
Serving size: 12 ounces
Nutrition: 135 calories, 11 g carbs, 11 g sugar
Not all ciders are created equal; Kelly's has significantly fewer calories than its Irish cider counterparts. Just be wary of the sugar intake.
Shamrock Sugar Cookie Without Icing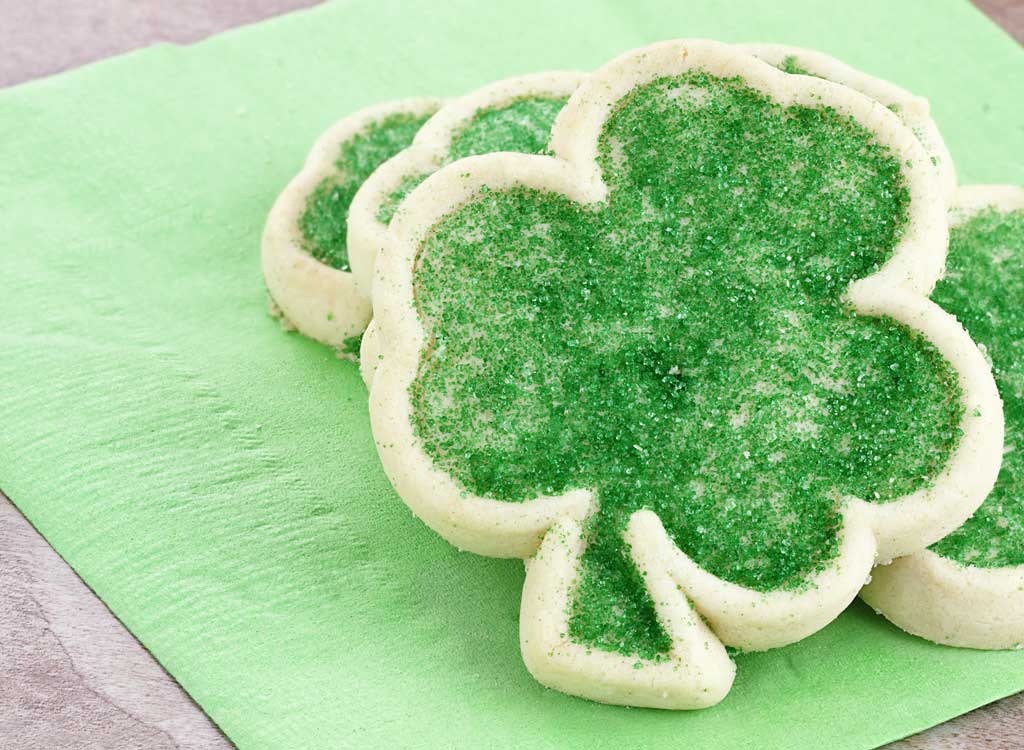 Serving size: 1 cookie
Nutrition: 113 calories, 5 g fat, 16 g carbs, 9 g sugar
If you're going to have something sweet, this is probably your best bet. One sugar cookie is much better than a piece of Irish coffee cake or Carrigaline whiskey pie. Opt for one covered in green sprinkles rather than green frosting, and try to have just one.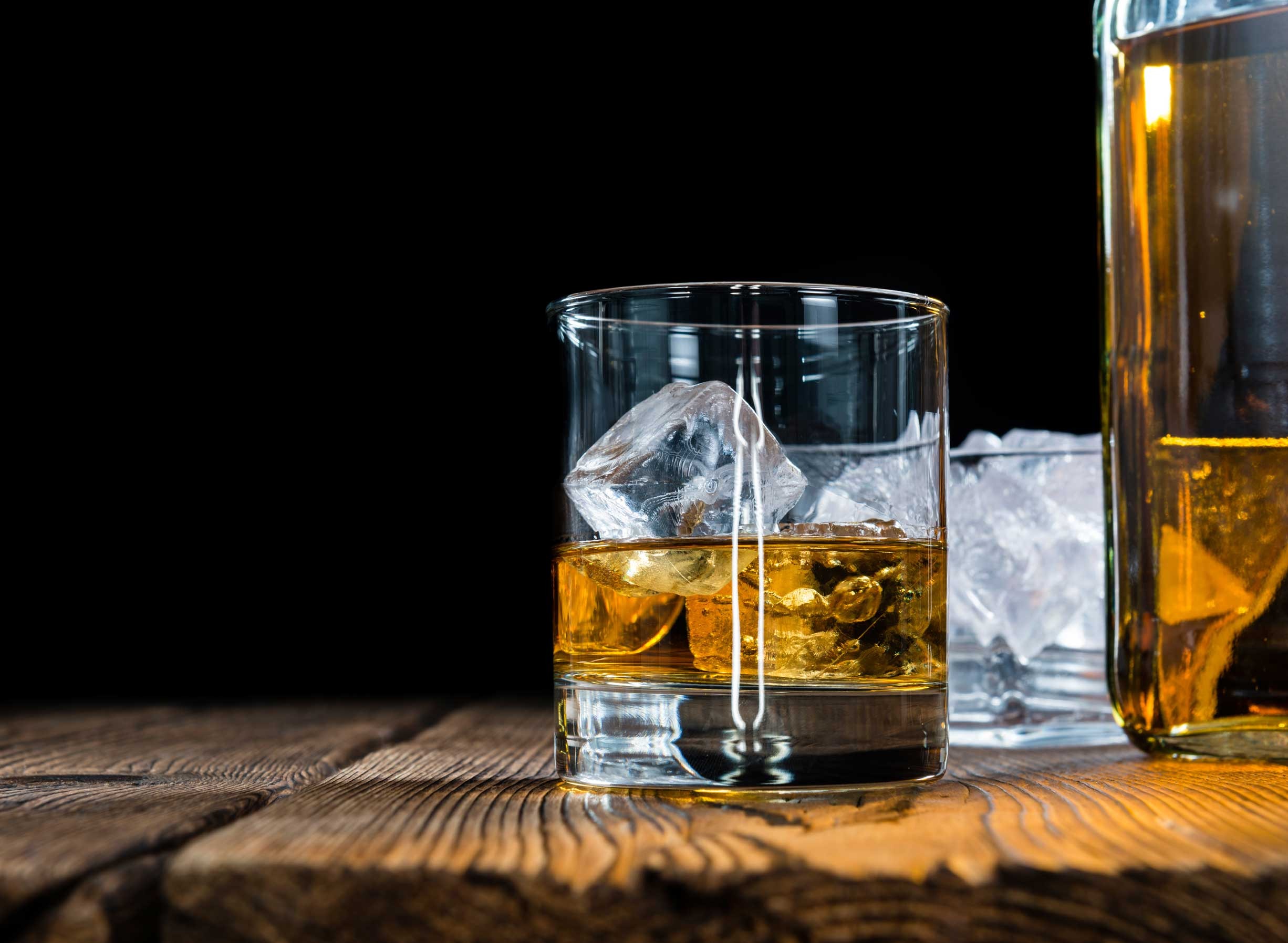 Serving size: 1 ounce
Nutrition: 69 calories
Of all the alcohol to celebrate with on St. Paddy's Day, Irish whiskey is one of your safest bets. At just 69 calories an ounce, enjoy it neat, over ice, or cut with water. Get sipping your way slim with our Eat This, Not That! for Drinkers guide!
More content from
Weight Loss