We Tasted 5 Chain Restaurants' Fries & These Are the Best
What's a meal without a side order of fries, right?
There are two food items I could eat every day and never get sick of—peanut butter and potatoes (respectively). You can blame the latter on my Irish roots. Growing up, almost every dinner involved spuds in some form. Mashed potatoes, smashed potatoes, roasted potatoes, and baked potatoes—I love them all. But, I'd be lying if I said all potatoes were created equally because they're not. This is especially true when it comes to French fries.
When it comes to French fries, size matters. So does shape (curly, shoelace, waffled, etc.) and seasoning (give me a shake of something more than salt and pepper, please). That's why chain restaurant fries have their own (varying) reputations—no two kitchens follow the same recipe and each restaurant puts its own spin on its signature spuds.
The question is, which chain restaurant is serving up the best side of fries?
We tasted five of the biggest chain restaurants' fries to find out. Here's how they ranked. (If you're in the mood for a burger with those fries, don't miss We Tasted 5 Chain Restaurant Burgers & This Is the Best)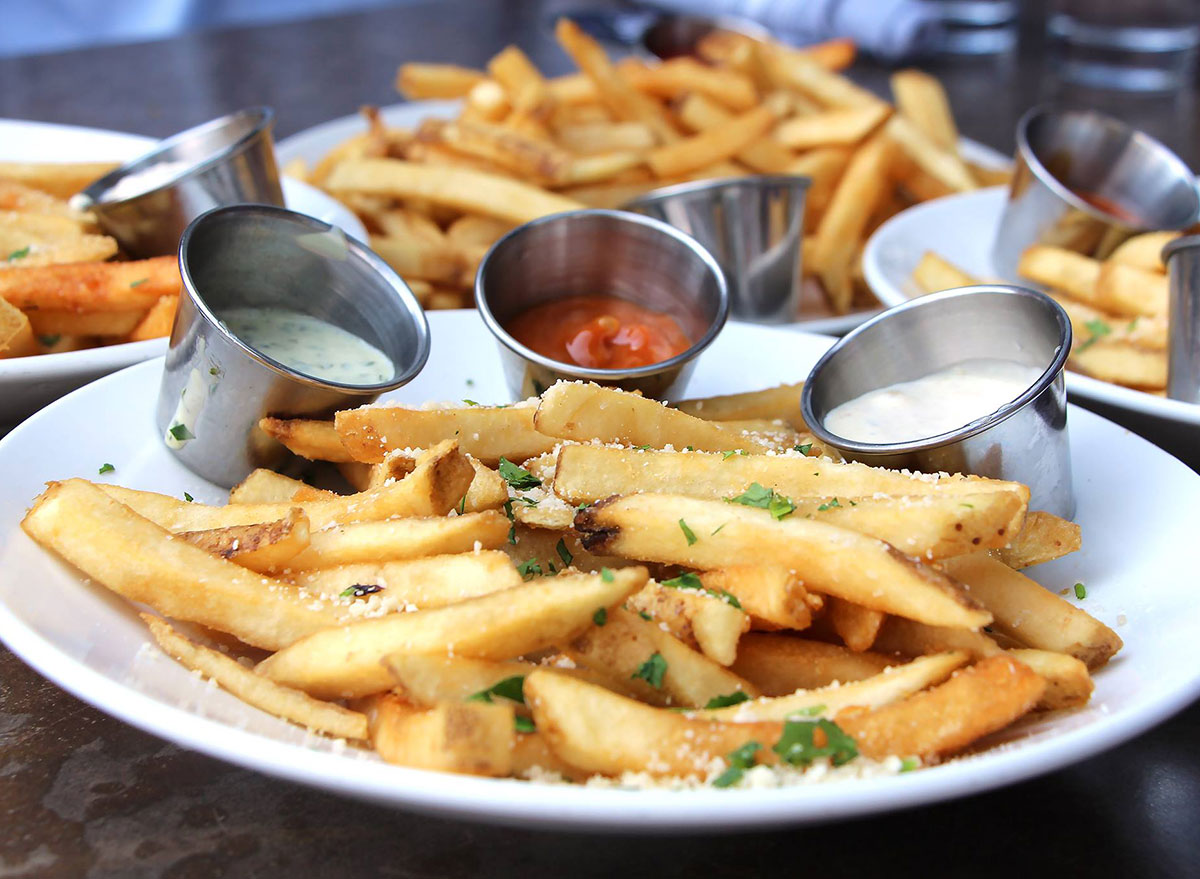 I am a lover of (mostly) all French fries for what it's worth, so ranking them from least to most satisfying was a challenge. That being said, Houlihan's was the clear choice for the last place on this list.6254a4d1642c605c54bf1cab17d50f1e
Houlihan's fries have a crunchy coating, so even the dampest, floppiest fry of the basket will offer a satisfying bite. However, these spuds give off a greasy taste. They didn't feel particularly greasy when I picked them up, but they did taste a little greasy and didn't leave me feeling great after eating a couple. They'll do as a side dish if you have a craving for fries, but they won't blow you (or your tastebuds) away. I didn't even get halfway through the (quite frankly, underwhelming) pile before quitting them.
Applebee's French Fry Basket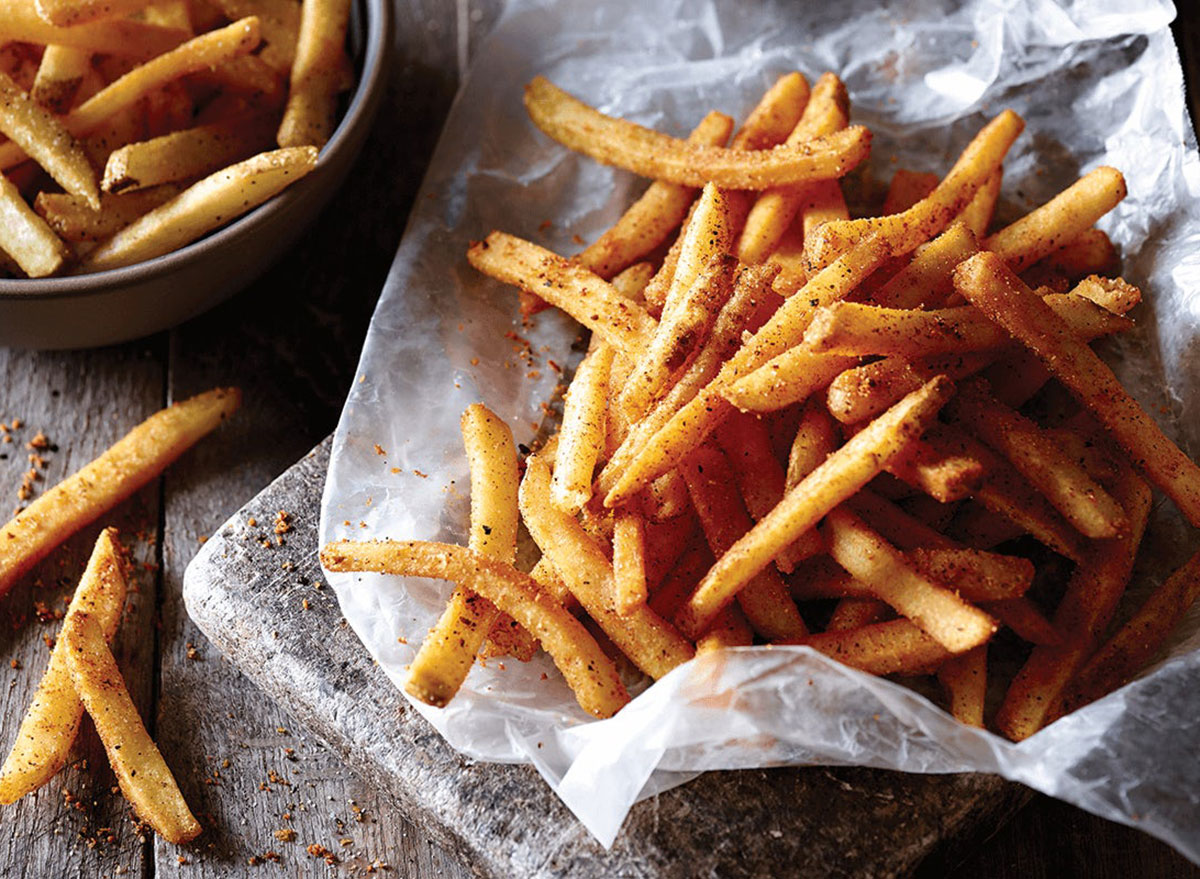 Quality-wise, Applebee's French fries are on the same level as the chain restaurant's classic cheeseburger. They're good, but they're not great. They're basic, only seasoned with salt and pepper (as far as I could tell), obviously made better with your dipping sauce of choice. To be honest, I only use them as a vehicle to consume Applebee's honey mustard sauce, which is one of the best honey mustard sauces I've sampled.
Bottom line: These are the French fries you order when you're looking to satisfy a simple craving. They'll meet your needs, but don't expect them to exceed expectations.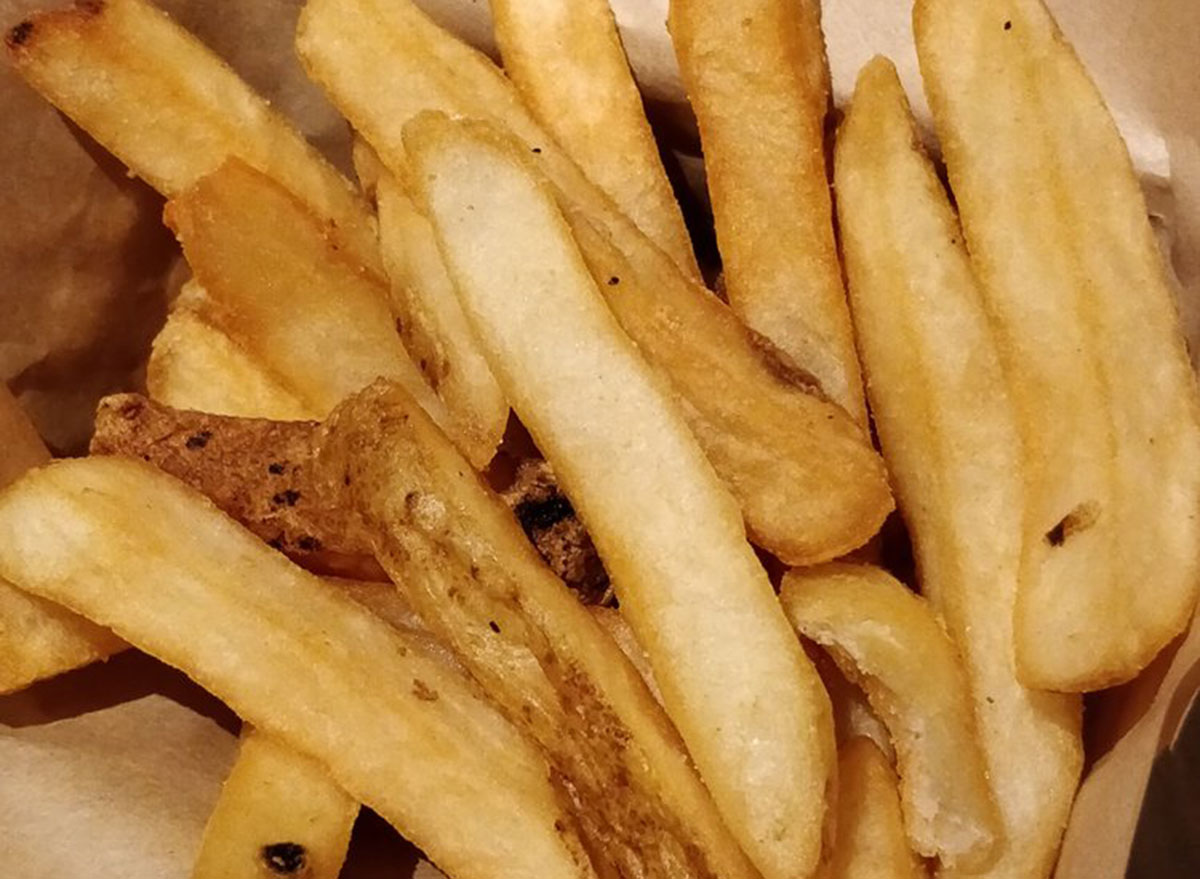 When Chili's fries come fresh out of the frier and onto your table (or into your to-go box), the spice is just right. Seasoned with a balanced salt and pepper ratio, these potatoes are pleasant to eat sans condiments—though, why you would skip a side of Chili's ranch, I don't know.
However, this chain restaurant's French fries are a bit on the drier side and definitely aren't as delicious once they've cooled down. Once I sank my teeth into the restaurant's piping hot corn on the cob, I kind of forgot about the fries and stopped eating them halfway through my meal.
Outback Steakhouse Aussie Fries
The Aussie fries from Outback Steakhouse are the starchy treat from down under none of us deserve. You can order them loaded with melted cheese and bacon bits, but a plain order of seasoned Aussie fries holds its own in terms of flavor.
Seasoned with salt, pepper, garlic powder, onion powder, and thyme, these are a rare breed of chain restaurant fries that don't need a drip of condiments. However, Outback's ranch dressing is top-shelf quality, so you'd be doing yourself a disservice if you didn't dip.
Buffalo Wild Wings Shareable French Fry Basket
The Buffalo Wild Wings Shareable French Fry Basket takes the number one spot by a landslide. While most fries are just something to pick on when you need a break from your entrée, the Buffalo Wild Wings fries feel very much a part of the meal and a vital one at that.
The wing hub's fries are uncomplicatedly seasoned with sea salt and coarse black pepper. They're thinly cut—but not as thinly as shoelace fries—and yet still pack a lot of flavor. I found myself mindlessly grazing on the bunch long after I was full. That's how you know they're good.
Read more about your favorite chain restaurants:
10 Secrets Buffalo Wild Wings Doesn't Want You to Know
We Tried 5 Chain Restaurants' Chicken Wings & These Are the Best