35+ Best Immune-Boosting Snacks
Boost that immune system with these nutrient-packed snack recipes!
When it comes to finding good immune-boosting snacks, it's all about choosing foods that are packed with nutrients—especially vitamin C. Fruits and vegetables are a great place to start, as well as nuts, seeds, eggs, and even fish. And while there are a lot of snacks on grocery store shelves that will tote healthiness and immune-boosting properties, nothing works better than a good ol' fruits and vegetables in your diet.
We looked through our list of recipes to determine some of the best immune-boosting snacks you can easily throw together at home. From smoothies packed with fruit, quick appetizers and bites mixed with vegetables, or even snacks you eat by the handful (trail mix, granola, you name it!), this list of immune-boosting snacks will keep your immune system high as you tackle the rest of the day ahead. And to keep feeling better, you're going to want to try these 21 Best Healthy Cooking Hacks of All Time.
Raspberry-Peach Swirled Smoothie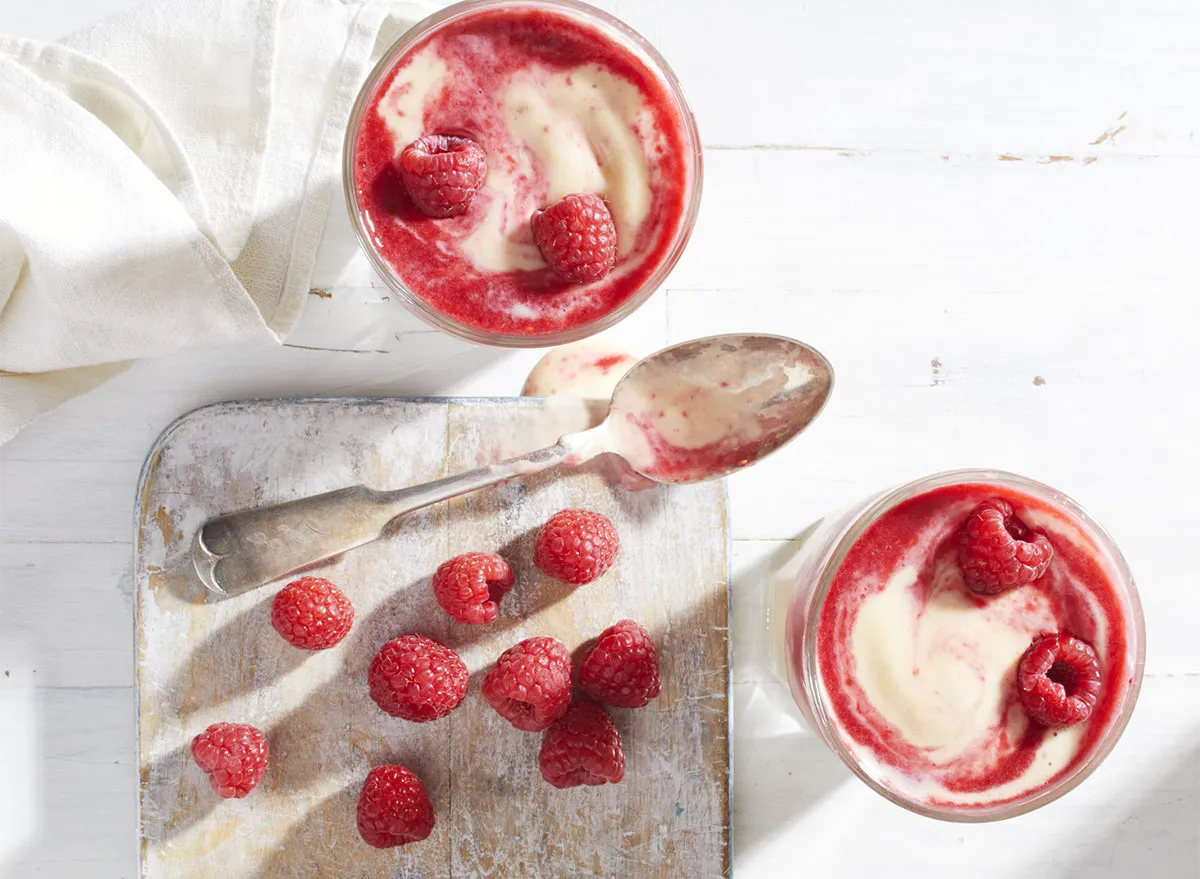 While this smoothie is a great way to kick off your morning, it can also serve as a delicious afternoon pick-me-up if you're looking for immune-boosting snacks to get you through the rest of the day.
Get our recipe for a Raspberry-Peach Swirled Smoothie. 
Oven-Roasted Shrimp Cocktail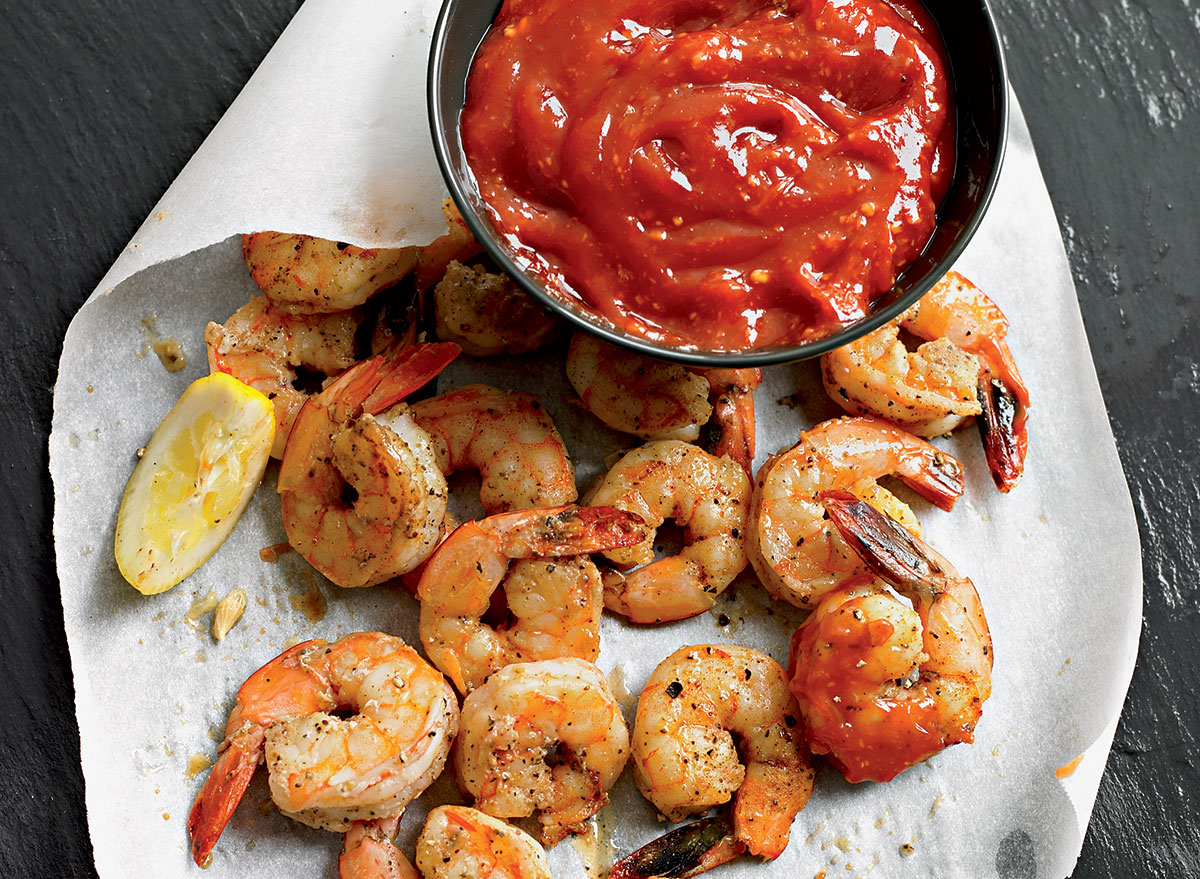 A shrimp cocktail is as decadent and fancy as it sounds, right? Well, if there's a better way to start a meal, we haven't found it. Plus, there are health benefits to this fanciful cocktail. Shrimp derives about 80% of its calories from protein, making it one of the leanest sources of the belly-filling, metabolism-revving macronutrient.
Get our recipe for Oven-Roasted Shrimp Cocktail. 
Homemade Cranberry-Orange Granola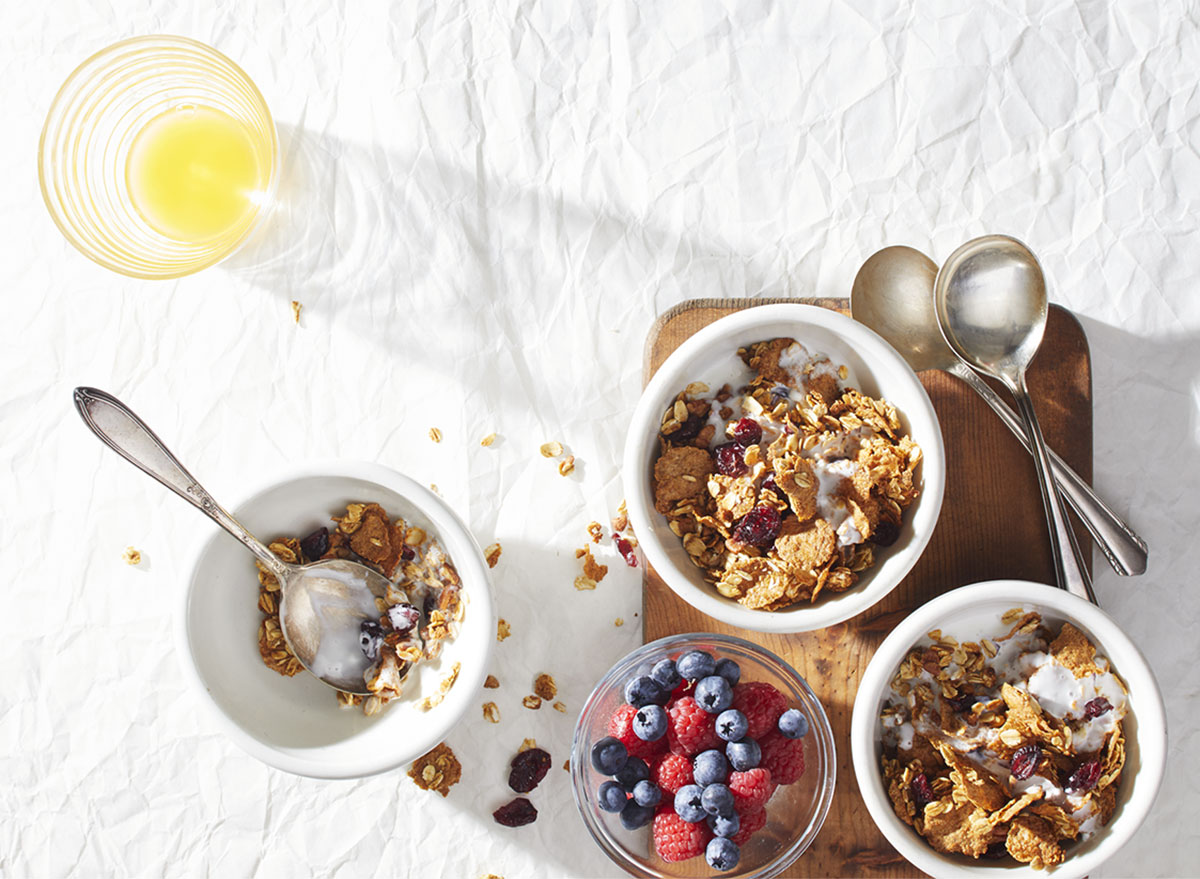 Top some of this homemade granola—which has a lot less sugar than the normal store-bought bag—and top on a small Greek yogurt. It's one of our favorite immune-boosting snacks.
Get our recipe for Homemade Cranberry-Orange Granola. 
Cinnamon Roll Overnight Oats
Why only save overnight oats for the morning? Overnight oats can serve as great immune-boosting snacks when you're looking for something filling to get you through until dinner.
Get our recipe for Cinnamon Roll Overnight Oats. 
Honey-Pecan-Cherry Granola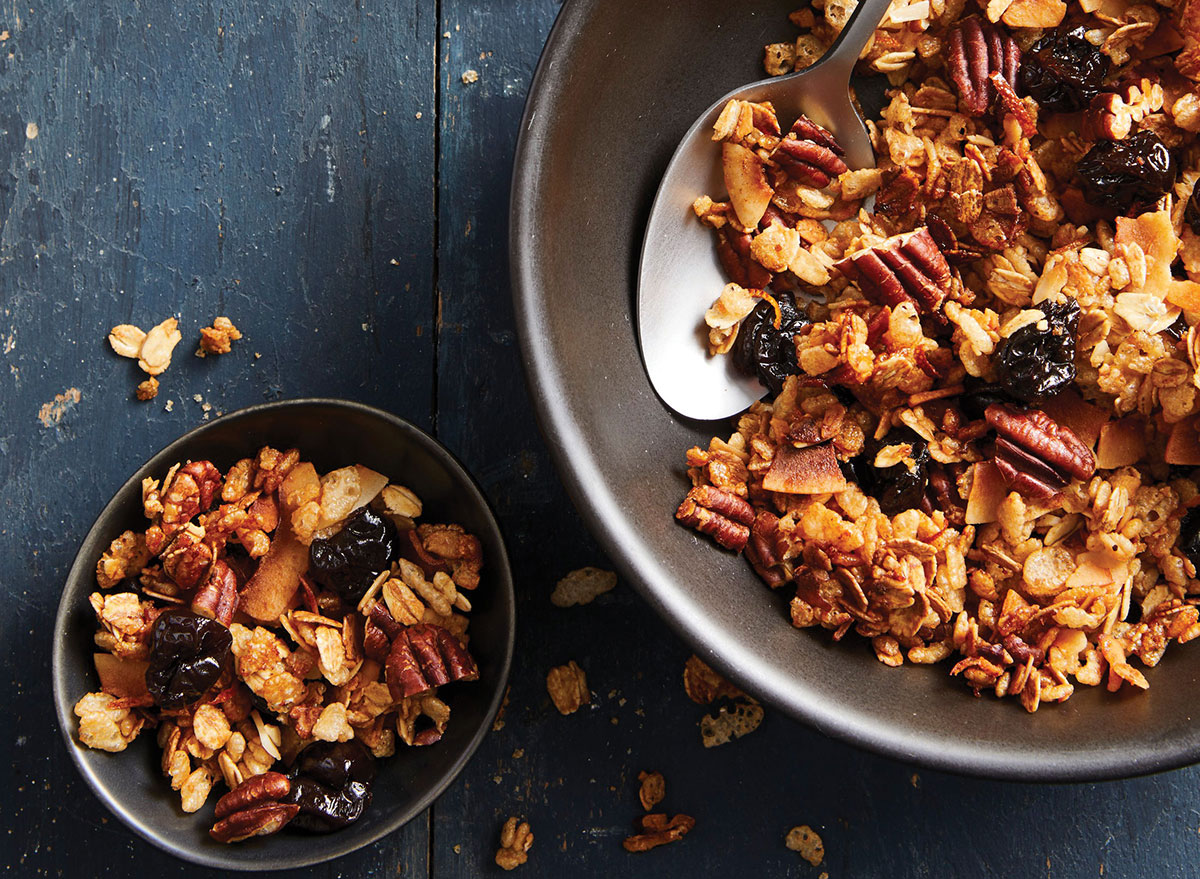 Whether you plan on sprinkling this on yogurt or simply enjoying by the handful, this honey-pecan-cherry granola recipe is jam-packed with healthy fats from the crunchy pecans, brain-boosting MCTs from the tropical coconut shreds, antibacterial properties from the honey, vitamin C from the tangy orange zest, and antioxidants coming from the tart cherries.
Get our recipe for Honey-Pecan-Cherry Granola. 
Shrimp and Mango Summer Roll
Not to be confused with the deep-fried, fatty spring roll, the original summer roll is a prime example of how a few healthy, relatively boring ingredients can be carefully coerced into something much greater than the sum of their parts. The combination of the perfect lean protein; shrimp, with tangy sweet mango, and a few crunchy strips of red pepper will make for seriously good eating!
Get our recipe for Shrimp and Mango Summer Rolls. 
Air Fryer Sesame Soy Garlic Chicken Wings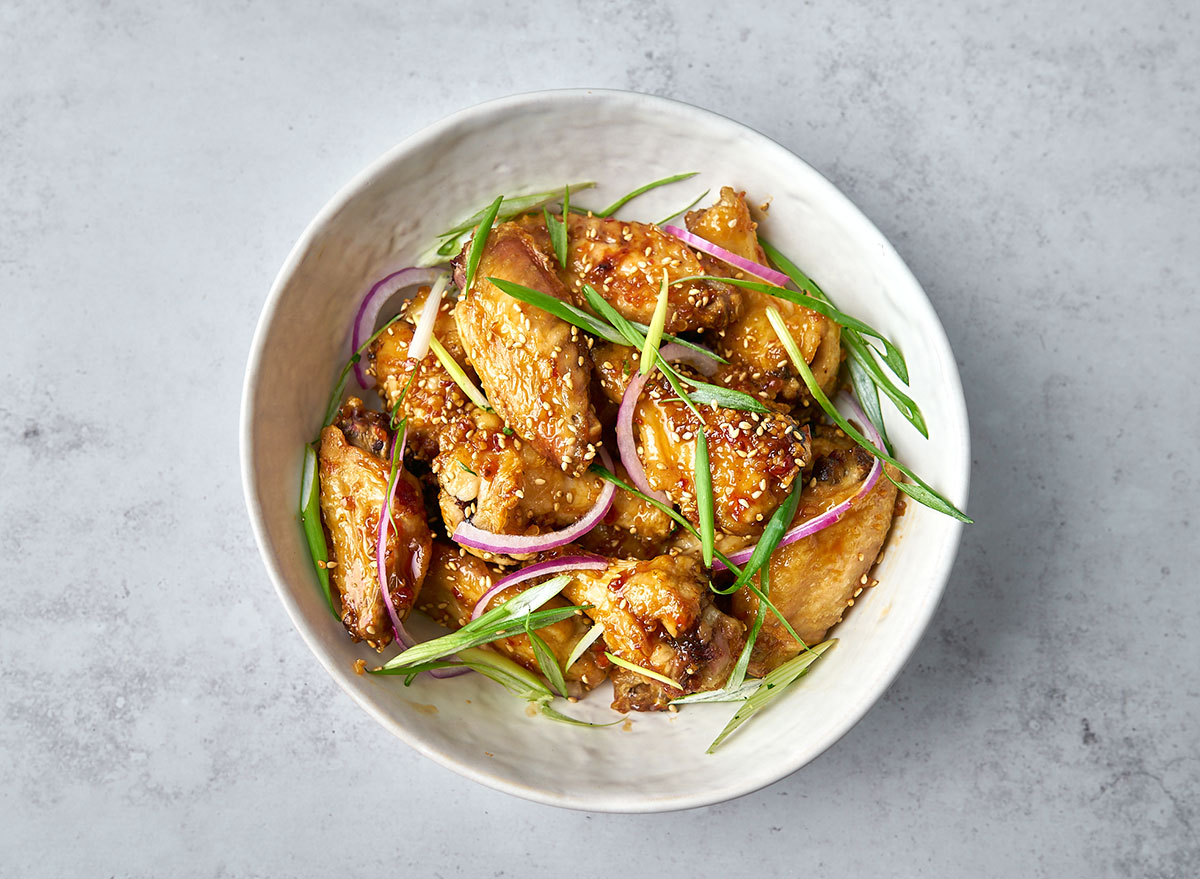 Chicken wings are the ultimate party food. Known for their deep fried exterior that can quickly fade to soggy plus their pairing with myriad of glazes and sauces, chicken wings are often messy and time-consuming to make at home. This recipe for air fried chicken wings makes a tender wing with a crisp exterior that holds up to a sesame soy garlic glaze. There's no batter, no vat of oil—just some crispy chicken tossed in a spicy sauce.
Get our recipe for Air Fryer Sesame Soy Garlic Chicken Wings.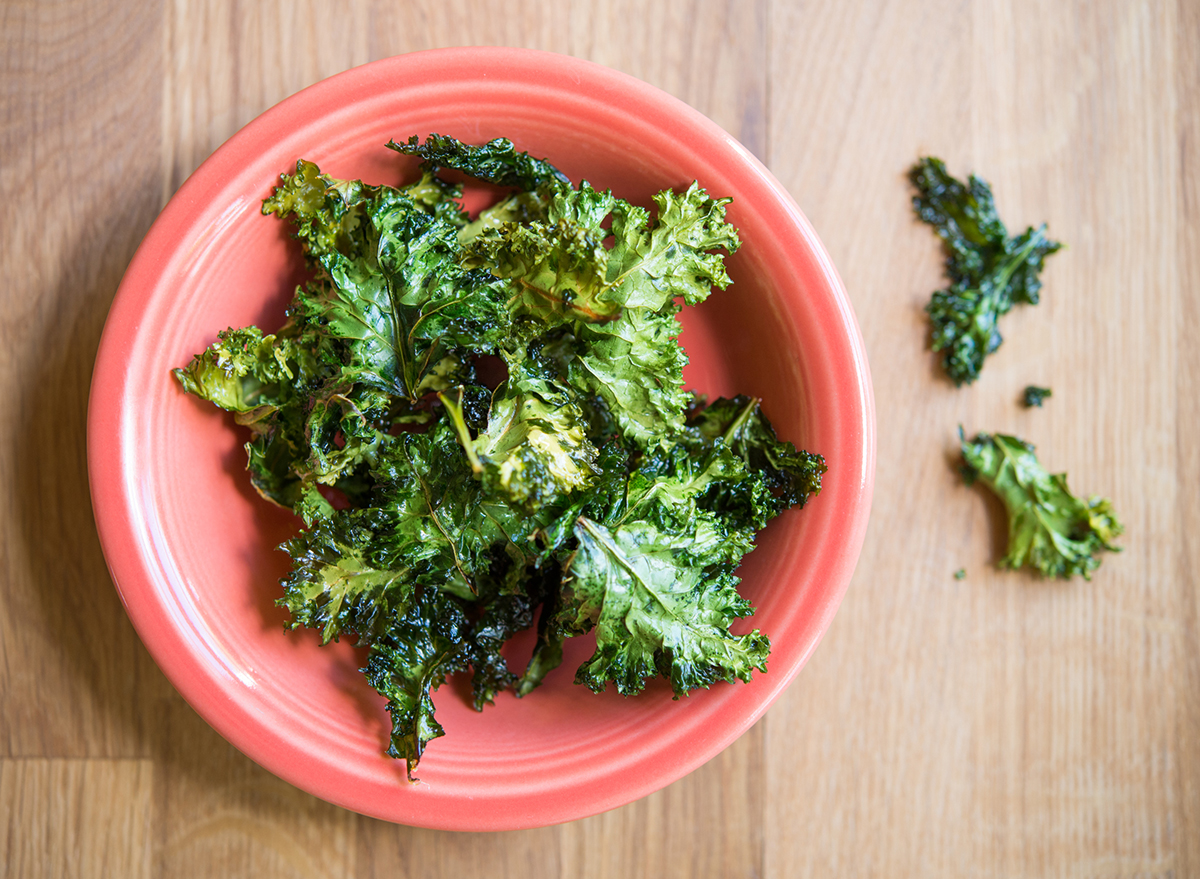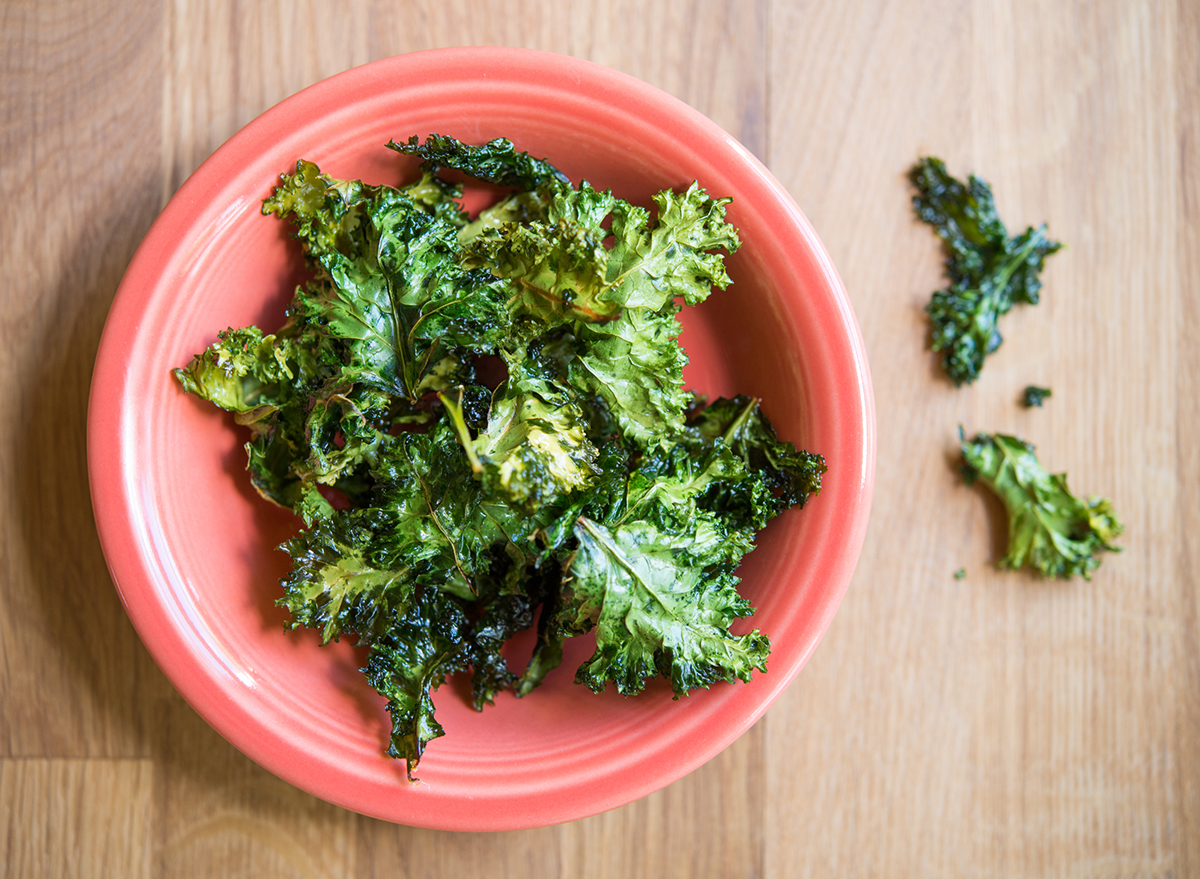 Pre-packed kale chips are growing in popularity, and though tasty, they can be expensive. Why fork over the extra money when you don't have to? You can easily make this healthy snack in the comfort of your own kitchen.
Get our recipe for Kale Chips. 
Nacho Cauliflower Tostadas
You can top these little cauliflower tostadas with whatever you're craving. Add some fresh avocado, some shredded barbecued chicken, or a dollop of salsa for a tasty appetizer. Not in the mood for Southwest flavors? Ditch the pepper Jack and Taco Seasoning and substitute Gruyère and chopped rosemary.
Get our recipe for Nacho Cauliflower Tostadas. 
Ranch-Flavored Veggie Chips
Veggie chips are one of those perfect foods to make in your air fryer. They'll crisp up to perfection without becoming soggy or drenched in oil. Plus, this is a great way to add more veggies to your diet when you're suddenly hit with a crunchy-salty craving. We've used zucchini, sweet potato, and beets for this recipe, but other root vegetables work, too. Then, simply add some ranch flavor and seasoning for a truly camouflaged healthy snack!
Get our recipe for Ranch-Flavored Veggie Chips. 
Air Fryer Lemon-Pepper Salmon Jerky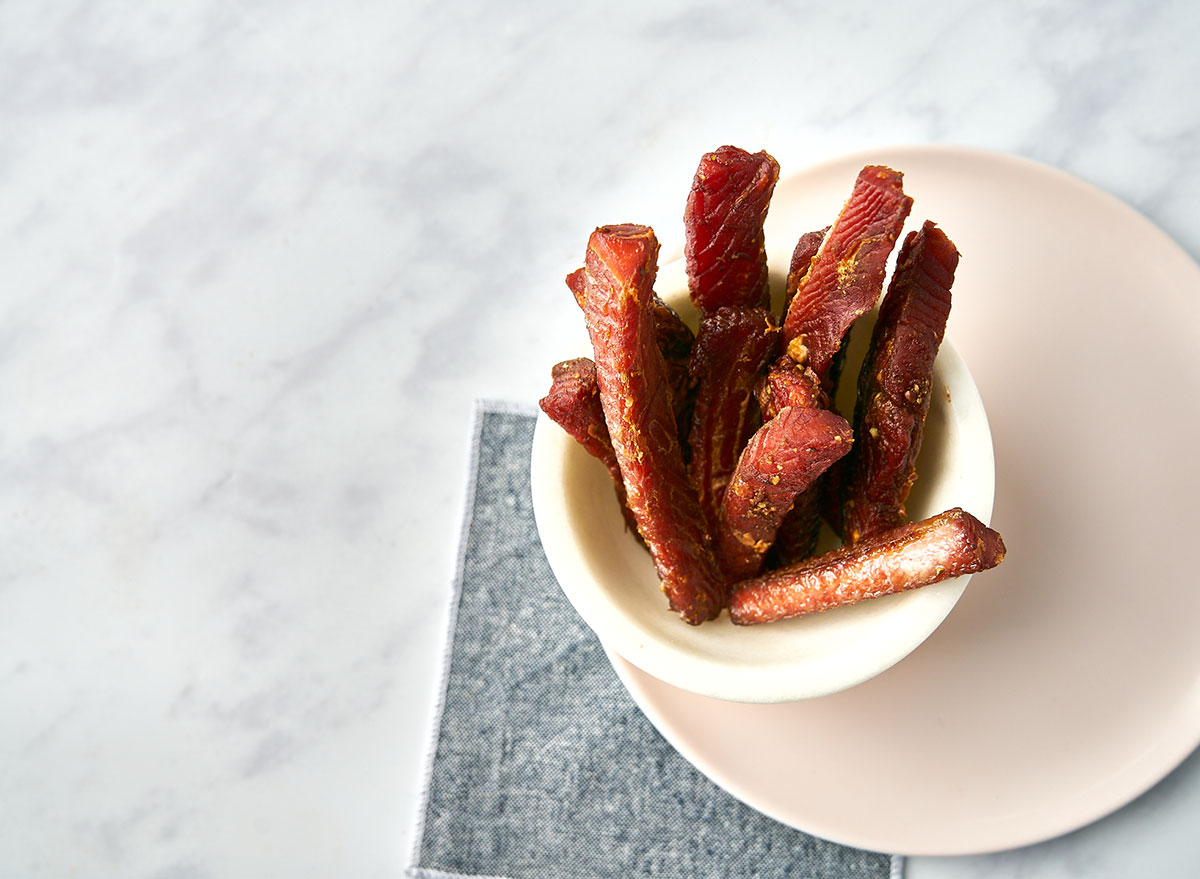 Having convenient, good-for-you snacks on hand is a healthy-eating must. One such snack is salmon jerky—a crispy, crunchy, dehydrated version of salmon meat that's high in fat and protein. The trick to making dry fish taste amazing is, of course, spicing it up. We're using things like soy sauce, lemon juice, sugar, and spices to make this the most craveable version of jerky you've ever tried.
Get our recipe for Air Fryer Lemon-Pepper Salmon Jerky. 
Sweet and Sour Crispy Cauliflower Bites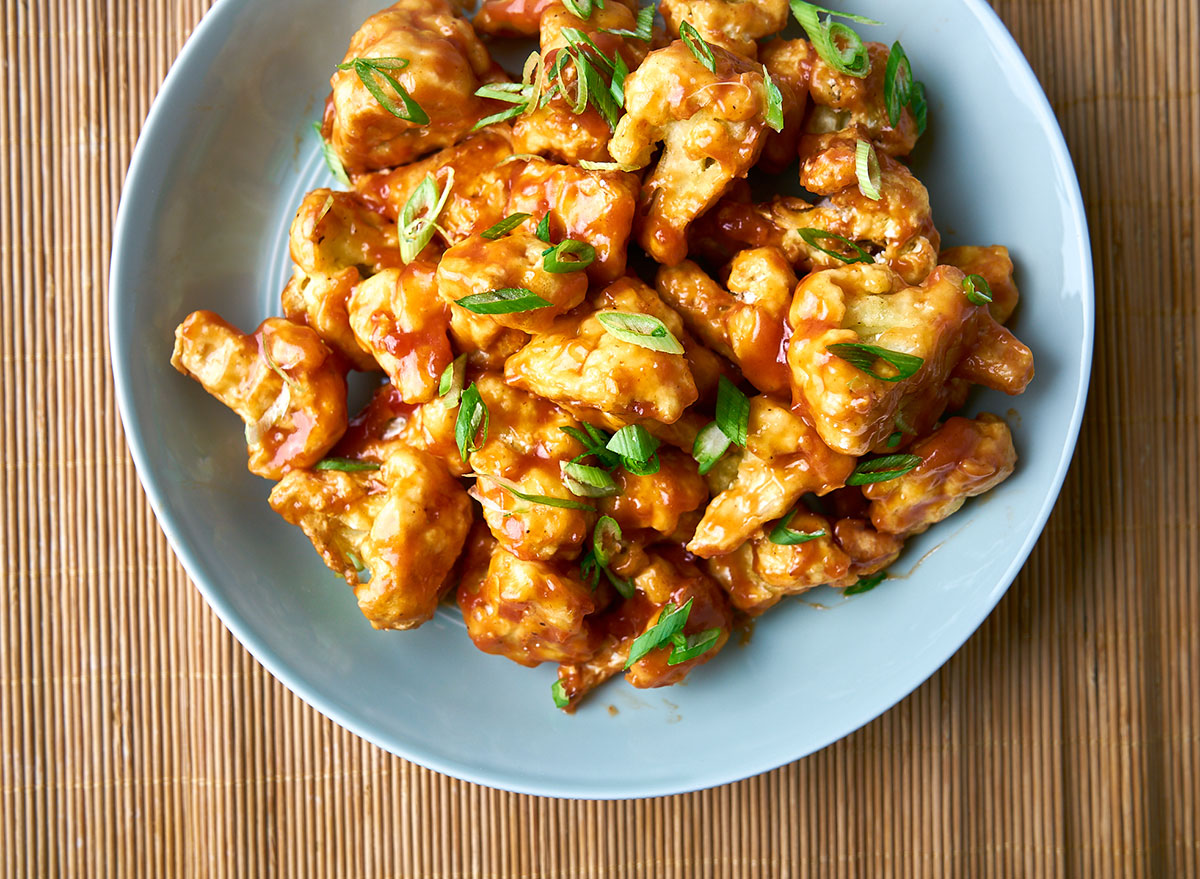 The florets will become even crunchier than normal in an air fryer, and tossing them in a Sriracha-soy sauce mixture will provide the craveable umami flavors of sweet and sour chicken. Not to mention, you'll be consuming fewer calories, less fat, and less sugar.
Get our recipe for Sweet and Sour Crispy Cauliflower Bites. 
No matter your dietary denomination, you're going to want to eat pizza. And keto dieters are no exception. Luckily, toppings like cheese and pepperoni are completely approved on keto. But what do you do about the rest of the components? That's where this keto pizza cups recipe comes in handy.
Get our recipe for Cheesy Keto Pizza Cups. 
Stuffed Jalapeños Fat Bomb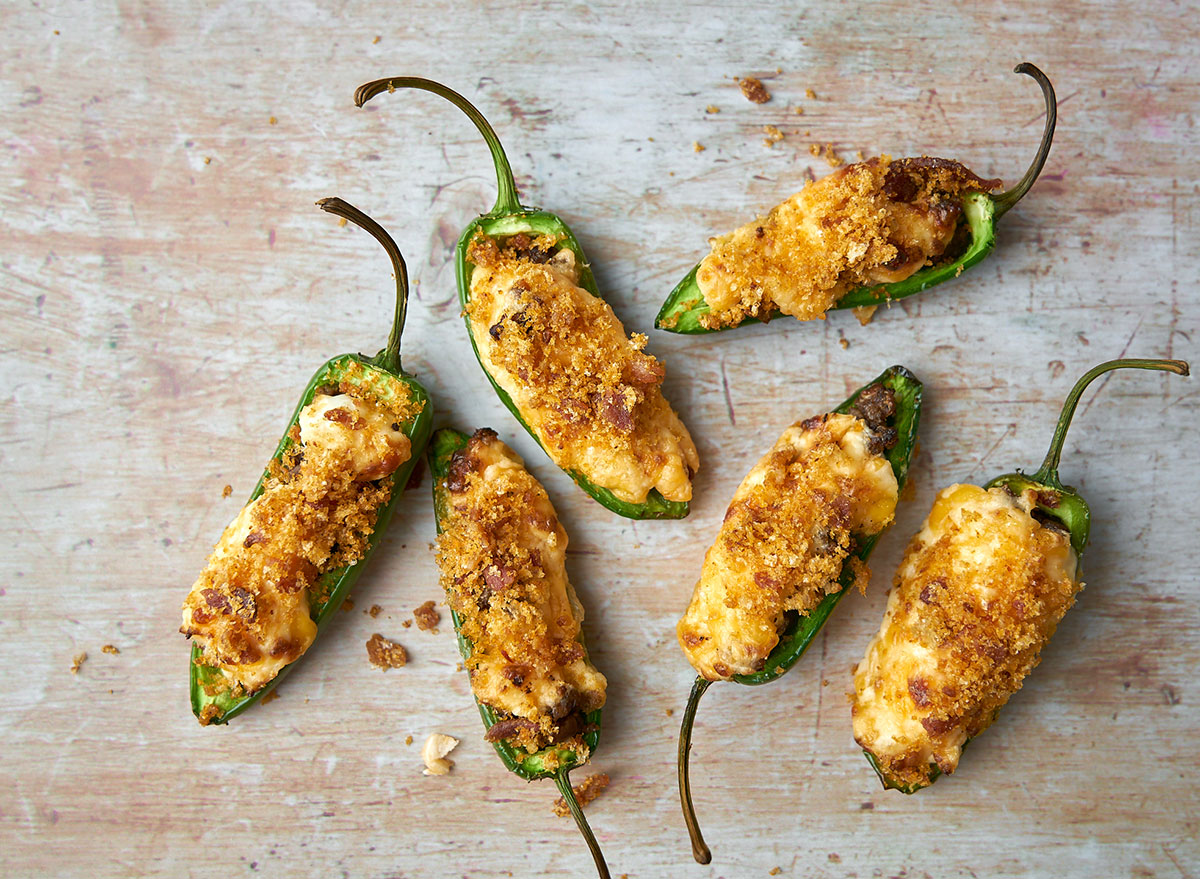 Jalapeño peppers are carb-conscious vegetables (about 1 gram of carbs per medium-sized pepper), so a keto version of jalapeño poppers is really a no-brainer. These are stuffed with ground beef and a full-fat, creamy cheese filling, then topped off with a combo of crispy bacon and pork rinds for extra flavor.
Get our recipe for Stuffed Jalapeños Fat Bomb.
BBQ Pork Dip with Pork Rinds
The dip is basically a keto take on a rilette, a meat spread usually made by cutting pork into small pieces and cooking it slowly with fat. To change up this recipe each time you make it, play with different spices—chipotle version or even a Chinese five spice spread would be equally excellent. Serve it as a keto snack or a keto appetizer.6254a4d1642c605c54bf1cab17d50f1e
Get our recipe for BBQ Pork Dip with Pork Rinds. 
Rich in antioxidants, specifically polyphenols, matcha is known for its potential to help protect against heart disease. While many love the green color matcha lends to food and beverages, its strong taste can be a deterrent. By pairing it with honey and mint, this smoothie is a great way for beginners to add matcha to your morning.
Get our recipe for Matcha Mint Smoothie. 
Strawberries with Mascarpone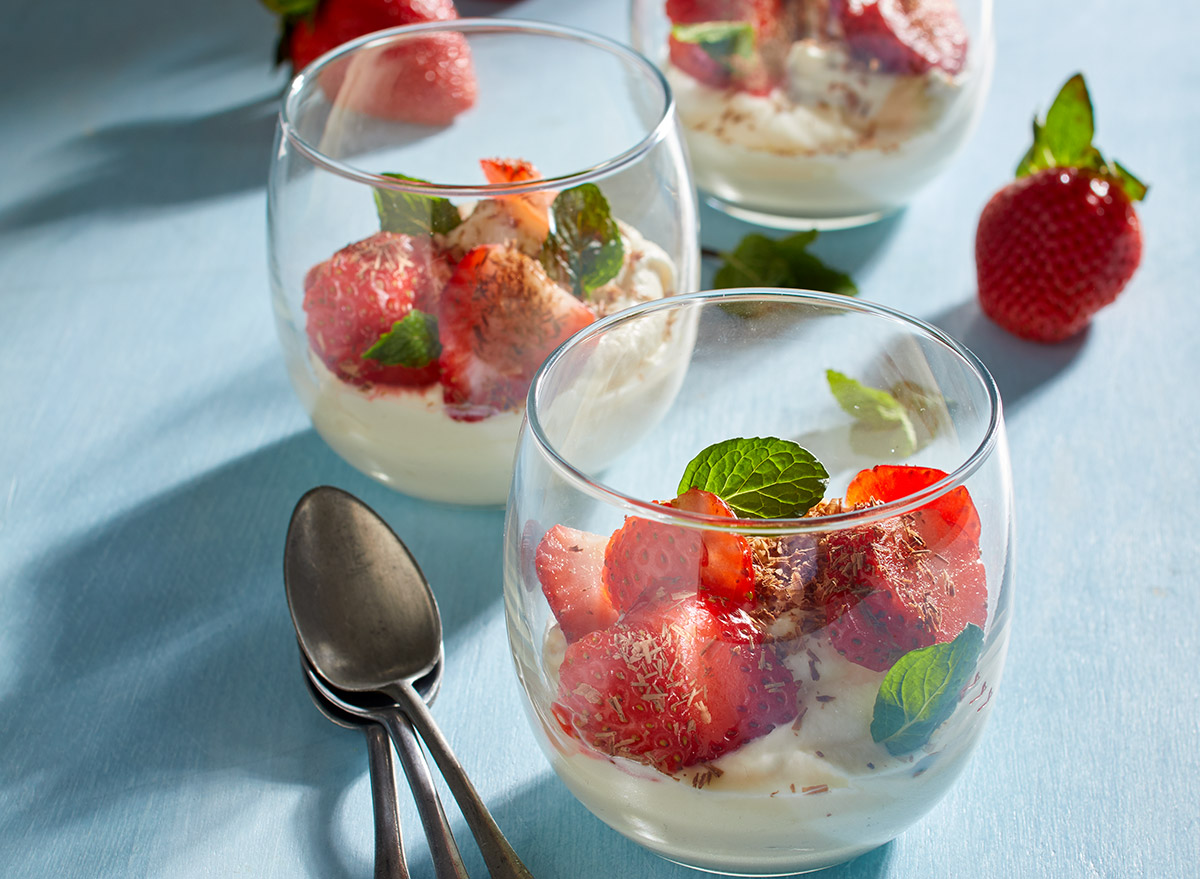 We already know and love strawberries with whipped cream, but try adding mascarpone to the mix for a delicious Italian twist. Classic whipped cream benefits from the creaminess, lightness, and the subtle tangy finish of mascarpone (the tanginess comes from the citric acid used to thicken this dessert-destined cream cheese.)
Get our recipe for Strawberries with Mascarpone. 
Everything Cream Cheese Cucumbers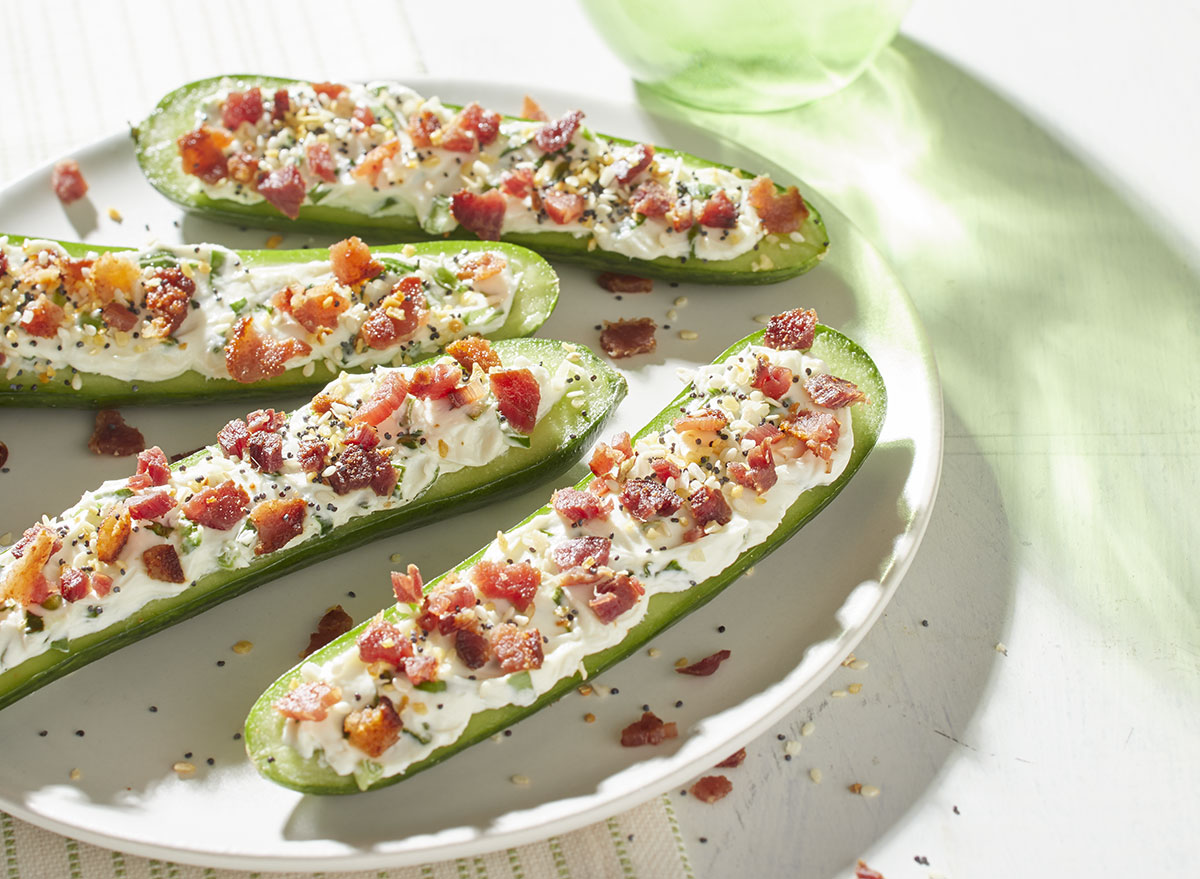 These simple additions turn the cucumber-cream cheese "boats" from your youth into something sophisticated enough to serve at something like high tea (think of them like tea sandwiches, but reimagined into a low-carb bite). This recipe makes two servings, so you can store half in an airtight storage container and save for later.
Get our recipe for Everything Cream Cheese Cucumbers. 
Avocado Crispbreads with Everything Bagel Seasoning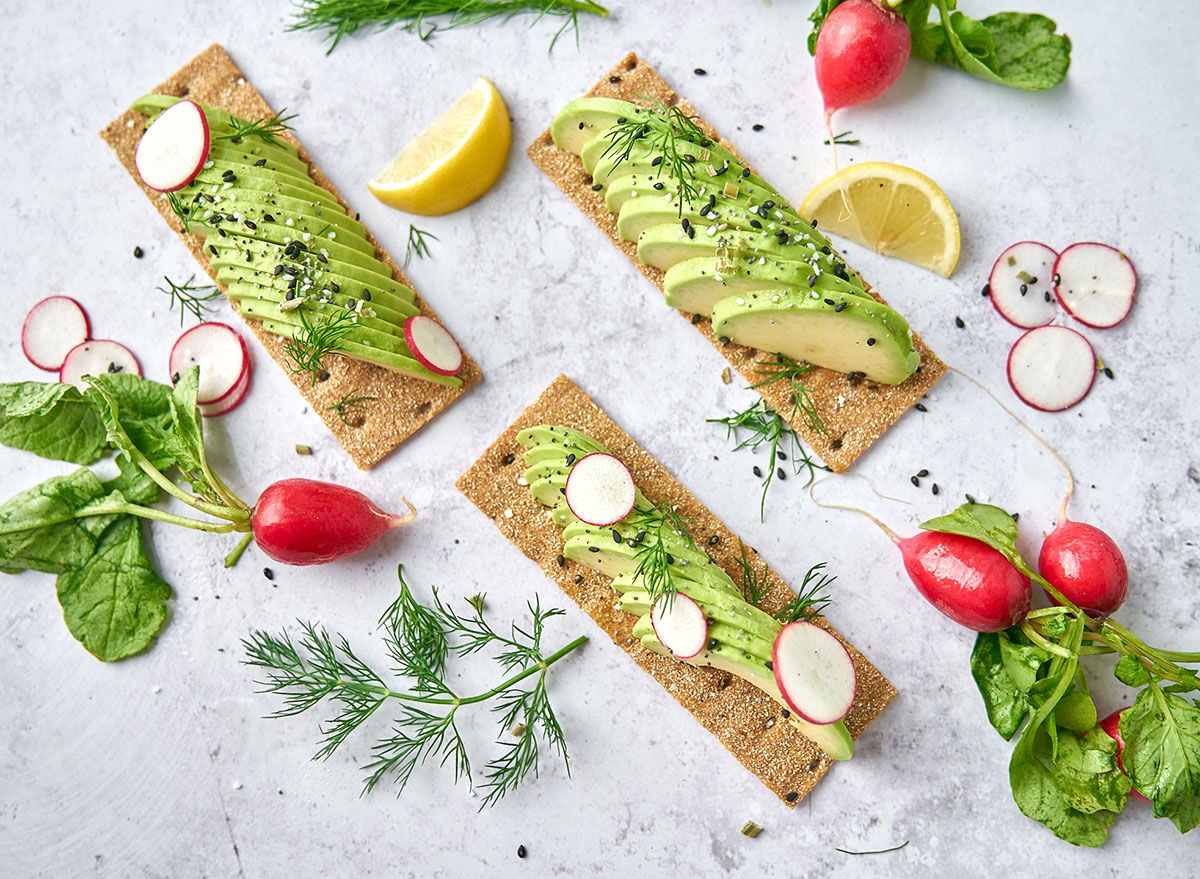 Crispbreads hold up to the avocado and don't get soggy, which is very important in an avocado toast. These crackers are made from whole grain rye flour, water, salt, and yeast, and provide a nice crispy contrast to bright toppings that are bagel-inspired. Add fresh lemon, dill, radish slices, and everything bagel seasoning for major flavor impact that's still low in calories.
Get our recipe for Avocado Crispbreads with Everything Bagel Seasoning.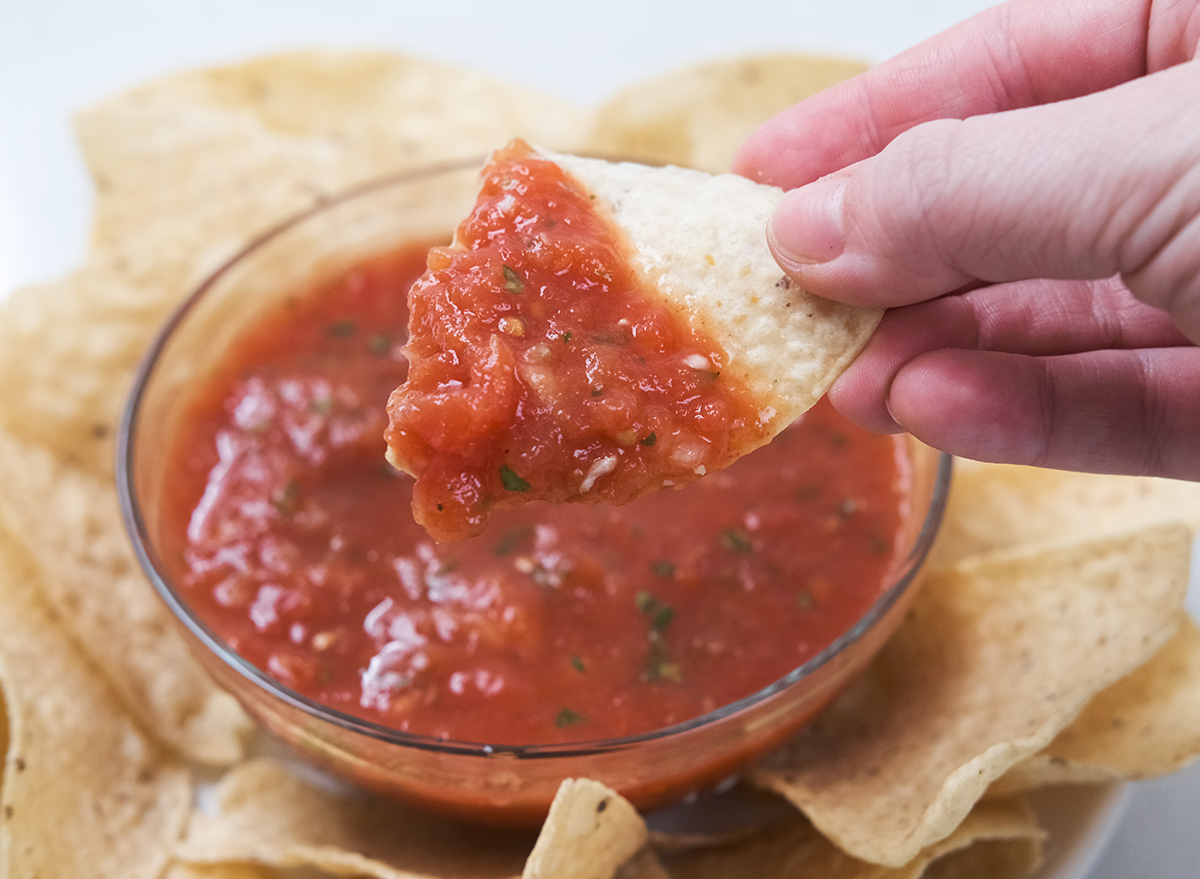 If you prefer a spicier salsa, you could always roast a different pepper instead of a jalapeño. Roast a habanero for extra spiciness, or roast up a few jalapeño peppers instead of just one. Don't like spicy food? Use only half of the jalapeño in the food processor to simply add the flavor without too much spice.
Get our recipe for Salsa. 
Hasselback Kielbasa Recipe with Three Dipping Sauces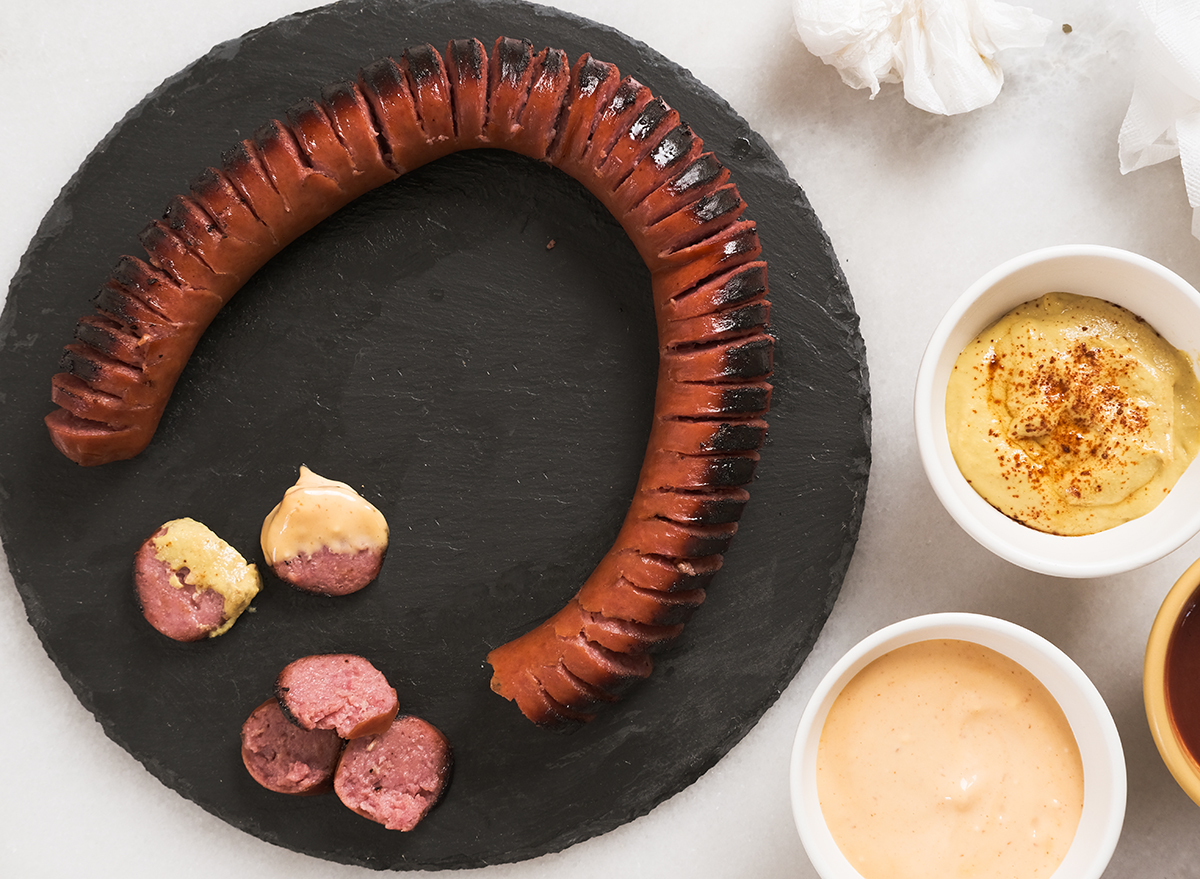 By simply using a cast-iron skillet and a generous helping of butter, our charred version of the Hasselback kielbasa came out juicy and crispy—perfect for ripping and dipping. After giving it a try, we decided it was something we had to share with our readers.
Get our recipe for Hasselback Kielbasa Recipe with Three Dipping Sauces. 
BBQ-Flavored Double Roasted Pistachios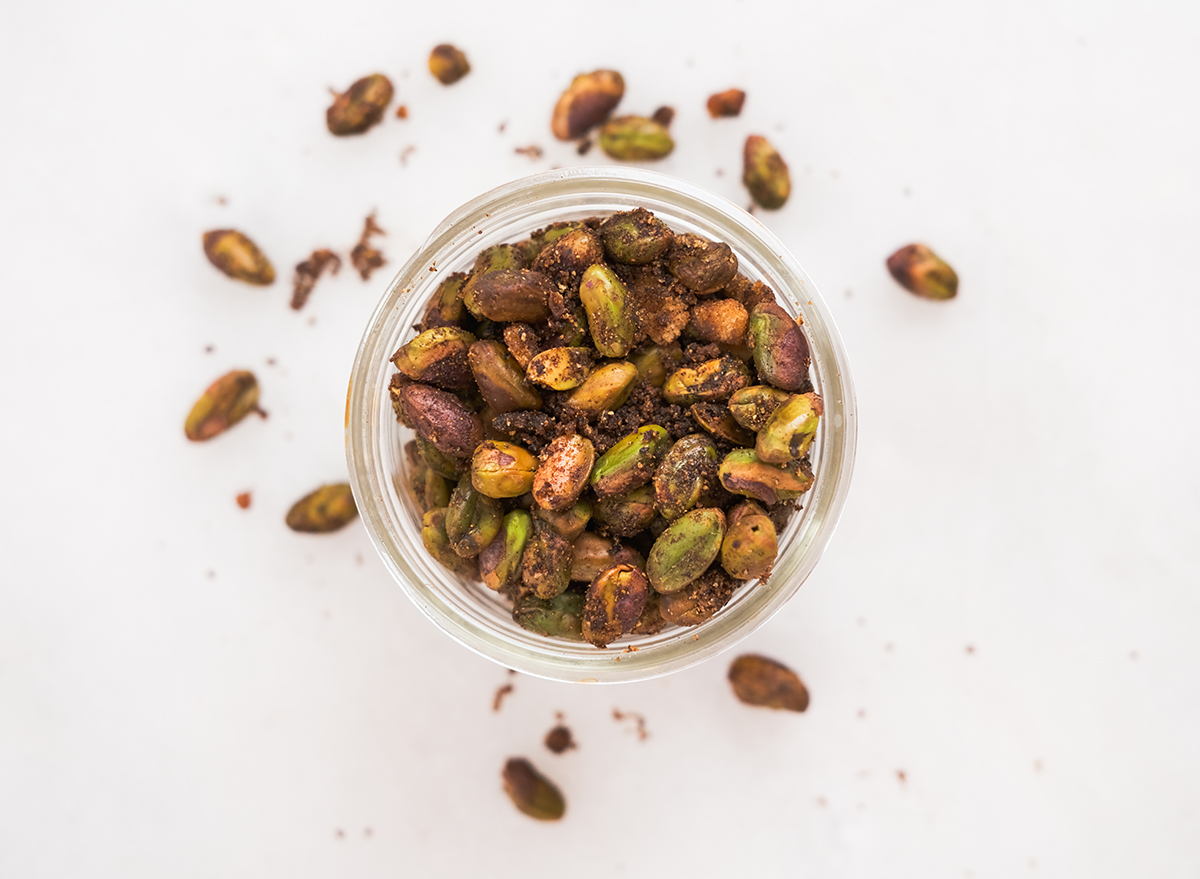 Between the brown sugar and the salty pistachios, this salty-sweet snack will be an easy crowd-pleaser for any kind of event. Watching the big game? Having a movie night? These BBQ-flavored double roasted pistachios are great to have on the table.
Get our recipe for BBQ-Flavored Double Roasted Pistachios. 
Pumpkin Ravioli with Pesto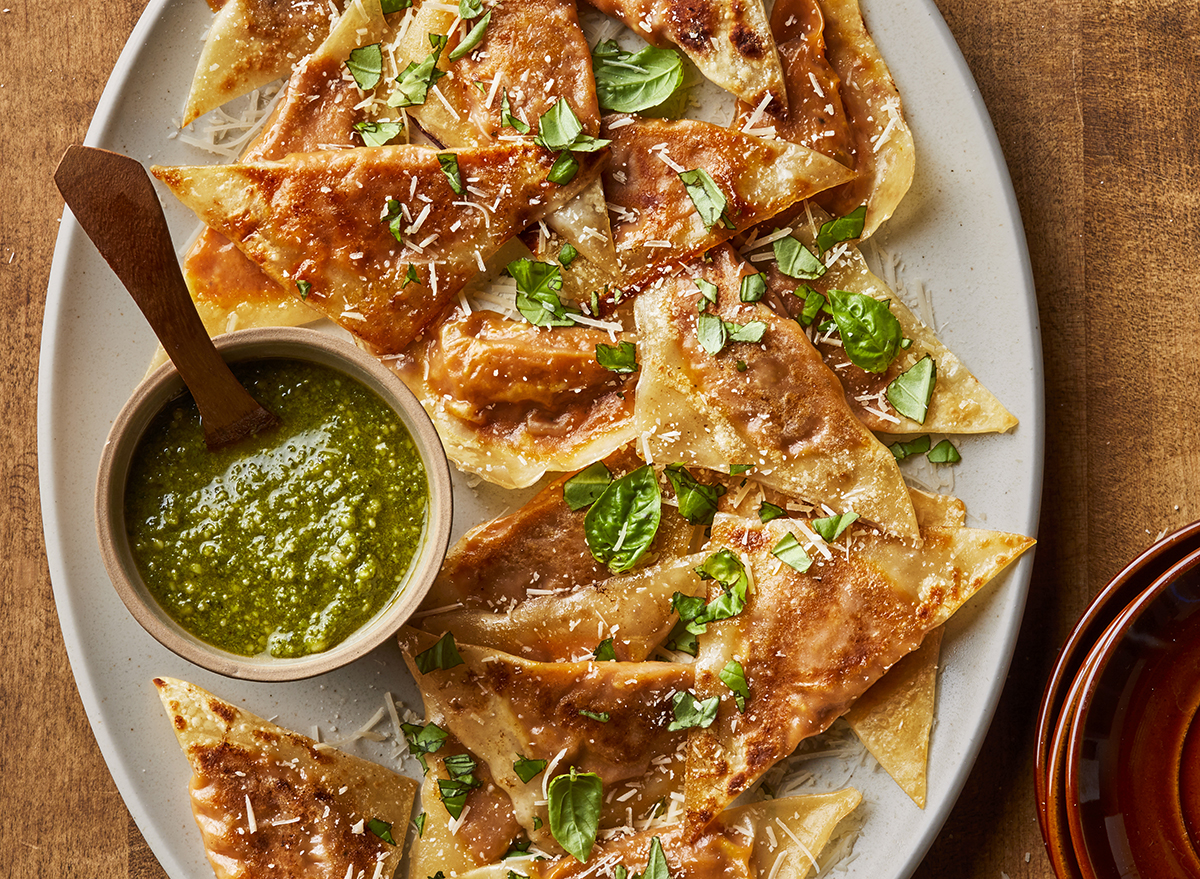 Is there anything that says fall has arrived more than an array of pumpkin-flavored food and drinks? Well, how about combining the delicious flavor of pumpkin with another classic comfort food, ravioli? That's what we did here with this pumpkin ravioli recipe that perfectly pairs with an easy homemade pesto sauce.
Get our recipe for Pumpkin Ravioli with Pesto. 
Quick Teriyaki Scallops Wrapped in Bacon
his recipe is also only a few ingredients, ones you might not think go well together, but the subtlety of the scallops is the perfect protein to pair with the complex bite of the teriyaki, and let's be real, what doesn't taste great wrapped in bacon?
Get our recipe for Quick Teriyaki Scallops Wrapped in Bacon. 
Snickerdoodle Protein Mini Muffins
Make the most of your muffins! Muffins always seem too sweet of a treat to enjoy in the morning—especially because most of the muffins you find in bakeries or on grocery shelves are loaded with sugar. Instead, enjoy these snickerdoodle mini muffins that are naturally sweetened with dates and pumped with plant-based protein!
Get our recipe for Snickerdoodle Protein Mini Muffins.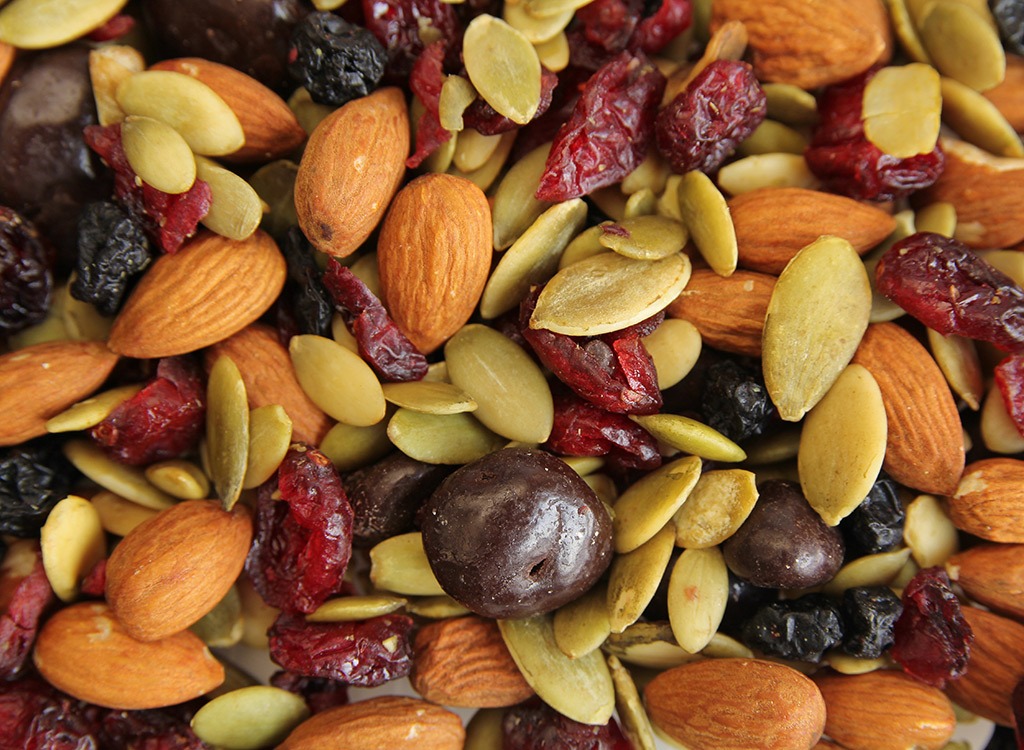 Here's the truth about the fat found in almonds, walnuts, pecans, and other nuts: It's as healthy—or healthier—than anything else in your diet. It fills your belly better than any other snack on the planet while decreasing your risks of cardiovascular disease and diabetes, smoothing your skin, pumping you full of antioxidants, and helping you lose weight.
Get our recipe for Trail Mix.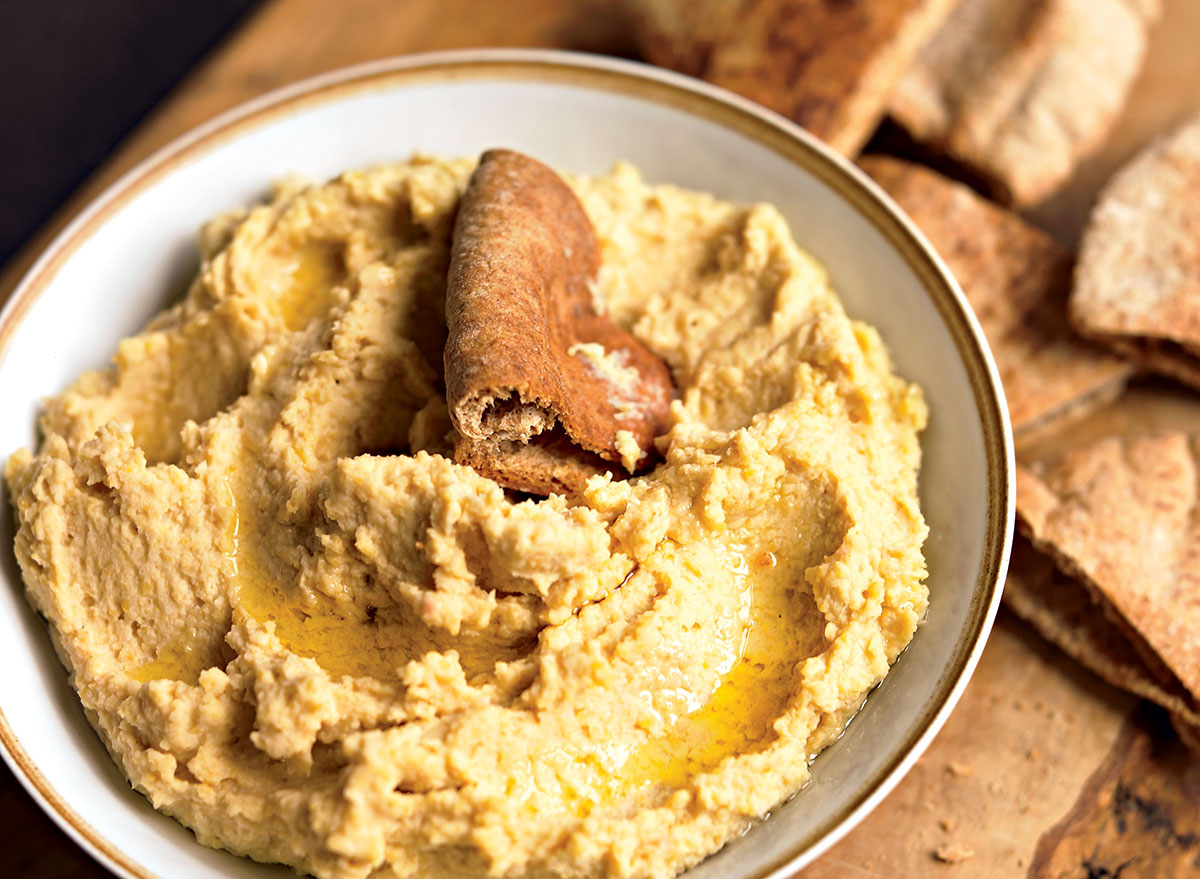 The store-bought stuff can be fine, but it can't touch the homemade hummus recipe you can make in your food processor with a few cloves of garlic, a few cans of chickpeas, drops of olive oil, and of course; a few flicks of the wrist. Plus, hummus is one of those great, basic recipes you can swap a lot of great options in the place of chickpeas and make a whole new flavor of hummus.
Get our recipe for Homemade Hummus.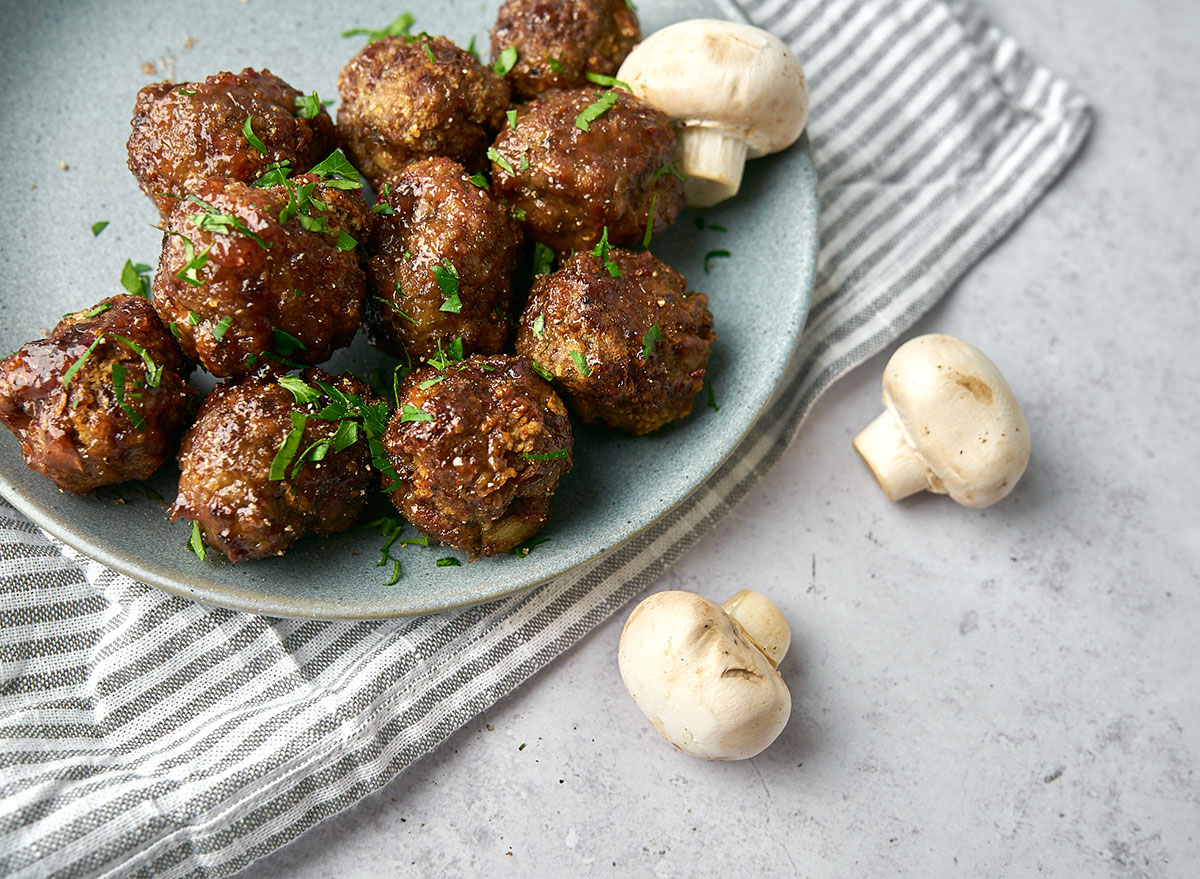 How do you make meatballs that hold their shape without feeling dense and dry? These air fryer meatballs are lightly crisp on the outside and tender on the inside. For a healthier option, finely chopped white mushrooms are blended with ground meat to reduce calories and fat content. Enjoy a few of these for an easy high-protein snack in the afternoon!
Get our recipe for Air Fryer Meatballs. 
Smoky Deviled Eggs With Bacon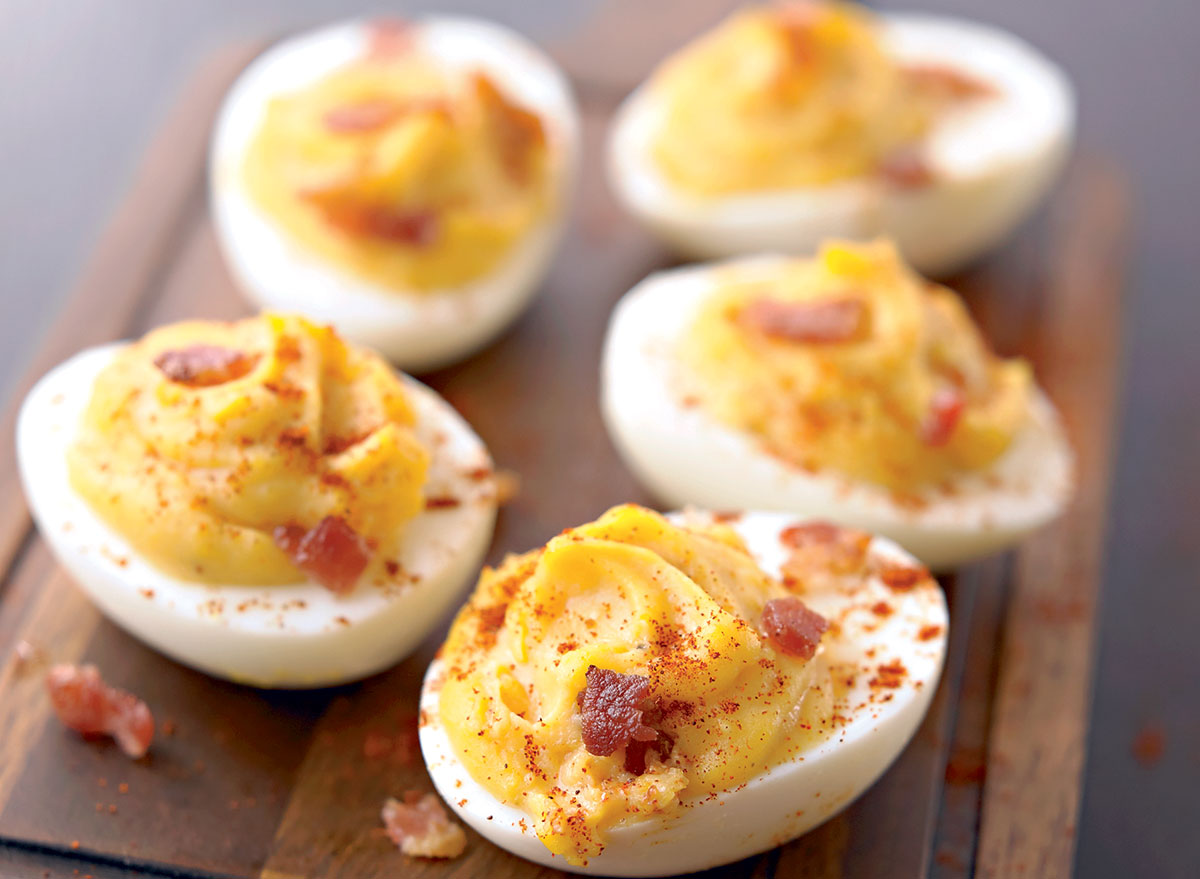 Yes, a deviled eggs recipe is not perhaps the healthiest of ways you can eat an egg (if you're looking for the healthiest, we would go to boiling or poaching instead), but in terms of snacks and finger food and satisfying cravings in between meals, this Southern specialty is one of the healthier choices you can make. And as you know (or as you will see once you make this amazing deviled eggs recipe), the dish is hard to beat!
Get our recipe for Smoky Deviled Eggs with Bacon.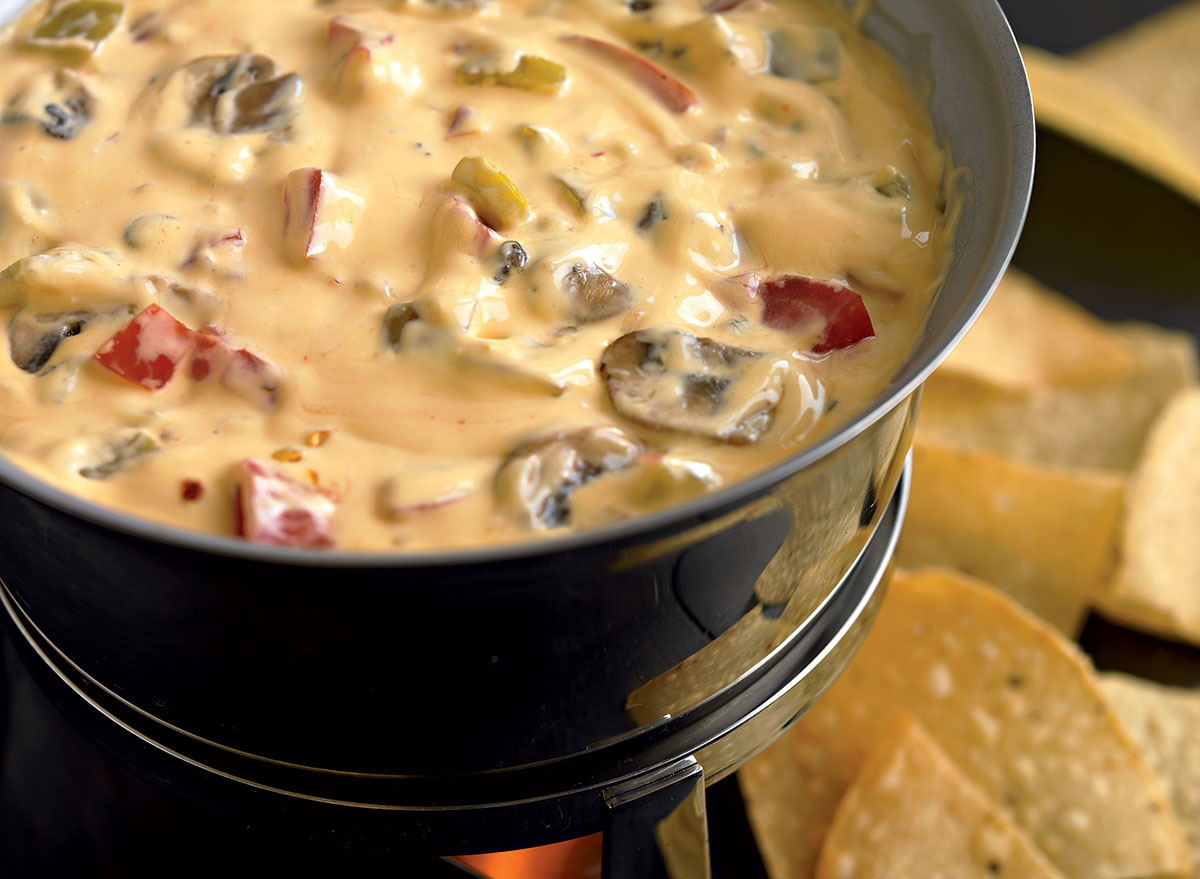 We took inspiration from industrious Mexican cooks, who stretch a bit of cheese into a larger dish by bolstering it with healthy vegetables such as tomatoes, mushrooms, onions, and chiles. In a miraculous turn of events, queso fundido is not just better for you, but it's a lot more satisfying to eat, too.
Get our recipe for Queso Fundido.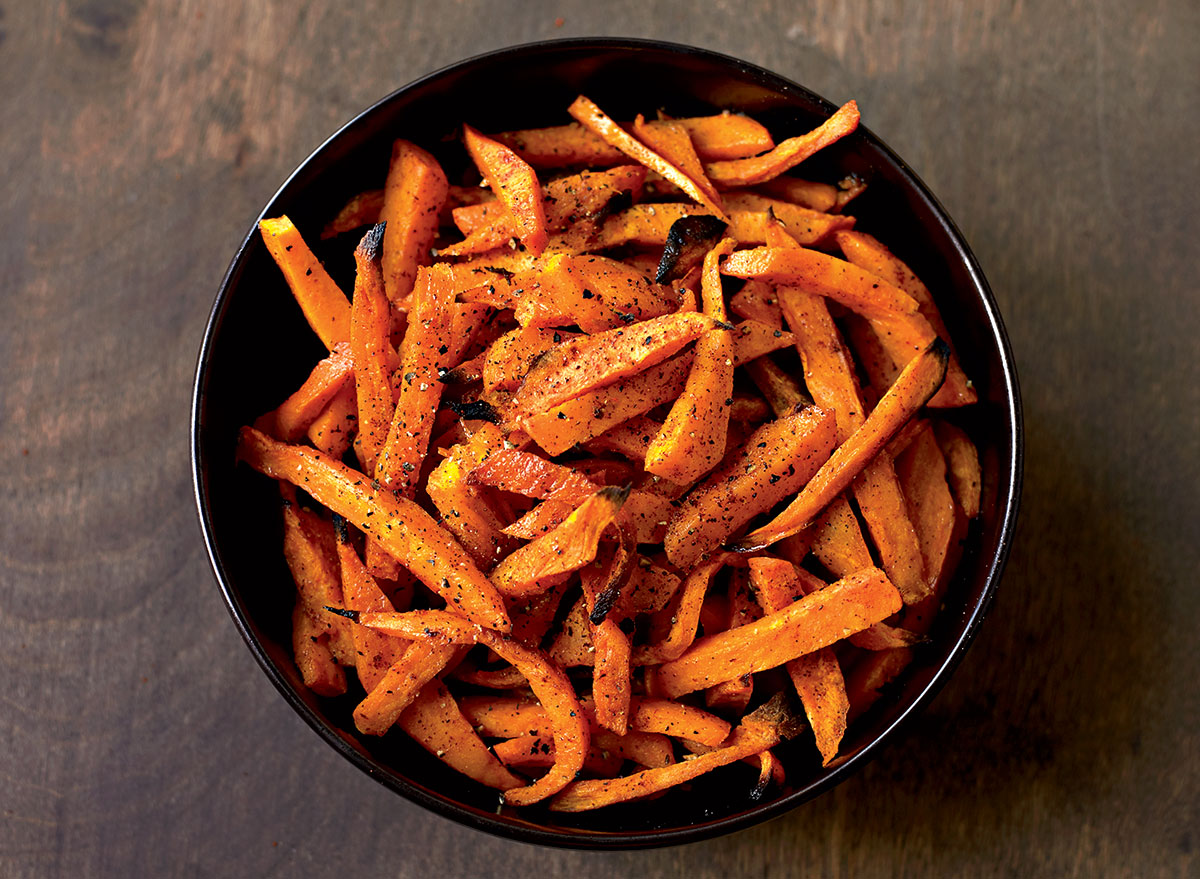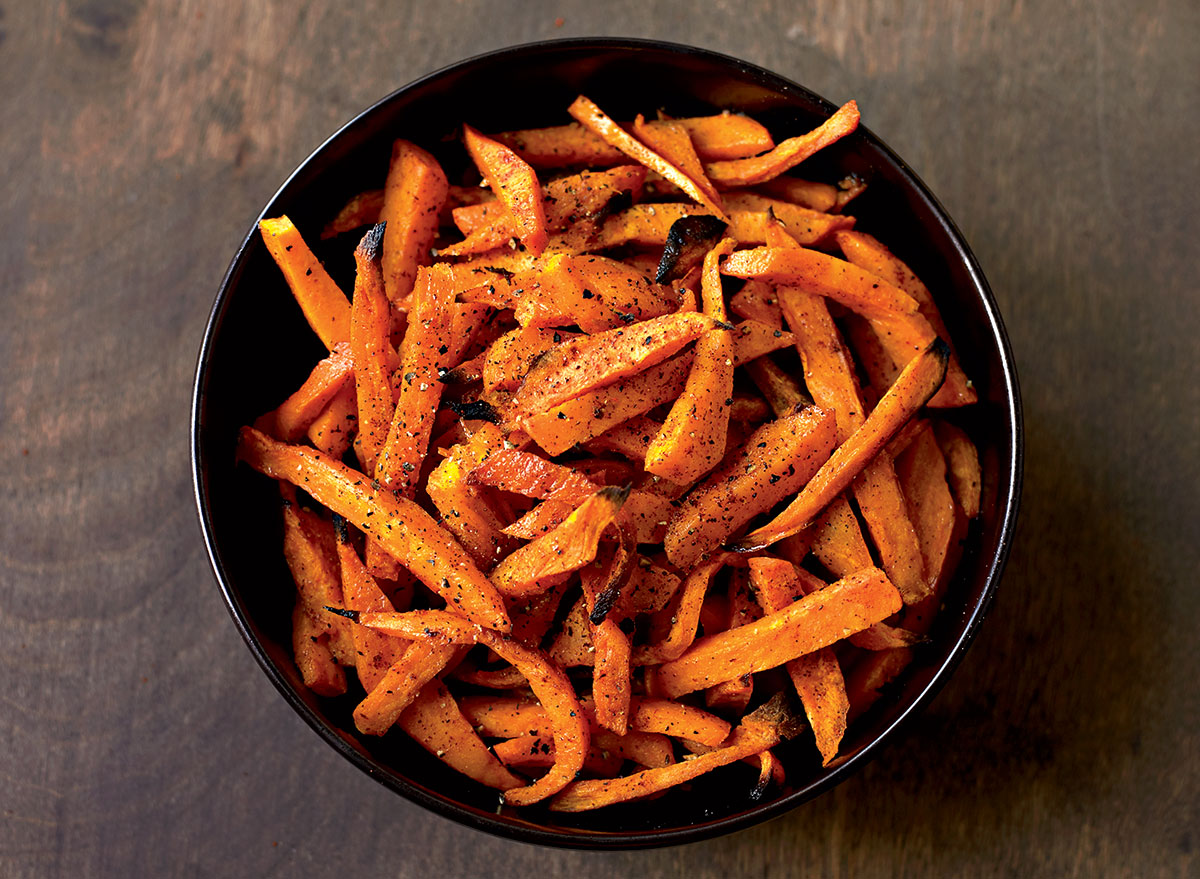 Sweet potatoes have two big nutritional boons that regular potatoes lack: big doses of fiber and vision-strengthening vitamin A. Plus, the natural sugars found within them will intensify and strengthen when baked or roasted, and they pair just as perfectly with the fiery cayenne to make fries every bit as enjoyable as the ones that bathe in oil.
Get our recipe for Baked Sweet Potato Fries. 
Melted Brie With Vegetables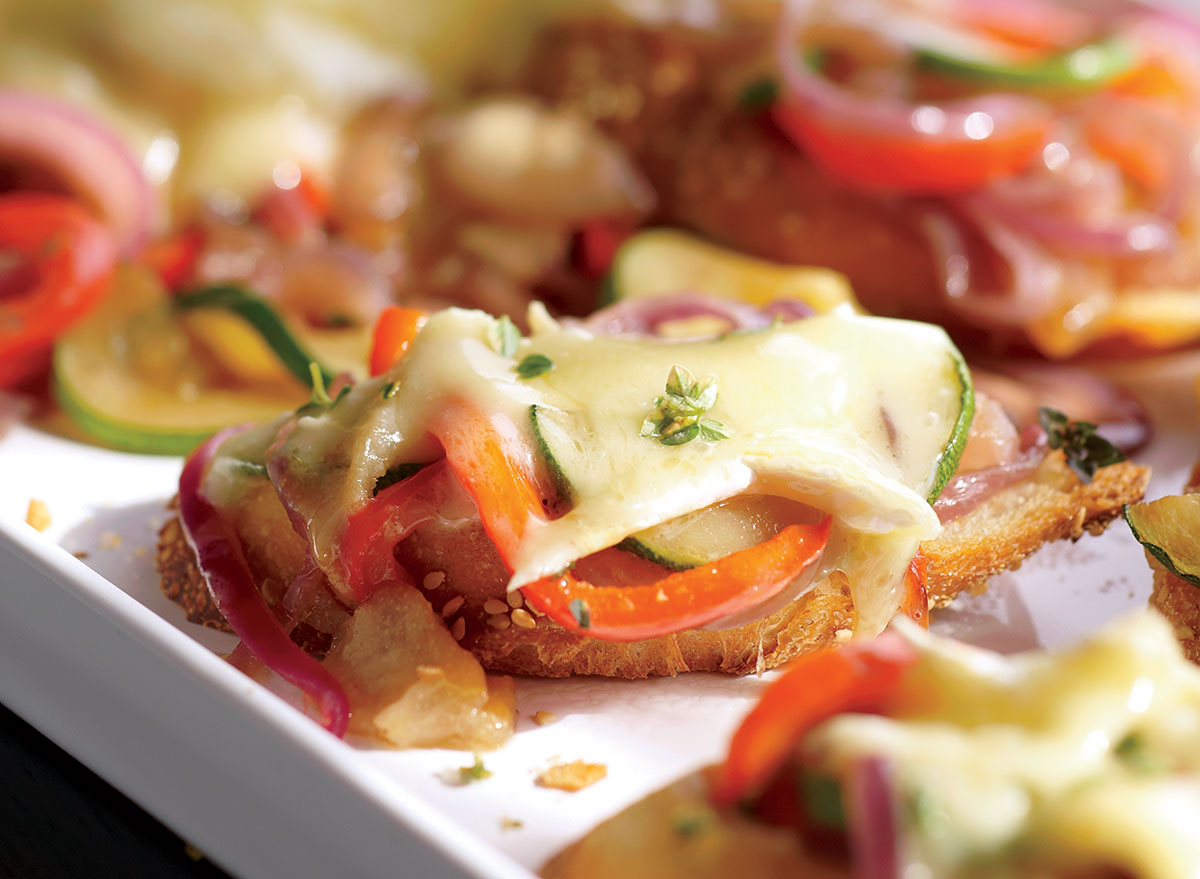 To love the taste of melted cheese is to be an American. But the concept of breading sticks of cheese and dropping them into hot fat is an exercise in excess that we simply can't get behind. If cheese is the focus, surround it with a strong supporting cast. Brie is the unquestionable star here, but the sautéed vegetables add plenty of vital substance to our melted brie cheese recipe.
Get our recipe for Melted Brie with Vegetables. 
Baked Crab Cakes With Mango-Avocado Salsa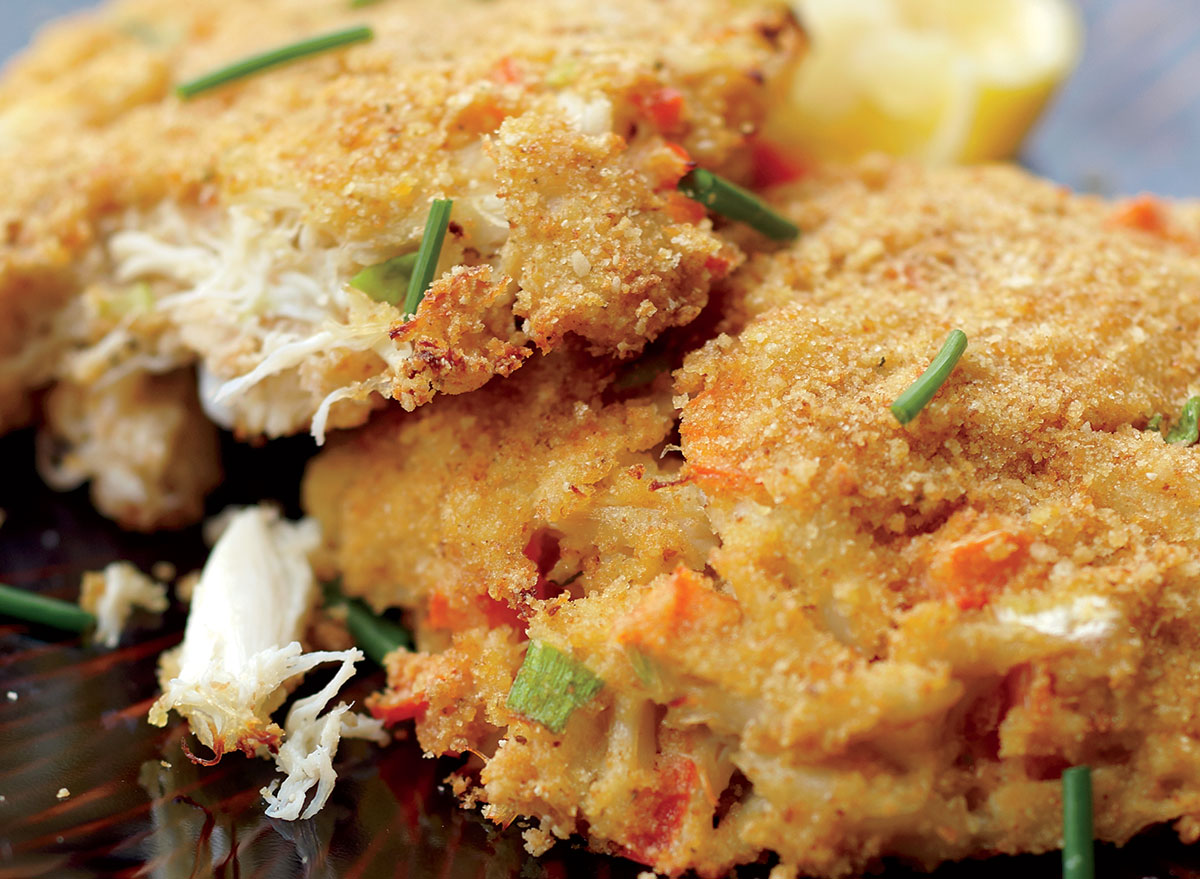 In the skilled hands of a four-star chef or a seafaring Maryland man, the goal of a crab cake is simple: Use just enough ingredients to build flavor and bind the cakes, but never at the expense of the crab itself. The goal of the corporate cook is quite different: Make an inexpensive crab cake that will hold together under duress and leave them wanting more. That's why mayo and a deep fryer are invariably part of the process. Our crab cake recipe takes the former route.
Get our recipe for Baked Crab Cakes with Mango-Avocado Salsa.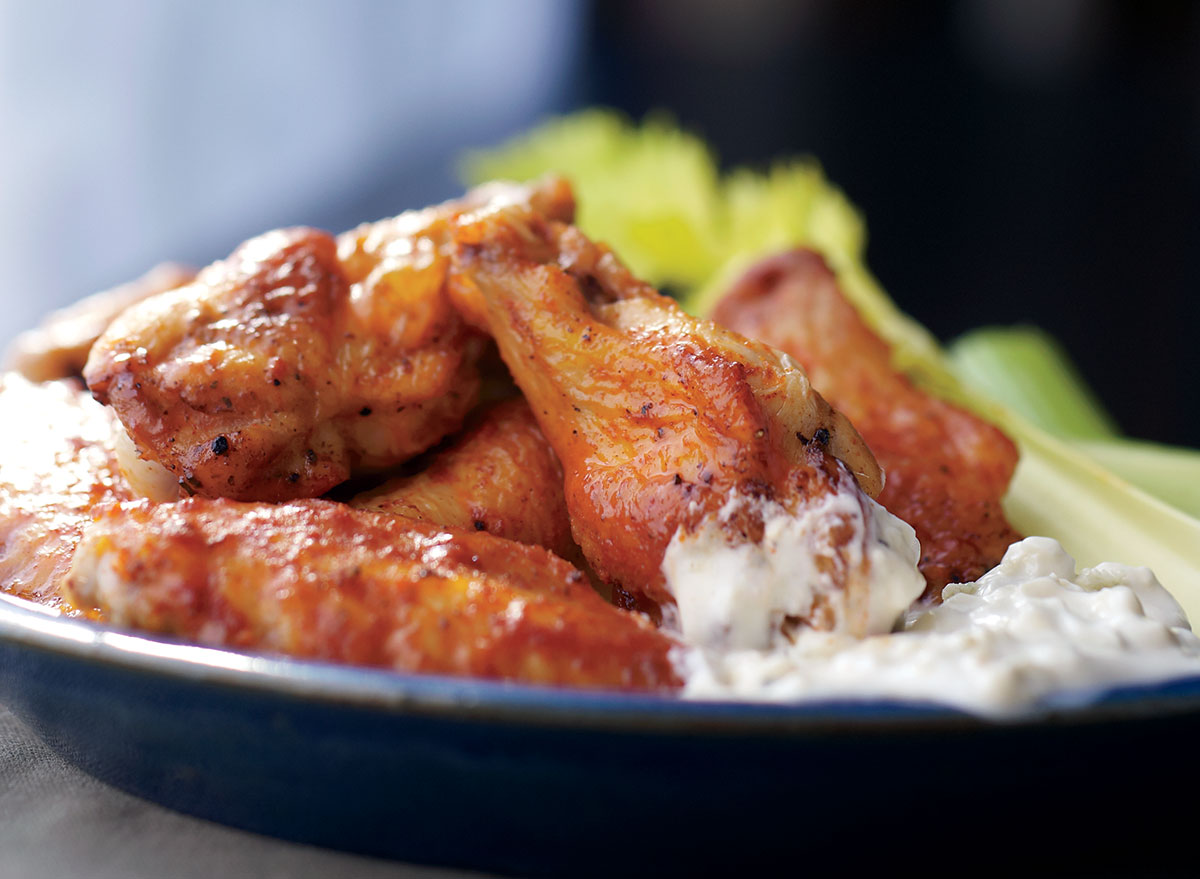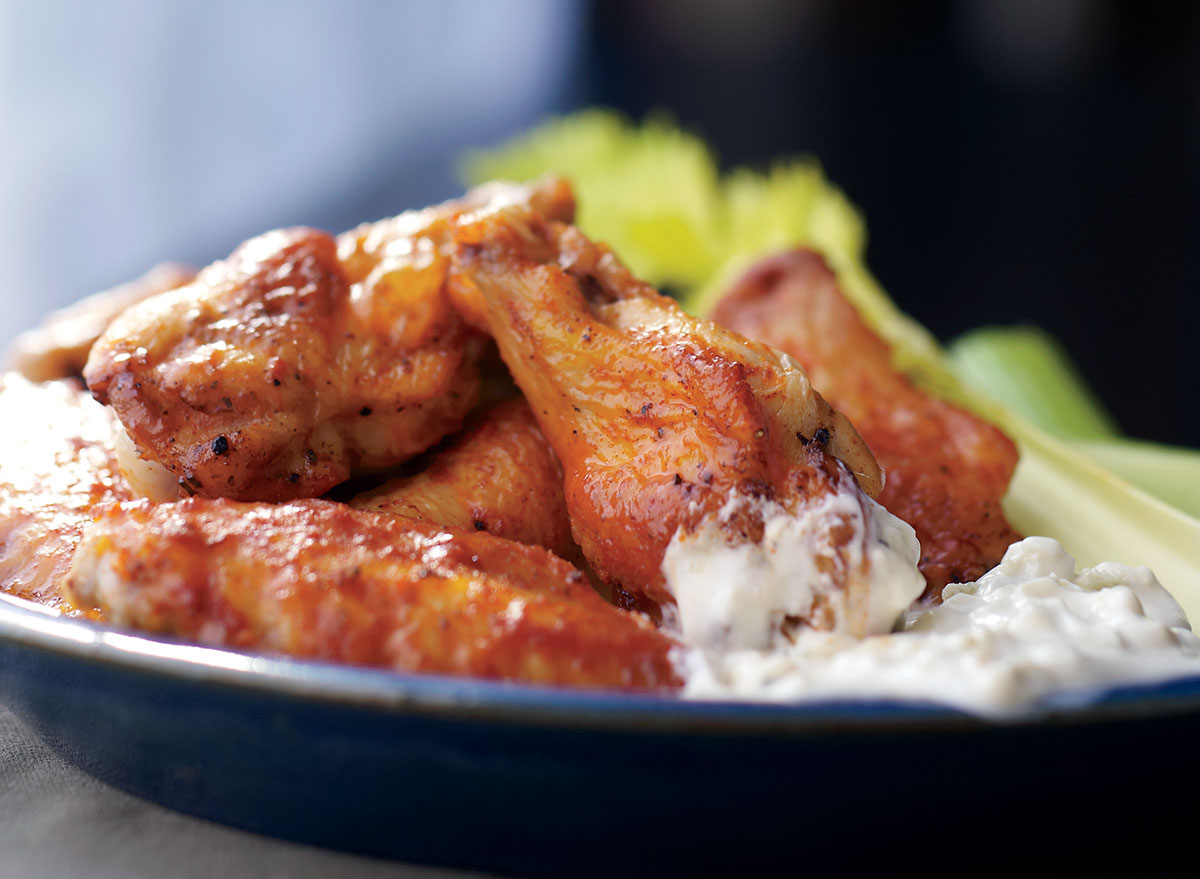 Americans consume millions of pounds of Buffalo wings each year. Besides being messy, those wings all share one thing: an extended stay in the deep fryer. This method takes an already fatty cut of chicken and doubles the calories. Grilling or oven-roasting your wings, on the other hand, cuts fat significantly; it's also easier, cheaper (no quart of oil for frying), and (especially on the grill) tastier.
Get our recipe for Buffalo Wings. 
Not-So-Unhealthy Cheese Fries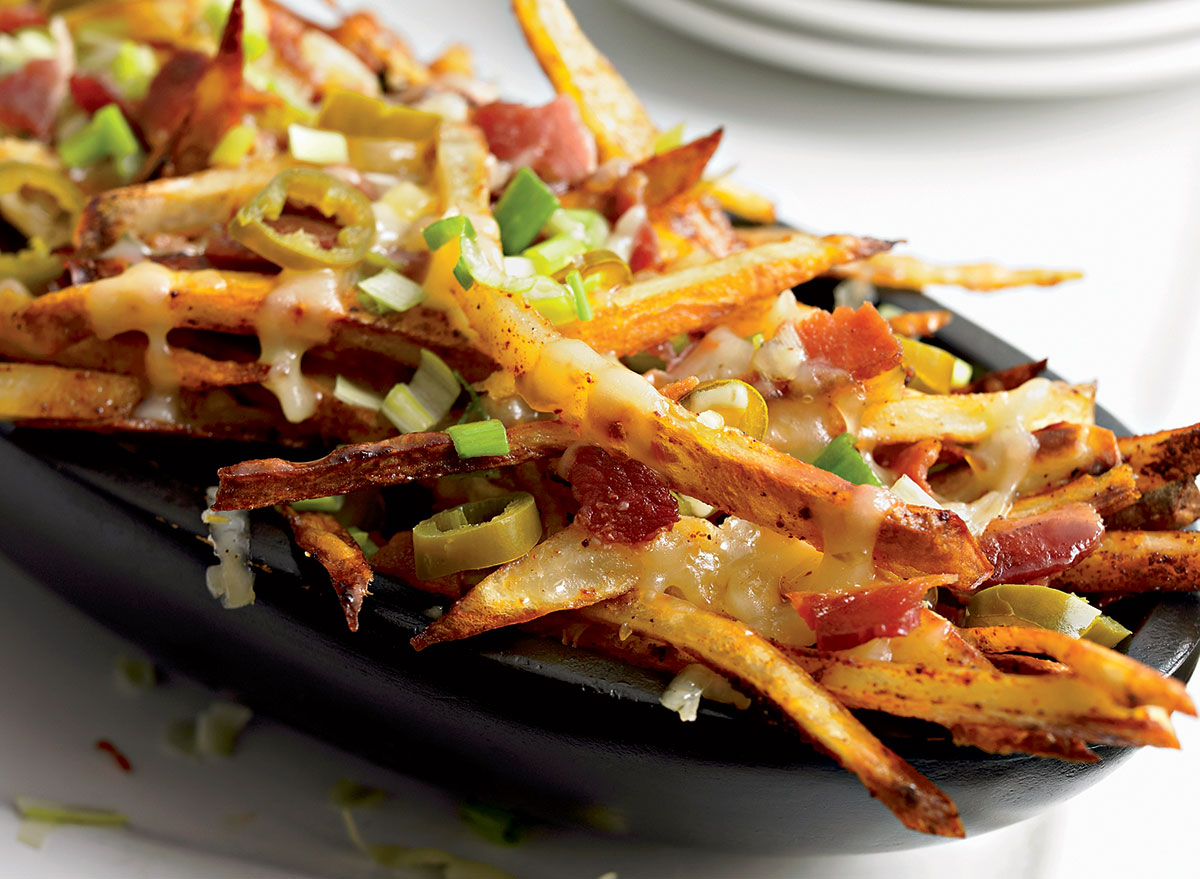 This easy home version keeps the calories low by baking the potatoes until crisp, applying just the right amount of cheese, and using a few hunks of crumbled bacon and a handful of pickled jalapeños to give the impression of decadence without the four-digit calorie damage.
Get our recipe for Cheese Fries. 
Bacon and Blue Cheese Stuffed Dates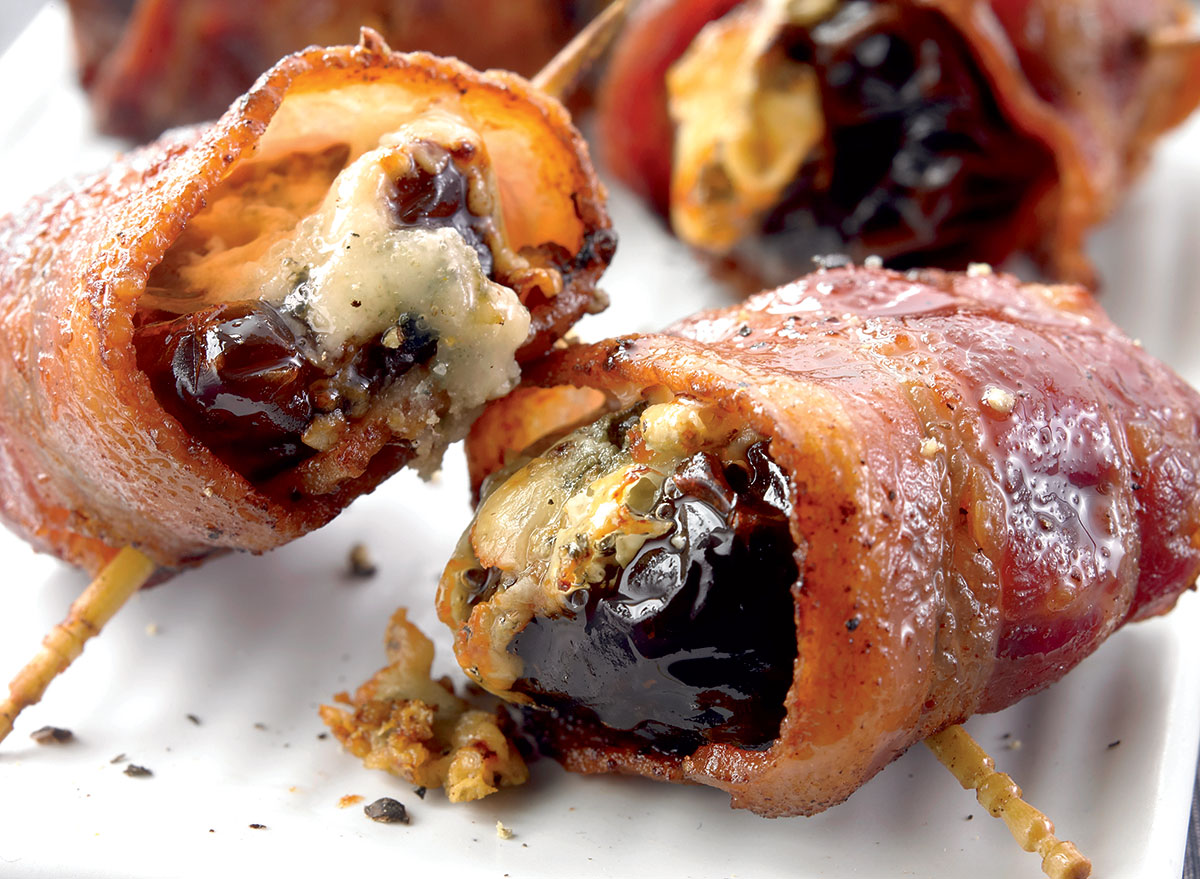 Sweet, salty, smoky, creamy: In a single bite, these tiny packages take you through the highest peaks of flavor country. Each bite containing a single, natural date, wrapped in delicious bacon and blue cheese. And before you feel too guilty about the bacon or blue cheese, lets list off a few of the (many) health benefits of dates, (and we're not talking dinner and a movie). Dates are high in fiber, rich in antioxidants known to fight off illness, and are also known to promote brain health.
Get our recipe for Bacon and Blue Cheese Stuffed Dates. 
For more recipe ideas, be sure to sign up for our newsletter.
Eat This, Not That!
Inspired by The New York Times best-selling book series, Eat This, Not That! is a brand that's comprised of an award-winning team of journalists and board-certified experts, doctors, nutritionists, chefs, personal trainers, and dietitians who work together to bring you accurate, timely, informative, and actionable content on food, nutrition, dieting, weight loss, health, wellness, and more.
Read more about Eat This