17 St. Patrick's Day Recipes Better Than a Pot of Gold
Celebrate the luck of the Irish on March 17 this year with recipes fit for a leprechaun king!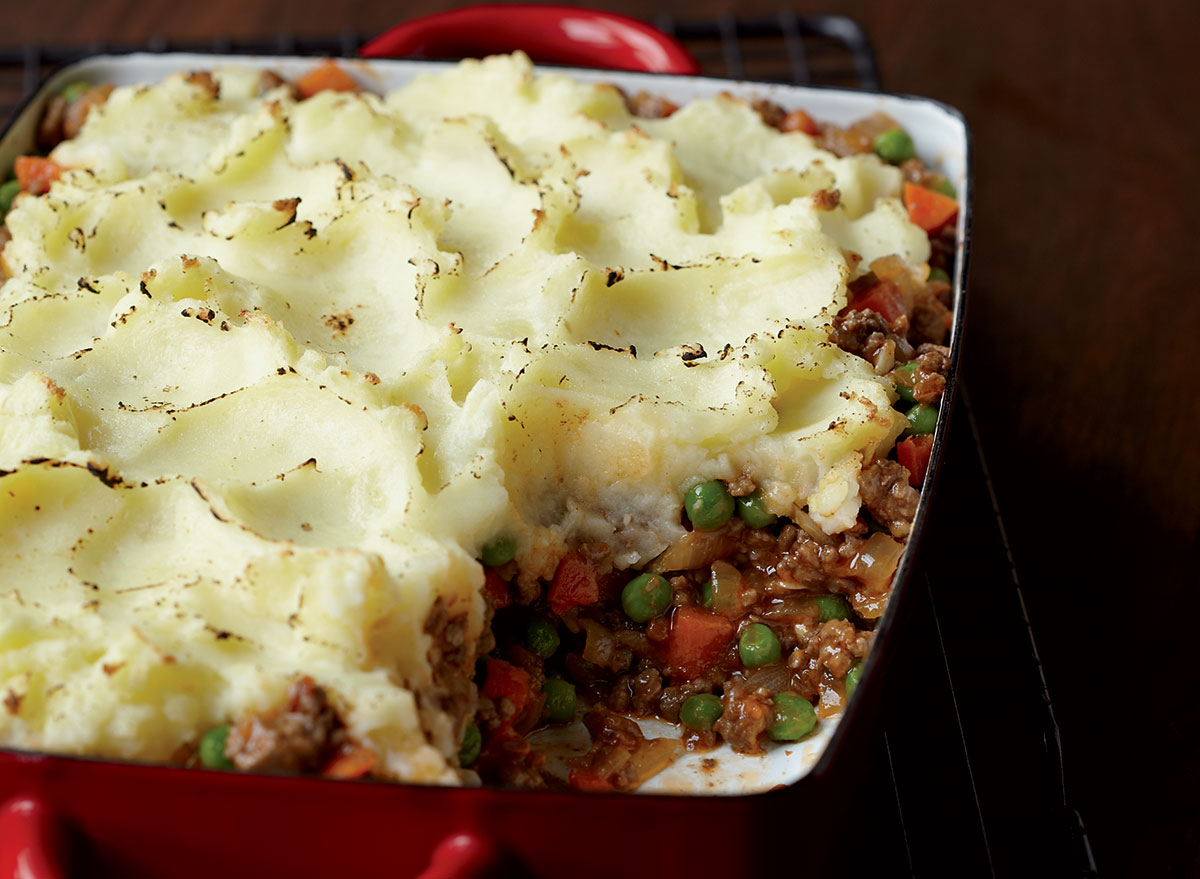 Make sure you have the luck of the Irish on your side this St. Patrick's Day—with food and drink! While many people associate the holiday with free-flowing booze and festive parties, there are many great St. Patrick's Day recipes that can bring a taste of Ireland right to your plate or cup.
From green-colored foods to the traditional feasts of Irish natives, there is something for every palate to enjoy on the holiday, and throughout the year.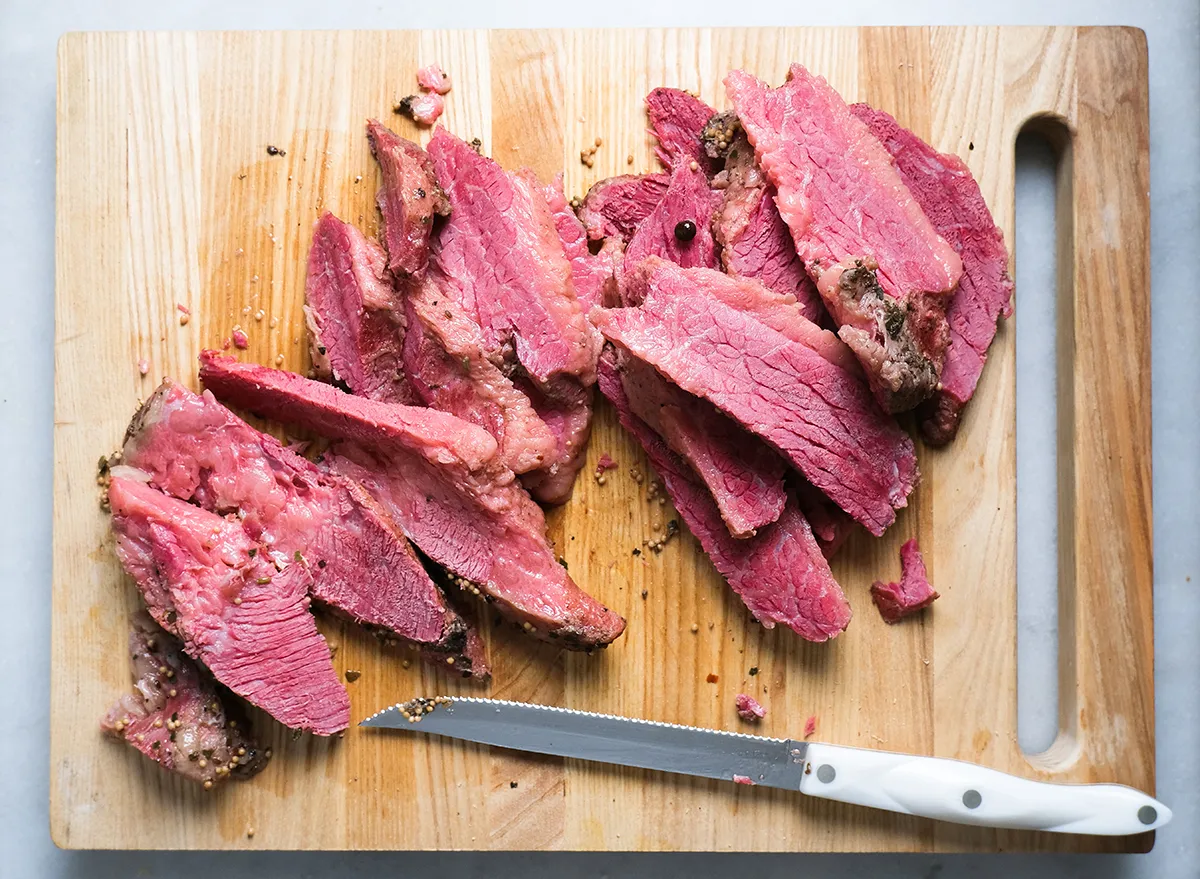 It doesn't get more Irish than corned beef. Though a fun fact about this dish, it is actually a slab of pickled brisket, but I think we can all agree, corned beef sounds a bit more appetizing.
While this is one of the classic St. Patrick's Day recipes you need at your celebration, the easy slow-cooker preparation makes it a meal you can use to feed your whole family any time of the year.
Get our recipe for Slow Cooker Corned Beef.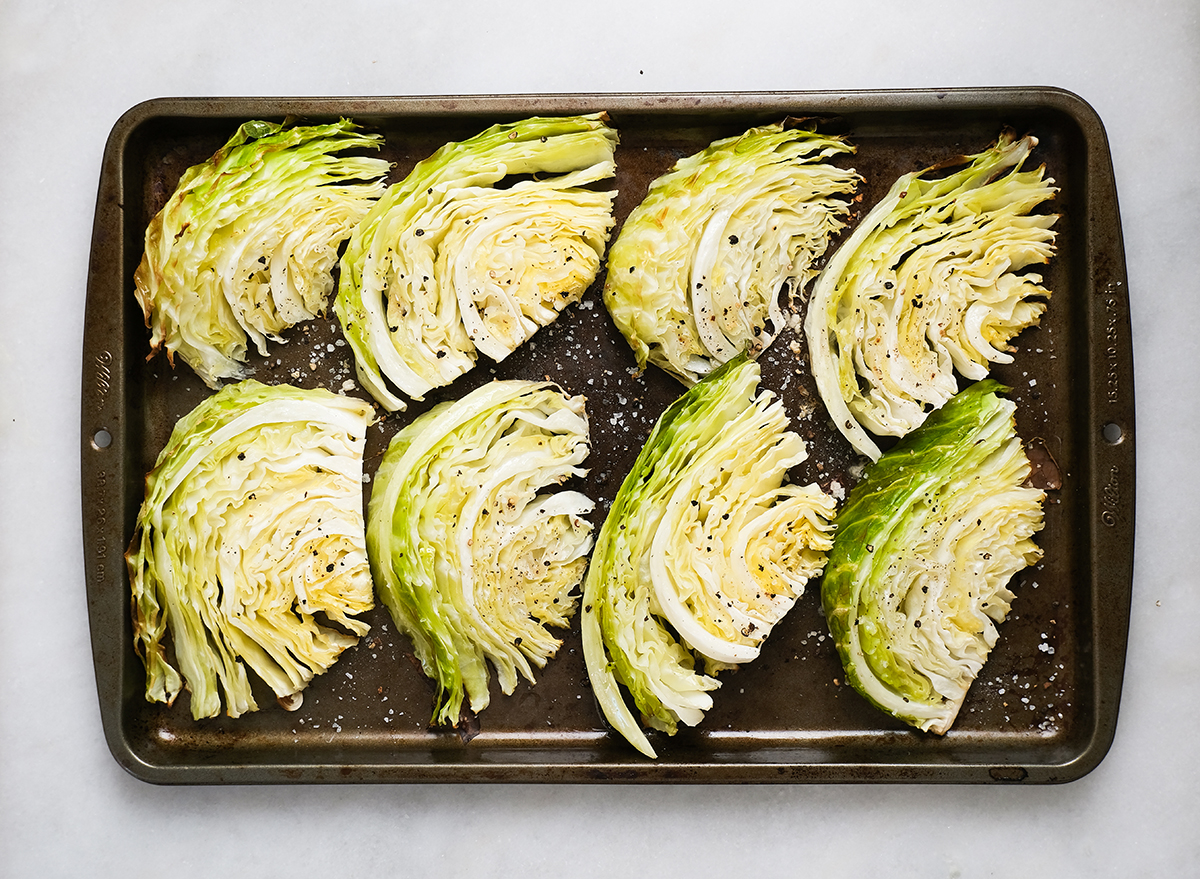 Too often, people remember the soggy, flavorless cabbage casseroles of their youth without realizing the great potential that this vegetable has. In this easy recipe, cabbage is the star of the show, and you won't find a soggy leaf in the house. Cook this as a side dish for your corned beef, or have it as the main event when you're looking for vegetarian-friendly St. Patrick's Day recipes.
Get our recipe for Easy Baked Cabbage.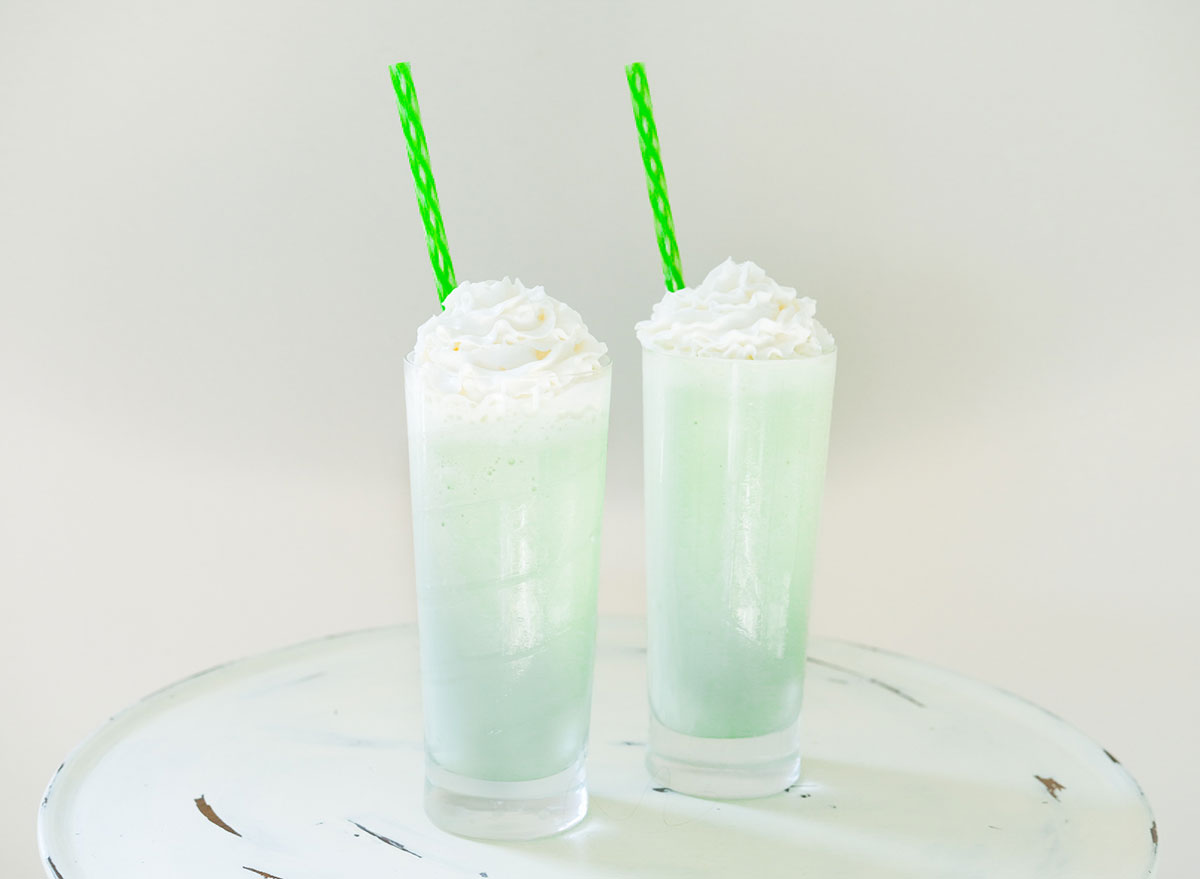 Every year when McDonald's announces the return of the Shamrock Shake, fans from across the nation flock to their nearest drive-thru. But, you don't even have to leave the house to have your very own minty milkshake, thanks to this spot-on copycat recipe. With just four ingredients, you'll want to keep this recipe on hand long after March has passed.
Get our recipe for Copycat Shamrock Shake.
Short Ribs Braised in Guinness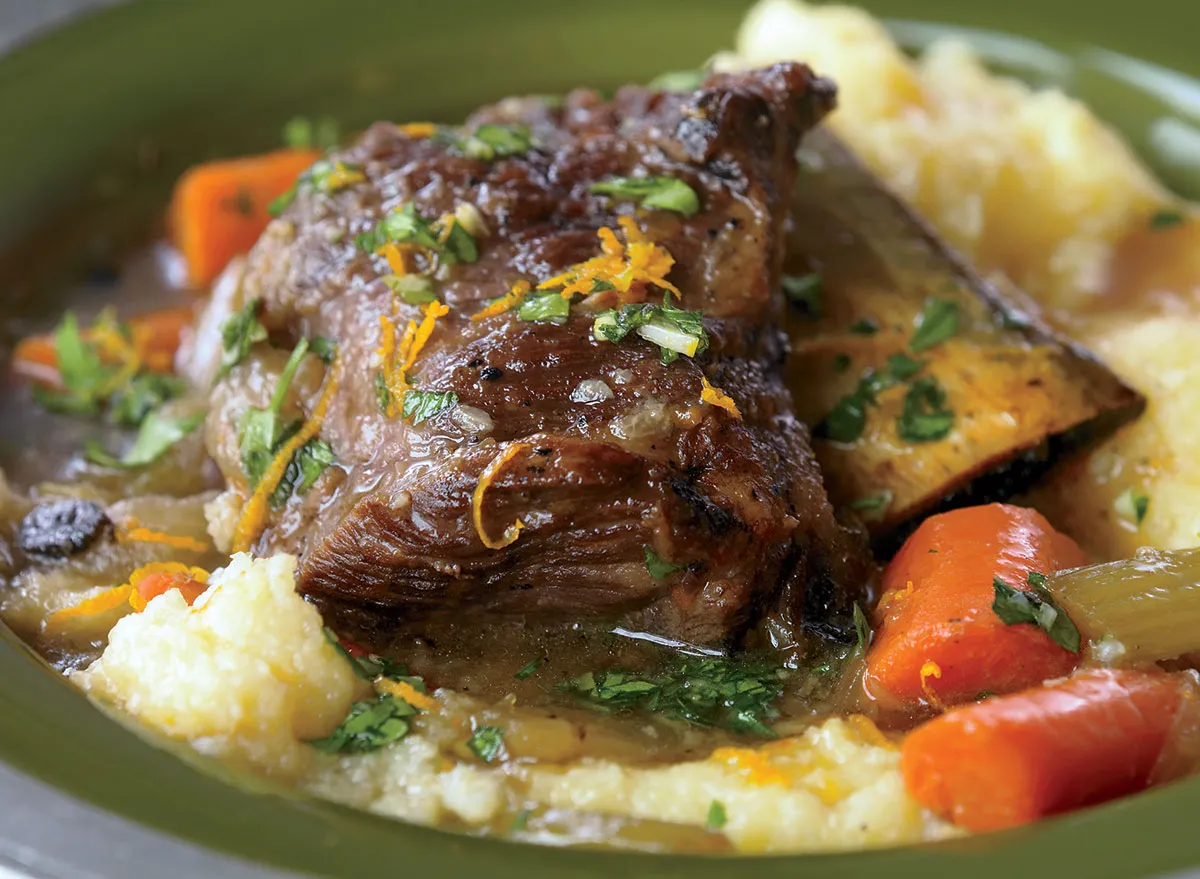 Simply drinking your Guinness on St. Patrick's Day isn't enough. With this recipe, you get to eat it too. Beer and beef have always gone hand-in-hand, but the braising method here really brings out the best of both flavors. And, the best part is, you can have little sips of the Guinness while you are cooking!
Get our recipe for Low-Calorie Short Ribs Braised in Guinness.
A cold March night calls for a big pot of soup. And after a day of celebrating on St. Patrick's Day, there is nothing better to come home to than hearty baked potato soup. Many Irish recipes utilize an abundance of potatoes, but this soul-warming classic never gets old. And, if you make enough for leftovers, it is even better the next day…though it might just be so good that you don't find yourself with any leftovers at all!
Get our recipe for Hearty Baked Potato Soup.
Grandma's Irish Soda Bread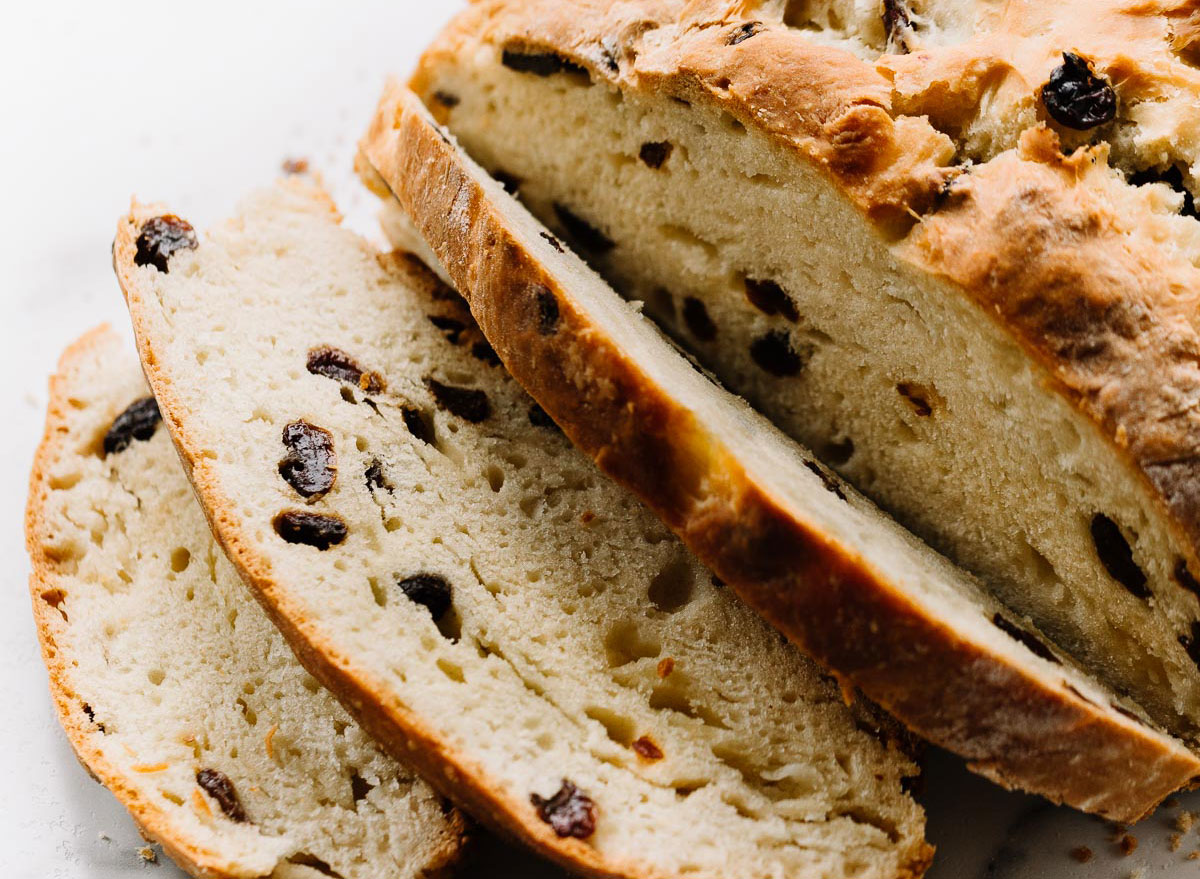 That baked potato soup would be nothing without a big hunk of freshly made bread to sop it up with. There is no better bread for St. Patrick's Day than Irish soda bread. Buttermilk and cold butter are the perfect combination that sets this recipe apart, and the baking soda gives the loaf its signature texture.
Get the recipe from Sally's Baking Addiction.
Golden Mango Smoothie Bowl
6254a4d1642c605c54bf1cab17d50f1e
What fun is St. Patrick's Day without a hunt for a pot of gold? In this case, bring the gold right to your breakfast table with this healthy, golden mango smoothie bowl. As a lighter, but still filling, breakfast option, this festive bowl will be the perfect start to a day that might end with some heavier eating (and drinking). If you are making this for your family, you might want to think about using it as the symbolic pot of gold to end a leprechaun scavenger hunt.
Get our recipe for Healthy, Fruity Golden Mango Smoothie Bowl.
Lamb Chops and Cauliflower Mash
Lamb and potatoes are a dinner staple in Ireland throughout the year. The hearty combination of meat and starch is often seen as the perfect ending to a long day working outside. With this lighter, keto-friendly alternative, you still get all of the flavor, with fewer carbs, thanks to a clever swap for cauliflower over potatoes. You can still indulge in all of the classic flavors of Ireland without blowing your low-carb diet this holiday.
Get our recipe for Keto Lamb Chops and Cauliflower Mash Dinner.
The Perfect Irish Whiskey Coffee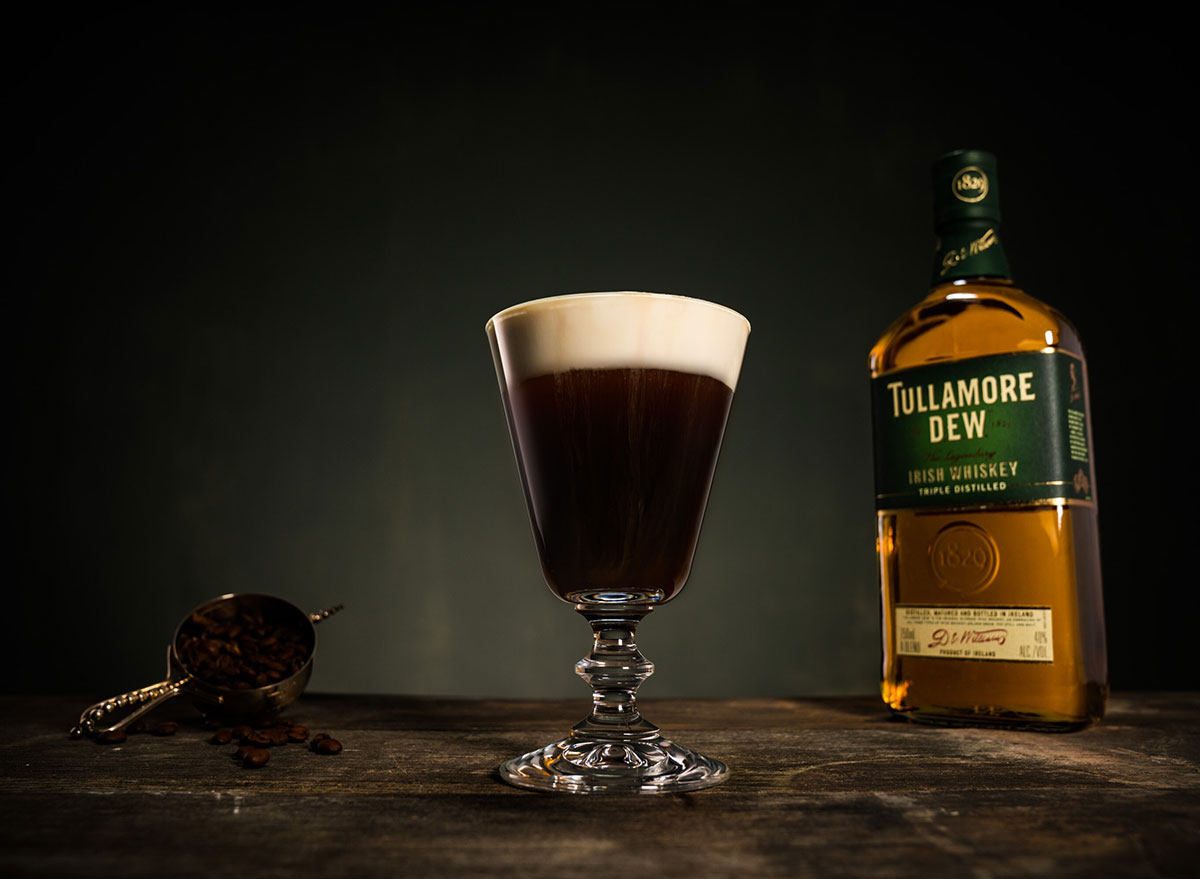 Can you think of a better way to kick-off St. Patrick's Day than with a classic Irish cocktail? Irish whiskey (we recommend Tullamore D.E.W.) is carefully blended with your favorite, bold coffee, and a touch of sugar, then a whipped cream layer is carefully poured on top. Add a dash of cinnamon, and your breakfast just got an Irish upgrade. The recipe for the "perfect" Irish coffee comes complete with a clever hack for making the best whipped cream! This is going to be an amazing holiday surrounding by friends and family to remember.
Get our recipe for The Perfect Irish Coffee. 
Shepherd's Pie With Sweet Potato Topping
Shepherd's pie is the original Irish casserole. With a combination of meat, veggies, and a potato topping, it is easy to see why this classic recipe has endured the test of time and geography. With this lighter take on the classic, a sweet potato topping replaces the traditional white potato and a healthy dose of kale sneaks even more nutrients into the meal without sacrificing any of the flavor.
Get our recipe for Paleo BBQ Pork Shepherd's Pie With Sweet Potato Topping.
Corned Beef Sandwich with Guinness BBQ Sauce
Add Guinness to lunch or dinner without pouring another pint! This take on the classic sandwich combines corned beef with honey mustard cabbage slaw and made-from-scratch smokey, malty, and sweet Guinness BBQ. Enjoy it with crunchy potato chips, and more Guinness, because why not?!
Get our recipe for a Corned Beef Sandwich with Guinness BBQ Sauce.
For the purists out there, nothing screams St. Patrick's Day quite like shepherd's pie. This Irish comfort food leaves nothing to be desired. When it comes to meat, traditionally, shepherd's pie is made with lamb, because that is what early Irish farmers had available to them. You can certainly stick with that for the sake of tradition, but the option of ground sirloin here provides a leaner meal without losing any flavor.
Get our recipe for Classic Shepherd's Pie.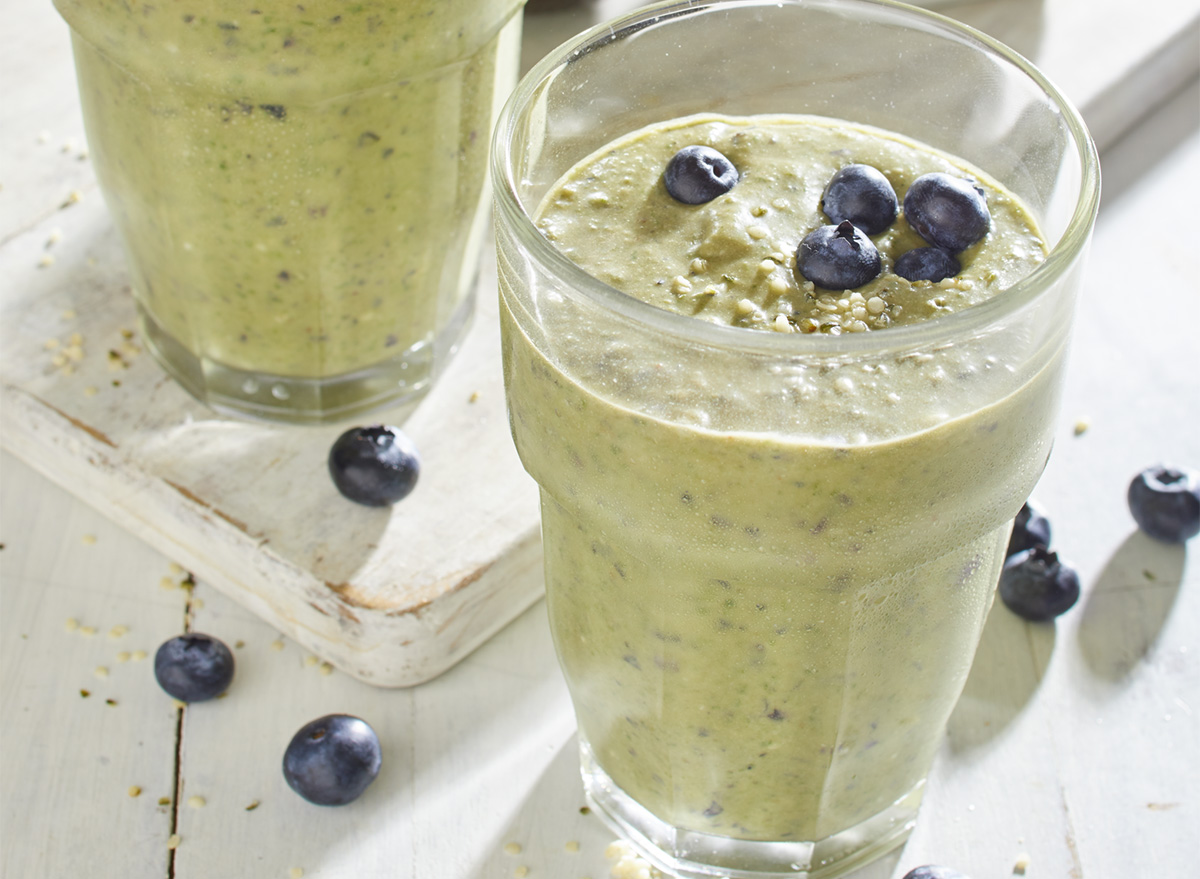 Don't forget to wear green—or drink your greens—this St. Patrick's Day. Show your Irish pride with a tasty green shake that will make you feel good while still getting you in the holiday spirit.
Get our recipe for Green Keto Shake.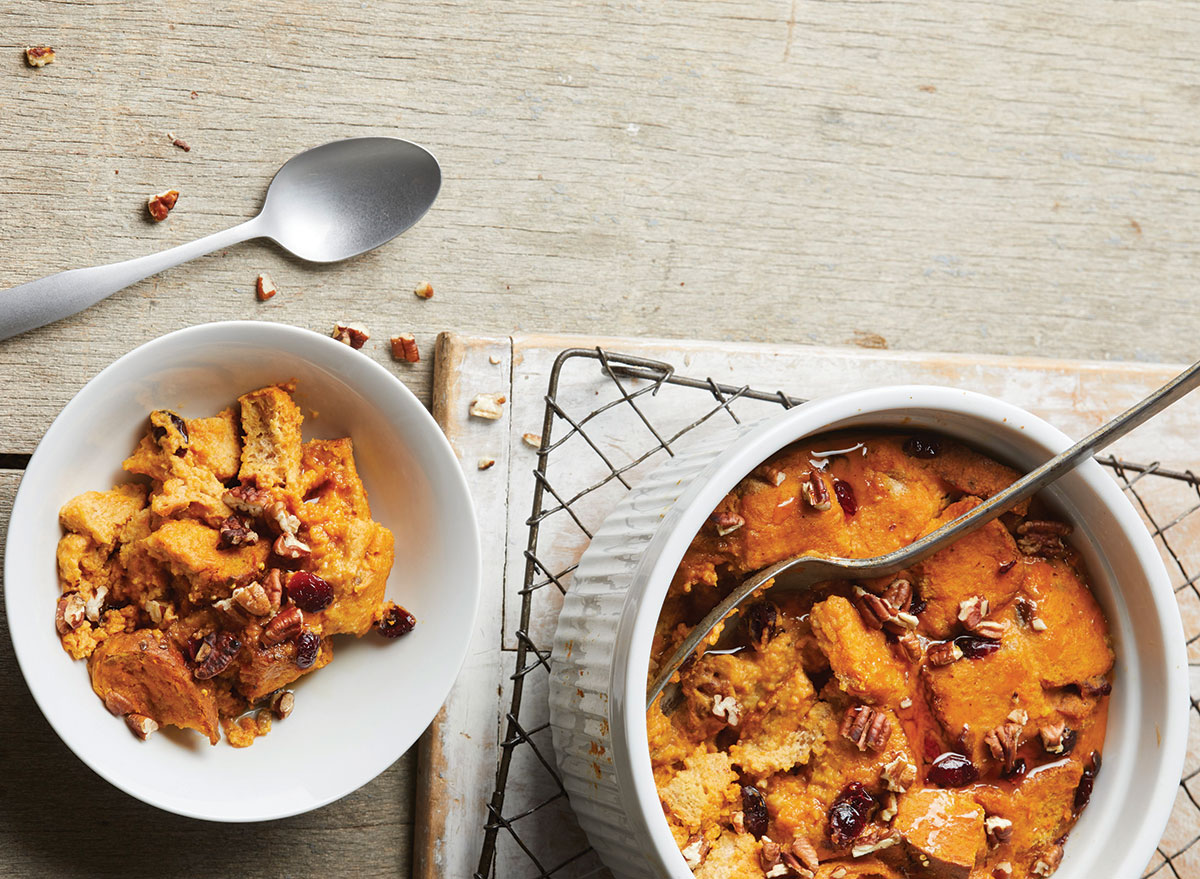 Bread-based desserts are a common Irish staple. The king of these is bread pudding. The gooey, warm dessert is the perfect end to a meal and feels like a decadent treat served with a side of vanilla ice cream. Break out of the traditional mold by introducing new flavors to this tried-and-true classic: pumpkin. Your guests will love this variation, and you'll be wondering why it can't be St. Patrick's Day every day.
Get our recipe for Pumpkin Bread Pudding.
Green Machine Veggie Casserole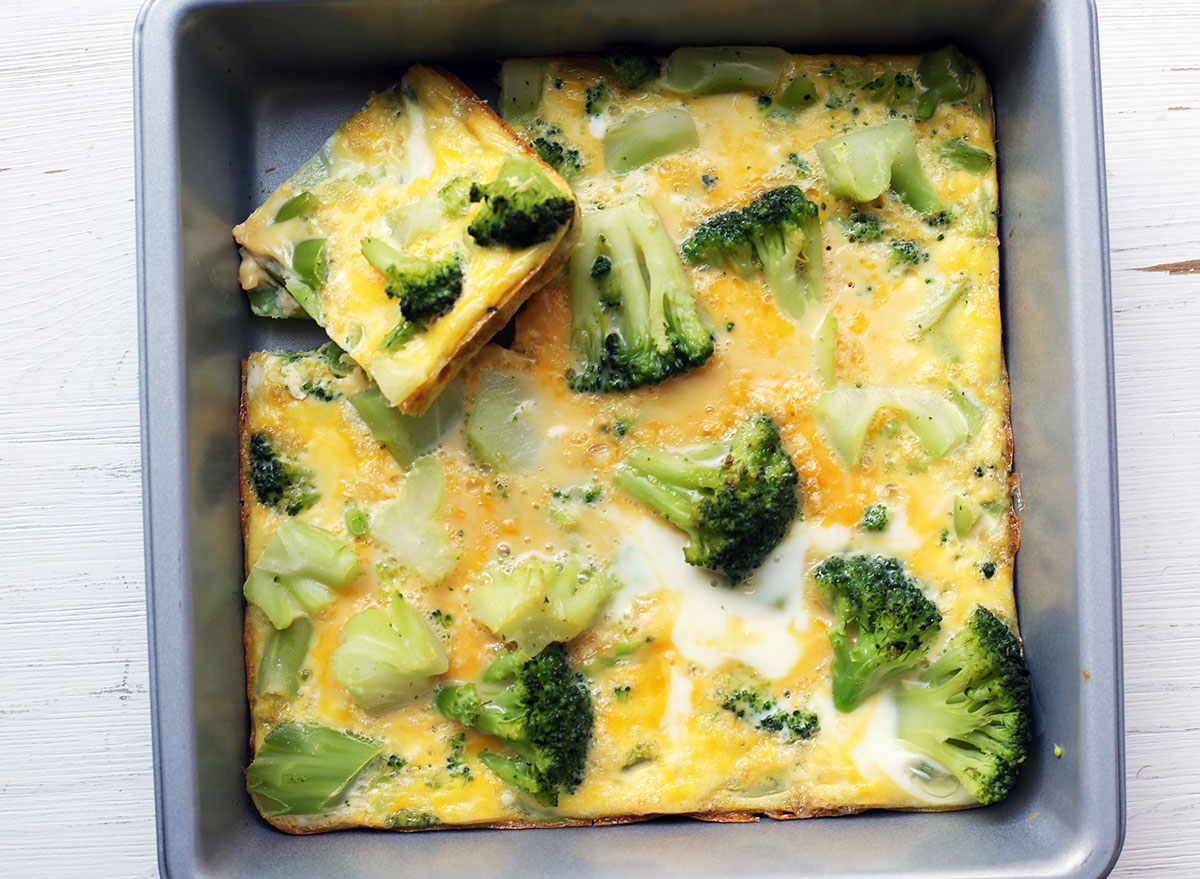 On the day of green, make sure you are getting in all of your greens. It won't be hard to do with this Whole30 green machine veggie casserole. Don't worry, the eggs and canned coconut milk give this casserole a decadence that is usually reserved just for dessert. Because, on St. Patrick's Day, even your vegetables deserve to feel festive!
Get our recipe for Whole30 Green Machine Veggie Casserole.
Crispy Cod Recipe with Sweet Potato Fries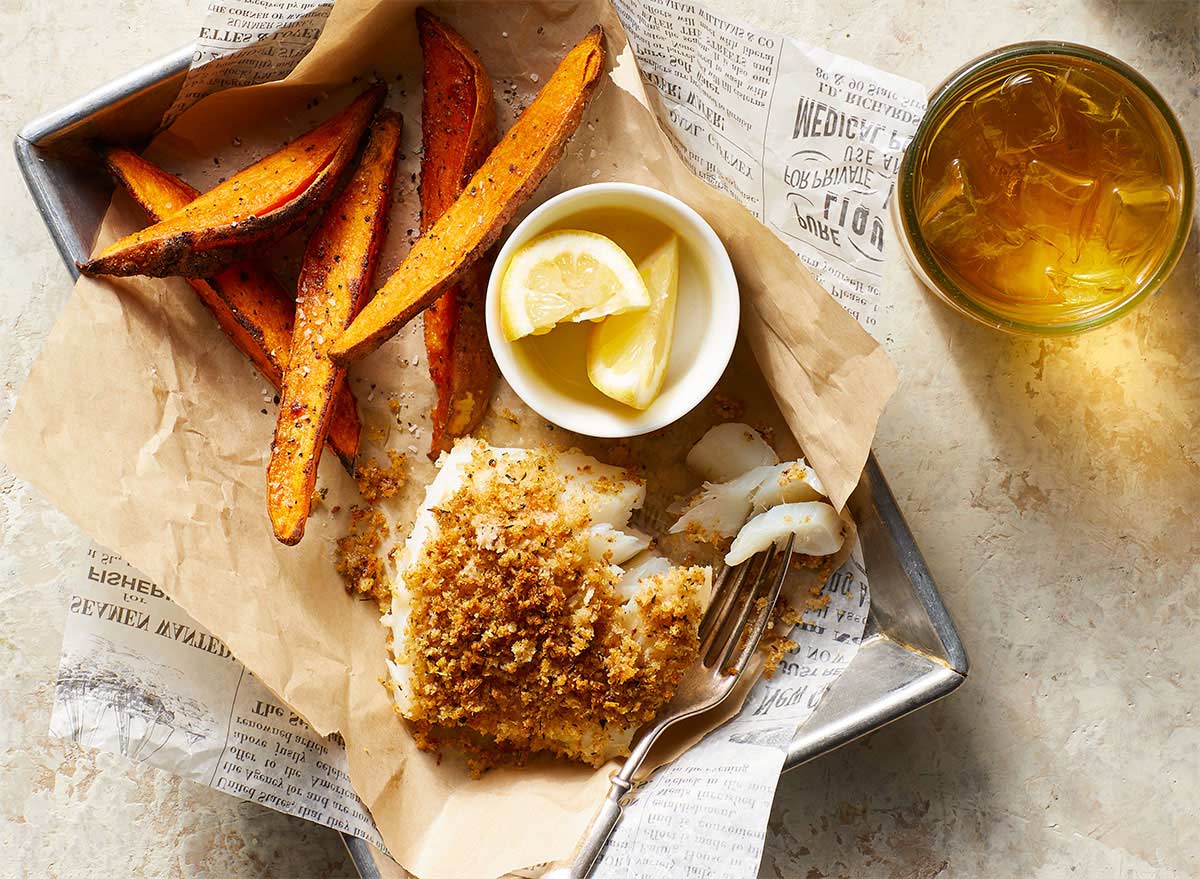 Take fish and chips fit for a Dublin pub and bring them right to your kitchen. There is almost nothing that evokes the feeling of hopping the pond quite like enjoying this British and Irish staple. Lighter than the deep-fired version, this baked option is easier to make and perfect for getting into the spirit of the holiday with your whole family.
Get our recipe for Crispy Cod Recipe with Sweet Potato Fries.
Put the whiskey aside for this festive drink, and reach for Jose Cuervo's Tradicional Tequila Añejo instead — it's aged in Irish single malt whiskey barrels! the cocktail combines thyme, grapefruit juice, and a caraway-fennel simple syrup with soda water and the tequila. If stouts aren't your cup of beer, this is a delicious alternative.
Get our recipe for an Emerald Isle-Inspired Irish Aitall Cocktail.