14 Unhealthiest Restaurant Menu Items of 2020
These new dine-out disasters were the worst of the worst.
As 2020 comes to a close, we have the chance to take stock of our favorite menu items that popped up over the course of the year. Whether these items provided a glimmer of fun as we quarantined at home, or just provided a quick bite to curb a craving, 2020 offered a wide variety of new restaurant items that many of us hope to see return in the new year.
But not all menu items are created equal, and for every great addition to our favorite menus, we experienced a range of drinks, entrees, sides, and more that threatened to undo our diets and weight loss journeys. Keeping track of the items that have done the most damage to our bodies feels tough, especially as so much happened this year. Luckily, we have assembled a list of the unhealthiest menu items of 2020 from some of your favorite restaurants to help you keep track of what items to avoid moving forward into the new year.
If you want to cut out the nutritional negativity and start 2021 right, embrace some new changes with these 100 Easiest Recipes You Can Make.
Dunkin' Donuts Sugarplum Frozen Coffee with Cream, Large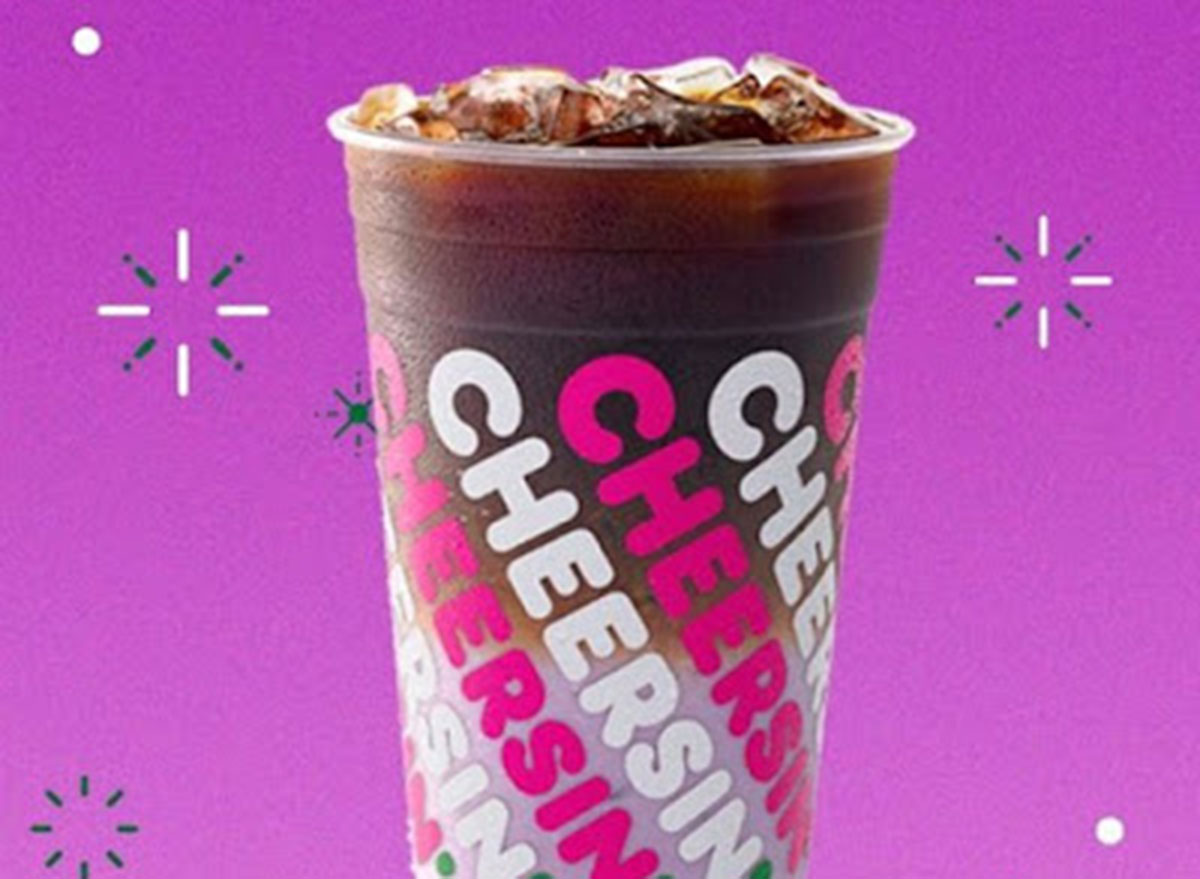 Per 1 serving
: 1,100 calories, 40 g fat (22g saturated fat), 300 mg sodium, 177 g carbs (0 g fiber, 167 g sugar), 1 g protein
Visions of sugarplums probably make you think of a light and airy Christmas, but don't get misled by Dunkin' Donuts latest holiday creation to cap off 2020. According to the American Heart Association, no one should consume over 36 grams of sugar a day, making the Sugarplum Swirl Frozen Coffee equate to five days worth of sugar. Save your body some wear and tear and make sure to pass up this drink next time you visit your local Dunkin'.
Instead, order one of these The Best Dunkin Donuts Coffee Orders For Weight Loss.
Applebee's Southwest Steakbowl
Per 1 serving
: 860 calories, 39 g fat, (9 g saturated fat) 2,360 mg sodium, 90 g carbs, (10 g fiber, 6 g sugar) 42 g protein
Applebee's serves up some of the scariest entrees we can put our body, but the steakbowl's massive amount of sodium and fat make it a meal to be truly reckoned with. The FDA recommends no one consume more than 2,300 milligrams of sodium and day, and this entree takes it to the next level by exceeding that amount by 60 milligrams. Treat your body right and make sure to grab a healthier entree to get 2021 started on the right foot.
Speaking of high sodium foods, here are 21 Foods With More Sodium Than A Pack of Ramen.
El Pollo Loco's Chicken Tamale and 2 Piece Breast and Wing Bowl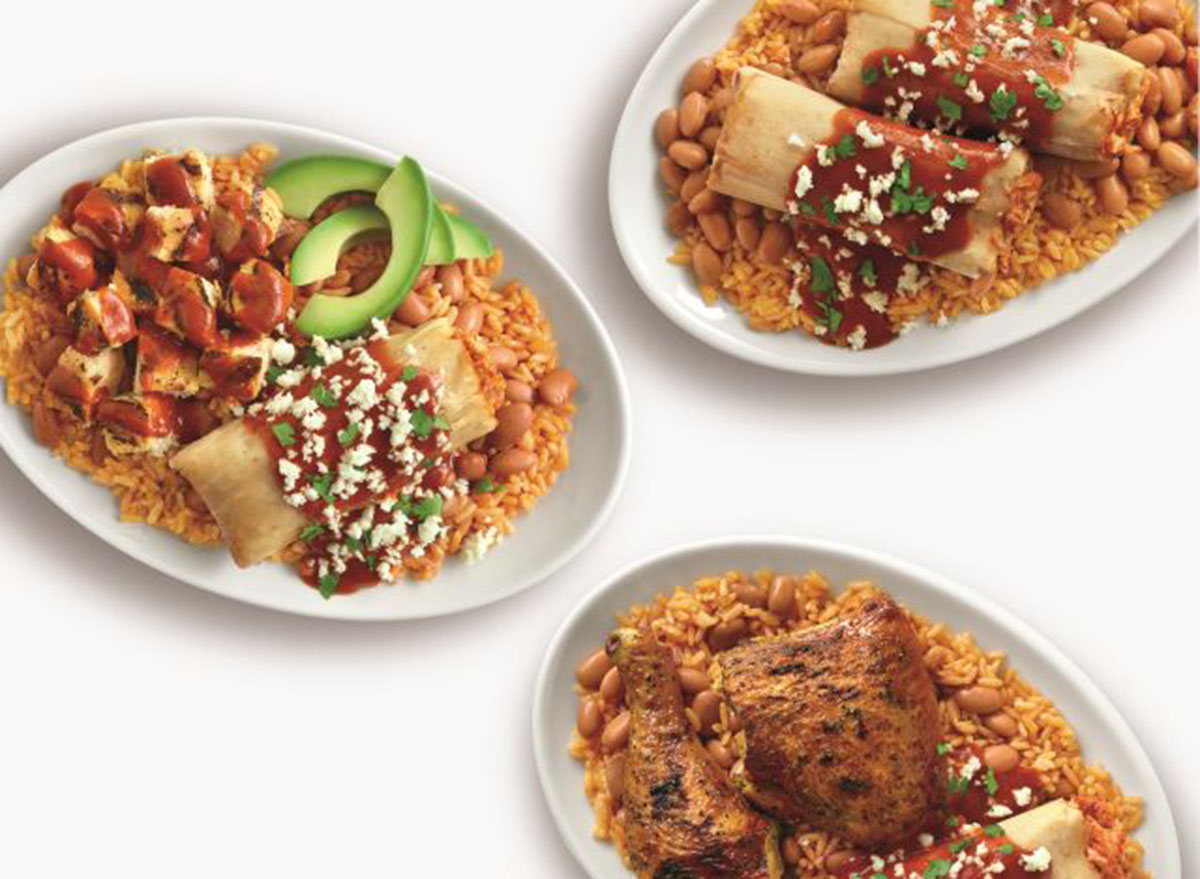 Per 1 serving
: 940 calories, 38 g fat , (14 g saturated fat) 2,560 mg sodium, 76 g carbs (12 g fiber, 2 g sugar), 71 g protein
When El Pollo Loco announced they planned on bringing back their tamales and tamale bowls in 2020, who could have guessed that the foods could contain so much poor nutrition? With over a day's worth of salt and almost half your day's calories, the tamale bowl with 2 pieces of chicken guarantees to slow you down and easily ranks as one of the unhealthiest restaurant menu items of 2020.
Wendy's Classic Chicken Sandwich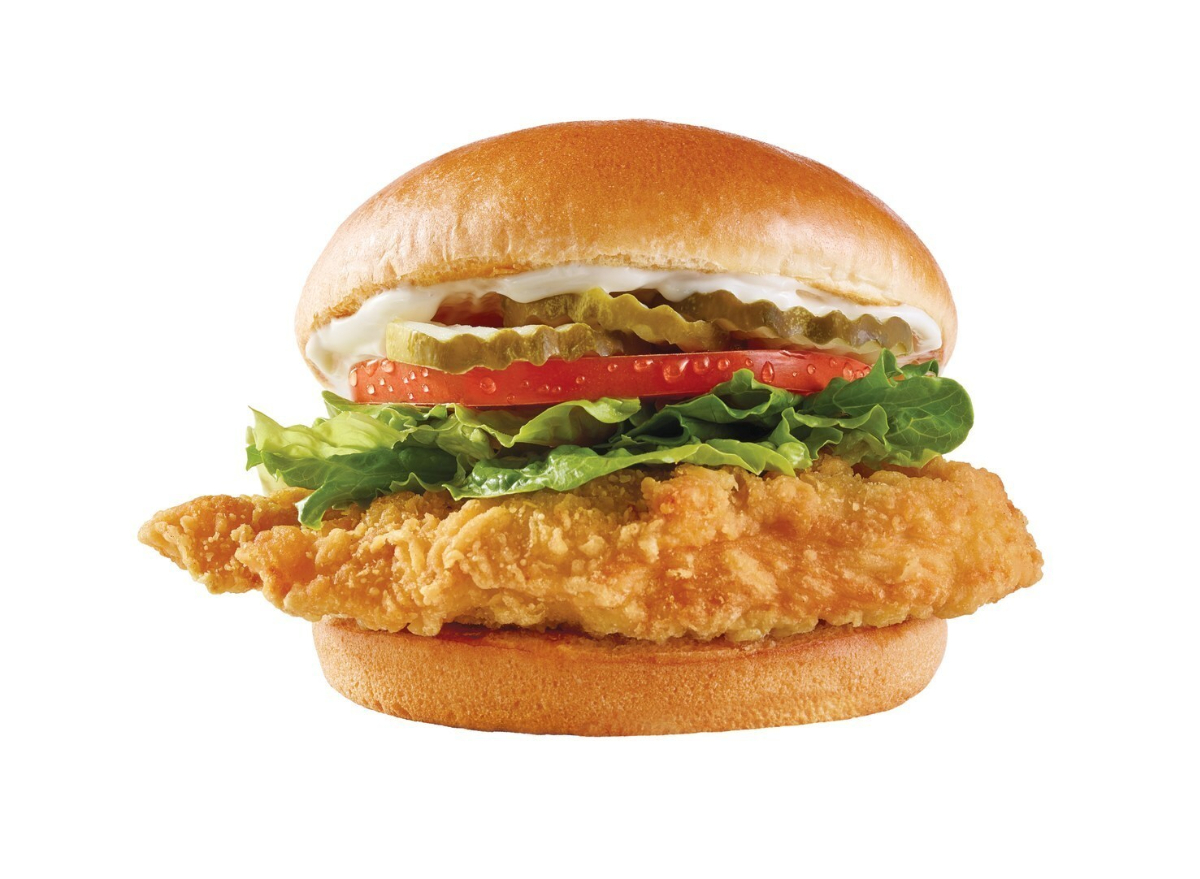 Per 1 serving
: 490 calories, 21 g fat (3.5 g saturated fat), 1,450 mg sodium, 49 g carbs (2 g fiber, 5 g sugar), 28 g protein
Fast food sandwiches normally don't do anyone's body favors, but Wendy's latest classic chicken sandwich pulls out all the stops and loads up the 2020 offering with over half your day's sodium and a ton of fat. Despite consisting of white meat, don't get fooled into thinking this sandwich provides a healthy alternative to a regular burger.
For your reference, here are The Best and Worst Fast-Food Chicken Sandwiches, According to a Dietitian.
Church's Chicken Spicy Chicken Sandwich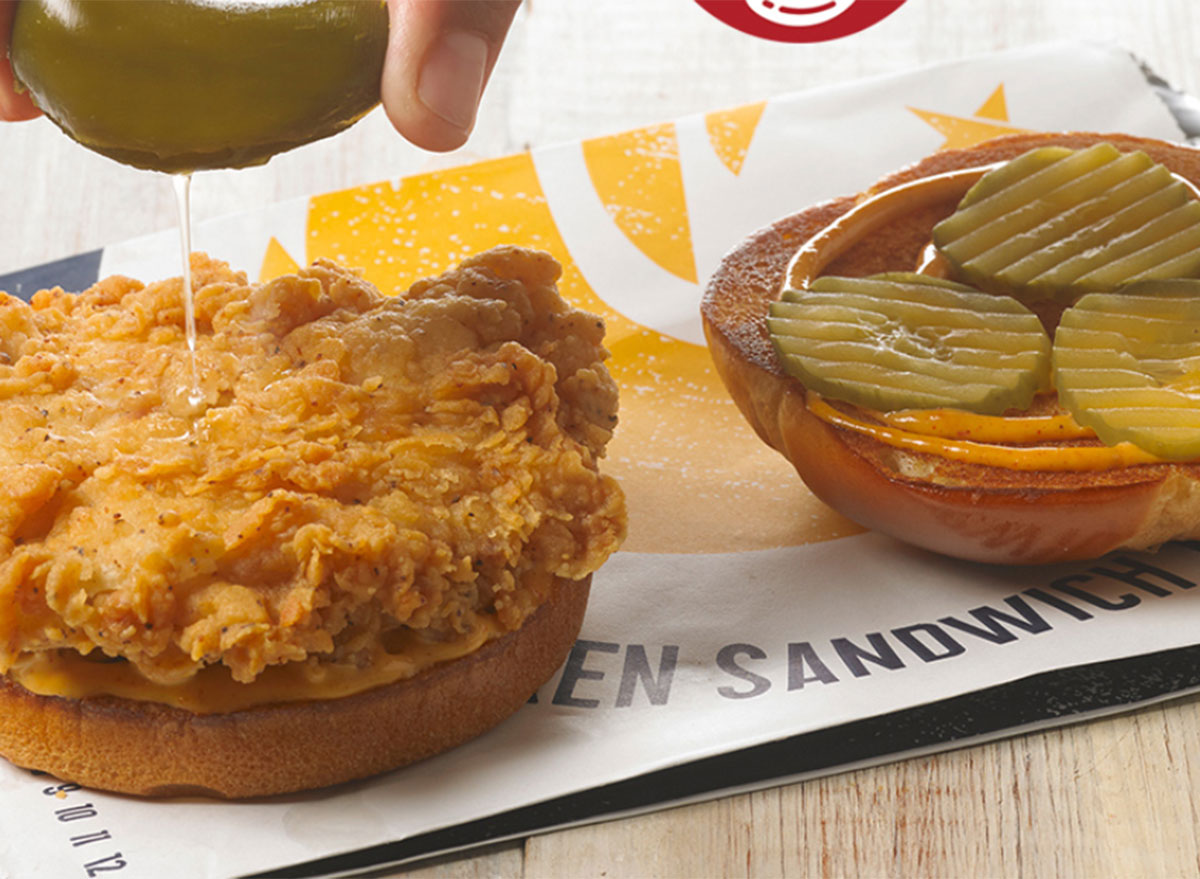 Per 1 serving
: 620 calories, 30 g fat (6 g saturated fat), 1,860 mg sodium, 54 g carbs (3 g fiber, 9 g sugar), 31 g protein
Nothing beats a fried chicken sandwich when a craving strikes, but make sure to think twice before downing one of Church's Chicken latest additions to their 2020 menu. The spicy chicken sandwich contains a sodium count that gets very close to your daily allotment of salt, while its 30 grams of fat does some major damage to the waistlines of anyone who tries the sandwich. Keep your distance from this meal while you can.
Arby's Deep Fried Turkey Club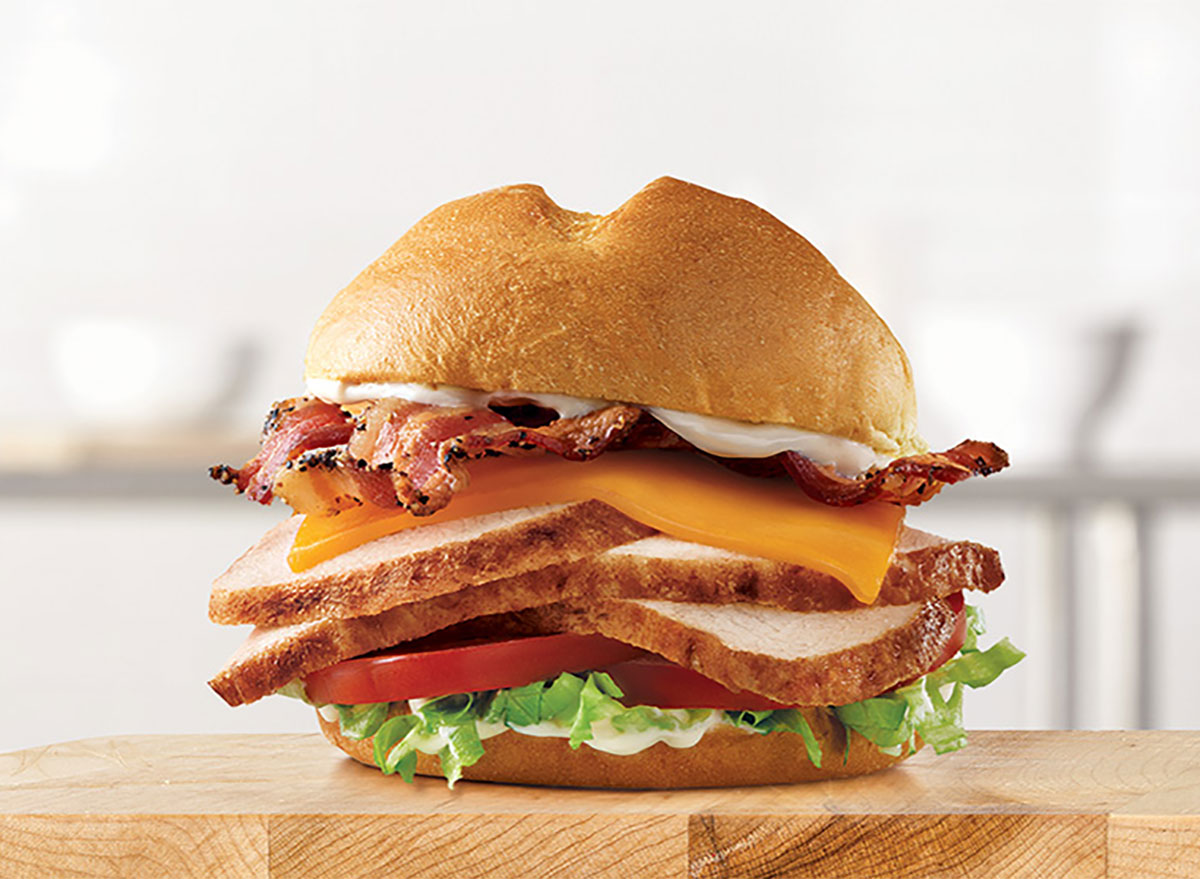 Per 1 serving
: 540 calories, 28 g fat (10 g saturated fat), 1,630 mg sodium, 38 g carbs (3 g fiber, 9 g sugar), 35 g protein
Arby's has defined themselves as purveyors as some very heavy sandwiches, but their latest deep fried turkey club takes sodium to the next level. The sandwich packs in over half your daily sodium intake into one sandwich, making it one of the worst sandwiches that entered the restaurant's menu circulation this year. If you need to stick to eating healthy, avoid any items that advertise how they have been deep fried.
Cracker Barrel's Bacon n' Egg Hashbrown casserole
Per 1 serving
: 980 calories, 61 g fat (25 g saturated fat), 1,820 mg sodium, 59 g carbs (6 g fiber, 3 g sugar), 49 g protein
Cracker Barrel has served up some items in the past that could end any diet, but they stepped up their game in 2020 with the Bacon n' Egg Hashbrown Casserole, a breakfast option that guarantees to take down your health before you can even properly wake up. The meal packs in over three-quarters of your daily sodium and a whopping 61 grams of fat, jamming in an entire day's worth of poor nutrition before you have the chance to finish your morning coffee.
Einstein Bros. Chocolate Birthday Cake Party Bagel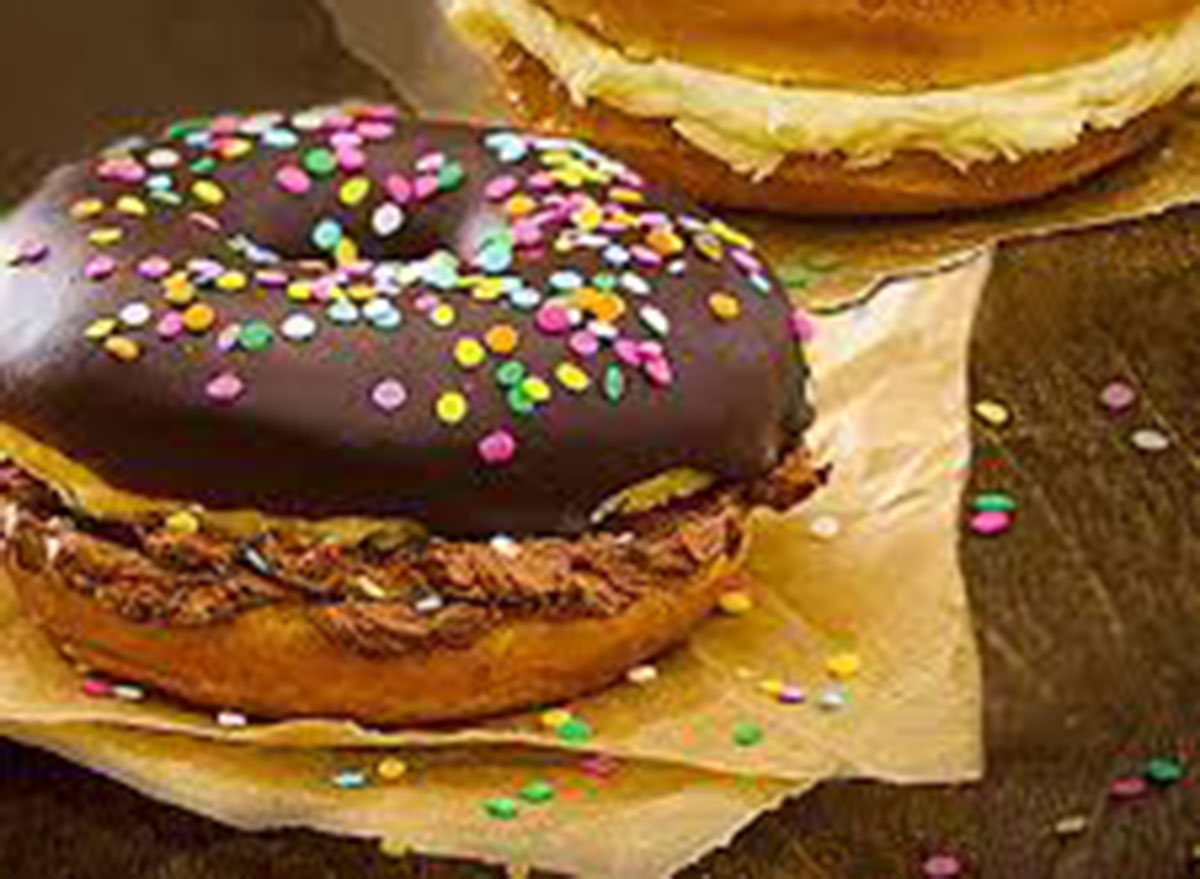 Per 1 serving
: 590 calories, 31 g fat (15 g saturated fat), 430 mg sodium, 74 g carbs (2 g fiber, 39 g sugar), 6 g protein
According to the FDA, no one should consume more than 50 grams of added sugar per day, and Einstein Bros. latest Party Bagel takes you very close to your daily limit right as you start your morning. No one needs to begin their day with a slice of cake, even if the cake comes in bagel form. Avoid this 2020 breakfast menu option to keep your eating plan on track.
Arby's Chicken Cheddar Ranch Sandwich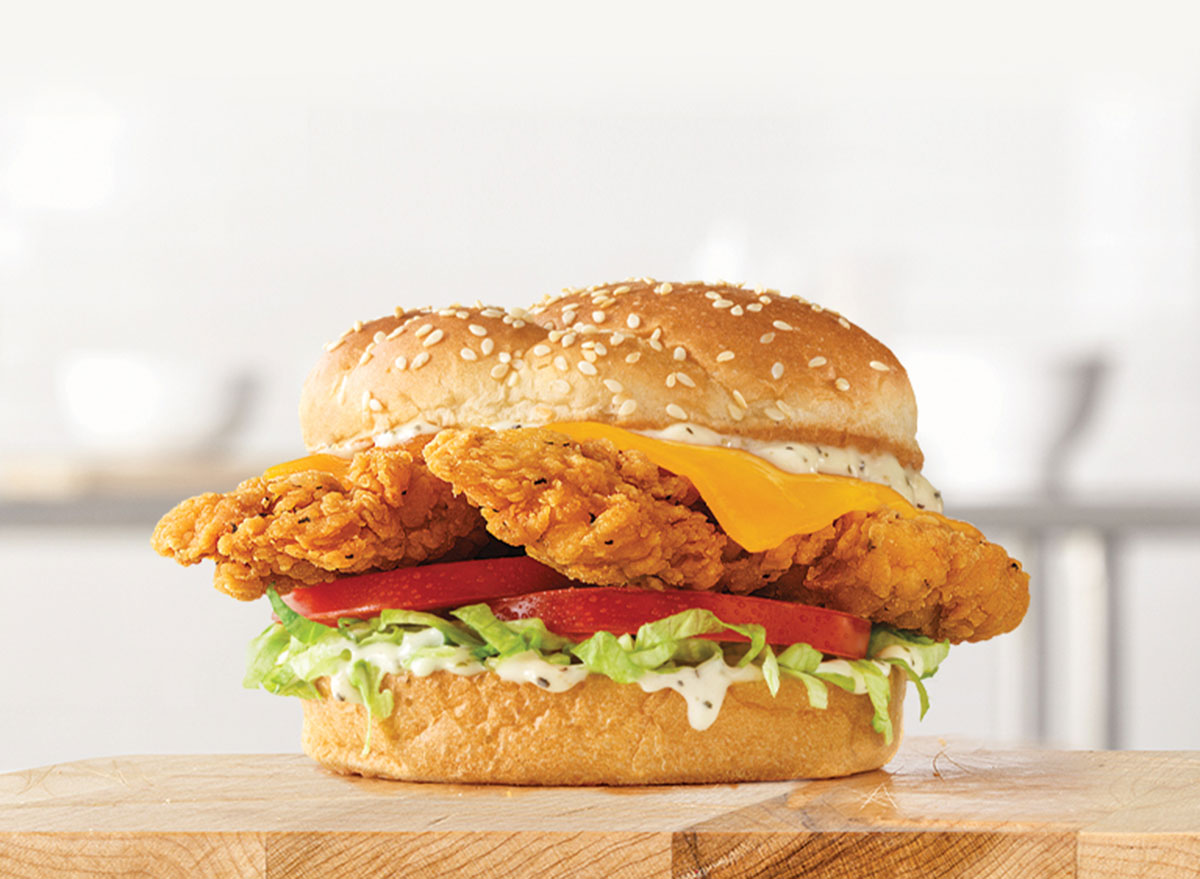 Per 1 serving
: 610 calories, 30 g fat (8 g saturated fat), 1,400 mg sodium, 58 g carbs (4 g fiber, 7 g sugar), 43 g protein
Just when you think Arby's couldn't add a worse sandwich to their menu, the fast food chain tops itself. One of the scarier standout items of 2020 came in the form of Arby's chicken cheddar ranch sandwich, a nightmare of an entree that packs in over half your day's salt, not to mention a huge amount of fat. Anyone looking to trim down their waist needs to avoid this sandwich.
Taco Bell's Grande Stacker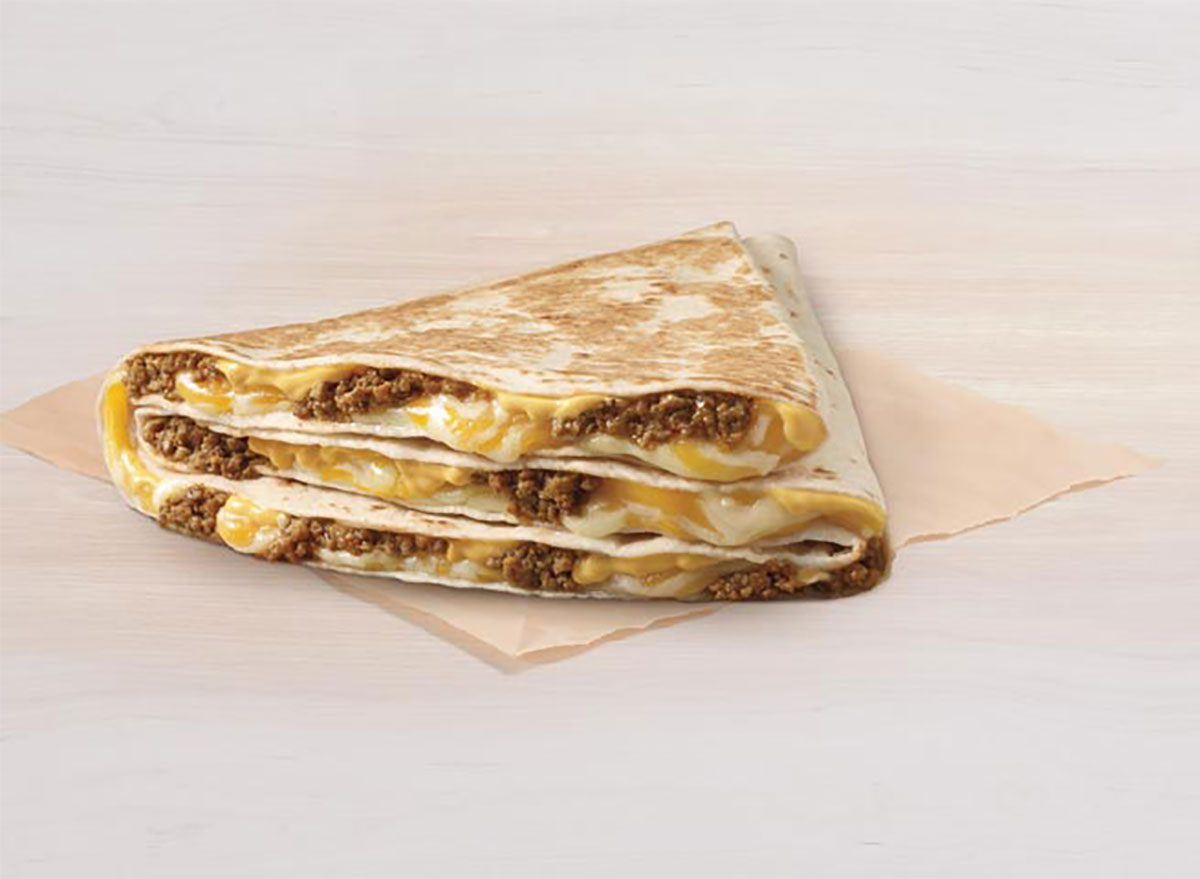 Per 1 serving
: 590 calories, 27 g fat (12 g saturated fat), 1,340 mg sodium, 58 g carbs (1 g fiber, 2 g sugar), 26 g protein
Taco Bell has been known to raise some eyebrows, and anything labeled as "grande" normally needs to get approached with caution. The chain's Grande Stacker lives up to its name, as it packs in over half your day's worth of sodium in one tortilla-wrapped stomach ache. Factor in 27 grams of fat, and you shouldn't even splurge on one of the unhealthiest menu items of 2020 on a cheat day.
Wendy's Pretzel Bacon Pub Burger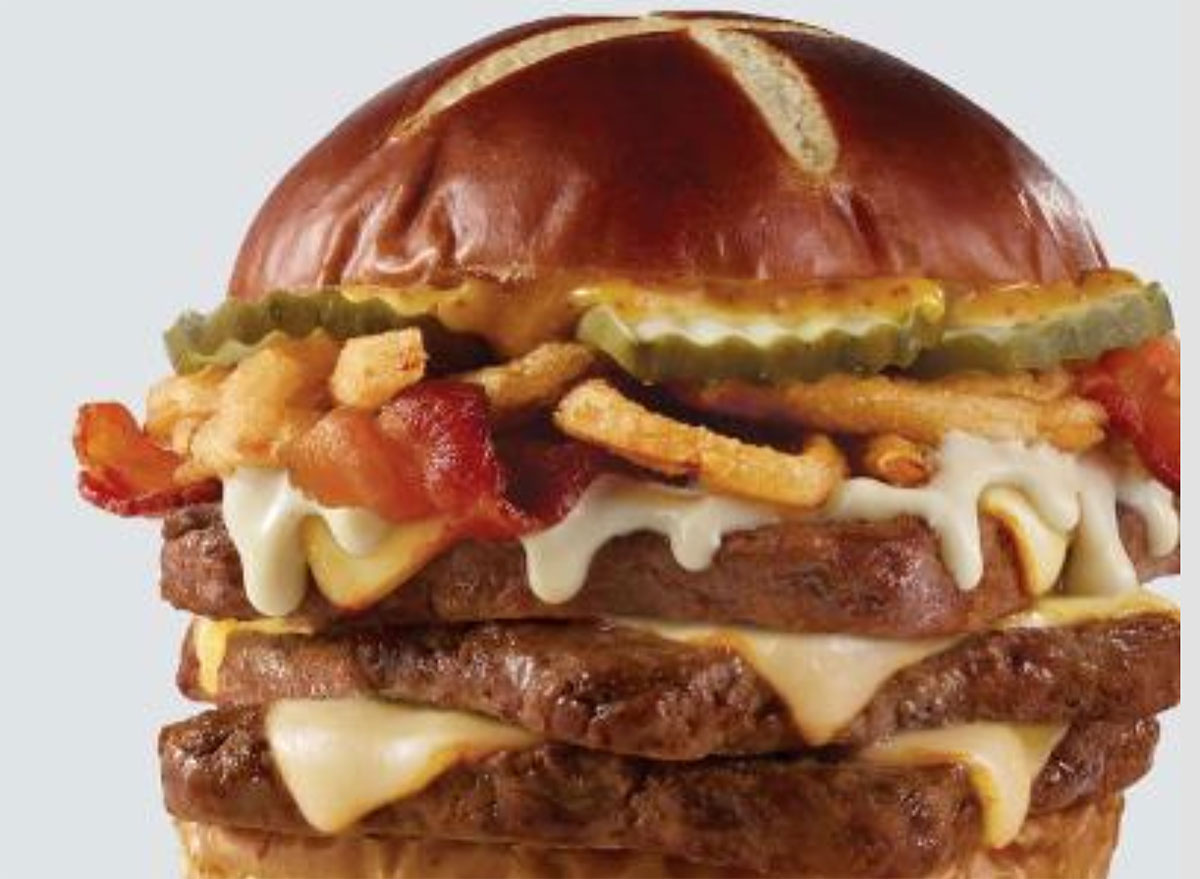 Per 1 serving
: 840 calories, 52 g fat (20 g saturated fat), 1,300 mg sodium, 53 g carbs (3 g fiber, 7 g sugar), 40 g protein
Nothing sounds better than a pretzel bacon pub burger when hunger strikes, but before you run down to your local Wendy's, make sure to really think through that decision. This 2020 menu offering loads up on half your salt for the day, while jamming in 52 grams of heart-stopping fat, making it a truly unsavory burger.6254a4d1642c605c54bf1cab17d50f1e
Next time a burger craving strikes, try out the 13+ best healthy hamburger recipes for weight loss instead and indulge your cravings, guilt-free.
Buffalo Wild Wings 10 ct. Lemon Pepper Boneless Wings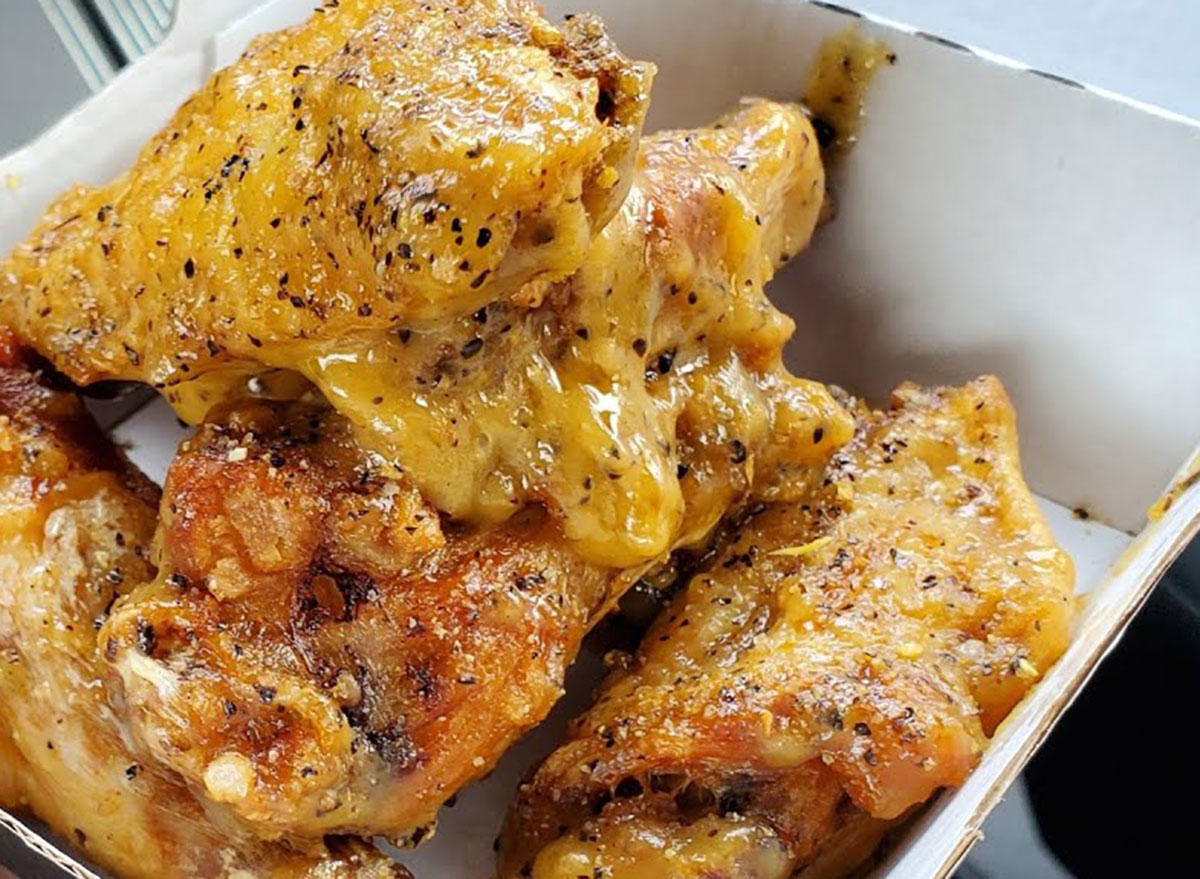 Per 1 serving
: 360 calories, 38 g fat (6 g saturated fat), 1,380 mg sodium, 3 g carbs (1 g fiber, 1 g sugar), 0 g protein
If you want to load up on empty calories, Buffalo Wild Wings has you covered in 2020. Their Lemon Pepper boneless wings continue the trend by packing in a massive amount of salt, taking you well over your halfway limit for the day, while also containing loads of fat. Don't let these wings tempt you—they can only lead to you packing on the pounds and leave you really craving a glass of water after all that salt.
Del Taco 3 pc. Crispy Chicken and Fries Box, Habanero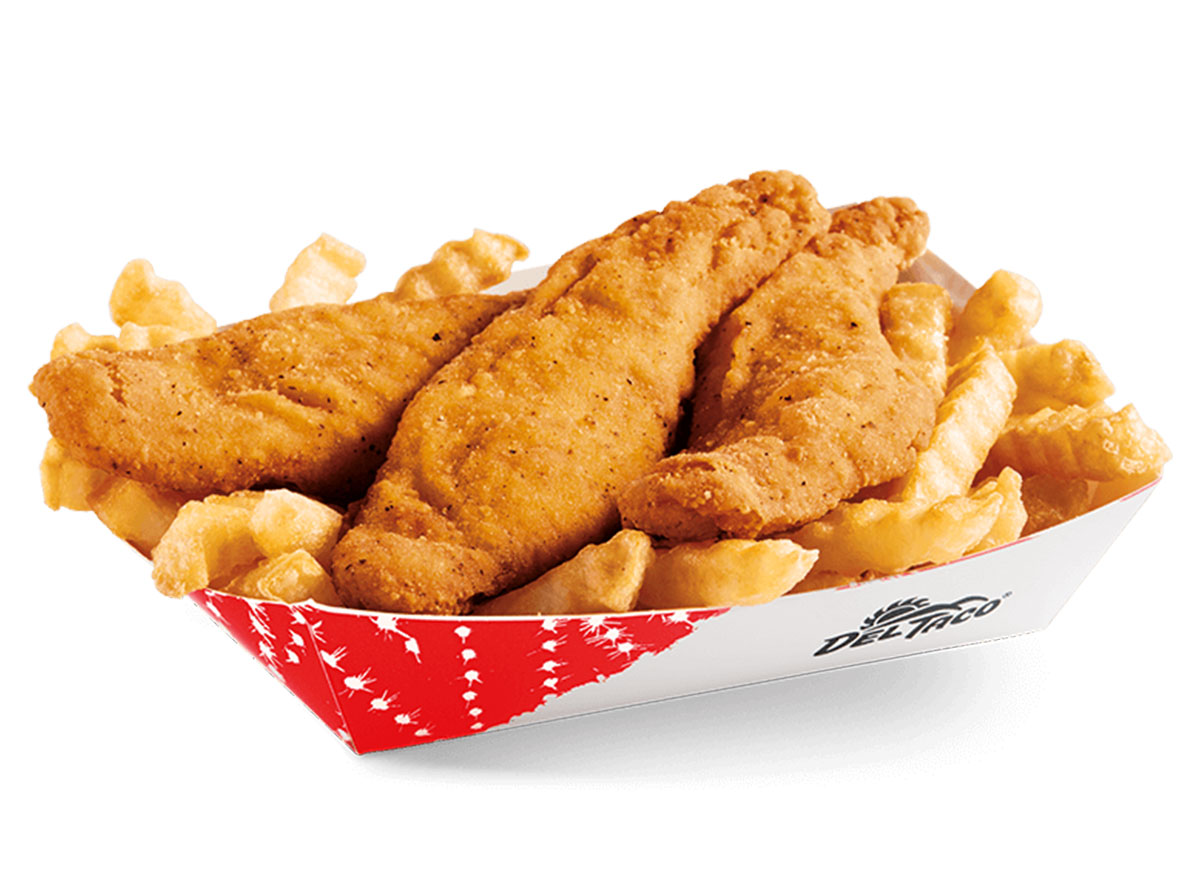 Per 1 serving
: 730 calories, 59 g fat (11 g saturated fat), 1,130 mg sodium, 31 g carbs (2 g fiber, 2 g sugar), 21 g protein
Fried chicken never does anyone's body a favor, and this entree proves itself as one of the least wholesome offerings you could order at a restaurant during 2020. This fried chicken basket serves up half your daily salt, in addition to a massive 59 grams of fat that offer no health benefits. Make sure to stay away from this option next time you visit Del Taco.
So skip this item and make your own Crispy Oven-Fried Chicken Recipe instead.
El Pollo Loco California Queso Burrito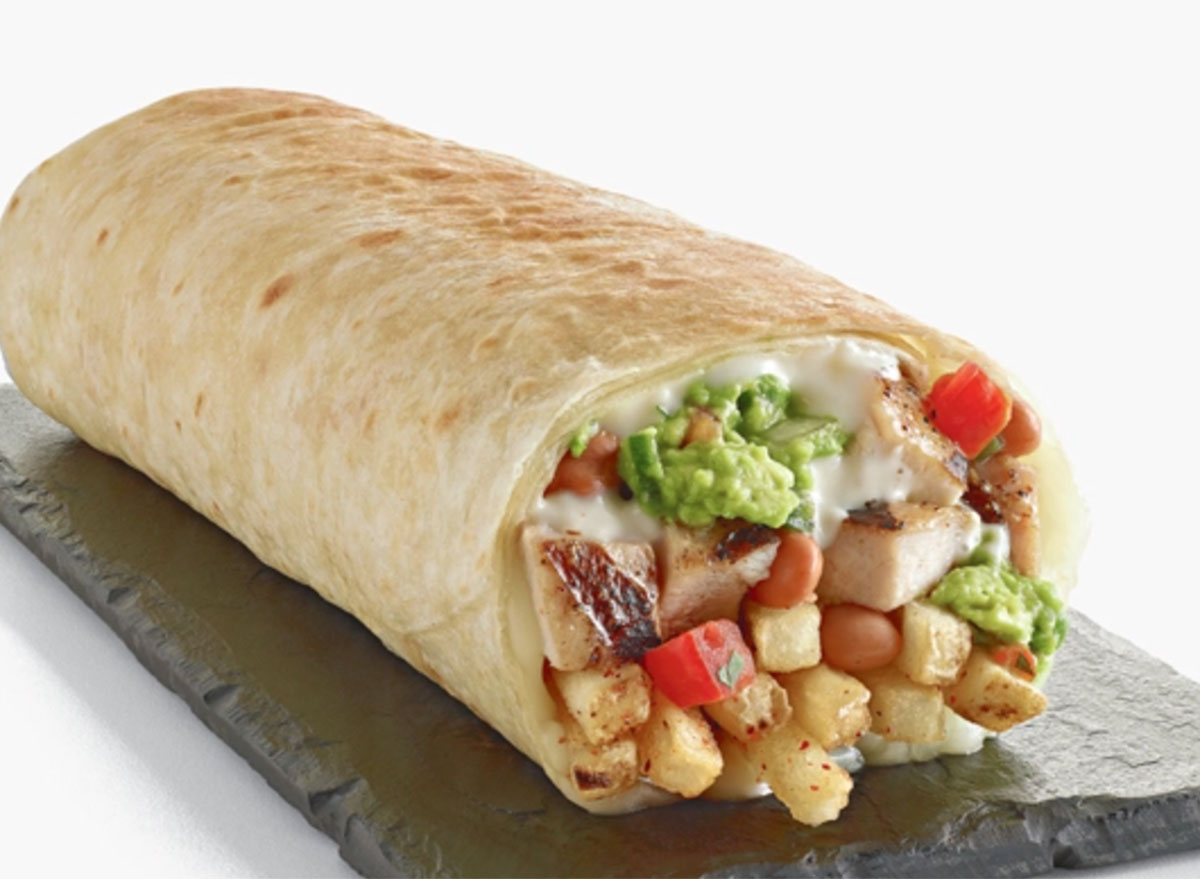 Per 1 serving
: 930 calories, 42 g fat (14 g saturated fat), 3,110 mg sodium, 93 g carbs (9 g fiber, 4 g sugar), 40 g protein
If you ever wanted to eat a day and half worth of salt in a burrito, El Pollo Loco's California Queso Burrito lets you indulge in this dietary sin. The meal packs in over 3,000 milligrams of sodium and not to mention a ton of fat, making this one of the worst Tex-Mex options to put in your body this year. Make sure to ring in 2021 in good health and don't go near this restaurant item.