12 Worst Groceries That Should Never Be In Your Shopping Cart
When you're trying to stay on track with your health goals, you're going to want to avoid stocking up on these items.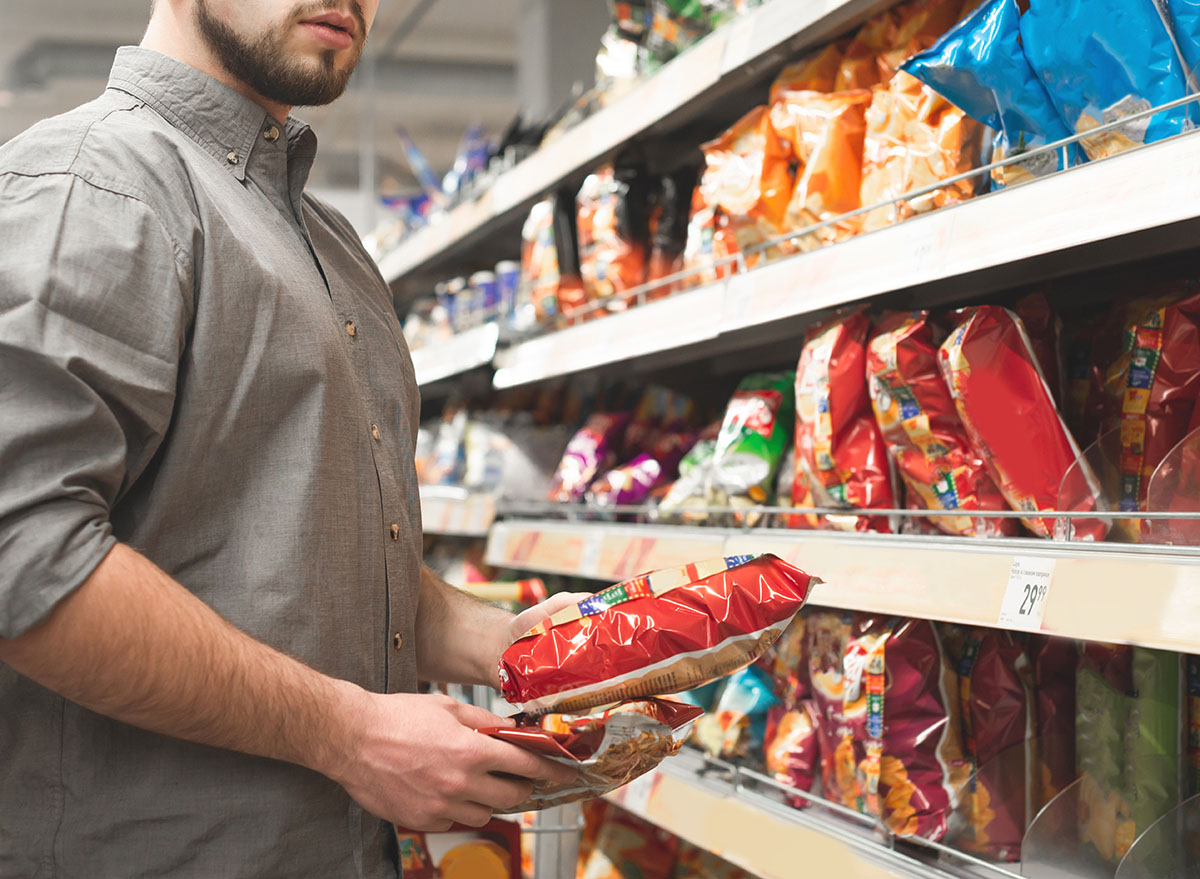 It's easy to get overwhelmed when you head to the grocery store. There are tons of foods on the shelves and if you're trying to make healthier choices, it can be a bit confusing to know what's actually not that bad for you. And which grocery store foods are just terrible for your overall health. It gets complex narrowing down what should and shouldn't make its way to your shopping list. Yes, you're going to want to make a shopping list, as it's been found that individuals who have healthier eating habits and weights more often choose to shop with a prepared list.
So to help you out, we've rounded up some items that should never be on your grocery shopping list. And as a result, should never end up in your shopping cart, no matter what. Uncover the big offenders and instead, stock up on any of The 7 Healthiest Foods to Eat Right Now.
Potato Chips—Kettle Brand Buffalo Bleu Krinkle Cut Potato Chips
Per serving, 9 chips
: 140 calories, 8 g fat (0.5 g saturated fat), 160 mg sodium, 15 g carbs (2 g fiber, 1 g sugar), 2 g protein
It's no secret that potato chips aren't ever considered a weight-loss-friendly food. In fact, one Harvard study found that the participants who had potato chips as a part of their diet actually gained weight each year they were assessed. Those bags of chips are often categorized as the snacks that are causing you to gain weight! And these from Kettle Brand are a perfect example.
Just one serving is a measly nine chips. With that, you're getting 8 grams of fat, and plenty of empty calories and sodium. We all know it's far too easy to eat double, even triple the serving size.
Ice Cream—Ben & Jerry's Chubby Hubby
Per serving
: 460 calories, 28 g fat (15 g sat fat, 0.5 g trans fat), 220 mg sodium, 45 g total carbs (0 g fiber, 35 g sugar, 28 g added sugars), 10 g protein
You don't have to completely give up this frozen sweet treat, as there are better-for-you ice cream varieties available in the grocery store. Just know Ben & Jerry's Chubby Hubby isn't one of them. This flavor happens to be one of the ice cream flavors with the most calories you'll find in the entire freezer aisle. One serving also happens to have as much sugar as three and a half Original Glazed Krispy Kreme Donuts. Big yikes.
Frozen Dinners—Hungry-Man Double Chicken Bowl Boneless Fried Chicken
Per meal
: 760 calories, 34 g fat (10 g saturated fat, 0 g trans fat), 2,090 mg sodium, 76 g carbs (4 g fiber, 8 g sugar), 39 g protein
This Hungry-Man frozen meal is made of two fried chicken patties that are served alongside mac and cheese. The fact that it has more than 2,000 milligrams of sodium is just scary. Keep in mind The American Heart Association recommends the average person have no more than 2,300 milligrams per day—and this one meal nearly knocks that all out.
Looking for more help navigating through your favorite foods? Your ultimate restaurant and supermarket survival guide is here!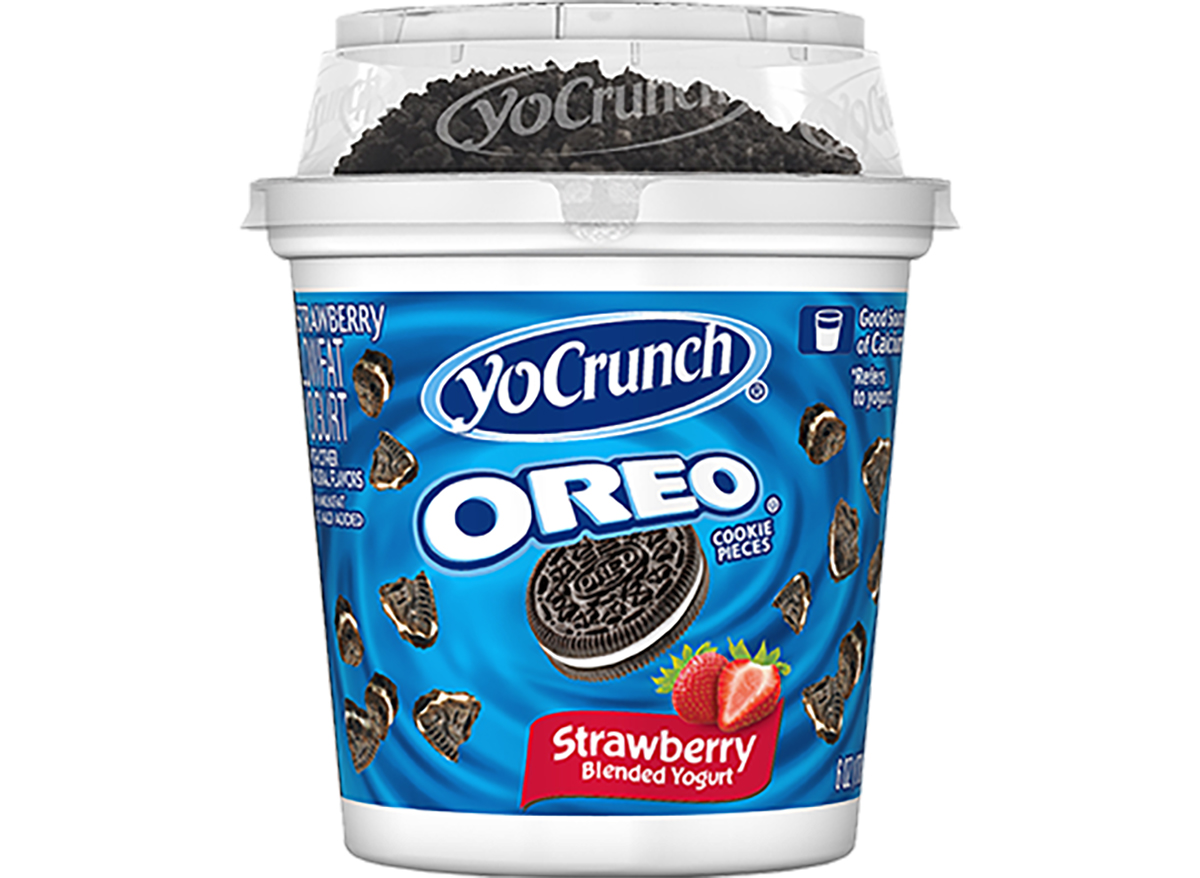 Per container
: 180 calories, 3 g fat (1.5 g saturated fat, 0 g trans fat), 110 mg sodium, 33 g carbs (0 g fiber, 26 g sugar), 5 g protein
Plain yogurt itself is great to load up on, as there are tons of benefits, including that it aids in your weight-loss efforts and serves as a great source of vitamin D. But you're more likely to find many different types of flavored yogurts in the grocery store, and those are the ones you want to avoid. They're loaded up with tons of added sugar. YoCrunch's Strawberry with Oreo Blended Yogurt is packing 26 grams of the sweet stuff— that's more than you would get from a full-size Hershey's chocolate bar.
Deli Meat—Bar S Classic Bologna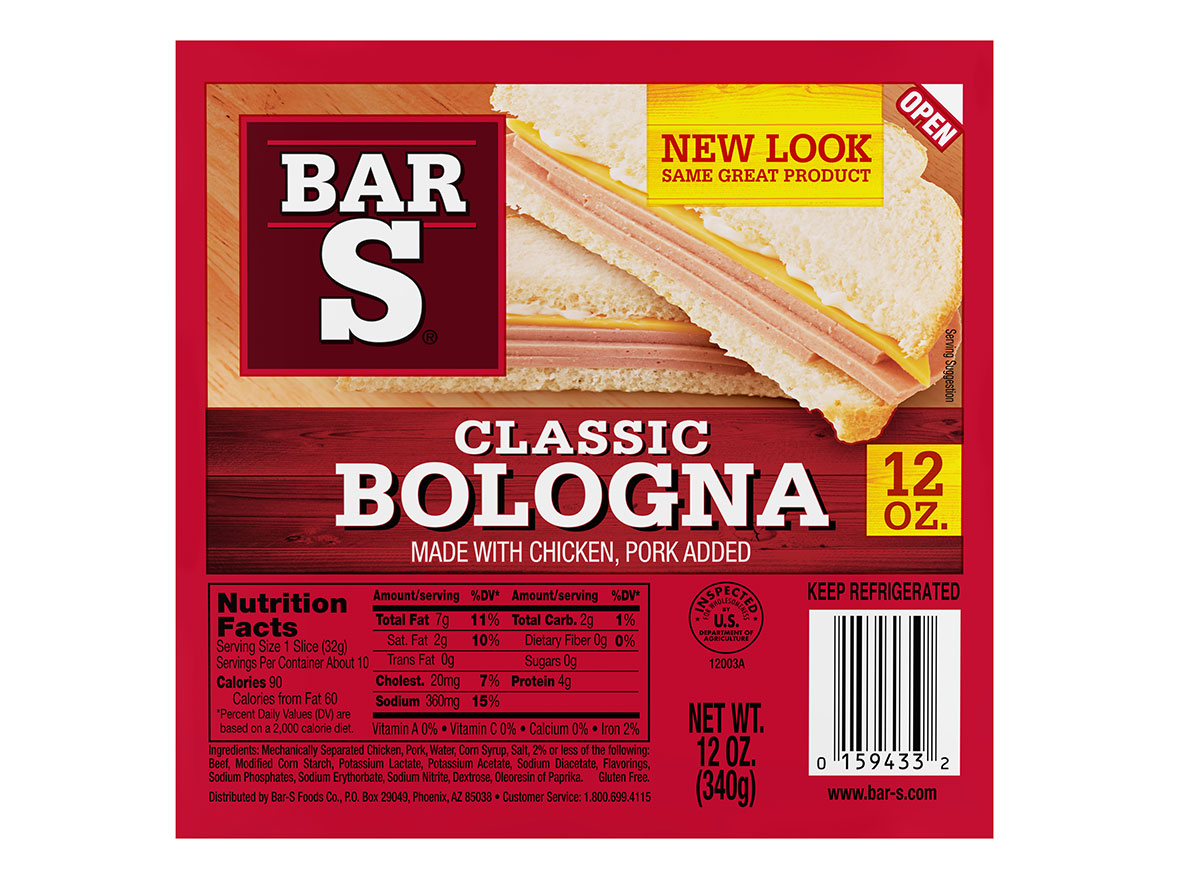 6254a4d1642c605c54bf1cab17d50f1e
Per 1 slice
: 90 calories, 7 g fat (2 g saturated fat), 370 mg sodium, 1 g carbs (0 g fiber, 1 g sugar), 3 g protein
Deli meat is always tricky to navigate, as there are plenty of options that are not great for you. An example? The Classic Bologna from Bar S. Just two slices will cost you 740 milligrams of sodium.
Cereal—Malt-O-Meal's Chocolate Marshmallow Mateys
Per serving
: 170 calories, 1.5 g fat (0 g saturated fat), 150 mg sodium, 37 g carbs (1 g fiber, 23 g sugar), 1 g protein
Sugary cereals might remind you of how you started your day as a kid, but you're going to want to leave those memories in the past where they belong. This chocolate and marshmallow cereal is packing up 23 grams of sugar in just one serving. The American Heart Association recommends the average man should consume no more than 36 grams of added sugar per day, and the average woman shouldn't have more 25 grams. See how this cereal can be problematic?
And that's not all.
Take note of the lack of important nutrients like protein and fiber. These help keep you full for longer so after a bowl of this stuff, you'll be hungry again in no time.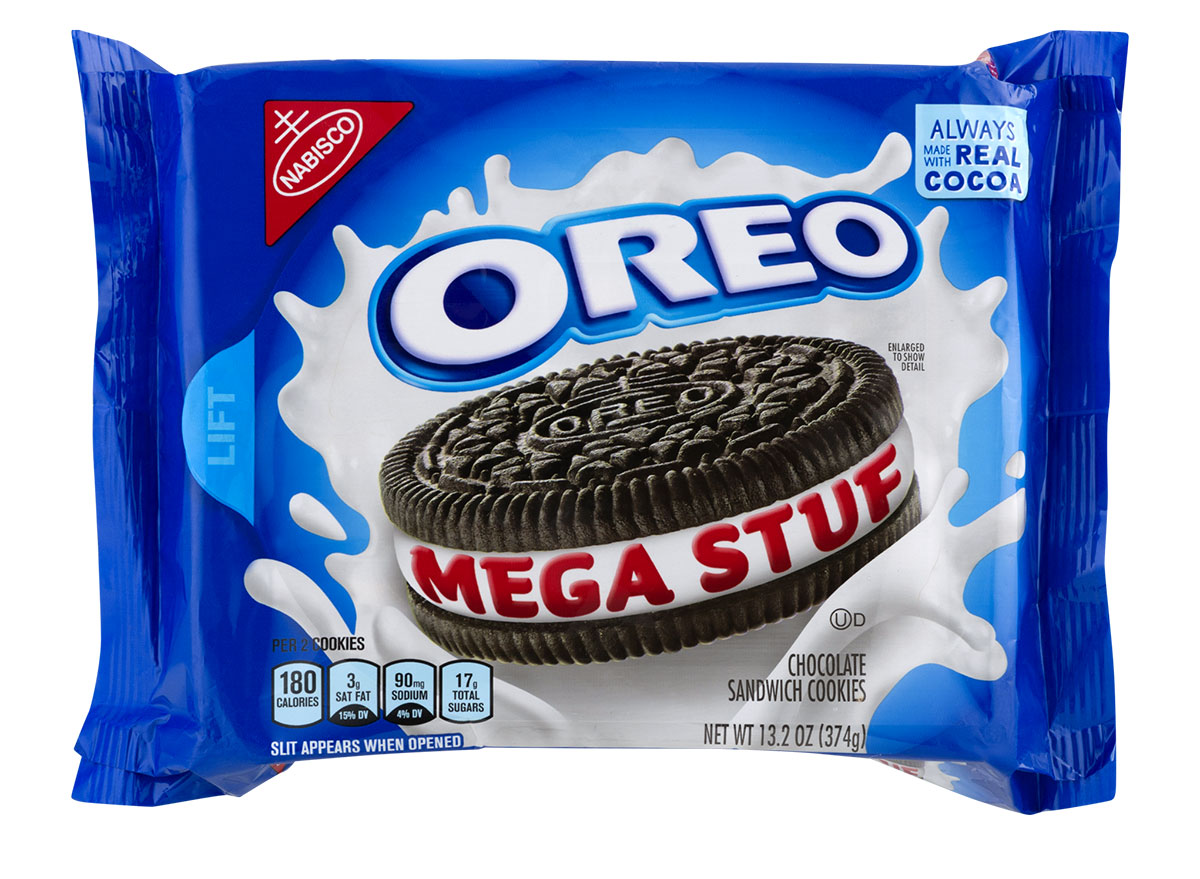 Per serving, 2 cookies
: 180 calories, 3 g fat (0 g saturated fat), 90 mg sodium, 25 g carbs (0 g fiber, 17 g sugar), <1 g protein
We get it—no one is immune to the allure of the cookie aisle all the time. But the one cookie to want to avoid ever tossing into your shopping cart? None other than Oreo's Mega Stuff. Not only is it high in calories, sugar, and fat, but these cookies are packed with a long list of processed ingredients. Skip!
Frozen Breakfast—Great Value Parma Melt Breakfast Sandwich
Per 1 sandwich
: 540 calories, 27 g fat (11 g saturated fat), 1,190 mg sodium, 48 g carbs (2 g fiber, 2 g sugar), 26 g protein
If you like to do your grocery shopping at Walmart, keep these breakfast sandwiches out of your cart. Just one of these Parma Melt sammies will cost you more than 500 calories and is packing 1,190 milligrams of sodium. While this one might be ready in five minutes, you're much better off just making a breakfast sandwich yourself.
Chocolate Hazlenut Spread—Nutella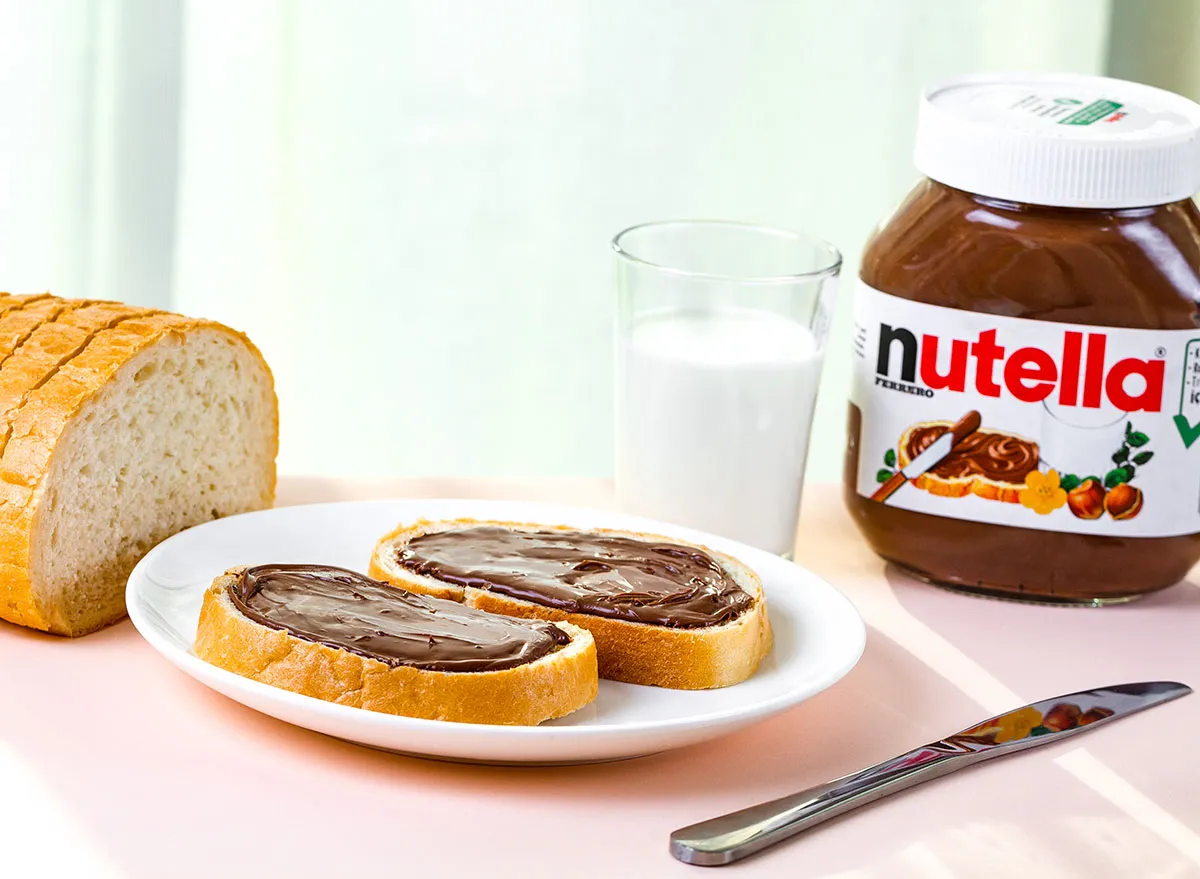 Per 1 serving
: 200 calories, 11 g fat (4 g saturated fat), 15 mg sodium, 22 g carbs (1 g fiber, 21 g sugar), 2 g protein
If you already incorporate nut or seed butters such as peanut butter into your diet, then you already know there are a decent amount of health benefits that can come your way if you choose the right kind of spread. The one you don't want to load up on, though? A hazelnut spread such as Nutella.
This one is just fooling you into thinking it's healthy. In reality, eating a sugar-filled spread like this every day can lead you to pack on the pounds.
"Nutella is one of those foods that people believe to be healthy because it contains a nut," Leah Kaufman, MS, RD, CDN, told us in a previous article. "But check the ingredients: Spreads like Nutella are primarily sugar and palm oil, with almost no actual nuts involved. With over 20 grams of added sugar and only two grams of protein, the spread just winds up at your waist."
Frozen Pizza—DiGiorno Bacon Me Crazy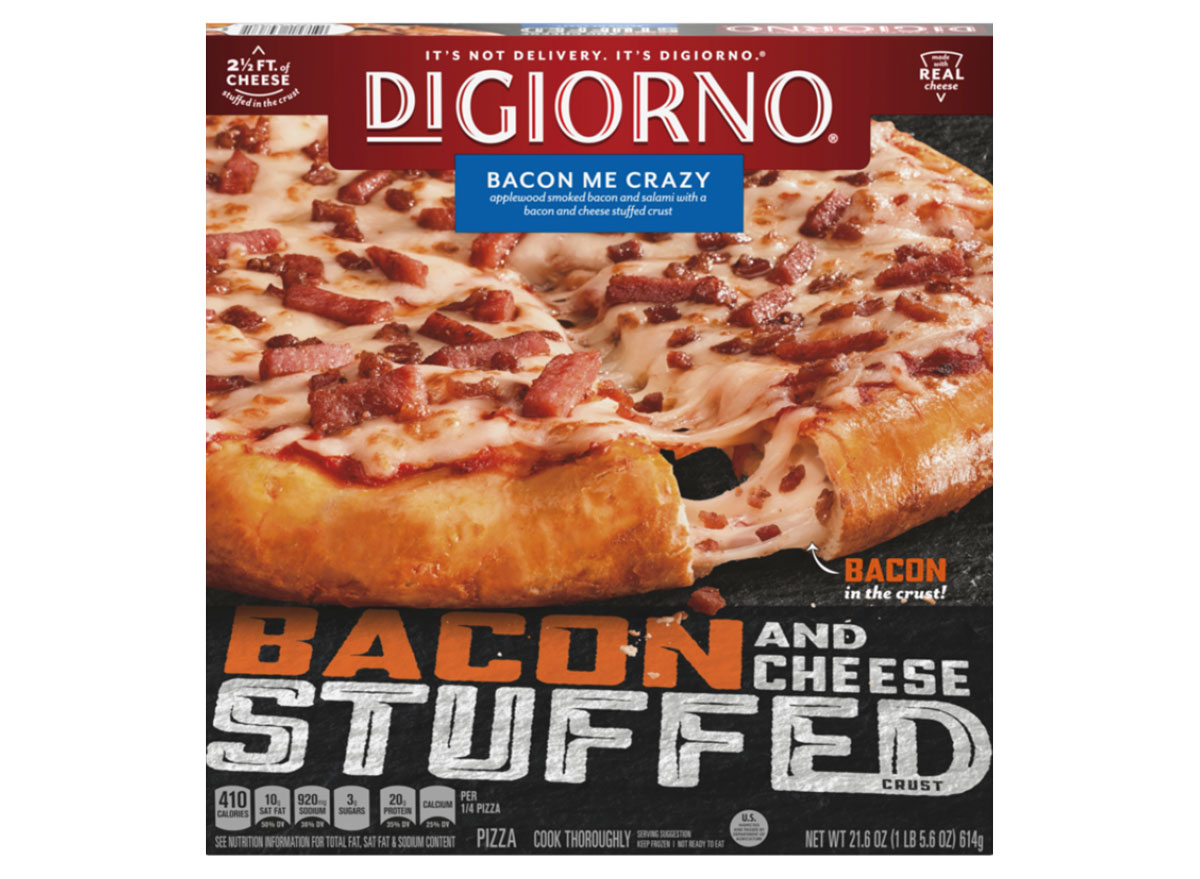 Per serving, 1/4 pizza
: 410 calories, 21 g fat (10 g saturated fat), 920 mg sodium, 34 g carbs (1 g fiber, 4 g sugar), 20 g protein
DiGiorno's take on the stuffed crust pizza pie is one you want to never buy. Here, a cheese pizza is loaded up with Applewood smoked bacon and salami, and there happens to be bacon and cheese in the crust, too. Talk about an overload! One serving of this frozen pizza has more than 900 milligrams of sodium.
Baked Goods—Entenmann's Iced Party Cake
Per serving
: 370 calories, 19 g fat (7 g saturated fat), 220 mg sodium, 48 g carbs (0 g fiber, 37 g sugar), 2 g protein
Entenmann's Party Cake does look rather festive, but keep in mind that it's "iced," and funfetti style of cake has sprinkles baked in it too. Essentially, this just means more sugar. And that theory is true, as one piece is packing 37 grams, and 19 grams of fat. Not much to celebrate here!
Pretzels—Snyder's Hot Buffalo Wing Pretzel Pieces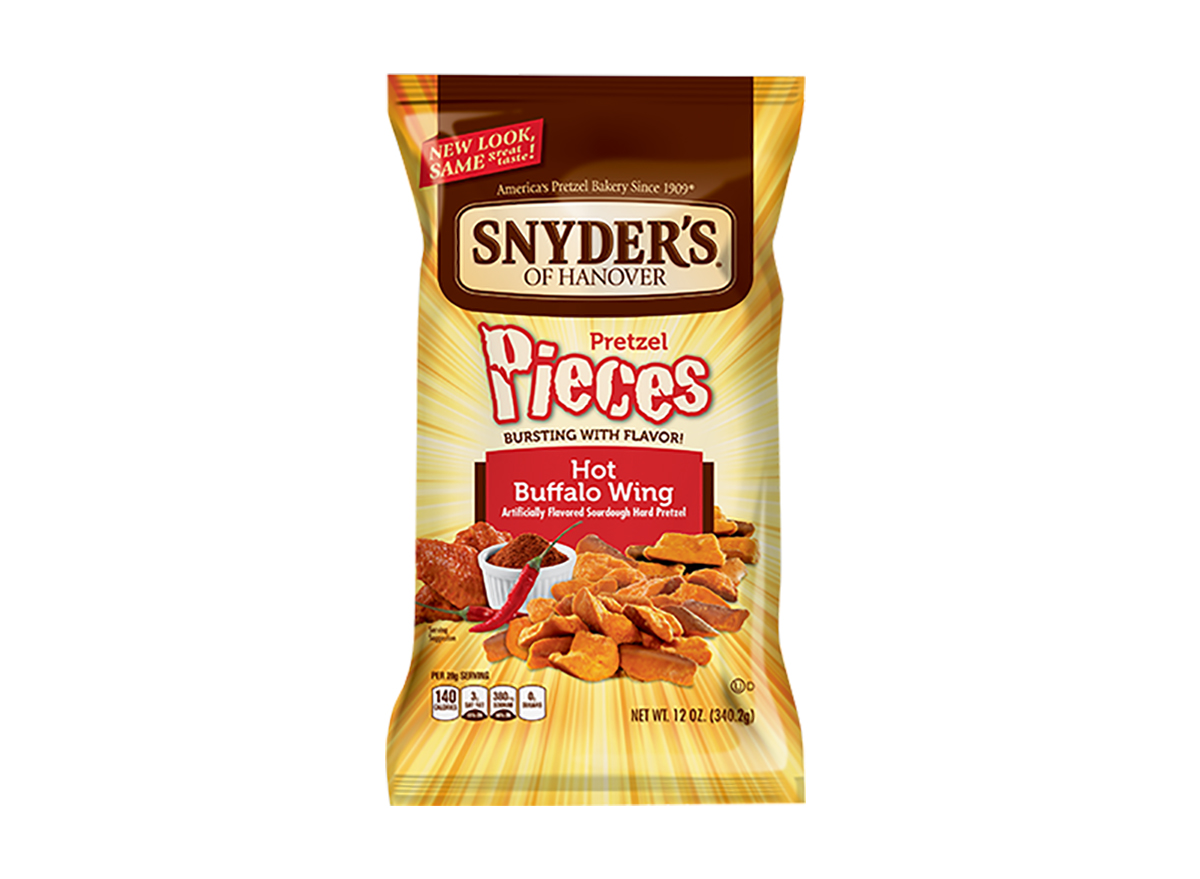 Per serving
: 140 calories, 7 g fat (3 g saturated fat), 380 mg sodium, 17 g carbs (<1 g fiber, 0 g sugar), 2 g protein
The thing about pretzels is that they seem like an ideal salty snack. It's important to keep in mind, though, that they really don't offer up much as there is a major lack of fiber. So you'll end up eating more, as they don't really satisfy you. Snyder's Hot Buffalo Wing Pretzel Pieces are not only packing the salty stuff, but they're also rather high in fat for what you would think is a small snack.
Jennifer Maldonado
Jennifer Maldonado is a senior editor at Eat This, Not That!, specializing in food and health content.
Read more about Jennifer