The Most Iconic Food in Every State
America is the land of pulled pork, lobster rolls, and key lime pie.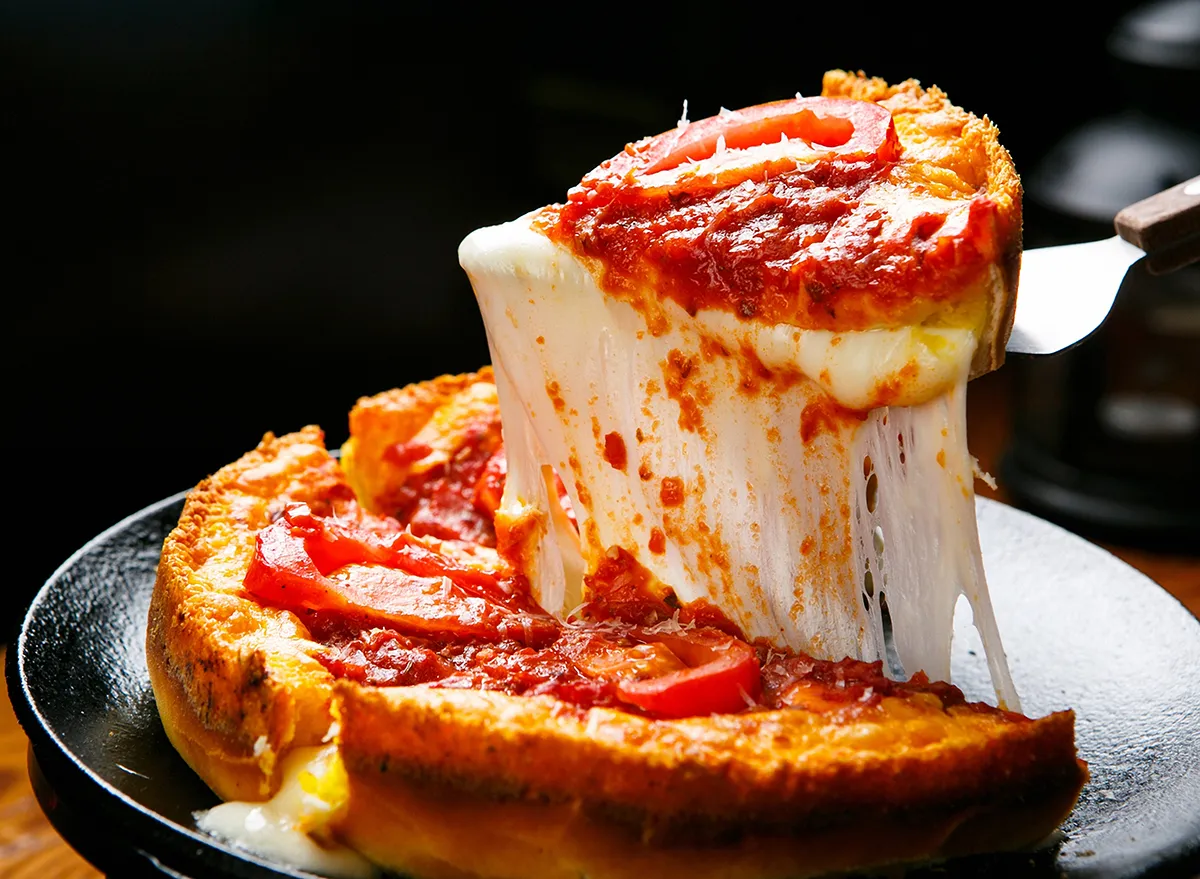 When you think of Japanese cuisine, raw fish and seaweed might come to mind. And Italian cooking probably makes you think of pasta, risotto, and plenty of cheese. But American food is less easy to define—the country is a melting pot of culinary influences. That's why the culinary experts, chefs, and food writers at Flavored Nation put together a list of the best American foods in every state each year. The annual list, announced in April, incorporates data from research, consumer input via social media, and conversations with state tourism boards.
Pulled pork, shrimp and grits, key lime pie, and lobster rolls are classic American dishes you can easily associate with a state or region. We hear North Dakota makes excellent strawberry rhubarb pies, and West Virginia has killer cornbread.
And for more, don't miss The Most Popular Slow Cooker Dish in Every State.
ALABAMA: Fried Green Tomatoes
This Southern classic is especially beloved in Alabama. Try dipping these fried bites in ranch dressing for a heavenly appetizer.
Fried green tomatoes are just one of the 23 Iconic American Foods Everyone Should Try Once!
ALASKA: Reindeer Sausage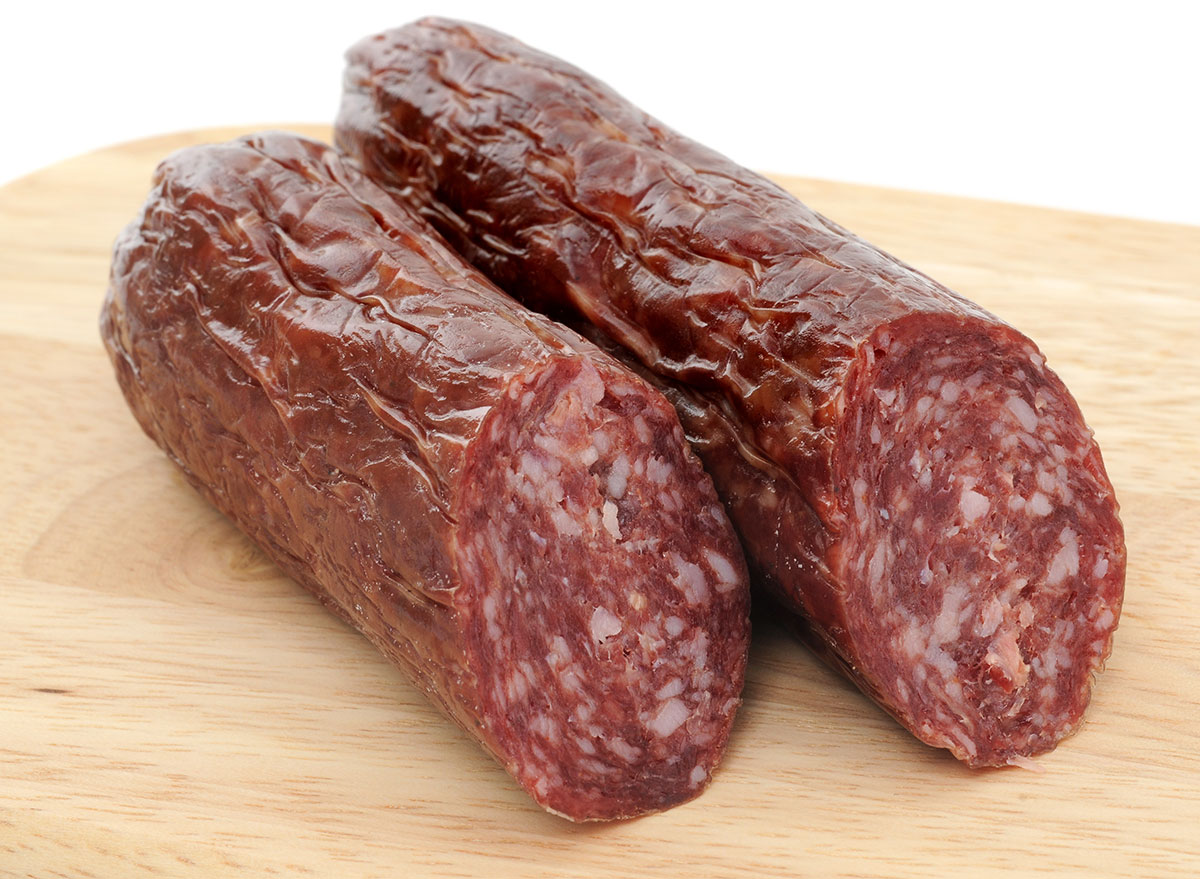 Whether you picture reindeer sleighing through a Christmas Eve sky or on a bun at a hot dog cart, the gamey meat has been an Alaskan staple since the late 19th century.
ARIZONA: Enchiladas
As Flavored Nation explains, the enchiladas you'll find in Arizona have a red sauce and aren't overly spicy. So if you're looking for a dish that's mild but still flavor-packed, this is a great option.
And for more fun facts, here are 6 Americanized "Mexican Dishes" They Won't Eat in Mexico.
ARKANSAS: Fried Catfish
While Arkansas' freshwater bodies are brimming with the state's staple, authorities set a daily creel limit on many catfish species to ensure the streams and lakes maintain their abundance. In restaurants, you'll often find the fried fish breaded with a mixture of flour, cornbread, and spices, and served alongside hushpuppies.
CALIFORNIA: Fish Tacos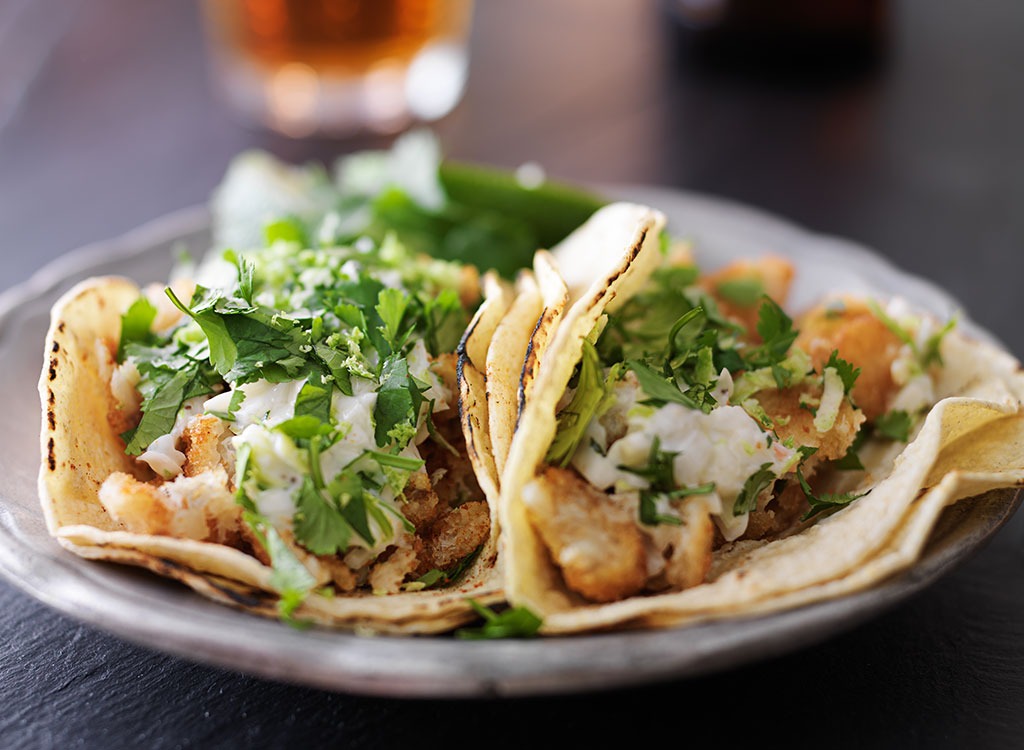 The classic fish taco—grilled or fried white fish (such as cod or mahi-mahi), shredded cabbage, crema, pico de gallo, and a squirt of lime all nestled into a double layer of corn tortillas—originated in Baja, California.
Want to make your own fish tacos at home? Try this Spicy Tuna and Avocado Fish Taco Recipe.
COLORADO: Rocky Mountain Oysters
Rocky mountain oysters aren't a type of seafood—they're actually fried bull testicles. Whether or not that sounds appetizing, these are a delicacy in Colorado.
CONNECTICUT: Lobster Mac and Cheese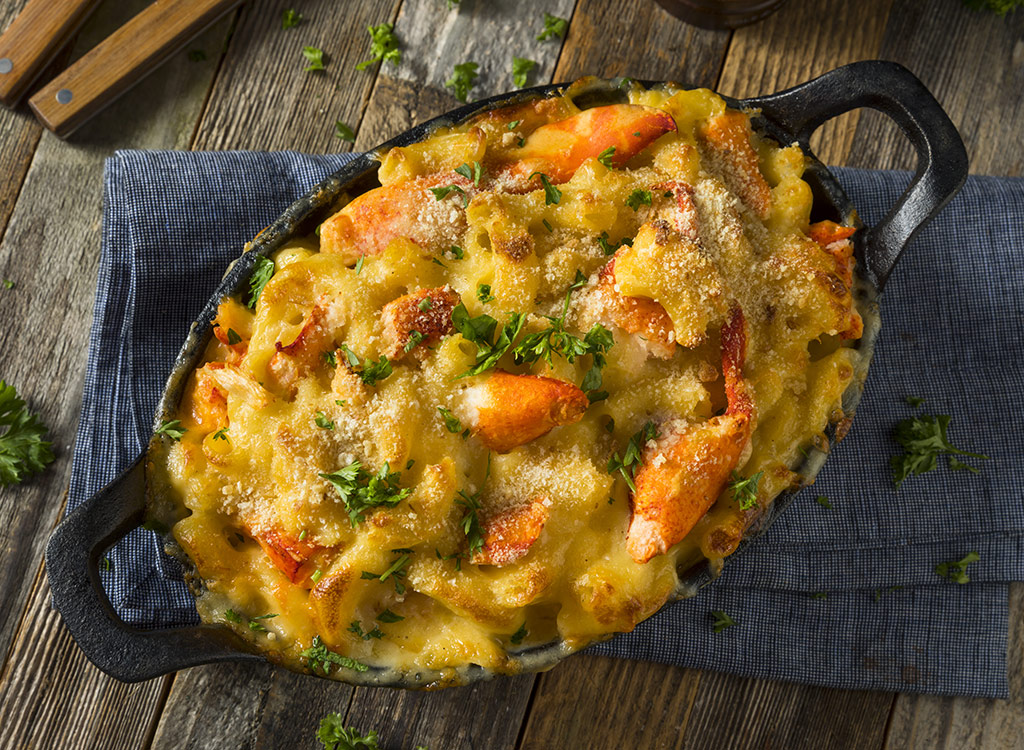 Nothing screams "New England" more than sweet lobster chunks, especially when they're baked into a delicious plate of mac and cheese.
And if you love this cheesy dish, don't miss these 18 Amazing Mac-and-Cheese Recipes.
DELAWARE: Fries with Vinegar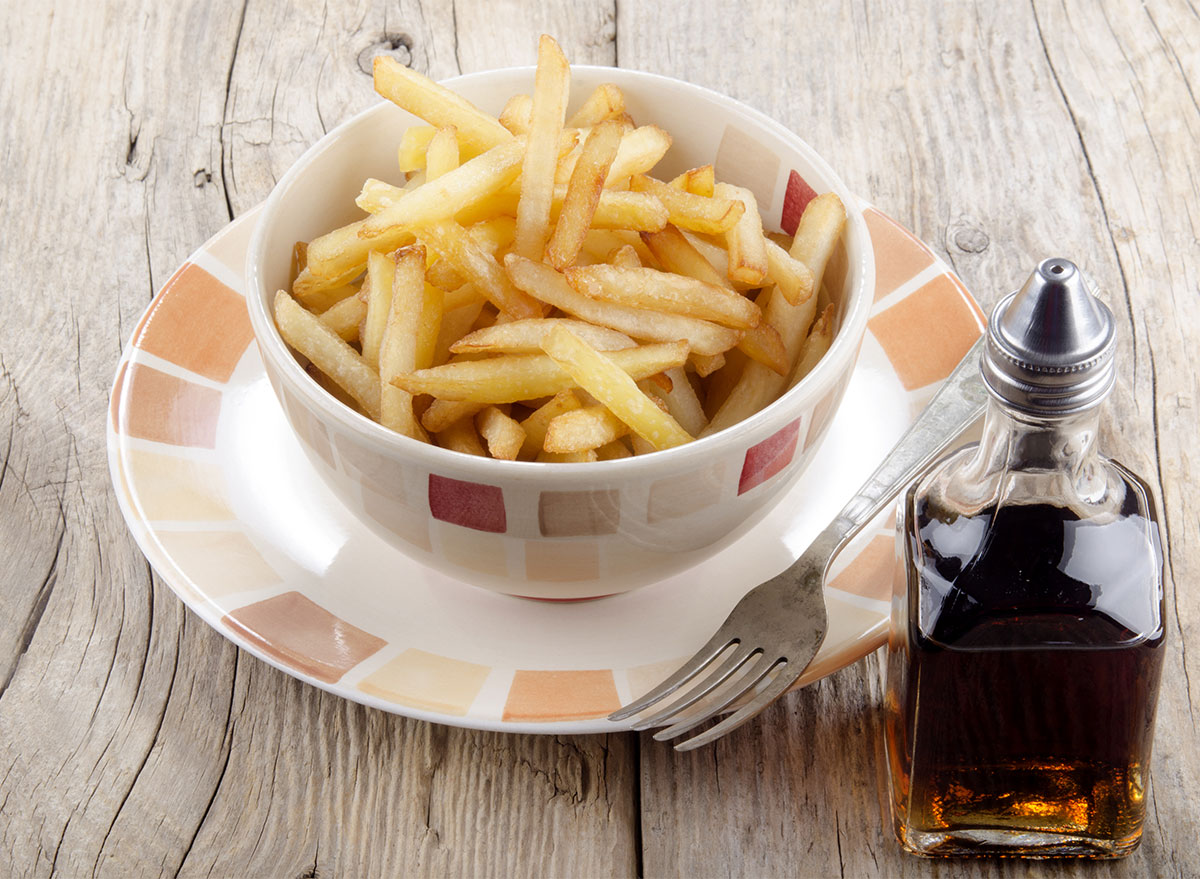 Forget ketchup—apple cider vinegar is the best way to top your French fries.
FLORIDA: Key Lime Pie
As the official pie of the Peninsula State, key lime pie features a tangy yet sweet mixture of aromatic key limes, eggs, and condensed milk. Key limes, which are native to the Florida Keys, differ from other lime varieties because they're smaller, seedier, and more flavorful.
Want to make your own version of the dish? Here's The Easiest Key Lime Pie Recipe.
GEORGIA: Peach Cobbler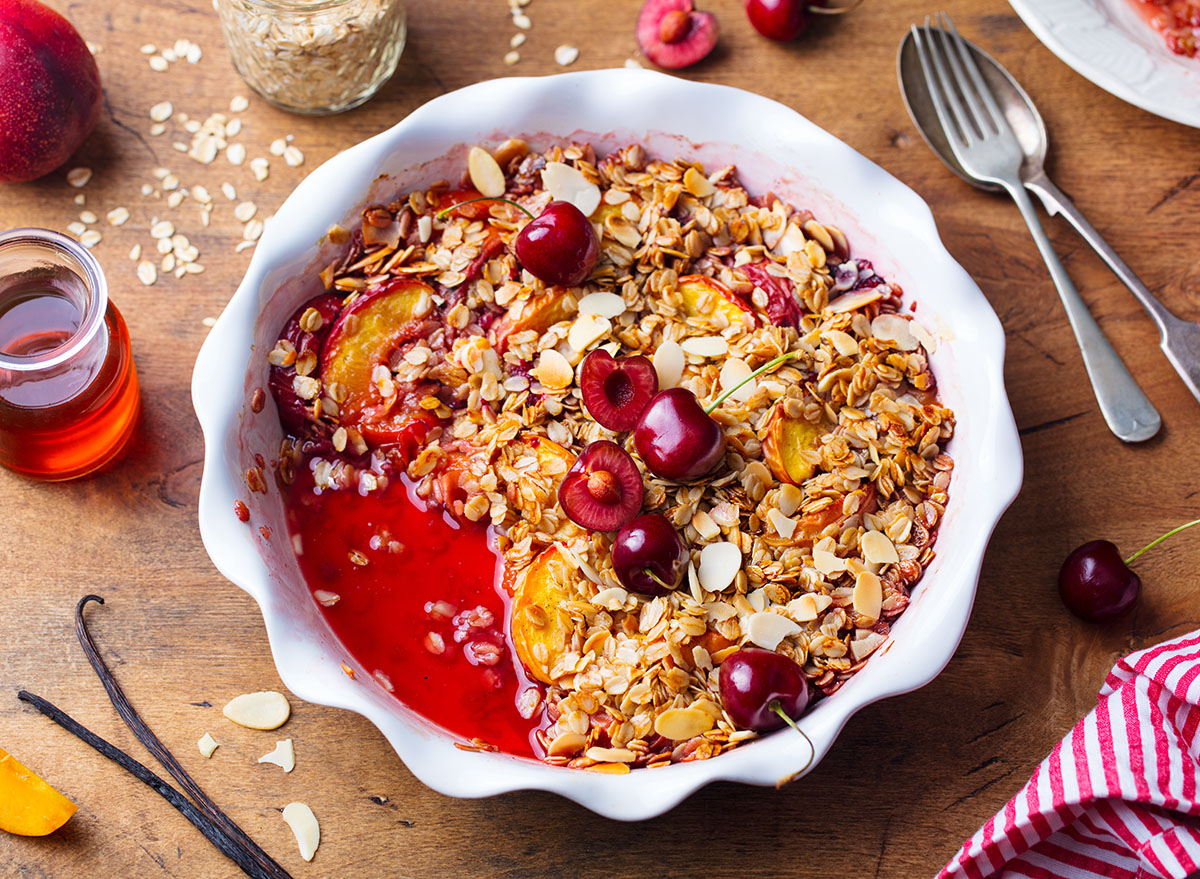 It's no secret that Georgia is known for its juicy peaches, but how did the fruit-filled cobbler come about? According to Flavored Nation, cobblers were created by combining fruit with "cobbled" together clumps of biscuit dough that are then baked over a fire. The pie originated as the main meal for American settlers but is usually enjoyed for dessert nowadays.
HAWAII: Poke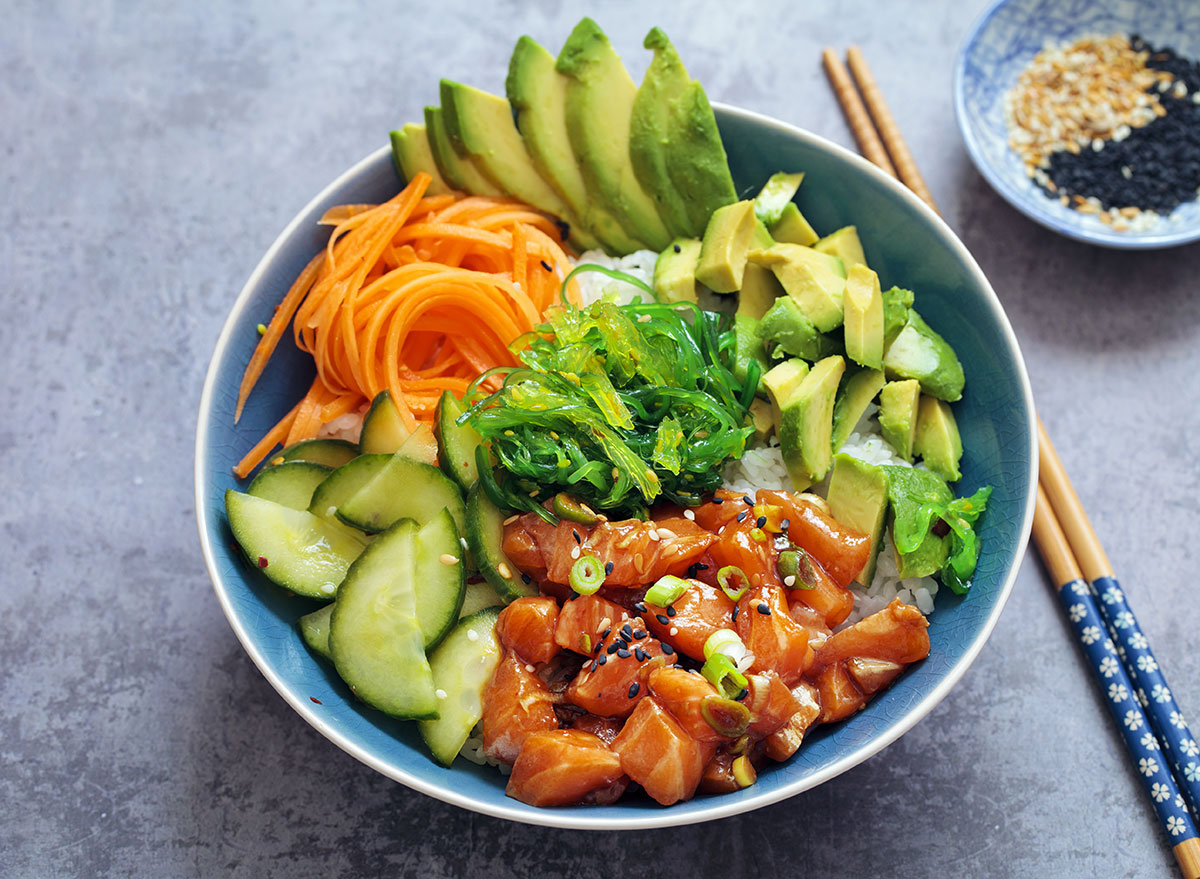 Poke bowls are a common trend now, but Hawaiian people have been enjoying poke bowls for years. And with all of those delicious flavors, we don't blame them!
IDAHO: Finger Steaks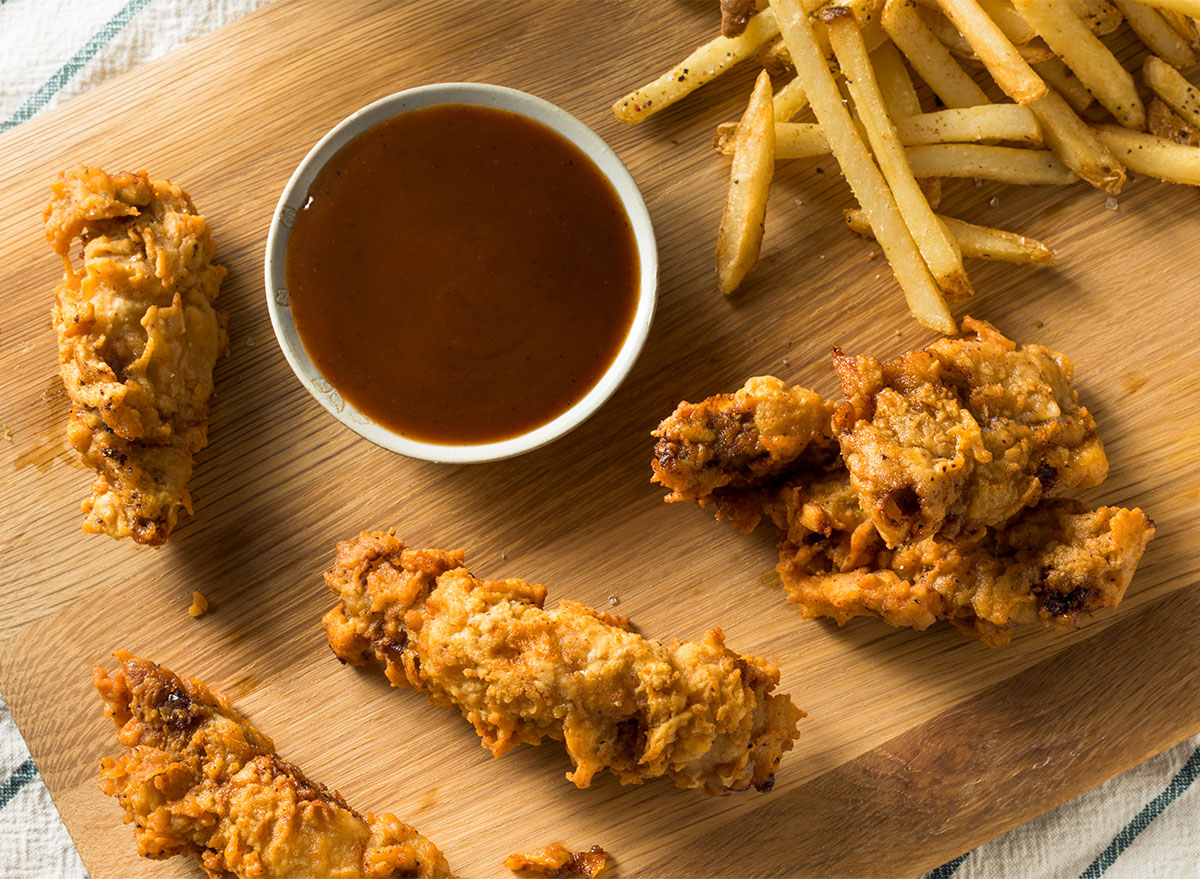 Much to our dismay, Idaho's most iconic food isn't the nutritious potato. Finger steaks began as a means to repurpose leftover tenderloin and are made by cutting the meat into half-inch-wide strips, battering them in flour, and deep-frying them.
ILLINOIS: Deep Dish Pizza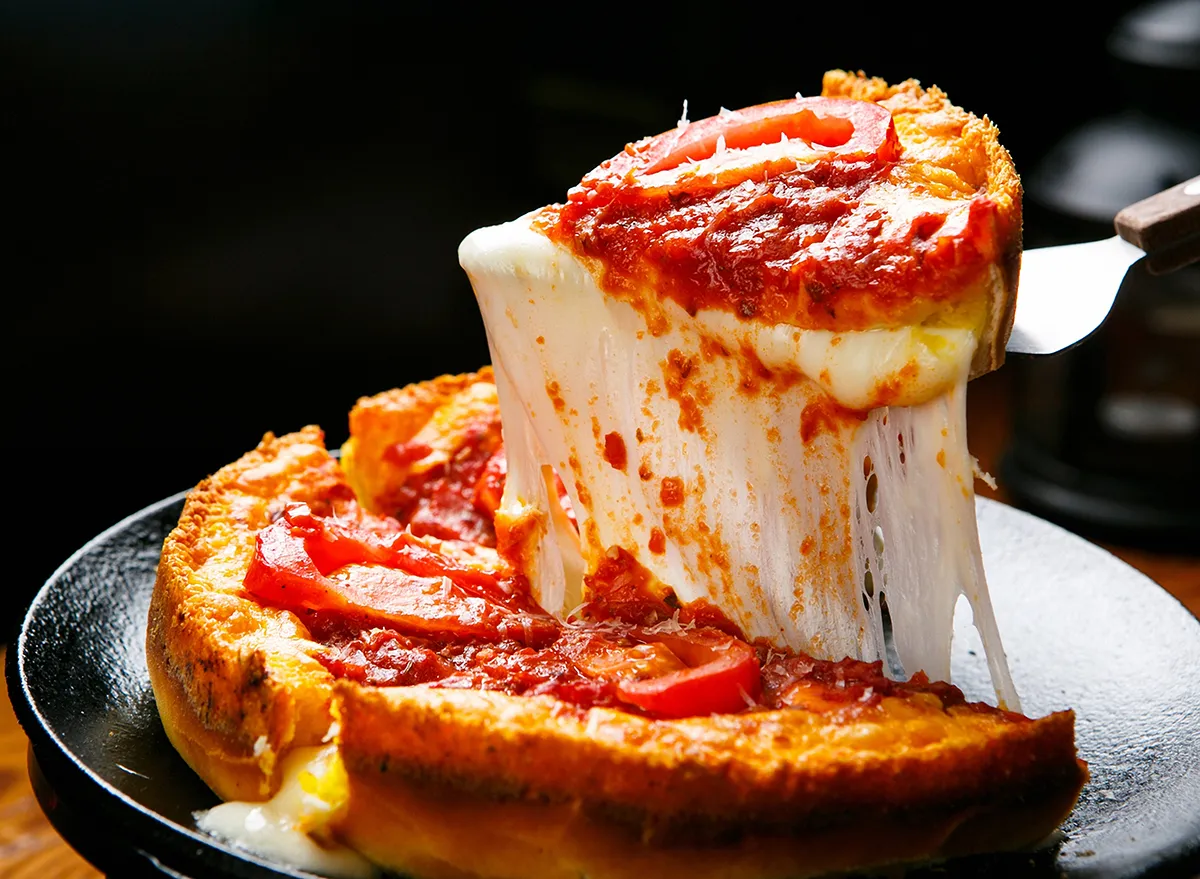 No surprises here! Chicago is known for the deep dish pizza that was invented at Pizzeria Uno in Chi-town in 1943. The super-stuffed pie is assembled upside-down to prevent overcooking all your favorite fixings.
INDIANA: Pork Tenderloin Sandwich
Nick's Kitchen in Huntington, Indiana created the sandwich that features a hammered-thin piece of pork tenderloin that's dipped in flour, eggs, breadcrumbs (which can be swapped out for crushed saltines) and then deep-fried. It's served with condiments galore. (We like relish and mustard!)
IOWA: Corn Dogs
The Iowa State Fair is one of the largest summer fairs in the nation, so it's no surprise that the batter-coated sausage is the region's iconic staple.6254a4d1642c605c54bf1cab17d50f1e
Prefer traditional hot dogs? Here are 16 Delicious Ways to Dress Your Hot Dog Beyond Ketchup and Mustard.
KANSAS: Burnt Ends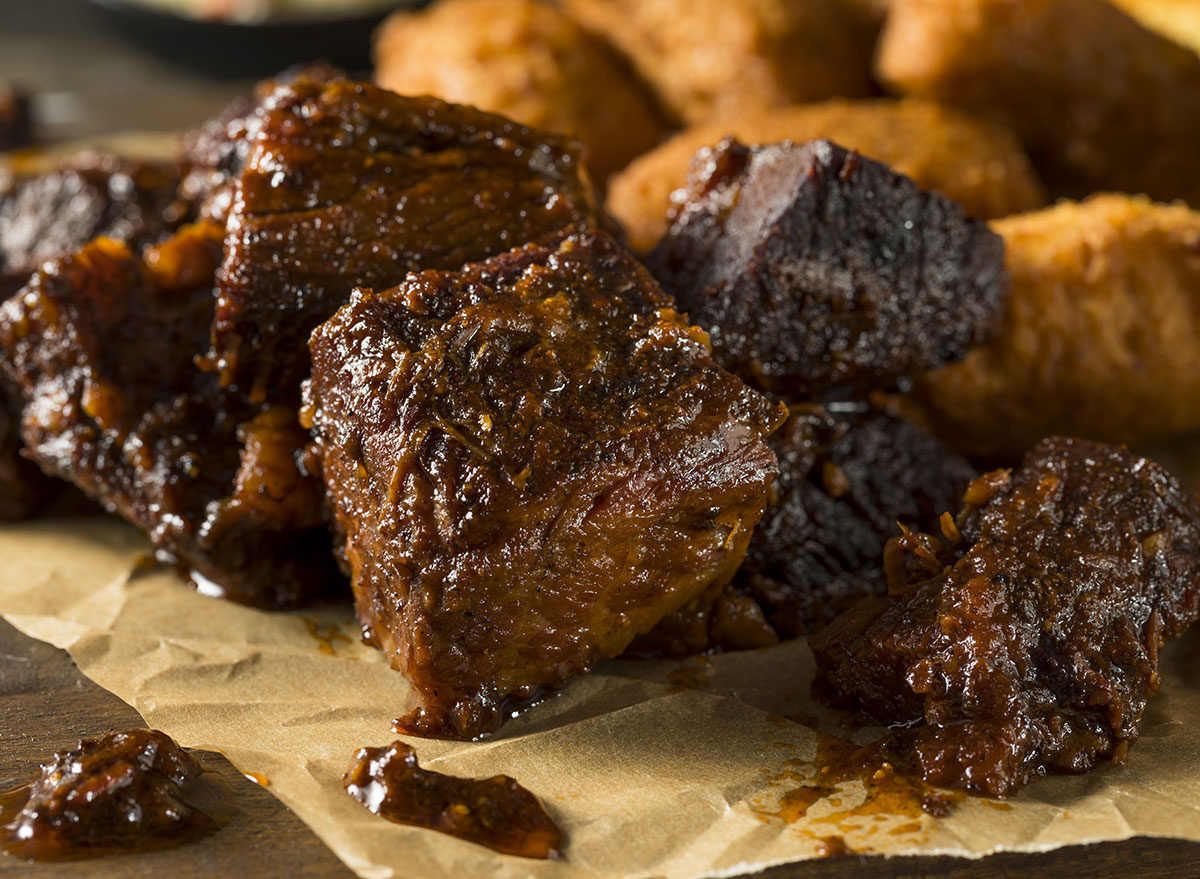 If burnt ends aren't your favorite part of the brisket, you don't know what you're missing. The crispy, flavor-packed barbecue portions make for the perfect sandwich.
KENTUCKY: Bourbon Bread Pudding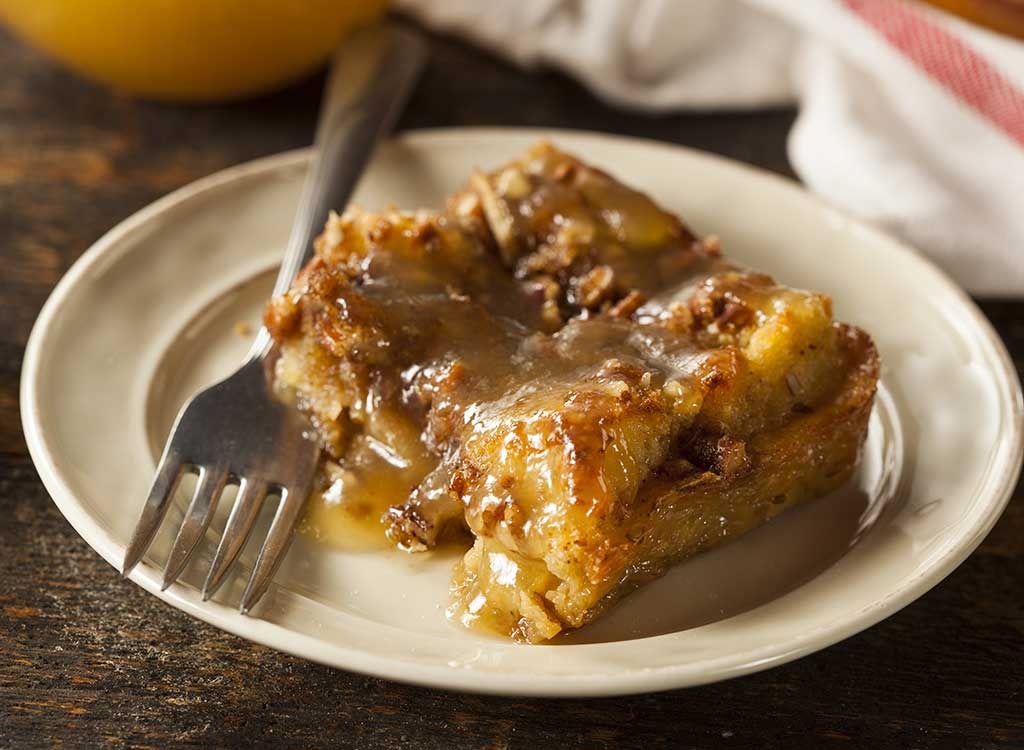 Kentucky is home to numerous bourbon distilleries, and what better way to use that booze than by putting it in a dessert? You'll never think of bread pudding the same way again.
LOUISIANA: Jambalaya
There are plenty of classic New Orleans foods, but jambalaya is a Louisiana staple. Shrimp and sausage rolled into one delicious, hearty stew? Sign us up!
MAINE: Lobster Roll
Just as Connecticut braves the cold, snowy winters with a warm lobster roll, Maine is notably known for its cold lobster rolls. The difference: Unlike Connecticut's steamy chunks, Maine lobster is chilled and tossed with mayo and celery or scallions into a seafood salad that's then piled over a special bun called the "New England."
MARYLAND: Crab Cakes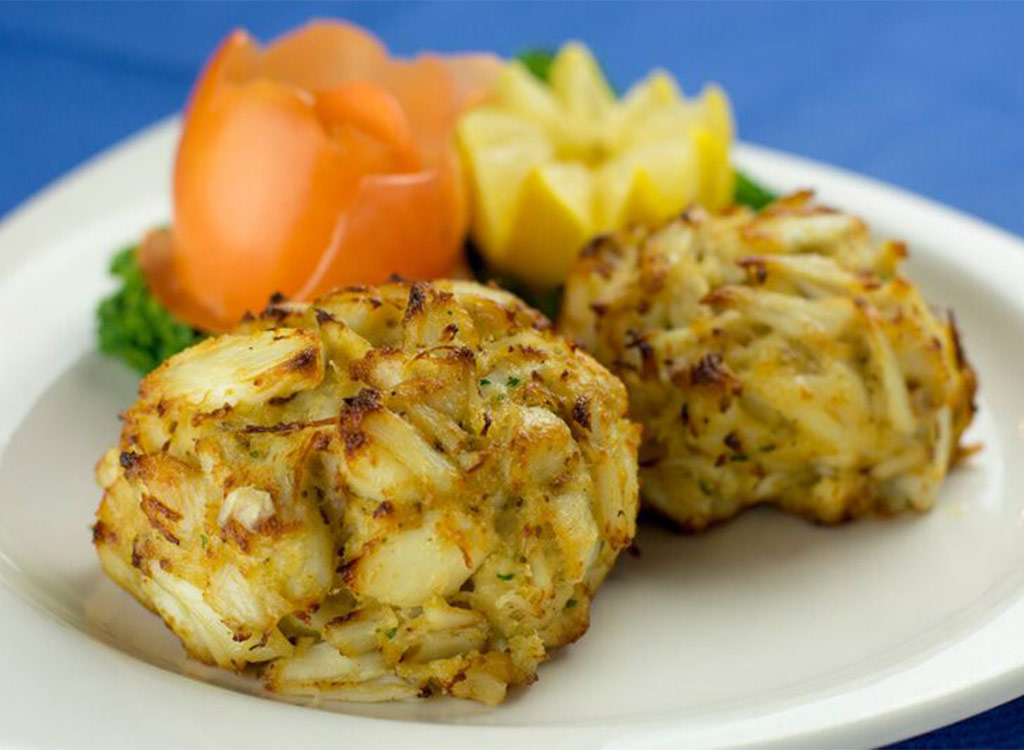 You really can't go wrong with a fresh-baked crab cake dipped in tangy tartar sauce. And Maryland does it best by baking its cakes with blue crabs straight from the Chesapeake Bay.
For a taste of Maryland at home, try this Baked Crab Cakes With Mango-Avocado Salsa Recipe.
MASSACHUSETTS: New England Clam Chowder
A trip to Cape Cod would be incomplete without a bowl of New England clam chowder. The hearty soup is concocted with clams, potatoes, onions, and milk or cream, which lends the chowder its signature richness and white color. The brew was believed to be introduced to the northern states by either French, Nova Scotian, or British settlers and was a staple in the region's diet in the 1700s.
MICHIGAN: Pasties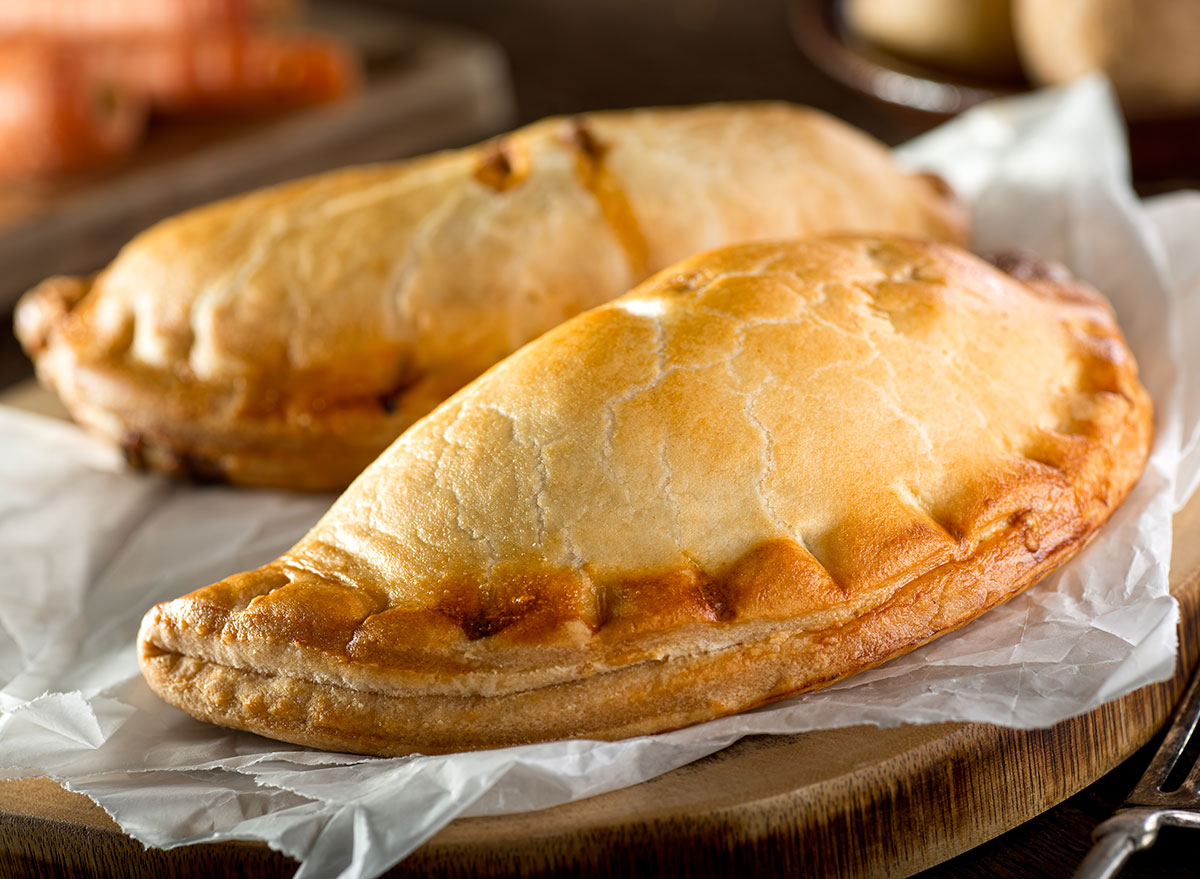 You might think of meat hand pies as a British food, but they're traditional in Michigan, too. Pasties made an easy, filling lunch for 19th-century miners in the state, and they're still popular in Michigan today.
MINNESOTA: Tater Tot Hotdish
A casserole made of tater tots? You'd better believe it! Hotdish is the ultimate comfort food for potato-loving Midwesterners.
MISSISSIPPI: Mud Pie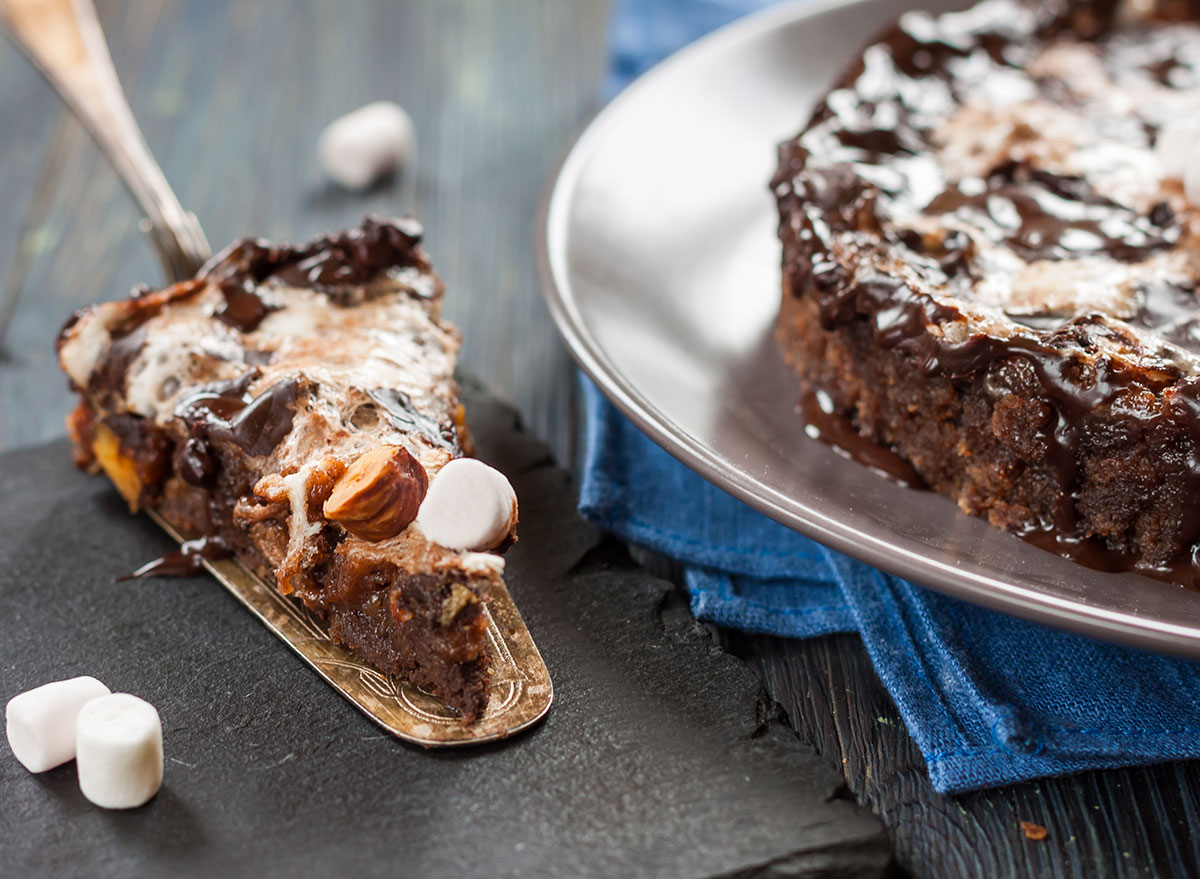 Named for the dark and viscous mud that runs along the Mississippi river, this chocolate-packed pie has become the beloved favorite among dessert seekers nationwide. The pie, unlike the cake, is made with a cookie crust, and the filling remains a delicious mixture of pudding, cake, biscuits, ice cream, whipped cream, and marshmallows. What's not to love?
MISSOURI: Toasted Ravioli
This isn't just a dish you can get at the Olive Garden! Toasted ravioli is thought to have originated in an Italian neighborhood of St. Louis.
MONTANA: Bison Meatballs
In the vast farmlands of Montana, farmers actually own more bison than cows. An excellent source of lean protein, bison also supplies a variety of B vitamins, zinc, iron, and selenium. And because bison are free-ranging, they're more likely to be grass-fed and organic than beef.
NEBRASKA: Deep-Fried Corn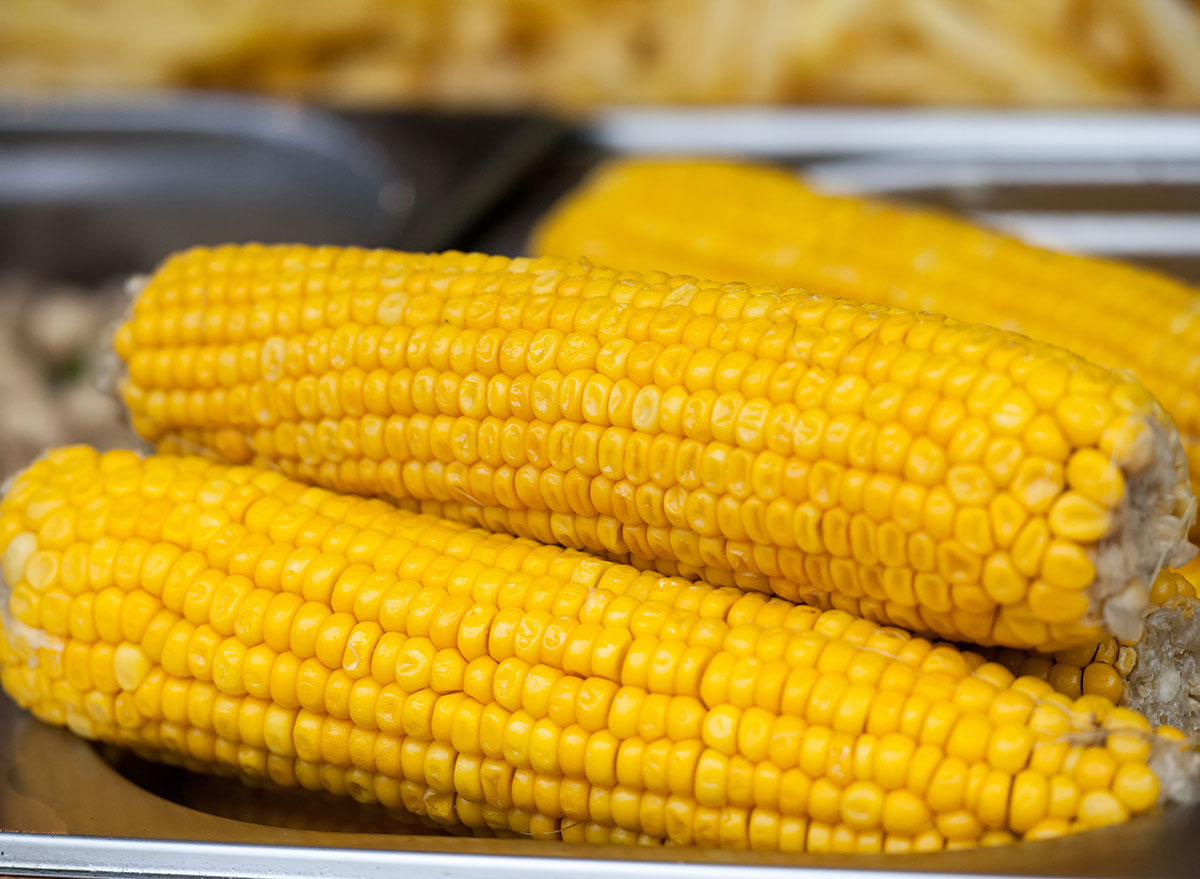 Did you know you can deep-fry corn? Nebraska takes this summer staple to the next level.
NEVADA: Prime Rib
Las Vegas has become a culinary destination for many people with its strip of luxury hotels and upscale restaurants. While prime rib is served in many of these Michelin-starred restos, this cut of meat is actually cheap and was used to lure gamblers into casino restaurants.
NEW HAMPSHIRE: Cider Donuts
As New Hampshire's official state fruit, pumpkins are used to prepare everything from soups to roasted dishes to baked goods. Pumpkins are high in fiber and beta-carotene, the red or orange pigment in veggies and fruits that's later converted into vitamin A.
NEW JERSEY: Pork Roll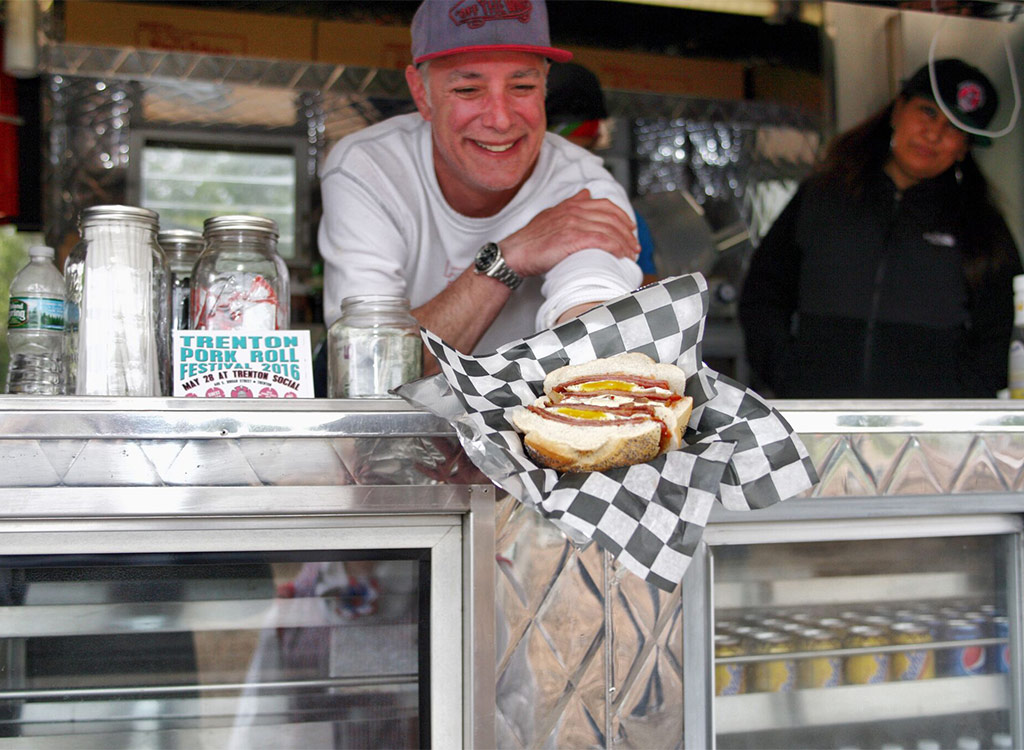 Whether you call it a pork roll or a Taylor ham sandwich depends largely on where you live in the state, but you'll be surprised to learn that Taylor ham isn't really "ham"—it's pork. This New Jersey classic is usually enjoyed for breakfast. What's better than waking up to a sandwich filled with thin slices of Taylor ham, a fried egg, and American cheese?
NEW MEXICO: Tamales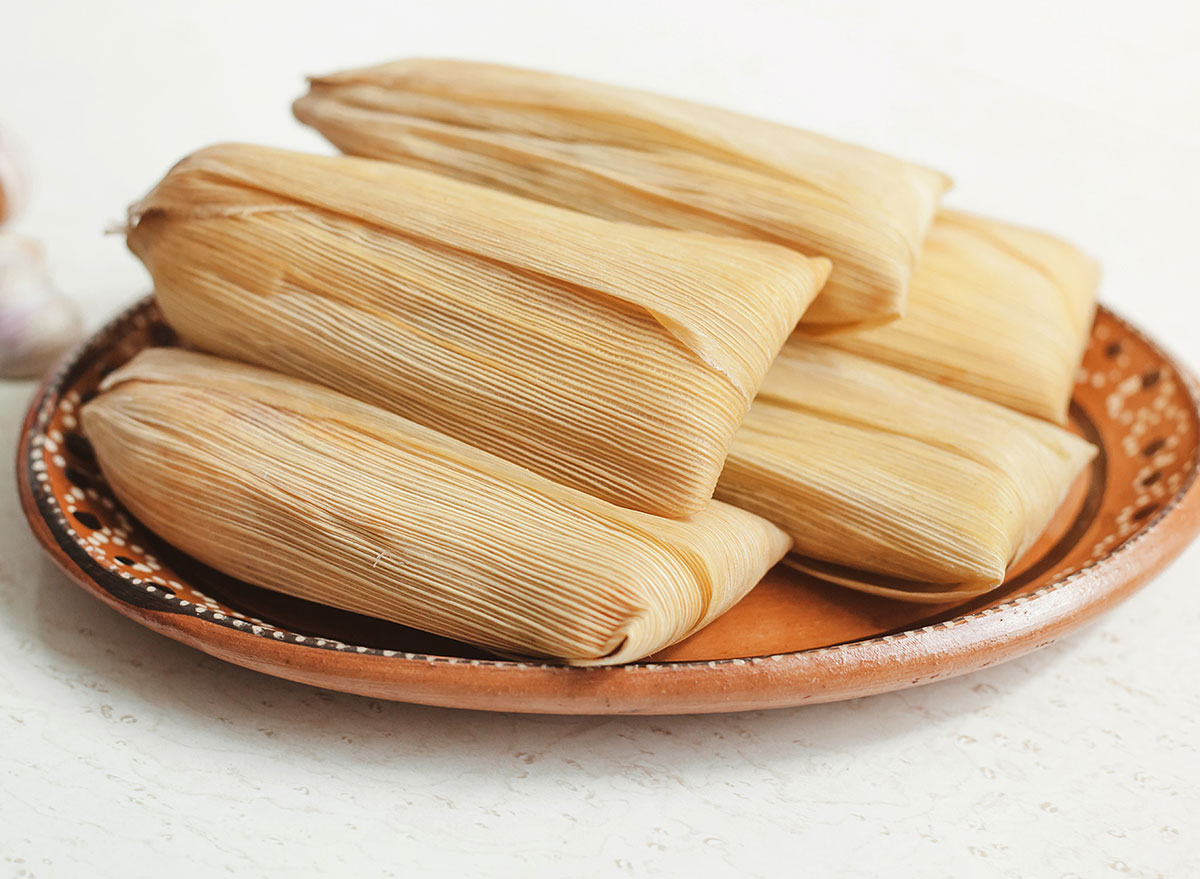 As Flavored Nation explains, tamales are typically eaten on special occasions like Christmas or New Year's Day. Red chili pork tamales are especially popular in New Mexico.
NEW YORK: Buffalo Wings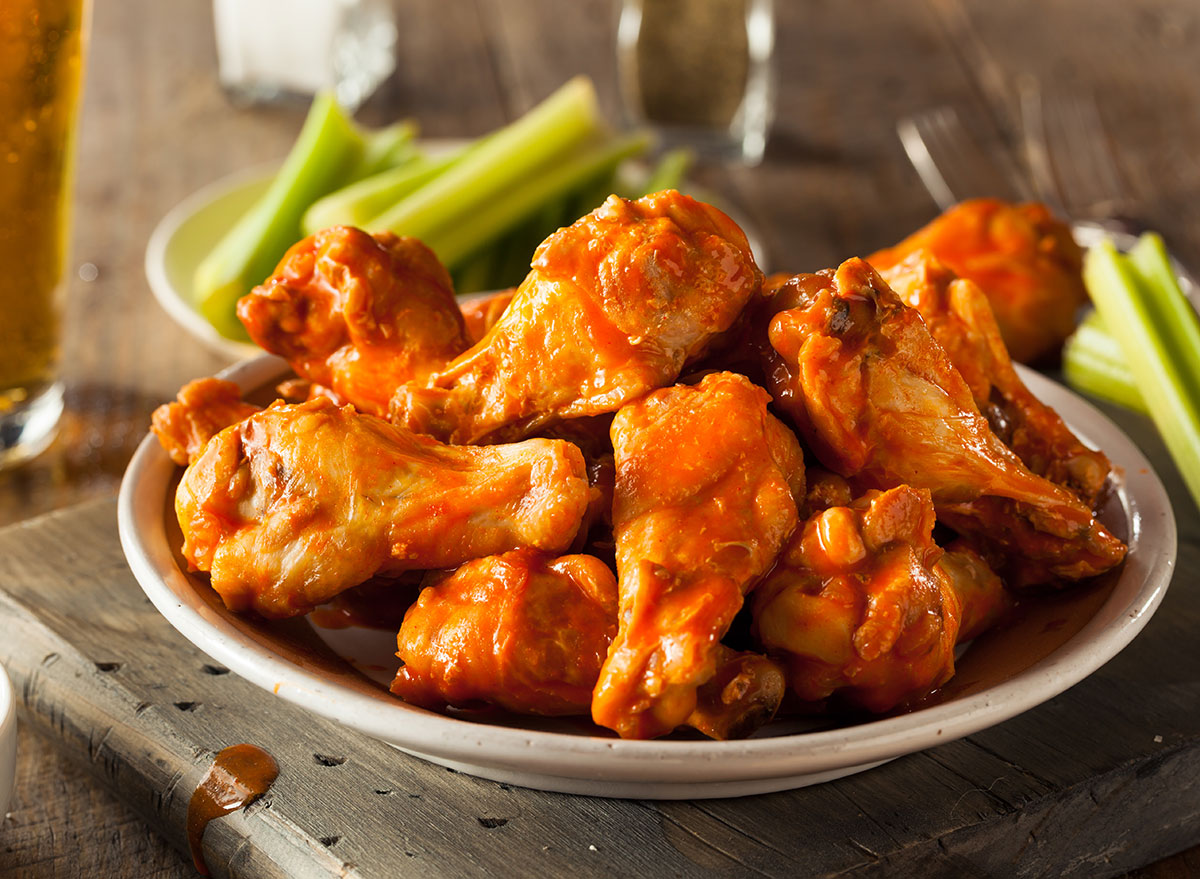 Buffalo chicken wings are a Big Apple favorite, especially at bars and pubs throughout the city. But the first wings were actually served in a Buffalo restaurant called the Anchor Bar. And you bet there were blue cheese and celery on the side. But it's not the deep-fried goodness that makes the wings so addictive; it's the tangy sauce, which has a delicious combo of butter, hot sauce, and red pepper.
NORTH CAROLINA: Pulled Pork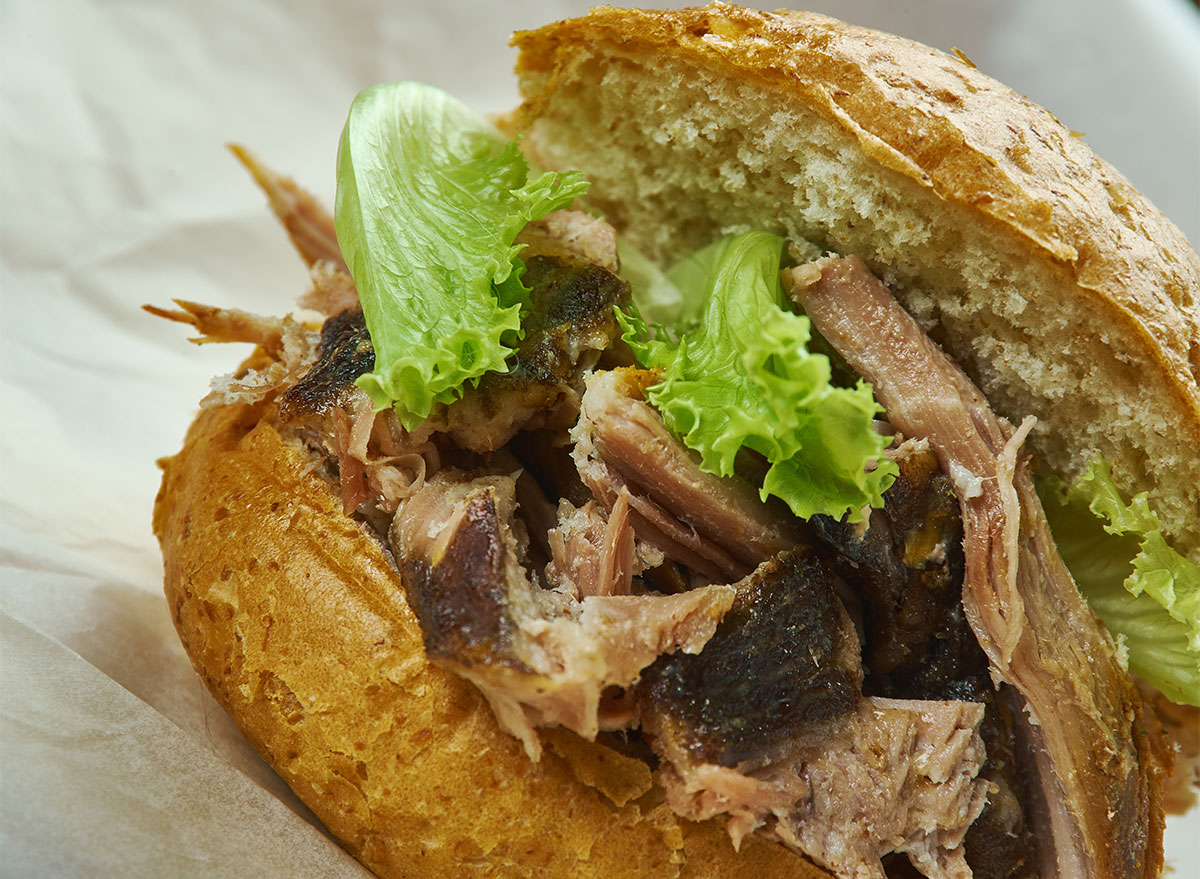 This Southern state is best known for its comfort foods, including mac and cheese, cornbread, and shrimp n' grits. But its barbecue pork, which is usually pulled, shredded, or chopped, is another story. The tangy and spicy flavor of East Carolina vinegar sauce balances the sweetness of the tender barbecue meat.
NORTH DAKOTA: Strawberry Rhubarb Pie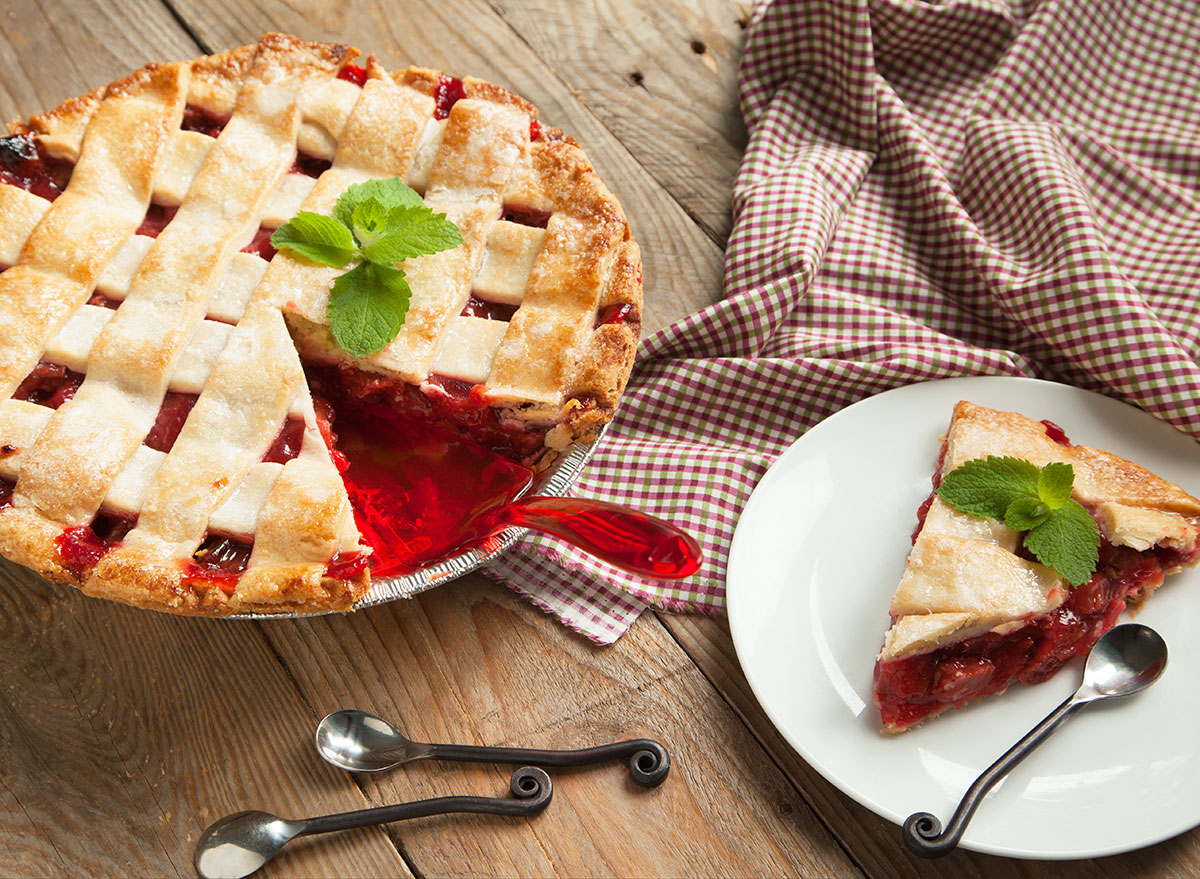 If you're not cooking with rhubarb, you're missing out. Rhubarb stalks are a delicious addition to summer pies—North Dakota knows what's up.
OHIO: Cincinnati Chili
Chili-topped spaghetti? Only in Ohio! For more on this uniquely midwestern dish, don't miss our explainer: Skyline Chili: What to Know About the Iconic Midwestern Chain.
OKLAHOMA: Chicken Fried Steak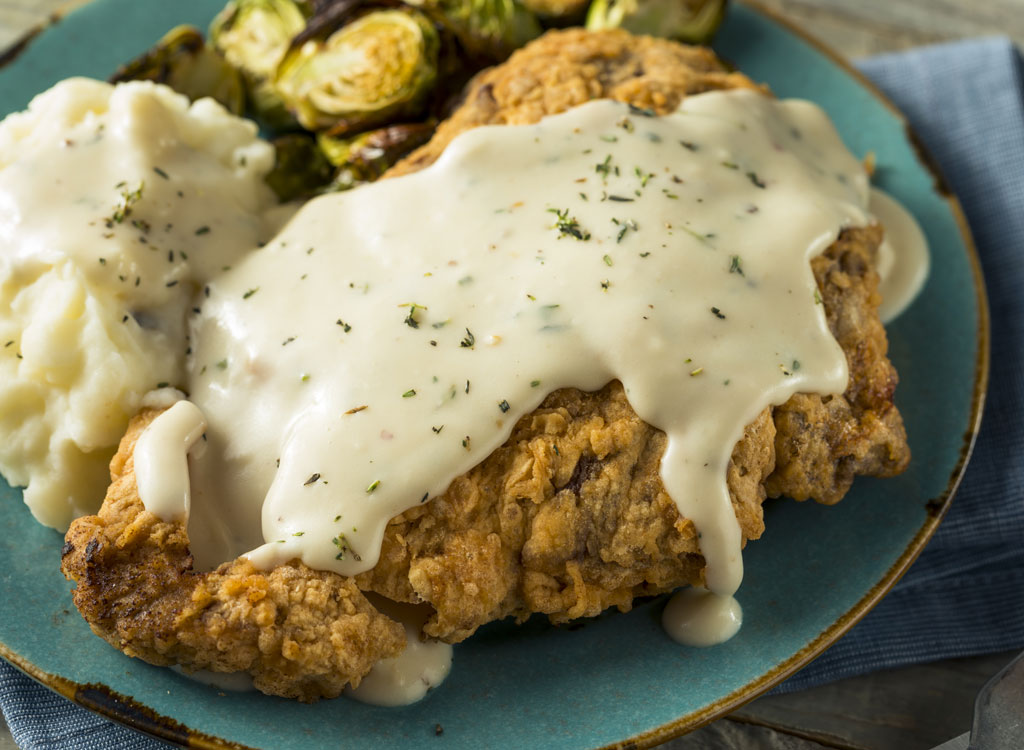 If you've stopped at an Oklahoma diner, chances are good that you've seen chicken-fried steak on the menu. Topped with a rich gravy, this fried chicken-style steak is one to remember.
OREGON: Marionberry Crisp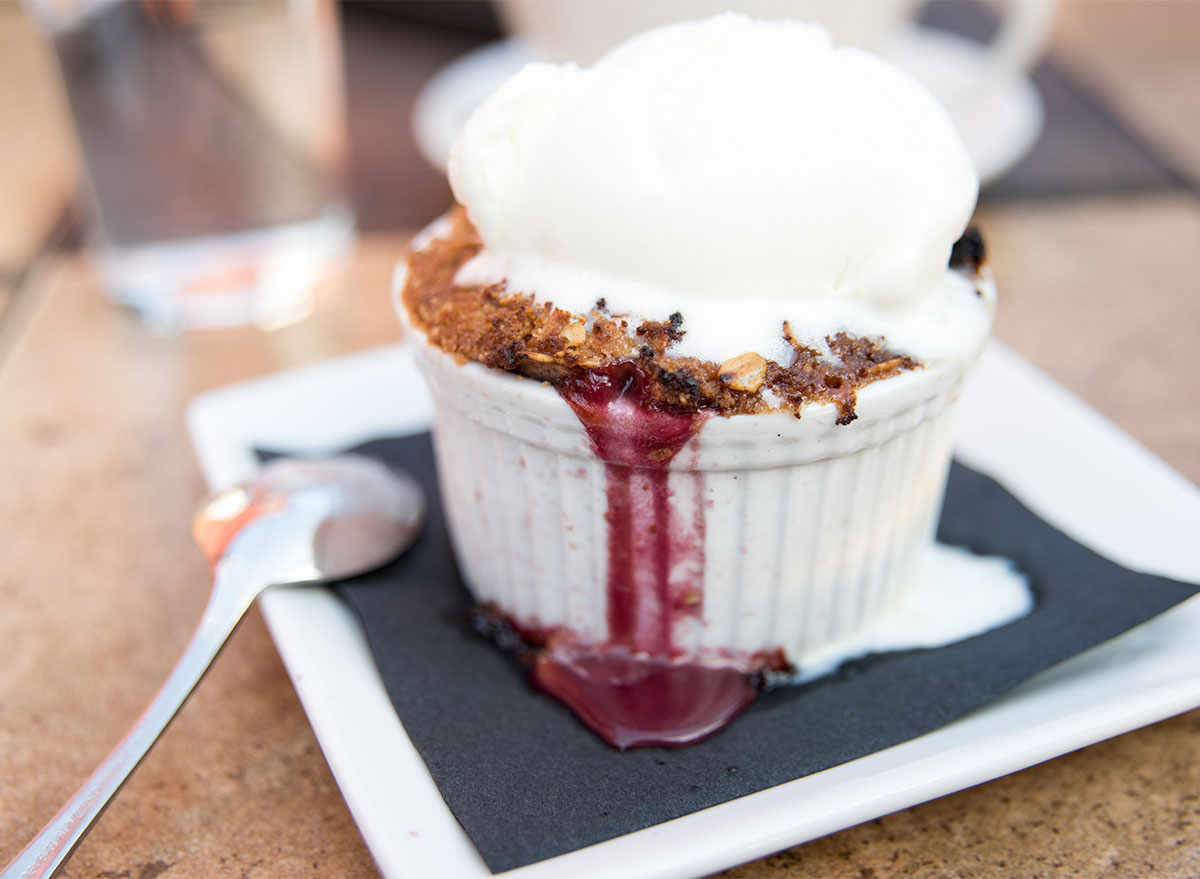 Marionberries resemble blackberries and have a tart, subtly sweet flavor. But because they have a brief picking period in July, many Oregonians like to enjoy loads of marionberries in their pies and crisps.
PENNSYLVANIA: Philly Cheesesteak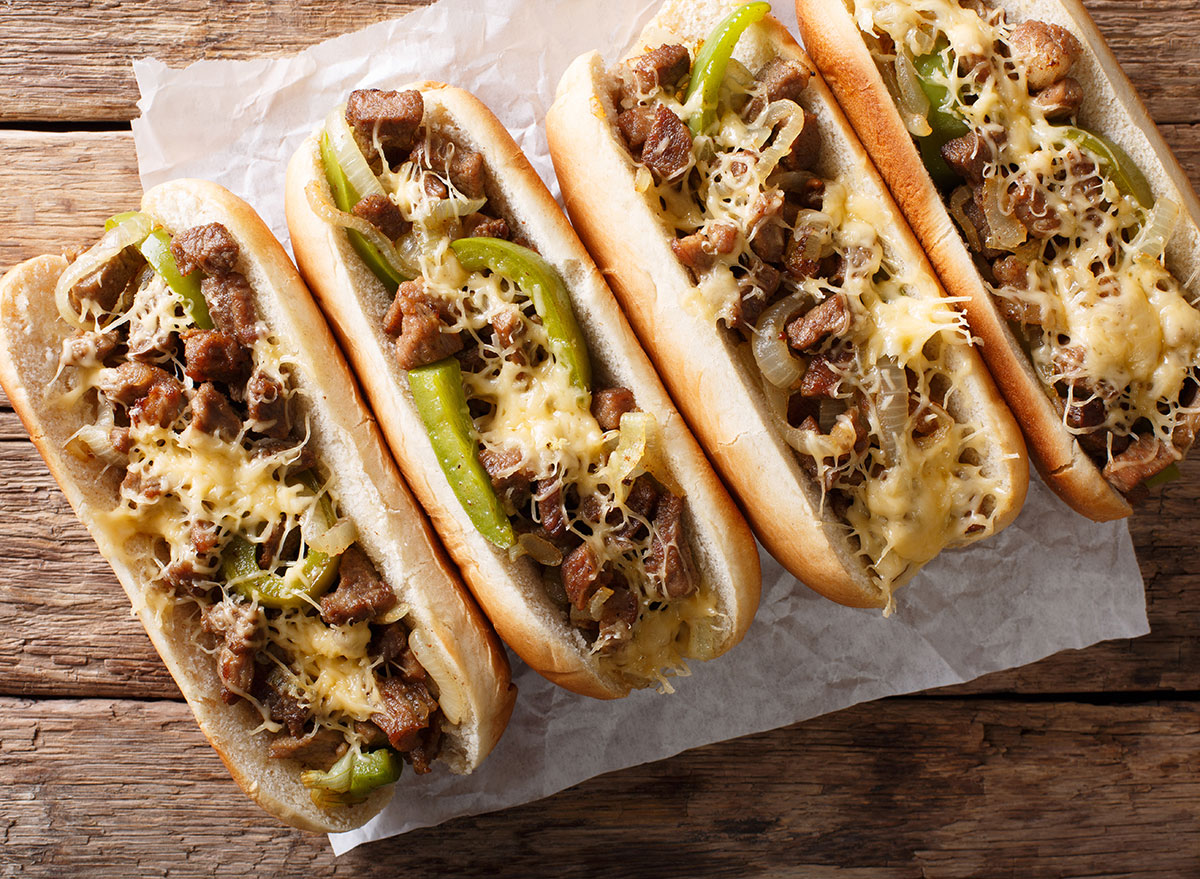 Philadelphia uses a variety of beef for its famous cheesesteaks, but top round and ribeye are the most popular cuts. The meat is cooked on a griddle and broken up into ultra-thin slices. Then, it's added to an Italian sub and topped with Cheez Whiz or provolone and sautéed onions and green peppers.
RHODE ISLAND: Johnnycakes
Also known as battercake, corn cake, and journey cake, these cornmeal-based patties are served for breakfast, lunch, and dinner. For a morning meal, Rhode Islanders will enjoy it with butter, maple syrup, or molasses. Many people also like to break the cakes up into pieces and soak them in milk and sugar. Instead of potatoes, Rhode Islanders swap in johnnycakes for potatoes in their lunch and dinner dishes.
SOUTH CAROLINA: Shrimp and Grits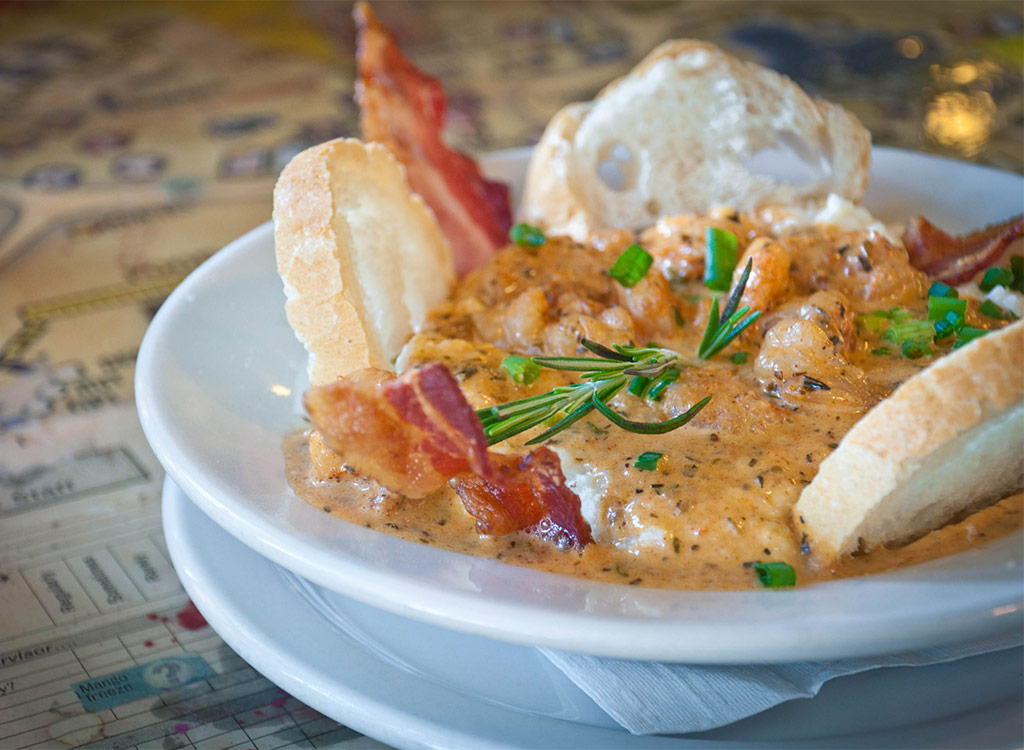 Many states in the South will argue that they make the best shrimp and grits, but it was South Carolina that put this comfort dish on the map. The restaurant Magnolias in Charleston is famous for turning the meal from a basic breakfast into a fancy dish.
To make this dish at home, try our Southern-Style Shrimp and Grits Recipe.
SOUTH DAKOTA: Pheasant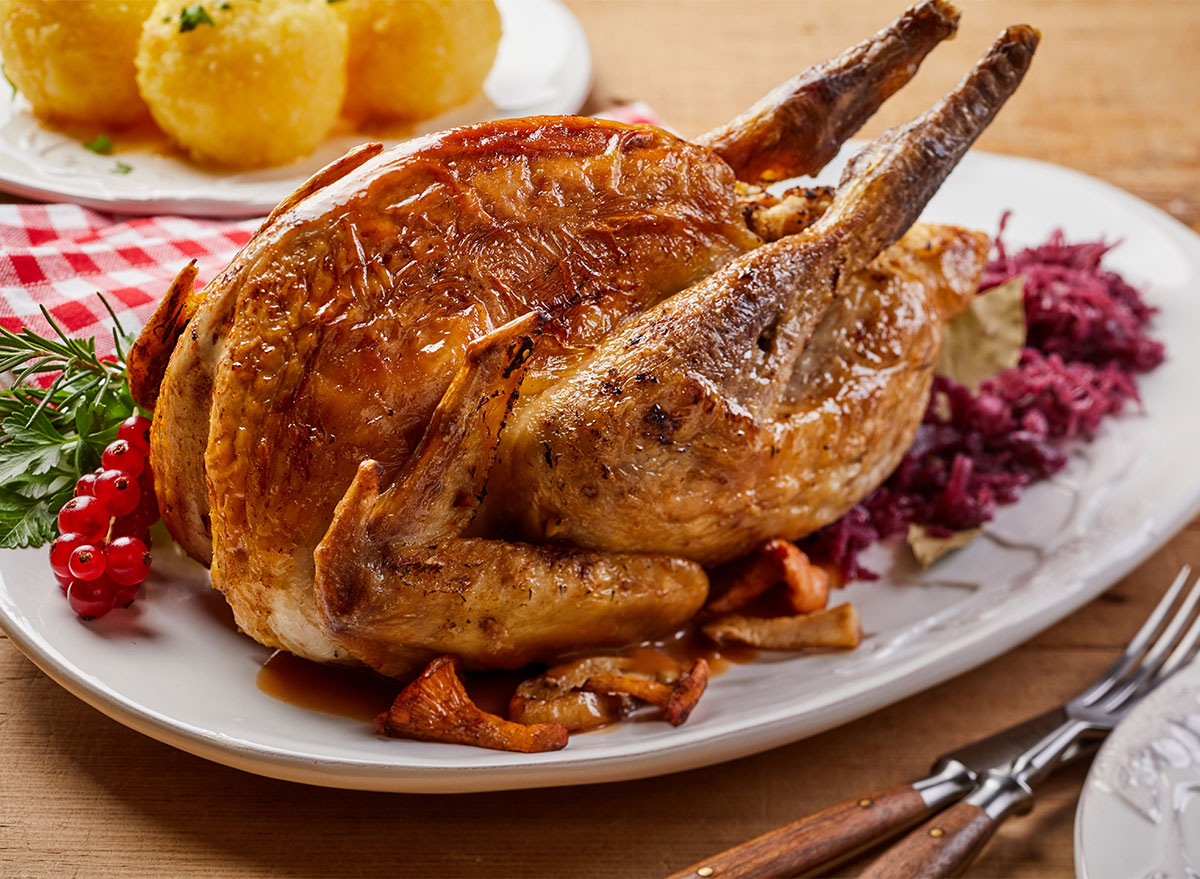 Pheasant may not be your go-to choice of protein, but it's a delicacy in South Dakota, where the bird is hunted and eaten regularly.
TENNESSEE: Hot Chicken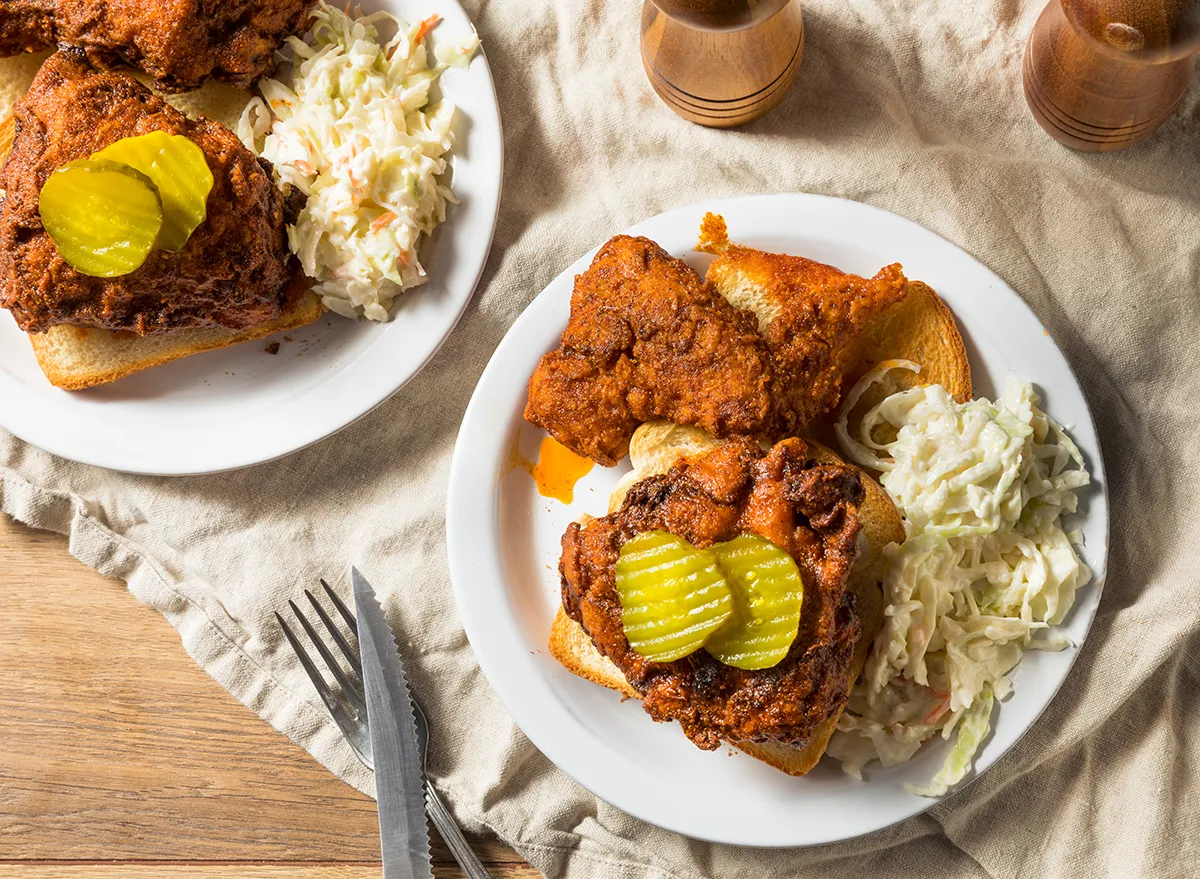 The secret to preparing the best Nashville hot chicken is to baste the chicken with a spicy paste made with lard and cayenne pepper before or after breading it. Most people enjoy with a slice of white bread and topped with pickles.
TEXAS: Barbecue Brisket
In Texas, barbecue means one thing: brisket. Slow-smoked, juicy beef slices—there's nothing better.
UTAH: Artisanal Chocolate
Utah is the country's epicenter of artisanal chocolate. In fact, it's home to hundreds of craft chocolates and multiple bean-to-bar chocolate makers. Yum!
VERMONT: Maple Cream Pie
It wouldn't be a Vermont recipe without maple syrup! This dish takes all the deliciousness of cream pie and adds maple syrup into the mix for a treat you won't forget.
VIRGINIA: Smoked Ham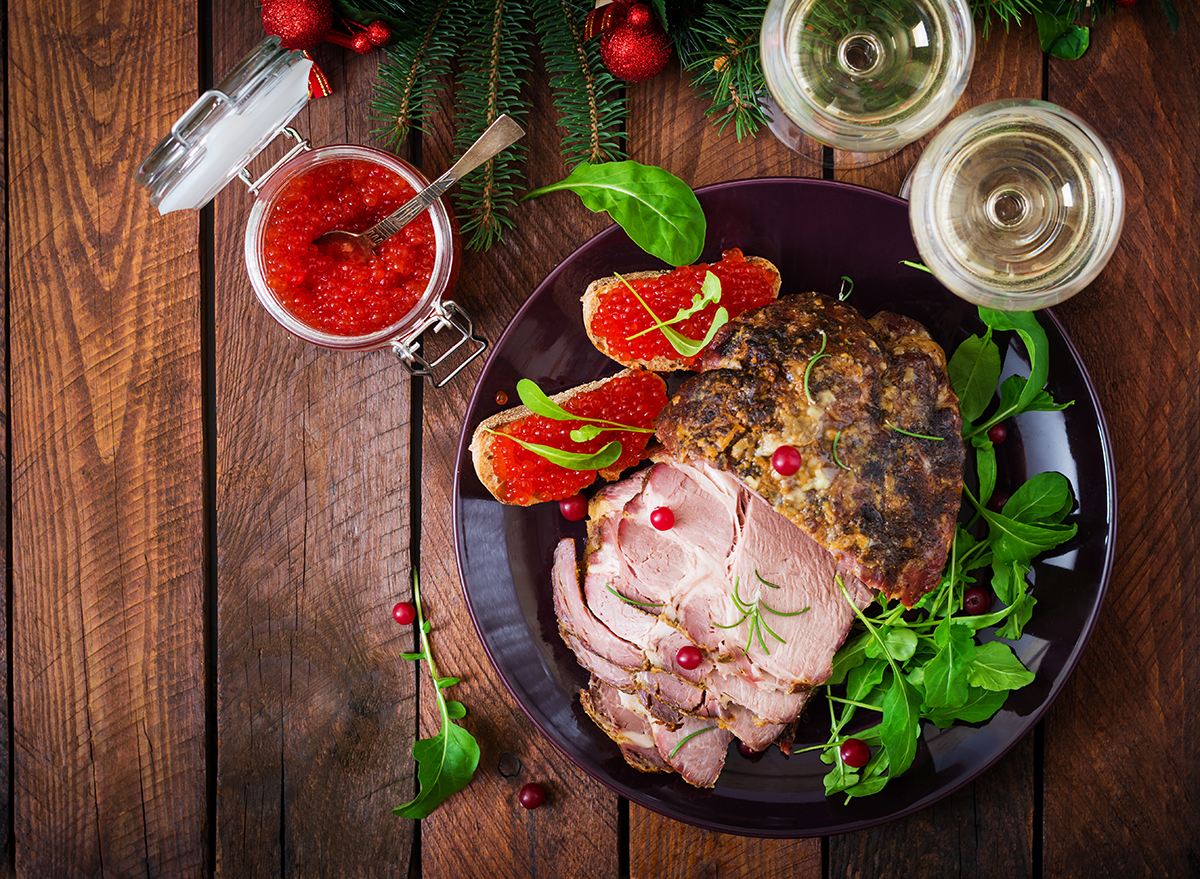 Best known for its country ham, Virginia sneaks layers of the cured meat into its Old Dominion ham biscuits with a savory spread of butter, poppy seeds, Worcestershire sauce, mustard, and onion.
WASHINGTON: Cedar Plank Salmon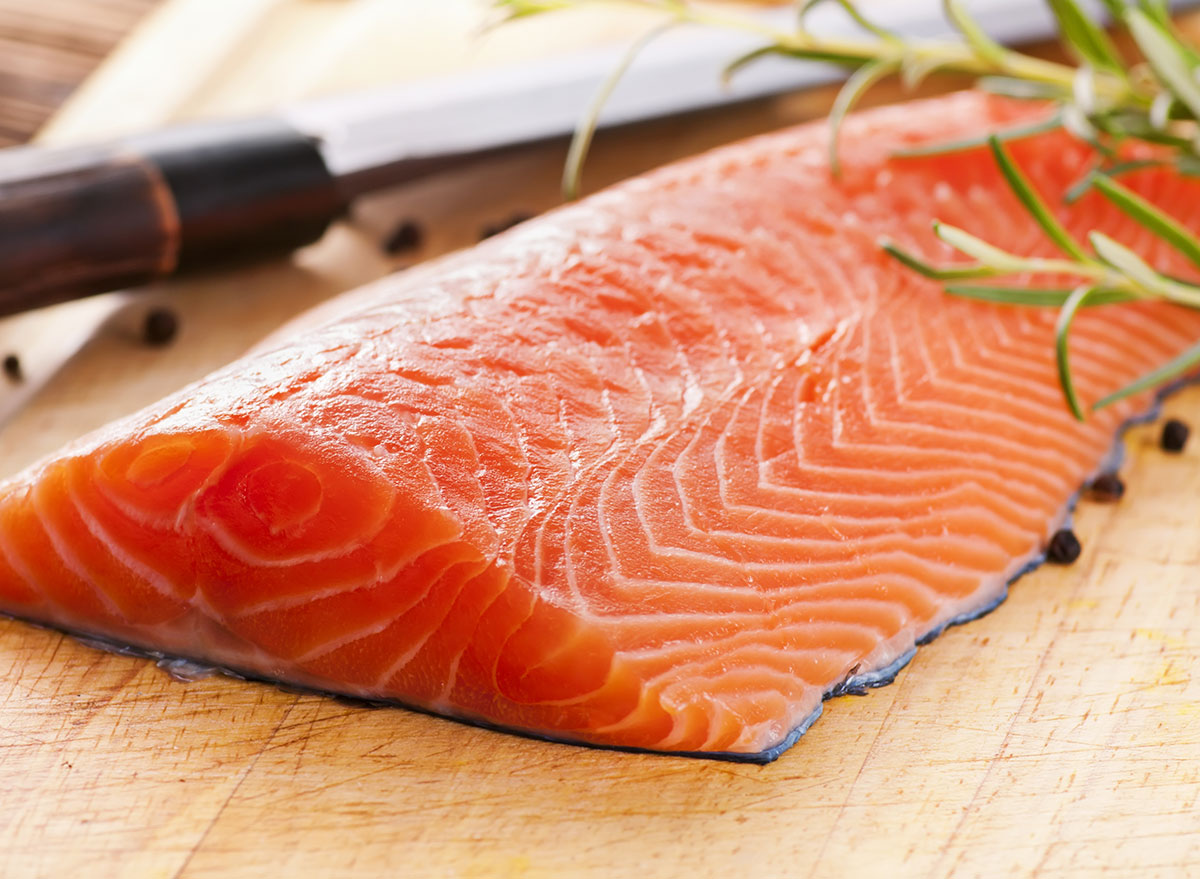 Cooking fish on planks made of wood from cedar trees is a technique that's native to the people of the Pacific Northwest. Wild salmon is a popular dish in Washington, and cooking it over a plank infuses it with some smokey flavor that enhances the fish's natural brininess.
WEST VIRGINIA: Cornbread
Cornbread is enjoyed in many Southern states, but West Virginia loves this dish a whole lot. For a truly West Virginia snack, eat a slice of cornbread with some beans.
WISCONSIN: Cheese Curds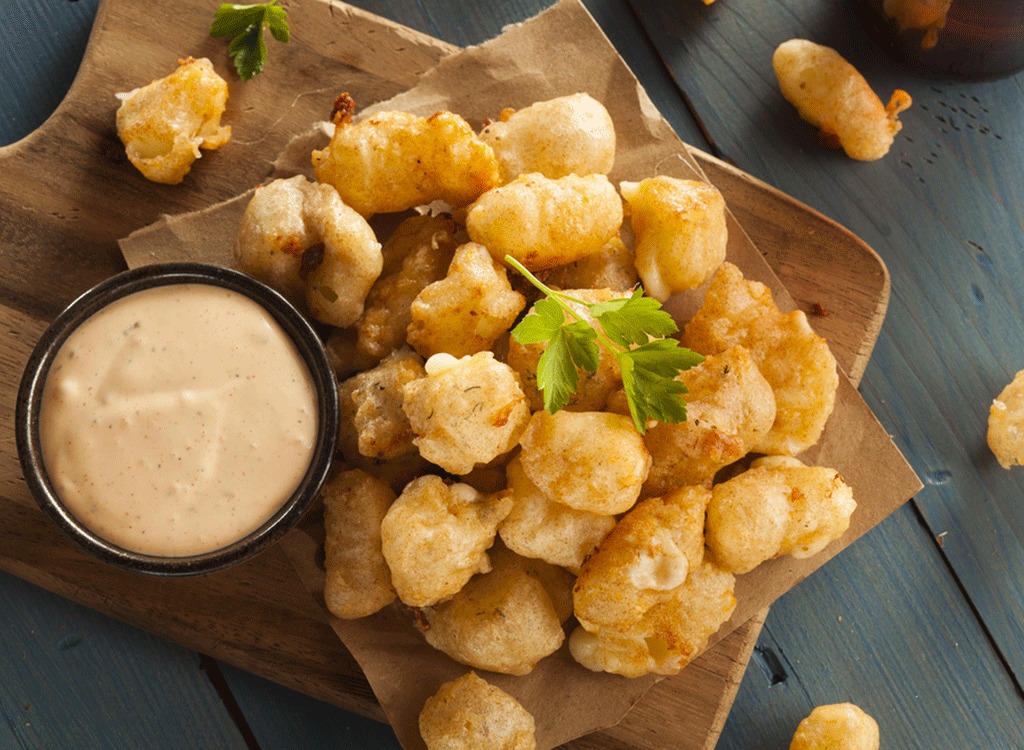 Is it any surprise that Wisconsin's beloved food is a type of cheese? We can't think of a more delicious way to enjoy dairy than by deep-frying it.
WYOMING: Elk Burger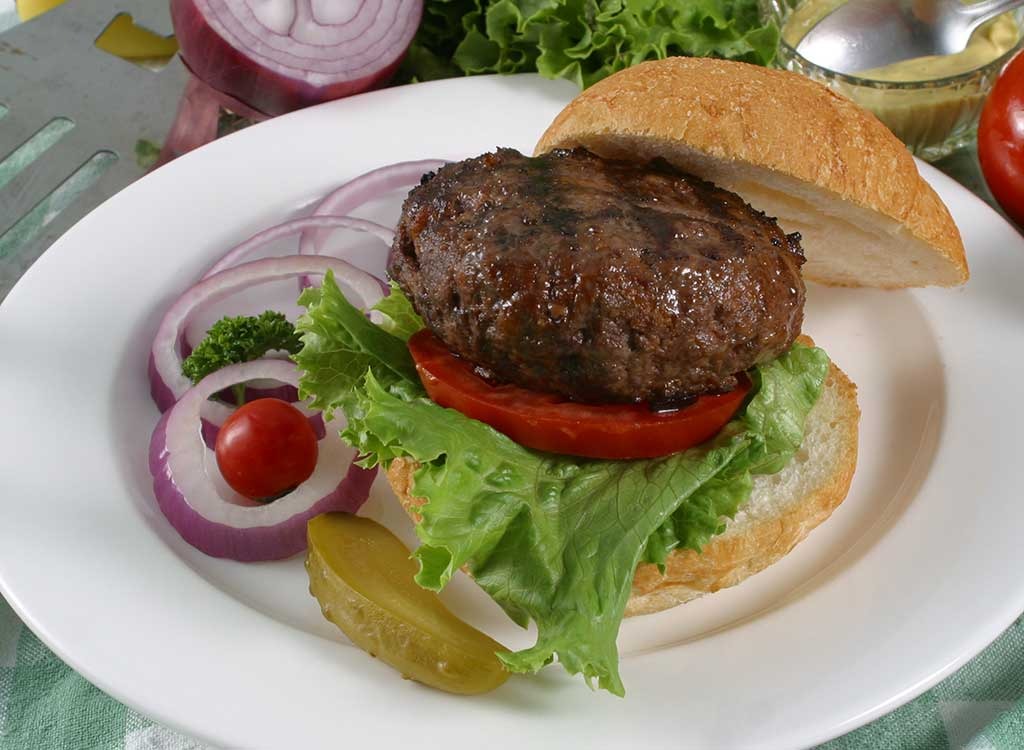 Yes, you can eat elk! The good people of Wyoming know that it's a versatile protein that makes for one tasty burger.
Check out more of the best restaurant and eats in your state:
The Best Burger in Every State
The Best Nachos in Every State
Eat This, Not That!
Inspired by The New York Times best-selling book series, Eat This, Not That! is a brand that's comprised of an award-winning team of journalists and board-certified experts, doctors, nutritionists, chefs, personal trainers, and dietitians who work together to bring you accurate, timely, informative, and actionable content on food, nutrition, dieting, weight loss, health, wellness, and more.
Read more about Eat This